If you have big hips, you may think of that as an asset because many view having wider hips a feminine feature. Having wider hips can be the result of weight gain, as most of us noticing our hips getting bigger after we gain a few pounds. Sometimes it may just be genetics that you could be born with wide hip bones. For instance, most pear shaped women have hips that tend to be wider than their shoulders, and they also tend to gain weight on the hips and thighs. If you happen to be self-conscious about having bigger hips and want them to look slimmer, follow these styling tips to achieve an overall more balanced look.
Wear Dark Colors on the Bottom
One of the easiest ways to slim hips is wearing dark colors on the bottom half of your body. As you know, dark colors shrink and bright colors expand. If you want your hips to look smaller, you do not have to wear black head to toe, but it will help if you wear dark color pants or skirts.
To take this one step further, you can pair those dark hues with lighter and brighter colors on the top half. When your outfit has a contrast, this draws emphasis to your top half to create the illusion of a more balanced shape.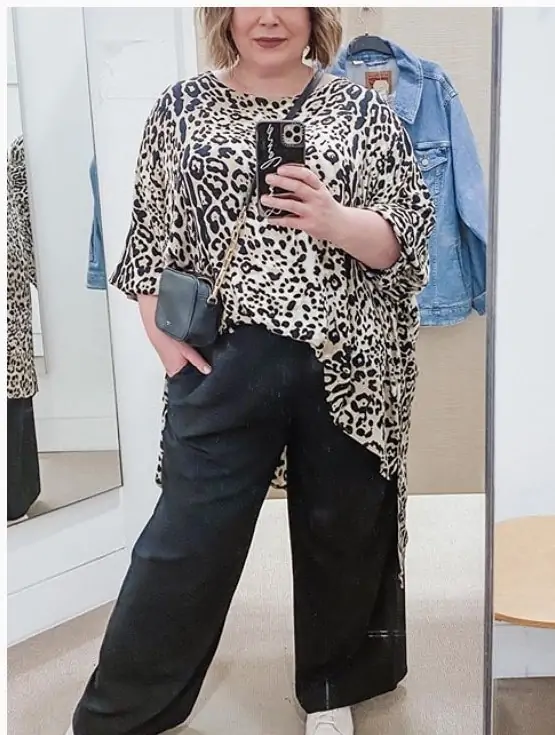 You can wear a print top with solid dark color pants or a lighter color jacket to achieve this.
Sara (above) wears an animal print top with black pants, a look that draws attention to her upper body and face and make the hips look slim.
Favor A-Line Silhouettes
One of the most flattering silhouettes for anyone who wants to make hips appear slimmer is the a-line. Because this fit cinches in at the waist it minimizes the appearance of wide hips and brings more focus to the waistline, slimming the entire body.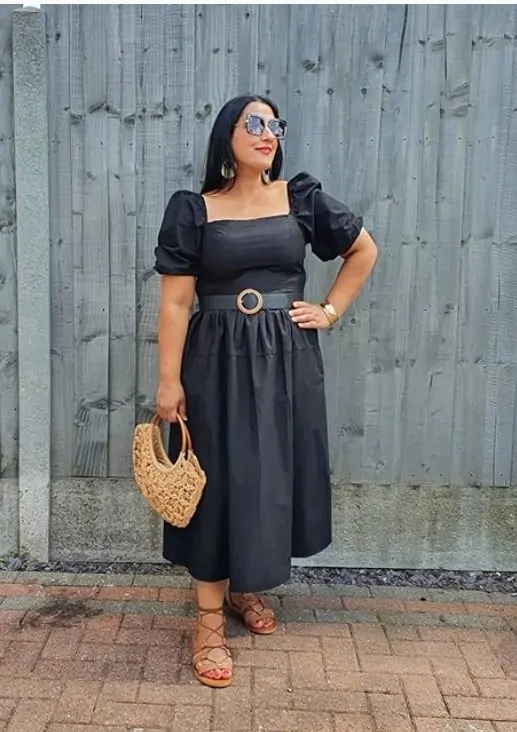 You can choose Aline dresses of any color or prints you like and they can all hide big hips, because they flare out under your waist. If you want to double the slimming effect, opt for a darker shade Aline dress in solid color.
Jas (above) is wearing a black Aline dress which has the most slimming effect.
Avoid Skinny Fit Pants
Due to the silhouette of skinny fit pants, they have a tendency of making hips look wider and legs look shorter. Even though skinny jeans have been extremely popular in recent years and it is the go-to jeans for many women, they cling to your bottom half and highlight every curve of your hips and legs. If you do not want to draw attention to big hips, then stay away from the skinny fit, unless your top can effectively draw attention away from your skinny pants (like the chunky knit sweaters which I will talk about later in this post).
Instead, slim your hip shape by wearing pants in bootcut, wide leg and/or straight leg fit. These fits (should) fit the widest part of your hip and create a straight line down which elongates and slims hips.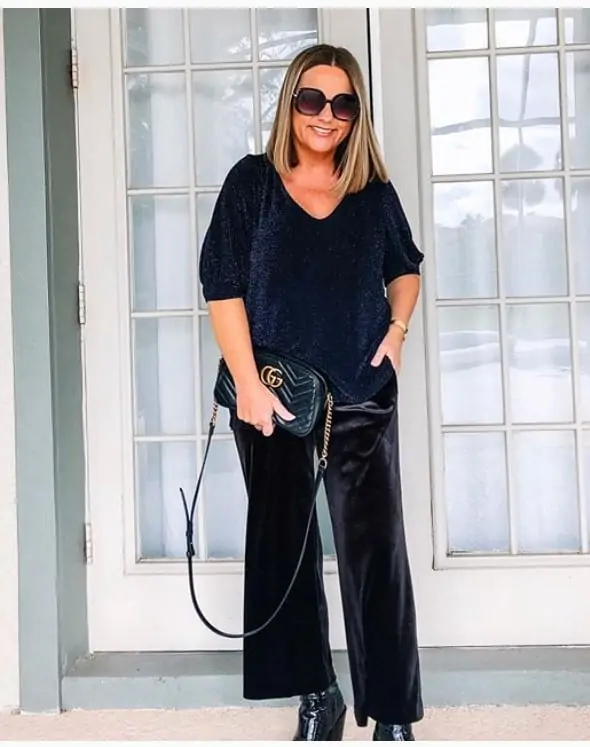 Jona above is wearing wide leg pants in dark color. This is the best type of pants for women who want their hips to look slimmer.
Wear Interesting Necklines
Take the focus away from hips, and bringing it to another part of the body is a great trick to slim the area. Slim hips with more focus brought to the top portion of the body. Interesting necklines are a great way to achieve this. Asymmetric, off the shoulder, cowl neck, etc. are all fun necklines to embrace.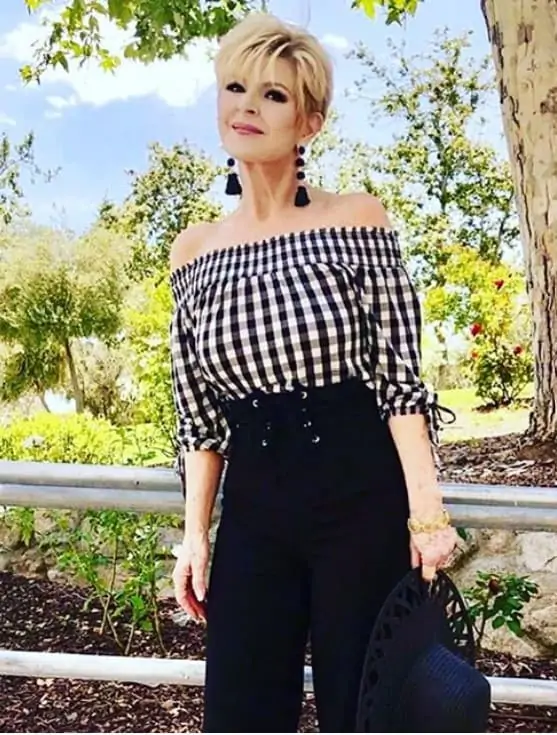 Sandy (above) is wearing an off the shoulder top in gingham with black high waisted pants, an outfit that draws the attention immediately to the top half and distract from the hip area.
Accessorize with Belts
Belts are a favored accessory to achieve a cinched waist appearance. Nipping in the waist, with a belt, draws the eye up to make hips look slimmer and legs longer. Place belts at your natural waist to trick the eye into creating an hourglass aesthetic.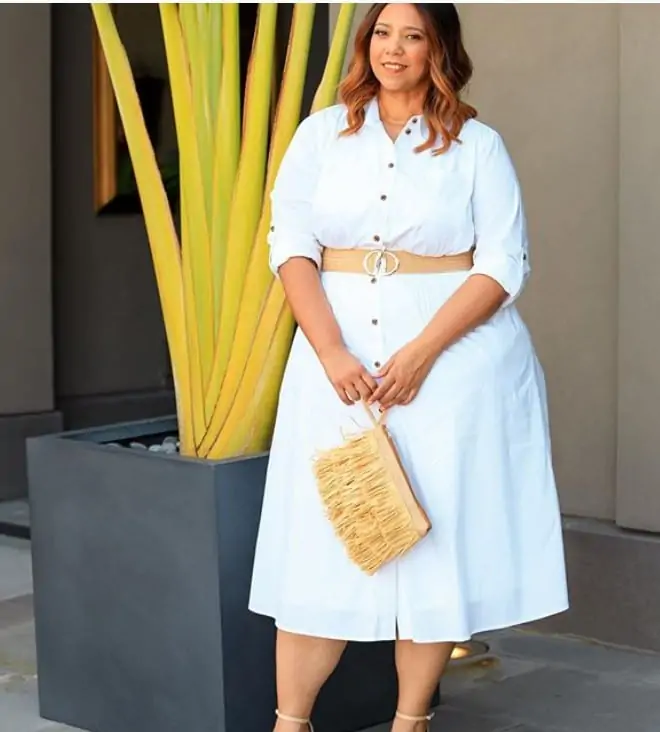 Estrella (above) is wearing an Aline dress that is fitted in the upper body and flares out below the waist. By adding a belt to the dress, it further enhances the waistline and highlights the smaller waist thus distracting away from the hips.
This works especially well if you happen to be a curvy woman with a natural hourglass body shape. By placing focus on your slender waist, your hips will be much less noticeable.
Wear Chunky Knit Sweaters
Chunky knit sweaters are a favorite wardrobe staple for the fall and winter. Not only can they keep you warm, they can also effectively draw the attention up because of their eye catching knitting. This enhances your top half which automatically slims hips.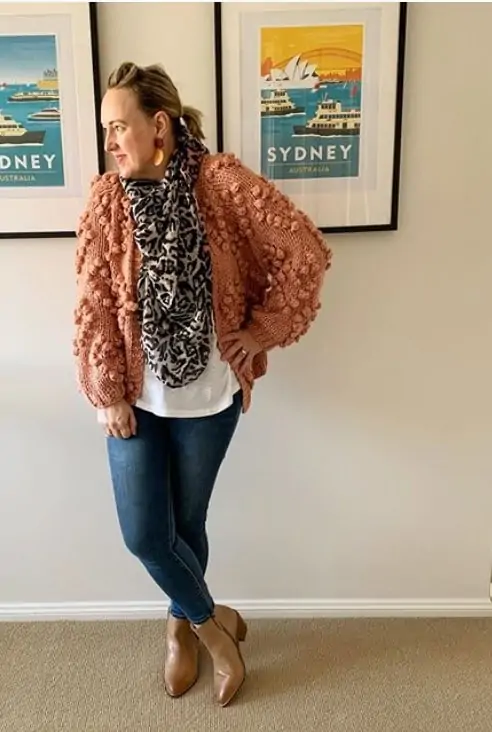 Kylie (above) is wearing a chunky sweater with dark denim, which draws attention to the upper body and achieve the slimming effect for the hips.
You can wear any chunky knit sweaters, or other tops that are on the bulky side. It is important to mention that since chunky sweaters add a lot of volume to your body already, you should pair it with something that fit close to your body for your bottom. Think tighter pants, jeans or leggings, and pair them with the right shoes.
In order to balance out the overall volume of your outfit, just make sure to avoid bulky fabrics and silhouettes on the bottom when you wear bulky top like the chunky knit.
Focus on Proper Fit
Wearing any clothing that doesn't fit properly will automatically make you appear bigger. Proper fit is essential to flattering any body shape to achieve a slimming effect. Many women with big hips have a waist significantly smaller than their hips. If that is you, you need to choose the clothes that fit your hips instead of your waist, whether it is a dress, pants or jeans. Otherwise if it fits your waist, it will be too tight on your hips, which will only make them more obvious.
For wider hips, choose bottoms that fit the widest part of the area first and tailor the rest for the best fit. Don't hesitate about the extra cost on tailoring because anything ill-fitted will only stress the big hips. Make sure to get clothes tailored as needed to keep fit on point.
Avoid Pleated Pants and Skirts
Pleats add volume to hips, which makes them appear wider. It's best to stay away from pleated bottoms and favor flat front options. The simple lines in flat front options flatter hips without drawing too much attention to the area.
Avoid Long Tops
Tops that lay at or below hips will emphasize the area. Opt for tops that are shorter, above or cropped is ideal, to make legs (and hips) look longer and slimmer. Make a long shirt flattering by tucking it in to define the waist and achieve a slimmer look.
Avoid Horizontal Stripes
It's no secret horizontal stripes can widen the body, this is why it's best to avoid wearing this pattern anywhere on the bottom half of your body. It is, however, recommended to wear horizontal stripes on the top as it's a great pattern to make hips look slimmer and more balanced to the top half.