Looking for bathing suits for body types? You are at the right place!
If there is one thing every woman has a love and hate relationship with in their wardrobe, that is probably bathing suits. Unless you are a Sports Illustrated swimsuit model, the beach season can always bring a bit of stress every year. Don't worry, you are not alone.
How can we find that perfect swimsuit that makes us look like we have the bikini body that we dream of? When you are looking for swimsuits, one of the most helpful tips is to understand your body type and find the right bathing suits for body types.
Before I start, I want to say there is no perfect body type theory out there, because human body can have so many different variations. So, whether it's 5 body types or 12, chances are you will find not all the traits in one type always apply to you, or you could feel like you can fall into multiple types (the mixed body types).
Still, I think body types are useful, because it helps us understand certain unique combinations of our physical features and draws a clear picture of our assets and weaknesses.
This post may contain affiliate links, which means we earn a small commission (at no cost to you) if you follow the links and make a qualified purchase, which enables us to keep creating amazing free content for you. Thanks! Click here to learn more.
In today's post, I will be using the 5 most common horizontal body types, I.e, hourglass, pear, Apple, inverted triangle and rectangle.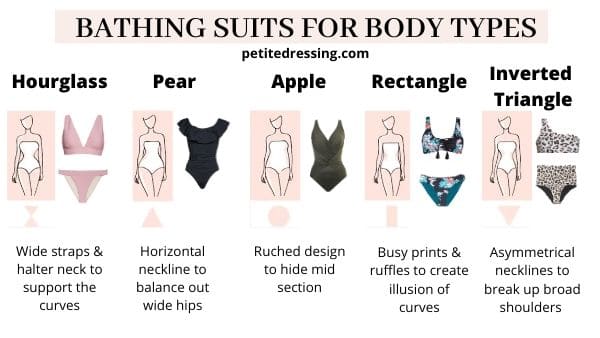 Bathing Suits for the Hourglass Shape
You have the curves envied by the most, but you may not feel that way because you are too busy getting frustrated about finding the right clothes that can hold your assets in the right place, or fighting off unwanted attention. Now, let's go over what kind of bathing suits can most accentuate your ultra feminine body.
Assets of the Hourglass Figure
The hourglass body type has very balanced proportion. Your shoulders are as wide as your hips, while your waist is significantly smaller than your hips. Note that as you go through life, your measurements and weight could go up and down, but the relative ratio of your waist and hips will not change.
Your focus
For an hourglass shaped lady, there's nothing you need to hide about your nearly perfect curves. So, the biggest part of finding the right bathing suit for your body type is to make sure the swimsuit top can provide enough support for your girls.
Since you have full chest, the best choice is to go with the swim top with numbered cups like the bras, instead of those with just small, medium and large. I have found several brands with numbered cups such as Coco Reef, Bleu by Rod Beattie.
Go with swimsuits with wider straps, which provide more steady support for your girls than tiny strings.
The same applies to the swimsuit bottoms. With your round hips, your better choice is a swim bottom that can hold the nice shape of your bum.
You can choose any neckline, but a halter neck is a heaven sent to give you the desired support for your chest.
With your slender waist, you will look gorgeous in either one piece or separates.
With your pronounced curves, you probably don't need t do anything else to draw more attention to your best assets. If you do want to highlight your waist, then choose a belted swimsuit to make your tiny waist the focal point of your swimsuit outfit.
What to Avoid if You have an Hourglass Body Type
For hourglass shaped ladies, any cheap and thin fabrics would just look even cheaper on you, thanks to your luscious curves. A swimsuit made with structured fabrics of enough weight is critical to hold everything in the right place.
Any style that looks like it can't handle your well endowed curves just won't do you any good. For instance, a flatted chested girl might look totally chic in a tube bikini top, but that's likely going to make your breasts look like they are not getting enough support.
Bathing Suits for the Pear Shape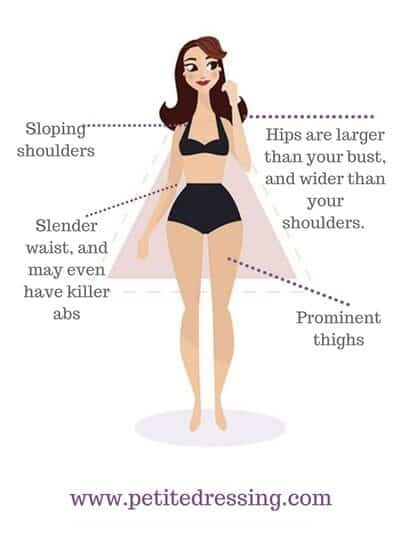 The pear shaped ladies could be skinny or curvy, just like any other body type. Whether you are on slender or survey, what you have in common is the prominent thighs. When you gain weight, you will first notice it on your butt and thighs.
A typical pear shape also tend to have narrower and sloping shoulders. That combined with your wider thighs and hips can give the impression of bottom heavy.
Rachael Bilson is the example of a skinny pear, while Kim Kardashian is an example of pear shaped lady with luscious curves.
Now let's look at your best assets and what is the best swimsuit for the pear shaped ladies to emphasize them.
Assets of the Pear Shape
The pear body type could have very killer abs, and many pear shaped ladies have small waist as well. What's a better time and place to show them off than the bikini season on the beach or by the pool? It is quite possible the pear shaped ladies also have full chest (Jennifer Lopez and Kim Kardashian). So, with a carefully selected swimsuit, the pear shape can totally achieve the hourglass illusion.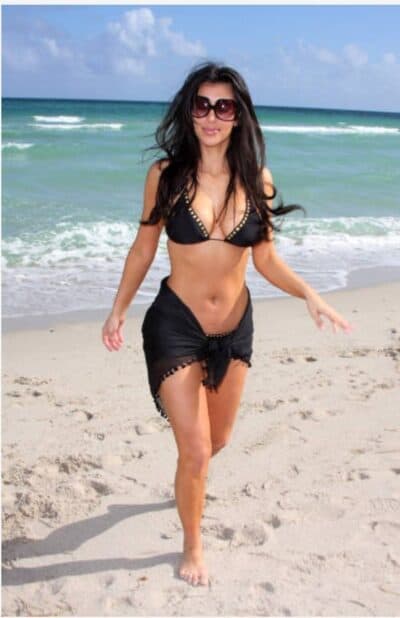 Your focus
When choosing bathing suits for the pear shaped body, the key is to create a balanced upper and lower body. That means we need to find the swim top that can expand your shoulders in order to balance out your wider bottom. In the meantime, the swim bottom should not add more volume to your lower body.
The neckline of the bathing suit plays a critical role in shaping how our upper body looks. For the pear shaped body, any swimsuit top that can form a horizontal line at your neckline and shoulders will work wonderfully. Off the shoulder neckline is one of my top recommendations that can effectively expands your shoulders.
As we all know, light colors expand and dark colors shrink. The pear shaped ladies can totally use this concept to find the swimsuits that flatter your body type. Wear a lighter color swim top to bring the focus to your upper body, and wear a darker color to make your butt less noticeable (if you wish). You can easily do so by getting swimsuit separates, or you can find one piece bathing suit with the color blocking to hard looking for.
Now, when it comes to the bottom, I suggest you use some smart designs to distract attention from your thighs. A skirt bottom is a wonderful option, and you want to make sure the skirt is long enough to cover the widest part of your thighs, and avoid the length that is right on the widest part of your bottom!
This Carol Wior bathingsuit and the Amoressa one piece is a heaven sent for the pear shaped ladies. They are literally a swimdress with a fit and flare silhouette!
Should you wear a boy-short style bikini bottom? It may sound like the extra fabrics is trying to hide your prominent thighs, but in reality it might end up drawing more attention to that area.
Bathing Suits for the Apple Shape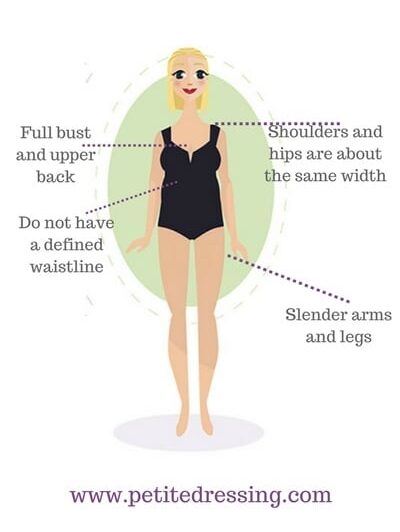 If you have the Apple body type, then you and I have the same shape. Being an Apple means you need to always watch out for your stomach area, because that's where the Apple shaped ladies carry out extra weight.
I am a skinny Apple Shape, which means I am overall quite slender, but I still have to be careful about the midsections. If there is any ounce of weight gain, then it shows up straight on my stomach! So, that's what it entails to have a typical Apple shaped body.
Assets of the Apple Shape
A common character we tend to share as Apple body type is we are fleshy instead of bony. You could be a slender Apple like me, but you most likely still have full chest and full hips. Overall, we impress others with our curves.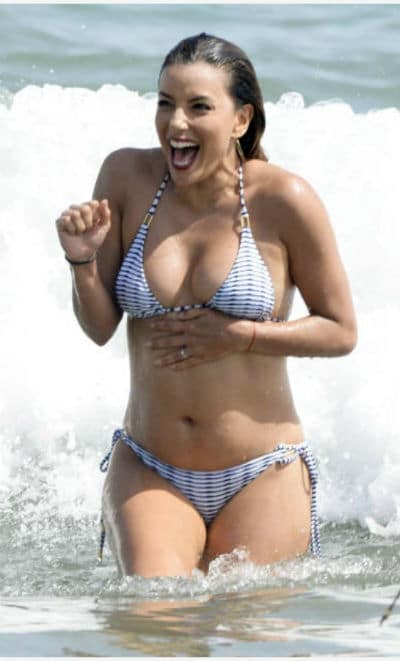 Most Apple shaped ladies have tight and toned arms as well as slender legs. There are some of our best assets that we should highlight with the right swimsuit for your body type.
Your Focus
Now, with our common concern of the midriffs, it goes without saying the ideal swimsuit for the Apple shaped body needs to able to cover that up strategically.
On the other hand, we want to find the bathing suit that draws attention to our face and shoes off our nice arms and firm legs.
Now let's look at what kind of bathing suits can help the Apple body type achieve the above.
Since al swimsuits are tight, it's impossible for us to hide our midriffs with loose clothing. The best way to disguise the mid section is to wear swimsuit with rushing design.
What is ruching?
In my view this is one of the most talented design ever invented in fashion. This is absolutely a heaven sent for the Apple shaped ladies who need help with the mid section.
The ruching design looks like wrinkled even the garment is ok the higher, but once you put in on, that's when the magic happens. You will notice the wrinkles immediately smooth out your midriffs!
Another way to hide your stomach is through color blocking one piece. When you wear a dark color buttom, it can effectively shrink your mid section or make it much less noticeable.
What to Avoid if you Have the Apple Shape
Since the goal for the Apple shaped ladies is the camouflage the midriff, then it sounds obvious we should be drawing attention away from the belly area, not towards it.
This sounds really straightforward, but in realty we are easily forgetting it. One common mistake is for an Apple shaped woman wear a belted swimsuit.
Then, all of a sudden, your stomach becomes the focus of your entire swimsuit! Please avoid that by all means.
Swimsuits for the Rectangle Body Type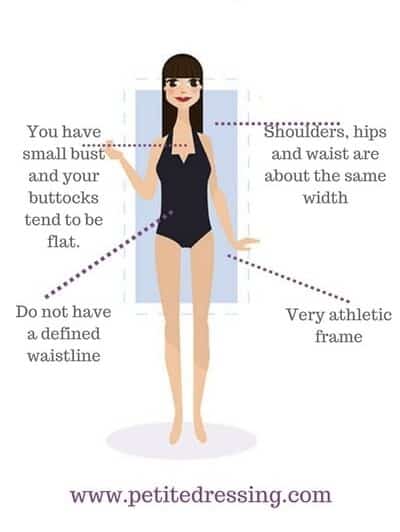 If you have a rectangle body type, normally that means you are bony instead of fleshy. This is the body type of the most super models!
The rectangle shaped women are meant to be able to pull off any clothes, because majority of fashion industry make clothing according to the rectangle body shape. Now, that is definitely a blessing for you, except when it comes to swimsuit.
With your boyish like figure, you might find a challenge during the swimsuit season. The issue is not that they won't fit you, but the issue is how you can wear them and look feminine.
The Assets of the Rectangle Body Type
Your overall skinny and athletic frame is your best assets. Nothing will look bad on you. Like I said, you have the frame of the models!
Your focus
Let's face it. When it comes to the bathing suits, you probably wish you could have some curves. That should be your biggest focus in finding the right bathing suit for your body shape.
First, let's embrace the designs in the swim tops that can create some curves in your chest area. Think flounce, bold prints and smocking. Anything that can add some volume in your chest will help create the illusion of more curves of your shape.
A wrap swimsuit is a wonderful option for the rectangle shaped ladies. Since you don't have much natural curves, the wrap will make your body look more feminine. This could be separates with a wrap top, or a one piece with a wrap top.
You can also try a crop top like swimsuit with an off the shoulder neckline. Because it covers a bigger area than the string bikinis, it creates volume for your upper body thus the illusion of curves.
A plunging neckline might sound daunting, but it will work great on you. This is actually the design you can pull off much better than the curvy friends, because it will look sexy and still tasteful…as seen on the famous Kate Moss, a rectangle body shape lady!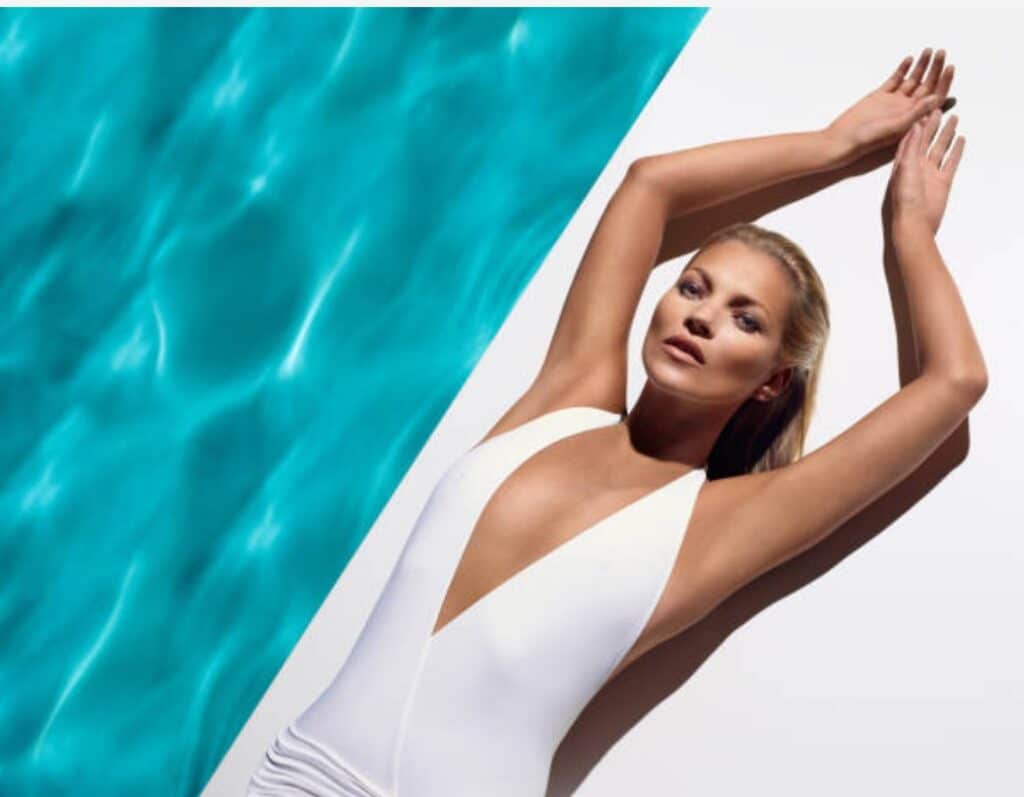 A bandeau top or tube top also look a lot better on you than women with fuller chest.
Any interesting shapes of swim tops will also add volume to your chest. Try sweetheart neckline or scallop Shape for the bikini top.
Swimsuits for the Inverted Triangle Shape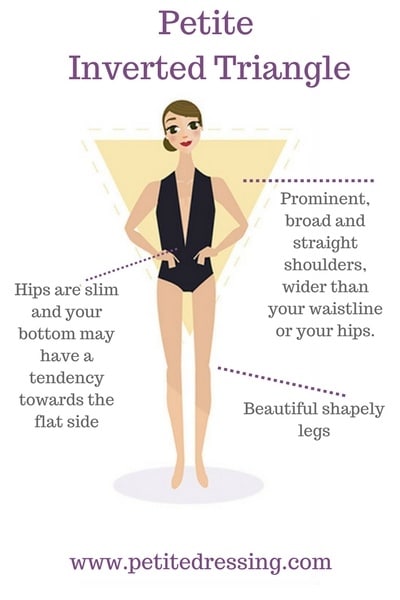 You have a very athletic body type. A lot of swimmers and models have this body type. Because of your strong shoulders, you can pull off most clothes just like the mannequin- it's hard to find something that doesn't work on you.
Now, when it comes to choosing the right swimsuits for your body type, there is a lot more to consider.
Most women with inverted triangle shape have narrow hips. That will be even more noticeable when you are wearing swimsuits. I will talk about how to balance that in a short moment.
The Assets of Inverted Triangle Shape
It goes without saying your athletic build is a huge plus. Famous models like Naomi Campbell and celebrity like Cameron Diaz have your body type. These are the well dressed ladies and I can't think of a bad example of what didn't look good on them…
Your Focus
The eyes like balanced things. The inverted triangle shape overall comes across as top heavy, the opposite of the pear shape. So, your strategy should be the opposite of the pear shaped ladies.
With your strong broad shoulders and narrow hips, your focus should be to add volume to your bottom, while avoid adding any volume to your top especially the shoulders.
A peplum style one piece or a bikini bottom with flared skirt will help make your hips fuller.
In my view, you don't need to do anything to try to hide your broad shoulders. If you do want a more balanced look, then choose a neckline that will break up your shoulders a little bit. A halter neck works wonderfully on you.
If you wish to add more curves to your body, then opt for some feminine design details such as ruffles.
A wrap swimsuit can also create the curves and balance out your athletic body.
What to Avoid if you are an Inverted Triangle Shape
A spaghetti stripe will only draw more attention to your shoulders. Because they are so thin, the contrast with your shoulders will make them even more noticeable.
Videos on How to Dress for Your Body Shape
Everything Else You Need to know