Having a rectangle body shape means your body goes straight up and down, and you tend to have an athletic build. Meanwhile, one major trait of this body shape is your natural waist definition is not obvious. That is why it is critical to find the right pant style that can complement your natural shape.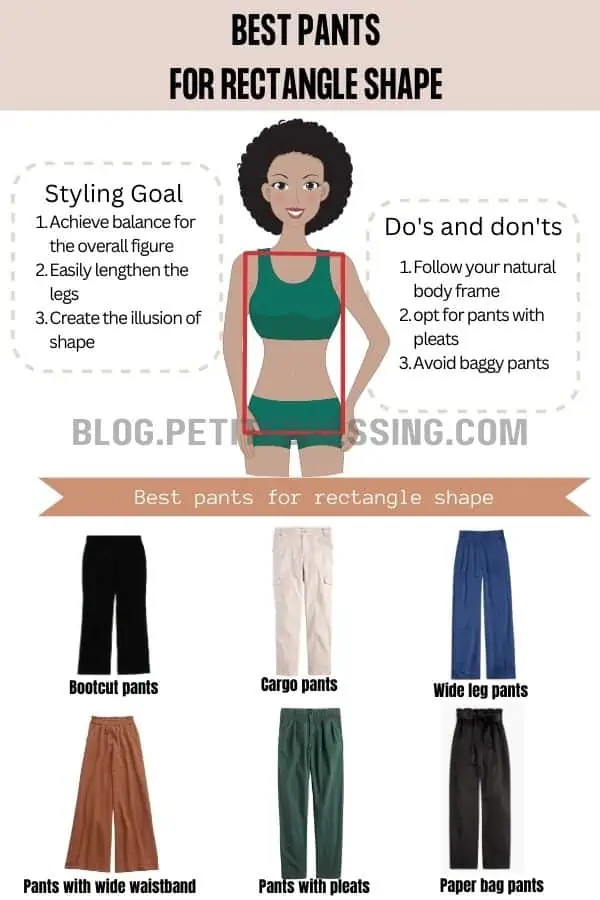 The best pants for this shape should therefore be those designs that would effortlessly add curves and volume to the lower body. Below is a comprehensive guide of 8 types of best pant styles for women with the rectangle body type, and 4 styles you should use caution or even stay away from.
Bootcut pants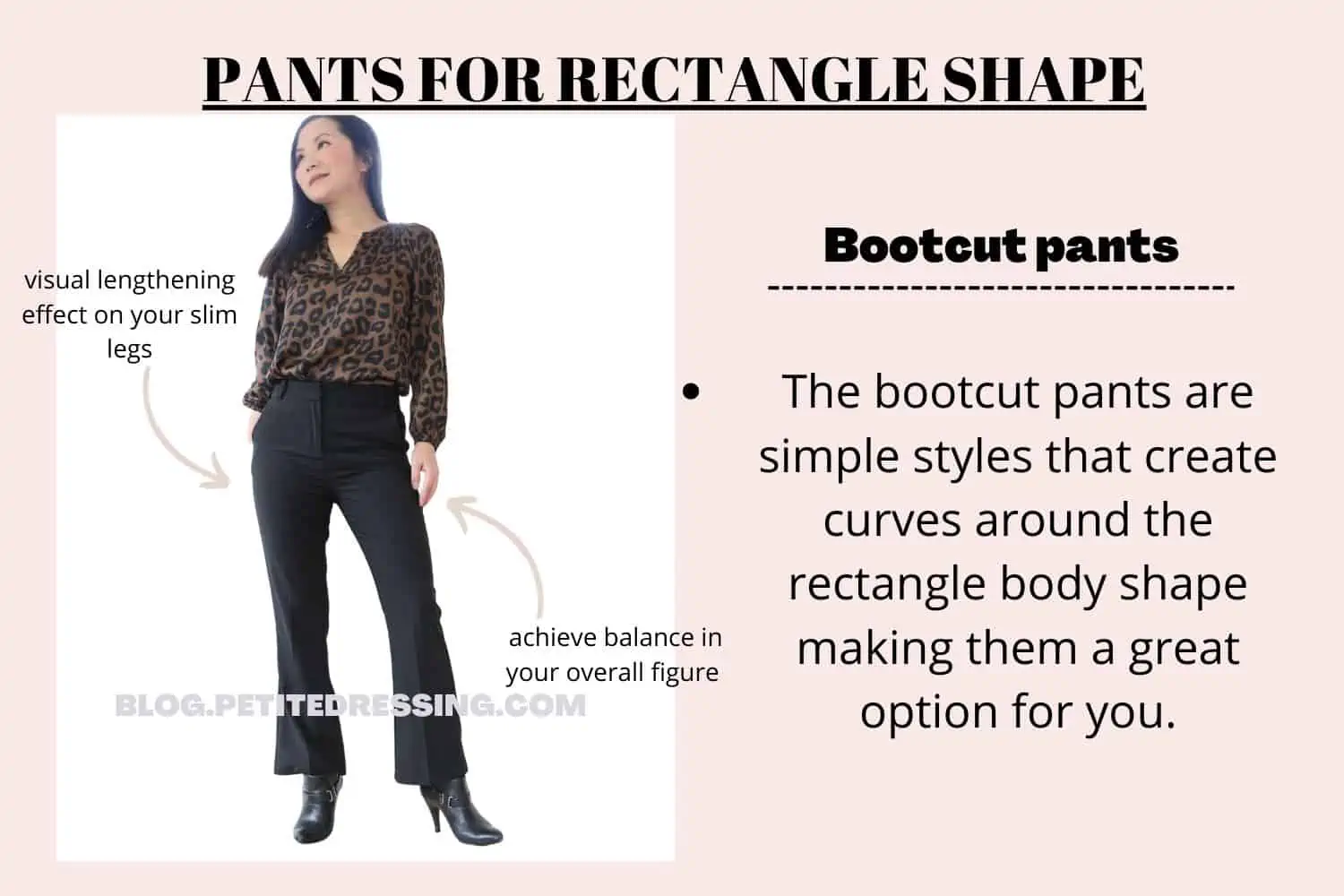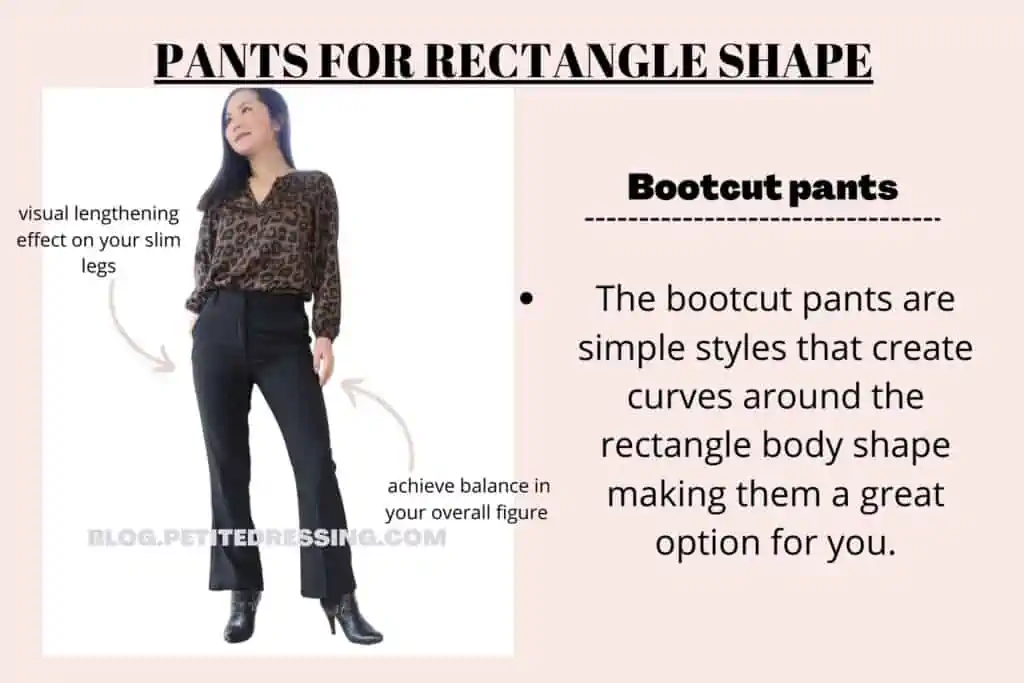 The bootcut pants are simple styles that create curves around the rectangle body shape making them a great option for you. They are designed to be fitted around the waist and hips before flaring out from the knees.
Because the boot cut fits narrow on your thighs and widens under your knee, the leg shape would deemphasize your straight shape.
Besides, Bootcut pants also have a visual lengthening effect on your slim legs, one of the best assets for the rectangle.
These are pants that can give great proportion to the lower body part so you could achieve balance in your overall figure. It is an incredibly stylish pants with a unique design that can rightly flatter your feminine structure so keep them in your classic functional wardrobe.
Cargo pants
Another simple and stylish pant style for the woman with the rectangle shape is the cargo pant because it has strong points of interest.
Cargo pants have an overlap of buttons around the waistline with the aim of adding volume to your bottom half. The buttons also help to pull the focus of the eyes to the cinched-in waistline so as to prevent it from moving upwards and downwards.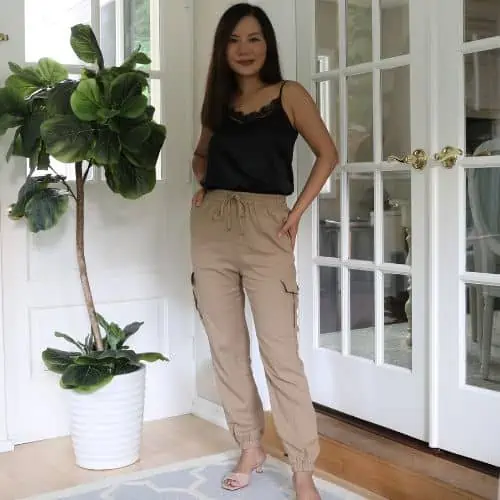 Why opt for cargo pants
Cargo pants can also help to give the illusion of hips to your lower body half.
Doing so, makes your waist appear smaller than your hips, and that will break up the straight-up and down the natural shape of the rectangle.
This is a classic piece with a gentle feel that accommodates your rectangle shape properly so do not refrain from trying them out.
Wide leg pants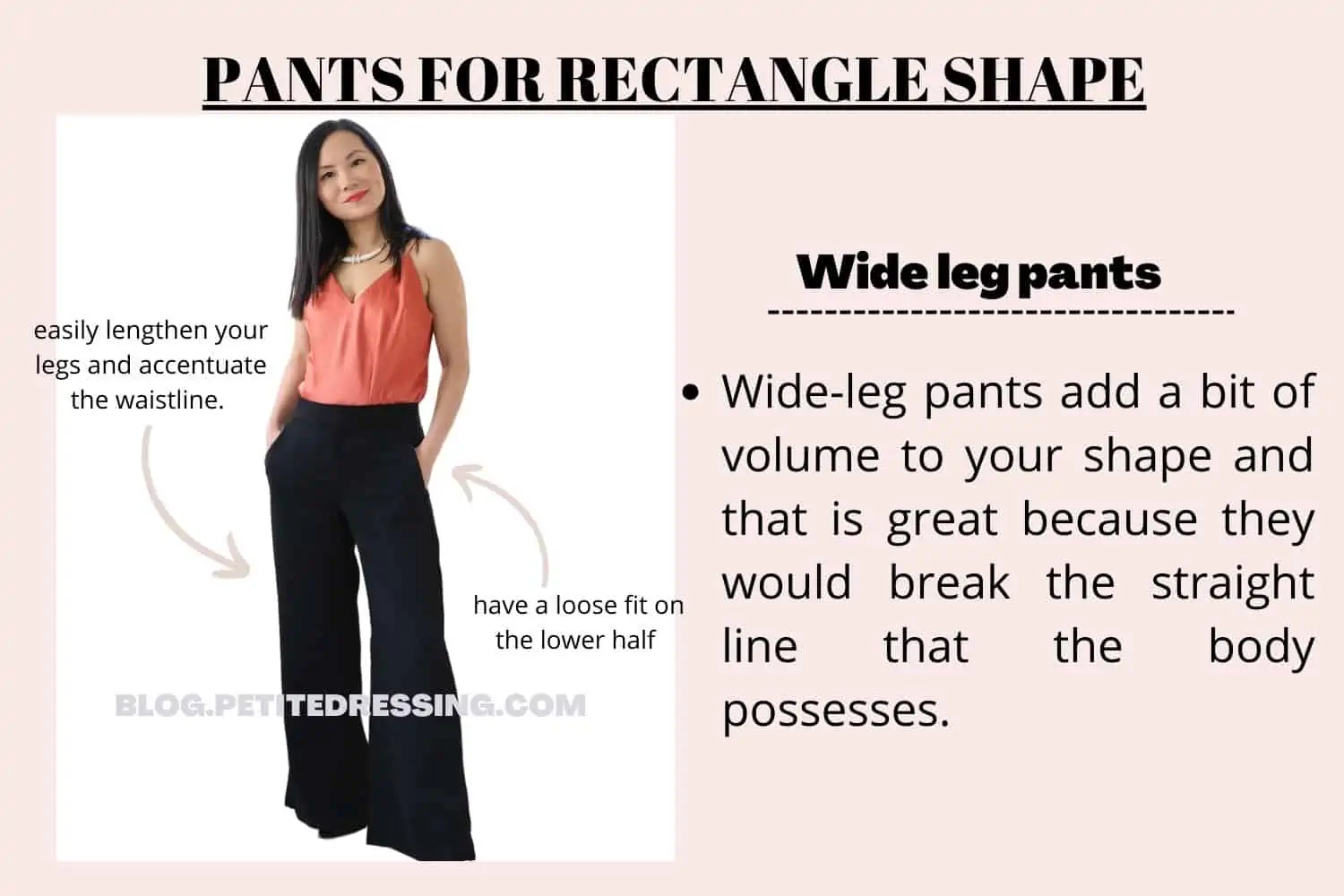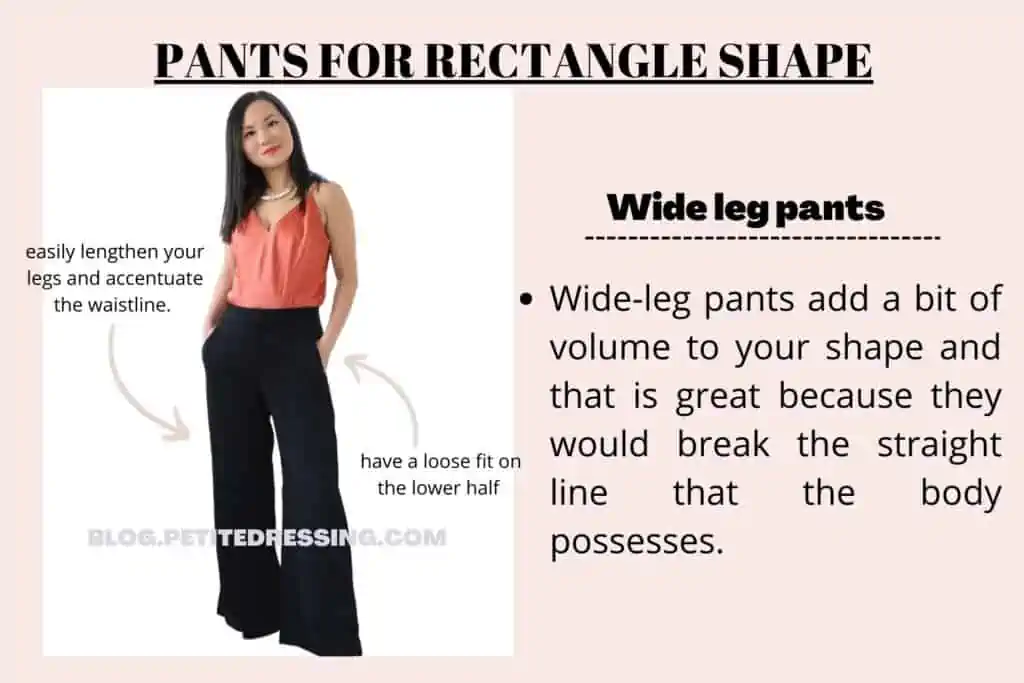 You should have a few of the wide-leg pants if you have a rectangle shape especially because they are designed to have a loose fit on the lower half. Wide-leg pants add a bit of volume to your shape and that is great because they would break the straight line that the body possesses.
These are pants that carry out two major functions that are perfectly in line with your rectangle body shape. Wide-leg pants are best in nipping in the waist so it could be well-defined before flaring out over the narrow hips.
They are incredibly stylish silhouettes on almost all body types as they would easily lengthen your legs and accentuate the waistline. They are also designs that are easy to style and do not restrict your movement because they have breathable space around them.
Pants with wide waistband
Part of your figure that requires proper detailing is the waist and for this reason, wearing pants with wide waistbands is the best choice. Waistbands are a major part of pants that can also help to improve your looks and deemphasize any concerns about the figure.
In comparison, when you wear pants with a thin waistband, they cannot serve the purpose of cinching your waist, and for that reason, they are not the best option for the rectangle body shape.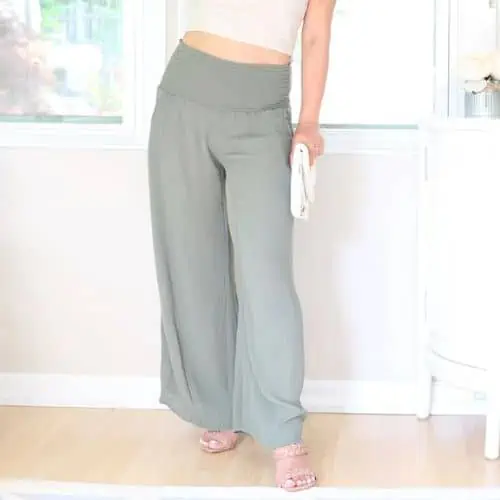 Pants with wide waistbands are the best
Wide waistbands are highly effective in defining the narrow waist of the rectangle shape and can further go on to pull in the focus of the eyes.
Pants with this size of the waistband are very comfortable and pretty stylish details that work better than those with thin waistbands.
Pants with pleats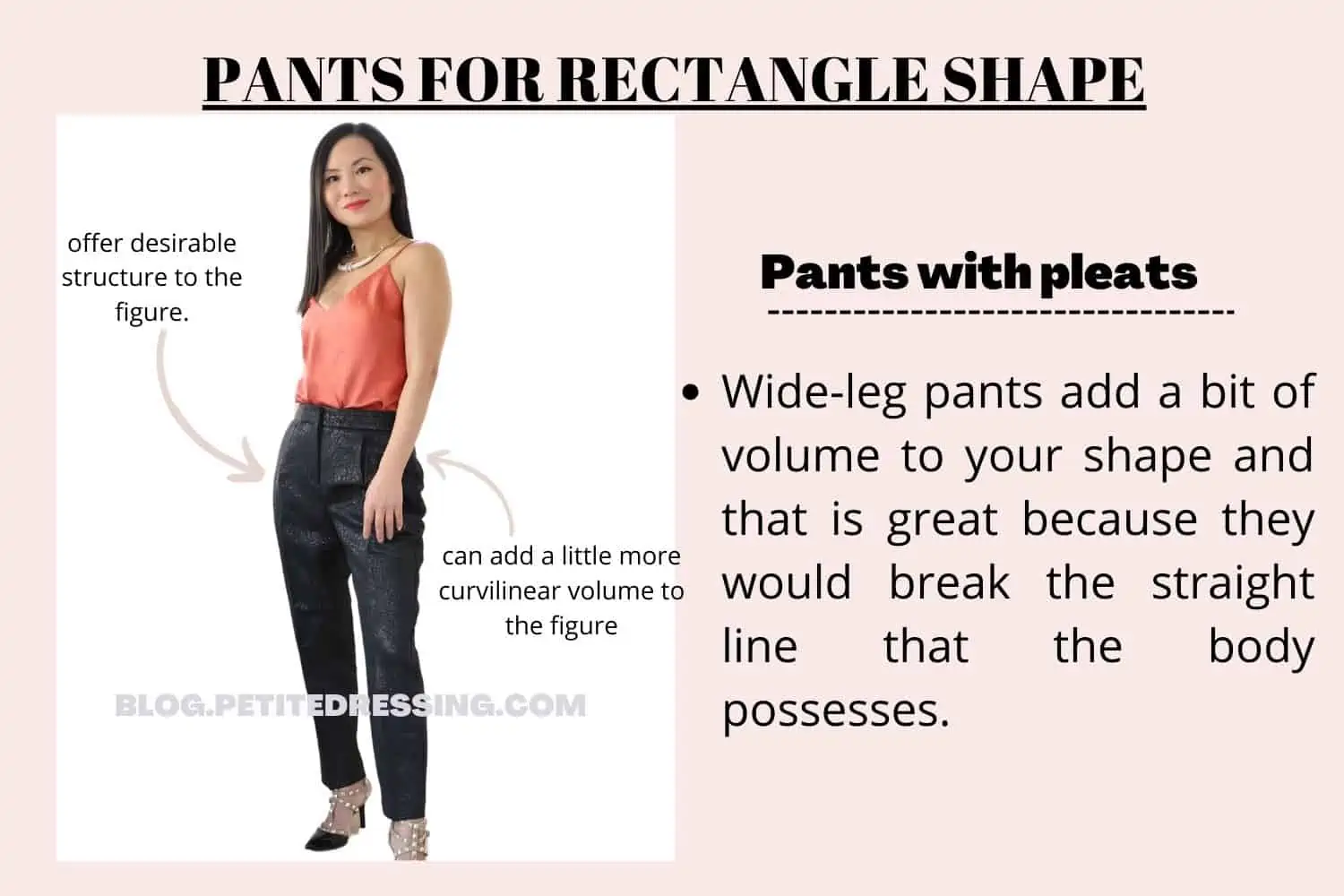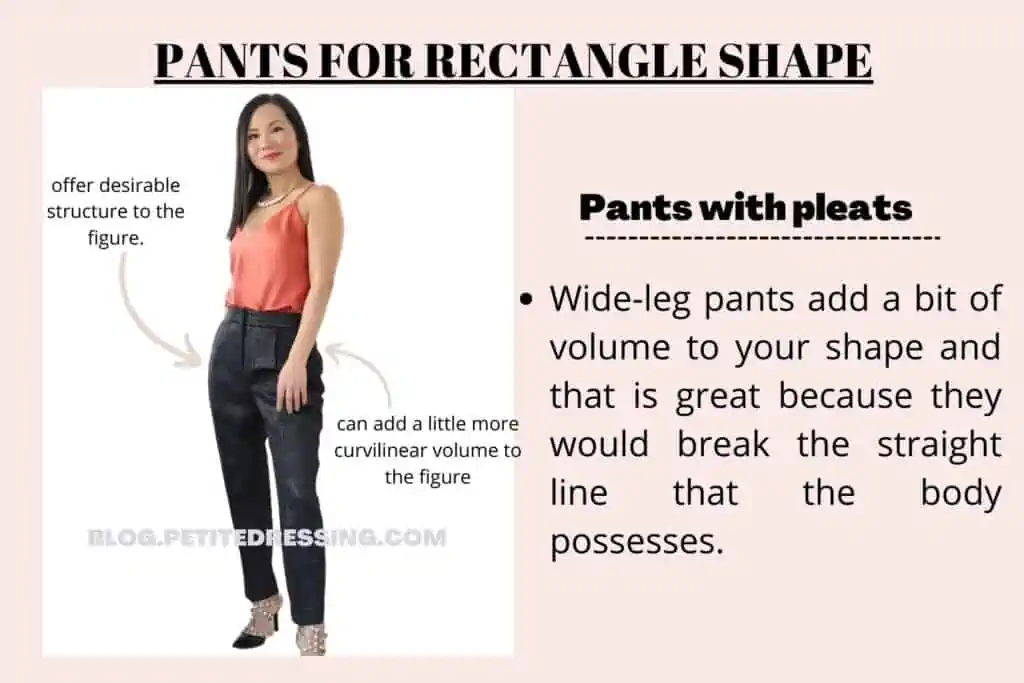 Pleats in pants are beautiful pant styles that can add a little more curvilinear volume to the figure of the rectangle shape woman. It is an essential detailing that looks stylish on the lower body part.
Pants with pleats are also very comfortable styles that you can pull off for any occasion because they offer desirable structure to the figure. These are great pant choices that you can take advantage of by styling them in different ways.
If you have a rectangular shape, this style of pant would definitely be a better fit if you intend to try out new pant options.
Paper bag pants
These are particularly designed for the woman with a rectangle shape to confidently own her shape. Paper bag pants are styles that make it is easy to break the natural horizontal line that your figure possesses.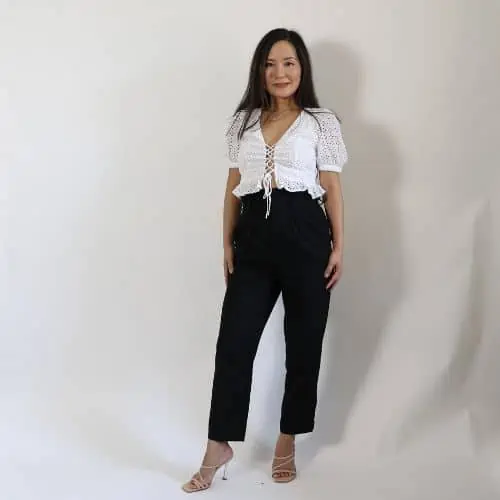 Paper bag pants are a must-have
These are pants with a gentle feel on the lower body part as they could help in restructuring your looks by offering a clear waist definition.
Paper bag pants have belts or ties around the waist that not only cinches the waist but could only add a bit of volume to the bottom half.
The pants are also very comfortable designs that would readily flatter the woman with a rectangular shape.
Straight leg pants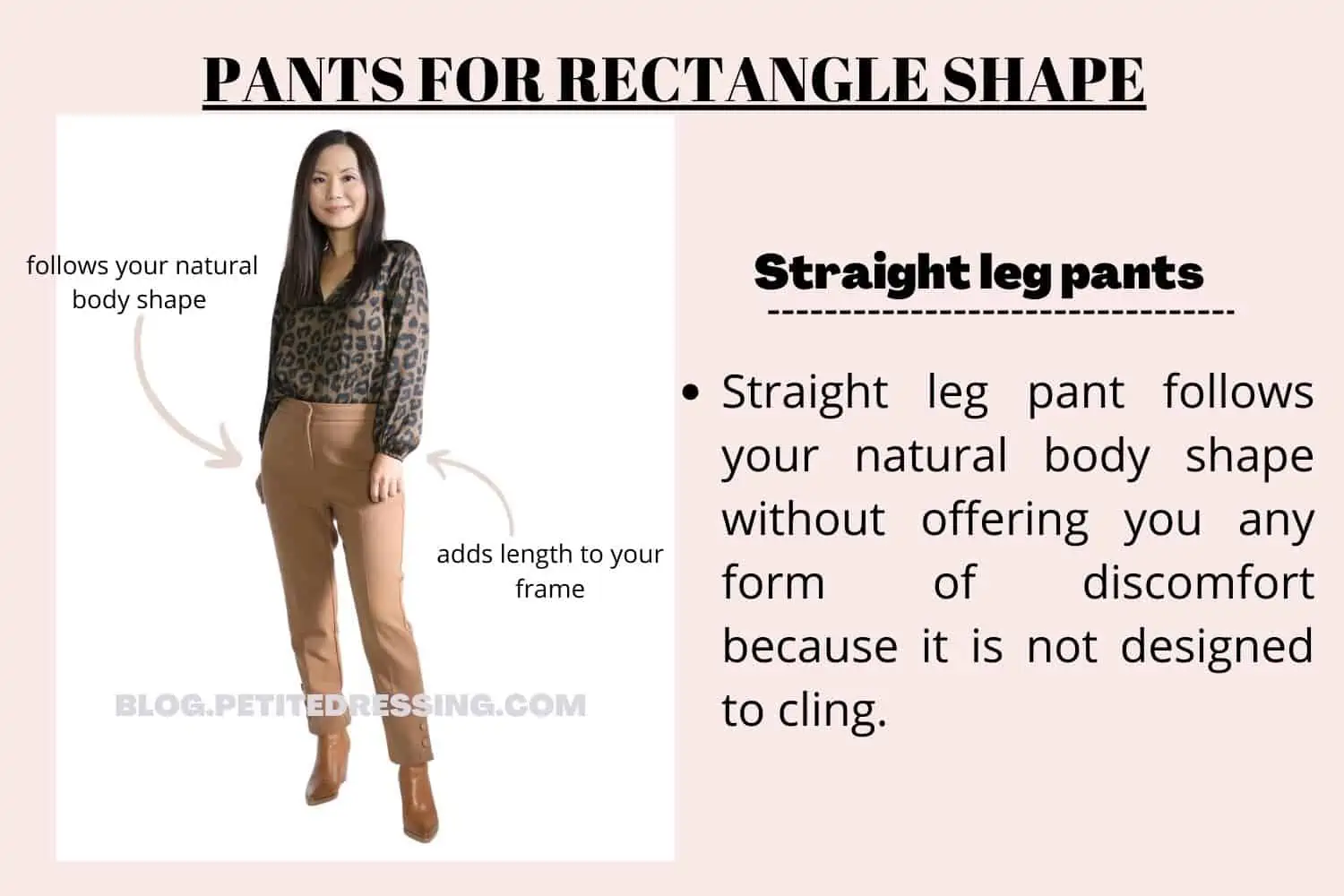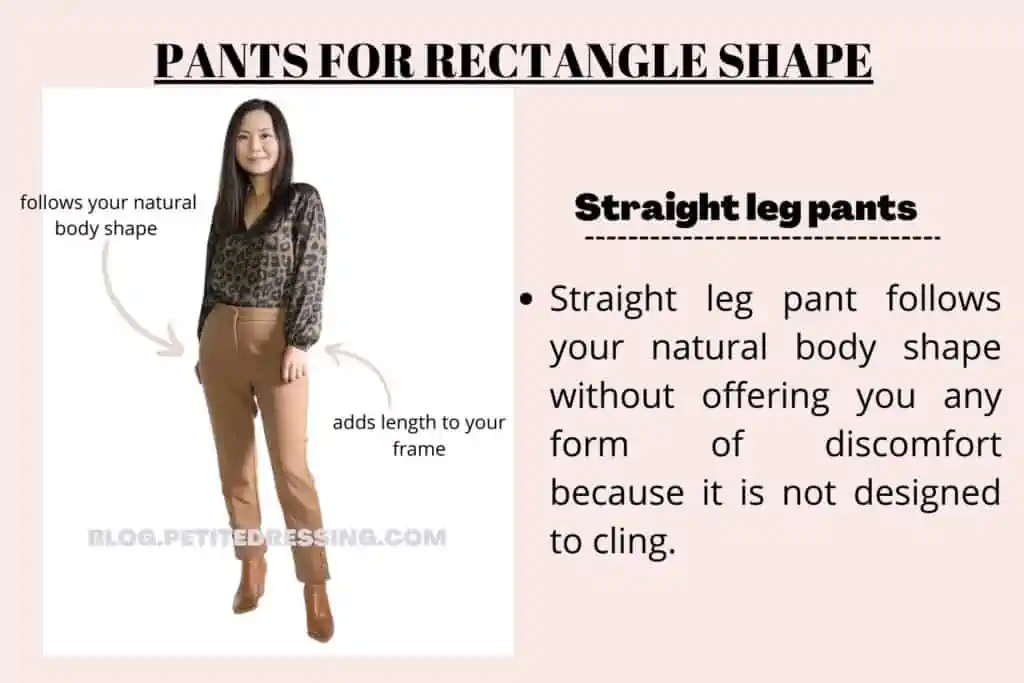 These are pleasing and suitable pants for the rectangle shape with a cut that has a relaxed fit on the lower body half. Straight leg pant follows your natural body shape without offering you any form of discomfort because it is not designed to cling.
The legs of the pant do not taper in and as such it adds length to your frame and do not make your overall figure appear cut off.
Pants with side pockets
The pockets serve as focal points to the eyes so they would not have to notice that you have a straight figure throughout your body frame. Pants with pocket detailing are just perfect designs that can help build a functional classic wardrobe for your rectangle shape.
These are pants that could also add fullness to your lower half, and therefore create the illusion of wider buttocks.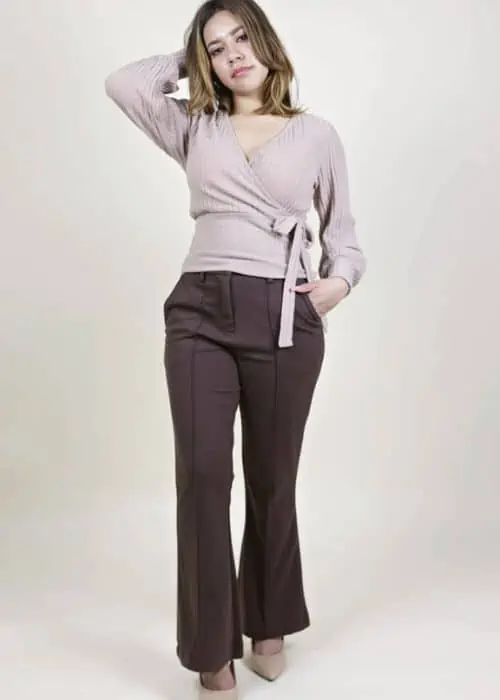 Pockets are essential for your figure, here's why
Detailing around the waist and hips can change the structure of your rectangle shape and that is a reason they are encouraged to be parts of your wardrobe.
Pants with side pockets specifically have the ability to give the illusion of curves around the small hips.
They are comfortable pants perfect for making the straight body shape look more curvy and feminine.
Mid-rise pants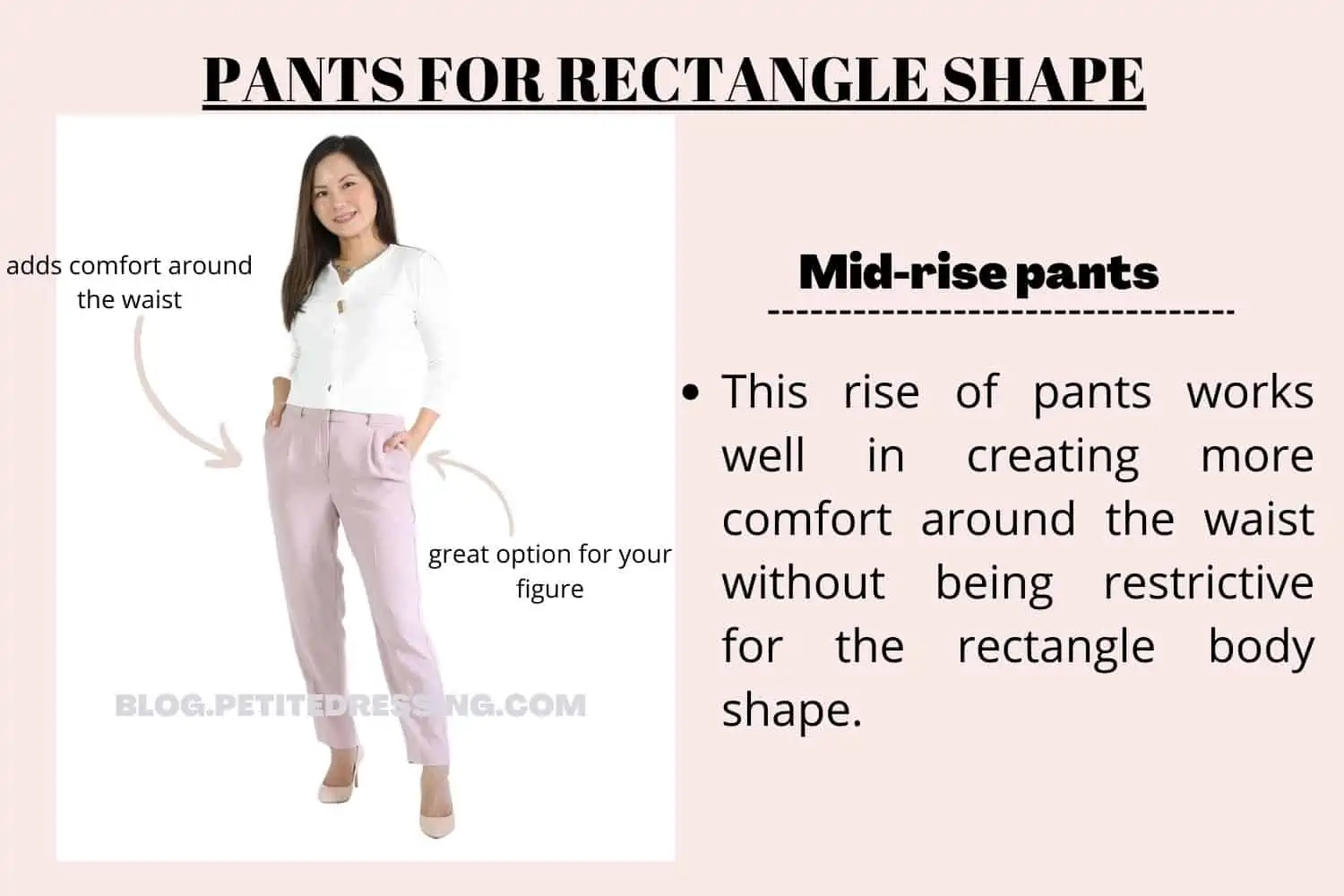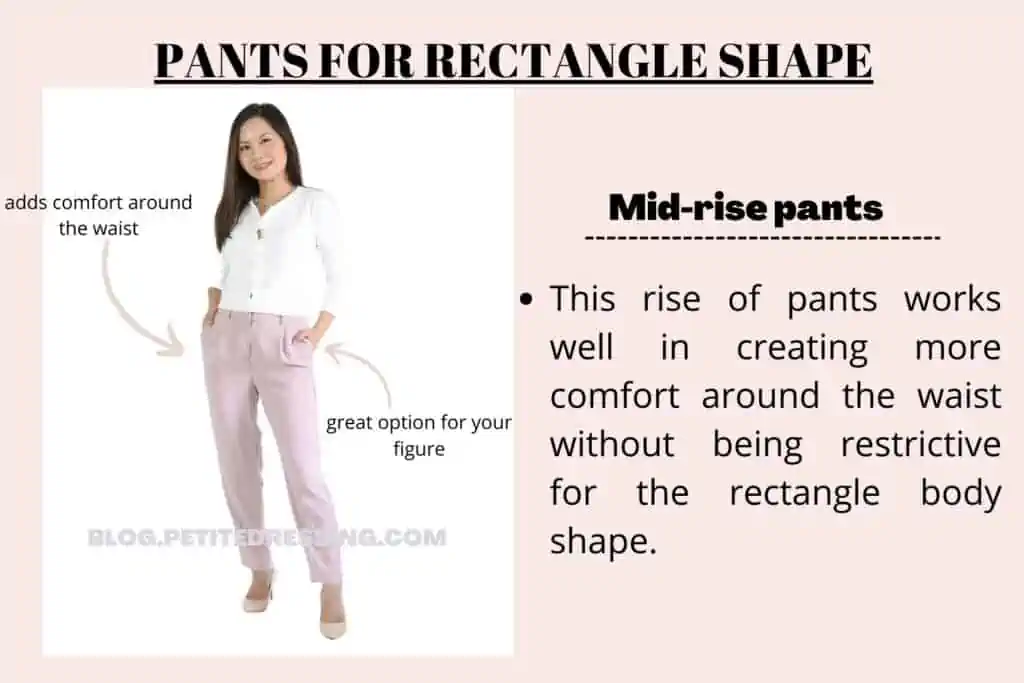 If you have a rectangle shape and you are aiming towards perfection in your overall shape, then the mid-rise pants are a great option.
This rise of pants works well in creating more comfort around the waist without being restrictive for the rectangle body shape.
In comparison, Low rise pants would rather emphasize the squareness in your overall body frame so they are not the best option for your shape.
Avoid baggy pants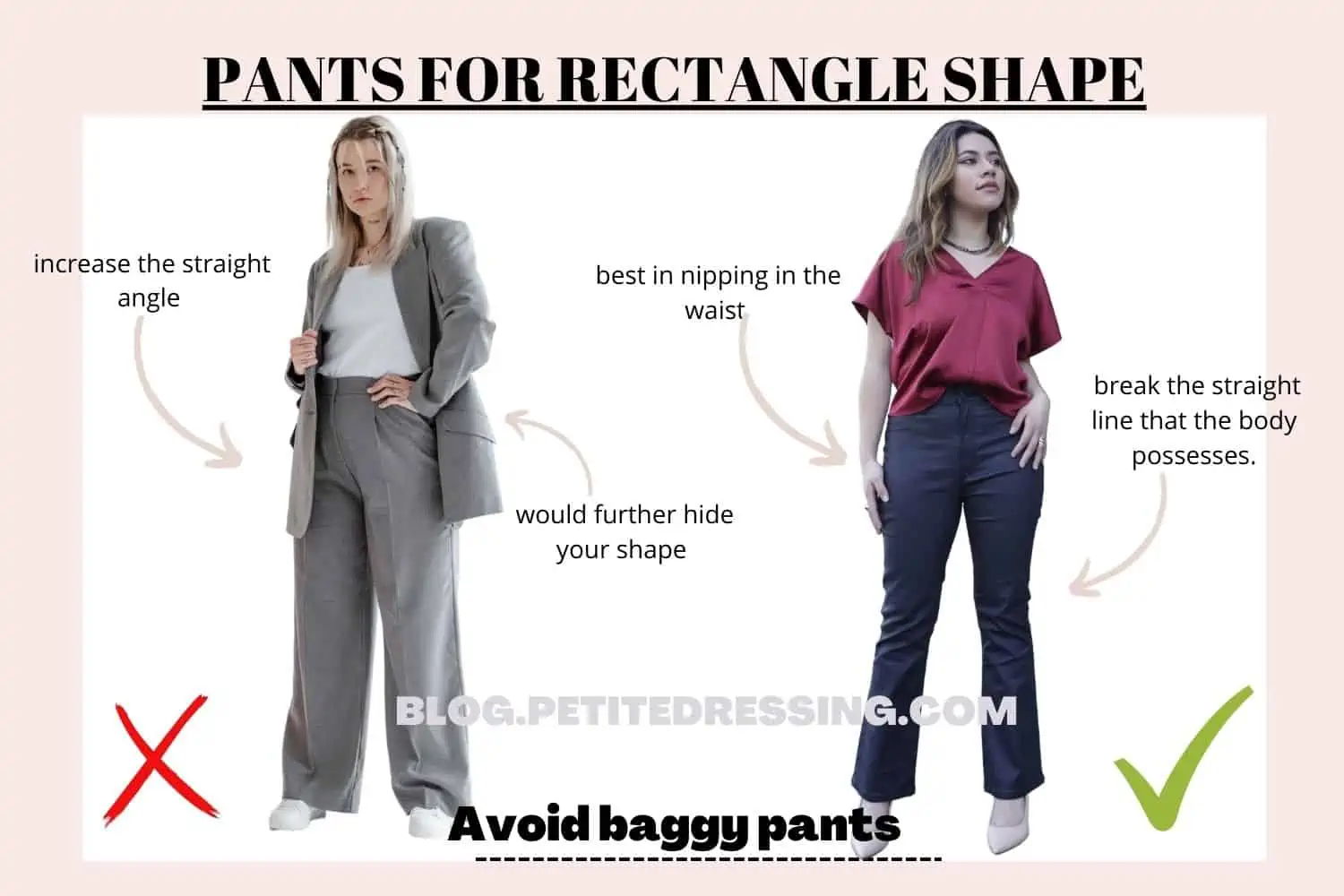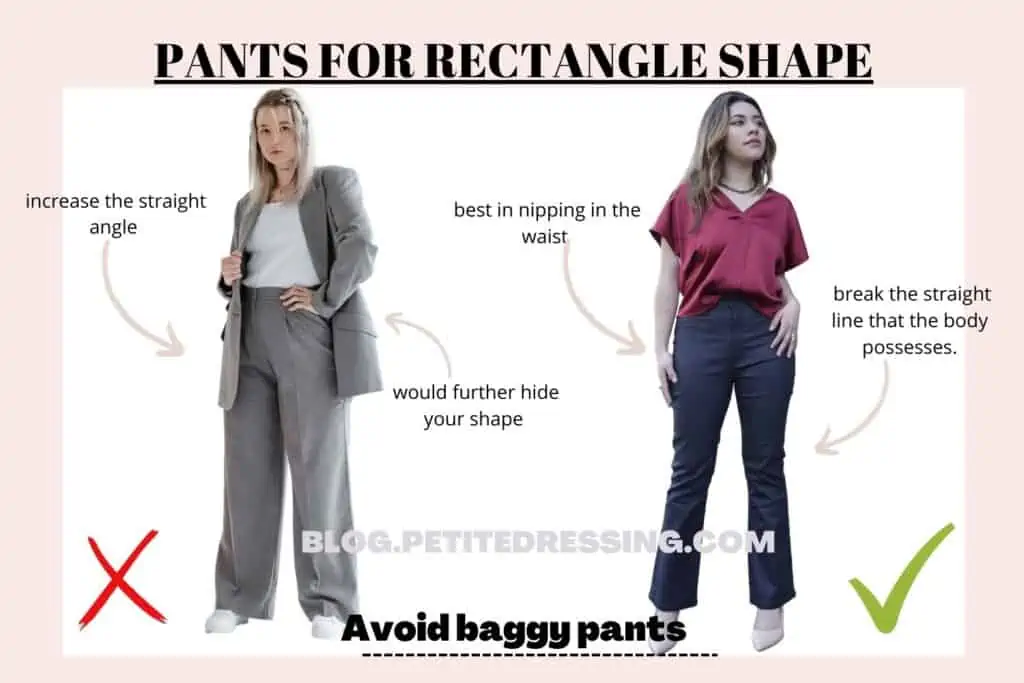 These are pants that are known for helping you lose your body structure rather than assisting in improving it in the best possible way. Baggy pants are more like oversized designs that would increase the straight angles of your shape.
It is just best that you avoid baggy pants if you have a rectangle body shape because would work against your frame. Baggy pants would further hide your shape in them and do not compliment your shape.
They may be trendy but it is best you understand that not all trendy pieces work in line with all body shapes.