What is a banana body type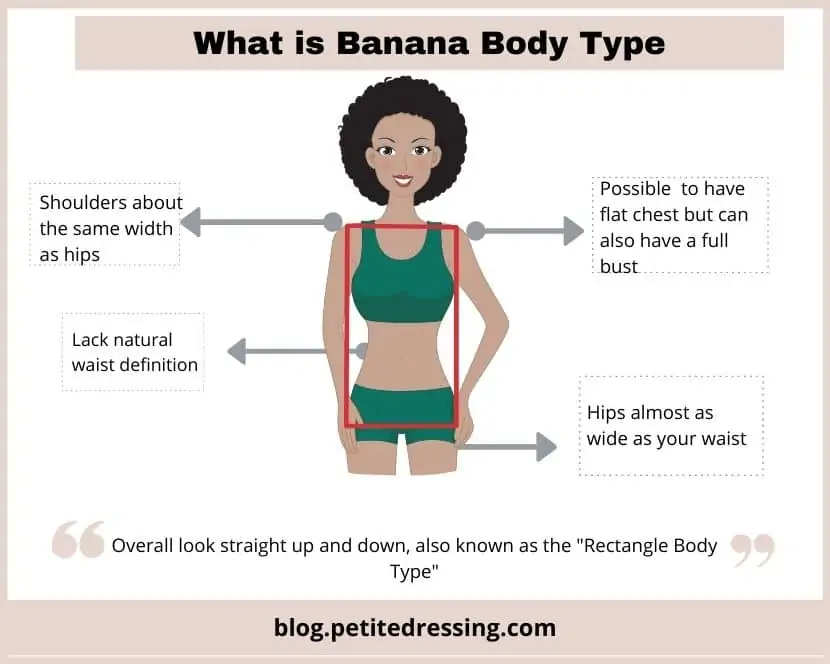 One of the most common characteristics of a banana body type is the fact that shoulders, waist and hips are all very similar in measurement and proportion. If you have a banana body type, it's likely that you do not have a defined waist.
Another way you may have heard this body type defined is rectangle body type or straight body type. Cameron Diaz, Kate Hudson and Kate Middleton are a few famous women with a banana body type.
The best way to dress the banana body type is to add shapes to your body by wearing color blocking tops and bottoms or add a belt to anything you wear. Because you lack a natural waist definition, it is important to wear skirts with A line shape or jeans with flare legs. These kind of silhouettes will create the illusion of curves for women with banana body shape.
The following are the 14 best ways to dress the banana body type.
Wear Wrap Top
Tops with built in belts are ideal for flattering a banana body type. Wrap tops are a great example of this. Thanks to the belted detailing around the waist they create the illusion of a defined waistline, even though you may not naturally have one. Seek out tops that offer belts as a part of their design and silhouette to benefit from this attribute. Not to mention, wrap tops is one of the most feminine designs that flatter women of any age.
Wear Pleated Skirts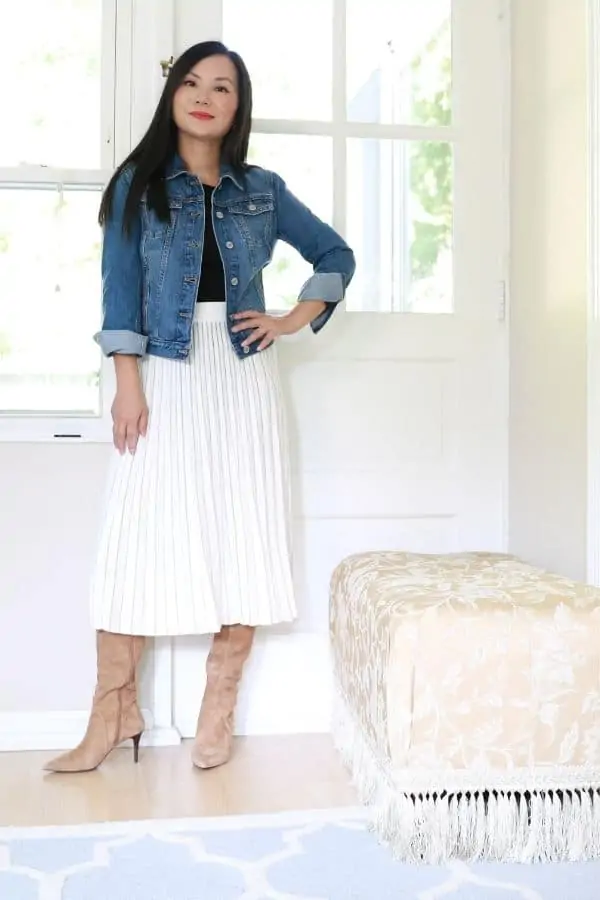 Pleats add volume and shape to your body, which is often the goal when dressing a banana body type. Good news for you, this is a flattering option to wear. Anytime you want to add the illusion of curves and shape to your bottom half – opt for a skirt and/or pants with pleating.
I was wearing a pleated sweater skirt which adds plenty of volume to my bottom half. You can opt for pleated skirts of any color, but it works the best to combine this tip with the color blocking strategy which I will talk in more details later in this post.
This goes for bottoms with ruffles and any other, similar, details you may come across.
Wear Ruffles
Ruffles are a design element that happens to be extremely flattering for a banana body. Because of the added volume and dimension ruffles provide, they create the look of curves to the body when worn. To make the most of this style tip, focus on pieces that have ruffling in the areas you want to add a curvier effect to. For example: if you want to enhance your bust, seek out tops with ruffles around the bust area.
Wear Aline Skirts
A line skirts are one of the best skirts for women with banana body type, because it gradually flares out and adds shape to your body. The best way to dress the banana shape is to wear a fitted top like a blouse with an Aline skirt. That will form the overall silhouette of the capital letter "A", which creates the illusion of a smaller waist and a wider hips, even though your hips and waist are the same width naturally.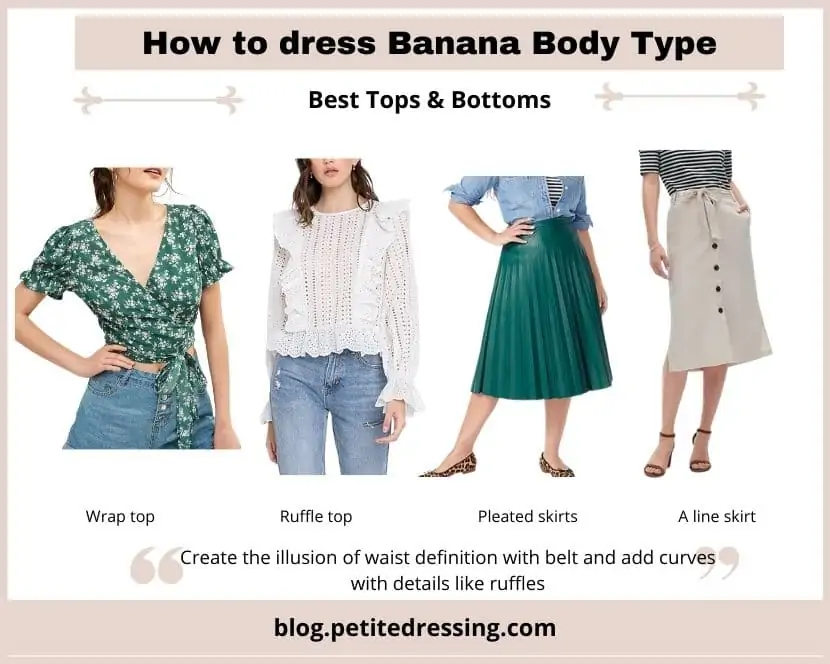 Add a Belt
If you have a hard time finding shirts or dresses that are belted, adding a belt yourself (using one from your own collection) is another great option. The point is – utilize belts as often as possible when dressing a banana body type.
The key is to choose the right color of the belt. If you happen to be a curvy girl with a banana shape, then it is important to use a belt that is the same color as your top or you dress. That is the best way to define your waist without drawing too much attention to your mid section.
If you are a banana shape with a bulging mid section, wearing a contrasting color belt will only make people notice more about the fact that you do not have a natural waist. This is even more true if you are using a skinny belt. Because the contrast of a skinny belt with your dress or shirt is even more noticeable than any other type of belts.
If you are a thin banana shape, then you have a lot of flexibility to choose belts of different colors to define your waist.
Use Color Blocking
Color blocking is essentially wearing different solid color garments together. Think a red blouse with white pants, as an easy example. This is a fun styling trick to use when you have a banana shape because it creates a clear definition between your body parts. Anytime one color stops and another starts, the area of the body is strongly defined. Because a banana body shape is straight by nature, this gives you shape the look of a more defined waist and shape overall.
Wear Peplum Dress
Peplum is another great silhouette for women with the banana body shape. This kind of design has a natural mermaid shape, which is extremely flattering for women who needs waist definition like the banana shape.
Favor Pants with a Flared Bottom
There are a variety of pants silhouettes that look great with a banana shaped body. But to add some added shape to your figure, options with a slight flare at the bottom is something to pay extra close attention to. The flare doesn't have to be extremely exaggerated in order to get the figure flattering benefit, if that's not really your style opt for a 'mini' boot cut style.
Pay close attention to hemlines with flared bottom pants. Make sure to get them hemmed as needed to keep from your pants appearing ill fitting.
When you wear a flare leg jeans or pants, the best inseam length is 3 inches longer than the inseam length you would wear with flats. The reason is wearing flare leg with heels are the most flattering way for women of any height. Ideally, your flare leg jeans or pants should cover part of your heels.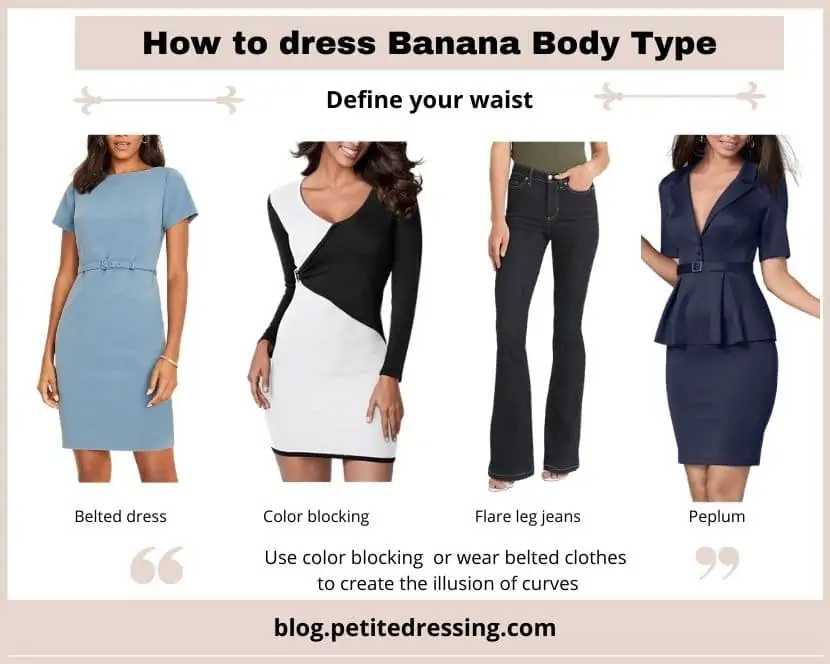 Opt for Cropped Jackets
Jackets or coats are a wardrobe must have for all women. When dressing a banana body type, cropped jackets are a silhouette to favor. The reason is because a cropped jacket draws more focus towards the waistline (even if you don't have a defined one), and accentuates the area giving the illusion of a more hourglass body type.
When selecting cropped jackets look for options that lay around your natural waistline area. If you are a petite woman with a banana shape, this is even more of an ideal jacket style for you to embrace.
Avoid Boxy Shaped Clothing
When dressing to flatter a banana body shape it's all about wearing pieces to create curves. Unfortunately, clothes that are very boxy and shapeless do the opposite of this. That is why, generally speaking, it's best to avoid these types of garments. Most style experts suggest opting for clothing that offers some natural shape and structure to them instead.
Of course, if you really love to wear boxy shaped items you certainly can. Look for ways to balance these items to flatter your figure, like throwing on a belt around your waist.
Wear Halter Necks
Halter necks are a winning choice for a banana body type. Because halter necks expose the shoulders and back, with an exaggerated neckline they also happen to give the illusion of a more curvy bust area. Try this neckline with tops and dresses alike.
Experiment with Necklines
While some body types have to be cautious with necklines, with a banana shape you can really have fun with this. Try necklines with different shapes and heights. A deep scoop or v-neck will add length and dimension to the top half of your shape and accentuates the collarbone. Styling something more out of the norm like an asymmetric neckline will add an exaggerated diagonal line across your body that gives the illusion of curves.
Avoid Body con Silhouettes
More often than not, very form fitting garments play up a straight body shape. This isn't to say that you can't ever wear this silhouette, of course. But if you want to play up the illusion of a more defined body shape swap out body con silhouettes for something like an a-line shape. A-line is a safe, reliable silhouette for flattering your body type because of the built in waist definition it offers.