Having a flat bum is most likely a body feature due to genetics, but sometimes losing too much weight too quickly or aging can also result in a flat buttocks.
If you want to make your bum look bigger FAST so that you can look more feminine, then the best way is to follow these styling tips.
Styling Goal
If you want to make your butt appear bigger, it is important to create the illusion of curves in your overall outfit.
That includes wearing tighter fitted pants or jeans, and avoid anything that does not define your bottom.
In addition, you should add volume to your hips by wearing styles such as a peplum top, peplum dress or a skater dress.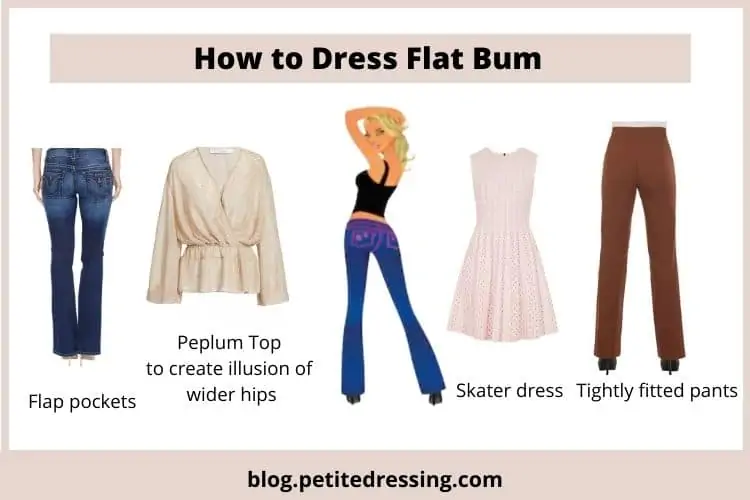 Define Your Waist
Anytime you want to create the illusion of curves, defining your waist is a great place to start. Accentuating the smallest part of your waist will, by nature, enhance your curves – including a flat bum.
Fortunately, there are countless ways you can dress to define your waist. Here is a list of favored ways to define a waistline to create the illusion of a fuller bum.
Dresses with a belt
High waisted pants
High waisted skirts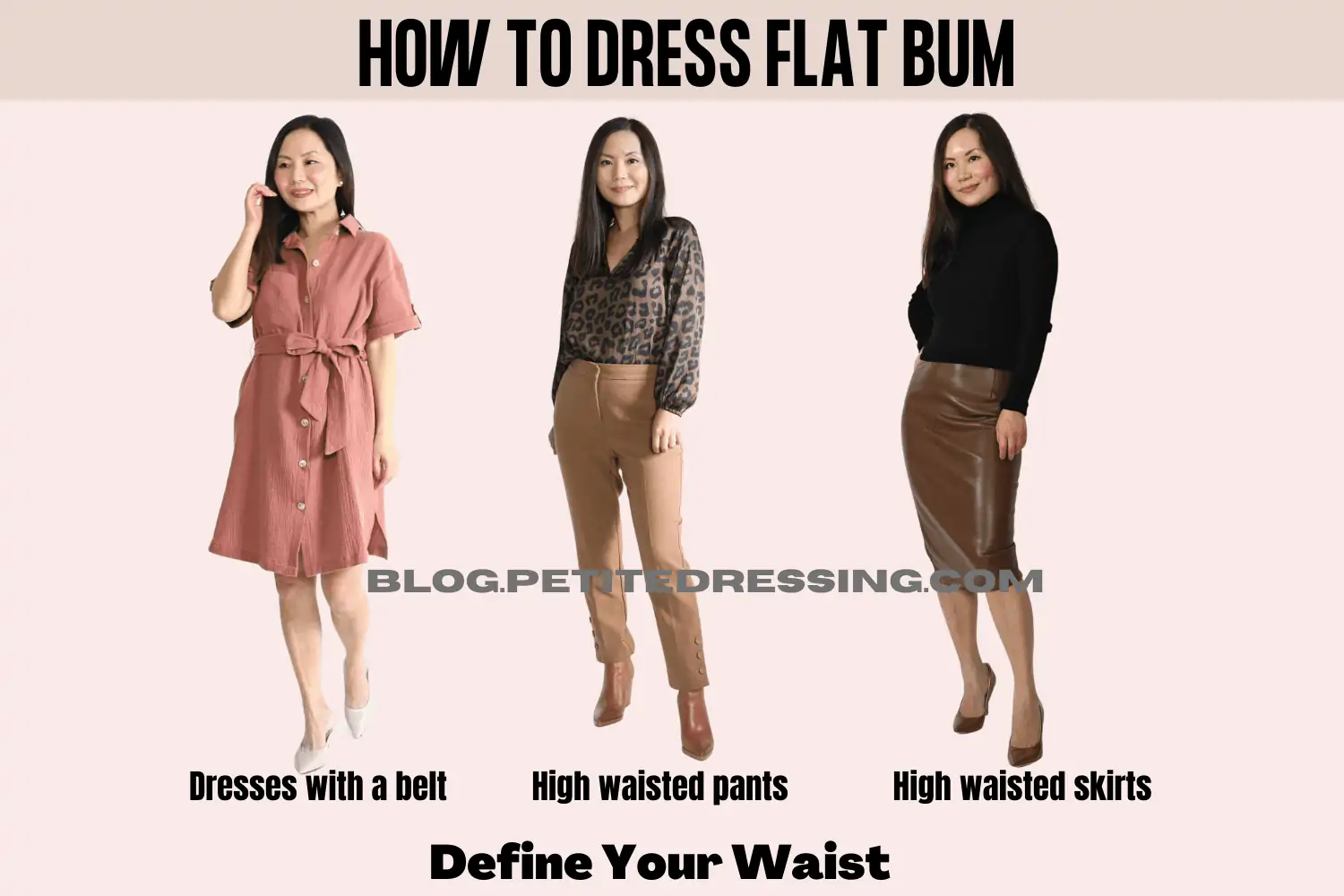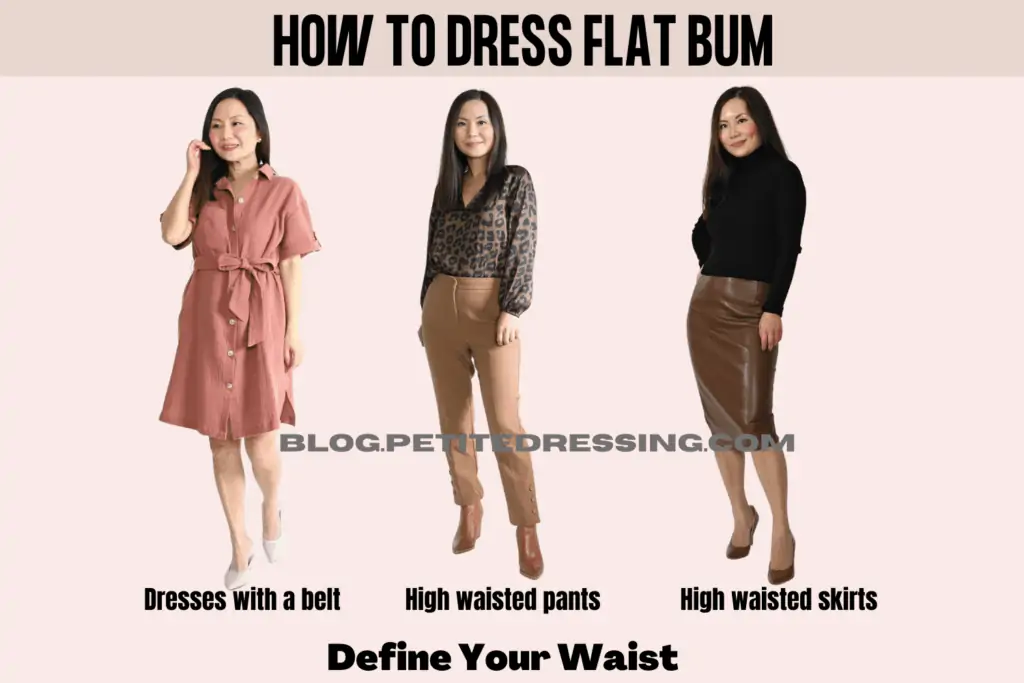 Whenever your waist appears smaller, the eye will be tricked into believing your hips are bigger. This is a style tip easy to apply and that you can have a lot of fun with because there are so many options.
Peplum Tops
Peplum tops can make your butt appear fuller because they add volume to your hips. Because of the ruffle of the peplum expands your hip area, they can create the illusion of wider and also fuller bum.
Slim Fit Pants
Wearing pants that are loose around your legs can actually make a flat bum appear flattered. The reason behind this is loose-fitting pants often cause a lowered, baggy effect that weighs down your bum.
A better option to enhance your bum is selecting dress pants with a slim fit. Anytime you wear pants that fit close to the body, they hug your shape and give your curves a little more emphasis.
Skater Dress
Skater dresses are one of the best dresses for women with flat bums because they have so much volume from your waist down and will easily camouflage your butt. This type of dress is typically tightly fitted in the bodice, which forms the contrast with the flared-out skirt bottom to further create the impression of curves.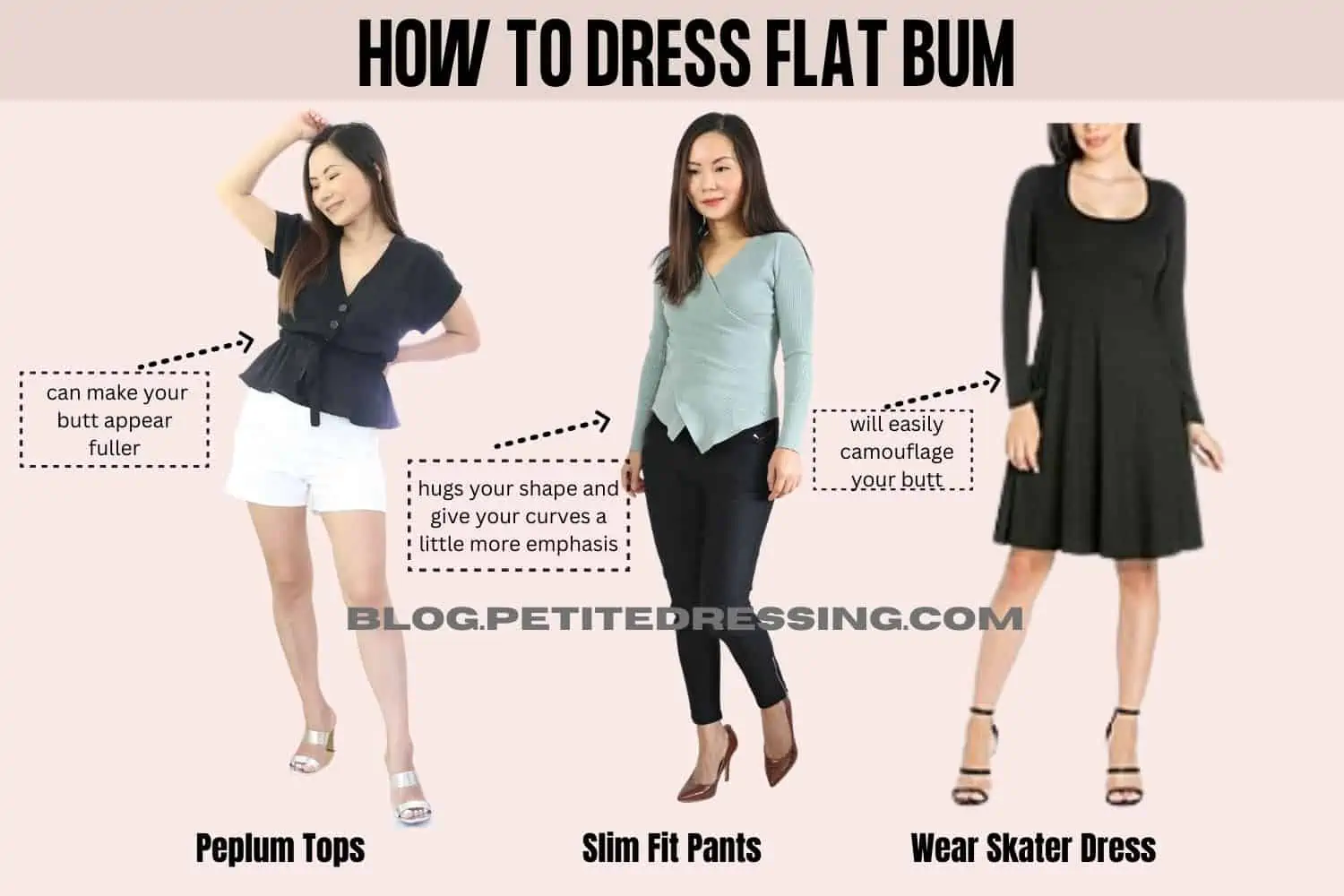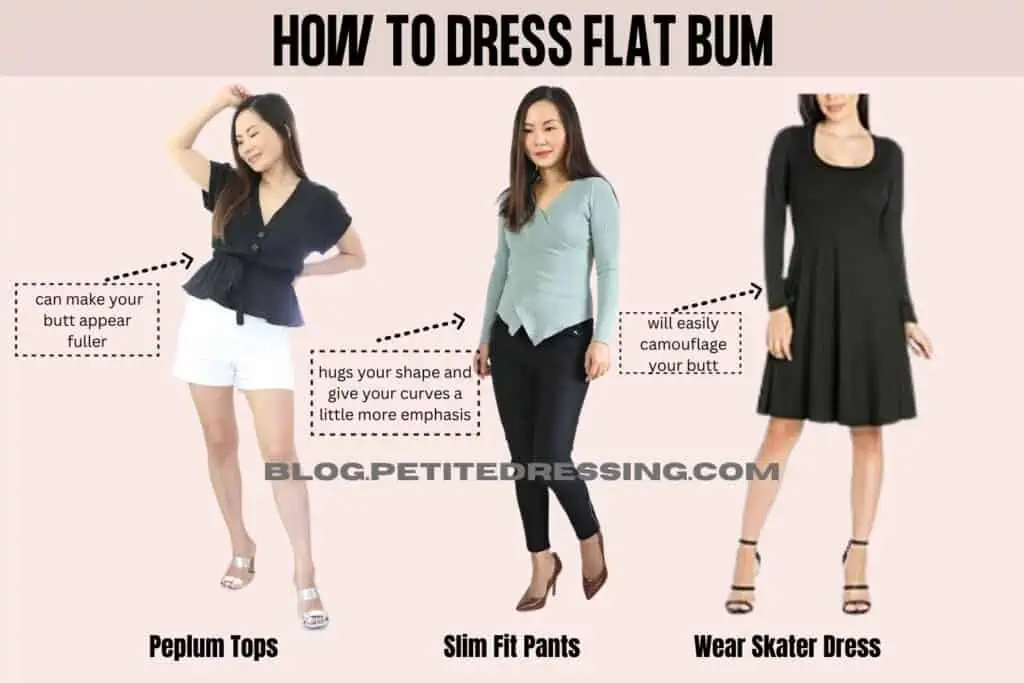 Choose the Right Jeans Brands
When we think about best jeans to make a flat bum look bigger, most of us think of skinny jeans, because they are tightly fitted in the butt, which is supposed to accentuate our buttocks. All jeans not created equal. Here are several brands highly rated by our blog readers that can make a flat butt look good in jeans.
These are the denim brands that are our readers' favorites to dressing a flat bum. Their silhouettes, fabrics and pocket detailing often cater to flattering curves.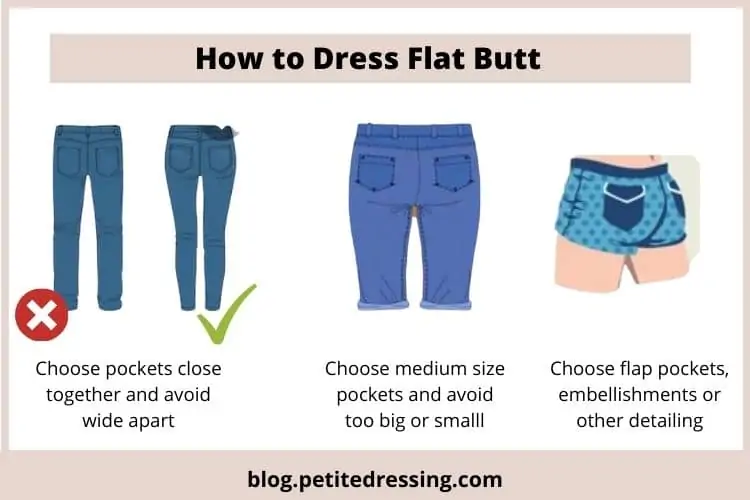 Pocket Placement is Critical
Pockets are often a forgotten detail in clothing. When dressing a flat bum, pockets are even more important. Placement and sizes of pockets are the two attributes to pay attention to moving forward.
As far as placement is concerned, look for pockets that sit high and in the middle of your bum. This placement provides a lifted, rounded effect and make the butt look less flat.
Small Pocket Size
In terms of the size, it's best to stick with pockets that are medium in size.
Pockets that are very small, make a flat bum appear smaller. Large pockets can be overwhelming and even flatten a bum. Find something that's in between to get the most figure flattering aesthetic.
Pocket Detailing
Another great way to enhance a flat butt is to look for some extra designs on the pocket.
Embrace fun pocket detailing and embellishments.
Any details like flap pockets, buttons, or embroider (for example) add dimension and shape to the bum and they will make flat buttocks look fuller and bigger.
Avoid Shift Dresses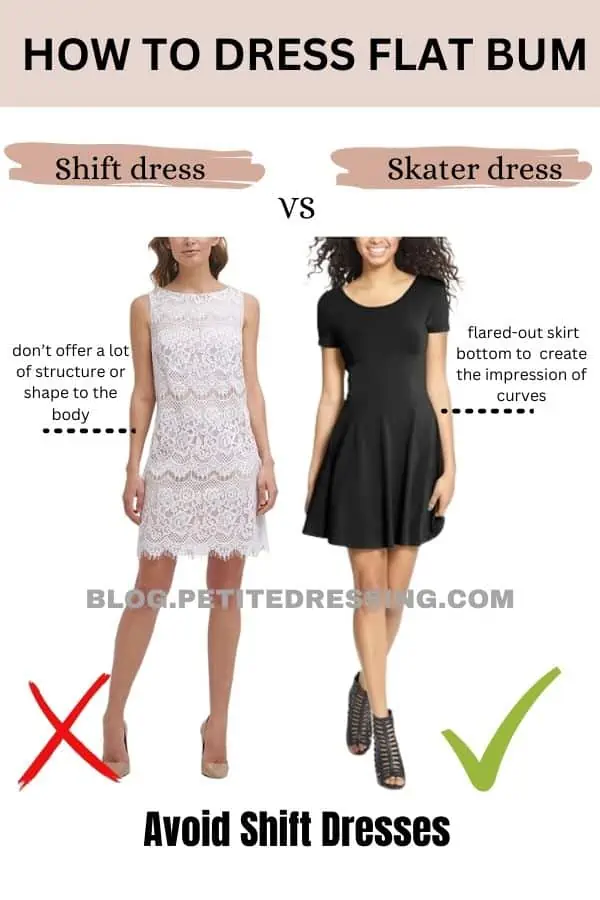 By nature, shift dresses don't offer a lot of structure or shape to the body. Because of this, it's not an ideal silhouette for dressing a flat bum. Lack of shape in a dress tends to be synonymous with flattening the way your body shape appears in the clothing.
Since the goal is creating an hourglass, curvy shape to your body (particularly your bum and hip area), dress silhouettes that fit close to the body are better options.
No need to wear bodycon fit, though. Just so that the dress shows the outline of your body shape and skims (not clings!) to your curves.
Caution with Flowy Fabrics
Generally speaking, a flat bum needs structured garments in order to give your shape the illusion of enhanced curves.
Flowy fabrics, as you likely know, tend to lack much structure or shape on their own – because of this these types of fabrics are known to flatten a flat bum.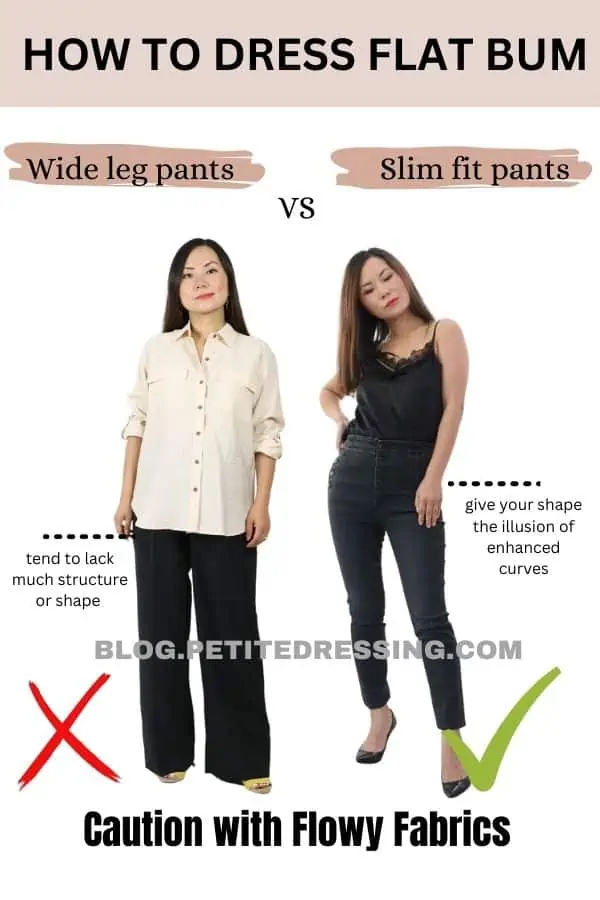 Fabrics that naturally hold their shape and structure are going to aid in giving you a more defined bum.
This isn't to say you can't wear flowy fabrics at all just wear them cautiously, especially on the bottom half of your body. If you do want to wear flowy fabrics, try choosing pieces that have voluminous detailing to them like pleating.
Structured Jackets
Jackets come in so many different styles and silhouettes, the options really are endless.
Anytime you wear jackets or any layering pieces for that matter, it's best to opt for pieces that hold some shape to them.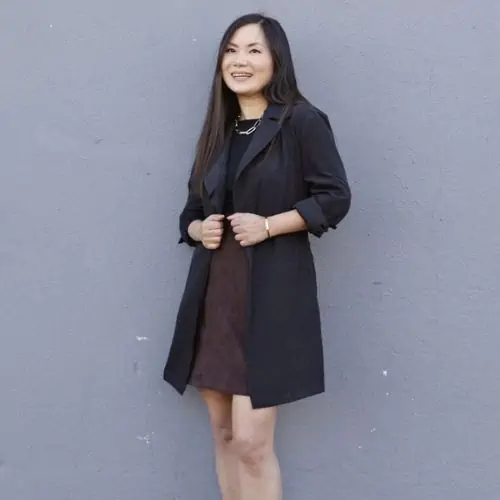 Why opt for structured jackets?
In other words, avoid shapeless jackets.
Much like any other clothing item, shapeless pieces only bring more focus when dressing a flat bum.
Jackets that offer waist definition and structure highlight your waist, which makes your bum look fuller and rounder.
Draw Attention to the Bottom Half
As tempting as it is to wear dark, neutral colors in pants and skirts switching it up to bright and light colors can be a way to flatter a flat bum.
Anytime you style an outfit where the majority of the focus is on the bottom half of your body it creates a visual aesthetic that emphasizes the area.
A good rule of thumb to keep in mind is dark colors are slim, and light and bright colors expand.
Draw focus to your bottom half with colors, patterns, or even different textures and fabrics. Balance these details out with neutral, subtle pieces worn on the top half of your body.
Wear High Heels
It's widely known high heels make legs look longer and leaner. But what you may not know is that they can also give more lift to a flat bum.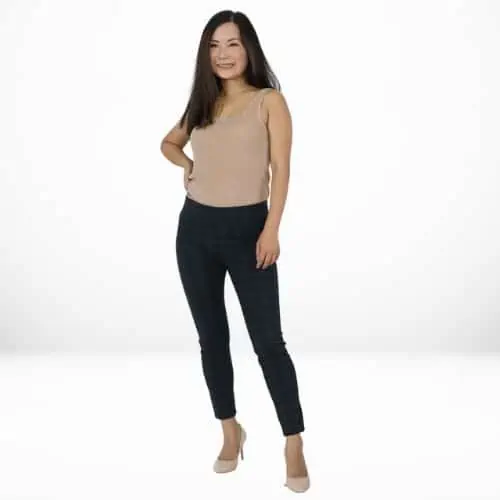 Benefits of using high heels
When a woman is wearing high heels vs flats or sneakers, she tends to lean forward and let the weight shift to the sole of the feet, raising her buttocks.
Because of the slight shift in posture needed when wearing heels, many experts suggest it's a trick to flatter a flat bum.
Another great benefit of heels is that your overall posture will also change when you wear heels, feeling more feminine in general and you will feel more confident and less self-conscious about the flatter butt.
Avoid Long Skirts and Dresses
Styling various skirt and dress lengths is a fun way to spice up your wardrobe. When it comes to dressing a flat bum, it's best to avoid options that are midi and/or below the knee in length. Showing a little more leg, with a shorter-length skirt, brings the eye up and gives a flat bum a slight lift.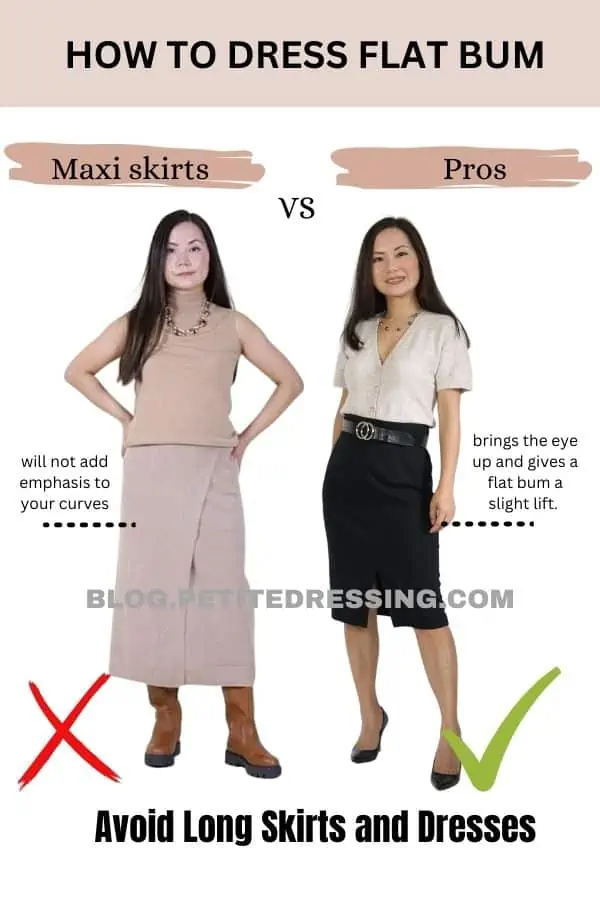 Of course, if you feel more comfortable with longer-length skirts you can certainly wear them with pride. If you do opt for longer lengths, consider fabrics with structure and dimension so you still get some flat-bum-enhancing attributes.