Choosing swimming suits for the pear shaped body (also known as the spoon shape) needs to consider the assets and weaknesses of the pear.
Styling Goal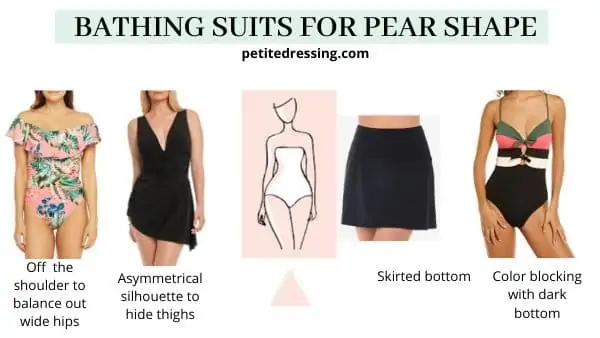 When choosing swimsuits, it is key to take into consideration the following characteristics of your body shape:
Your hips are wider than your shoulders, making them the widest point of your body.
It is also common for pear shaped women to have saddle bag thighs.
You have round, sloping shoulders, and your buttocks and thighs are full and round.
You gain weight on your thighs.
You have a defined waistline and you may even have killer abs in some cases.
To summarize, the pear shape typically has narrow shoulders, slender waist and firm abs, but it can come across as "bottom heavy".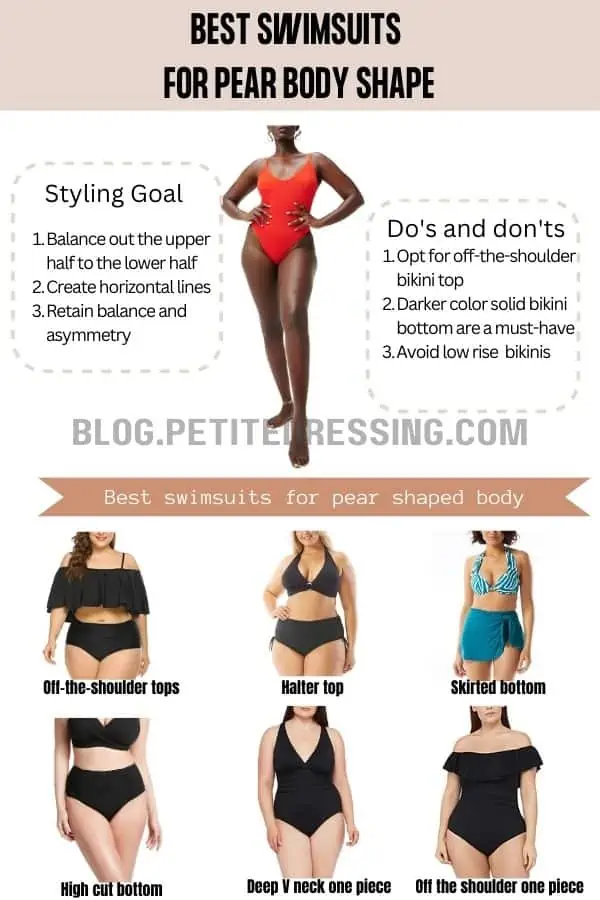 Therefore, the key is to balance the narrow neck and sloping shoulders with the wider hips and thighs.
In order to balance out the heavy butt and thighs, the best one piece for the pear shaped is the fit and flare shape swimming dresses.
The best bikini bottoms are the swim skirts, because they can also camouflage your heavier bottom.
The worst swimsuits for the pear are the boyshorts, because they bring all the attention to your thick thighs.
Now, let's take a deeper dive on the most flattering swimming suits for the pear in every category, i.e. bikini tops, bikini bottoms, one piece, as well as what you should stay away from.
Off-the-shoulder bikini top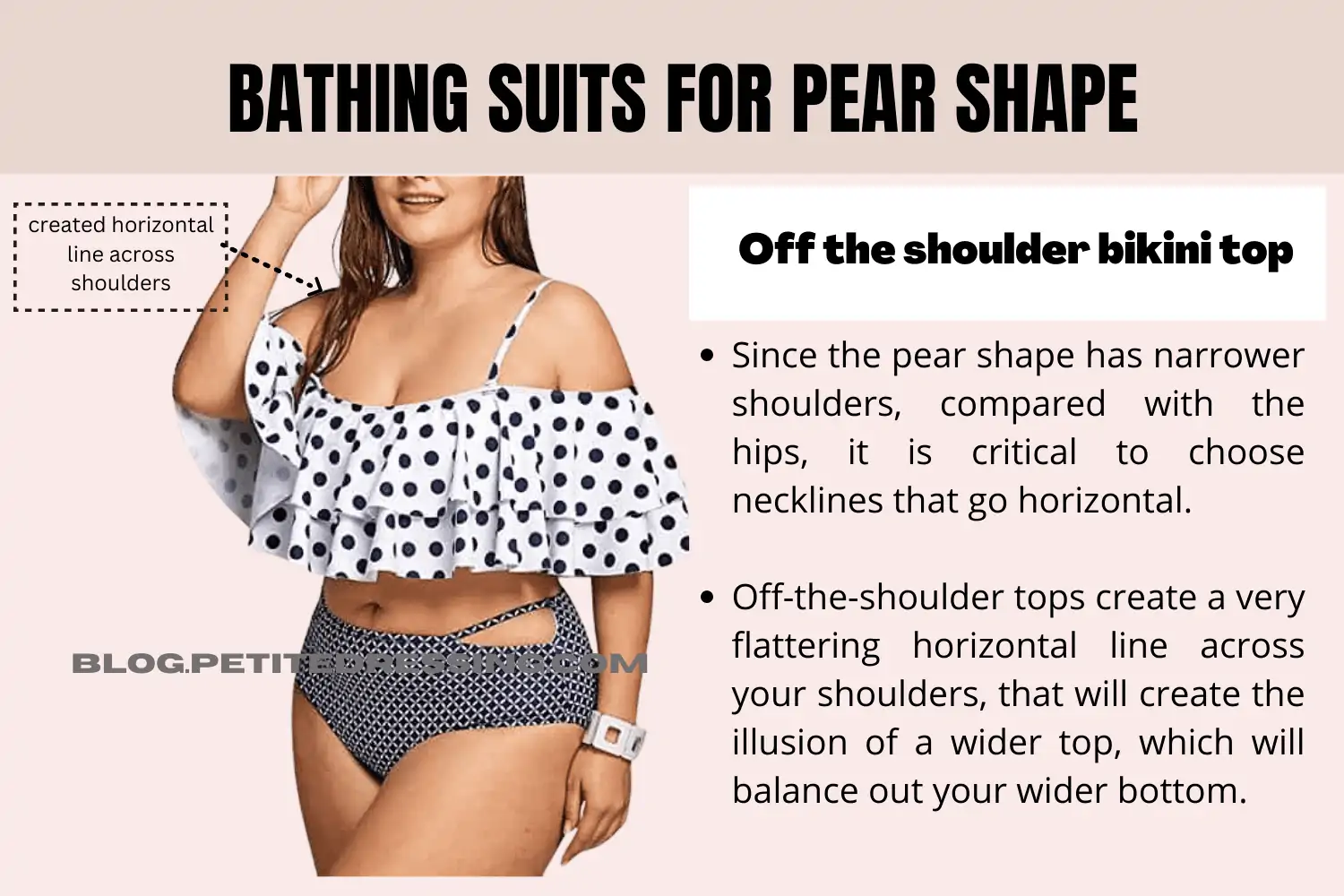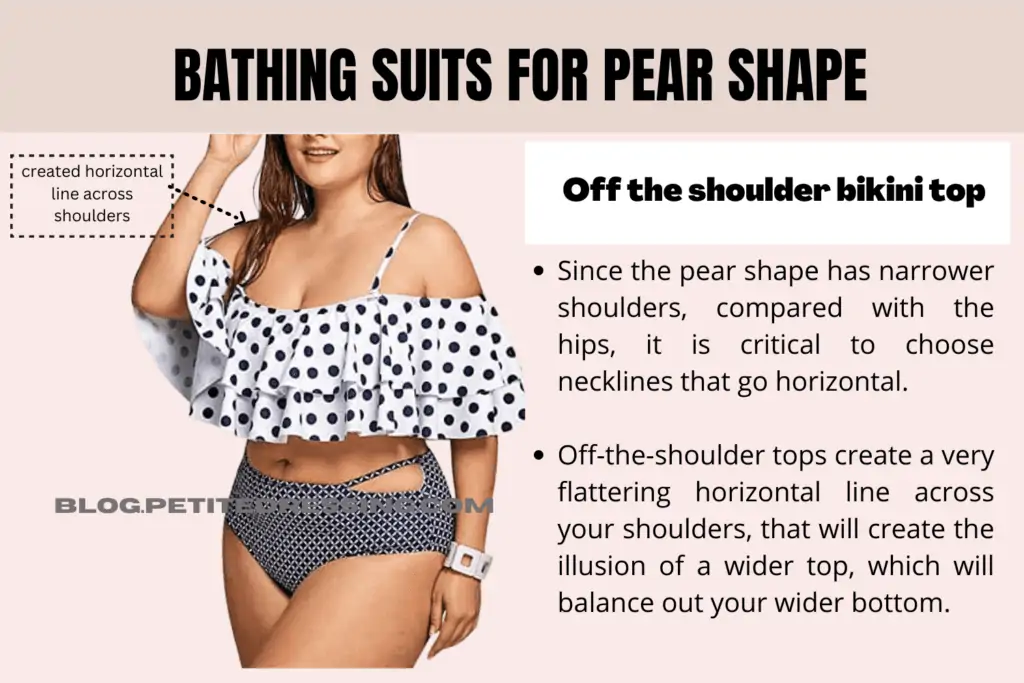 When it comes to styling the pear shaped body, your choice of necklines are extremely important.
Since the pear shape has narrower shoulders, compared with the hips, it is critical to choose necklines that go horizontal.
Off the shoulder tops creates a very flattering horizontal line across your shoulders, that will create the illusion of wider top, which will balance out your wider bottom.
This technique is constantly used by pear shaped celebs such as Kim Kardashian and Jlo, and it works like magic!
Halter top
Along the same line of balancing your natural figure with the right necklines, halter swim tops are the list of most flattering for pear-shaped women.
Proportion-wise, an over pattern will draw attention to your body and take it away from your bum, helping you to feel comfortable and secure.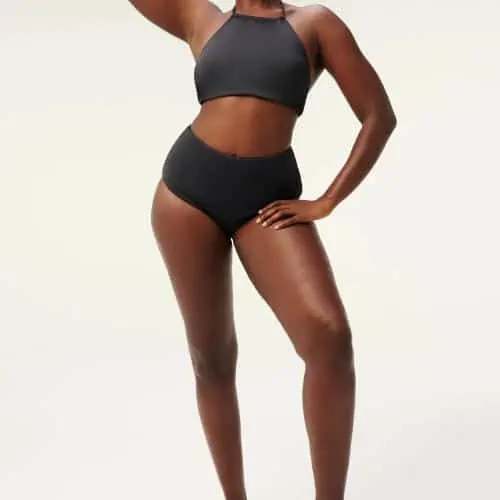 Why opt for halter tops
Tops with halter-neck straps will broaden the shoulders, plus having a print all over your torso will help to even out your bum area.
Skirted bottom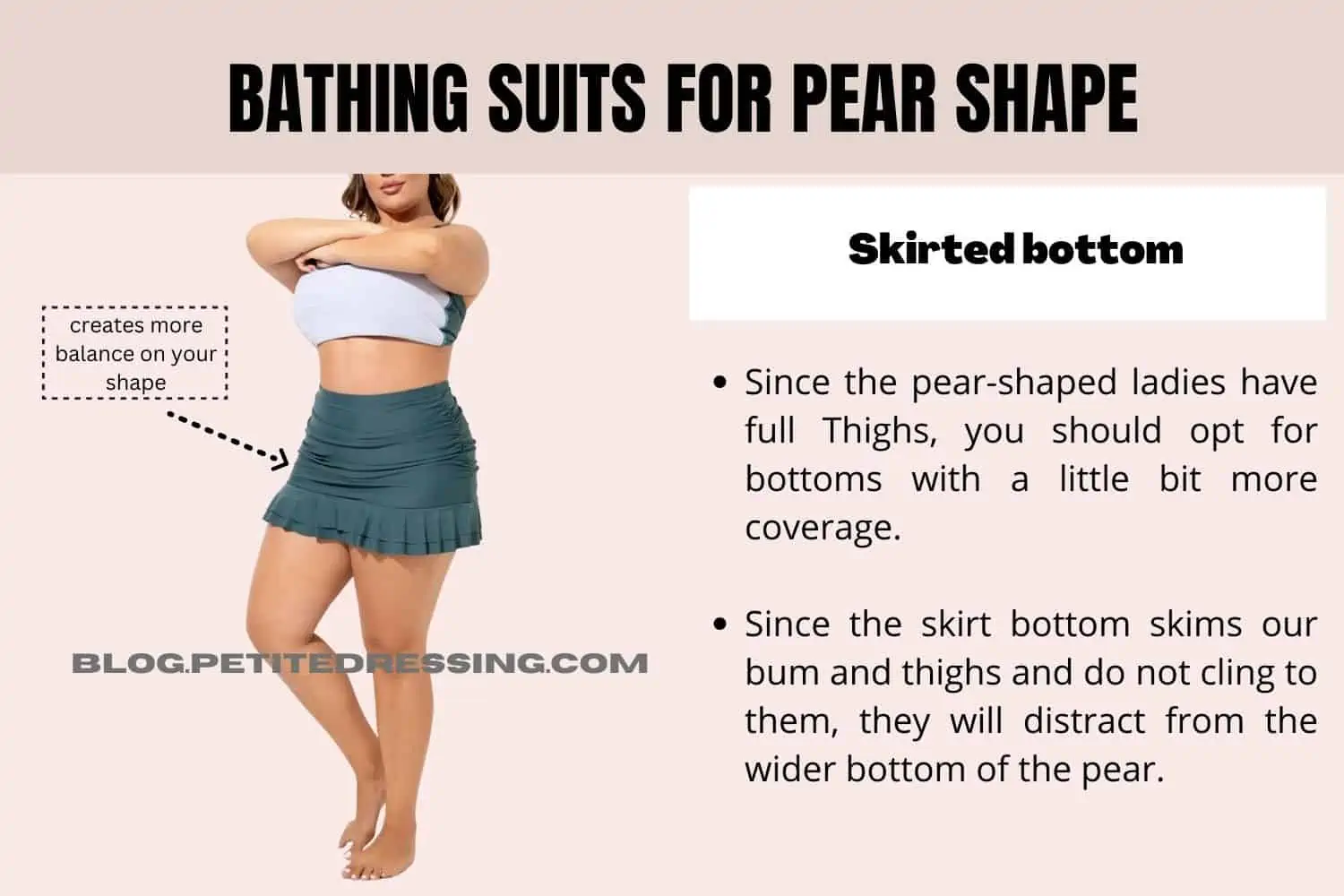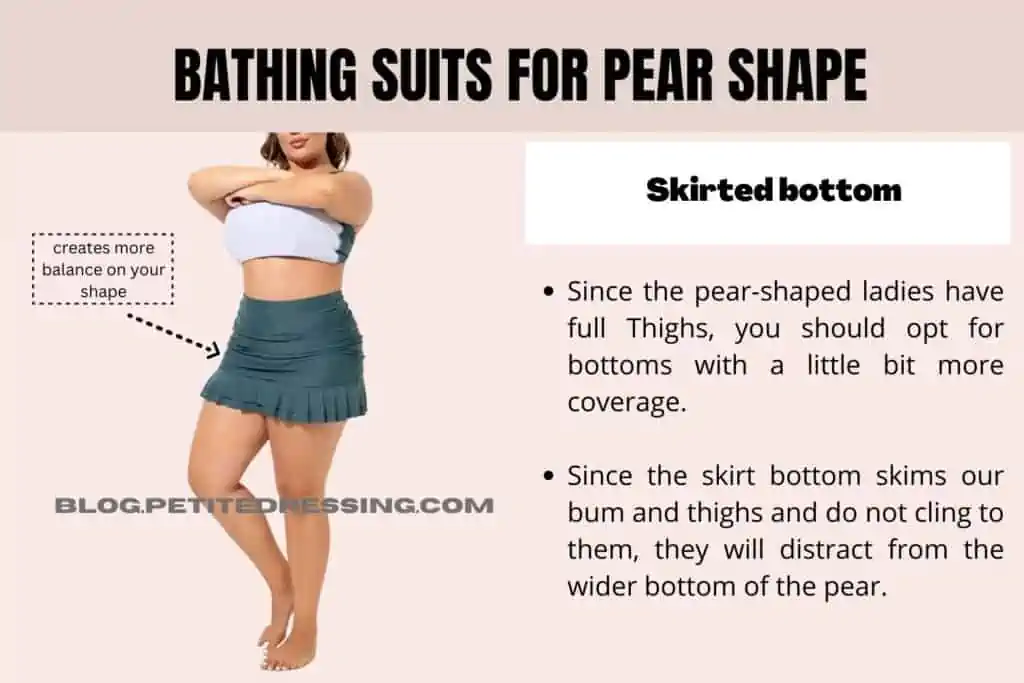 In order to create more balance in your shape, choosing the right bottom style can play a critical role.
Since the pear-shaped ladies have full Thighs, you should opt for bottoms with a little bit more coverage.
Bottoms with a skirt can help to conceal part of your upper leg (and feel free to skip the bikini wax).
Since the skirt bottom skims our bum and thighs and do not cling to them, they will distract from the wider bottom of the pear.
Besides, skirt bottom is in general more accommodating for women of any age group who wish to distract away from muffin top.
Darker color solid bikini bottom
Choosing the right color is also critical for the pear-shaped women, as colors can easily change the perception of our body.
So, if you are wearing a separate bikini top and bottom, you can mix a solid bottom with a printed top — which will help balance out your big booty.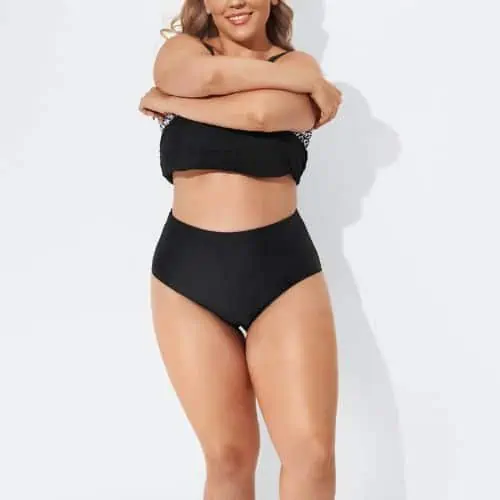 Darker bikini bottoms are a must-have, here's why
Any swimsuit which is darker at the bottom will draw attention away from the hips and towards the upper body.
High cut bottom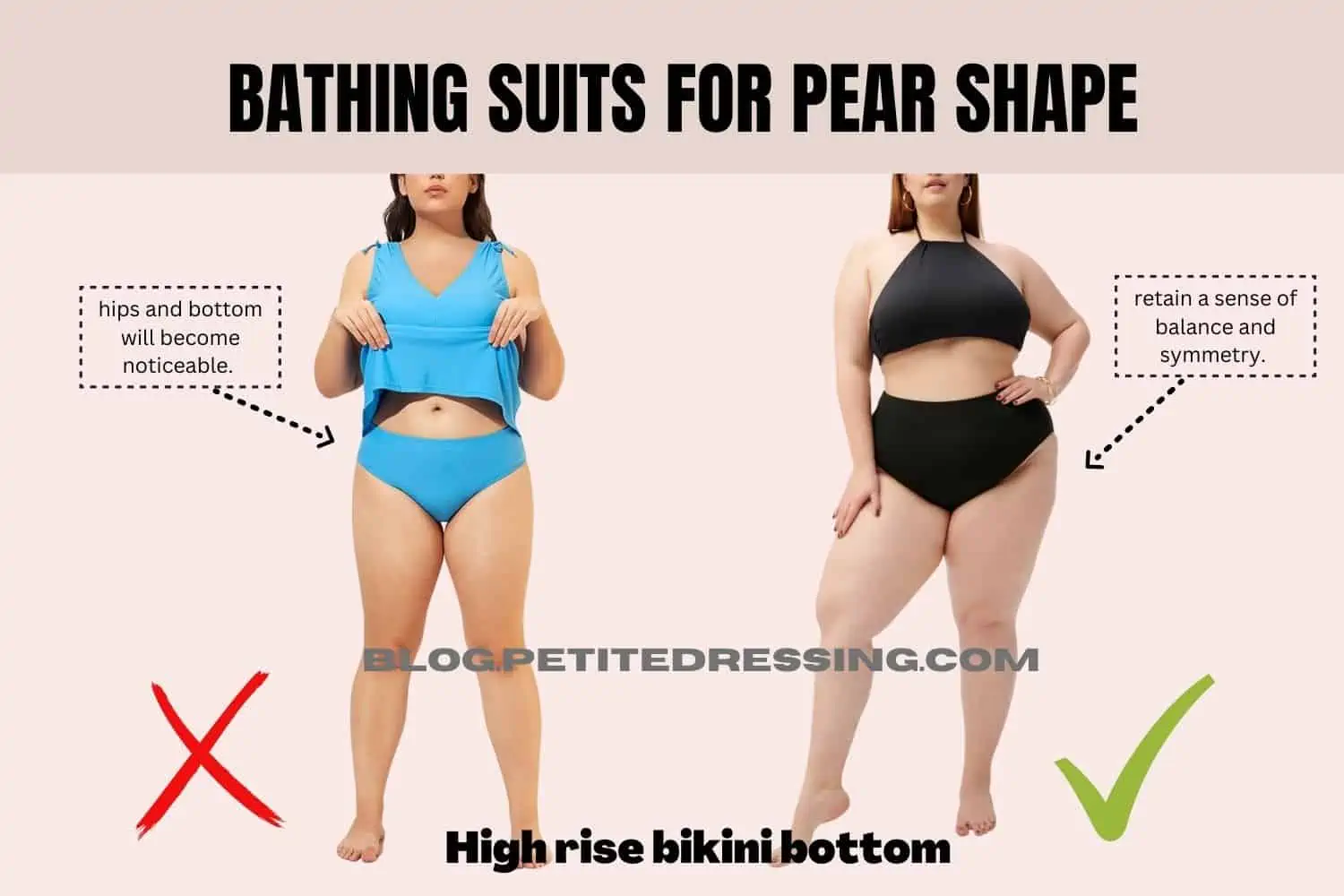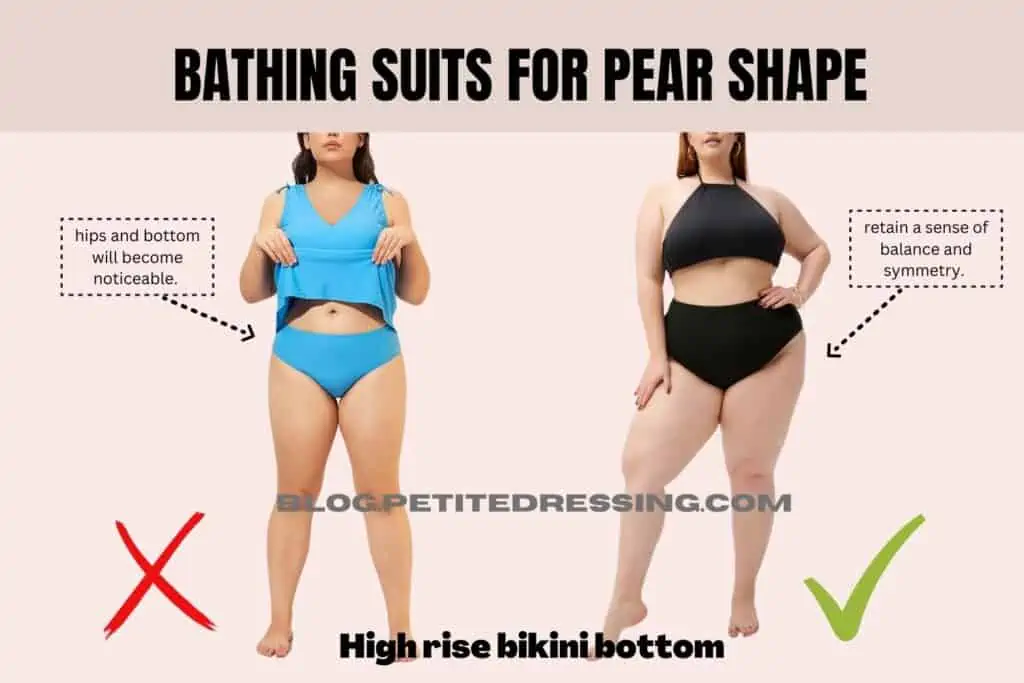 The high cut will let people notice your bottom without it looking too large. The key here is to balance.
Make sure to avoid REALLY high cut bottoms because otherwise the size of your hips and bottom will become noticeable.
It is your personal choice if you want to flaunt (think Kim Kardashian!) or hide your bottoms- the goal of these designs are to retain a sense of balance and symmetry.
They will draw more attention to your bust area while keeping your bottom section attractive and balanced with the rest of your body type.
Deep V neck one piece
V-neck is a universally flattering neckline that can look good on any body shape.
For the pear-shaped women in particular, if you get a swimsuit with a very wide V cut and ties or string laces around the waist, then you are making people's attention focus on your positive lines and curves, i.e. your assets, which are your slender waist and flat midsection.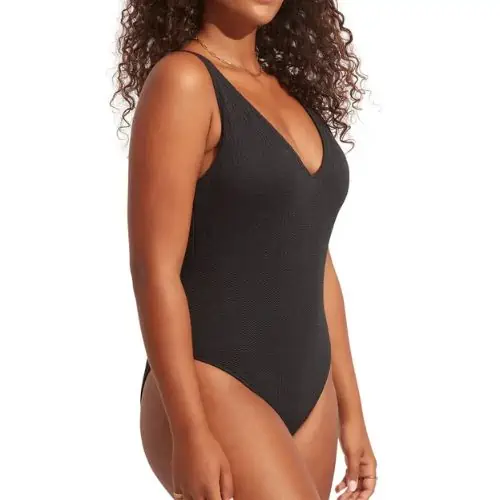 Why opt for a v-neck one piece
The reason is having a lower cut generally makes your upper body and your face look slimmer, the desired result by women of all body types.
Off the shoulder one piece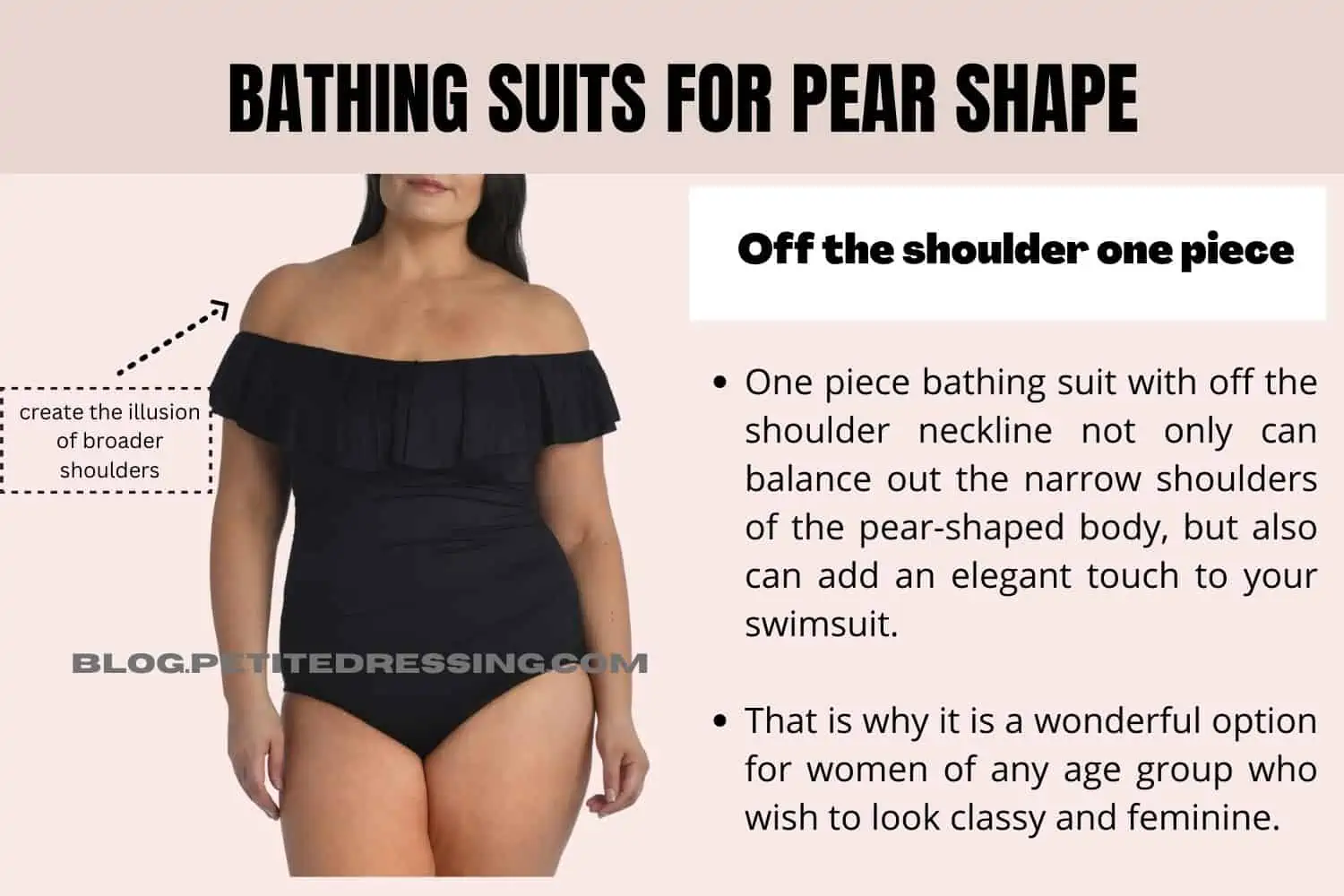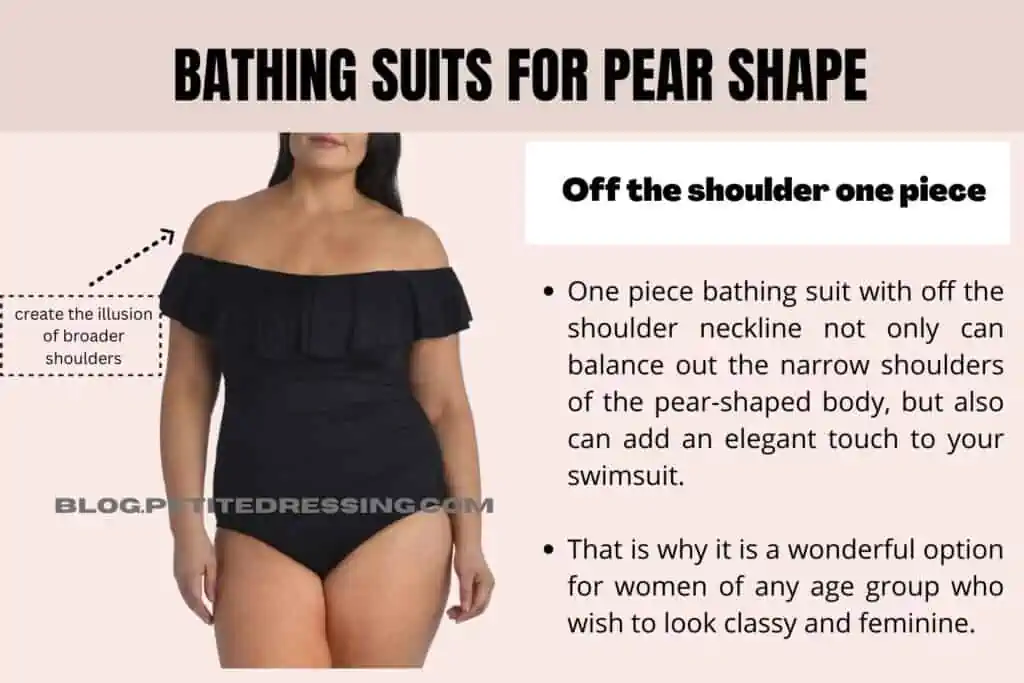 As I mentioned earlier, off-the-shoulder neckline helps the pear shape create the illusion of broader shoulders, and the same applies to one piece suit!
One piece bathing suit with off the shoulder neckline not only can balance out the narrow shoulders of the pear shaped body, but also can add an elegant touch to your swimsuit and that is why it is a wonderful option for women of any age group who wish to look classy and feminine.
Color blocking one piece
If you are wearing a one-piece, a color-blocking swimsuit will be a wonderful choice for the pear!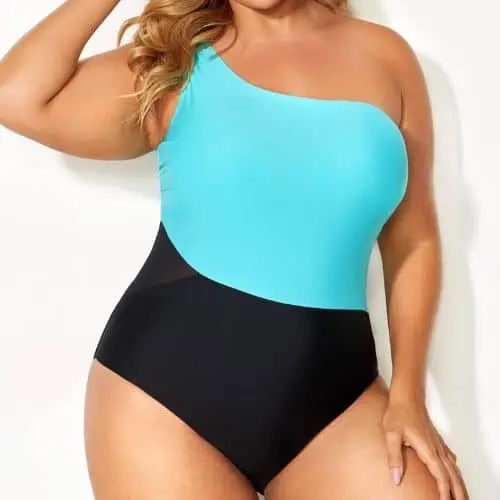 Color blocking is essential
The pear shape should de-emphasize the bottom, so it's always a good choice to go with the darker bottom with a brighter top.
High-rise bikini bottom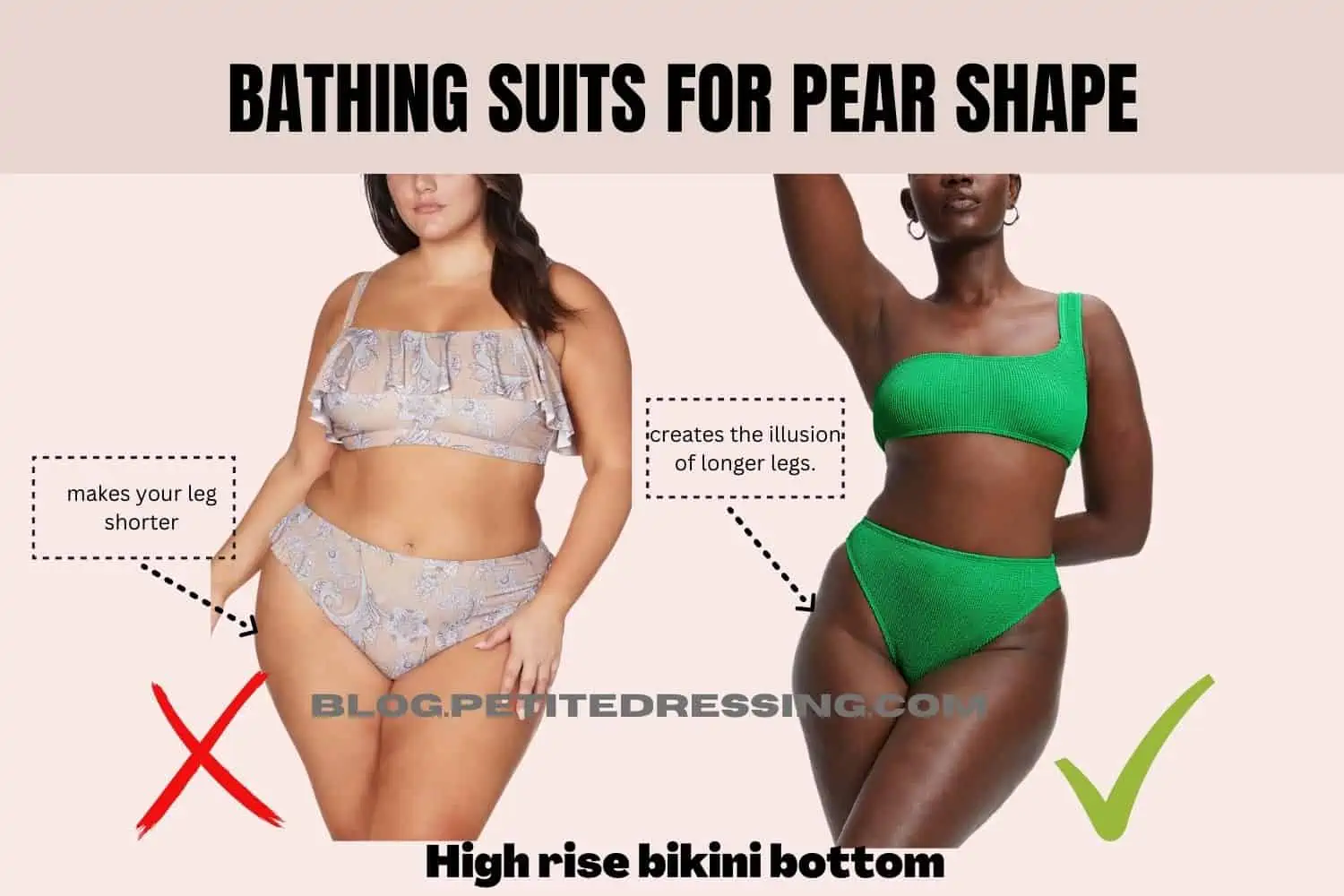 The pear-shaped women typically have a longer rise, which in turn make your legs appear shorter.
It is critical for you to choose the kind of design that can make your legs appear longer to counterbalance your natural shape.
The most classic designs to elongate shorter legs is high waist or high cut.
A high waist extends your waistline above your natural waist, thus creating the illusion of longer legs.
With high cut in the legs, showing more skin makes your gams appear longer. And if you're really brave, go for a thong for optimal lengthening potential.
Vertical pattern
Look for vertical stripe designs to elongate the body and swimsuits with empire lines to enhance the narrowest point of your waist.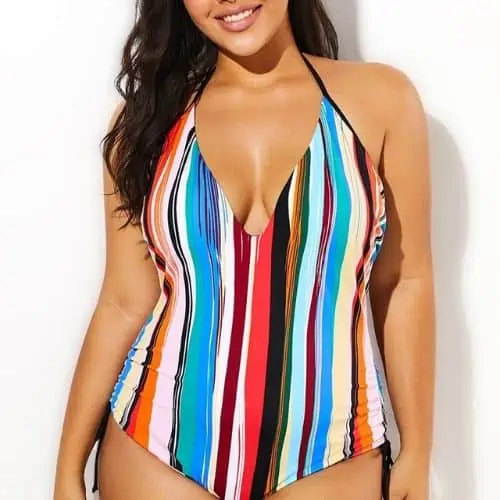 Vertical stripes creates magic in the figure
Another effective way to make the pear-shaped body appear taller and leaner is to wear bathing suits with vertical prints and patterns.
Avoid low rise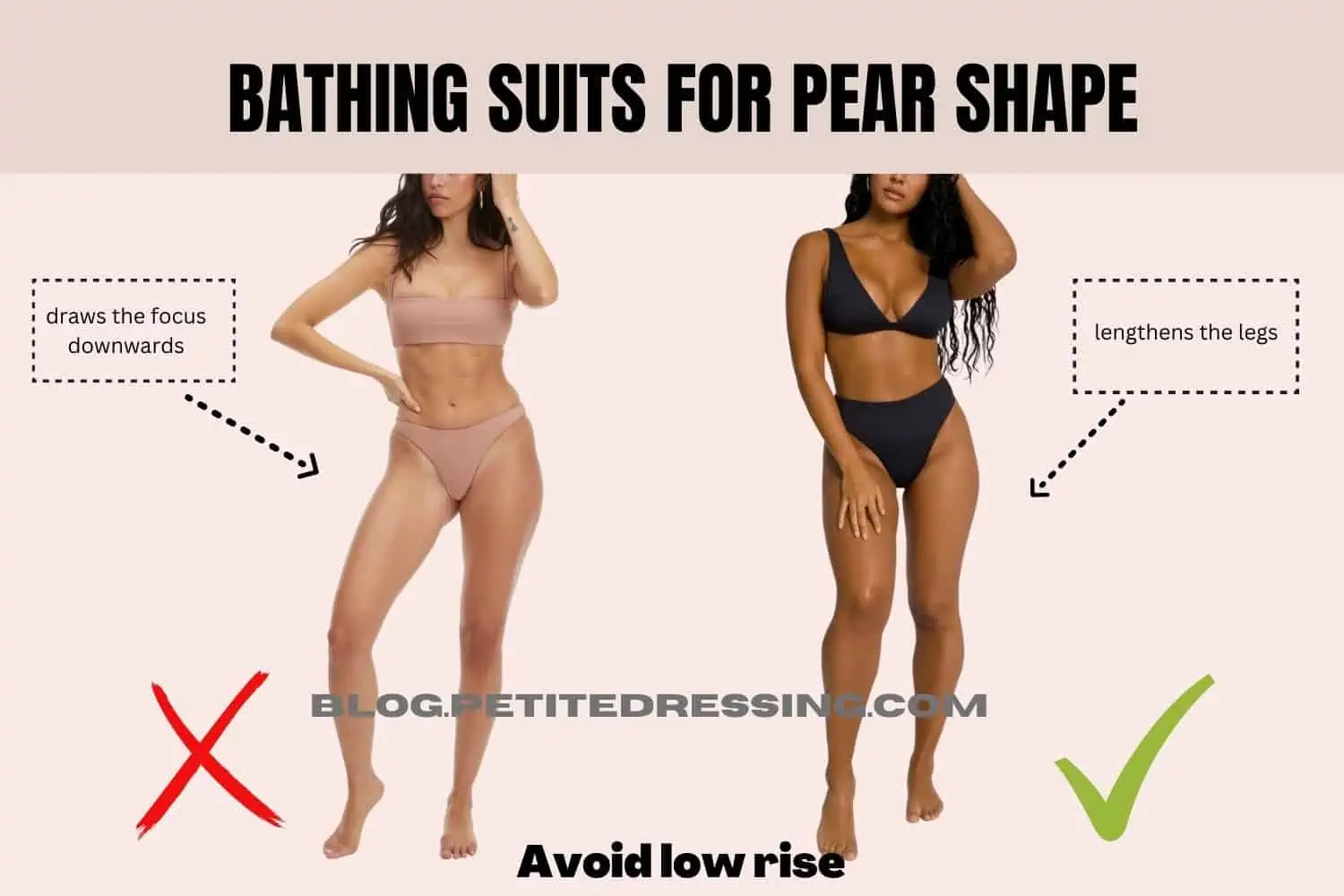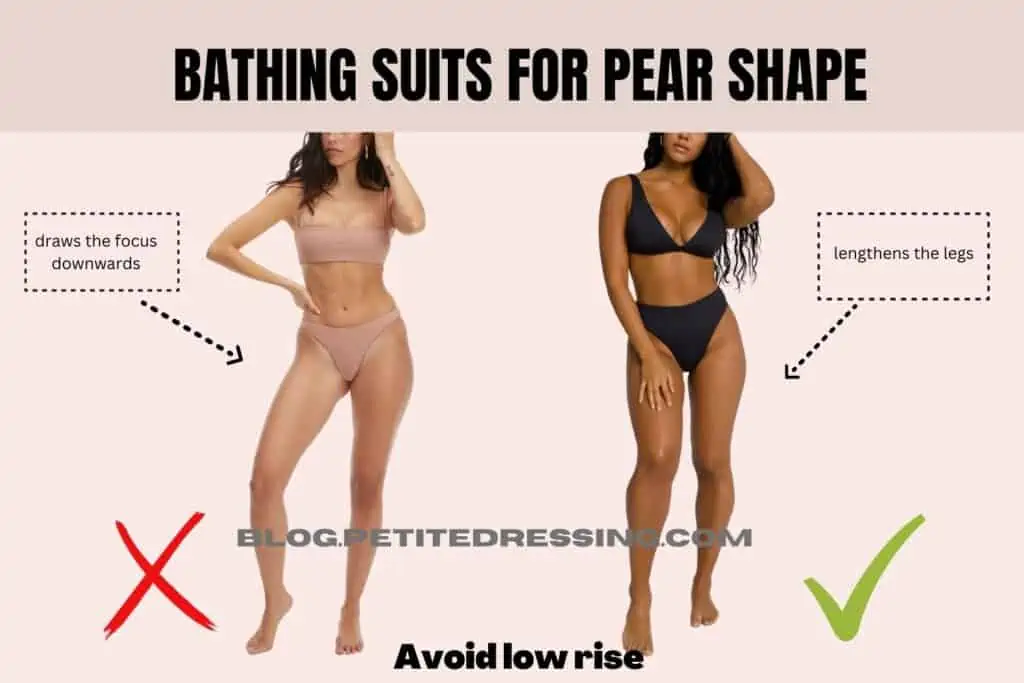 One of the main goal when choosing your bathing suits is to avoid anything that can make your legs look cut off.
Low-rise bottoms are one of them.
When you wear low-rise bikinis, they further draw the focus downwards and make your rise appear even longer than it already is.
That is why this type of bottom is not the most flattering for the pear body shape.
Avoid boy shorts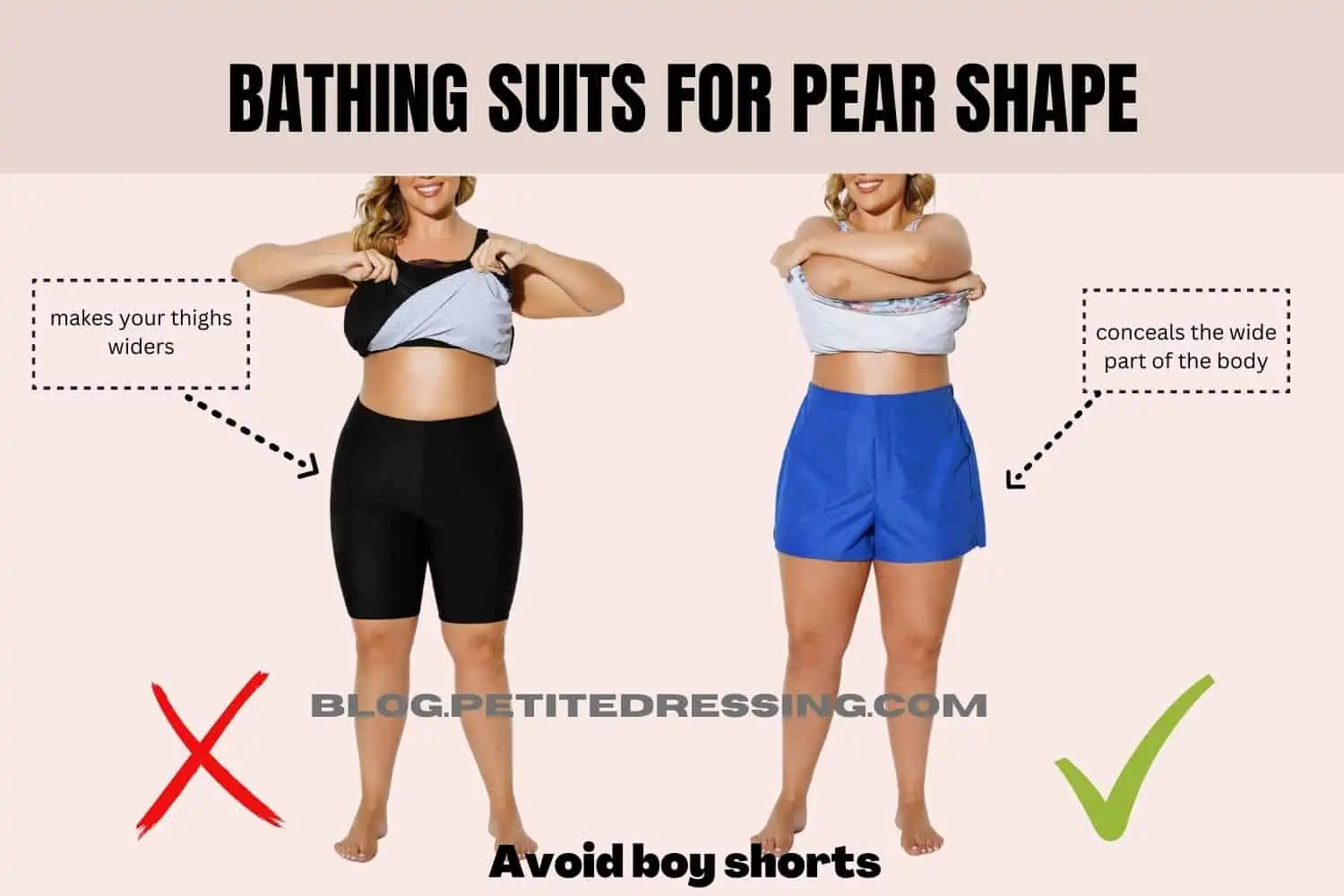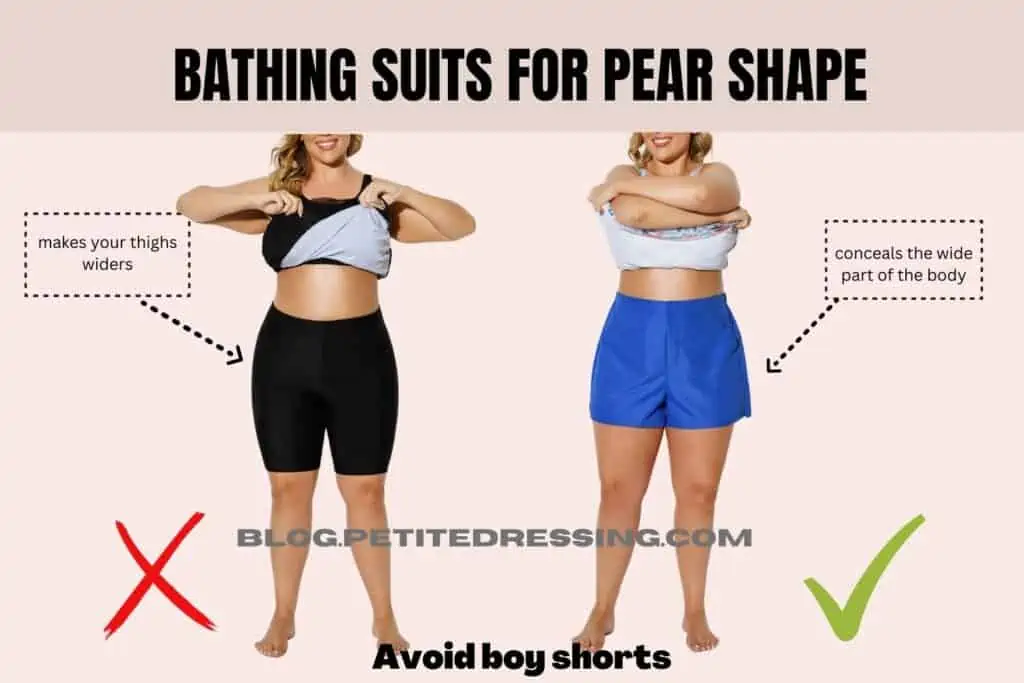 The pear-shaped women carry weight in the bottom half, so it is quite common you may find your hips and thighs are the widest part of your body.
That is exactly why you should watch out for cuts like boy shorts that hit straight across the thigh, making them appear wider, and look for suits with higher-cut leg lines instead.
Avoid string bikini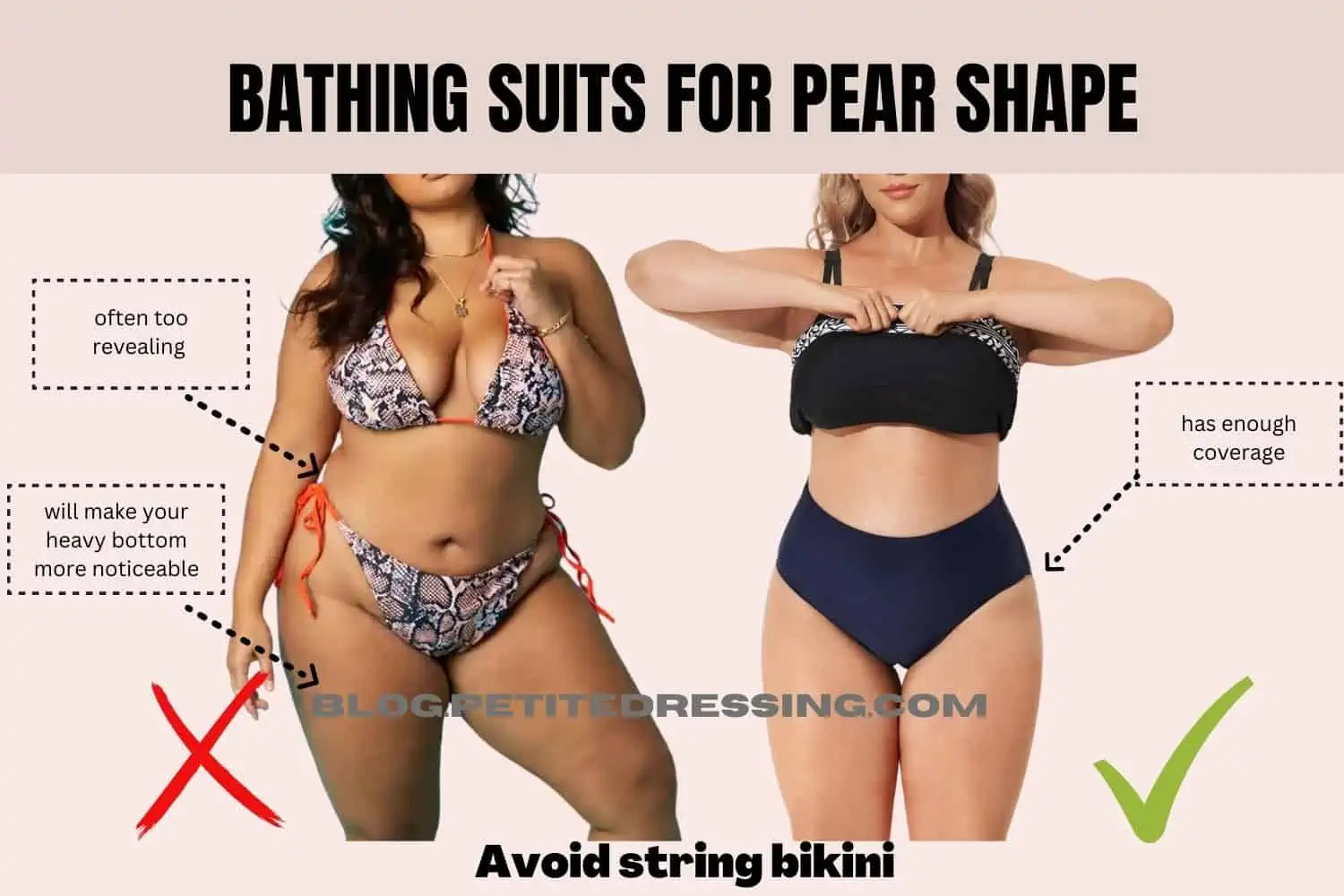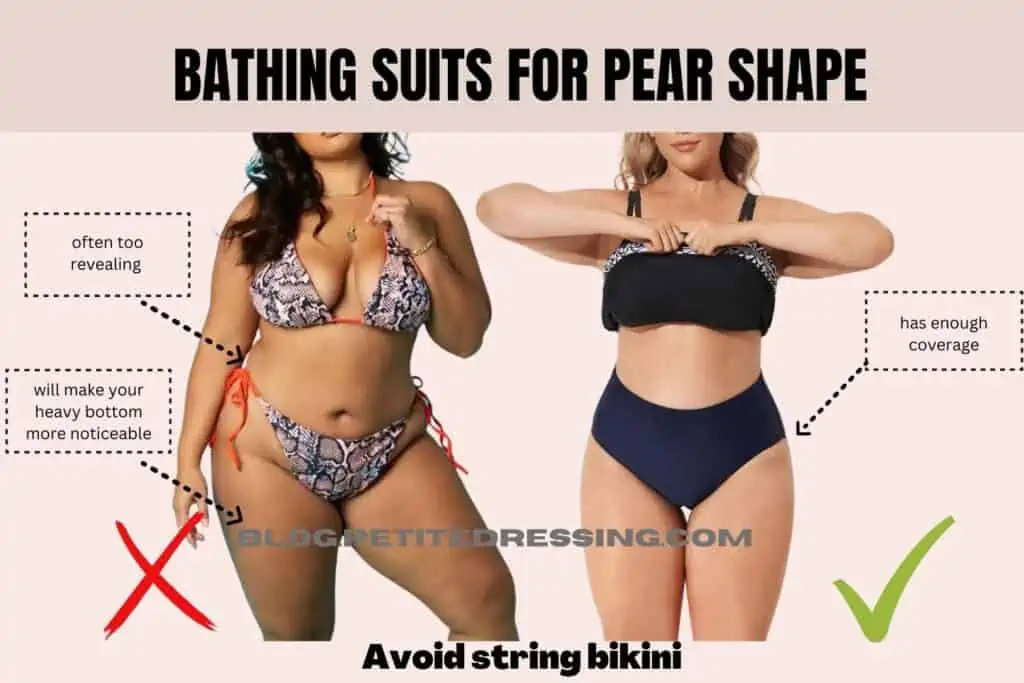 If you've got an ample backside, string bikinis can often be uncomfortable and a bit too revealing. A better choice is a swimming suit with enough fabric so you're not constantly tugging for more coverage!
Similar to string bikinis, Brazilian and other skimpy cut swimsuits will only make your heavier bottom more noticeable.
Best Swimming Accessories for Pear Shape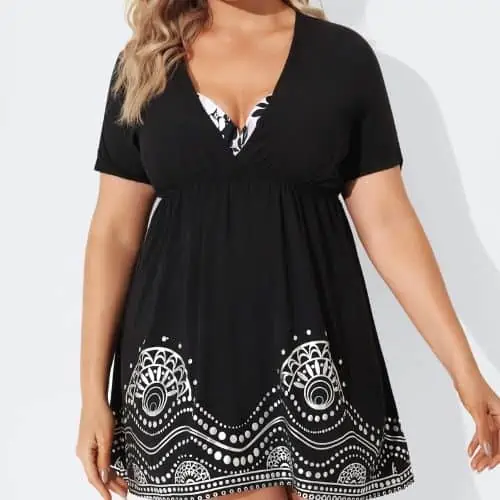 Best accessories to have
For the perfect finishing touch, choose a cover-up with an Aline shape and deep V-neck to divert attention away from your bottom and draw attention to your face.
The top tip to accessorize for pear body shaped women on the beach would be to also add a big sun hat, this will help to balance out the body heavy or pear-shaped women should go for a full printed costume.