Swimsuit season is just around the corner, which means you're probably going to be on the hunt for the perfect suit to add to your wardrobe this season. Swimwear is tricky for most women because it's something that shows more of our bodies than we're typically used to on a daily basis.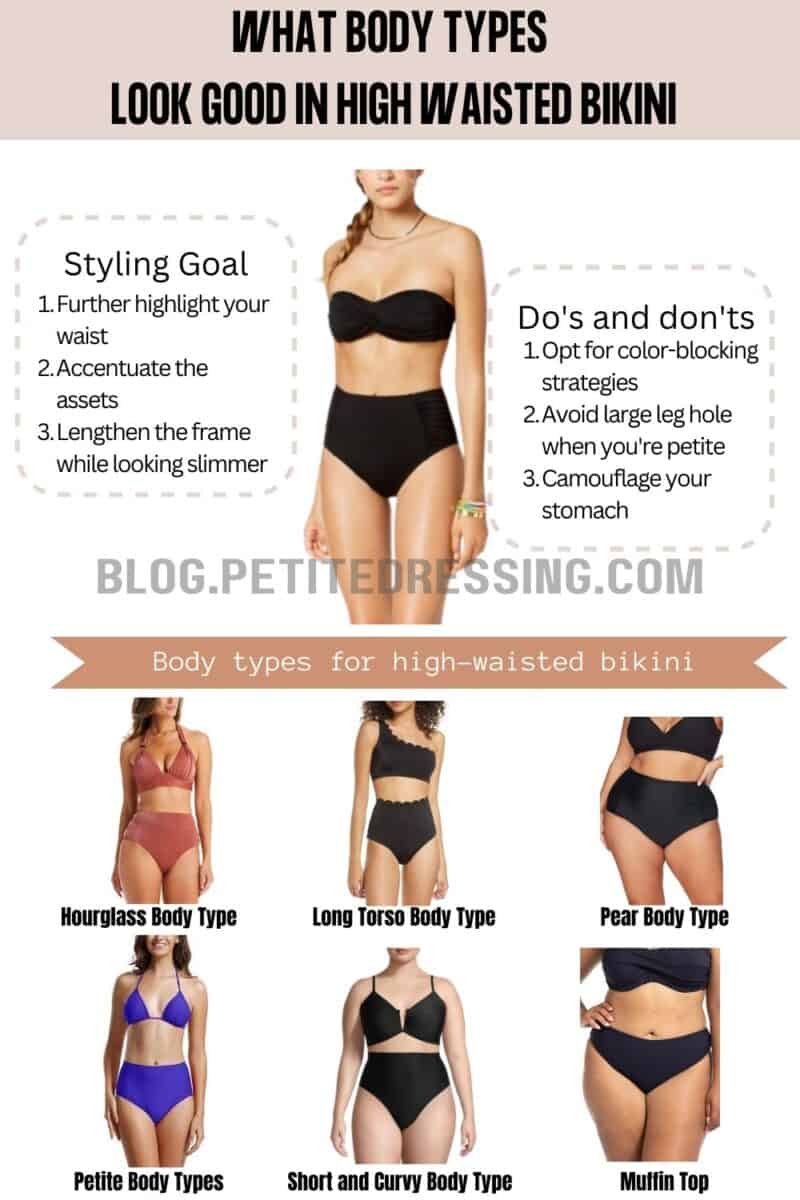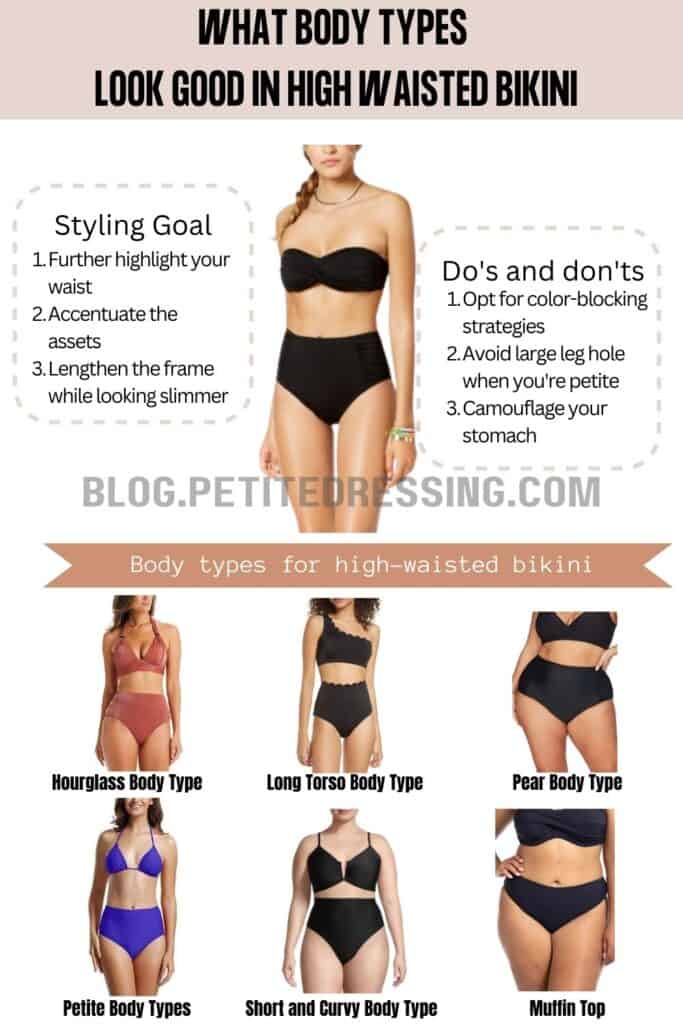 Believe it or not, swimwear is just like any other article of clothing in that if you focus on a silhouette and style that flatters YOUR own body shape you will look incredible in it. The hard part, of course, is knowing which styles work with your shape.
High waisted bikinis burst onto the scene a couple of years ago and have maintained their spot in the trendy swimwear department. The question, however, is whether or not they're flattering. Good news is they are, but they're more flattering on certain body types and that's what this list is diving into.
Please do keep in mind that even if your shape isn't on this list and you love high waisted bikinis, you should wear what you enjoy before anything else. This list is merely a breakdown of the best shapes for this style based on silhouettes and the 'science' behind style.
Hourglass Body Type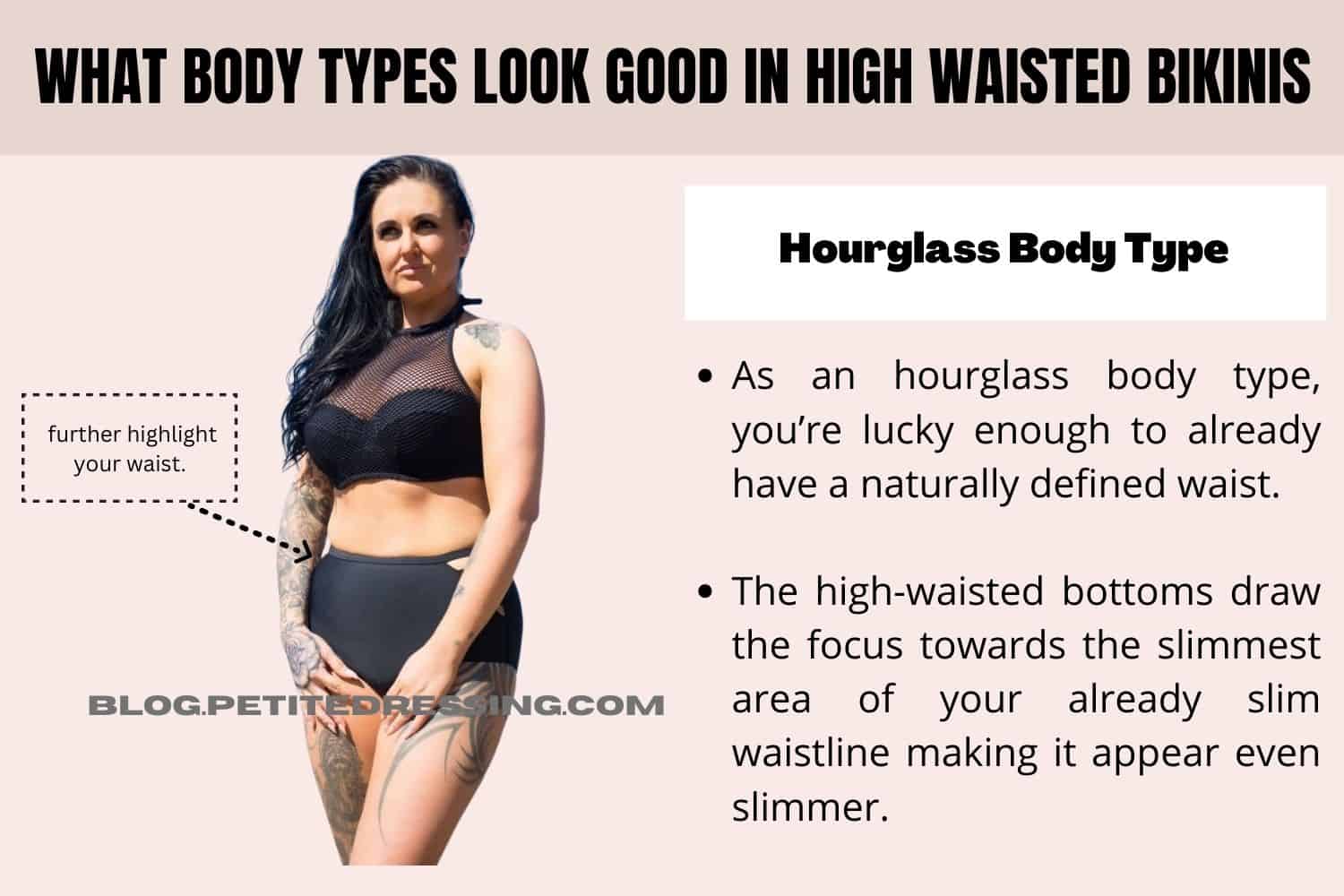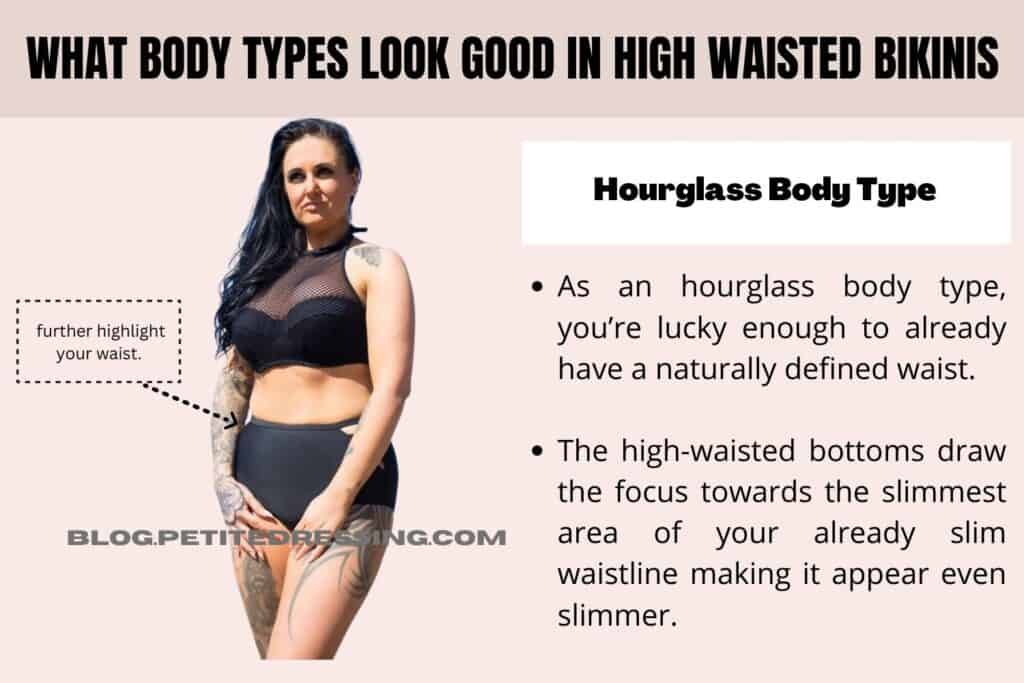 As an hourglass body type, you're lucky enough to already have a naturally defined waist. That is what classifies an hourglass body type as an hourglass, after all. Stylists often suggest that one of the best rules to keep in mind when dressing an hourglass is to find ways to further highlight your waist. Essentially playing up your assets!
That's exactly why high-waisted bikinis are great for an hourglass shape. The high-waisted bottoms draw the focus towards the slimmest area of your already slim waistline making it appear even slimmer. Talk about a major plus, especially when it comes to swimwear.
High-waisted bikinis are (almost) a guarantee they're going to look great with an hourglass figure – those are pretty good odds. Just make sure the fit is right so you maximize the figure flattery on this swimsuit style. Avoid a bikini that pinches or fits too tightly anywhere on the body. This is an easy way to appear larger and loose the figure flattery of the style.
Fit with bikinis is just as important as fit with any other type of clothing. You don't want anything that's too loose or too tight. Since this is a style that can be so flattering to an hourglass figure you'll want to make the most of it with suits that fit properly.
Long Torso Body Type
Now, you can have a long torso with any body 'shape.' But there's a reason long torso women, as a whole, look great in high waisted bikinis.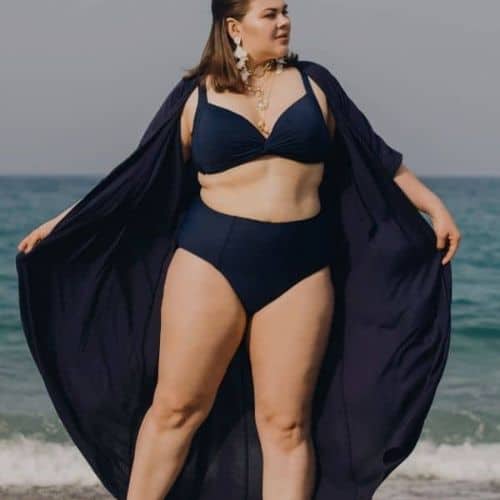 Why do high-wasted bikinis look good on long torso body types?
Chances are if you have a long torso you've experienced wearing clothing that makes your torso look even longer than it is – this is where high-waisted bikinis come into play.
Because of the high rise of this style bikini it plays well with the proportions and helps to give the illusion of a more balanced toros to leg ratio.
Think about it this way, with a high waisted bikini you're quite literally lifting where the legs begin on the body (at least where they appear to begin) which shortens the torso.
This is also why those with a shorter torso are advised to wear high waisted bikinis with caution. They can make a short torso appear even shorter.
Pear Body Type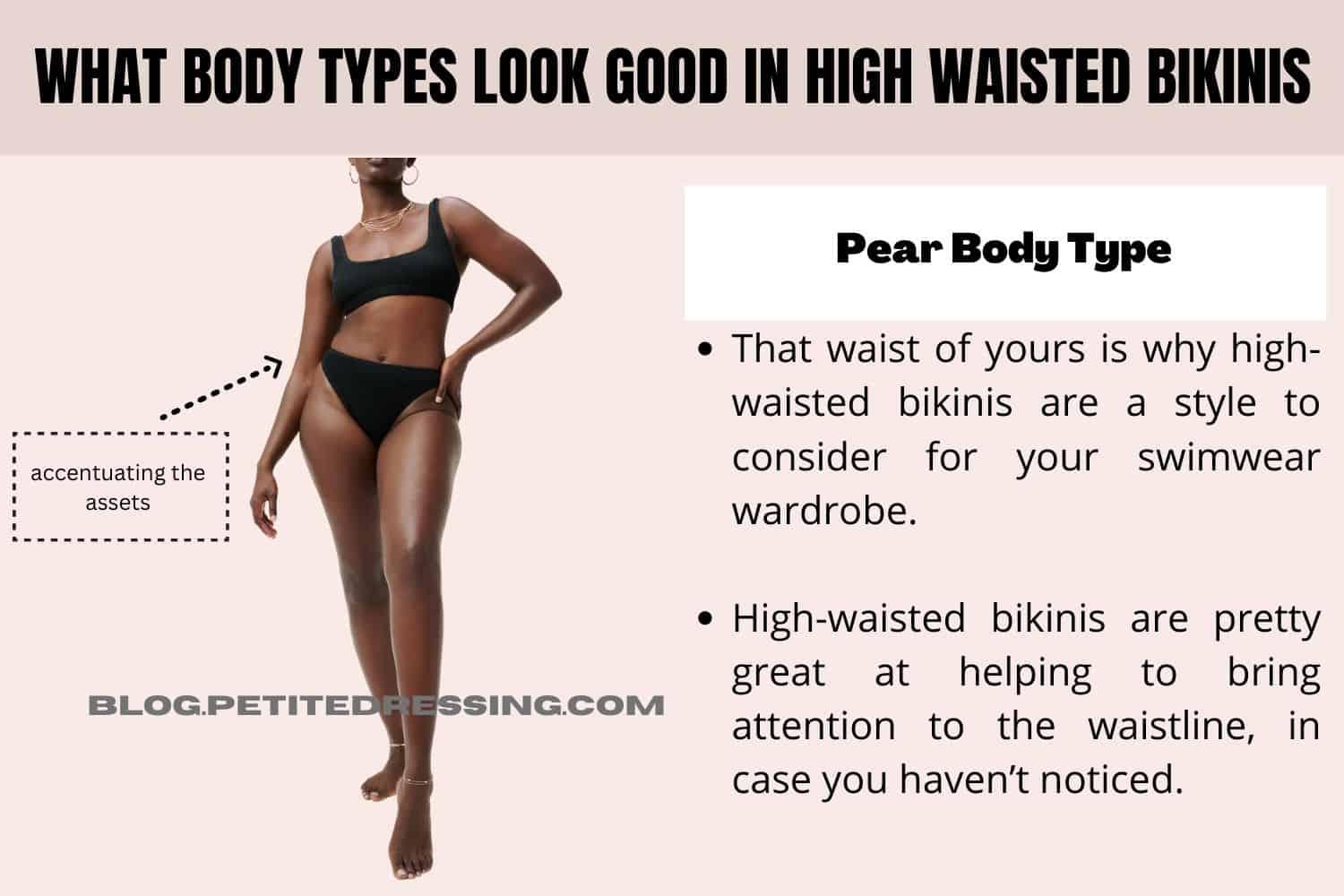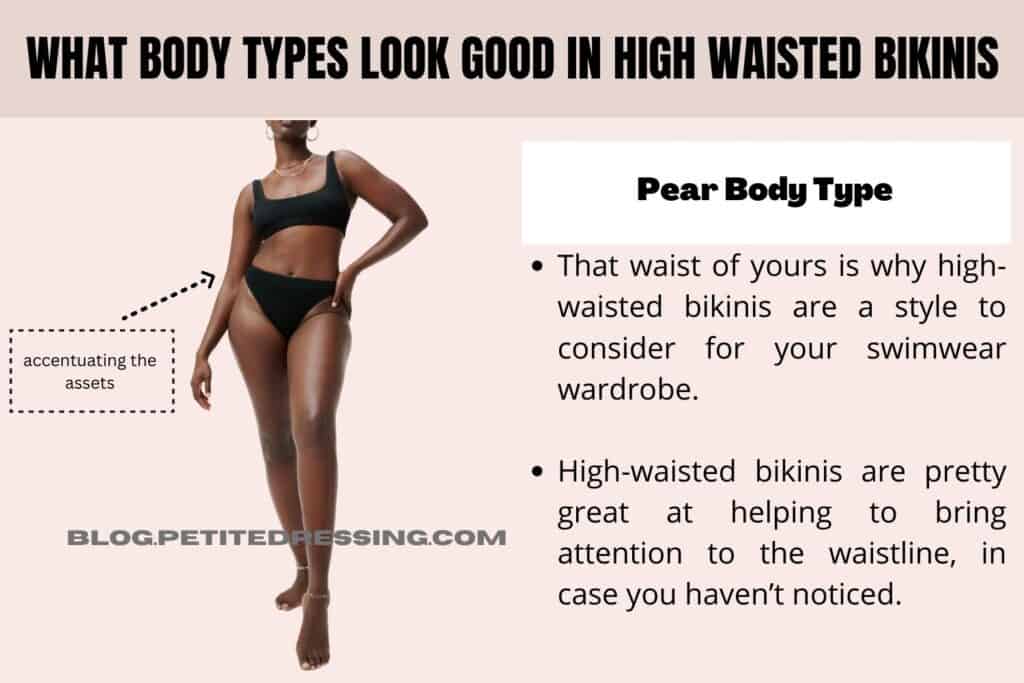 With a pear body type you're fortunate enough to have a waist that's on the narrow side, particularly narrower than your hips and thighs. When it comes to choosing flattering swimwear it's all about accentuating those assets and in your case your waist is one of your assets.
That waist of yours is why high-waisted bikinis are a style to consider for your swimwear wardrobe. High-waisted bikinis are pretty great at helping to bring attention to the waistline, in case you haven't noticed.
Most style experts suggest opting for high-waisted bikinis that are more minimal in their color and/or design on the bottom half for pear shapes. This is because the high-waisted shape brings focus to your narrow waist, and the minimal design/color helps to add more of a pop to the top half. Try opting for bikini tops that are a bit bolder in their design or coloring to achieve this even further.
Steer clear of high rise bottoms that are loose around the tummy area, though. This will add bulk to the stomach and defeat the purpose of introducing the high rise silhouette to your wardrobe. Instead, selection bottoms that offer some rouching this does a great job at camouflaging your stomach area a bit without adding bulk.
Petite Body Types
Another body type that's highly flattered by high-waisted bikinis: is petite women. The main reason this style of swimwear is flattering is simply that it's a style that can lengthen the body – that's definitely something petite women know is a benefit.
Anytime you wear something with a higher rise, whether it's a bikini, skirt, pants, etc. it's going to add length to how long your legs appear. As a petite woman, it's likely that longer-looking legs are something you'd love to achieve with your clothing choices.
If you want to add the look of even longer legs, choose high-rise bikinis that are paired with a high-cut leg hole. This will show more of your actual leg, with some extra inches added to the illusion
Other than the leg hole placement, Petites can really have fun with high-rise bikinis. Fortunately, because they're so on trend there's no shortage of options available in retailers.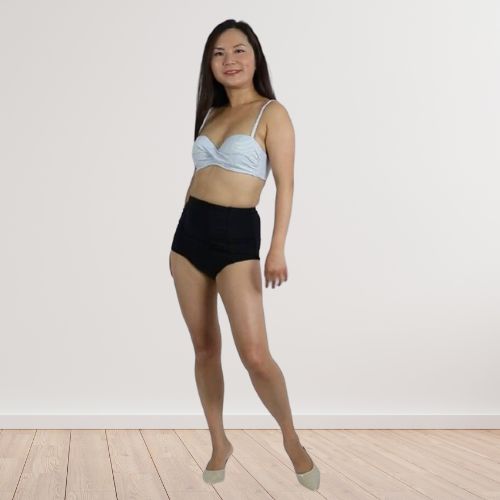 High-waisted bikini types to avoid when you're petite
. Generally, as a petite, you'll want to avoid bottoms with a leg hole that lays low on the hip/leg area.
This can lead to shortening the way legs appear in the bikini.
Short and Curvy Body Type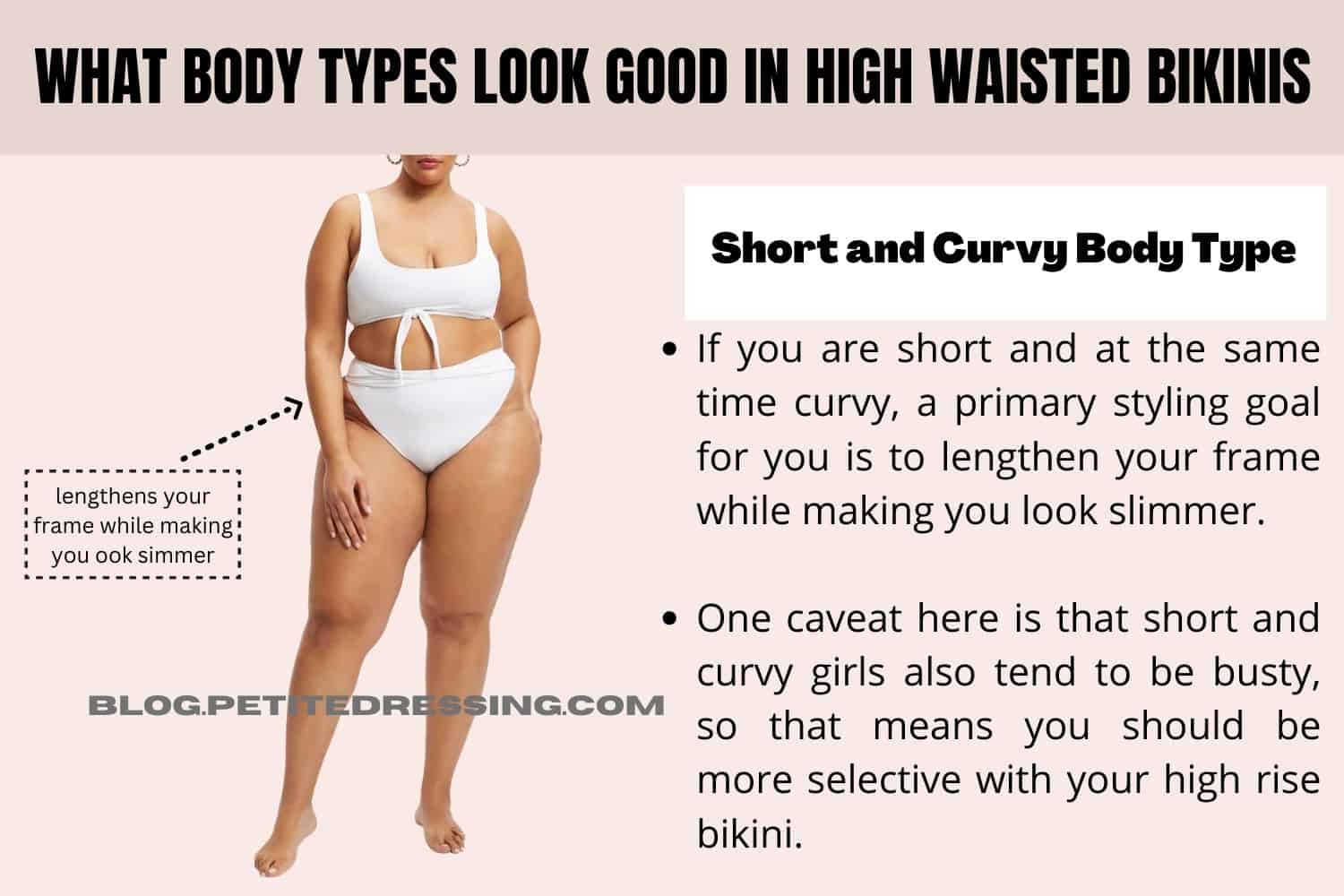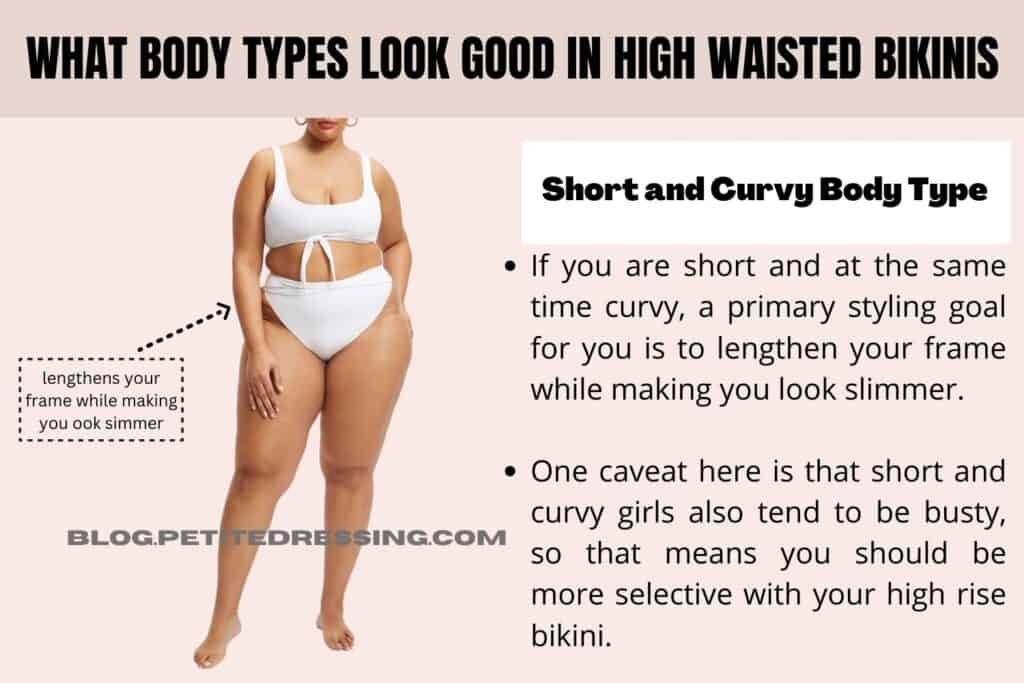 For any women is short and curvy, high waisted bikinis are a no brainer!
The reason is quite obvious.
If you are short and at the same time curvy, a primary styling goal for you is to lengthen your frame while making you look slimmer.
Nothing does a better job than a high waisted bikini.
One caveat here is that short and curvy girls also tend to be busty, so that means you should be more selective with your high rise bikini.
You do want it to be higher rise in order to fully cover your tummy and create the illusion of a higher waistline than your natural waist, but you don't want the waist to be so high as to look like it's right under your bust.
Muffin Top
If you have a muffin top, high-waisted bikinis are heaven-sent for your shape.
You could have any body type and have a muffin top, and high-waisted bikinis are one of the best bathing suit styles that can smooth out your midsection and make you look skinnier.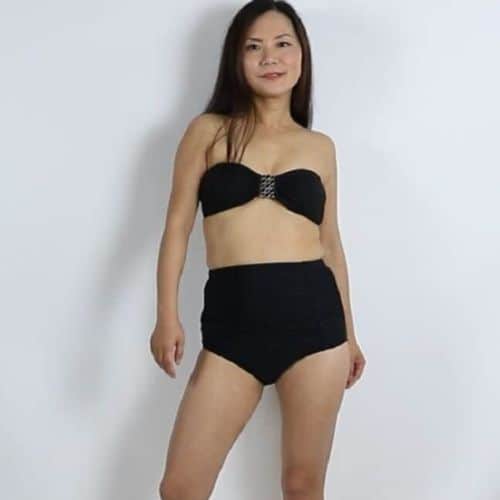 Color-blocking strategy to choose
A pro tip for you is to go with a color-blocking strategy, i.e. wear a brighter bikini top and pair it with a darker color high-waisted bikini bottom.
By doing so the eye is going to focus on your top half and your midsection will become much less noticeable.