What to wear on a first date? The age old question we've all been faced with a few times throughout our lives. When thinking about how to dress for a first date, it can often feel like there's more pressure to find the perfect outfit to make a great first impression.
To help you ease some of the panic before your next first date, we're sharing some easy tips for you to consider when getting dressed. Don't worry, these style tips aren't complicated they will help make getting dressed for a date MUCH easier!
Ready to be date night prepared? Let's get into the details!
This post may contain affiliate links, which means we earn a small commission (at no cost to you) if you follow the links and make a qualified purchase, which enables us to keep creating amazing free content for you. Thanks! Click here to learn more.
Rules of Thumb on What to Wear to a First Date
Before we give you recommended outfits for the first date, here's the tips you should know in general.
Don't Show Too Much Skin
It's all about finding balance here! We're not saying you have to be completely covered from head to toe, however it's best to not show too much skin on your first date.
For example, if you decide to wear a shorter skirt, balance that out with a top that covers your top half and skip the platform heels.
When we show too much skin, especially on a first date, it can take away from the real 'us.' Once you've determined the item that may show a bit more of your figure, build the rest of your outfit around that to help make creating balance a bit easier.
Plan Ahead of Time
Let's be honest with ourselves, waiting until the last minute to do anything doesn't do us ANY favors. Whether it's a deadline at work, or deciding what you're going to wear on a first date. That's why we HIGHLY suggest you give yourself time to plan your outfit ahead of time.
We've all had those moments where we waited until the last minute to find something to wear and end up panicking, scrambling through all of our clothes and ending up extremely frustrated and stressed.
You don't want to go into a first date with all that crazed energy so do yourself a favor and plan ahead of time! This will also give you time to try on a couple of different options so you can ensure everything fits right and you feel good wearing it.
Still have doubts? When you plan ahead you can also snap some pictures and send them over to a couple of your close friends to get their input on your first date outfit – this is a great resource to use!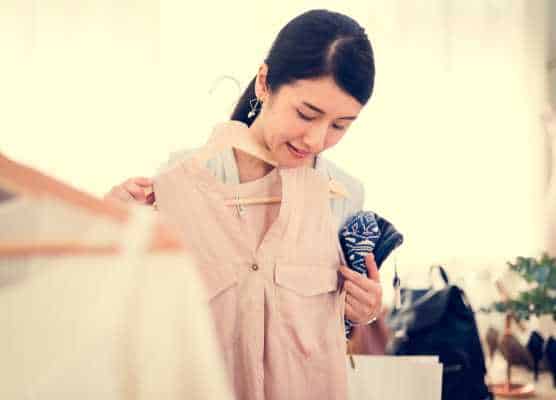 Wear What You Feel Confident In
This may seem obvious, but we know a lot of women get caught up in wearing outfits on first dates that they think they're SUPPOSED to wear. You want the person you're going on a date with to get to know the real you, so that means wearing something that makes YOU feel the most comfortable.
None of us feel that confident when we don't love or feel good in what we're wearing. Since a first date can be nerve wracking enough, you don't need to put that added stress on yourself throughout the date. Make a rule with yourself to not wear an outfit on a date unless you actually feel confident wearing it.
This may go without saying, but don't wear something if you can't wear it comfortably in terms of fit.
If you struggle to walk in a pair of shoes, or can barely sit in a dress – skip those items for a first date. When you have restrictions like that it's next to impossible to feel truly comfortable and chances are you will be fidgeting with your look all night.
Use the Location for Inspiration
When it comes to selecting an outfit to wear on a first date, you want to be dressed appropriately for wherever it is you're going and doing on the date. That means dressing according to the location!
If you ever feel like you're at a total loss as to what to wear, do a bit of online research on the place(s) you're going to be going on the date to get a better sense of what it's like – this helps you narrow down the 'dress code' or what most people will be wearing.
Thanks to social media, this is a whole lot easier to do now! Scroll through pictures to see how people dress for inspiration.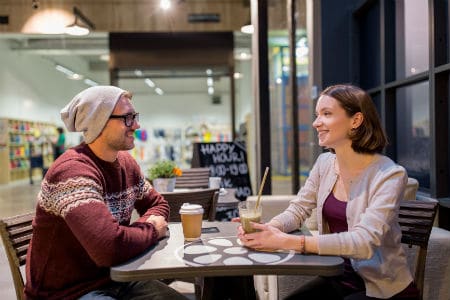 Less is More
We're all about having fun with your personal style. Experimenting with different trends and clothing choices are one of the most fun ways to express who you are as an individual. However, when it comes to getting dressed for a first date we suggest using the less is more approach.
The problem with wearing ALL the trends and statement pieces together on a first date is they can overwhelm you. It can be difficult to see past all the clothes when they're such a statement, and for the person you're on a date with to really see YOU.
Instead, we recommend opting for one statement piece in an outfit and styling the rest of your look with more simple pieces that highlight the statement item.
There are a number of ways you can dress this way. Do you have a statement necklace you LOVE?! Wear that and keep the rest of your outfit minimal with solid colors and simple silhouettes. Just to give you an example!
Stick to Your Staple Pieces
Wardrobe staples are staple items for a reason! Because they can be worn for so many different occasions and keep you looking your best.
We suggest keeping your first date outfit on the minimal side by wearing your staple pieces. These are going to be items that you wear often, so you will feel comfortable in them, and they won't be overly trendy.
Generally speaking, solid neutral colors are best for your staple pieces which turn out to be ideal for a first date as well.
Many dating experts suggest black, white and red are some of the best colors to wear on a first date. They're classic colors, too so chances are you have plenty of pieces in these colors to choose from.
However, if there's a certain color outside of these three that you always get complimented on and feel amazing when you wear – by all means wear that color! Chances are you're going to feel incredible wearing it and that's the feel you want going into a first date.
Best outfits for a First Date
Now that we have talked about all the principals, let's put them to practice! Here's some of ideas of what to wear to a first date.
Outfit 1: Well fitted blazer with skinny jeans
Outfit 2: Sweater top with midi skirt
Because the sweater is well fitted, you can balance it out with a A line skirt. The crop length top also forms the contrast with the midi length skirt to divide your body into an ideal 1/3 and 2/3 ratio.
Because the skirt is light color midi length, you want to make sure your shoes are not dark color. This beige loafer with pointed toe does a wonderful job to elongate your legs!
Outfit 3 Wrap dress
This is a good outfit for a first date, because the wrap dress is feminine without explosing anything! Wear it with beige color heels will effectively elongate your legs. The bracelet will draw attention to your wrist, which is another feminine feature.
Best Dresses for a First Date
One way to make it easier to decide what to wear to a first date is to simply go with a dress. It is a one piece, so you don't have to worry about how to match a top and a bottom. Also, it is effortlessly feminine, which is why they should be your first choice of date night outfits.
Now, if you want me to recommend to you only one dress, that should be a fit and flare dress.
The fit and flare is the most universally flattering dress, because it fits any body type and you can make it work whether you are petite or tall.
Best Shoes for a First Date
We do recommend you wear heels on a first date! The reason is obvious- we want you to look feminine, and more importantly, FEEL feminine. That's the whole point of going on a first date, isn't it?
So you should consider wearing heels for the first date, unless you are normally a sneakers girl.
Now, the best shoes for a first date is probably not stiletto! You want to make sure you can walk confidently and comfortably.
So, our best recommendation is to go with a pair of block heels or kitten heels.
The block heels can give you enough support, in case you need to walk some.
The kitten heels are under 3 inches, so they won't tire you out quickly like the high heels. Plus, they go with pretty much any outfit.
Makeup for the First Date
The "less is more" rule of thumb also goes for the makeup you wear on your date!
Don't get us wrong, we love a gorgeous smokey eye look just as much as you do. But again, you want your date to see you for you so keep your makeup a bit more natural. You can still have fun with your makeup, throwing on a red lip or cat eye liner.
Just make sure you're not overpowered by your makeup – similar to what we were saying about showing skin on a date it's all about balance! This is really because you want to look like yourself, and your date wants you to as well!
Accessories for a First Date
Since you're going to keep your outfit on the minimal side as far as the pieces you wear go, accessories are a great way to add a touch of your personality to your outfit.
Of course, you still want to keep the less is more approach in mind when choosing the accessories you're going to be wearing.
In other words, just because we're suggesting you use accessories to express your personal style doesn't mean you should wear EVERY kind of accessory. The ideal is to choose one or two items that work well with the rest of your outfit.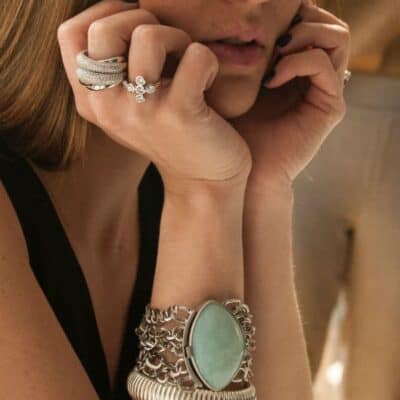 Hair for the First Date
Because first dates are stressful enough, it's not the time to try a new way to style your hair.
We've all had moments where we tried to get a little more creative and ended up frustrated and running out of time to finish getting ready because of it. Instead, keep it classic with one of your go-to hairstyles.
This way you know exactly how to achieve the look, you know how much time you need to do it, and you feel comfortable wearing it because it's a go to hairstyle you always rock.
You never want to go to a hair salon to get a new color the day before the first date! Chances are, the color may not turn out to be what you wish it to be and you will be super stressed that you don't look right for the first date next day!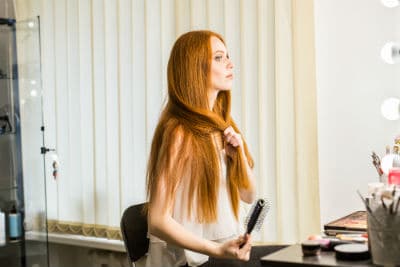 Don't go on a first date without this.
The final piece of the puzzle, and the most important one, is that you have to be the relaxed YOU!
While we know it's easy to tell you not to stress too much about what to wear on a first date, the truth is it is most important to be yourself with what you decide to wear. Forcing ourselves to wear things that we would normally never wear, just because it's a first date, isn't going to do you or your date any favors.
All in all, keep it simple, classic and YOU. Follow our tips above before you get ready for your next first date and you're going to feel so much more comfortable – and hopefully a whole lot less stressed! Remember, it's a first date it should be something you have fun with. Take some of the stress out of it for yourself by sticking with our tips and focusing on what you love to wear.