Sequins are mostly worn out to parties, especially those that take place at night. They are also the go-to pieces during the festive season, thanks to their sparkly nature. A sequin skirt is very feminine, and can be so much fun to wear. The best thing about it is that with the right styling, you can wear these skirts during other times of the year in casual or dressy ways.
Here are ideas on what to wear with sequin skirts:
With a denim jacket
Denim jackets are some of the most universally flattering pieces you can find around. They are also versatile, since denim jacket are so easy to coordinate with whatever you're wearing most of the time. They look great with different skirts including sequin skirts.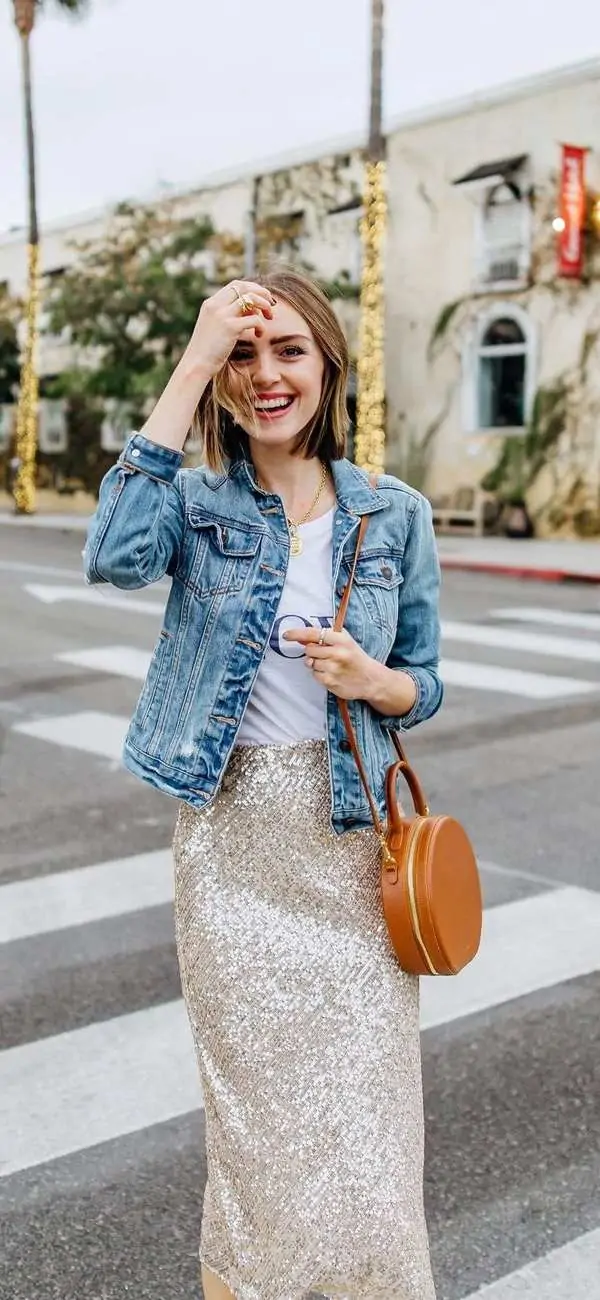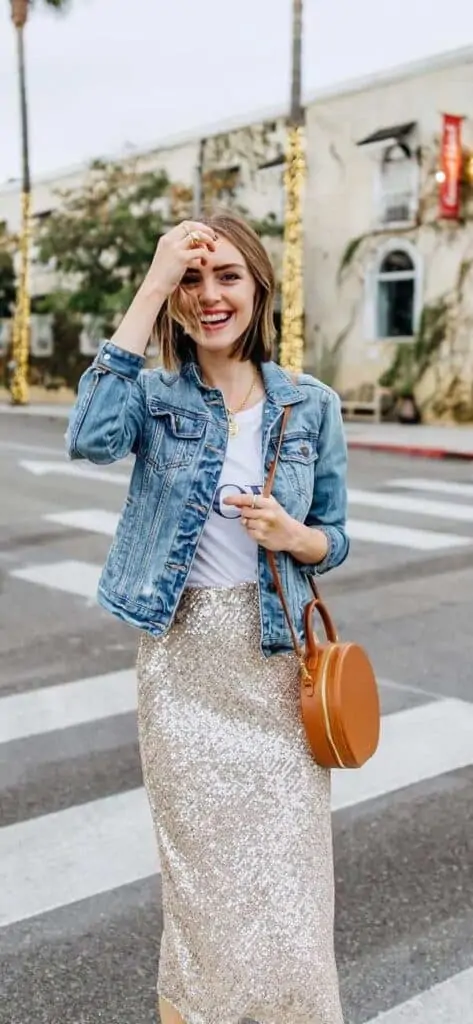 Tessa (above) styled her sequin skirt with a t-shirt then layered a blue wash denim jacket over the look for a casual chic outfit. A denim jacket will work with a sequin skirt of any length for this combination.
With a turtleneck top
You can tuck your turtleneck into your sequin skirt for a sparkly but warm outfit.
A turtleneck is a functional top, especially during fall or winters. They cover you all the way up to your neck to keep you warm. They highlight your curves without being revealing, because they follow the shape of your upper body. You also have the options of turtlenecks in chunkier knits which are less curve hugging and look more relaxed.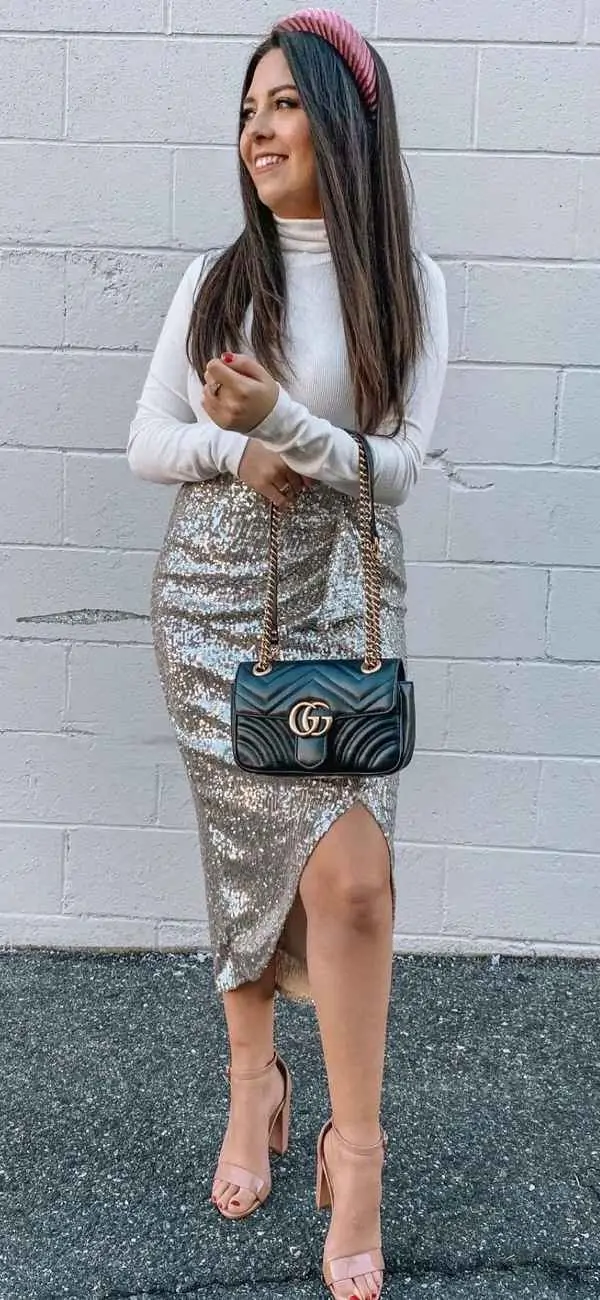 Carey (above) styled her turtleneck top with a midi sequin skirt and a pair of heels. It's a chic combination. If you pick a chunkier turtleneck, you can always tuck only the front part and leave the back out to avoid any awkward bulges.
With a cami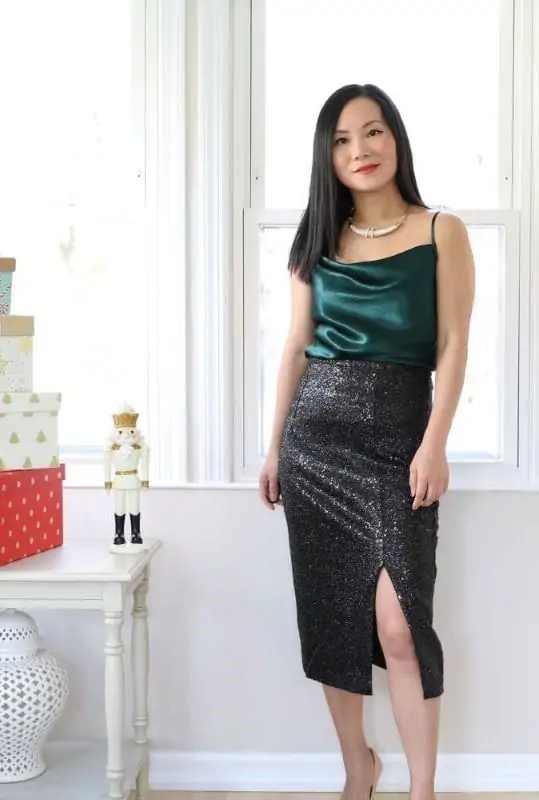 Camis are great for hot weather, thanks to their thin straps and the fact that they are mostly made of light fabric. They are flattering and versatile, since they are minimalist in design. You can style your cami with a sequin skirt.
This is a great combination, if you have an event to attend. Should it get colder later on, you can always layer some stylish outerwear over your look, for example a cape or a leather jacket.
With a pullover
A pullover can add a more casual vibe to the sequin skirt, making it more versatile to be worn not just for the night but also for the day time.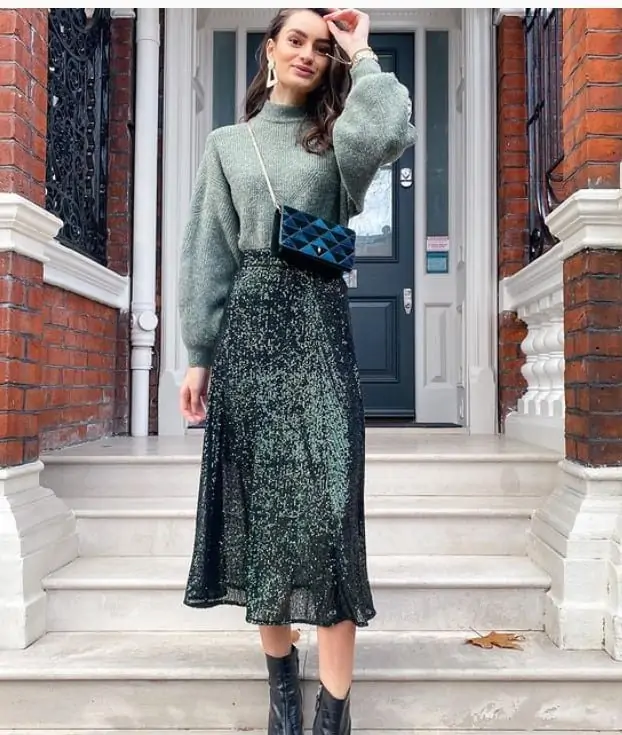 Patricia (above) wore a turtleneck pullover with an A line sequin skirt, a festival outfit with a casual vibe.
This is a very functional and practical outfit for the fall, giving you more usage of your sequin skirt before the holiday season starts.
With a trench coat
Trench coats are great outerwear pieces to own, as they are not only great for layering, but also shield you on rainy days. They also make for stylish fashion pieces. You can throw one over your sequin skirt look too, as the coat will tone down the dressy vibe of the outfit but just in the right way.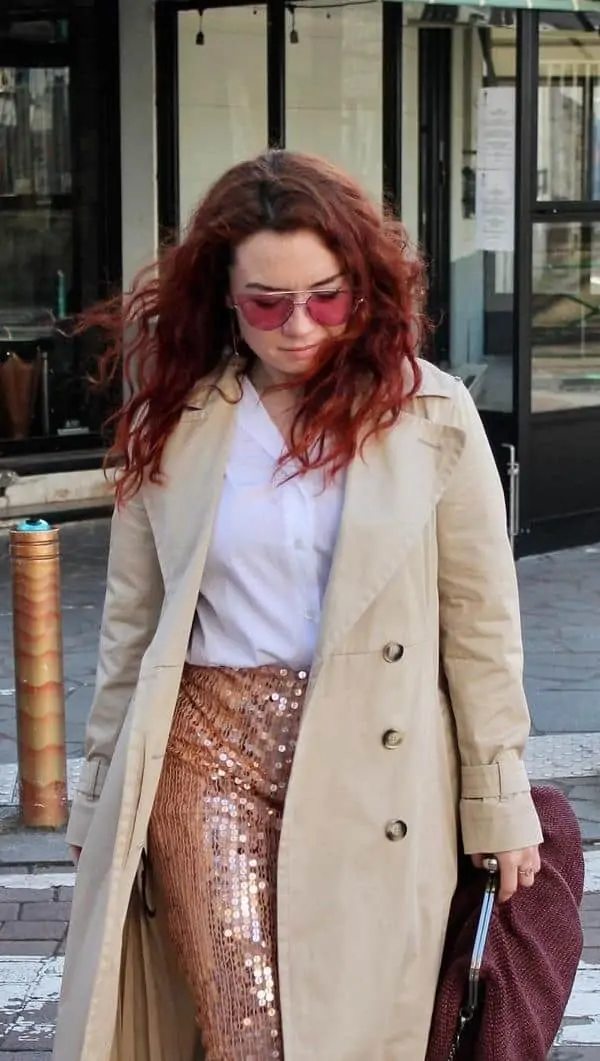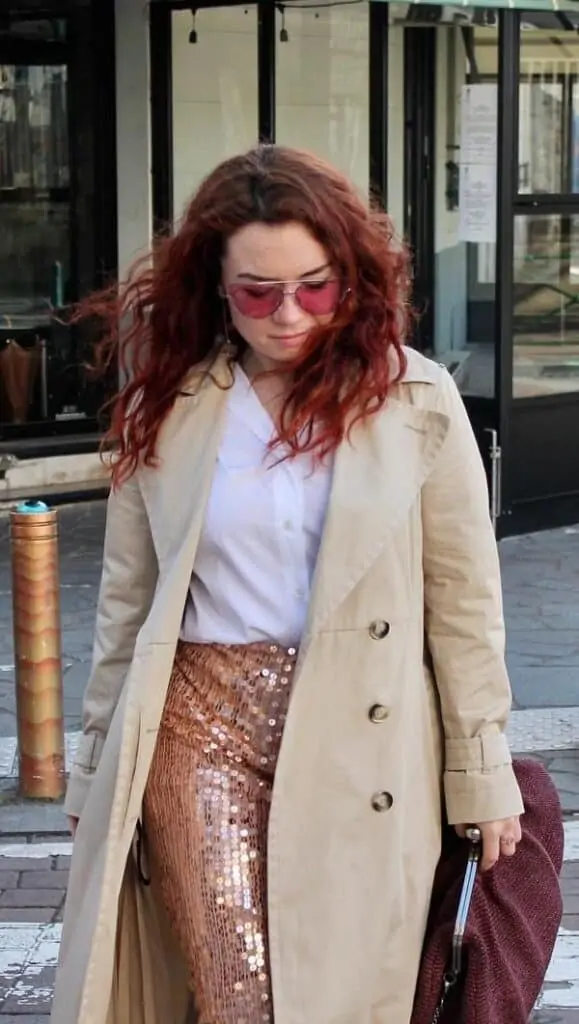 Nastasia (above) styled her sequin skirt with a white button-down, and then wore a trench coat with the look. It's always easier to achieve a cleaner look, if you go for a trench coat in neutral colors. If you like bright colors then go for a sequin skirt that's in neutral colors instead.
With a simple long-sleeve top
The thing with a simple long-sleeve top is that you can tuck it into whatever you choose to wear as your bottom piece. Instantly, you get a classy look. They are simply effortless, and picking them in neutral colors guarantees you an amazing look. When styled with your sequin skirts, they allow your sequin skirt to be the focus of your outfit.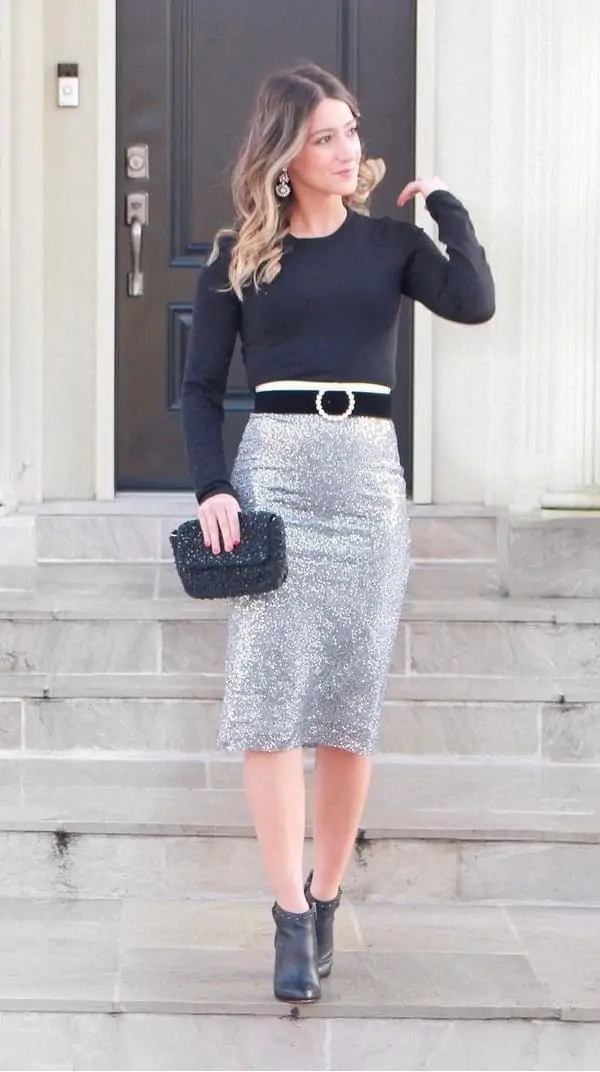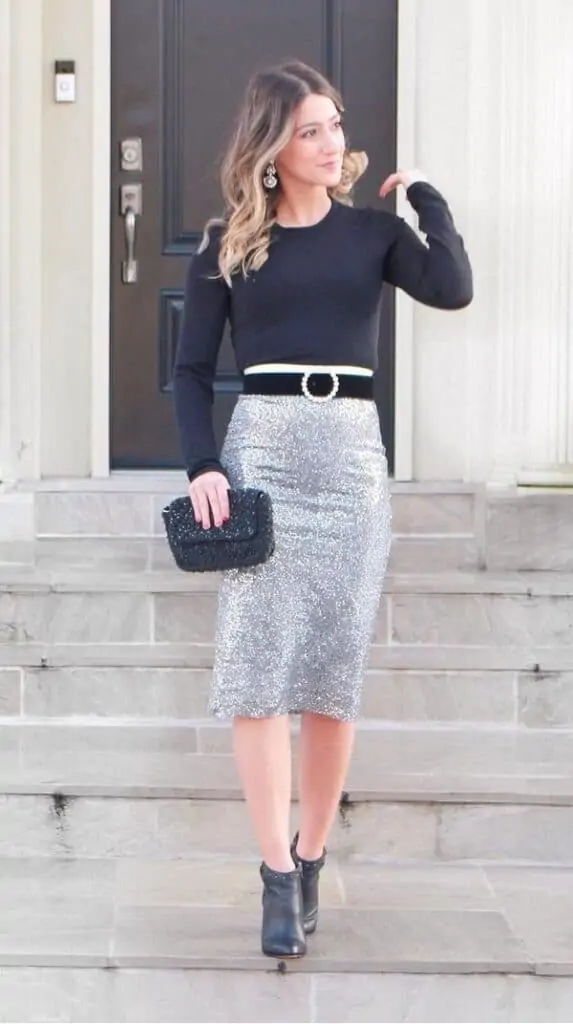 Niki (above) styled her black plain simple long-sleeve top with a sequin skirt and a pair of booties. Some closed pumps or strappy heels would also work for this look since it's very minimalist despite the sequins.
With a white button-down shirt
A white button-down shirt is a must-have, because it goes with just about everything you can think of. These shirts will dress up any look, and suit every woman regardless of body shape and height. White button-downs are really ageless, but they are particularly the favorite clothing for women over 50, because of the sleek and clean look.
Considering how simple and plain they are, these look great when paired with a sequin skirt.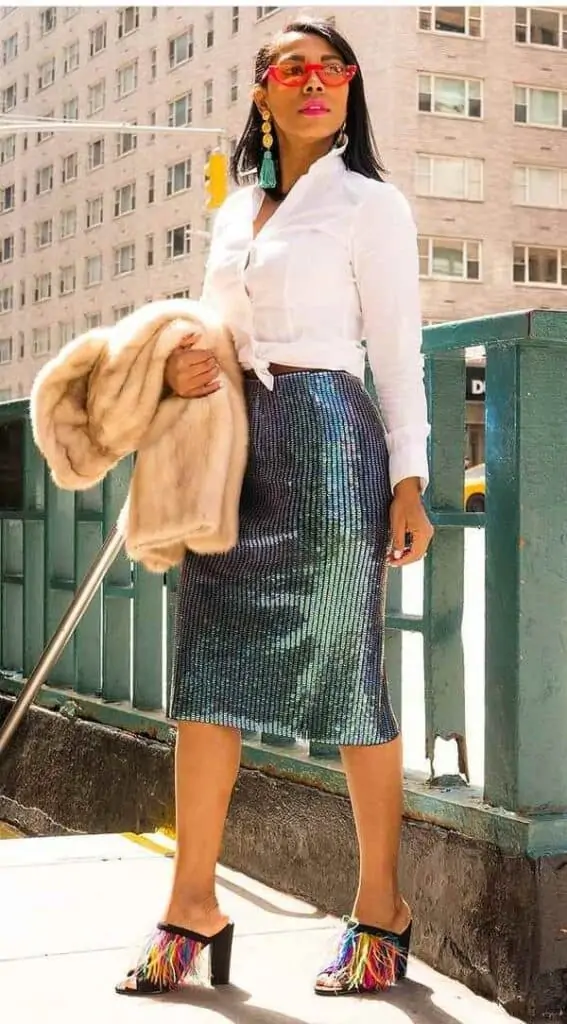 Pepa (above) styled her white button-down with a sequin skirt and a pair of mules. She knotted the white button-down although you have the option of jus tucking yours in instead.
With a sleeveless top
A sleeveless top is also great on warmer days. Going for a simple design is great if you prefer to have versatility, since such a top can be styled with just about everything you can think of wearing. This includes a sequin skirt regardless of the length the skirt comes in.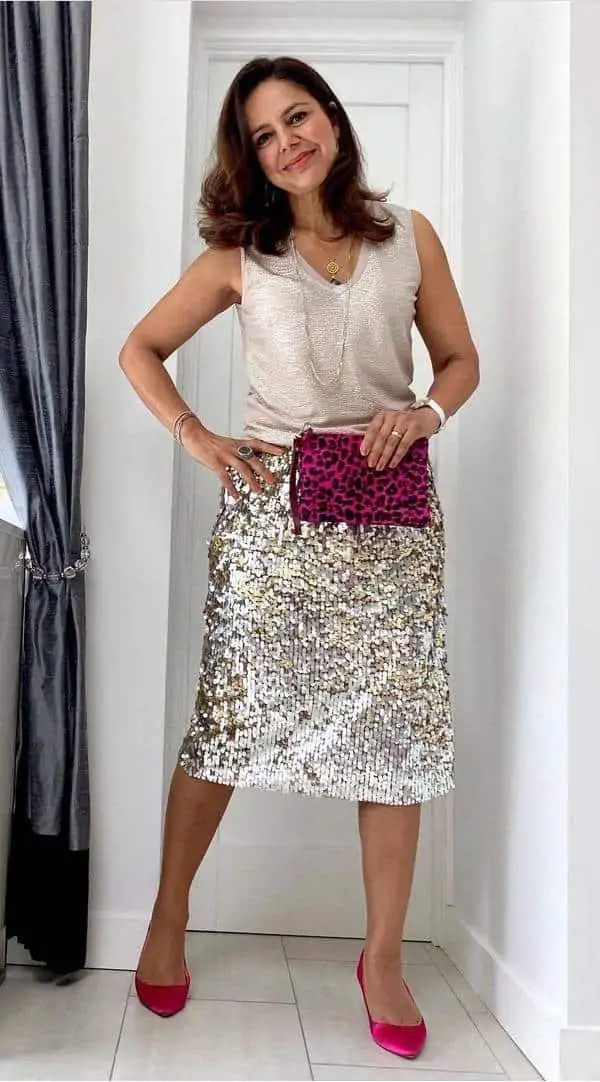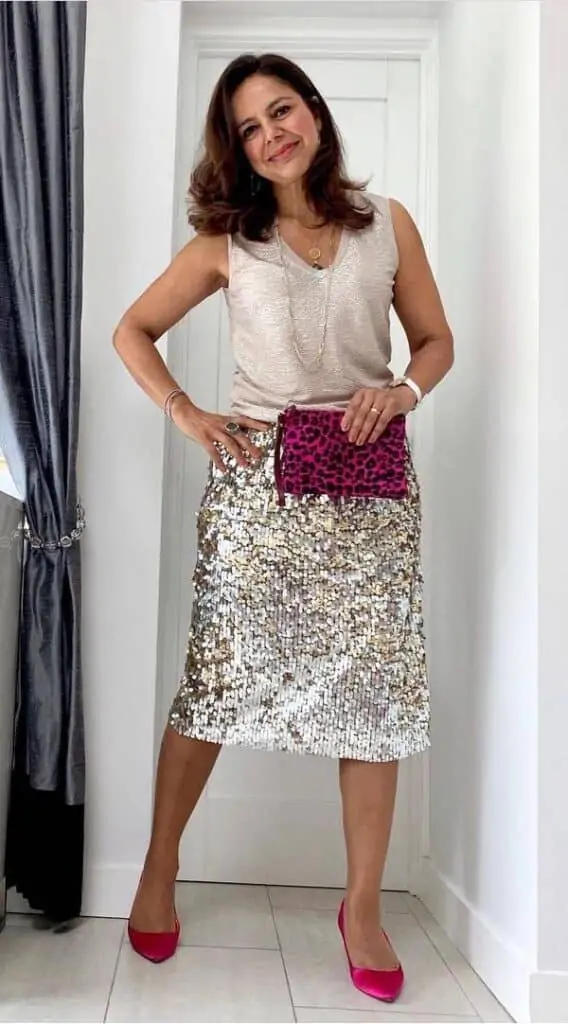 Anita (above) styled her sleeveless top with a sequin skirt and a pair of simple shoes. Plain sleeveless tops may be the easiest to wear, but you could go for printed ones, just as long as your top coordinates with your skirt.
With a tank
Tanks are easy tops to wear just like camis. They suit anyone just as long as you choose one that fits you right. Although they come in different prints, plain ones are easiest to style. The best thing about a tank is that it can be dressed up or down. Being minimal in design, they look great when worn with sequin skirts.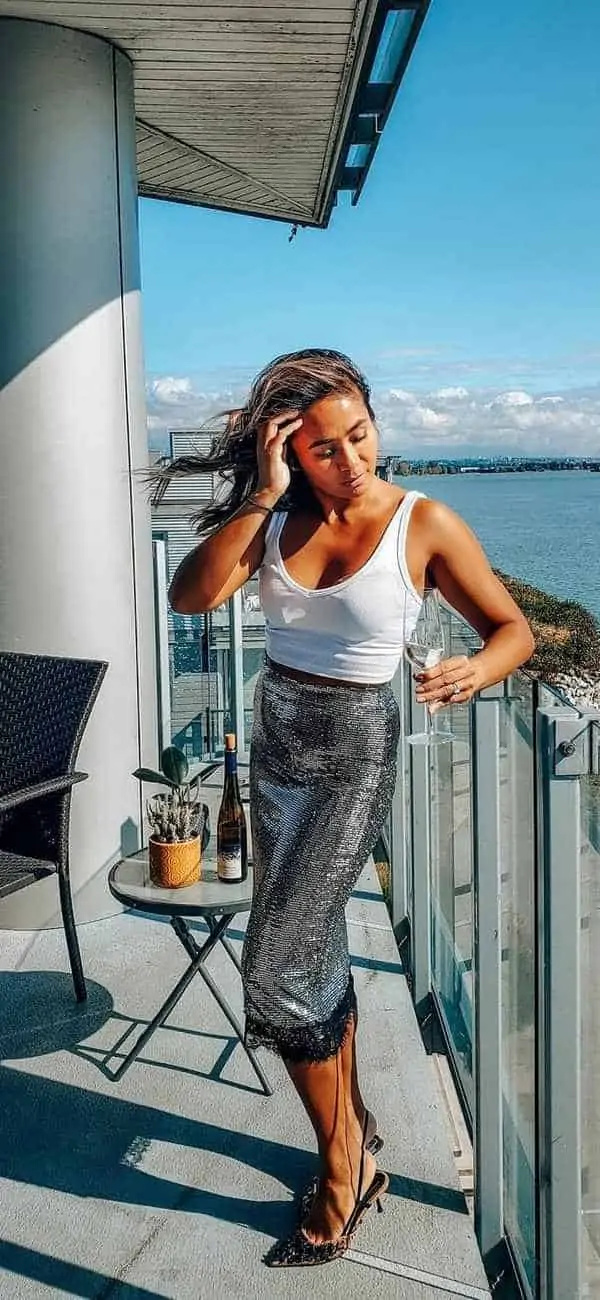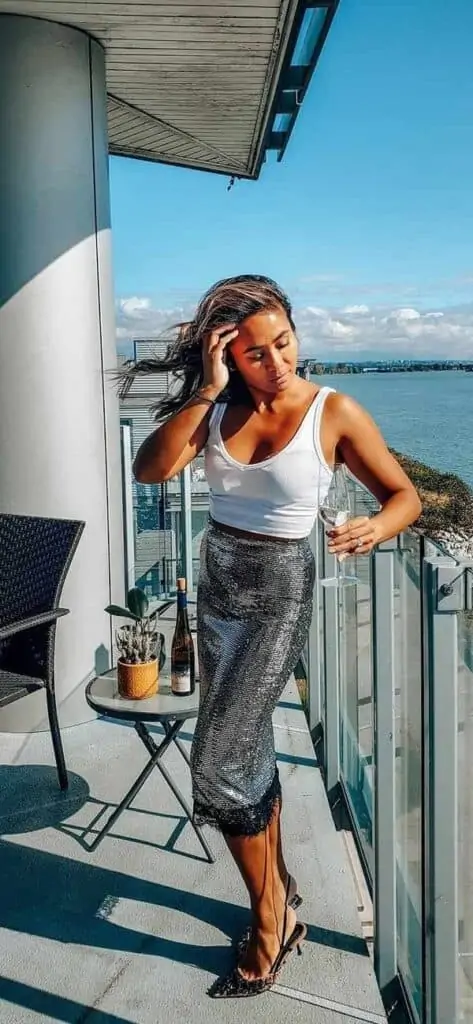 Esh (above) wore her white tank with a sequin skirt, and finished the look with some slingback heels.
With faux fur
You can wear your faux fur coat with sequin skirts for the ultimate show stopping look.
A faux fur vest or coat is ever so stylish, which is why you will often spot a lot of trendsetters wearing these during fashion events that happen in cold weather. They look great when layered over different pieces of clothing. The more fitted ones are easier style, considering they are a bit chunkier.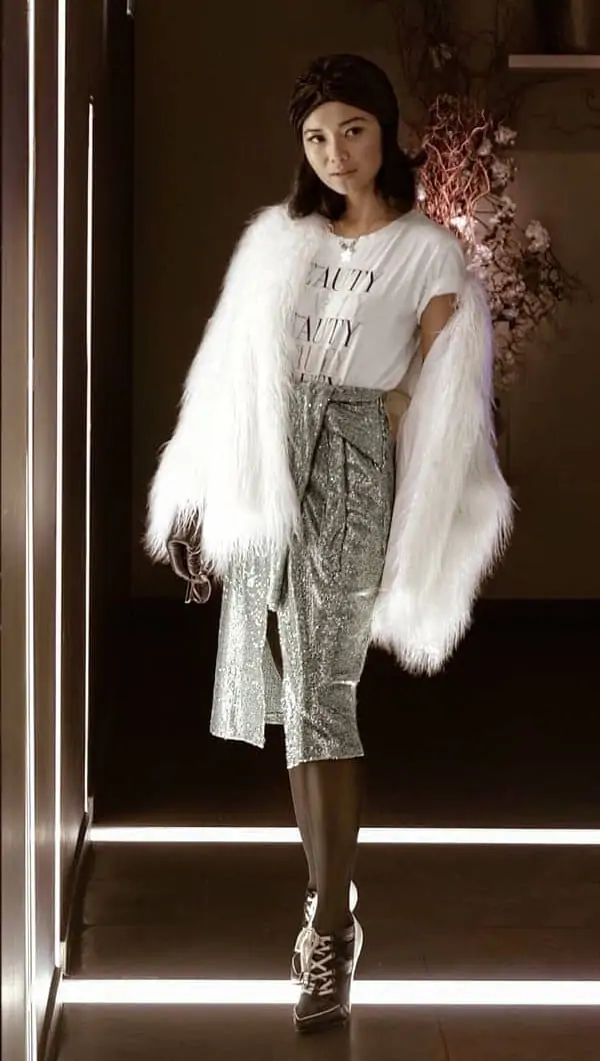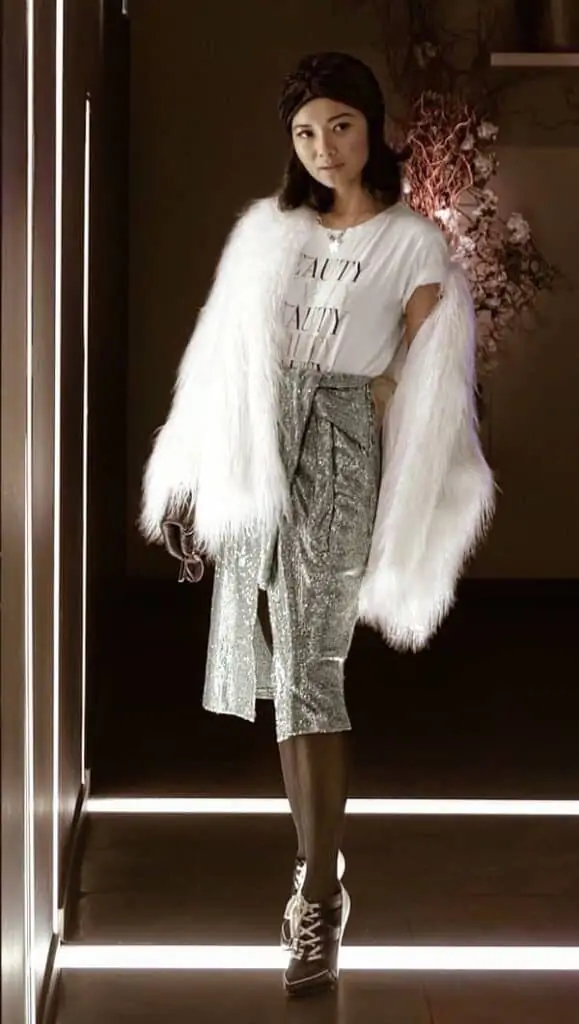 Aiya (above) styled her sequin skirt with a message t-shirt and then went for a white faux fur coat. You will find it easier to style black and white faux fur over any other colors especially if you're looking to step out wearing some sequins.
With a sequin sweater
For a festival look, you can also pair a sequin skirt with a sequin sweater. These two naturally go together, as long as you choose the right color combination.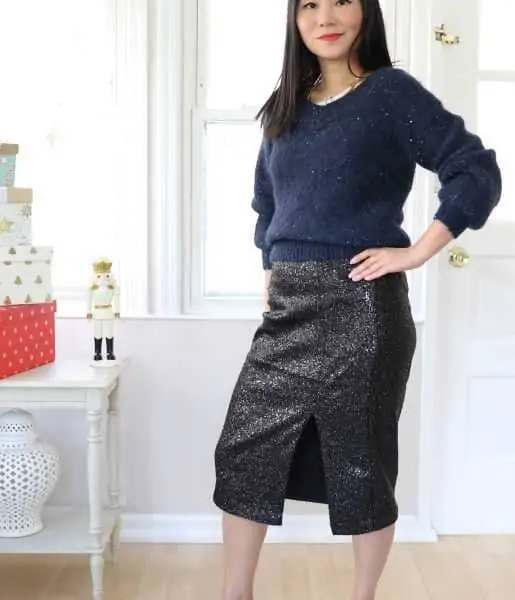 Since my sequin skirt is black and my sequin sweater is navy, these are the two classic color combinations. The sequin in the sweater was subtle, which makes sure this outfit is not "over-the-board" and is suitable for any holiday occasions.
With a cape
A sequent skirt outfit will look more polished when you add a cap on top.
A cape is ever so chic, and adds sophistication to your outfit, whether you choose to wear one with jeans or to wear it with more formal pieces in your closet. They can be worn with long-sleeved, short-sleeved or sleeveless tops. Caps also come in different fabrics both heavy and light ones.
If the weather is warmer, you can go for a shorter sequin skirt, a lighter cape, and airy shoes.
With a leather jacket
Wearing a leather jacket with a sequin skirt gives you that nice party-ready look you can wear to an event.
A leather jacket is a staple for the casual wardrobe, and it is the one piece that you should have in your closet, since you can wear it with almost anything. They come in different lengths and all you ever have to do is check the proportions to make sure the length you have chosen goes well with whatever you're wearing at the bottom.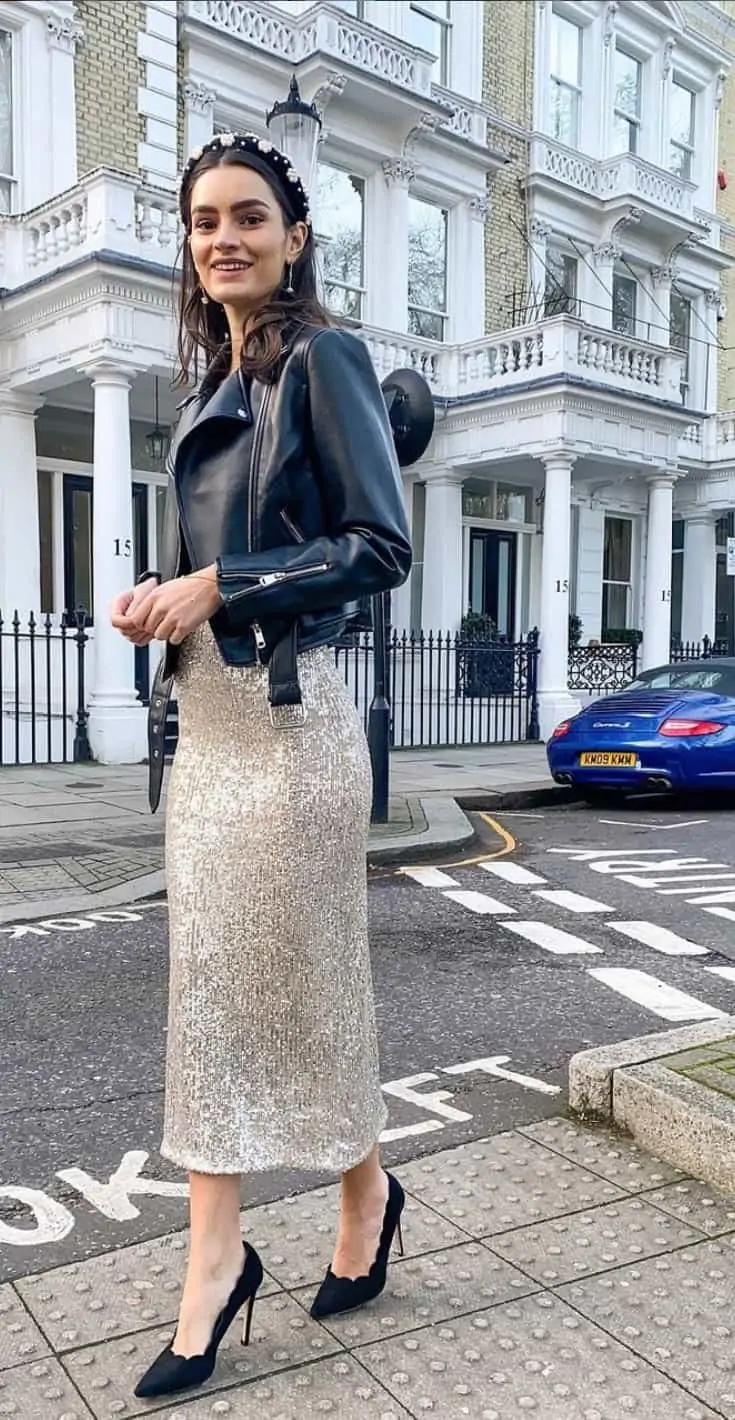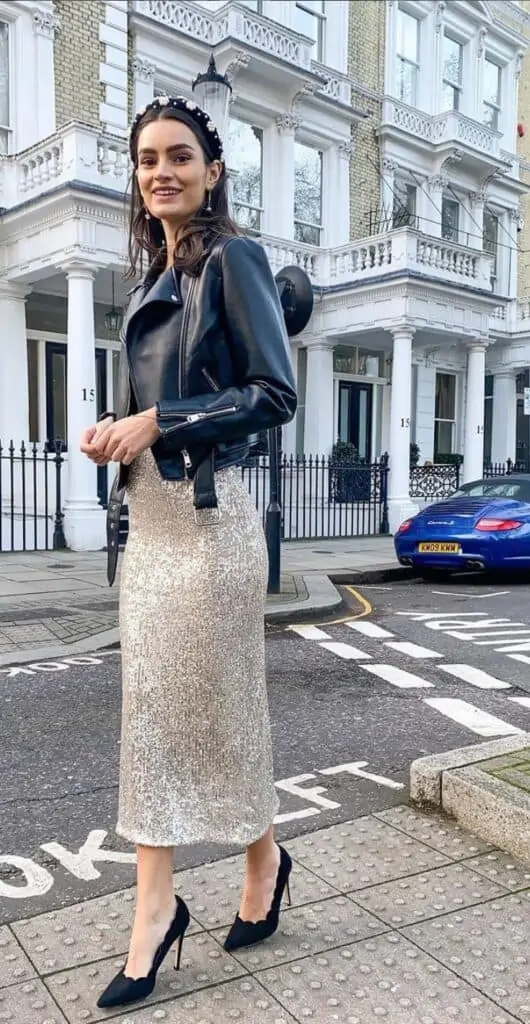 Patricia (above) wore a cropped length leather jacket with a midi pencil skirt. The contrasting of leather and the sequin makes the outfit more unique and versatile.
You can style a sequin pencil skirt with a matching cami and then layer a cropped leather jacket over the outfit. A cropped leather jacket can be styled with a sequin skirt of any design especially if it's a black jacket.
With an off-shoulder top
Off-shoulder tops are trendy pieces that will probably not go anywhere anytime soon. They are great especially during hot summertime. They can be worn with a variety of pieces, including a sequin skirt for that feminine look. This is one of the best necklines that allow you to show some skin in a subtle way, compared to crop tops and those with cleavage.
You can style a white off-shoulder top with a sequin skirt, then completed her look with a pair of open white heels. It's a clean, chic look, considering the white color of the top. You can pick sequin skirts in different designs.
With a coat
Adding a top coat to your sequin skirt outfit finishes the look with a sophisticated touch.
A coat always keeps you warm when it's cold outside, and coats can also be really stylish. They are available in different designs today, and can be styled with different wardrobe pieces. A great example of what to wear with your coat is a sequin skirt outfit.
You can style a sequin skirt with a graphic t-shirt, some sneakers and then finished the outfit with a heavy coat and a beanie for a casual chic look. You can always dress up this outfit by picking a plain top instead of a t-shirt, then going for heels or ankle boots.
With a blazer
Blazers are the best go-to pieces, if you'd like to add sophistication to your formal or casual outfits. They come in different fabrics or materials, which is why styling them with sequin skirts is so interesting. They also come in different colors so all you have to do is make sure the one you pick goes well with your sequin skirt.
You can style a sequin skirt with a simple plain top, and then top it with a velvet blazer. Velvet looks great against sequins thanks to its texture, however, you can pick any other material that makes your sequin skirt pop.
With a plaid shirt
One way of dressing up your plaid shirt is by wearing it with a sequin skirt.
Plaid shirts have been around for a while and are the ultimate pieces for fall, however, they can be worn throughout the year. Plaid shirts are mostly worn in casual style but can be dressed up too.
Tucking your plaid shirt and picking dressier shoes gives you a more elevated look that you can wear to events or any other formal gathering.
With a graphic t-shirt
Graphic t-shirts are great, if you want a t-shirt that will make you stand out. They are great for casual looks, but these t-shirts are generally versatile. If you prefer going for dressier bottoms such as tailored pants, pencil skirts and the likes, you can easily do so. An example of more dressed up bottoms that will work with your graphic t-shirt is a sequin skirt.
It's always a good idea to pick a graphic t-shirt whose colors coordinate with the colors of your sequin skirt.
With a statement blouse
A statement blouse does exactly what its name suggests. It makes you stand out from any crowd. While a sequin skirt is also a statement piece, you can wear these two pieces together. The key is in picking a blouse in the right fit and in a color that does not clash with your sequin skirt.
It's a chic outfit, despite the two statement pieces, because they are both black. Monochromatic looks work best for this combination.
With a simple blouse
If you feel like a statement blouse is a bit too much for you when your plan is to step out in a sequin skirt, then a simple blouse will do. It will allow you to only have one statement piece, which is your skirt, and will give you a more balanced outfit of the day.
You can style a plain white blouse with a sequin skirt and some closed pointed pumps. This is an easy look to pull off, and works for the office, depending on the dress code of your work environment of course.
With a one-shoulder top
If you like to show off your shoulders and clavicle area, then a one-shoulder top is the best to go for. These are great for both a dressed up look and a casual one. Wearing one with a sequin skirt will have you looking all dressed up.
This is a simple combination that will look amazing especially at events or when you're going out at night for a date.
As you can see, you don't always have to wait till the festive season to wear your sequin skirt out. With just the right pieces to pair them with, you can make them work on many occasions throughout the year.