Looking for party dresses that suit petite women but don't know where to start? I'm 5'2″ and I have put together this detailed guides for petite women for party dresses so that you can choose suitable outfits.
All these dresses will complement your body type and make you look leaner. When you are aware of what dress styles are suitable for your body type and what to avoid, you can look mesmerizing effortlessly. So, let's dive right in!
What to look for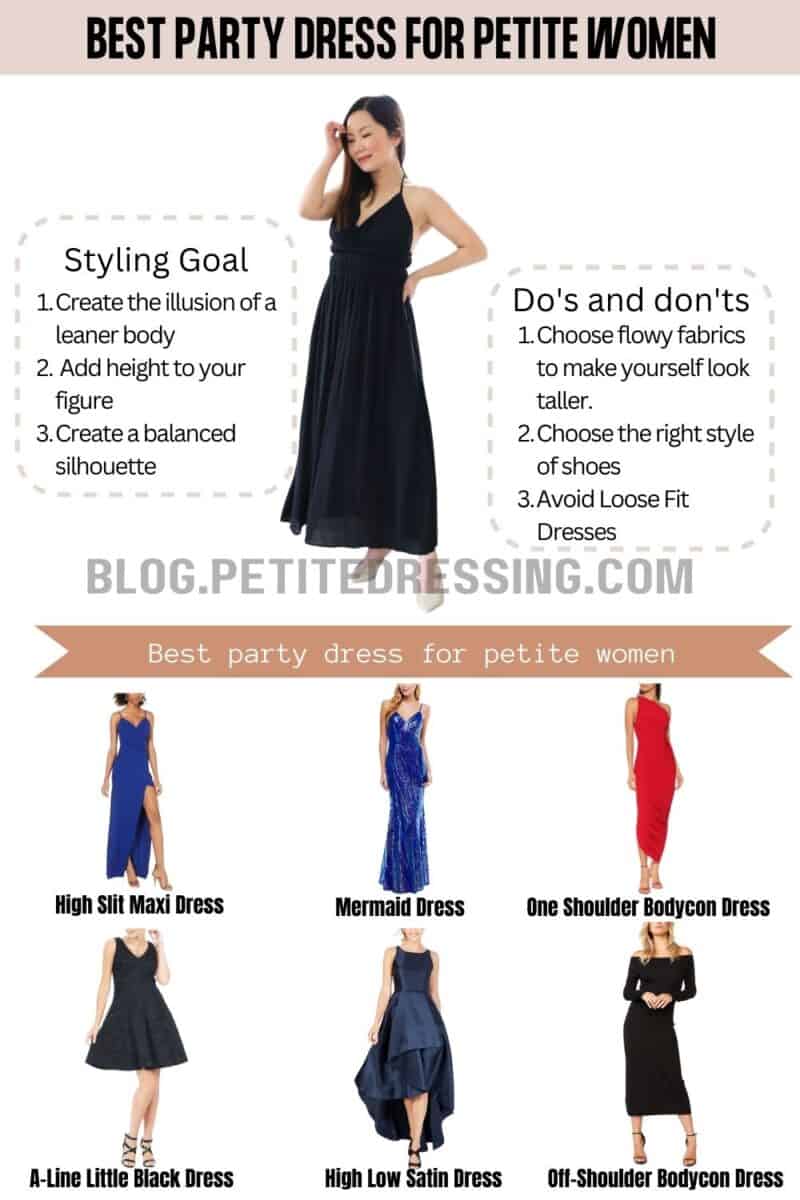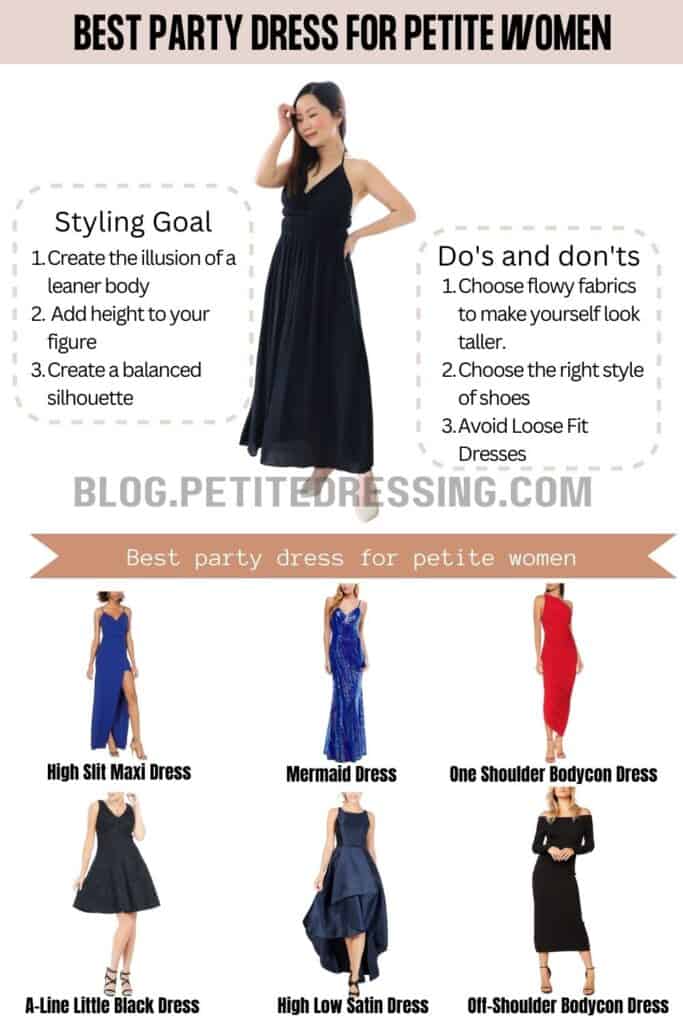 Styling party dresses isn't easy when you are a petite woman. But once you figure out what styles look good on your body type, it becomes easier. Here are a few tips to style party dresses for a petite woman!
Either choose maxi dresses or short dresses as they give the illusion of a leaner body.
Belted dresses that make your waist look small are great to add height to your body.
Choose suitable necklines that make you look tall such as V-neck, sweetheart neck, simple round, off-shoulder, etc.
Choose flowy fabrics to make yourself look taller.
Go for brands and designers that have petite sizing in particular.
Choosing the right style of shoes is as important as the dress. A pair of shoes can make or break your outfit. Go for pointy-toe pumps as they look like extensions of your leg and make them look taller.
High Slit Maxi Dress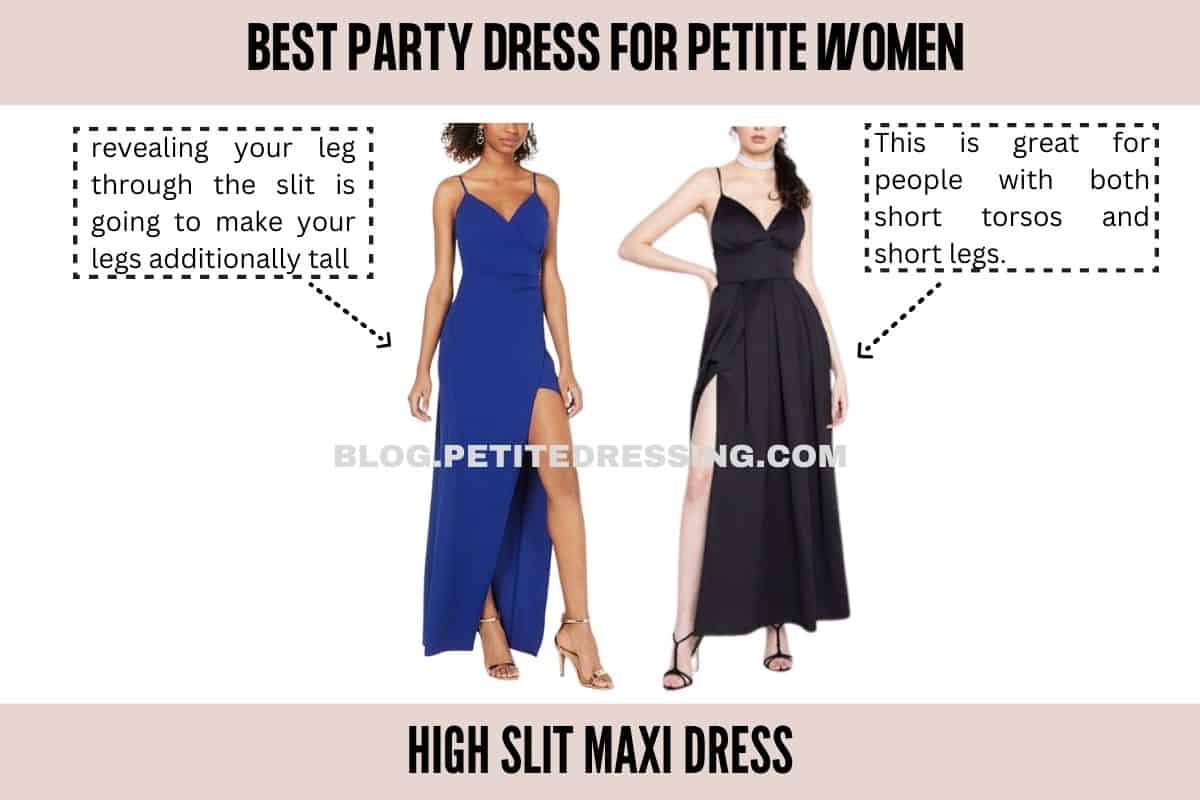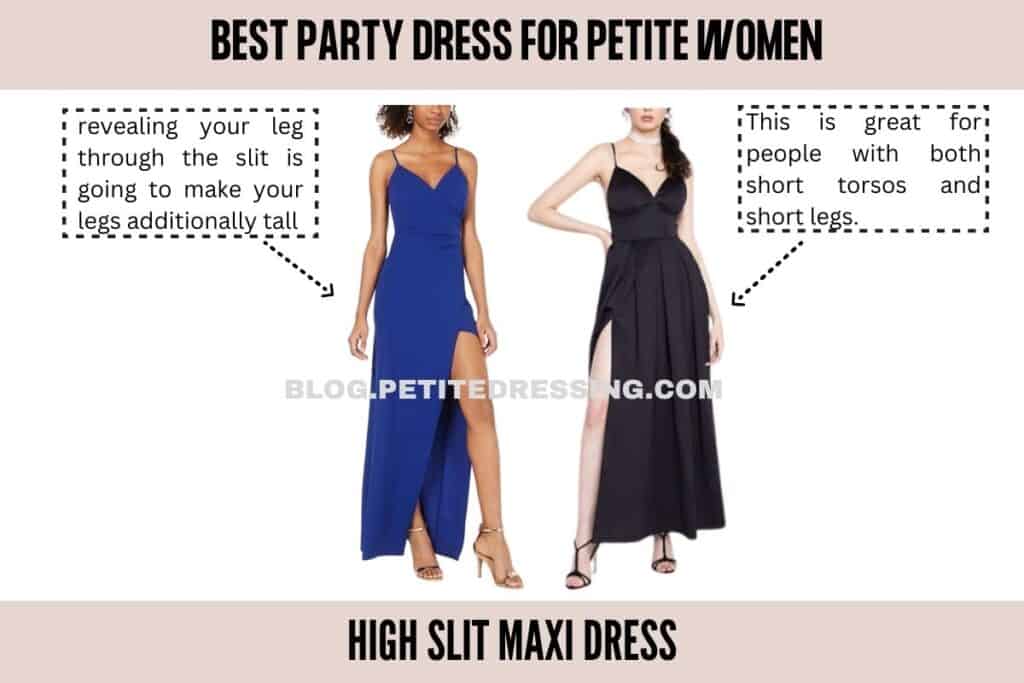 Slit dresses bring out your feminine side and make you look mesmerizing. But another thing these dresses do is add length to your body. So, this style is perfect for petite women.
Maxi dresses usually make your overall body look tall. And revealing your leg through the slit is going to make your legs additionally tall. This is great for people with both short torsos and short legs.
Choose a dark and flowy fabric to become the heart of the party. You will instantly feel confident in such a style.
Another advantage is you can wear high heels and show them off through the slit. Usually, when you are wearing a maxi dress, the heels are barely visible. So, pair the dress with rhinestone strappy heels and a rhinestone mini bag.
Mermaid Dress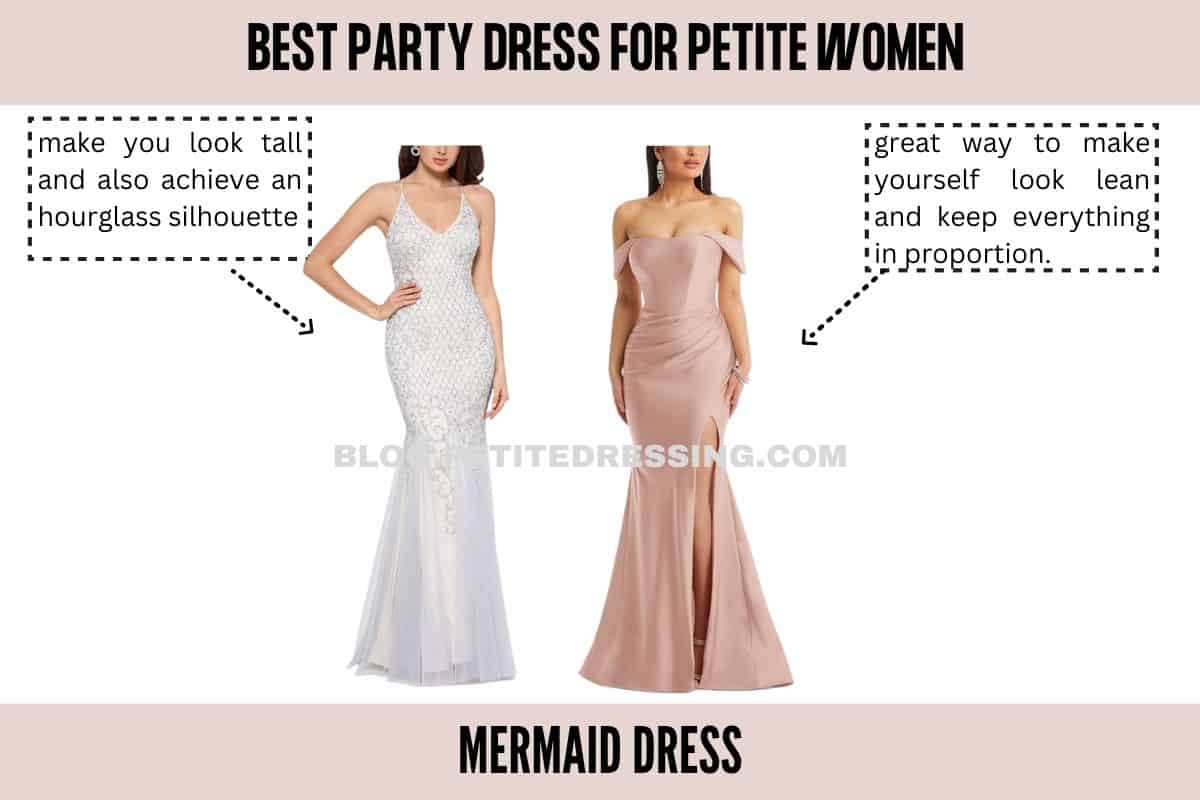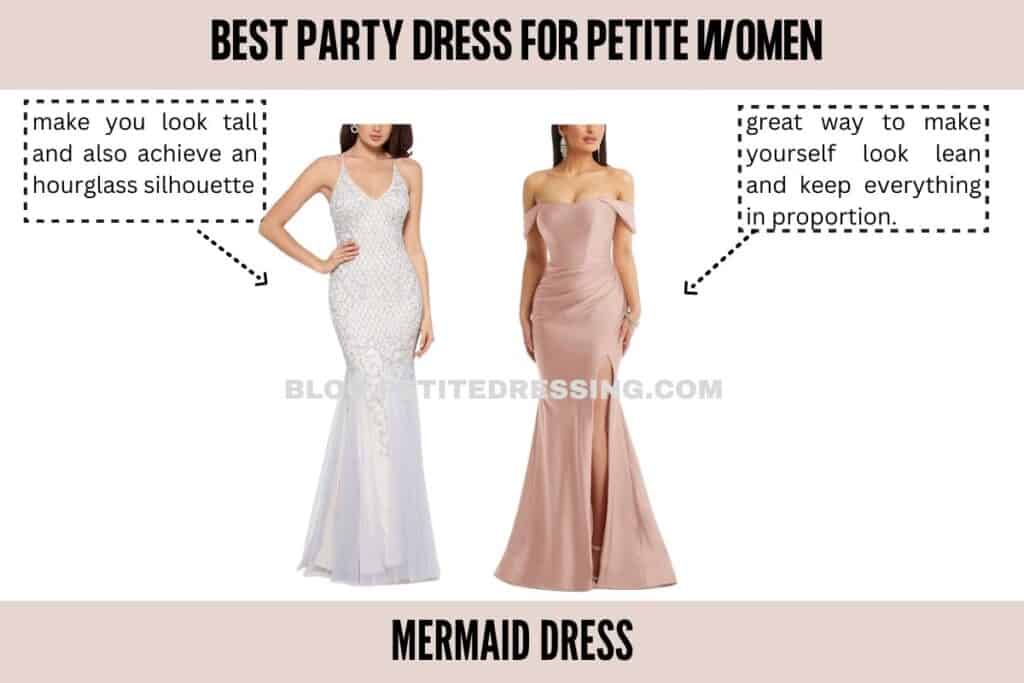 Mermaid dresses suit various body types. For the petite, it is one of the best styles due to its unique shape. The dress goes flowy at the bottom with a sufficient volume which adds length to your body.
The tightness around the hips and waist will instantly make you look leaner. You will not only look tall in a mermaid dress but also achieve an hourglass silhouette.
The common deep V-neckline of mermaid dresses is suitable for short women. Revealing your bust is a great way to make yourself look lean and keep everything in proportion.
One Shoulder Bodycon Dress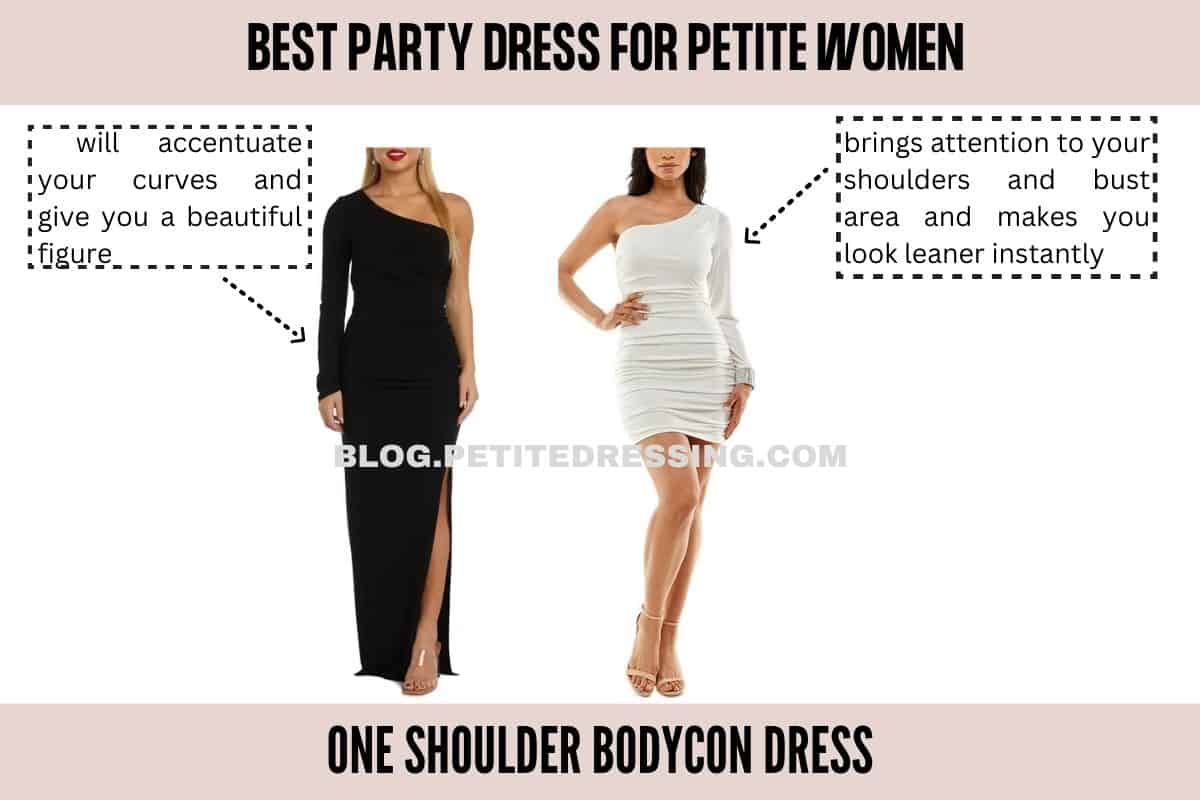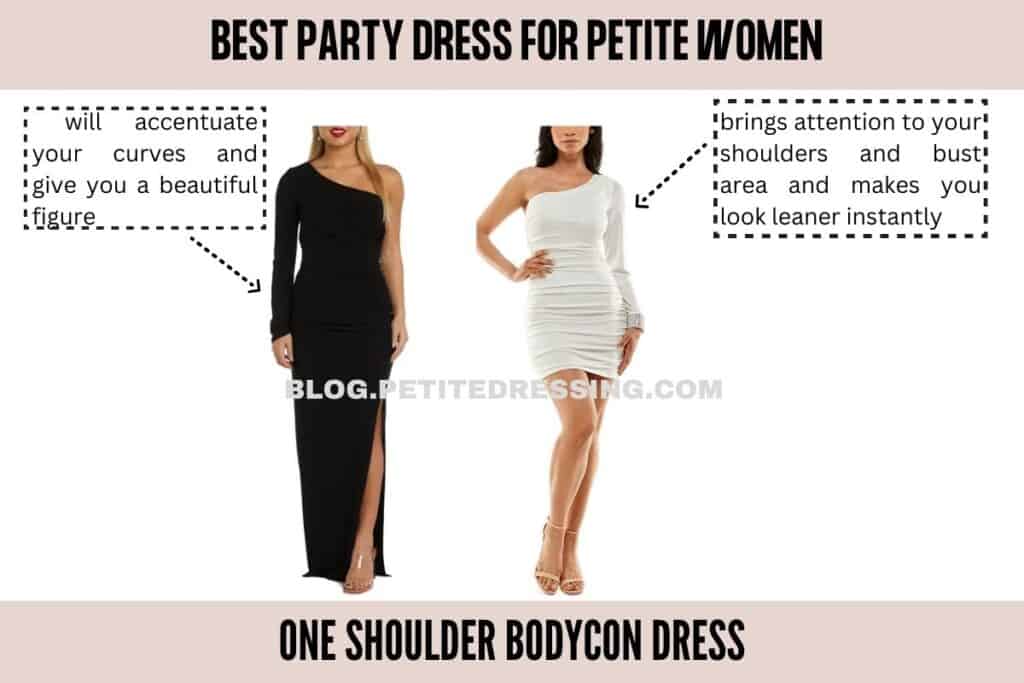 The asymmetrical style of one-shoulder dresses works like a charm on petite women. It brings attention to your shoulders and bust area and makes you look leaner instantly. While some necklines can add width to your body, the one-shoulder style adds length to it.
A bodycon dress will accentuate your curves and give you a beautiful figure. Silhouettes play an important role in making you look tall. If you wear a totally loose dress, you will look short. Whereas dresses with certain shapes make you look lean.
You can flaunt your legs with a short dress. Showing off your legs makes them look tall as well. Make sure that the length of the dress is suitable for your body type. It shouldn't go beyond your knees otherwise your legs will look shorter.
A-Line Little Black Dress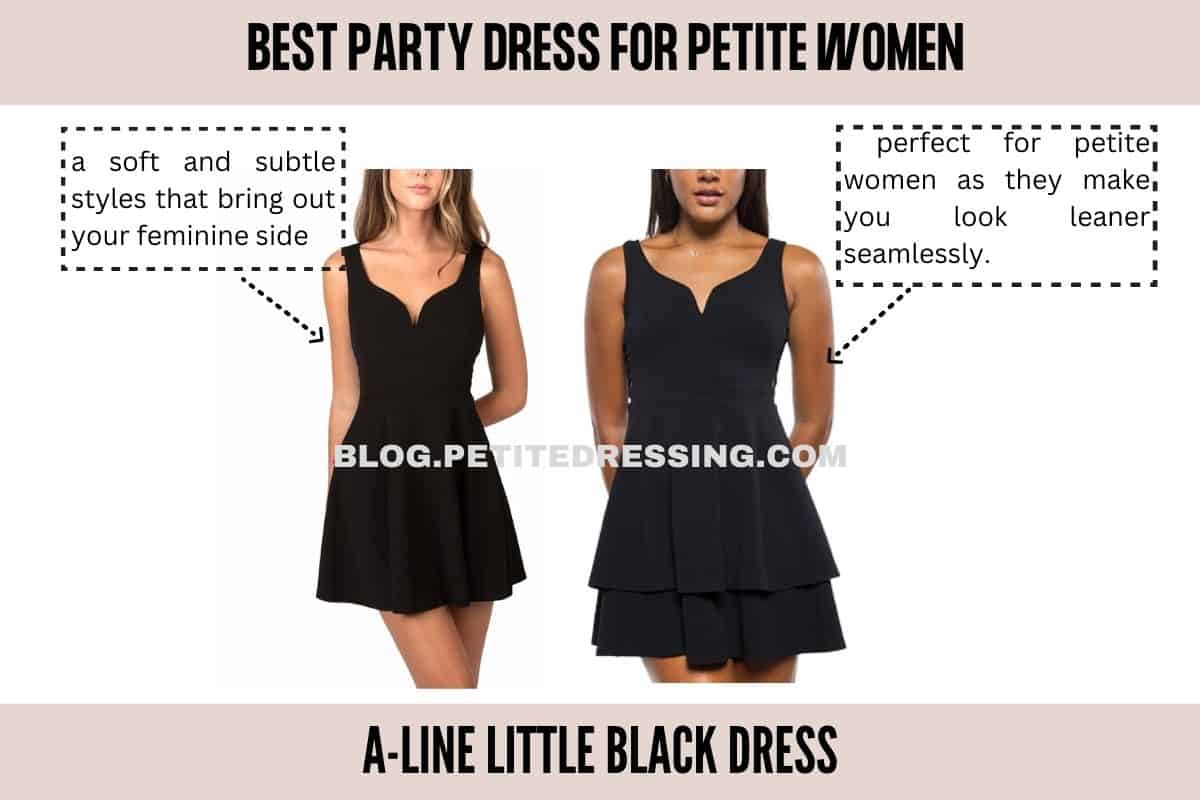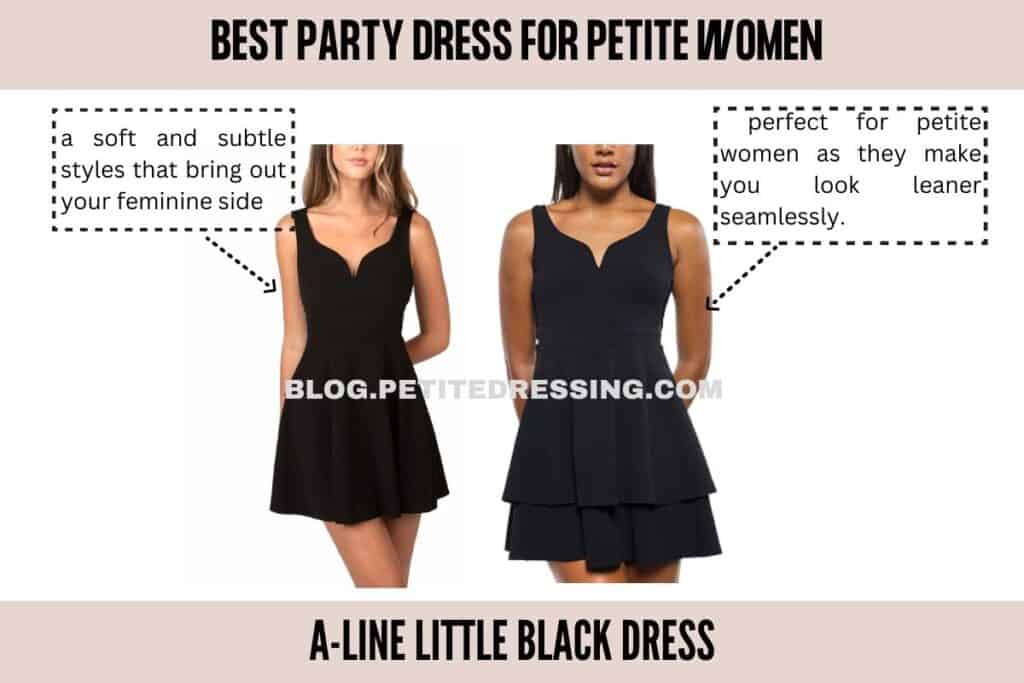 Do you like soft and subtle styles that bring out your feminine side? An A-line party dress is perfect for you! A-line dresses are tighter around your waist and flowy at the bottom. That's why they are perfect for petite women as they make you look leaner seamlessly.
You have to look after the length of the A-line dress. Usually, knee-length dresses look elegant in the A-line style. But you can also go for a full-length dress in this style.
Pair pump heels and a clutch with the A-line dress. Pastel colors are perfect for A-line dresses, especially for summertime.
High Low Satin Dress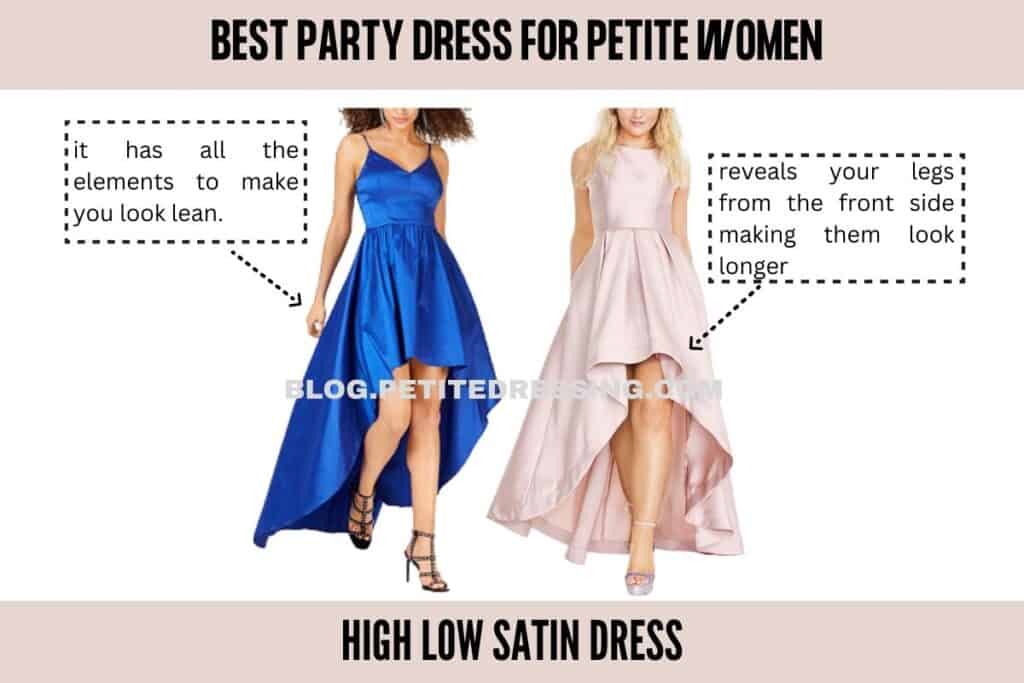 The high-low design is a great choice for party wear for petite women. The way the dress is designed, it has all the elements to make you look lean.
The dress reveals your legs from the front side making them look longer. Whereas it goes full length at the back acting as a maxi dress making you look tall. So, it is a win-win situation in all aspects.
Make sure that the front of the high-low dress is not below your knees or it can make your legs look shorter instead. Lace and tulle dresses are amazing for this style. The tulle can add width to your body but if you use it for such a dress style, it will work in your favor instead.
Pair the high-low dress with a matching pair of high heel sandals and a simple shiny clutch to complete the look.
Off-Shoulder Bodycon Dress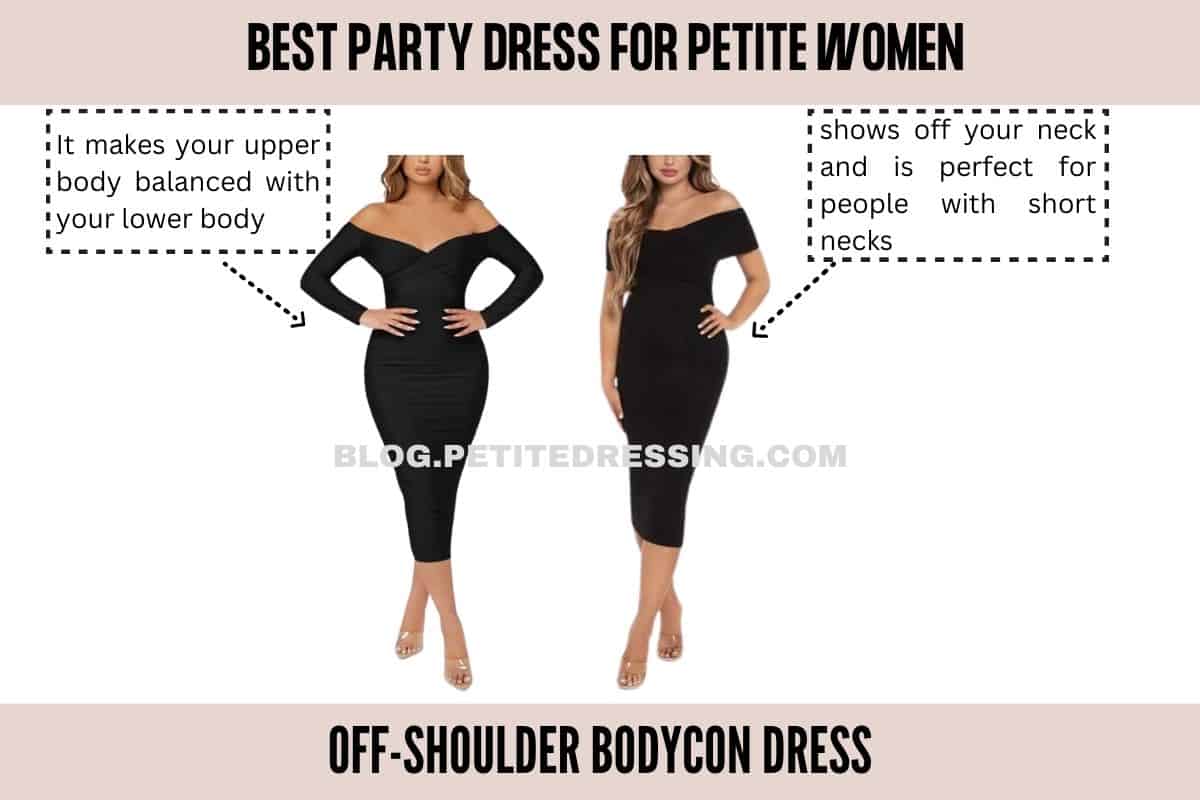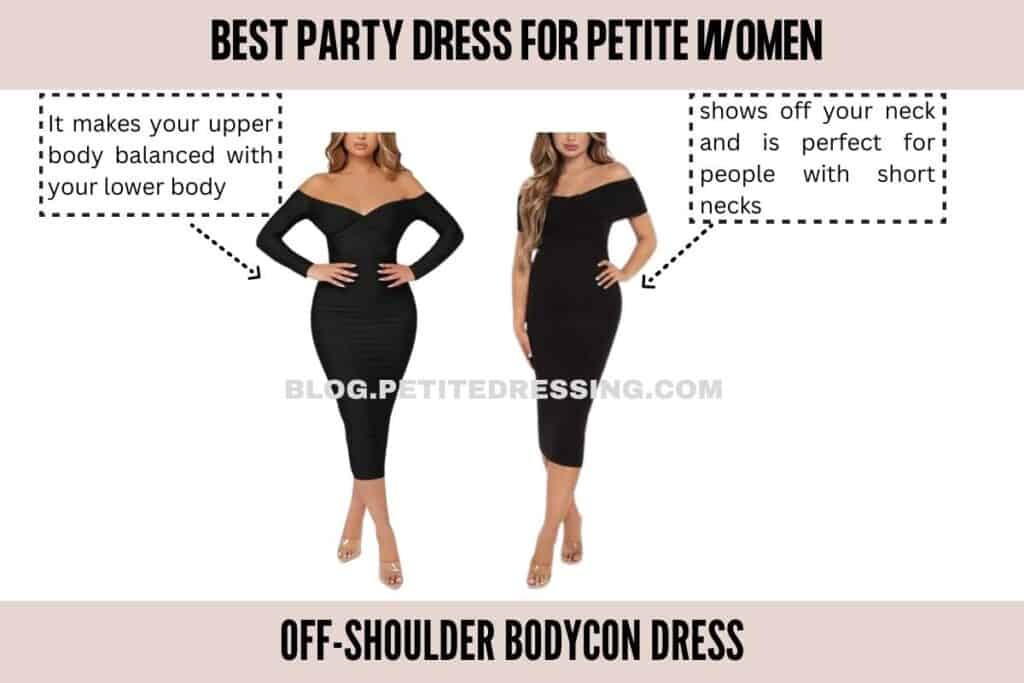 The off-shoulder neckline is your best friend if you are chubby and petite. It makes your upper body balanced with your lower body. Go for a bodycon full-length style to add length to your body. All this combined will make you look leaner.
Off-shoulder shows off your neck and is perfect for people with short necks. As a petite woman, having a short neck is really common. So, you can get the effect of a slender face and long neck through revealing necklines like off-shoulder and V-neck.
Pair the off-shoulder bodycon dress with a baguette bag and high heels.
Ruched Sweetheart Neckline Dress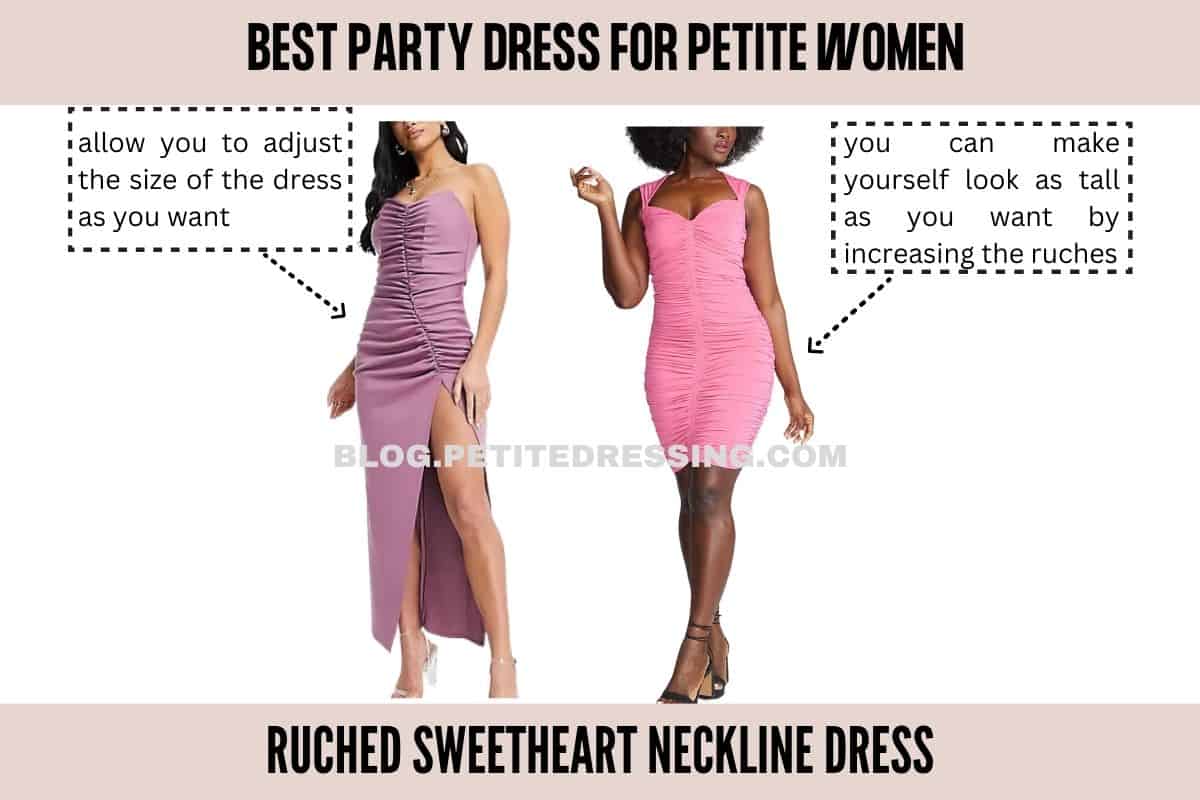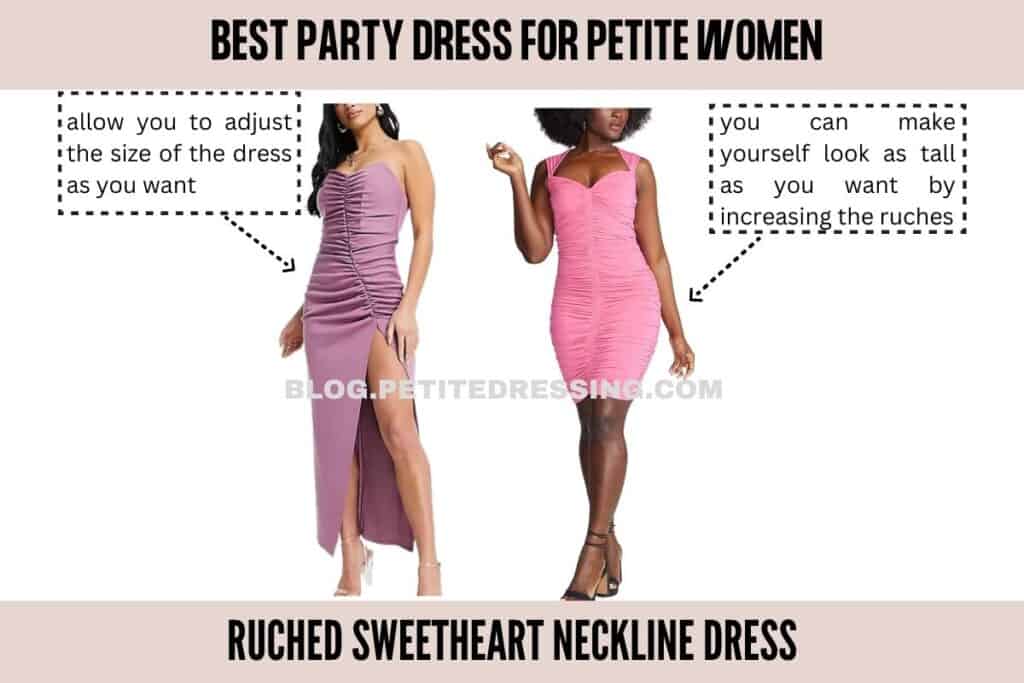 Sweetheart neckline works in the same way as off-shoulder but it looks more elegant and feminine. This neckline makes you look chic and luxurious. It makes your neck look long as well.
The ruched design is suitable for petite women. Side ruches allow you to adjust the size of the dress as you want. This way, you can make yourself look as tall as you want by increasing the ruches.
Ruched dresses are perfect for party wear as they make you look alluring and unique. You can pair platform heels with ruched dresses and a mini bag to complete the look. Soft curls go well with this dress style.
Mini Fringe Dress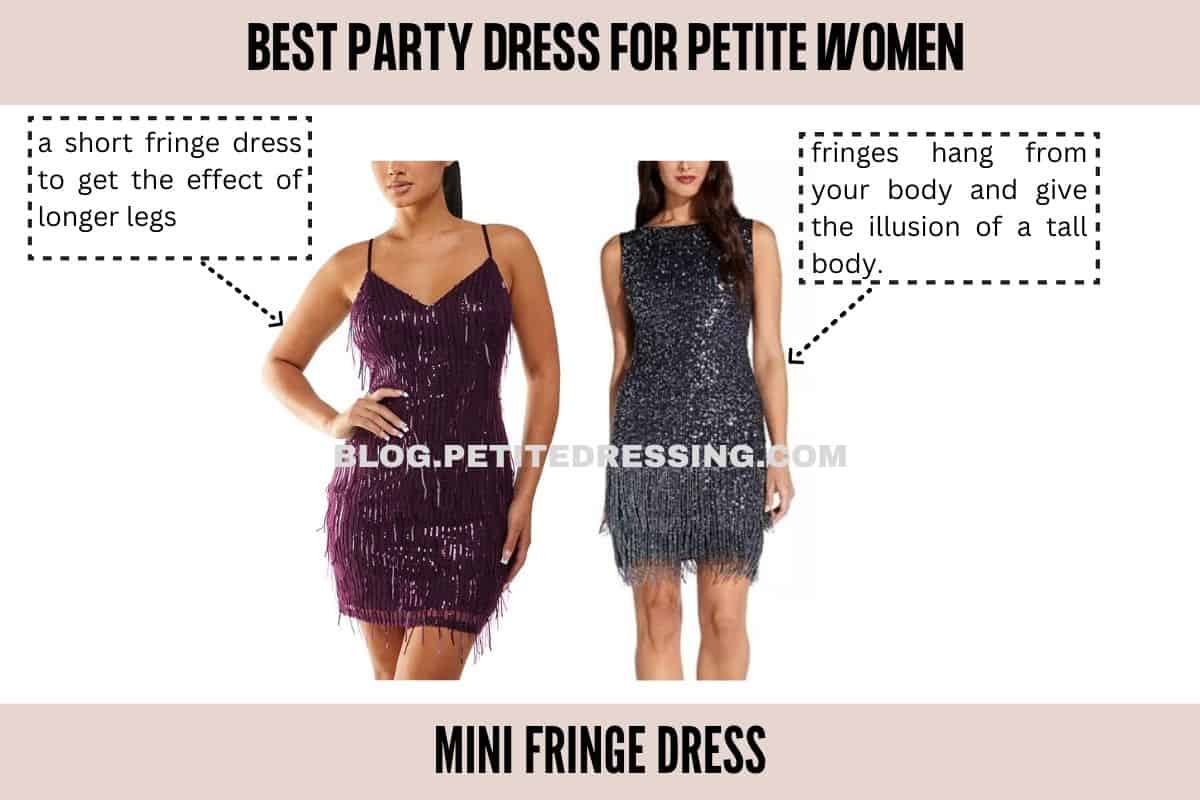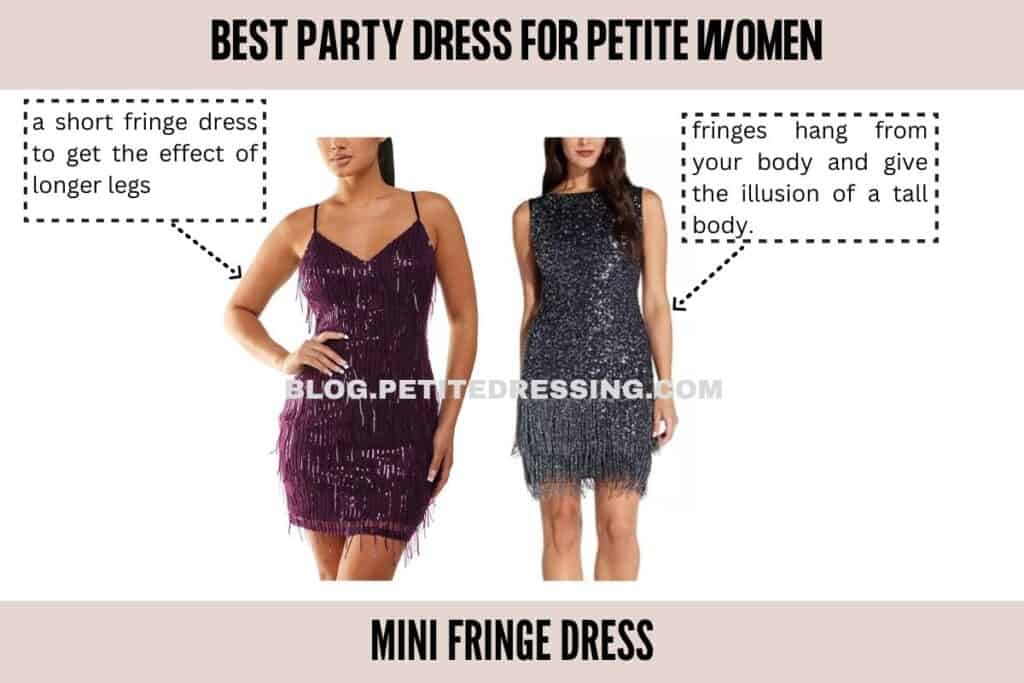 Fringes work the same way as vertical stripes. However, vertical stripes might not look formal enough for a party. That's why you can go for a fringe dress. The fringes hang from your body and give the illusion of a tall body.
Choose a short fringe dress to get the effect of longer legs. Keep the length above the knee for the maximum leg elongating effect.
Pair the outfit with pointy-toe high pumps to complete the look.
Empire Waist Maxi Dress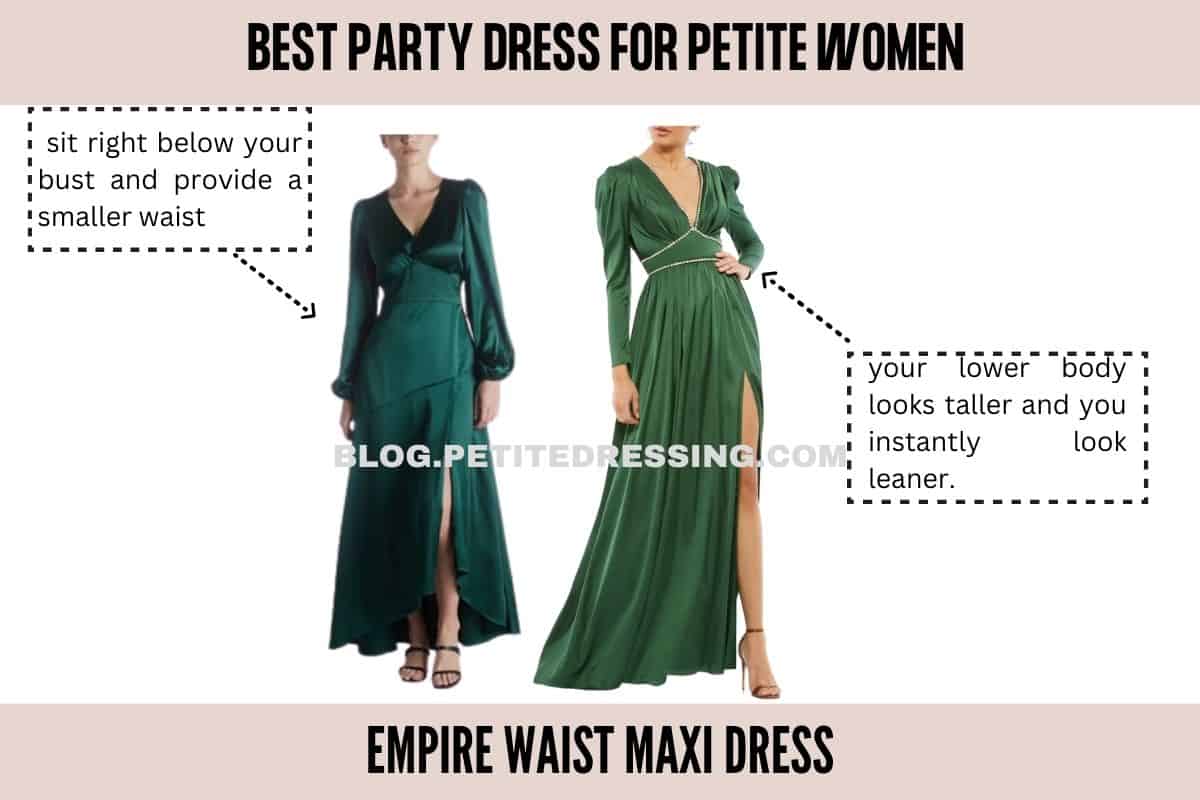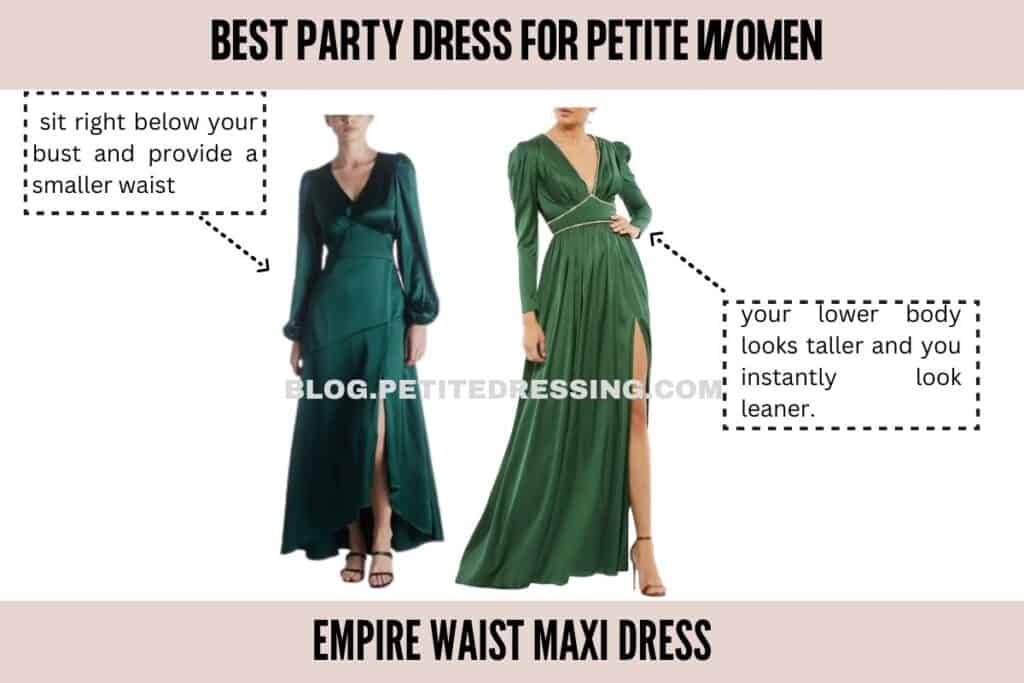 You must have seen empire waist dresses in royal seasons such as Bridgerton. These dresses sit right below your bust and provide a smaller waist. This way, your lower body looks taller and you instantly look leaner.
Empire waist dresses look extremely elegant and beautiful. They make you look tall as well so why not try them? They are distinct and you must give these dresses a try if you want a royal outfit for a party.
Avoid High Neck Dresses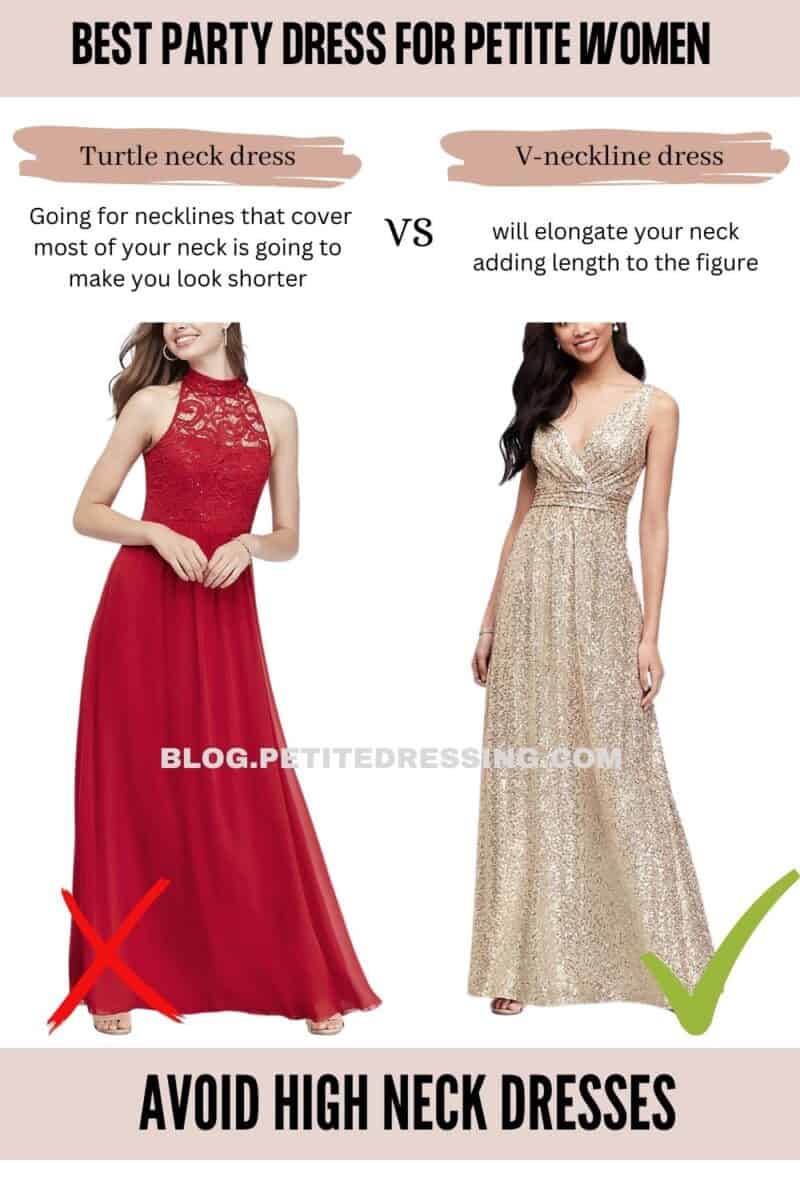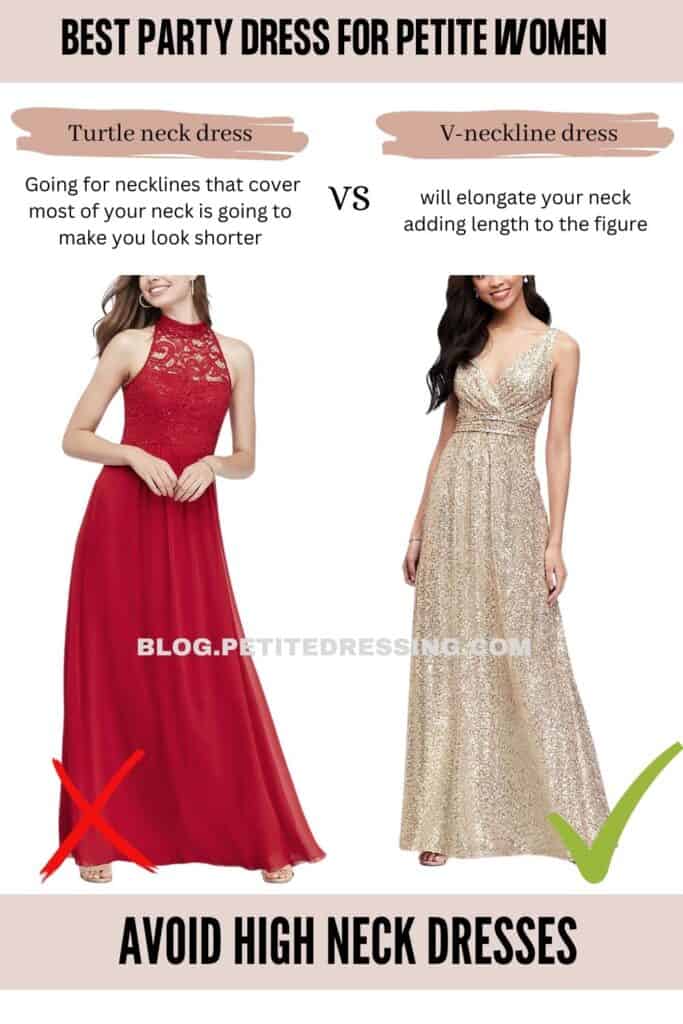 Petite women usually have shorter necks. Going for necklines that cover most of your neck is going to make you look shorter. That's why you should avoid high-neck dresses and go for revealing necklines. Necklines like V-neck, sweetheart neck and off-shoulder are great for petite women. Moreover, the high-neck dresses are also going to disrupt your body proportion and you will end up looking shorter.
Avoid Loose Fit Dresses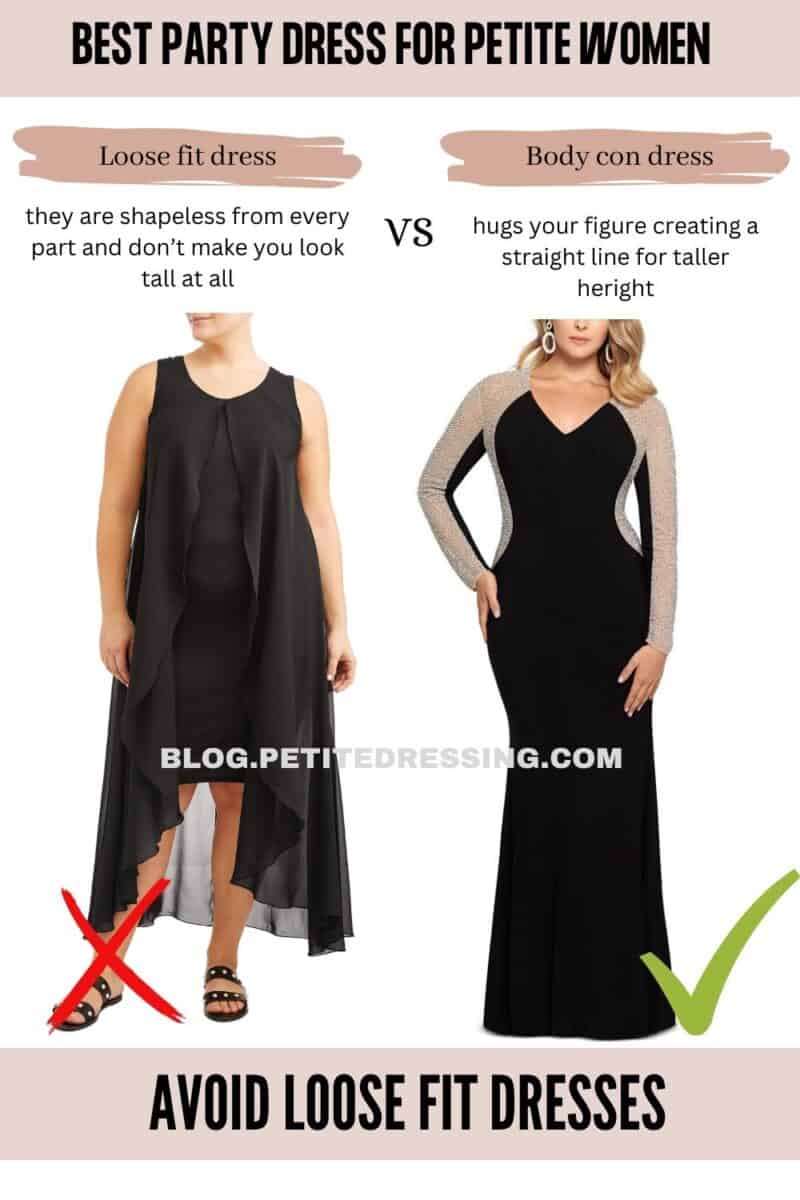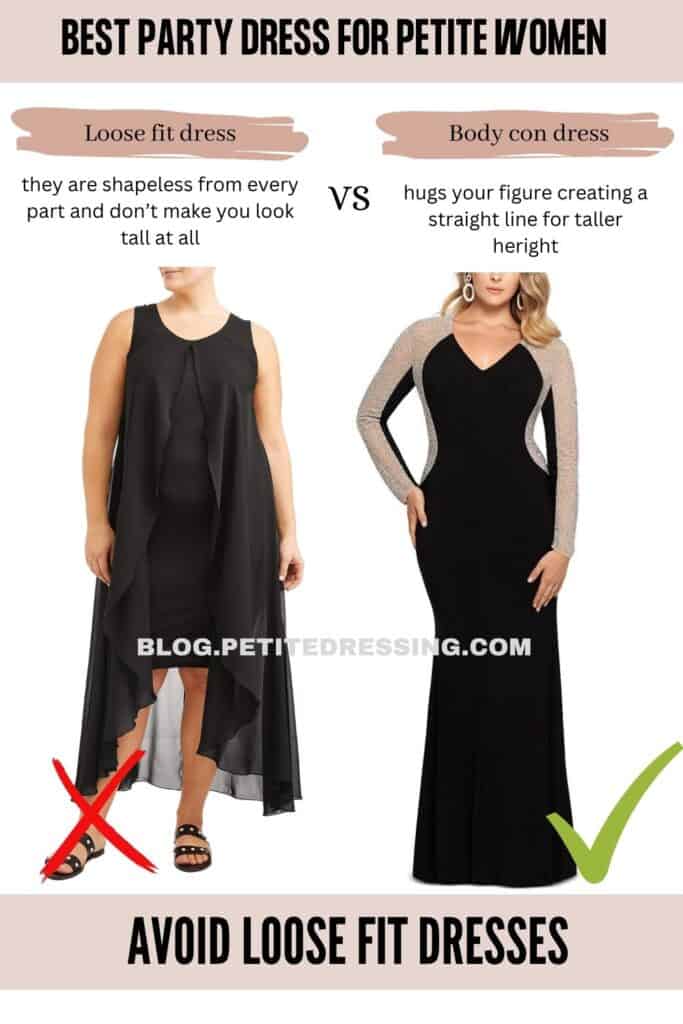 Loose fit (Sack-style) dresses are overall loose and don't look flattering on petite women.
They are shapeless from every part and don't make you look tall at all. Petite women should choose dresses with certain shapes so that they don't look shorter than they already are.
Going for a sack dress will make you look like a bean bag. It won't complement your body type at all no matter if you are skinny or chubby.
Final Thoughts
Now you know what kind of dresses look good on petite women for party wear. You can avoid dresses that don't compliment your body type even if they are trendy. Following a trend is only useful when it looks good on you. Learn what sort of dresses look good on petite women and then choose one for a party. Party dresses are expensive so you should invest in good stuff