Dresses can be a woman's best friend when it comes to strategically crafting an outfit that makes them look slimmer. Depending on the height of the waistline, the length, the neckline, and the color, dresses can completely change your silhouette.
Understanding what type of dress will help you achieve a slimmer shape can be challenging. This guide will solve that challenge for you, and show you what dresses to look for and what you should always avoid.
V-neck dresses
One of the best ways to slim down your shape is to elongate your shape as well. The v-neck dress has a v shape for a neckline, creating a column of vertical lines. In order to stretch out your body, you want to focus on creating vertical lines throughout your outfit.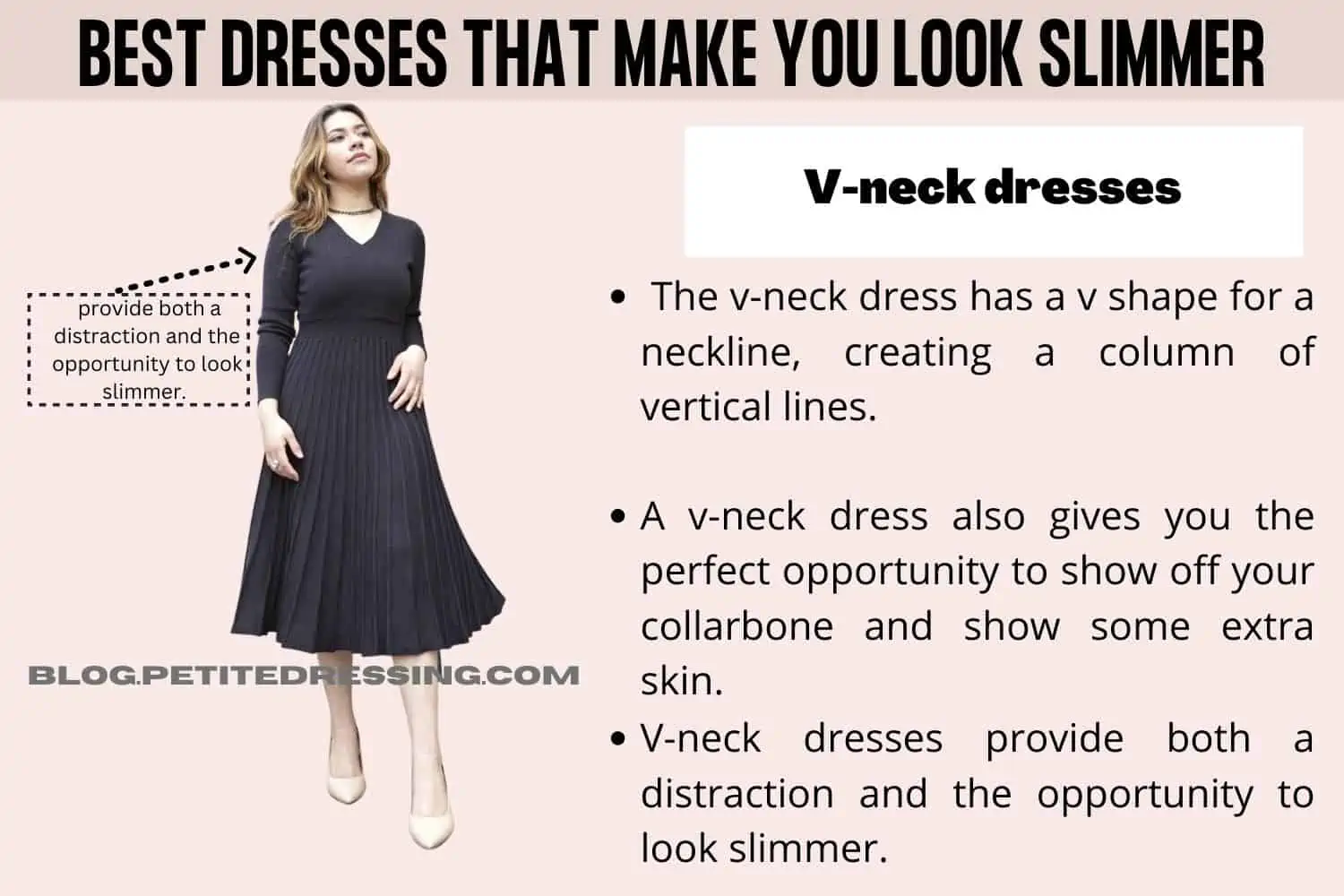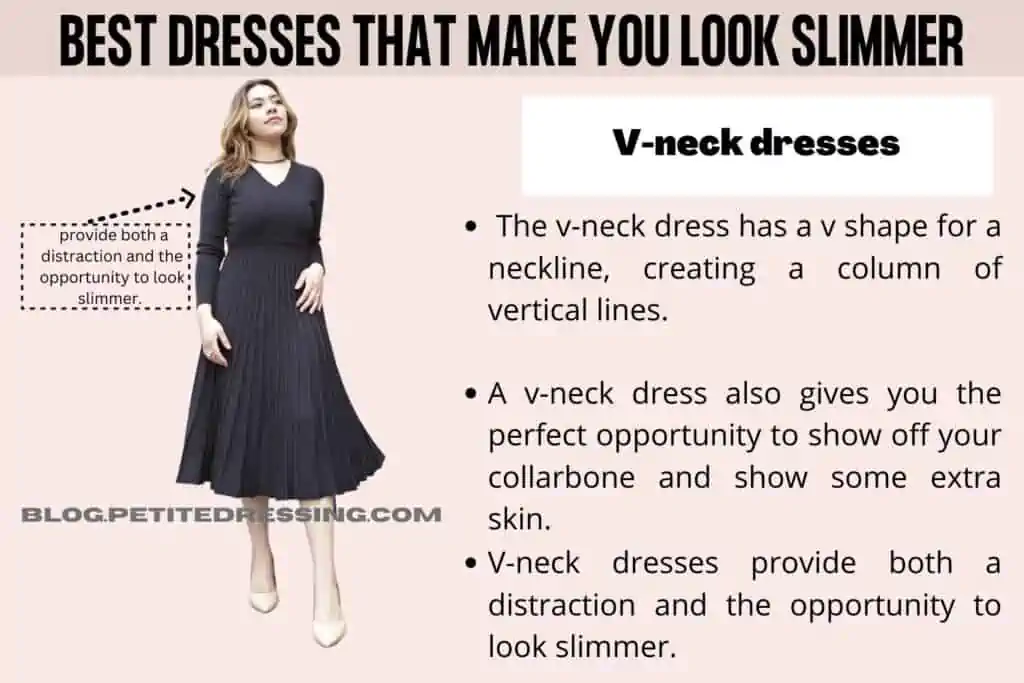 A v-neck dress also gives you the perfect opportunity to show off your collarbone and show some extra skin. This will draw more attention to the upper half of your body, so you can avoid unwanted focus on your belly. V-neck dresses provide both a distraction and the opportunity to look slimmer.
Black maxi dresses
Longer dresses are a fantastic way to look elegant while also covering up any insecurities. Maxi dresses are often flowing and are always considered one of the most formal lengths for a dress.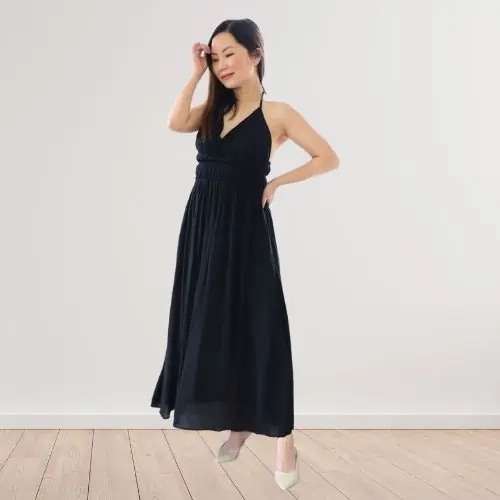 Caution in choosing a maxi dress
Sometimes the long and flowing fabric of a maxi dress can be heavy and make you look slightly bulkier than you actually are.
In order to combat this issue, try searching for a maxi dress that is all black.
Black is the ideal color to choose if you want to create the illusion of a slimmer body. Black is flattering because the dark tone conceals any creases, curves, or shadows that you want to hide. Some dresses are more form-fitting, so black would be ideal for a clingier maxi dress.
Sheath dresses
A sheath dress is designed to create a fitted look with a seamless cinch at your waist. This cinch helps to create an hourglass shape without making it as obvious as other dresses that have belts or wraps.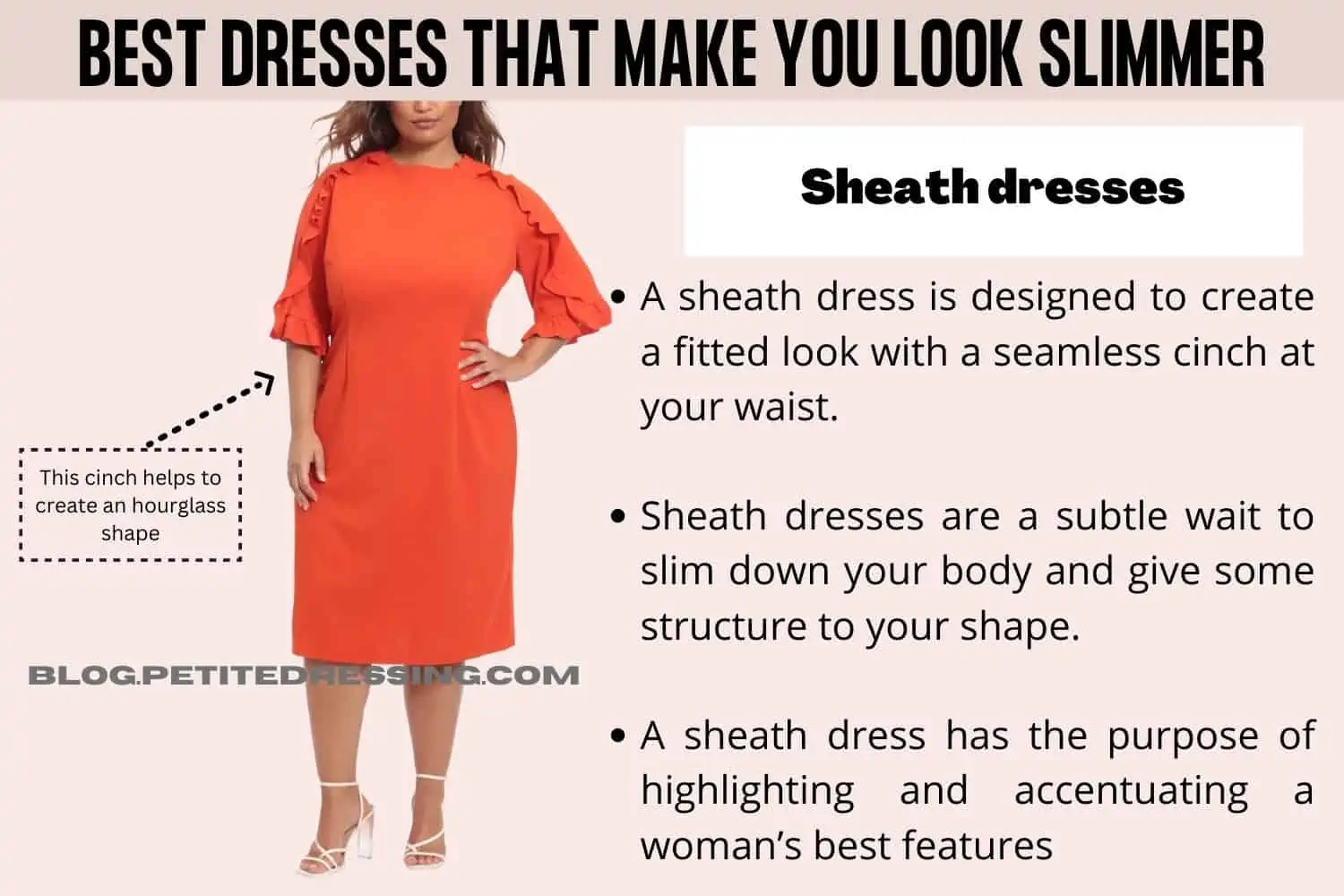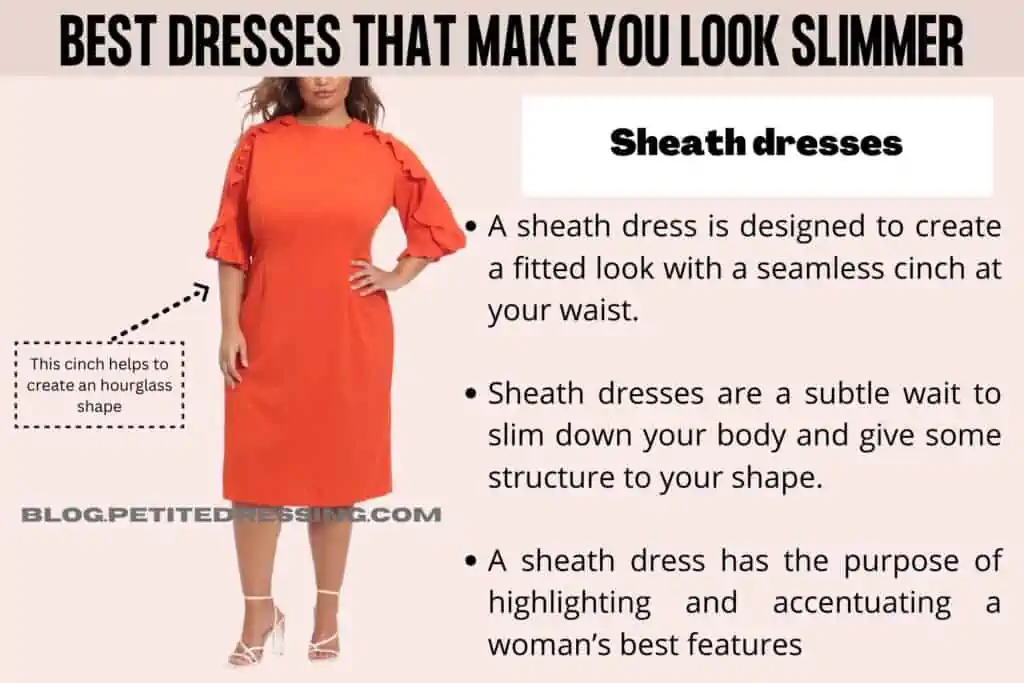 Sheath dresses are a subtle wait to slim down your body and give some structure to your shape. Since the effect is less noticeable, it can be more flattering for women who already have a slightly petite frame.
A sheath dress has the purpose of highlighting and accentuating a woman's best features in order to draw more attention to those attractive parts of their body.
Empire waist dresses
This waistline will help to elongate the lower half of your torso since the waistline is placed higher up on your body. The cinch under your bust will also create a flared effect, which will help to craft the illusion of an hourglass shape.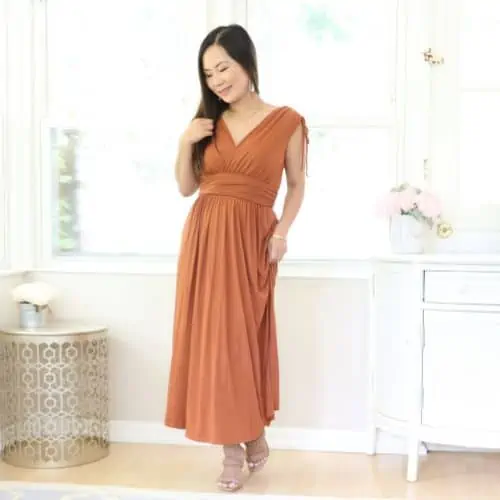 How can an empire waist dress help you look slimmer?
The type of dress that is an excellent choice for women who want a dress shape that will slim down the look of their body is an empire waist dress.
Empire waist dresses have a waistline that forms directly under your bust, which is almost always the smallest part of your waist.
When a waistline is placed at the smallest part of your waist, it automatically highlights that part of your body and draws focus to how small your waist is. This new focus will then make you look much slimmer than you are.
Flattering wrap dresses
One of the most flattering styles of dresses is the wrap dress. Wrap dresses are unique because you can manipulate the dress to look the best on your body type. The cinched waistline of the dress falls wherever you decide to tie the knot.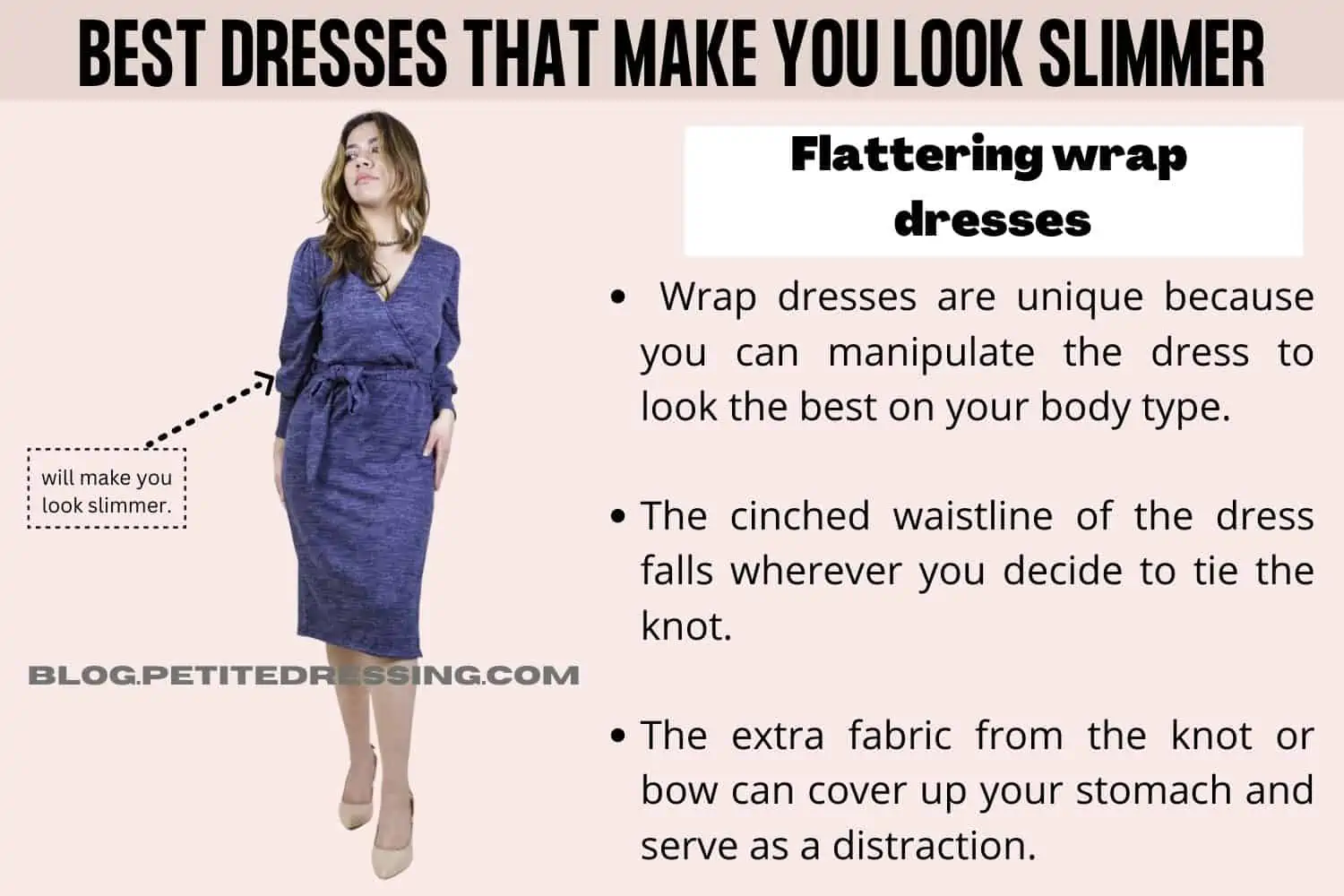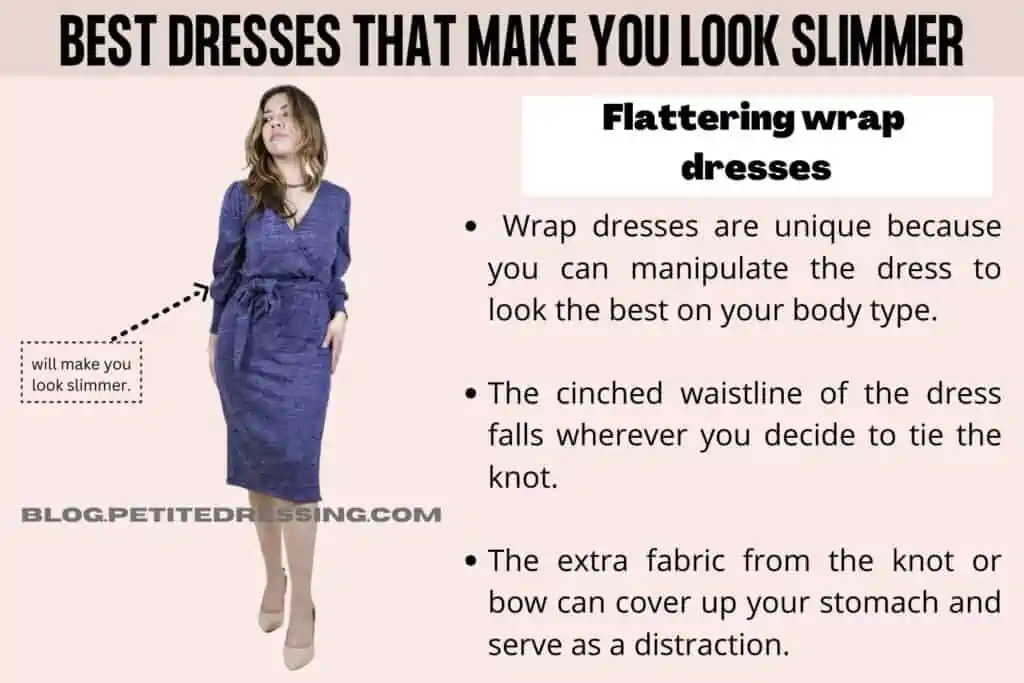 The goal should be to tie the knot of the wrap wherever the smallest part of your waist is. This will make you look slimmer. If you have a belly that sticks out when you wear clothing that falls straight against your body, you can be strategic about the placement of the knot. The extra fabric from the knot or bow can cover up your stomach and serve as a distraction.
Ruched midriff dresses
The strips of the fabric also create a distraction that could be useful in drawing attention and focus away from your belly or any other insecurities you may have.
Why opt for ruched dresses?
Ruched dresses have strips of pleated or ruffled fabric that crisscross around the smallest part of your waist.
This style of dress helps to slim down your shape by creating a cinch that pulls in your waist.
It is important to make sure that the ruched midriff is not too extreme. A flurry of ruffles could appear tacky if they are large and messy. In order to utilize a ruched midriff dress and the slimming effect, you should go for a simple ruched midriff that is not as noticeable.
Dresses with exposed shoulders
One of the best ways to look slimmer is to show off other flattering parts of your body so that the focus is no longer on your stomach or how wide your hips are. Of course, you can still use other techniques to slim down your shape. This type of dress is just useful to accentuate other parts while creating a distraction.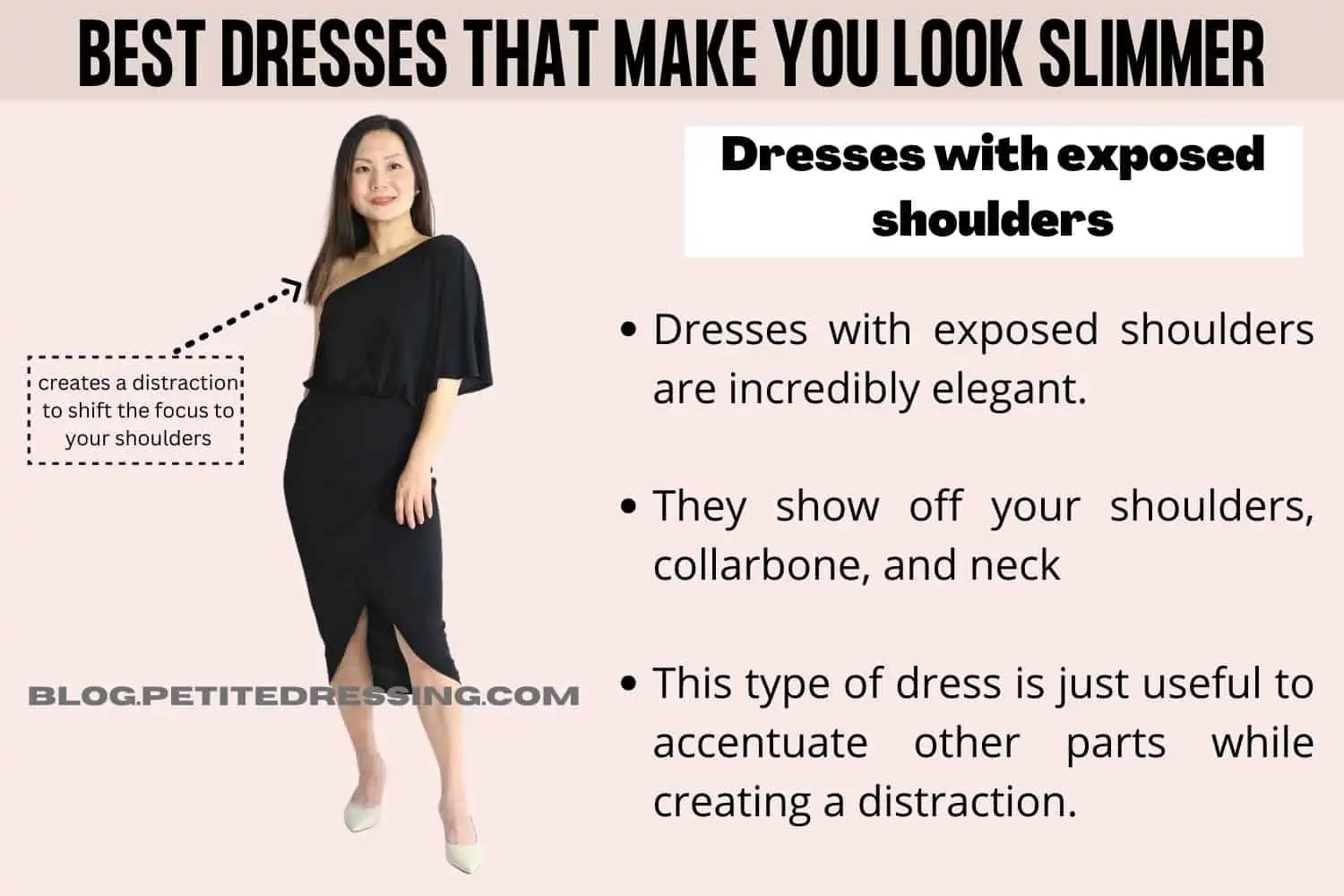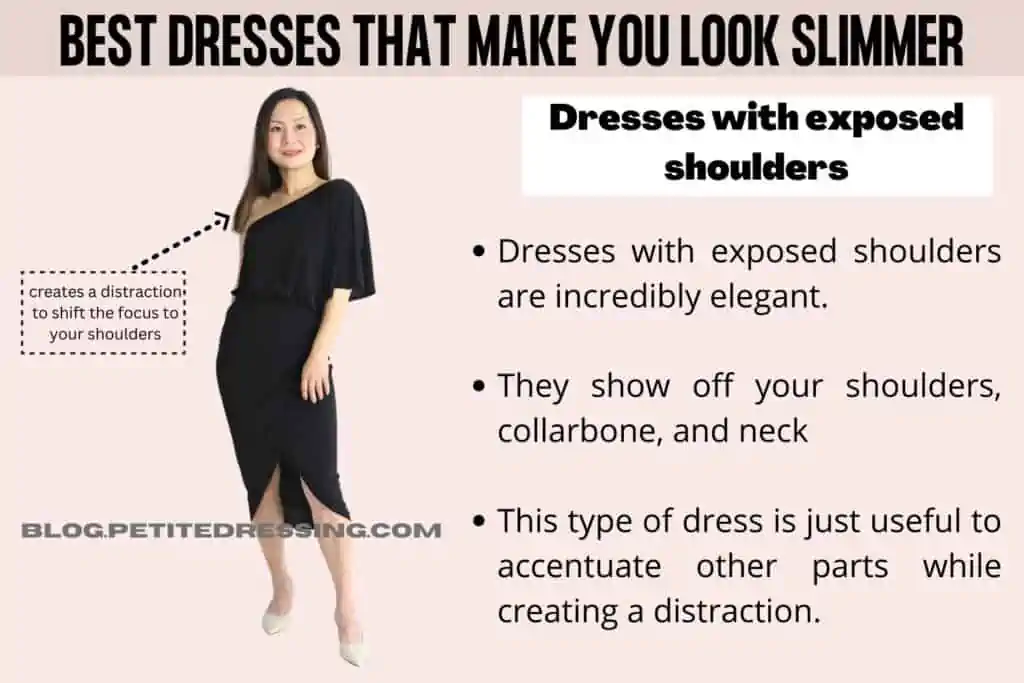 Dresses with exposed shoulders are incredibly elegant. They show off your shoulders, collarbone, and neck. If you are confident about these features, this type of dress should definitely be on your radar. If you are feeling bold, you can also show some cleavage and work towards creating an hourglass shape.
Belted dresses
Where a waistline falls is one of the most important traits of a dress when it comes to looking slimmer. When you wear a belted dress, you can cinch the waist where you want and create your own waistline. You also get to determine how tightly the belt fits, which will then show how major of an hourglass shape you want to go for.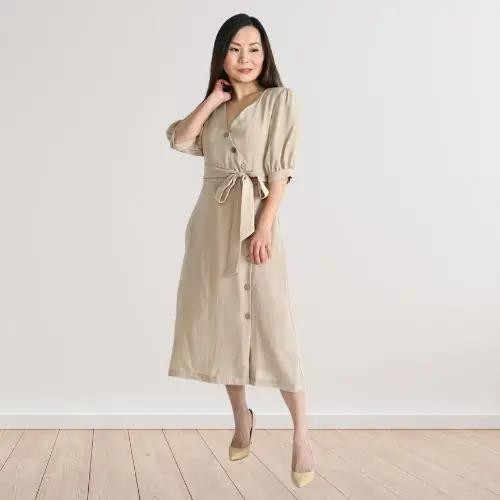 How to choose belted dress
Thick belts will shorten your torso, which may make you look wider than you are.
Try to stay away from belts that cover one-third or more of your torso, since they will not be as slimming.
Some belted dresses are sewn into place, so you don't get to decide where the belt can be cinched. But many designers for women's clothing know that belts on dresses are most flattering when they are put at the smallest part of your waist, so you should not have to worry about that becoming a problem.
A-line dresses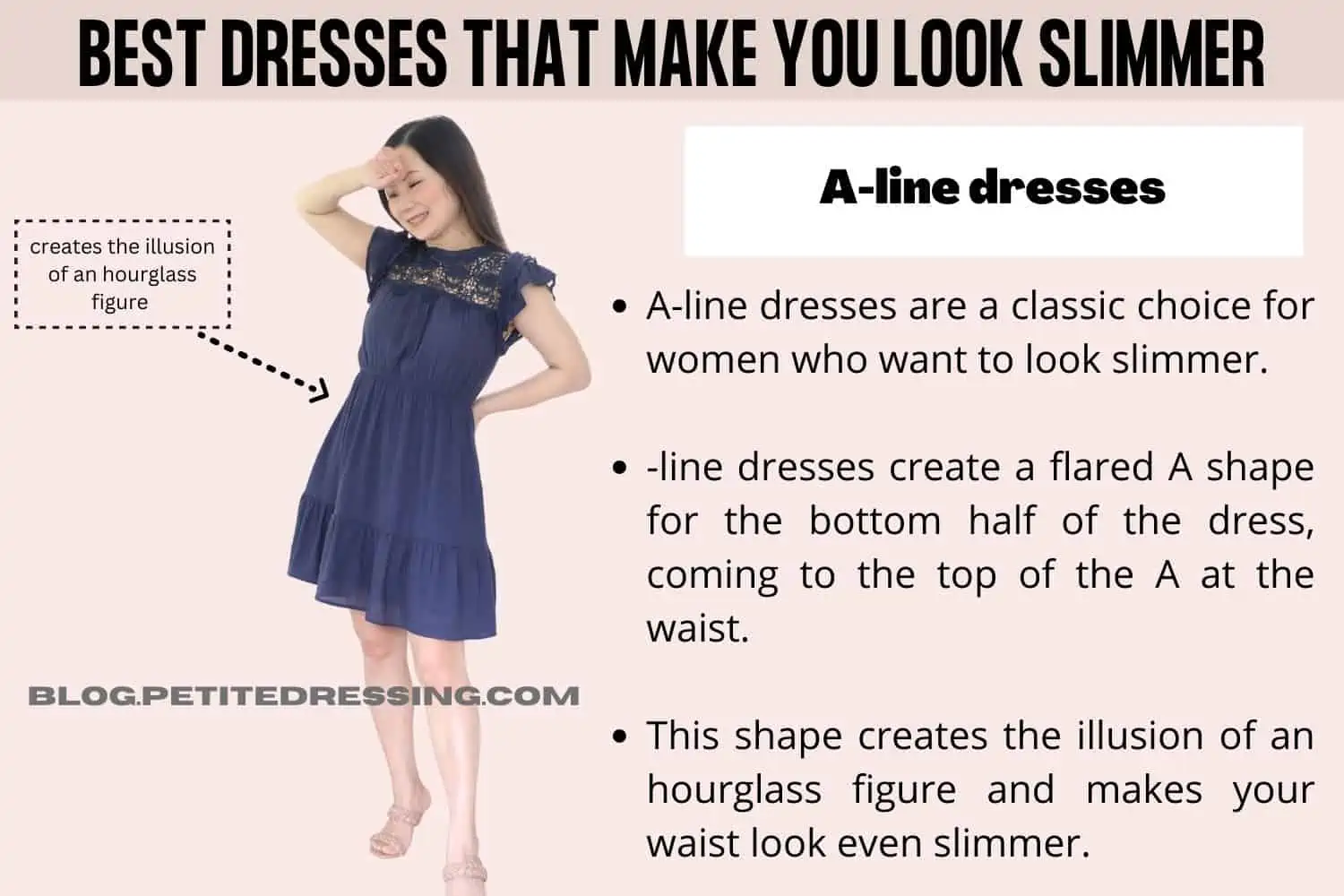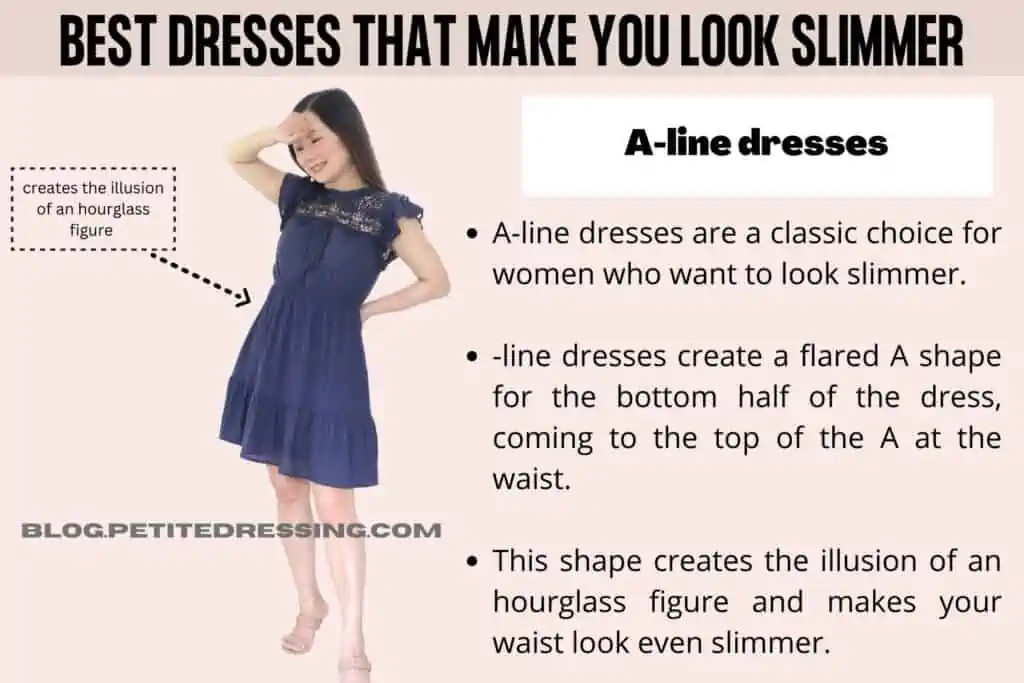 A-line dresses are a classic choice for women who want to look slimmer. They are flattering on most body types and designed to look aesthetically pleasing on all. A-line dresses create a flared A shape for the bottom half of the dress, coming to the top of the A at the waist.
This shape creates the illusion of an hourglass figure and makes your waist look even slimmer due to its proportions. Creating a balance where the bottom of the dress is wider than the waistline is almost always essential for a flattering outfit.
Avoid trapeze dresses
A trapeze dress takes the shape of a trapezoid. So the design and flow of the dress widen out from top to bottom. This dress will give your body no shape whatsoever, and it is a very flowy and free style of dress.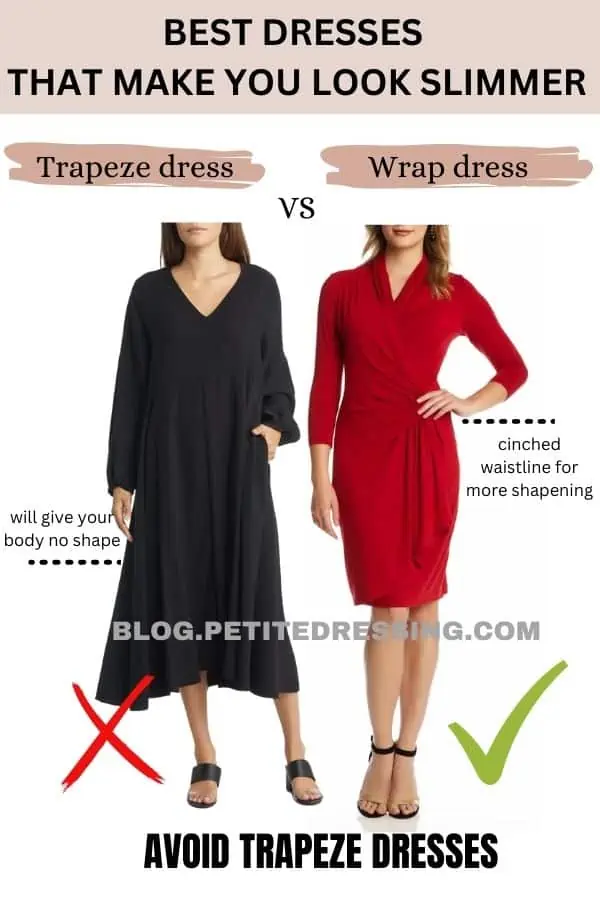 Since trapeze dresses widen out so much and have no structure for the shape of your body, everything is left to the imagination. Sometimes, trapeze dresses give off the illusion that your body is wider than it is due to the wide shape of the dress itself.
Avoid horizontal stripes
Adding some patterns to a dress may seem like an appealing and fun idea. But adding the wrong pattern can actually harm your strategy. Horizontal stripes are not ideal if you want to achieve the illusion of a slimmer frame.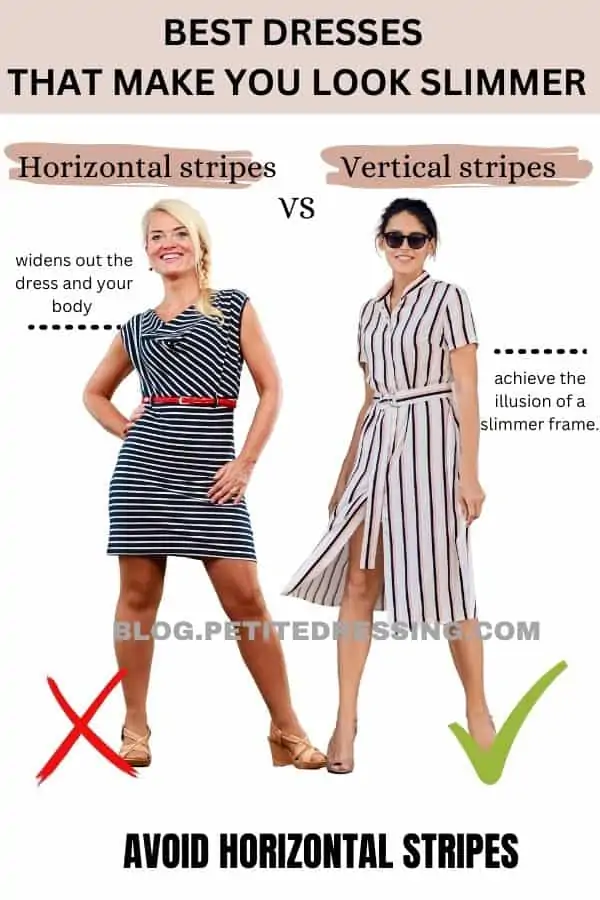 Horizontal stripes stretch from side to side of the dress, widening out the dress and your body at the same time. It will add weight to the width of your body, making it impossible to look slimmer than you are. The thicker these stripes are, the wider of a shape this illusion will create.
Avoid babydoll dresses
Babydoll dresses have a panel for the bust area, and then flare and flow straight out, getting wider as the length increases. They were typically worn by younger girls, but have become more popular with adults as trends cycle through once again.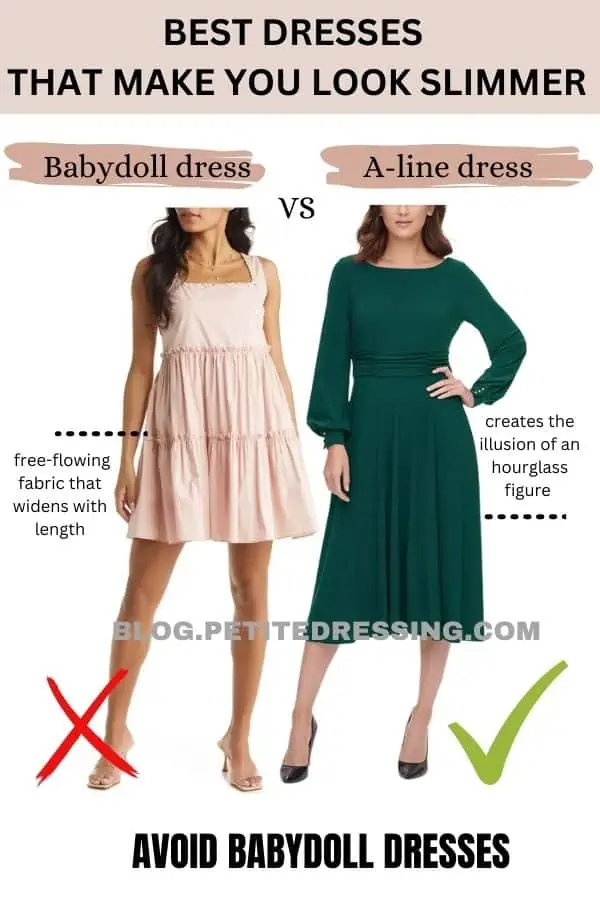 Babydoll dresses are cute, but not slimming in any way. The free-flowing fabric is designed to flare out from the start of the dress. The neckline is also square and not the most flattering for all body types. This type of dress is also not ideal for women with a larger chest since the straight panel of fabric is not made to stretch or show cleavage.