If you ever thought that you can't look good in skirts just because you have a muffin top, we'll like to tell you how wrong you are. Even with a little belly, there are tons of skirt styles that will look good on you.
In this guide, we'll take you through some amazing skirts and how you can pair them with various tops to pull off an incredible look where your belly looks a lot smaller.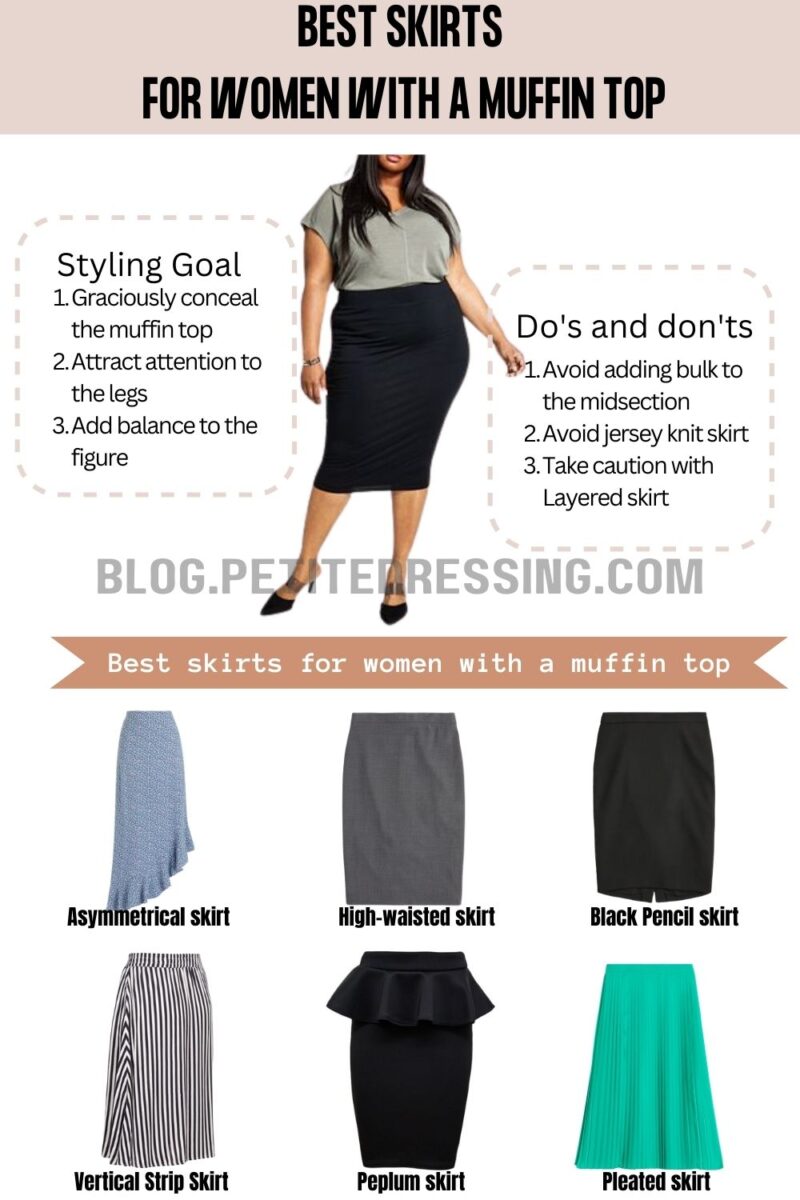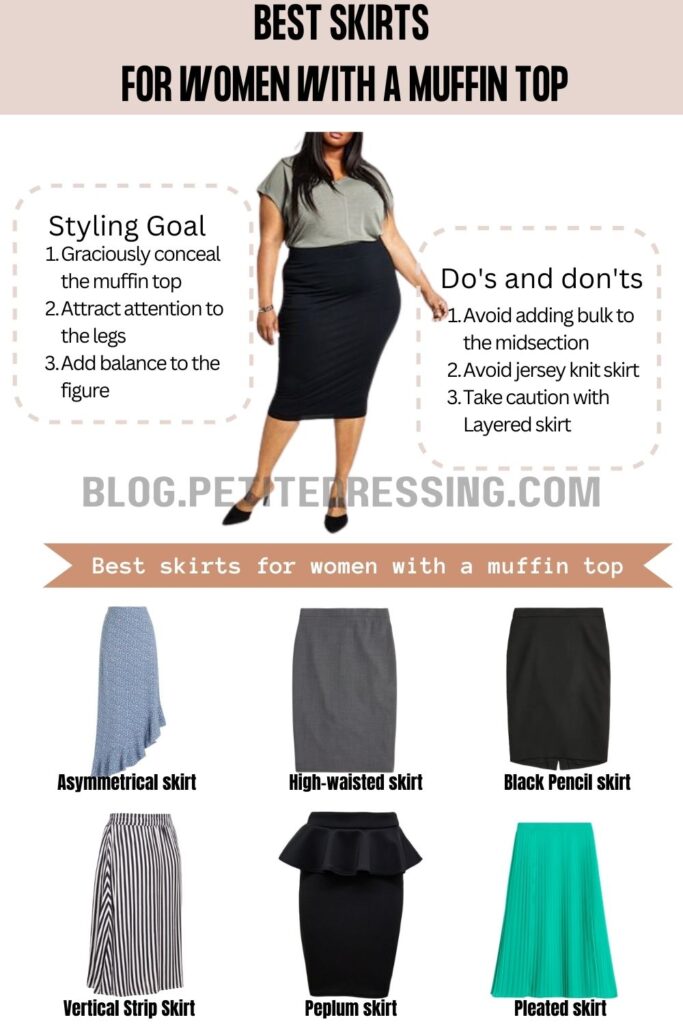 Asymmetrical skirt
We recommend an asymmetrical skirt for women with a muffin top because of its versatility. Women with muffin tops can rely on this skirt style because of its elastic waist. You can pair an asymmetrical skirt with different tops depending on the material used.
It qualifies for formal and informal occasions. You can rock your asymmetrical skirt with a round neck and armless tops paired with a jean jacket, especially during winter. During summer, you can pair it with any light top of your choice and still look impressive.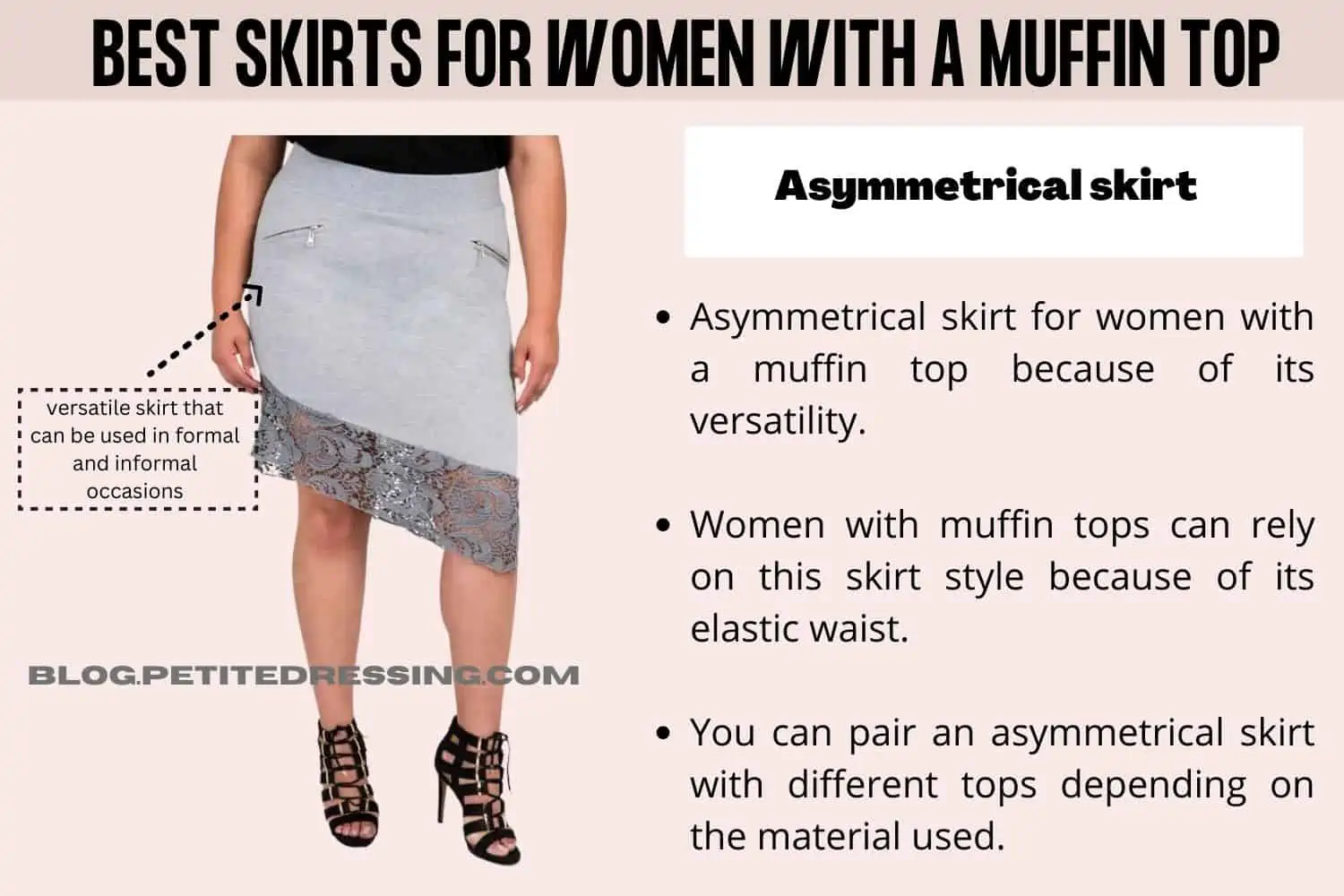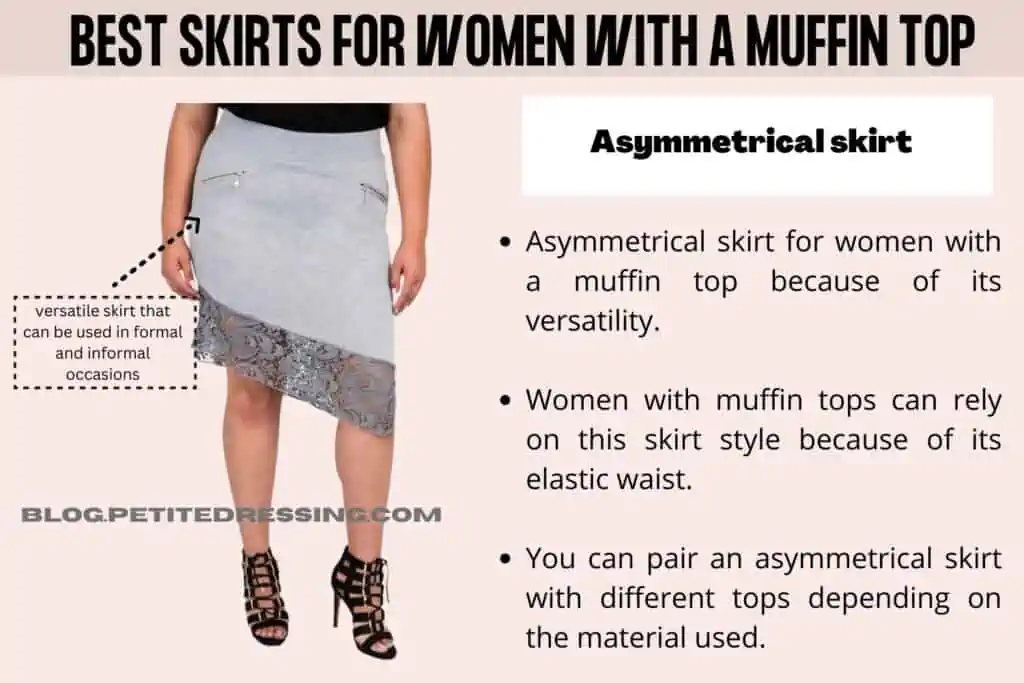 High-waisted skirt
Short raised pants or skirts make your muffin top visible, so it is high time to stop it now. Yes, you can prevent your muffin tops from showing after dressing up. The best way to start is to get rid of your low-raised skirts. Instead, what you need is a high-waisted skirt.
We recommend the combination of high-waisted skirts with a crop top because a high-waisted skirt protects your torso from becoming visible, and it also gives your body a slimming effect which you can't get from wearing a low-waisted skirt.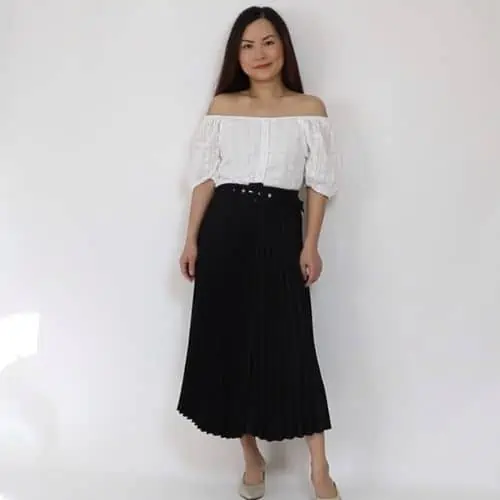 Why opt for high-waisted skirts?
High-waisted skirts are designed to hold your full hip and your bum area firm to give you room to rock any top of your choice, including crop tops.
Black Pencil skirt
A black pencil skirt is one of the best choices for women with a muffin top or chubby bodies. Before adding black pencil skirts to your wardrobe, we recommend that you go for ones with elastic waistband around the waist. A black pencil skirt with a waistband is best for women that want to hide their tummy.
Although there are many ways to style a black pencil skirt, for women with a muffin top, we recommend a black pencil skirt with a wrapped front design because it has a perfect way of protecting both your tummy and waistline from becoming visible. This design will graciously conceal your muffin top while also putting all the attention on your legs.
We recommend you go for pencil skirts that do not have pockets, buttons, buckles or other fittings that will make the skirt look bulky.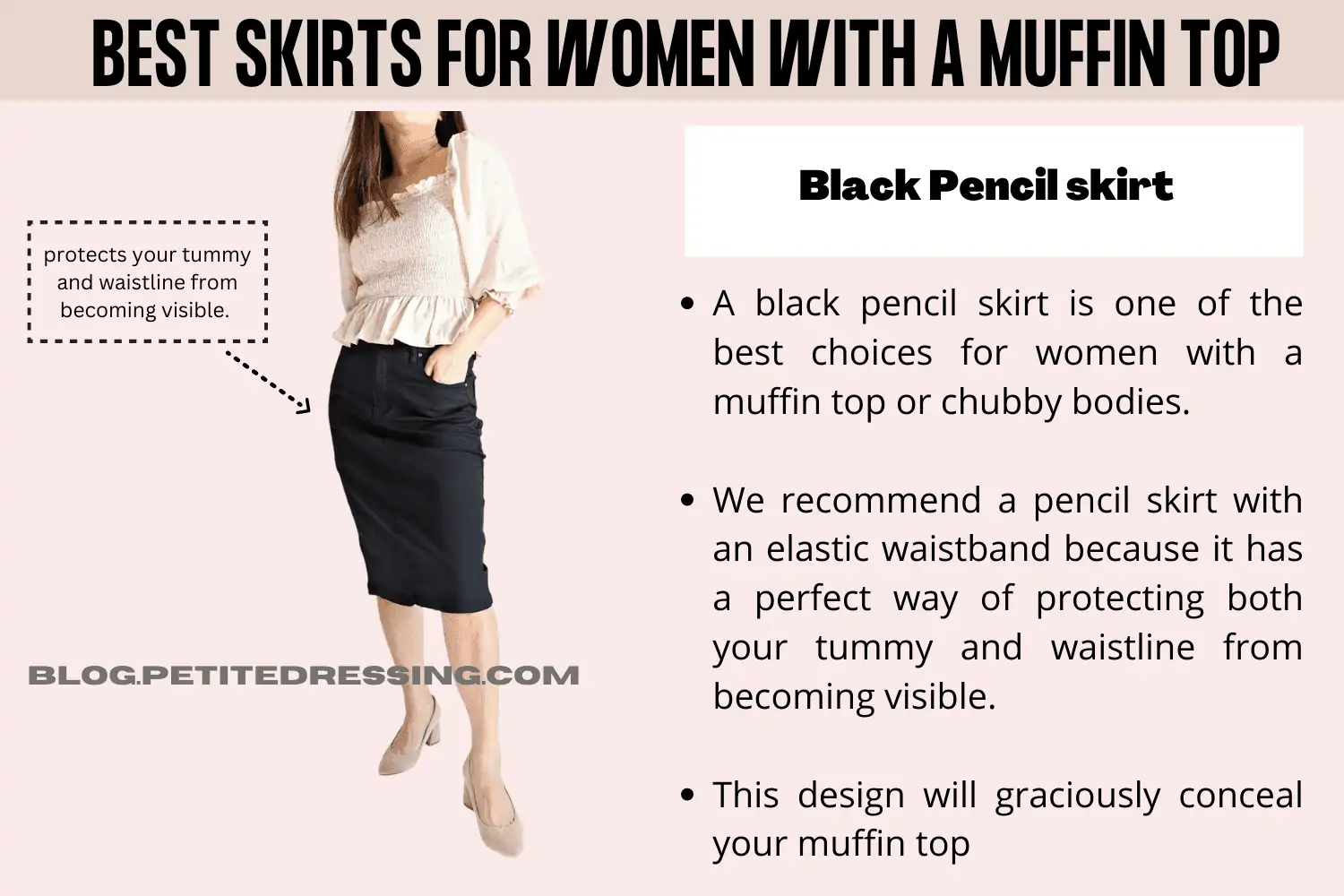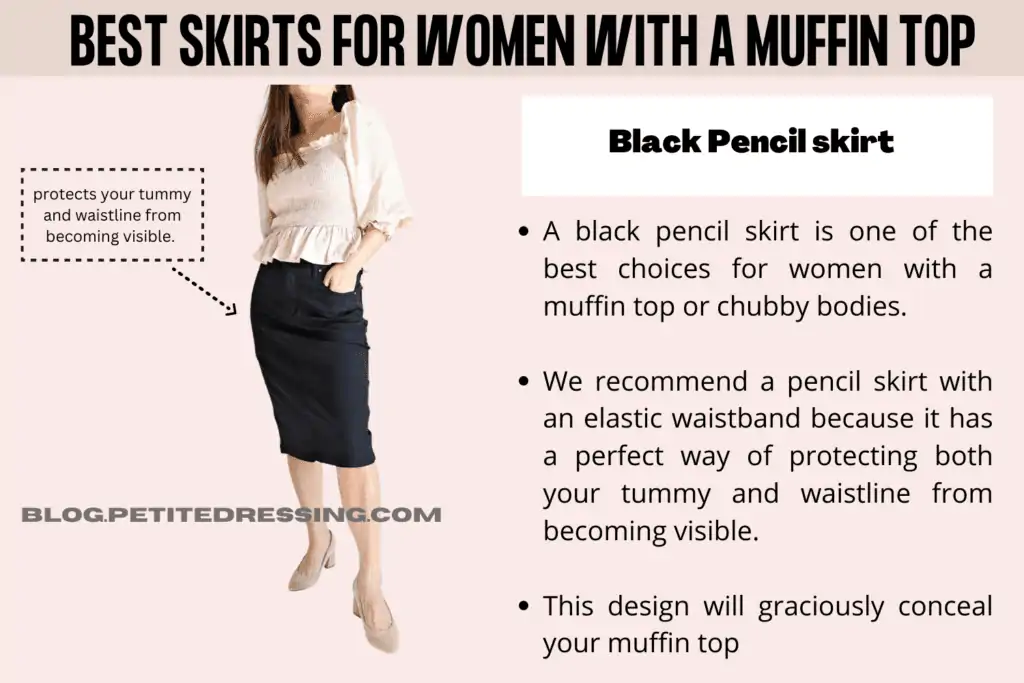 Vertical Strip Skirts
Since you already have a bulky body, the last thing you want is an outfit that will make your look bulkier. The good news is that vertical strip skirts will make your body look smaller instead, and definitely not in a bad way. The look really comes together when you pair this with a blouse or top in a solid color.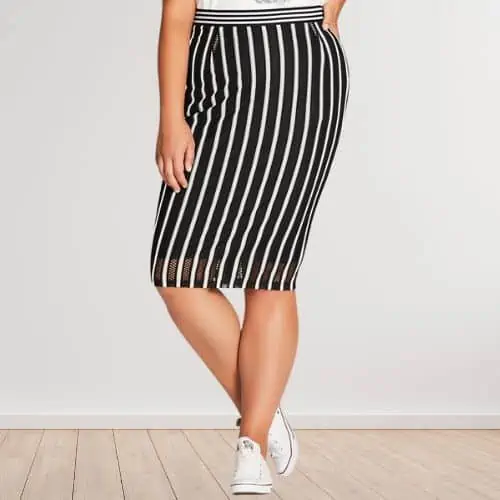 What can vertical striped skirts do to your figure?
Vertical strip skirts may seem ordinary but they work wonders on women with a muffin top.
The effect is that vertical stripes give your body a slim and smart look, especially if you are conscious about a muffin top.
Peplum skirt
Peplum skirt is trending because it has no style limit, and take it or leave it; most women, especially women with a muffin top, are going for this stylish, trendy, and elegant skirt now more than ever. The Peplum skirt is ideal for women that want to express their femininity to the fullest, and it is available in mini, midi, and maxi lengths.
What makes the peplum skirts outstanding is the design. The skirt is designed with flared strips, combined with another garment piece. To crown it all, it has a narrow waist. Overall, peplum skirts, whether mini, midi, or maxi, are perfectly designed to pull your body together and give you a curvy body structure.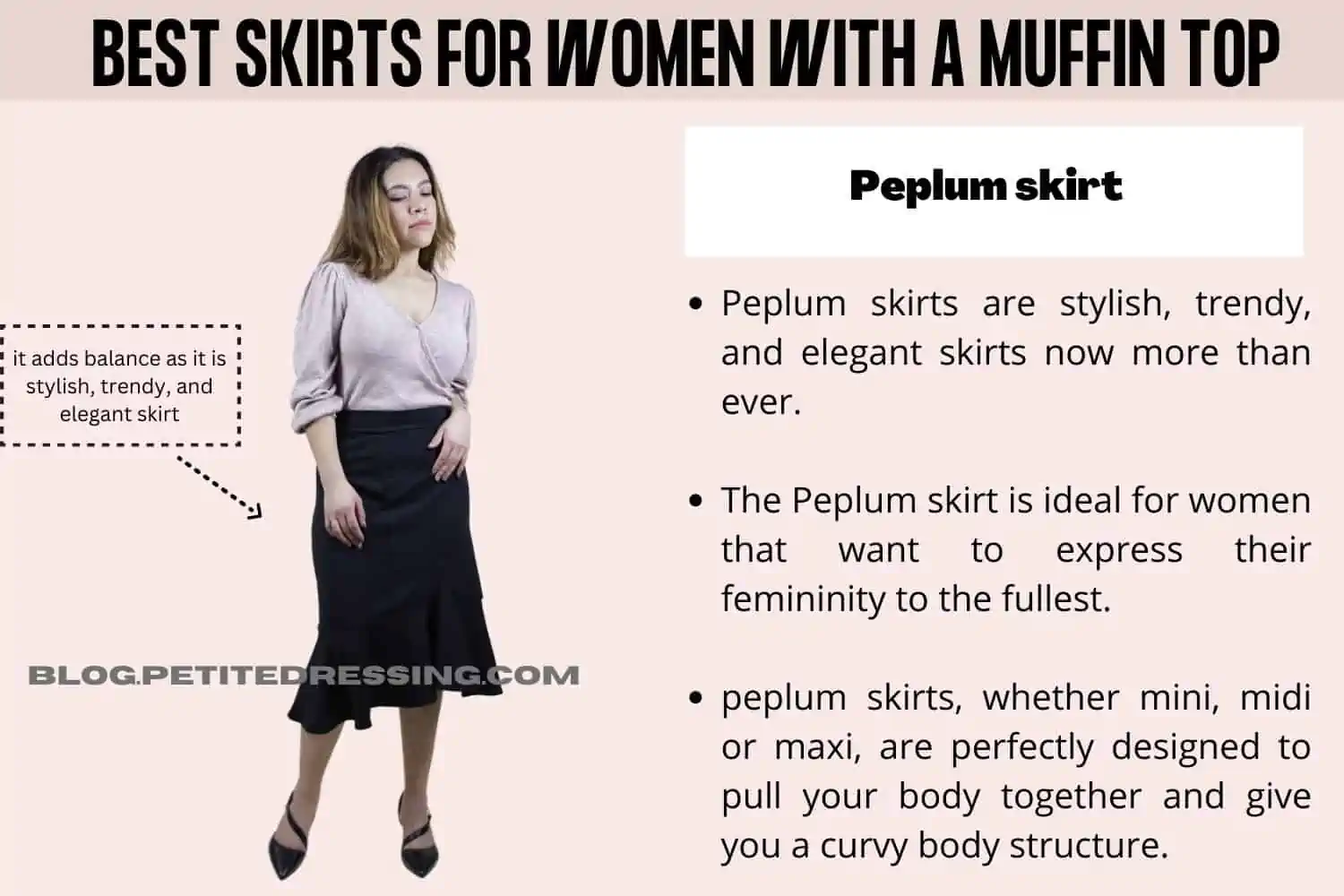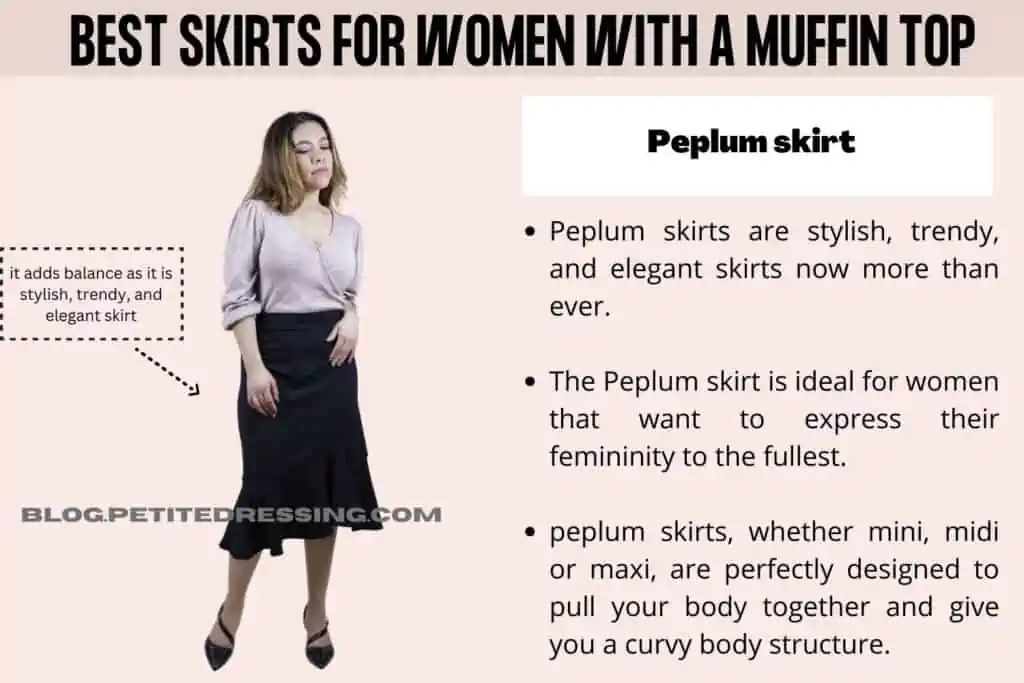 Aside from perfectly concealing your muffin tops, peplum skirts are ideal for formal and informal occasions.
We recommend that you try peplum skirts with a plain shirt or colored pattern shirts to look professional, although you must ensure the skirt has a plain color to maintain a balance. And for informal style, add additional statement accessories like visible earrings, strap belts, and high heels sandals to complete the informal process.
Pleated skirt
Pleated skirts have been around for a while and are still one of the best choices for women with muffin tops. Now, if all the skirts style above doesn't meet up with your preference, then we are confident pleated skirts will do.
First, the pleated skirt has unique and outstanding designs, and second, it is versatile, making it adaptable for all body sizes. Finally, it is a high-waisted skirt, meaning it will cover up for places your crop tops miss out.
One reason pleated skirt has continued to remain a force is that it is designed to cover that extra accumulated weight. Aside from its tiny and elastic waist top, the pleated skirt is free-flowing with a flared bottom. The skirt's versatility is not limited to its ability to fit different body sizes alone.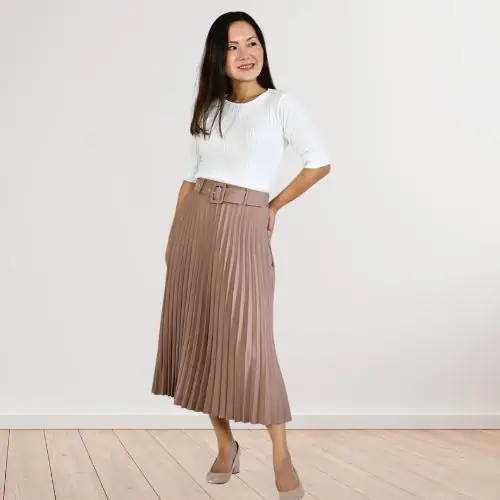 Styles with pleated skirts
It can be seamlessly paired with tops, like a plain shirt, or casual tops, like a cardigan, and singlet tops, to name a few.
And if you are tired of dressing formally all the time, a pleated skirt can help you break that monotony.
Pair a pleated skirt with a crispy white top and add fitting sandals. Since the skirt is pleated, your muffin top will always remain protected.
Wrap skirt
A wrap skirt is amazing because it is designed to make its user look elegant and comfortable. Wrap skirts have been around since the 60s and 70s when it became the skirt choice of ladies at the time. During its peak in the 70s, wrap skirt length was mostly ankle.
Wrap skirts are now available in different styles, size and fashionistas have been doing all they can to incorporate new fabrics to craft the age-long skirt to fit modern usage.
Wrap skirts share some semblance with all the skirts on the list, especially in the high waist area. It is called a wrap skirt because it is worn around the waist to keep it firm; you need to tie it around or secure it using a belt.
As stated earlier, this skirt is dynamic, and the fact that it is a high-waist skirt makes perfect sense for women with a muffin top. You can adjust it from the waist or hip size to any satisfactory level. The best method to get the best out of your wrap skirt is to go for multi-colored patterns.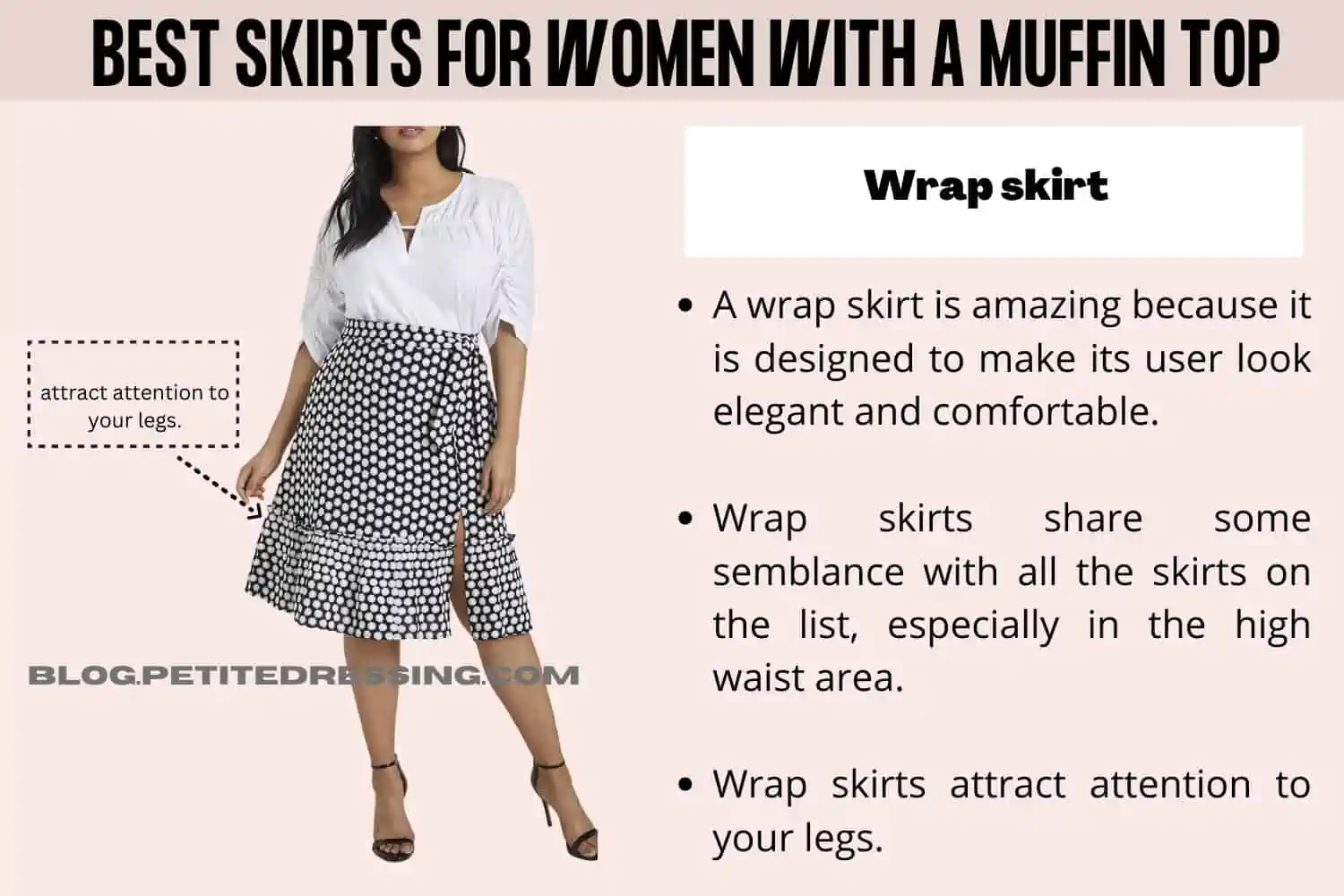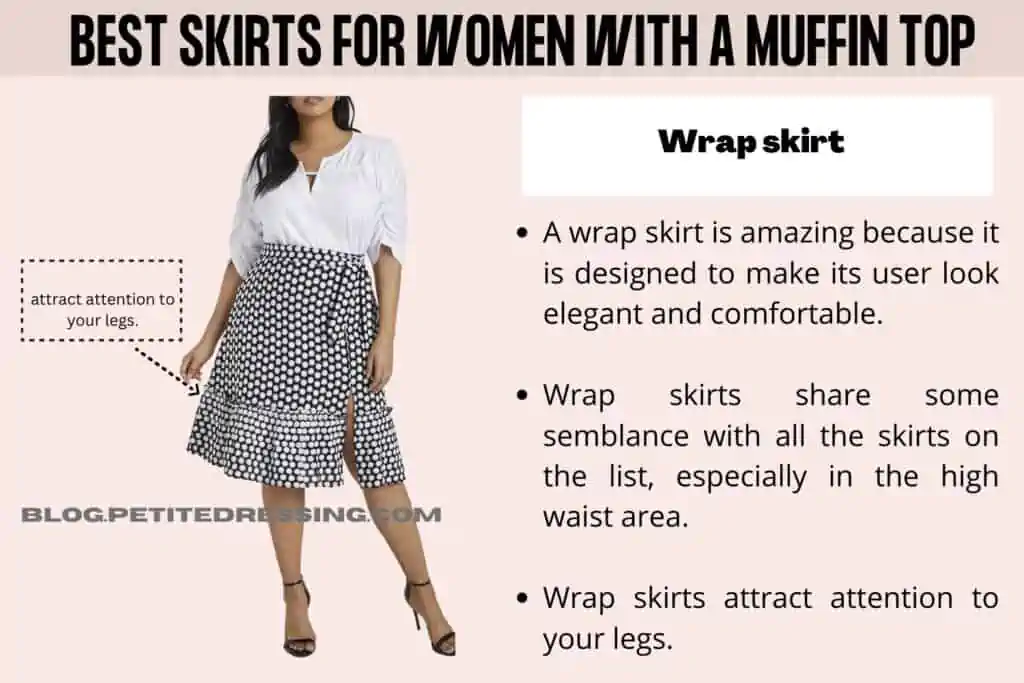 Wrap skirts attract attention to your legs. So, we recommend carefully selecting footwear that perfectly blends with the skirt and top.
Caution with Layered skirt
A layered skirt is also known as a tiered skirt because it combines layers of fabrics at the hemline to make a full skirt. If you are wearing a layered skirt, we recommend that you be intentional about the skirt's material or fabric.
Ordinarily, a muffin top means you will carry some weight down there, so a layered skirt with thick denim is not advisable. To ensure you are not burdening yourself with the fabric's weight, we suggest you opt for lightweight material.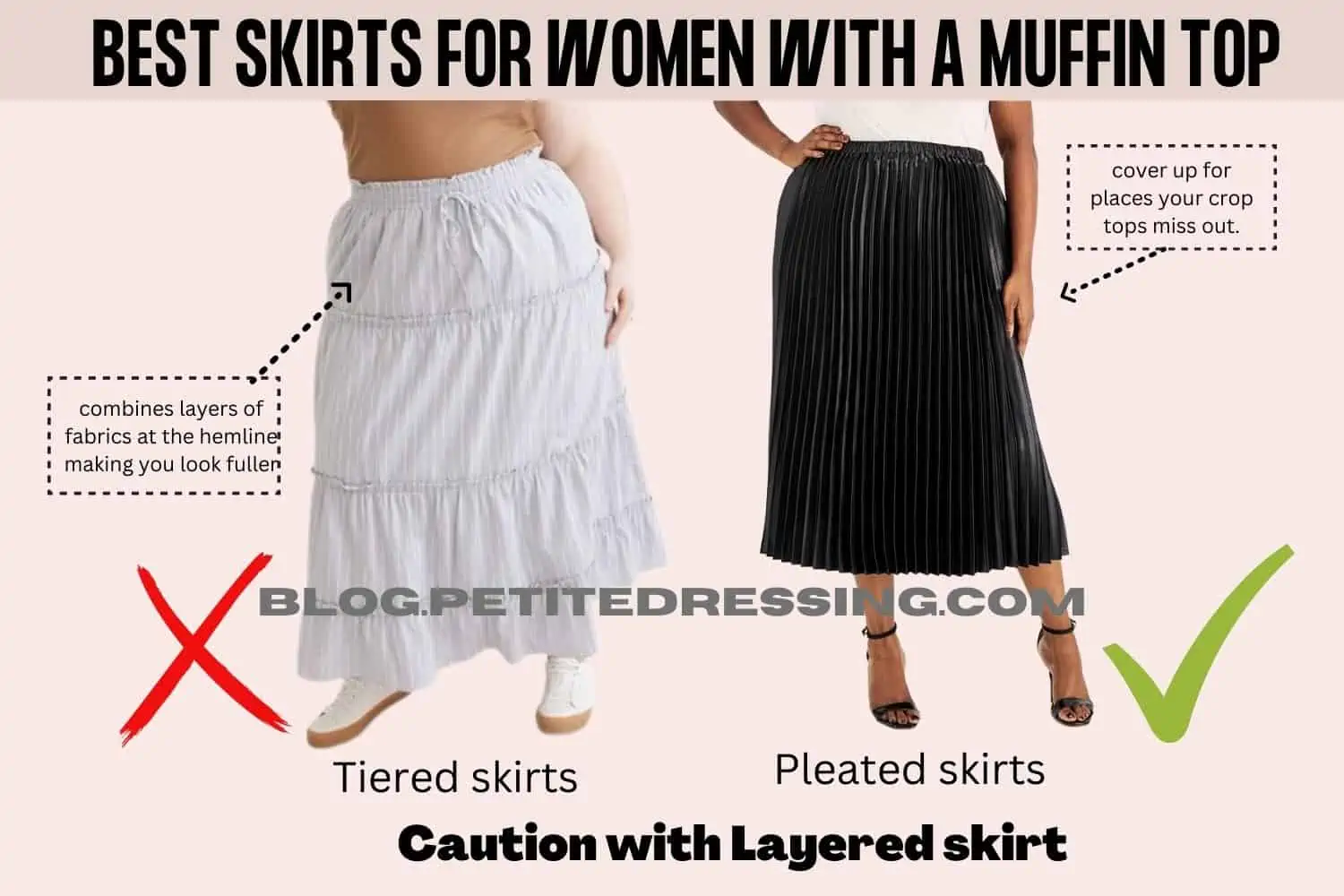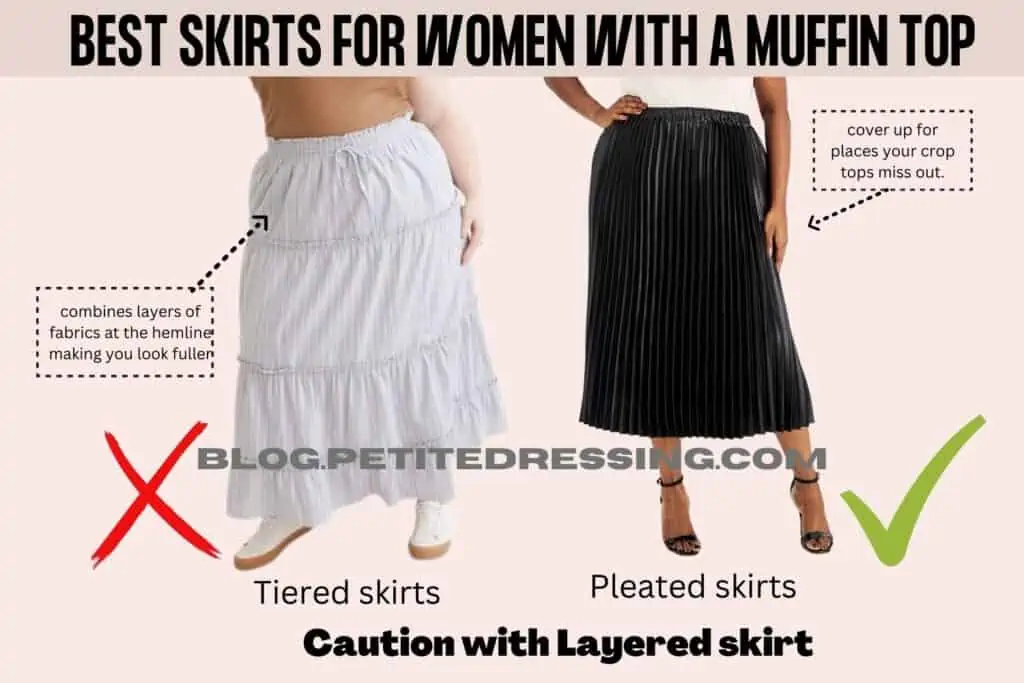 You can style your layered skirt with light fabrics such as cotton, linen, silk, and satin. All these soft fabrics are best to ensure the bottom of the skirt is not hanging down flat.
Avoid jersey knit skirt
Jersey knit skirts may be great overall but they are not a good idea for women with a muffin top. The stretchy material can be tighter around the belly area, making the bulge visible. Since the aim is to hide the belly as stylishly as possible, your best bet is to avoid jersey-knit skirts.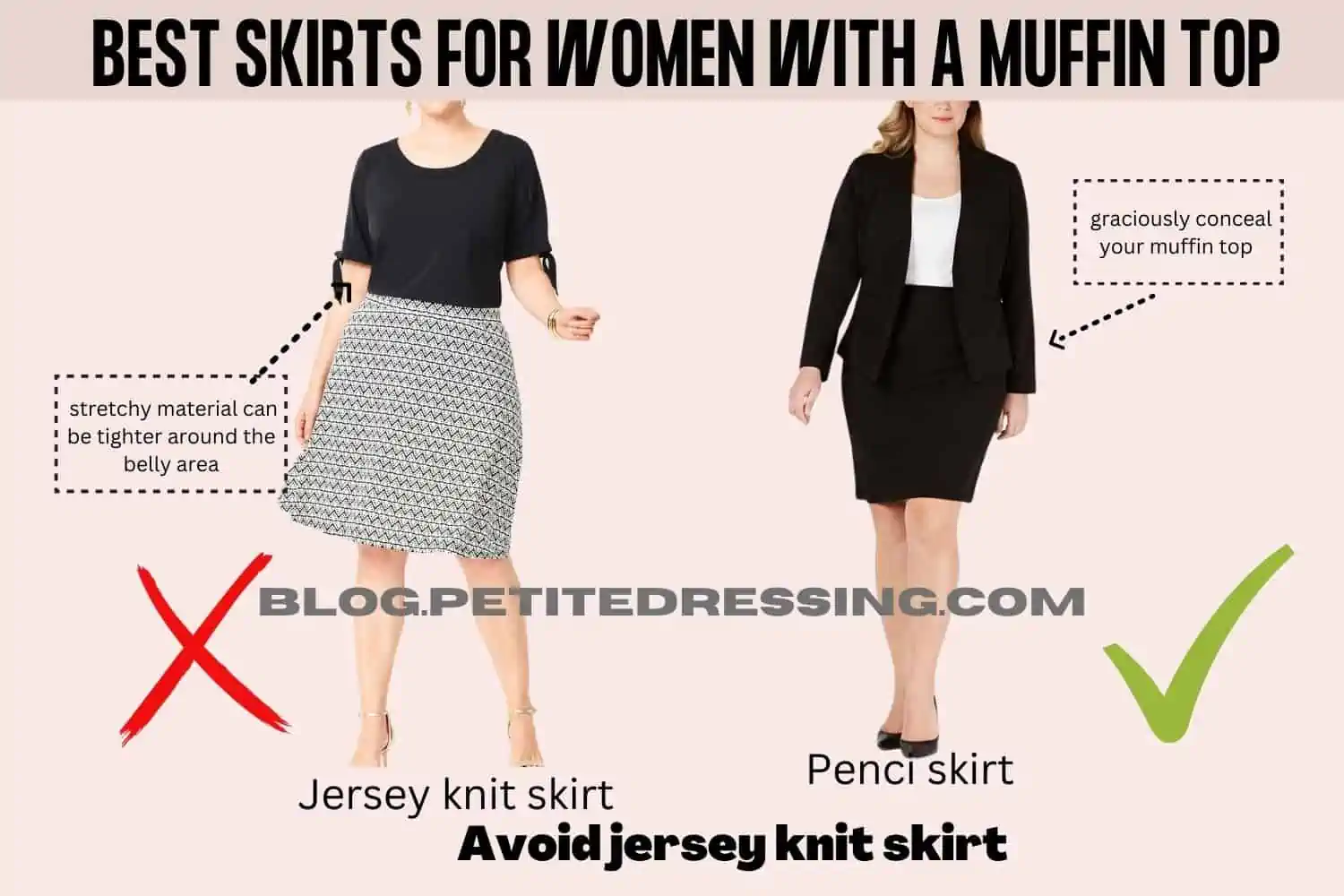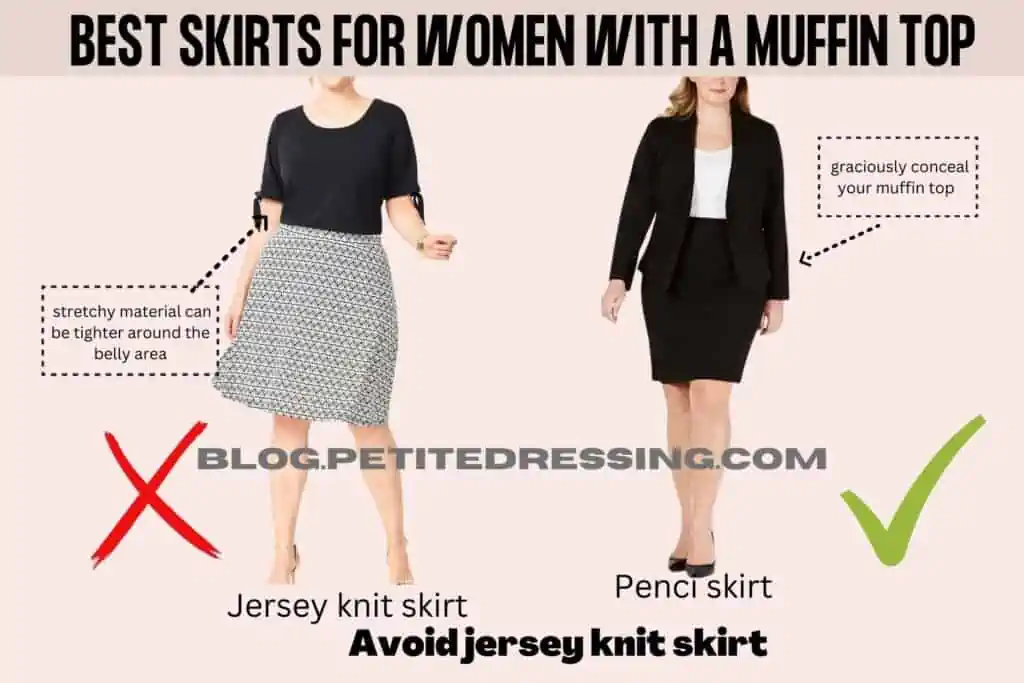 All the skirts mentioned in this guide are skirt style that brings out the best in you at all time, even with muffin tops. They are designed to keep your body in good shape by diverting attention away from your muffin top to other areas of your body.