The inverted triangle shape is one of the five traditional body shapes in fashion that features broad shoulders alongside small hips, an undefined waistline and slimmer legs. This means that you are wide at the top and smaller at the bottom.
So when making the right choice of skirts for your inverted triangle shape, the skirts must work to help balance your feminine figure. The skirt should add volume to your bottom half so it can measure up to the width around your shoulders.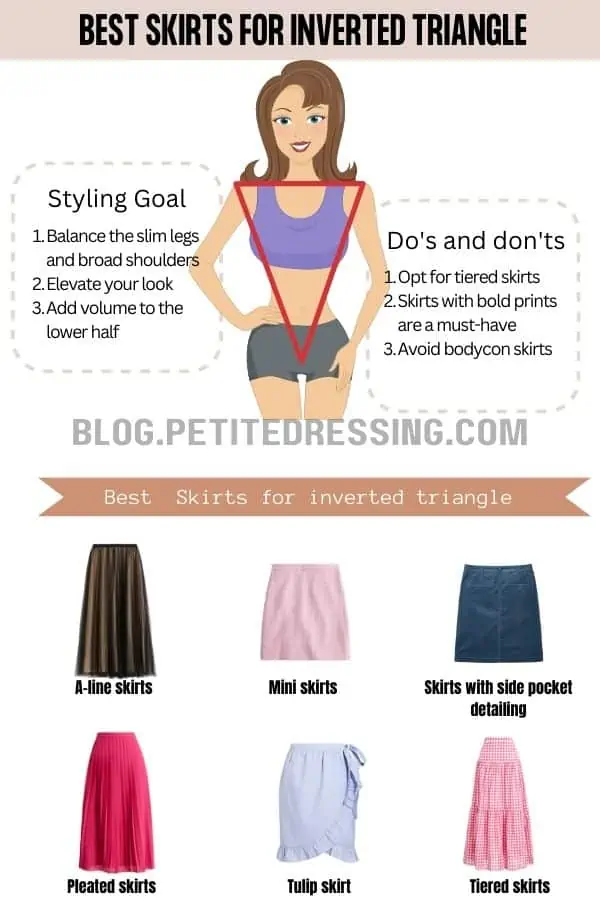 To make styling easy for you, the following are a few skirt designs that have been compiled to help you achieve your styling goal;
A-line skirts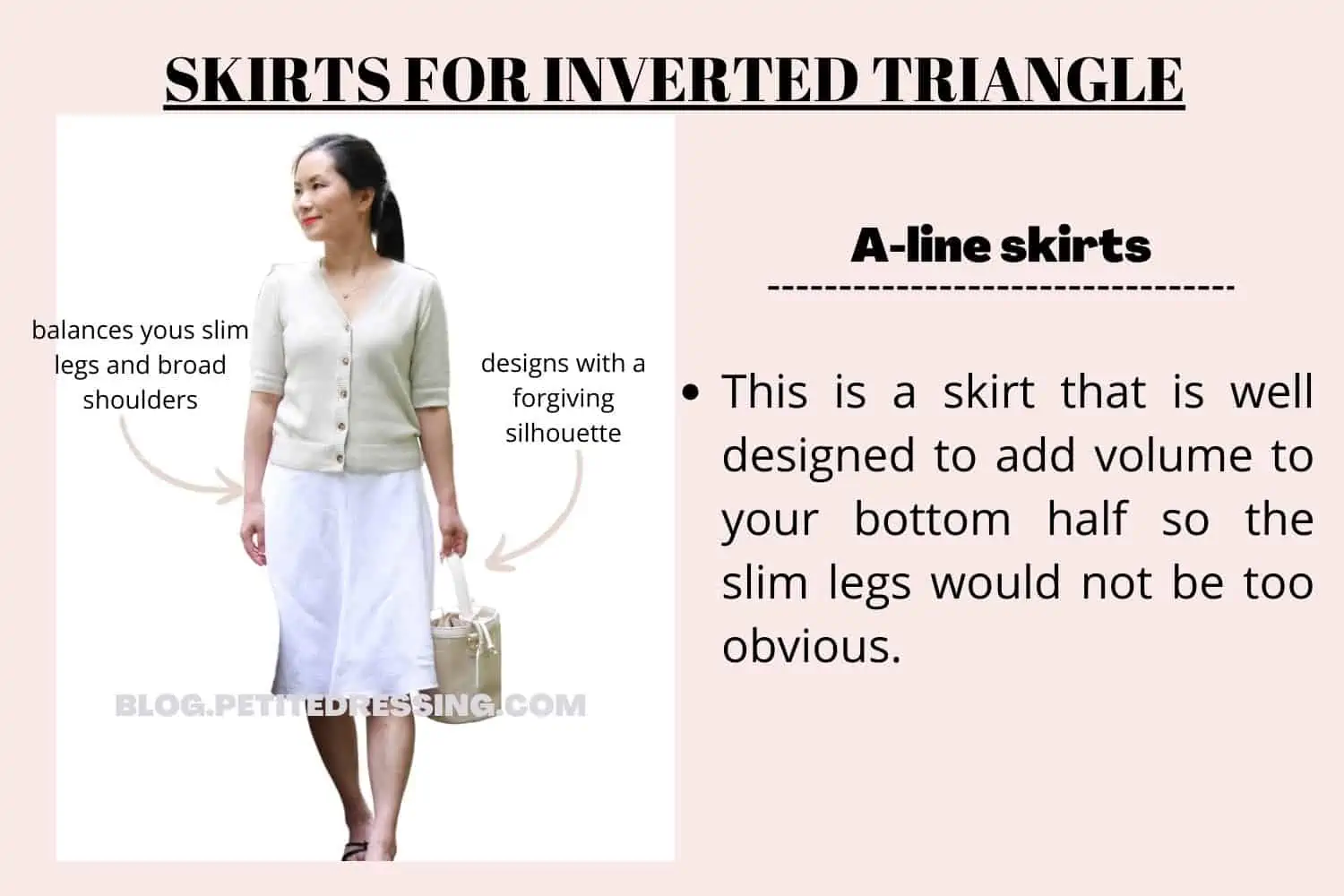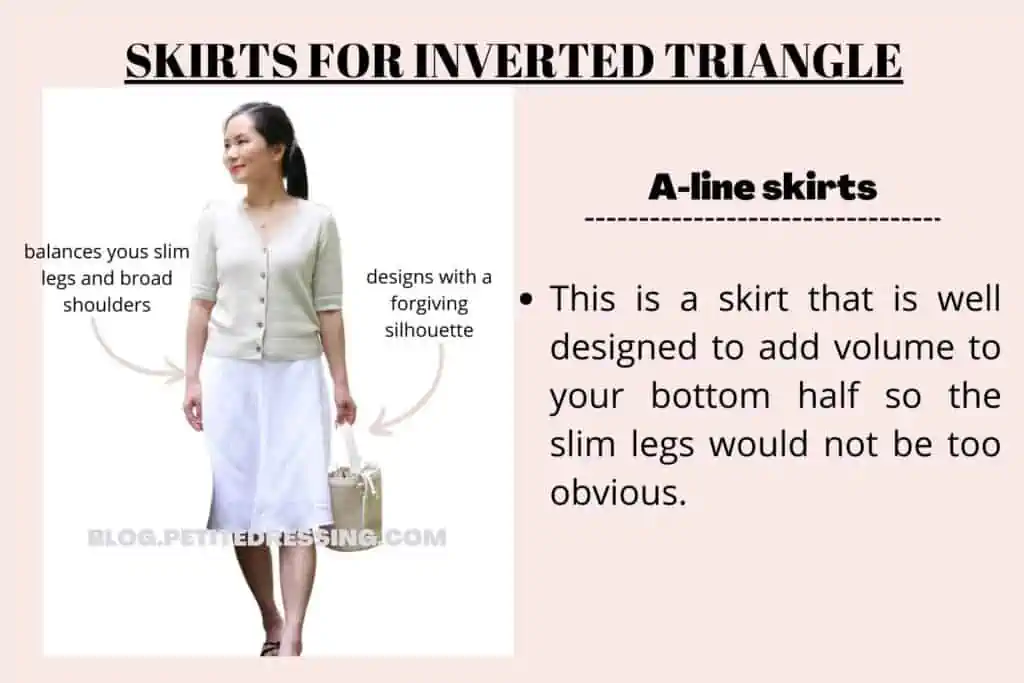 The A-line skirt is a design that is fitted at the waist before flaring out in an A shape towards the hem of the skirt. This is a skirt that is well designed to add volume to your bottom half so the slim legs would not be too obvious.
You can use the A-line skirt to easily create a balance between your broad shoulders and your slim legs in order to appear more feminine. These are flattering skirt designs with a forgiving silhouette that can be styled easily on your inverted triangle shape.
Because the skirt comes with a lot of volumes, you should pair them with a fitted top as that would also help slim down the width of the broad shoulders.
Mini skirts
Your slimmer legs are one of the best assets that you can accentuate with a mini skirt. Mini skirts are edgy and stylish designs that can draw the attention of the eyes away from the broad shoulders.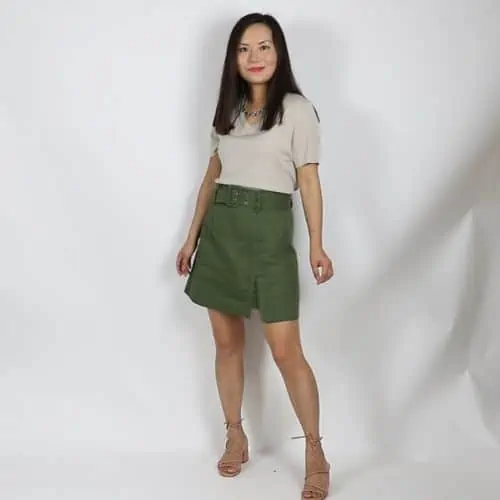 Why use a mini skirt?
They are universally flattering styles that can visually increase your length by moving the eyes upwards and downwards.
Wearing a mini skirt in the inverted triangle shape would bring the eyes' focus to your slender legs, one of the best assets for the inverted triangle shape.
Skirts with side pocket detailing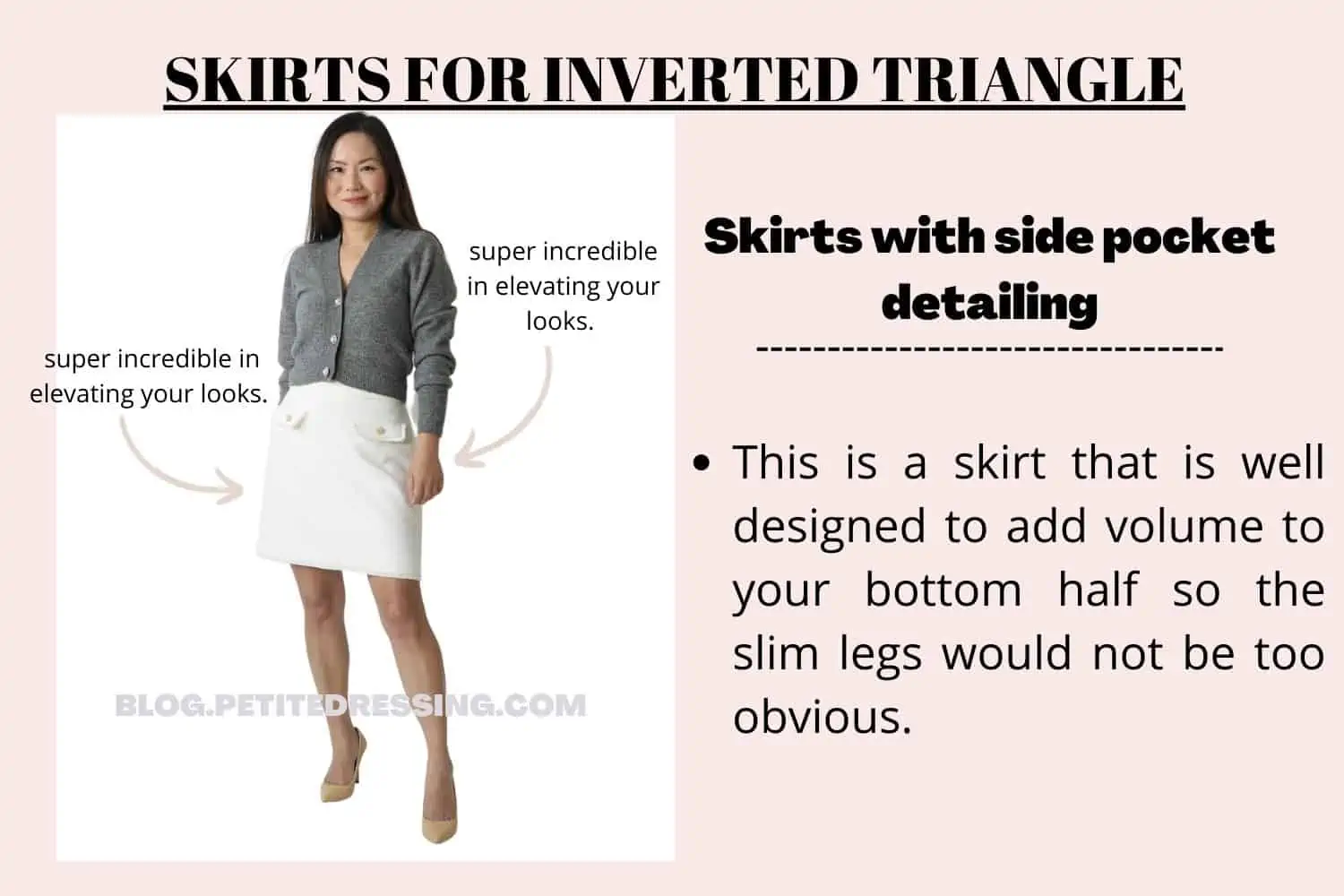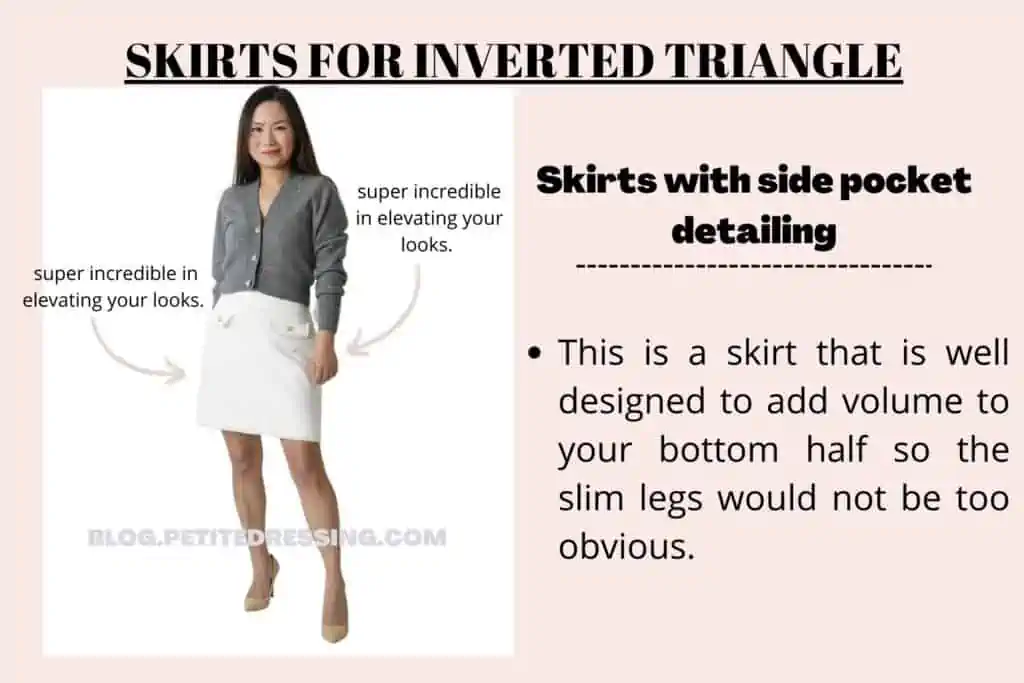 The inverted triangle shape needs details that would create volume in your bottom half to balance out the volume in your upper body. For this reason, skirts with pocket detailing are super incredible in elevating your looks.
The pockets in the skirts are aesthetic designs that offer peering eyes an illusion of curves around the lower body. Skirts with pocket detailing are really flattering styles that can balance the broad shoulders and the leaner legs.
Also, skirts with side pocket detailing would help define the natural waistline and give your proportion a subtle change that would be much more pleasant to the eye.
Pleated skirts
If you have an inverted triangle shape, this simply means that you are small in your lower half and therefore need skirts that would add volume to it. Over time, I find that pleated skirts have a gentle feel that can help you achieve balance without being overwhelming.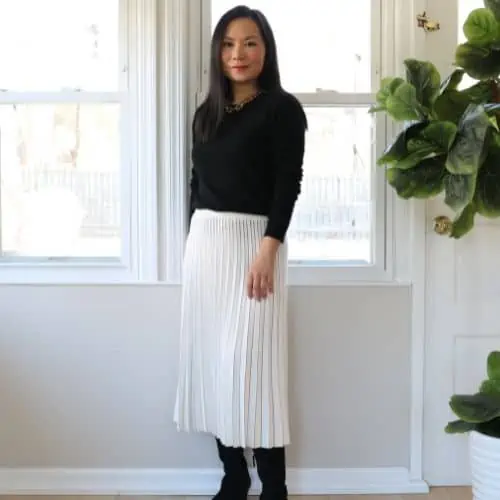 Why opt for pleated skirts
When you wear a pleated skirt over your inverted triangle shape, it would give you a more feminine structure.
The skirts also have breathable space for your slim legs and as such would give you comfort when you in motion.
Tulip skirts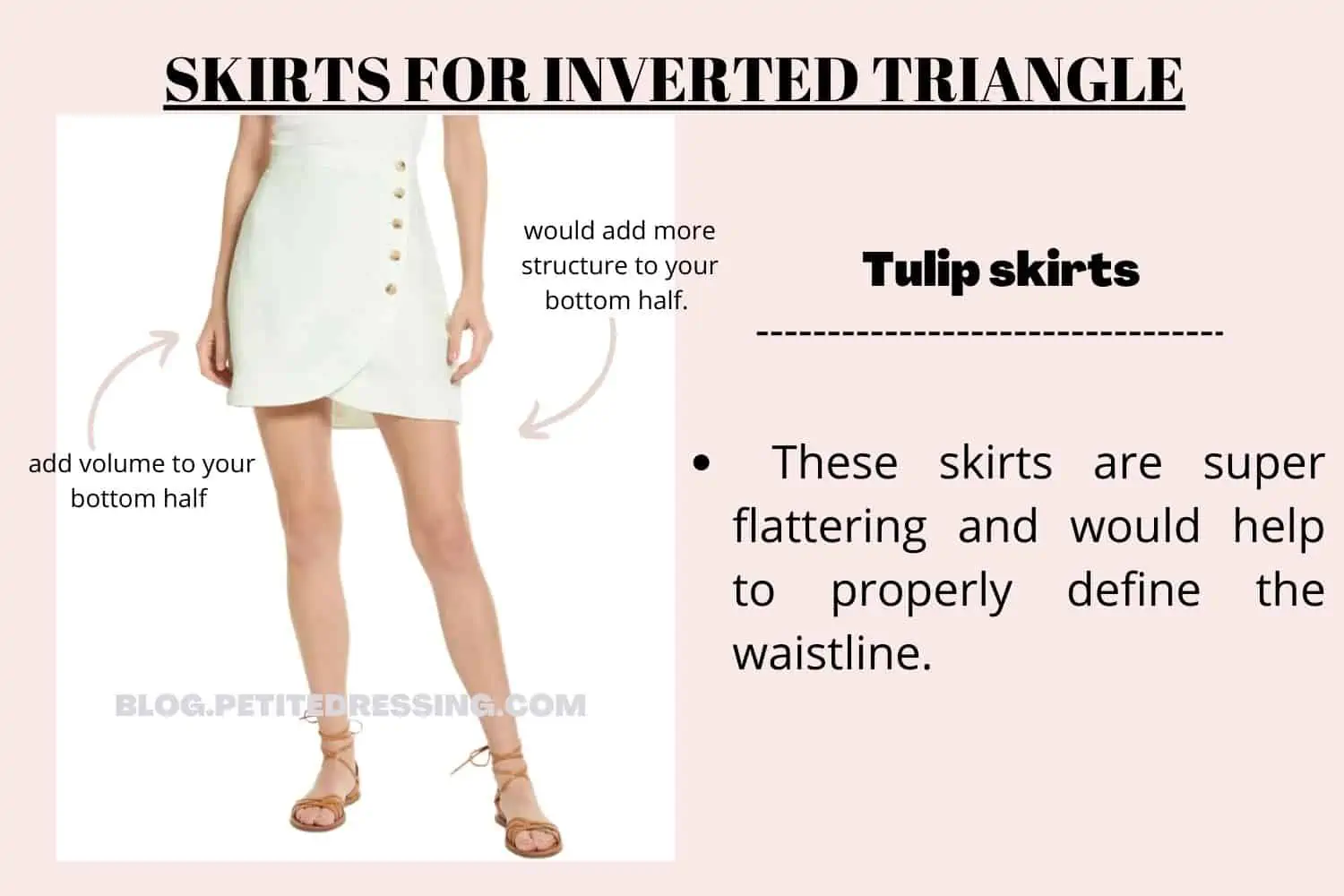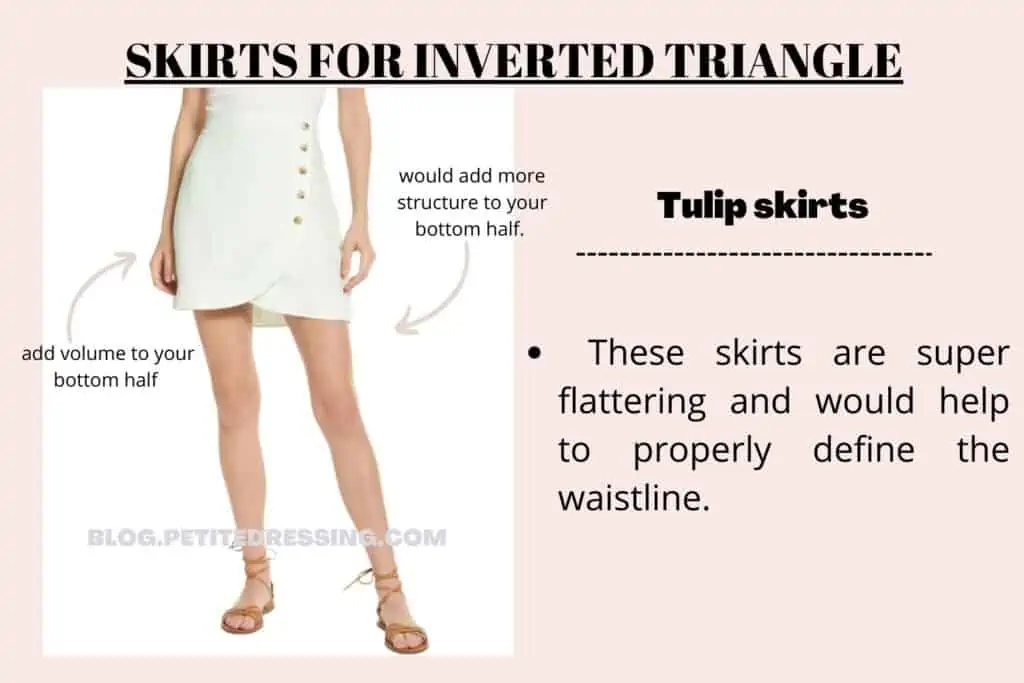 This is another style of skirt I would recommend for your inverted triangle shape because they have extra fabrics around them. Tulip skirts are also very easy to style and would properly complement your feminine shape.
They also add volume to your bottom half and make the width of the shoulders less obvious to the peering eyes. These skirts are super flattering and would help to properly define the waistline.
Tulip skirts would literally help you achieve your styling goal and are therefore a classic piece for the inverted triangle shape. They are suitable for your shape and would add more structure to your bottom half.
Tiered skirts
One very easy way to add volume to your inverted triangle shape is to simply wear a tiered skirt. These skirts are aesthetically stylish designs with a loose fit that can help balance your figure.
It is also important that you pair the right top with the tiered skirt as that can further elevate your overall appearance. Fashion is a way to help express yourself with a feel of elegance so take advantage of it and be versatile with the tiered skirt.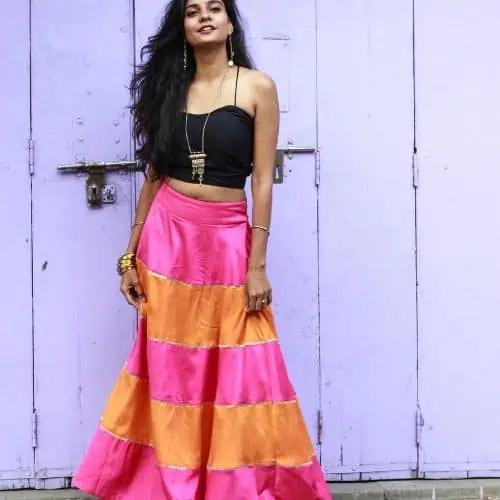 Expectations with pleated skirts
Tiered skirts have fabrics that are layered all the way down to the hem and this can add a considerable amount of volume to your bottom half.
Since your major styling goal is to balance the broad shoulders with your small legs and thighs then you should own a few of them.
Bright colored skirts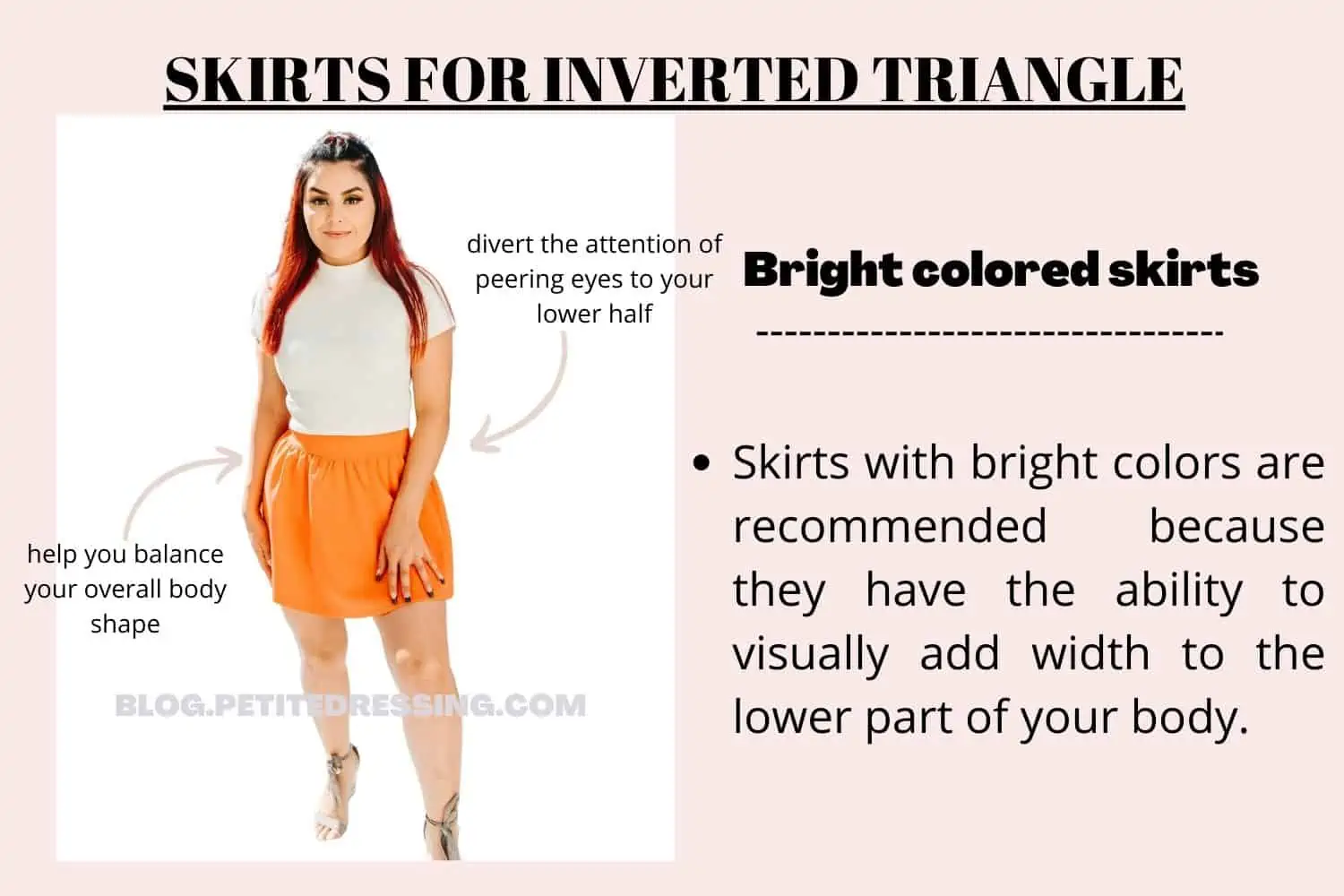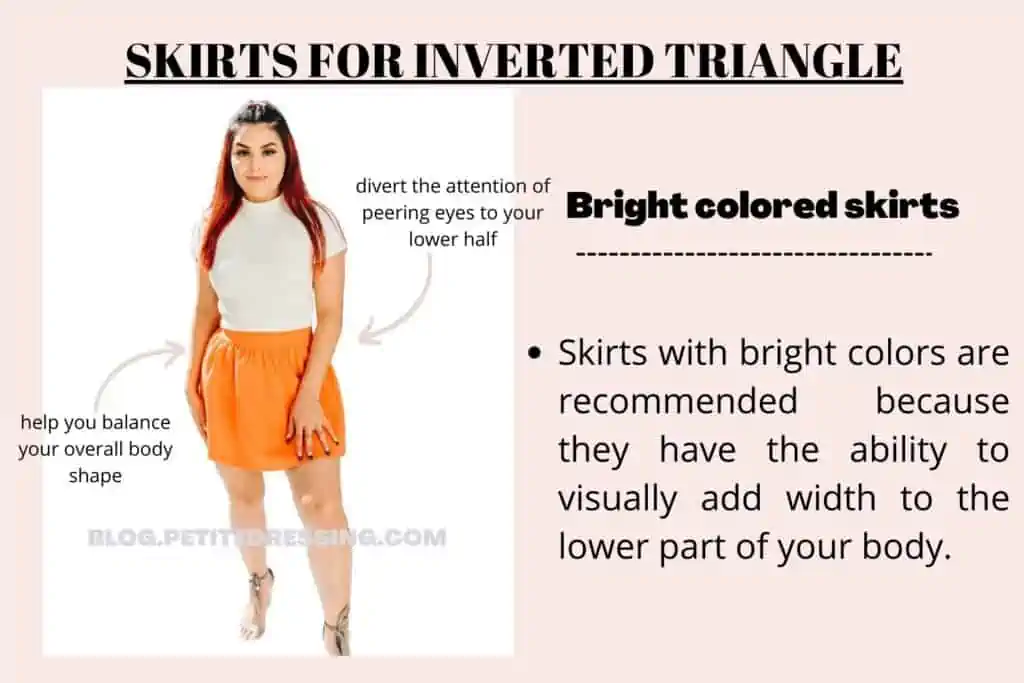 Skirts with bright colors are recommended because they have the ability to visually add width to the lower part of your body. You can therefore rock the bright-colored skirt on your inverted triangle shape because it would divert the attention of peering eyes to your lower half and keep them off the broad shoulders.
Bright-colored skirts are very beautiful skirt designs that would uplift your general looks and still help you balance your overall body shape. These colors of skirts act as necessary detailing for your inverted triangle shape by giving a better definition to your bottom half.
You should pair the bright-colored skirt with a dark-colored top as that is a way to downplay the broad shoulders and compliment your overall figure. Bright-colored skirts are best in flattering your inverted triangle shape and should always be chosen over dark-colored skirts.
Straight skirts
Straight skirts are simple skirt designs that are very flattering on the inverted triangle shape especially if they have a straight cut. The skirt is not designed to taper in at the hem or cling to any part of the body and can therefore not make you uncomfortable.
This skirt should be a part of your major wardrobe essential because they are better suitable for your shape. They would also add a more feminine structure to your inverted triangle figure.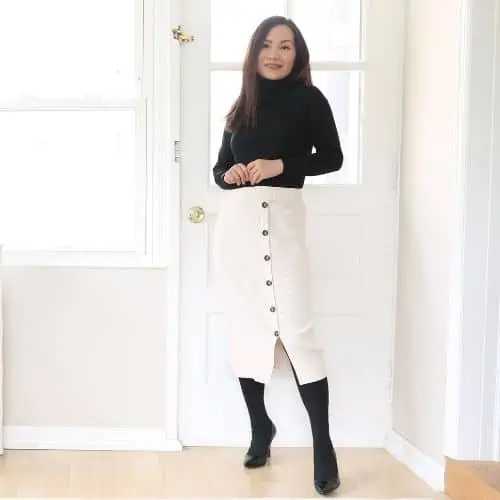 Why opt for straight skirts
Straight skirts are classic skirts that relax comfortably on the lower body frame and help to create a proportion that would align with the upper body.
In doing this, you would worry less about the concerned area and give more attention to being confident when you step out for any occasion.
Skirts with bold prints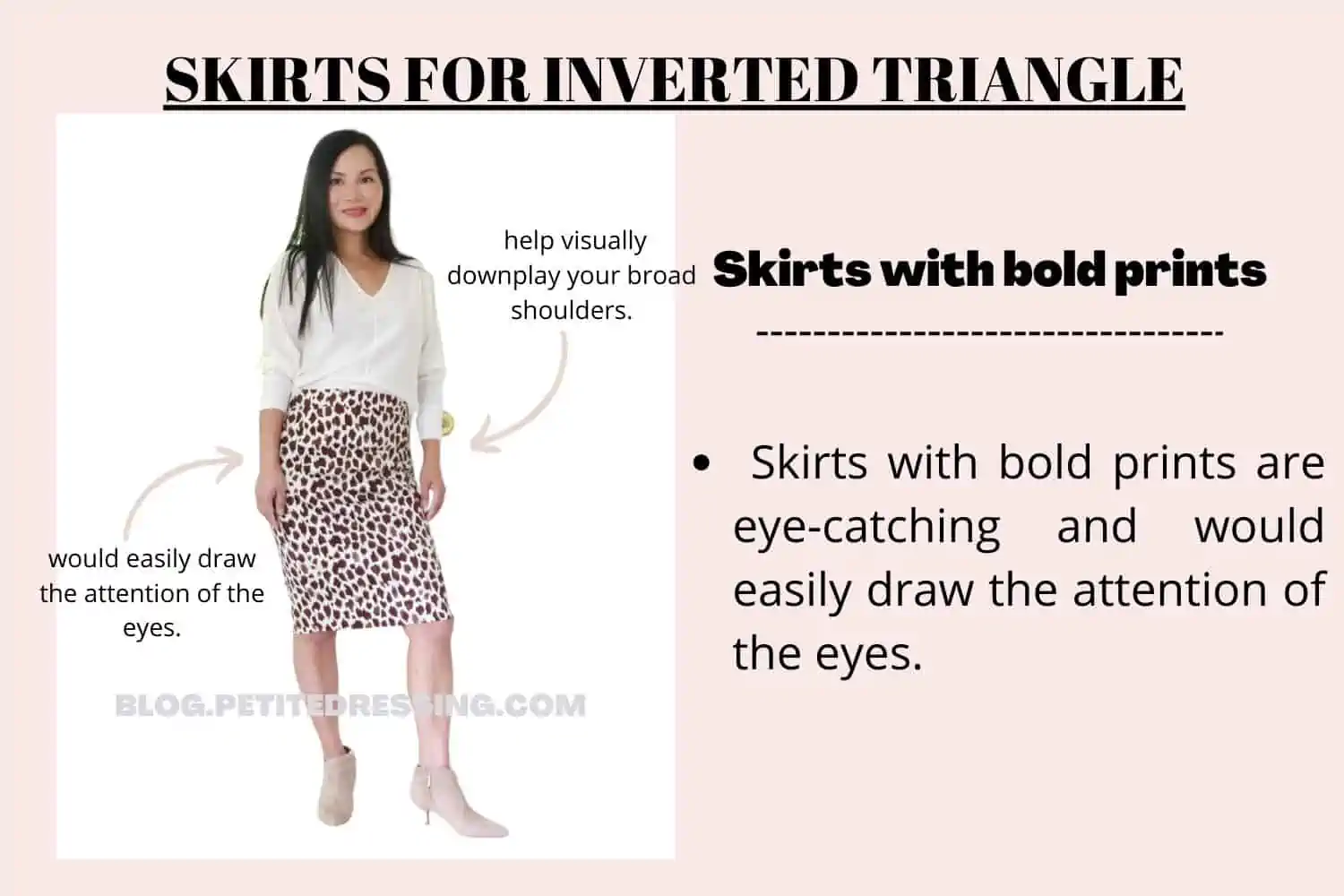 When there are bold prints on your skirts it becomes easy for you to balance out the slim legs and your broad shoulders. This is simply because bold prints are eye-catching and would easily draw the attention of the eyes.
For the inverted triangle shape, bold prints are most effective on skirts because that is where you should aim to add volume. I would advise you pair tops that have very small prints or those without any print with bold printed skirts so you can help visually downplay your broad shoulders.
Wrap skirts
The wrap skirts are trendy designs that are seen as one of the best designs for your inverted triangle shape. The reason is that wrap skirts help cinch in your waistline and most often it also creates the illusion of curves around the small waist.
When the waist is defined by the skirt, it draws attention to the natural waistline and gives your figure a subtle feel.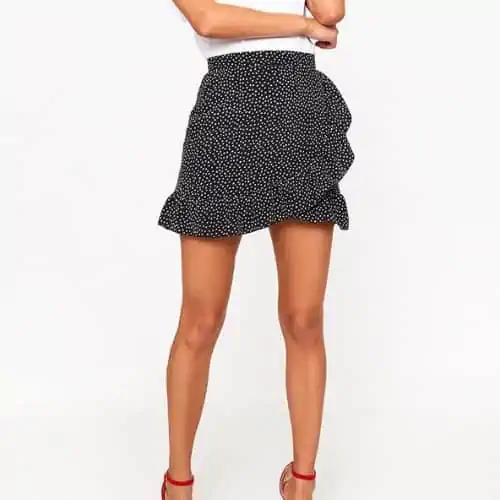 Wrap skirts should be a part of your wardrobe staples
You can use wrap skirts to visually deemphasize the narrow hips, a typical trait of the inverted triangle shape.
This is possible because it creates an equal amount of volume in the bottom half that can help balance that of the broad shoulders.
Avoid bodycon skirts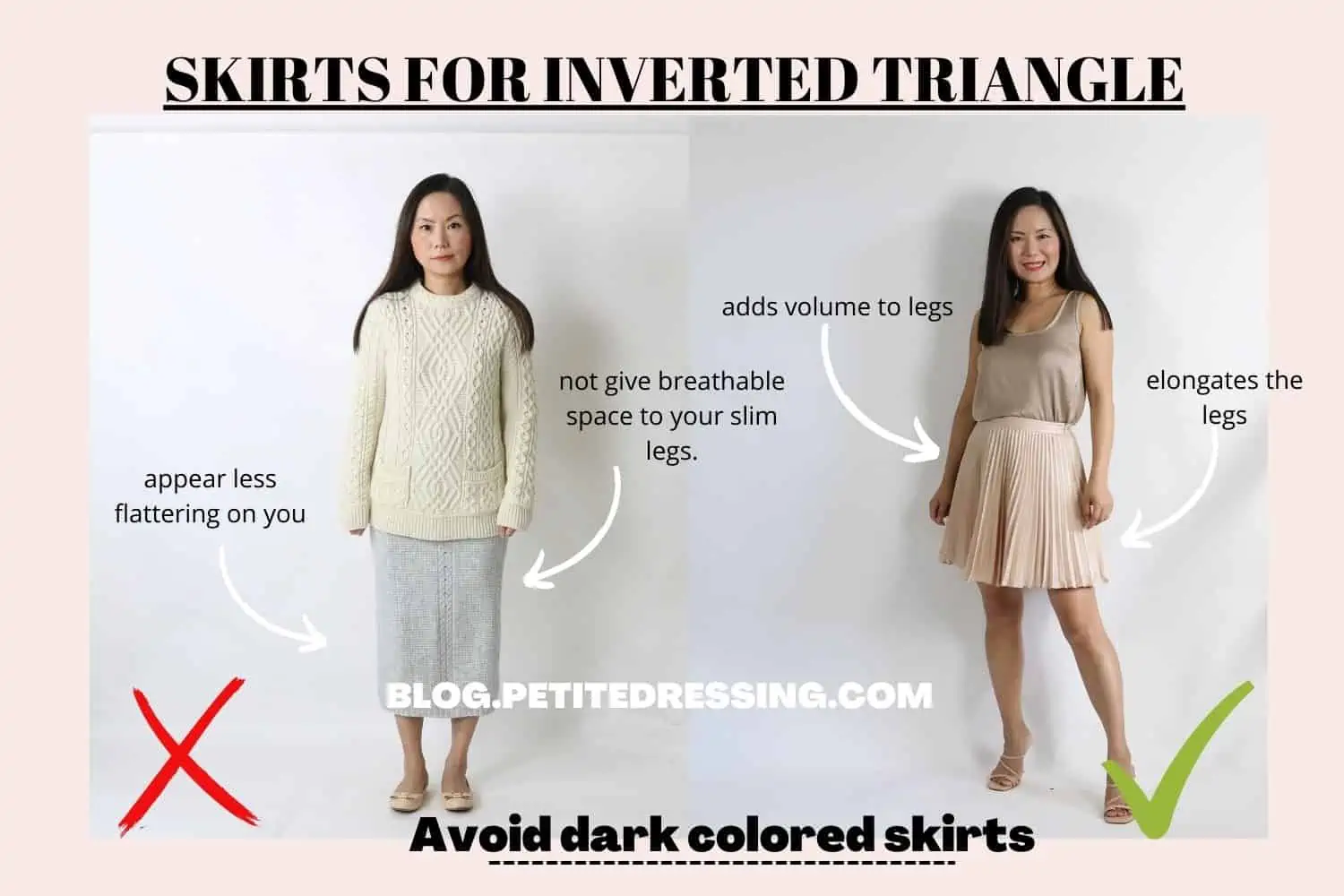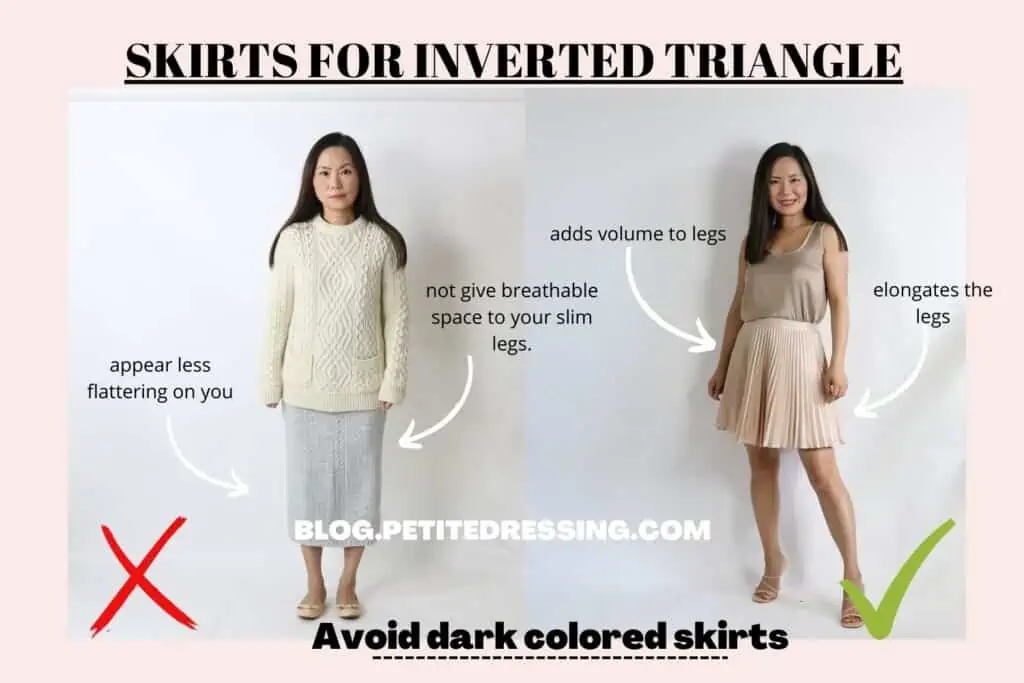 The narrow legs and undefined waistline of your inverted triangle shape make the bodycon appear less flattering on you. This is simply because bodycon skirts are designed to hug your body and not give breathable space to your slim legs.
When you wear a bodycon skirt on your bottom half, it would easily accentuate your shape of a broader top and narrow bottom.
Wearing a skirt that snugs tightly to your figure is not the best way to go so it is best that you avoid the bodycon skirts. The key to styling your shape is to add volume and not do otherwise.
Avoid oversized skirts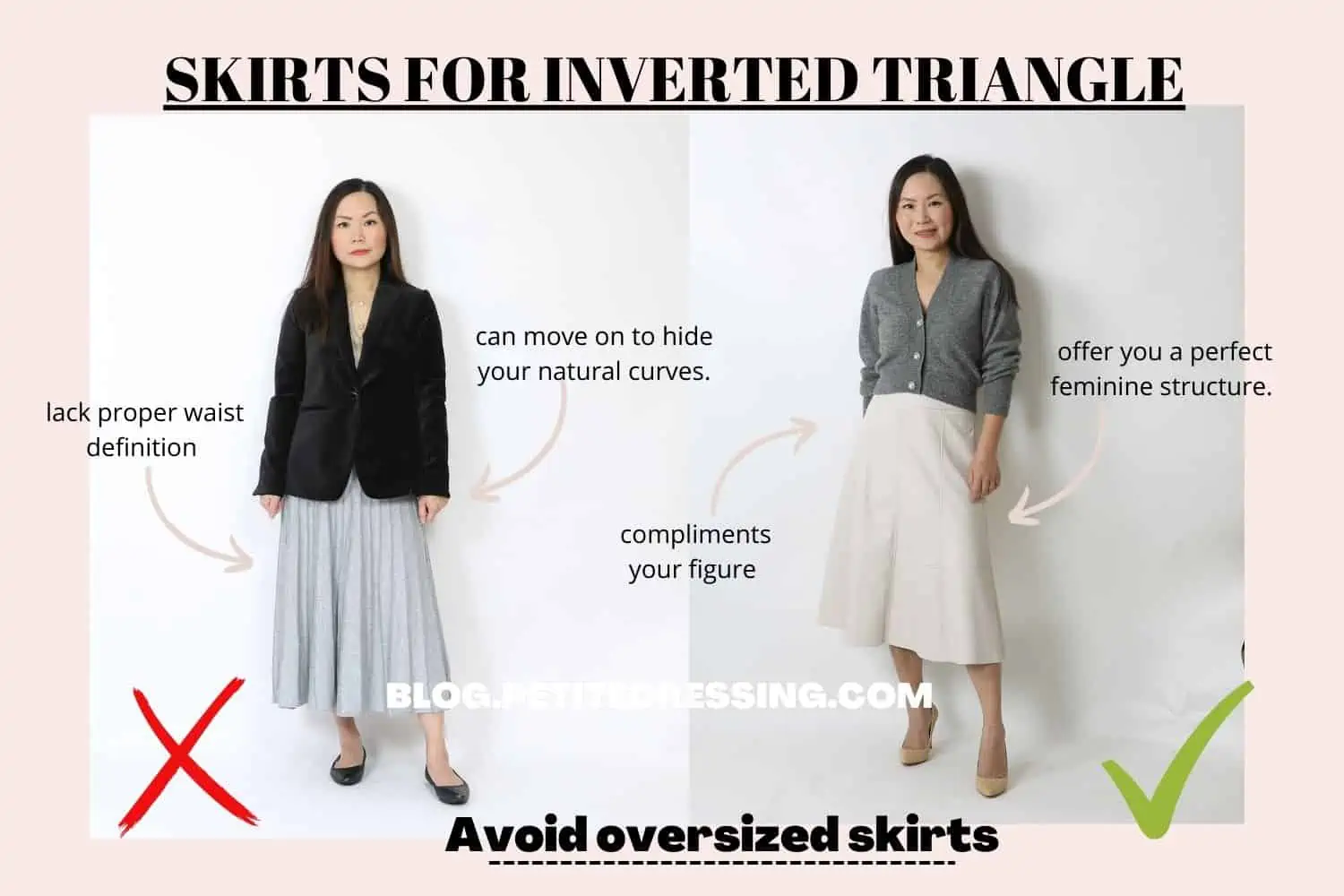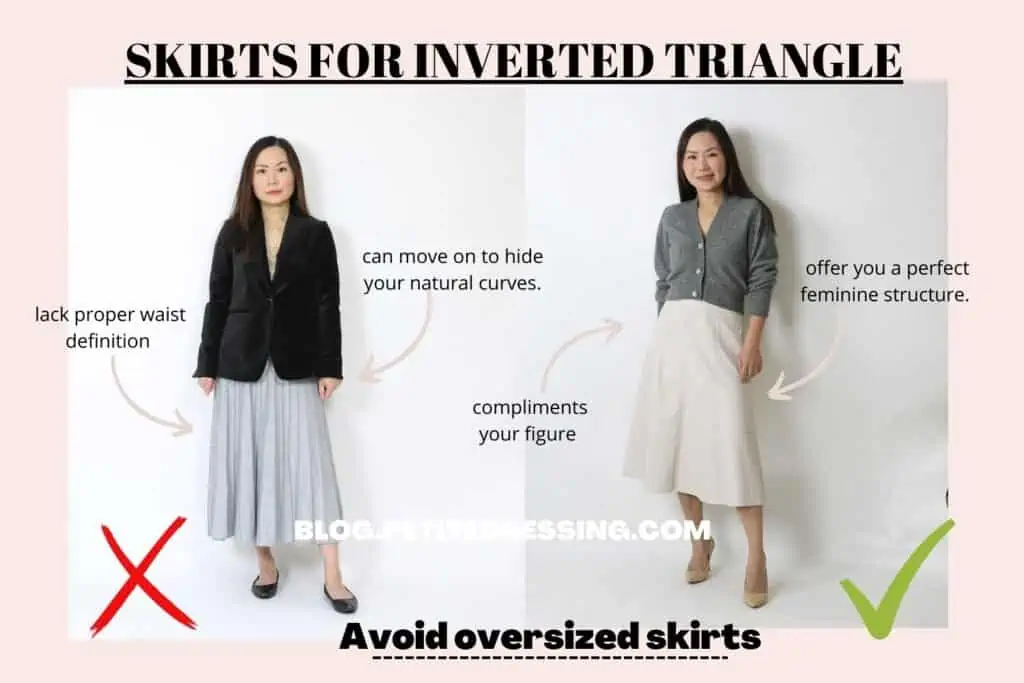 These skirts have never proven to be flattering on any shape and having them on your inverted triangle shape could make you appear shapeless. Oversized skirts lack proper waist definition and can move on to hide your natural curves.
They are not the best skirt option to compliment your figure and offer you a perfect feminine structure. It is important you understand that skirts that are too baggy and not your size could be overwhelming on your figure. This effect could cause you to become shorter in length than you are naturally.