Having a belly can make you feel self conscious, and I know this from first hand experience! Even though I am overall thin, I do carry weight in my midsection and therefore I realize not all the clothing styles suit my body.
Besides, I also have a petite clothing line for women 5'4″ and under, so I receive feedback from numerous customers on what looks good and what are not flattering for women with a midriff concern.
Based on their feedback and my own trial and error, I've put together this comprehensive guide to help you.
Styling Goal
Choose clothes that fit well as it's important for clothes to embrace your figure, without being too tight or too loose. Opt for clothes that are fitted, but not constricting.
Go for designs or structures that efficiently conceal your big belly. Dark colors, vertical stripes, and streamlined silhouettes are just some examples of styles that can camouflage a big belly.
Consider wearing shapewear. Shapewear is a great way to smooth out any bumps on the midsection to allow your chosen dress or bottom to drape flawlessly.
Layer your clothes strategically. One tends to cover up in layers in hopes of hiding a big belly but if you do this without considering the right patterns, you might end up making yourself look even bulkier.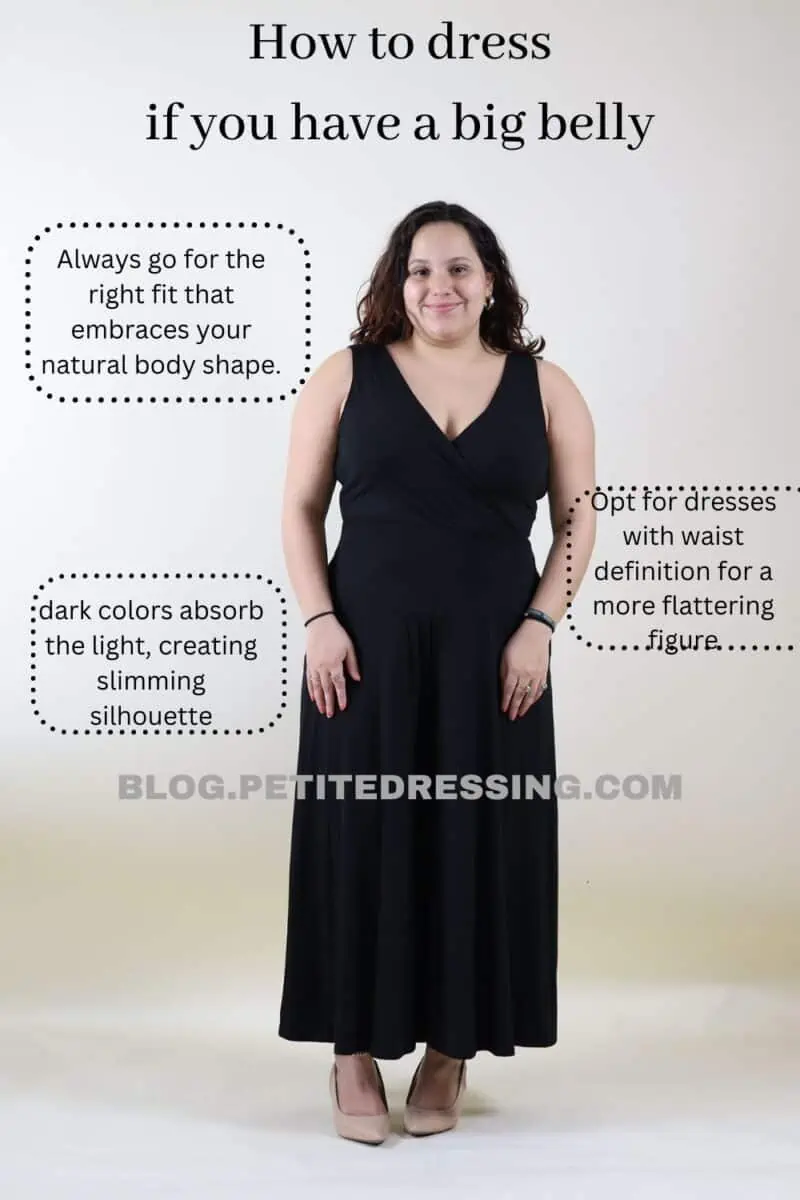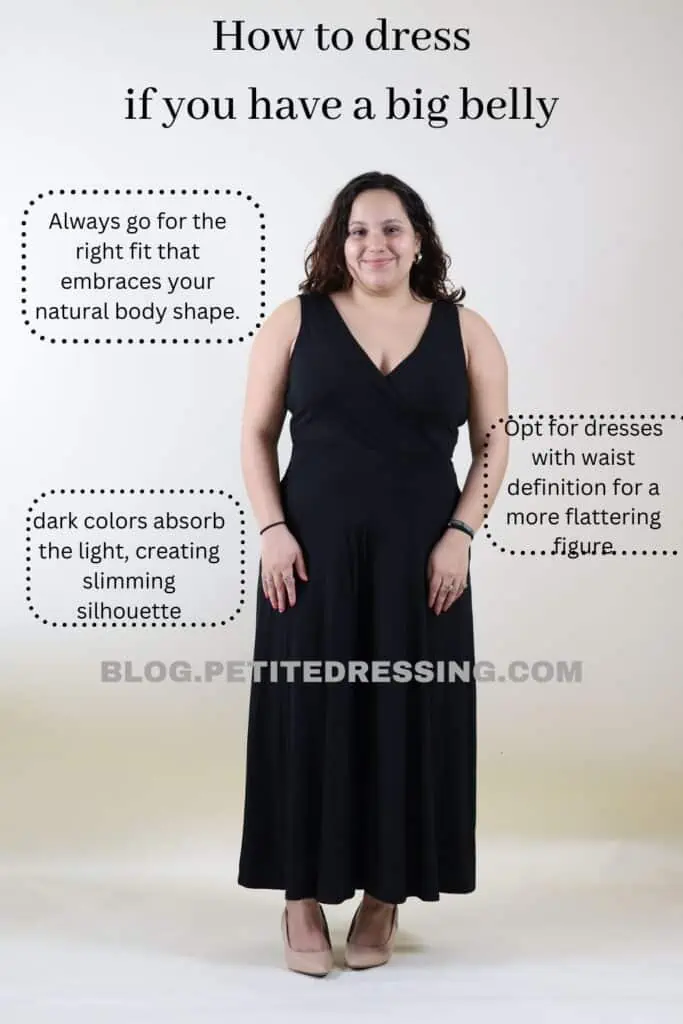 After that quick walkthrough on the styling factors you should carefully consider, let's now break these wardrobe pieces by category and list the best styles to hide your big belly. Here are the types of clothes that can help you get rid of that insecurity without any fuss.
TOPS
Flowy Tops
Paying attention to the fit and cut of your clothing is essential if you're looking to hide a big belly, and flowy tops are a popular choice for achieving this. With their loose and draping design, flowy tops create a relaxed and effortless look while camouflaging any areas of the body that you may feel self-conscious about.
These tops are particularly effective in creating a more proportionate frame as they only skim through your midsection. The loose fabric falls away from the body, creating a soft and billowy effect that helps to conceal any bulges or bumps in the midsection.
Therefore, flowy tops can be a great choice for achieving a more comfortable and confident look when dealing with a big belly.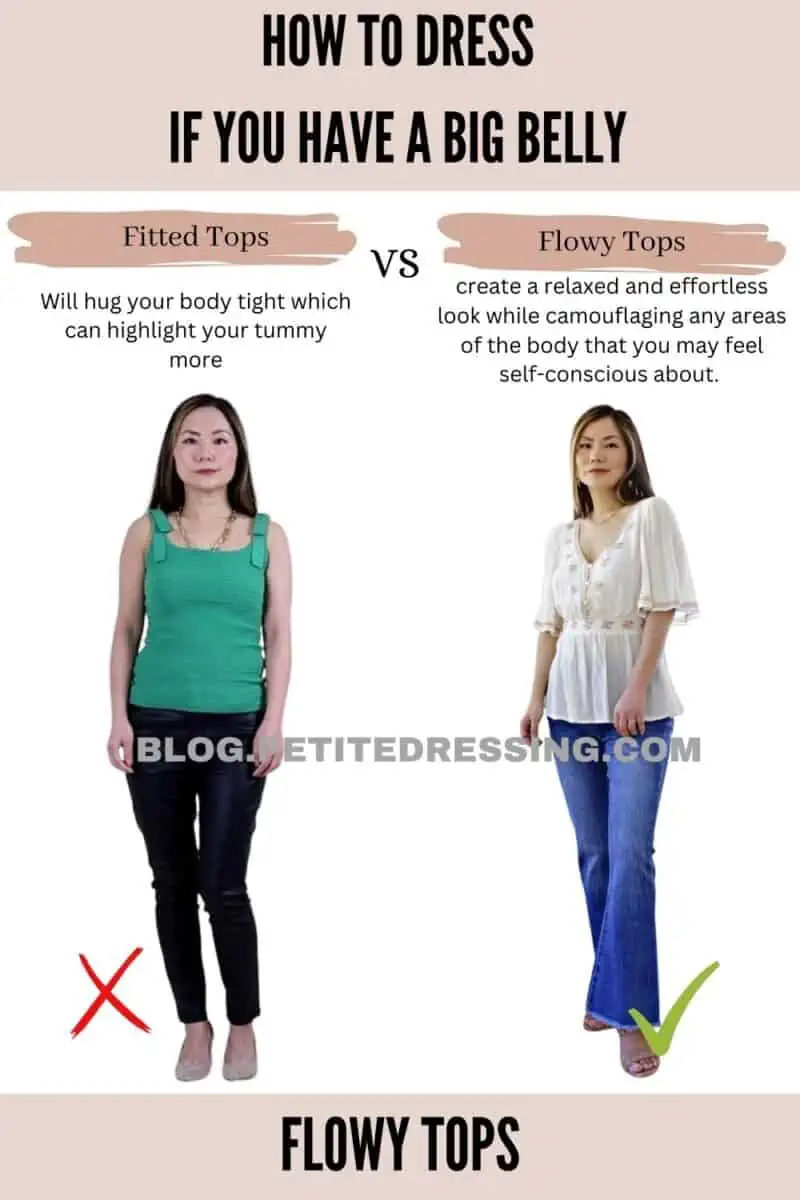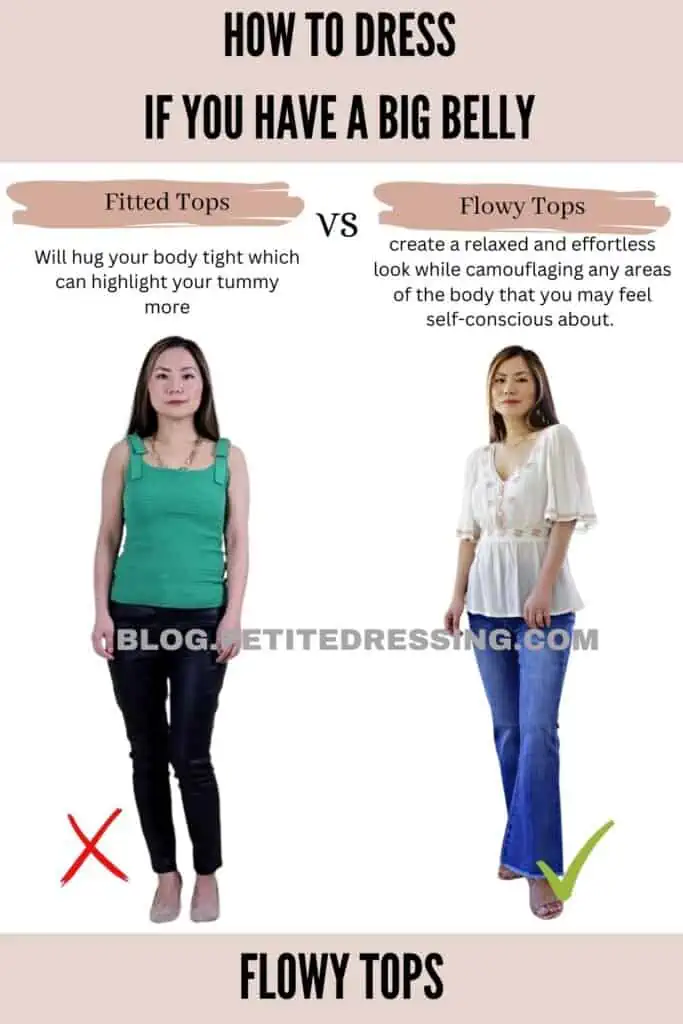 Peplum Tops
A peplum top is a must-have item in every woman's wardrobe, especially if you have a big belly. This versatile top features a flared, ruffled, or gathered fabric detail that sits at the waistline, creating a beautiful silhouette that helps to hide a protruding tummy.
The magic of the peplum top lies in its ability to flatter your curves and emphasize your waistline, while also providing enough coverage for your midsection. The ruffle or flare detail draws attention to the smallest part of your body, creating a beautiful hourglass-like shape that is both feminine and flattering.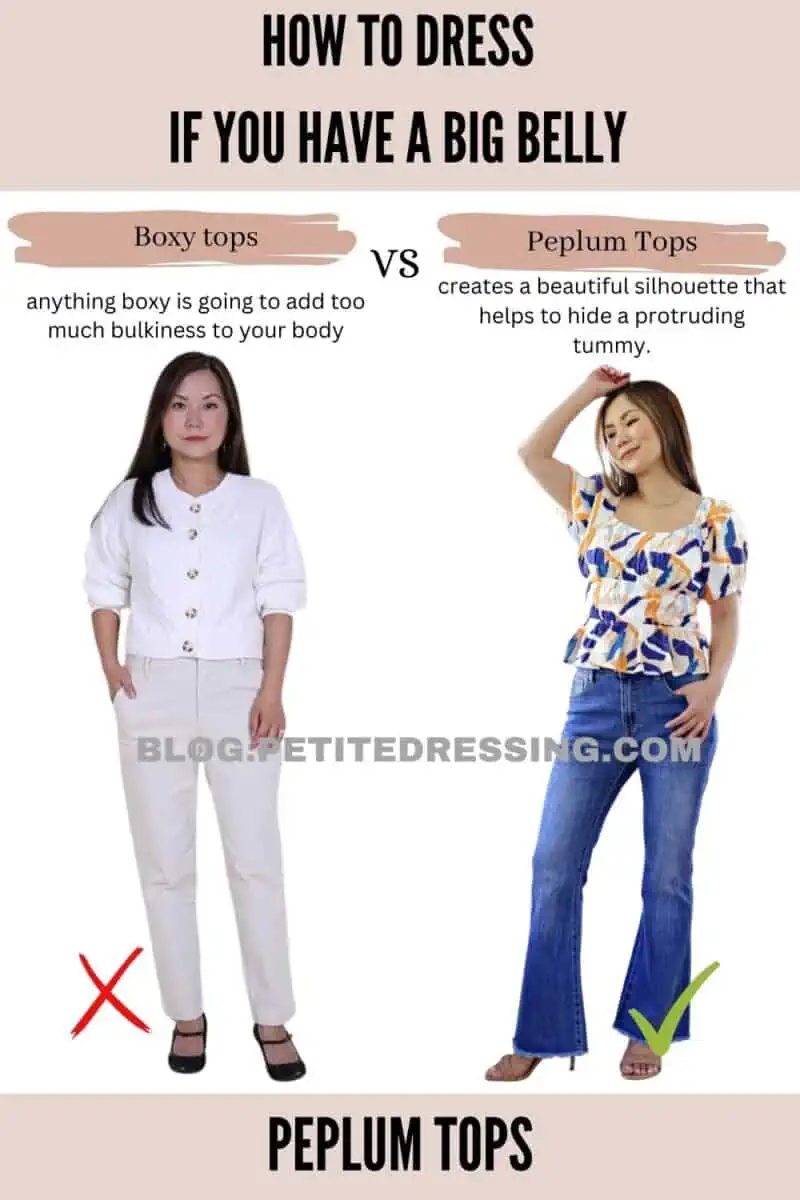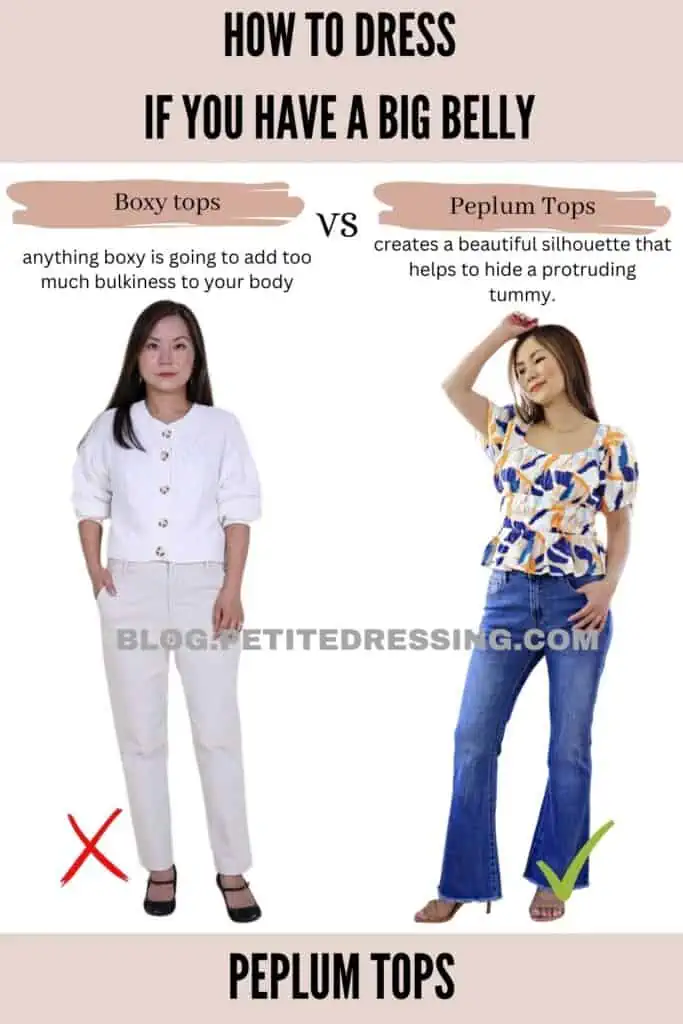 Tunic Tops
Tunic tops are a stylish and practical option for women looking to effectively hide a big belly. These tops are designed with a long and loose fit that drapes over the midsection, creating a flattering and comfortable silhouette that can help conceal any unwanted bulges.
One of the key advantages of tunic tops is their length as the extra fabric that hangs below the waistline effectively covers the belly and hips, creating a streamlined appearance that elongates the body. This makes them a great option for those who are self-conscious about their midsection or looking for a more relaxed and comfortable fit.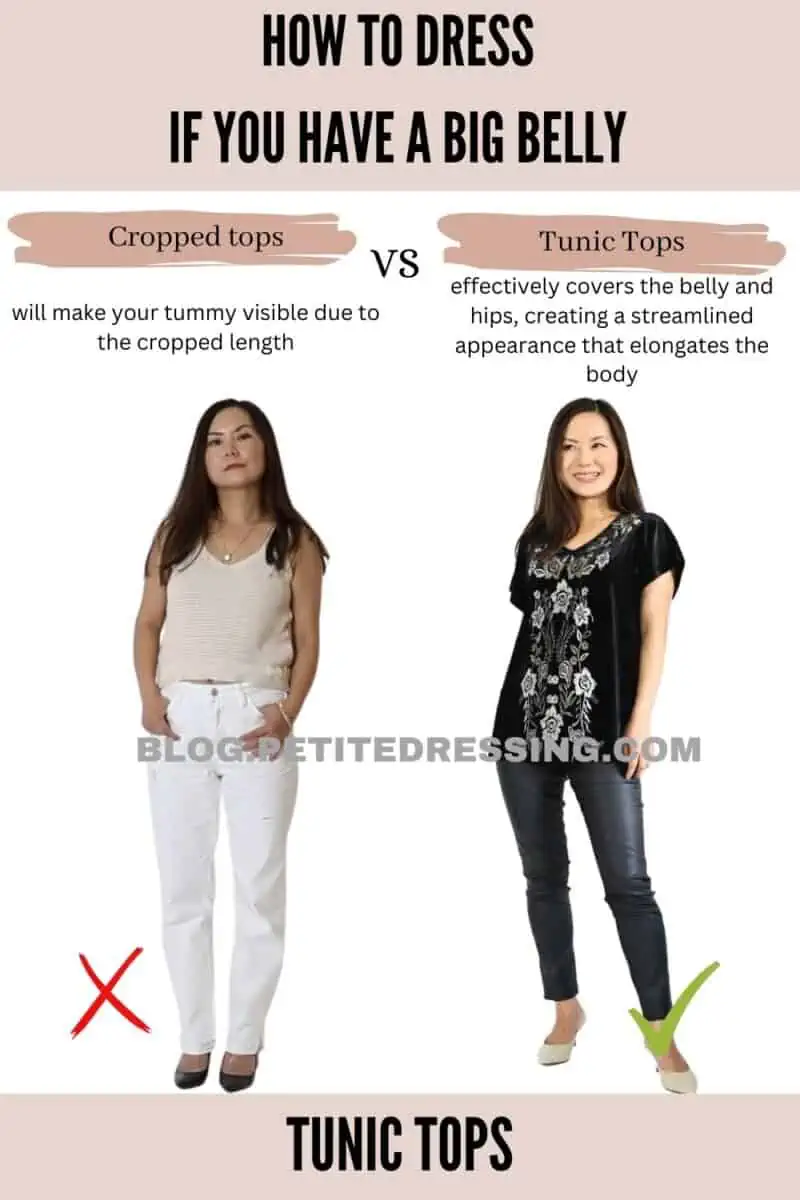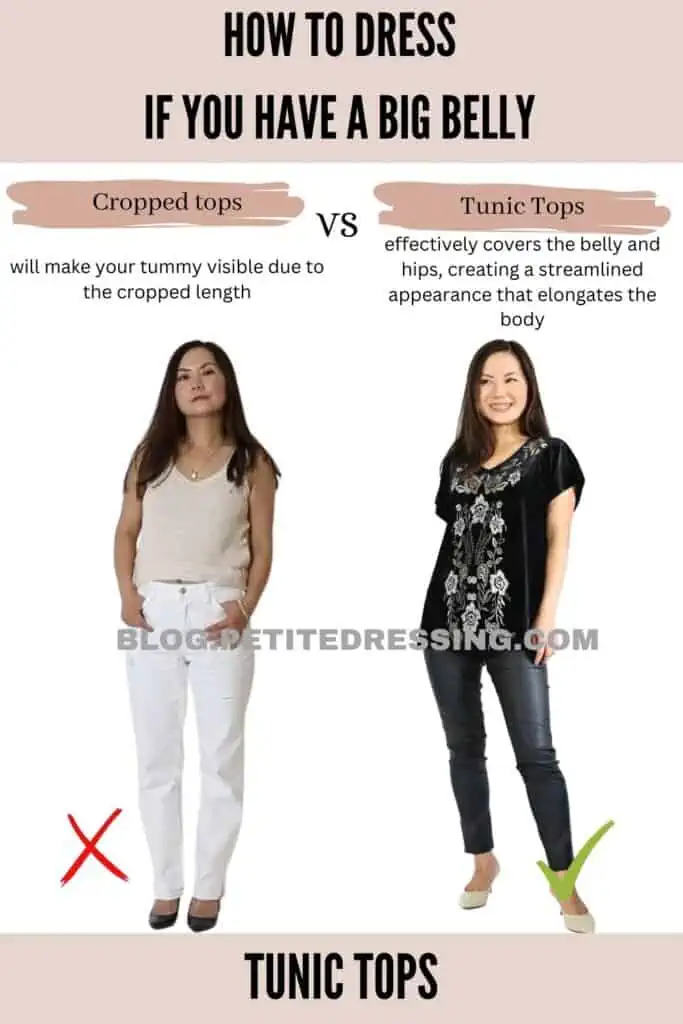 PANTS
High-Waisted Wide-Leg Pants
The high waistline of these pants sits above the belly button, creating a flattering and elongated silhouette that can help draw attention away from the midsection where your big belly is quite apparent. Additionally, the wide legs of these pants create a flowing and comfortable fit that is both stylish and practical.
One of the key advantages of high-waisted wide-leg pants is their ability to create a balanced and proportional frame overall. The high waistline of the pants cinches in at the smallest part of the waist, creating a flattering and feminine silhouette that accentuates curves and elongates the torso.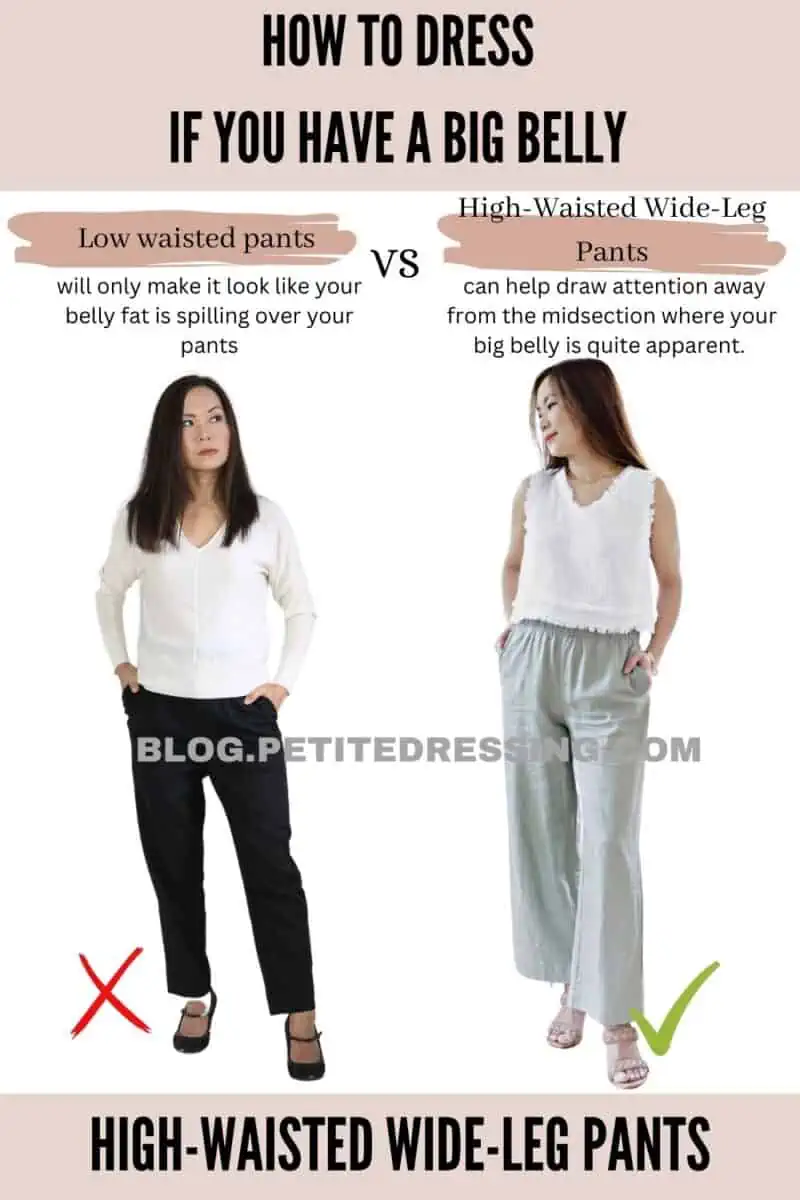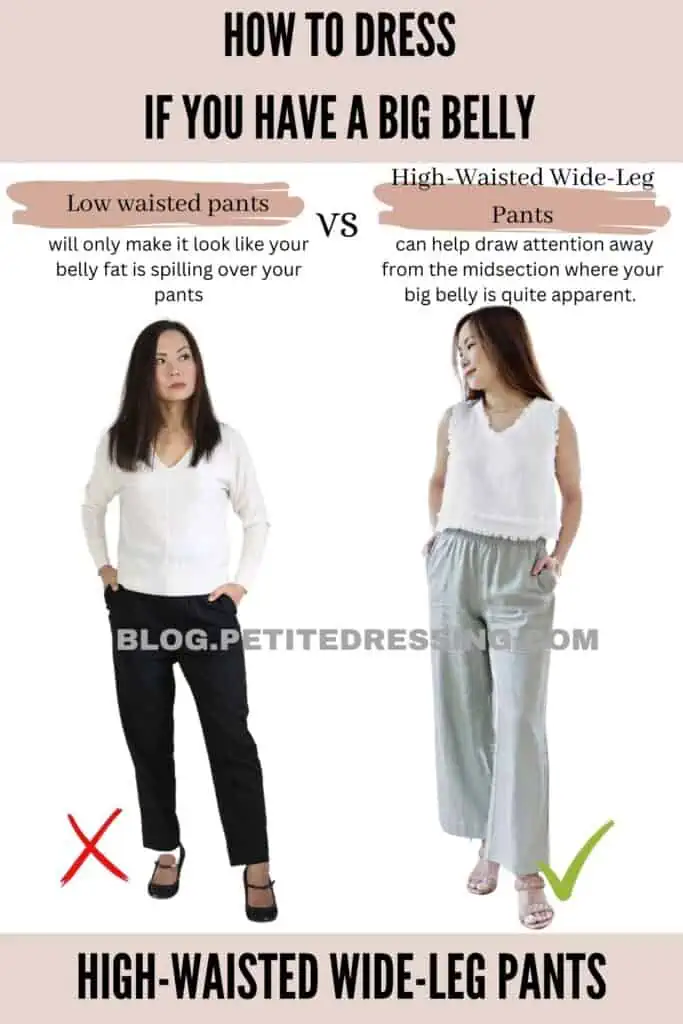 Structured Suit Pants
Structured suit pants are tailored and well-fitted pants that are designed to be more structured and formal than casual pants. They are typically made from high-quality fabrics and feature a more structured cut, with a straight leg and a flat front.
One of the key advantages of structured suit pants for hiding a big belly is their fit and cut. The tailored and fitted design of the pants creates a streamlined and flattering silhouette that can help minimize the appearance of any unwanted belly bulge in the midsection while the flat front of the pants also helps to create a smoother and more streamlined appearance, without any excess fabric or bulk around the waistline.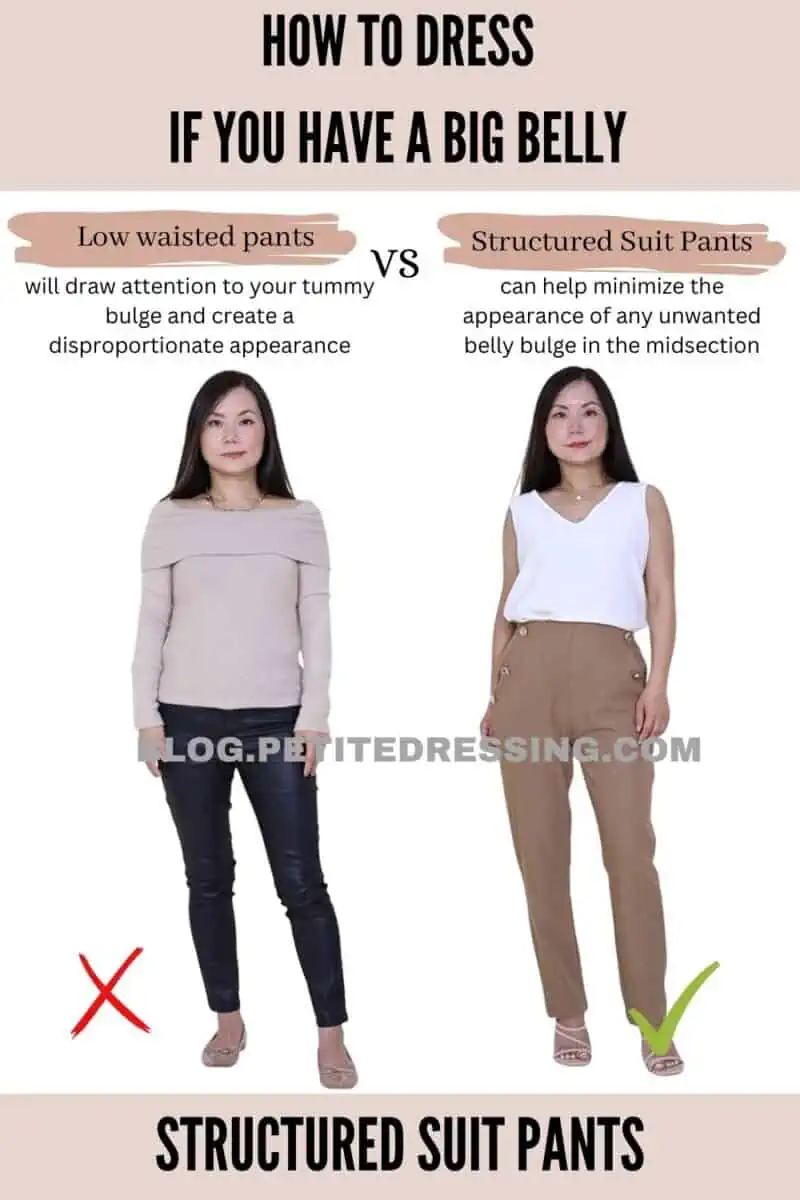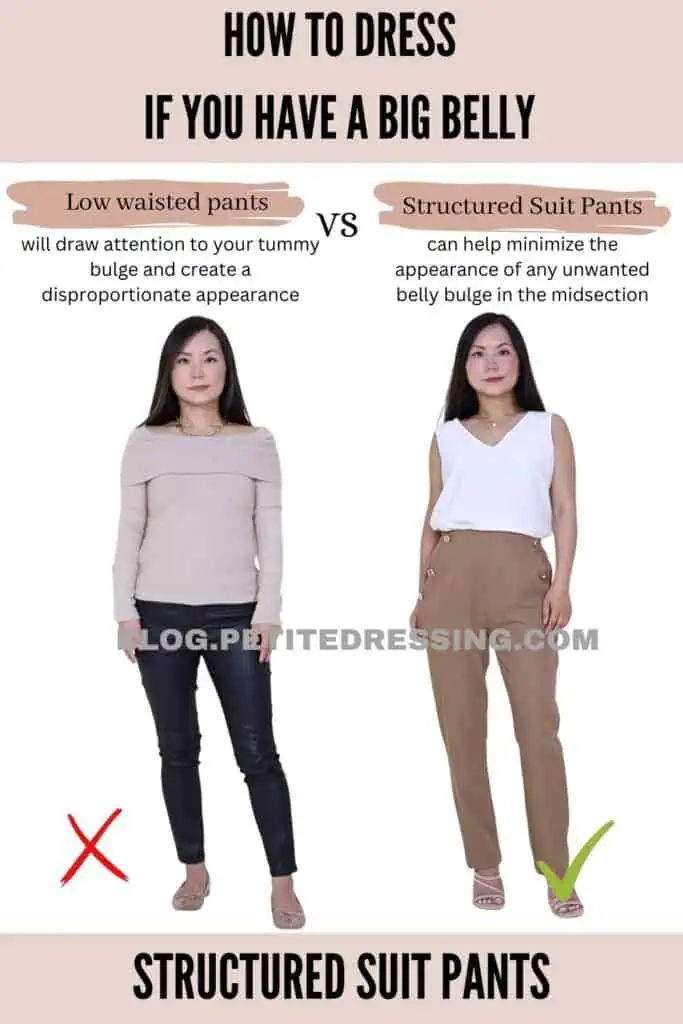 Dark-colored Pants
Dark-colored pants, such as black, navy, or dark gray, are effective in concealing a big belly for several reasons because darker colors have a slimming effect that can help to create a more streamlined and elongated silhouette. This is because they absorb more light than lighter colors, making the body appear more toned and less bulky.
Additionally, dark-colored pants are less likely to draw attention to problem areas, such as the midsection.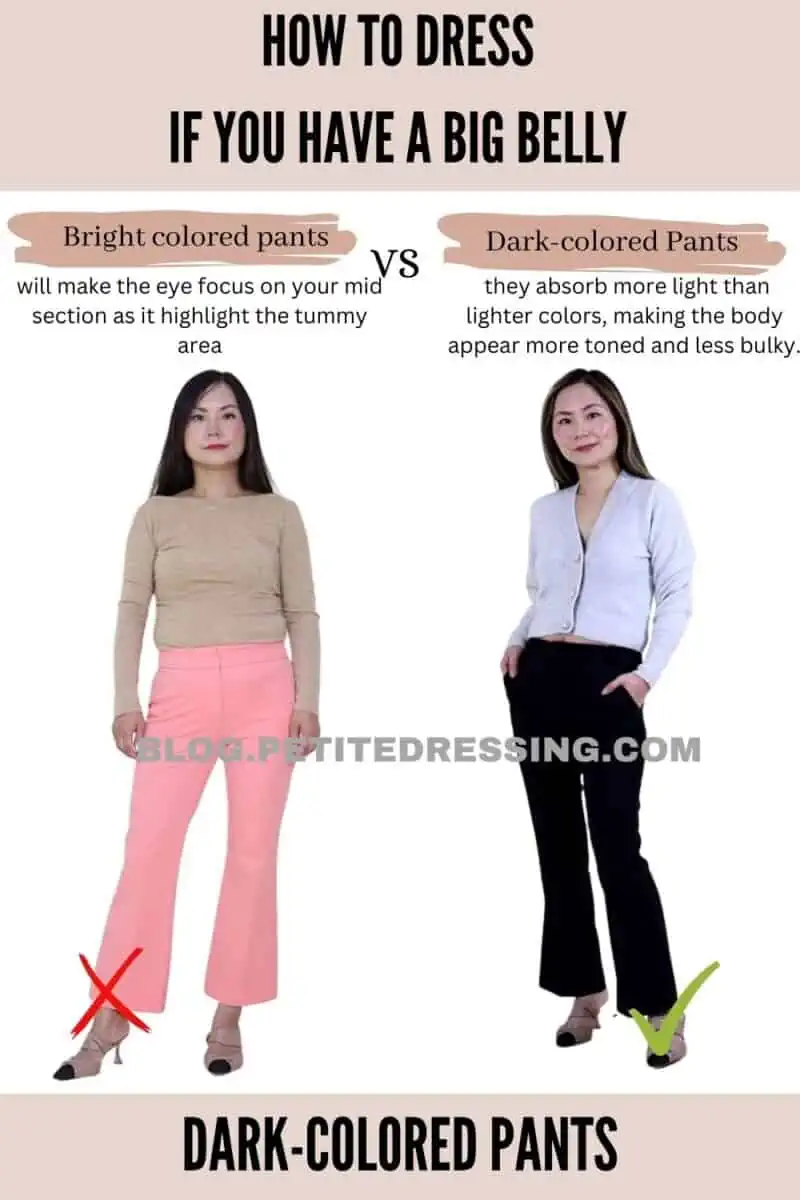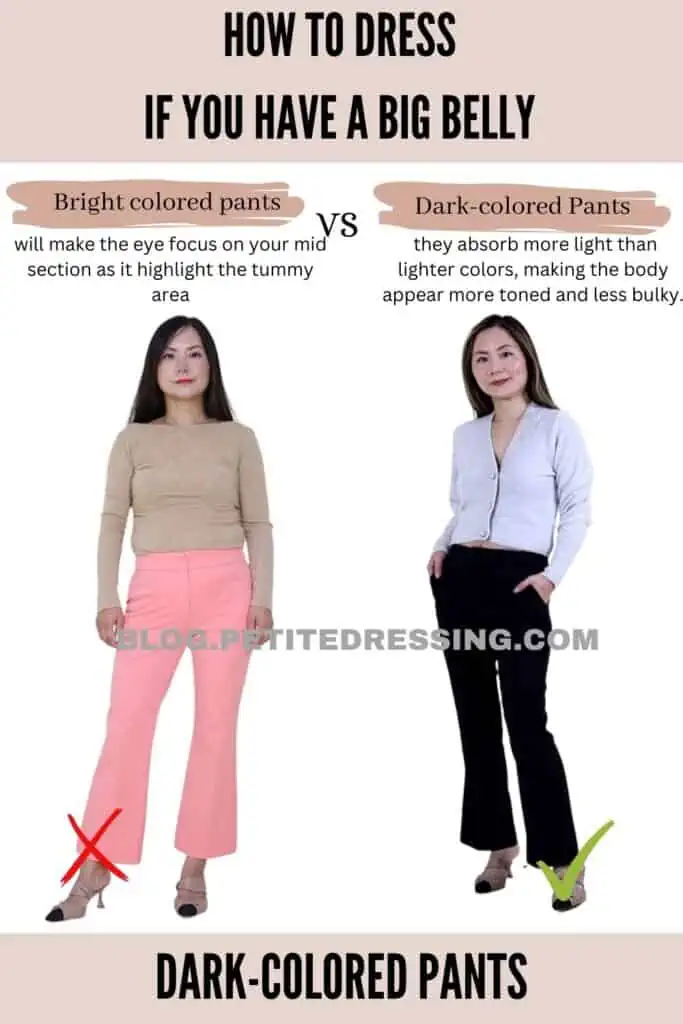 JEANS
Dark Wash Jeans
By choosing dark wash jeans, you can effectively conceal a big belly and create a slimming effect on your body. This allows you to wear shorter tops without feeling self-conscious about your belly area.
Dark colors are known for their ability to visually cut off some weight and make you look leaner. This is because they absorb light instead of reflecting it, minimizing the appearance of shadows and highlights that draw attention to different areas of the body, including the belly.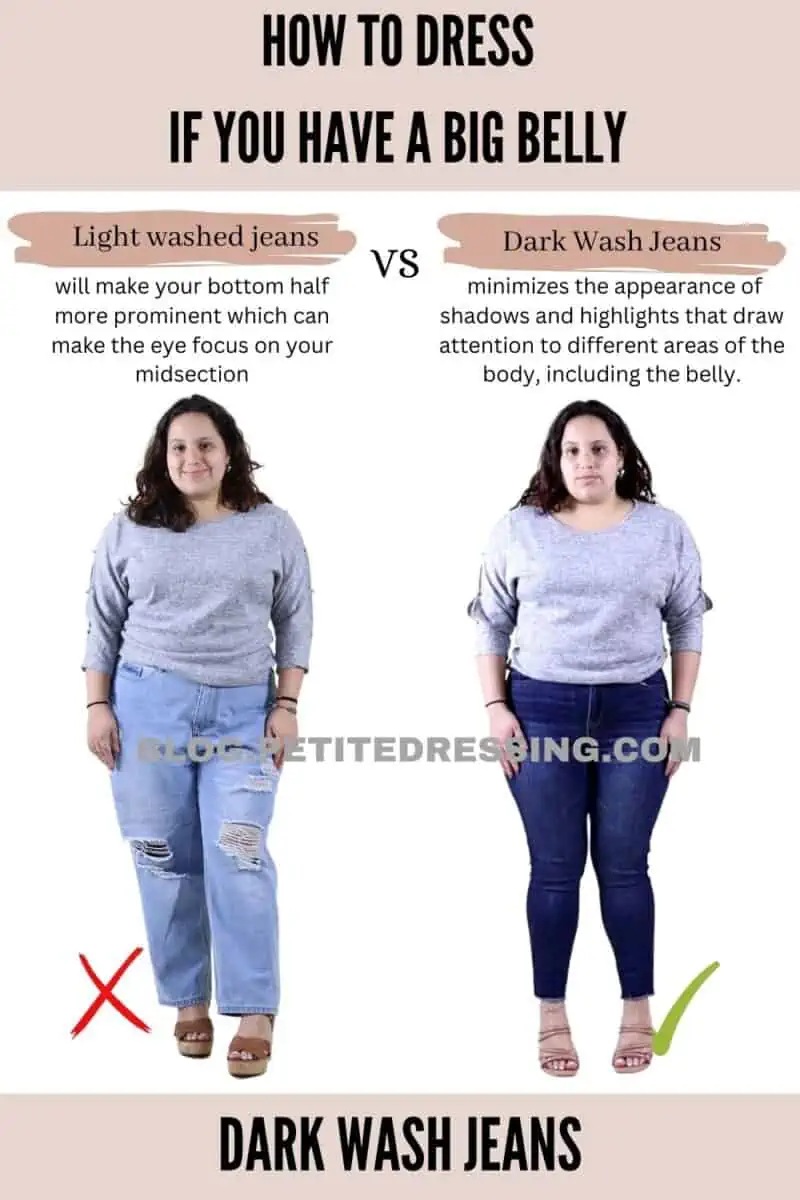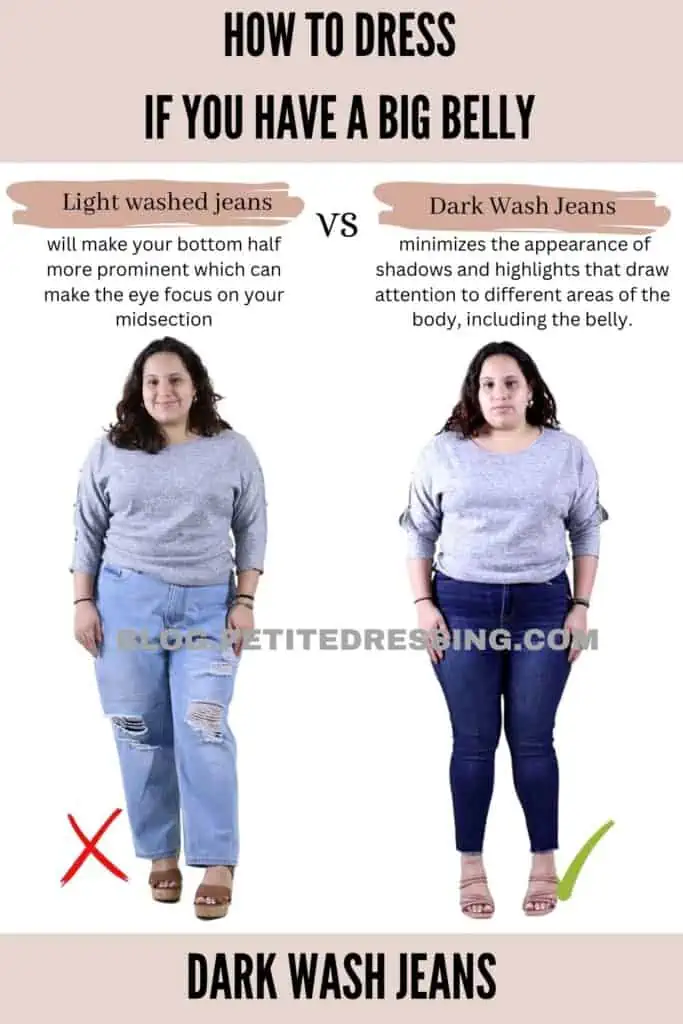 Bootcut Jeans
One of the key features of bootcut jeans is the slight flare at the leg opening. This flare helps to distribute volume evenly, resulting in a more harmonious body shape, and as a result, the belly area becomes less noticeable.
Furthermore, bootcut jeans usually have a high-rise waistband that sits above the belly button, providing extra support to the waistline. This helps to smooth out any stomach bulge around the midsection, creating a more streamlined look and avoiding any muffin top.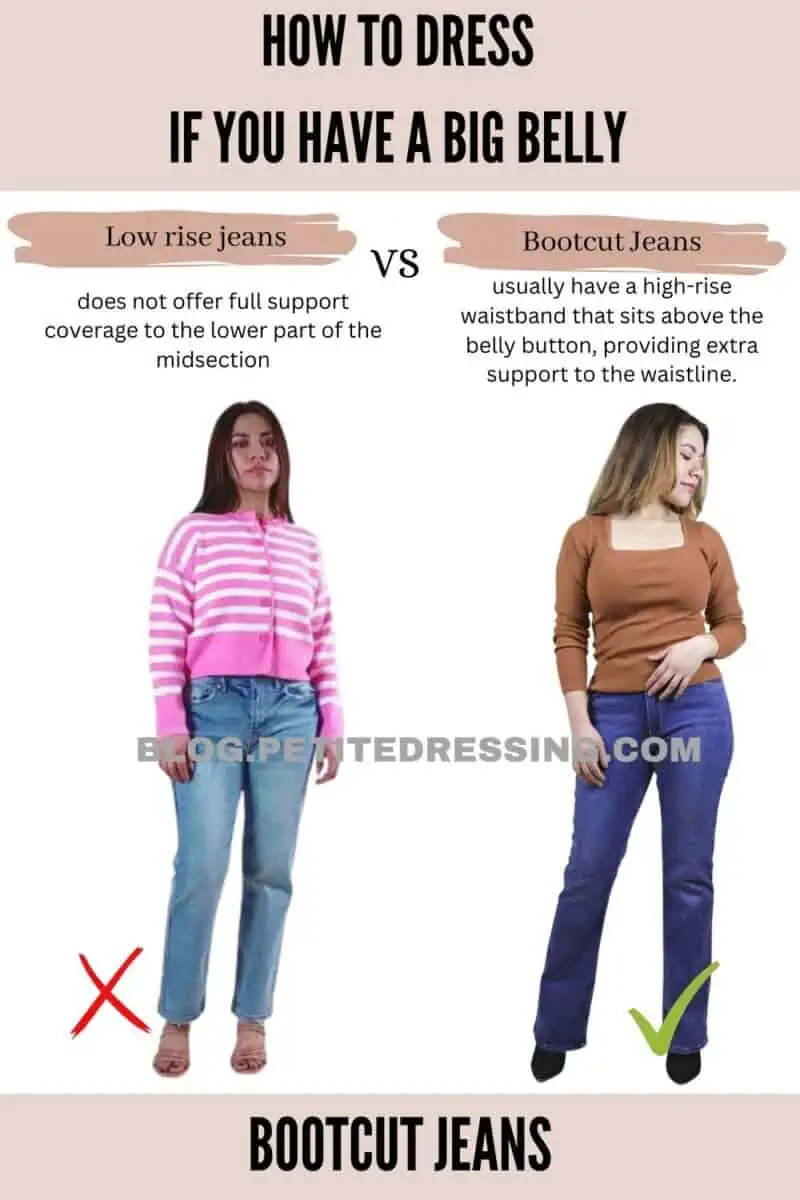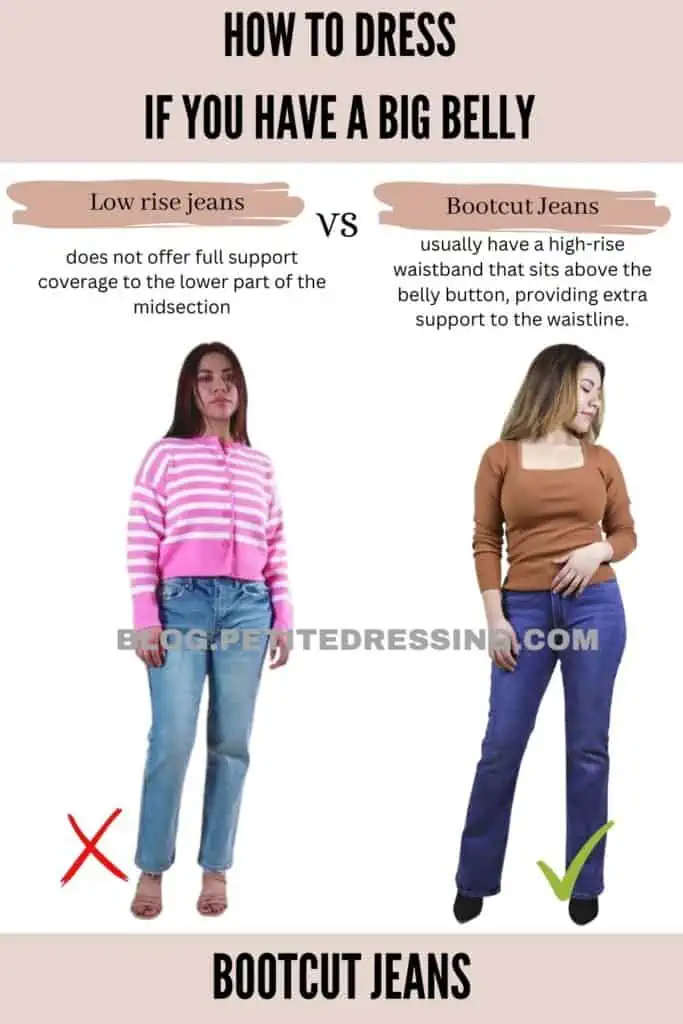 DRESSES
A-Line Dresses
A-line dresses can be a great choice for women with big bellies, as they are designed to flare out gradually from the waistline to create a flattering silhouette. The dress will fit more closely at the top and gradually widen towards the bottom, skimming over the belly area and minimizing its appearance.
The key to choosing an A-line dress that looks good on a woman with a big belly is to find one that fits well and accentuates your best features. Look for dresses with a high waistline that sits just above your natural waist, as this will elongate your torso and draw attention away from the belly area.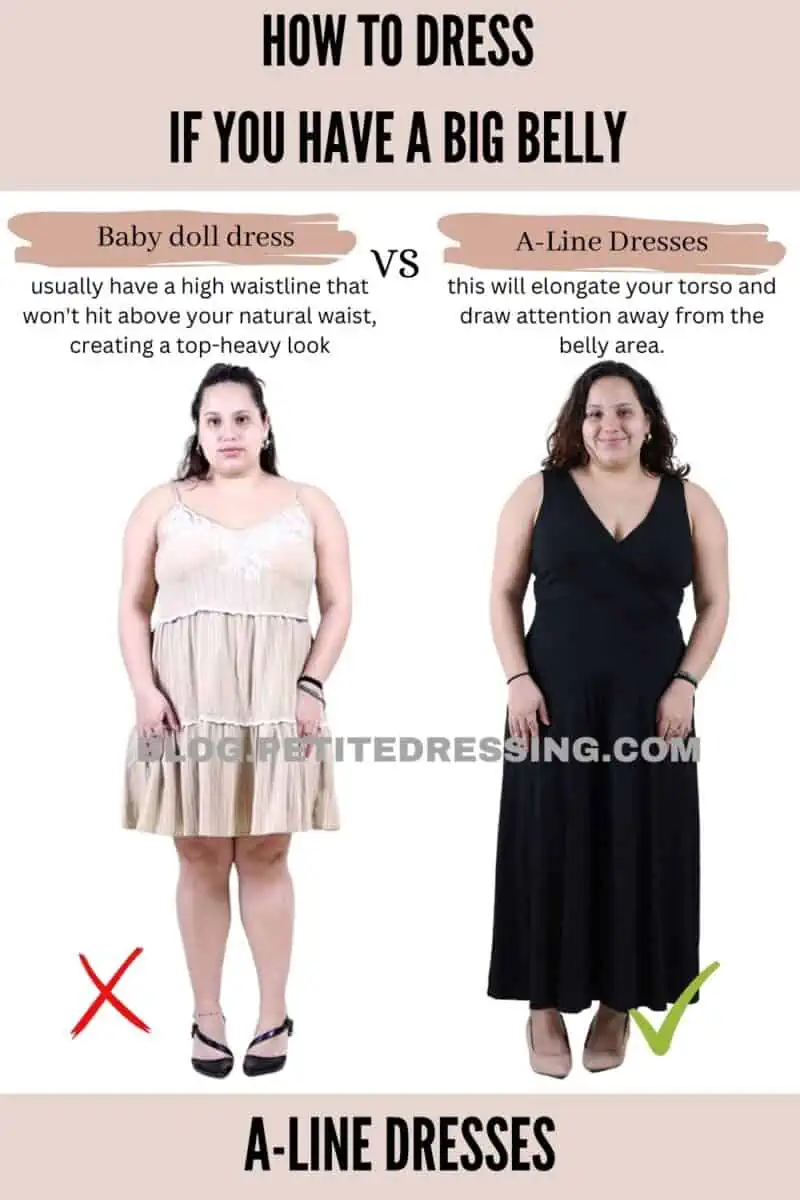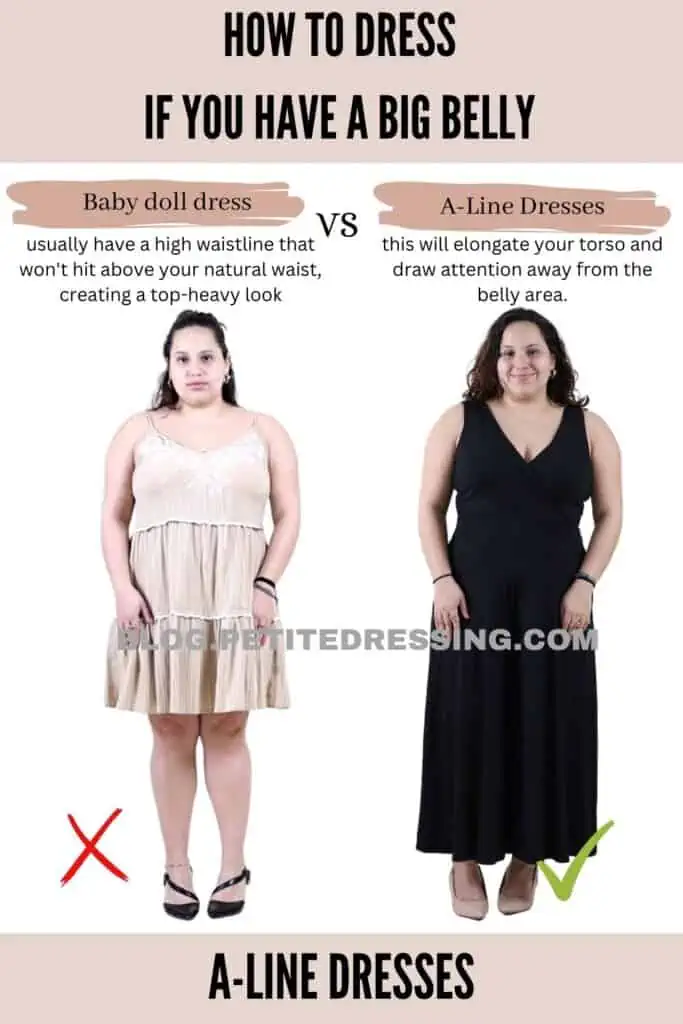 Ruched Dresses
A ruched dress is a type of dress that has gathered or pleated fabric, often in a diagonal or vertical pattern, that creates a textured, bunched-up appearance. The ruching typically begins at the waist or hip and continues down to the hemline of the dress.
Due to its structure, ruched dresses are recommended for individuals who want to conceal a larger belly because the ruched fabric creates a visually interesting texture that can distract from the midsection and draw the eye away from any perceived problem areas.
Additionally, the ruching helps to create a more forgiving silhouette that drapes over the belly and does not cling too tightly to the body. This can help create a smoother overall look and minimize the appearance of a stomach bulge.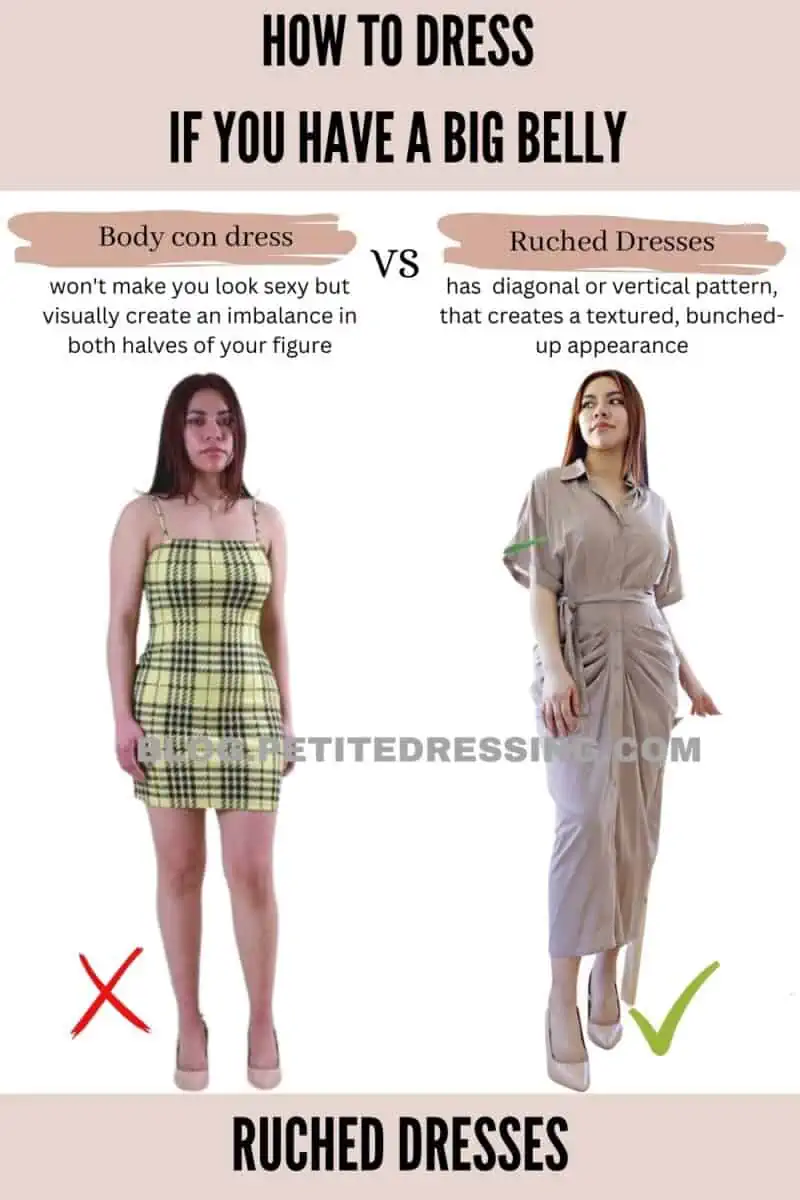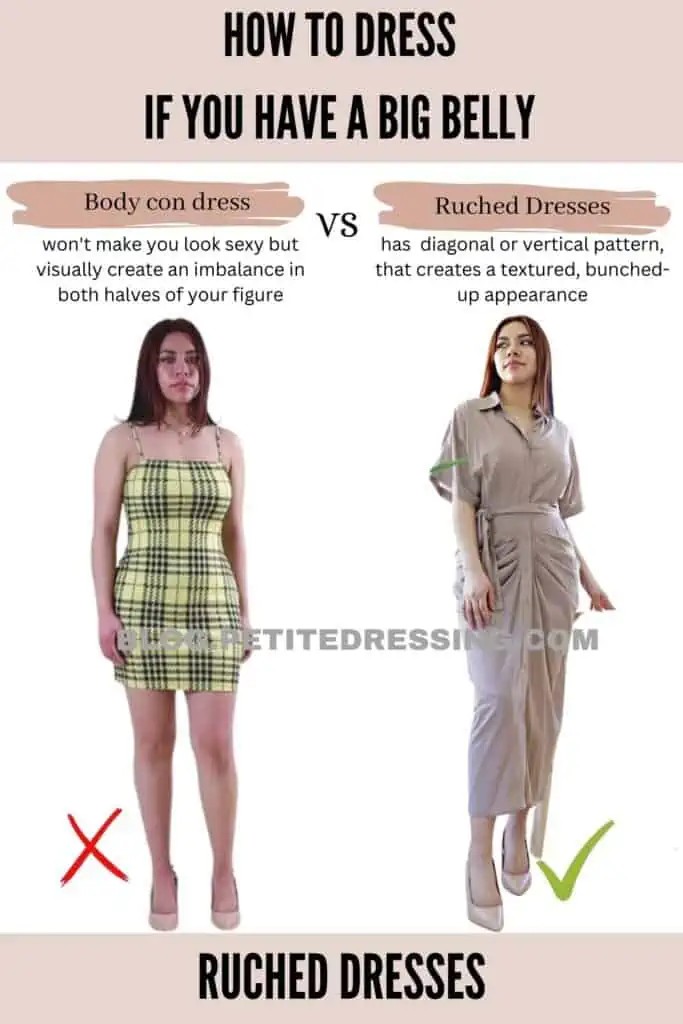 COATS & JACKETS
Wrap Coats
A wrap coat is a type of coat that has a front closure that overlaps and wraps around the body, usually secured with a belt or a tie. The wrap style of the coat creates a V-neckline that helps to elongate the neck and draw attention upwards towards the face.
The wrap style of the coat creates a cinched waistline that can help to define your curves. This can help to draw attention away from the belly and towards your overall silhouette.
Additionally, the overlapping front closure of the coat can help to conceal the belly and create a smooth, streamlined appearance. The fabric of the coat falls away from the body, which can help to hide any bulges or bumps in the midsection.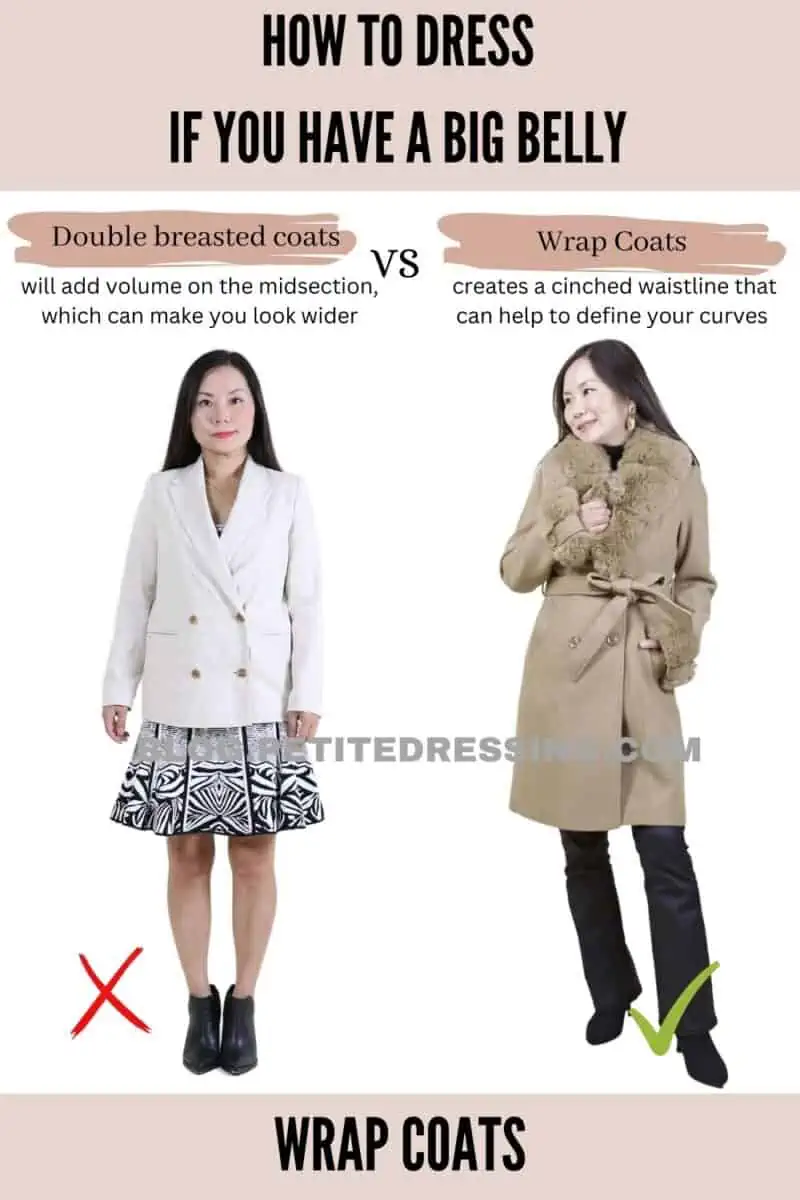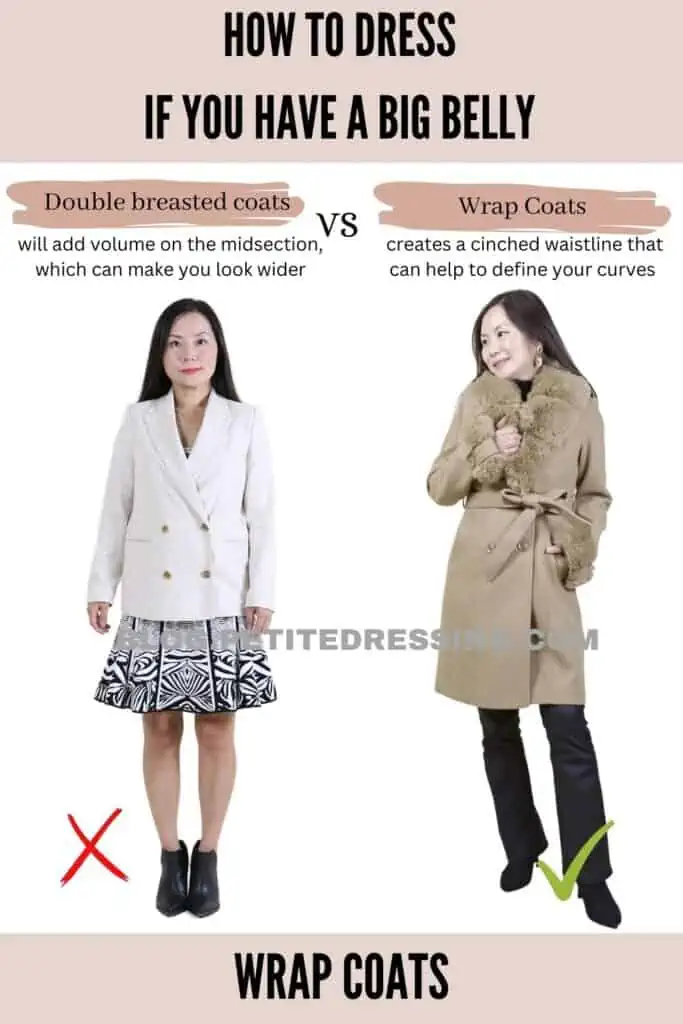 Cocoon Coats
A cocoon coat is a type of coat that has a loose, oversized silhouette with a rounded shape, resembling the shape of, well obviously, a cocoon. It typically features a single button or snap closure at the top and can come in a variety of materials and colors.
Cocoon coats are good for hiding a big belly because they have a loose and flowing silhouette that drapes over the body, rather than clinging to it. This can help to conceal the bulge on your belly efficiently.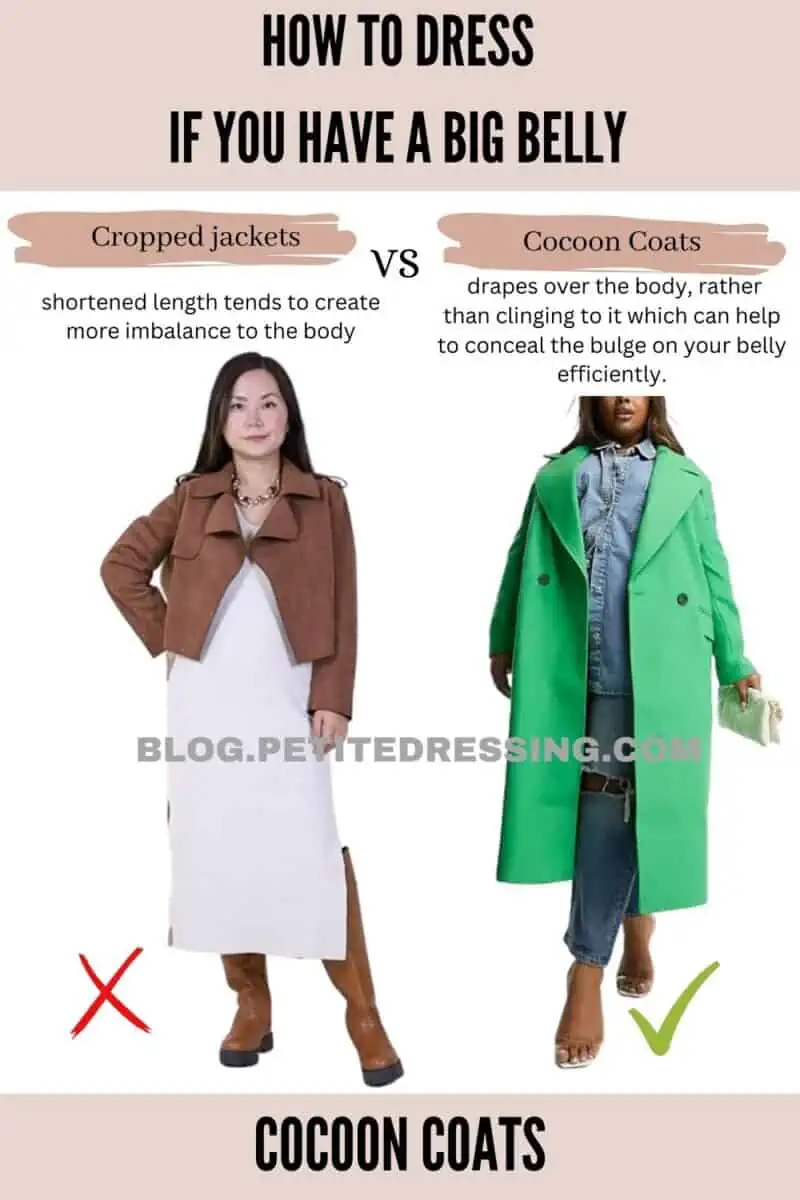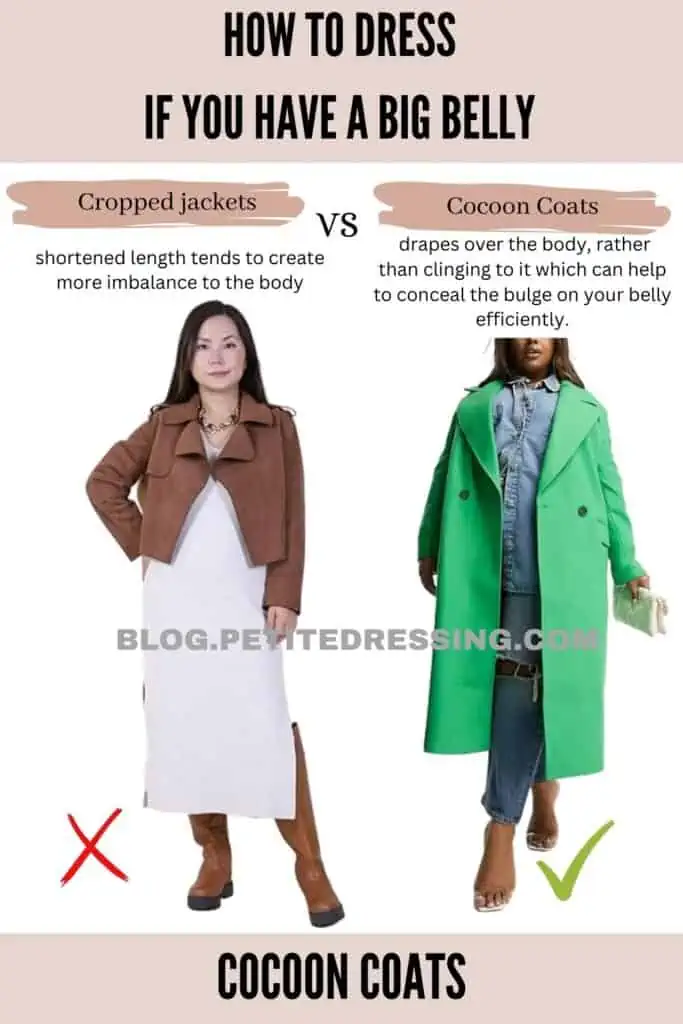 SKIRTS
Flowy Maxi Skirts
These skirts are designed to drape and flow, creating a relaxed and effortless look while also camouflaging your midsection – an area that you may feel self-conscious about.
With their flowing and loose design, flowy maxi skirts are perfect for hiding a big belly. They provide a relaxed and comfortable fit that skims over your midsection, creating a more proportionate frame.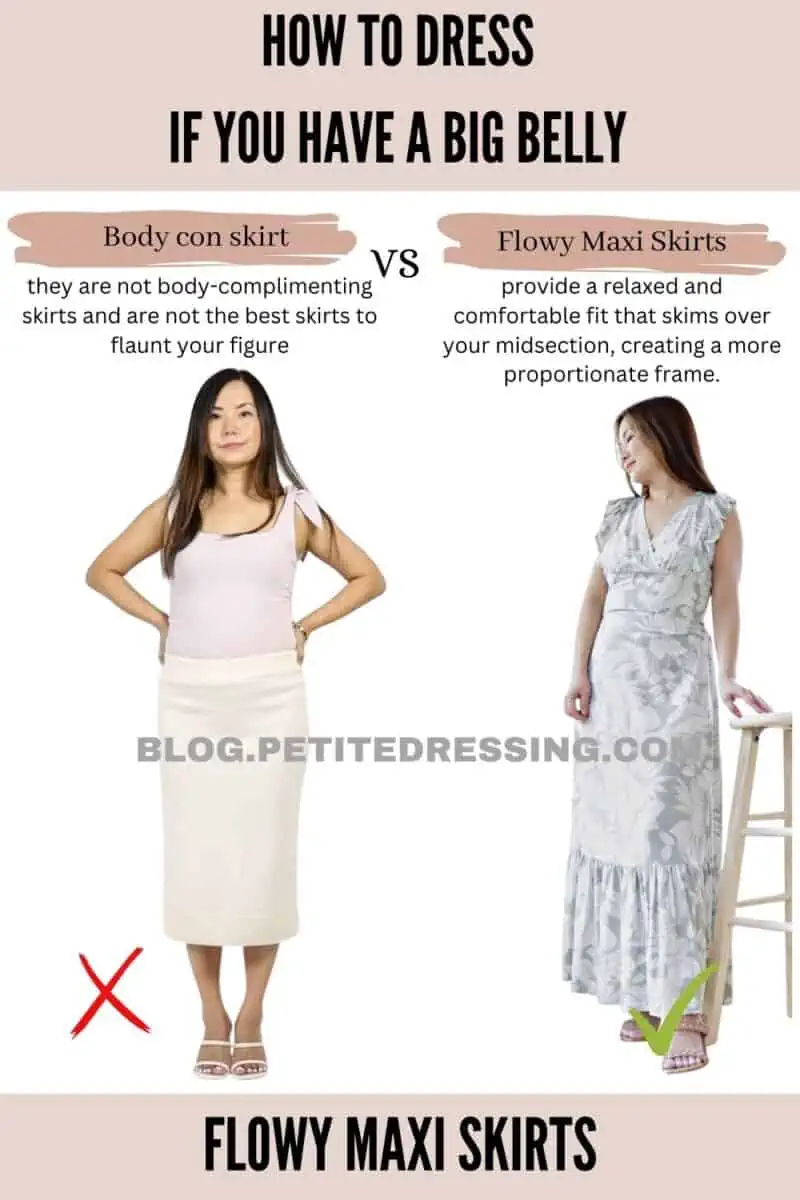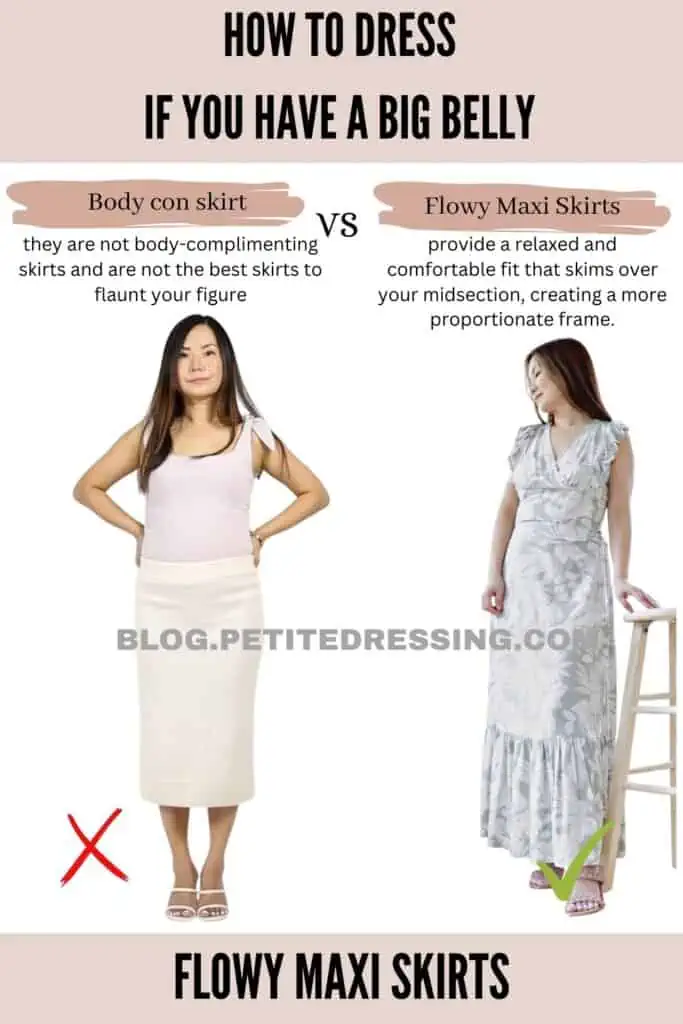 Tailored A-Line Skirts
Tailored A-line skirts are a popular style of skirt that flares out gently from the waist, creating a flattering silhouette that hugs the curves of the body. These skirts feature a bespoke-inspired fit which makes them easier to style and pull off.
For women with big bellies, the A-line shape of the skirt is particularly beneficial because it skims over the midsection without clinging to any bumps. Additionally, the tailored fit of the skirt creates a smooth and streamlined look that can help to minimize the appearance of any excess weight around the belly area.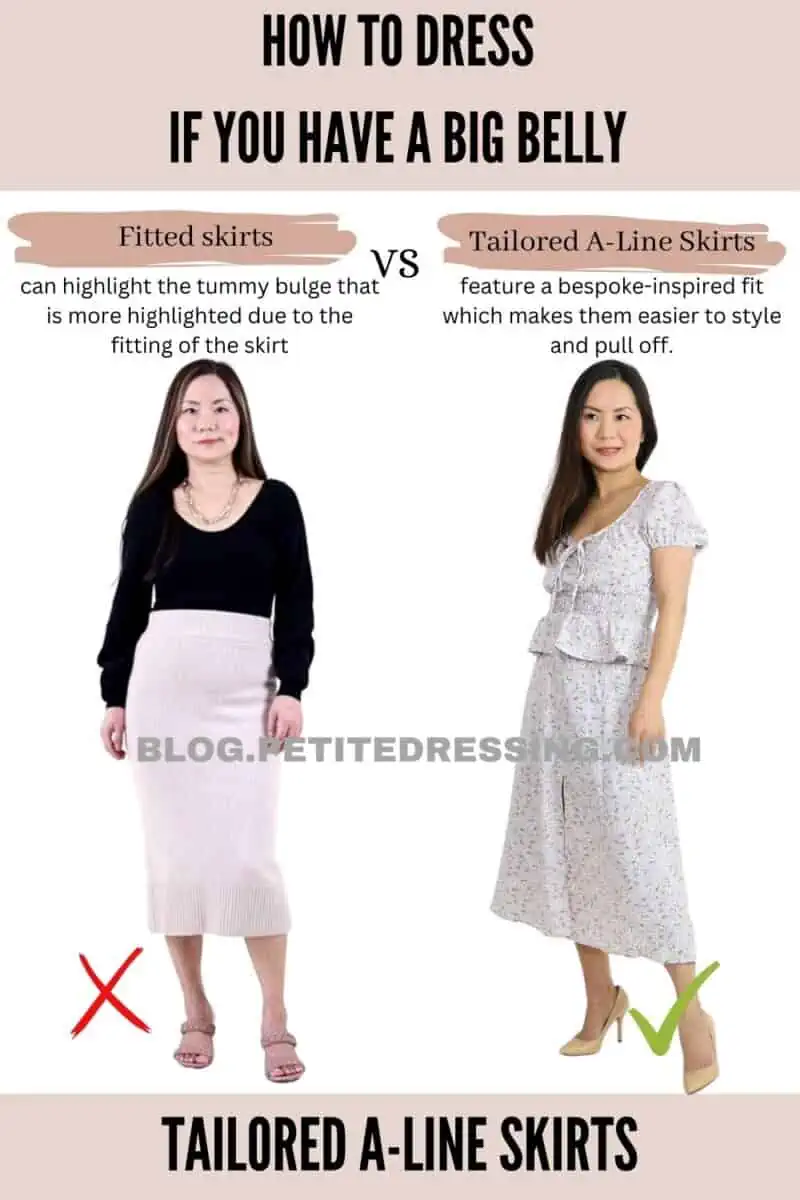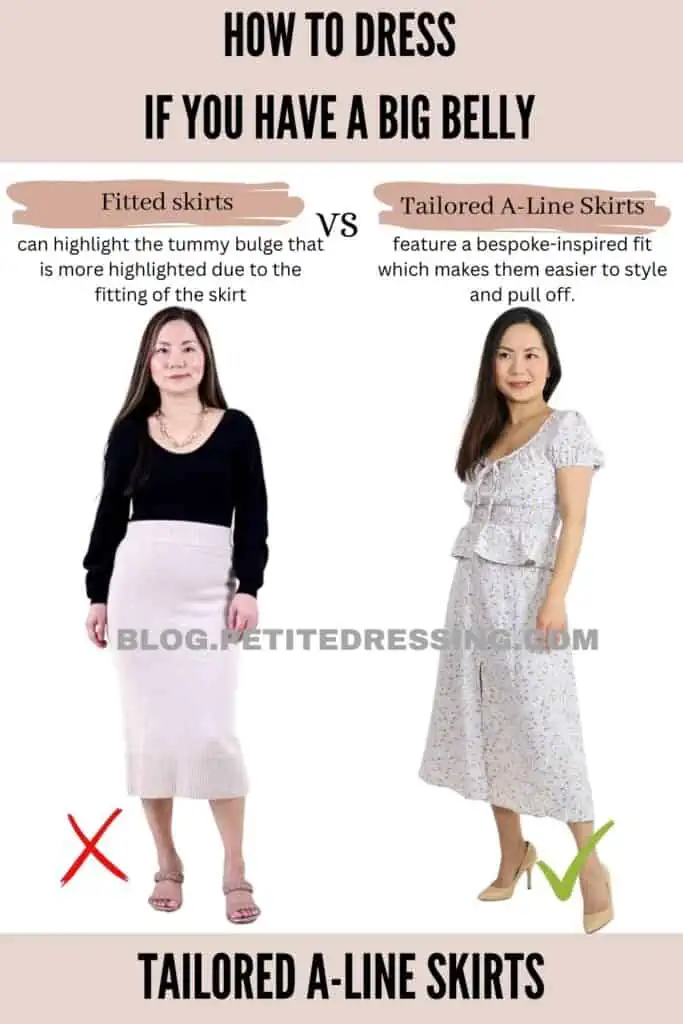 ACCESSORIES
Avoid Thin Belts
If you have a big belly, it's generally recommended to avoid wearing a thin belt because it can draw attention to your midsection and accentuate your belly, rather than conceal it. Thin belts tend to sit right at the waistline, which is typically the widest part of the midsection, and this can create an unflattering silhouette.
In addition to this, it can also be the cause of creating multiple tummy bulges because the belt can constrict your belly. So instead of thin belts, you can either look for slightly thicker ones that match the color of your clothes or just skip wearing one!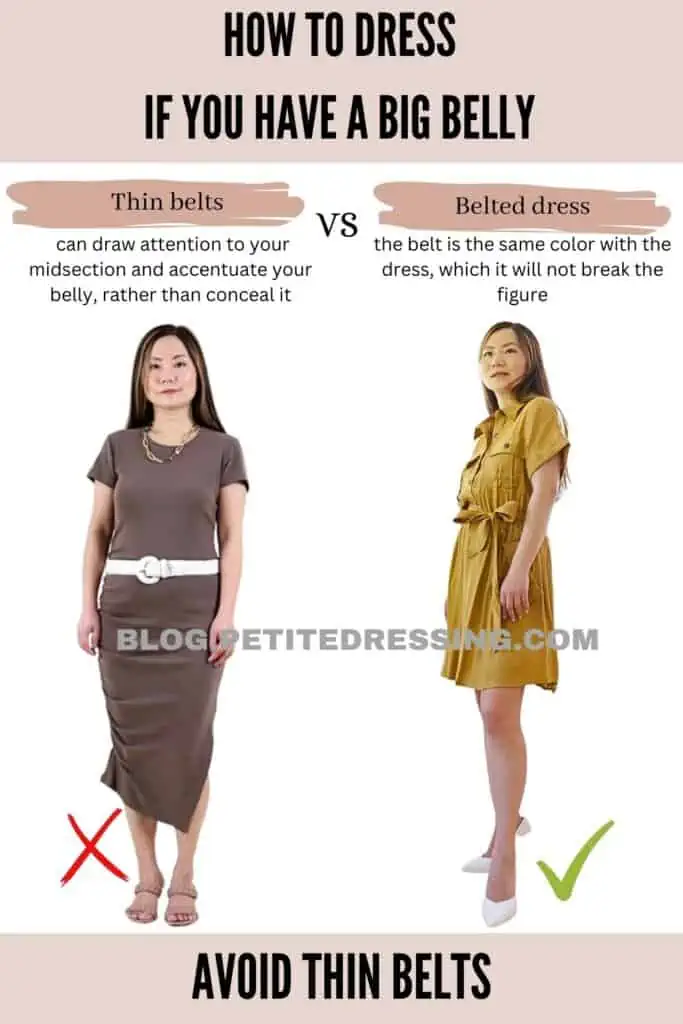 The Key Takeaway
In conclusion, having a big belly can be a source of self-consciousness for many people. However, it is important to remember that choosing the right clothes can make a significant difference in how you look and feel.
By selecting clothing that suits your body type and helps conceal your midsection, you can boost your confidence and feel more comfortable in your own skin. With a little bit of effort and mixing and matching, you can find the perfect wardrobe that flatters your figure and makes you feel great every day.