Jumpsuits are one of the more comfortable choices when it comes to a simple but chic outfit. There are many different lengths, styles, and fabrics to choose from when looking for the perfect jumpsuit for you.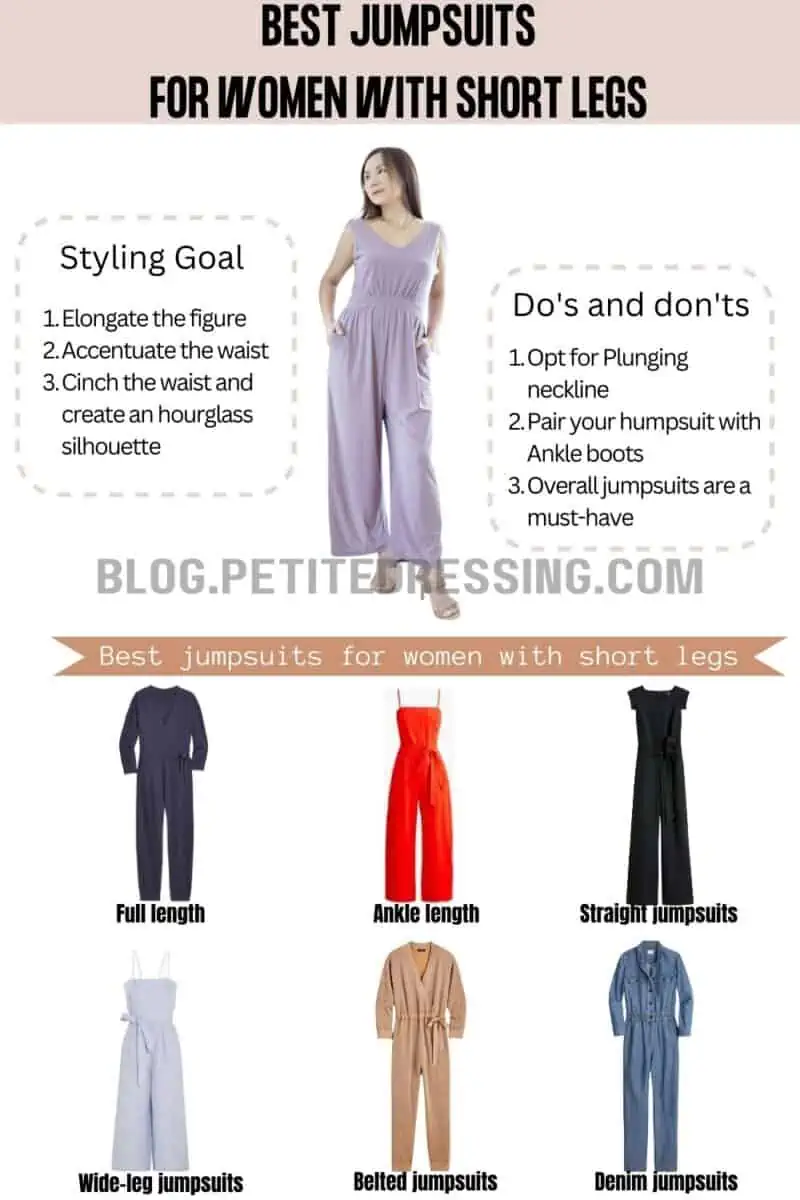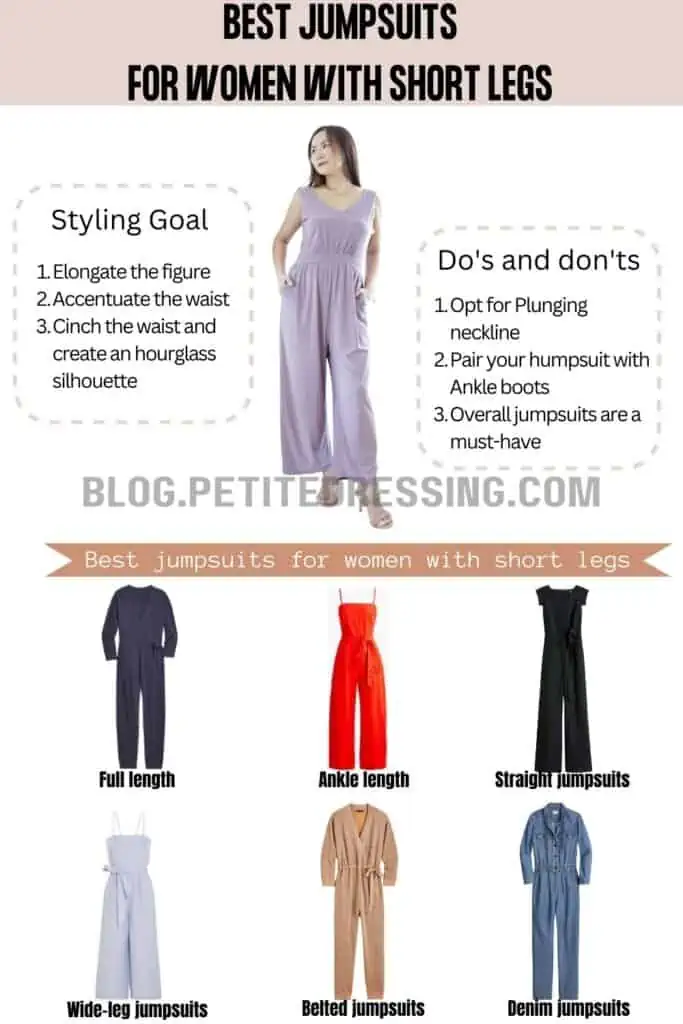 As a woman with short legs, the struggle to find clothing that elongates your body and is flattering in every other way can be tiresome. This guide will show you the ropes and help you find the best jumpsuit qualities to search for.
Best Length
As a woman with short legs, you know that the length of the jumpsuit can completely change the illusion of your height. Having a petite frame can make it incredibly challenging to find a jumpsuit that will fit you the way you want it to, so you may have to hem it or get it tailored in order to achieve that perfect length.
Full length
The longer the pants, the taller you will end up looking.
The key is to go as long as possible without it bunching at your feet or dragging past them.
Wear a full-length jumpsuit that covers part of your heels will maximize your leg length
Ankle
Another great length for your jumpsuit pant legs is just above your feet, or directly at your ankles.
This will be the ideal length when the jumpsuit has narrow legs
Cropped
A cropped-length jumpsuit can also be very flattering for short legs, especially when you wear them with heels
This can also be a great length if you wear flats or sneakers most of the time.
Best Styles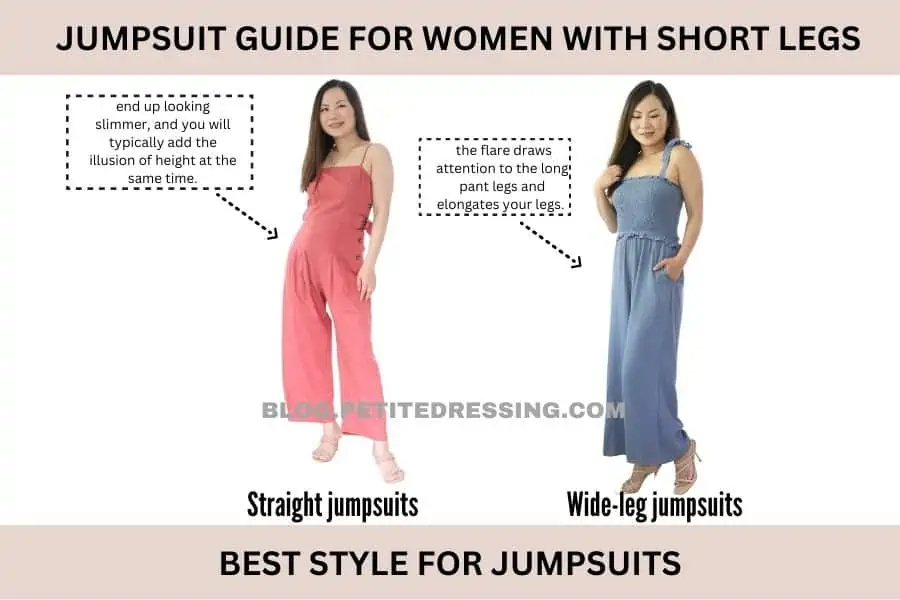 Straight jumpsuits
Straight jumpsuits will just fall straight down your body. There are no design plans utilized to create shape, so it is typically up to your body to fill in the jumpsuit and create its own silhouette.
This style of jumpsuit can be slimming since it does not flare out in any way. The straight shape allows room for your body and is typically made with a stretchy material that will be molded by your frame. 
The lack of flare will not make you look shorter in any way and any time you end up looking slimmer, you will typically add the illusion of height at the same time.
Wide-leg jumpsuits
Wide-leg jumpsuits are both classy and flattering. The wide pant legs allow for plenty of space and mobility. This is incredibly helpful for women with thick thighs and calves. The pant legs will conceal them and will not restrict them in any way.
Wide-leg jumpsuits, if they do not have too dramatic of a flare, can actually make you look taller. This is ideal for women with short legs because the flare draws attention to the long pant legs and elongates your legs.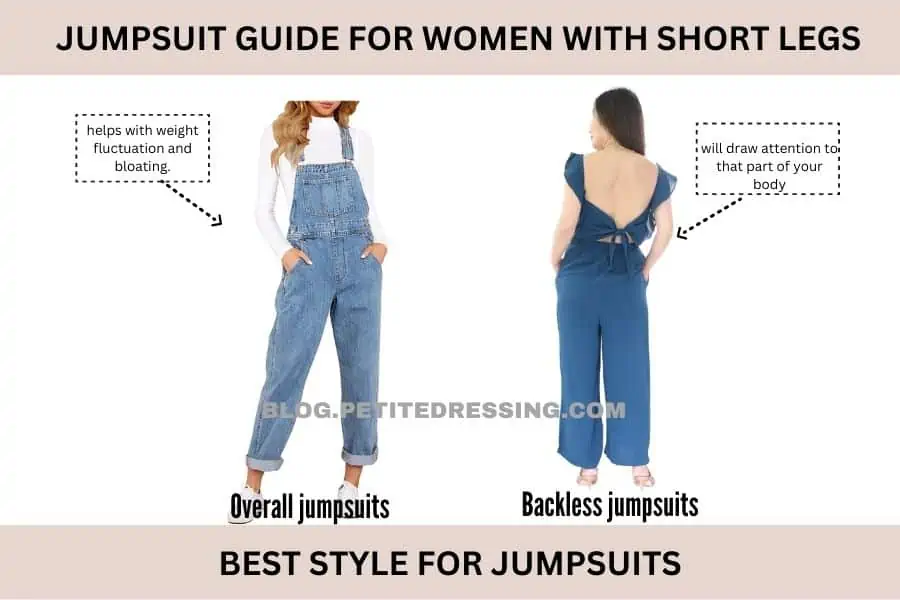 Overall jumpsuits
Although overall jumpsuits may be seen as a very casual choice, there are plenty of benefits that come with wearing this style. Overalls are extremely comfortable and adjustable, which helps with weight fluctuation and bloating.
Overalls also allow you to layer your clothing, which gives you the chance to get creative with your styling choices. You can dress up a pair of overalls with the tops or sweaters you choose to wear.
You can also choose a fabric that is flowier than the common denim choice when it comes to overalls. This will make the overall jumpsuit more formal, and you can use your layering choices to add even more flair to the outfit.
Backless jumpsuits
Jumpsuits can become rather plain since they are made of one flowing panel of fabric. In order to break up some of that fabric, you could wear a jumpsuit that has an open back. This style looks beautiful on women, and it is a very feminine and classy choice.
A backless jumpsuit will draw attention to that part of your body, so you will want to make sure you feel confident about your back before going for this style. The focus will be on your back, which means that your short legs will be noticed less. This will help to combat the idea that you are petite.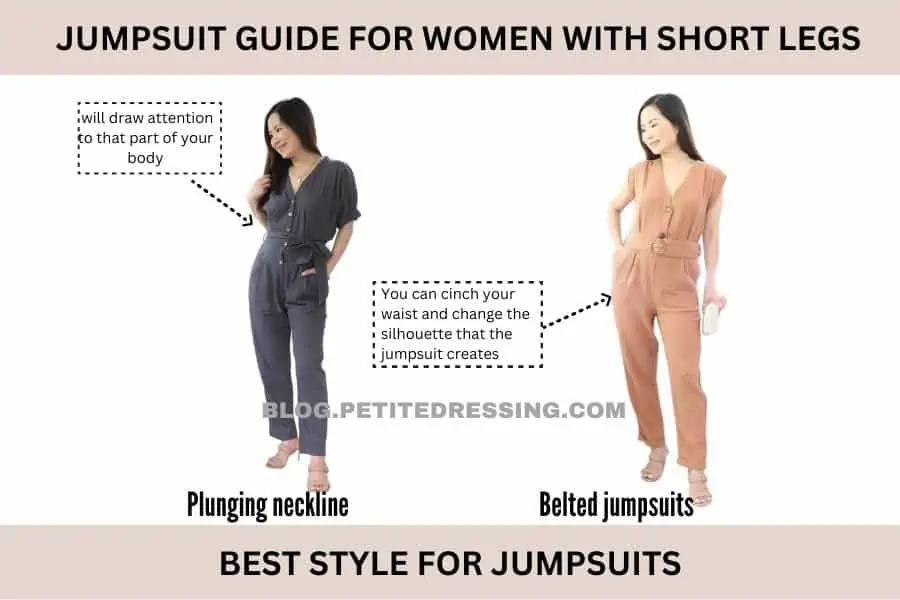 Plunging neckline
Another way to break up the continuous stretch of fabric from a jumpsuit is a plunging neckline. You don't have to go for an extreme plunge, especially if you are not comfortable with showing more than a moderate amount of skin.
The deep v-neck will create vertical lines throughout the jumpsuit, elongating your frame and helping to take the focus away from your short legs. The neckline itself will also draw attention, so these facts will work together to make you look taller. 
This neckline will also show off your collarbone and neck, which gives you the perfect opportunity to accessorize and accentuate that part of your body.
Belted jumpsuits
Jumpsuits have the habit of taking the shape away from your body. If the jumpsuit is too flowy and does not fit perfectly to your body, you will look more rectangular than any other shape. It is difficult to accentuate curves with this type of outfit.
You can cinch your waist with a belt and completely change the silhouette that the jumpsuit creates. A belt allows you the option to choose where you want to cinch your waist. The best place would typically be at the smallest part of your waist.
Make sure that the belt you choose is not extremely thick. A thick belt will only take up too much space on your torso and then it will feel like you have a short torso and short legs. If you place the belt high enough, you can make the bottom half of your body look longer. This will give you a boost of height just by creating the illusion of long legs. 
Best fabrics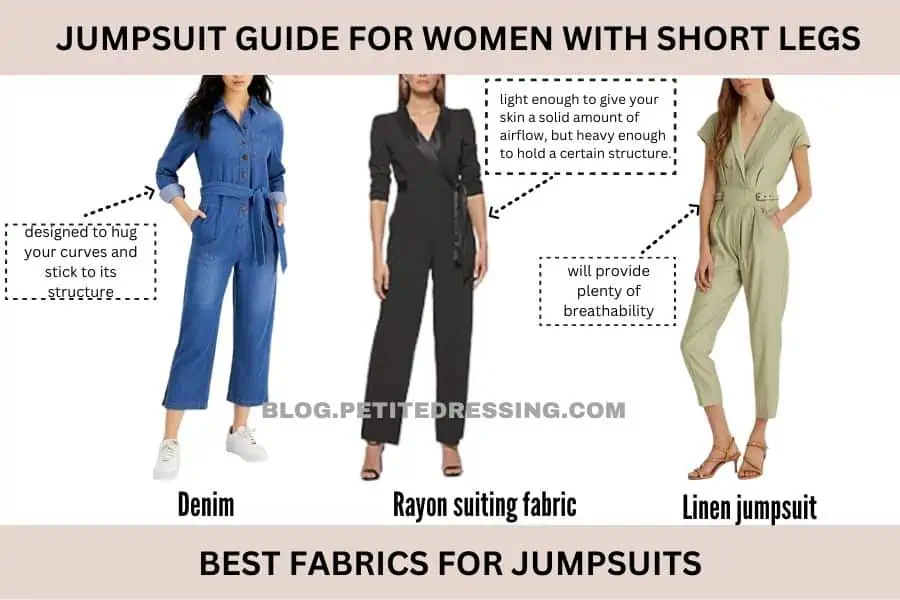 Denim
Denim is a classic fabric choice, especially when it comes to jumpsuits. Whether you throw on a pair of overalls, or go for a full body denim jumpsuit, denim is always going to shape your body in a flattering way.

Denim is designed to hug your curves and stick to its structure, so you can feel confident and beautiful. You can choose from plenty of different washes, so there are many shades that can make up a denim jumpsuit. Of course, black, gray, or the darkest blue will be the most flattering and slimming, which will, in turn, help you look taller as well.
Rayon suiting fabric
Rayon suiting fabric is a perfect moderate choice of fabric. It is soft and durable, and typically mocks fabrics like cotton and wool. The material is light enough to give your skin a solid amount of airflow, but heavy enough to hold a certain structure.
This fabric is ideal for jumpsuits because it is dependable, and will be comfortable to wear as an article of clothing that covers your whole body.
Linen
Linen is fantastic fabric for any jumpsuit you want to wear during mild weather. It is light and breezy, and will provide plenty of breathability. Linen is an incredibly dependable fabric that is known for its longevity.
Since jumpsuits take up so much of your body, you will want a fabric that is soft and breathable. Although linen does not provide much room to stretch, the fabric can still be belted or tied in order to give some shape to the outfit.
Shoe Pairing
Ankle boots
If you want to dress for colder weather, ankle boots are an excellent choice. They provide plenty of coverage for your feet. The boot rises just high enough to meet directly with the hem of the jumpsuit. 
In order to look taller, you can also go for a pair of ankle boots that have a slight heel. The chunkier the heel, the more balance and comfort you can have. Ankle boots are chic and always in style. They go with casual events and can be worn in the office as well, paired with your choice of jumpsuit.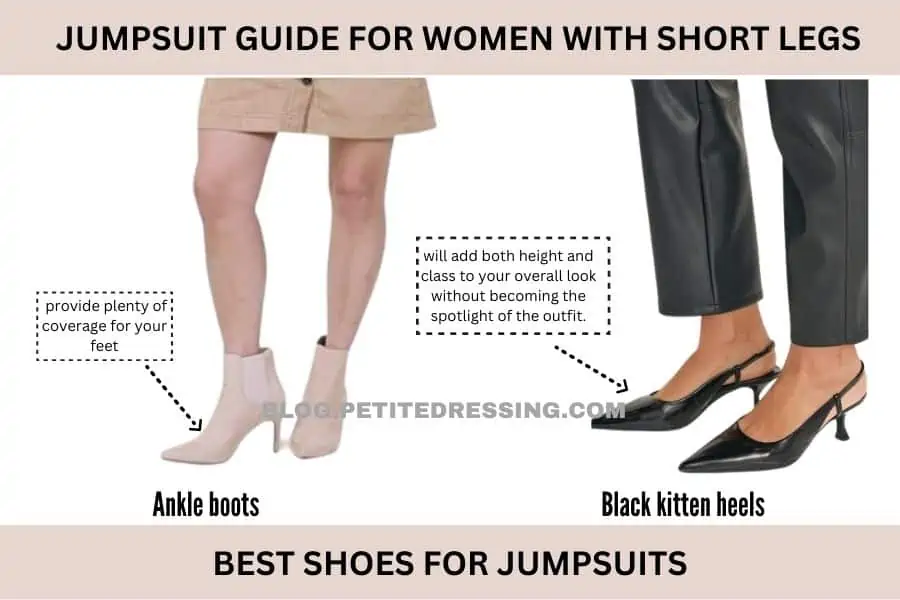 Black kitten heels
A pair of pumps can go a long way when it comes to helping women with short legs. With jumpsuits, you don't want to go too extreme with the height of the heel. Jumpsuits are typically not made for that formal heel.
Black kitten heels are simple but elevating at the same time. They will add both height and class to your overall look without becoming the spotlight of the outfit.
Wedge sandals
Wedge sandals will add a boost of height and perfectly complement any style of jumpsuit. The wedge will provide plenty of balance for you, which makes them a dependable shoe choice.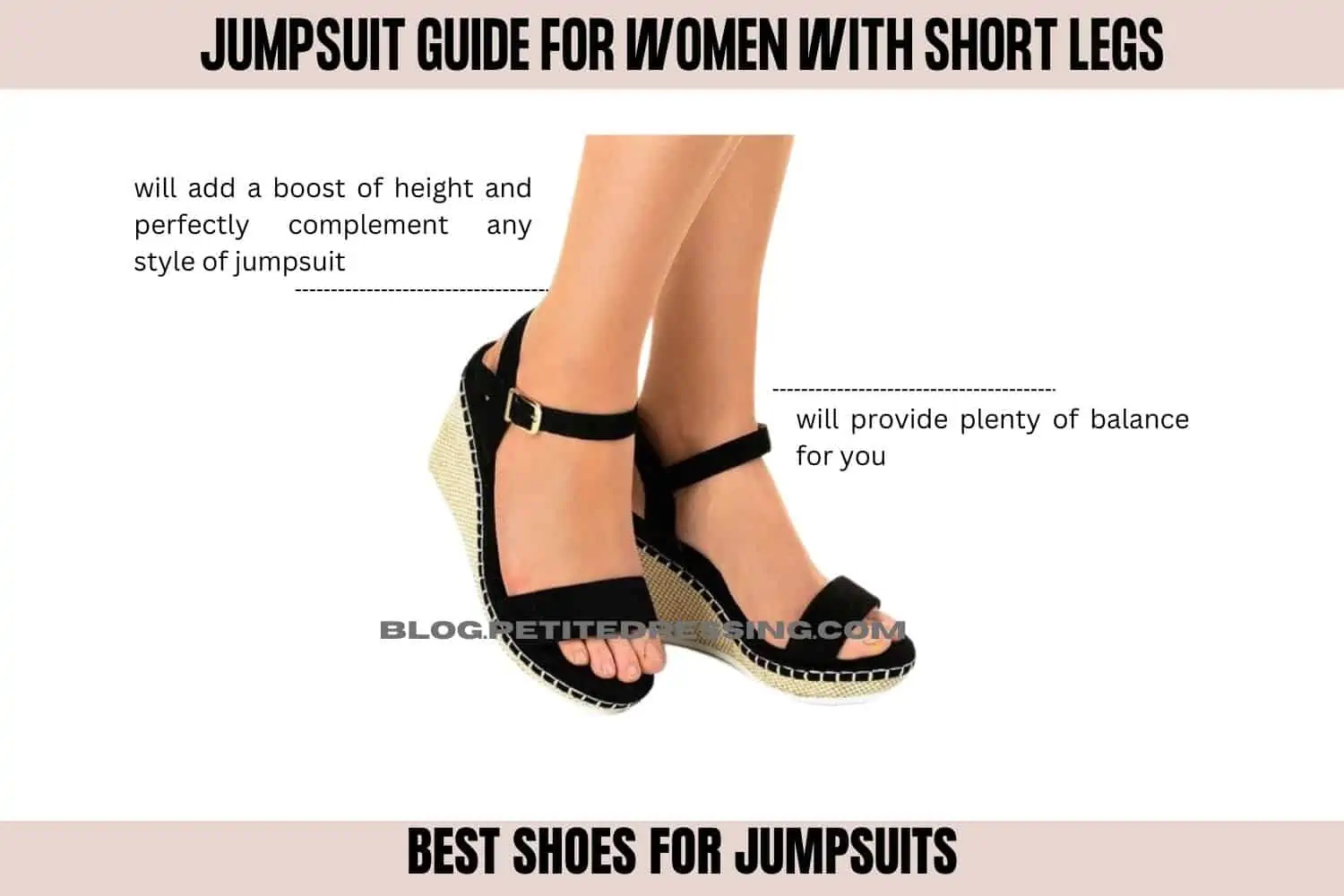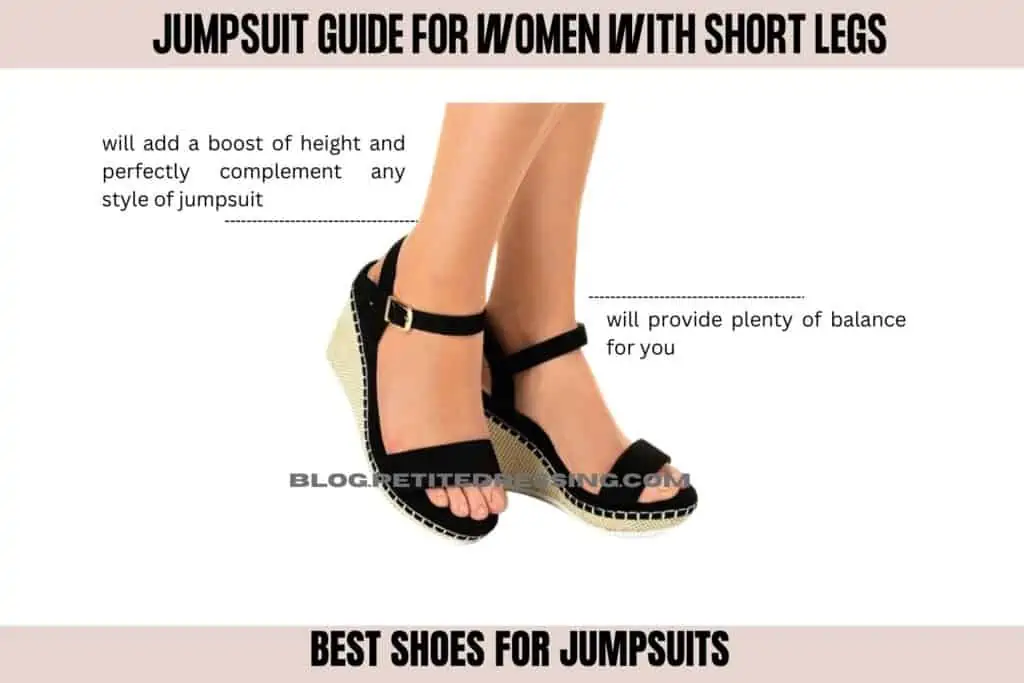 The sandal aspect will be ideal for mild weather and will help to dress up what may be considered a casual outfit. Wedge sandals are comfortable, chic, and add height, which is why they are ideal for women who have short legs but want to pull off a jumpsuit.