When the time comes for your special day, it is important that you feel beautiful and confident in the outfit you choose. Weddings are beautiful and full of happiness, and you should get to have an amazing time without thinking twice about the dress you are wearing.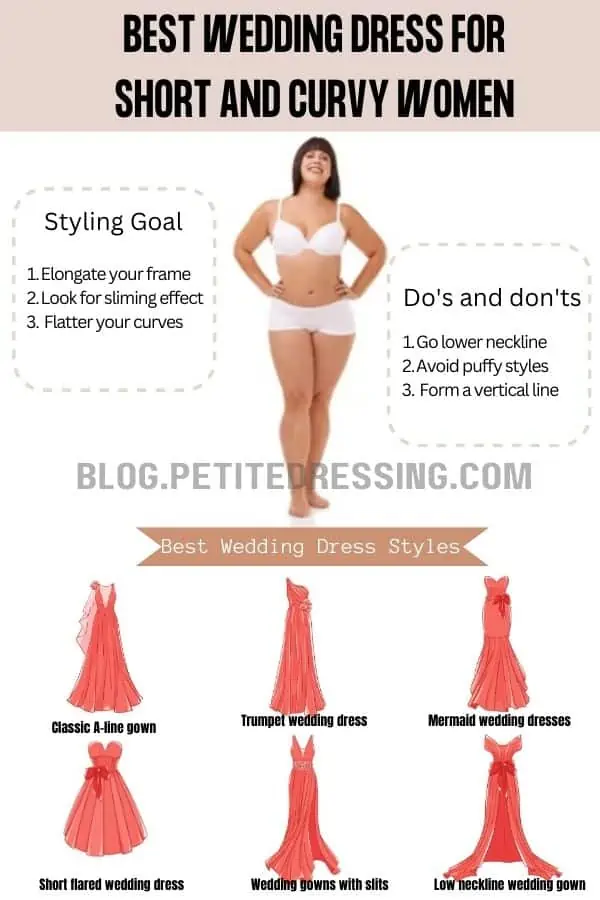 As the bride, this is one of your best opportunities to dress like a princess and go all out with the gown of your dreams. This guide will help you, as a petite and curvy woman, find the best wedding dress style for your body type. 
Trumpet wedding dress
A trumpet wedding dress style will hug tightly against your curves and dramatically flare out past your knees. This style of gown is visually pleasing to women who have major curves. The fabric will fit snugly against your hips. If you have an hourglass figure or wide hips, this dress will look amazing on you.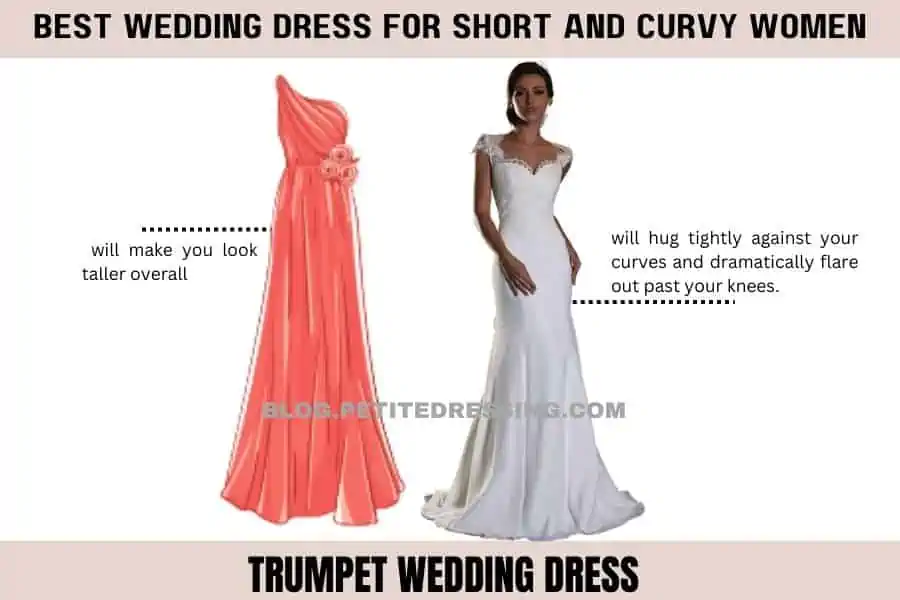 Trumpet wedding dresses are also ideal for petite women. The flare adds length to your legs, which will end up making you look taller overall. This type of dress is an excellent choice for petite curvy women who want a princess look without the bulk of a poofy dress. 
Backless wedding gown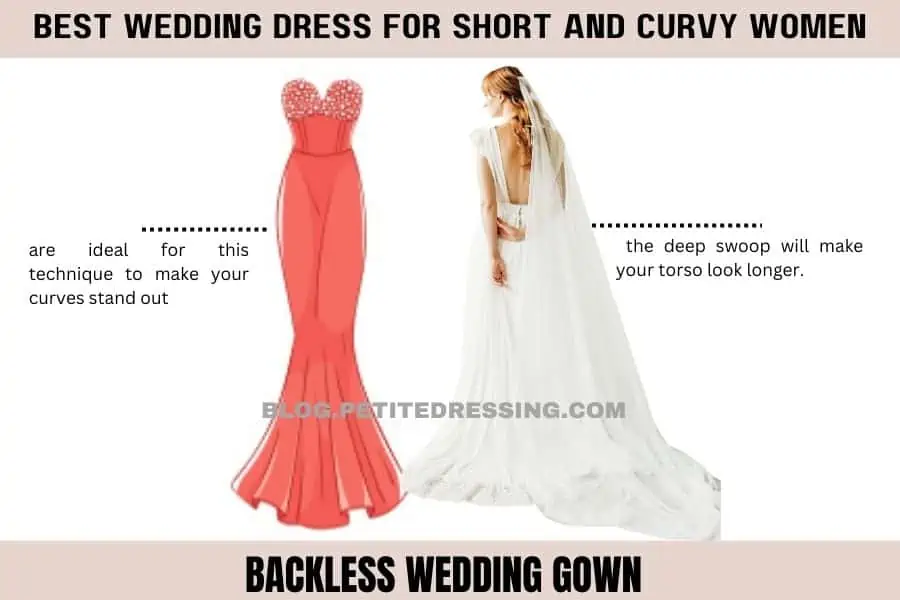 A long wedding dress will fall against your body no matter what, so your curves will always stand out. In order to make sure your height is not as eye-catching, you can turn your focus towards accentuating other parts of your body.
Backless wedding gowns are ideal for this technique. They are stunning on all women and highlight a very feminine and elegant part of your body. With a backless dress, all of the attention will be on that feature, which will end up drawing attention away from your height.
If you are feeling brave and bold, you can wear a backless wedding gown with a very deep swoop in the back. Although it may be a more mature style, it may be the type of flair you desire with a wedding dress. With the exposed skin, the deep swoop will make your torso look longer.
Sheath wedding dresses
Sheath wedding dresses are very simple. They do not have a strongly defined cinch, but they do loosely mock the style of an A-line dress. This type of dress allows your body to fill it and mold it in the way your body is shaped.
Sheath wedding dresses are elegant and flattering. They are typically more fitted than some dresses, so you will want to be confident with your stomach and other areas around your torso if you want to pull off this style of dress. The straight lines created throughout this dress are designed to make you look slimmer and taller at the same time. 
Empire waistline wedding dress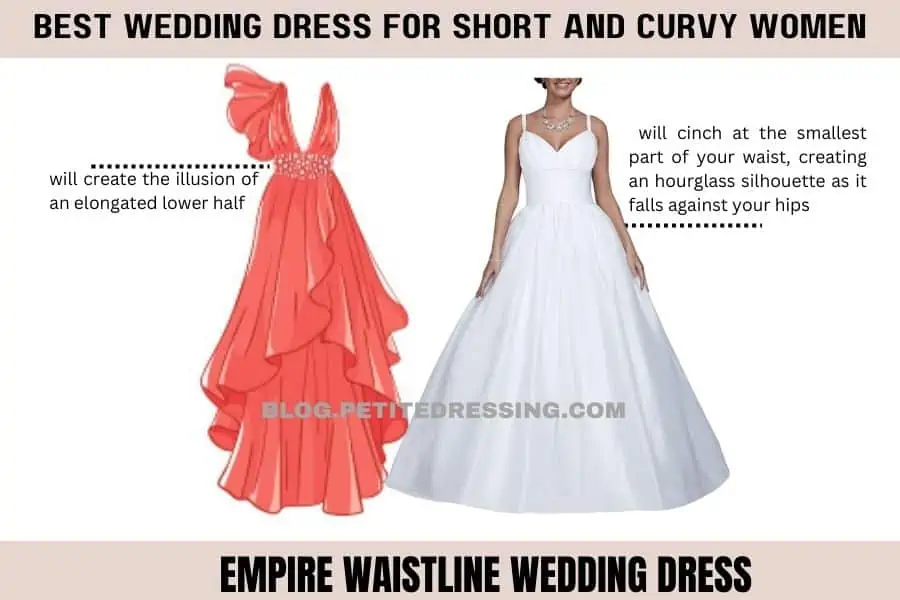 An empire waistline wedding dress will be cinched directly under the bust. Then the dress will flare out after the waistline cinch. This will create the illusion of an elongated lower half, making your legs appear longer than they are. 
This type of waistline is also incredibly flattering for women with curves because it will cinch at the smallest part of your waist, creating an hourglass silhouette as it falls against your hips. If you have a large bust, the flare of the dress after the empire waistline will help to balance that out as well. 
Classic A-line gown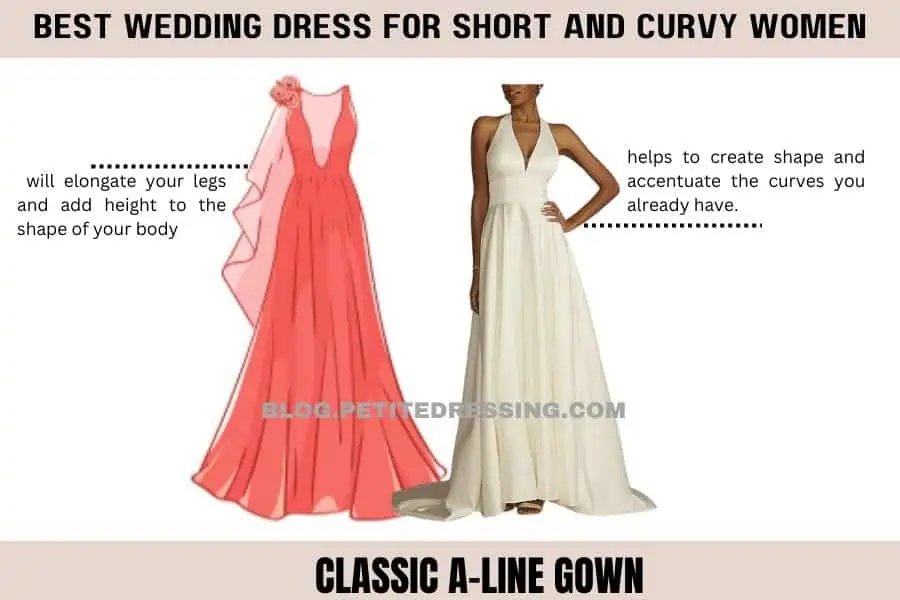 A-line wedding dresses look fantastic on every body type. Since the dress waistline creates the shape of an A, it helps to create shape and accentuate the curves you already have. This type of wedding dress cinches at the smallest part of your waist, which will make you look slimmer.
When you can achieve a slimmer look, you will also end up looking taller as well. The high waistline of an A-line gown will elongate your legs and add height to the shape of your body.
If a plain A-line gown feels too boring or informal for you, there are plenty of ways to add to the overall appearance of the dress. A lot of women will experiment with lace, buttons, and sleeves to add that extra spice that you may be searching for in your wedding dress.
Mermaid wedding dresses
Mermaid wedding dresses always look stunning on women with curves. They hug your hips and thighs, and then lightly flare out past the knees. The subtle flare makes this dress less dramatic than a trumpet wedding dress shape.
This style of wedding dress is also ideal for petite women because of the placement of the flare. It typically falls just below the knees, with the flared section making your calves appear longer. Just this illusion of a slight boost of height can completely change the silhouette of your outfit.
If you are insecure about your belly and want to avoid showcasing that part of your body, you may want to search for a wedding dress that does not hug so tightly against your hips.
Short flared wedding dress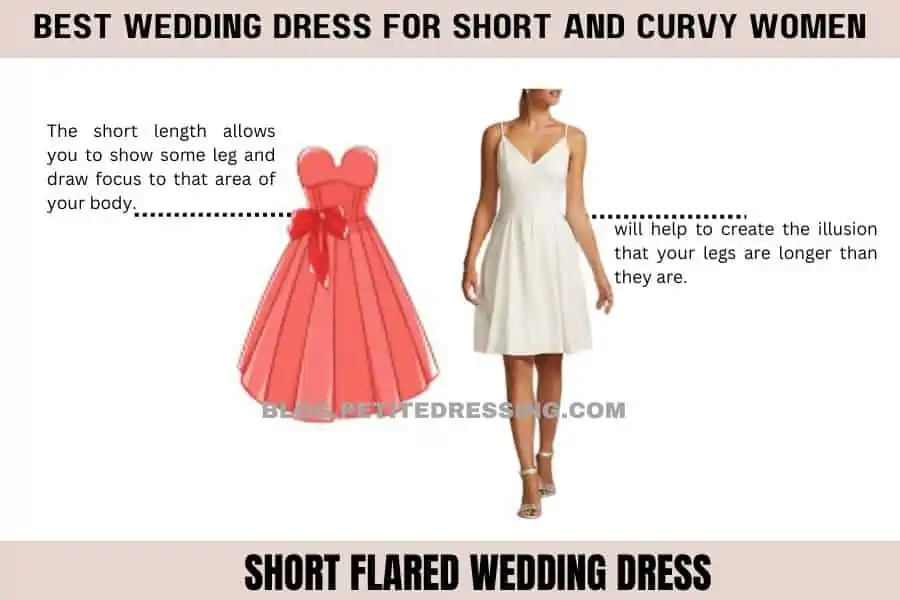 You may be the type of woman that does not want to go all out with a dramatic wedding gown. Some women prefer a more casual and simple ceremony, which will fit nicely with a simple dress. A short-flared wedding dress is perfect for a fun and breezy event. 
Short flared wedding dresses are extremely flattering on petite women. The short length allows you to show some leg and draw focus to that area of your body. The shift in attention will help to create the illusion that your legs are longer than they are. 
The flare of the short dress will fall perfectly on your curves. A short flared dress may be simple, but your body type will turn this dress into a stunning option.
Wedding gowns with slits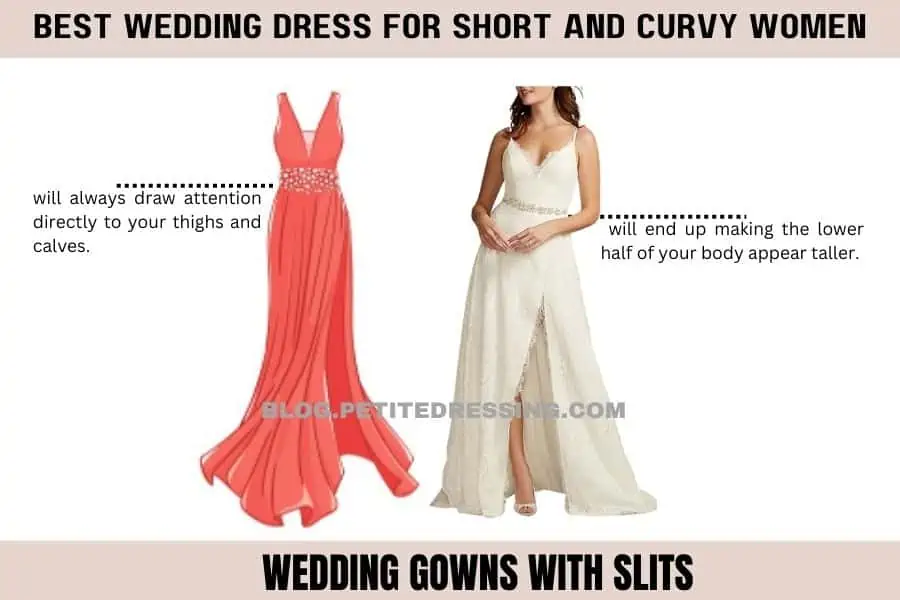 Some wedding dresses can be so dramatic that they add too much bulk to your body. Wedding dresses are typically heavy and full of fabric, which is not always the most flattering look for a petite woman.
In order to break up the fabric and add something interesting to your gown, try to find a wedding dress with a leg slit. The slit should come up to the middle of your thigh. You can show some leg this way, which will end up making the lower half of your body appear taller.
Leg slits are very flattering, and will always draw attention directly to your thighs and calves. It is important to make sure you feel fully confident showing that amount of skin before you say yes to this style of wedding dress.
Low neckline wedding gown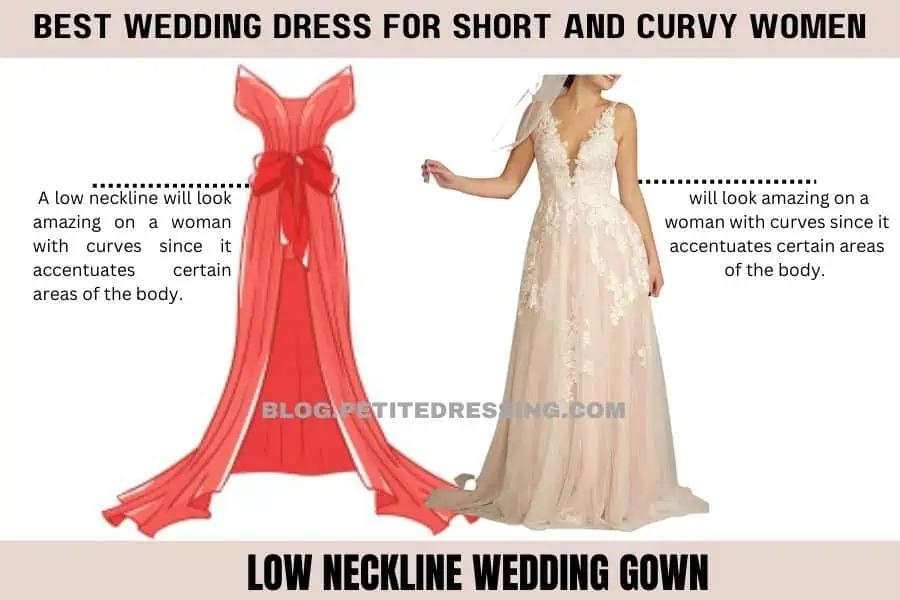 As a curvy woman, some wedding dresses may end up looking heavy and bulky on you. The high quantity of fabric that goes into a wedding dress can be overwhelming on a petite body. To break up some of that fabric and show some skin, you can look for a wedding gown that has a lower neckline.
Curvy women should show off what they have, especially on a day that puts the spotlight on them. A low neckline will look amazing on a woman with curves since it accentuates certain areas of the body.
A low neckline also creates vertical lines throughout the wedding dress, which is ideal for petite women. The vertical lines utilize the column method in order to make you look taller.
Avoid too long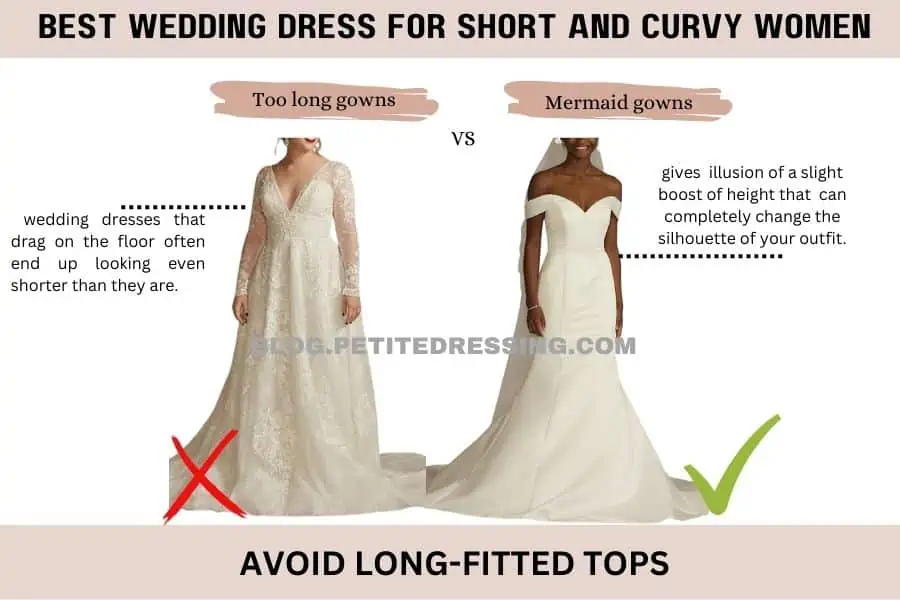 Although you may want to embrace the flair of a spectacular wedding with a long train that drags as you walk, it may not be the best choice. Petite women who wear wedding dresses that drag on the floor often end up looking even shorter than they are.
This is due to the fact that your feet and the lower half of your body get completely swallowed up by the length of the gown. As it drags by, attention will be drawn to your height.
Avoid ball gown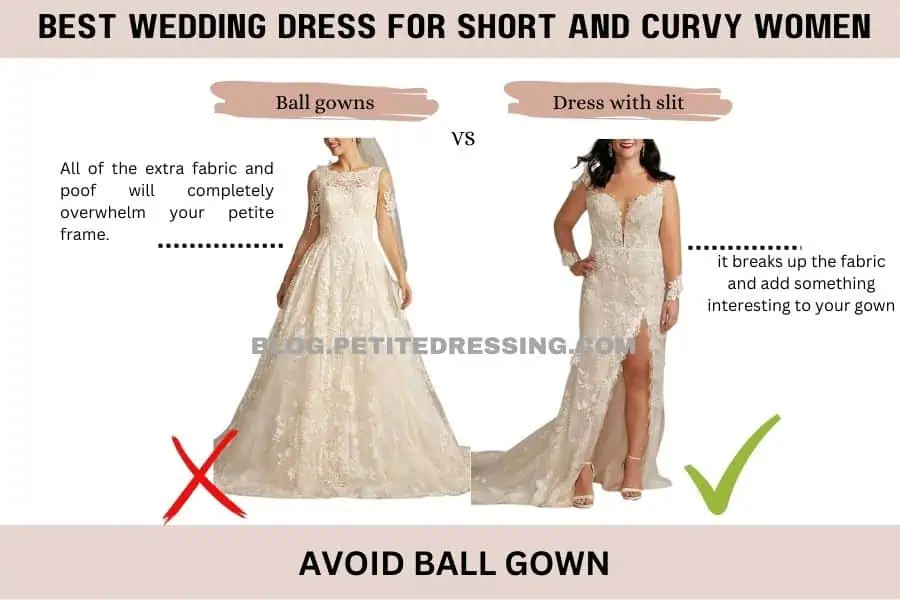 Fluffy wedding dresses may embrace the idea of a complete princess gown. But they happen to add too much to a look, especially for petite women. All of the extra fabric and poof will completely overwhelm your petite frame.
If you want to wear a dress that shows off your curves, you will definitely want to avoid a poofy dress. This type of wedding dress will just add bulk to your shape and make you look wider. It is not a slimming style in any way. If you have short legs as well, all of the extra fabric will be heavy and difficult to move around in.