Having a short and curvy figure is just simply beautiful, although it's not always the easiest to style. Since you're taking two body features that are somewhat slightly contradicting, then there are certain types of clothing that you need to carefully consider.
In this article, we'll not allow you to make mistakes on how to properly style your beautifully short and curvy frame. Before going to the list of clothing pieces not to wear, let's understand what your styling goal should be first.
Styling Goal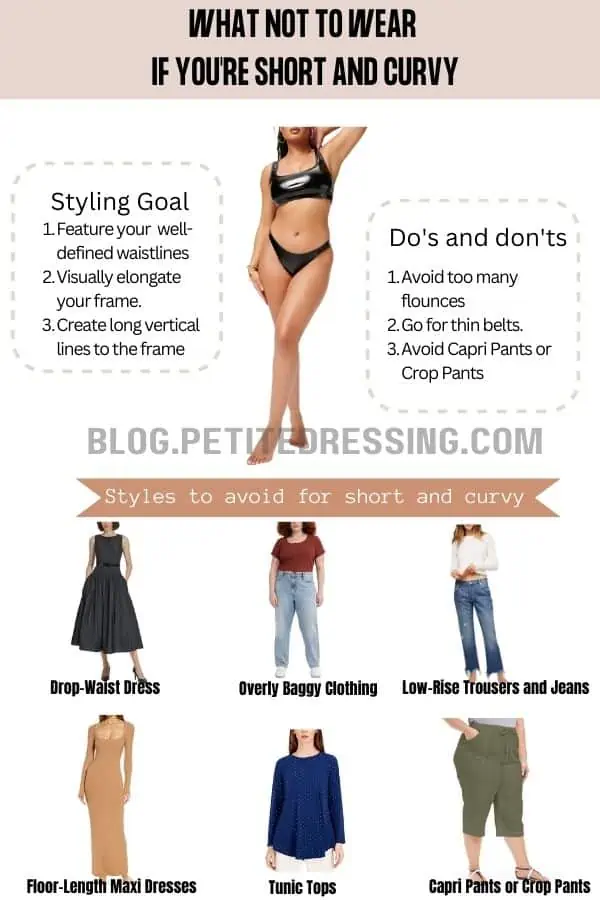 As a short and curvy girl, you have to always look for clothing pieces that can make you look taller while not making your body lose its natural curves. Opt for clothing structures that have a tailored effect that naturally enhances your curves.
Anything that will drown your figure should be totally ditched! So here are the types of wardrobe pieces that you should not wear if you're short and curvy.
Drop-Waist Dress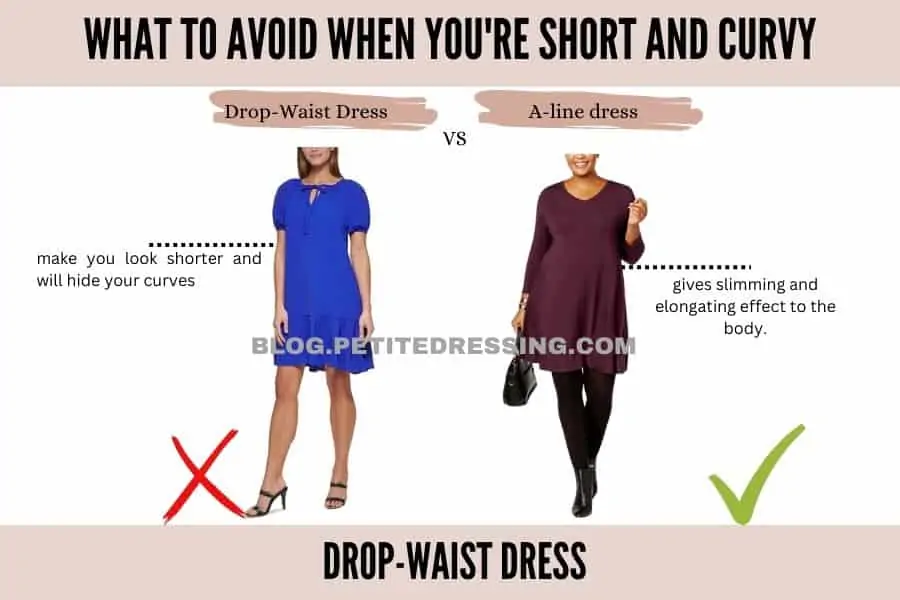 From the name itself, drop-waist dresses feature a waistline seam that falls on the level right above the hips or even lower. This structure will make your torso longer than your legs which can be extremely unflattering.
Not only do drop-waist dresses make you look shorter, but it also usually has a straight silhouette that will hide your curves. Instead of going for drop-waist dresses, opt for the ones that hug and define your natural waistline.
A-Line and belted dresses are just some examples of flattering structures for short and curvy women for they feature well-defined waistlines and fabric flow that visually elongates your frame.
Overly Baggy Clothing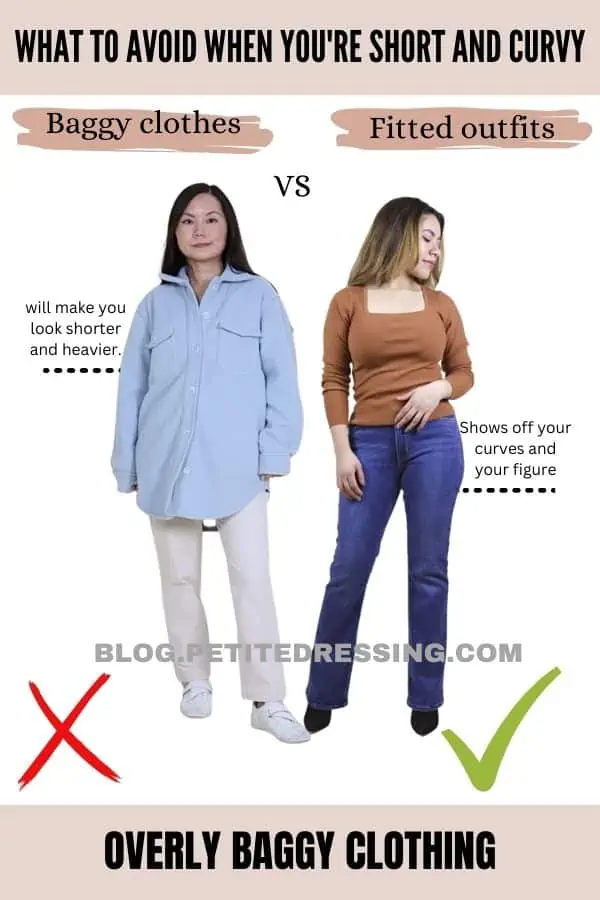 Your gorgeous curves deserve to be under the spotlight! Whenever you wear baggy clothing, you are sadly compromising your best asset and you're also giving your frame an unflattering look.
Clothes that are too loose tend to produce excess fabric folds that will scathingly add unnecessary volume to your body. This will make you look shorter and heavier.
If you're a fan of oversized clothing, then there are many ways to make it work for short and curvy ladies. However, it could only go up to a certain size because overly baggy clothes can really ruin your overall style ensemble.
Low-Rise Trousers and Jeans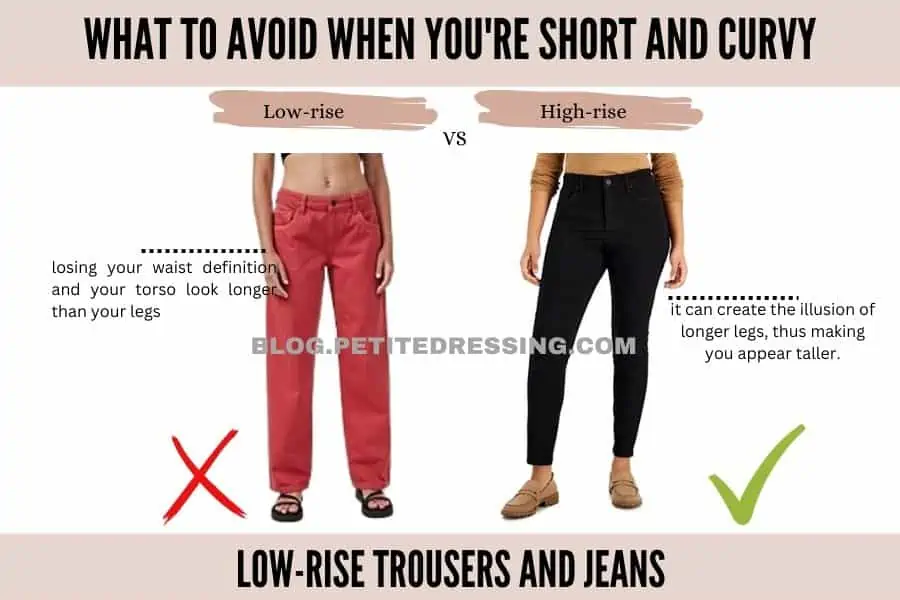 Short and curvy women usually have a thicker midsection which is why you are probably more prone to having a muffin top. The waistband of a pair of low-rise jeans starts right after your belly button or can even go lower up to your hip bone!
This type of seam and structure will likely cause "spillage" wherein your muffin top will be highlighted because your low-rise waistband won't reach this area. By going for low-rise jeans or trousers, you're losing your waist definition and you're making your torso look longer than your legs.
It's time to ditch them all away if you're short and curvy because there's no way around this! Instead, settle for high-waisted or mid-rise jeans because these would flatter your figure way more efficiently.
Floor-Length Maxi Dresses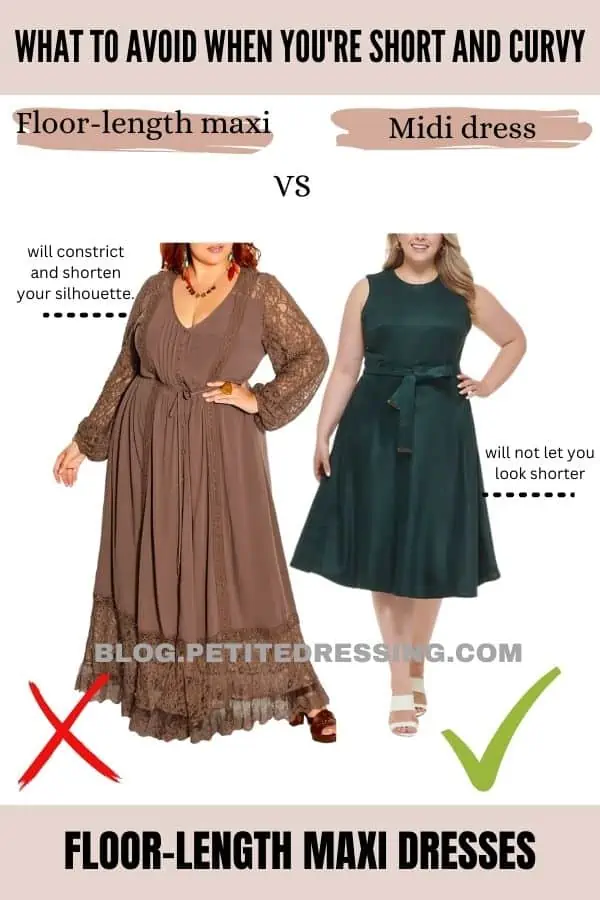 Unless you would want to look like you're drowning in a huge blanket fabric, then stay away from floor-length maxi dresses. Don't get us wrong, maxi dresses could work on short and curvy ladies too, as long as it has the right structure to flatter your form.
As a petite girl, you need to create visually appealing lines to give your figure a more elongated look. If your maxi dress covers all of your lower body, this will constrict and shorten your silhouette.
Of course, just like what we said, maxi dresses can definitely still work as long as you pick the right style and the right length. Go for a length that still exposes your ankles to lengthen your legs, preferably 10 to 15 centimeters away from your ankle.
Tunic Tops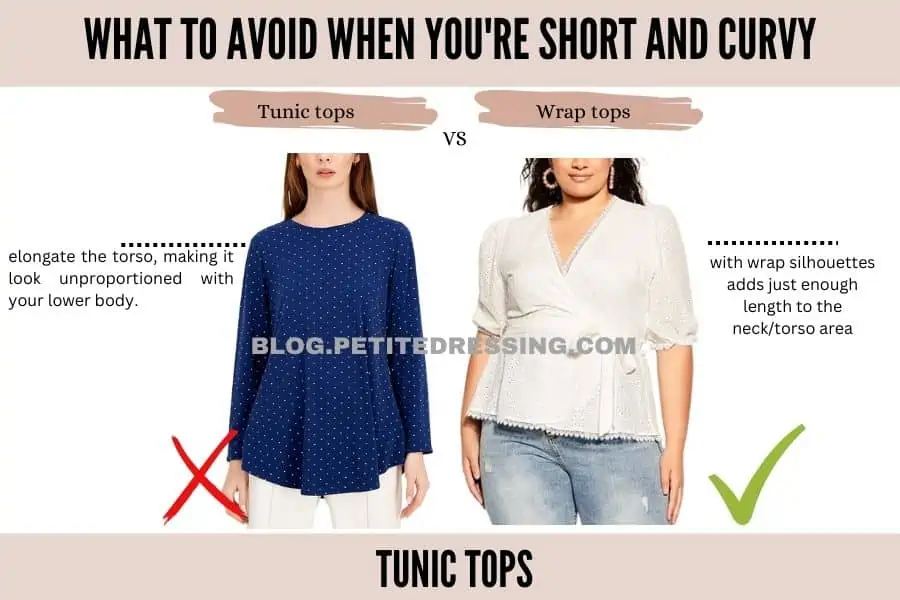 Wearing tunic tops if you're short and curvy can totally be a fashion disaster waiting to happen. Tunic tops share the same principle with drop-waist dresses which means they elongate the torso, making it look unproportioned with your lower body.
Since tunic tops are long (usually go past the hips), it creates a visual that makes your upper body look longer than your legs. This imbalance between the torso and the lower body will not only take out some inches from your height but also conceal your waistline.
Do you already have some tunic tops in your closet? Then one way to still make it flattering on your short and curvy body is to tuck it into your high-waist bottoms.
This styling hack will help elongate your legs and bring a flattering streamline to make you leaner.
Too many Flounces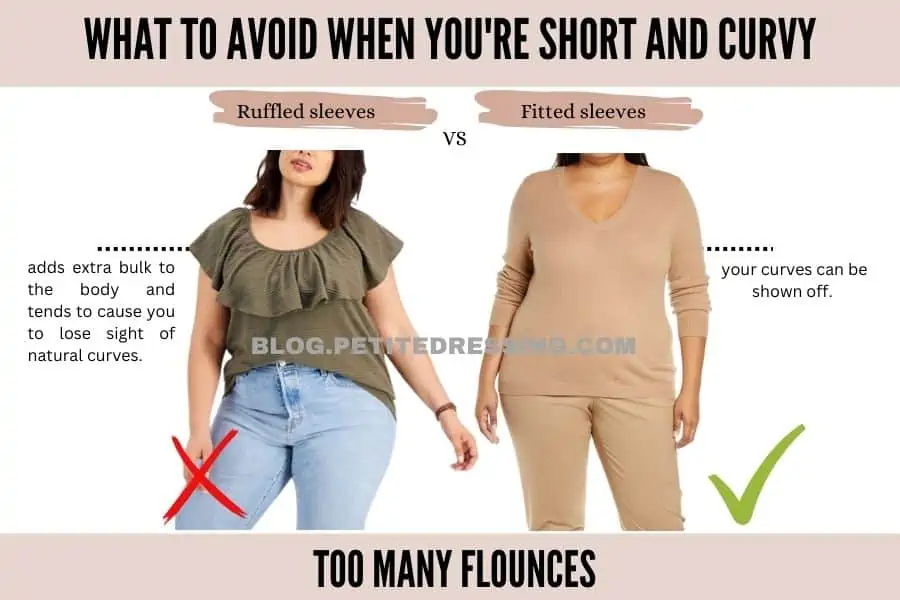 Ruffles and other types of fabric flounce embellishments can be nice to look at but when you're short and curvy, such designs may not work for your figure. Minimalism is the key when it comes to wearing clothes with fabric flounces.
Exaggerated ruffles can drown your figure, especially if they are placed on areas where your natural curves should show such as the bust line. Apart from the fact that it can potentially hide your best assets, it can also add volume to your figure making you look bigger.
So to make ruffles and other kinds of flounces work, consider the amount and the placement of these fabric flounces. They should act as a pretty touch on your clothing piece and not overwhelm your figure.
Capri Pants or Crop Pants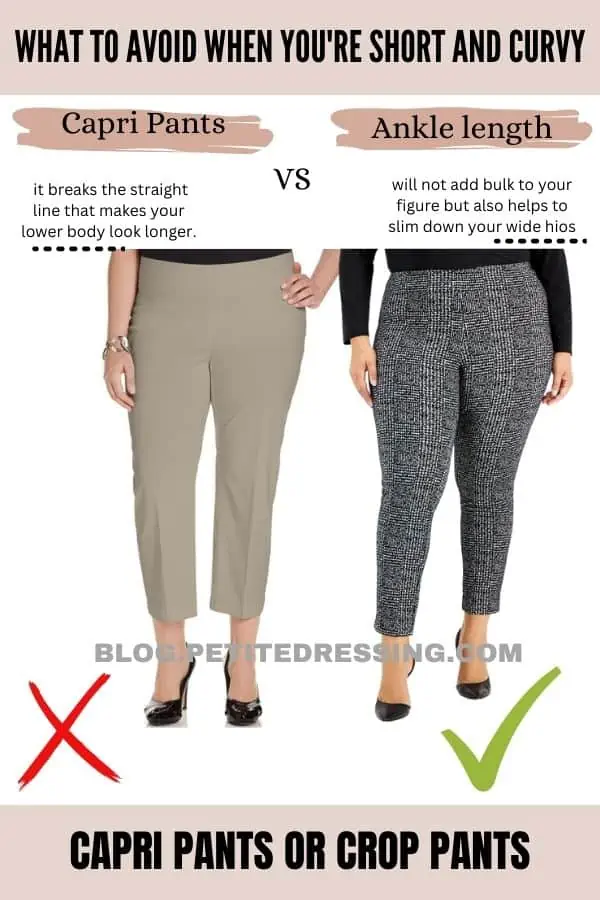 Capri pants are a type of trousers or jeans in which the hem ends right after the knee or by the calf. This is absolutely unflattering for those who have short legs because it breaks the straight line that makes your lower body look longer.
Capri pants, regardless of their cut, are not always very ideal for short and curvy girls. However, some types of crop pants can work if they are longer (i.e. ankle length).
If you choose to wear crop pants, go for straight-leg or bootcut jeans for they feature a silhouette that creates the illusion of longer legs while also enhancing the curvy shape of your lower body.
Thick/Wide Belt
Wearing a belt is one quick and very effective way to instantly add waist definition and figure depth. However, not all belt designs work well with short and curvy women.
Some would think that wide belts help in cinching the waist and hiding a muffin top, but if you stand around 5'3" or below, thick and wide belts can make you look shorter. Since its thickness makes it very apparent, it may draw too much attention and break the long and straight line you're trying to visually create.
If you want to accentuate your figure with a belt, opt for something that's no more than 5 centimeters thick. Another styling hack if you want the flow of your ensemble to be continuous is to wear a belt with a similar color to your outfit.
Exaggerated Sleeves (Bell, Bat Sleeves)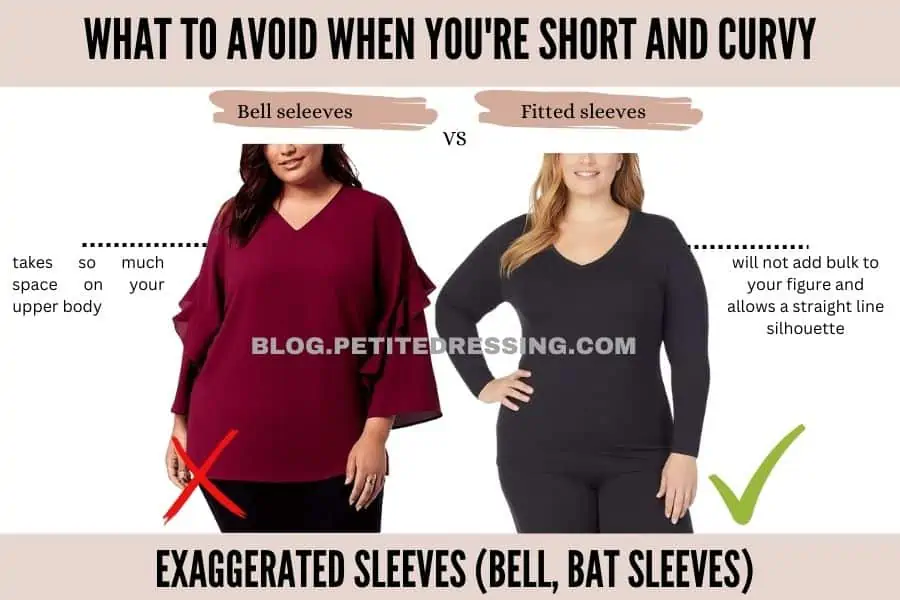 Obviously, petite ladies have shorter limbs so the more fabric that covers the arms would only make your figure shorter and heavier. This is why short and curvy women should avoid sleeves that are too long with exaggerated details.
Sleeve designs such as bat sleeves and bell sleeves take so much space on your upper body which means they may veer the attention away from your natural curves.
What makes a flattering sleeve is when its length exposes a few centimeters of your arm right on the level of your wrist. It shouldn't cover your entire hand.
Additionally, it should also be roomy enough to give space to your arm. It shouldn't be too tight but it shouldn't be too loose either to keep your overall silhouette balanced and pleasing to the eyes.
Mid-Calf Boots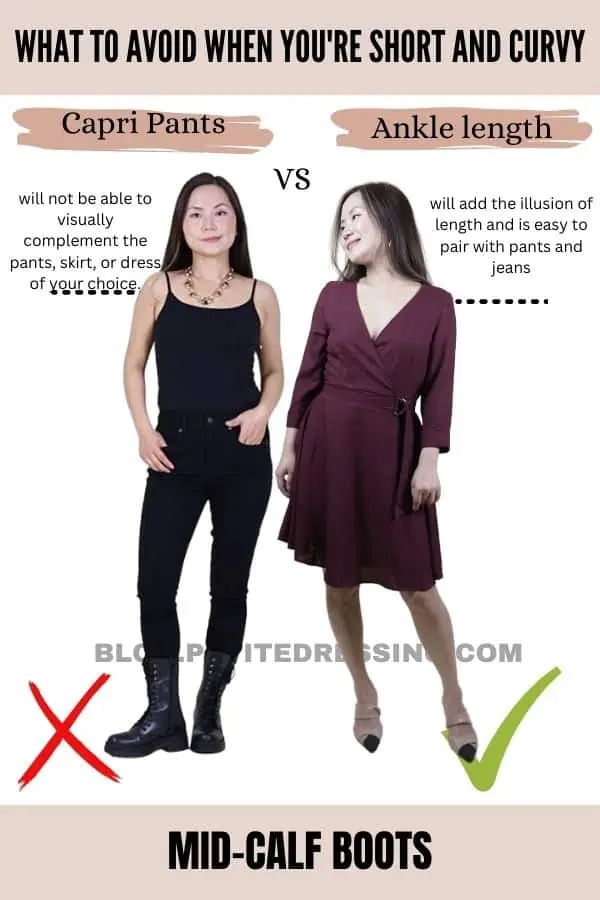 As a petite girl, the natural length of your legs isn't long enough to accommodate part-length fashion pieces, including boots. Having your boots go up to your mid-calf not only draws unnecessary attention but also disrupts the flow of the line of your legs.
This unflattering division would make your legs look shorter and it'll be hard for it to visually complement the pants, skirt, or dress of your choice. The trick to choosing the right pair of boots is either to go safe with low-cut boots or to go all-in with over-the-knee-length boots.
Thick Ankle Strap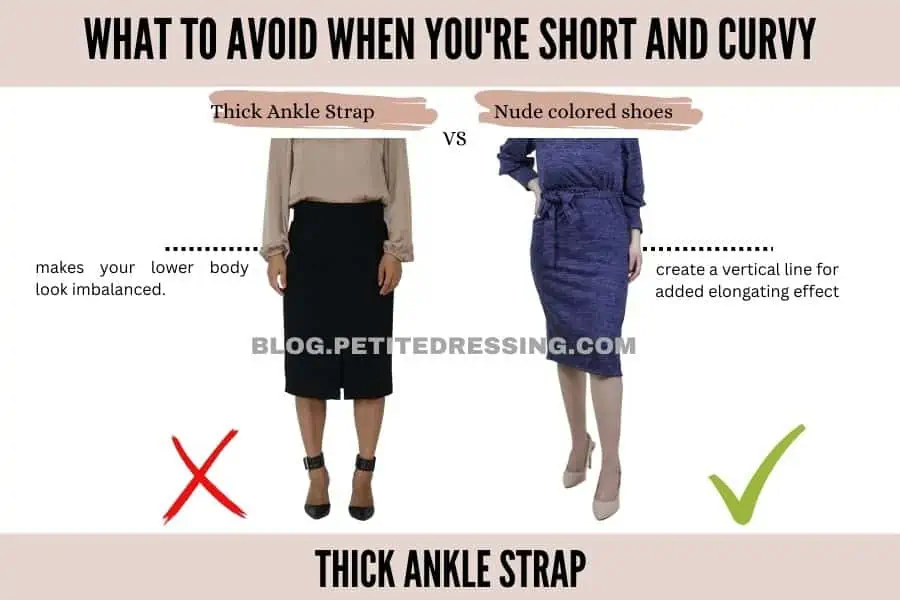 Ankle straps, especially thick ones, can majorly disrupt your ensemble because it makes your lower body look imbalanced. The straps break the continuous line of your silhouette which is why it's quite unflattering for short and curvy girls.
The goal is to create long vertical lines to tweak your figure. However, thick ankle strap sandals create horizontal lines that significantly diminish your height and widen your frame.
The Key Takeaway
The best way to embrace your beautiful figure is to know which clothing pieces will make you stand out. Short and curvy girls shouldn't be too intimidated to experiment with their ensembles!
As long as you stay away from what not to wear and bear in mind the basic styling principles to flatter your figure, then you're all ready to flaunt it!