Wondering if wide leg pants will look good on you or not as a short and chubby woman? Wide leg pants are trendy nowadays and you can also enjoy its comfort.
Our detailed guide discussing wide leg pants will help you find a suitable style and length. It includes what to try and what to avoid in wide leg pants. So, let's get started!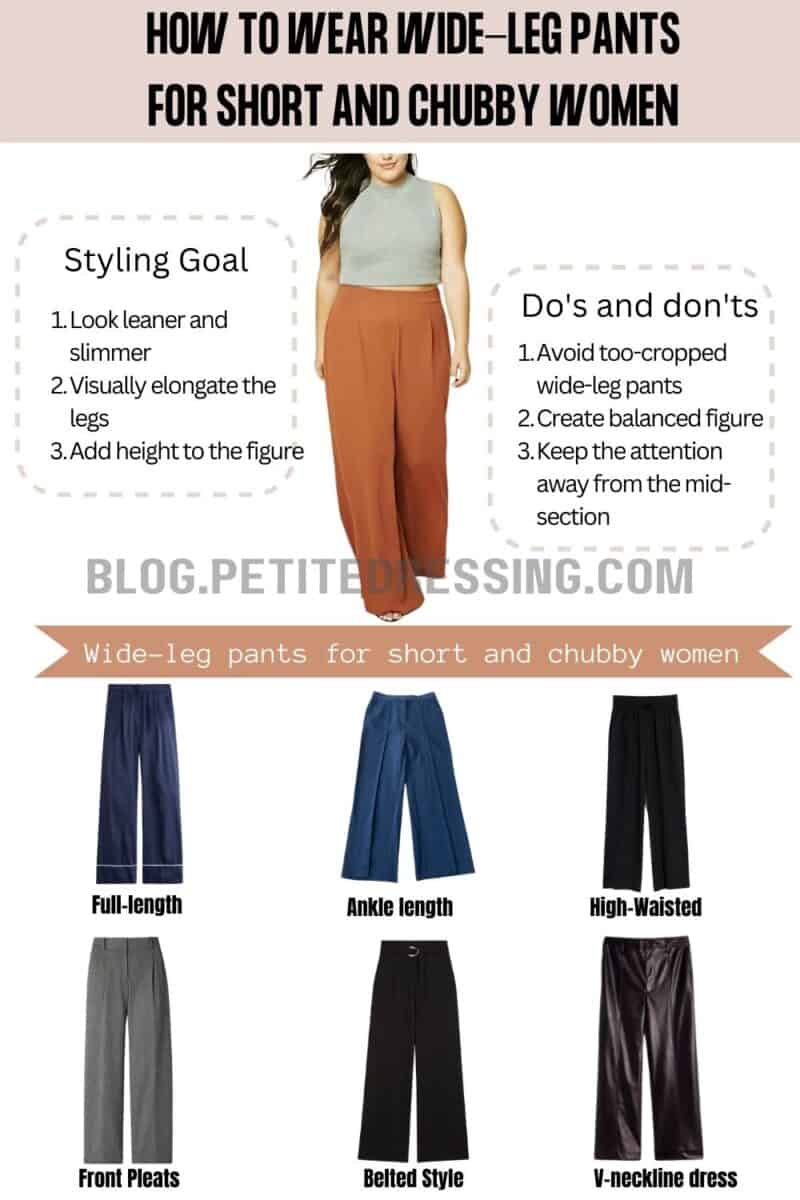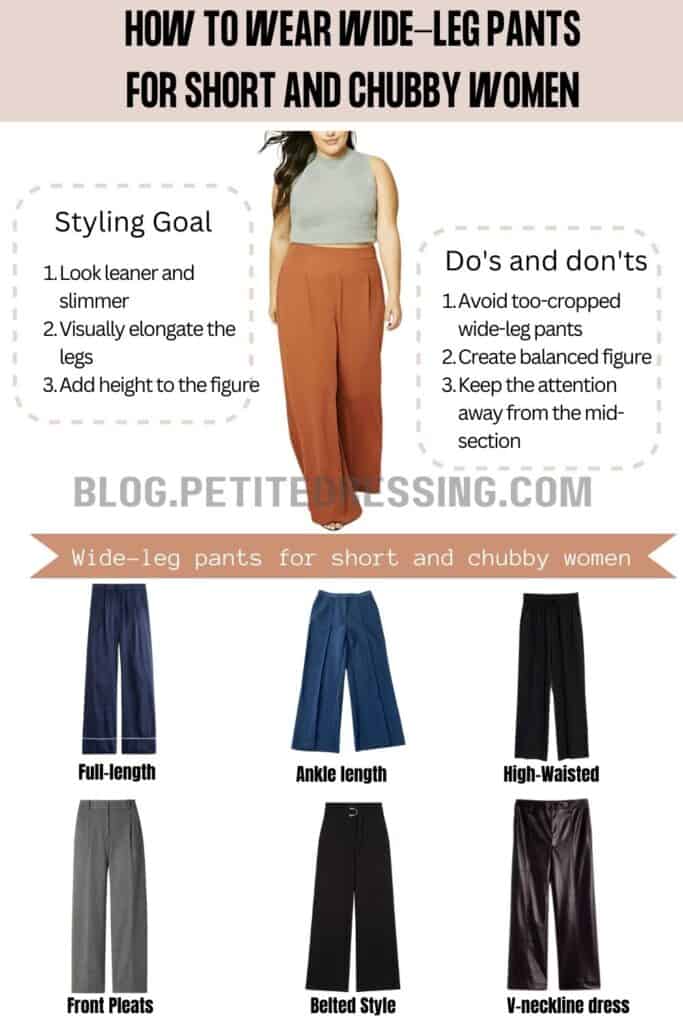 The Length
You might think that short and chubby women can't rock in wide-leg pants. Chubby women think wide-leg pants will make them look heavier and they need to wear skinny pants all the time. However, it isn't true. 
As a chubby woman, it is easy to conceal parts you don't want to get attention through wide leg pants. That's why it is one of the best pant styles for chubby women.
A lot of short celebrities wear wide-legged pants and flaunt this style seamlessly. It comes to the length of the pants to make you look taller.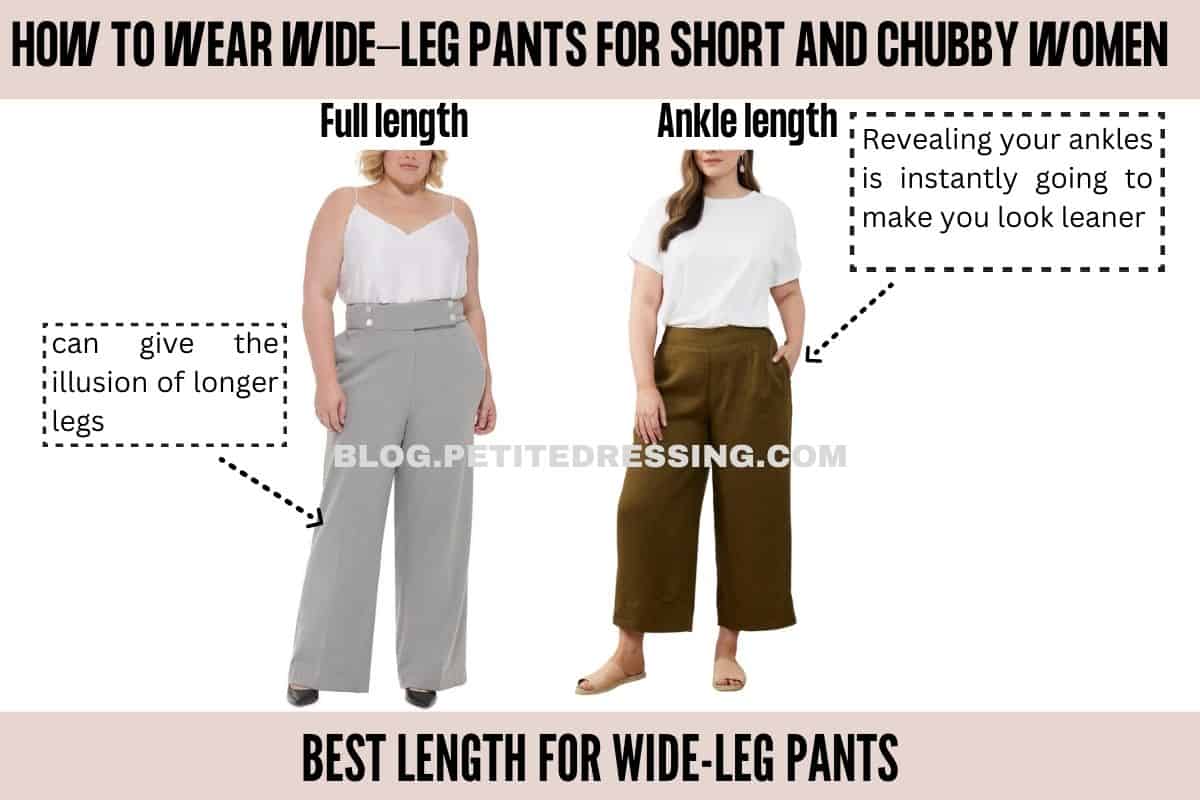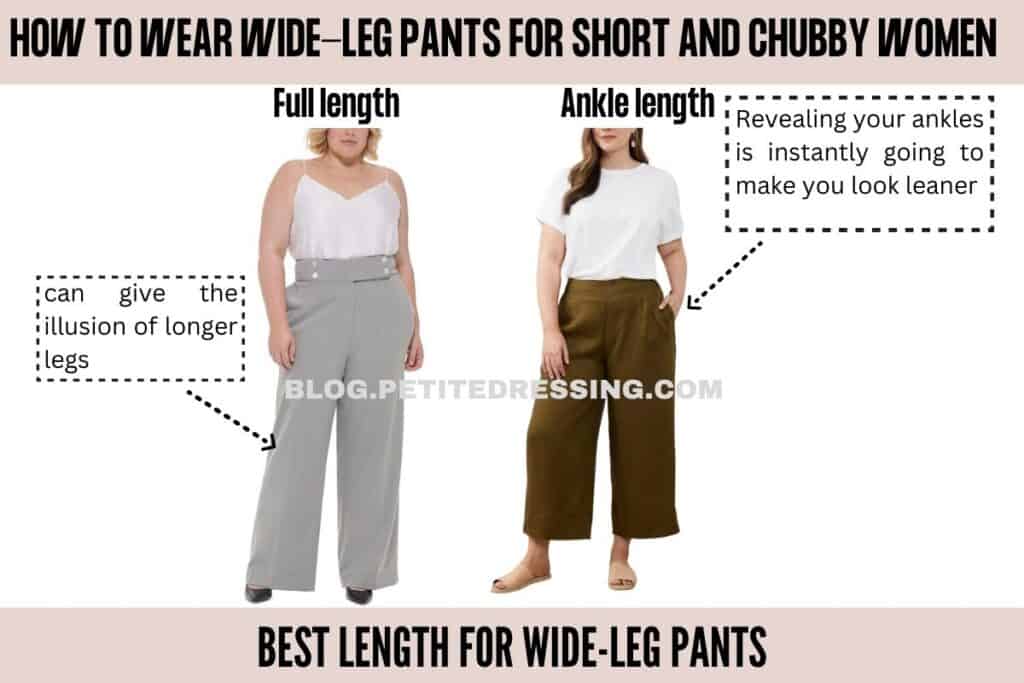 Full length
Contrary to the common belief, full length wide leg pants are actually the most ideal length for women who are short and heavy. Your legs are only as long as the pants' inseam, so if you wear anything shorter than the full length, they are only going to shorten your legs.
Because full length pants are long, when you wear them with heels, they can give the illusion of longer legs.That is why this style is perfect for short and chubby women.
You will be able to enjoy the comfort of wide leg pants while making them look suitable on you as well. That's a win-win situation in all aspects!
Ankle Length
Above ankle length for wide leg pants can also work for short and chubby women.
The key is to wear same color shoes with your wide leg pants. It adds height to your body and makes your legs look longer. Revealing your ankles is instantly going to make you look leaner.
High-Waisted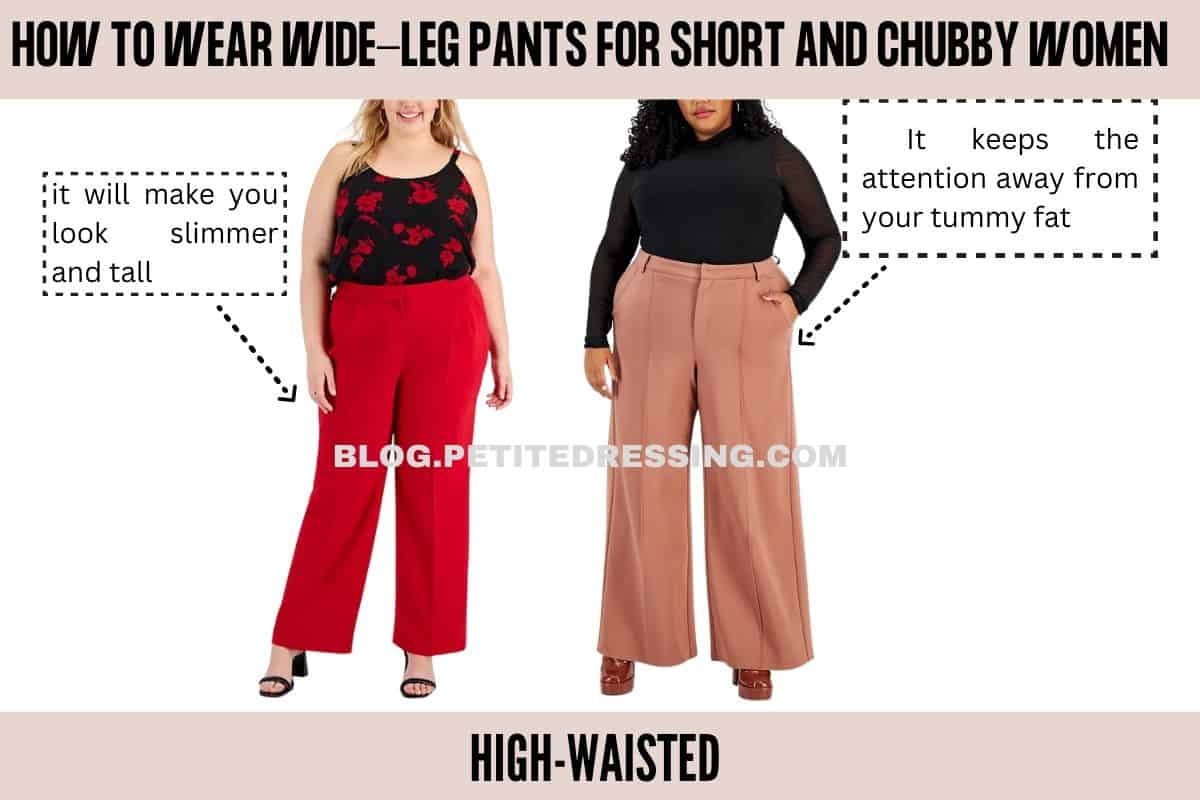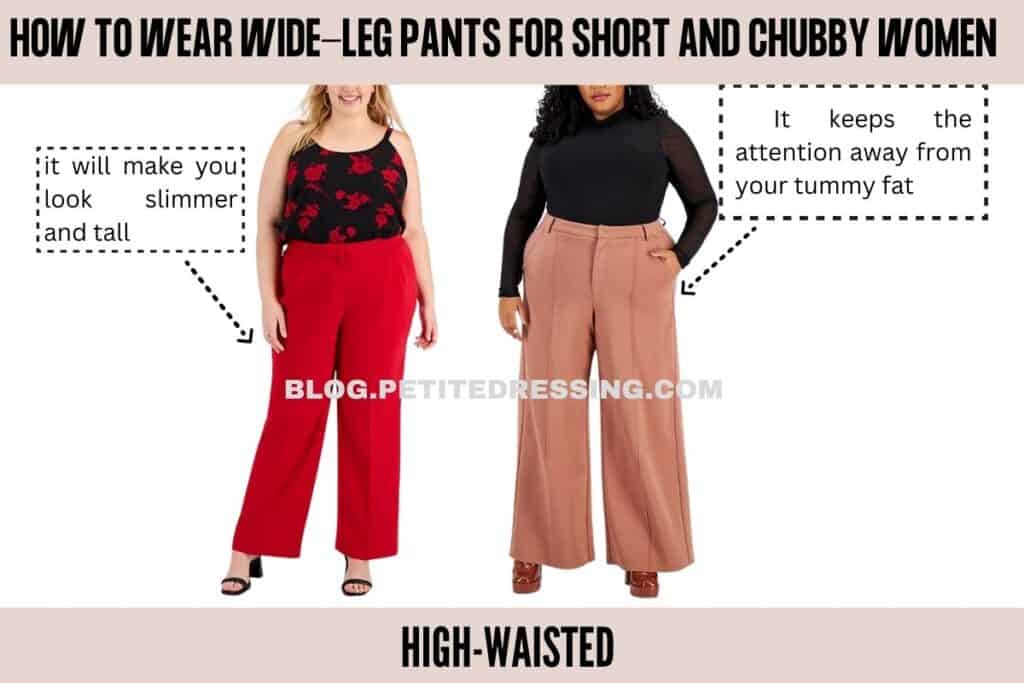 Want to look leaner and slimmer after wearing wide leg pants? Go for a high-waisted style! You will see how a high-waist works like magic to make your waist look slimmer. It keeps the attention away from your tummy fat and complements your body type immensely.
High-waisted wide leg pants won't make you look heavier than you already are. Instead, it will make you look slimmer and tall. So, it is a must-try style.
Make sure the length of the pants is suitable for your short stature. Choose above ankle length or cropped length to look leaner. Go for a solid dark color to make yourself look slimmer.
Pair the high-waisted wide leg pants with a scoop neck top. Tuck the top in the pants if you want to look put-together. Otherwise, the outfit can make you look out of proportion.
Front Pleats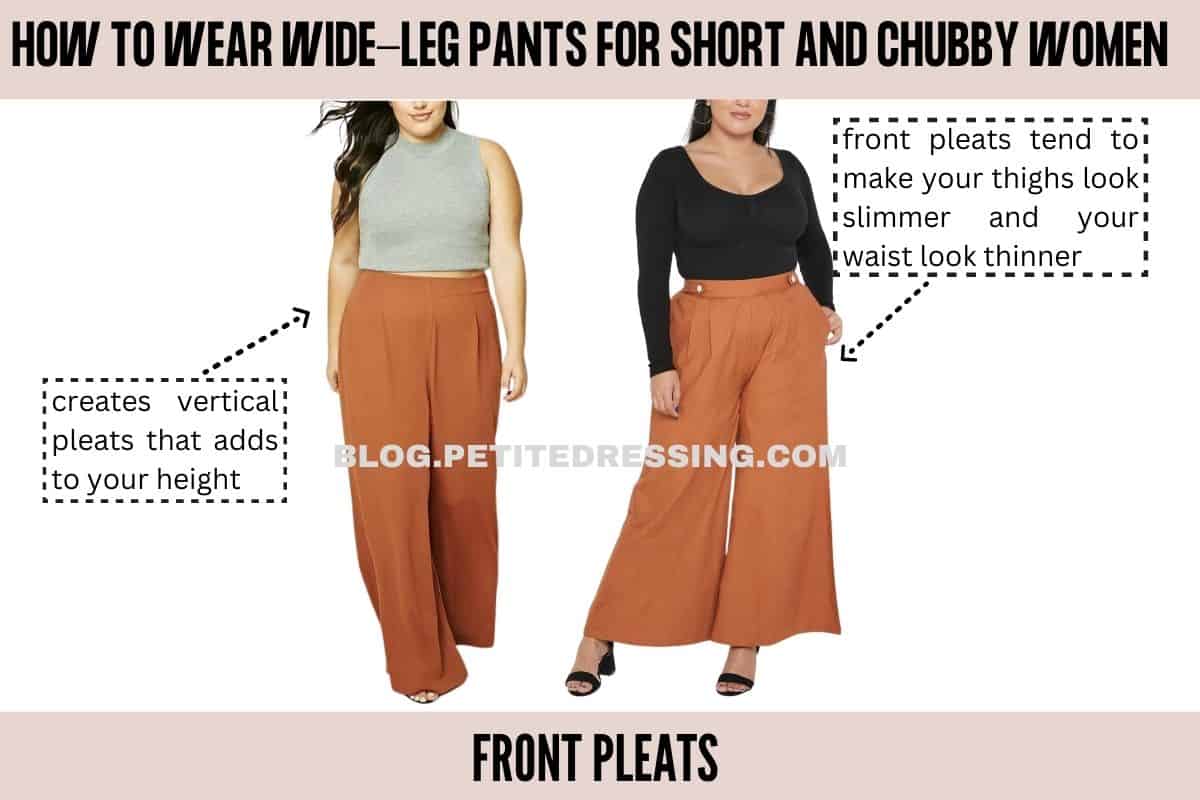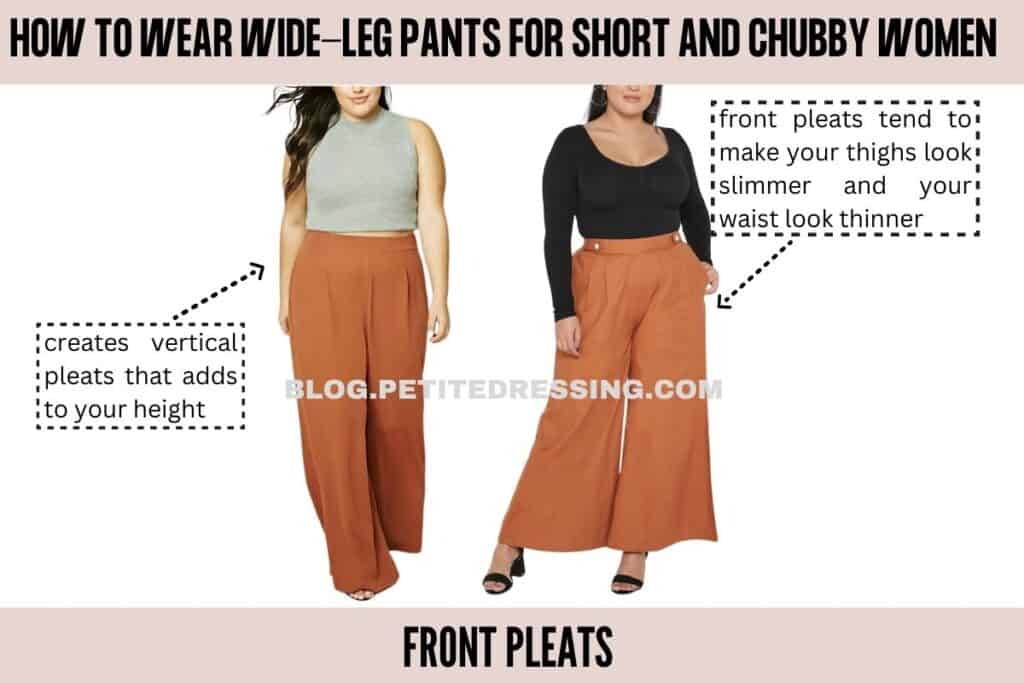 Wide-leg pants with front pleats tend to make your thighs look slimmer and your waist look thinner as well. It is perfect for women that have a heavier lower body and big tummy.
This style of wide-leg pants has pleats on the top that vanish as you go down. This way the flare of the bottoms remains intact and gives you a flattering silhouette. The vertical pleats also add height therefore this style is suitable for short and chubby women.
Pair front-pleated wide-leg pants with a button-down shirt and pump heels. It is the perfect workwear for everyday use. That's why you must have it in your wardrobe.
Belted Style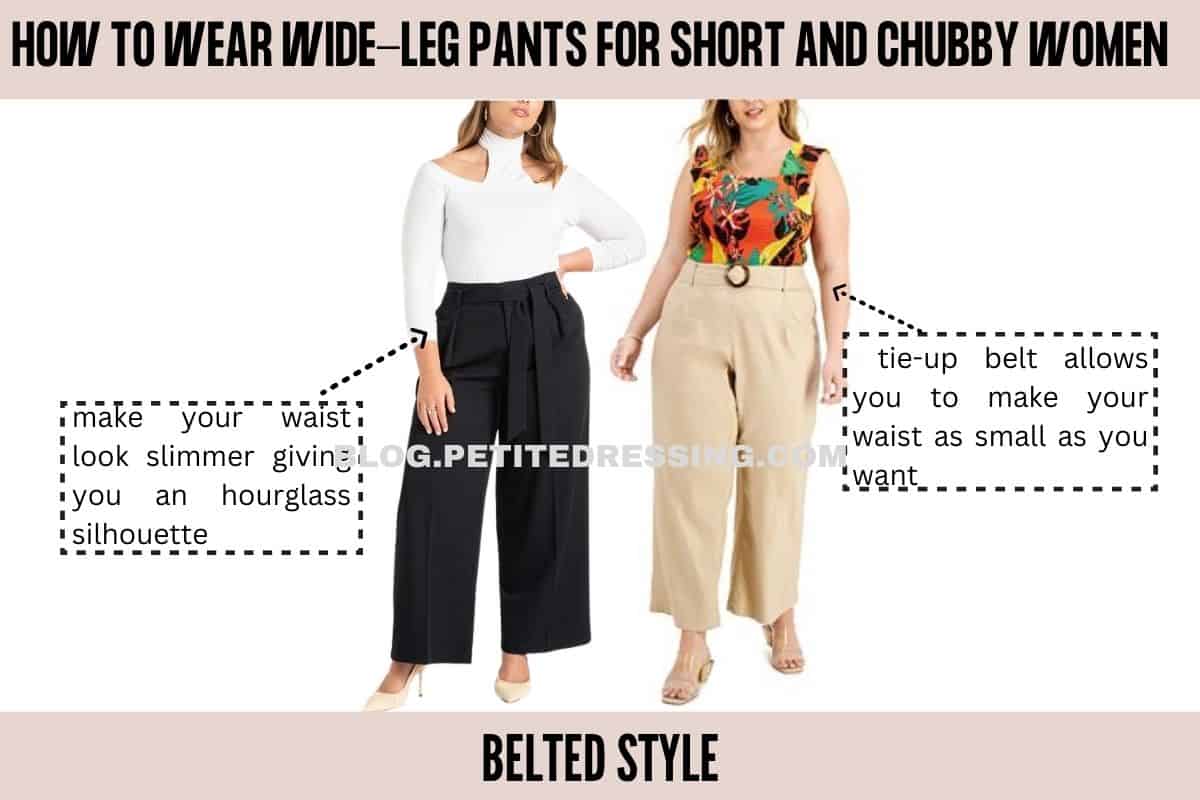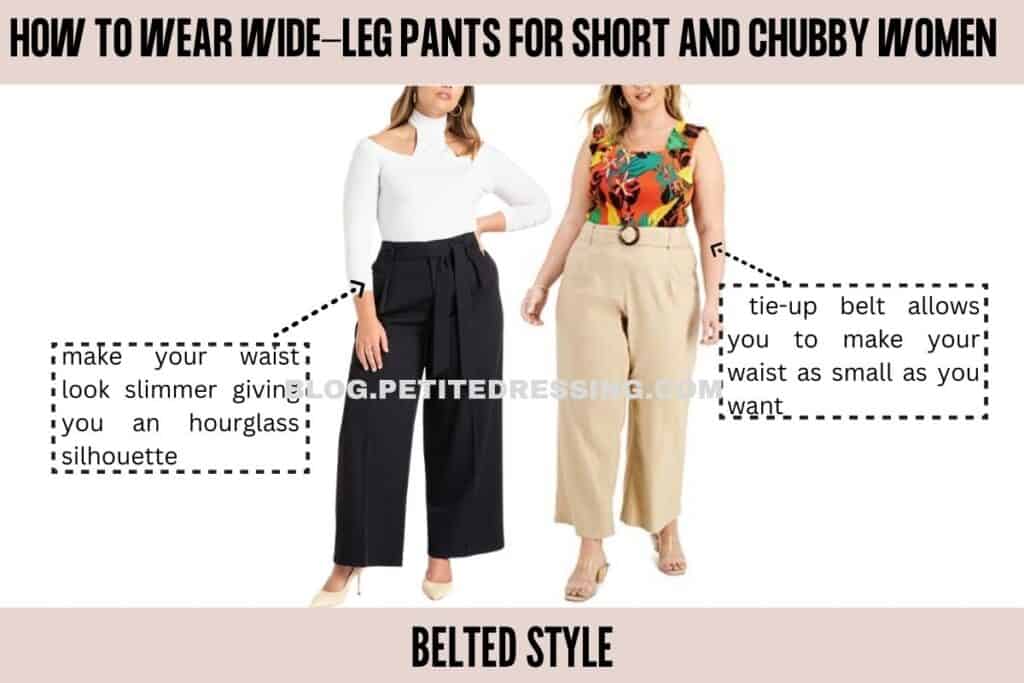 Belted wide-leg pants make your waist look slimmer. The belts come in various designs. You can find tie-up belts or normal belts in this style. The tie-up belt allows you to make your waist as small as you want. This way you get an hourglass figure.
It keeps your lower body in balance with your upper body and you look leaner instantly.
Pair belted wide leg pants with a V-neck top and transparent block heels. The V-neck top will bring attention to your upper body and keep it away from your tummy.
Faux Leather Wide Leg Pants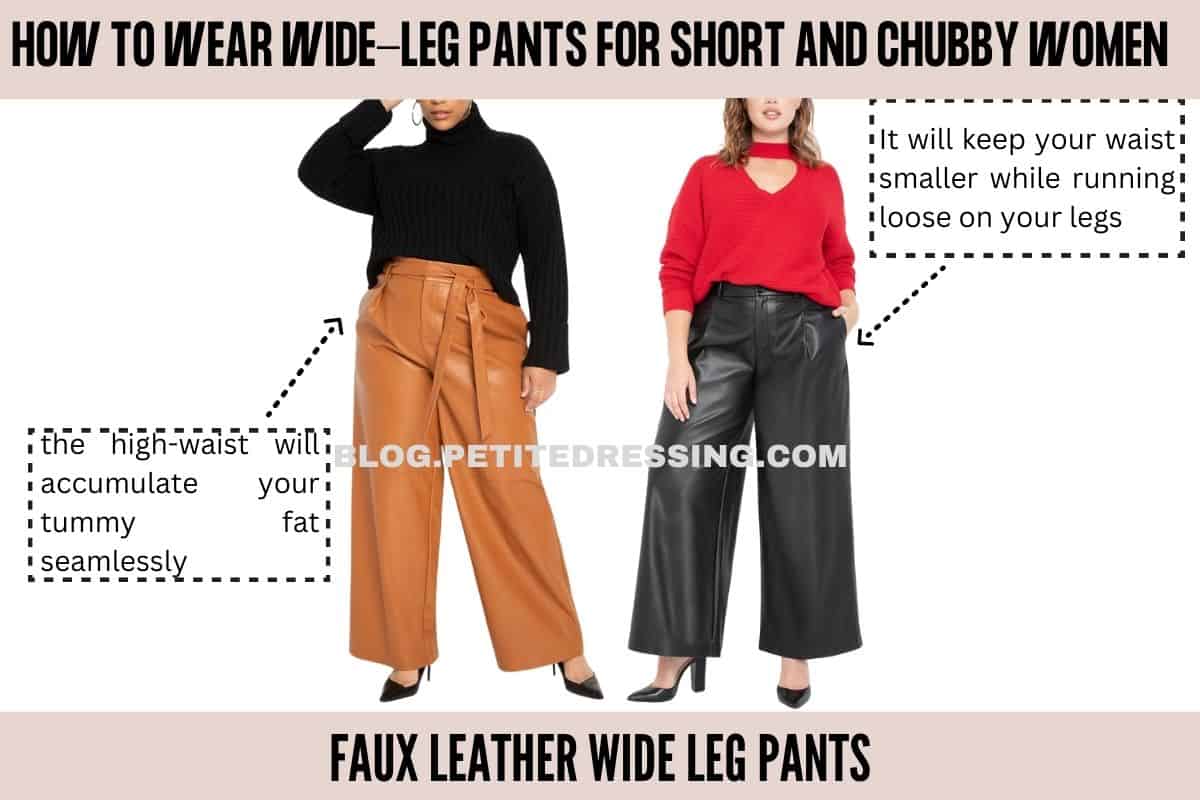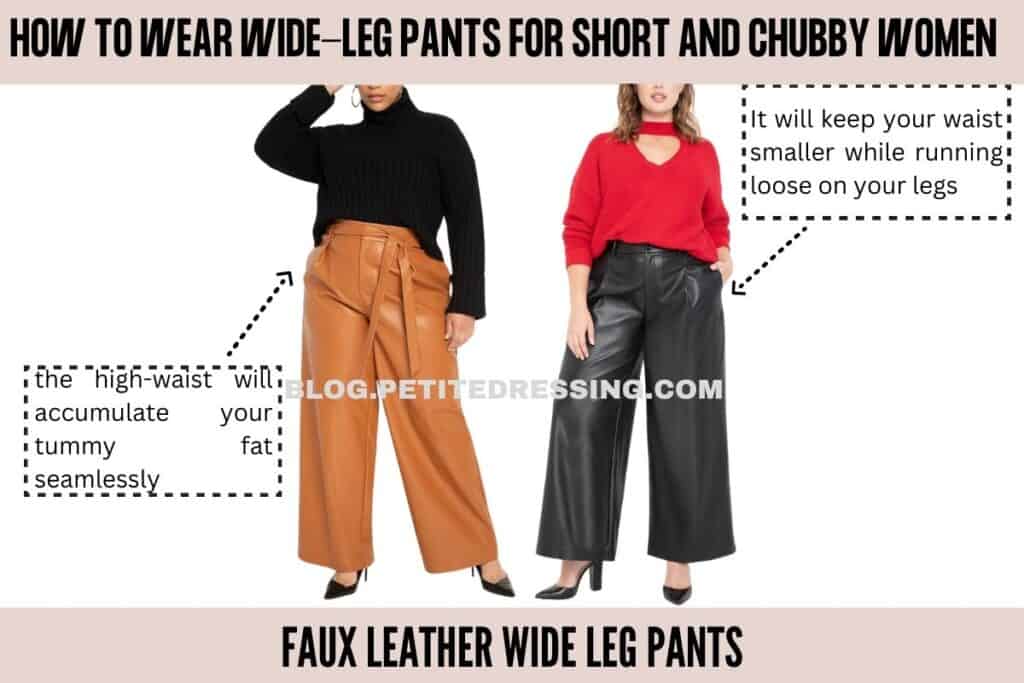 Leather wide-leg pants are super fashionable. You can turn a lot of heads toward yourself with this style. Styling leather wide-leg pants are easy too. You can pair it with a simple white t-shirt and you are good to go.
The best thing about leather is that it retains its shape. It will keep your waist smaller while running loose on your legs instead of accentuating your thighs.
Choose a high-waisted design so that it makes your legs look longer. The high waist will accumulate your tummy fat seamlessly as well and divert the attention away from this part.
Slitted Style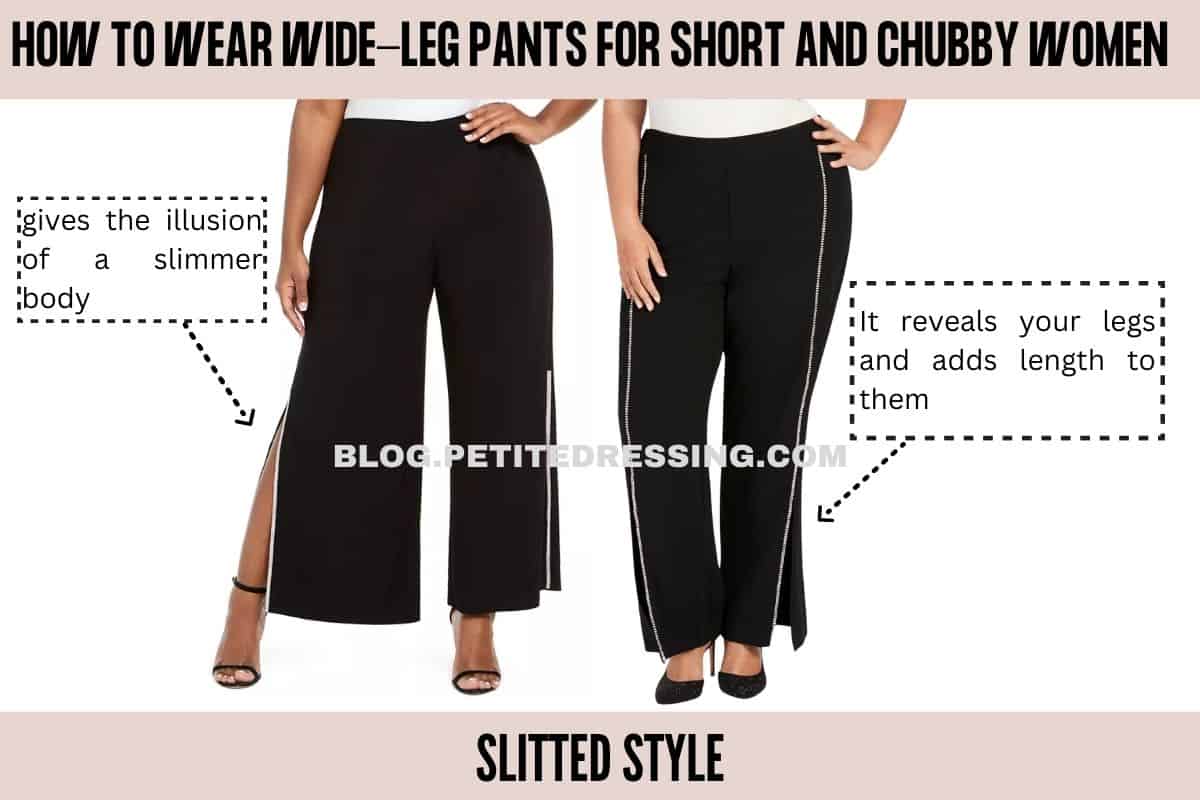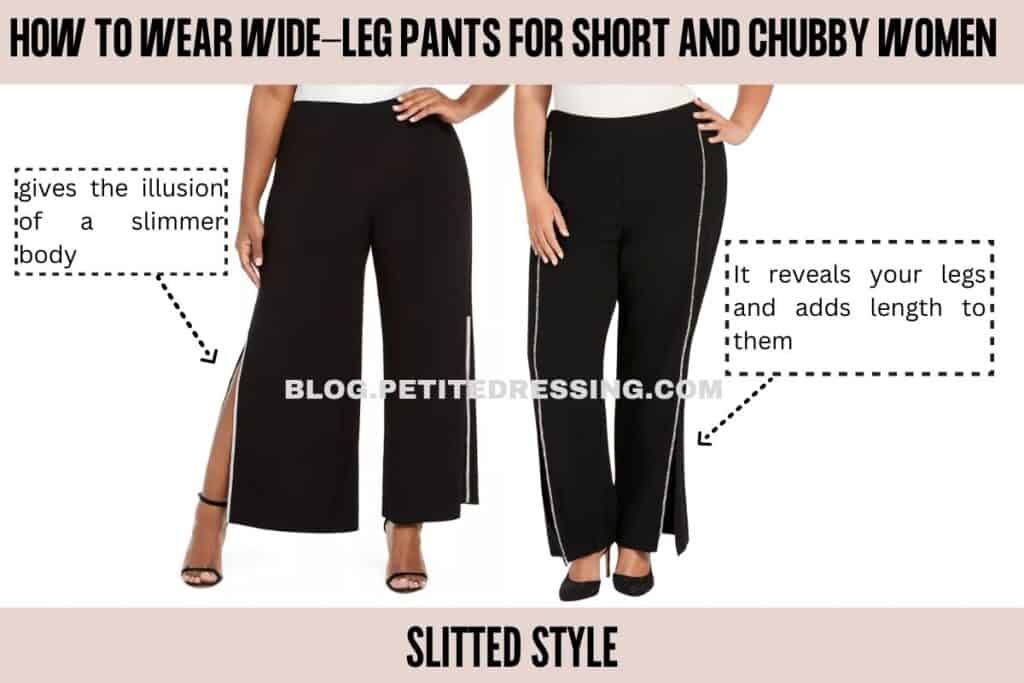 Wide-leg pants with slits on both legs are amazing for short and chubby women. It reveals your legs and adds length to them. This way, you look taller. A lean body gives the illusion of a slimmer body. That's why it is suitable for your body type.
You can choose the slit length according to your preference. If you go for long wide-leg pants, you can rock them if they have slits. The slits will give the effect of longer legs instead of making you look short. So you can easily get away with long wide-leg pants.
Pair slitted wide-leg pants with a fitted simple top and chunky sneakers.
Avoid Too Cropped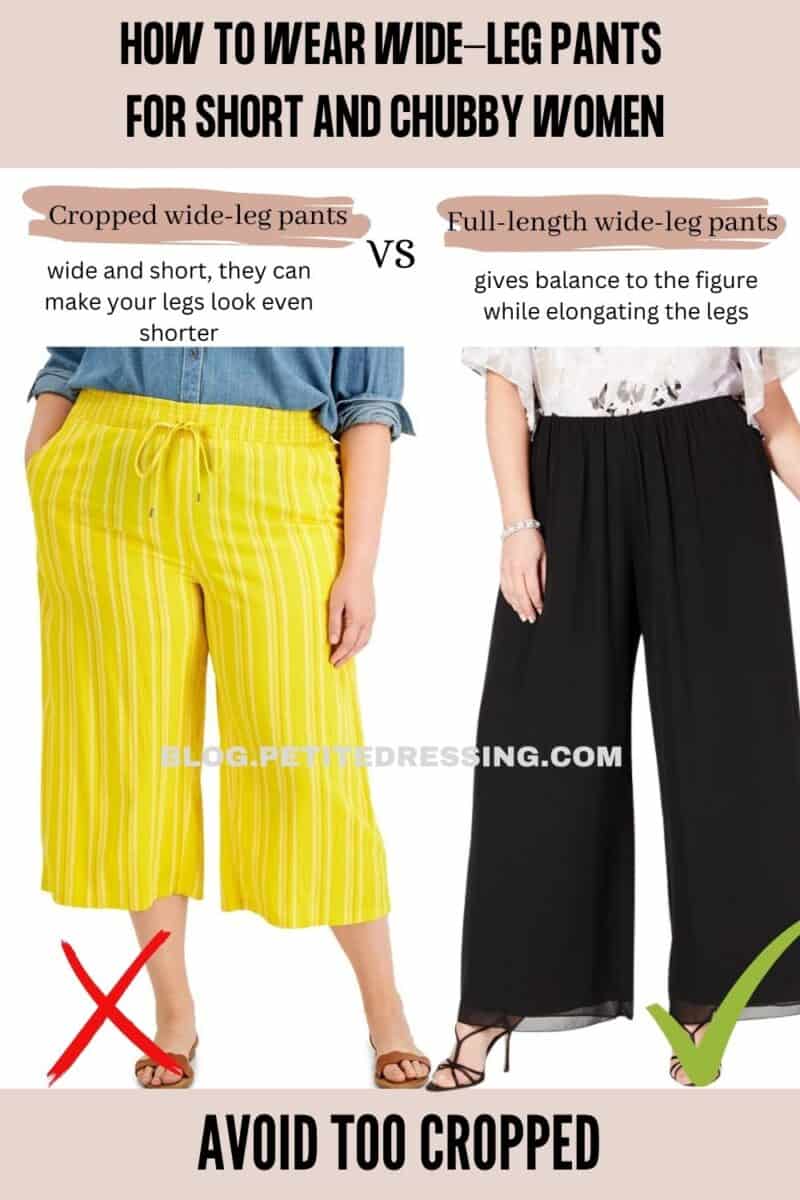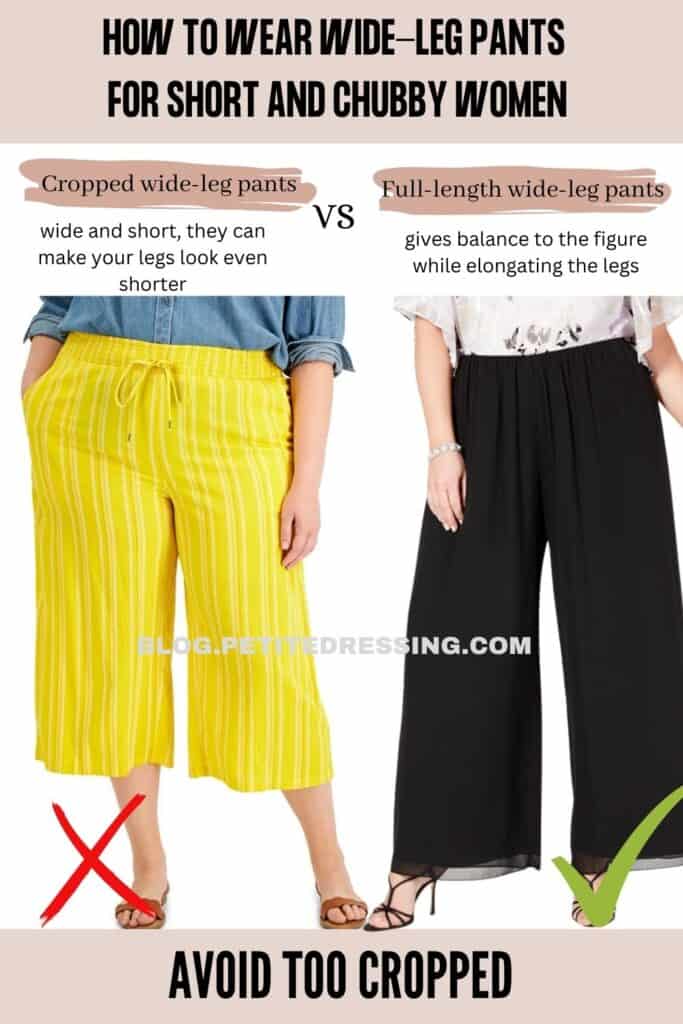 Cropped-length wide leg pants can make you look short if you are already petite. Because they are wide and short, they can make your legs look even shorter than they actually are.
This isn't a flattering length for short and chubby women.
Avoid Low-Waisted
Low-waisted wide leg pants aren't suitable for short and chubby women. They will make your legs look shorter and bring out your tummy too. Low-waisted pants sit below the tummy and add width to your body. Your tummy can end up getting more attention than other parts of your body because of low-waisted pants.
Avoid Loose Blouses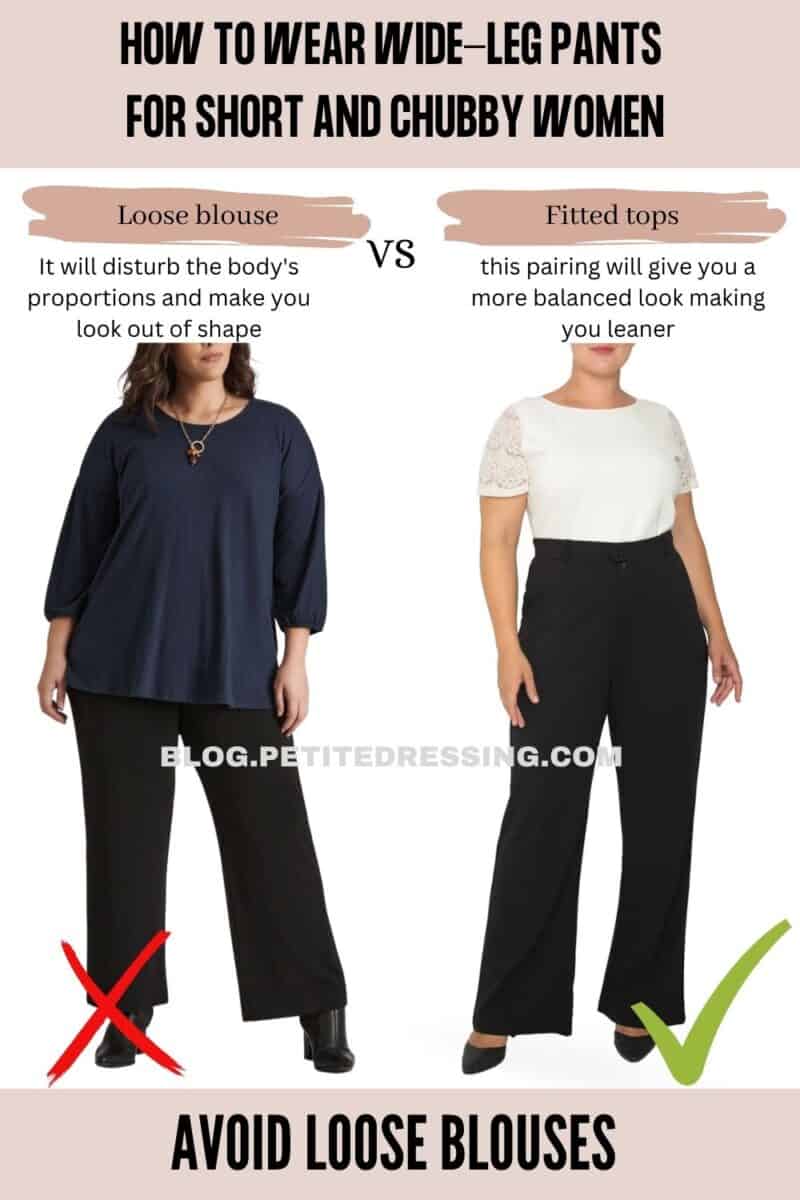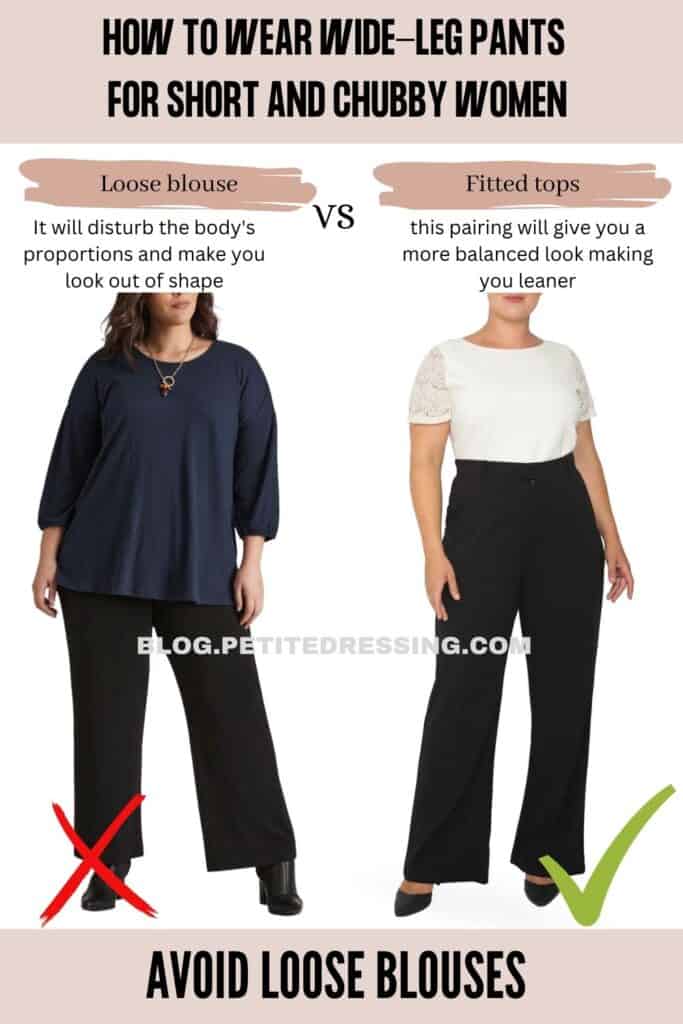 Wide leg pants are already loose. Styling them with loose blouses is a bad choice especially if you are short and chubby. It will disturb the body's proportions and make you look out of shape. You will end up looking like a bean bag instead of fashionable. Always go for fitted tops with wide leg pants if you want to look leaner.
Final Thoughts
Now you know how you can wear wide leg pants as a short and chubby woman. Short and chubby women find it hard to wear loose clothes because they don't want to look heavier than they already are. However, you can get away with comfortable wide leg pants if you know what style flatters your body type. Pairing the right top and shoes is also important while styling wide leg pants. Otherwise, you can end up looking chubbier.