Many women with short legs face the struggle of finding the perfect dress for their body frame while still picking something that aligns with their personal preferences.
Women with short legs have different shapes and sizes, but the common theme here is to pick prom dress styles that make your legs appear longer and give the illusion of being taller.
This prom dress style guide for women with short legs highlights six amazing styles that make women with short legs look exceptional and elegant.
You'll find that these styles fit your unique needs and are easily customizable to your preferences. Here are top prom dress styles that flatter petite women.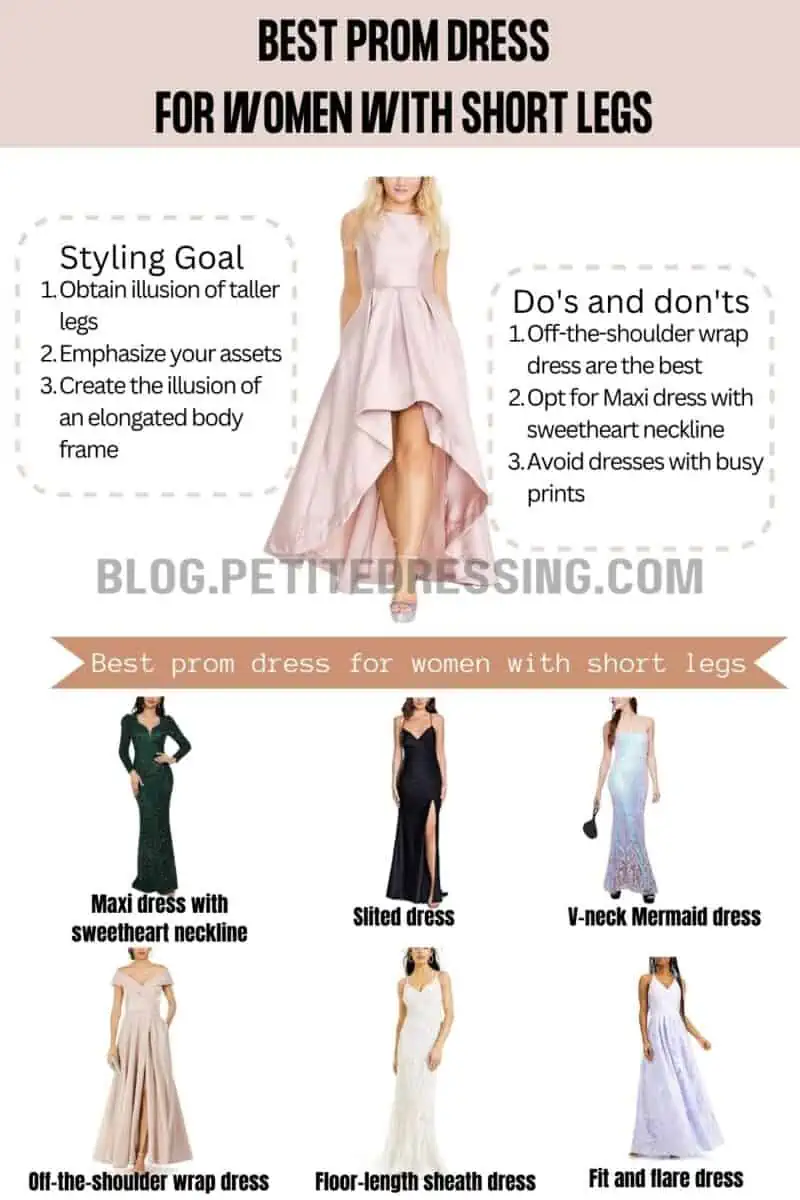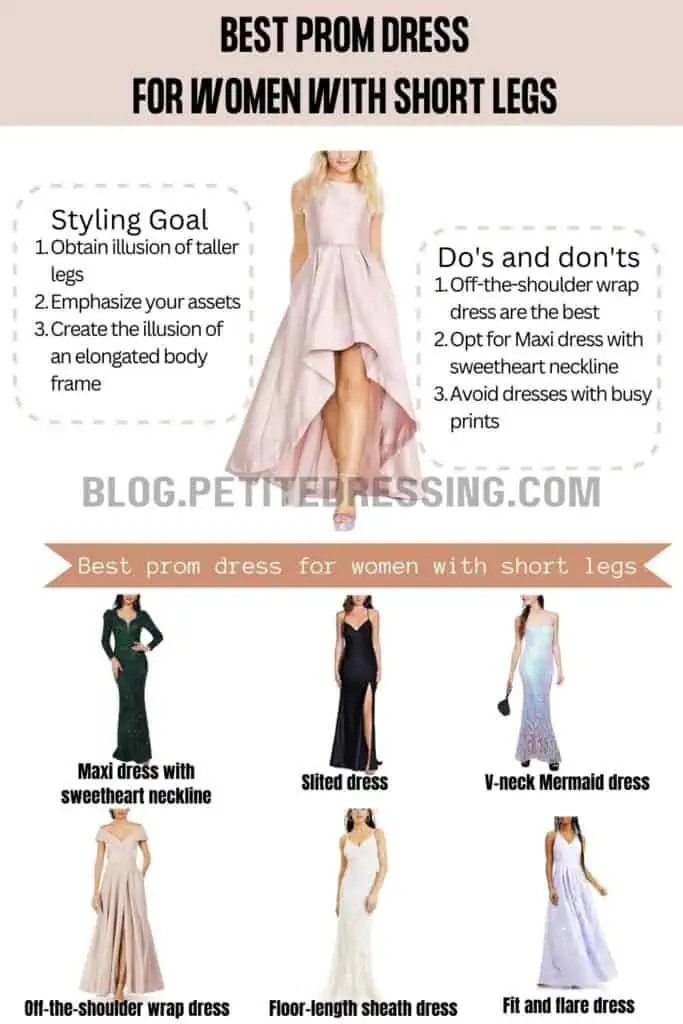 Fit and flare dress
If you've heard of skater dresses or A-line dresses, these are known as fit and flare dresses which are an instant hit for petite women looking for a flattering prom dress style. So, what's so great about fit and flare dresses for women with short legs?
Well, the style of this dress ensures that it fits perfectly to your upper body without being too clingy on the hips. A dress that's not so harsh on your lower body is exactly what short women need, so you don't call so much attention to your legs.
If you have a pear or apple body type, this prom dress style won't draw focus on your butts and thighs, and that's great for highlighting its flattering effect on your upper body. So, you have a dress that emphasizes your assets while also drawing attention away from your weak spots. That's just perfect.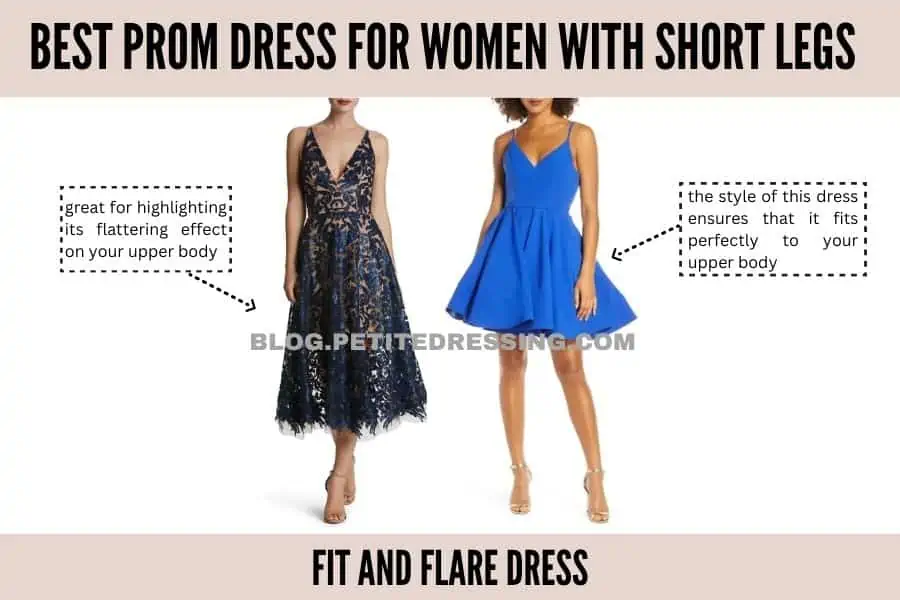 While the fit and flare dress won't make the heavy mid-section in apple-shaped women pop out, it also hides huge thighs and wide bottoms in pear-shaped women. So, it's an all-around win. We recommend choosing dresses that are at least 3 inches above your knees. 
Slit dress
Slits always have a magical effect on dresses worn by short women. Not only are they incredibly sexy, but they also give the illusion of longer legs which is just what you need as a woman with short legs.
However, you shouldn't go for just any slit dress. Side slits are highly recommended for women with short legs. So, when you're shopping for your dress for prom, be sure to look out for the side slits that give a peek at your skin without revealing too much.
The goal here is to elongate your petite frame, which is super flattering on your body. So, even if you're not a fan of showing too much skin, you can opt for side slits that stop just above your knee.
With this, you can show some skin while sitting down or walking, and you'll look much taller than you actually are.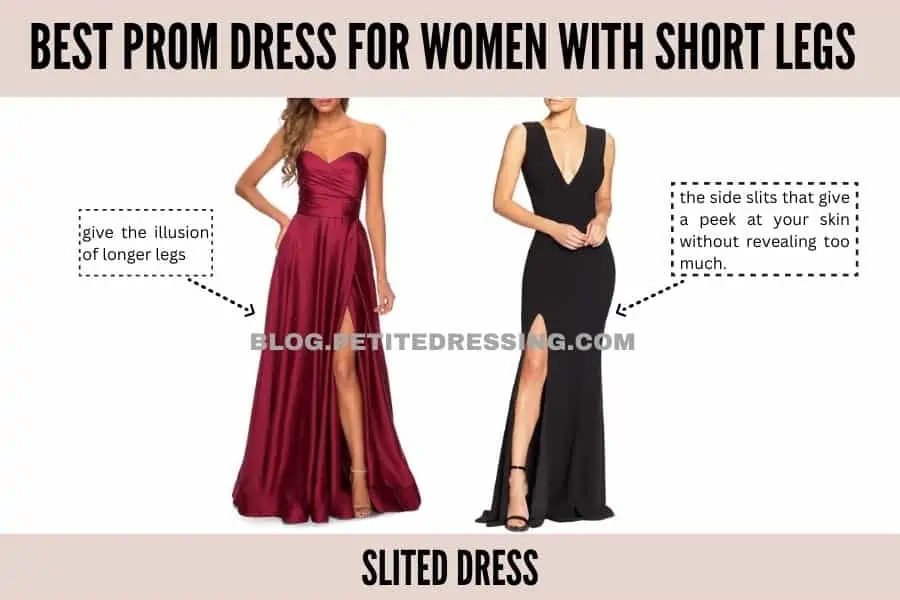 V-neck Mermaid dress
For the perfect prom dress style for women with short legs, the v-neck mermaid dress is your best friend. A combination of these two styles creates an effect that makes your face appear more slender while accentuating your natural assets.
The deep V neckline is a great choice for petite women because they usually have shorter necks. Therefore, this neckline elongates your neck, which creates just the right amount of space around your face.
So, while you have the V-neck creating the illusion of an elongated body frame, the mermaid dress style highlights your natural curves, which makes your hips and chest stand out beautifully.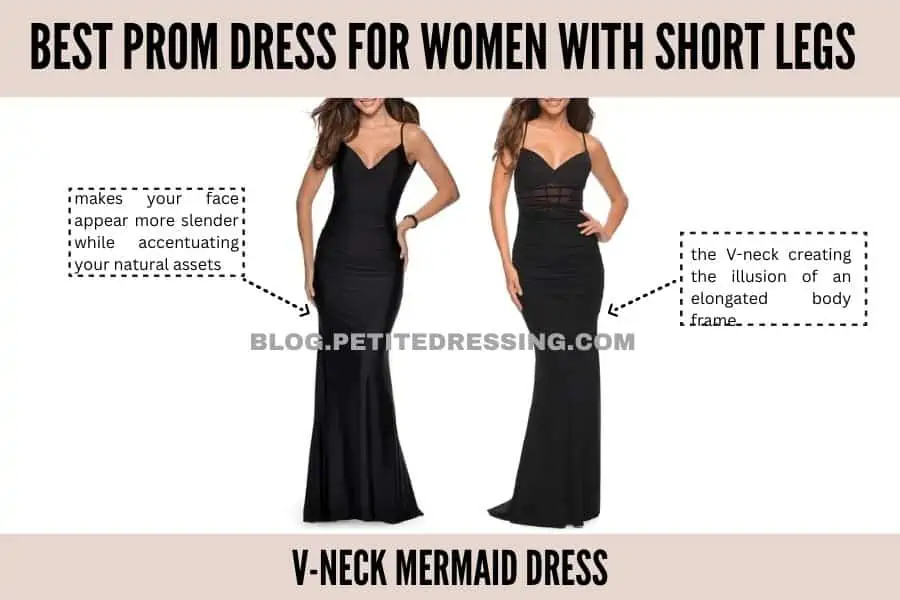 The result is an hourglass shape as the dress hugs your body tightly and gives that fitted silhouette that's always amazing on petite women. If you love to show off your curves, this is the perfect feminine prom dress style for you. 
The dress style is figure-flattering without being too complicated that it overwhelms you.
Off-the-shoulder wrap dress
Off-the-shoulder dresses have been around for years, and they continue to be an instant hit with women around the world. Well, the truth is, it's very rare for any woman not to pull off the off-the-shoulder dress perfectly.
It's a universally flattering neckline that works for almost all body types. So, as a woman with short legs, this is just what you need for your prom dress style. Put this neckline in a wrap dress, and you'll glow all day long.
Wrap dresses are great for emphasizing feminine curves, whether in women with the natural hourglass shape or for rectangle-shaped women that want to give the illusion of curves.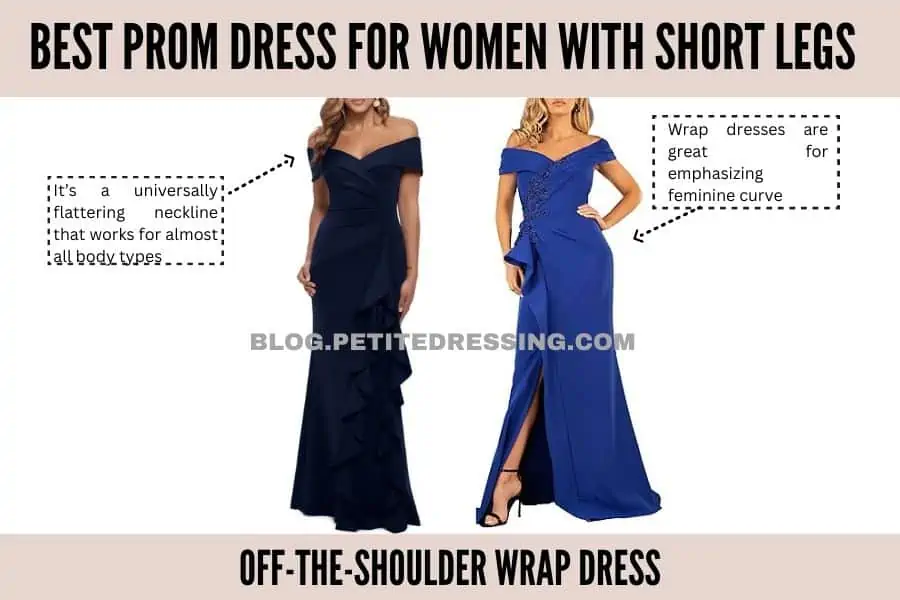 We absolutely love how the off-the-shoulder wrap dresses hug the body in all the right places while also giving an elongated frame. So, even if you have no clearly-defined waistline, the wrap dress will handle that.
We recommend off-the-shoulder dresses that stop at your knee, and you have the perfect prom dress style to flatter your short legs as there is more emphasis on the top half of your body.
Floor-length sheath dress
How long are your legs? Well, no one would be able to tell when you're in a floor-length sheath dress accompanied by the right pair of heels. This is an effect every petite woman desires. 
Sheath dresses are designed with seams that run vertically from your shoulders downwards. Therefore, it fits close to your body without being too clingy as the cut moves straight down.
The floor-length sheath dress, therefore, comes together as a great style for women with short legs who want to appear taller while also highlighting their curves beautifully. The sheath dress is not as clingy as bodycon dresses, so the silhouette skims your body with extremely feminine results.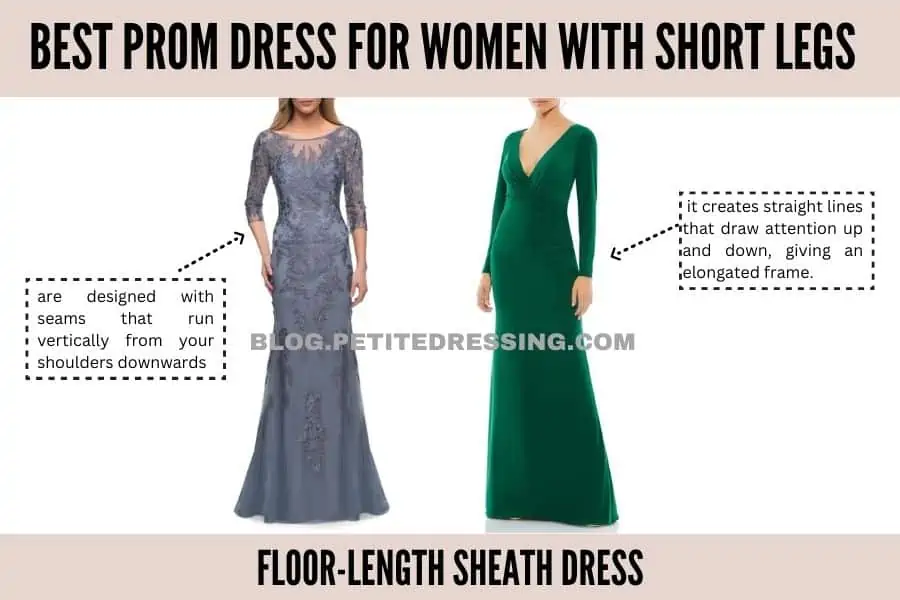 Feel free to opt for dresses made from chiffon material, as these really accentuate your figure. The best part about this prom dress style is how beautiful it is in its simplicity. Due to the vertical seams, it creates straight lines that draw attention up and down, giving an elongated frame.
Maxi dress with sweetheart neckline
Our list of prom dress styles for women with short legs is incomplete without maxi dresses. Maxi dresses with sweetheart necklines are one of the best styles for women with full chests who would love to draw more attention to their faces.
Contrary to popular opinion, maxi dresses are not just for the beach. Today, you can get one in prom dress style and stand out as elegantly as possible. The important thing is to keep the style as fitted as possible without being too tight on your body frame.
The sweetheart neckline highlights your assets, so even flat-chested women can create the illusion of a fuller chest by wearing dresses in this style. Long dresses create the illusion of an extended frame which is great for petite women.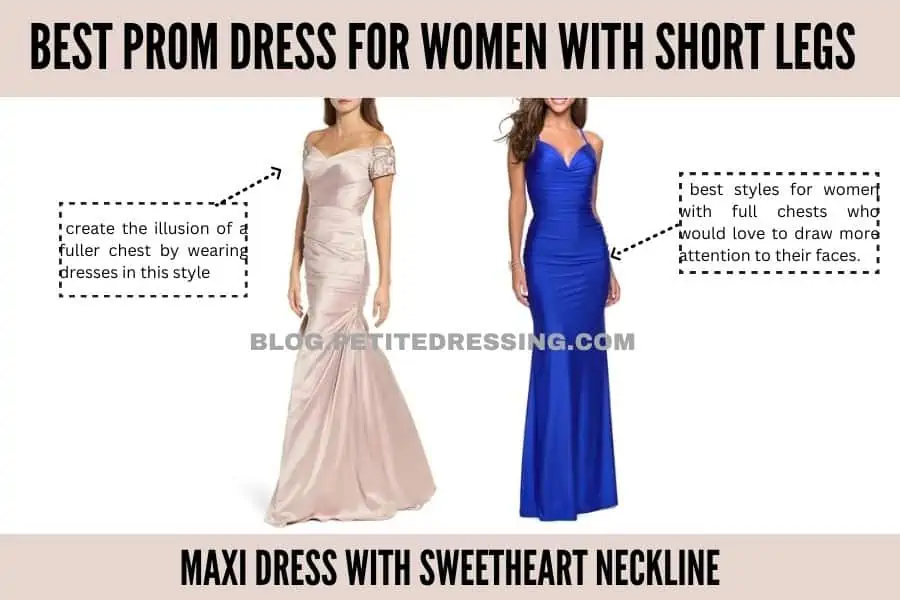 Maxi dresses also come in colorful patterns, which can have an adverse effect if this is too much. Therefore, it's important to keep this as moderate as possible. Finding the perfect balance in style, fabric, and length gives you the best prom dress style to help you stand out.
Avoid dresses with busy prints
Dresses with busy prints are a huge no for women with short legs. Prom is a great time to go outside the box with your dressing, and wearing dresses with prints may seem like a good idea. However, this can be overwhelming on the figure of petite women.
While you can wear dresses with prints, be sure to keep this as minimal as possible. It all starts with the size of the print itself. Prints that are too large will make you look like a tiny woman in a sack.
Instead, it's much better to choose smaller prints that match your petite body frame. The prints should also be vertical designs as they make you look taller since they draw the eyes up and down.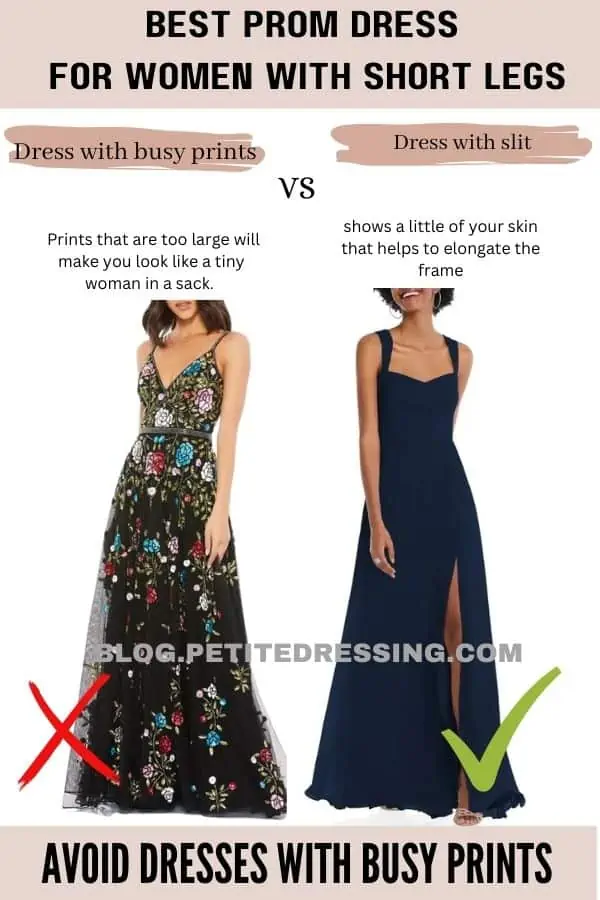 Avoid ball gowns
Ball gowns are usually full and flowy as they start fitted at the waist, where it really cinches before flowing outward. While ball gowns are absolutely beautiful to look at, it's not a good idea for petite women to wear them.
The huge structure of the gown draws more attention to your petite frame, which can be quite uncomfortable. Since the goal is to wear prom dresses that elongate your body, you won't be having any of that result with ball gowns.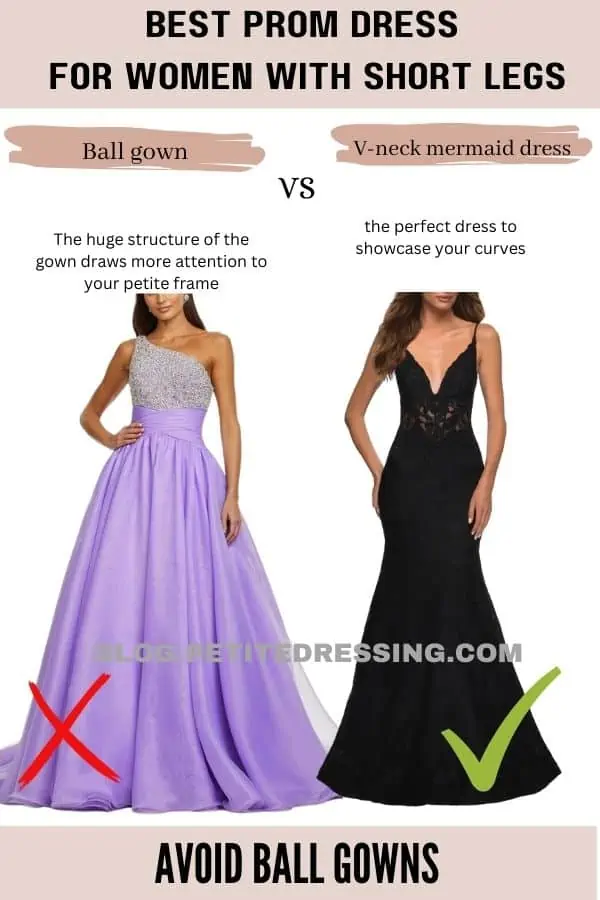 Avoid high neck
High-neck dresses are great for achieving a sophisticated and glam look that makes you the cynosure of all eyes on any occasion. However, if you're a woman with short legs, this won't be the effect high-neck dresses will have on your body frame.
Rather than flatter your body, women with petite frames usually have short necks, and this will look awkward on a high-neck dress. It won't make your face look slender but will instead make your neck look nonexistent.
Now you know what works and what doesn't for women with short legs. The key to looking amazing in your prom dresses is to choose styles that form an unbroken vertical line through your body frame.
Also, stay away from bulky designs and busy prints, as these will all make you look overwhelmed by the dress. These tips will help you stand out elegantly.