One of the challenges women faces is finding the perfect pant to conceal their bellies. It can even be more annoying for women who just had a baby. You may need to undergo a series of sit-ups, dieting and cardio to get back that sexy pre-pregnancy belly.
Regardless of whichever category you fall in, whether one who just had a baby or whose belly comes naturally bigger, we've got you covered in this article on the best style of pants to wear.
High Rise Pants
This pant type looks fabulous on everyone, especially women with big tummies. It doesn't matter whether they come in jeans or plain fabrics, anything with a high rise can make your midsection look slimmer, especially if you are wearing a dark colour.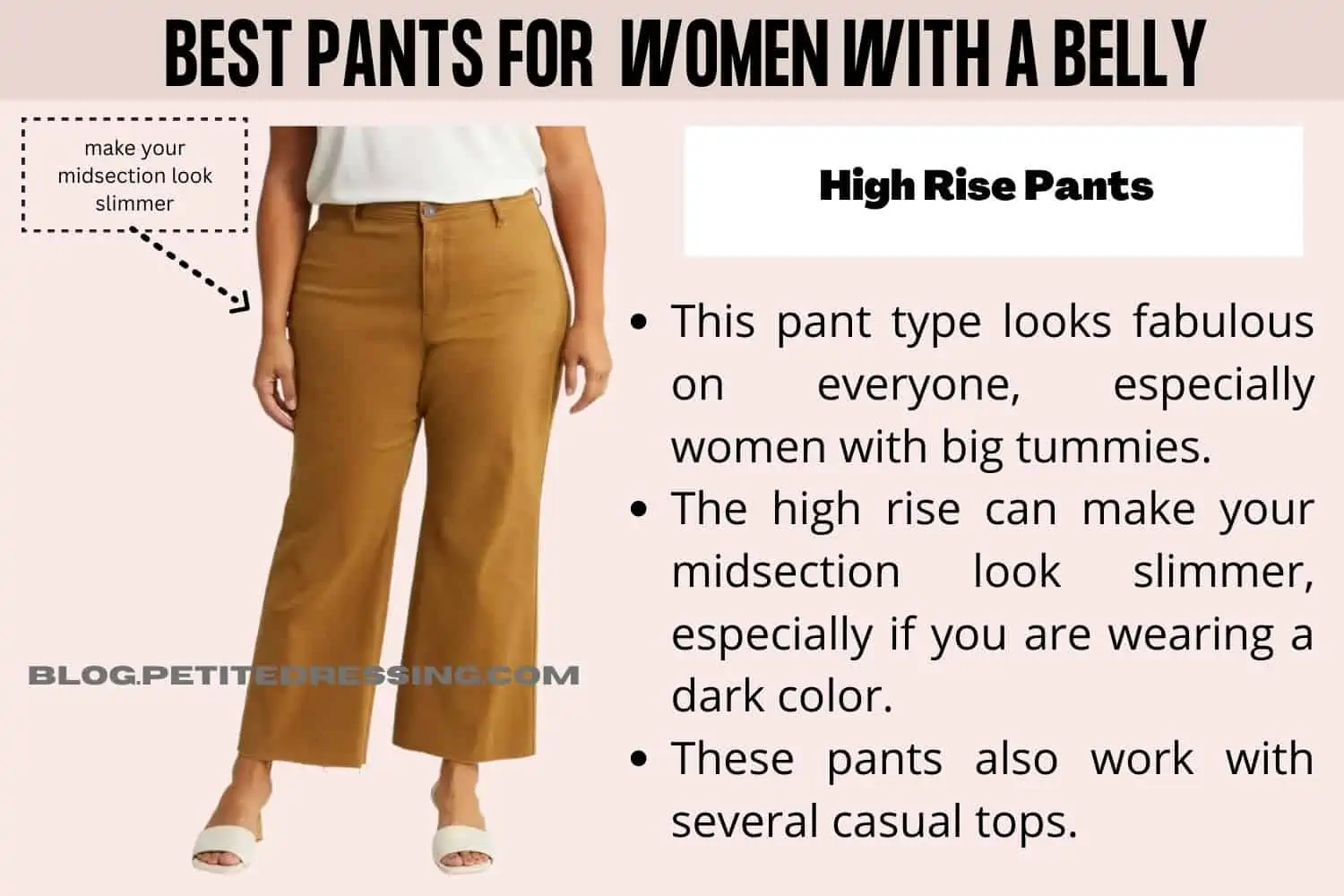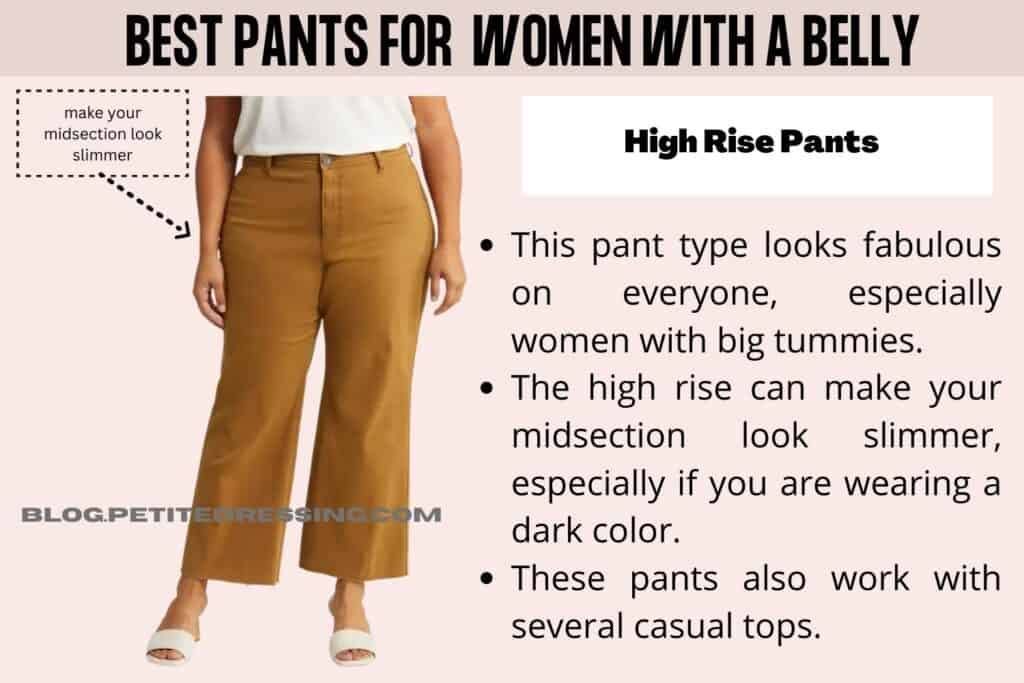 Another advantage of these pants is that they allow you to avoid spending long periods getting dressed, making them the right pick for those who love to rock minimal outfits. These pants also work with several casual tops ranging from crop tops to simple knit jumpers and formal blouses.
Palazzo Pants
If you fancy trouser silhouettes, then Palazzo pants are your best bet for your tummy. You can look for a flowy and airy fabric, such as linen, cotton or silk fabric, that will add the attraction and comfort you seek.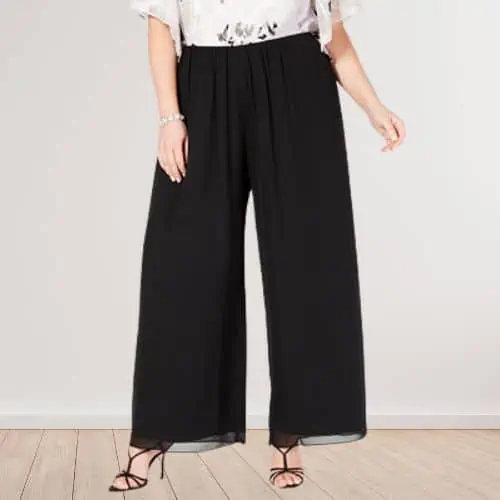 Why opt for Palazzo pants?
What you get with a palazzo is that you don't need to worry about colors and hue; you can go on to try varieties of colors as long as they provide the right match with your top or shoes.
If your worry is getting a fitting top for your palazzo, here are a few nice ideas.
You can get a blouse, top or sweater of a similar pattern to your pant and tuck it in to look like a jumpsuit. Doing so will create a delicate and defined silhouette for your waist. If you want a more feminine appearance, try a set of dark-coloured palazzo pants with a grey or white pastel lace top.
If you desire a more elongated and less stumpy posture instead, you can put on a crop top with your high-waist palazzo band sitting above your waist.
Suit trousers
Now that you have considered looking at palazzo and high-rise pants for your belly pouch, you may also want to consider suit trousers as part of your pant collections. Aside from providing you with an added alternative to your wardrobe wears, they provide as much universal go-to as your usual chinos and jeans.
Considering that they offer a befitting match with lace-ups and blazers, you can be assured that you are getting yourself a subtle way to conceal those belly fats. Even when unsure of your plans for the day, suit trousers can save the day.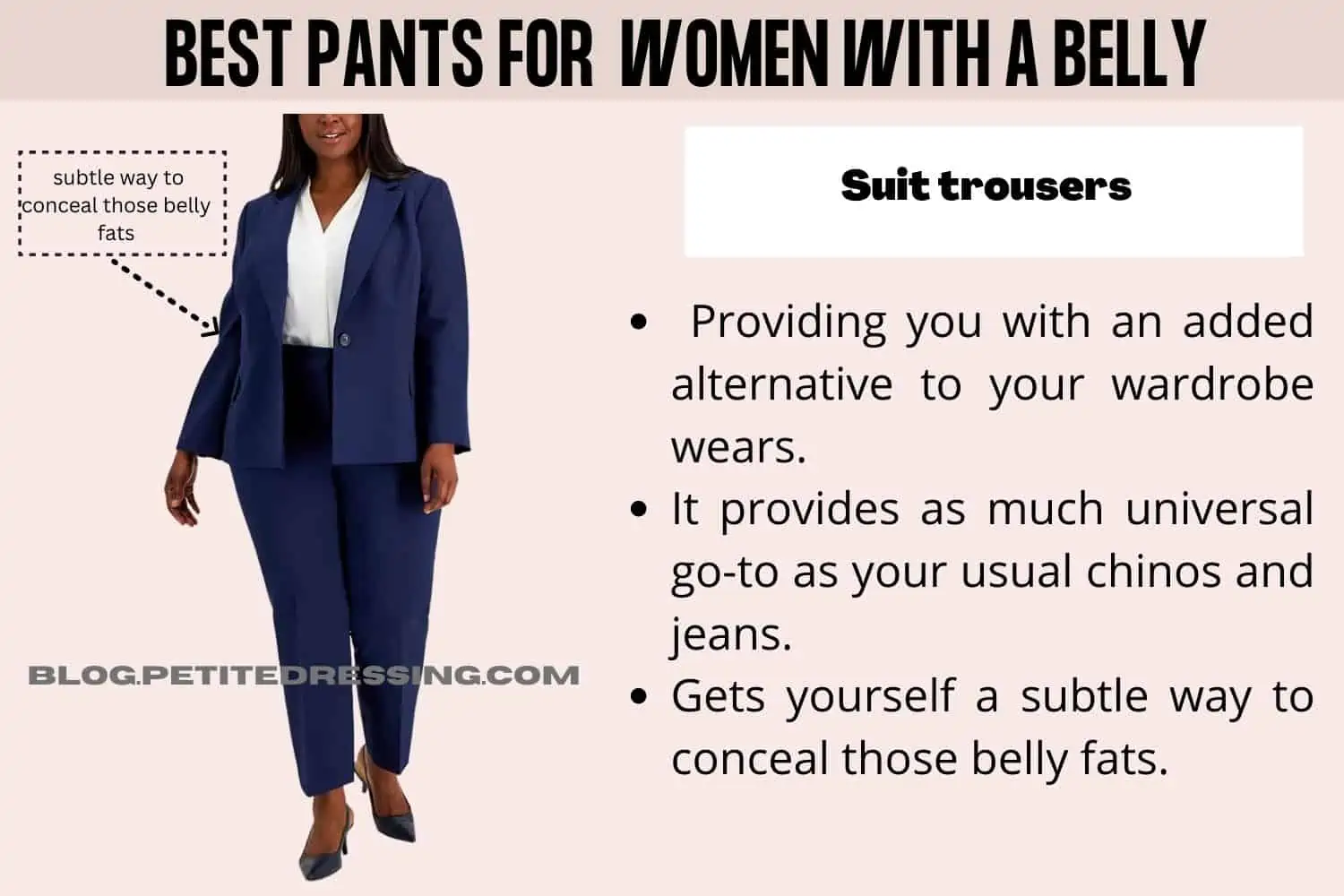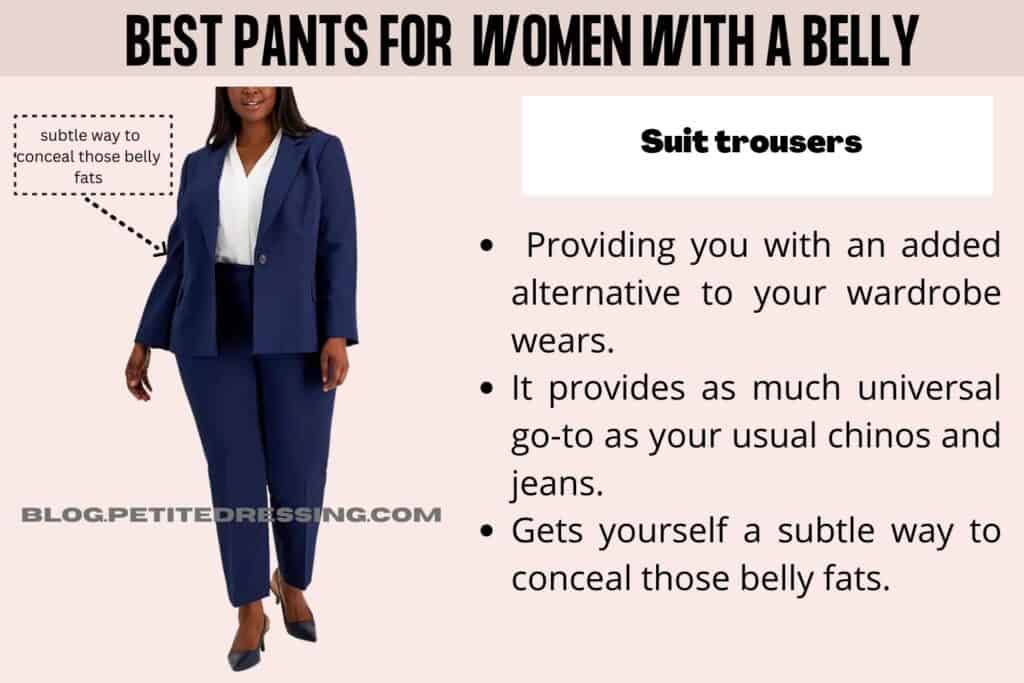 You can adorn these pants for any occasion, from hangouts to work. And added to that, the suit trousers are a perfect way to impress multiple times, as they offer the impression of casual beauty and smartness.
Straight pants
As a woman with a little extra flesh in her tummy, you cannot do without having straight pants. Aside from providing a cover for your tummy, you are certain to look elegant in them.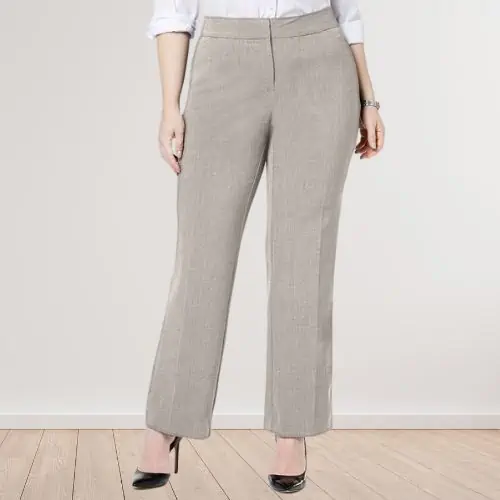 Straight pants are great for any season
During the winter, pairing straight pants with a black coat will offer you the most evergreen dazzling appearance to stay classy under the weather.
Interestingly, they are also ideal for the summer seasons.
They provide a very comfy feeling that makes them the ideal choice for many women after a hot and tiring day at work.
For straight pants, you don't have to be scared of playing with different colours in your closet. It is important to get different varieties so that you may try them out alongside tops of several colours.
Pants with Banded Waist
For women with a tummy, pants with a stretchy waistband are one of the most accommodating styles for your shape. Aside from giving you a comfortable feel around your waistline and hiding that extra tummy, they offer a fabulous match with a few top choices.
The key to looking good with stretchy waist pants is to make sure you do not completely show the elastic waistband. As a general rule, when putting on a pant with a banded waist, you will look more elegant with a top that covers, or partially cover the waistband.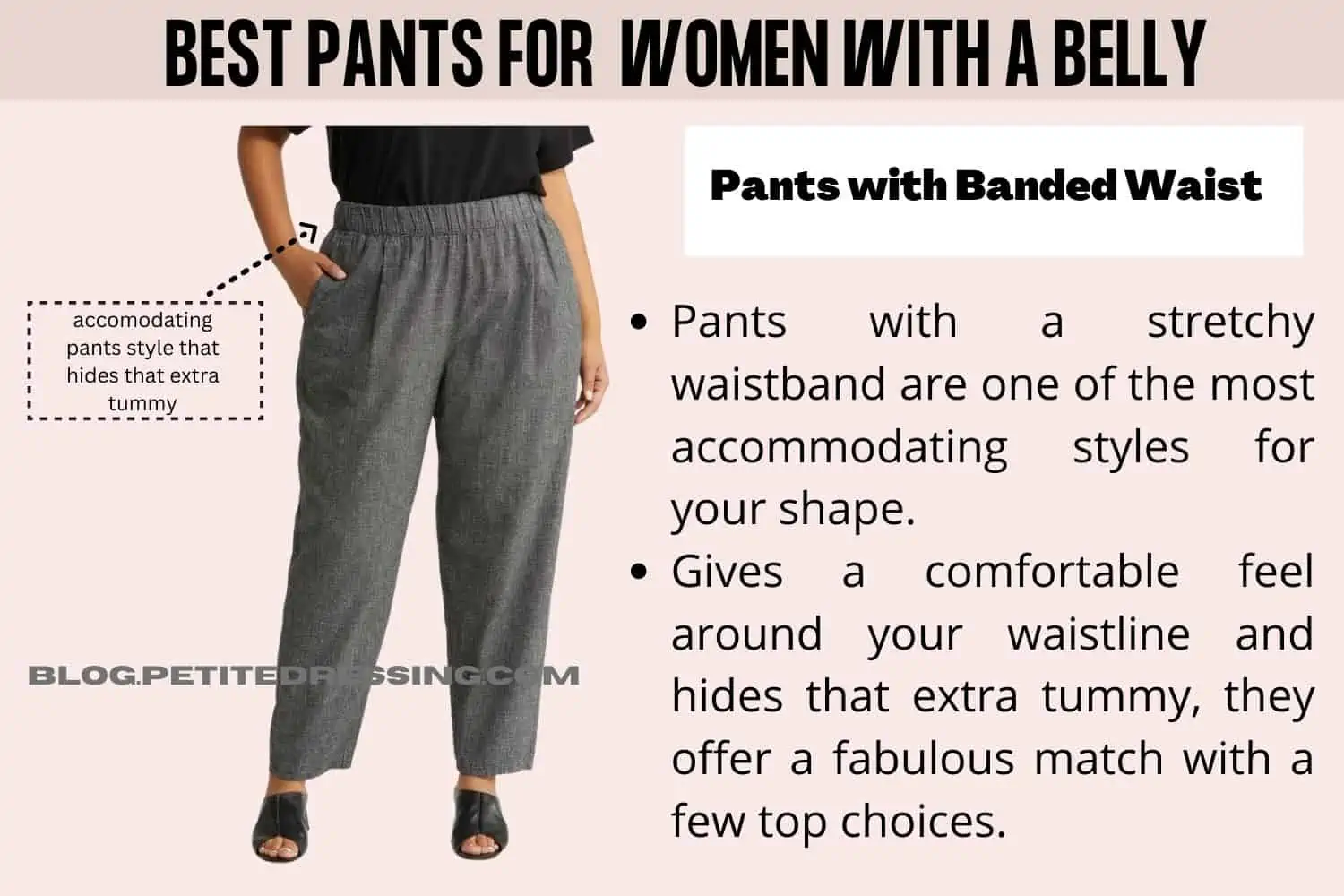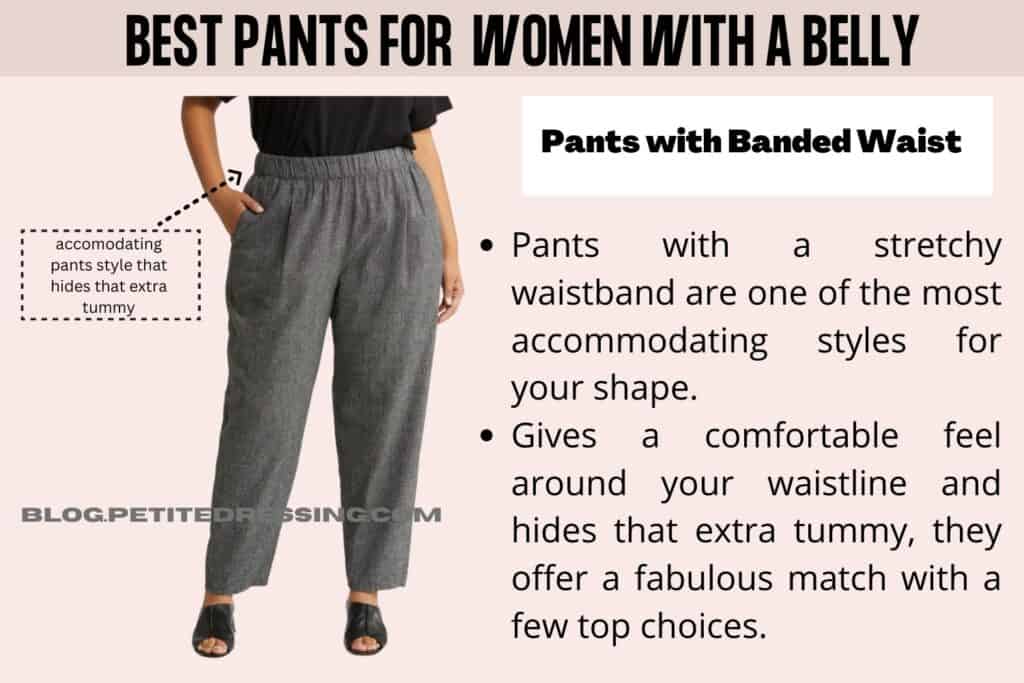 Another great option is to go with a waistband that is stretchable only on the sides. This type of waist design makes sure the front of the pant looks just like any other regular dress pants, but the added side panels provide the stretch you need without compromising the look. Overall, you look incredibly stylish while your belly is not noticeable in these pants.
Caution with light colors
Since the goal here is to keep the belly fat hidden as much as possible, you must distil your choice down to the right pattern and colour to easily shield your current body shape. This then boils down to the question of what colour should be avoided and what colour should be embraced.
Whether you are choosing to use linen or cotton, or synthetic fabrics, you can have your statement pant in your hands, but do away with shiny or light-hued pants. They don't only draw attention to you but also your tummy.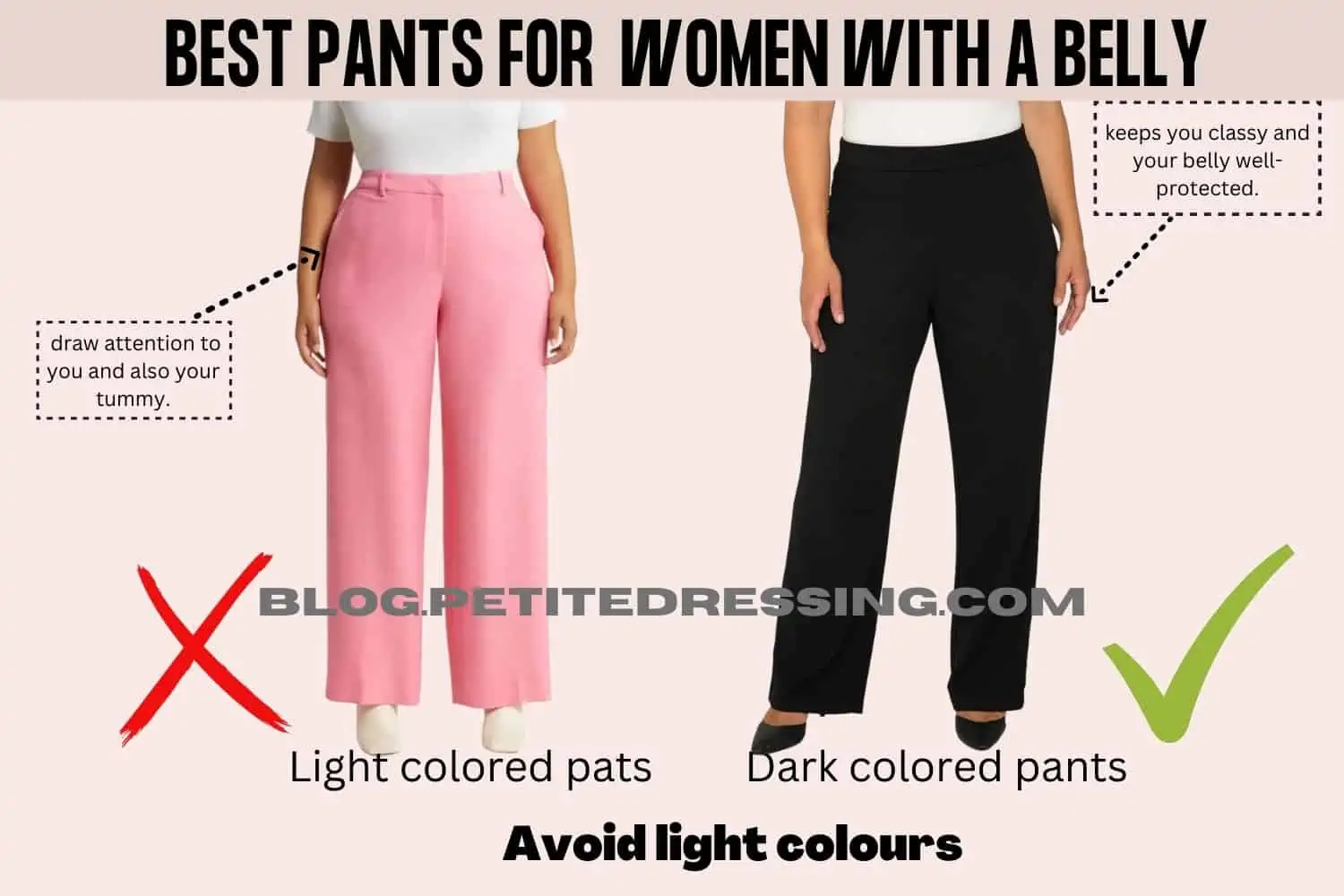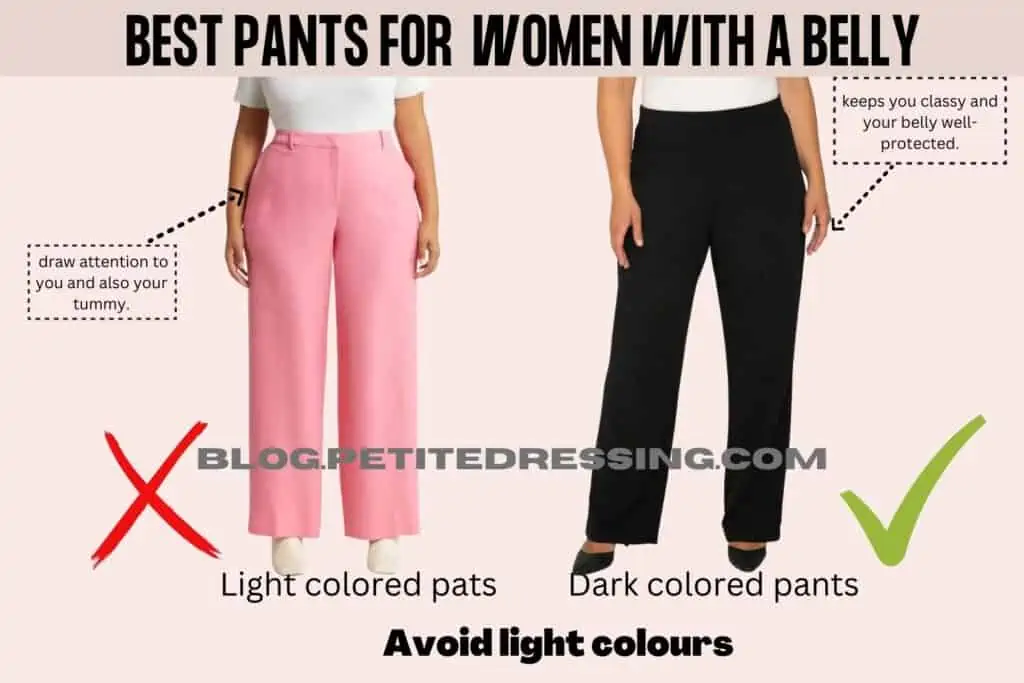 Instead, it would be best for you to use one-coloured darker pants as they do a good job of keeping you classy and your belly well-protected. As an added tip, you should also know that clothes with vertical patterns are the best bet since they make your legs appear longer while drawing attention away from your belly pouch.
Avoid leather leggings
Leather leggings are a huge no, regardless of how much you love to drip in some pairs of leather pants. The reason for this is not farfetched from the fact that they provide a tight fitting on the area you are attempting to protect, thus creating a trunk effect around your waist.
Generally, anything too tight will give off every bumpy area around your body, which is, of course, the last thing you would want if your goal is to cover up the belly.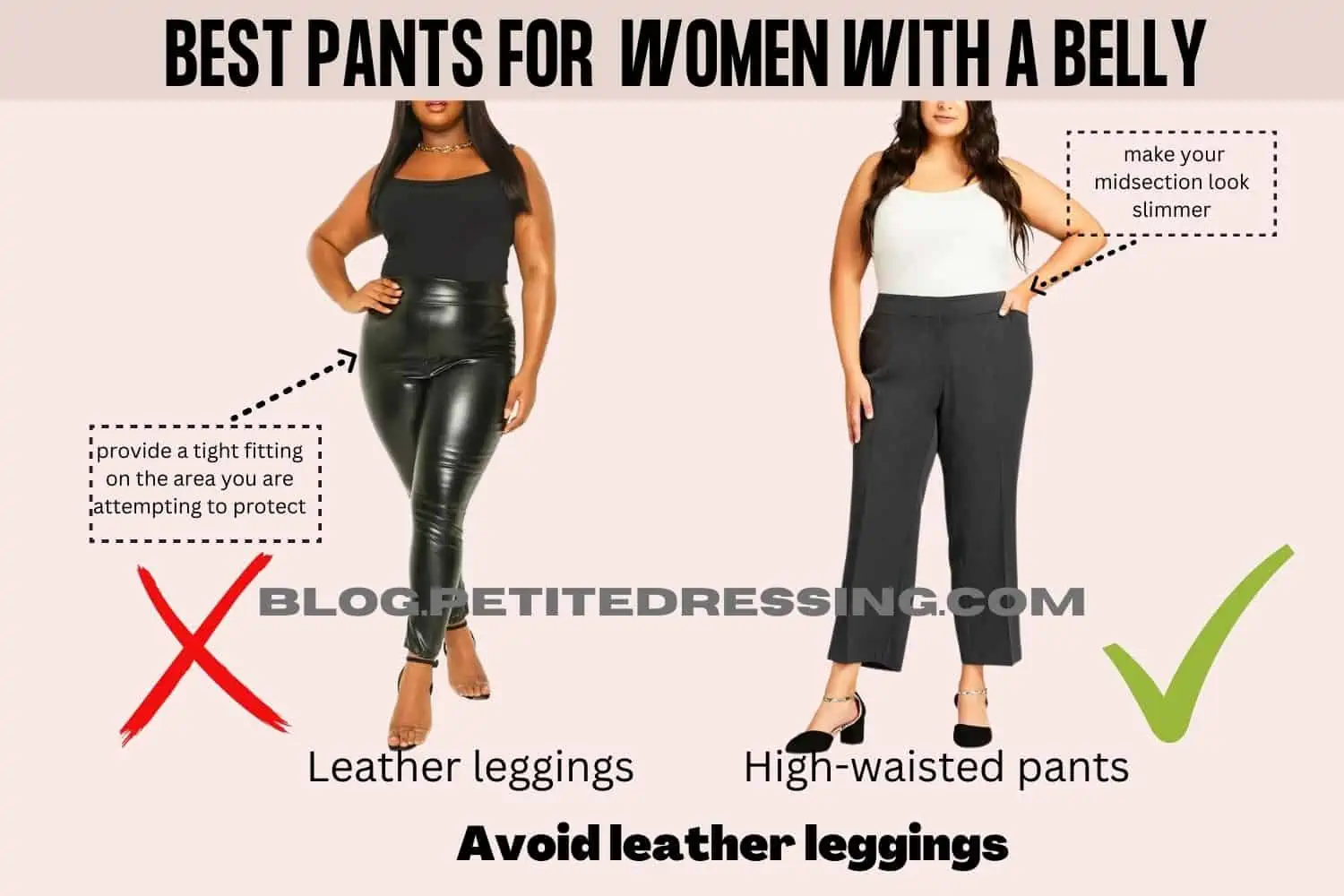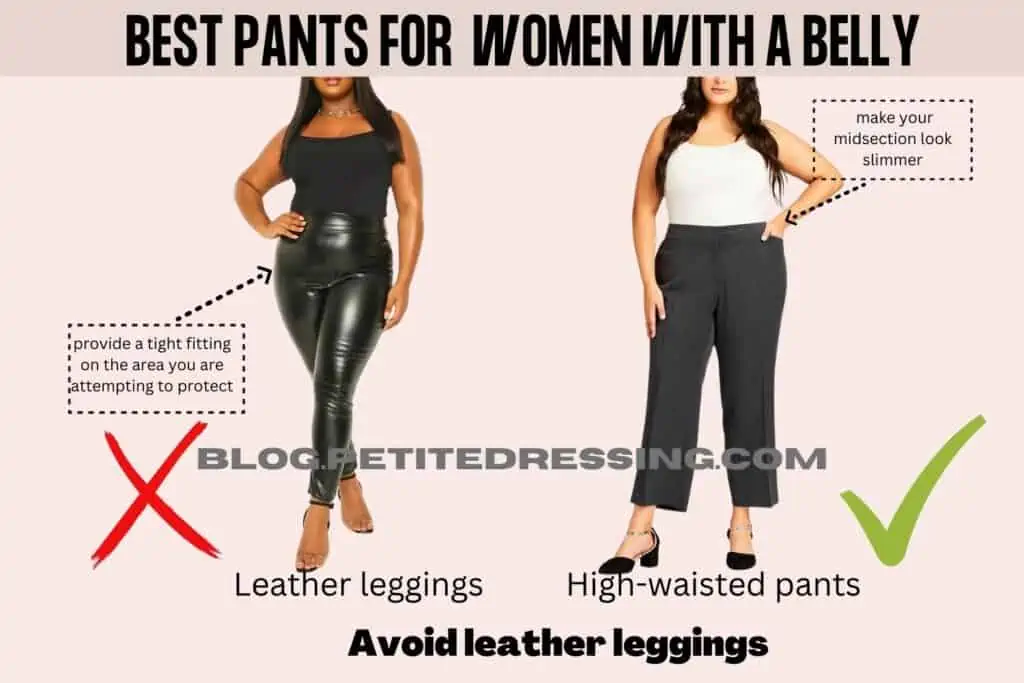 This is not to say that we need to ignore the reality that other style leather trousers offer a smart and sparkling option for most women; they are indeed fabulous attire to grace any night event or date.
Nevertheless, if you must wear leather trousers, avoid legging styles and pitch your tent with loose straight-leg ones instead.
Avoid low-rise pants
It's probably the worst-kept secret that low-rise pants are not exactly the most attractive type of women's pants, much like mid-rise pants too. Low-rise pants sit around your waist and expose your belly to public glare.
Low-rise pants only offer partial coverage of your stomach while sitting right there on your belly button.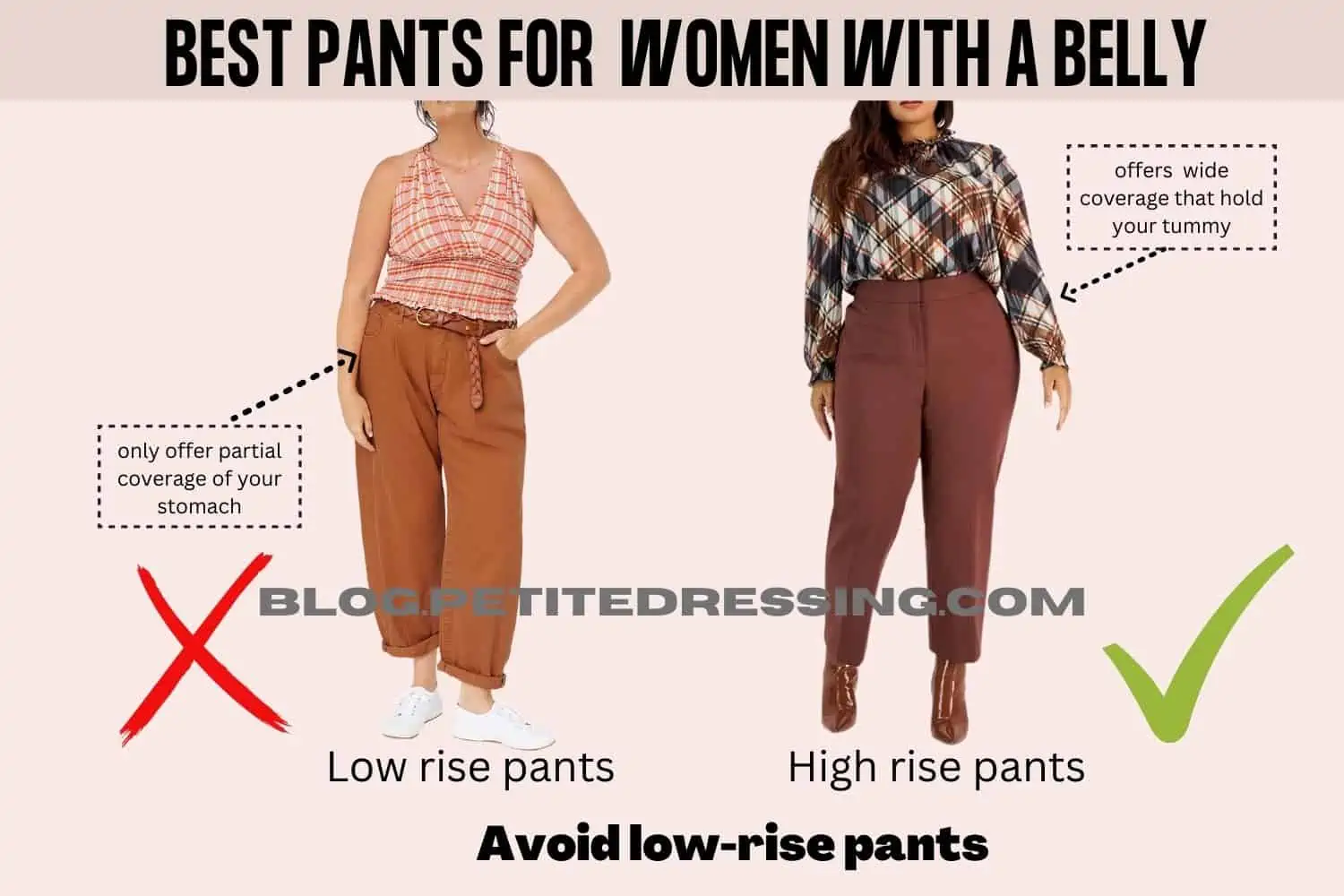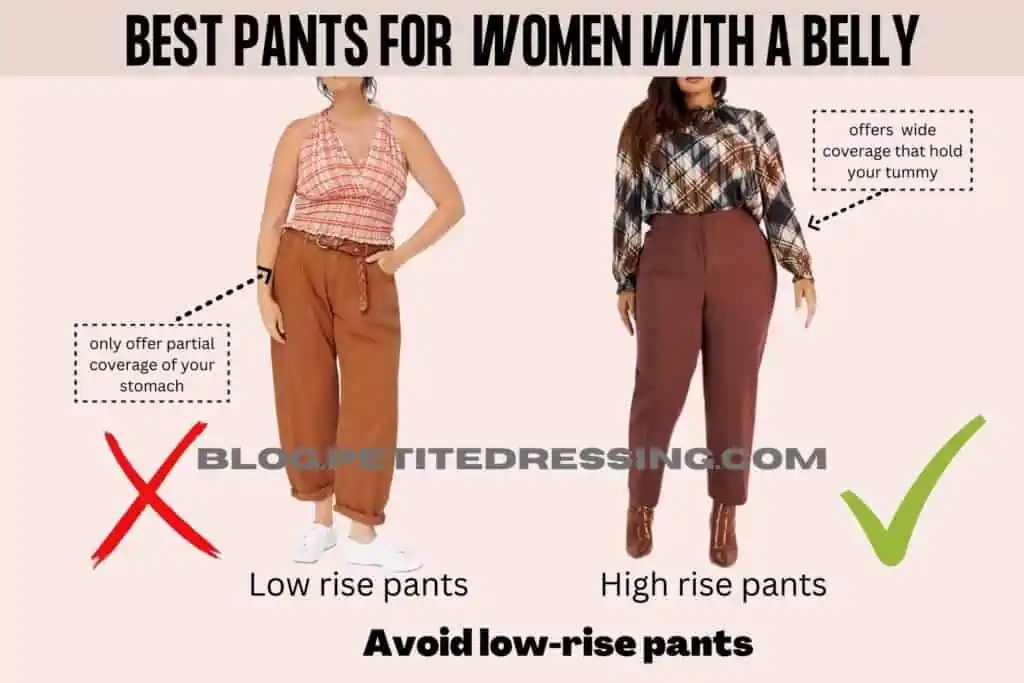 You only draw attention to the awkward division happening around your abdomen. The best bet for you still is to put on high-rise trousers that will slide over your tummy, deflecting eyes away from the bulge hidden around there.
Caution with bell bottoms
Bell bottom pants are just one of the few that never want to remain old-fashioned. Many women have been rocking them since the 1970s, and even though they have gone under for a couple of years, they seem to be back in town with what looks like a vengeance on the fashion world.
As you may already know, the beauty of these flare pants remains in their length and shape, which doesn't offer a sensible choice for someone looking to cover a belly pouch.
Bell bottoms are mostly tight-fitted around the butt and thighs, and the only area they provide breathing space is from the knee downwards and not the tummy.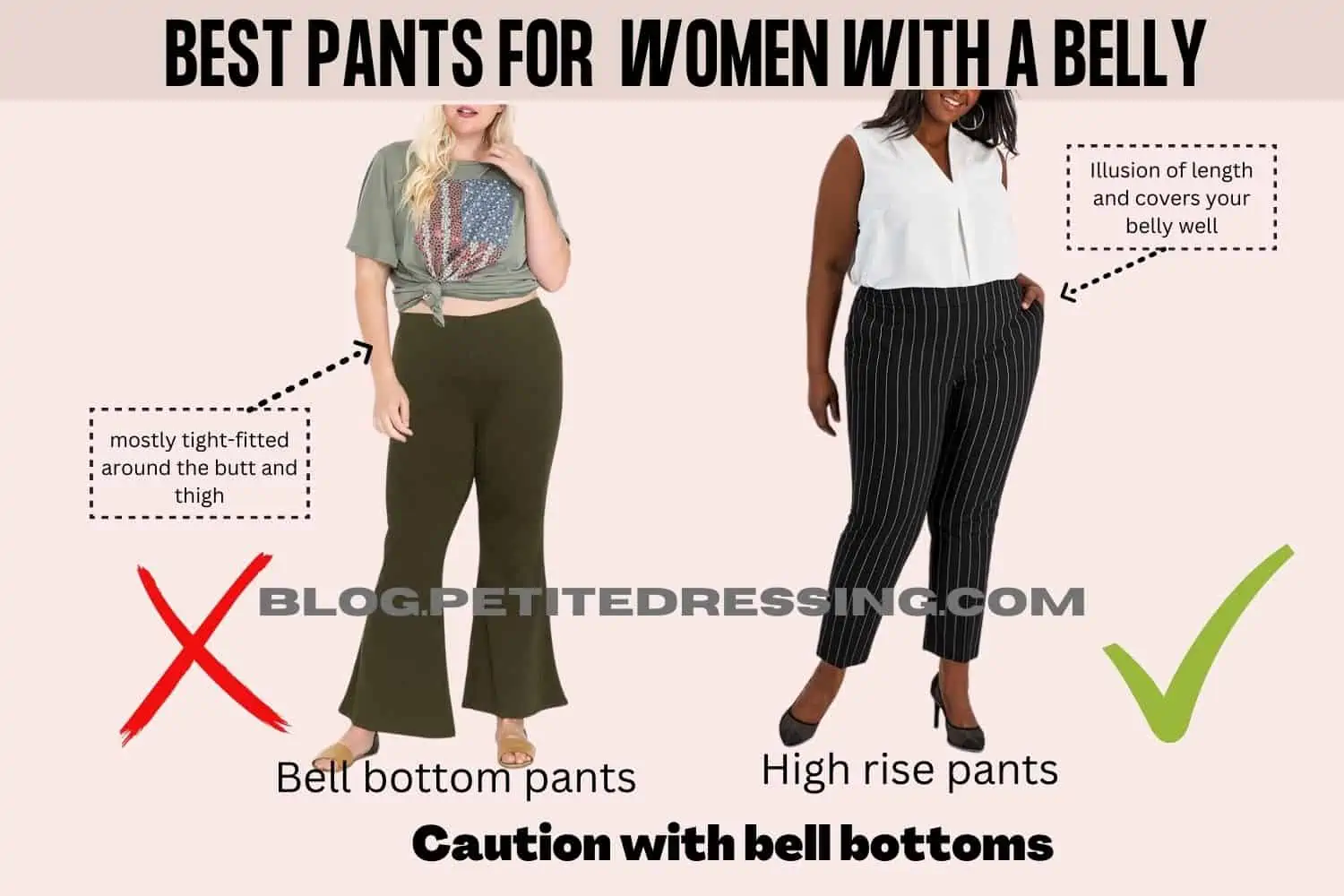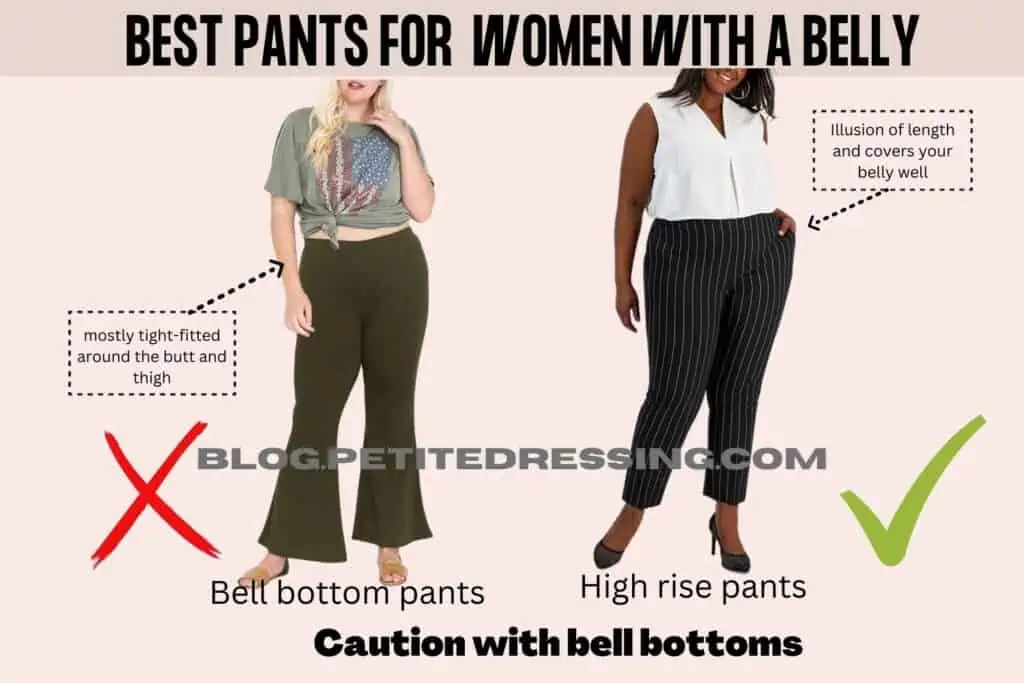 You definitely don't require anyone to tell you that these characteristics are not designed to favour the belly. Plus, since they mostly come in denim, you may have to contend with a line of zippers or buttons where you don't want them.
Bell bottom seeks to showcase the assets of a woman around the waist. For all we care, that show-off is exactly what is not needed for women with a belly.
Get started with any of these pant styles and you'll realize that you can still look amazing in them, even with a little belly.