Going for a beach day but don't know what swimsuits look good on your short and chubby body type? No worries, as we have a complete guide to choosing the right swimsuit for your body type. It will make you look modern, comfortable, confident, and mesmerizing. Following trends is useless if you don't know whether it will suit you or not. So, let's learn how to choose the right swimsuit for short and chubby women!
What to look for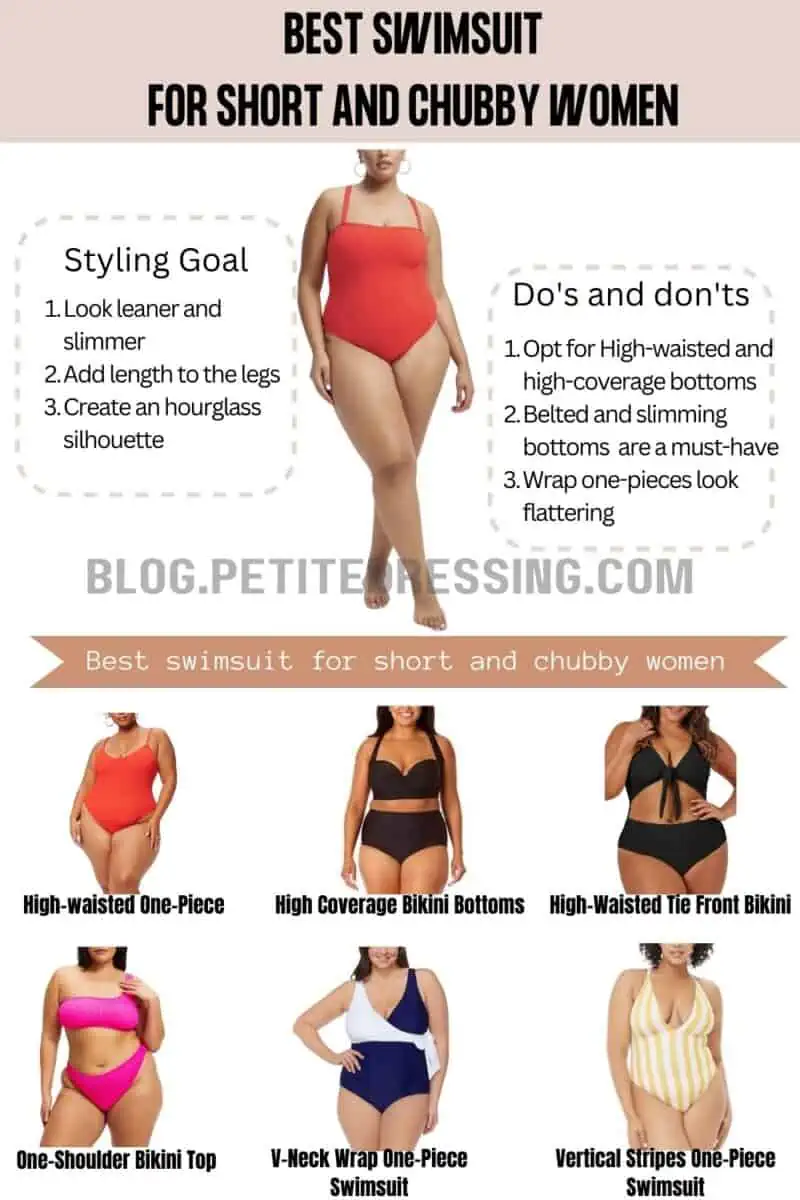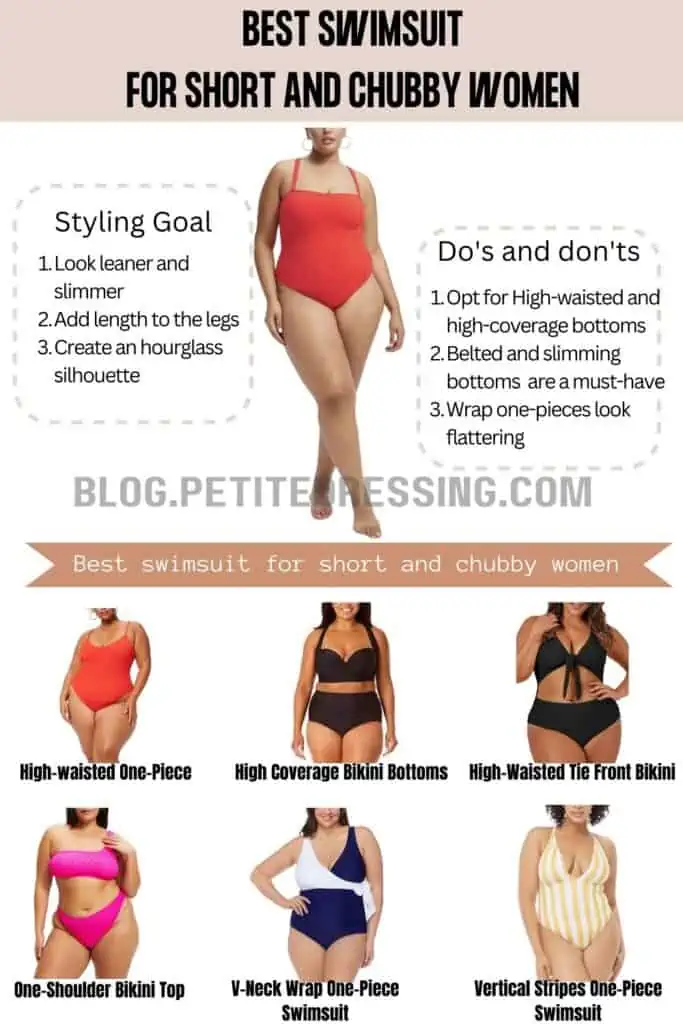 The right swimsuit style and size are extremely important if you want to enjoy a swimming day. Our tips for choosing the right swimsuit for short and chubby women below are there to help you in this regard!
High-waisted and high-coverage bottoms make short and chubby women leaner.
Choose a dark color so that it makes you look slimmer.
Go for bikini tops that bring attention to your upper body.
Belted and slimming bottoms are great for concealing your tummy.
Wrap one-pieces look flattering on short and chubby women as they make your waist slim and reveal your legs making them look longer.
High-waisted One-Piece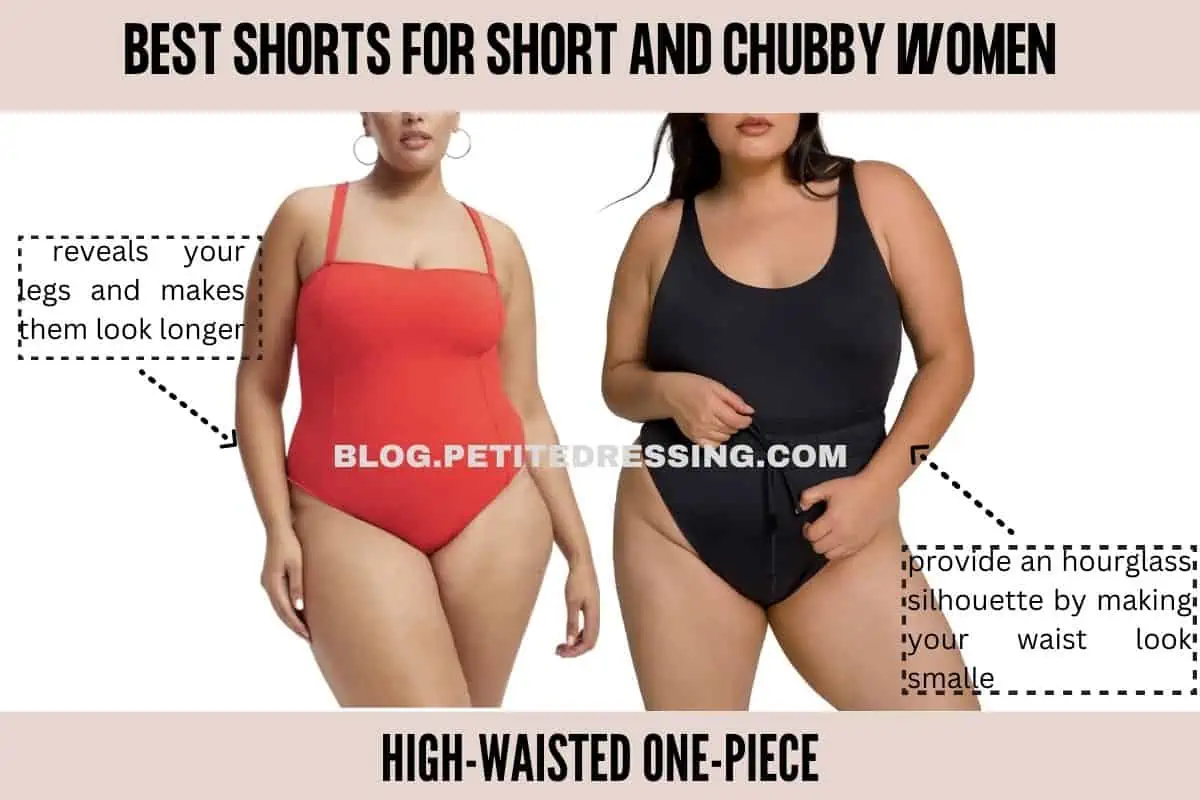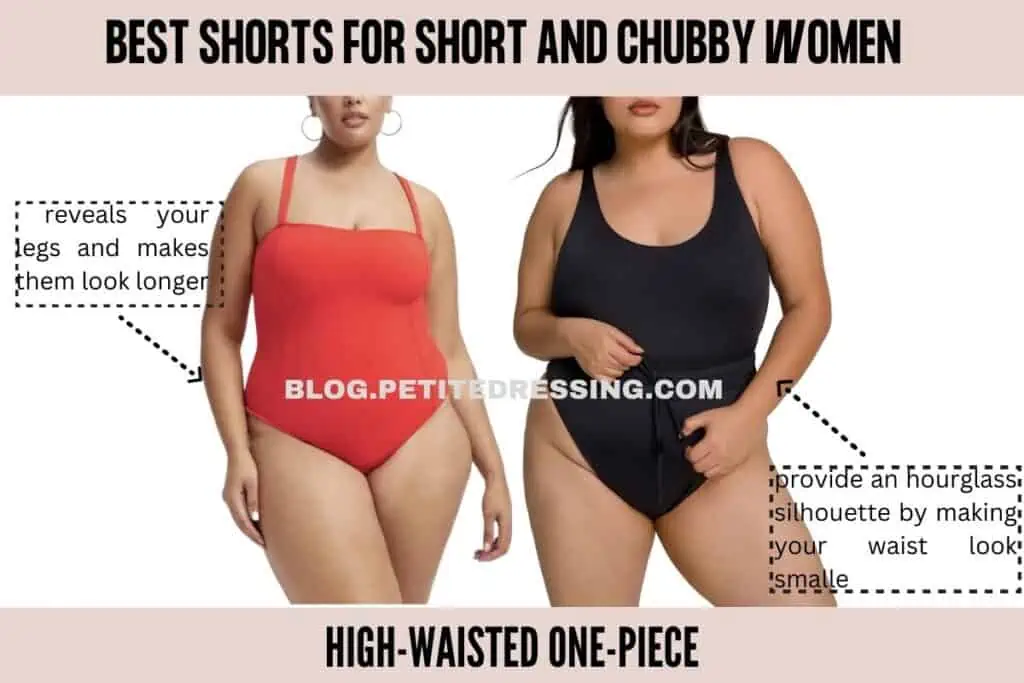 Slimming one-pieces are a great choice for short and chubby women. They provide an hourglass silhouette by making your waist look smaller. It brings out your chest area and makes you look leaner.
The high-waisted bottom style reveals your legs and makes them look longer. This way, you not only look slim but also tall. It is a flattering style for your body type and comes in various designs.
Choose the neck style carefully and go for something like a deep V-neck or scoop neck. Such neck styles divert the attention away from parts you want to conceal toward your upper body.
High Coverage Bikini Bottoms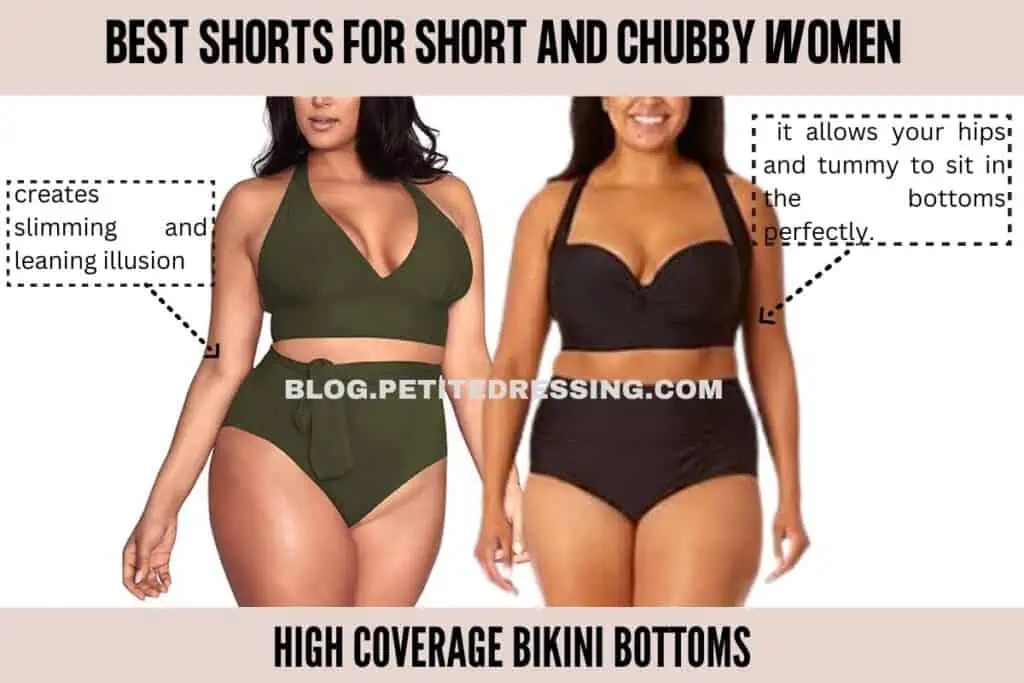 High-coverage bikini bottoms paired with a V-neck top are going to make you feel extremely confident in your body. This style is appropriate for chubby women because it allows your hips and tummy to sit in the bottoms perfectly.
Go for a high-waisted design so that your legs look longer and balanced with your whole body. The V-neck bikini top will suit with high-coverage bottoms as it will reveal your cleavage. Revealing the top and covering the bottoms will keep everything in balance.
Choose dark colors for this style if you want the slimming and leaning illusion. Dark colors tend to make you look slim. They complement chubby and short women a lot.
High-Waisted Tie Front Bikini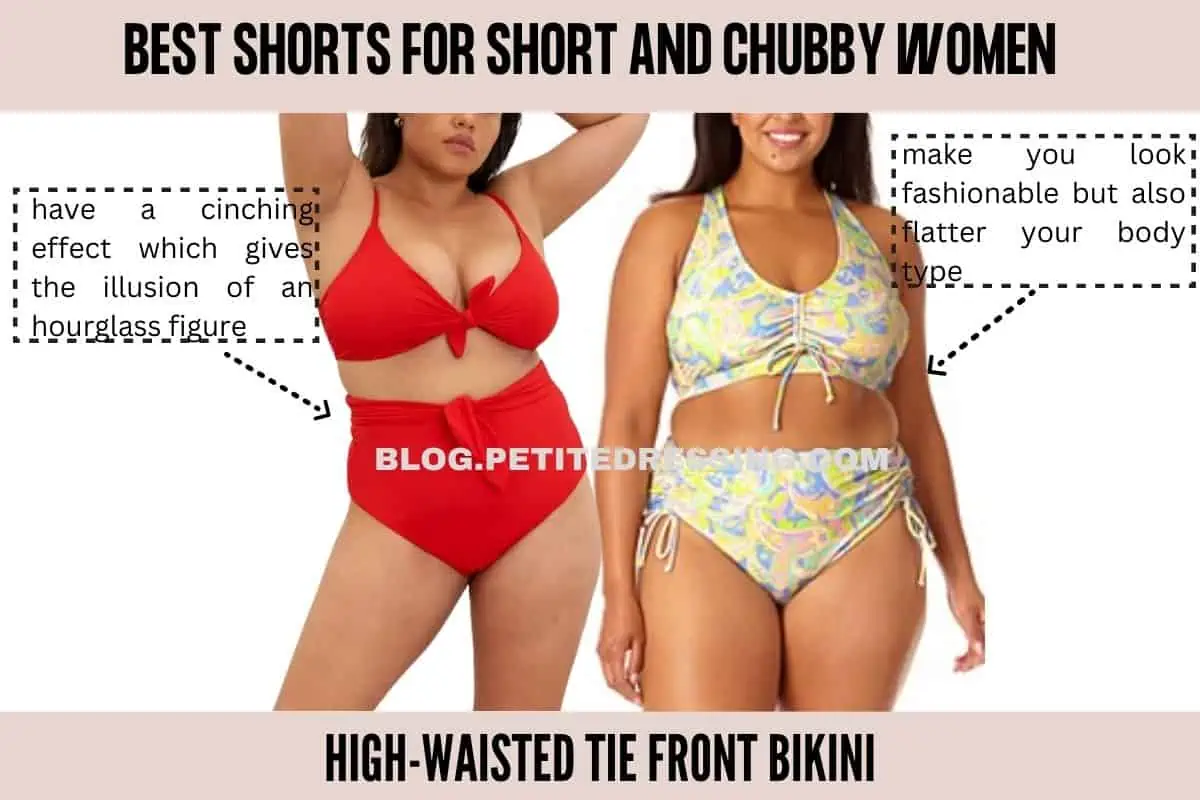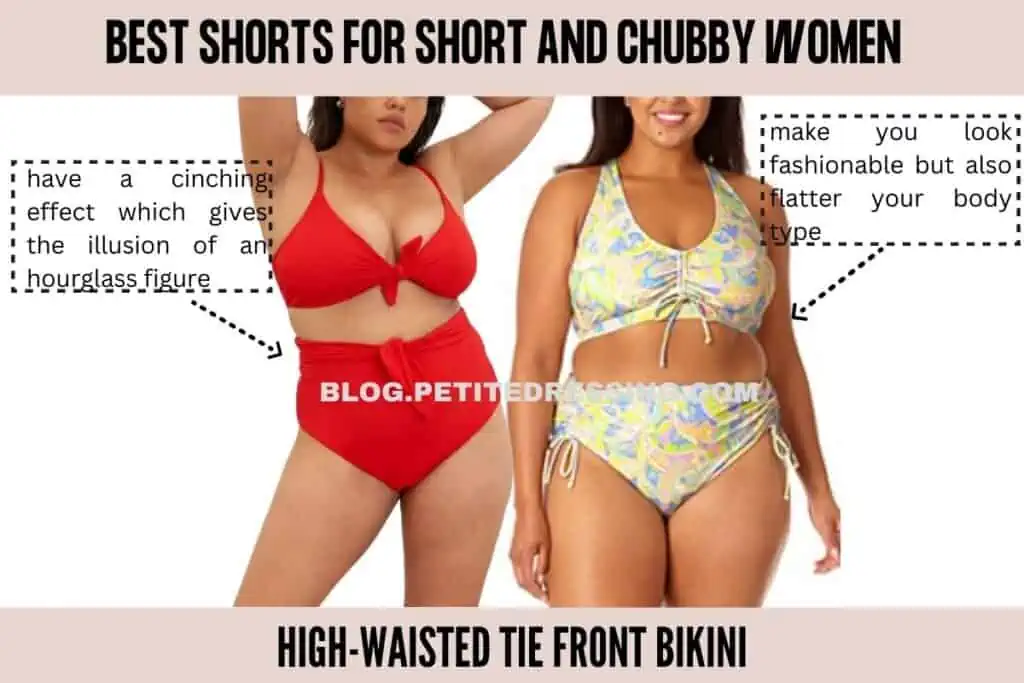 High-waisted tie front bikini bottoms have a cinching effect which gives the illusion of an hourglass figure. It makes your waist look slimmer than your lower and upper body. This way, the attention doesn't go to your tummy fat or thigh fat and stays on your mesmerizing figure.
Tie-front bikini tops look stylish and are perfect for a summer beach day. It is a chic style that will not only make you look fashionable but also flatter your body type. Go for big prints such as florals for this bikini style. 
One-Shoulder Bikini Top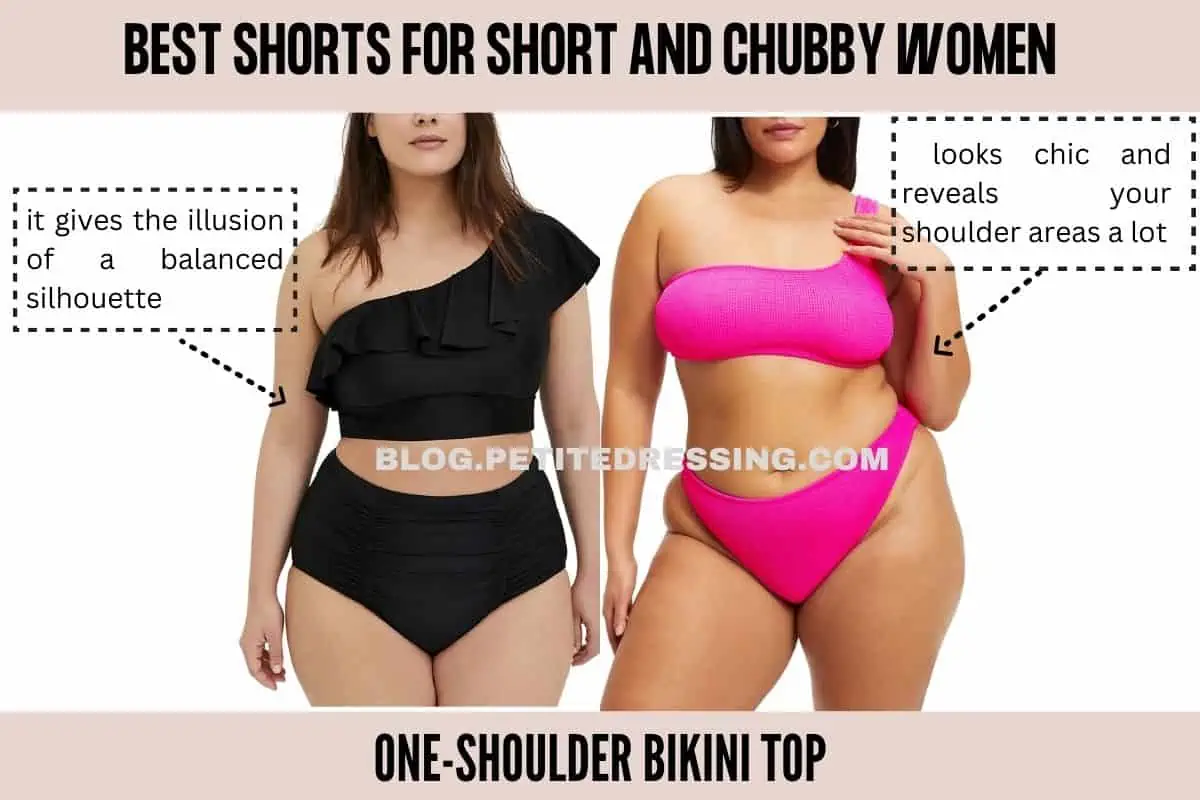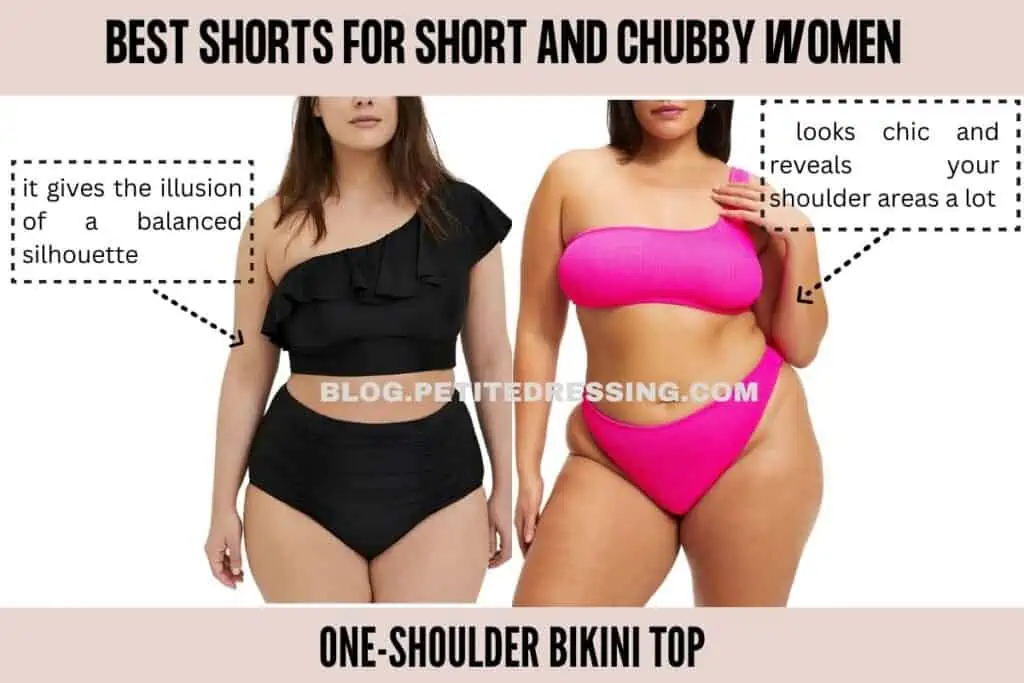 One-shoulder bikini tops look extremely gorgeous on chubby women. The asymmetrical design is suitable for petite plus-size women because it gives the illusion of a balanced silhouette. The design looks chic and reveals your shoulder areas a lot. That's why your upper body gets all the attention.
Pair the top with high-waisted bikini bottoms to make yourself look leaner. High-waisted bottoms tuck in your tummy perfectly without adding width to your body. So, it's suitable for short and chubby body types.
However, remember that if your shoulders are already broad, it might not look suitable on you. This style is good for women with short legs and long torsos.
Knot Bikinis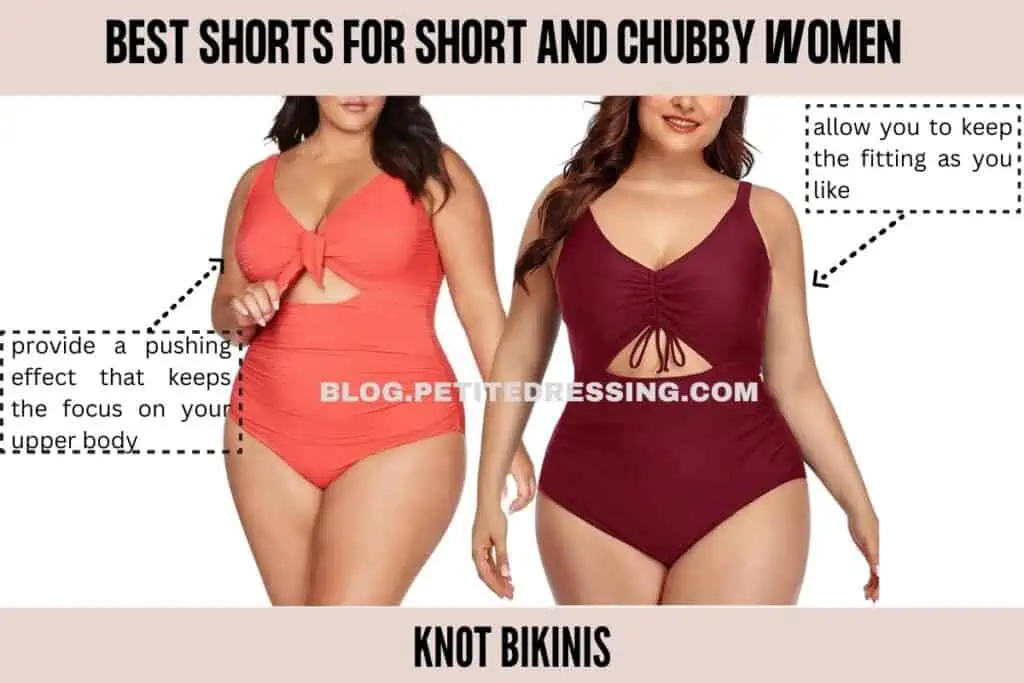 Bikinis with knots not only look trendy but allow you to keep the fitting as you like. You can tie up the bottoms as high as you want and get a perfect high-cut style. High-cut bottoms make your legs look longer and add height to your body. Therefore, it is suitable for petite women.
Moreover, tie-up tops provide a pushing effect that keeps the focus on your upper body. Make sure to choose a high-waisted bikini bottom so that it doesn't make you look wider than you already are.
Vertical Stripes One-Piece Swimsuit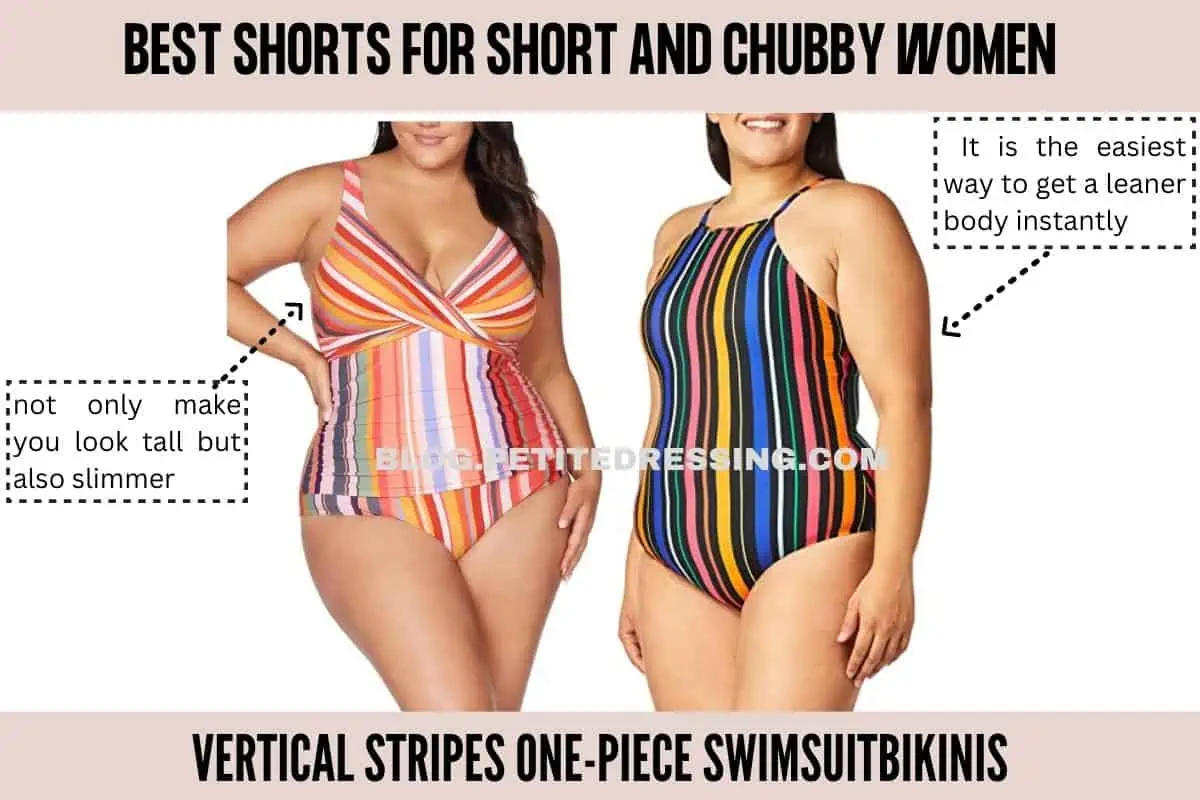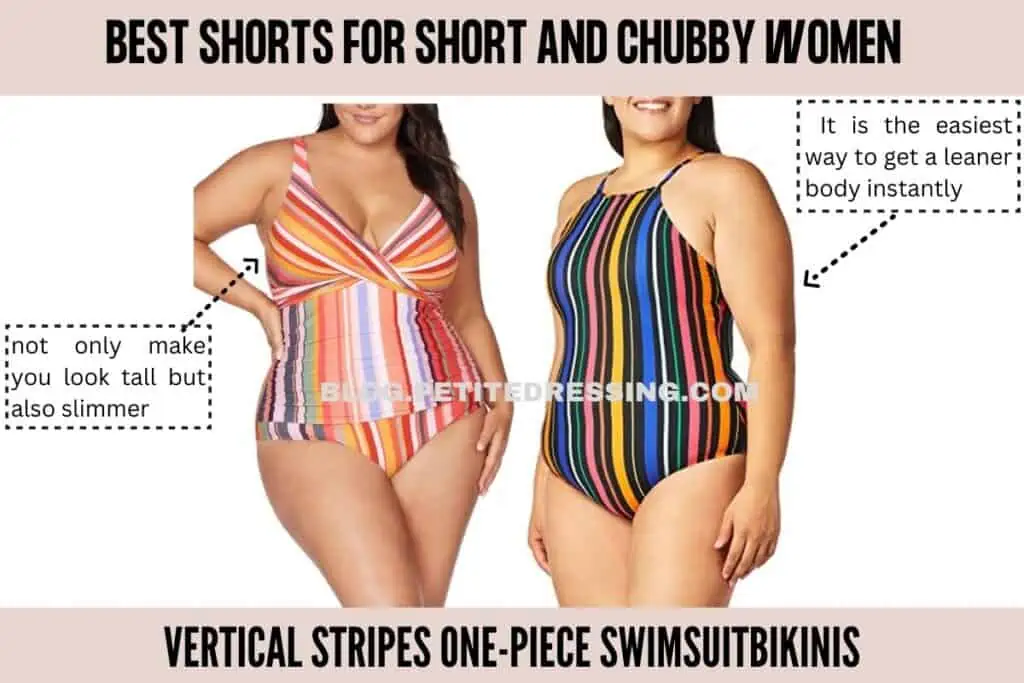 One-piece swimsuits with vertical stripes do magic for your body. They not only make you look tall but also slimmer. It is the easiest way to get a leaner body instantly. Choose thin vertical stripes as they are more suitable for chubby women.
Vertical stripe one-piece swimsuits come in various colors. Go for a dark color such as navy blue, black, red, dark green, or a colorful design.
Belted One-Piece Swimsuit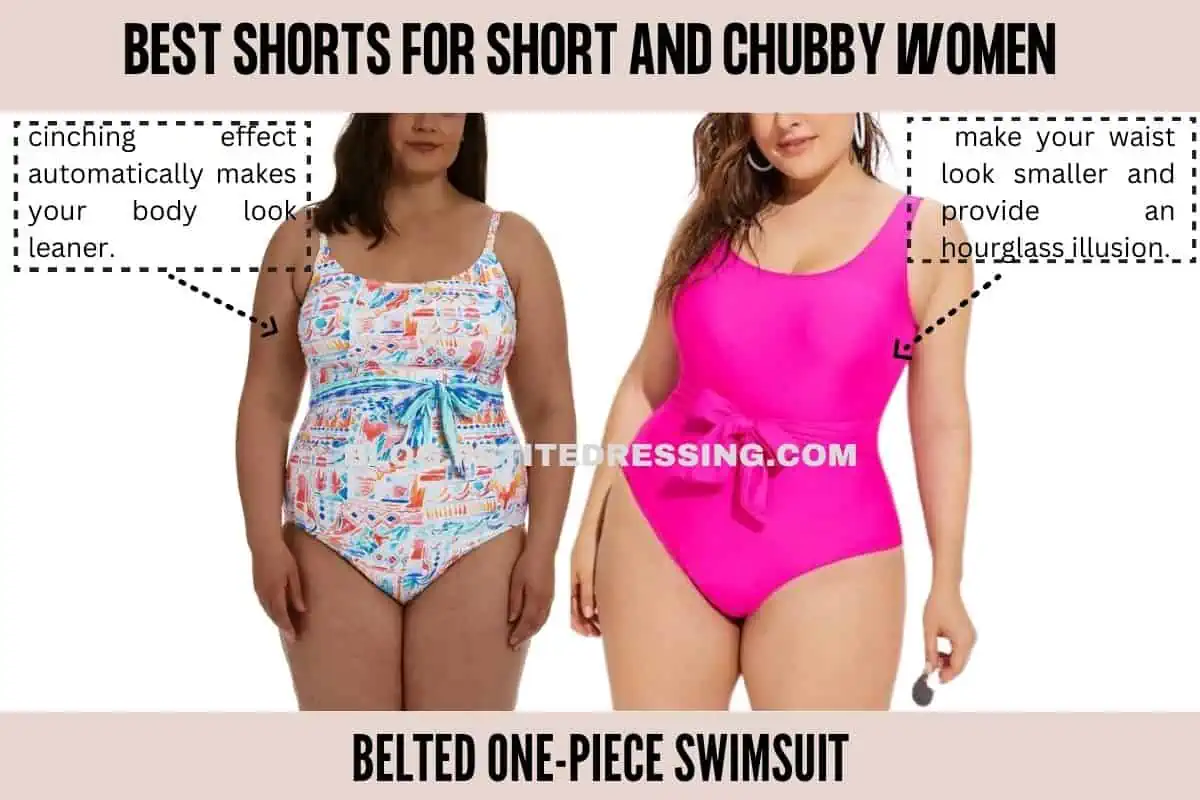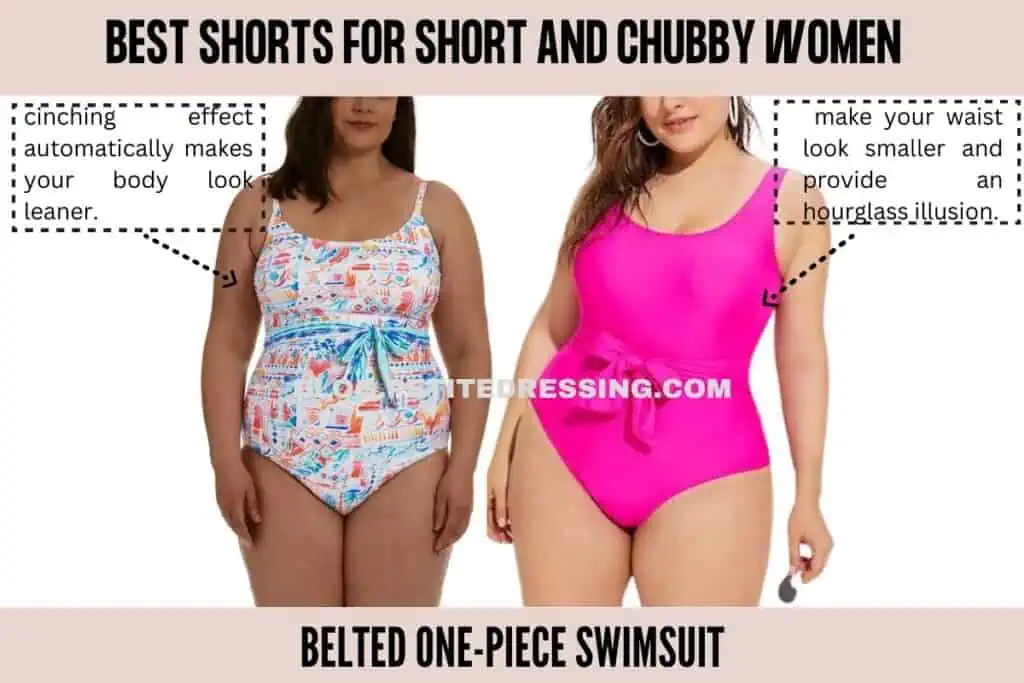 Belted swimsuits make your waist look smaller and provide an hourglass illusion. That's why it is a favorite for chubby and short women. When your waist looks smaller, the cinching effect automatically makes your body look leaner.
This style of one-piece swimsuit looks best in dark colors for chubby women. Black, maroon, dark green, blue, etc are all perfect for your body type. Tie the belt as tight as you want but make sure you feel comfortable in the fitting while swimming.
V-Neck Wrap One-Piece Swimsuit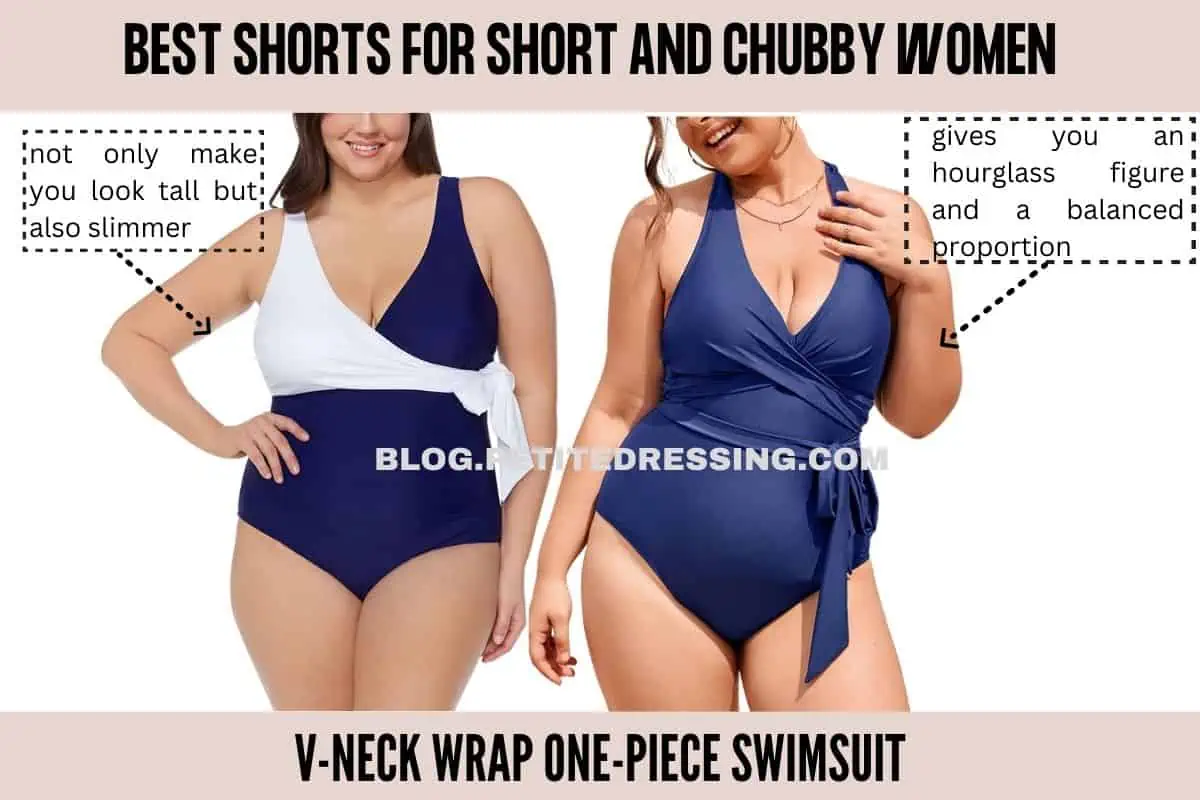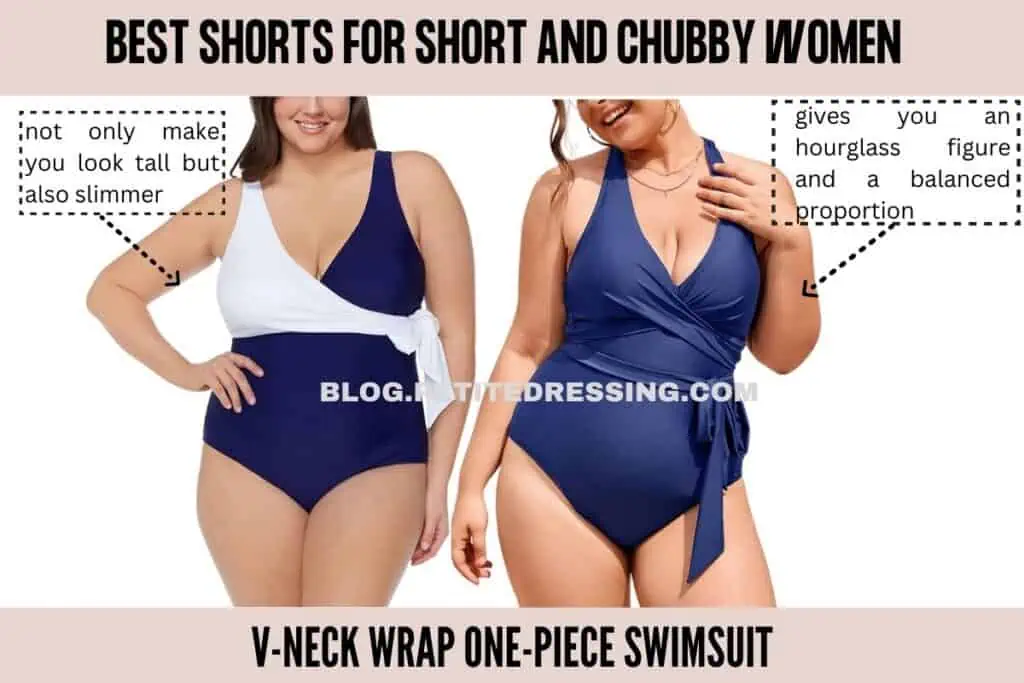 Wrap one-piece swimsuits have a similar effect as belted ones. The wrap makes your waist look smaller so your body can have a balanced proportion and an hourglass silhouette.
The V-neck style is appropriate for short and chubby women because it further enhances the hourglass illusion. This way, you look leaner and slimmer. This style will make you look confident and fashionable instantly.
Avoid Low-Waisted Bottoms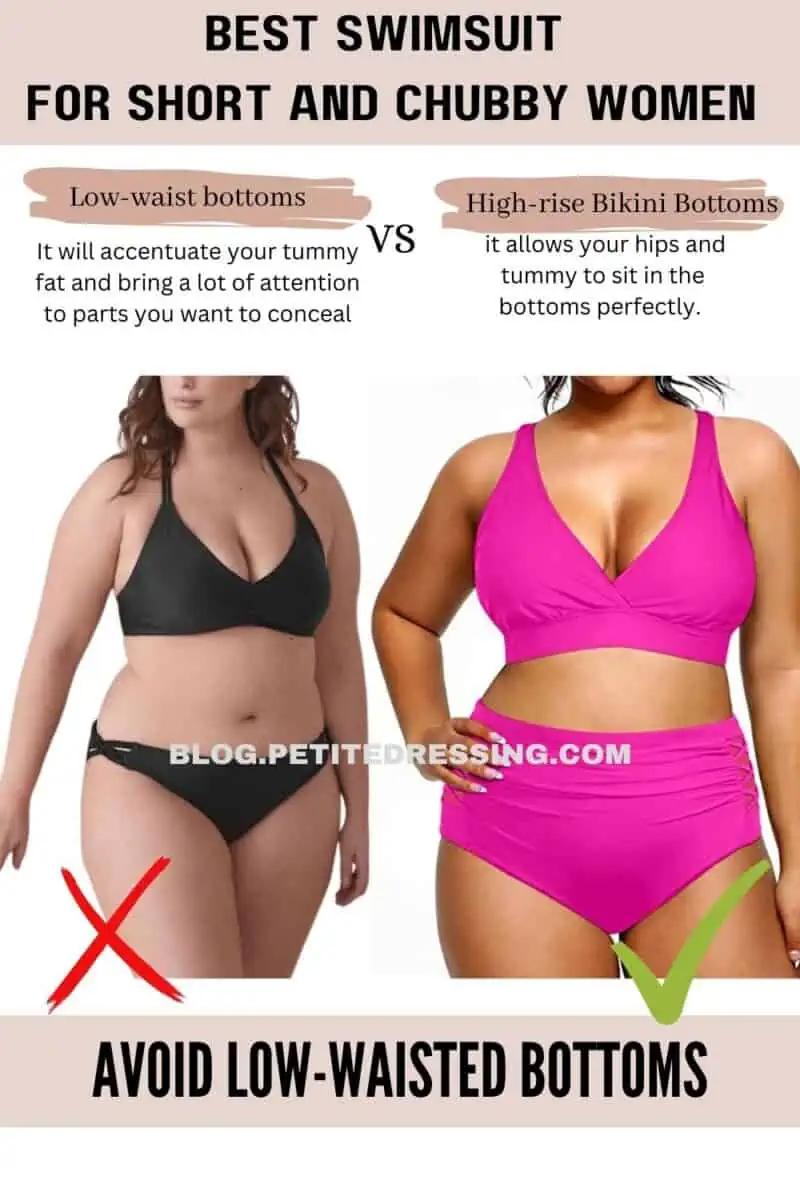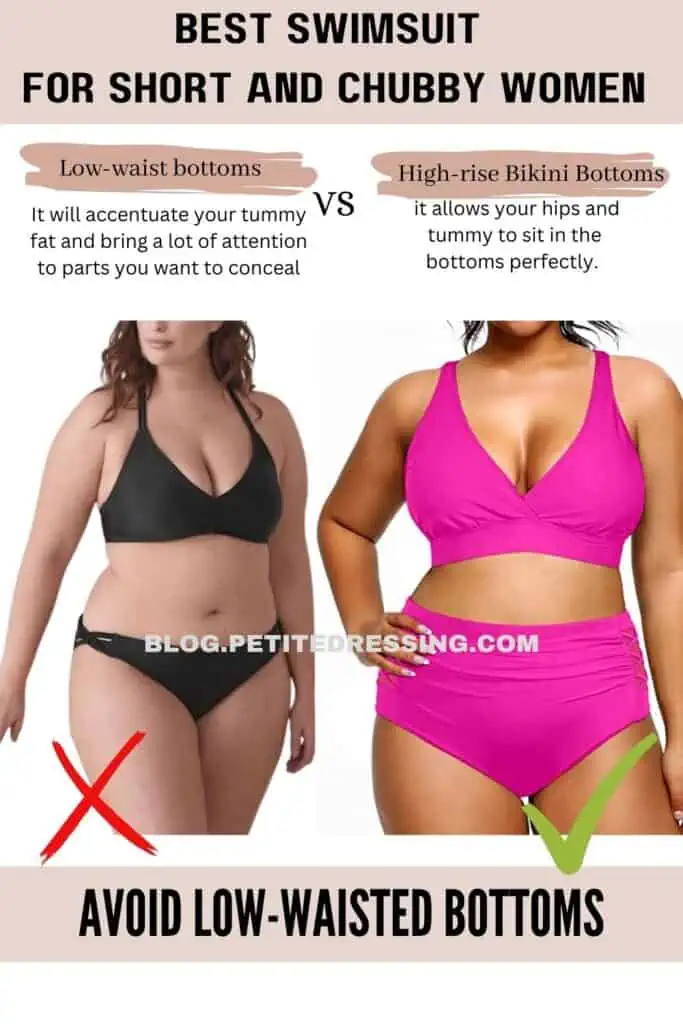 Low-waisted bottoms aren't suitable at all if you have a short and chubby body type. This waist will add width to your body and make you look shorter. It isn't flattering on a petite plus-size body type as it sits below your tummy. It will accentuate your tummy fat and bring a lot of attention to parts you want to conceal. Therefore, you should skip low-waisted bottoms and choose high-waisted or mid-waisted ones.
Avoid Thong Bikinis
Thongs don't cover much and sit weirdly on chubby women. If you are someone with heavier hips and thighs, this style isn't going to suit you. High-coverage bottoms are more appropriate and they make you look slimmer as well. Thong bikini bottoms will only reveal your body without making you look leaner. That's why it isn't a good choice.
Avoid Nude-Colored Swimsuits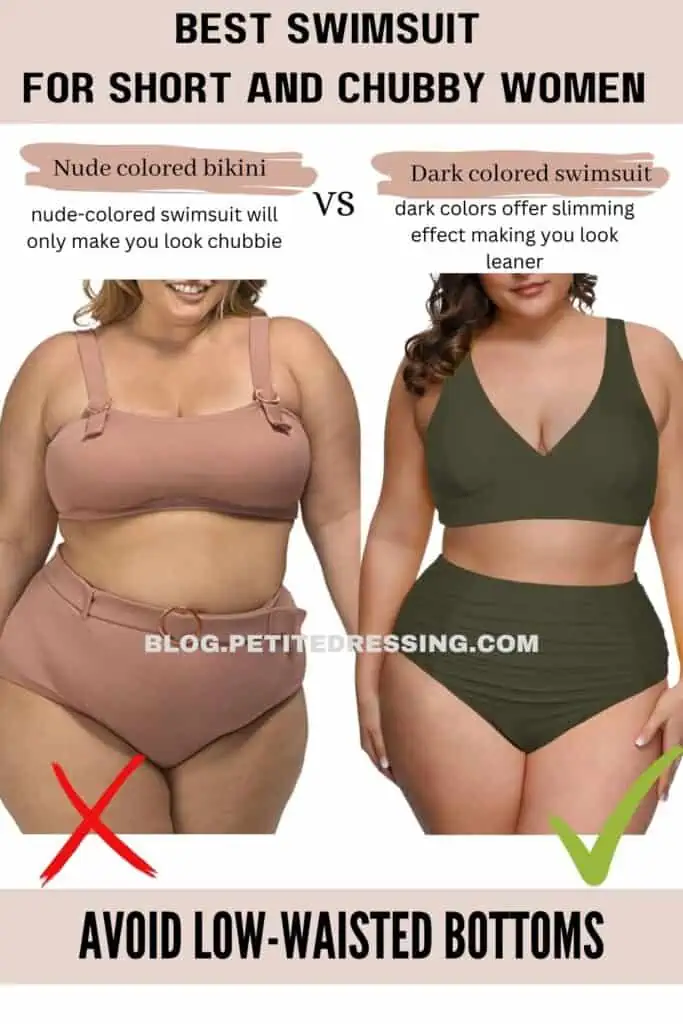 Dark colors are your best friend if you are a short and chubby woman. They make you look slim and lean. Going for a nude-colored swimsuit will only make you look chubbier. If you choose a high-waisted bottom to make yourself look taller, the nude color will fail to do so. Therefore, dark colors are more helpful and complement chubby women better.
Final Thoughts
Learning what suits your body type is important if you want to look good and feel confident. Swimsuits that complement your body type are a confidence booster therefore you must know what looks good on you. Swimsuits don't always have to be too revealing. Instead, go for a style that suits you and makes you look your best. Try out one-pieces and high-waisted bottoms more as they are great for petite and chubby women.