When looking for the perfect outfit for the office, the most important thing to look out for is comfort. You're going to be wearing them pretty much all day and you want to be as comfy as possible.
Thankfully, there are tons of amazing outfits that short and chubby women can rock to the office feeling super confident. So, here's our detailed officewear guide for short and chubby women who want to stand out professionally.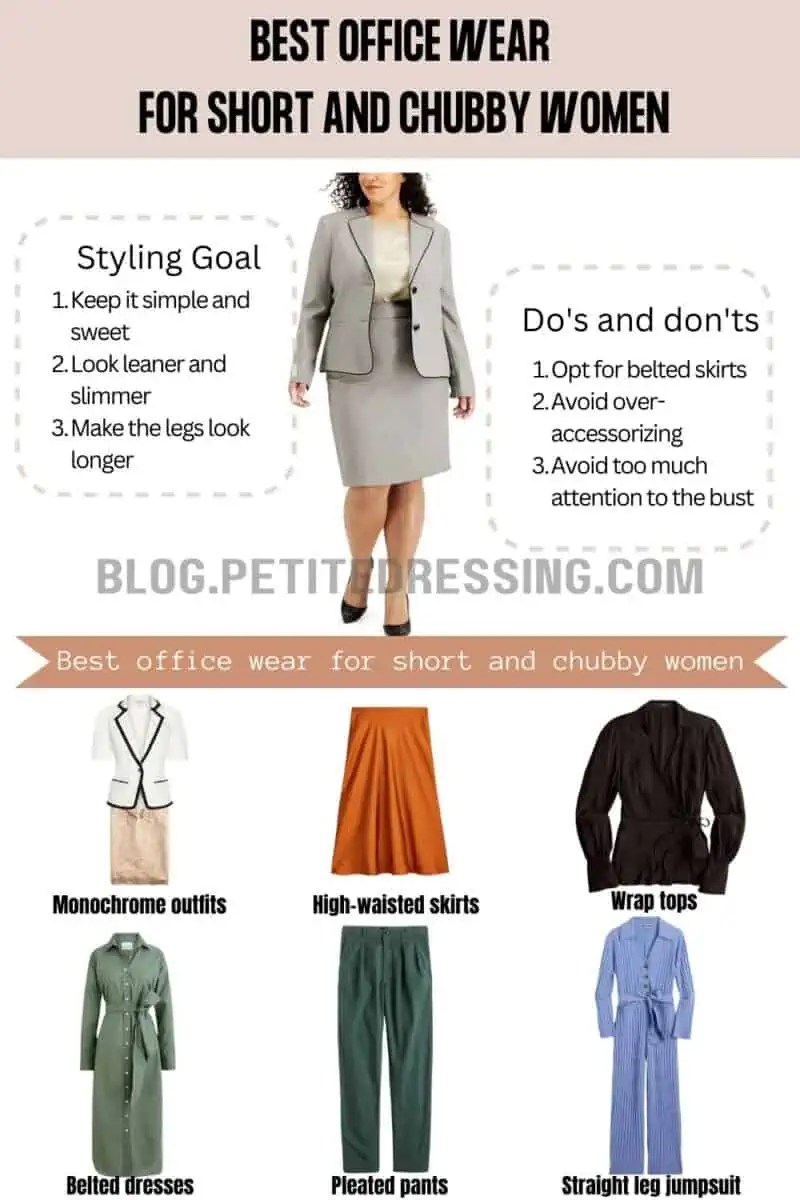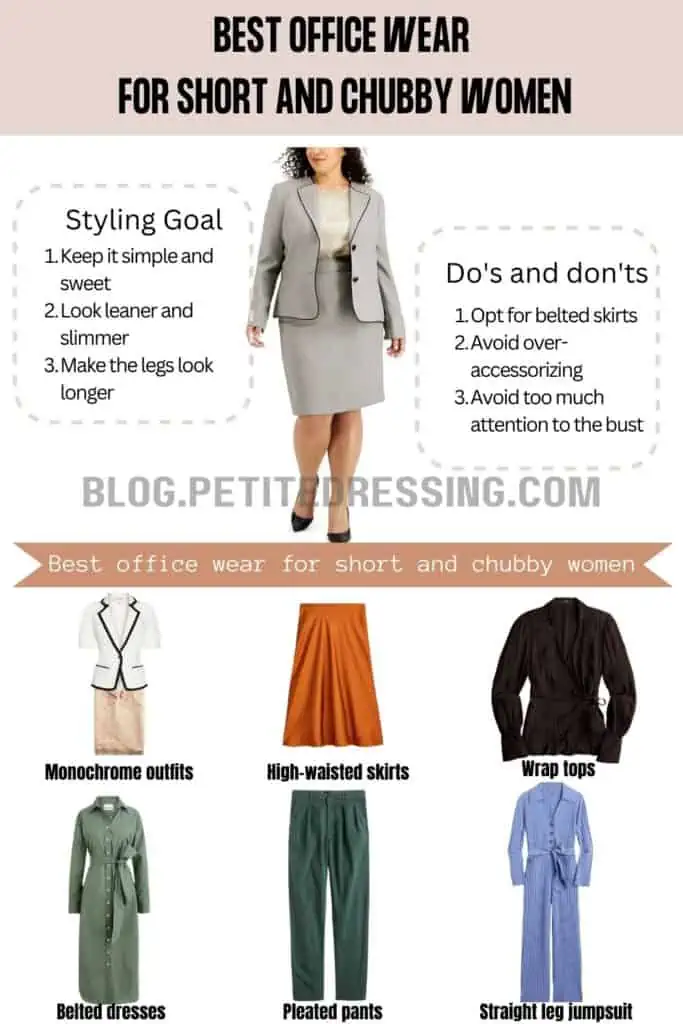 Monochrome outfits
You can keep it simple and sweet with a monochromatic look at the office. Monochrome outfits feature variations of the same color, so you'll be dressing in clothing styles with one color but in different shades.
Monochromatic outfits create a seamless line from head to toe, and that means you'll be looking much leaner. For example, you can have an outfit in shades of black and it will look simpler than ever.
This also works great with shades of grey. However, remember not to throw in too many shades on extra pieces like a head scarf or jacket. A maximum of three shades will have you looking classy.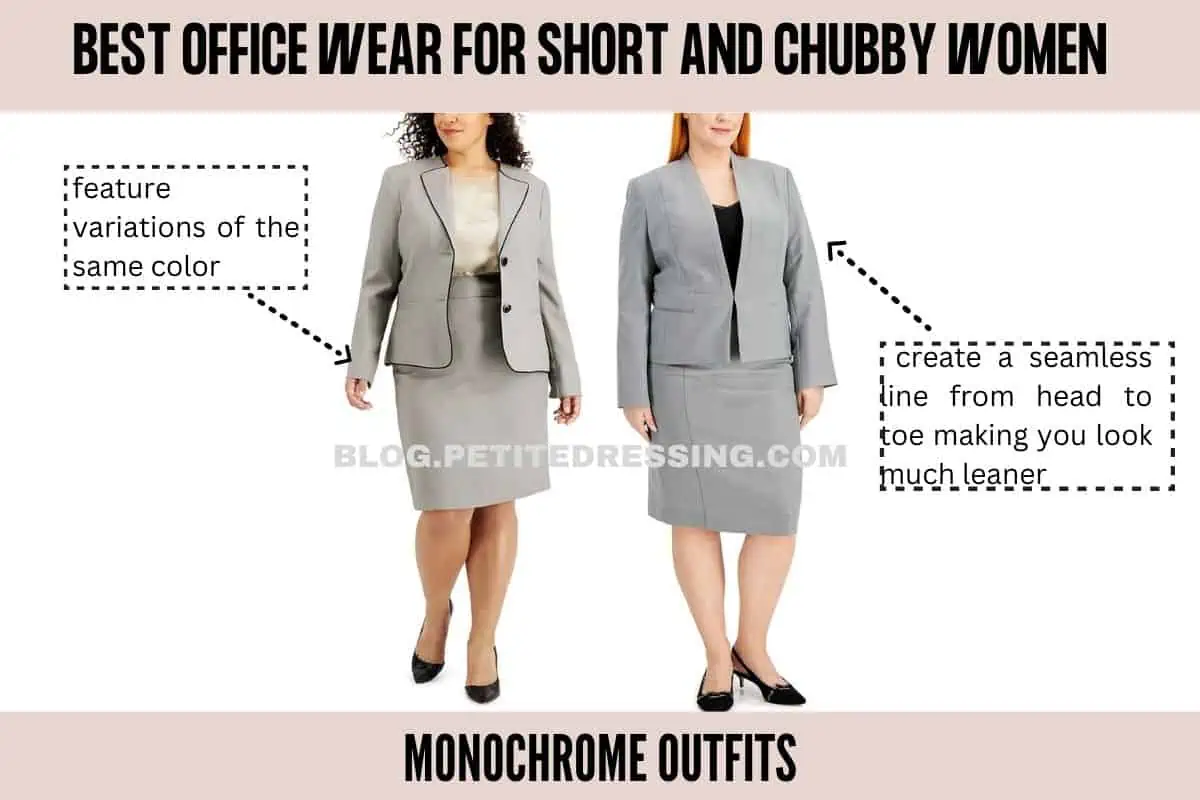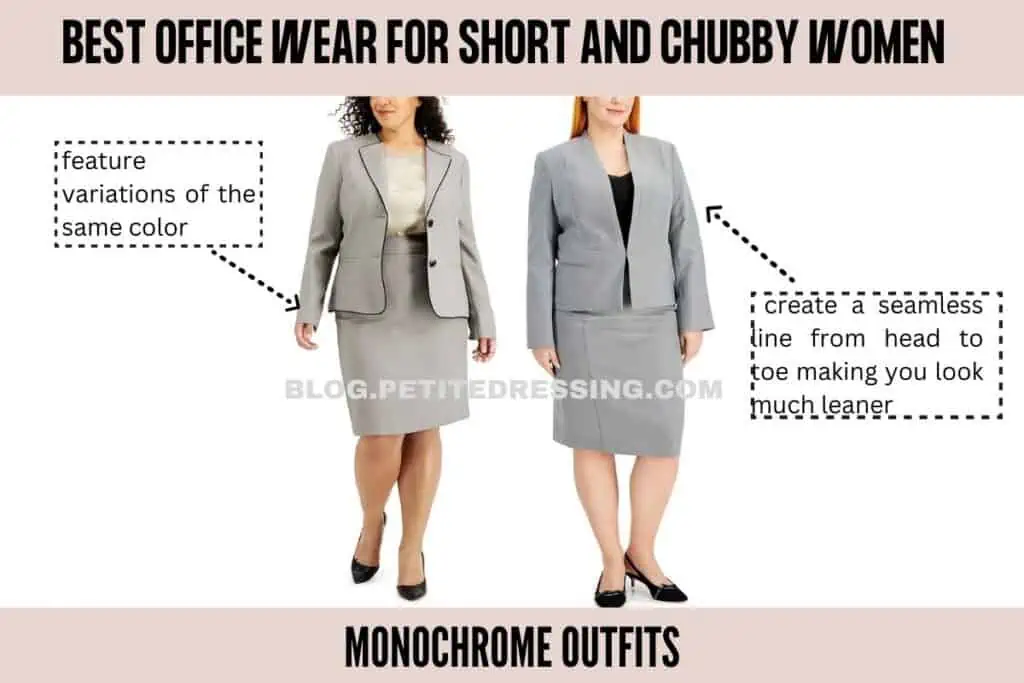 High-waisted skirts
What makes high-waisted skirts so great for short and chubby women is that the waistline sits above your natural waistline, which gives a lovely effect on chubby women. Thanks to the high waistline, there will be more attention on your curves which are carefully streamlined to make you look classy.
Of course, there's the extra advantage of your legs appearing longer. So, although you're a short and chubby woman, you'll look much taller. This makes this clothing style one of the best ones for the office, especially when paired with a buttoned-down collar shirt.
We recommend a black high-waisted skirt with a white buttoned-down collar shirt. You could also throw in a blazer if you wish while you rock platform heels on your feet. You'll walk into the office looking like someone who's ready to take control of your day.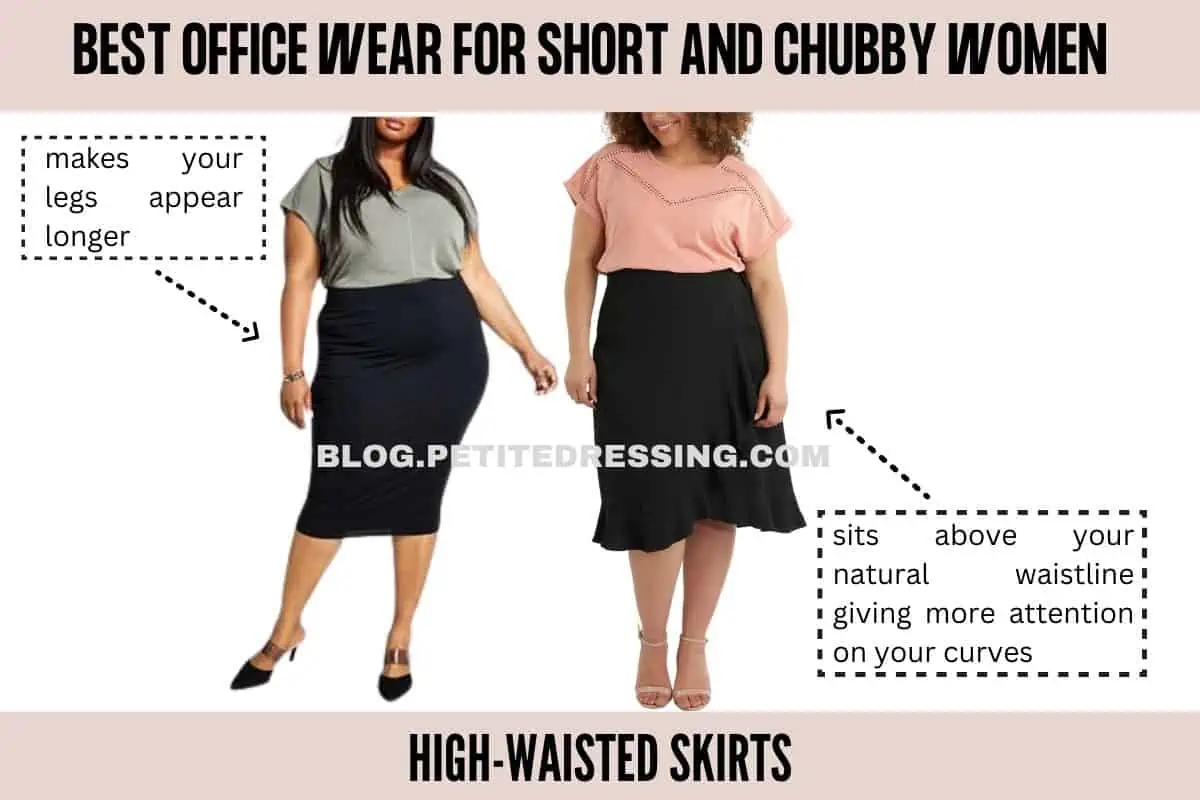 Wrap tops
What's not to love about wrap tops? Apart from how beautifully they skim over your curvy shape, they are just the right tone for a day at the office. Wrap tops will have you looking more sophisticated than ever, especially when they come in a v-neckline.
You can pair this with a pencil skirt for that completely chic appearance. So, while the wrap top makes you look leaner, the neckline draws more attention to your neck area. This is a versatile style that can be worn almost anywhere.
Wrap dresses work just as well as wrap tops. However, you should keep prints at a minimum, especially large prints and patterns that draw more attention to your body frame.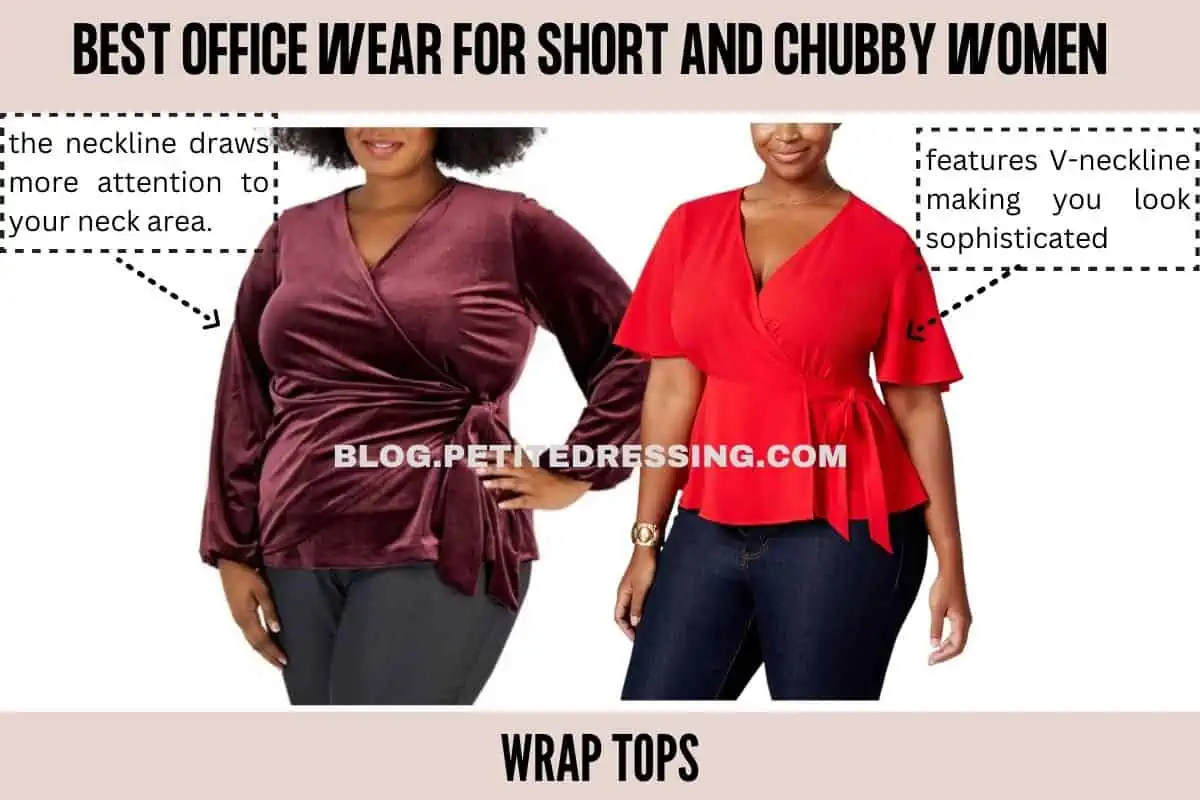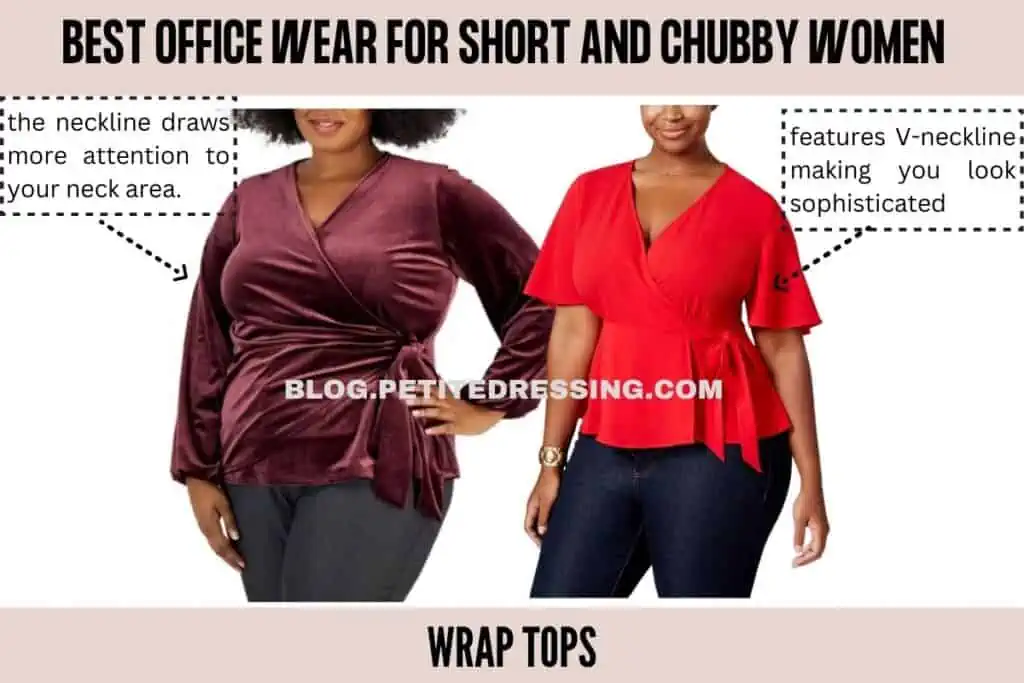 Belted dresses
If you're looking for a little more waist definition, a belted dress can make that happen. Generally, belts are a great addition to your clothing set as a short and chubby woman. They are fantastic for highlighting your waist and accentuating your curves.
So, whether it's belted dresses that stop above the knee or the simpler belted top, both are perfect for your body type. However, we'll recommend keeping it as simple as possible. When in doubt, choose colors like black or white.
A belted dress is a great way to make an ordinary-looking dress become extraordinary. Of course, they also do a great job of making your legs look longer. So, you definitely need this in your closet.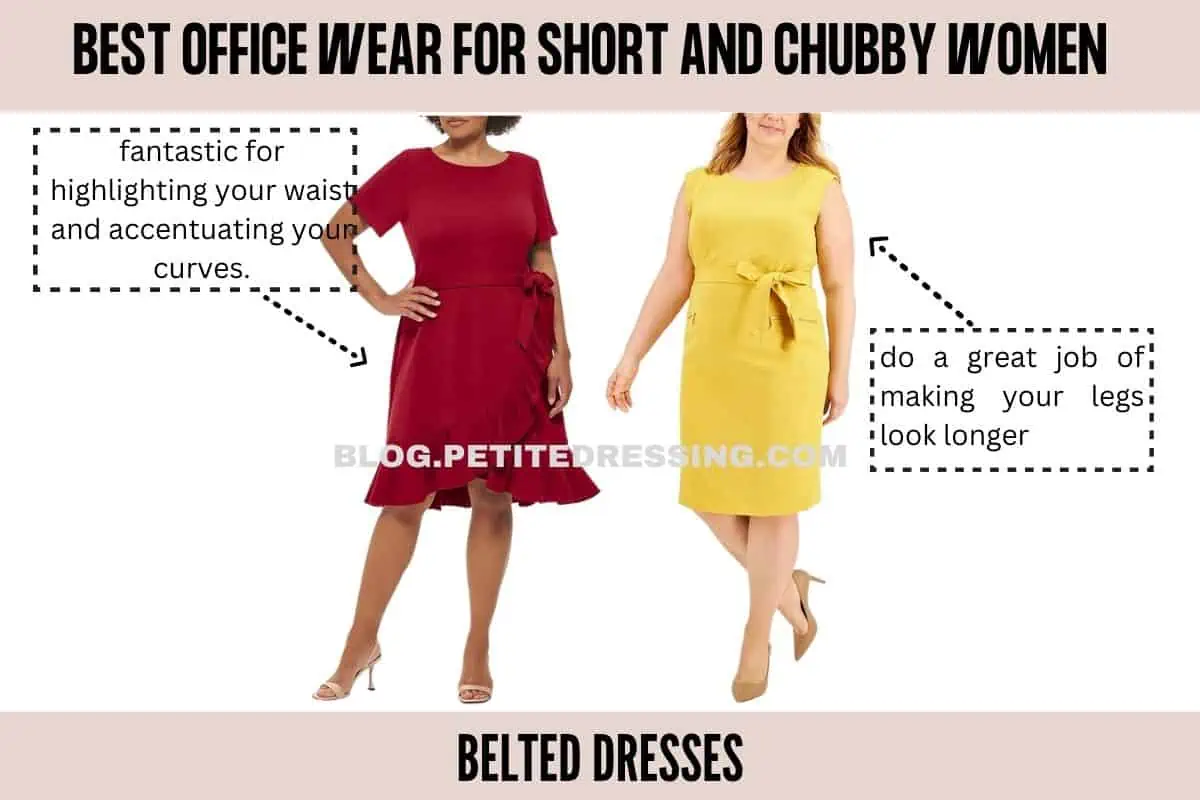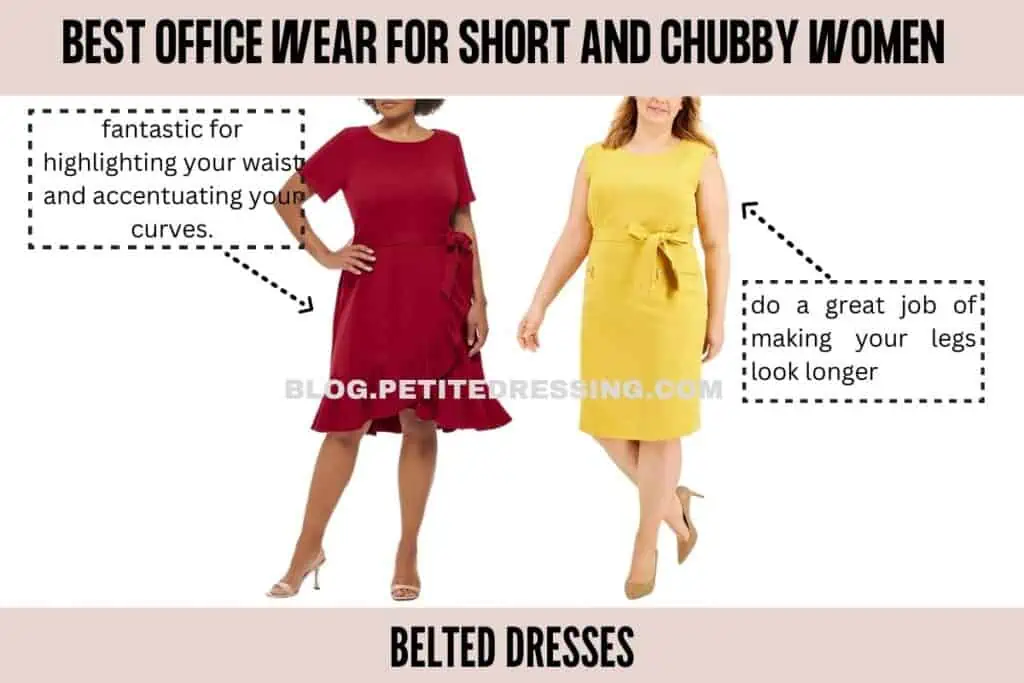 Pleated pants
Pleated pants are some of the most comfortable items of clothing you can wear to the office. No matter the season or weather, you can't go wrong with a pair. Apart from the fabrics that are usually soothing on the skin, these pants also have a relaxed fit that works for short and chubby women.
The secret here is that they come with a lot more volume which gives room for your curves without the need for baggy clothing. Therefore, well-fitted pleated pants will ensure that your wide hips don't feel cramped up while your body frame has an amazing silhouette.
Be sure that the pleats are below your waistband area as this will draw attention away from the lower part of your body perfectly, while the result is very flattering on short and chubby women.
Rock this with a long-sleeved top and switch up the look once in a while with a simple jacket, and you're ready to step out in style.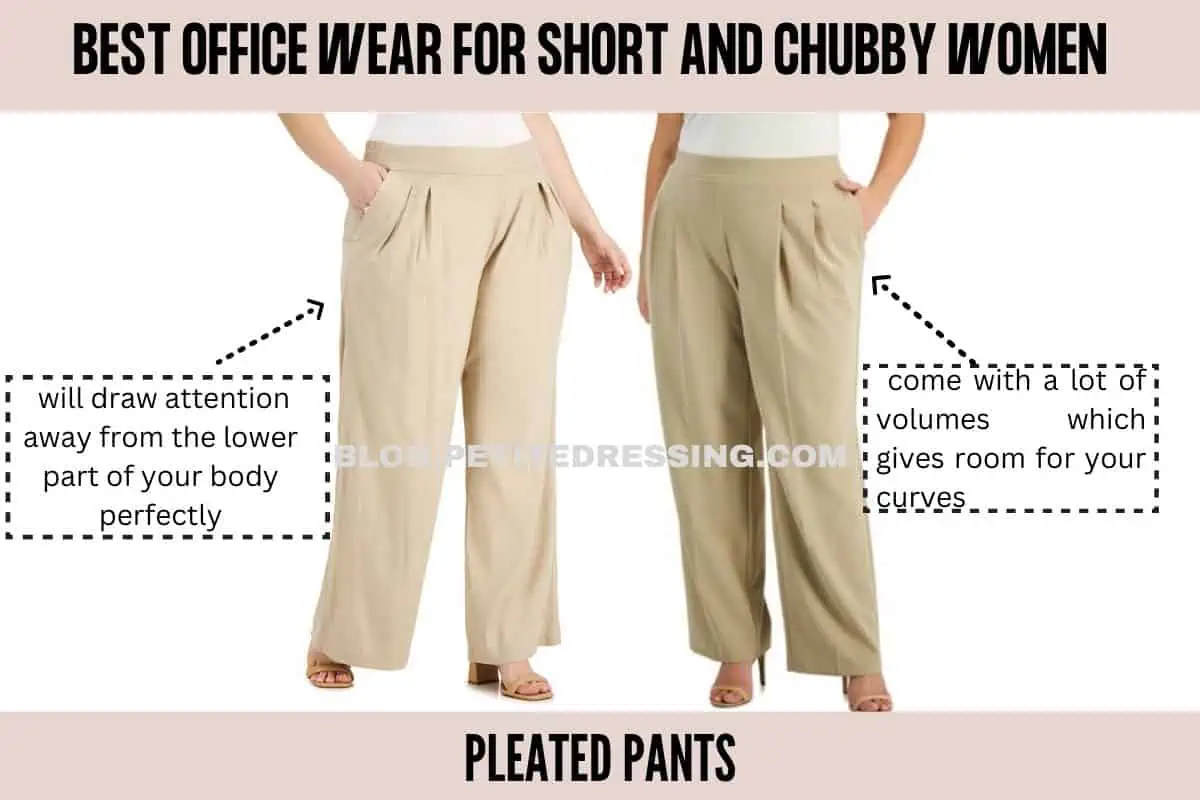 Straight leg jumpsuit
Jumpsuits are still a win for short and chubby women. Opt for straight-leg styles that are full length and your jumpsuit can also have a belted style. Jumpsuits are great for highlighting your curves, especially when they are not too tight.
The beautiful thing about jumpsuits is that they are also versatile enough for a casual way and you'll still look outstanding. So, keep the accessories minimal, and be sure to go for a v-neckline if you don't want so much attention on your bust.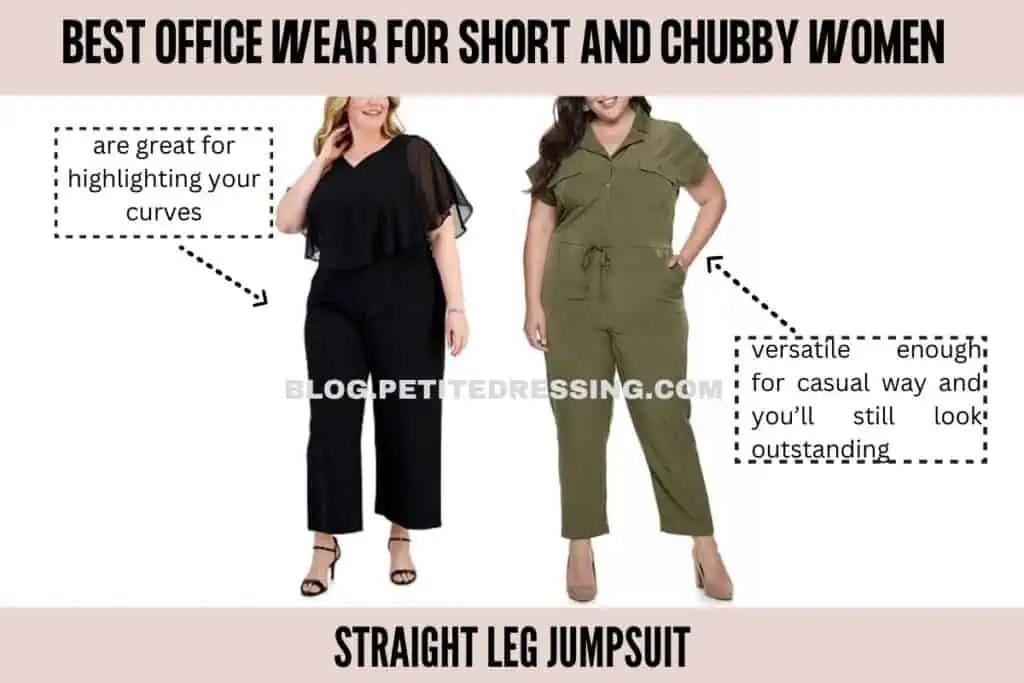 Full-length pantsuit
You should have at least one pair of suits in your wardrobe as this is one look that screams feminine power all day long. A full-length suit paired with ankle boots will give an illusion of longer legs as it's hard to tell where your legs start from.
It's always better to wear high-waisted pants while ankle boots are both comfortable and stylish on your legs. Be sure to look out for pointy-toe ankle boots as these add a lot more to the leaner-legs illusion.
The good thing about suits is that you can choose to wear bold colors if you can pull this off. So, if you're going for red, you can pair this with a black tank top which will match your black ankle boots.
This way, the black tones down the boldness of the red color and you stand out perfectly. Suits are visually appealing on short and chubby women, and you'll spend all day looking amazing.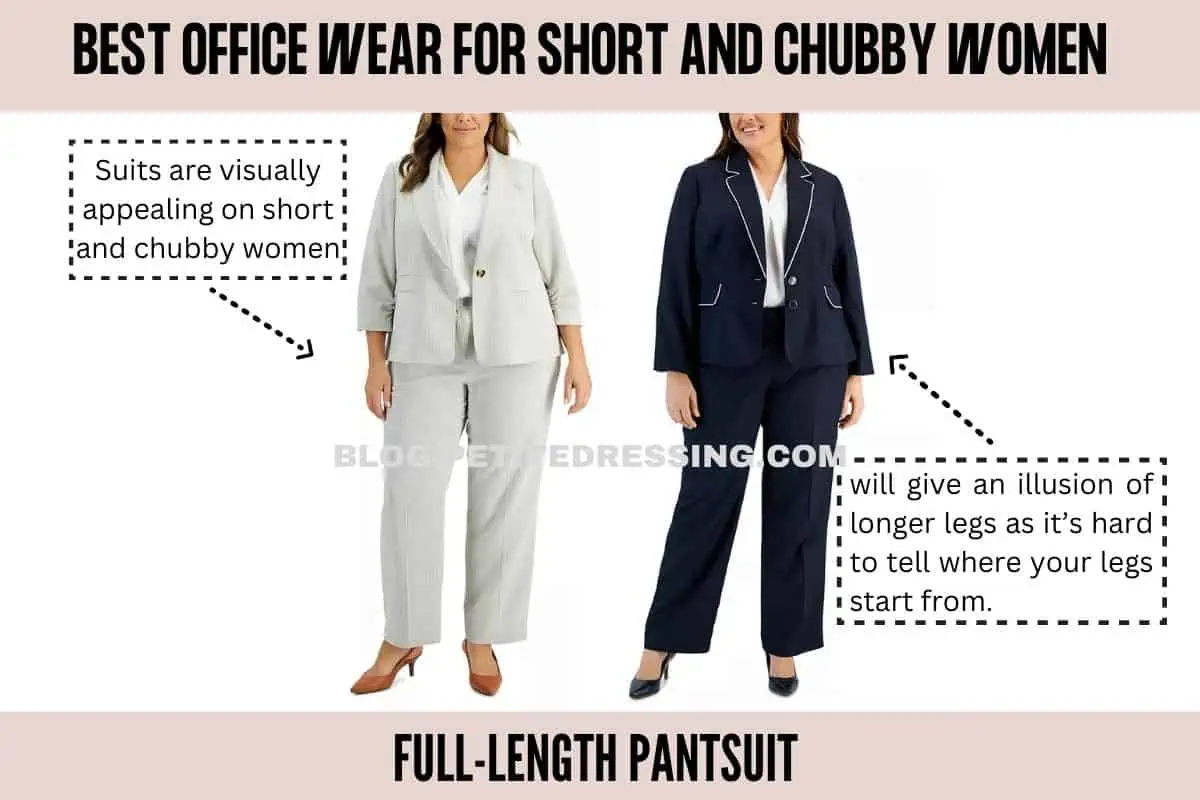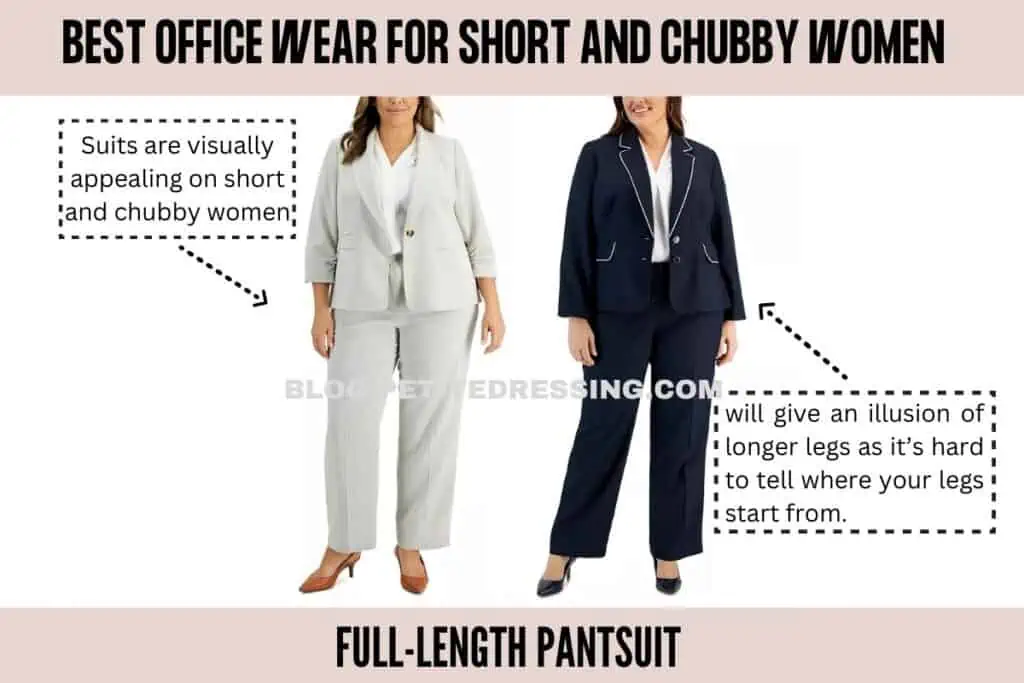 Avoid over-accessorizing
If you're short and chubby, accessories can go from being your best friend to your worst nightmare depending on how you use them. The key is to avoid wearing too many accessories on your clothing as this will look incredibly messy, not to mention all the extra weight and bulk they add to your body.
Wearing statement earrings with an incredibly loud necklace will throw your entire look off. So, here's a tip. Look for about two items that will serve as the focal point of your outfit while the rest serve as compliments.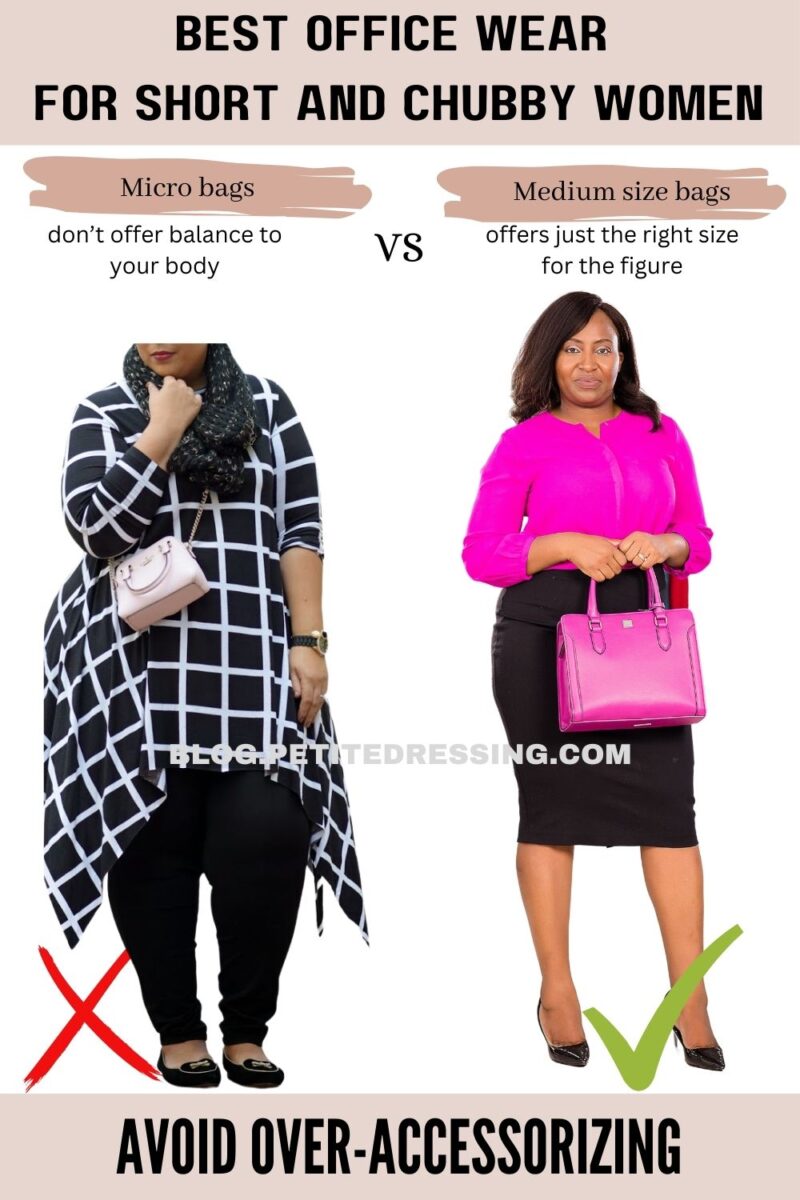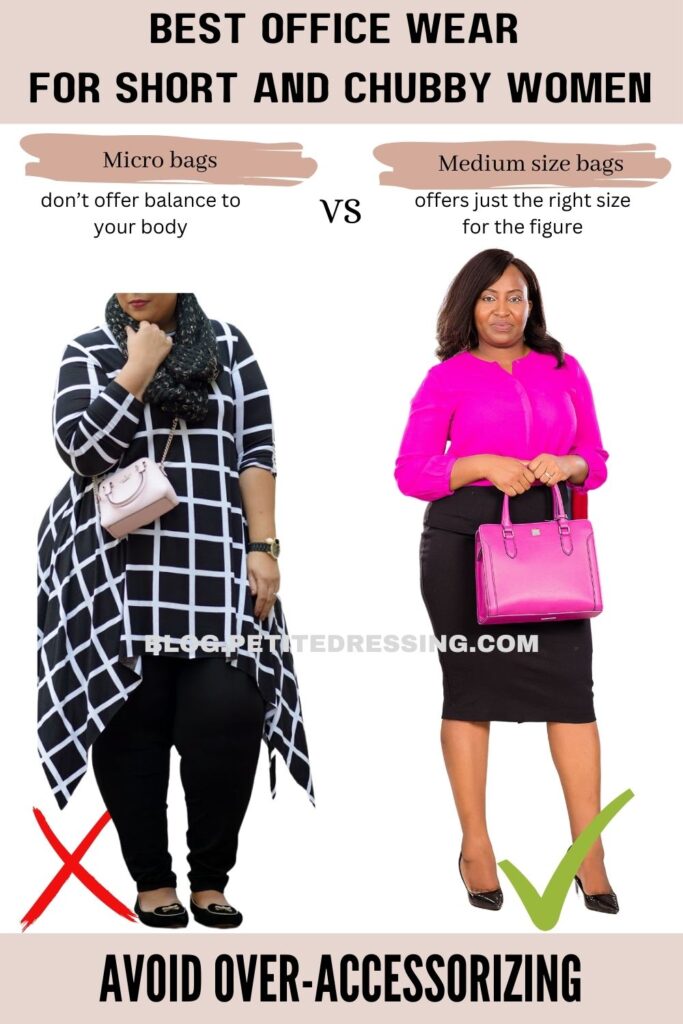 It's important to choose the right design and style of accessories that complement your body type nicely. Therefore, you should avoid micro bags and oversized bags. The micro bags don't offer balance to your body while the oversized bags will be too overwhelming for your short frame. A better option is the small to medium-sized handbags that work great with your outfit.
Our biggest tip in this officewear guide is to keep it as simple as possible. Some may claim that simple is boring but simple can be very classic, especially for the office. So, don't wear too many combinations of colors that pop. When in doubt, choose black as these project raw beauty and gives you freedom to accessorize to your taste.