Wanna know which pant styles are alluring for short and chubby women? Finding a suitable pant style is hard when you don't know how to deal with your body type. That's why we have a detailed guide for the best pant styles for petite plus-size women because everybody deserves to look fashionable. These pant styles will flatter your body type like no other style.
What to Look for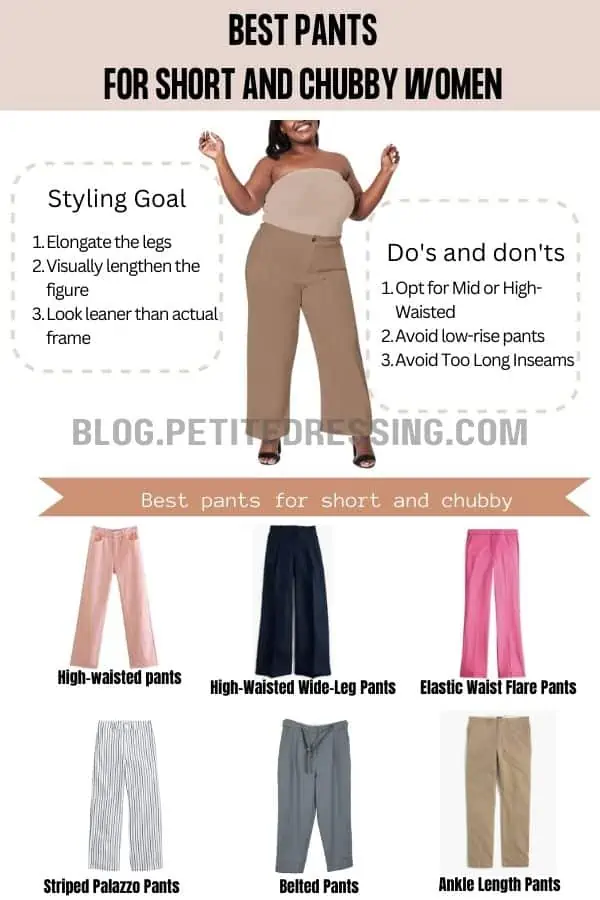 Wearing the best pant styles is important if you want to look fashionable and put-together. There is no rocket science when choosing a flattering outfit. All you need is to know your body. Here are a few tips that will help you style your pants and choose the right ones!
Mid or High-Waisted
Mid and high-waisted pants are suitable for short and chubby women. High-waisted pants make your legs look longer and provide enough room to accumulate your tummy fat. So, it is a win-win situation in all aspects. 
If your torso is short and you think your legs are long enough, go for mid-waisted pants. It will not further reduce your torso's length while still complimenting your chubby body type.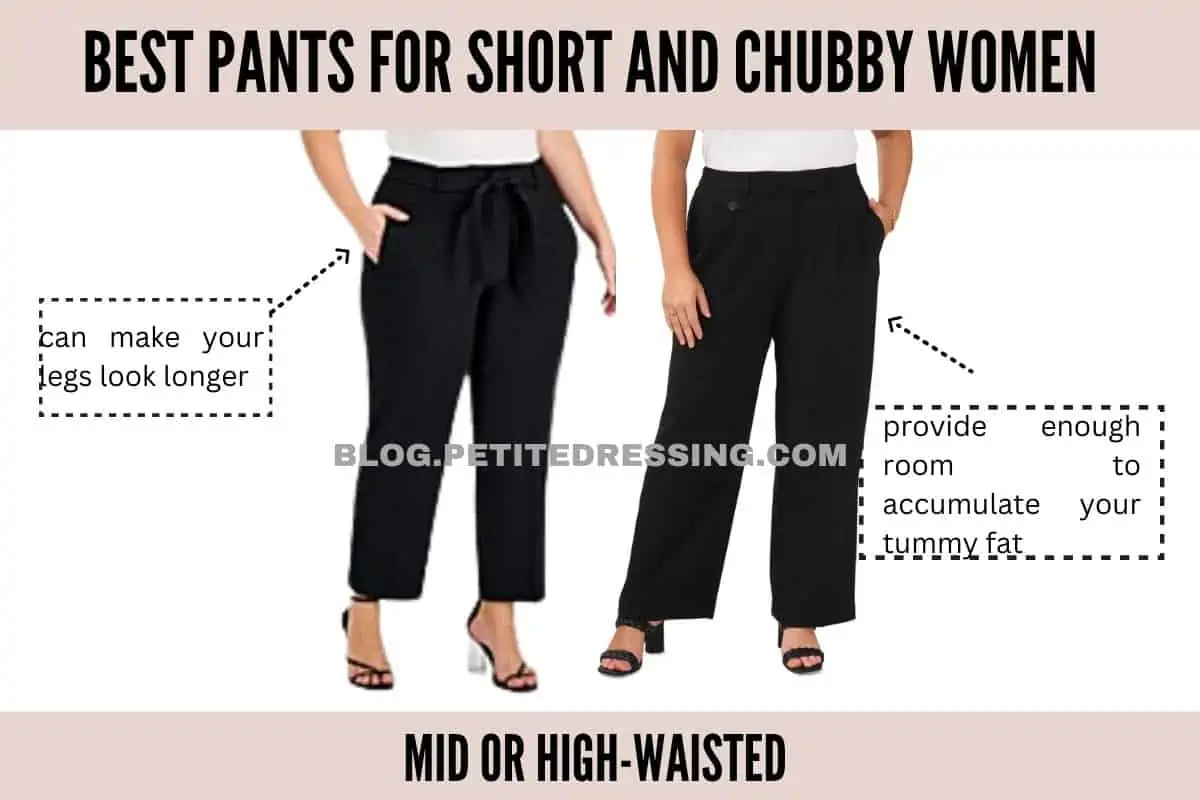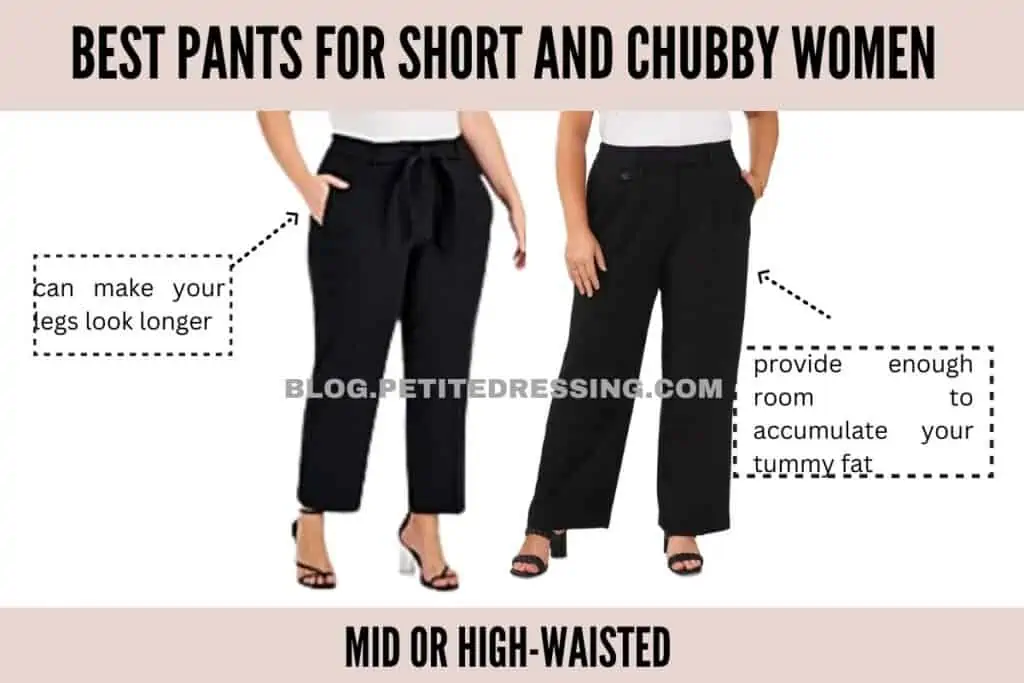 The Fit
Both relaxed-fit pants and skinny-fit pants have their own charm. But if you want to look leaner and give the illusion of a flattering hourglass silhouette, you have to find a balance between the two.
An oversized pair of pants is going to make you look chubbier and shorter. Whereas, skinny pants can bring attention to parts you want to conceal. So, a boyfriend-fit or relaxed fit is better as it shapes your body beautifully.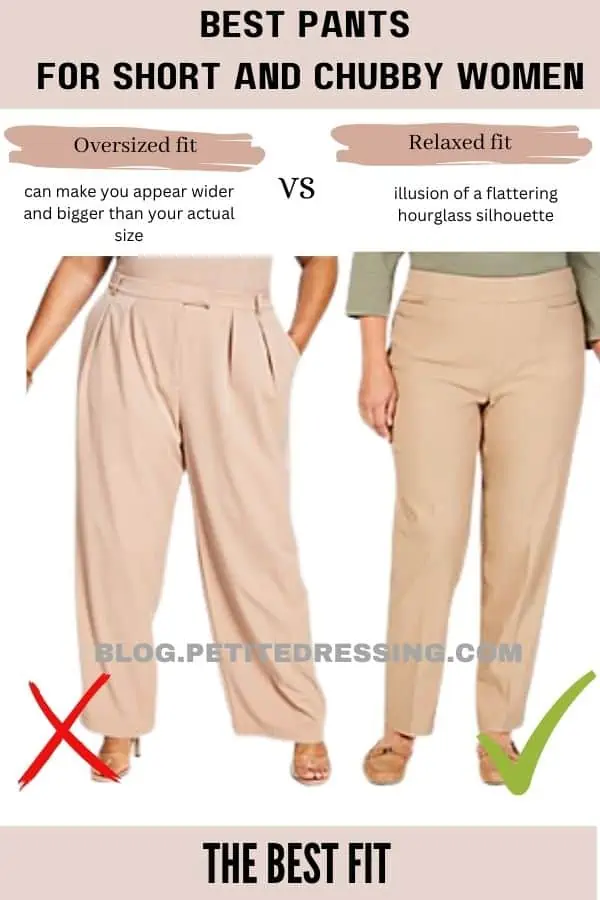 Inseams
Choosing the right inseam size is as important as choosing the right waist.
Long inseams can go beyond your ankles and make you look shorter. Cropped pants that show your ankles are perfect for making you look leaner. They suit petite women of all sizes no matter if they are skinny or chubby. 
High-Waisted Wide-Leg Pants
Wide-leg pants are great for all occasions. You can wear them for work, dinner, dates, and practically everywhere else. You must have relaxed-fit wide-leg pants in your wardrobe if you want to look chic. 
The relaxed fit will not make your thighs, hips, and calves look larger than they already are. Such a fit has enough room to accommodate all your fat. And we all know what magic a high-waisted pant performs!
Pair the wide leg pants with heels to get the maximum advantage. Wide leg pants are usually long and you can easily wear heels with them.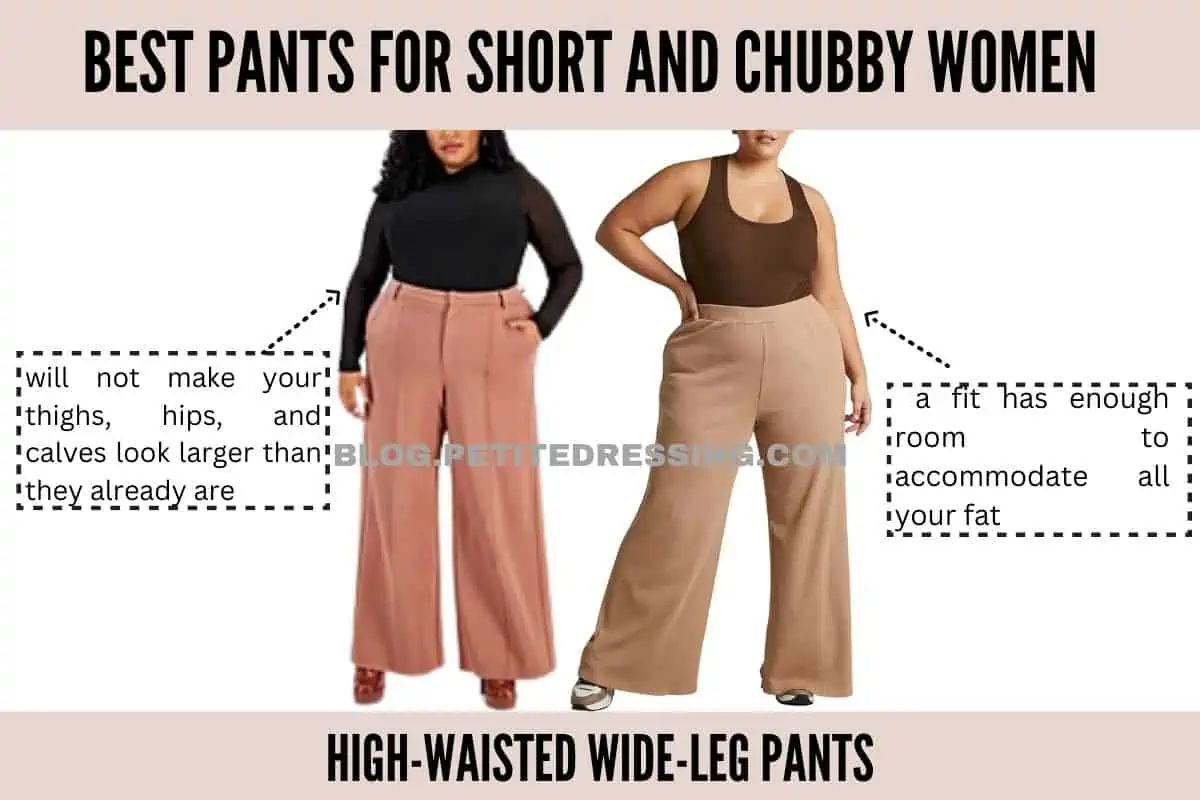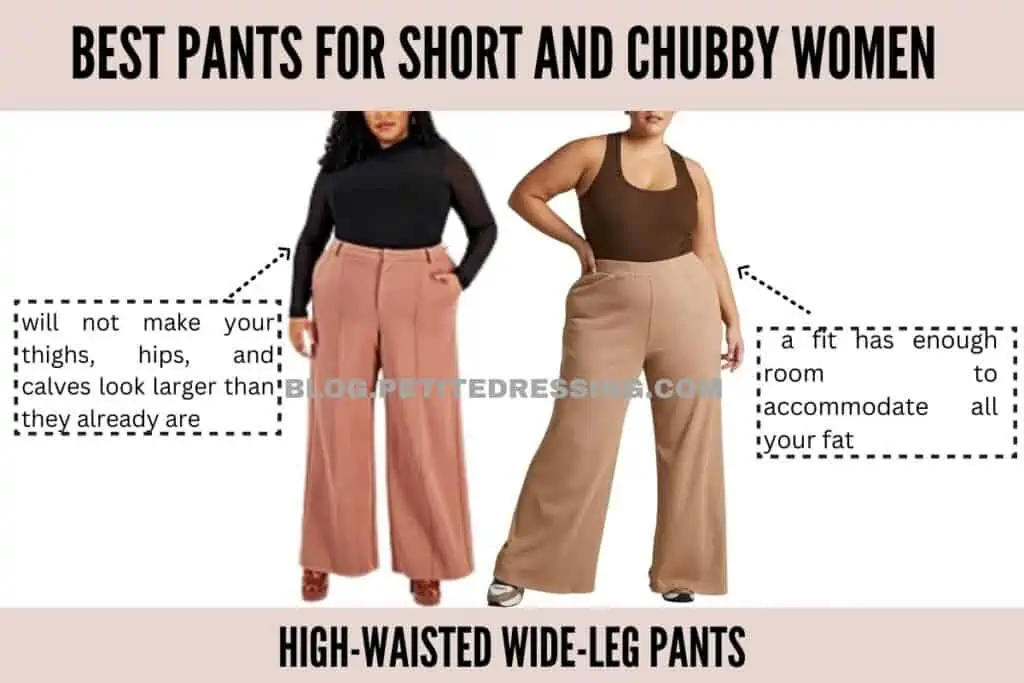 Elastic Waist Flare Pants
An elastic waist is going to make you feel amazing as it allows you to move more freely.
Flare pants are suitable for short and chubby women because they give the illusion of lean legs. You get a tight waist with loose legs, especially at the bottom. It will automatically make you look slimmer.
The best thing about this type of pants is you can easily dress them up. All you have to do is pair beautiful plain heels and a tight blouse. Wear a cardigan over it if you feel like the pants are too tight on your hips.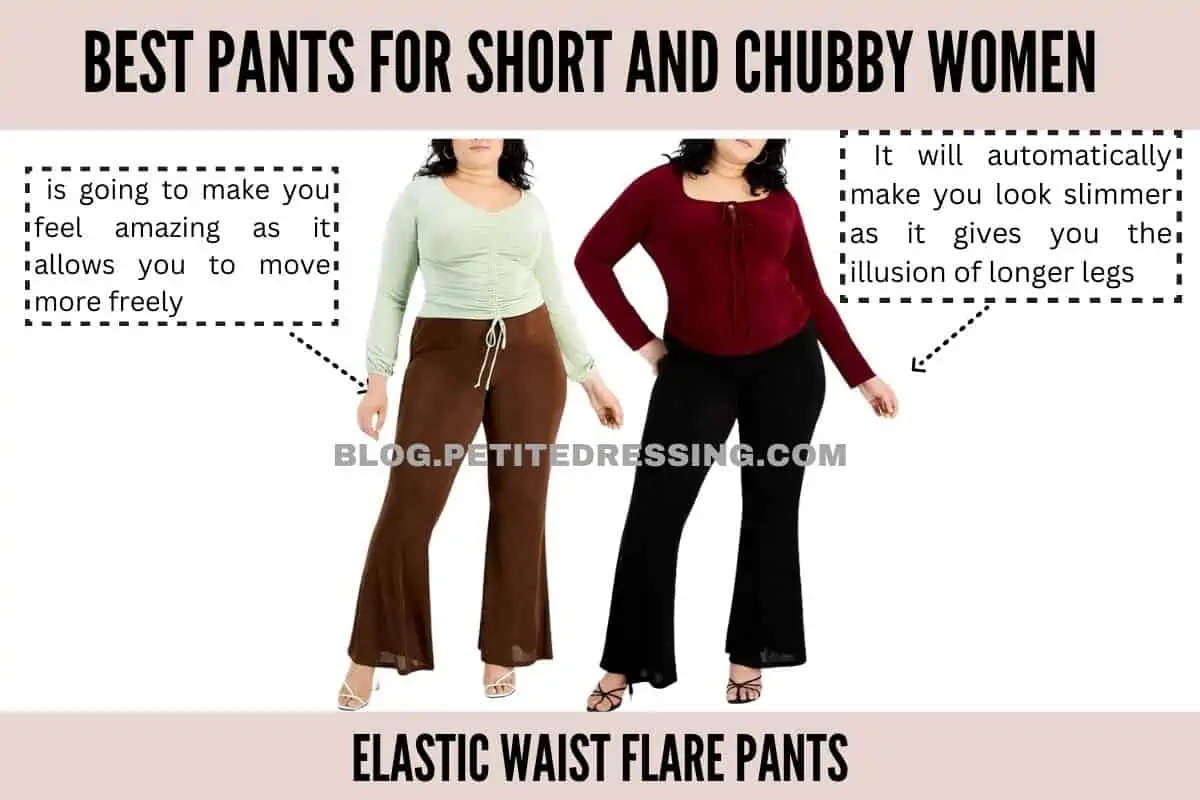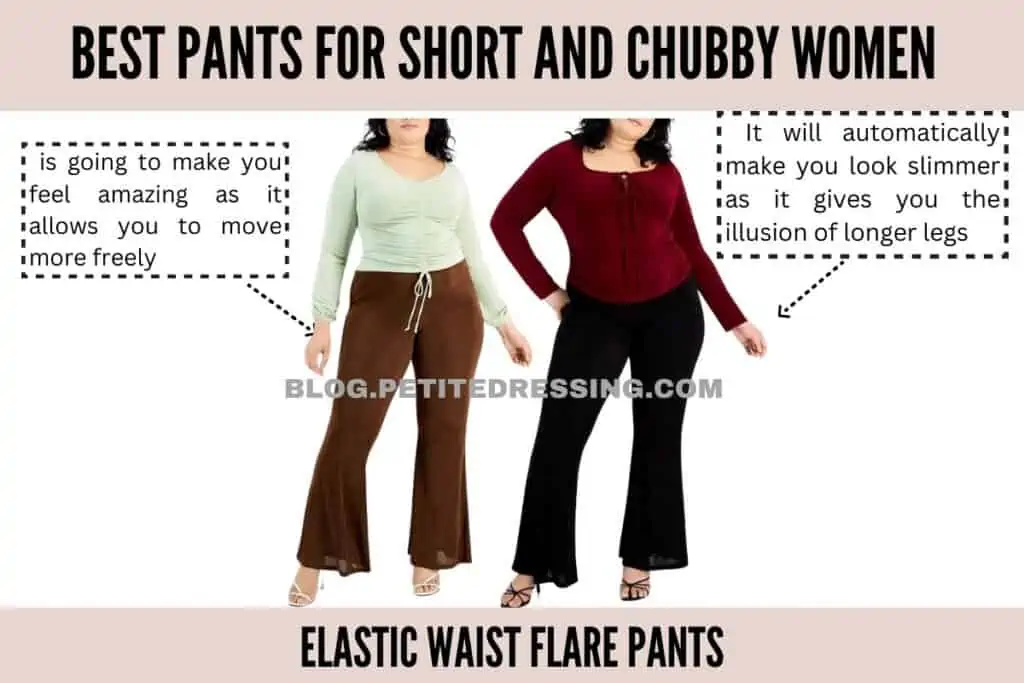 Striped Palazzo Pants
Striped palazzo pants are going to give the illusion of a taller body and automatically a slimmer figure. They are perfect for petite and plus-size women. They come in different colors so you can go for any color you like.
It is tricky to pair a top with striped pants because matching the pattern is important here. But go for something plain in a solid color that matches the pants.
For example, if you go for black and white stripes, choose a plain black top. For red and white stripes, a white top is perfect. This way, the attention stays on the pants so you can look leaner.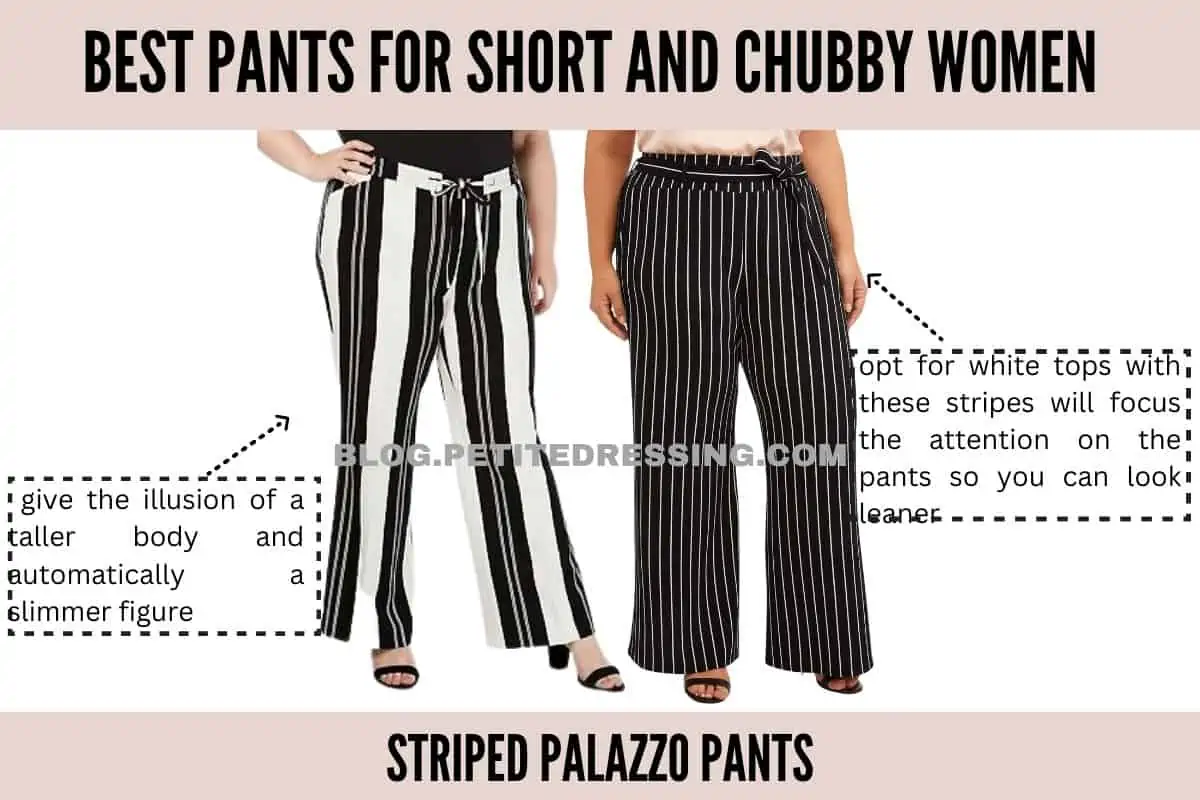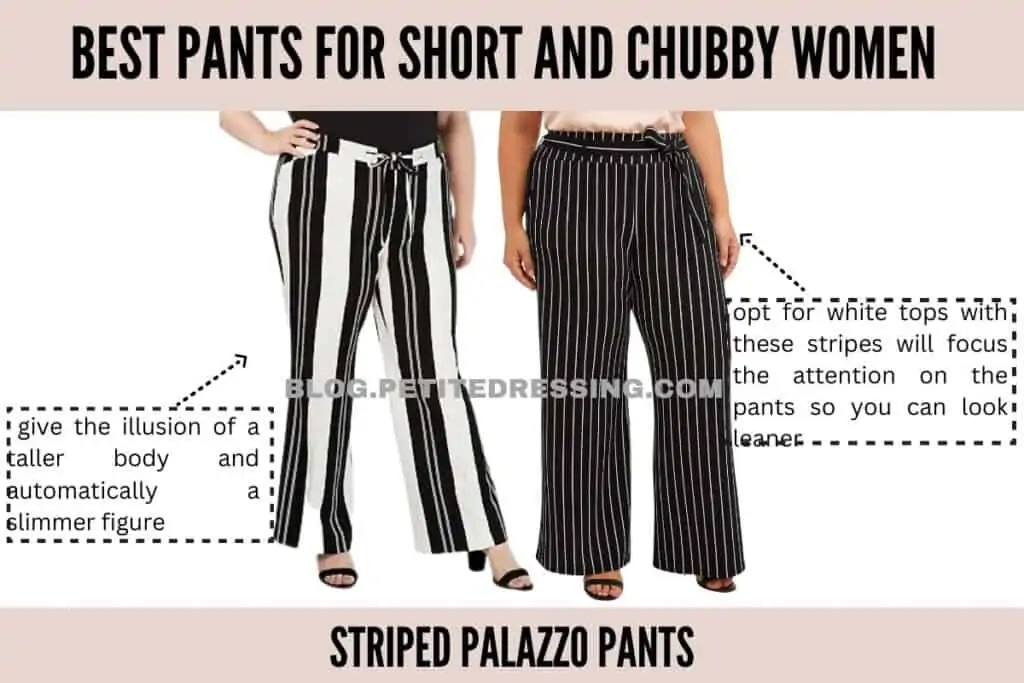 Belted Pants
Belted pants give you a slimmer waist and consequently an hourglass figure. You can show off your curves like a pro in such pants. The high-waist will look after your tummy fat and not emphasize your thigh fat either.
Neutral-colored high-waisted belted pants are a staple to have in every season. They look elegant, especially on petite women. They are easy to style and go well with every aesthetic.
Belted pants look amazing on short and chubby women because of their cut and design. You look good in all aspects while wearing high-waisted belted pants. Choose pants with either a wide leg fit or a relaxed fit if you want to look leaner.
Pair the pants with a V-neck fitted shirt or crop top. It will make you look boujee and stylish.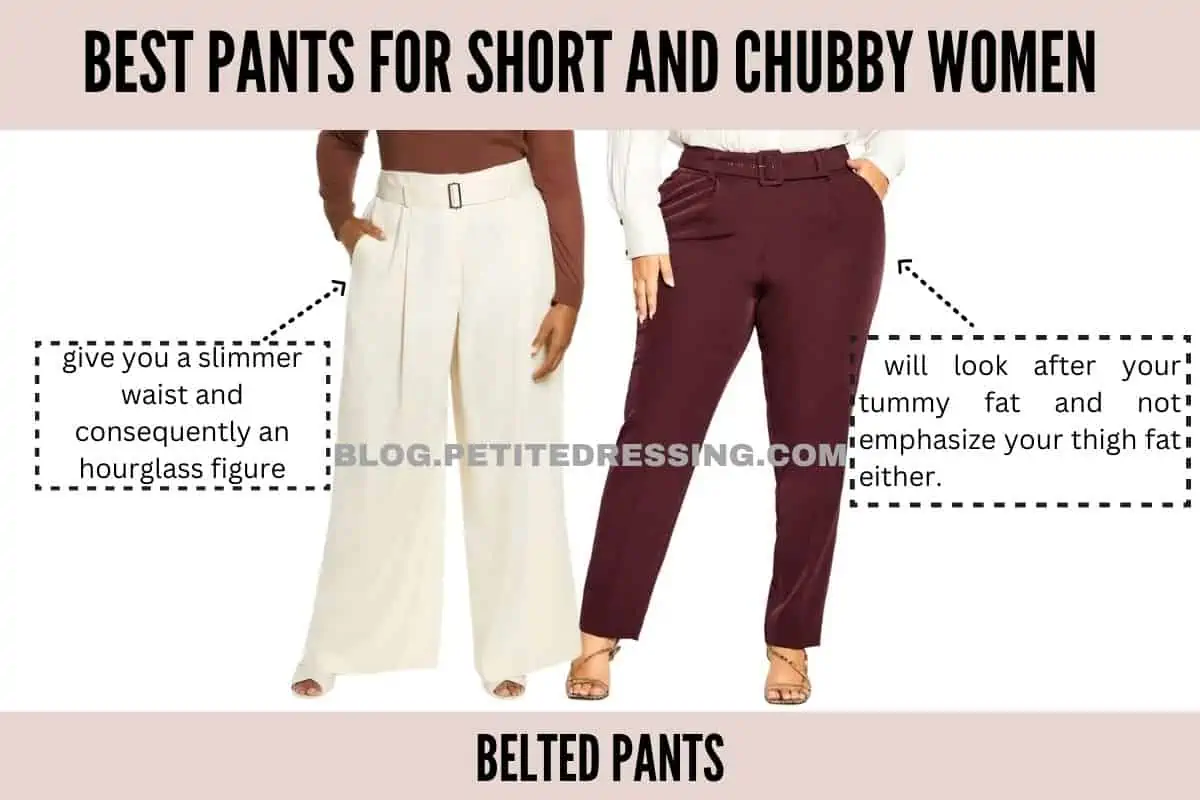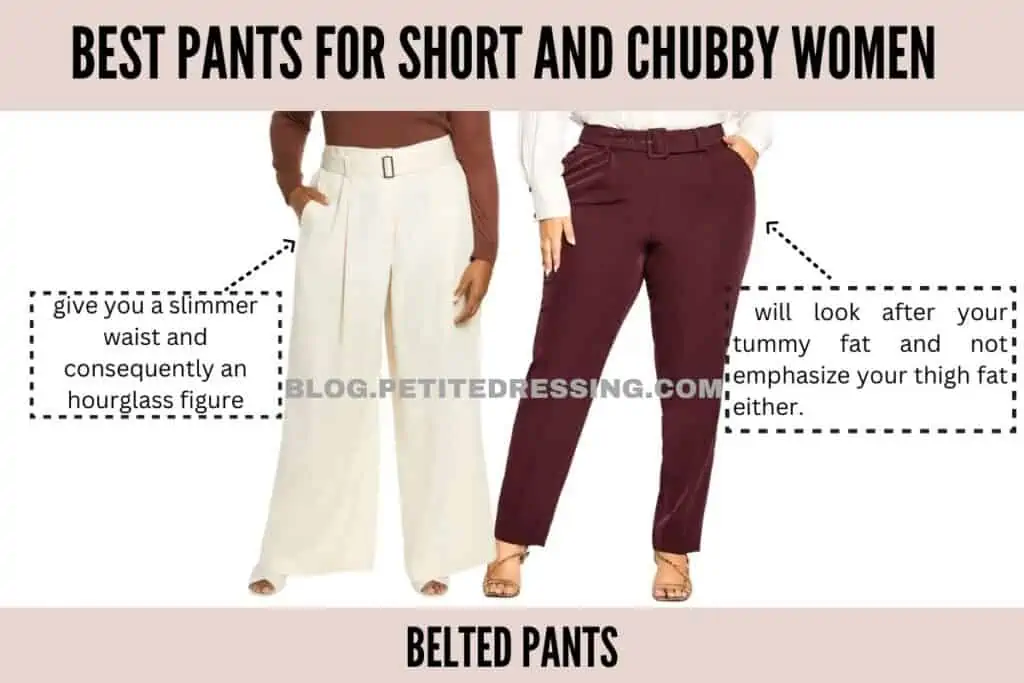 Ankle Length Pants
Ankle length pants that show your ankles make you look tall. It gives the illusion of longer legs without making your torso look shorter.
Tummy Tucker Pants
The tummy tucker style is suitable for petite and chubby women because it not only makes you look leaner but also slimmer.
It isn't a too-loose or too-tight pant style so it is perfect for a casual outfit. Sometimes too loose can look unflattering on chubby women. Therefore, this style is always safe.
Pair this pants style with a wide-strap top and chunky sneakers.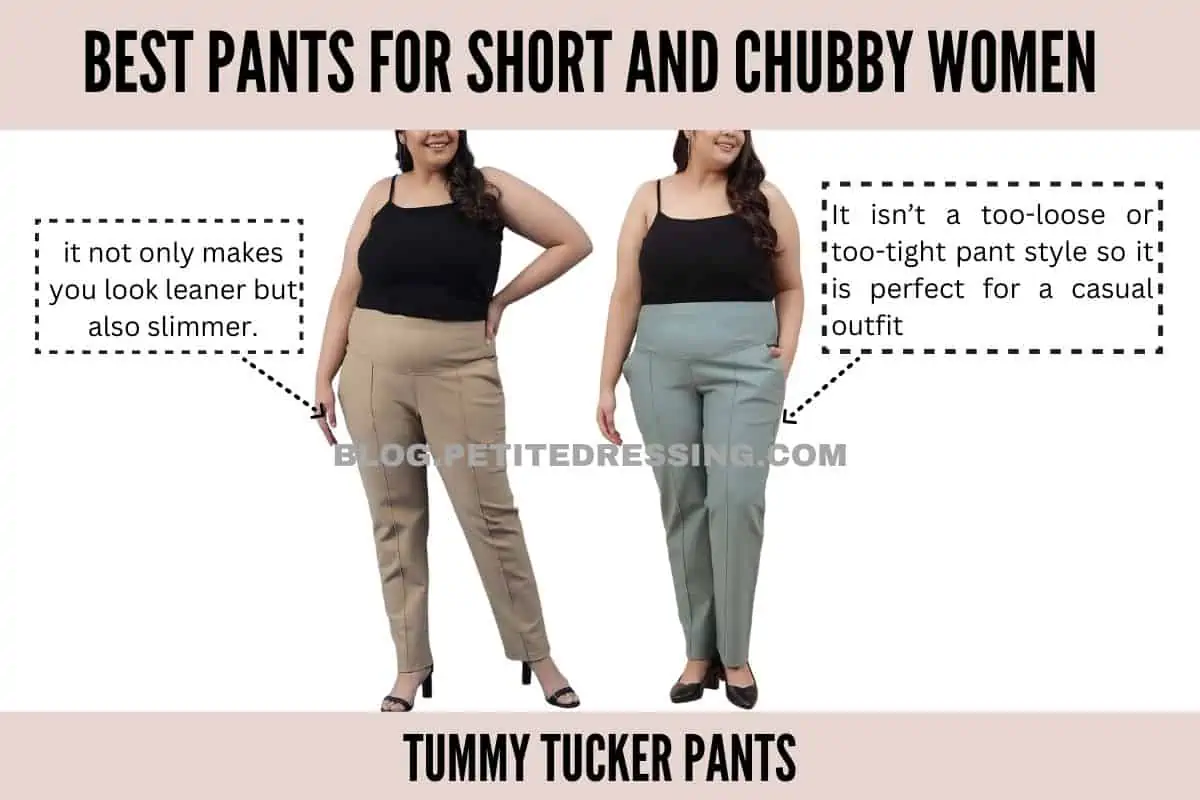 Caution with Cargo Pants
Cargo pants are trendy nowadays and it is a must-have in your wardrobe as well. Cargo pants are great for casual outfits. You can pair it up with different plain t-shirts for everyday wear.
Cargo pants can actually look amazing on plus-size short women but you just need to be more selective.
The key is to avoid anything too baggy. Go with a slightly loose fit of cargo pants to make sure it will never make you look heavier than you already are. In fact, it gives you a balanced proportion and beautiful silhouette.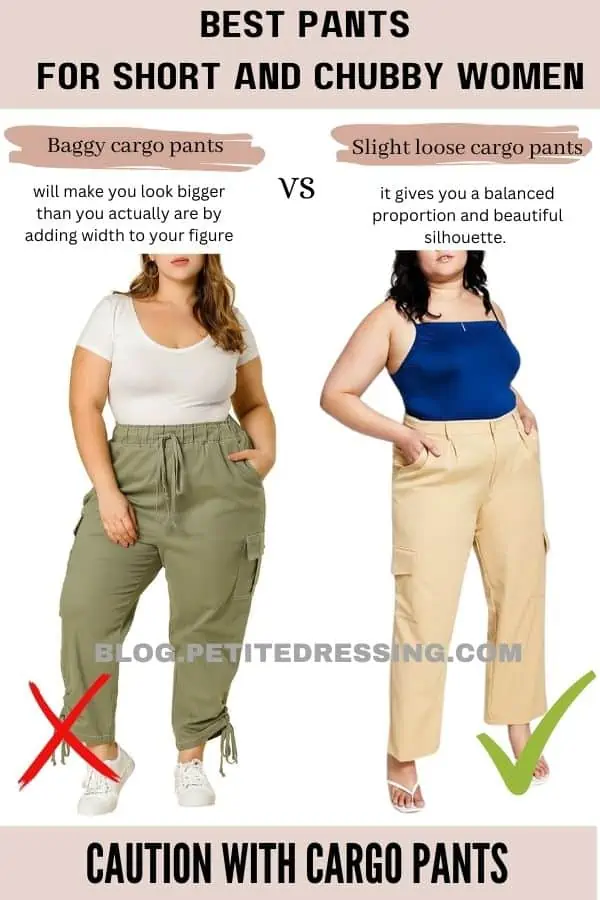 Avoid Low Waist
Don't go for low waisted pants if you are a chubby and short woman. They won't look flattering on your body type at all. Low-waisted pants make you look shorter. Your tummy stays out of the pants and sits on top of it. It is quite visible in such pants so you will end up looking bulky and petite.
Mid-waist and high-waist pants are your best bets here!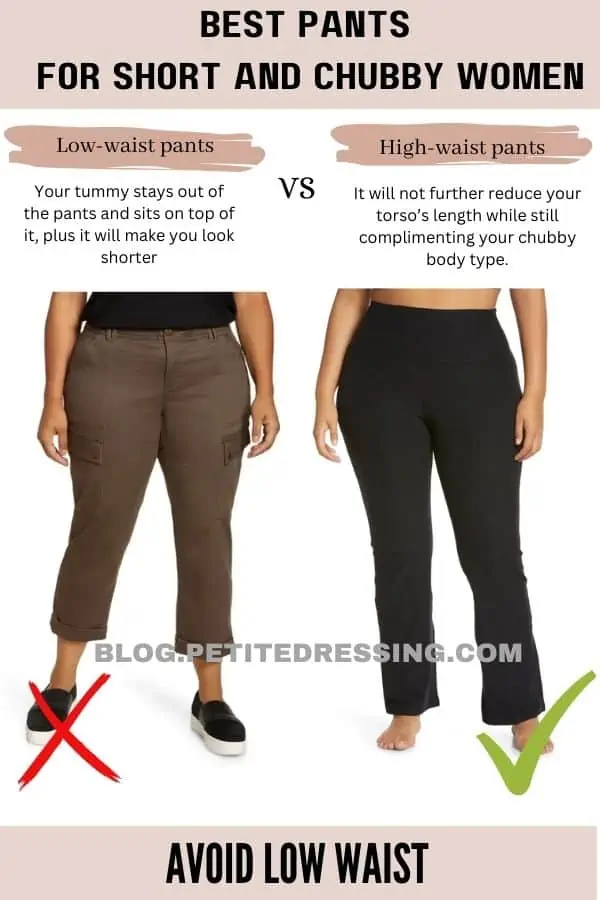 Avoid Too Long Inseams
Either go for cropped pants or something that sits right above your feet. It is always better if the pants reveal your ankles when you are petite.
Too-long inseams are going to make you look shorter especially if you don't plan to wear heels with them. They are hard to style for chubby and short women. They don't look flattering on this body type.
Every fashion expert recommends choosing a shorter inseam and so do we!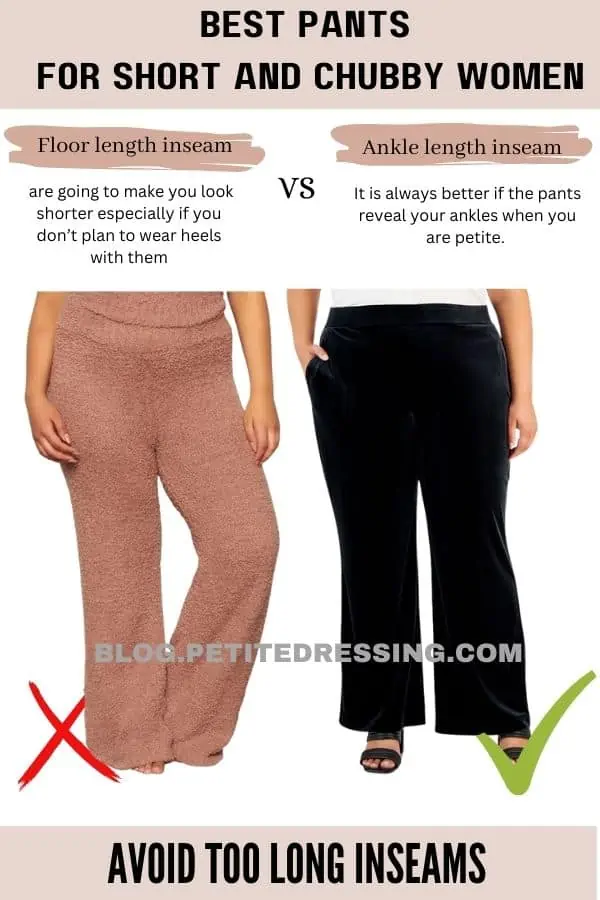 Final Thoughts
Now you know how to style pants if you are short and chubby. Styling pants the right way is important because they are a staple in everyone's wardrobe. You can only look mesmerizing in pans if you know how to deal with your body type. If the pant style isn't suitable, your top will also go in vain. So, choose a pant style that complements your body type to rock your day.