Once in a while, you'll be in the mood for clothing styles that reveal your legs and emphasize your curves without going over the top. For petite and curvy women, it may seem difficult to choose shorts that do all of this without revealing just how short your legs are. However, even short women can rock shorts, and we've got amazing styles for you.
These styles will make you feel confident and possibly earn you tons of compliments, as they are all made for your petite and curvy body type. Whether you're petite, curvy, or plus size, check out these silhouettes that will fit you perfectly in this ultimate guide on shorts for short and curvy women.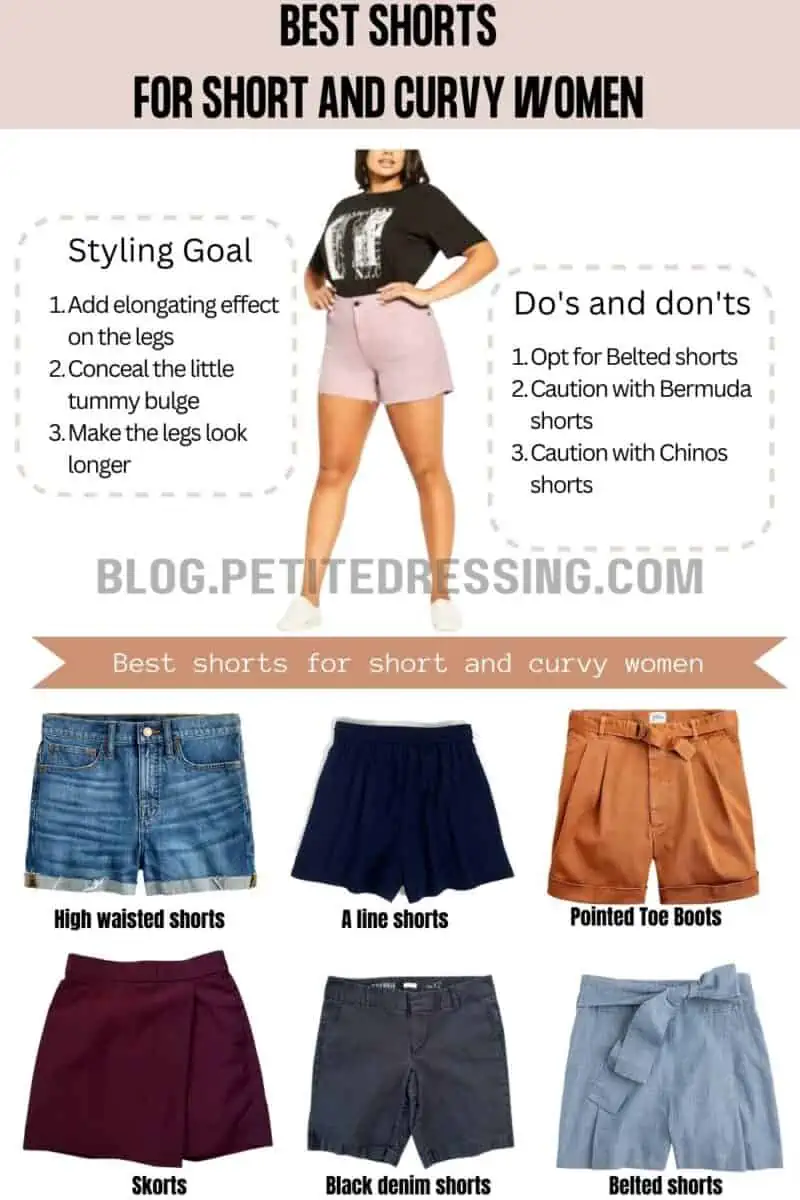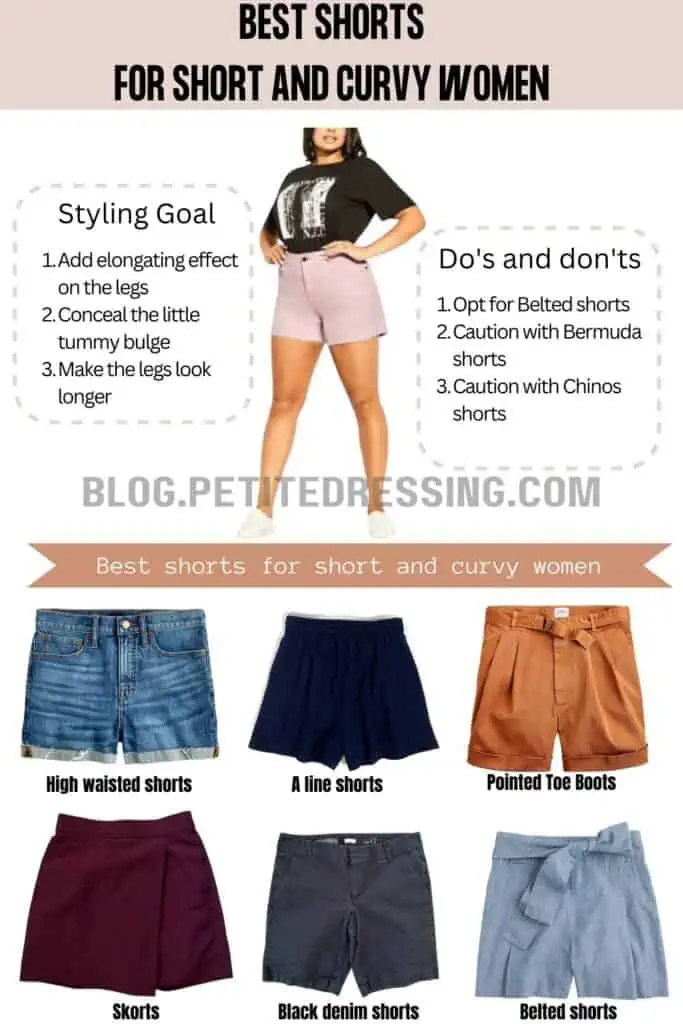 High waisted shorts
High-waisted shorts are one of the biggest trends of the 21st century and are even more perfect for anyone with short legs. So, for short and curvy women, there's a lot to gain from wearing this style of shorts. 
Of course, there's the biggest benefit we've always talked about, which is the ability to make your legs look longer than they actually are. This works even better when your high-waisted shorts are fitted close to the body, adding to the elongation effect on your legs.
The best part is that you don't have to worry about sacrificing your comfort to slay in high-waisted shorts. They feel so sleek on the skin, so you can go for several hours in the shorts without experiencing any discomfort.
However, if you have bigger thighs and hips and wouldn't want much emphasis on them, consider wearing high-waisted shorts in darker colors, especially black, while a long top can cover the wider area on your thigh.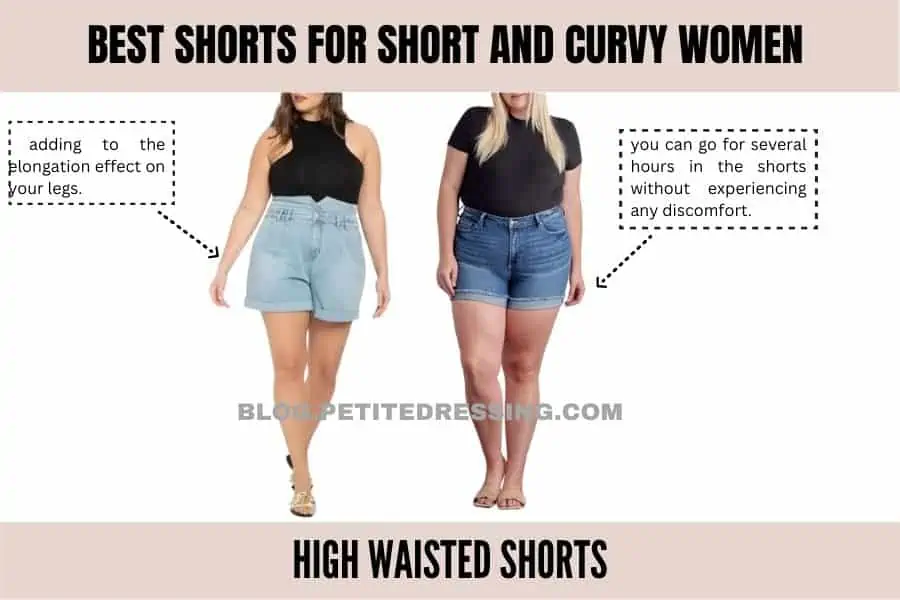 A line shorts
For women with a dainty figure that automatically translates to a petite body frame, your shorts game can be impeccable with A-line shorts. So, what exactly are A-line shorts?
These types of shorts start with a narrow waist and spread out into a slight flare as they move from your hips to your legs. They got their name due to the nice A shape this forms on your body.
A-line shorts are perfect for curvy women because they work extra time to flatter your curves and elongate your legs. Make this even more fantastic by getting shorts in neutral shades and pairing them with platform heels.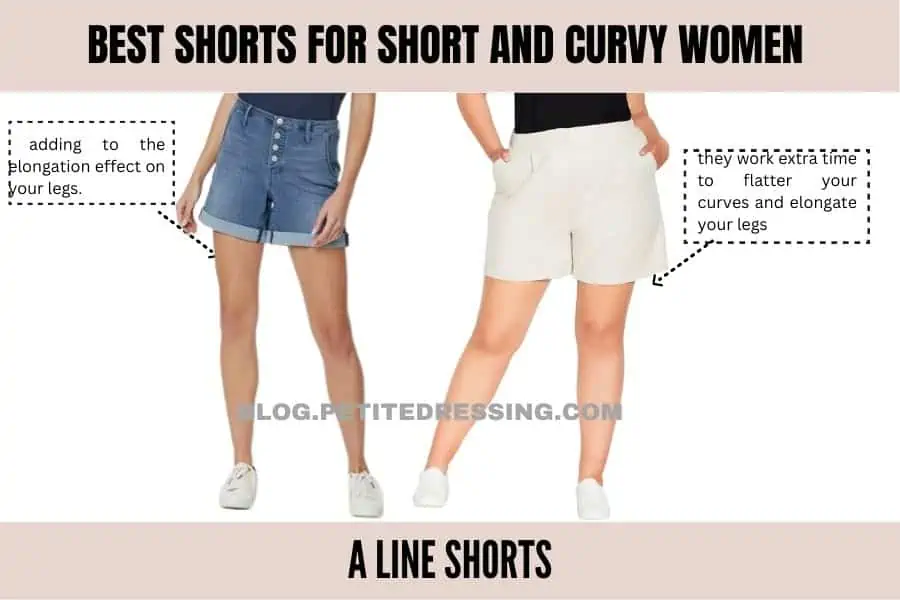 Pleated shorts
One feature that usually comes along with the petite and curvy body frame is the muffin top. However, it can be pretty stressful having to wear shapewear for every occasion when you want to conceal the little tummy bulge. 
With shorts, there's a stress-free method to draw attention away from your stomach and give the illusion of smaller hips, and that magic happens with pleated shorts. The pleats on your shorts do a great job of hiding stomach fat while drawing more attention to your waistline. 
So, you can get the best out of pleated shorts with a black tank tucked into your shorts, a relaxed blazer, and some sandals, which are more than enough for a casual evening.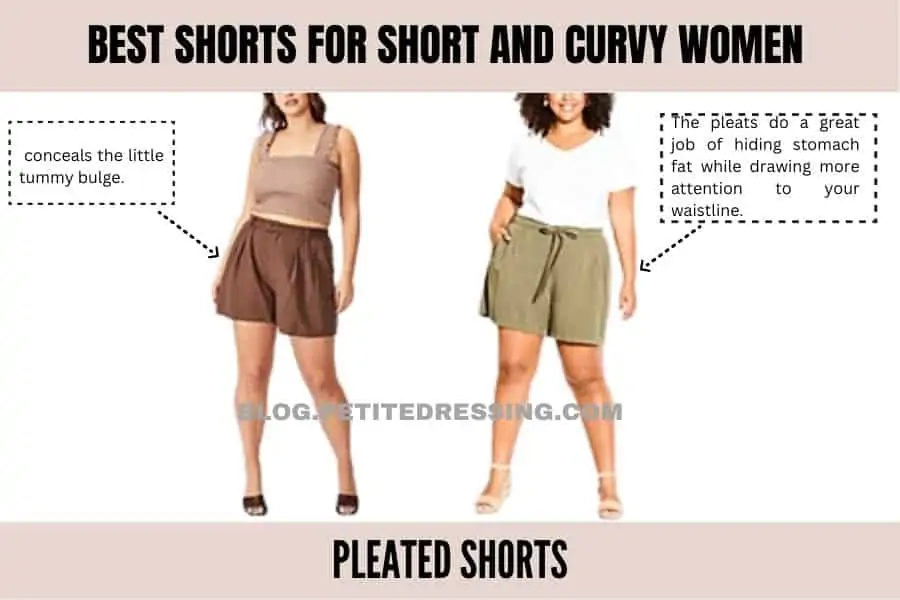 Black denim shorts
If you don't have black denim shorts in your closet, you should seriously consider shopping for some right now. Black denim shorts are amazing for short women because they work on the principle of darker colors creating a slimming illusion.
Not just for shorts, they work great for creating a slimming effect on pants as well. Wear black denim shorts that stop above your knees to make your hips look smaller. So, if you've got bigger hips, a simple color change is all you need, as this color reduces the chances of creases or shadows on your clothing. 
Black denim shorts offer the perfect blend to create a flattering silhouette, especially if it is high-waisted. Combine the higher waistline on your shorts which will make you look taller, and the black color, which will make you look slimmer, and you have the ultimate combo for any petite woman.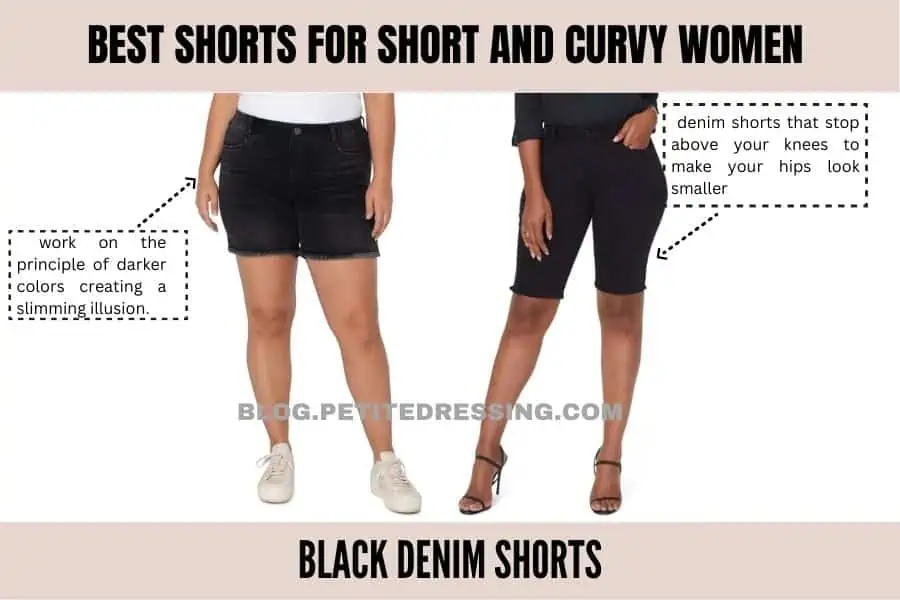 Belted shorts
Belts on your shorts double as an amazing way to accessorize and highlight your waist. So, belted shorts are the perfect fashion trick if you want to keep the accessories minimal but still get a waist-cinching effect for your small body frame. 
Of course, it won't be a bad idea to get shorts with built-in belts, but those with belt holes work just fine too. Belted shorts will flatter your short legs and instantly draw more attention to your waist, which is great for making your legs look longer.
The belt will be fixed at your waist, and this gives the impression that your legs start from this spot. Of course, this is much higher than where your natural legs start, and that's more than enough to create the elongation effect.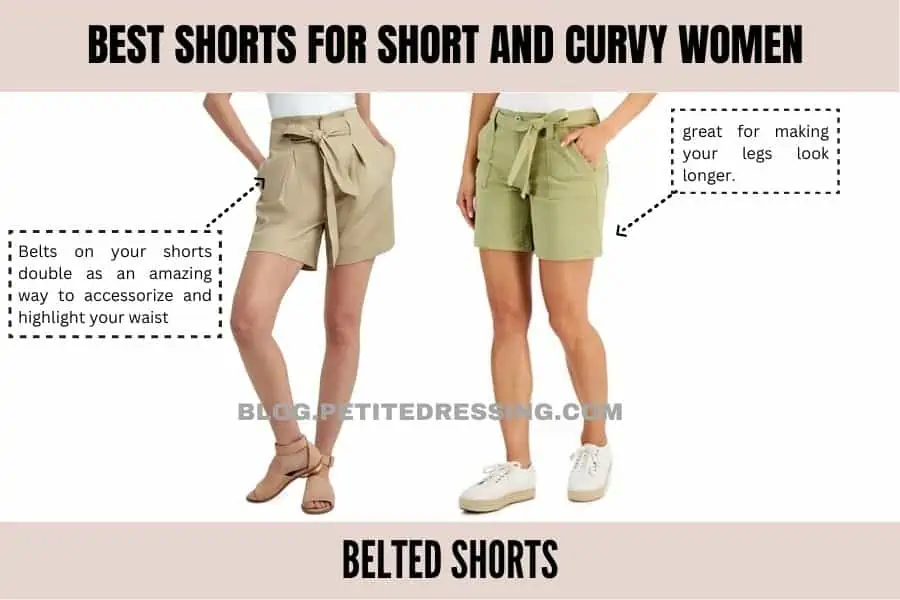 Flowy shorts
We don't mean flowy shorts that are big on your hips and flow bigger outwards. The best flowy shorts for petite women usually start with a tighter fit around the hips and have a flare from the thighs.
Choose flowy shorts with an elastic waistband and smaller pockets, so they don't add bulk to your body frame. Instead, they will draw more attention to your curves.
This style of shorts is also super comfortable, especially in linen material that has a softer feel.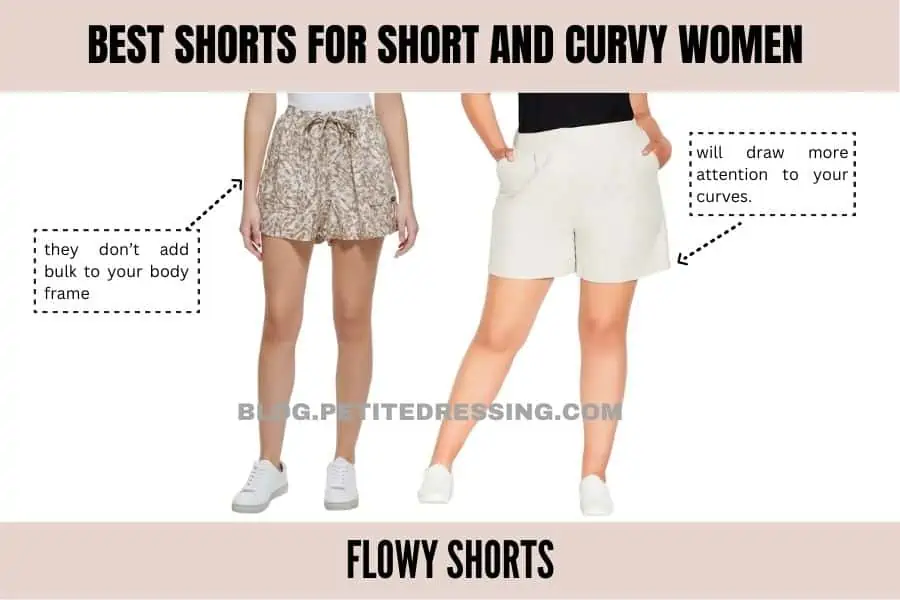 Skorts
You may have seen a few athletes wearing shorts with skirt-style fabric covering both the front and back. This is a hybrid of skirts and shorts and one of the best styles for petite women.
This follows the theme of elongating your legs and giving your body frame a slimmer outlook. One feature to love about skorts is that they have a chic outlook, which means you'll always look elegant in them.
So, if you have wider hips and would love to make them look smaller, pair this with a short-sleeved blouse. A tip for rocking this beautifully is to wear skorts that are above the knee.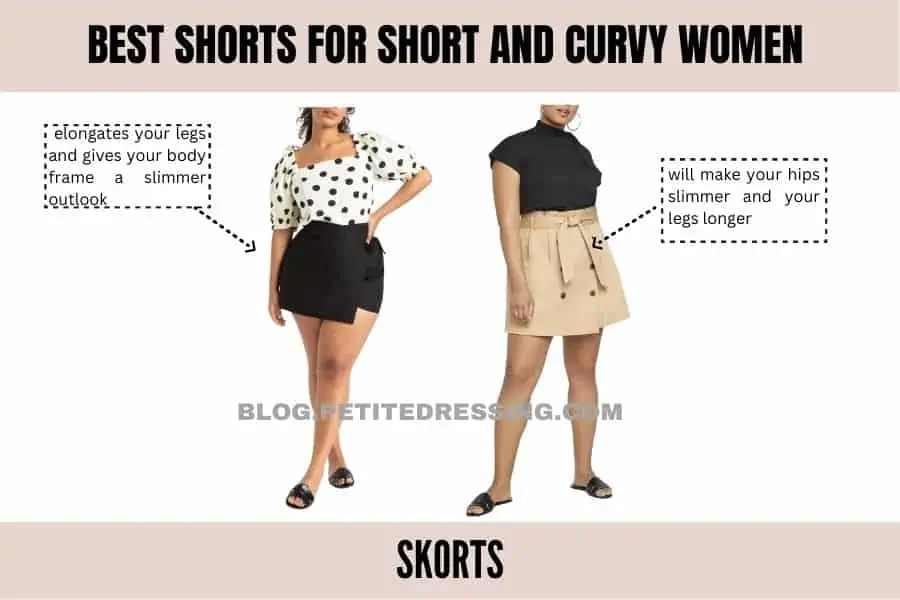 Caution with Bermuda shorts
The secret to rocking shorts perfectly as a short and curvy woman is to create balance. You can wear tight-fitting shorts, but it starts to create a negative effect when they are too tight on your body frame.
Bermuda shorts are shorts that usually fall about an inch above the knee. If you must wear them, avoid wearing sizes that are too tight, as they will make your legs look shorter. Even taller women will have their legs looking short on too-tight Bermuda shorts, so you can only imagine what effect it will have on your petite frame.
When the shorts are too big, they'll create a boxy silhouette that's not flattering to women with an hourglass shape. So, the keyword here is balance. 
Caution with Chinos shorts
As mentioned earlier, wearing too long shorts creates a boxy silhouette and visual weight that adds more to your body frame. Chinos shorts are great for pulling off a casual yet polished look on short and curvy women.
We love how wrinkle-free this fabric is, especially if you're big on ending the day looking as elegant as you did when it started. You can pair this with a simple shirt and sandals, and this is a great clothing choice for lazying around the beach in summer.
However, the caveat here is to stay away from too-long chinos shorts as these will only shorten your legs. The goal with shorts on petite women is to draw attention away from your legs, and long shorts won't help you achieve this. 
They also add more volume around your thighs and hip, which makes your body look bulkier. Look out for shorts that show your shape a little in them, and this means going for comfortably fitting shorts.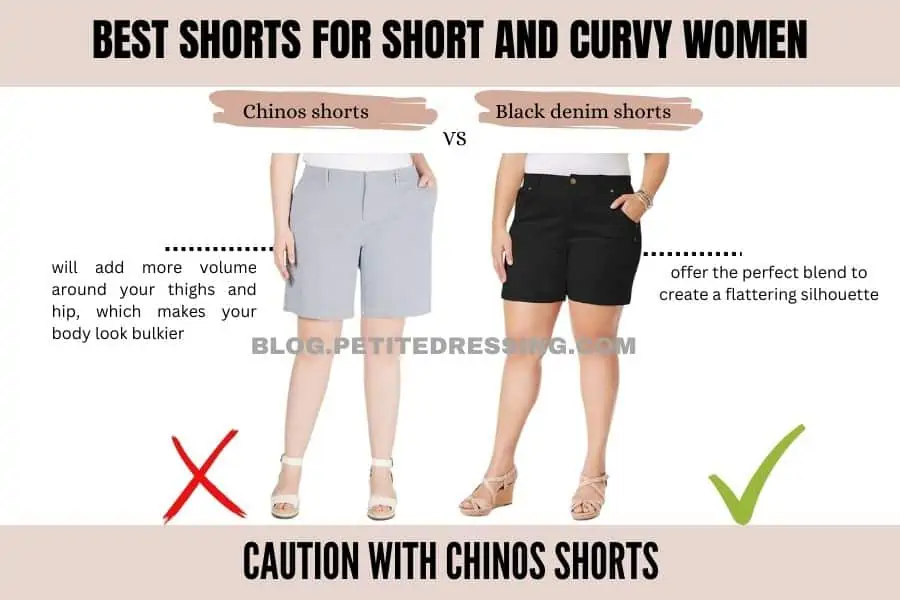 Avoid low rise
Low-rise shorts are never flattering on women with shorter legs. This is because low-rise shorts start under your belly button, making your torso look longer and, ultimately, your legs look shorter.
It's the complete opposite of what you want to achieve when you step out in your shorts. Also, if you have a muffin top and put on low-rise shorts, this will feel a lot like you're screaming, "hey, look at my tummy bulge!"
So, rather than put on low-rise shorts that focus on your love handles, mid or high-rise shorts are a better option. If these reasons are not enough to convince you, consider how uncomfortable you'll be in low-rise shorts that ride down every time you take a seat or bend a little.
That's a huge risk of showing your underwear, which is one of the worst wardrobe malfunctions ever.
If you're one of those short and curvy women around the world who have put off wearing shorts to any occasion because you don't think there's anyone that flatters your short legs, we hope this little list has changed your mind.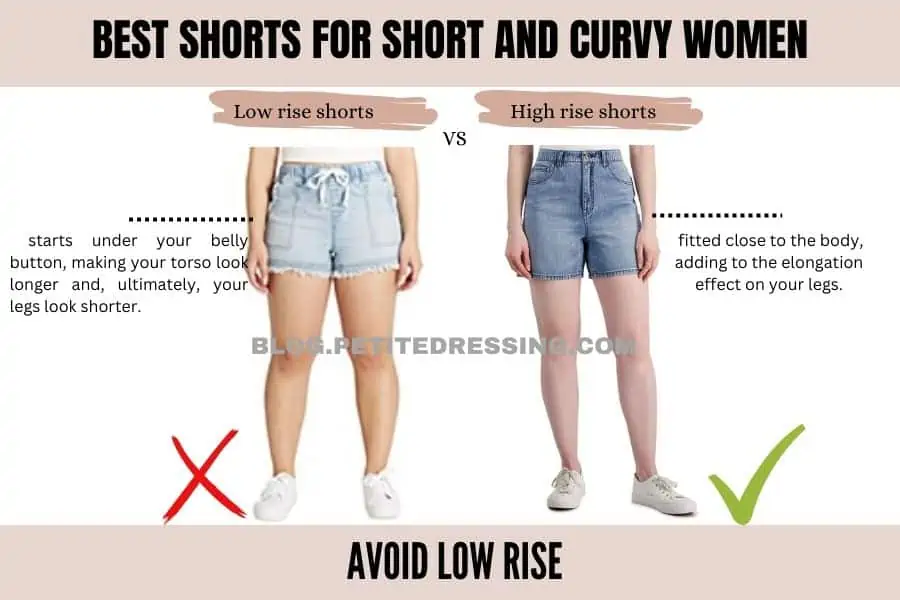 All the shorts are tested and trusted as the perfect styles to make your legs look longer, and you can add a few personal touches to make the styles truly yours.