Have you ever had a formal outing where you were confused about what to wear that would be flattering to your petite frame?
Since I'm 5'2″, I know how much a challenge it can be to look for a formal dress for someone who is short. Besides, having a petite clothing line for women 5'4″ and under also gives me the insight of what kind of dresses look better on petites.
Based on feedback from thousands of my petite customers, I've put together this formal dress guide for women with short legs to help you dress for the upcoming formal occasions.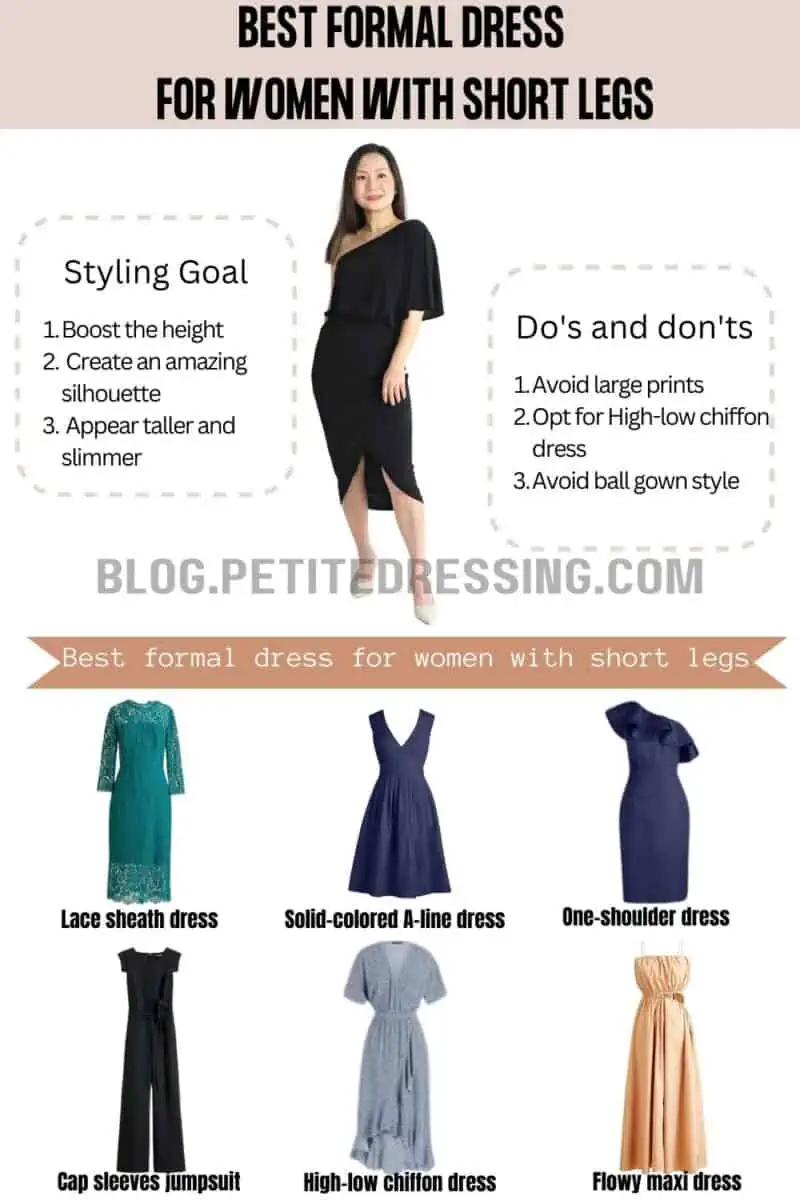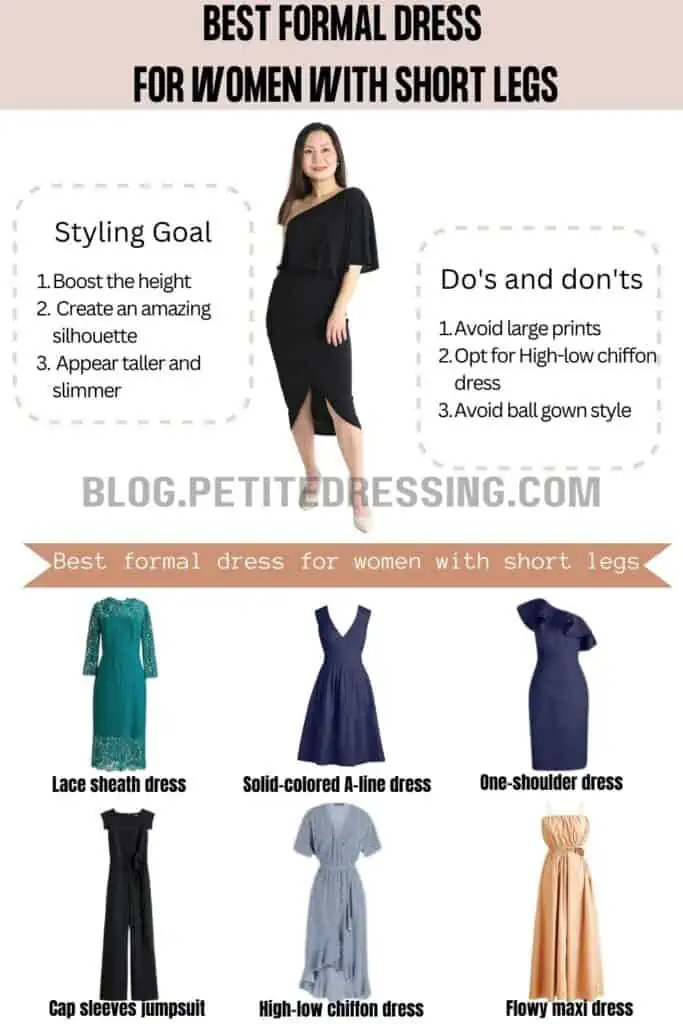 Sometimes, you need to attend events where the casual jean and shirt will just not cut it. The formal dresses on this list will all uniquely create an amazing silhouette where you appear taller and slimmer.
Check out these top eight formal dress styles made especially for you and two tips on what to avoid if you want to stand out all the time.
Black column dress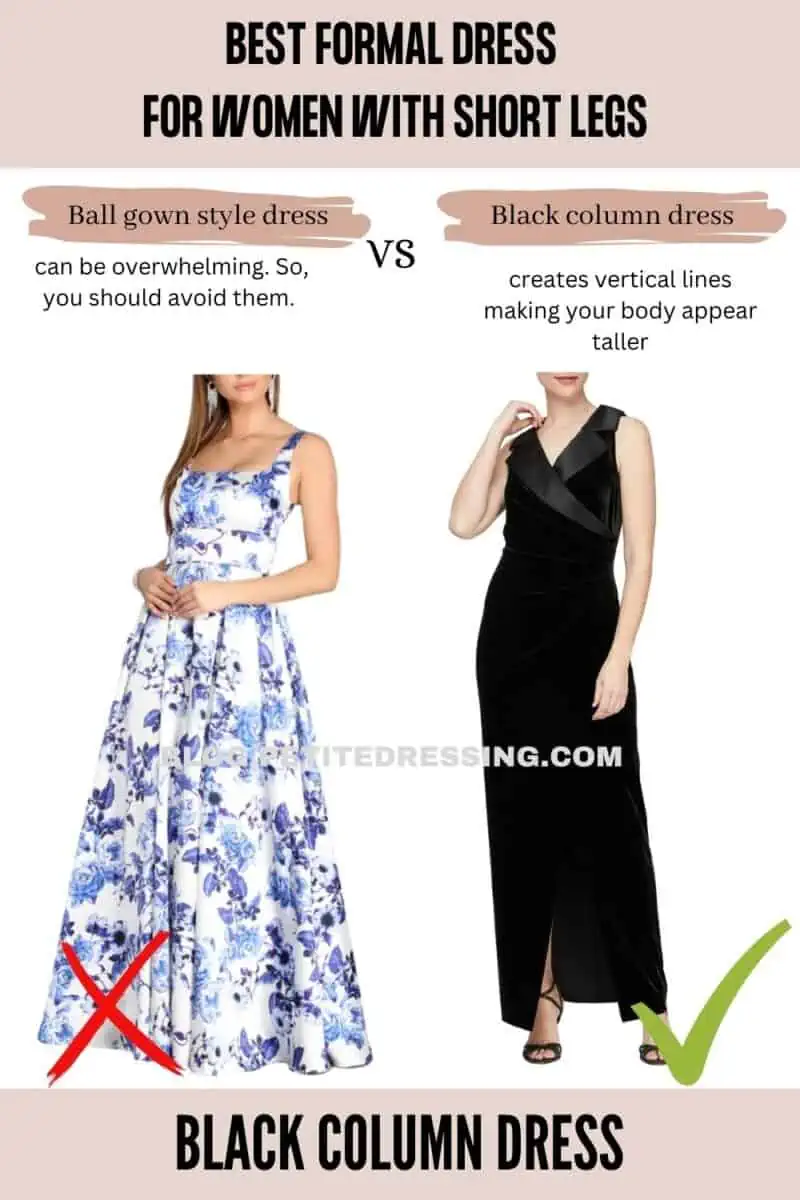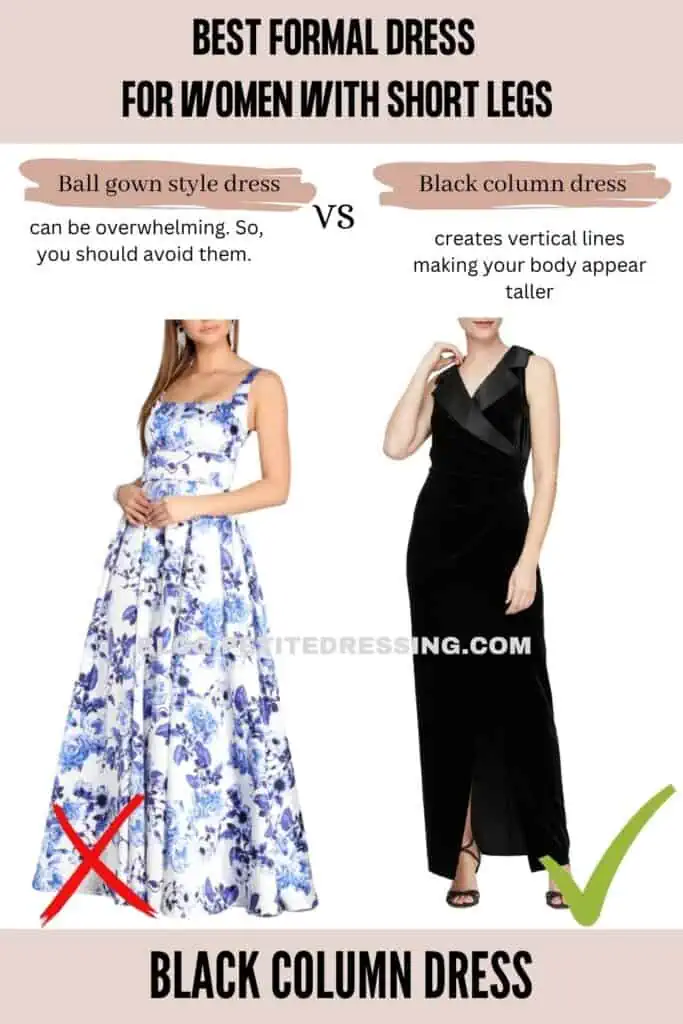 Column dresses are usually full-length and straight, as they fall from your shoulders to the floor. These are not baggy dresses, so they won't overwhelm your petite body frame. However, this length creates the illusion that you have a long and lean body.
Of course, this means that when women with short legs dress up in this style, it gives them a few extra inches even without heels. However, you can complete this look with a pair of 2-inch heels to further stretch your legs.
The long, vertical line that this column dress style creates is very influential in making your body appear taller. Combined with the slim fit of the dress, you'll look breathtakingly beautiful.
Lace sheath dress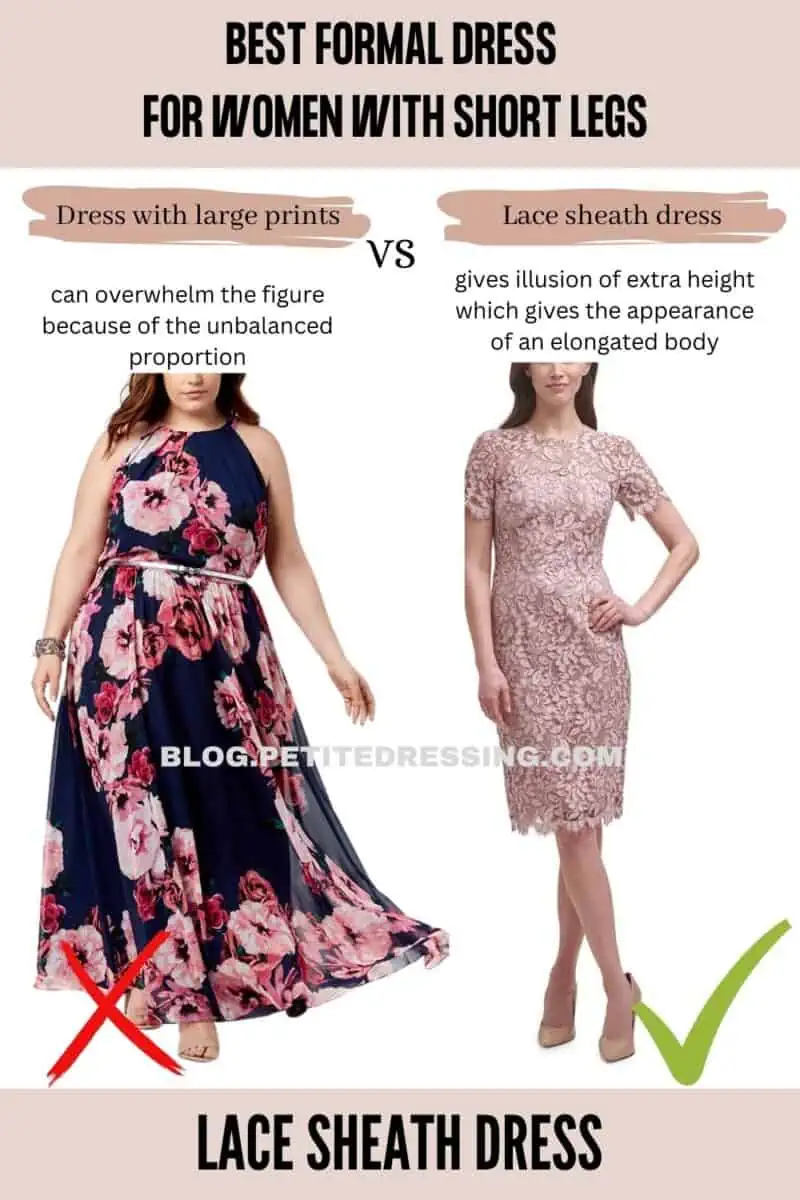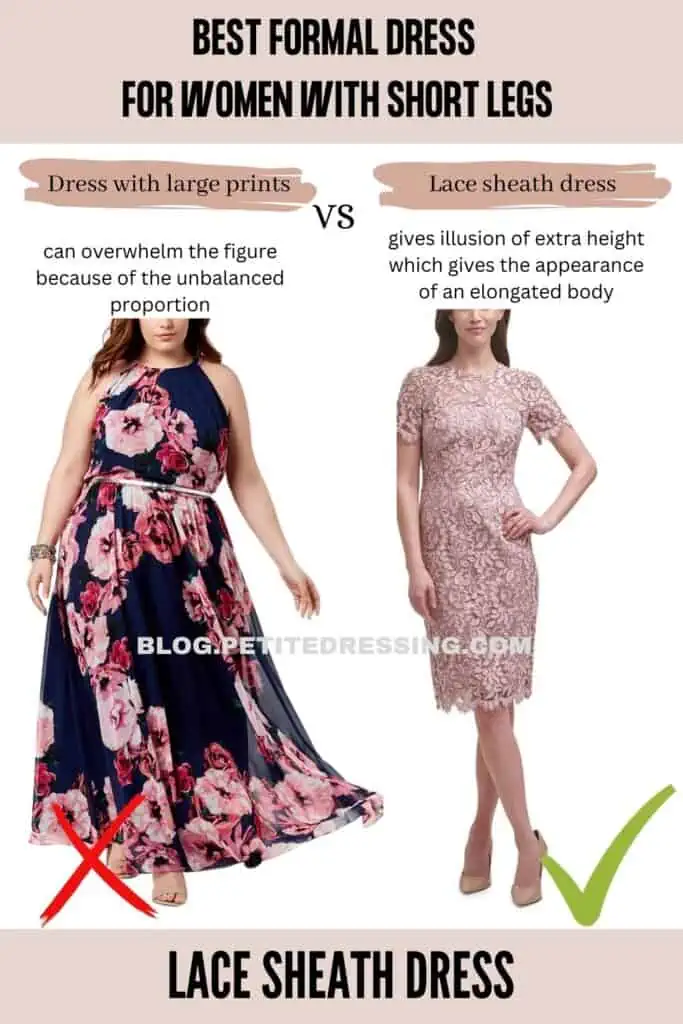 A lace sheath dress comes with a straight and narrow cut starting from the shoulders and straight to the hem of the dress. It's the perfect example of a simple dress that creates an extraordinary effect.
Thanks to the close-fitting design of the lace sheath dress, women with short legs can have that much-needed illusion of extra height which gives the appearance of an elongated body. This long and lean silhouette is great as there's no extra bulk on the lower body.
With more focus on the vertical line of the body, the lace sheath dress will skim your body without unnecessary volume. Overall, get a lace sheath dress and enjoy this flattering option that comes with a higher waistline and makes your body appear taller. It's great for formal events, especially when paired with statement jewelry.
Mermaid dress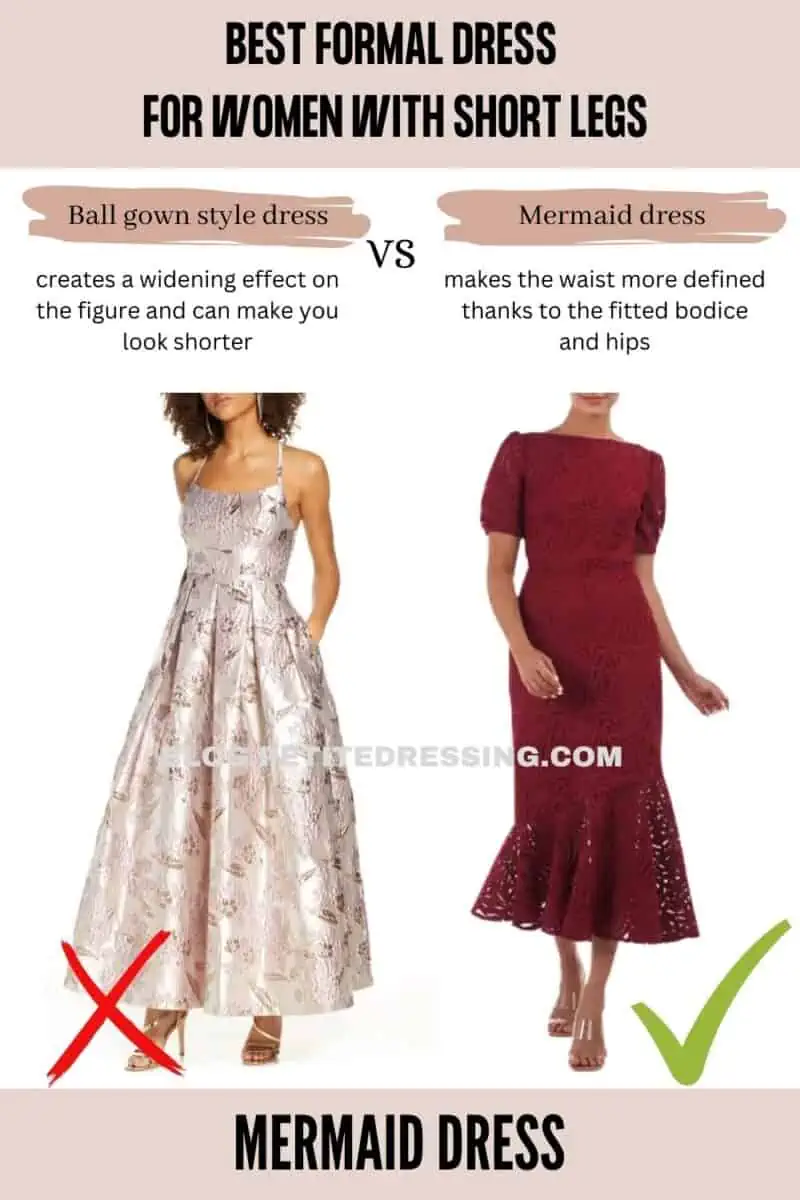 Another name for mermaid dresses is trumpet dresses and they are one of the best formal dress options out there for women with short legs. So, what's so great about this formal dress style? Well, it features a unique silhouette where the dress is fitted at the bodice and hips but flares out at the knee.
Thanks to this design, short women who wear mermaid dresses have a more proportional look with elongated legs. The flare at the knee draws more attention to the lower part of the body while the waist is more defined thanks to the fitted bodice and hips.
You can style this as much as you want, starting with heels that also elongate your legs. With a few inches, you're ready to step into any formal occasion like a superwoman. Even better, go for mermaid dresses that have a sweetheart neckline as this is very flattering for the neck area.
Solid-colored A-line dress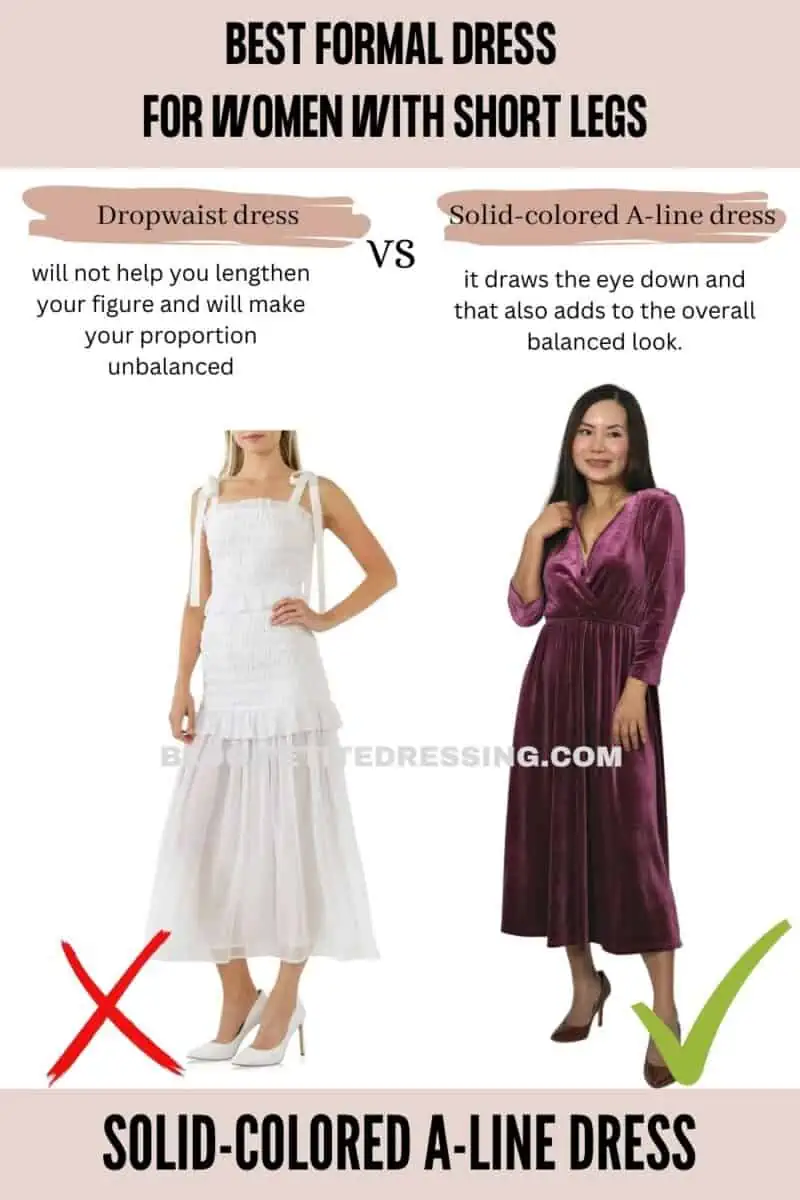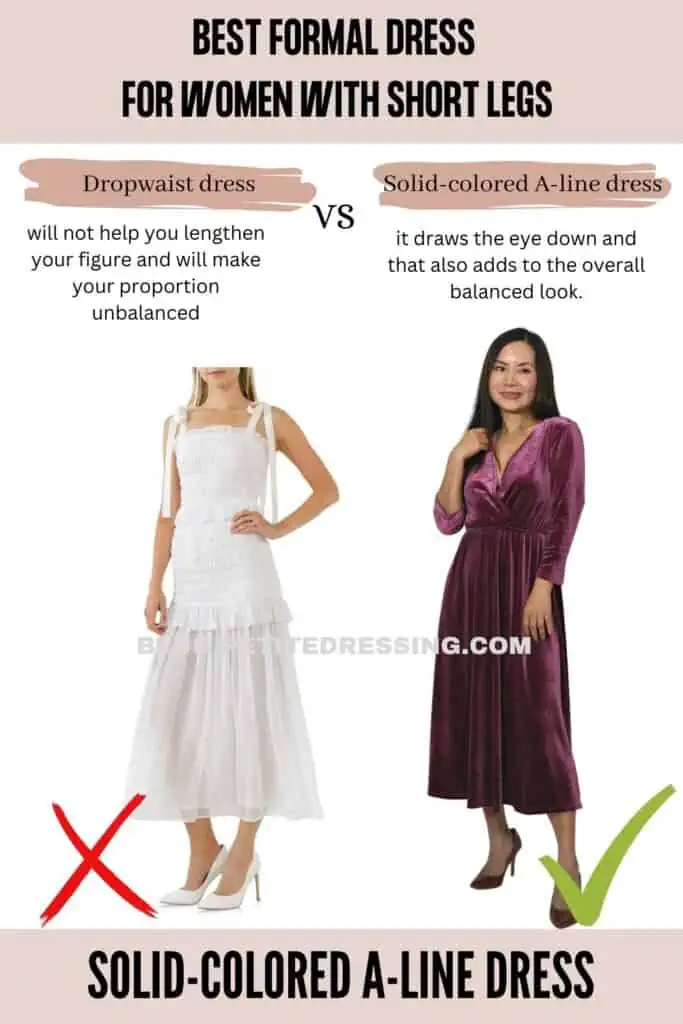 To enjoy a more proportionate look when you step into the office or attend any formal event, A-line dresses are the way to go. This silhouette starts with a fitted bodice, which creates an A shape as it flares out at the waist.
This is perfect for balancing out your body proportions and elongating the legs of short women. The advantage of the flare at the waist is that it draws the eye down and that also adds to the overall balanced look.
A-line dresses are also not selective with shoe styles. So, you can try out a few to decide which ones fit you best. This includes both heels and flats. Although these are available in several fabrics and colors, we recommend going for solid colors to avoid wearing a dress that's too busy with many patterns and prints.
One-shoulder dress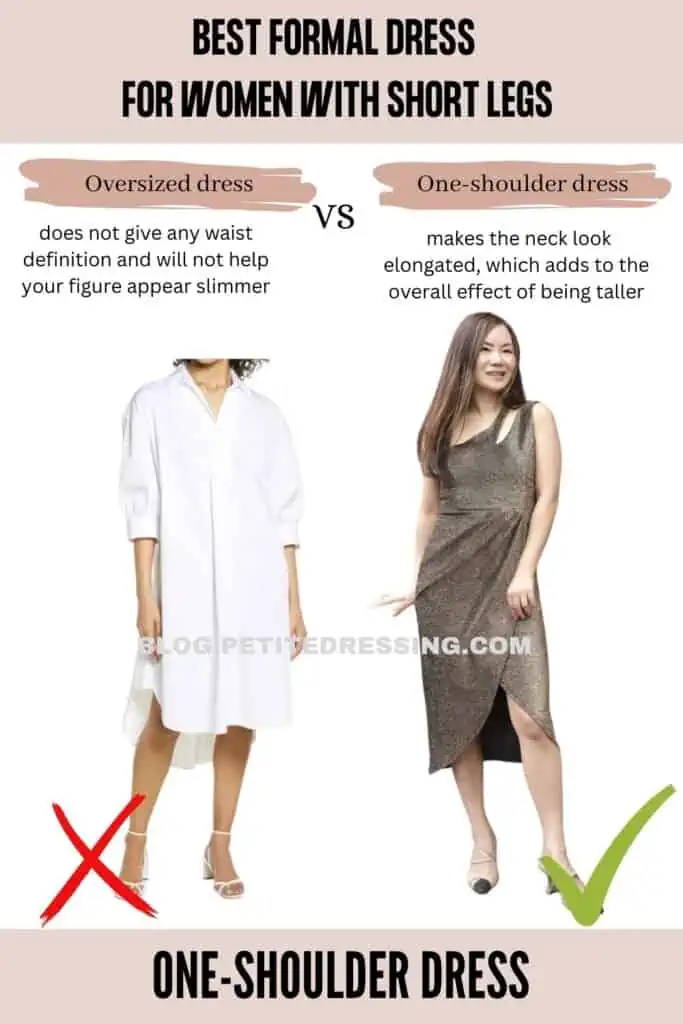 If you're not too self-conscious about showing off your shoulders, you're going to love one-shoulder dresses for women with short legs. Since they draw the eye upwards, they are great for balancing out the proportions of your body.
The one-shoulder design also makes the neck look elongated, which adds to the overall effect of being taller. So, if you want to look like you've added some extra inches without putting on extremely high heels, one-shoulder dresses are perfect.
You can try one-shoulder dresses with minimal ruffles at the top area for a more elegant effect. However, don't fall for the temptation to incorporate a lot of ruffles below the waistline as this will add volume that makes you appear shorter.
Cap sleeves jumpsuit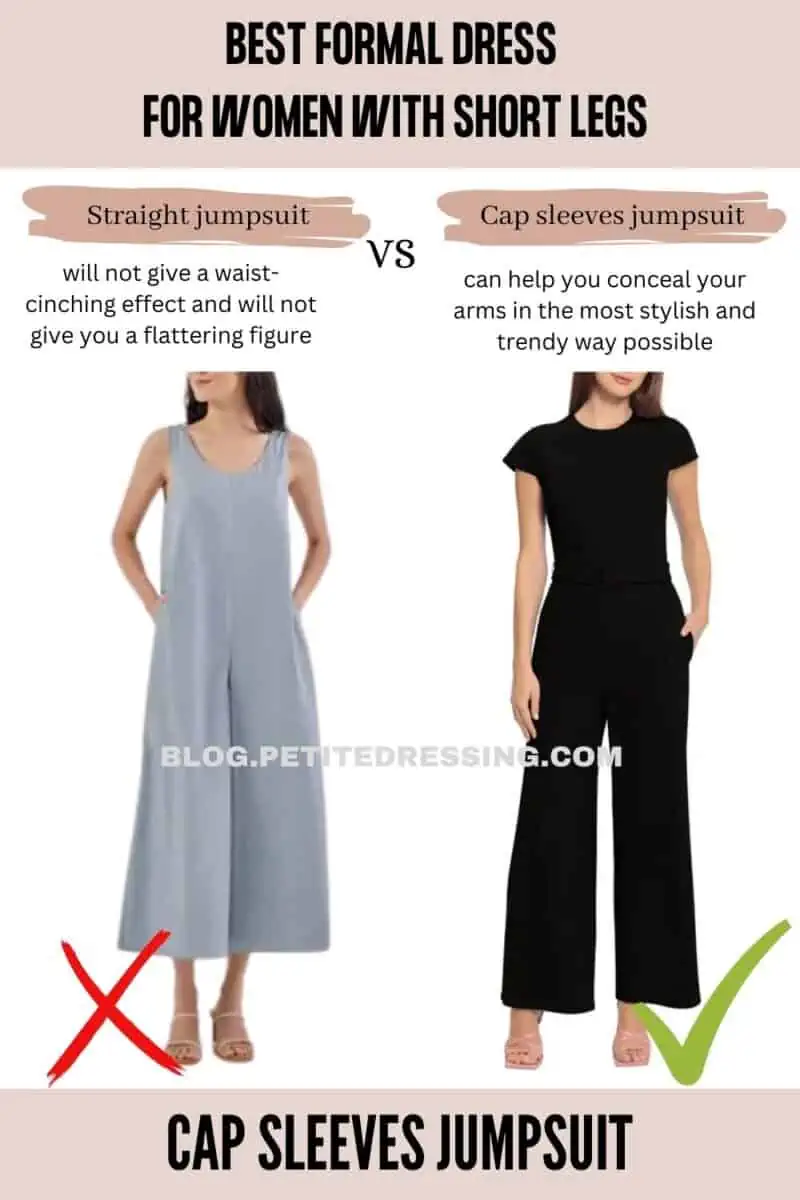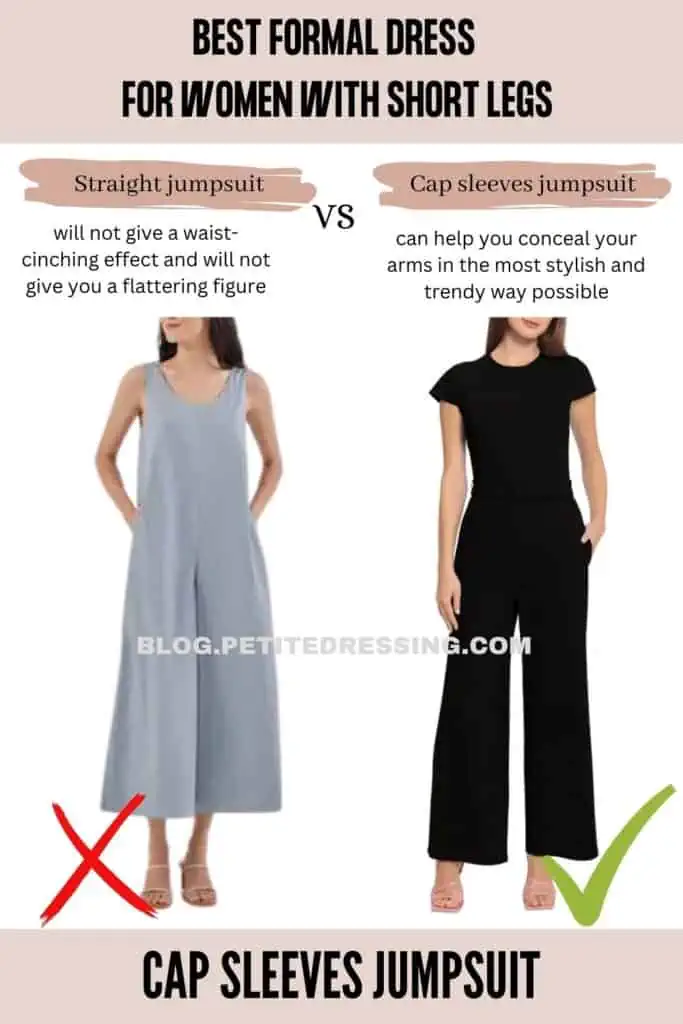 Cap sleeves on dresses are a stress-free way to elongate the arms of short women. Through this design which covers the shoulders and stops above the elbow, the arms of the wearer appear more slender and longer.
This is a great look for women with short legs. If you've been self-conscious about revealing your upper arms in an outfit, a cap-sleeved dress can help you conceal your arms in the most stylish and trendy way possible.
You can also show off your shoulders with just the right amount of skin that screams elegance. On jumpsuits, they look even more amazing. Cap sleeves jumpsuits combine a fitted top with a flowy bottom, both features that work together seamlessly to make short women appear taller.
Try out a full-length jumpsuit with heels that add several inches to your height, and you're ready for any formal outing. You can switch it up with a statement belt.
High-low chiffon dress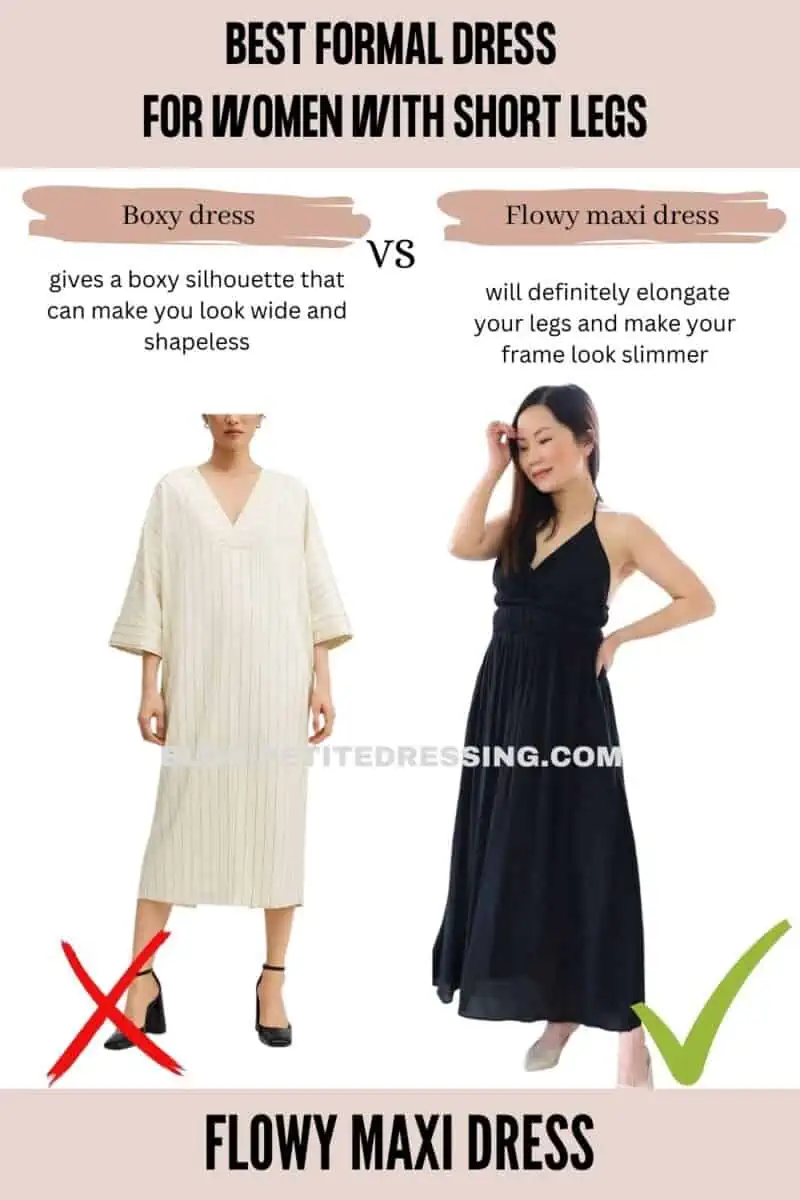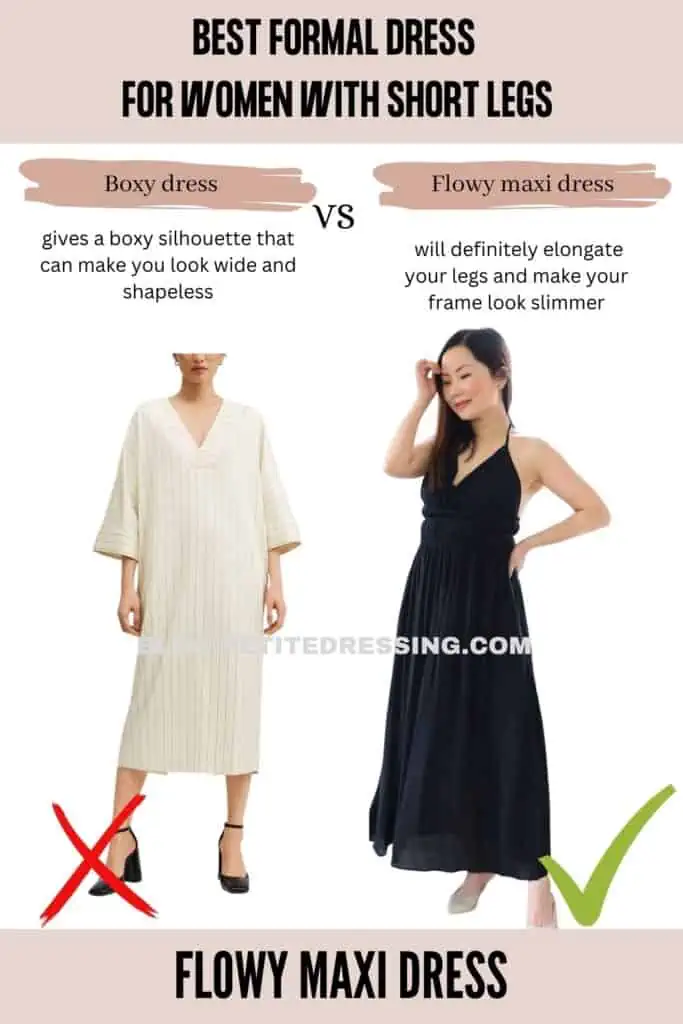 A high-low hemline on a dress comes with a shorter hem at the front while the hem at the back is longer. The appeal of the high-low chiffon dress is that it creates an overall flattering shape for your body due to how the hem makes your legs look longer.
The chiffon material is also light and breathable, which won't feel so overwhelming on your petite frame. So, you'll definitely love how the high-low chiffon dress feels comfy on your body as it gives off that vibe of confidence.
You can choose to take things up a notch by throwing in a black blazer or a simple ankle boot that will make your feet look cool. Regardless of your choices, it's not rare to see women with short legs wear high-low chiffon dresses to formal events as they flow seamlessly with the theme.
Flowy maxi dress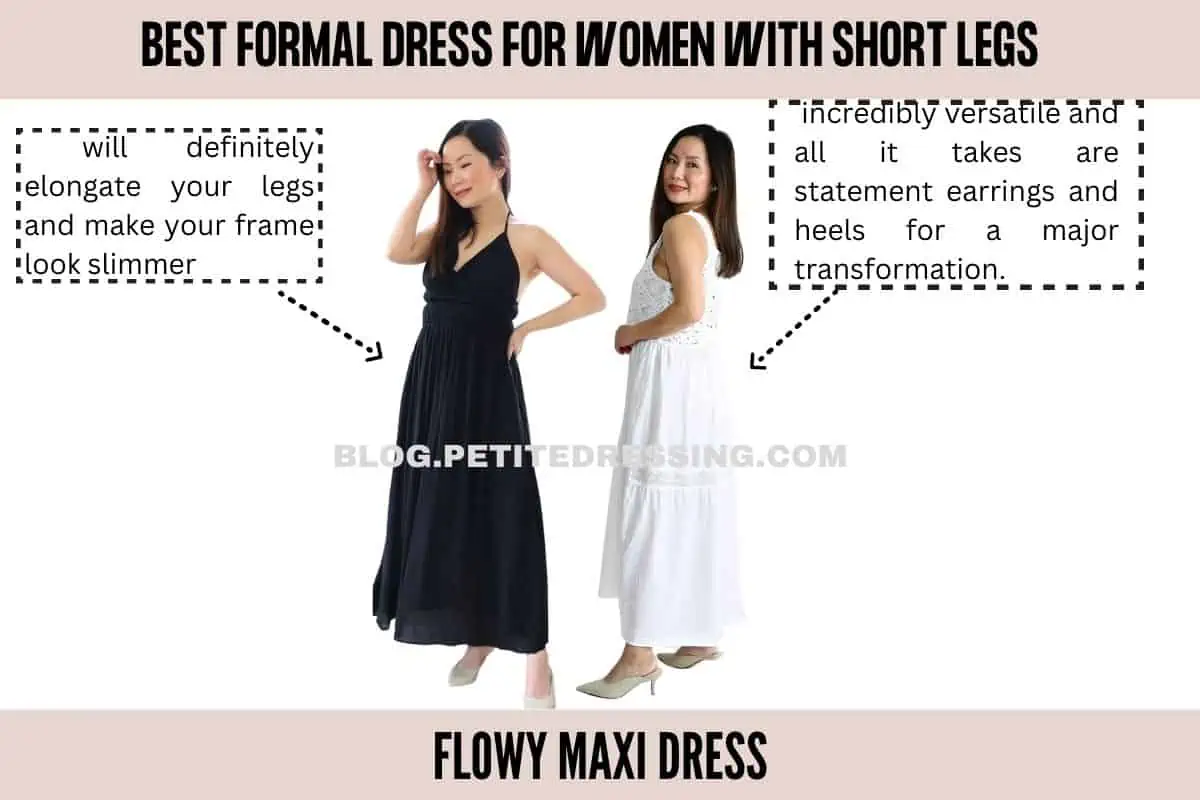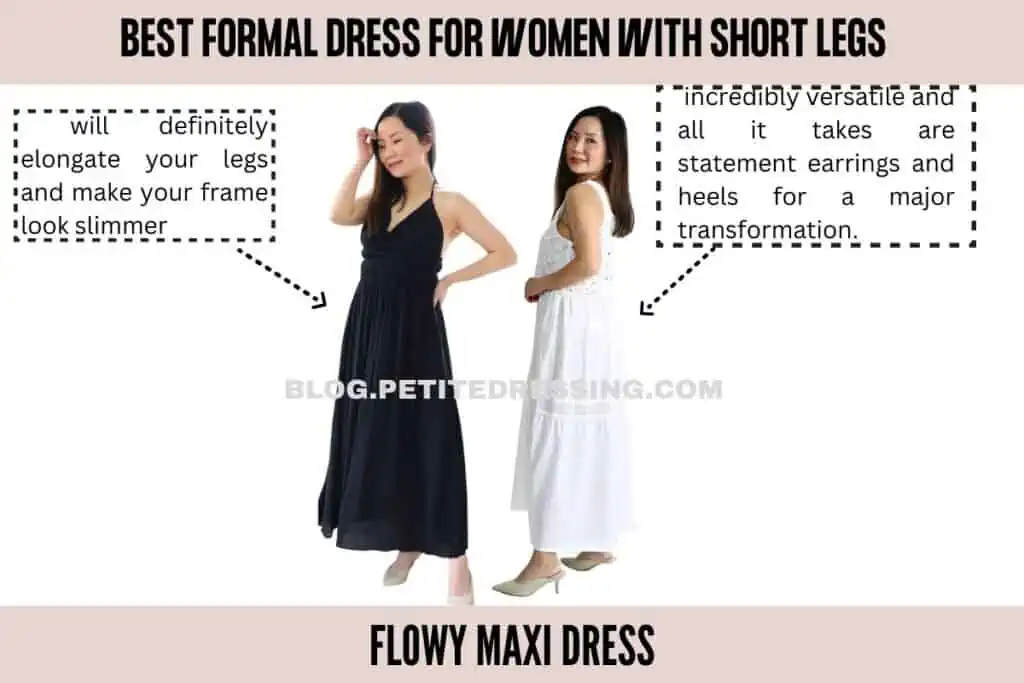 Not every style for short women has to be close-fitting, especially if you would love to give your body a little more room without dwarfing your body frame. That's where flowy maxi dresses come in.
At first glance, they may seem like the kind of dresses that are only great for casual outings. However, these work perfectly in formal settings too. They are incredibly versatile and all it takes are statement earrings and heels for a major transformation.
With as few accessories as possible, you can pull off a subtly elegant look that gives off an air of sophistication. Flowy maxi dresses will definitely elongate your legs and make your frame look slimmer.
Avoid ball gown style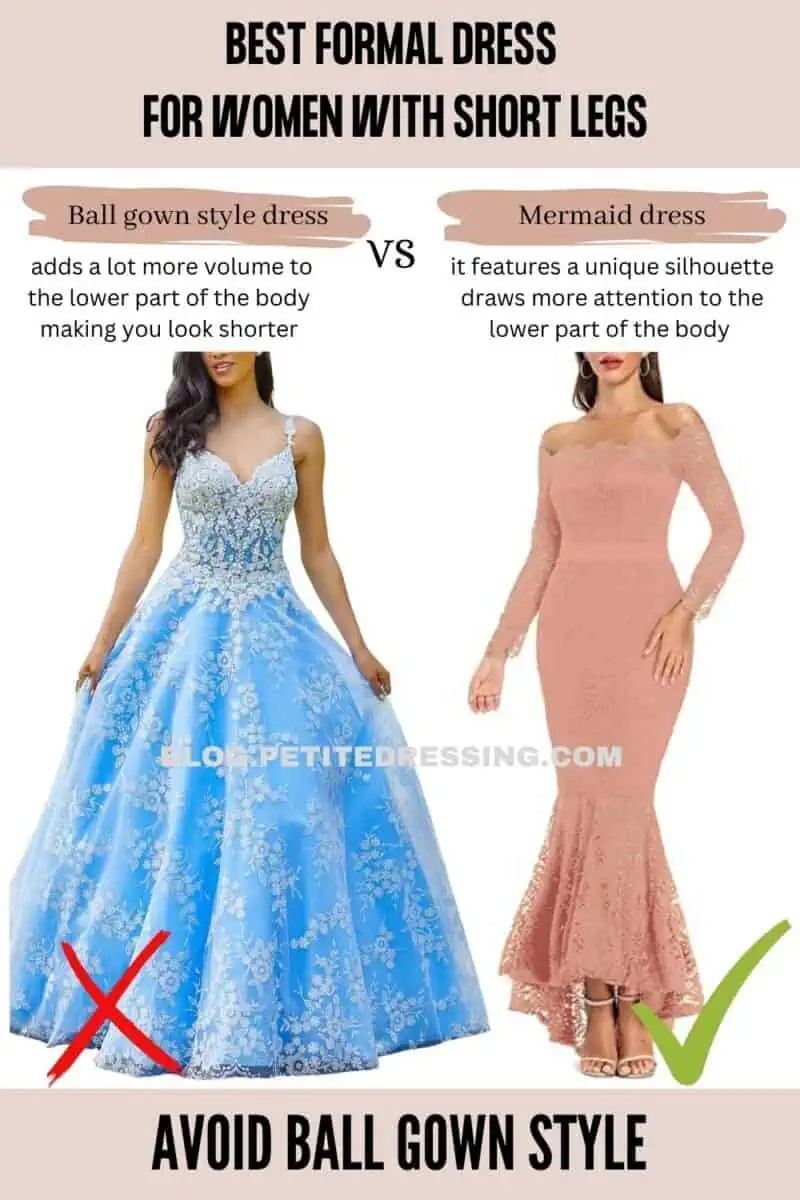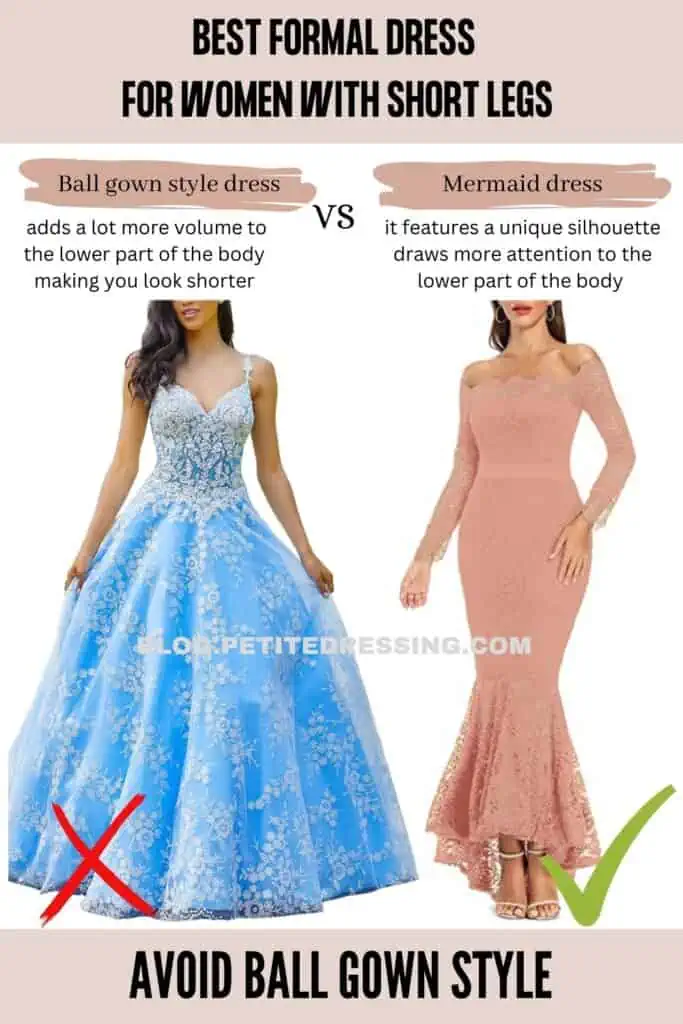 Ball gown styles are easily identifiable with the full, voluminous skirt that usually flows out from the waist to the ankles. This large, flowing skirt adds a lot more volume to the lower part of the body, making short women look even shorter.
The torso will also appear shorter since the ball gown comes with a natural waistline and fitted bodice. Therefore, the last thing you need is a large, flowing skirt that makes you appear lost in the dress.
Of course, dresses should always make you feel comfortable. When this is the opposite, it's not a good idea to have that style in your closet. On shorter frames, ball gown styles can be overwhelming. So, you should avoid them.
Avoid large prints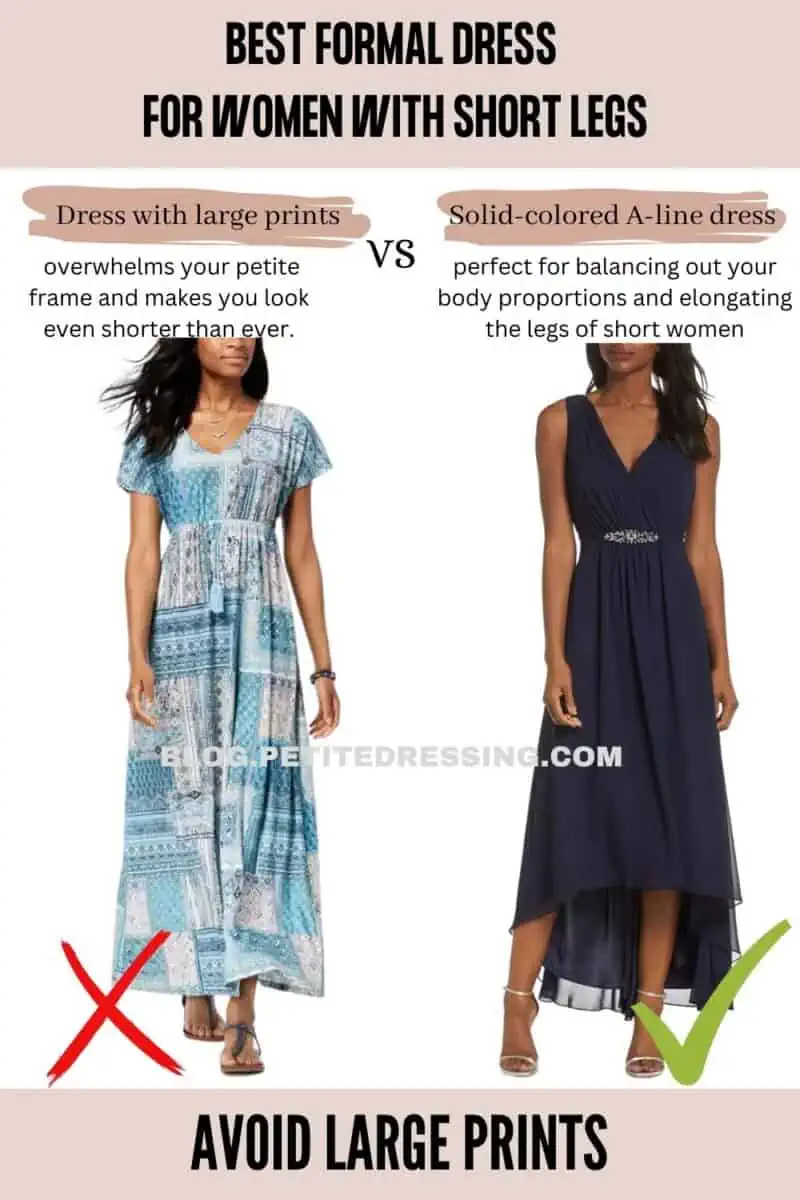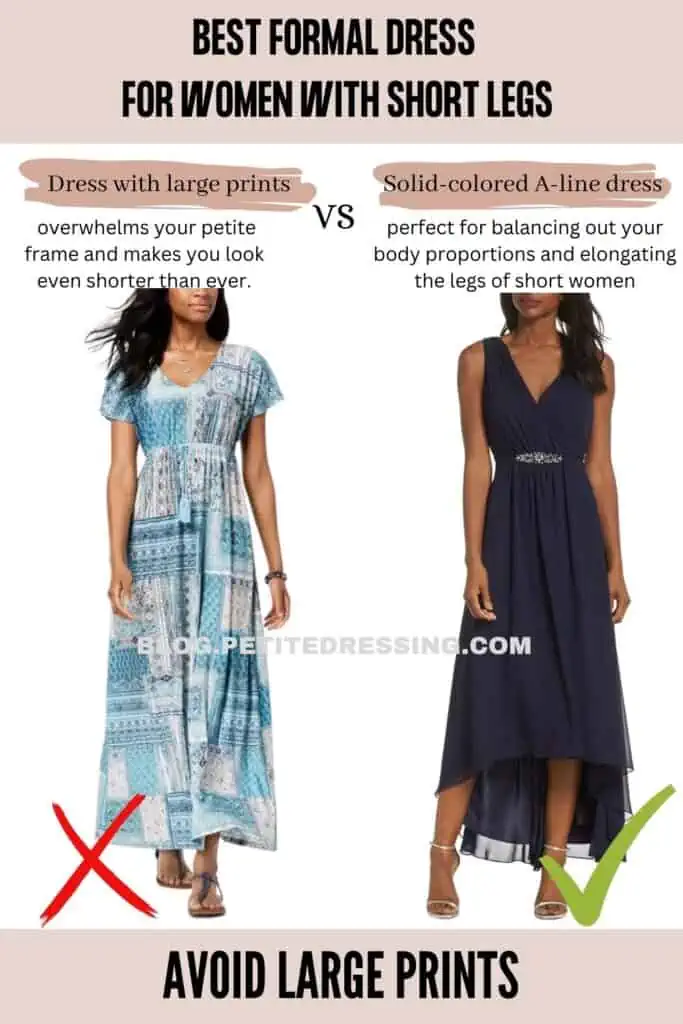 Large prints on short women are a disaster waiting to happen. The last thing you want on your dress is a design that overwhelms your petite frame and makes you look even shorter than ever.
Large prints will make this happen. So, your best bet is to avoid them completely in your formal dresses. If you must have prints on your dresses, keep them as simple and minimal as possible.
The rule of thumb here is that the designs should not make the dress look too busy. The fewer, the better.
Ready to step out in style and confidence? Then, it's time to go shopping armed with these tips and a good idea of the types of formal dresses you should look out for.
Your shoes are just as essential, as the wrong shoes can put a dent in the entire outfit. The most important thing is to pick a style that you believe truly defines you. So, feel free to add that extra personal touch without going over the top.