Having an inverted triangle body type means you have broad shoulders and relatively narrower hips. If you are petite with this body shape, it is important to find the right style pant to flatter your figure.
In general, finding the right pants is always harder for petites, which I know from first hand experience as I am 5'2″. Besides, I also have a petite clothing line for women under 5'4″, so I know the ins and outs of dressing every petite body shape including the inverted triangle, based on my weekly photo shoot and fitting with my petite models.
I've put together this comprehensive guide to help you make a wise decision about your pants so that you can find what looks the most flattering on your shape.
Styling Goal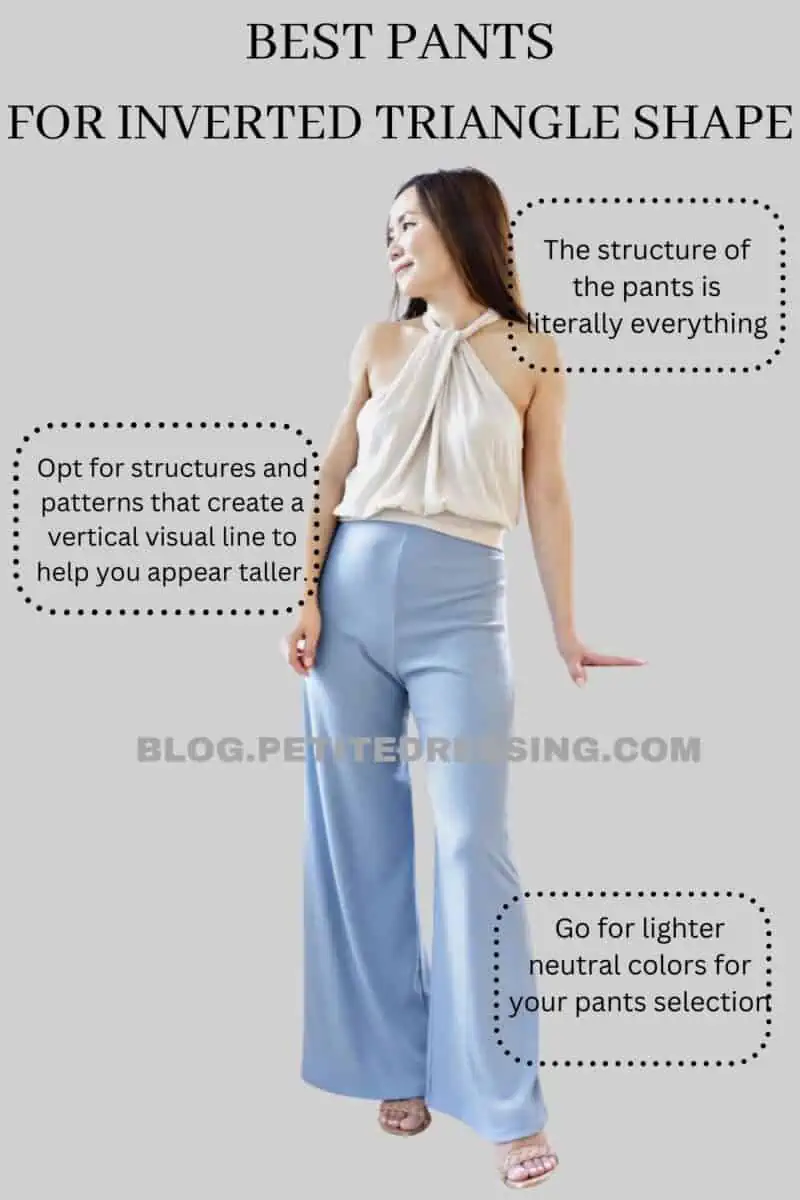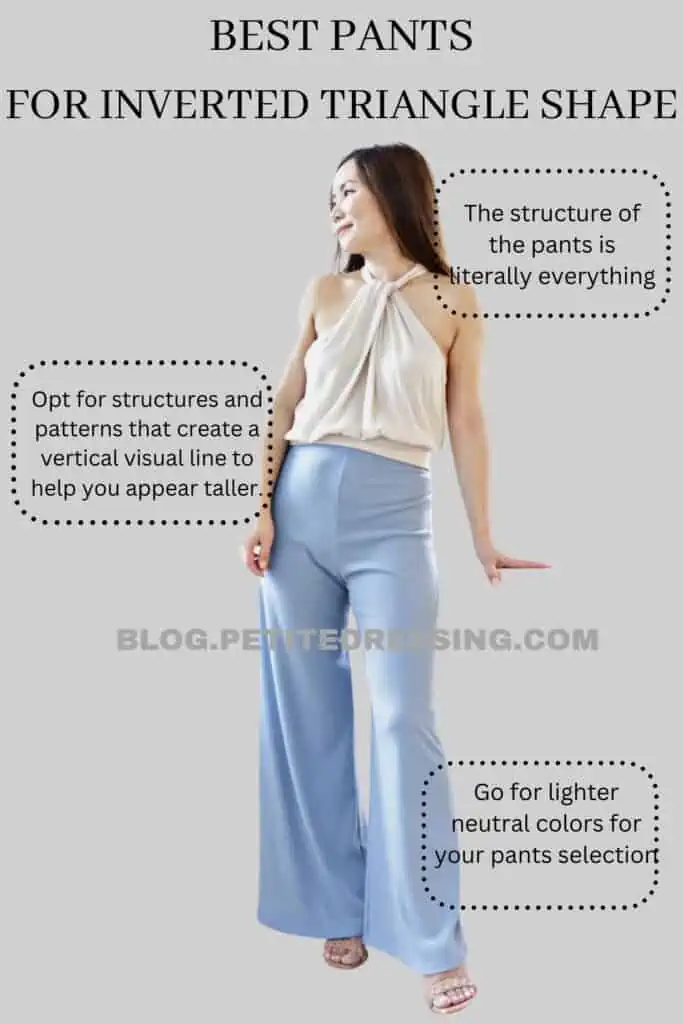 The structure of the pants is literally everything! The way that the pants are cut and seamed makes a whole world of a difference in bringing balance to your petite inverted triangle shape so make sure to choose ones that add a bit of volume and structure to your legs.
Opt for structures and patterns that create a vertical visual line to help you appear taller. Petite girls should always go for styles that elongate the legs to give the illusion of height.
Go for lighter neutral colors for your pants selection. Lighter neutrals help minimize attention on your smaller lower body while also adding some depth to your legs.
Structured Wide-Leg Pants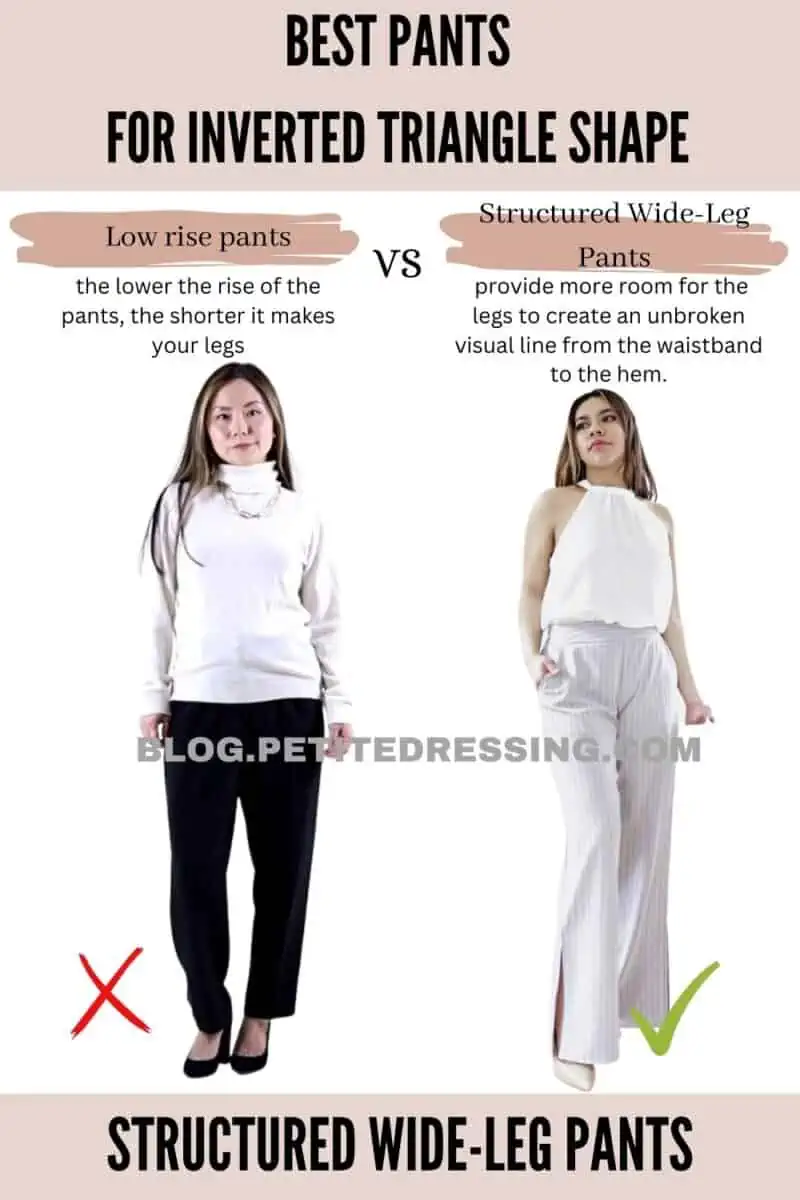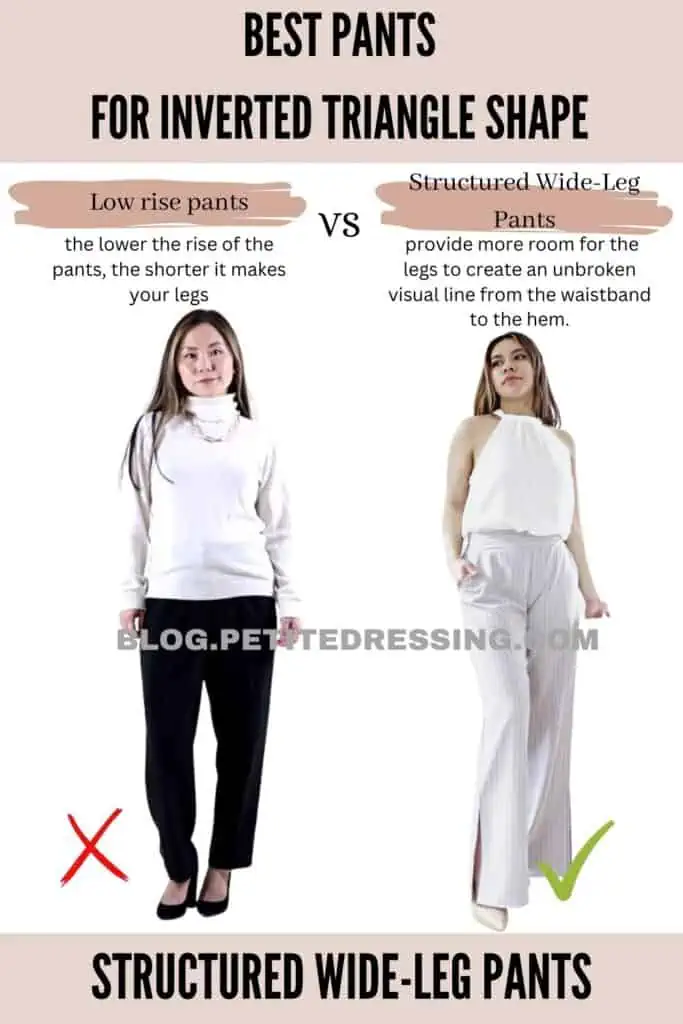 Wide-leg pants are almost universally flattering especially for petites, in my opinion. It's because of their elongating structure wherein the pants provide more room for the legs to create an unbroken visual line from the waistband to the hem.
For inverted triangle body types, structured wide-leg pants help bring proper proportions to the entire frame by adding a slight boost of volume on the narrow lower body to balance the wider upper half. The wide leg of the pants significantly gives the illusion of wider hips, which balances out the broader shoulders of an inverted triangle shape.
The right structure and fabric of the pants will efficiently tone the broad shoulder and big bust down by neutralizing the visual ratio of your figure.
Sailor Pants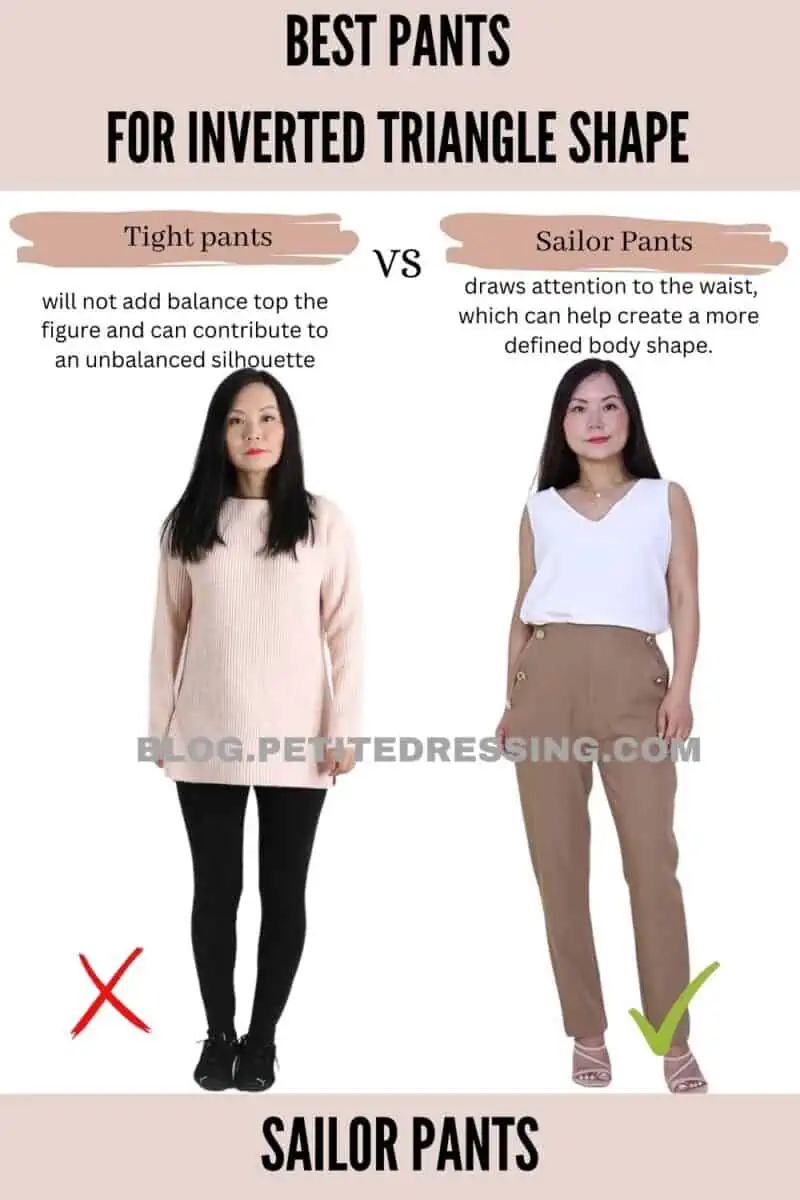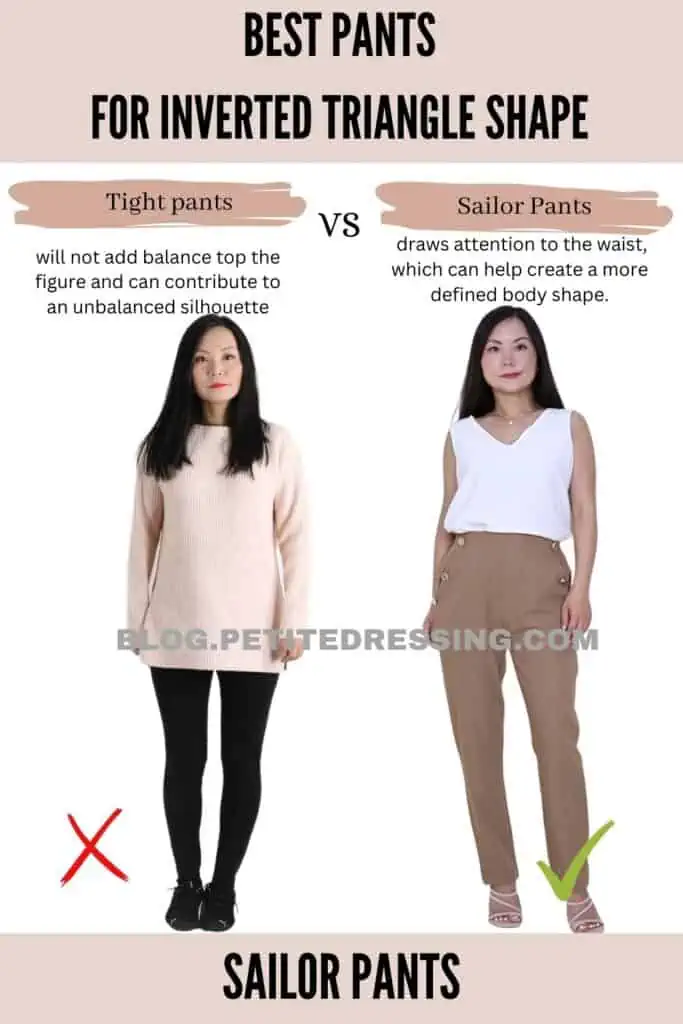 Sailor pants have been a fashion staple for decades, and for good reason. Not only are they stylish and versatile, but they also flatter a wide variety of body types, including petite inverted triangle shapes!
The key feature of sailor pants is the button detailing on the front. These buttons draw the eye downward, emphasizing the hips and legs which is an efficient way to minimize the attention on your wider upper half (broad shoulders and big bust).
Sailor pants also usually have high waistlines which can help create the illusion of longer legs to add height. Additionally, the high waistline draws attention to the waist, which can help create a more defined body shape.
Light-colored Pleated Pants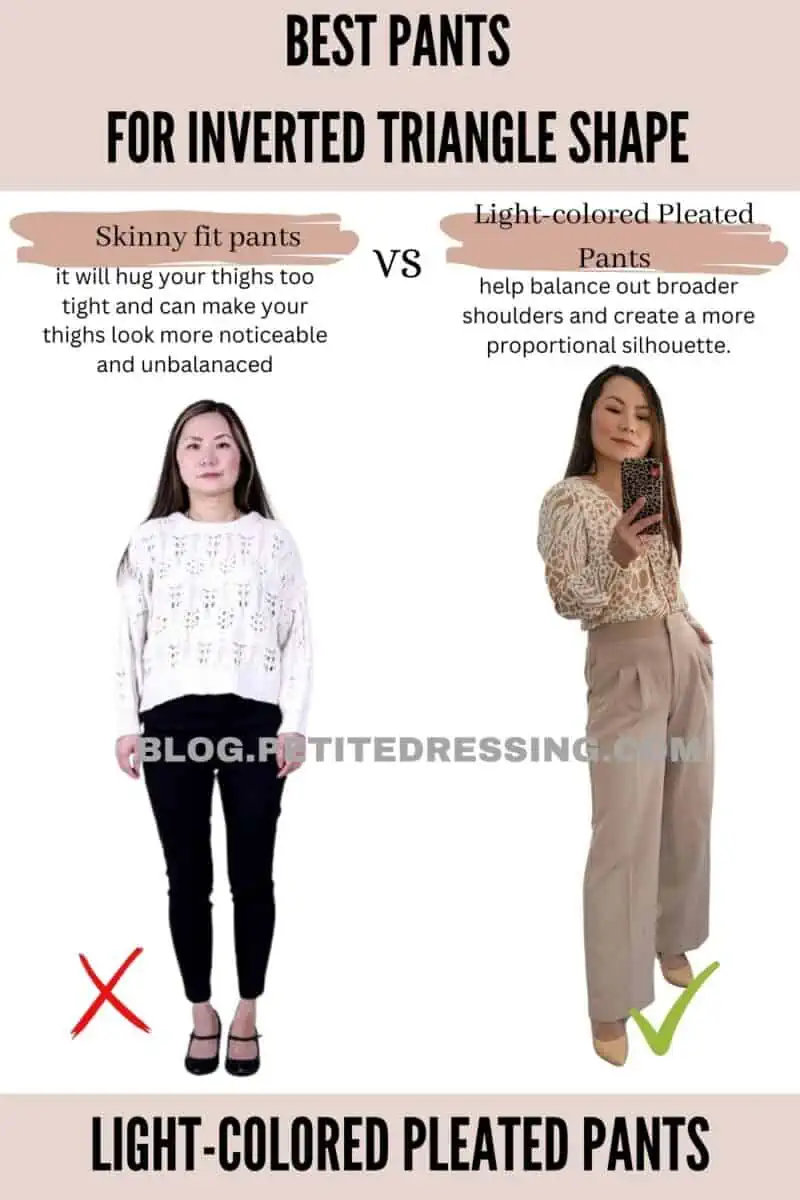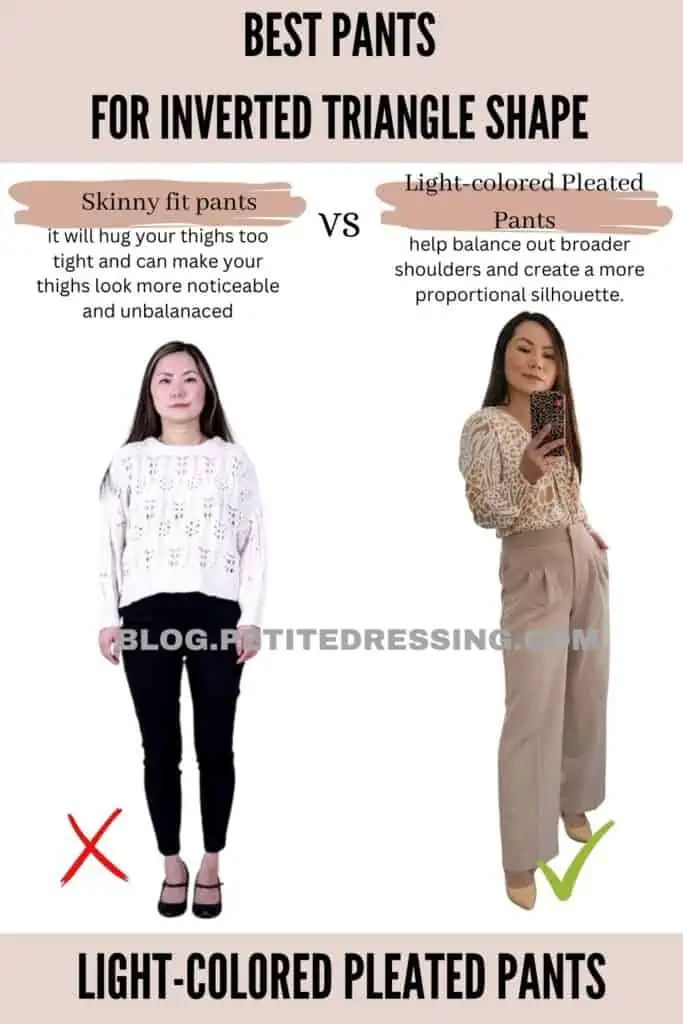 Pleats can add a beautiful and sophisticated touch to any pair of pants, but they can also be particularly flattering for petite inverted triangle shapes. Pleated pants feature such structures that create volume and movement around the hips and thighs, which can help balance out broader shoulders and create a more proportional silhouette.
You may also go with pants that have multiple pleats for even more volume and movement, giving the illusion of a fuller and more balanced lower body. In addition, having them in lighter colors can help create the illusion of a more balanced silhouette because lighter colors tend to draw the eye and make areas appear larger, while darker colors tend to recede and make areas appear smaller.
Flowy Palazzo Pants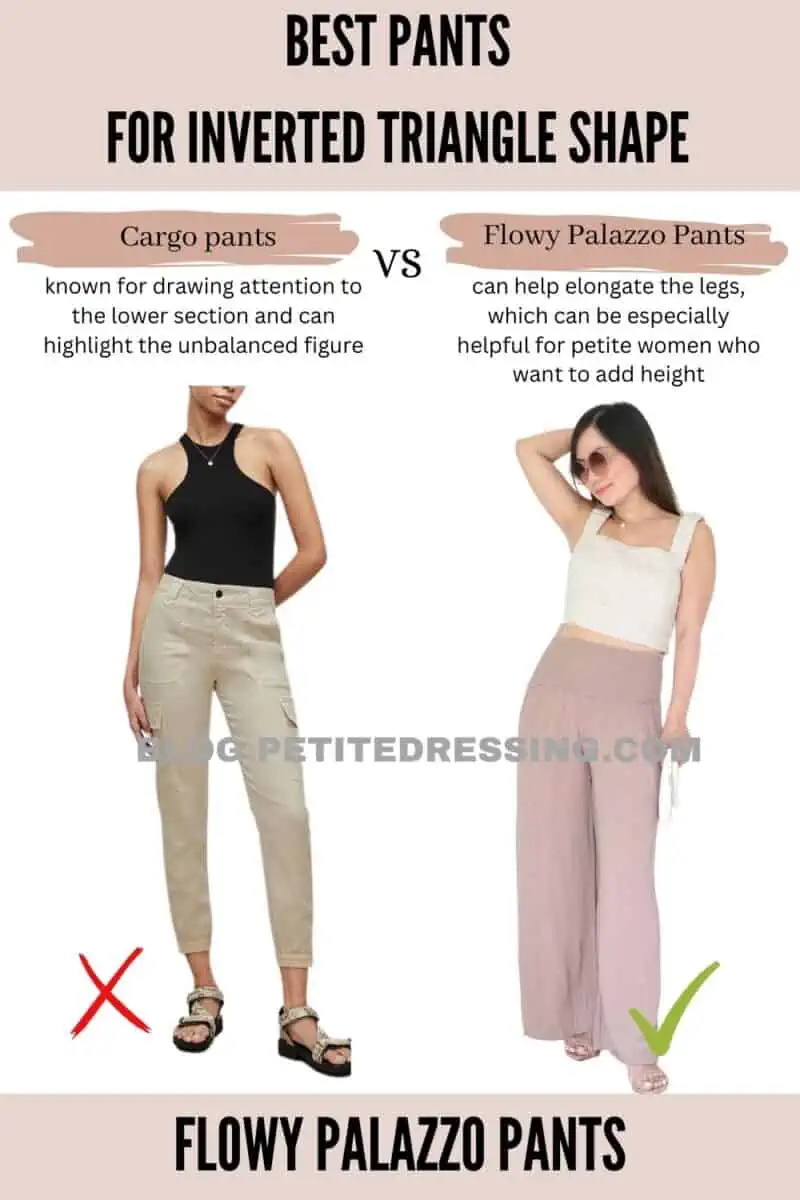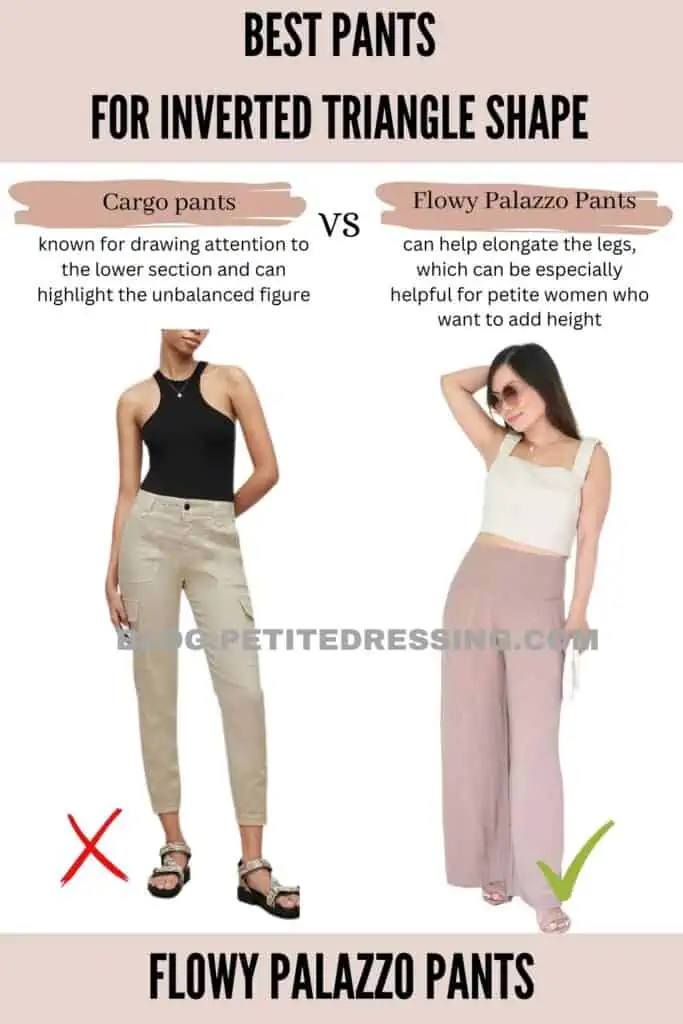 Petite women with inverted triangle body types should definitely have at least a pair of flowy palazzo pants in their fashion arsenal! They may not be everyone's cup of tea, but you wouldn't believe how amazingly flattering these can be for your body shape!
To state the obvious, we're talking about a significant amount of structured volume as palazzo pants have a wide-leg design that can help balance out broader shoulders and create a more proportional frame. The flowy, loose fit of these pants creates the illusion of depth around the hips and thighs, which can help visually balance out a top-heavy figure.
Additionally, the wide leg design can help elongate the legs, which can be especially helpful for petite women who want to add height. They usually come in high-waisted styles but there are also mid-rise options if you feel like you need to create space on your upper body by making your torso look a tad longer.
Tailored Straight-Leg Pants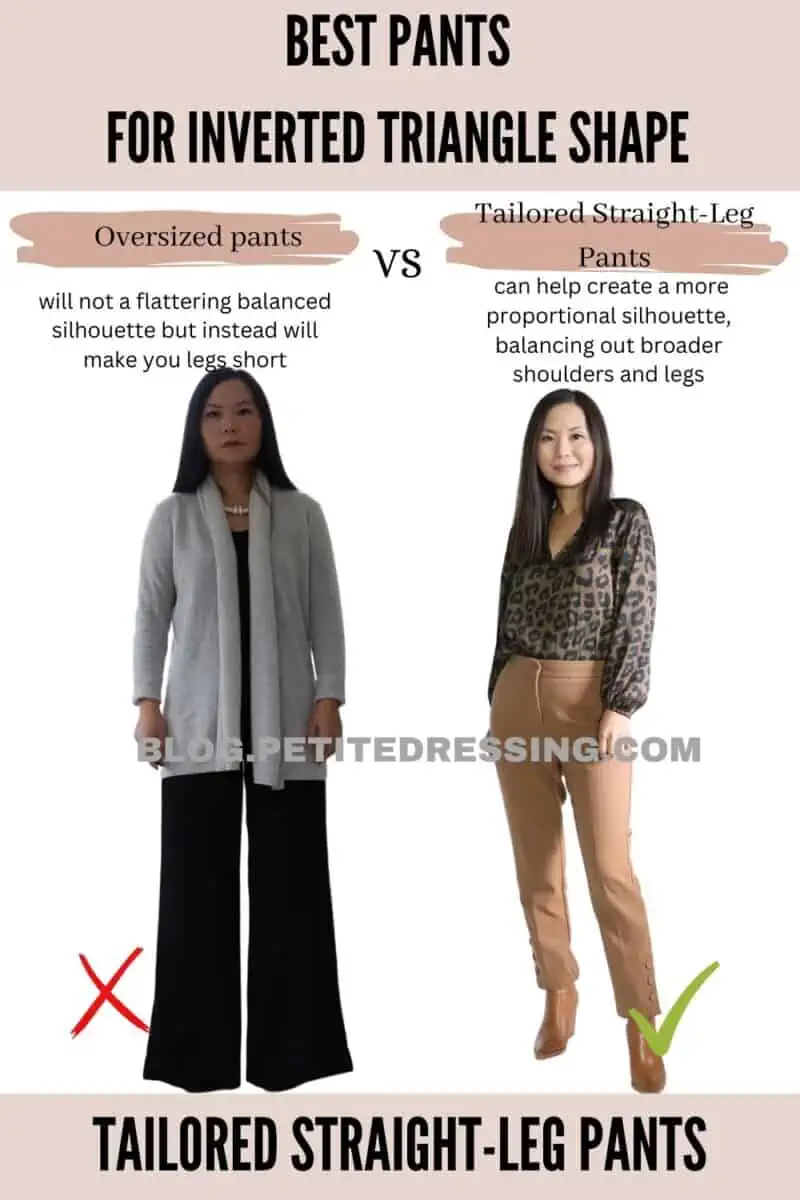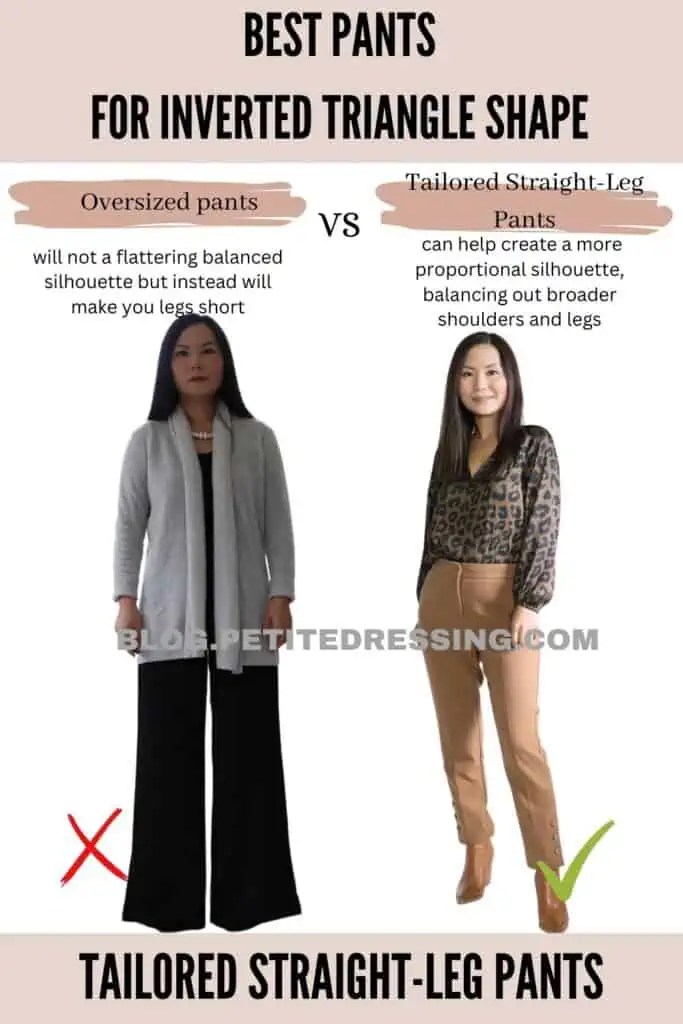 As petite inverted triangle shapes have a somewhat drastic difference between the size of the upper and lower parts of the body, it's always ideal to go for tailored structures to give you that bespoke-inspired fit. Tailored straight-leg pants are considered a safe fashion go-to that can suit pretty much any ensemble you have in mind.
Tailored straight-leg pants are characterized by a sleek, streamlined design that skims through the hips and thighs before falling straight down to the ankles. This design can help create a more proportional silhouette, balancing out broader shoulders and creating the illusion of longer legs.
The straight-leg design can also help elongate the legs, making you appear taller and more slender. With the right colors (I strongly suggest lighter hues), you can add a bit of volume to your lower body to prevent making your bigger upper half too apparent.
Flared Pants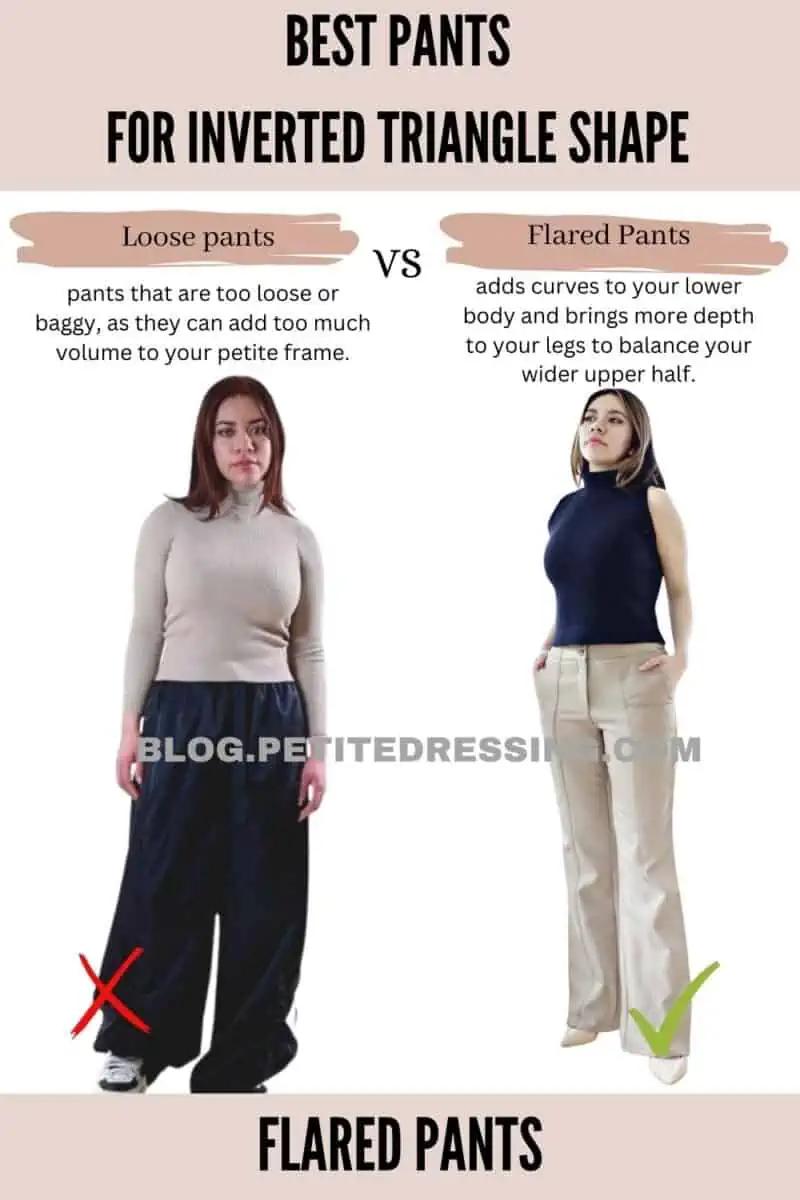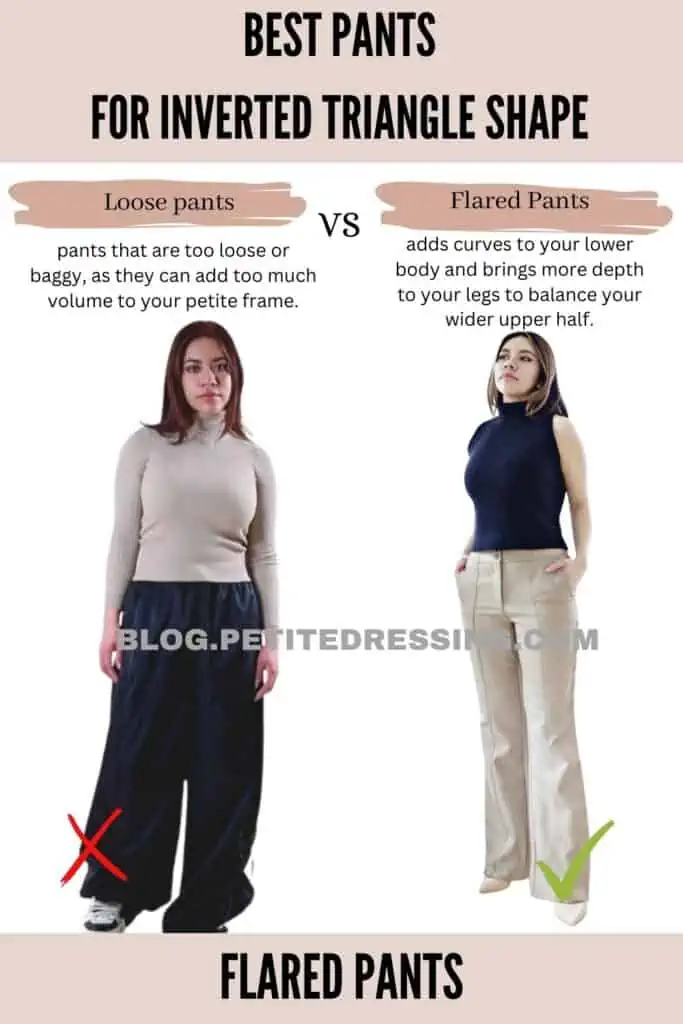 The most distinct characteristic of flared pants is their fitted design around the hips and thighs that gradually flares out toward the ankles. This effect adds curves to your lower body and brings more depth to your legs to balance your wider upper half.
The flare at the bottom can also help create movement and add some fun and flair to your outfit so it's perfect if you want to go for a vintage retro style!
When it comes to styling flared pants, there are a few key tips to keep in mind first, is to find a pair of pants that fit well. Look for pants that hug your hips and thighs without being too tight, and avoid pants that are too loose or baggy, as they can add too much volume to your petite frame.
Caution with Cargo Pants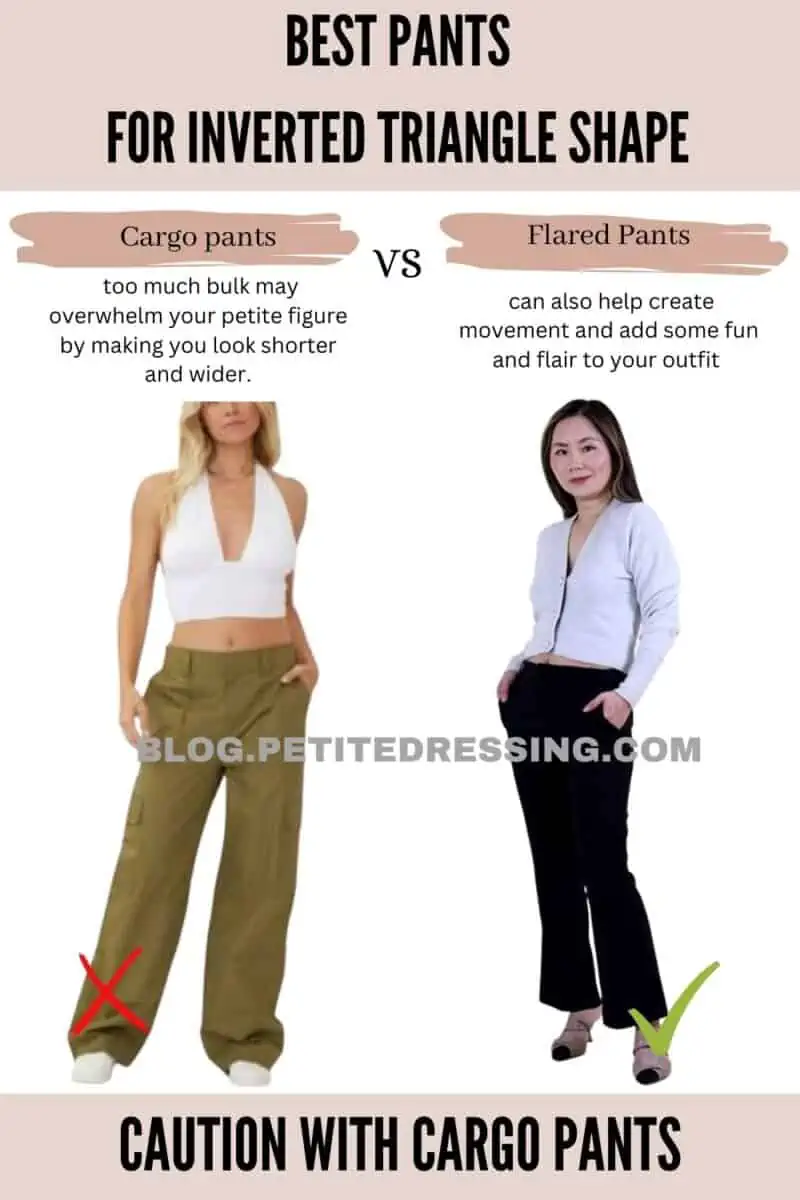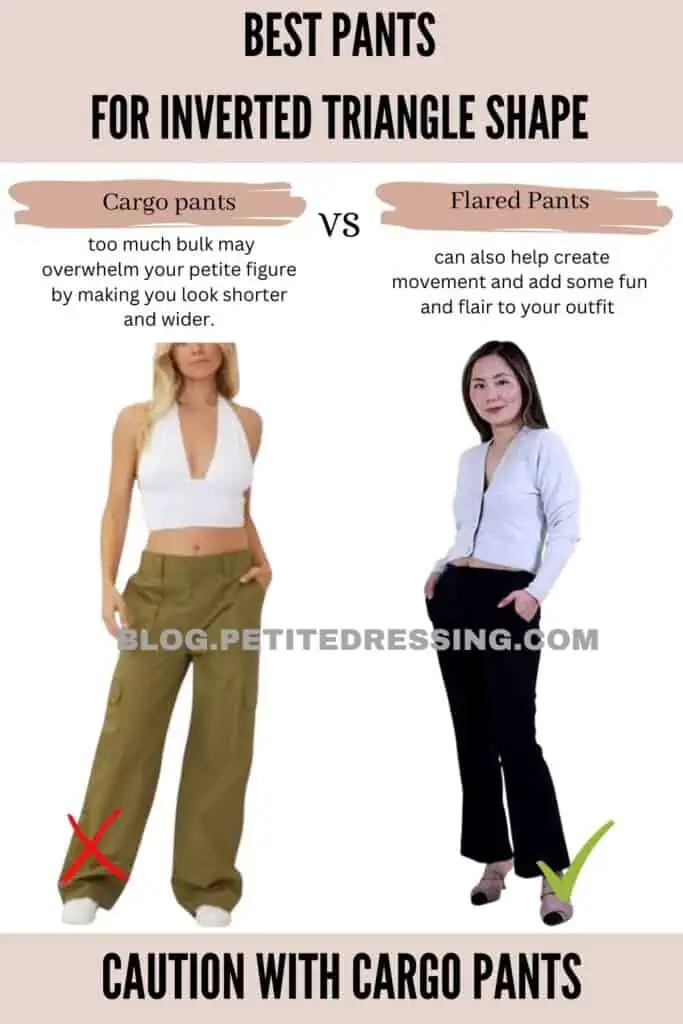 The street-style charm of cargo pants and their utilitarian pockets are totally undeniable and the good news is, they can be quite a match for petite women who have inverted triangle body types! Although, this is not a foolproof style so you need to style it with caution.
Its design can help balance out a top-heavy figure by adding volume to the lower half of the body. The pockets are also a great way to distract the eyes from putting too much attention on the broad shoulders and big bust.
The key to pulling this off is to not go overboard with the pockets. Yes, the "bulk" that cargo pants give can help add depth to your narrow lower body but too much bulk may overwhelm your petite figure by making you look shorter and wider.
Avoid Skinny-fit Pants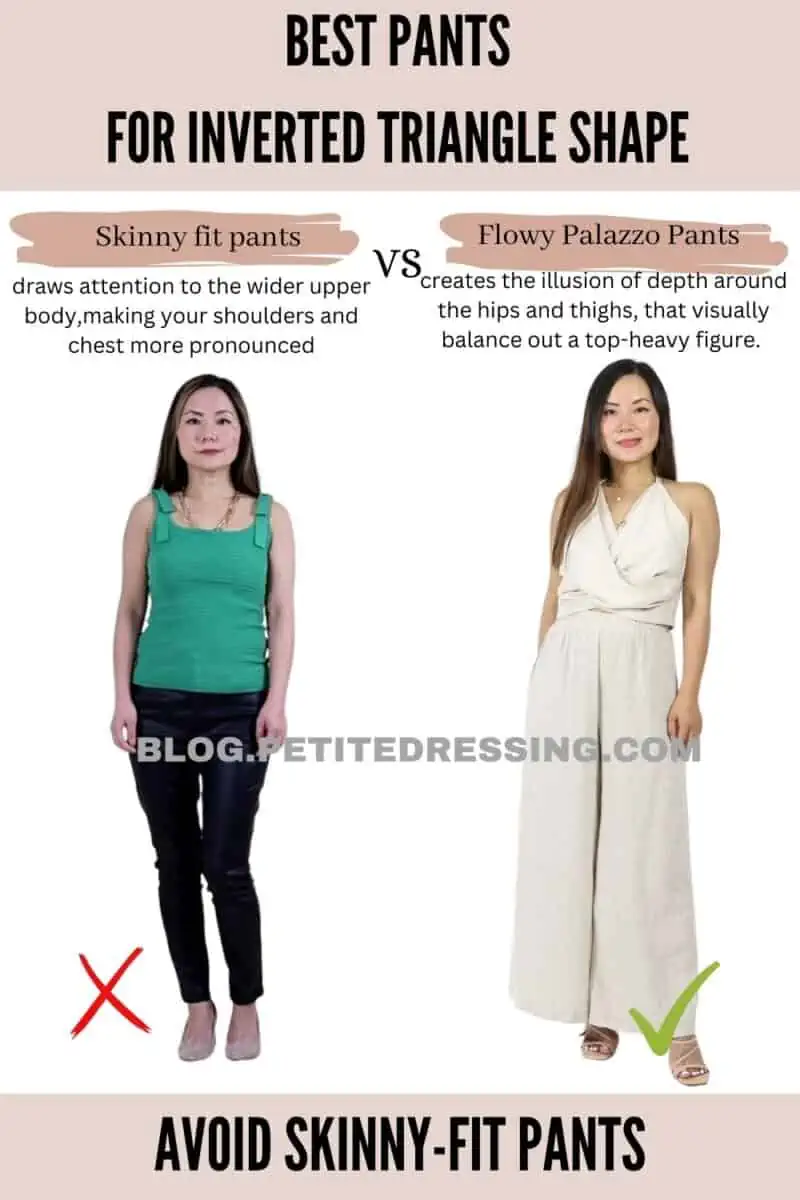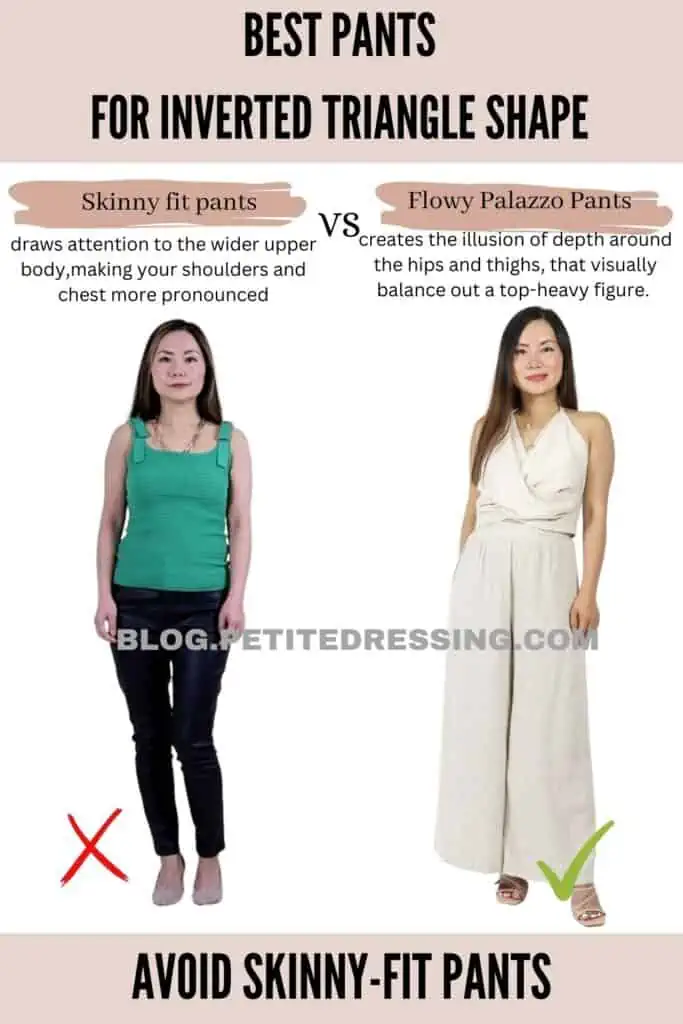 Slim-fit pants are designed to hug the contours of the body quite tightly as they taper toward the ankle. This visual effect can draw attention to the wider upper body of the inverted triangle shape, making your shoulders and chest appear even more pronounced.
As it makes the significant size difference between your upper and lower body more obvious, this can create an unbalanced silhouette that is not flattering for your body type. Therefore, it's always ideal to go for those that feature some extra legroom to add definition to your smaller lower body.
The Key Takeaway
The right fit and structure can make significant changes in how you balance your petite inverted triangle body shape. That, along with the proper choice of tops and outerwear, you can bring the best out of your coveted figure!