If you are 5′ and under, it is critical that you find the right styles of the jumpsuit to flatter your height and your shape. Since I am 5'2″ myself and I have a petite clothing line, I know how big a difference the right design and fit your jumpsuit can make, especially on someone your height.
I've put together this guide to help you find the best jumpsuit styles, based on my own experience as well as feedback from thousands of my customers (many of whom are 5′ and under).
Styling Goal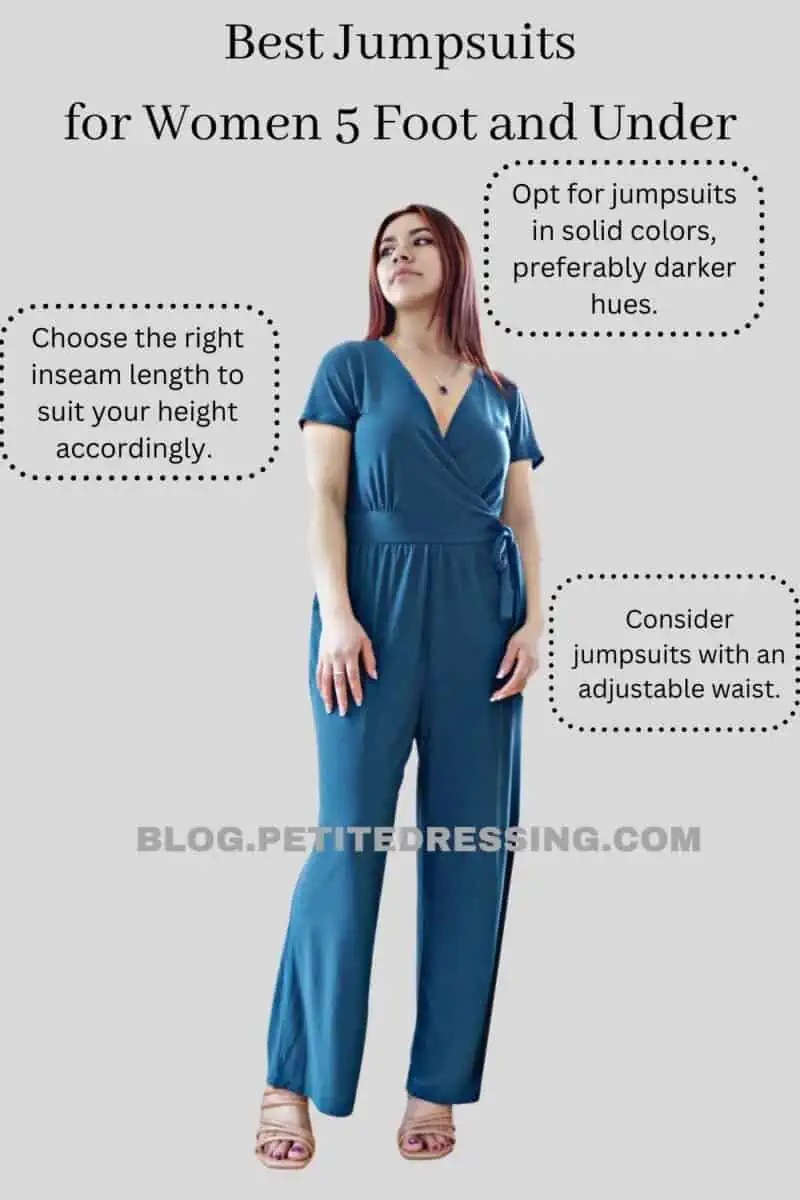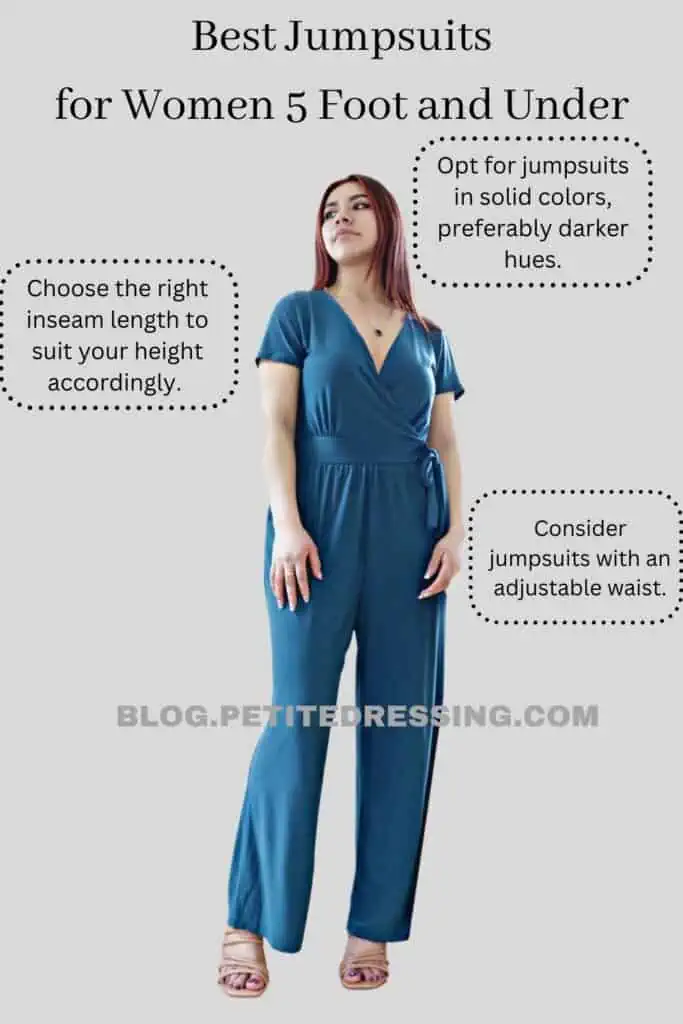 Consider jumpsuits with an adjustable waist. This not only adds definition to your waist but also helps you control the elevation of the waistline to get to a flattering height.
Choose the right inseam length to suit your height accordingly. Depending on the style and cut of the jumpsuit of your choice, the right inseam length for ladies 5 feet and under should be somewhere between 23 to 25 inches.
Opt for jumpsuits in solid colors, preferably darker hues. Of course, you're free to wear other different colors but if you want an instant height lift, dark solid colors will help maintain the visual vertical line of your silhouette unbroken.
Be extra mindful of the fit and avoid baggy jumpsuits at all costs. Too much fabric and volume will overwhelm you and make you look even shorter.
Now if you're in need of something a bit more detailed, I got you covered! Here are the specific styles of jumpsuits you should look out for on your next fashion-shopping trip!
Jumpsuits with a Form-fitting Top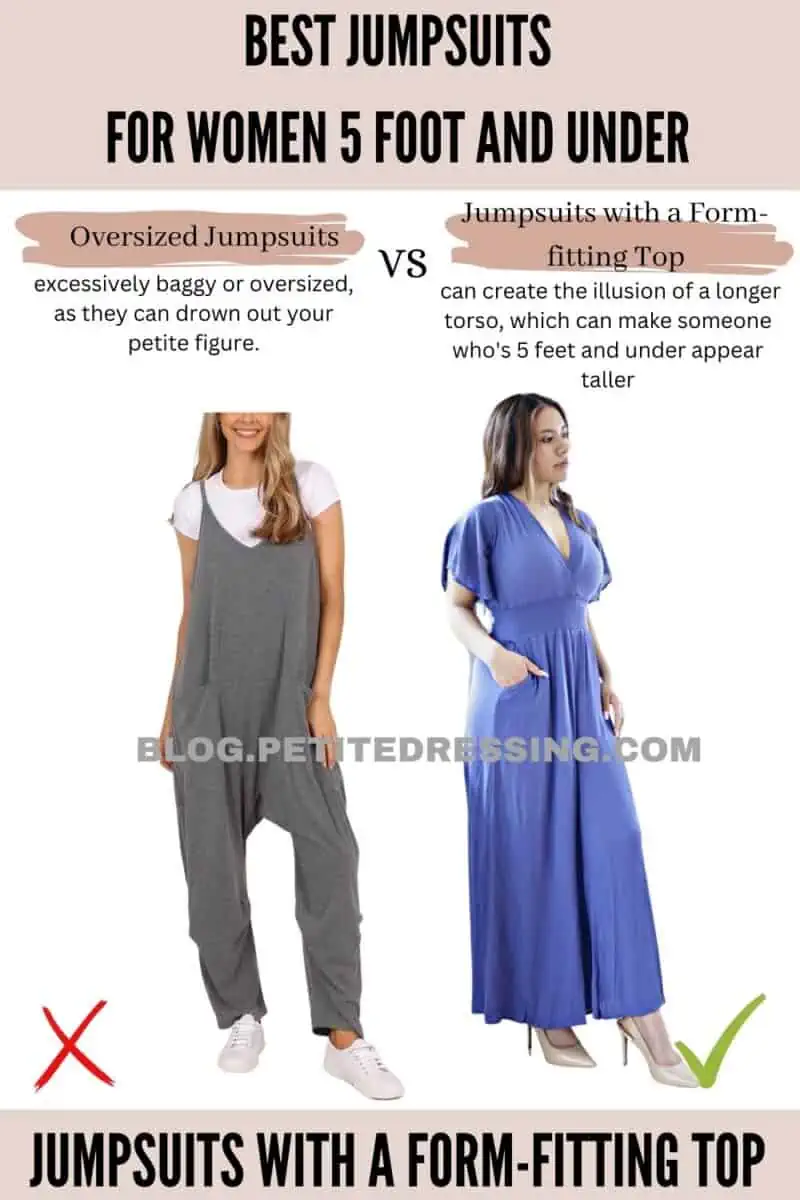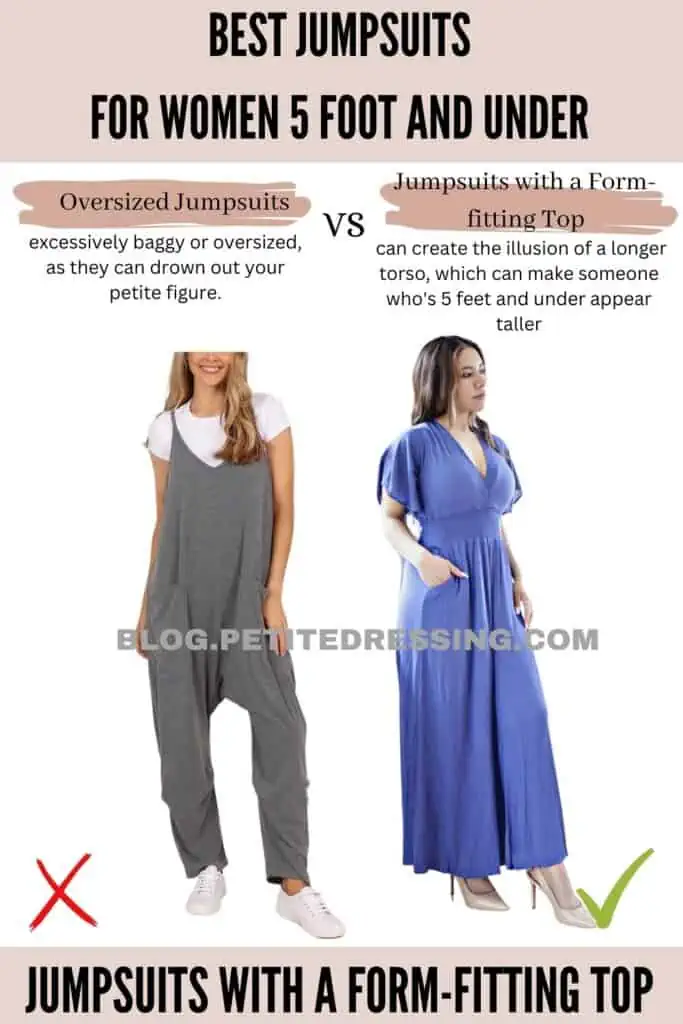 Jumpsuits with form-fitting tops can accentuate your natural curves to create a more balanced silhouette, especially if the lower half of the jumpsuit is looser. It also gives a streamlined look that visually lengthens the body, as opposed to wearing separates that can visually cut the body in half and make a short woman appear even shorter.
Because it hugs the upper body just right, jumpsuits with form-fitting tops can create the illusion of a longer torso, which can make someone who's 5 feet and under appear taller. Apart from its frame-elongating feature, this structure can also provide a more tailored and flattering fit, which can enhance your petite figure.
Belted Jumpsuits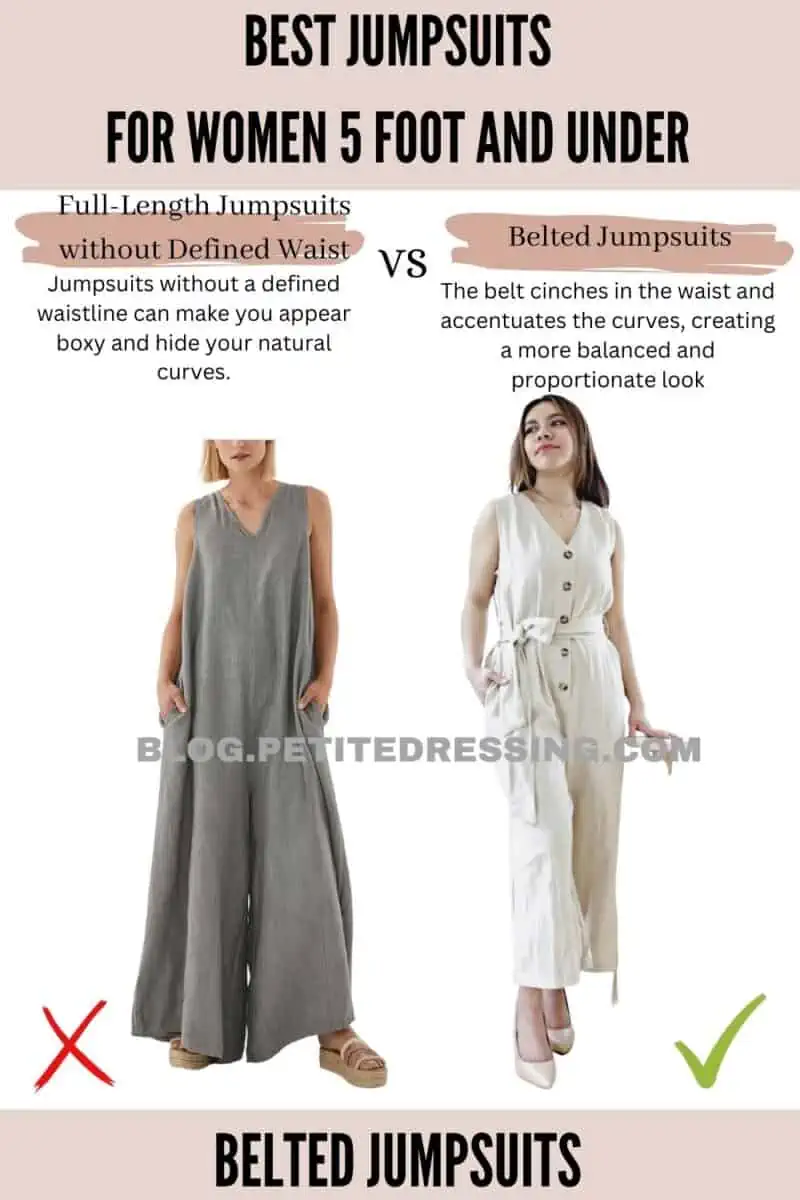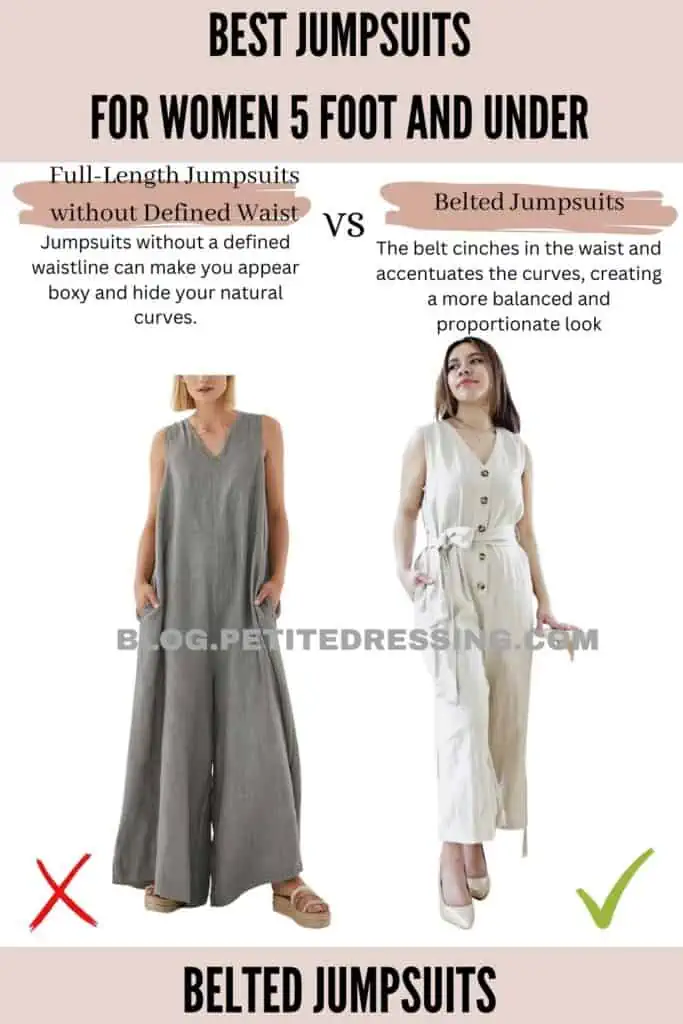 Belted jumpsuits are an excellent option to elongate your frame because the belted waistline creates a natural break in the fabric, which visually lengthens the legs and makes the wearer appear taller. This effect is especially pronounced when the belt is worn high on the waist, as it elongates the lower half of the body.
In addition to visually lengthening the body, belted jumpsuits also create a more streamlined silhouette. The belt cinches in the waist and accentuates the curves, creating a more balanced and proportionate look. This effect is enhanced when the jumpsuit is made from a structured fabric, as it provides more definition and shape to the body.
Structured fabrics such as denim or twill hold their shape and do not cling to the body, which is especially important when wearing a belted jumpsuit. This prevents any bunching or sagging of the fabric, which can detract from the streamlined silhouette that belted jumpsuits are known for.
Flare Leg Jumpsuits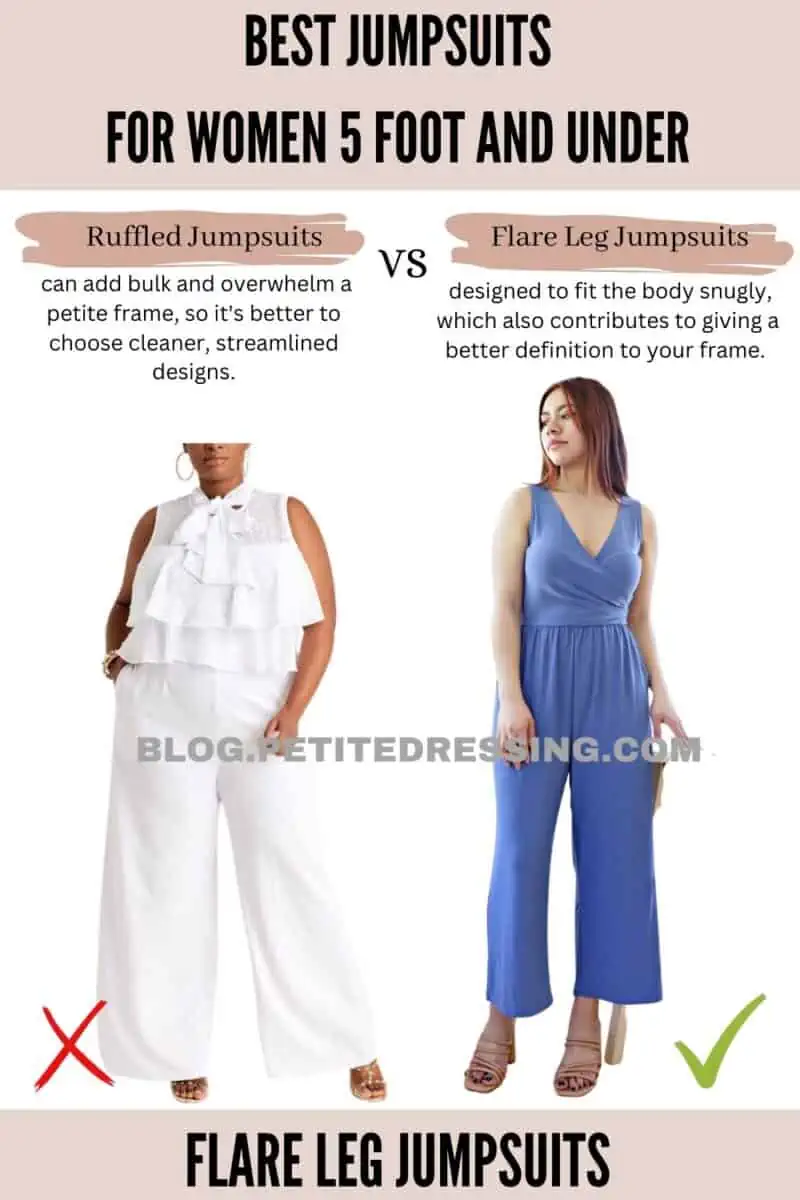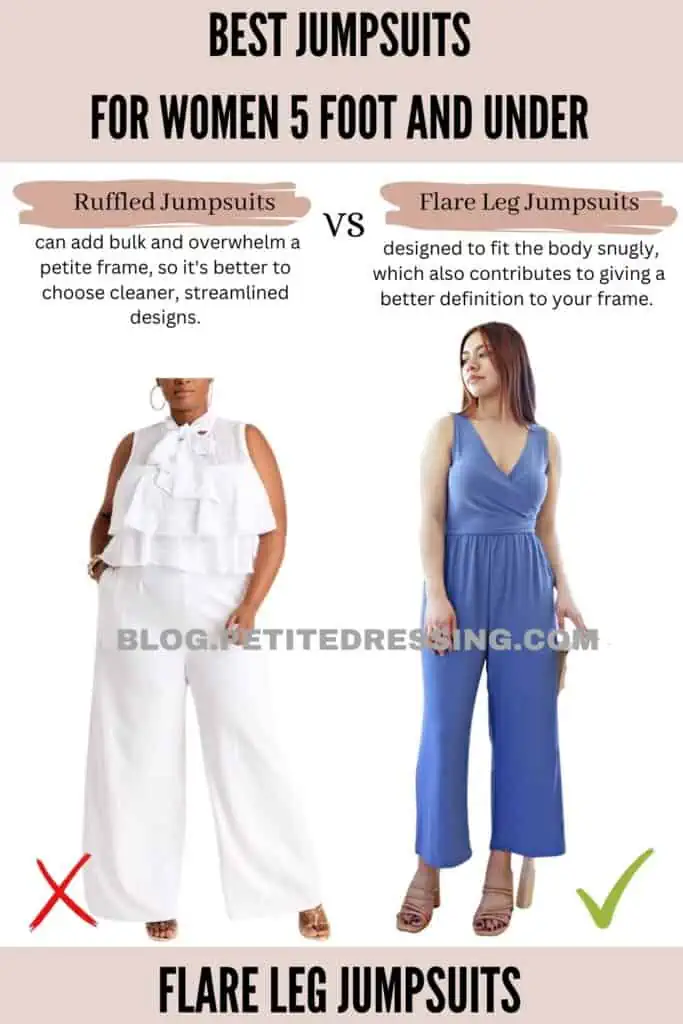 Tailored flare jumpsuits are designed to fit the body snugly, which also contributes to giving a better definition to your frame. A well-fitted jumpsuit can create a streamlined silhouette, making you look taller and more slender.
In addition to this, flare pants structures also elevate your height due to their cut. This is because the gradual flare from the knees down helps balance out the proportions of the body to give you a better upper and lower body ratio.
V-Neck Jumpsuits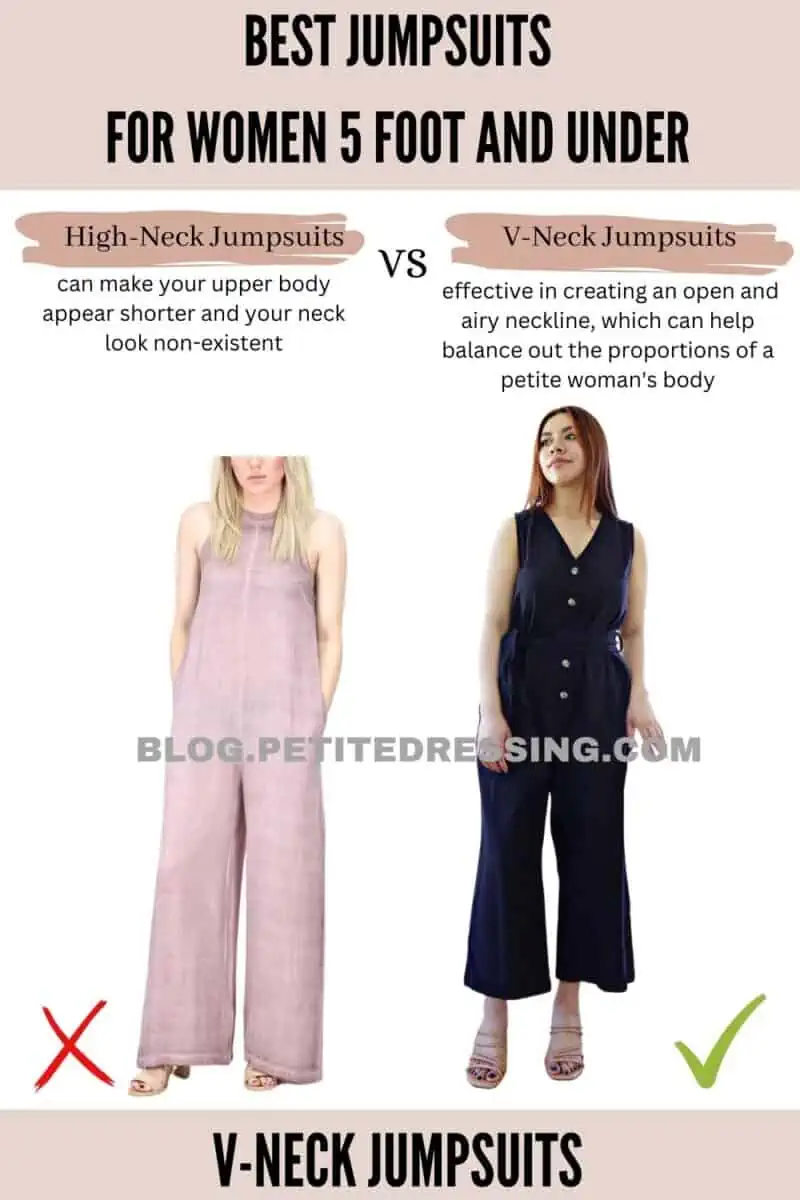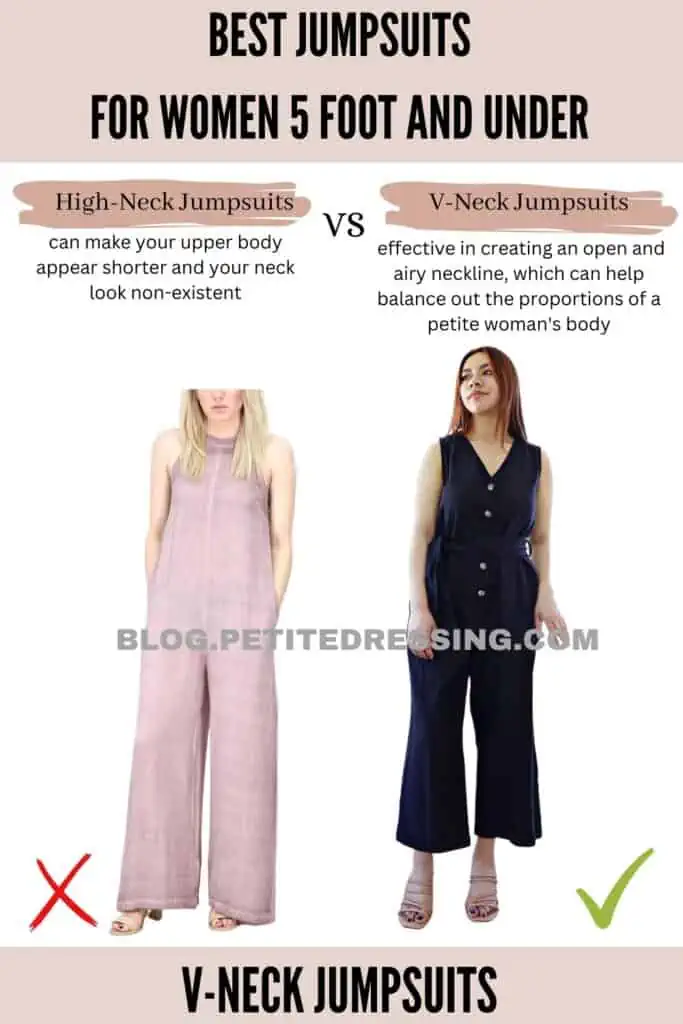 V-necklines create an illusion of length in the upper body, drawing the eye vertically downwards. This effect is one of the many reasons why V-necklines are deemed universally flattering for short women, especially those who are 5 feet and under in height.
V-necks are also effective in creating an open and airy neckline, which can help balance out the proportions of a petite woman's body. Another reason why they are so flattering for short women is that they create a continuous line from the neck to the ankle, creating a streamlined appearance that lengthens the body, making it appear taller and leaner. 
Now, let's talk about why cotton twill is a good choice of fabric for short women. Cotton twill is a durable and breathable fabric that drapes well, making it ideal for jumpsuits and since the fabric has very subtle and fine vertical lines, it creates a slimming effect on the body as well.
Plunging Neck Jumpsuits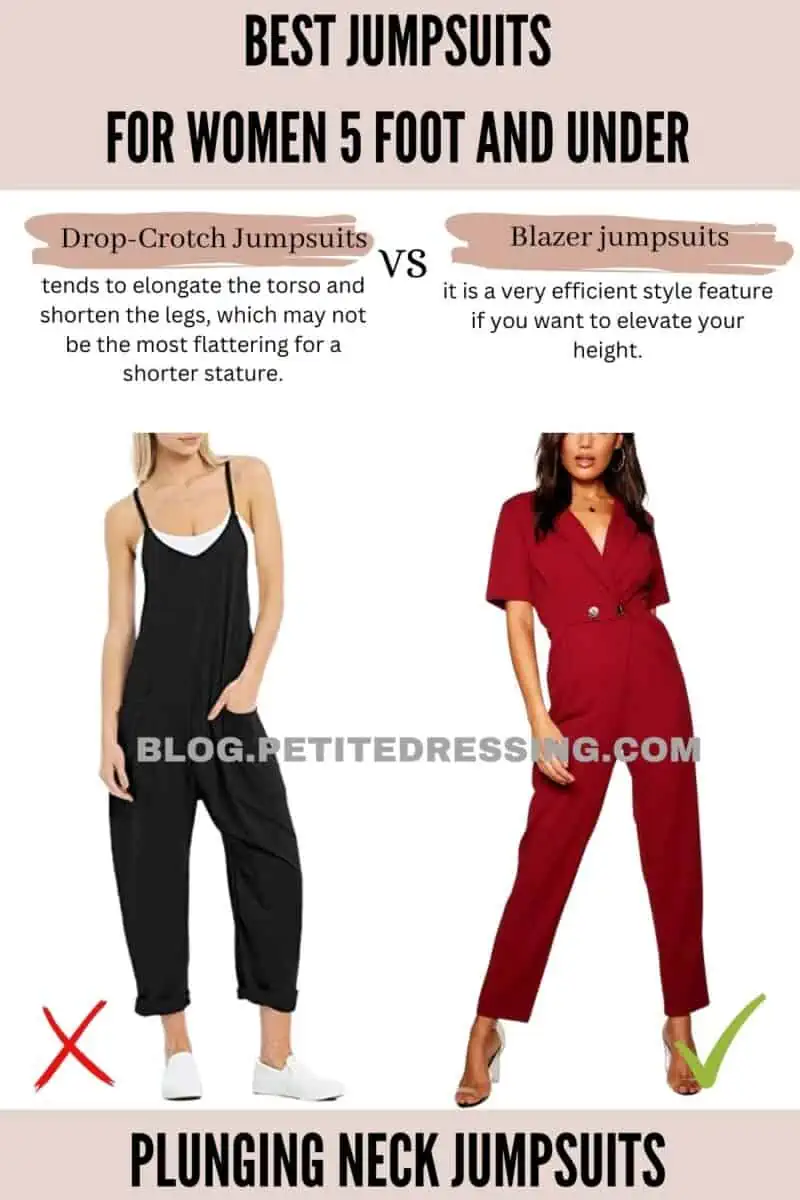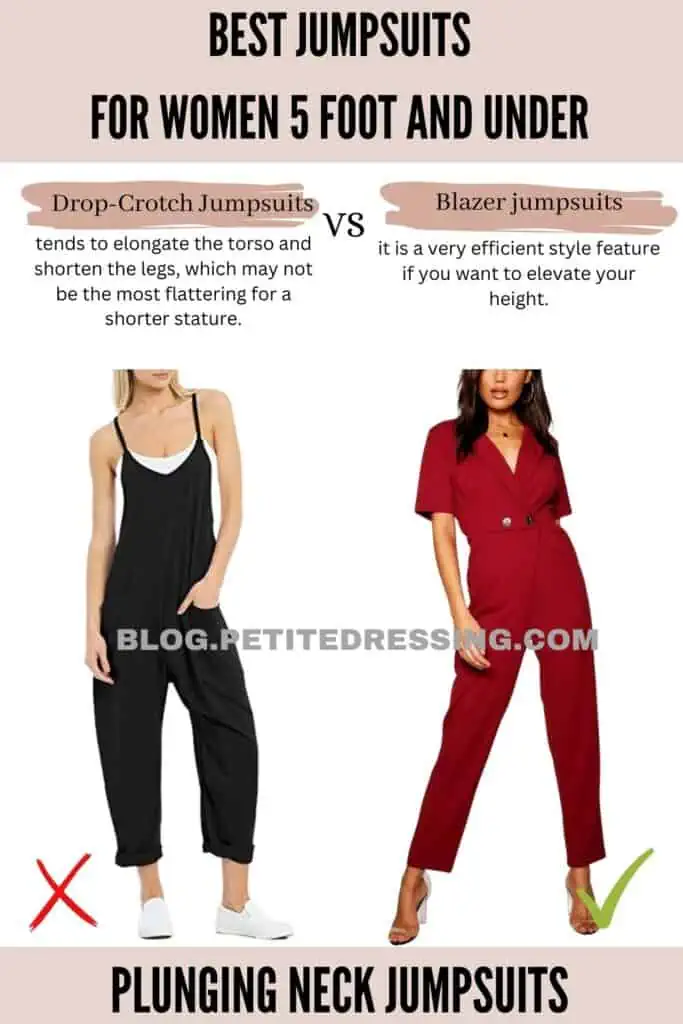 This pretty much shares the same style principle of V-necklines in terms of slimming your frame. The only difference is that plunging necklines go deeper to show more of your chest area, and well, maybe some cleavage too for a sexier look!
Blazer jumpsuits are a stylish and modern twist on traditional blazers and jumpsuits. They feature a blazer-style top with a tailored, fitted silhouette and a wide-legged jumpsuit bottom, which are very efficient style features if you want to elevate your height.
The structured blazer-style top of this jumpsuit style creates a sleek and elongated silhouette, which can help to visually lengthen your frame. It builds up broad-looking shoulders thanks to its neat and tailored seams that also contribute to making you appear taller and leaner.
Jumpsuits with Adjustable Waist Tie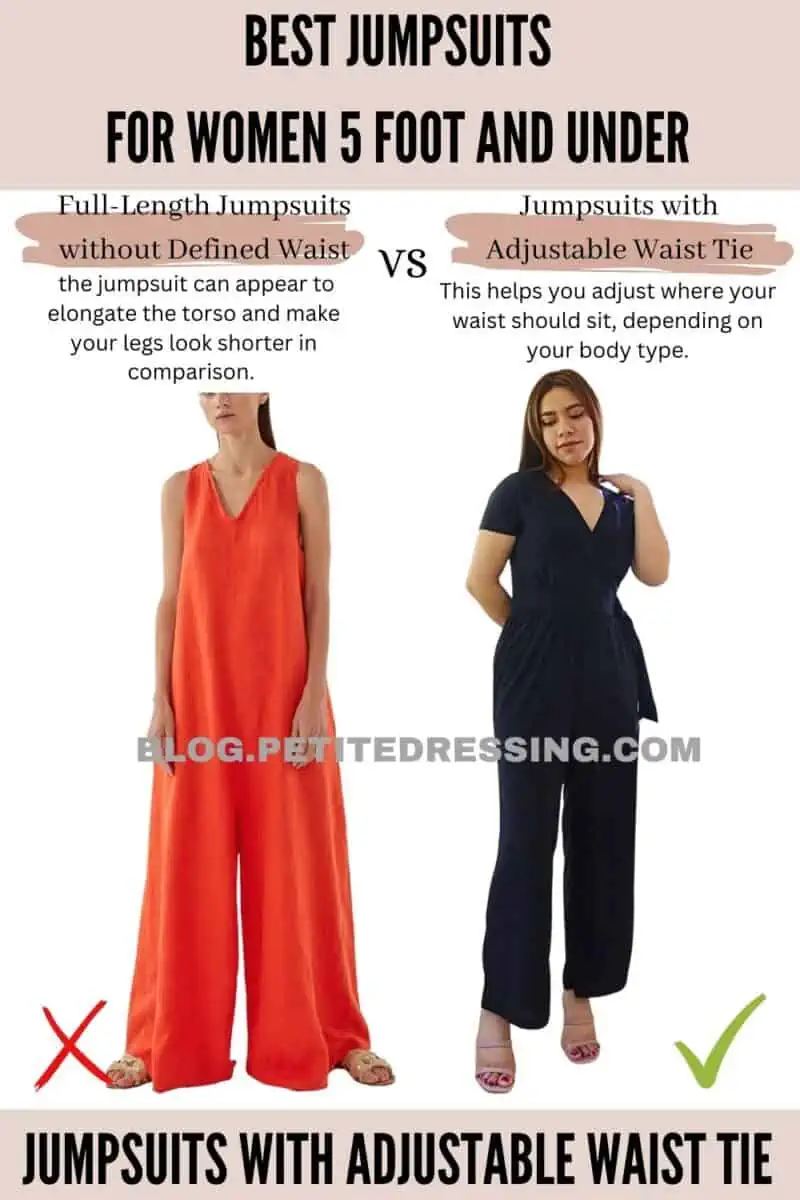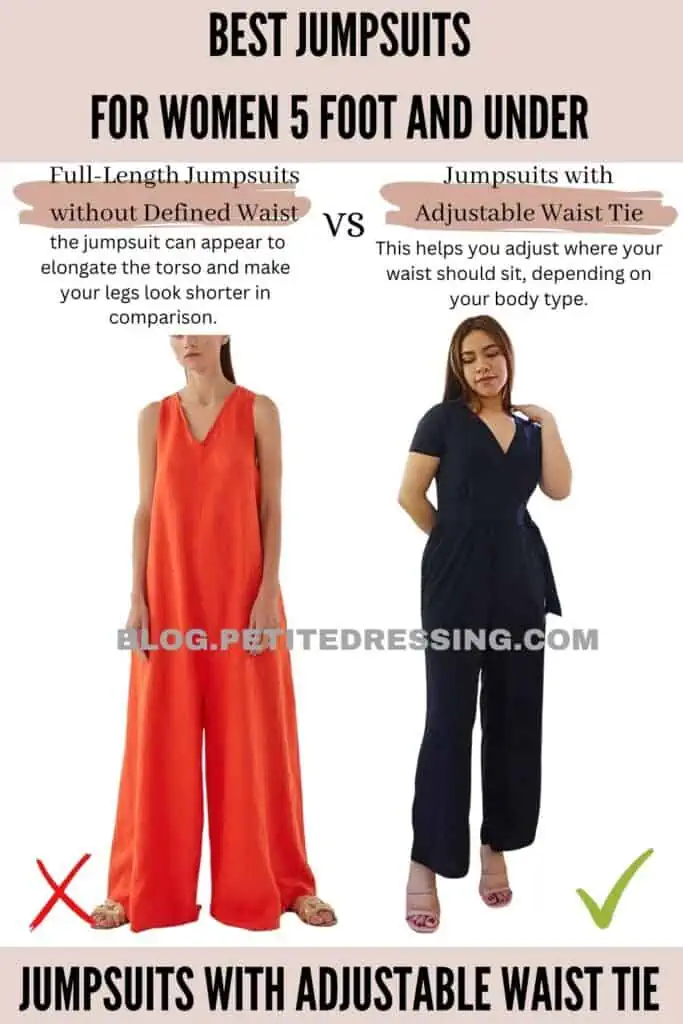 Jumpsuits with adjustable waist ties can be a great style choice for short women who are 5 feet and under because these jumpsuits typically feature a waistband with a tie that can be cinched or loosened to adjust the fit of the garment. This helps you adjust where your waist should sit, depending on your body type.
Say you have a long torso and would want to make your legs look longer, then you can adjust it to sit on a higher waistline to give the illusion of longer legs. By cinching the waistband at the narrowest point on the body, the waistline can be raised, which can visually elongate the torso. 
Additionally, adjustable waist ties can create a more flattering fit for shorter women because you surely often struggle with finding clothing that fits well, as standard sizing can be too long or too loose in certain areas. By choosing a jumpsuit with an adjustable waist tie, the garment can be tailored to fit your body, ensuring a flattering and comfortable fit.
Cropped Boiler Jumpsuits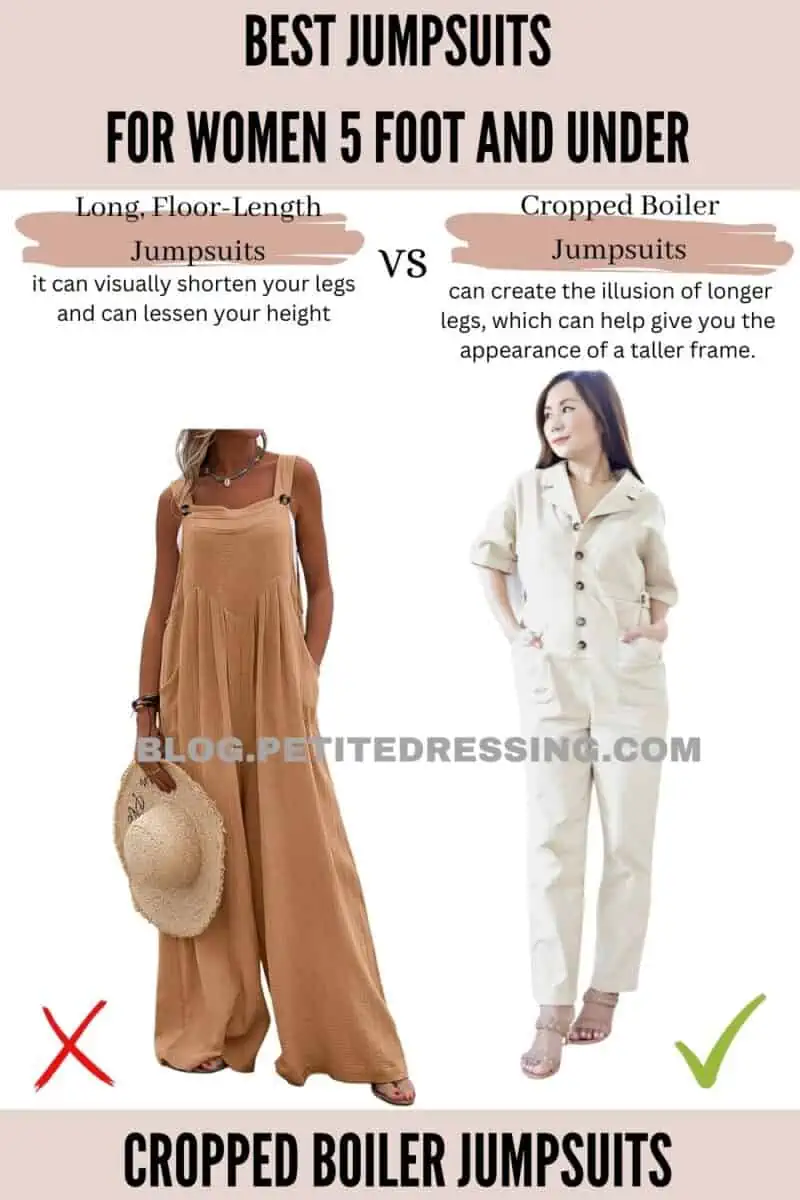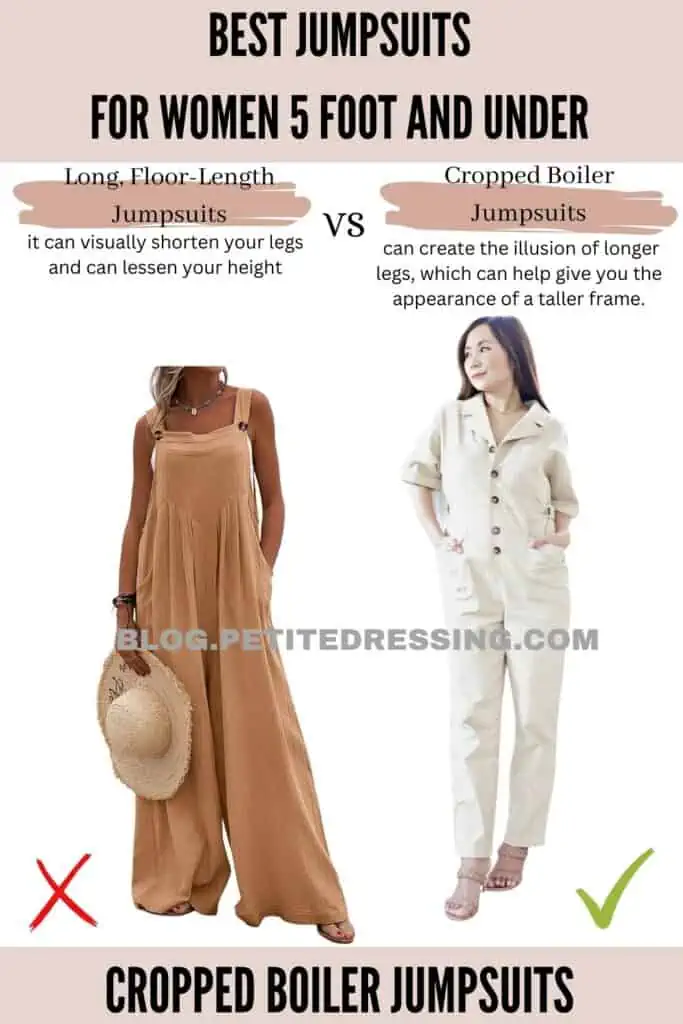 Cropped boiler jumpsuits are typically designed with a loose, relaxed fit and a cropped length that hits above the ankle and this cropped length can visually elongate the legs. By showing a bit of ankle, the jumpsuit can create the illusion of longer legs, which can help give you the appearance of a taller frame.
Additionally, the loose and relaxed fit of the jumpsuit can create a more balanced and proportional appearance, as it creates a more flattering and streamlined silhouette.
On top of their visual style benefits, cropped boiler jumpsuits can be very comfortable and practical. The loose and relaxed fit can allow for ease of movement, while the cropped length can prevent the jumpsuit from dragging on the ground, making it more practical for everyday wear.
Jumpsuits with Vertical Prints and Patterns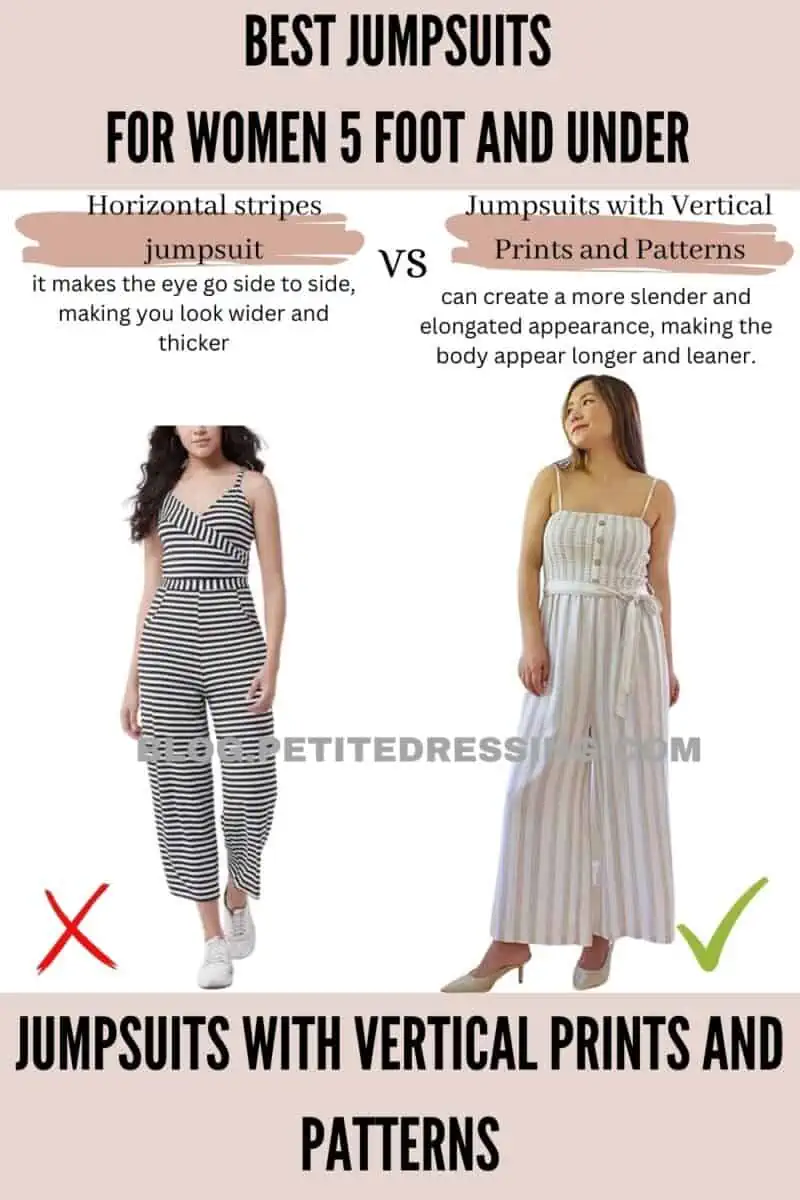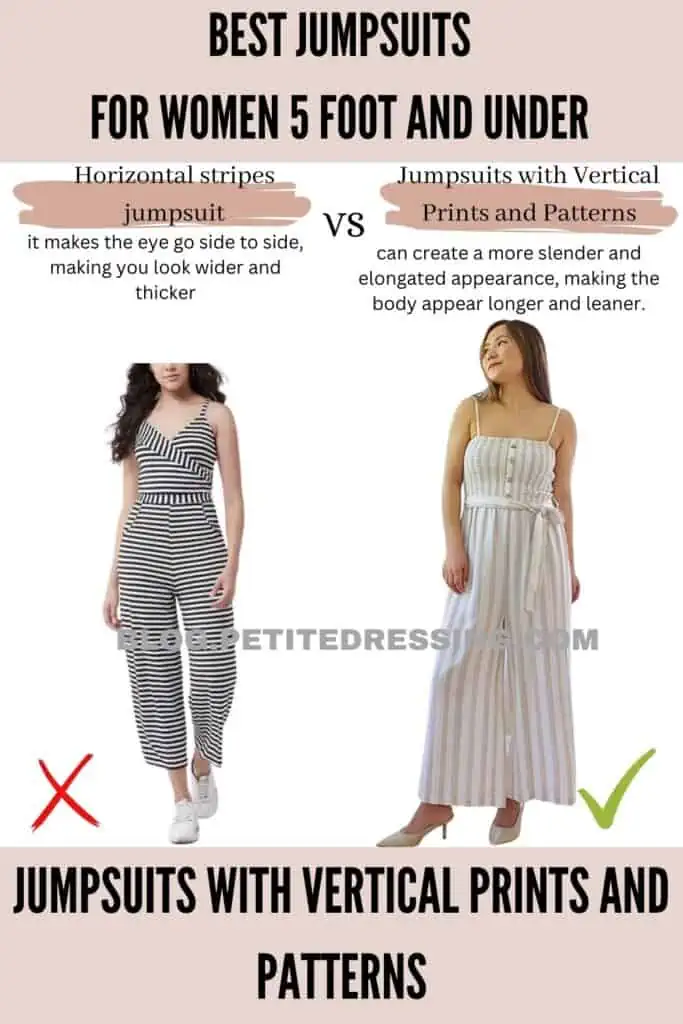 Stripes, lines, or any other patterns that run vertically down the garment can be absolutely flattering for short women who are 5 feet and under. Vertical prints and patterns can create the illusion of height because they draw the eyes up and down in an uninterrupted visual line.
In addition to this, they also feature a slimming effect. The vertical lines can create a more slender and elongated appearance, making the body appear longer and leaner.
With vertical patterns, you can also try to go for jumpsuits that don't have a distinctive waistline to keep the visual straight line neat and unbroken. This will instantly lift your height in a very subtle way!
The Key Takeaway
There's always been a heated fashion discussion on whether short girls who are 5 feet and under would find jumpsuits flattering. Most would think that jumpsuits are only for tall girls but that's totally not true because even short girls can totally flaunt them!
As long as you take the pointers in this style guide, you'll surely pull off the jumpsuit style of your choice without any fuss.