Wearing white after Labor Day is the never ending debate in America. Have you heard of this many times and are wonder why is wearing white after labor day bad?
Well, this "no white after Labor Day" rule first came into the American fashion scene at the turn of the 20th century and it was used by the New England elitists, according to the Emily Post Institute. Why? Back in the days it was difficult to tell the difference between old money and new money, respectable families and those who only had vulgar new money, in order to tell who was acceptable and who wasn't, the women who weren't already "in" felt it necessary to create dozens of fashion rules that everyone in the know had to follow.
100 years later, this rule has apparently filtered into American culture at large, and everyone has heard about it from fashion magazine or stylist at some point as part of fashion etiquette .
So, here we are, after Labor Day and transitioning into fall, the sun is still bright and shinning and we feel reluctant to wave goodbye to the warm weather. Are you are asking yourself "should I wear white after Labor Day or not?"
You are not alone. Every year around Labor Day, the fashion debate begins around this time.
The answer is absolutely yes! All fashion rules can be broken, and this one is not an exception either.
In fact, if you are a stylish petite girl, wearing white is advisable year round, in the sense it adds presence to your outfit.
So, the question is not really whether you should wear white after Labor Day, instead, it really is how to wear it.
Wear white with the fall staples
The key is to be mindful with what you wear with white. If you mix white items with fall staples such as jean jacket, suede boots, colorful scarf, or leopard print belt, then you can make the most use of your summer items and wear them all the way through the winter. It will be fun to play mixing and match in your wardrobe.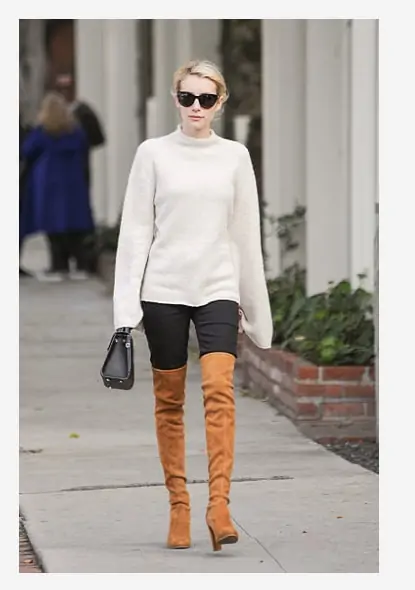 For instance, most of us have a favorite little white dress (LWD) which we do not want to put away after Labor Day. If you are petite, mixing a white skater dress with a cropped jean jacket will elongate your legs, and make you look much taller. Additionally, be strategic about the size of your accessory and where you want the accessory to be. For petite girls, wearing a shorter scarf will draw people's attention upwards to your face, and visually is more flattering.
Less about the color and more about the fabrics. 
When we transition into the fall, the flowy and airy fabrics naturally are less suitable for the weather change and the temperature drop. Instead, you would probably prefer fabrics with a little bit of texture or weight, such as wool sweater or cashmere.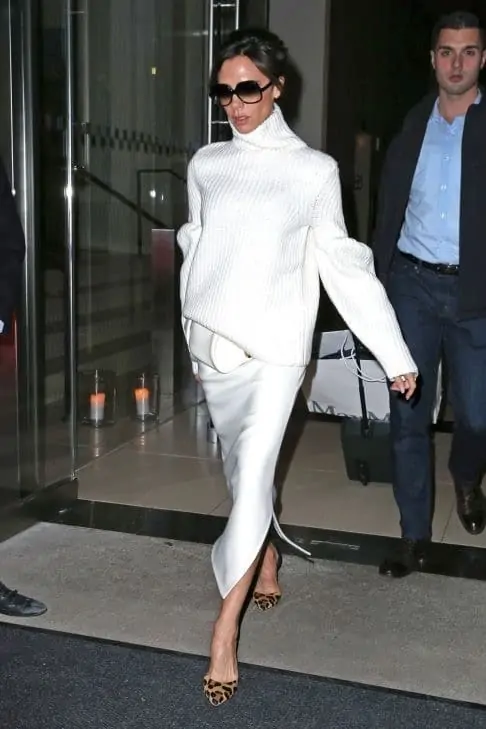 A quality piece in white wool or cashmere can be worn all autumn and winter and will always be in style. Cable knit sweater or cashmere with honeycomb details are winter classics, which add the perfect amount of weight to winter white. A white cable knit sweater never goes out of style. It is so versatile you can easily pair it with pants or skirt and look effortless chic while staying warm.
Wear slightly different shades of white
Compared with the bright and summerly "white" white which looks cool (temperature wise) and breezy, you may want to look into a warmer shade of white such as cream, ivory or off white.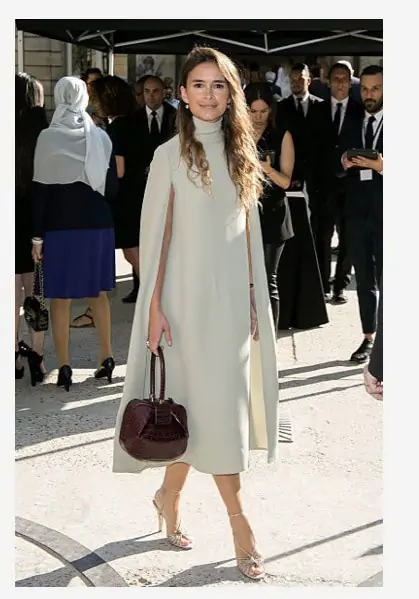 Invest in a white outerwear
A classic way to wear white after Labor Day is to invest in a high quality white jacket or white coat.
A white tweed jacket is the all time favorite of fashionistas. It will be your best friend in the transitioning weather, and probably a great investment for this fall. You can layer it on top of your light weight dress for a date night, or wear it to an office meeting.
A white parka or down coat in the winter is always chic and will keep you warm.
For petite girls, wearing white outerwear in winter will not only make you look chic, but also be flattering to your petite frame, as it adds presence.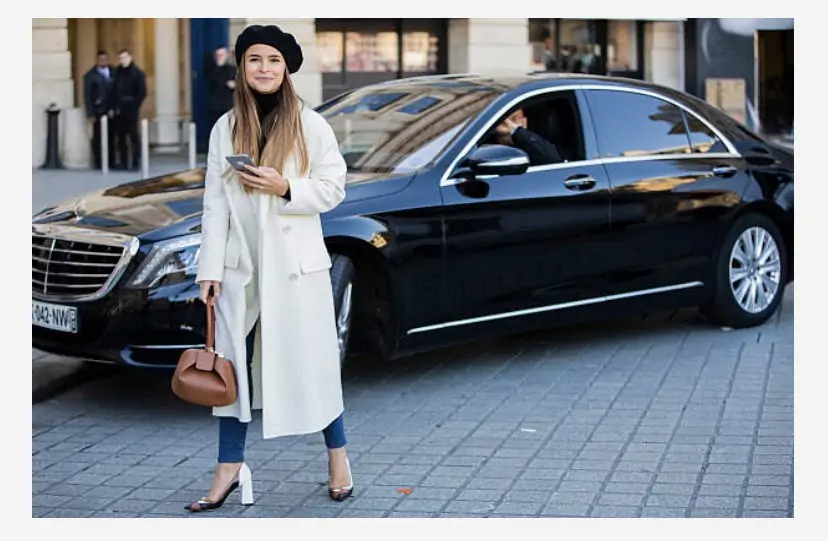 What color you match with white after Labor Day can really make a big difference
White is the foundation of everything, so it naturally goes with pretty much everything, especially blue, red and black. If you want a more dramatic look, paring white with black is the most classic and never goes wrong in any occasion. Wearing navy with white is inherently sleek and sophisticated, and is effortless chic, especially at work occasions.
Another benefit of paring white with darker shades is to balance the bulkiness. Darker color have the slimming effect and it works wonderfully well with white in the winter.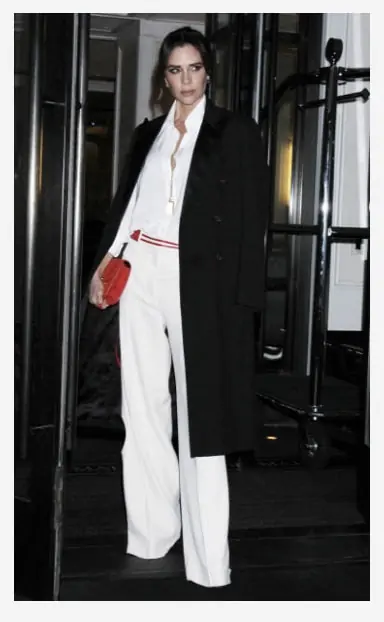 If you want to have a little fun with colors, try to pair it with red or plaid. Wearing white with red will not only make you stand out in the black and grey crowd in winter times, it also naturally radiates warmth and energy.
Plaid is another winter classic, and wearing white with plaid is timeless and never goes out of style.
Use white accessories strategically
Wearing white shoes could still be appropriate, depending on the occasion, but a pair of white lacy or satin pumps is probably less practical than a pair of white leather stiletto or cream color boots. A winter classic is a fluffy white cashmere scarf or a white sweater hat, and most of us cannot resist the warmth and cuteness.