Are you already tired of repeating your T-shirt + Denim Jeans ensemble for your daily casual wear? Since I'm 5'2″, having short legs used to give me the tendency to just stick on a few wardrobe pieces that work.
But, since I started my petite clothing line for women 5'4″ and under, I realized there are so many more (and better) options than just the basics, even if your legs are short.
In this blog post, I'll dive into different types of casual wear that will suit your short legs and enhance your natural body figure. These are not only based on my own experience but also based on the feedback from thousands of my petite customers.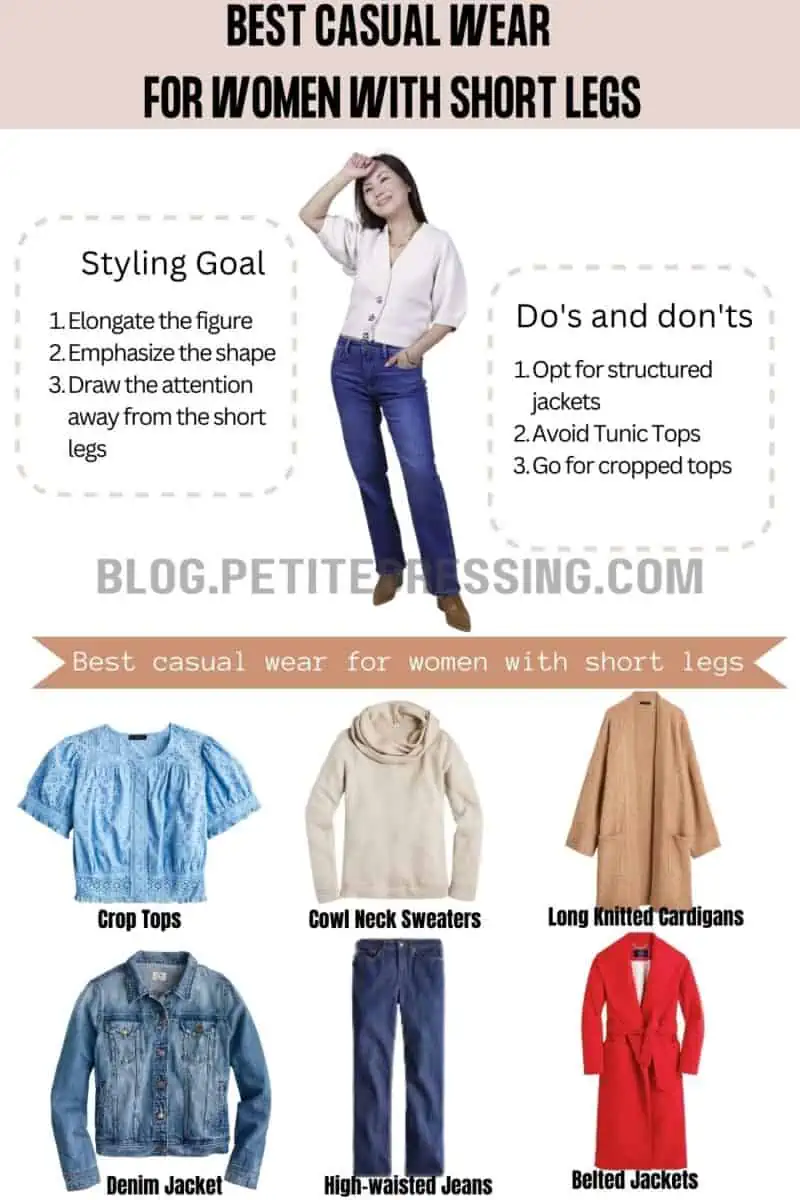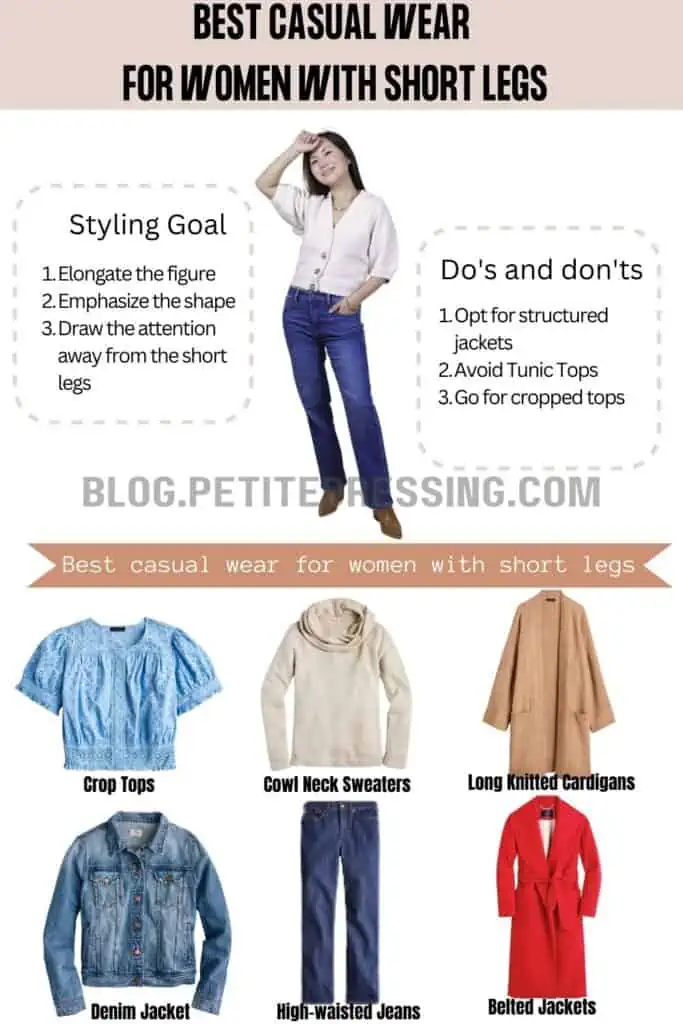 Styling Goal
Focus on elongating your legs by going for bottoms that feature structures that draw a continuous vertical line on your frame. This can be in the form of fabric cuts or lengthening patterns.
Work around your proportions by choosing tops that complement your bottoms for a well-balanced body ratio. Since you have short legs, you need to be careful in choosing tops or jackets to avoid not making your torso look longer.
It's all about the right fit overall, especially your bottoms! Going for jeans that are too baggy can make your legs look thicker and shorter while ones that are too tight may only highlight the actual length of your short legs.
It may seem like it's difficult to style yourself when you have short legs but believe us, you have more fashion options than you think! Here's your complete casualwear style guide sorted by garment category.
TOPS
Crop Tops
When you have short legs, the goal should always be to create an extended vertical space on your lower body. By wearing crop tops, you're giving your lower body more room and hence elongating the appearance of your legs.
It's nice to pair crop tops with high-waisted jeans because it gives a flattering body ratio wherein the eyes are drawn to look from the high waistband downwards. This visually creates the illusion of longer legs and a slimmer frame.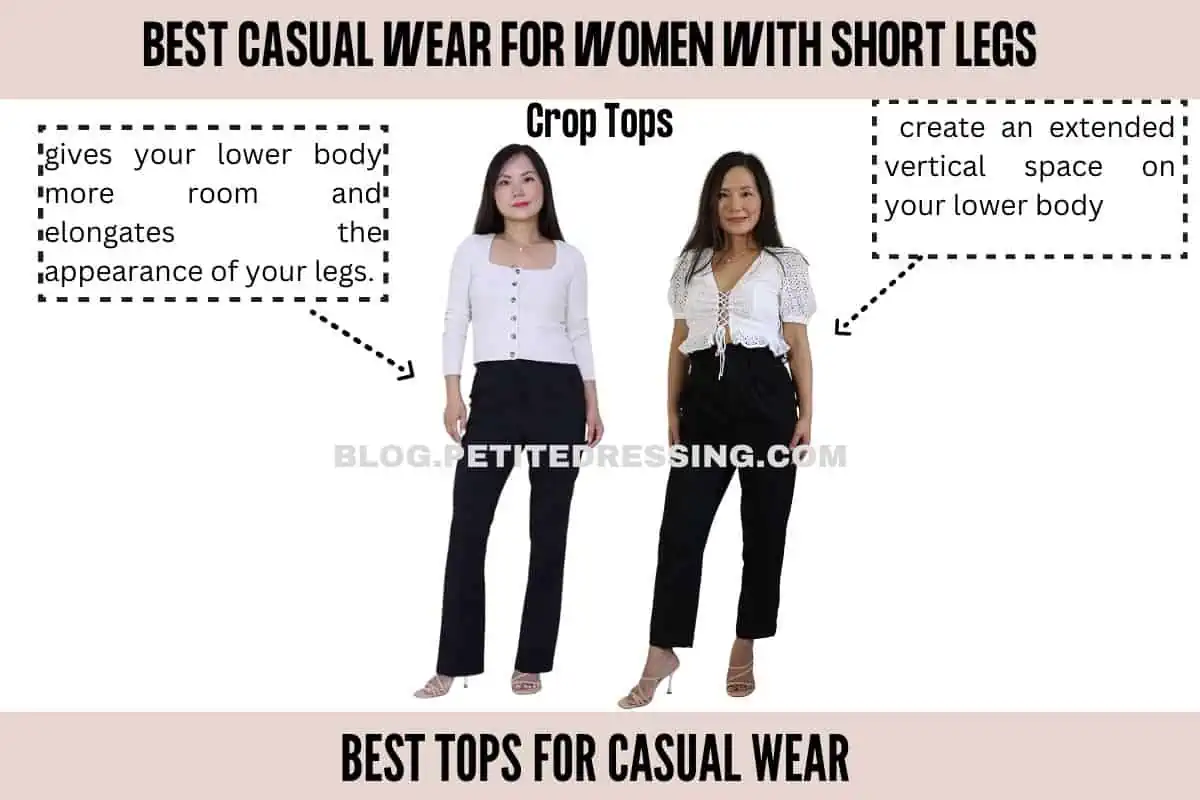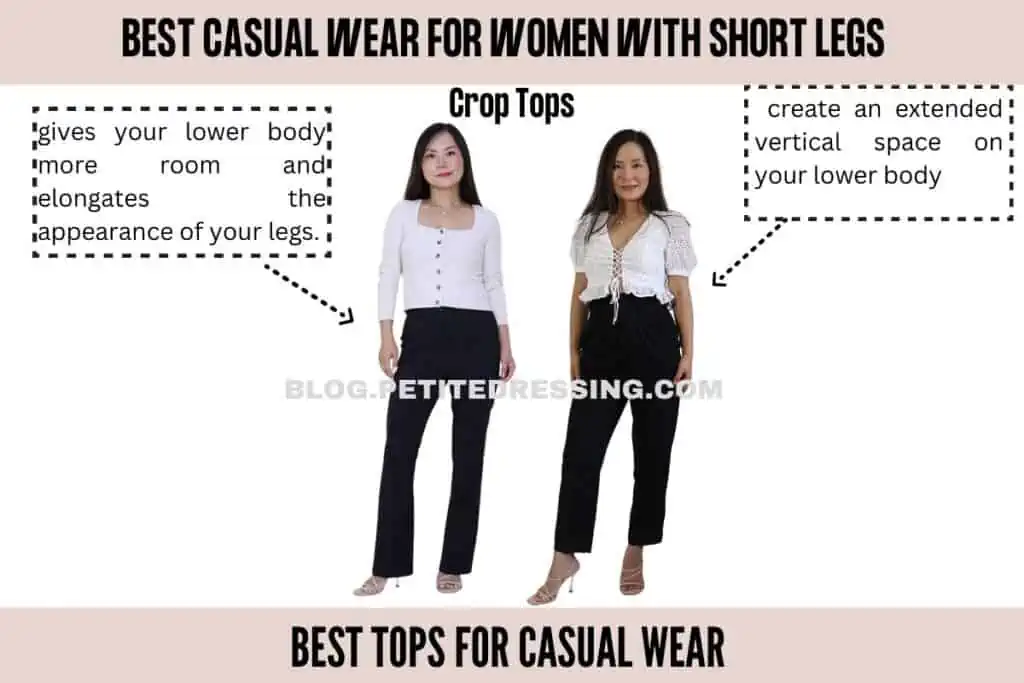 Avoid Tunic Tops
This is completely the opposite of what crop tops do so you have to avoid wearing tunic tops when you have short legs. Since tunic tops are typically longer than ordinary tops, they take up more space on your lower body that makes your legs appear shorter than they already are.
Tunic tops usually fall past the hips or even around mid-thigh so it breaks the continuous line that draws the eyes from up to down. Its unflattering length covers a large portion of your lower body which makes your frame look significantly unbalanced.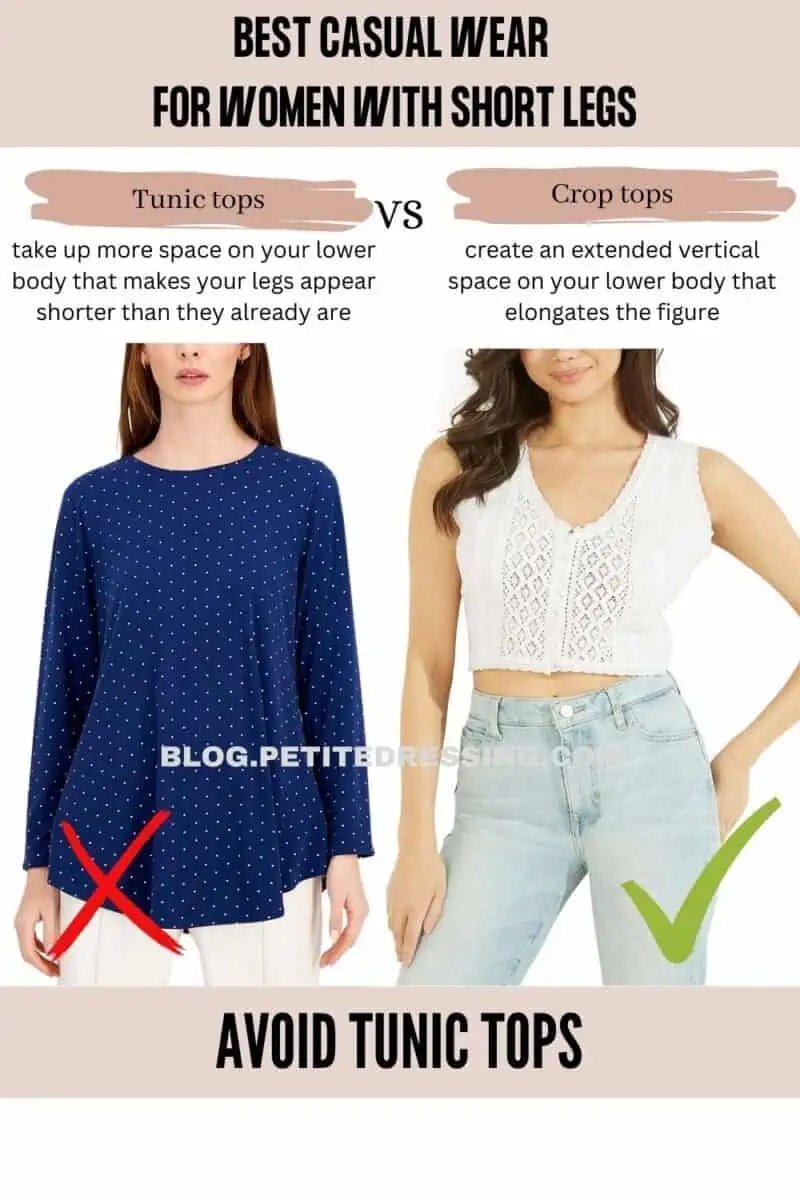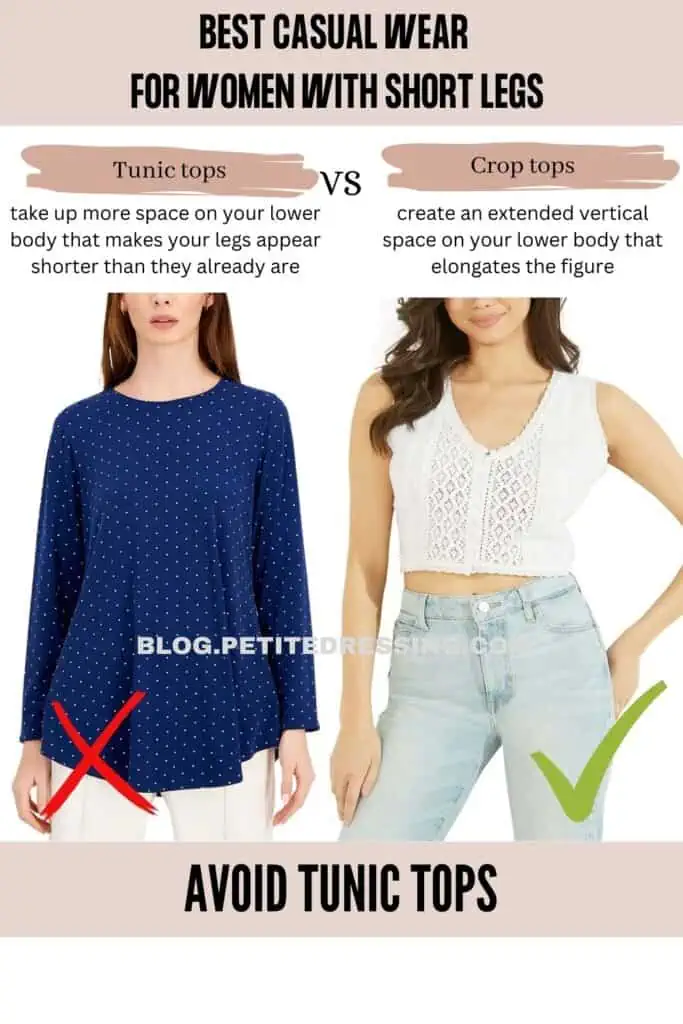 Cowl Neck Sweaters
If you'd like to feel cozy and warm without the slightly restrictive effect of turtlenecks, then a cowl neck sweater should be a great fashion alternative for short girls like you. With its loose, funnel neckline, it subtly shows a portion of your neck that helps elongate your upper half.
This structure also draws more attention to your upper body and therefore not let your short legs be the focal point of your entire look.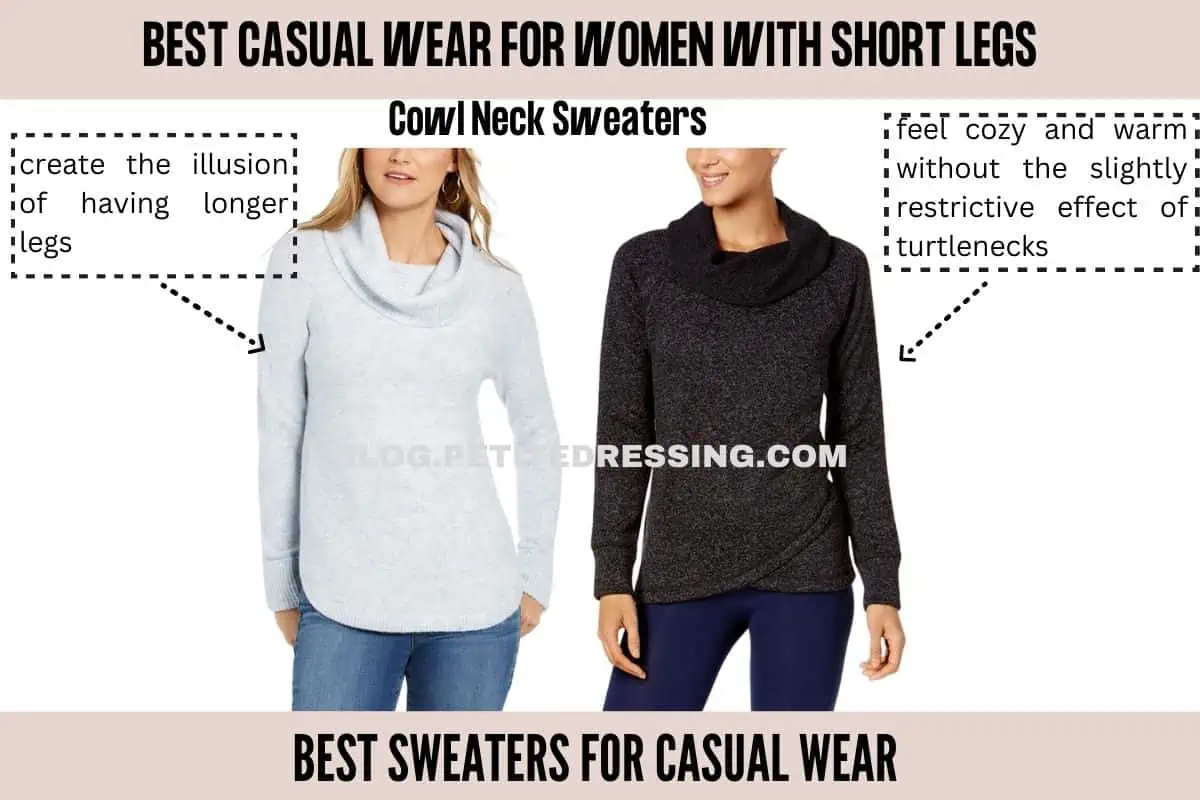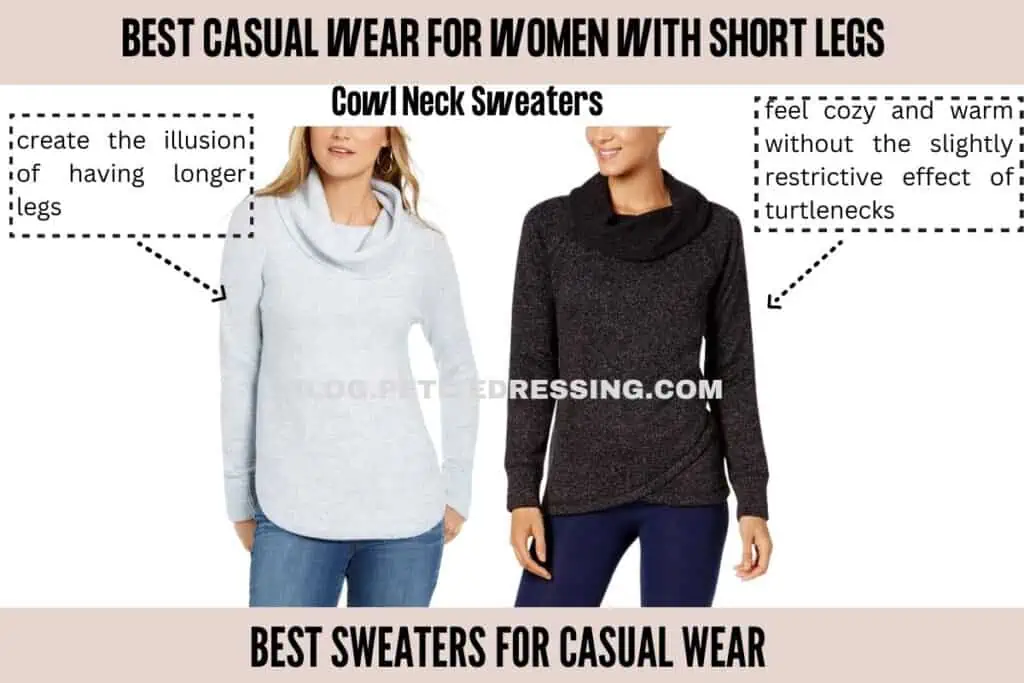 Long Knitted Cardigans
Long cardigans in which the length goes down to your knee or slightly above the knee level also create the illusion of having longer legs. Unlike tunic tops, cardigans are fully opened on the front which also plays a visual trick that makes your top and bottom ensemble look well-proportioned. 
To have your long knitted cardigans work with your short legs, you need to carefully choose a top to pair it with, as well as high-rise jeans to make your legs look longer. You should also be mindful of the details that your cardigan has so keep things minimal.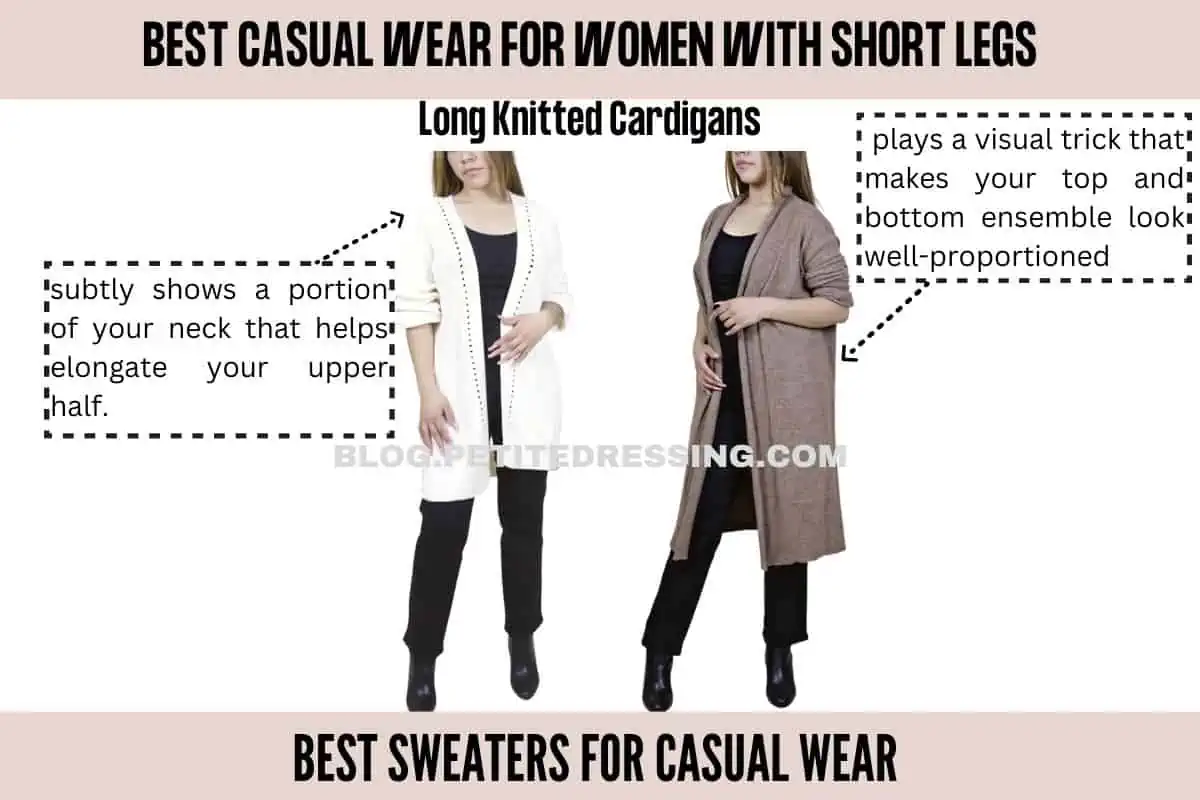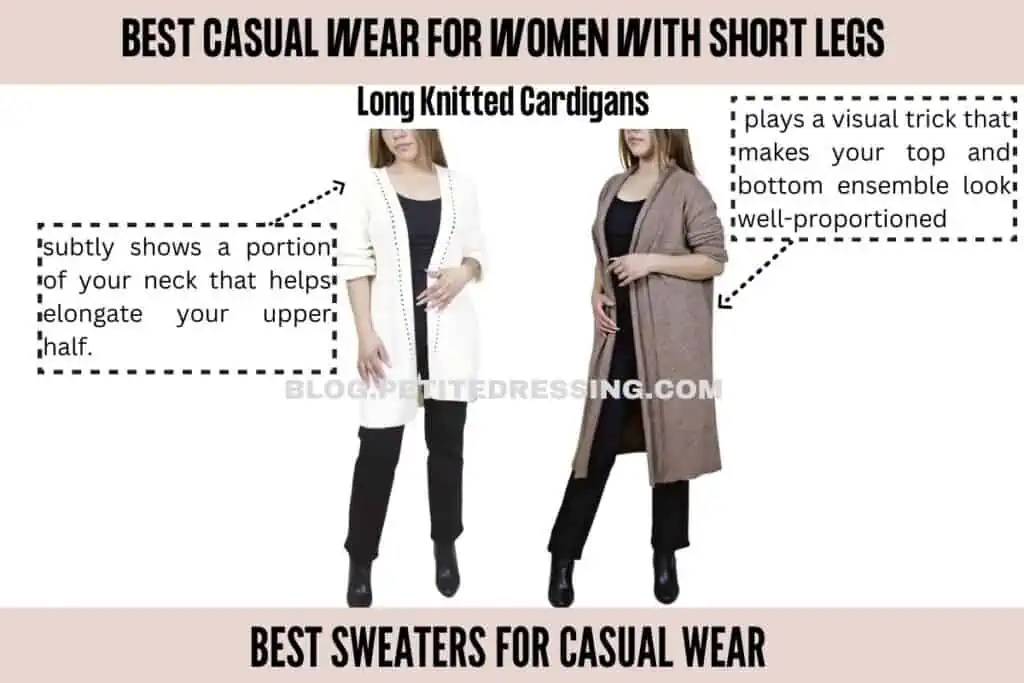 JACKETS
Cropped Jackets
Just like crop tops, crop jackets do a great job of making a short girl look taller and slimmer thanks to their ability to visually bring balance to your frame. Crop jackets have a hem that falls just right on the hip level (or even slightly higher).
Such a length gives your lower body more space to vertically extend and therefore makes your legs look longer. Crop jackets would go so well with high-waist jeans!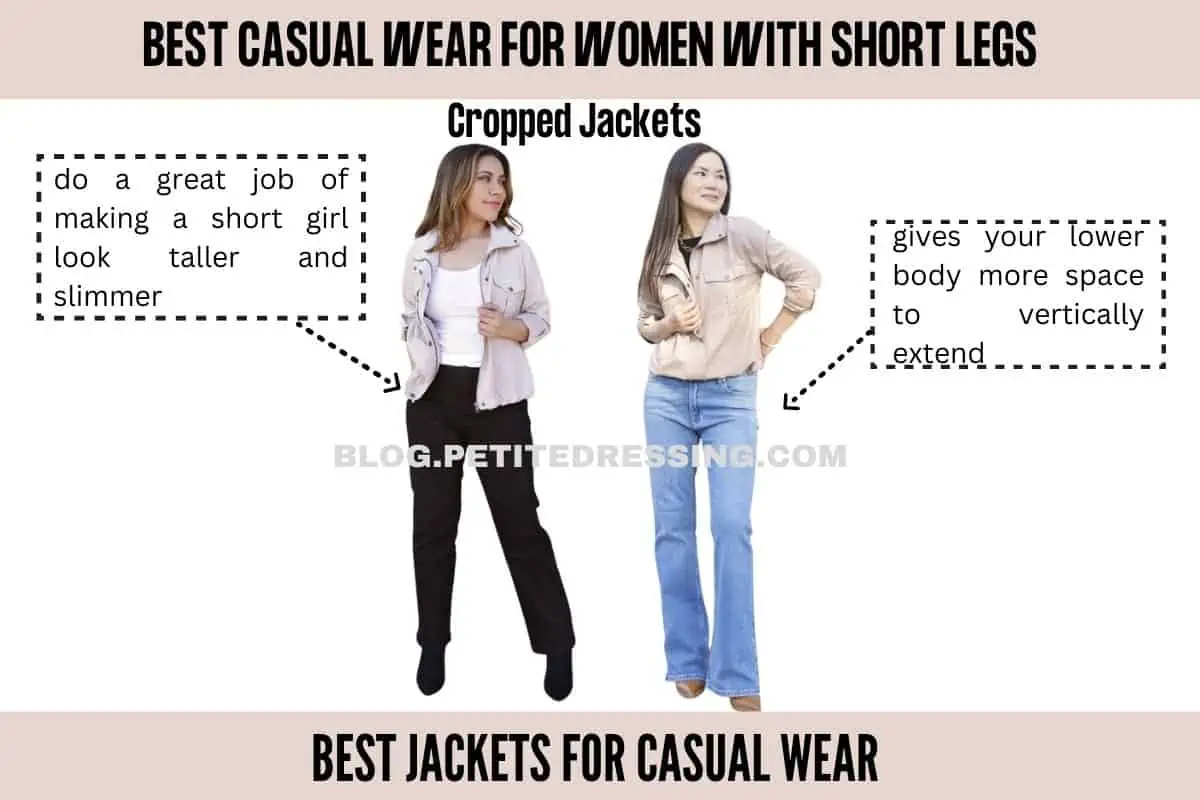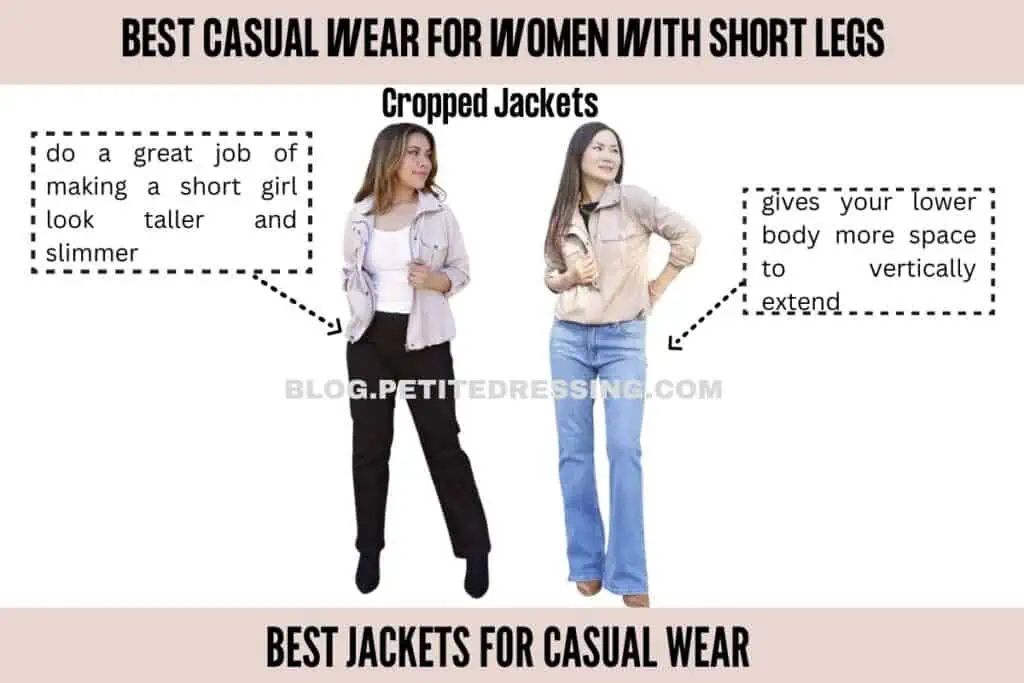 Structured Denim Jacket
Denim jackets will always be a classic casualwear staple. It never goes out of style and denim jackets with structured silhouettes should look amazing on ladies with short legs. Structured denim jackets feature seams and details that enhance your shoulder and torso to make you look slimmer and taller.
The key is to choose one that has the proper length. Ideally, if you like your structured denim jacket to flatter your shorter lower body, opt for ones that are cropped (falls on the hip level or belly button).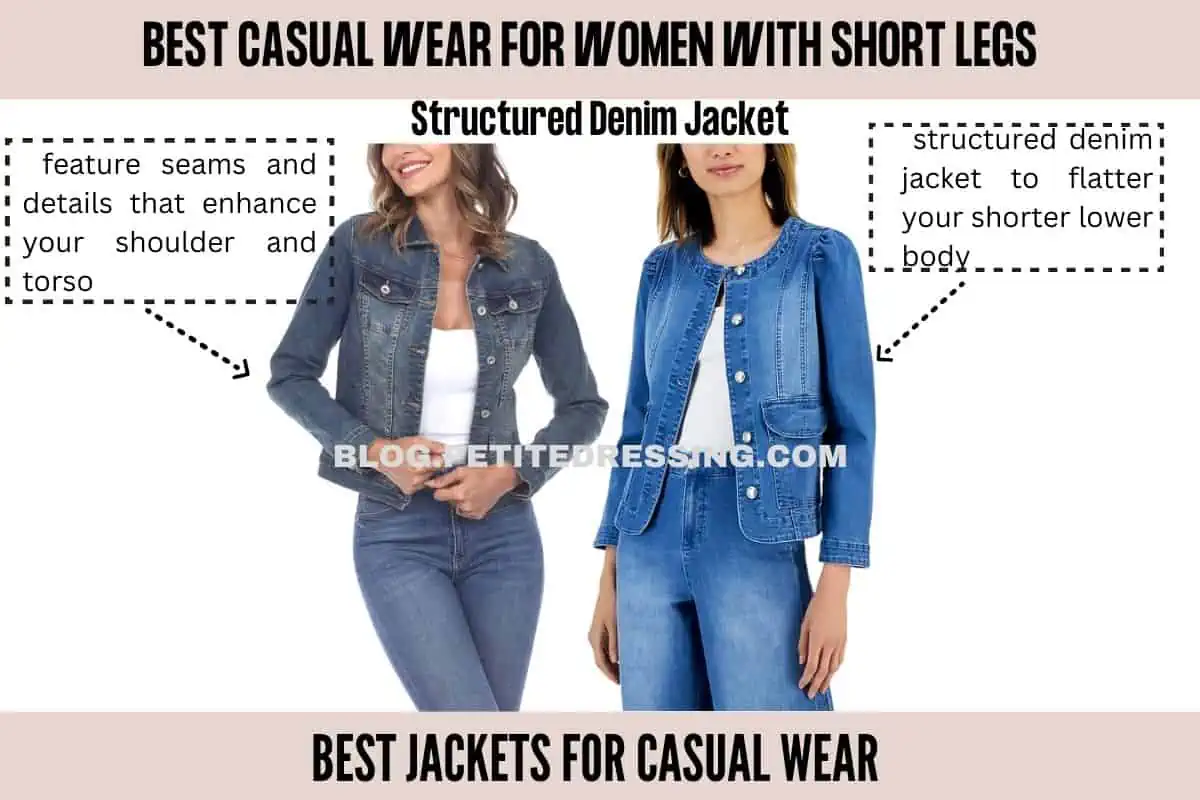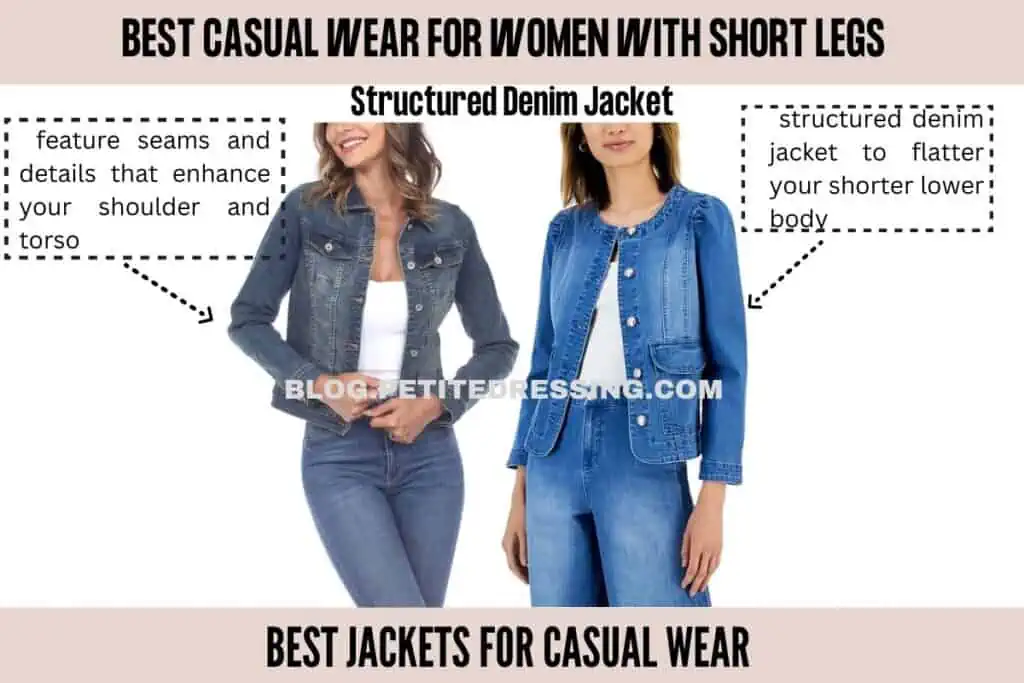 Belted Jackets
You'd like to draw attention away from your short legs so what you need to do is to divert the eyes somewhere else. Nipping your waist with a belted jacket will help emphasize the shape of your waist to have it as your body's focal point.
Belted jackets are great with a pair of skinny or structured jeans for the laid-back, casual vibe. The key is to just be mindful of the length of your jacket so it won't overwhelm the length of your legs.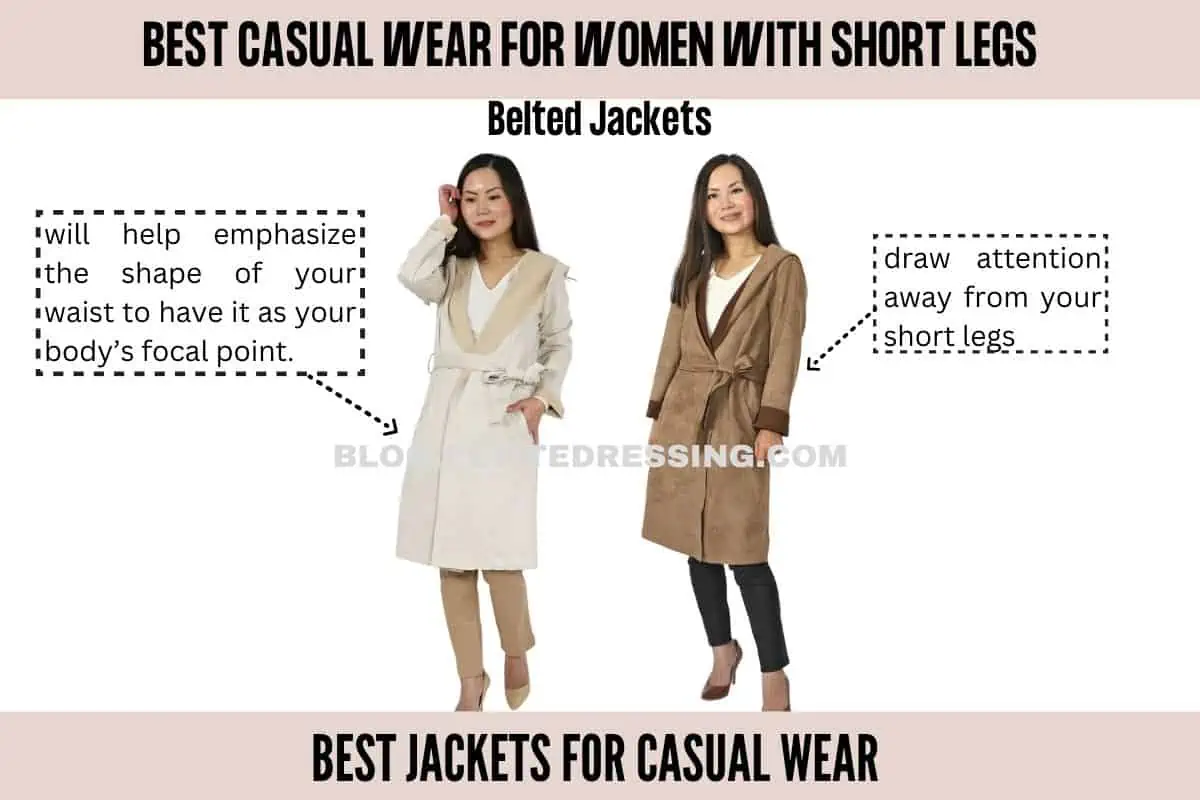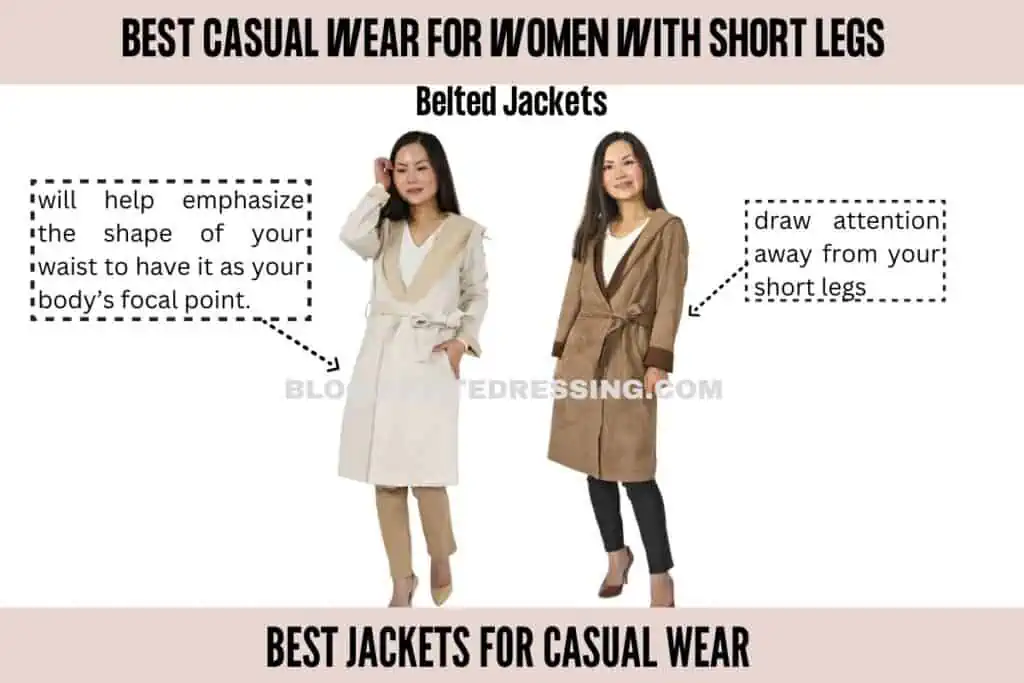 JEANS
High-waisted Jeans
High-waisted jeans will always be an unrivaled best option for ladies with short legs because this strategic structure will instantly elevate your look by visually elongating your legs. You won't even look petite at all with a nice pair of high-waisted jeans on!
As the waistband is higher than where the natural waistline is, high-waisted jeans draw the eyes way higher for a slimmer and longer visual effect. They are also very versatile so you can pair them with a wide variety of casualwear pieces.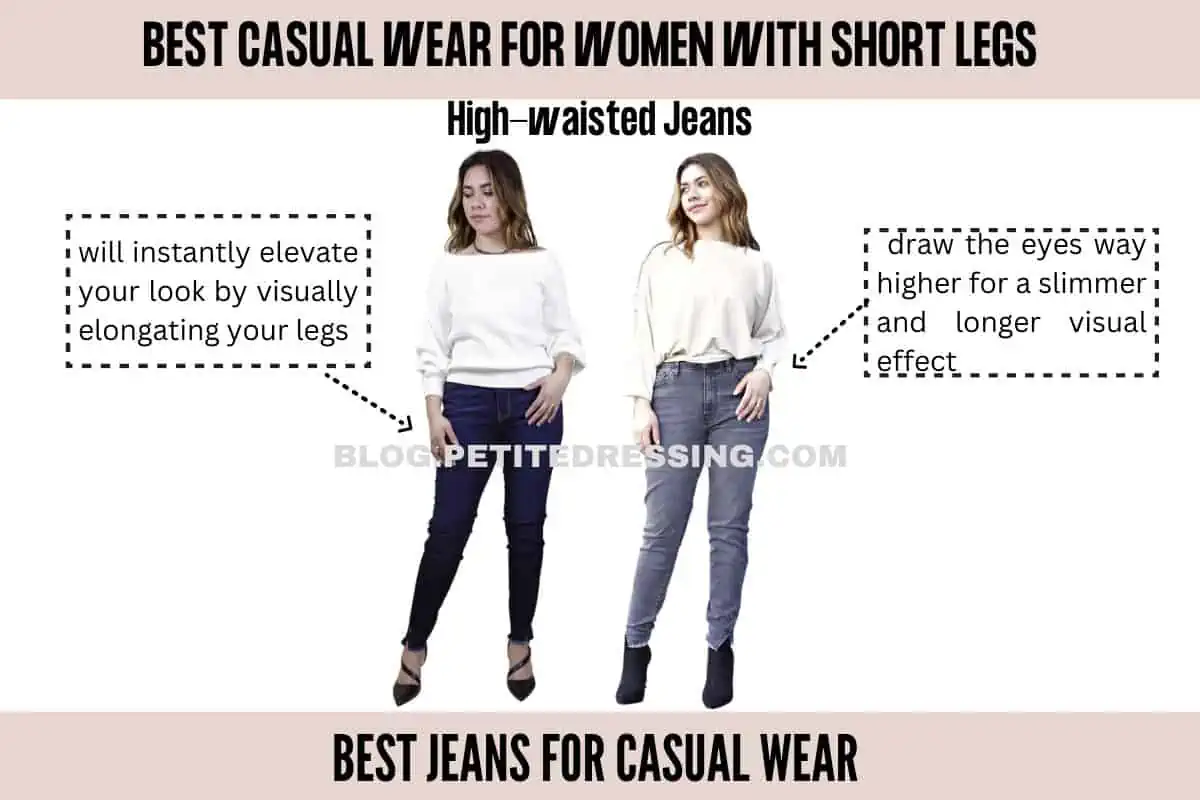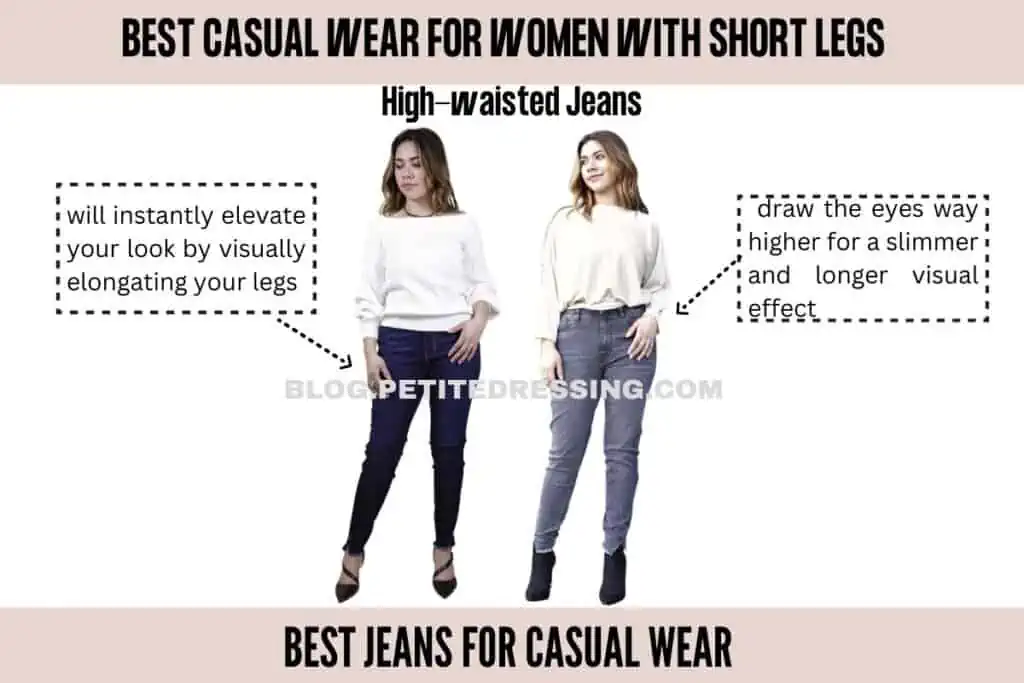 Structured Straight-Leg Jeans
The fit of the leg room of the pants is also a very important factor when it comes to choosing a pair of jeans for short legs. Structured jeans feature seam lines that highlight the shape of the legs without looking too restrictive while also drawing a straight, continuous line to elongate the legs.
If you're going for button shirts or tops that have a looser fit, then structured straight-leg jeans should complete your comfy casualwear.
Bootcut Jeans
Bootcut jeans give a little spice to your usual straight-cut jeans as it features a silhouette that's slightly flared from the knee to the hem. This effect enhances your curves while also giving your legs an elevated length.
It's also subtly tapered so its slim-fit style enhances your thighs while the widening effect by the calves adds more style. Bootcut jeans would be great to pair with your tight-fitting tops.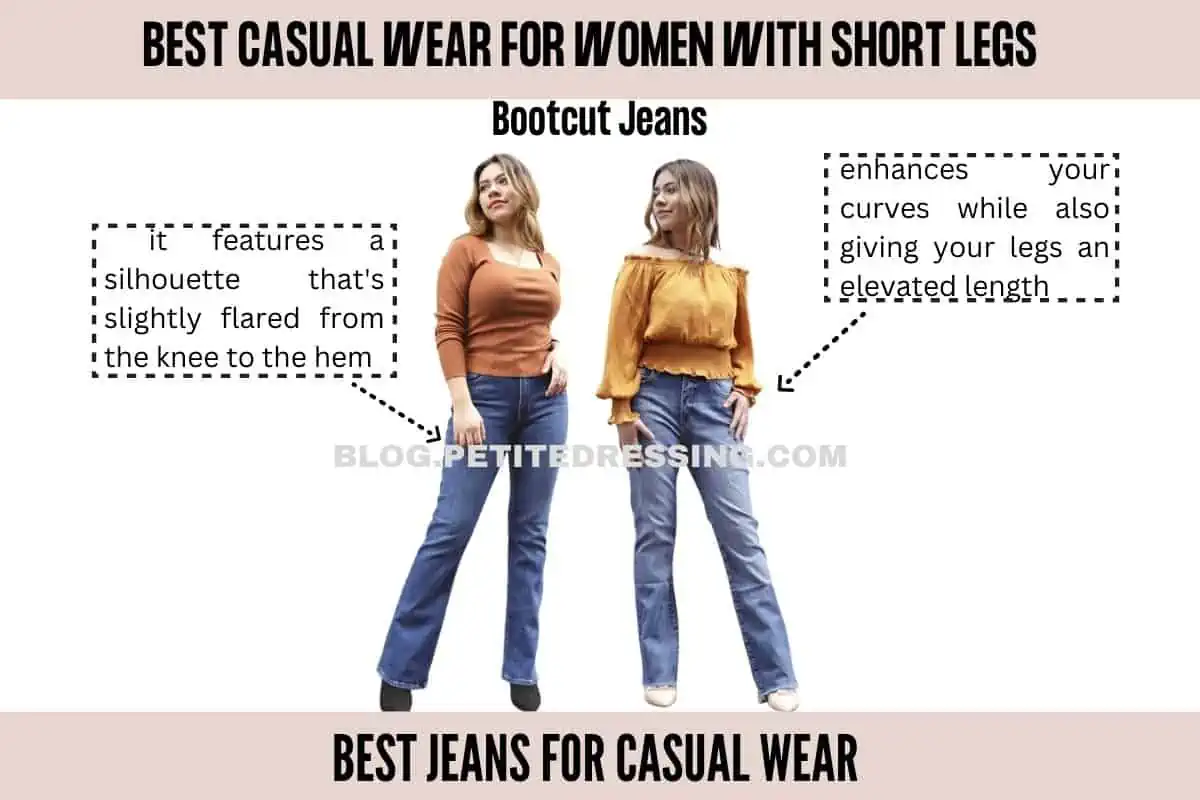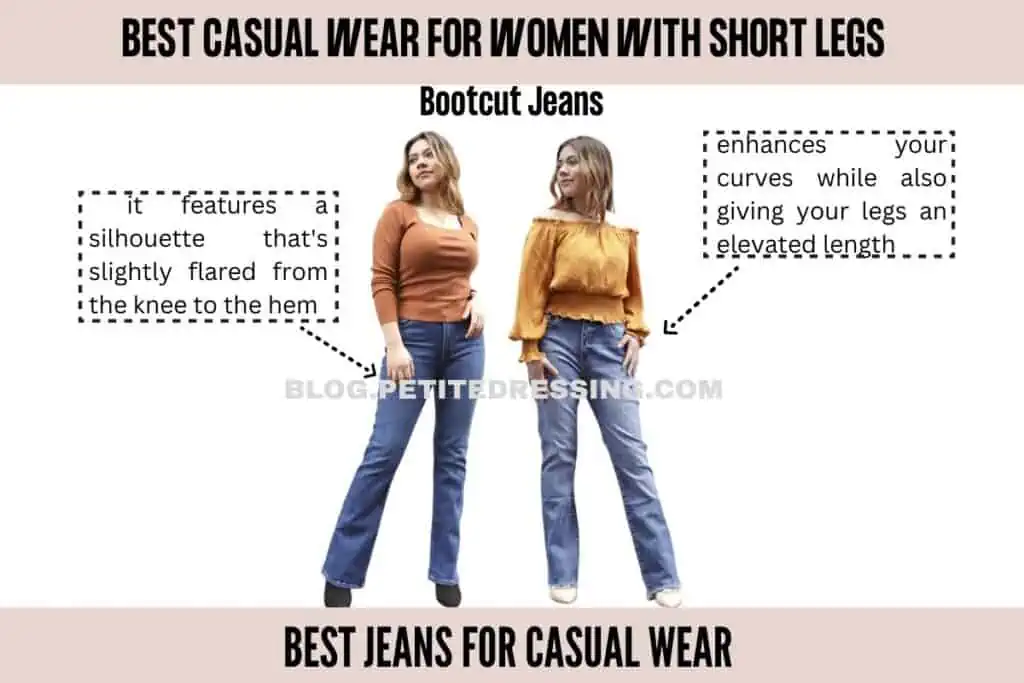 DRESSES
Mini Dresses
The goal is to make your short legs appear longer and that is what mini-dresses effectively do! No fuss and frills, you just wear it and because it features a short length, it gives your legs more exposure.
Mini dresses usually have hems that fall above the knee level, usually around 20 centimeters above the knee. This proper amount of length exposes more of your legs and therefore visually creates the illusion of them being longer and more defined.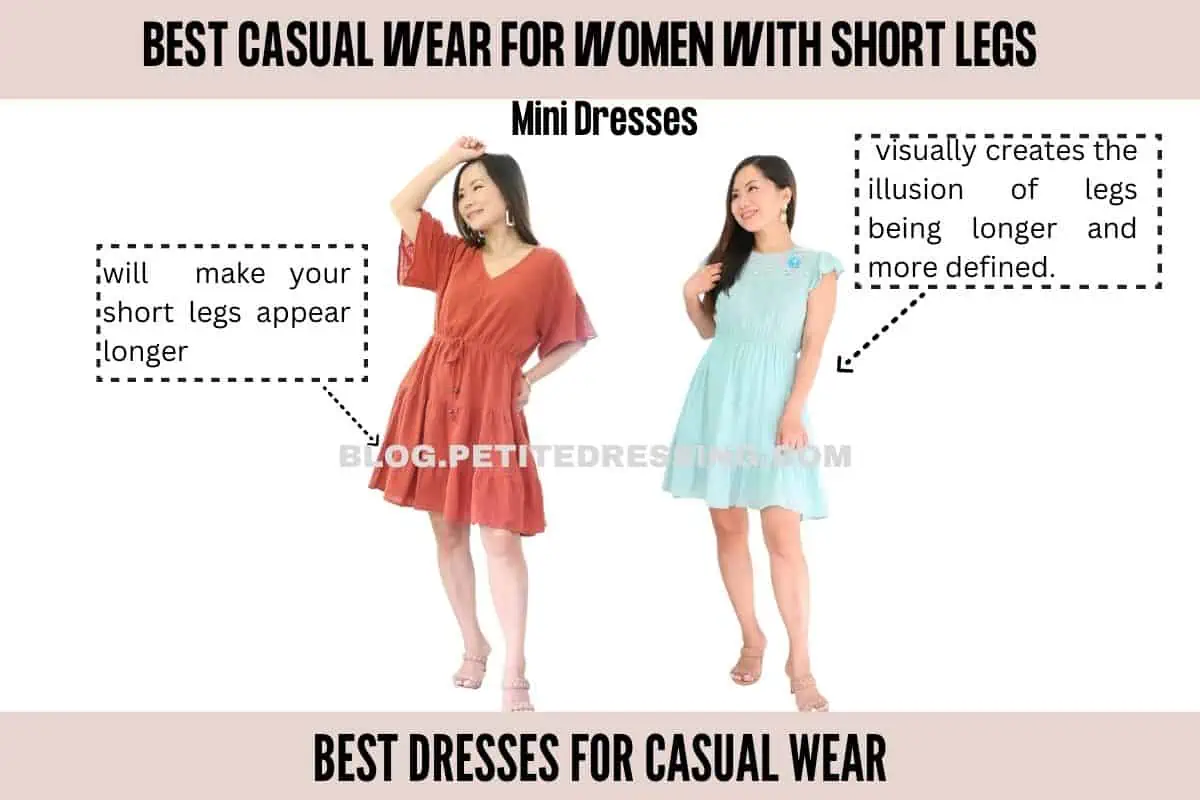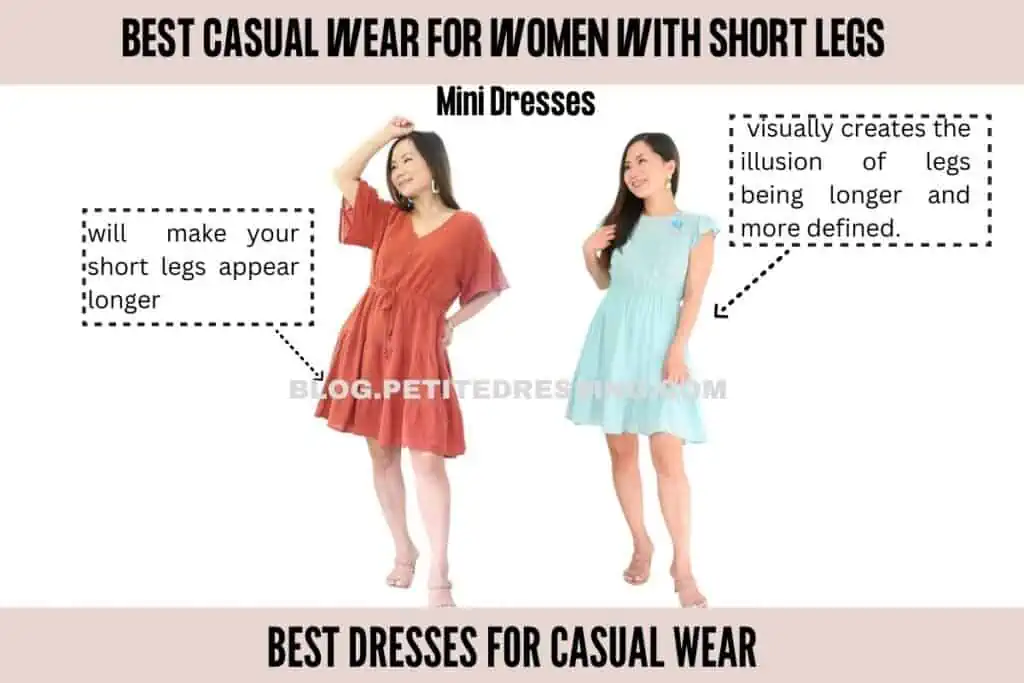 Dresses with Vertical Patterns
Vertical patterns are generally quite helpful if you're looking to make your frame look taller as they draw the eyes up and down. It doesn't always have to be a print, but can also be vertical details or seams that will elongate your figure.
Try to avoid very obvious horizontal patterns as much as possible, especially on the skirt part of the dress. This is because such patterns can make your look wider and shorter.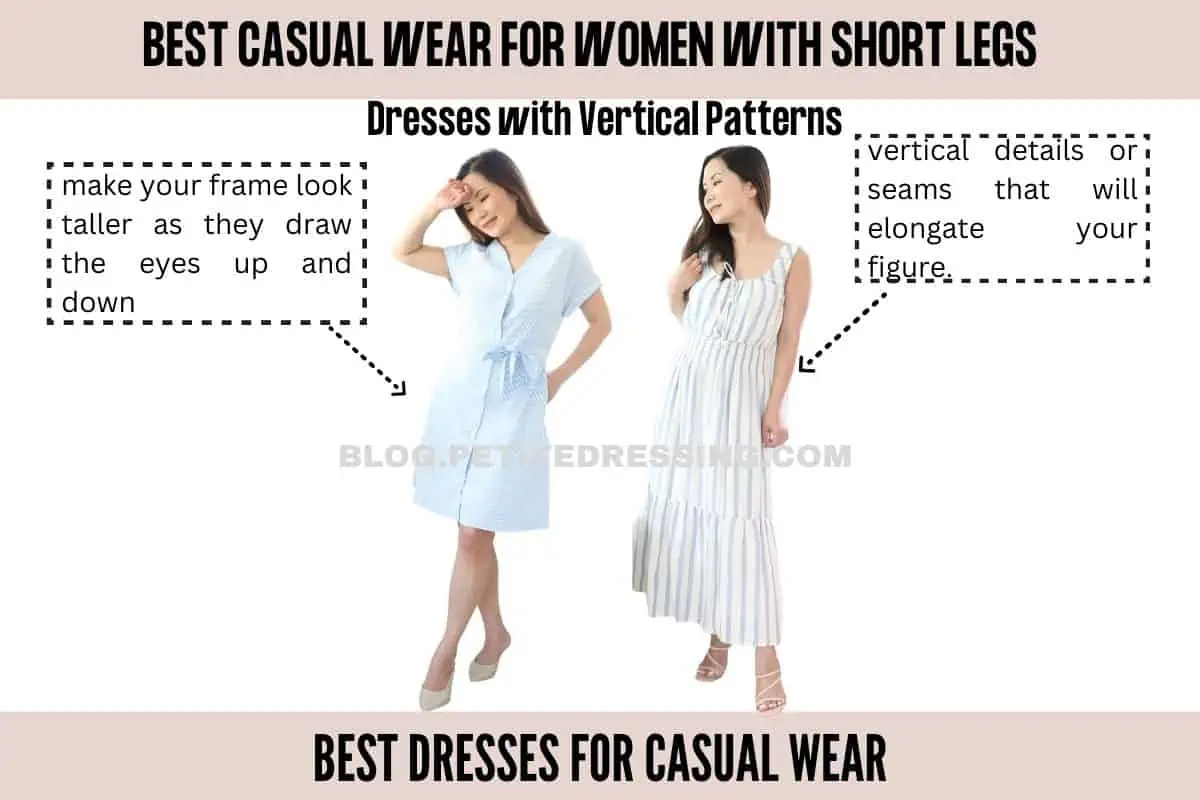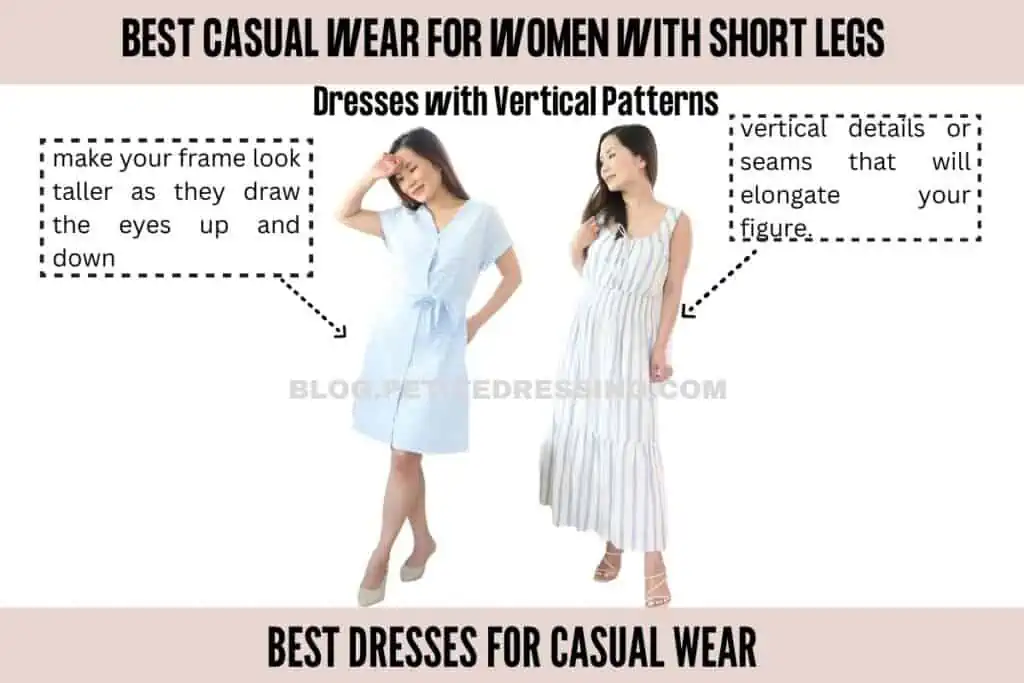 Empire Waist Dresses
Empire waist dresses help create the illusion of a longer and slimmer body frame due to their raised waistline that sits just under the bust. This style can also be a flattering choice for women with short legs as it can help to balance out their proportions and make them look taller.
However, if apart from your short legs, you're also concerned about your short torso, then you should skip empire waist dresses. While it helps elongate your lower body, it also shortens the height of your upper body which can be quite unflattering for those with short torsos.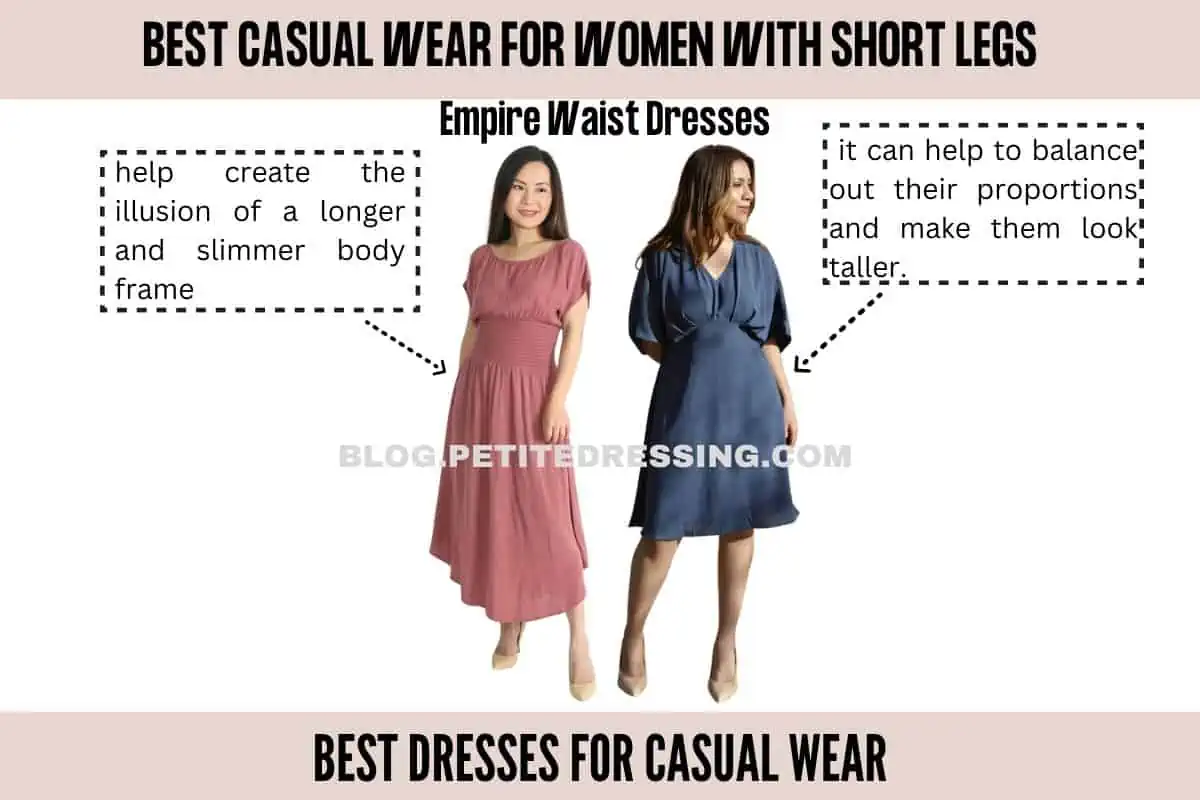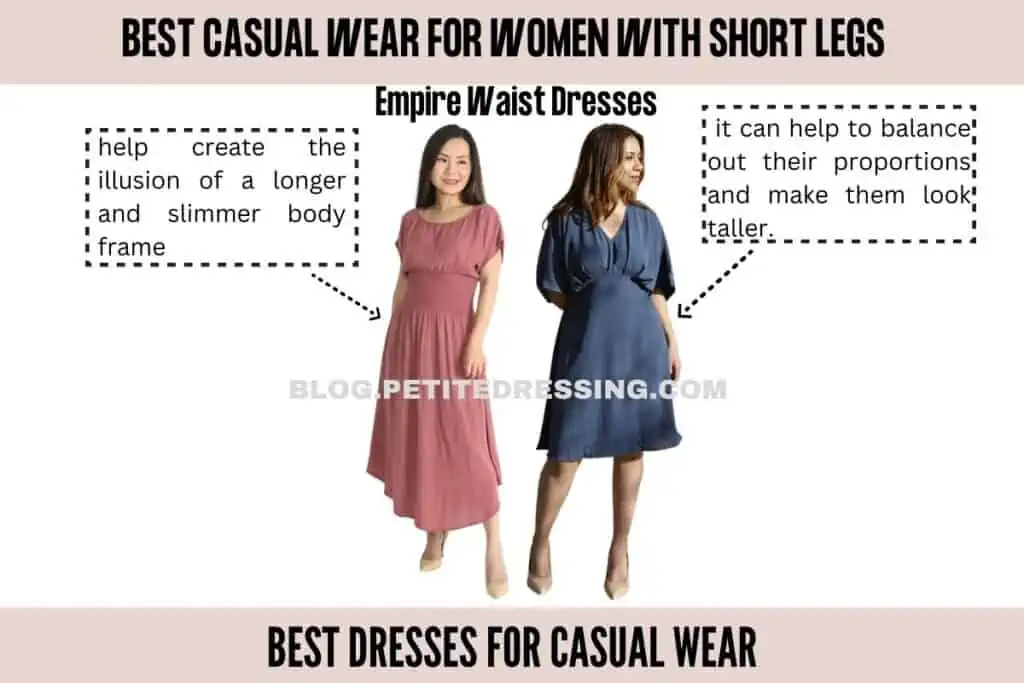 JUMPSUITS/ROMPERS
Rompers with Minimalist Designs
Rompers that don't feature a lot of frills would be an amazing wardrobe piece for girls with short legs. As rompers go straight from the shoulders to the hem, it creates a continuous line that makes you appear taller.
As rompers usually have a bottom that resembles regular shorts, then this short length also shows more of your legs and therefore shares the same style principle of mini dresses. Just try not to go for rompers with overwhelming flounces of fabric or bulky details.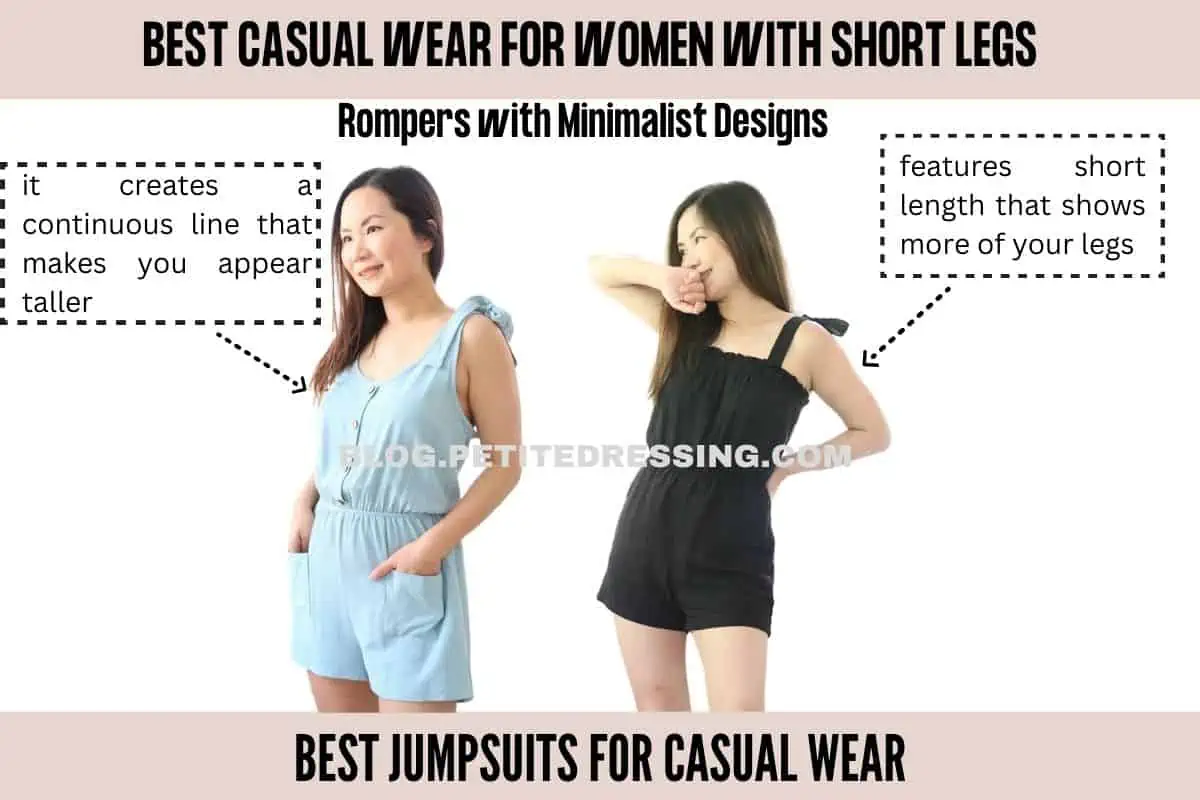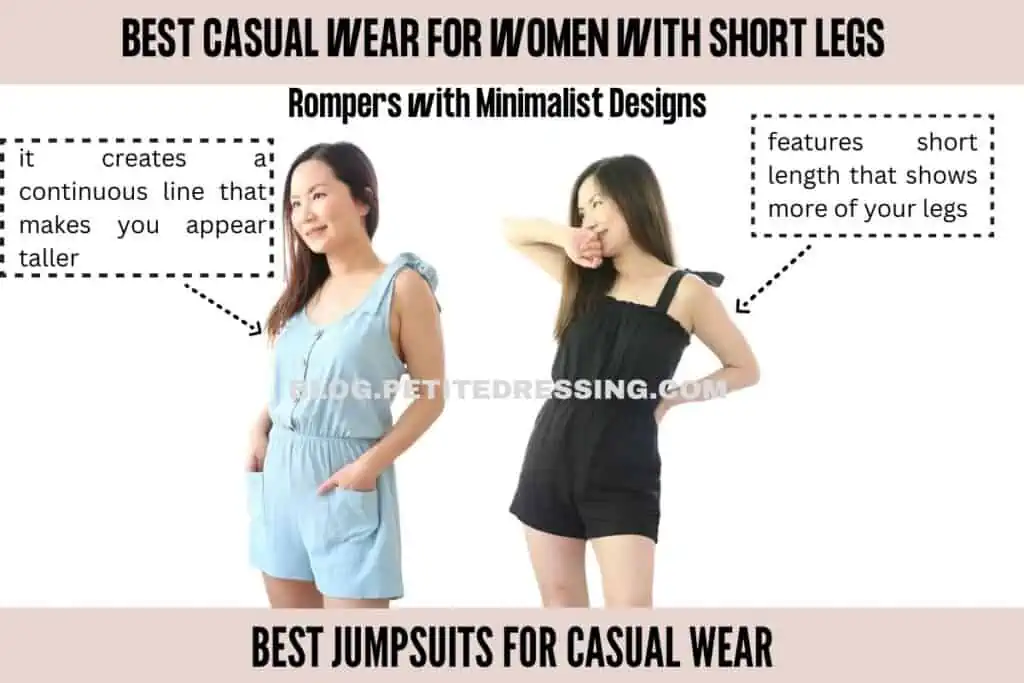 The Key Takeaway
There are many of us out there with short legs so don't feel too conscious about them! By going for these wardrobe pieces we have listed, you will be able to visually tweak your frame to add a few centimeters to your height.
All it takes is for you to properly play with your proportions and try to keep your upper and lower body ratio balanced.