Sun dresses are incredibly flattering to women with short legs, but that's if you make the right choice. With the perfect sundress, you'll be turning heads everywhere you go. You don't have to worry about those that conceal your body frame or make your height too obvious.
This sun dress guide for women with short legs has everything you need to know about picking the right sun dresses for your petite frame and still coming out looking fabulous.
What to look out for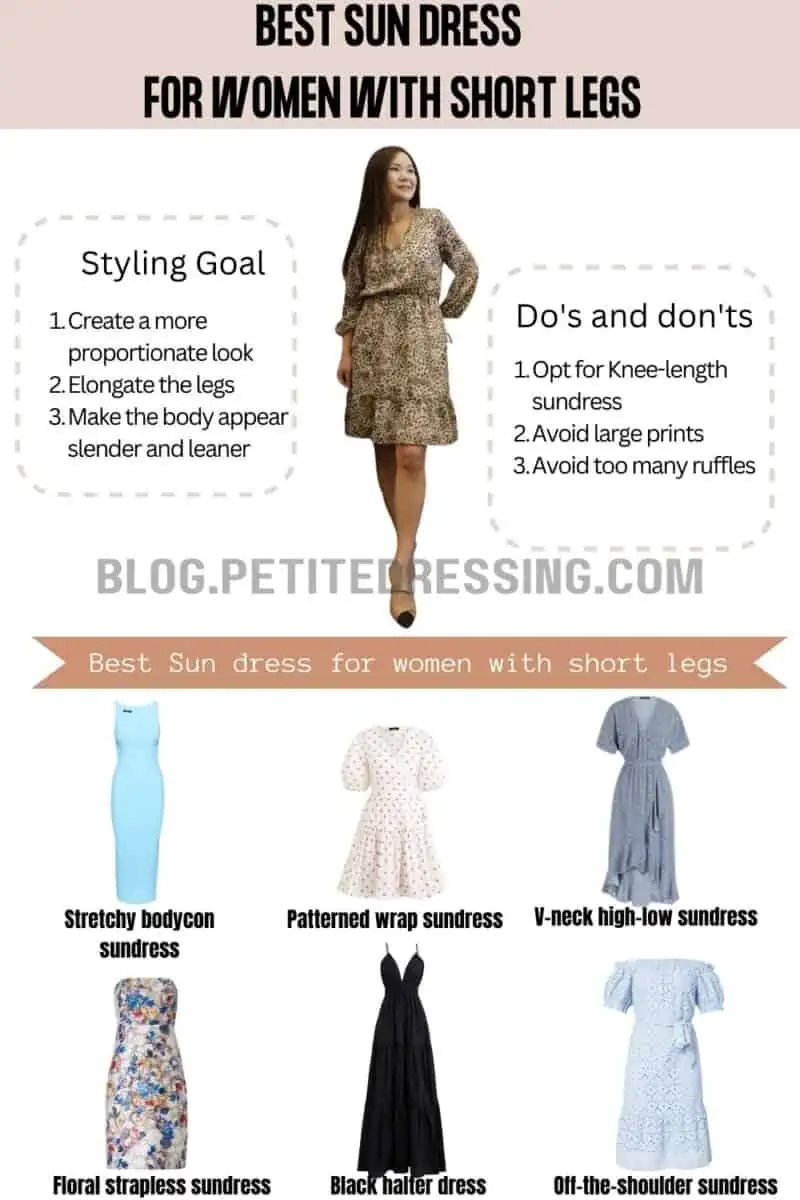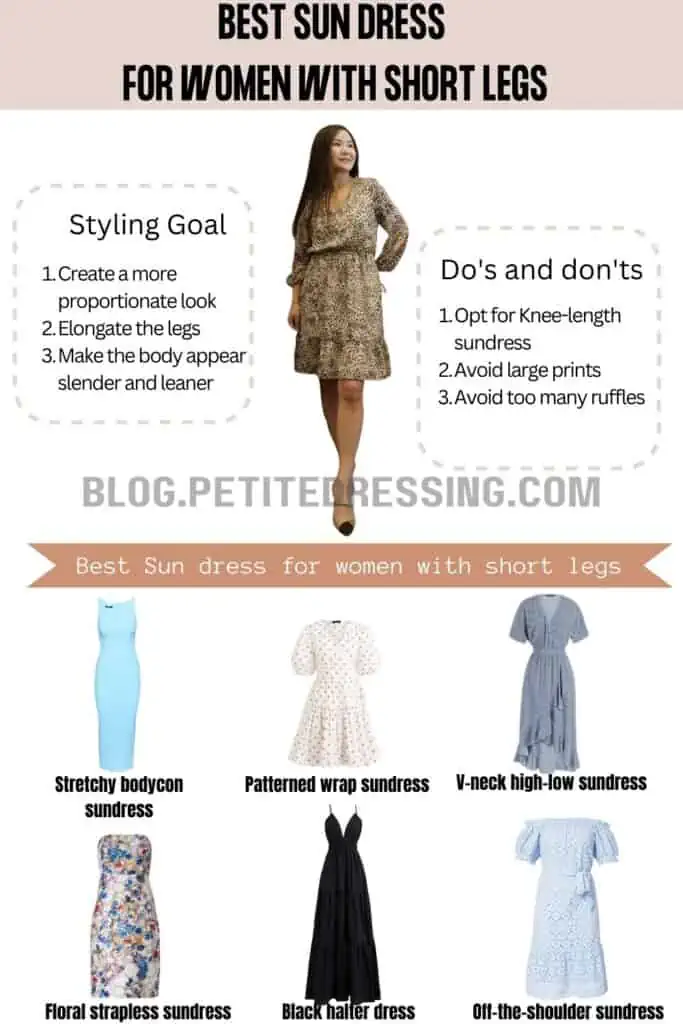 Cinched waist
As a woman with short legs, you should look out for sundresses with higher waistlines when shopping. A higher waistline on dresses is a great option for you as they help you create a more proportionate look.
Therefore, there will be less attention on your lower body while all the attention is drawn toward your upper body. Of course, there's also the extra perk of a higher waistline making shorter women appear taller.
Overall, you should look out for this if you want an overall flattering look that will have you stepping out in confidence and comfort.
The Right Length
Length is also another important factor to consider when looking for sundresses for women with short legs. Usually, we recommend knee-length or dresses that are just above the knee. This is the perfect length to create the illusion of being taller as they elongate your legs.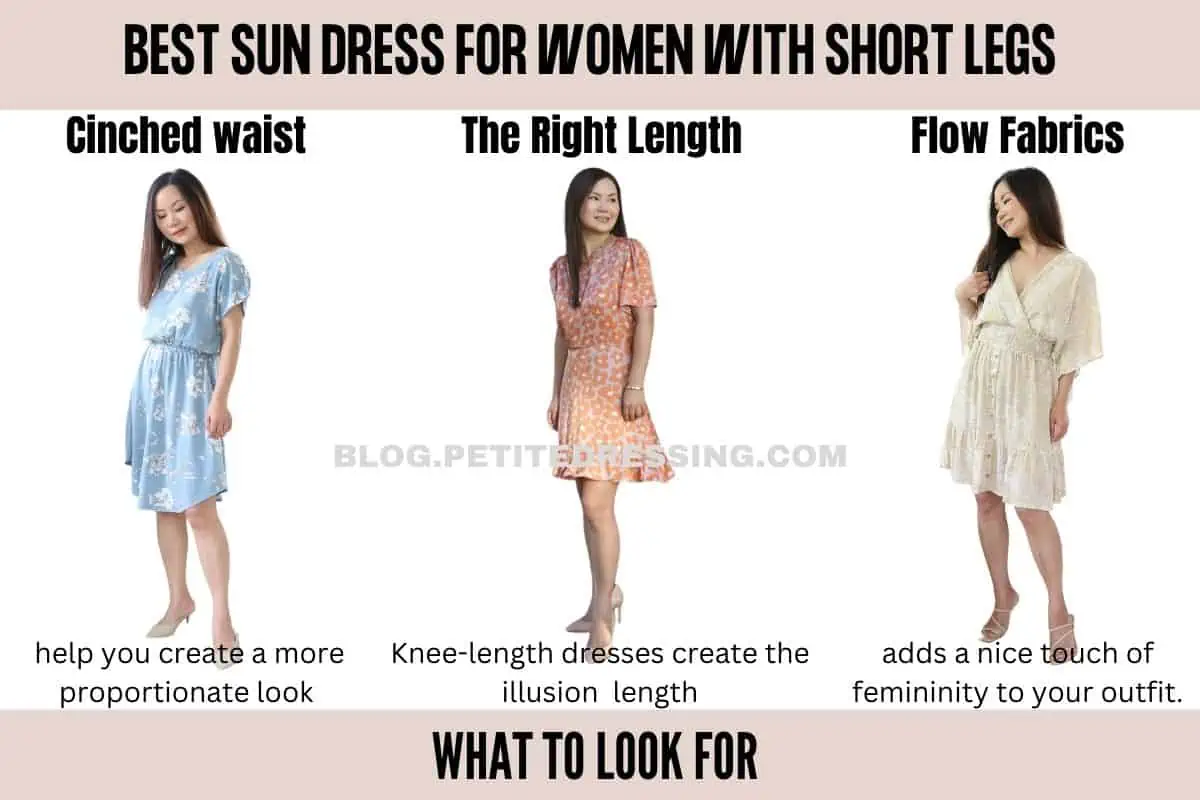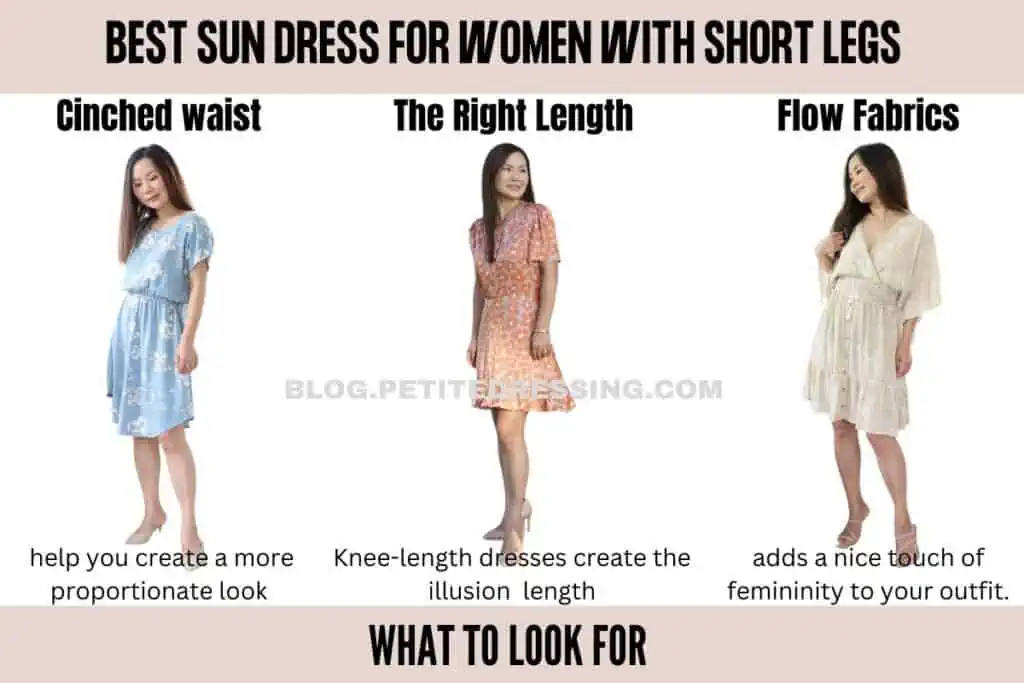 It's important to avoid dresses that are too long as these will only make you look shorter. Mini dresses are not a bad idea either, as you get to appear taller while showing off your great legs. Still, mini-dresses don't work for all occasions.
Overall, knee-length sundresses work in almost all situations. Feel free to experiment with the lengths and styles that work best for you.
Flow Fabrics
Depending on your choice of flowy fabrics, this can be both good and bad. Women with short legs can wear flow fabrics like silk and chiffon as these are light, while also adding a nice touch of femininity to your outfit.
However, you should avoid flowy fabrics that are too big as they add too much bulk to your body, making you appear shorter. It's also important to look out for what you'll be pairing them with. A fitted top on a flowy skirt will give you a more elongated look but heavy-looking flowy dresses will only weigh you down.
Fit and flare dress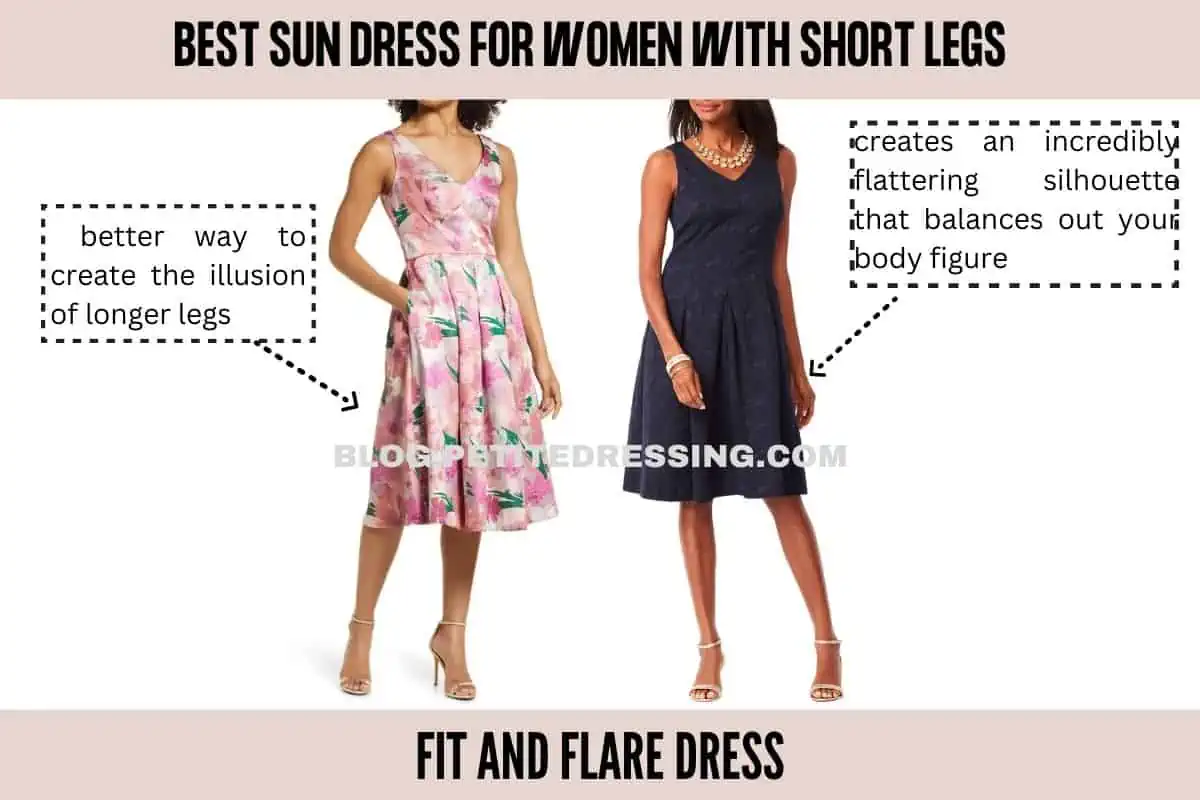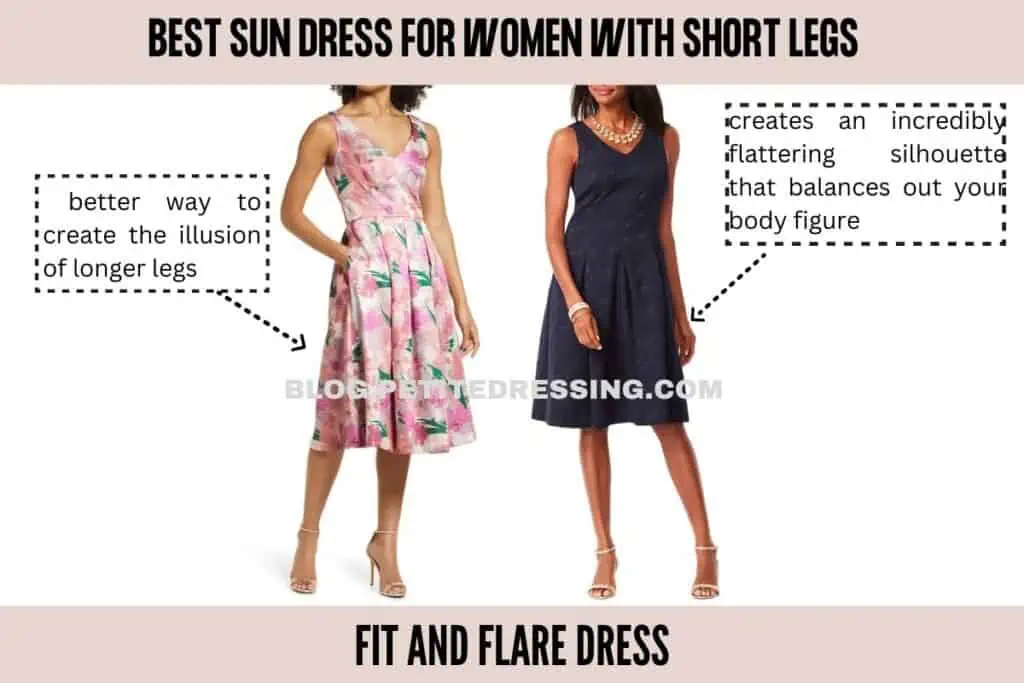 What better way to create the illusion of longer legs on women with short legs than with fit and flare dresses? Fit and flare dresses usually have a fitted bodice and flare skirt that makes the legs appear longer as they elongate the torso.
Overall, this creates an incredibly flattering silhouette that balances out your body figure. Another huge advantage of fit and flare dresses for women with short legs is that the flare gives the illusion of your legs always moving, which adds to the illusion of length.
Pair this with a pair of heels or wedges, and you have a complete look that makes you look more beautiful than ever.
Off-the-shoulder sundress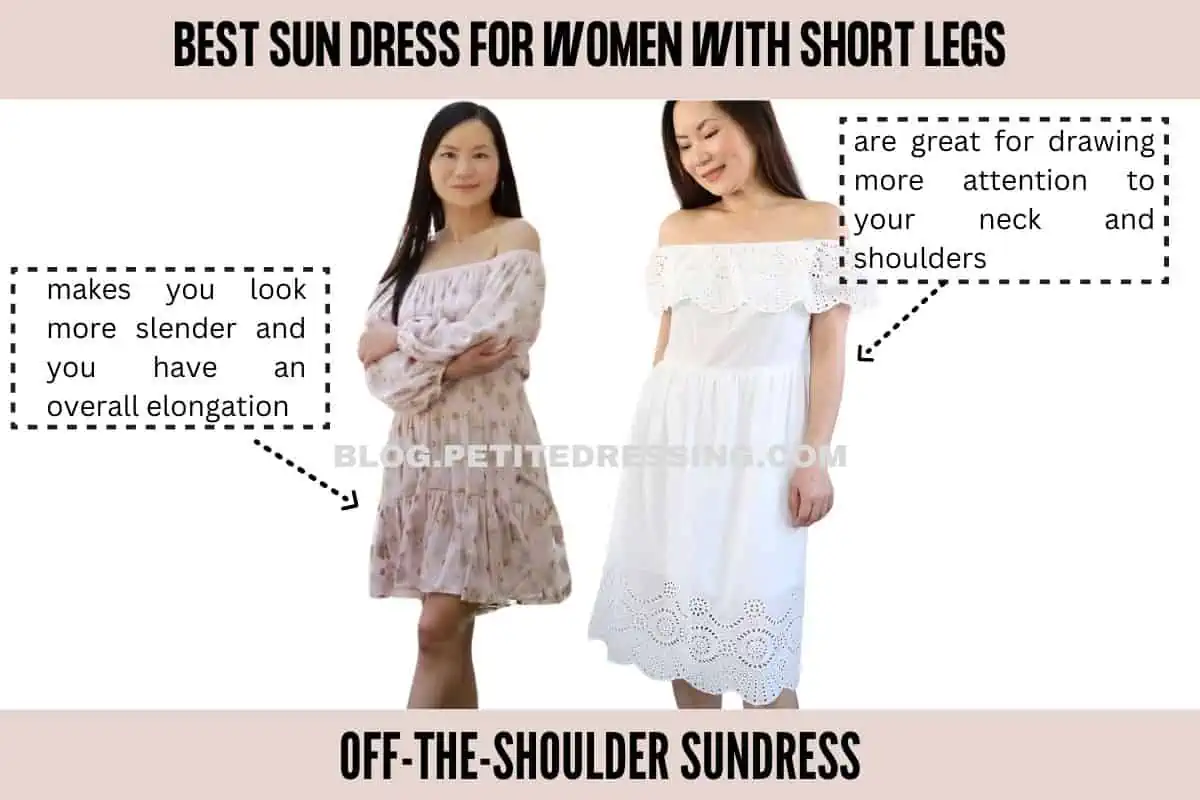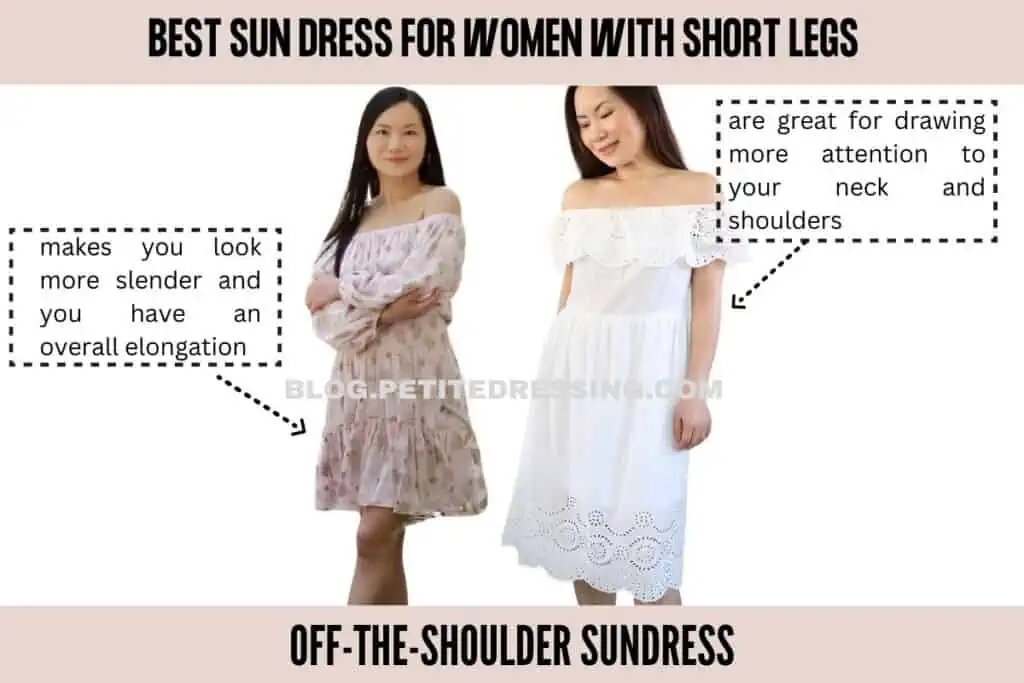 Off-the-shoulder styles on dresses are great for drawing more attention to your neck and shoulders. The great thing about this is that with attention on your upper body, there's the perfect illusion of longer legs.
So, your upper body looks more slender and you have an overall elongated look that's incredibly flattering to your figure. We love off-the-shoulder dresses because of their A-line silhouette where the triangle shape makes your leg look longer.
However, this works best with an off-the-shoulder dress whose hemline is at knee-length. Go for sundresses that are made from light and breathable fabrics like cotton, so you'll feel super comfortable even on hot days.
This is one of the best ways to effortlessly create a look that's great for casual outings as it has a relaxed look.
Floral strapless sundress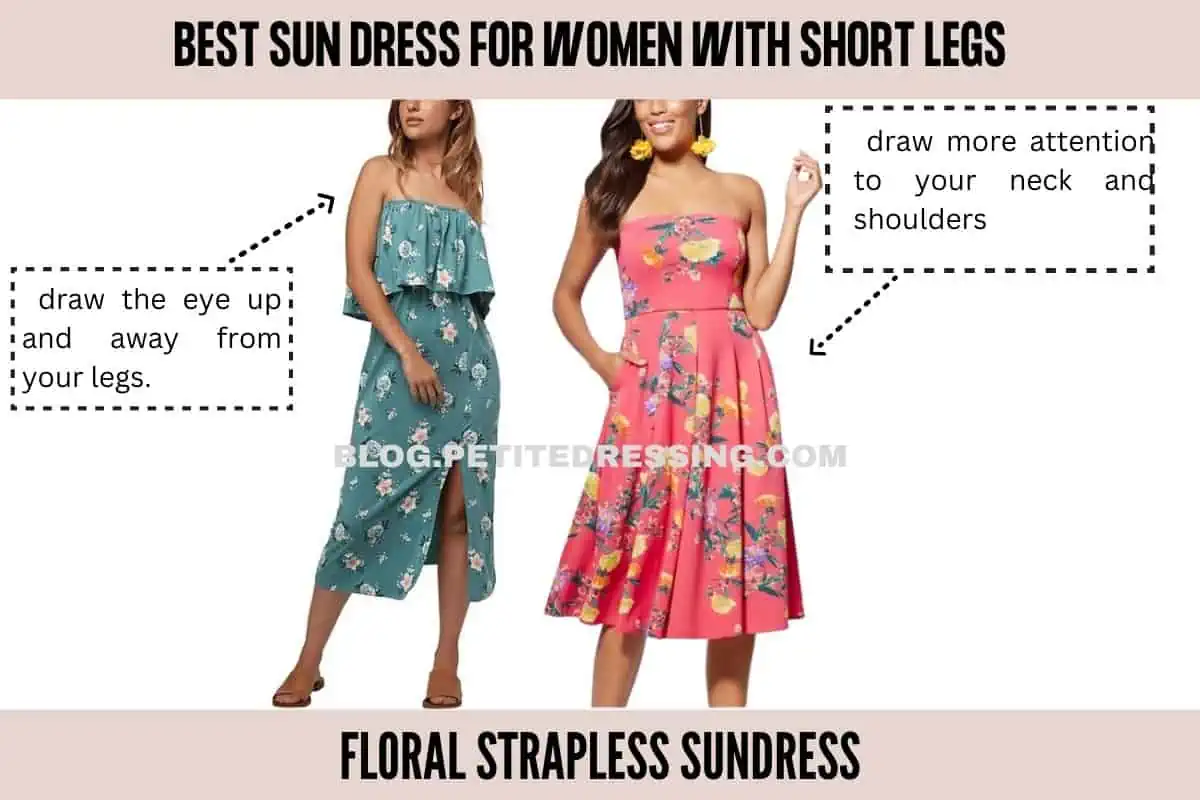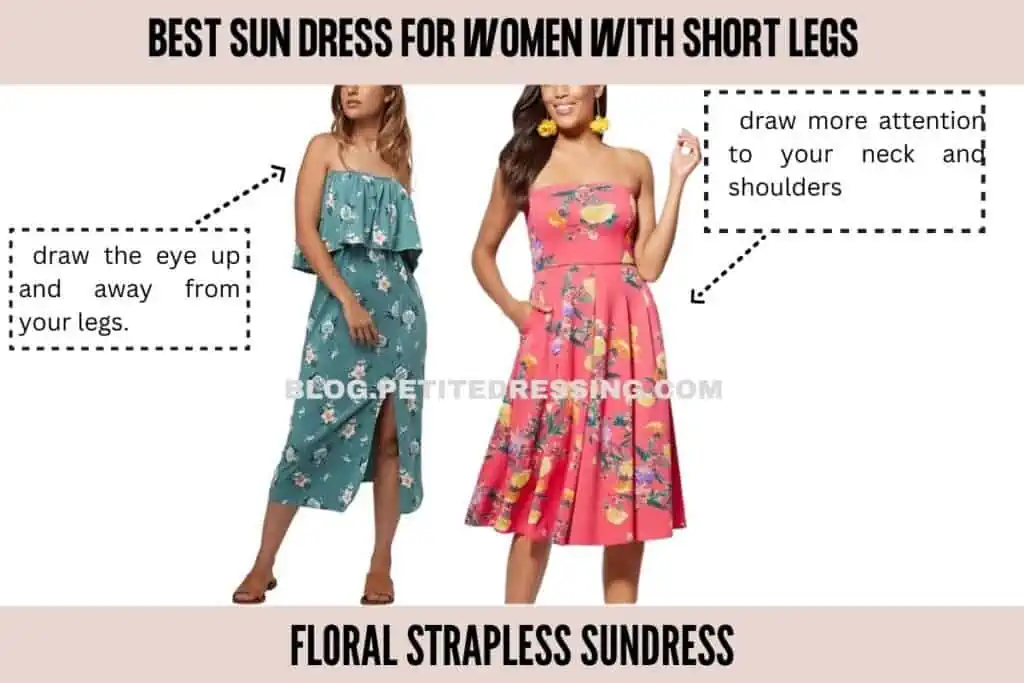 Just like off-the-shoulder style dresses, strapless styles also draw more attention to your neck and shoulders. This works great with floral patterns which draw the eye up and away from your legs.
You can rock floral prints on your sundresses as they add a pop of color to outfits while giving off a playful and feminine vibe. However, be careful not to go for large patterns that can make you appear smaller.
Also, the perfect lengths are usually at knee level since this works perfectly in making your legs look longer. Getting the perfect sundress for women with short legs gets less complicated when you have a floral strapless sundress in your closet.
Black halter dress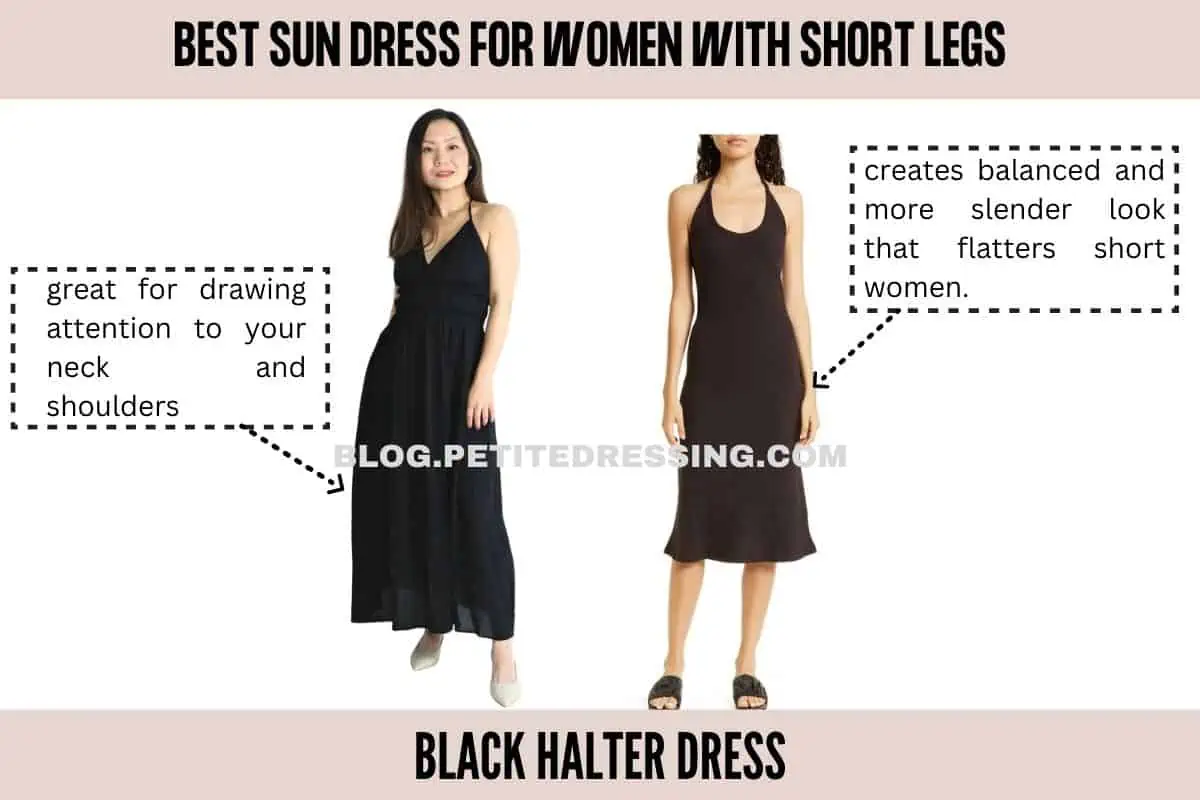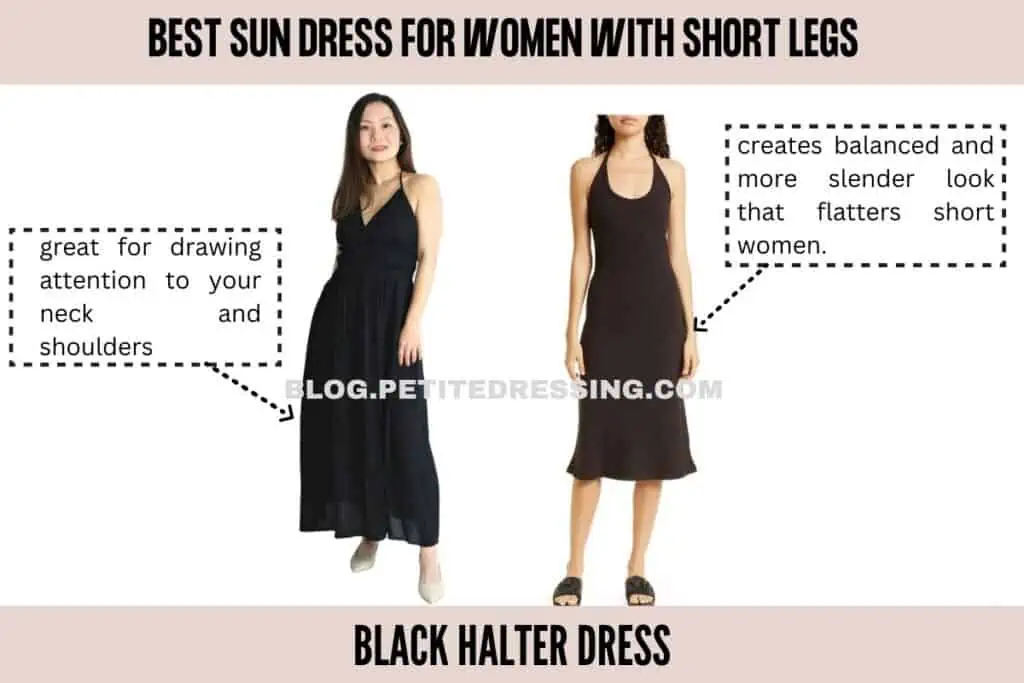 A black halter dress is a must-have in every short woman's closet and you're about to find out why. The halter dress style is great for drawing attention to your neck and shoulders since these are exposed elegantly.
Also, the straps are usually placed in a way that creates a v-shape on the upper part of your body, which is perfect for that balanced and more slender look that flatters short women. To rock this dress style best, your choice of shoes matters.
The go-to choice is heels for that leg elongation effect, and this is where wedges come in perfectly. We absolutely love how the open-back style of the stress gives a nice touch of glamor and elegance.
Also, the black color is a win any day because this is the best for creating a slimming effect that makes you appear taller.
V-neck high-low sundress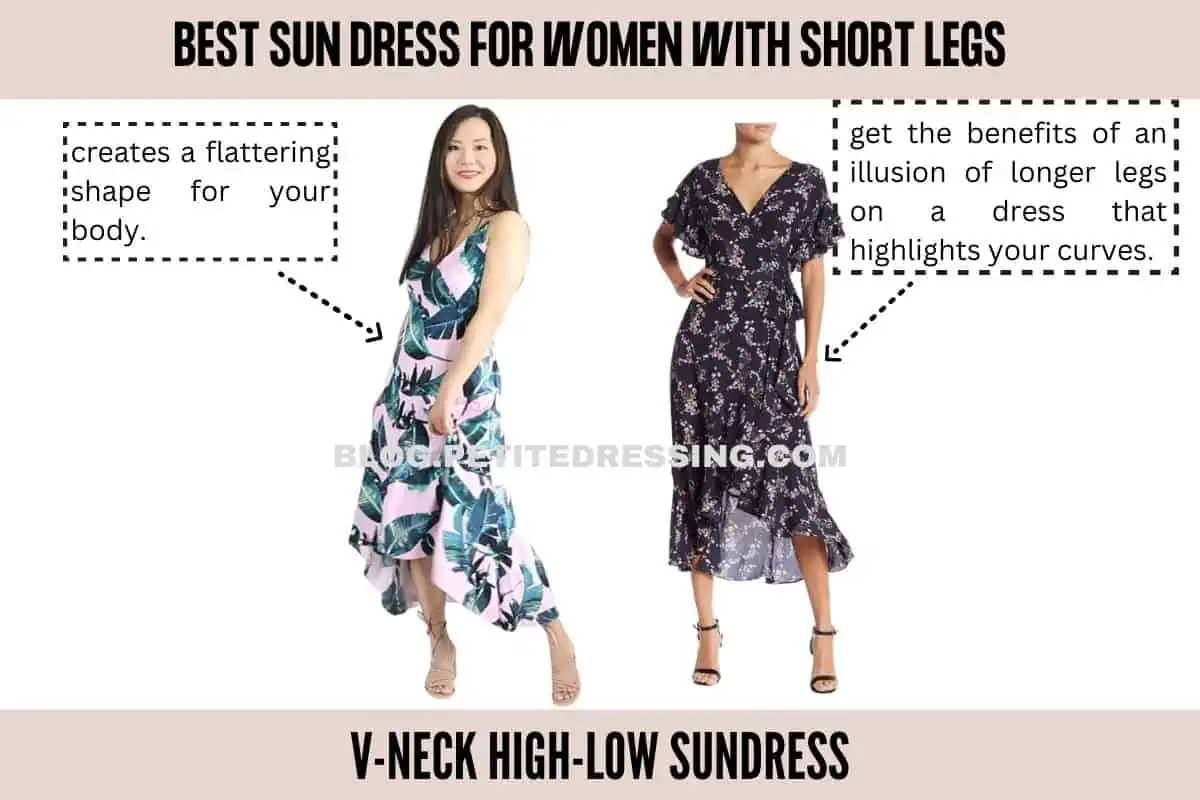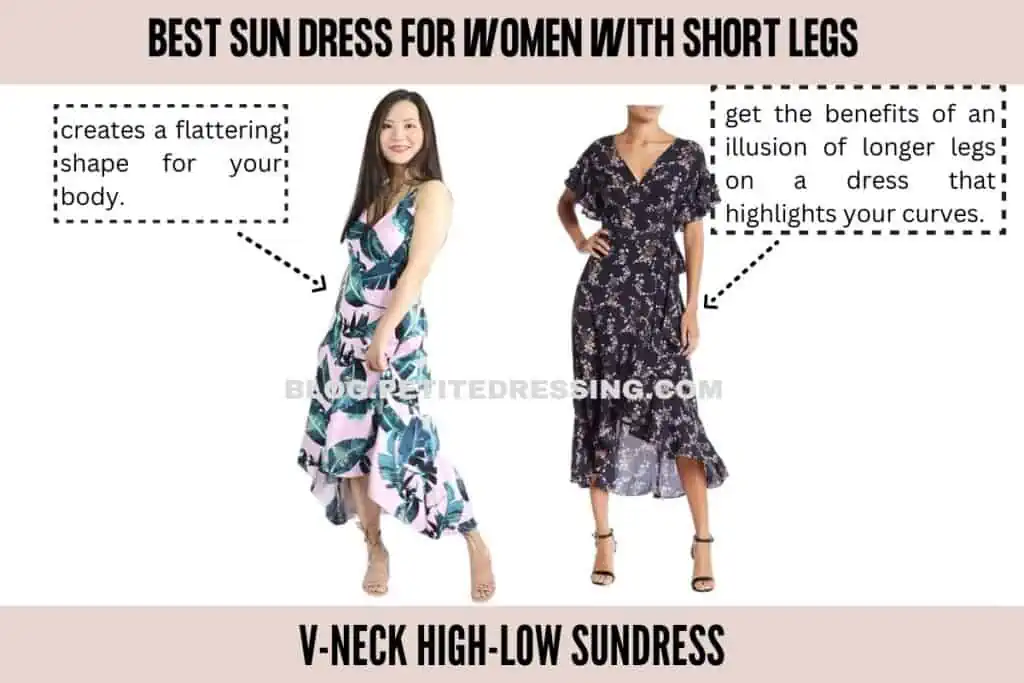 Use the high-low hemline in high-low dresses to make your legs look longer as these are usually shorter in the front and longer in the back. This flowy silhouette from your v-neck high-low dress creates a flattering shape for your body.
One of our best neckline recommendations for short women is the V-neckline which is known to add a nice touch of femininity. The overall effect of this is that you get the benefits of an illusion of longer legs on a dress that highlights your curves.
Patterned wrap sundress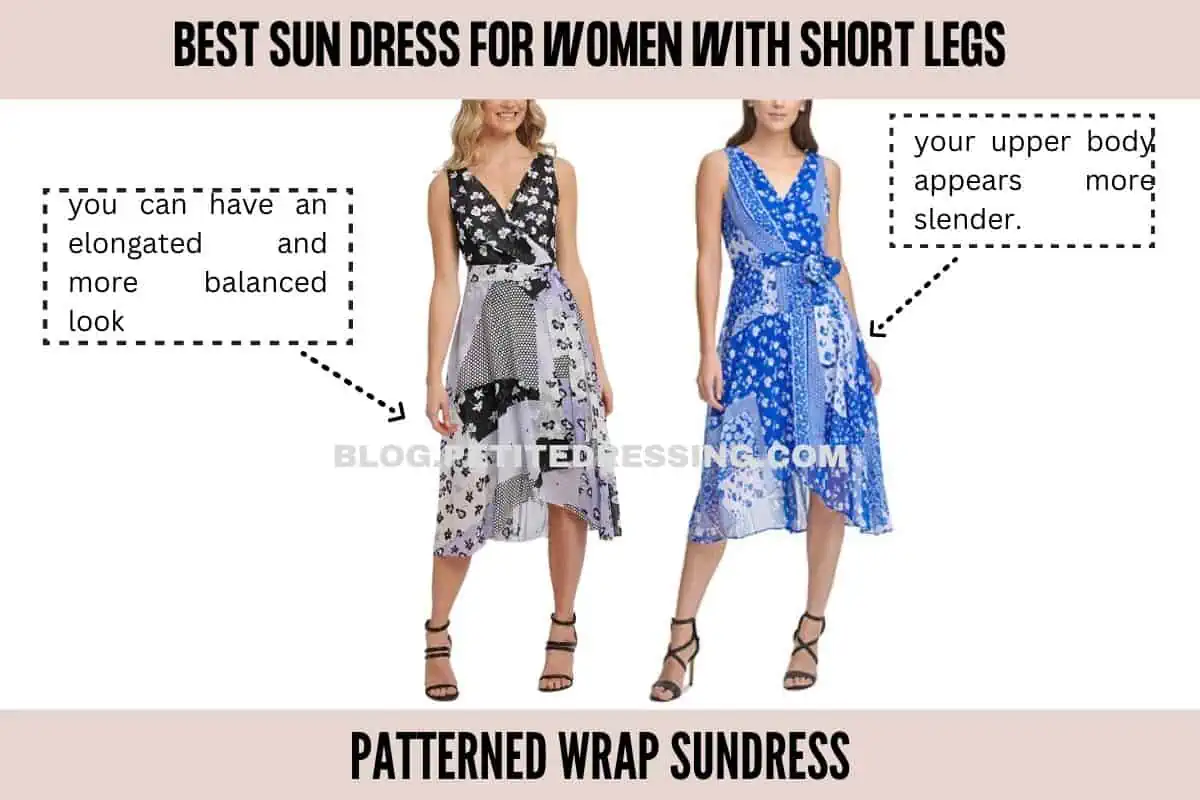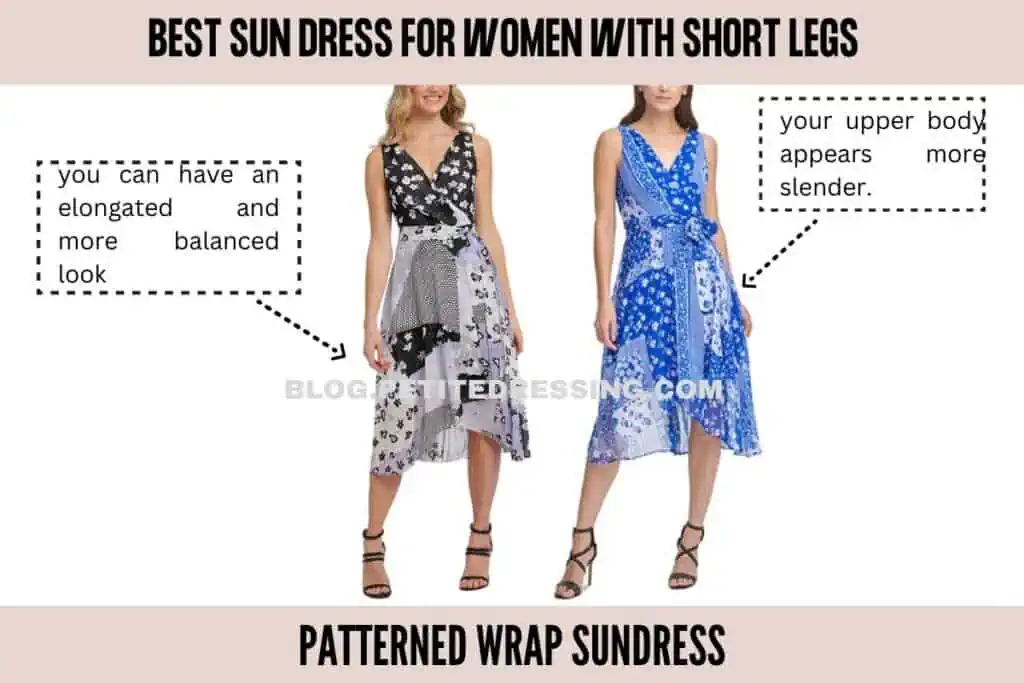 Wrap dresses are known for creating a cinched waist, which is exactly how they make your legs appear longer than they actually are. Overall, you have an elongated and more balanced look where your upper body appears more slender.
You'll love how versatile wrap dresses can be, as they can be dressed up or down depending on the event. So, you can rock this to a formal event or a casual outing, it's completely your choice.
Meanwhile, patterned wrap dresses are even better. The patterns give a delightful feminine touch and just like prints, be careful not to choose wrap dresses with overwhelming patterns.
Stretchy bodycon sundress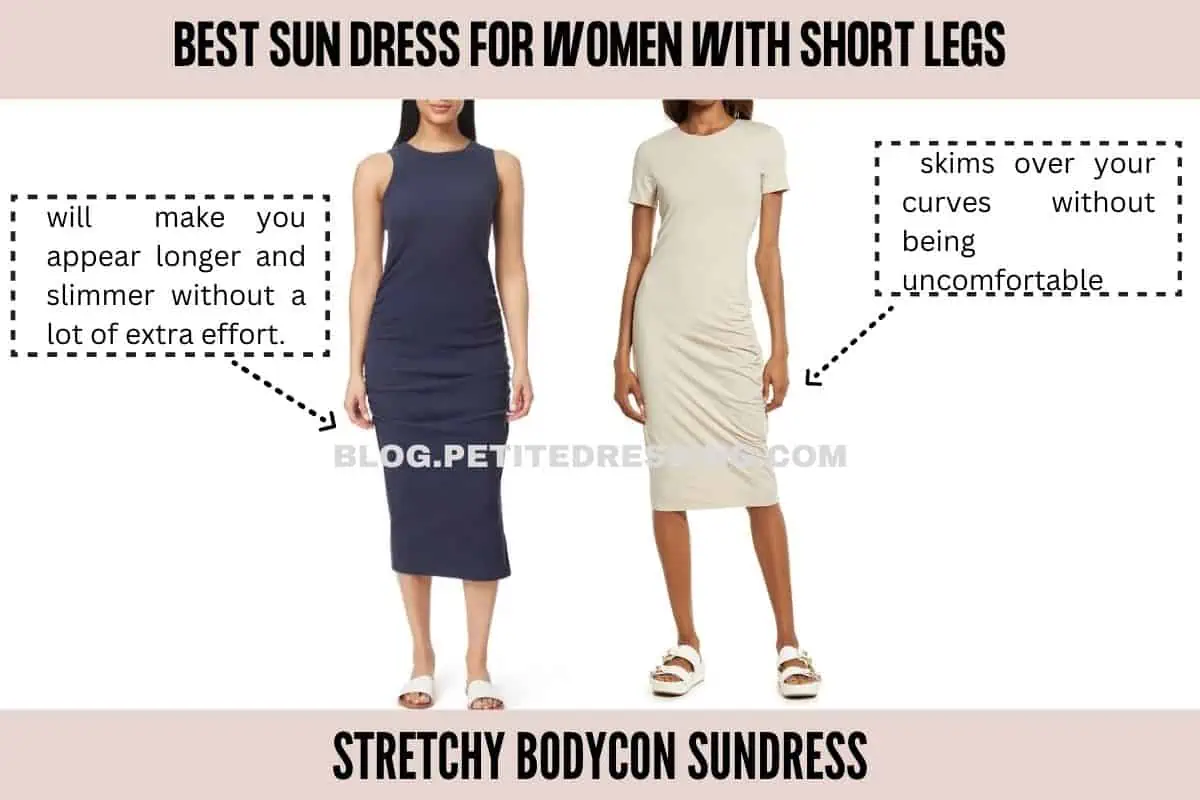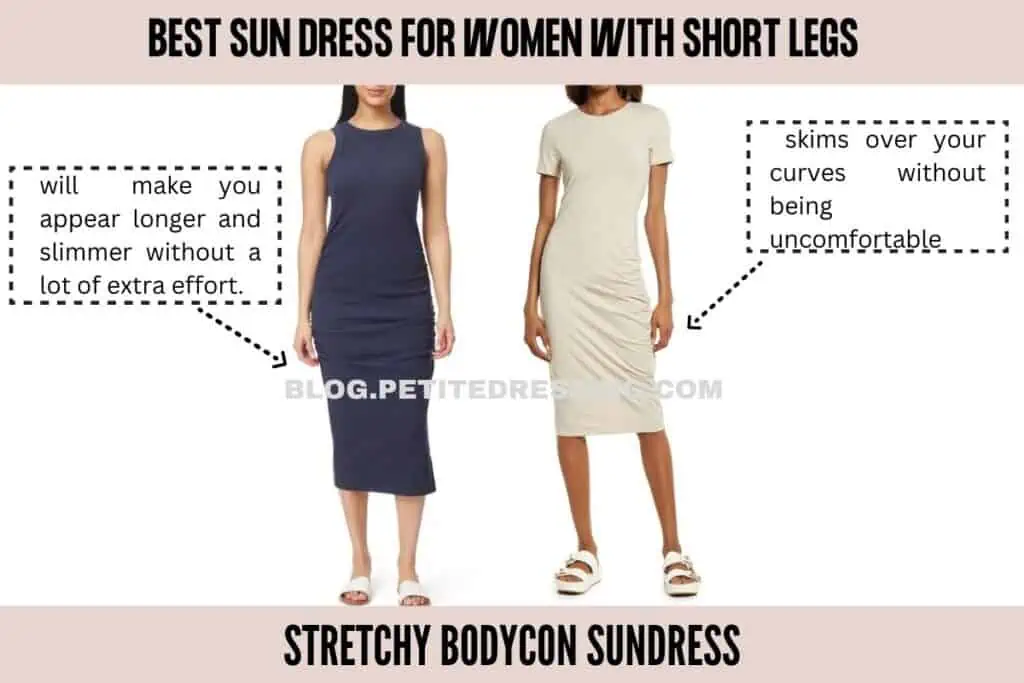 The fitted style of a stretchy bodycon dress is perfect for creating that sleek look that showcases your curves like a diva. The elongated look is usually smooth and flawless, so you appear longer and slimmer without a lot of extra effort.
Bodycon dresses have a fitted silhouette that skims over your curves without being uncomfortable. Overall, this silhouette makes your leg look longer, especially when the dress is knee-length.
We recommend stretchy fabrics because too-tight clothing will not create a flattering effect. This will only leave you uncomfortable and draw more attention to areas of your body that you wouldn't want more focus on.
Avoid too many ruffles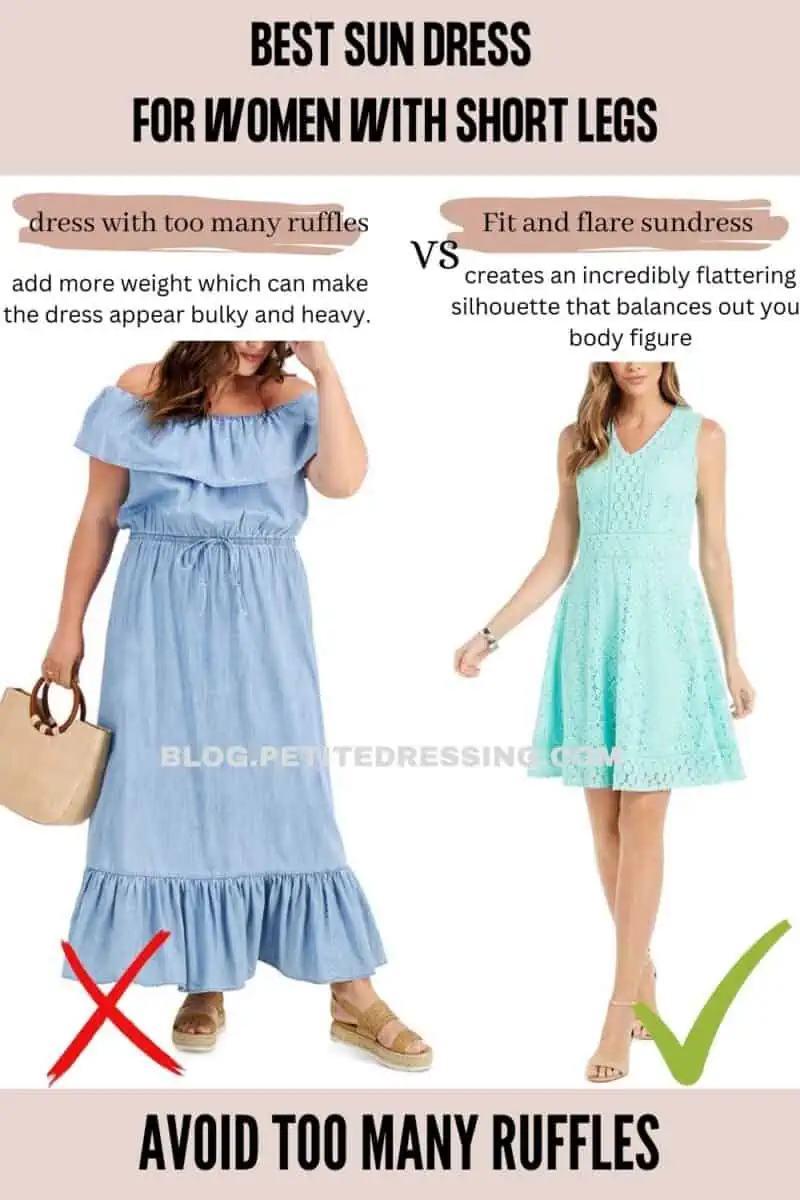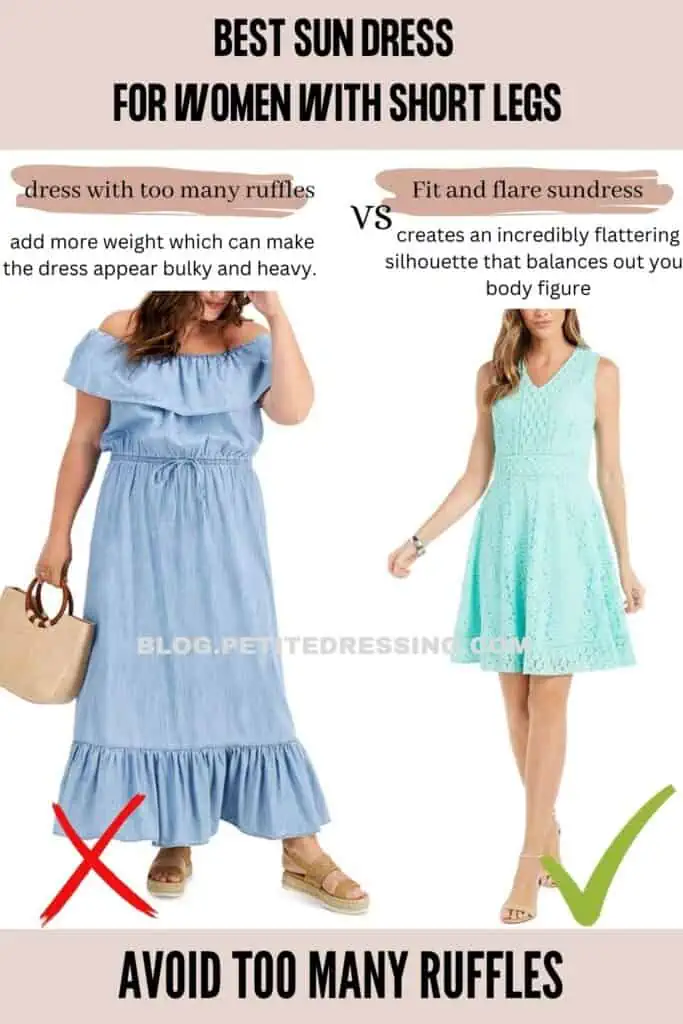 While ruffles can make any clothing style look more stylish and feminine, they may not be the best choice for women with short legs. Too many ruffles on a cloth add more weight which can make the dress appear bulky and heavy.
So, for short women, that can be a very uncomfortable look. So, to avoid looking much smaller than you are plus the discomfort of the dress being overwhelming, use only subtle ruffles if you must wear ruffled clothing.
Also, excessive ruffles give dresses a busy look and that draws attention away from your legs. With ruffles on your sleeves or hemline, that extra layer will make your body appear wider while your legs look shorter. Overall, this creates an illusion of a shorter body.
Avoid large prints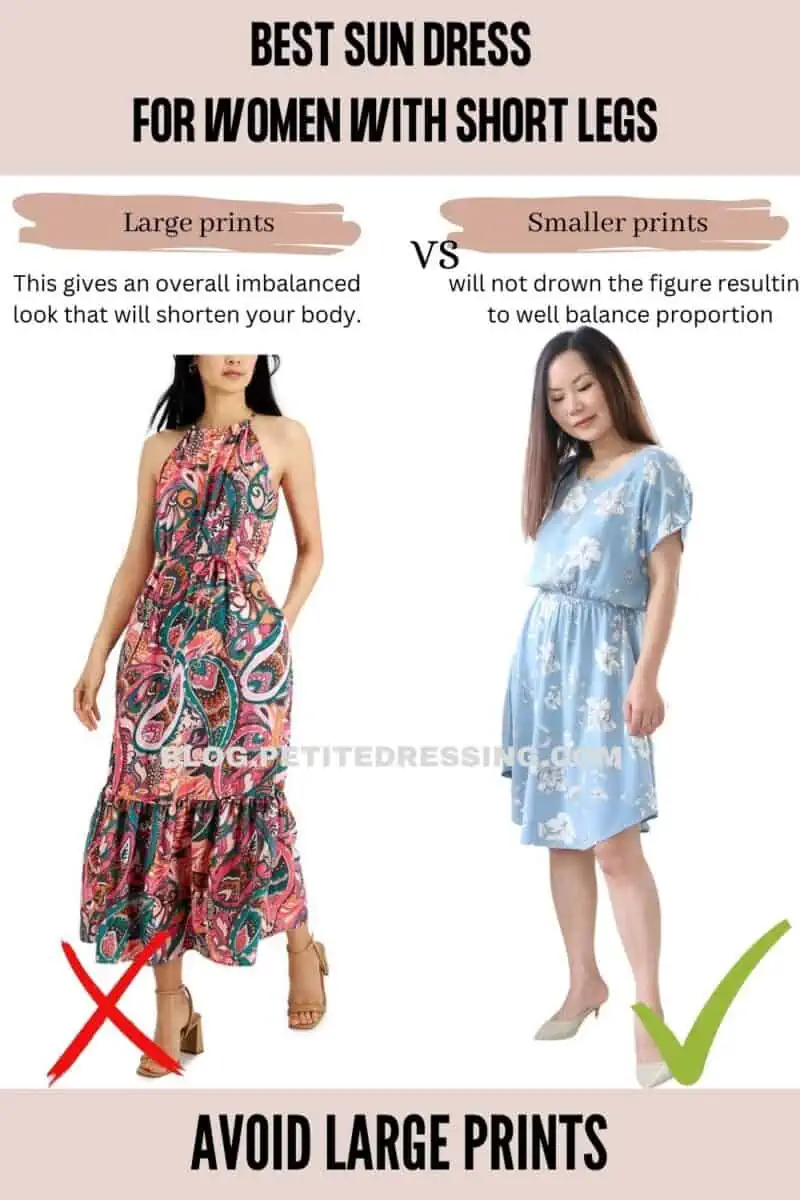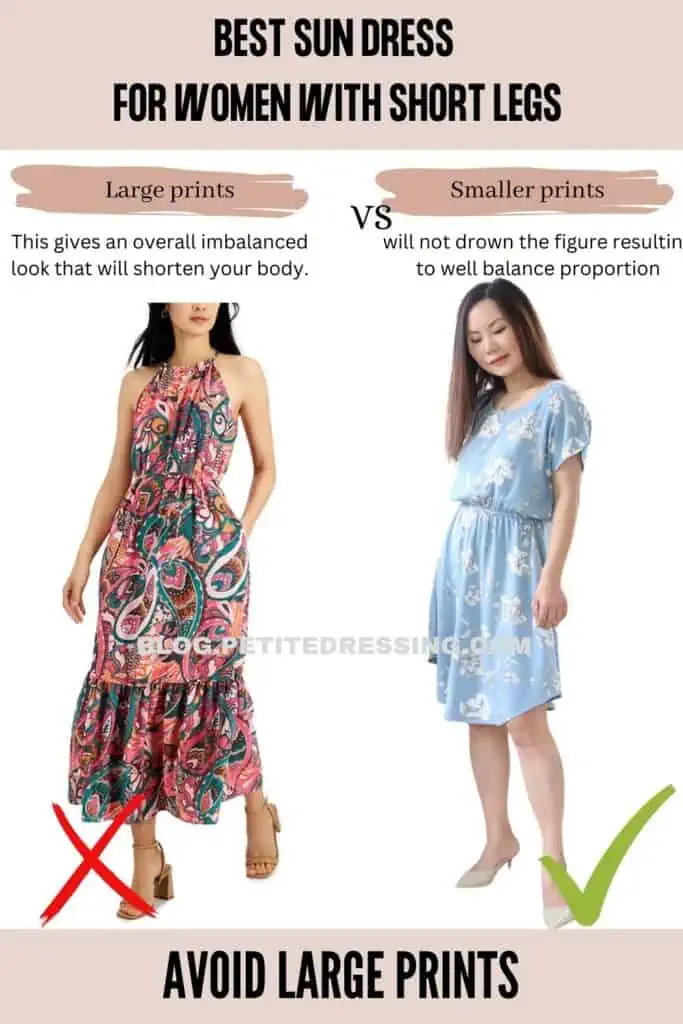 Women with short legs should stay away from dresses with large prints as these will only make your body appear wider and shorter. This gives an overall imbalanced look that will shorten your body.
So, to avoid looking smaller than you are, avoid clothes with large prints. They also add a lot of volume to the dress, which is a terrible thing. If you must wear dresses with prints, make sure they are smaller and more subtle.
Also, be sure that they are great for the occasion, as this will help you find the perfect balance between comfort and style.
Now you know some of the best sun dress styles for women with short legs. The most important thing here is to find a dress that makes you feel comfortable, elegant and confident.
So, feel free to experiment with different styles until you find one that fits your personality best. Also, keep the accessories at a minimum to avoid dwarfing your petite frame.