Petite pull on pants are hands down the most comfortable pants for short girls. If you don't own them already, you should seriously give them a try. My love for petite pull on pants derives from my obsession with sweat pants and yoga pants on weekends. I have to admit I wear them more often than just in the gym or in my home.
There is just nothing easier than the pull-on style when you need to get out of the door in 5 minutes. On the other hand, there is constantly that voice of Karl Lagerfield in my head "sweat pants are a sign of defeat. You lost control of your life so you bought some sweatpants".
So, how can you get the best of both worlds? Without sacrificing the comfort, how can you also dress in style? I'm about to tell you the best 5 styles of pull on pants for your petite body type
They have elastic waist bands, so, they are just as comfortable as your sweat pants or yoga pants. They are also great styles you can be rest assured to wear all day long and all week long, without worrying about looking like " you lost control of your life". (BTW, if you love sweat pants and would love to live in them, that is totally fine too).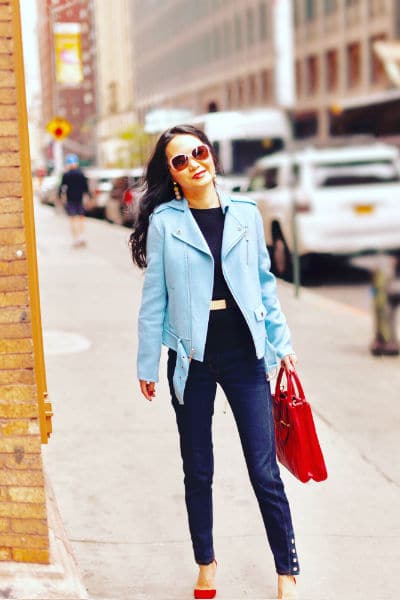 I was wearing pull on jeans from Petite Dressing in this picture. As you can see, pull on pants can be versatile and they do not always have to be jogger pants or sweat pants kind of look. With proper styling, petite pull on pants can also look polished and dressed up. So, you CAN have best of both worlds with pull on pants!
Today's post I want to focus on how important it is to pick out the pull on pants according to your petite body type. For example, I am a petite apple shape, so my concerns and assets are different from a petite pear shape. Or, you could be a petite with short legs or a lucky petite with long legs, and what works in either case is different too. So, understanding your own shape and dressing accordingly is key in picking out what works the best for you.
Now, let's dive in.
High Waisted Pants
Most petite women have shorter legs, compared with women 5'5″ and above. If you are petite and would like your legs to look longer, high waisted pull on pants are your best bet. Why? High waisted pants make your waistline look higher than it actually is, thus create the illusion of longer legs.
Now, let's look at what are low rise, mid rise or high rise pants.
The simplest way to look at this is if the pants hit above your belly button (high rise), low on your hips (low rise) or in between (mid rise).
A general advice for petite women is to go for dark color high waisted pants, as they will make your bottom half look slimmer. In terms of fabrics, make sure you pick those with strechy materials, i.e. those with some spandex in the fabrics. Since they are pull on style, stretchy materials make it easier for you to put them on and take them off, without having to worry about whether you are busting the seams. Also, stretchy material will make your high wasted pants very comfortable without feeling restricted in the mid section, especially if you have an office job and need to sit in chairs for many hours a day.
The best way to make the high waisted pull on petite pants look great on short women is to pair them with cropped a top (or a cropped jacket in winter). A cropped top can elongate your bottom half and instantly make you look taller. Cropped tops can also make your tummy look flatter, especially if you pair it with a black pull on pants. Either a cropped blouse or cropped jacket can achieve the same lengthening effect for petite girls.
An important tip when picking out the cropped jacket is to make sure the length of the sleeves and the hem of the jacket should not end exactly at the same point. Otherwise the cropped jacket could create the width of one horizontal line across the middle of your torso and make you look cut off, which is the opposite of what we want to achieve. Therefore, cropped jackets will look best on a petite girl if the sleeves are only slightly shorter than the hem of the jacket, which will break up the horizontal line.
Alternatively, if you happen to have longer arms, which could be the case even with short girls, you may also want to consider a cropped jacket with sleeve are a little bit longer than the hem of the jacket. Either way, the point is to get rid of the horizontal line.
Mid rise
If you are a petite girl with short torso, you should go with mid-rise pull-on pants. First things first, how do you know if you have short torso or not? Ask yourself these questions:
Are you petite but petite size pants are too short for you?
Is your hipline is higher than half of your full height?
Do you have a high waist line (higher than your bent elbow)?
Do you have round and high bottom?
Do you tend to put on weight around your waist, above your waist or on the back of your hips?
If you answers to the above questions are mostly yes, then you are mostly likely the short torso long leg type.
If you have short torso, high waisted pants will likely make your torso even shorter. Therefore, to balance out your short torso, mid rise pull-on petite pants work the best for you. Because you are short, you probably should not go with low rise pants. A pair of mid rise pull on style petite pants will do the job the flatter your short torso without reducing too much of your leg length. Mid rise pull on pants are very versatile, i.e. they can pair with almost any style of tops.
If you are petite apple shape, you do not have a defined waistline, i.e. your waistline has the same width as or is wider than your shoulders and hips. In many cases, your bust and/or midriff are larger than your hips. If you gain weight, you tend to gain weight mainly around the waist, at least in proportion to the other parts of your body. If that is you, pull-on jeans or jegging are your best friend.
Pull on jeans with belly flattening panel
Petite Dressing has some pull on style petite jeans and petite jeggings designed with belly-flattening waist band. In other words, that is like wearing jeans with built-in shapewear to control your tummy area and make them look smaller and flatter. Because these styles do not have front zipper, that also makes your lower belly look less prominent, which is a common concern of apple shaped petite women. I am a petite apple shape, and I honestly live in these pull-on petite jeans all year long.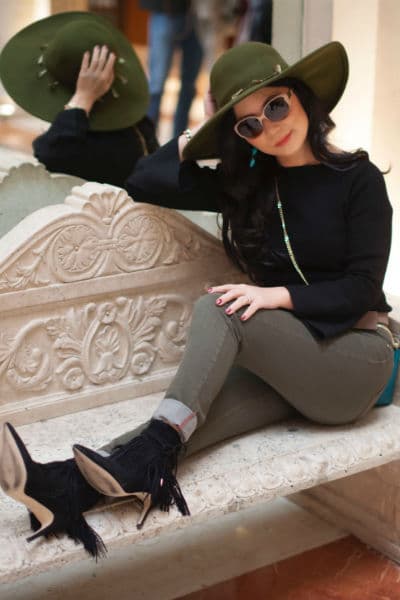 The best way to style these pull on jeans for short girls is to wear them with boots, whether they are ankle boots, knee high boots or over-the-knee (OTK).  Ankle boots with pull-on pants are my uniform starting in October,  and I switch to tall boots in Dec which will last me all the way through Feb.  If you want to double the leg-elongating effect of the pull on pants, wear high heel boots of the same color.  That will make the boots look like an extension of your legs, and will make your proportion look much better.
I do not recommend wearing them with slouch boots or bulky boots. Those kind of boots are too heavy and add too much bulkiness to your feet, making petite women look even shorter than they are. That said, I totally understand in winter times everyone probably needs at least one pair of cold weather boots to wear in rain or snow, which are typically bulky or heavy. In my case, I have long commute and I live in New York/New Jersey area, so I definitely cannot live without cold weather boots. I opt for simple black cold weather boots that match the color of my most often worn petite pull-on pants, and I ditch any style with excessive horizontal stripes on the boots.
Read more about the best and worst shoes for petite feet.
Full Length Wide Leg Pants
As we talked about earlier, pull-on pants are the most comfortable pants out there. Now, if those pull-on pants happen to be wide leg (also known as palazzo pants), that is the comfort double down! Besides, wide leg pants have the relaxed vacation vibe, and they are just hard to take off, once you put them on. Now, wide leg pants are generally harder for short women to pull off, because they have the risk of making you look shorter. The reason is anything wide draws eyes left to right, creating the horizontal line that could make you look short. Therefore, wearing wide leg pull-on pants requires careful styling, and they are best for petites with long legs. What do I mean by petite with long legs?
Not all short women are equally petite. Even though most petite women tend to have shorter legs, there are some petite girls blessed with long legs. I sometimes get emails from Petite Dressing Boutique from some of the lucky petites asking where they can find petite pants with 29 inch or 30 inch inseam. That is almost as long as regular size pants made for women over 5'5″. If that's you, congratulations and you are very fortunate! With long legs, wearing wide leg pull on pants could be easier. The most famous long-legged petites include Nicole Richie (5'1″), Victoria Beckham (5'3″).
See our favorite 5'3″ petite blogger Carly in this picture.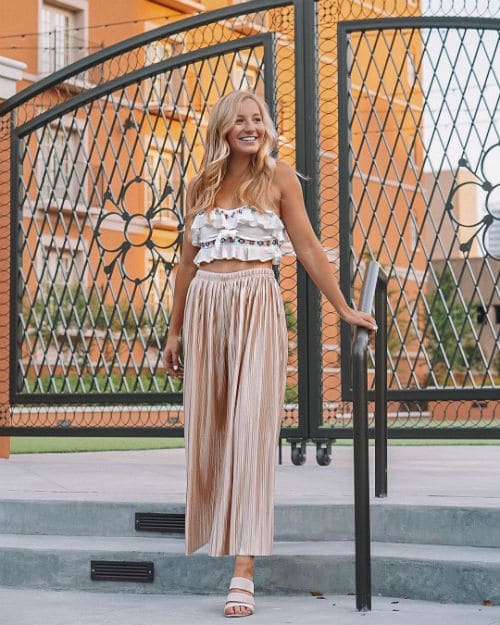 The length is key to wear petite palazzo pants. The ideal length is for it to hit just above the ground, when you are wearing high heels. That means the inseam should be the inseam of your normal inseam for ankle pants plus 3-4 inches, depending on the height of the heels you are going to wear. You do not want the petite palazzo pants to be sweeping the ground, because that looks sloppy. Also, pants dragging on the floor have the danger of tripping you to fall! Do not wear petite palazzo pants that ends at your ankle- even though we have seen them worn by some fashion bloggers for photography, they aren't that flattering in real life on a petite girl. Ankle length petite palazzo pants emphasize the horizontal line right at your ankles, which will only make your legs look like they are cut off and make you look shorter.
If you are short, wide-leg pull on pants look better on you with heels than flats. Heels counterbalance the widening effect of the wide legs, and add some length to your statue. If you have to wear them with flats, then wear them with flats with pointy toes.
Slim Cut Straight Leg
Slim cut and straight leg are both classic pant designs, and they work on almost any body type. If you are a pear shape, then these are heavensend.
What is petite pear shape? If you are petite pear shape, your hips are larger than your bust, and your hips are wider than your shoulders. In many cases, your hips are the widest point of your body. Your buttocks and thighs are full and round. When you gain weight, you first gain weight in your bottom and legs. Is that you? If yes, a pair of slim cut straight leg petite pull on pants will look great on you. Among other common characteristics shared by pear shaped women, prominent hips and thighs are quite typical. It is totally your personal preference,whether you would like to emphasize them or camouflage them. If you happen to be one of the pear shaped women who are self-conscious about the hip/thigh area, then go for the slim cut pull on pants in dark colors. For pear shape women, it is better to avoid the embellishments or complicated pockets, because those will make your butt and thigh area look even more noticeable.
For slim cut pull on pants, ankle length is fine. These pull on pants create a vertical line which has the lengthening effect, compared with the wide leg pants which creates the horizontal line. For women under 5'4″, the best way to make yourself taller in these pants is to wear them with slender heels.