I am 5'2″ and I have a petite clothing line for women 5'4″ and under. Petite pull on pants are hands down the most comfortable pants for short girls.
There is just nothing easier than the pull-on style when you need to get out of the door in 5 minutes. The flip side, however, is that not all pull on pants or jeans are flattering, especially when you are short.
Based on my personal experience, as well as feedback from thousands of my customers, I've put together this guide on how to find the best pull on pants for petites.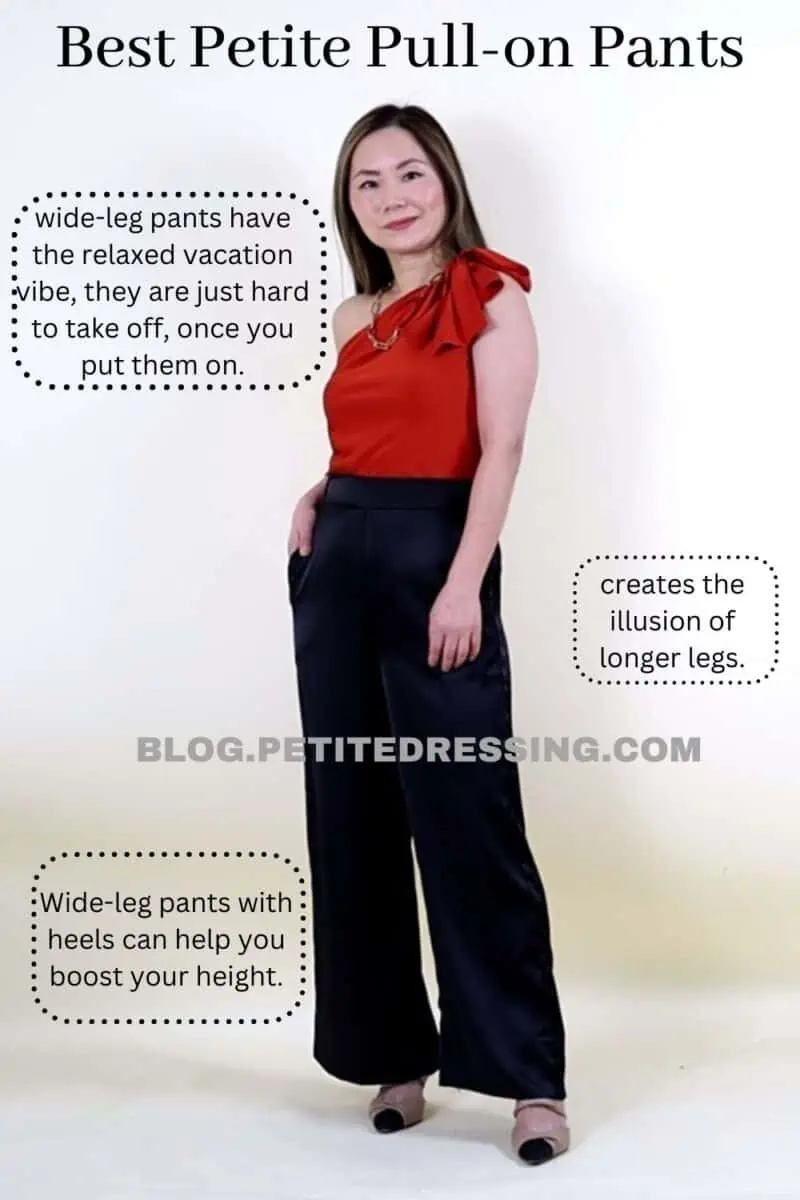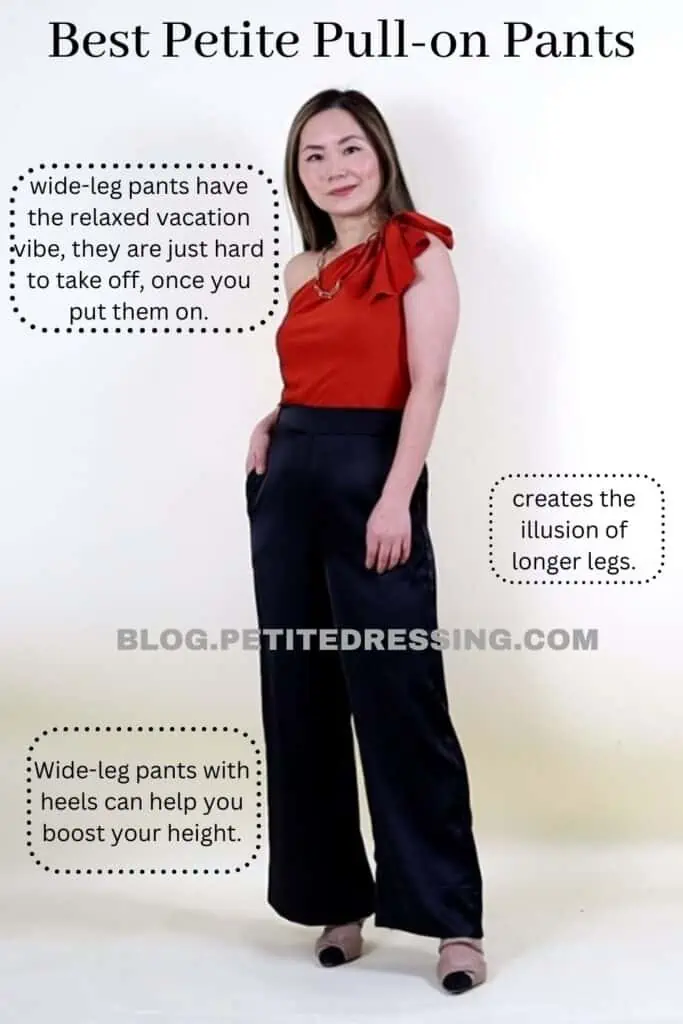 TYPES
Pull on pants can be versatile and they do not always have to be jogger pants or sweat pants kind of look.
Since pull on pants come in many different types, it is critical that you choose the RIGHT types that are most suitable for shorter women. Here is some of the best types that flatter our petite frame.
Flared jeggings
These are our best sellers, and our customers love these because they have the best leg elongating effect.
They are just like any other flare-leg jeans, but the waist is elastic.
That is what makes them so comfortable but also stylish at the same time.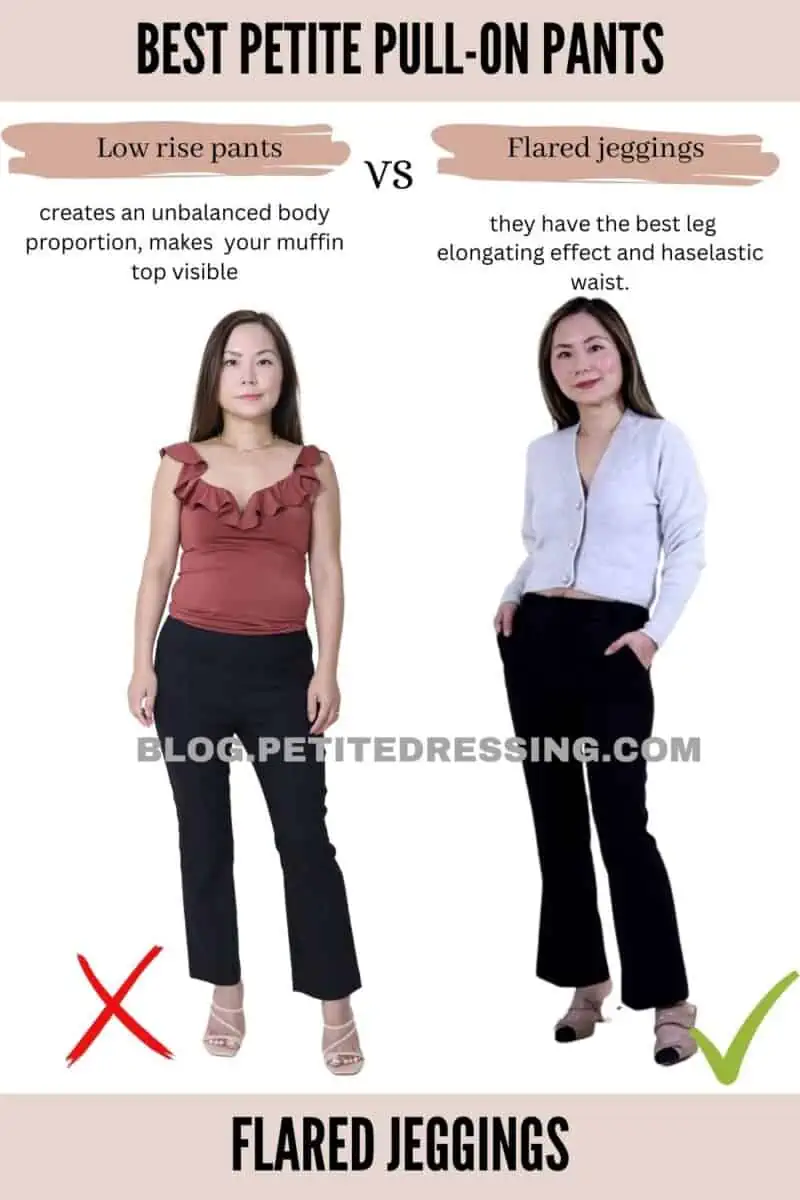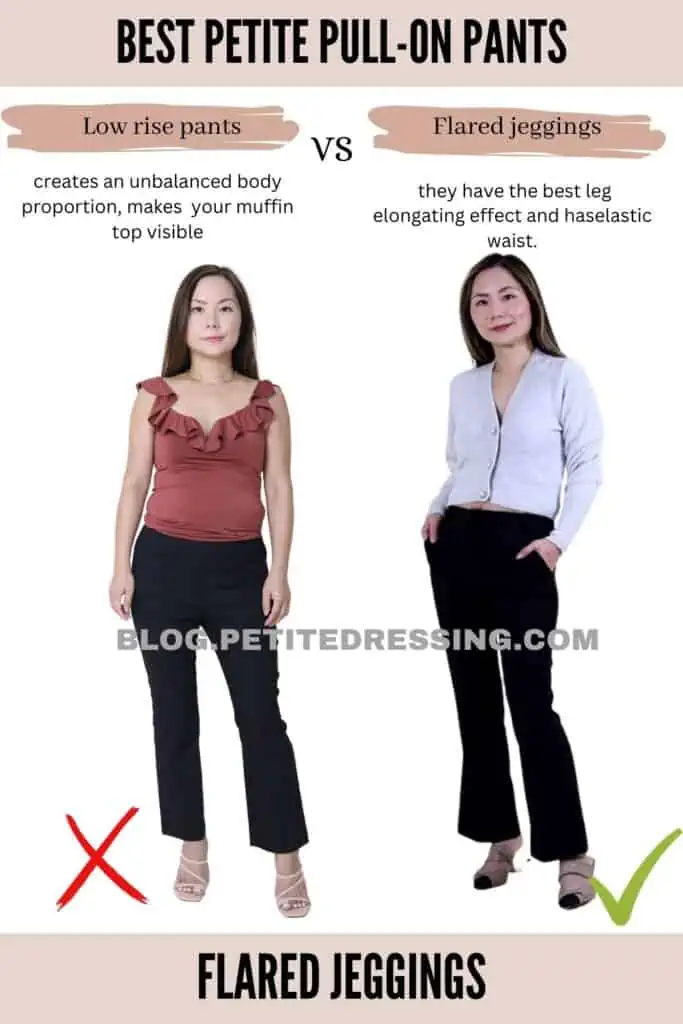 Skinny jeggings
As the name suggested, these are a combination of jeans and leggings.
These are the best for colder months because they are a must-have if you like to wear boots and booties in the fall or winter.
With proper styling, the pull-on jeggings can also look polished and dressed up. So, you CAN have the best of both worlds!
Slim straight jeans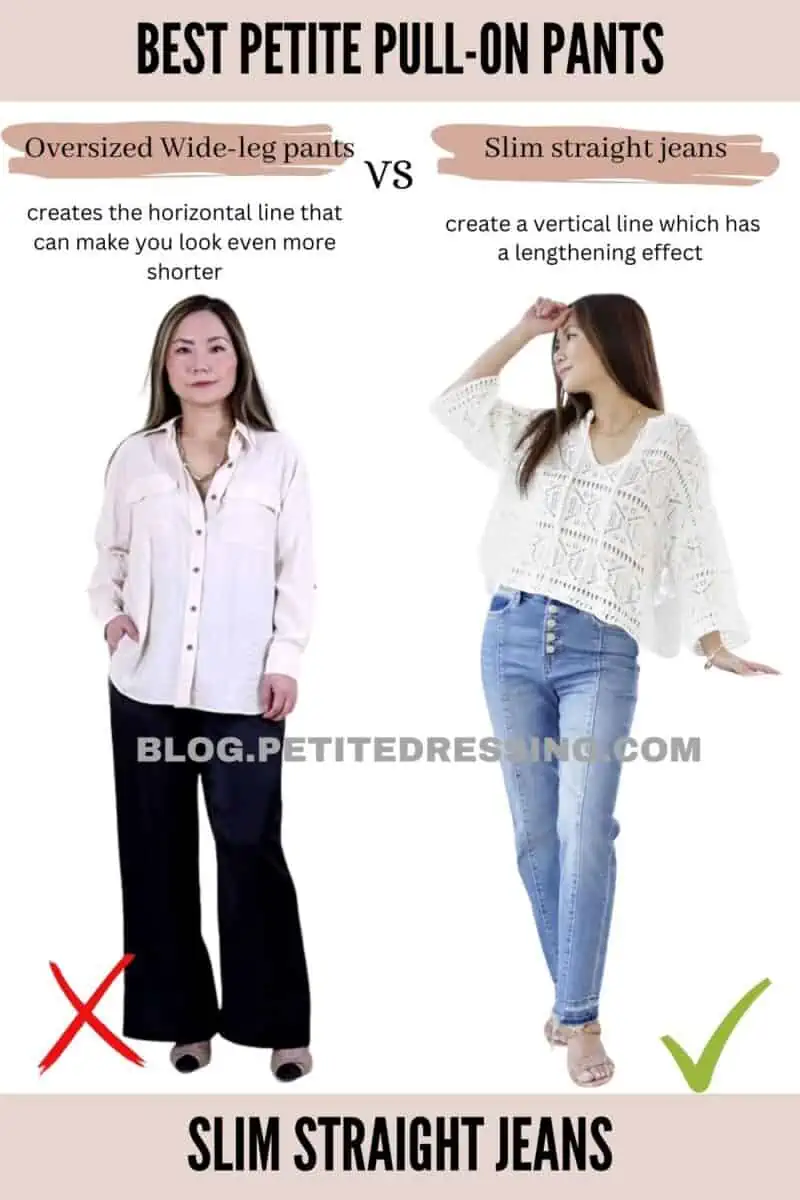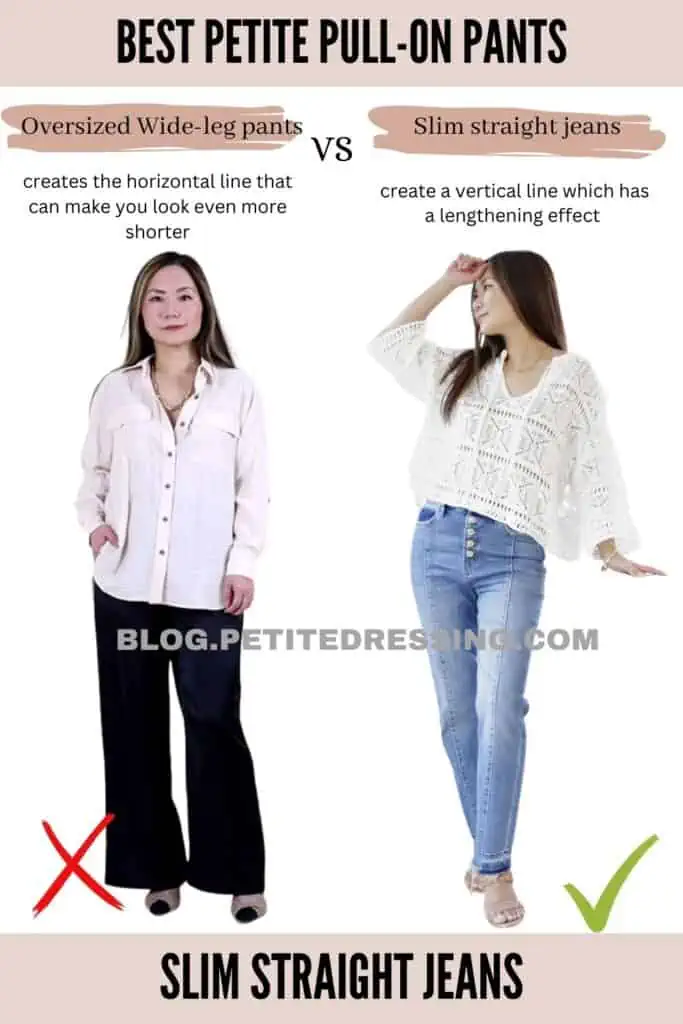 These are essentially jeans. Meanwhile, they have elastic waistbands, so, they are just as comfortable as your sweatpants or yoga pants.
Slim cut and straight leg are both classic pant designs, and they work on almost any body type.
These pull-on pants create a vertical line which has a lengthening effect, compared with the wide-leg pants which creates the horizontal line.
For women under 5'4″, the best way to make yourself taller in these pants is to wear them with slender heels.
Wide leg pants
As we talked about earlier, pull-on pants are the most comfortable pants out there. Now, if those pull-on pants happen to be wide-leg (also known as palazzo pants), that is the comfort double down!
We have many pull-on wide-leg pants made of all kinds of fabrics from linen to satin, and our customers love these, especially in warmer months.
Because wide-leg pants have the relaxed vacation vibe, they are just hard to take off, once you put them on.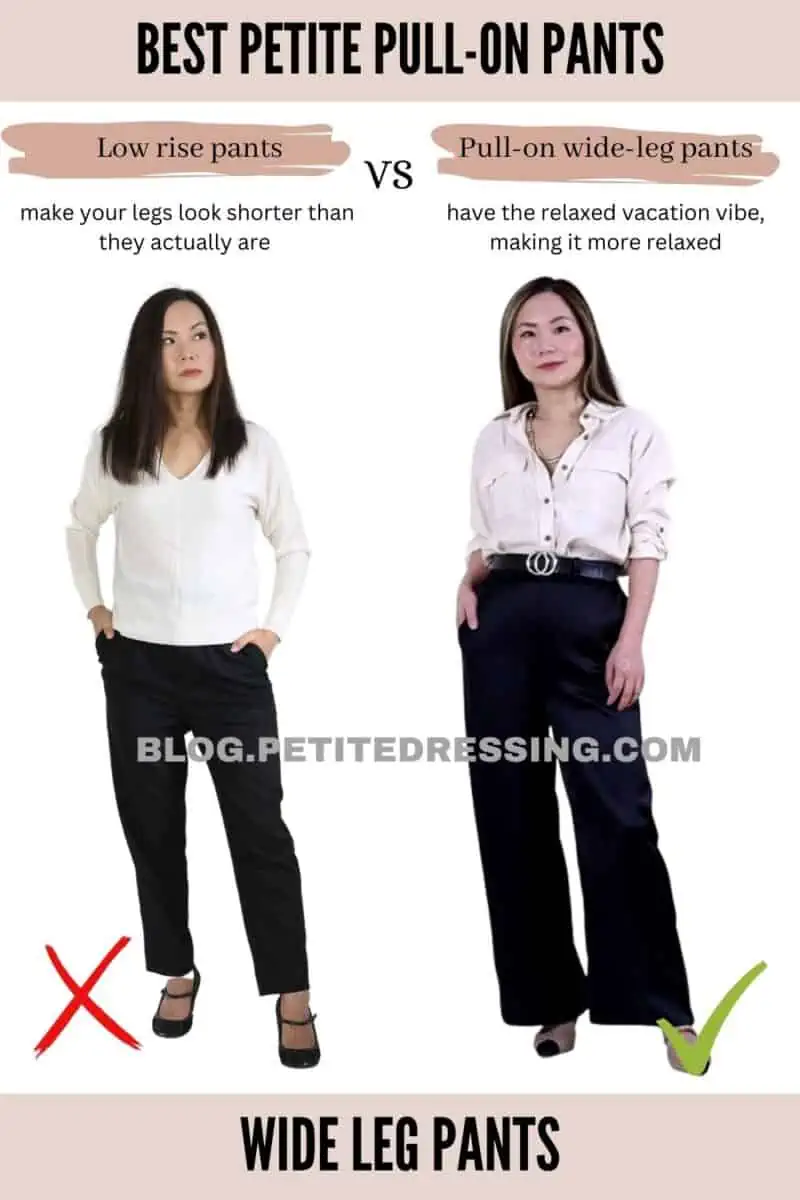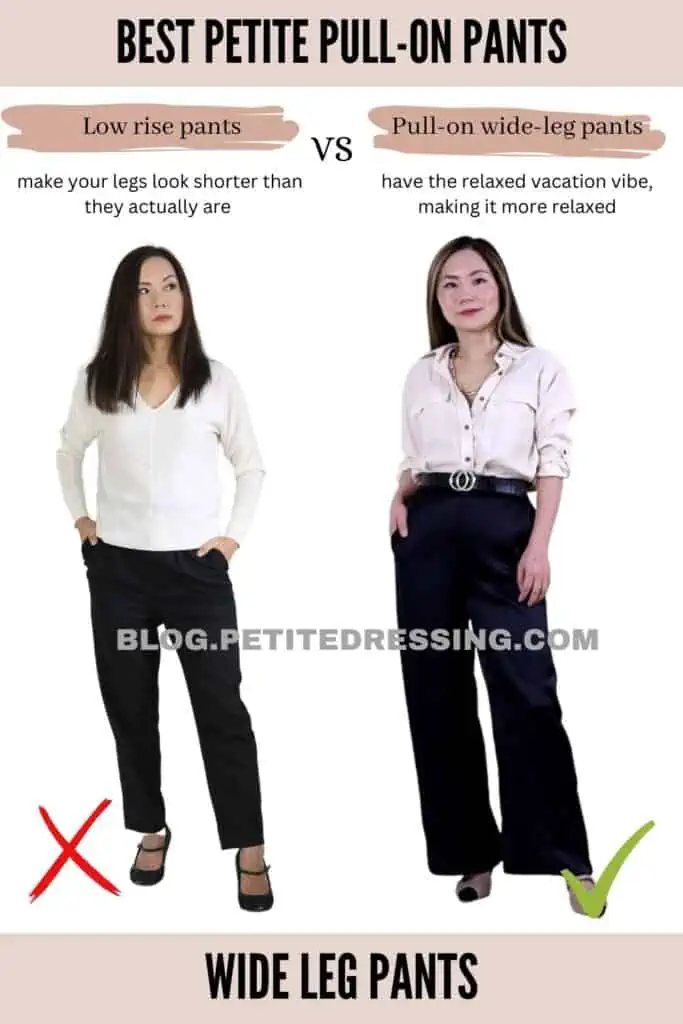 THE RISE
First, let's look at what are low rise, mid rise or high rise pants.
The simplest way to look at this is if the pants hit above your belly button (high rise), low on your hips (low rise) or in between (mid rise).
High rise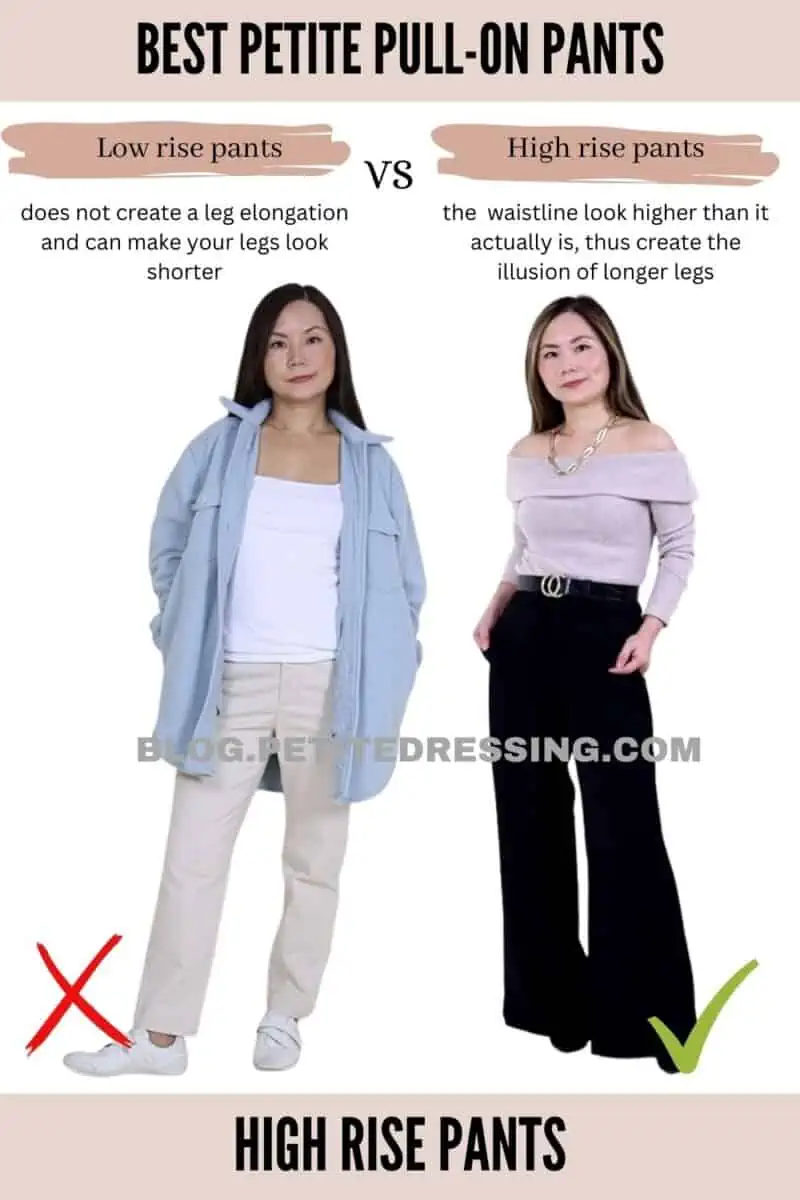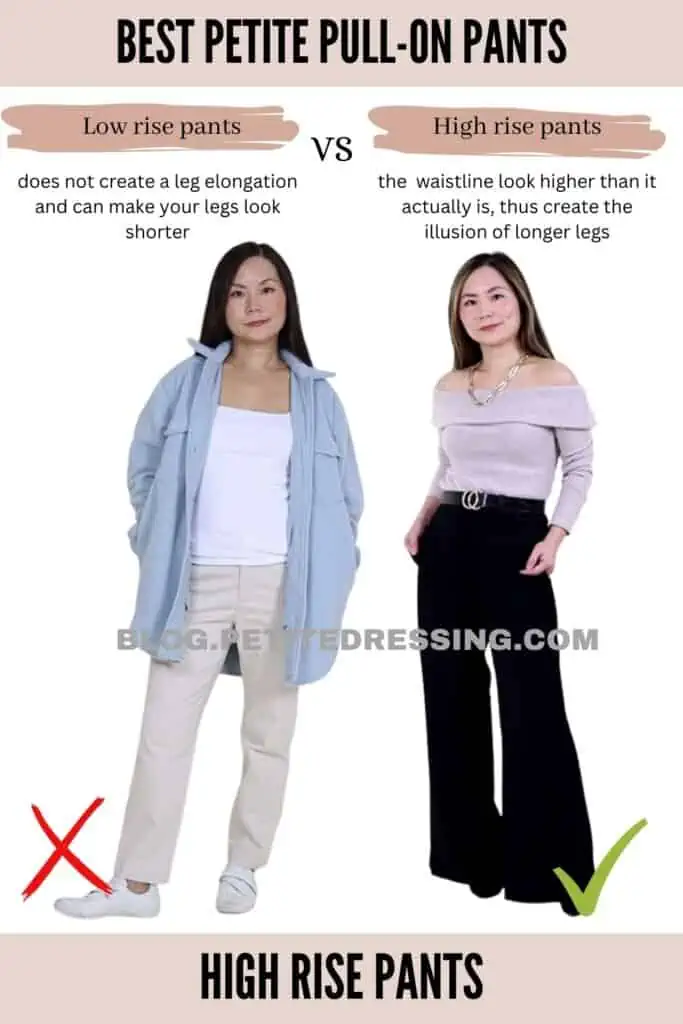 Most petite women have shorter legs, compared with women 5'5″ and above. If you are petite and would like your legs to look longer, high-waisted pull-on pants are your best bet.
Why?
High waisted pants make your waistline look higher than it actually is, thus create the illusion of longer legs.
A general advice for petite women is to go for dark color high waisted pants, as they will make your bottom half look slimmer.
Mid-rise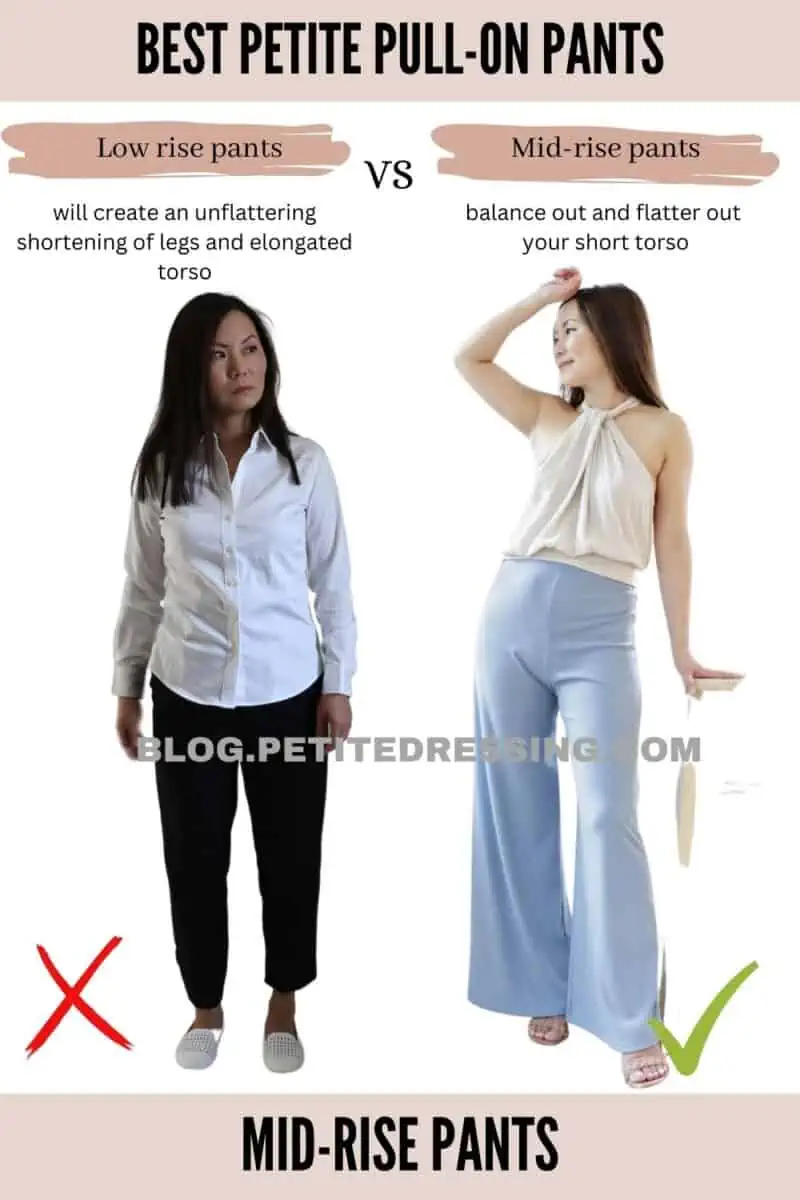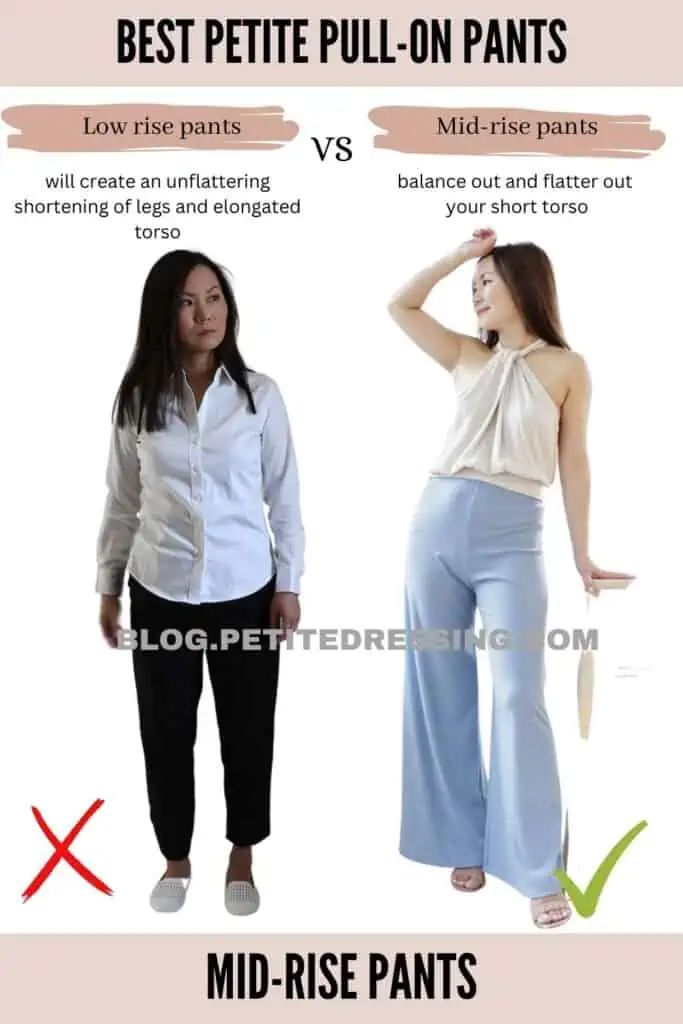 If you are a petite girl with short torso, you should go with mid-rise pull-on pants.
The reason is that high-waisted pants will likely make your torso even shorter. Therefore, to balance out your short torso, mid-rise pull-on petite pants work the best for you.
A pair of mid rise pull on style petite pants will do the job the flatter your short torso without reducing too much of your leg length. Mid-rise pull-on pants are very versatile, i.e. they can pair with almost any style of tops.
Avoid low rise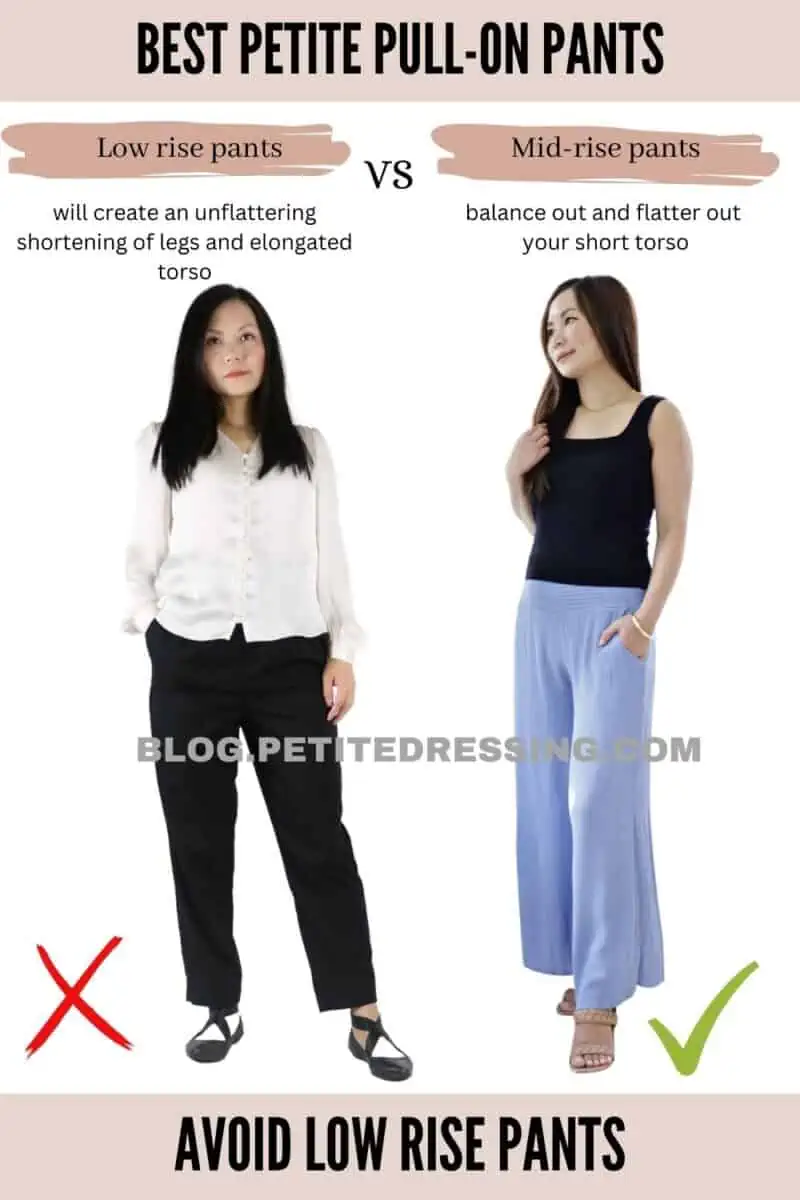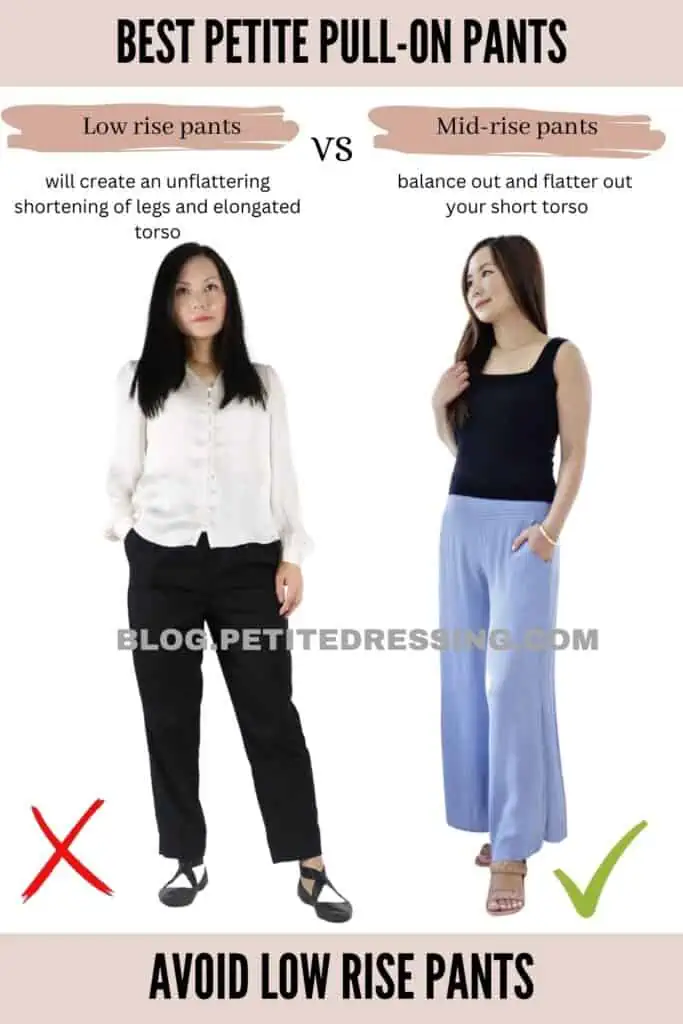 Because you are short, you probably should not go with low rise pants of any sort.
Even though low rise is a big trend right now, they are not your best friend if you are shorter like myself.
They are guaranteed to make your legs look shorter than they actually are, the opposite of what we want as a petite woman!
WAIST DESIGN
Belly flattening panel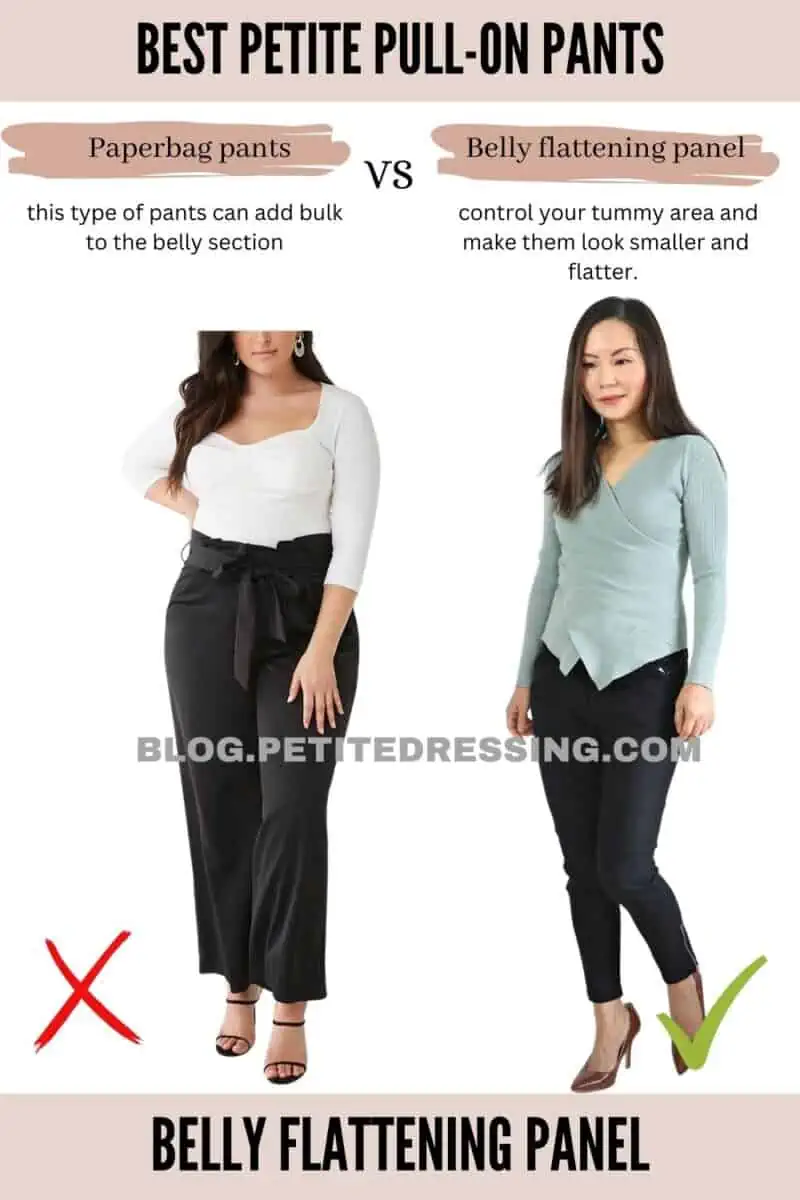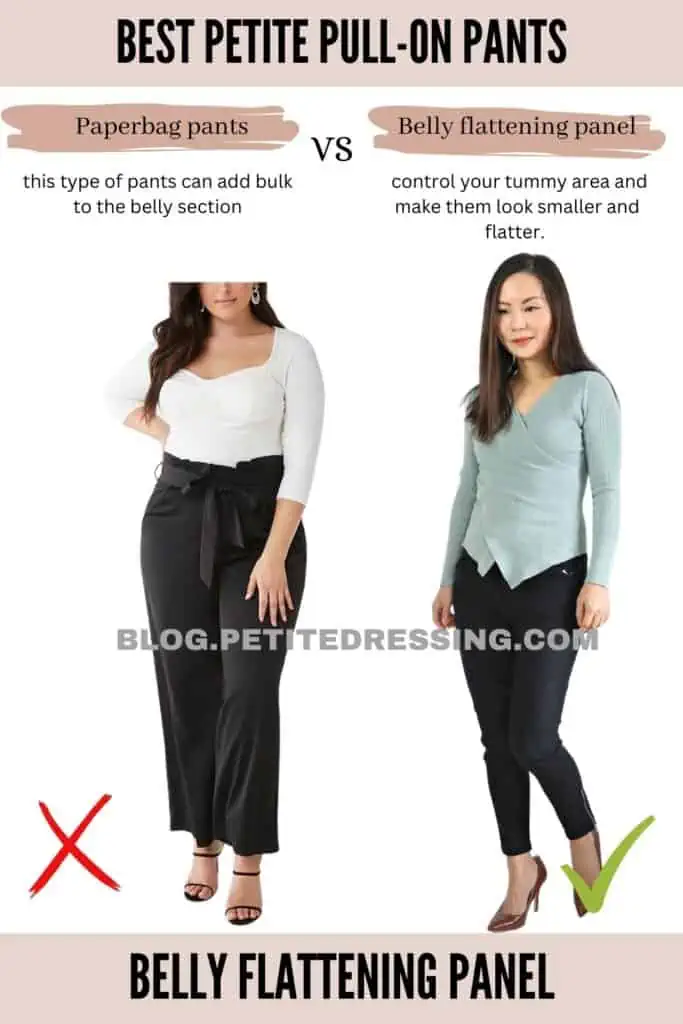 These are hands down the most flattering types for pull on style for women of any shape.
In our petite jeans collection, we have some pull on style jeans and jeggings designed with belly-flattening waist band.
In other words, that is like wearing jeans with built-in shapewear to control your tummy area and make them look smaller and flatter.
Because these styles do not have front zipper, that also makes your lower belly look less prominent, which is a common concern of apple shaped petite women.
I am a petite apple shape (i.e. carry weight on my stomach the most), and I honestly live in these pull-on petite jeans all year long.
Side elastic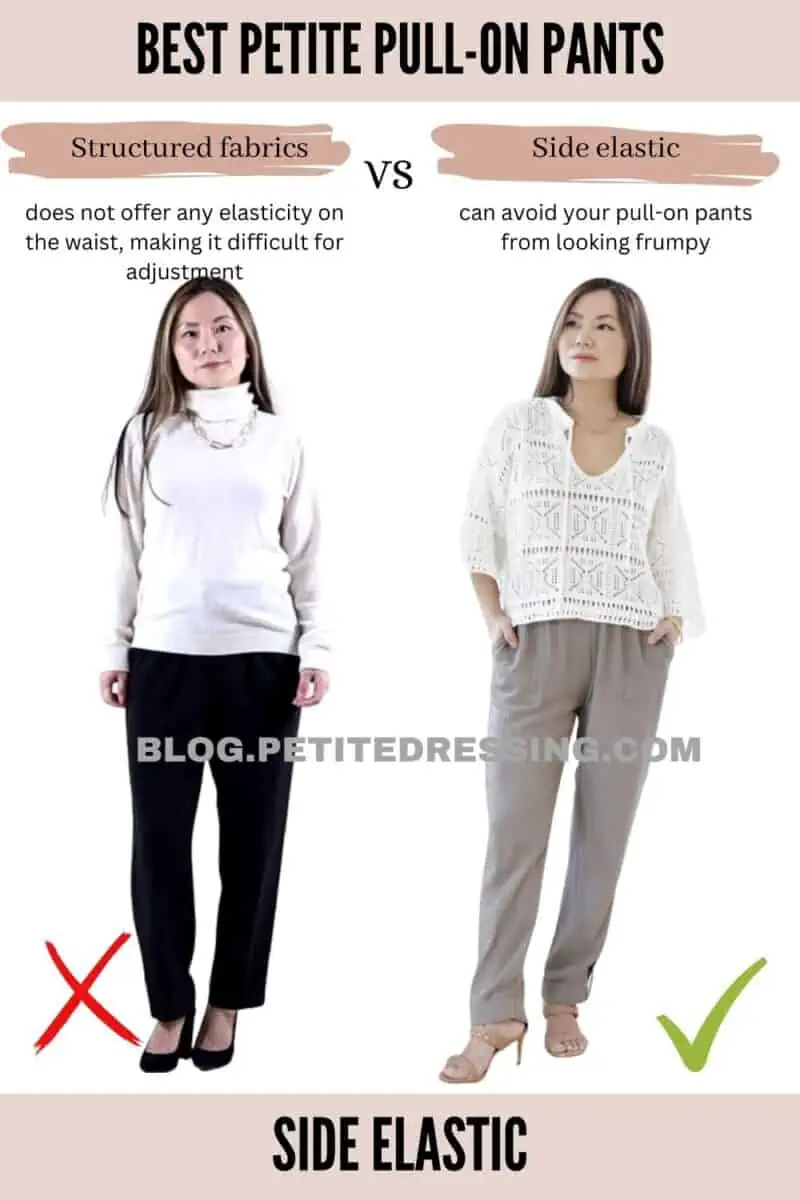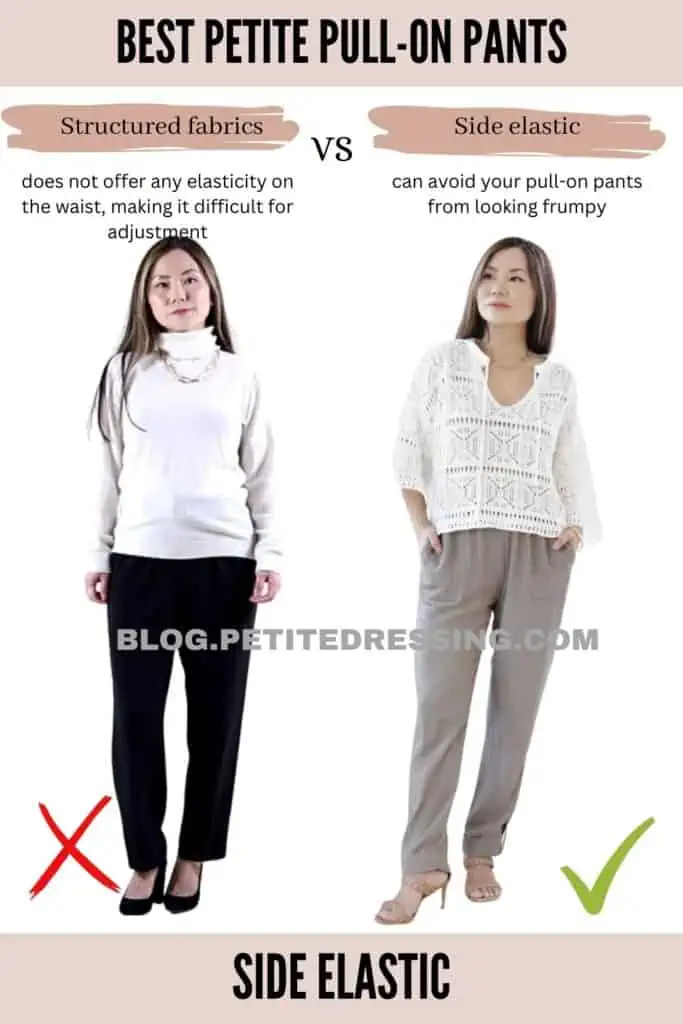 In the front, these pants appear just like any regular dress pants, but the elastic waistband are only located on the sides.
These are always the most popular types of pull-on style in our pants collection!
The difference with side elastic is that they can avoid your pull-on pants from looking frumpy, but you still have the all day comfort as any other pull-ons.
No wonder my customers love this side elastic design!
THE LENGTH
Full length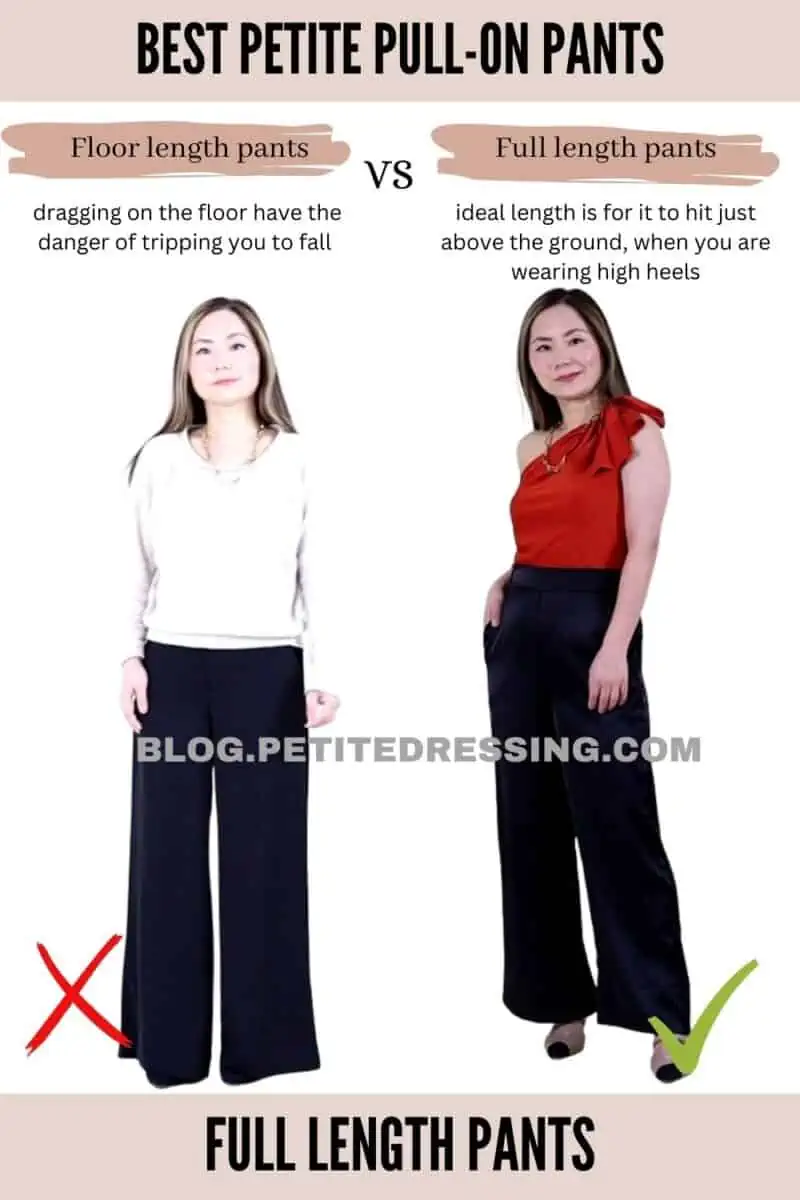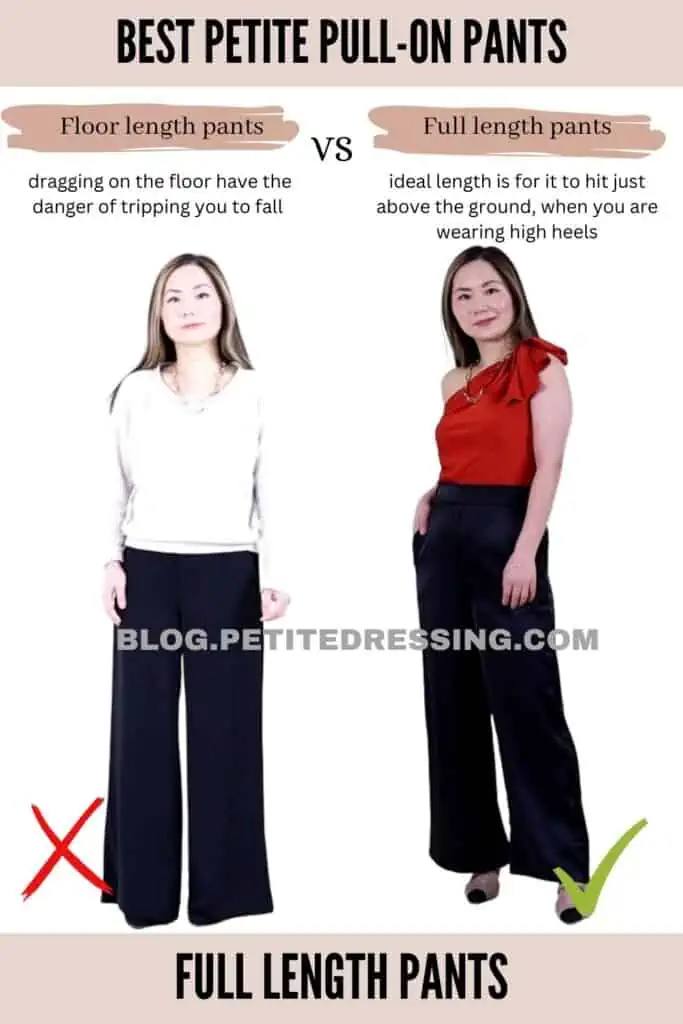 If you are wearing wide leg pull on pants, the length is key.
The ideal length is for it to hit just above the ground, when you are wearing high heels. That means the inseam should be the inseam of your normal inseam for ankle pants plus 3-4 inches, depending on the height of the heels you are going to wear.
You do not want the palazzo pants to be sweeping the ground because that looks sloppy.
Also, pants dragging on the floor have the danger of tripping you to fall!
Avoid capris
Be very cautious with any pull on pants that end on your calves.
This length emphasizes the horizontal line right on the widest part of your legs, which will only make your legs look like they are cut off and make you look shorter.
HOW TO STYLE
Cropped top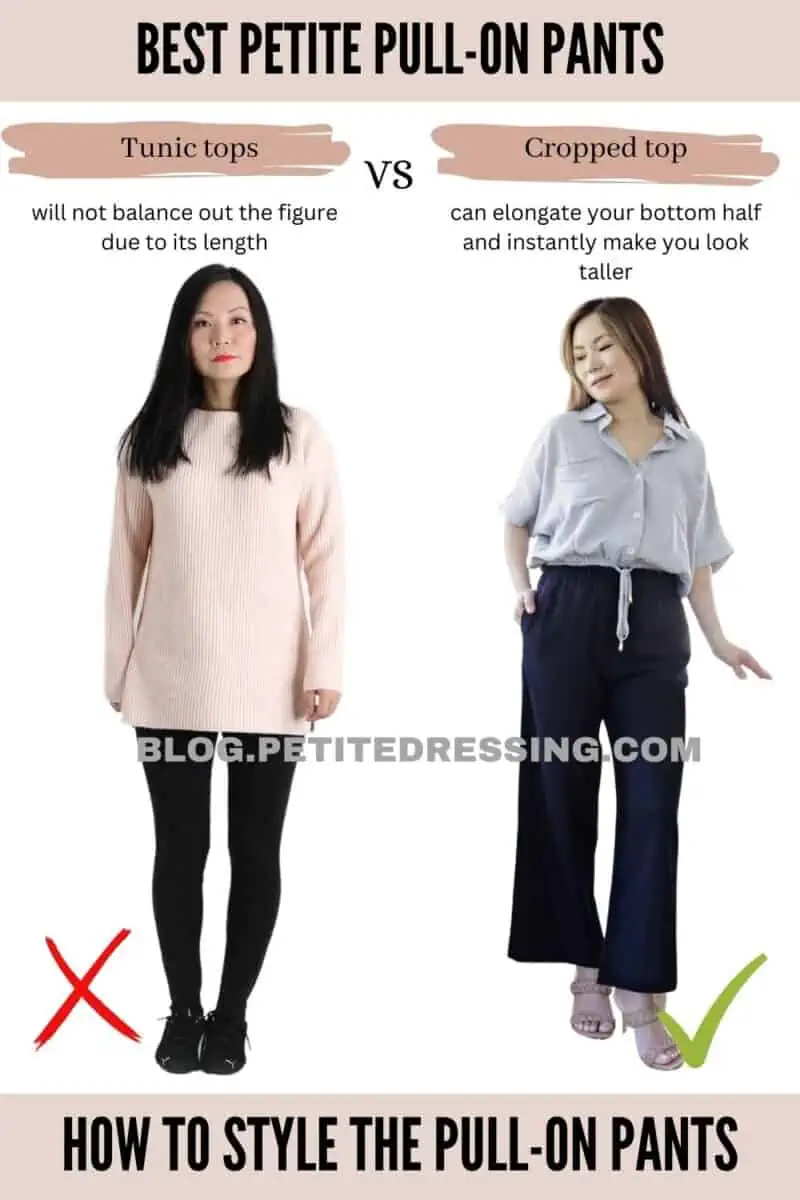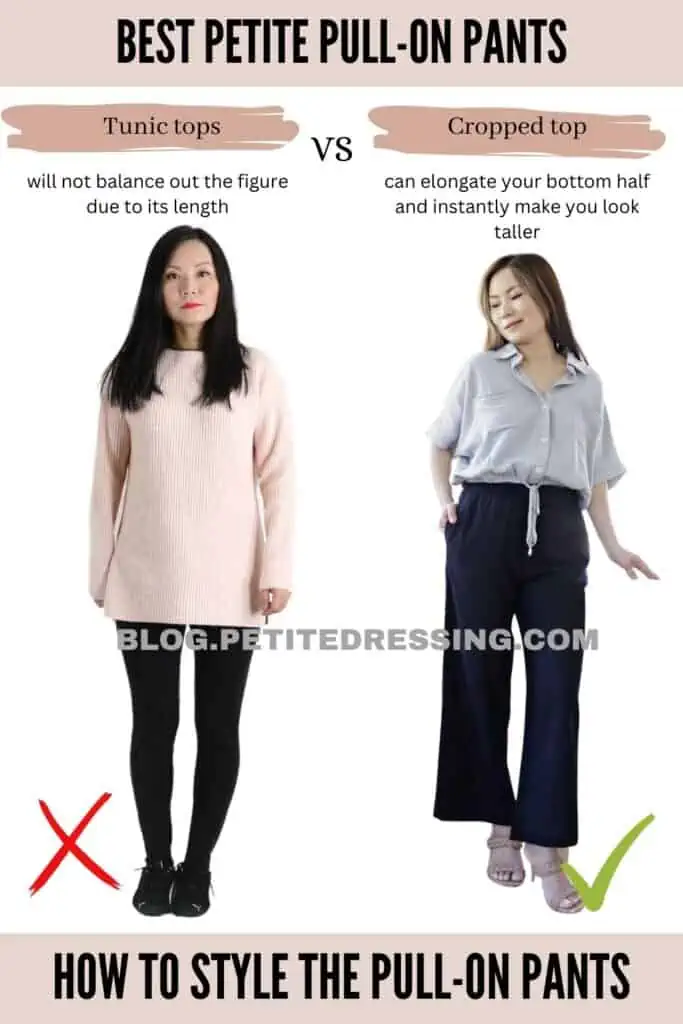 The best way to make the high waisted pull on petite pants look great on short women is to pair them with cropped a top (or a cropped jacket in winter).
A cropped top can elongate your bottom half and instantly make you look taller. Cropped tops can also make your tummy look flatter, especially if you pair it with a black pull on pants.
Either a cropped blouse or cropped jacket can achieve the same lengthening effect for petite girls.
Wide leg with heels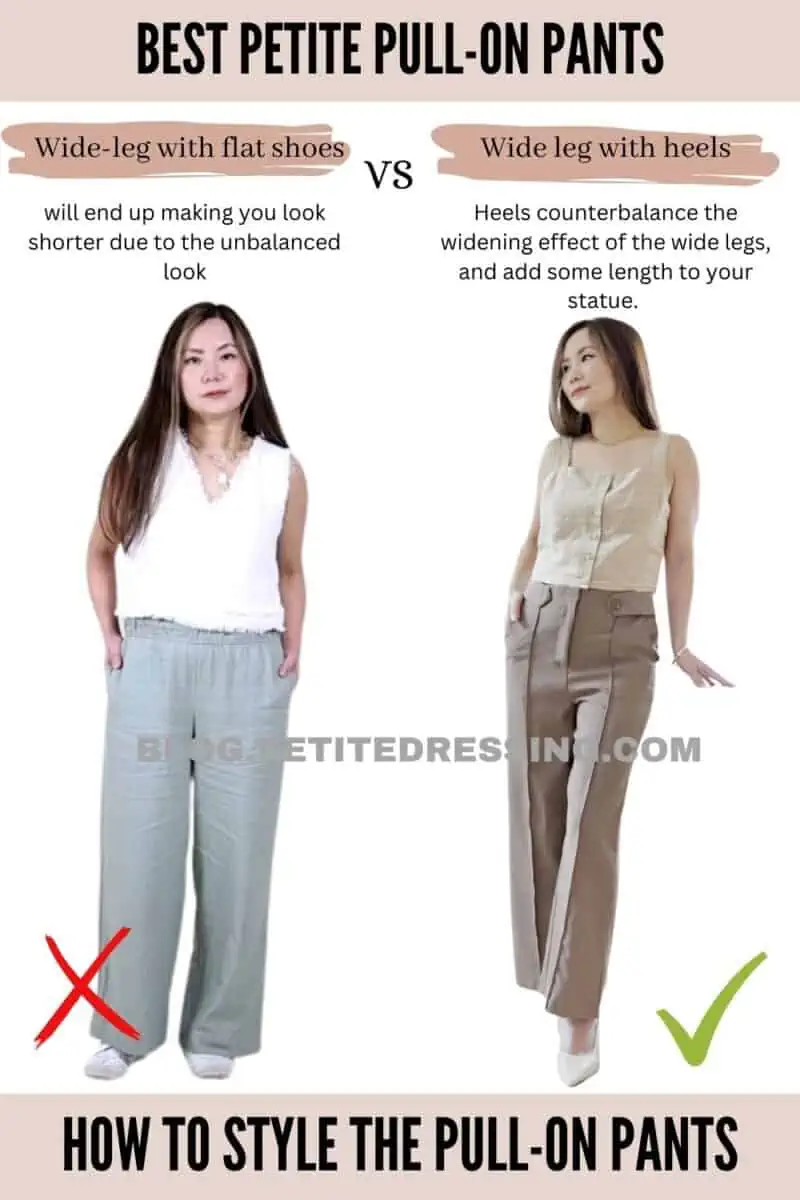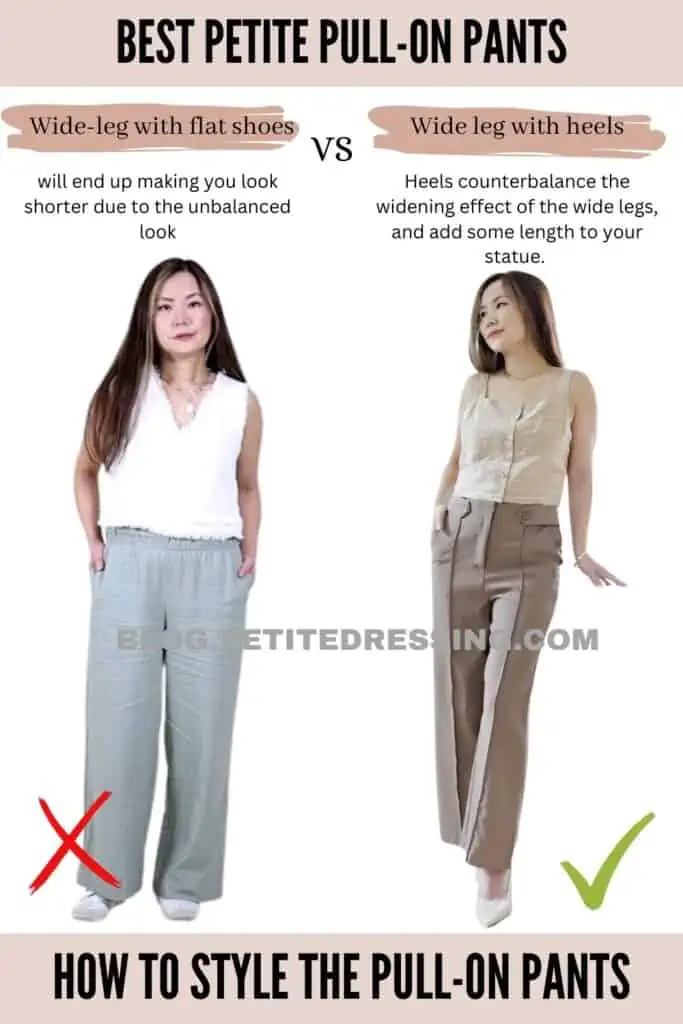 Wide-leg pants are generally harder for short women to pull off because they have the risk of making you look shorter. The reason is anything wide draws eyes left to right, creating a horizontal line that could make you look short.
Therefore, if you are short, wide-leg pull-on pants look better on you with heels than flats.
Heels counterbalance the widening effect of the wide legs, and add some length to your statue.
If you have to wear them with flats, then wear them with flats with pointy toes.
Jeggings with booties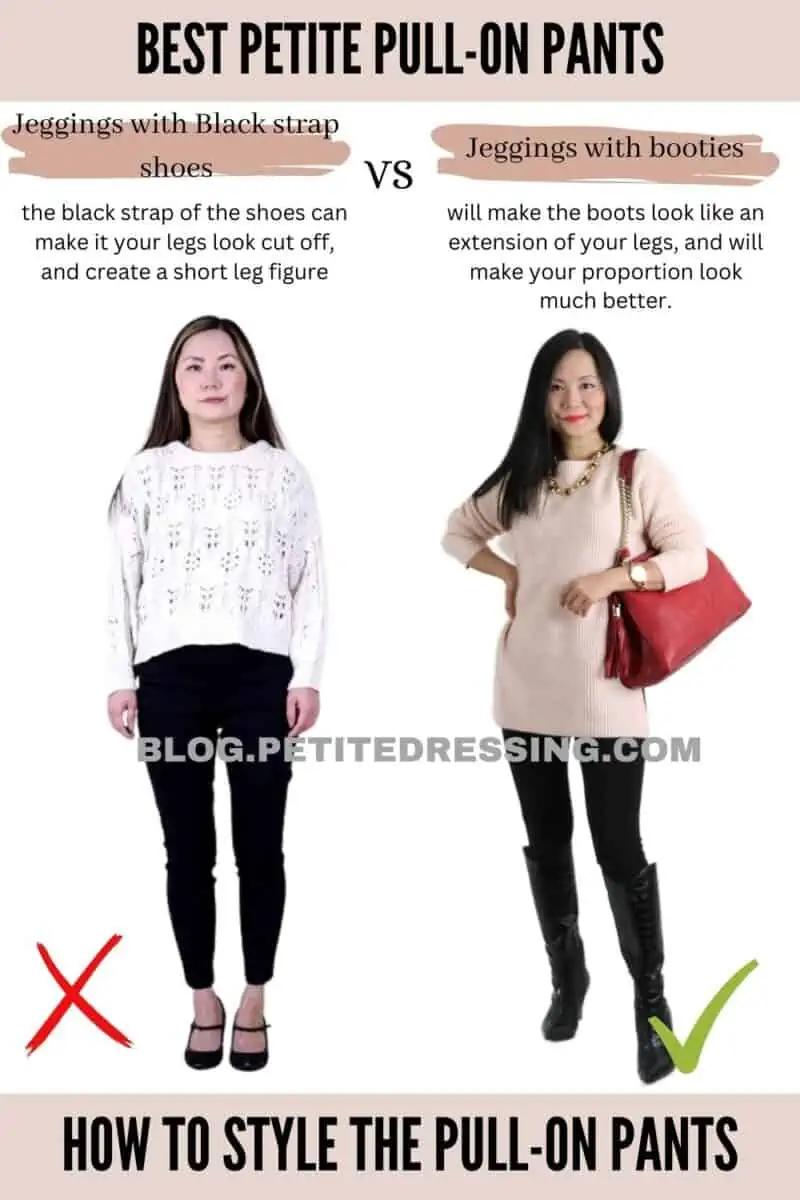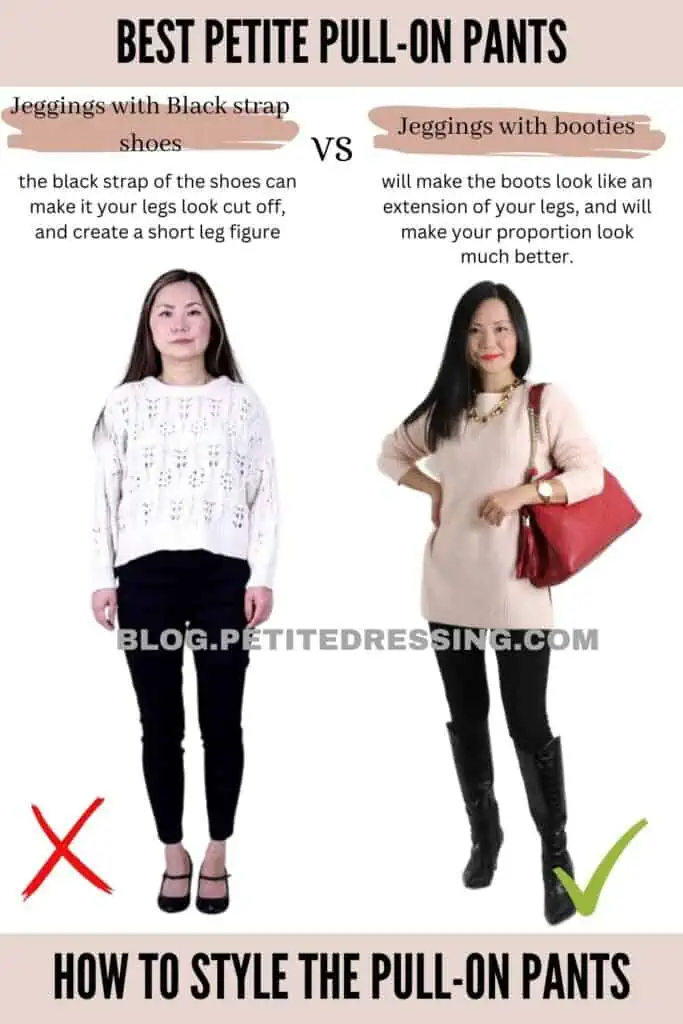 The best way to style pull on jeans for short girls is to wear them with boots, whether they are ankle boots, knee-high boots or over-the-knee (OTK).
Ankle boots with pull-on pants are my uniform starting in October, and I switch to tall boots in Dec which will last me all the way through Feb.
If you want to double the leg-elongating effect of the pull on pants, wear high heel boots of the same color. That will make the boots look like an extension of your legs, and will make your proportion look much better.
FABRICS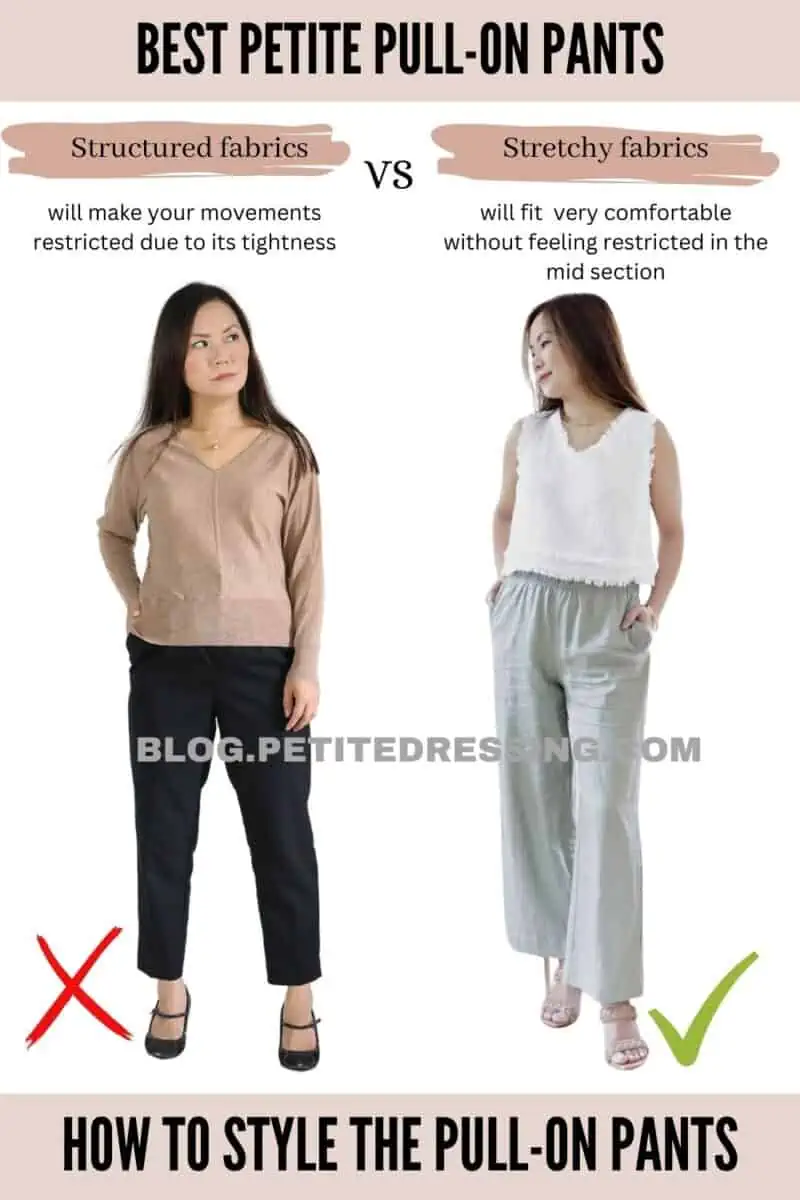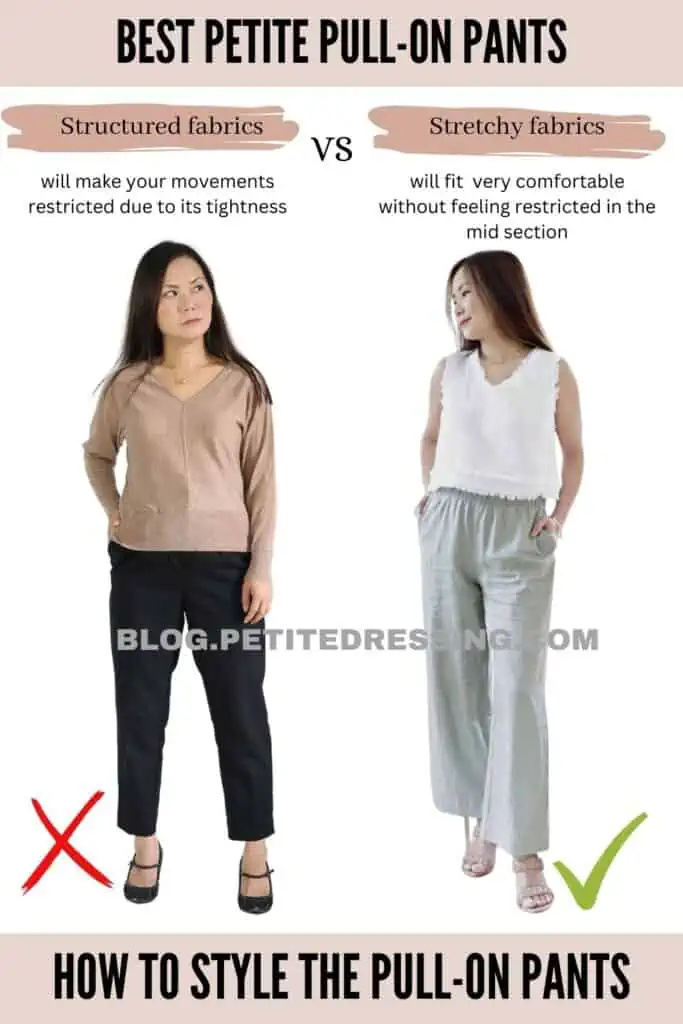 In terms of fabrics, make sure you pick those with strechy materials, i.e. those with some spandex in the fabrics.
Since they are pull on style, stretchy materials make it easier for you to put them on and take them off, without having to worry about whether you are busting the seams.
Also, stretchy material will make your high wasted pants very comfortable without feeling restricted in the mid section, especially if you have an office job and need to sit in chairs for many hours a day.