If you are a petite girl with a pear shaped body, finding the right jeans is critical. Since I am 5'2″ myself, I know how hard it is for petites to find jeans that fit to begin with.
After starting my petite clothing line, I've been working with petite models with all different shapes and sizes, including petite pear shape.
Based on my first hand experience, as well as feedback from thousands of my petite customers, I've put this detailed denim guide to help you.
Styling Goal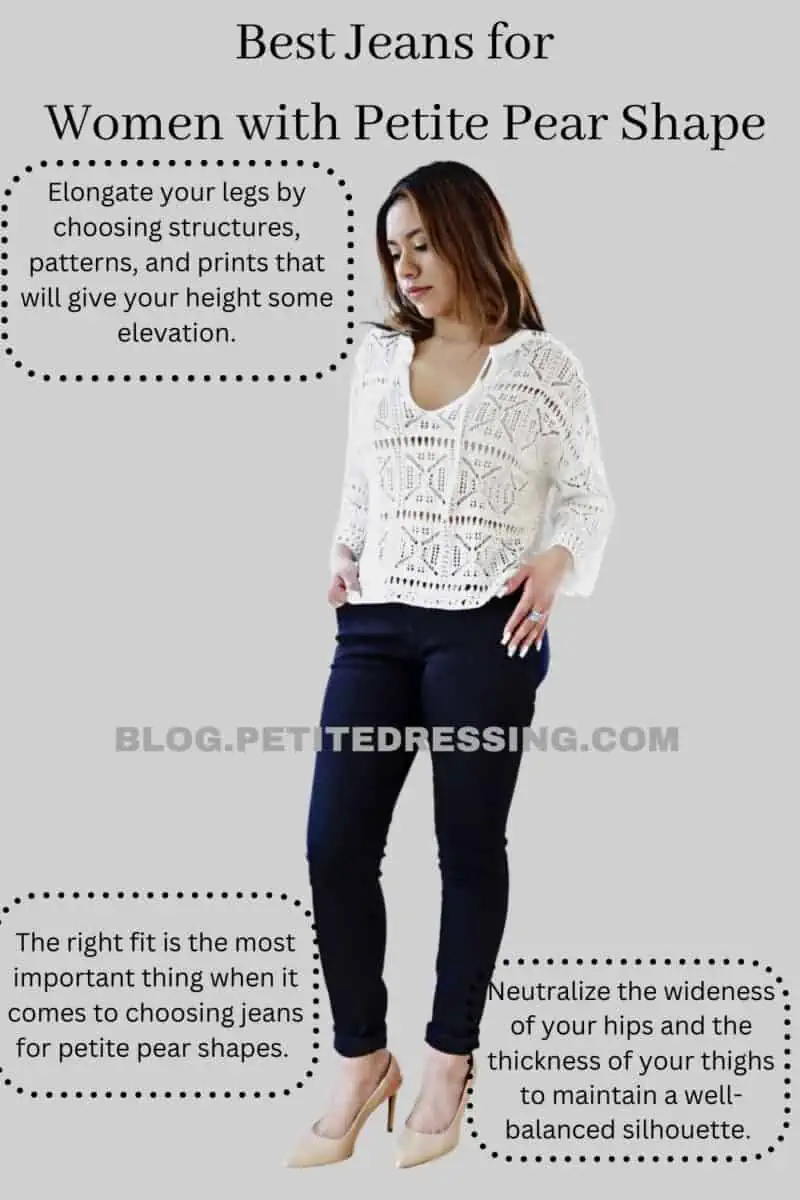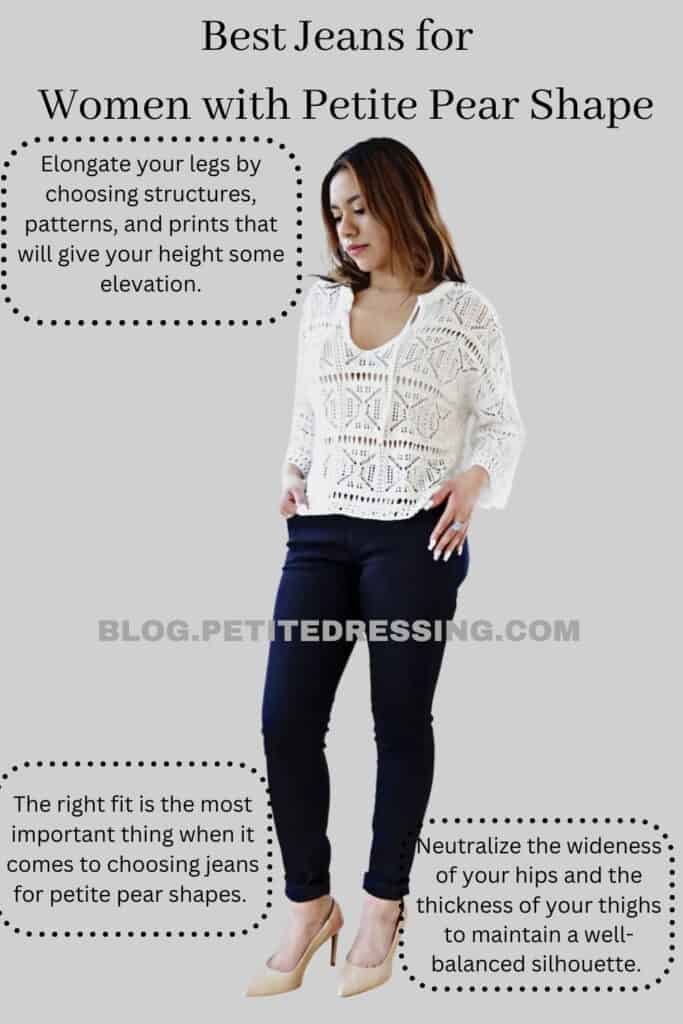 Elongate your legs by choosing structures, patterns, and prints that will give your height some elevation. The key to pulling off your chosen pair of jeans is to have them in certain designs that will draw the eyes up and down.
Neutralize the wideness of your hips and the thickness of your thighs to maintain a well-balanced silhouette. Since your upper body is significantly less prominent than your lower body, then you have to opt for a pair of jeans that will tone your bottom half down a bit.
The right fit is the most important thing when it comes to choosing jeans for petite pear shapes. Not only does the right fit bring your proportions to a flattering ratio, but it also gives the superior comfort that denim jeans are really meant to provide.
The right pair of jeans can take you to places and dress you up in a lot of stylish ensembles more than you can imagine! So with all of these styling goals considered, let's see what specific types of jeans are flattering for your beautiful petite pear-shaped body.
Black Bootcut Jeans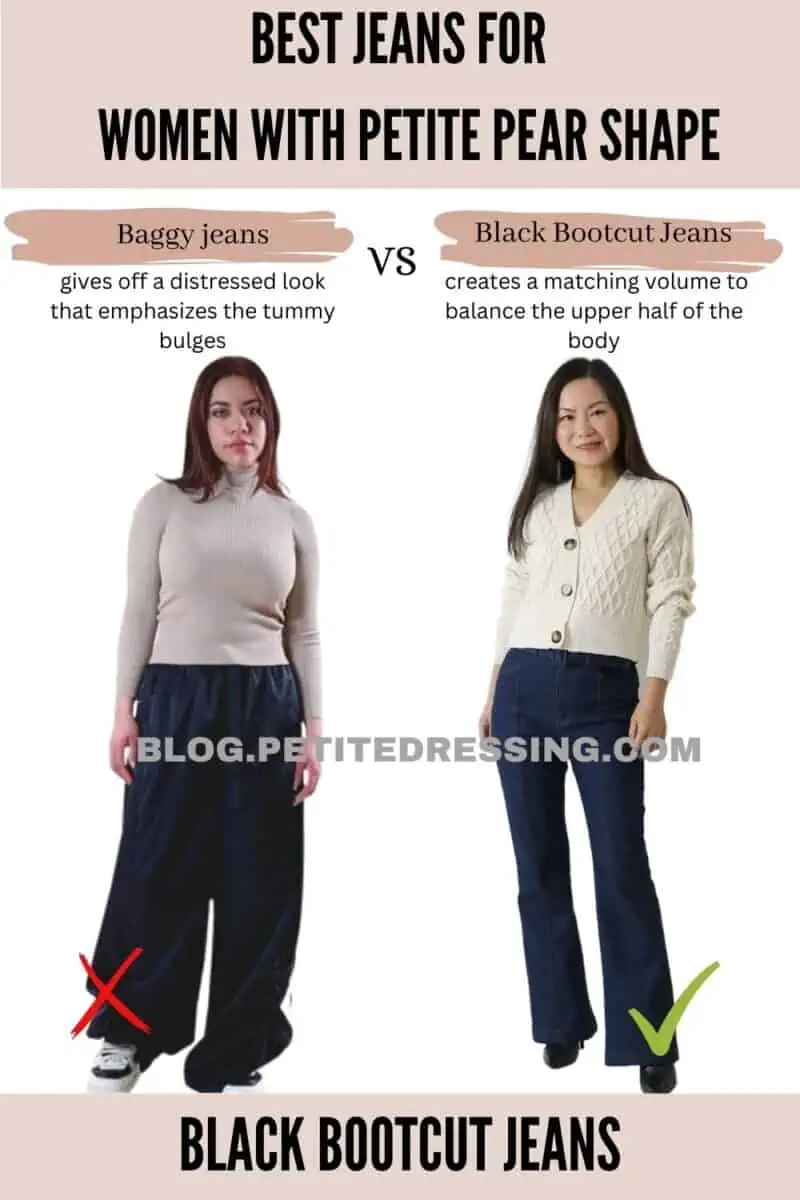 Bootcut jeans are generally flattering for petite women with pear-shaped body because they can visually balance out the proportions of the body. The pear-shaped body type typically means that the hips and thighs are wider than the upper body, so a strategic cut should be able to address this concern.
This is where bootcut jeans come in! Bootcut jeans flare out slightly at the bottom, which visually creates a matching volume to balance the upper half of the body, as well as your wide hips and thick thighs.
The wider leg opening draws attention away from the hips and thighs, and the slight flare helps strategically elongate the legs to make you appear taller. This efficiently creates a more proportionate look as it brings your body to a better flattering ratio.
Structured Straight Leg Jeans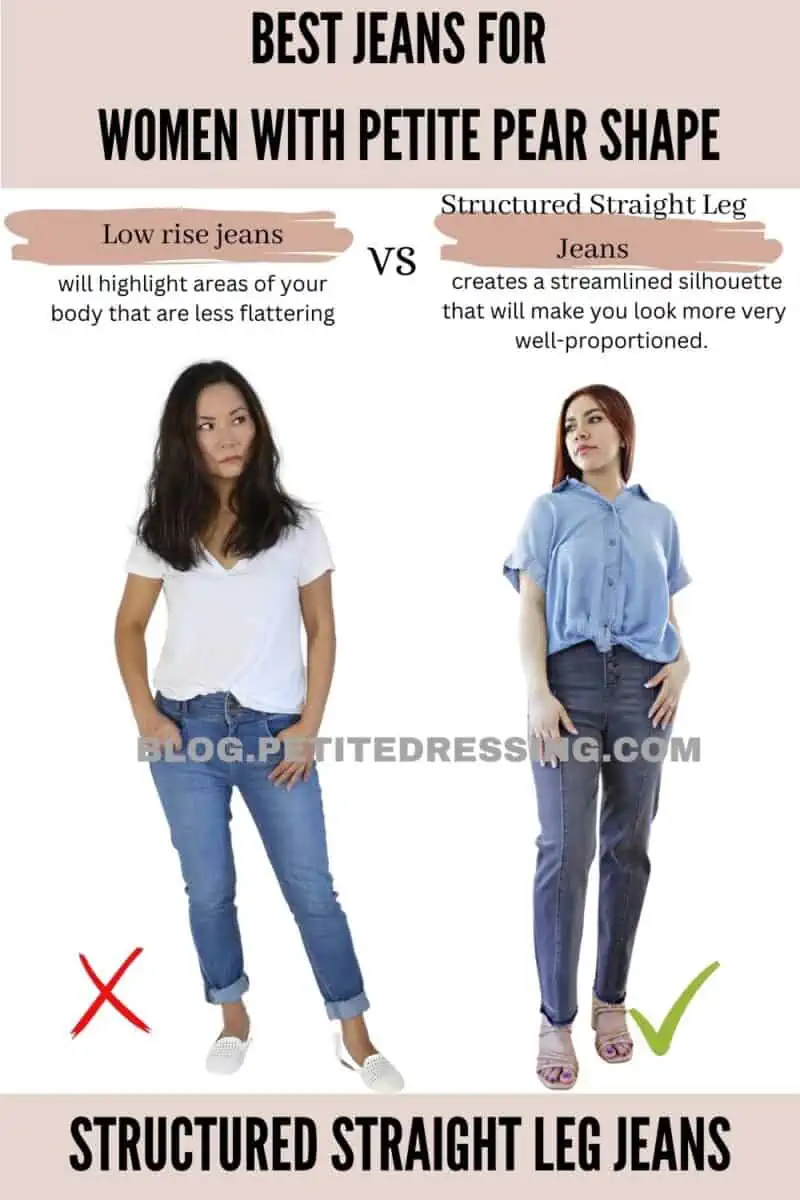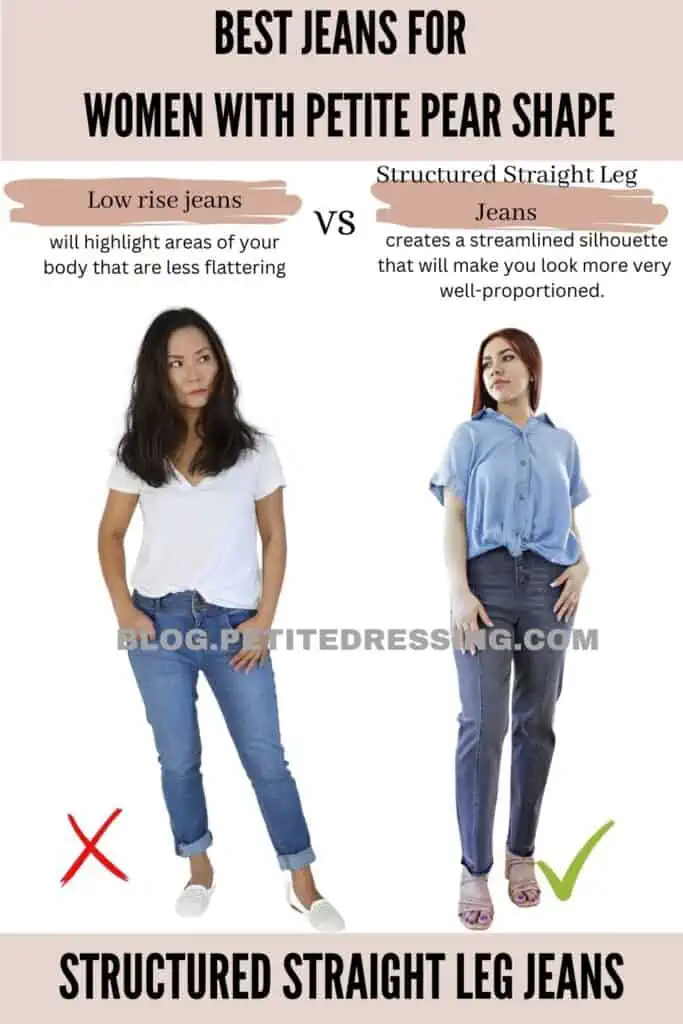 Let's first talk about the neat and classic structure of straight-leg jeans. The structured fit is not too tight or too loose which subtly skims through your lower body and creates a streamlined silhouette that will make you look more very well-proportioned.
This style of jeans is perfect for pear-shaped women because it balances out your proportions by creating a long, lean line that draws an unbroken visual line that makes you appear taller and slimmer. It also helps to minimize the appearance of wider hips and thighs, which is a common concern for pear-shaped women.
To get the most out of its style, pair them with a tucked-in blouse or a structured top to show off your beautifully balanced figure, and add some heels to elongate your legs even more!
Retro-Style Flared Jeans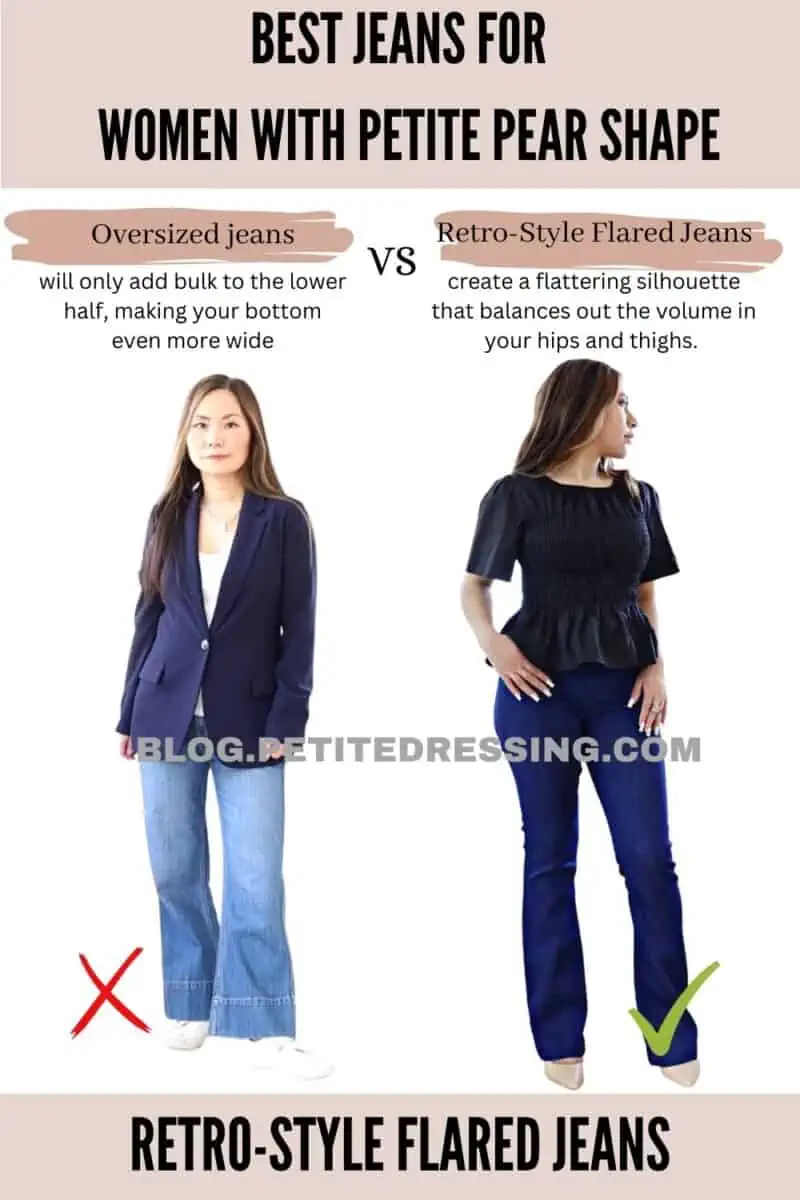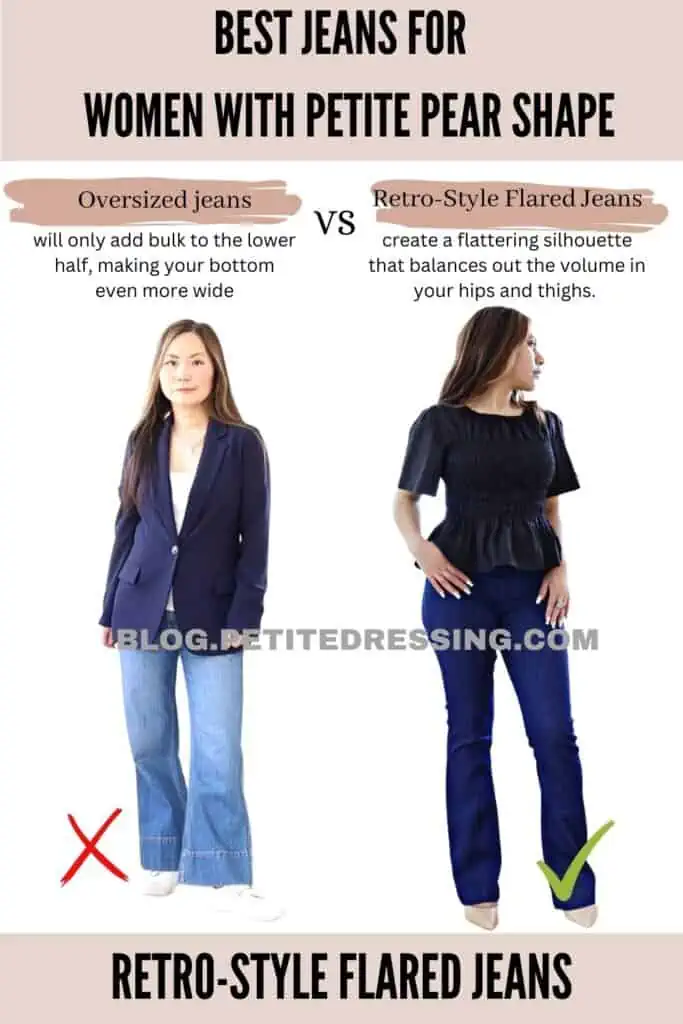 Apart from the chic retro vibe flared jeans, they are also designed to nicely hug your thighs and gradually widen below the knee to create a flattering silhouette that balances out the volume in your hips and thighs. By accentuating your curves in all the right places, these jeans can help you achieve a well-balanced body frame ratio.
The gradual widening of the flare from the knee down elongates the legs, which can also e very beneficial for petite women as it makes you appear way taller than you are. Just like bootcut jeans, the flare subtly elevates the volume from the knees down to be able to complement the broadness of your hips and thighs.
Another advantage of flare jeans for petite pear-shaped women is that they can help create a streamlined look. When paired with a structured top, flare jeans can create a smooth, elongated line from the waist down to the floor, which can make you look taller and slimmer.
Form-Fitting High-Waisted Jeans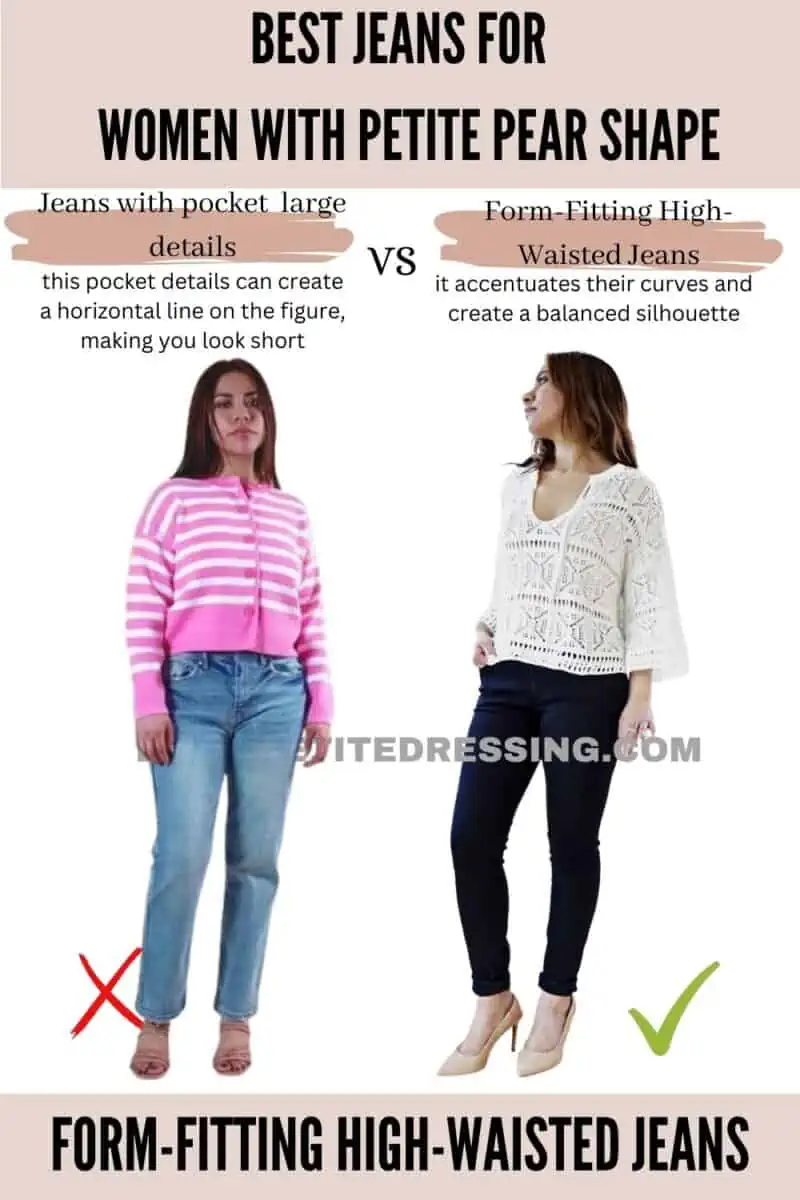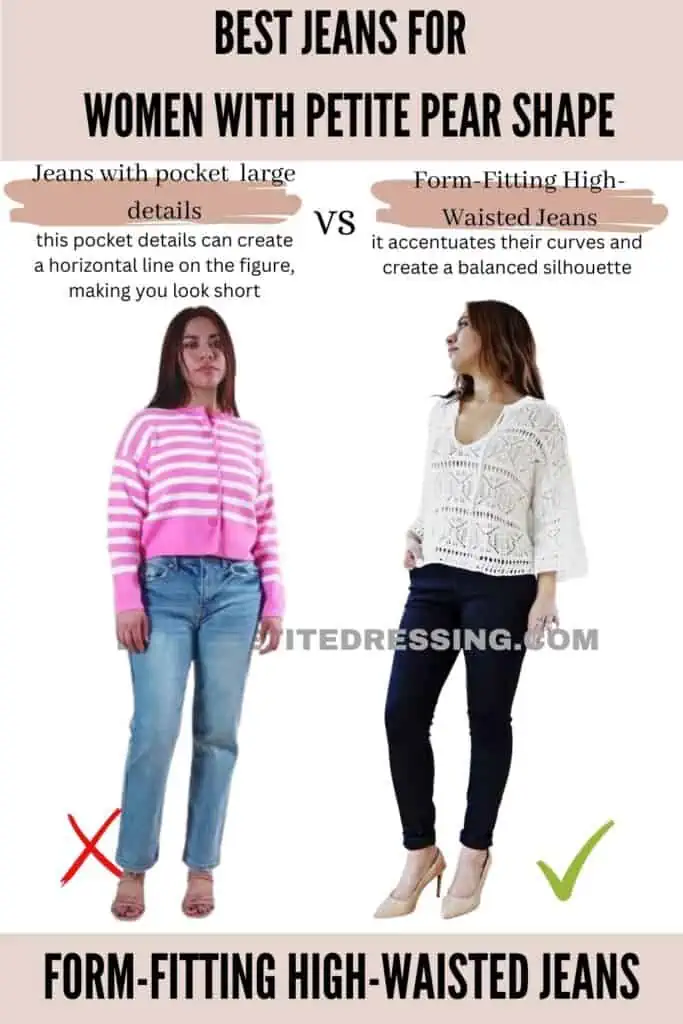 This style of denim is a must-have for petite pear-shaped women who want to accentuate their curves and create a balanced silhouette. High-waisted jeans can be an absolute game-changer because of their sleek structure and strategic waistband placement, it's quite easy to pull it off with pretty much any look.
High-waisted jeans are designed to sit at or above the natural waistline, which can help elongate the legs and create the illusion of a longer torso. This can be especially beneficial for short women like us since it can help make the frame appear taller and more proportional.
High-waisted jeans can help cinch in the waist and create a flattering balance overall, while also providing ample coverage and support for the hips and thighs. Additionally, high-waisted jeans can prevent the dreaded muffin top, which can be a common issue for those with a pear-shaped body type.
Dark-washed Jeans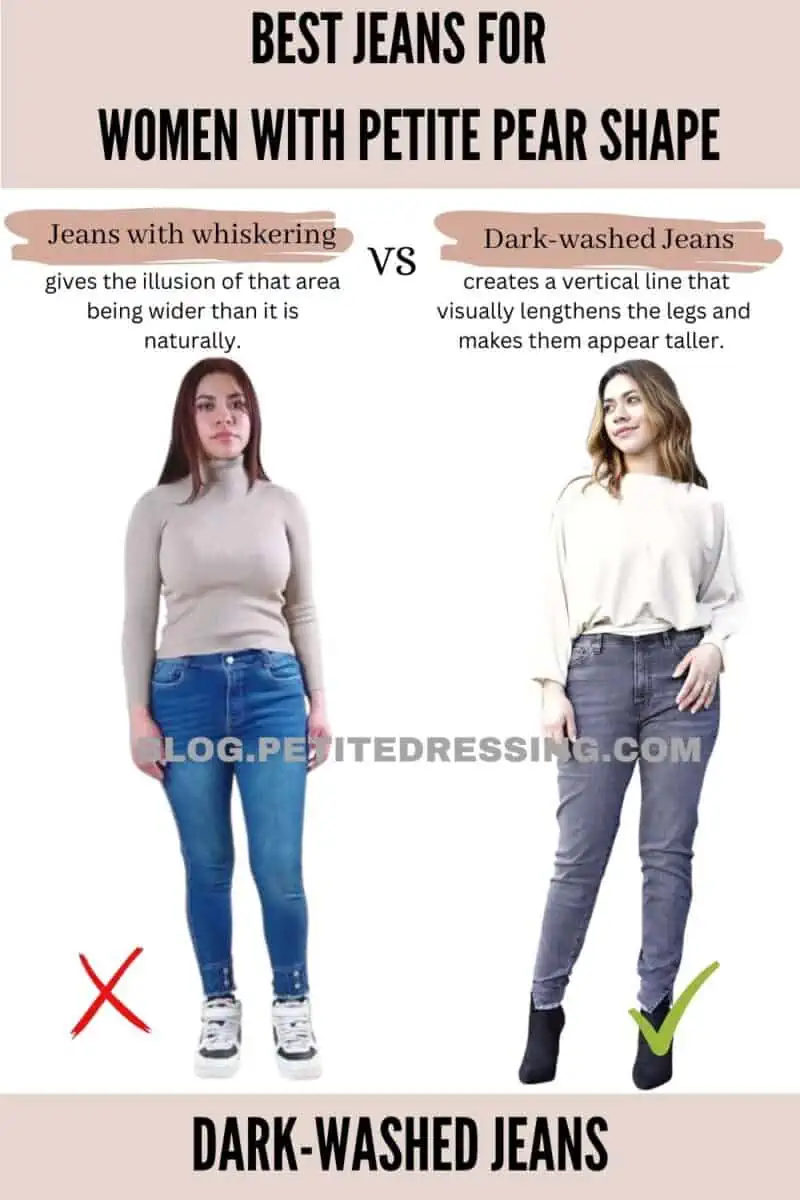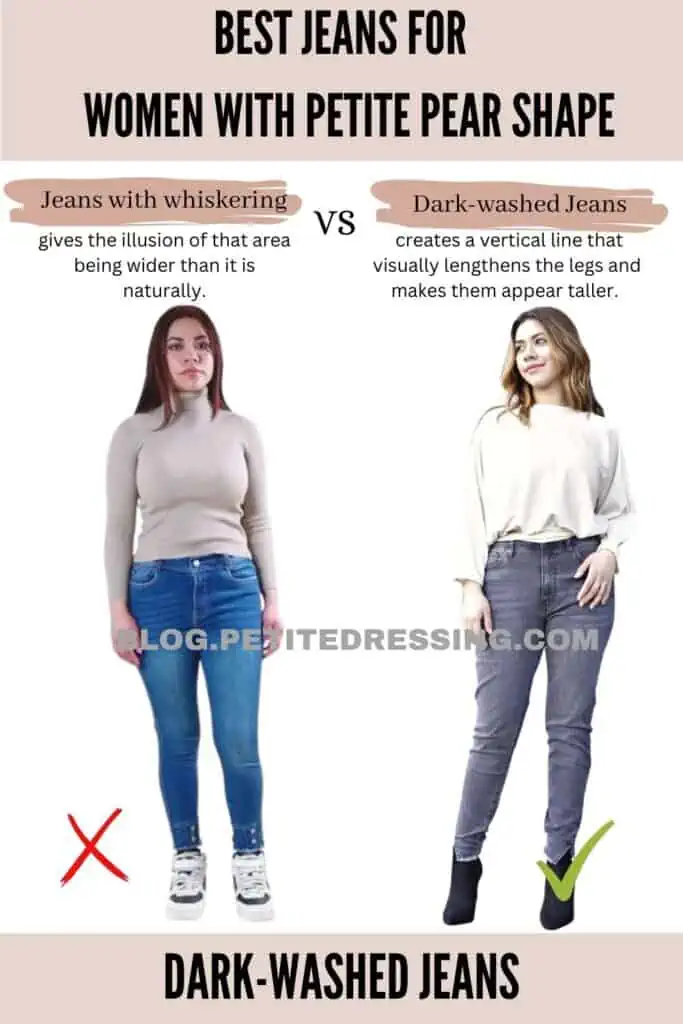 When it comes to jeans, the wash and color can make a big difference in how they flatter your figure. For petite pear-shaped women, one of the most flattering washes is dark-washed denim.
Dark-washed jeans create a slimming effect, which is ideal for petite women who want to elongate their legs and create a more streamlined silhouette. The dark color creates a vertical line that visually lengthens the legs and makes them appear taller.
Moreover, dark-washed jeans can also help balance out the volume in the hips and thighs, which is a common issue for pear-shaped women. Since the dark color creates a slimming effect, it can make the hips and thighs look more proportionate to the rest of the body.
Classic Wide Leg Jeans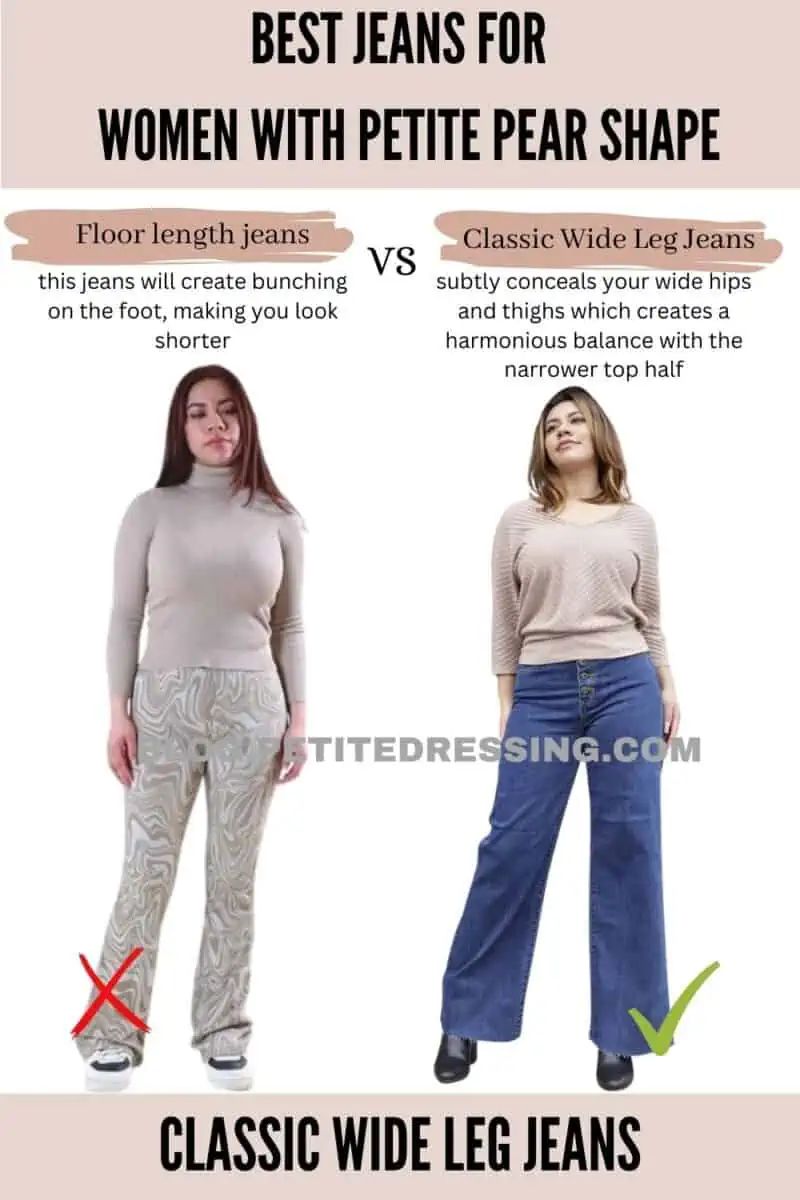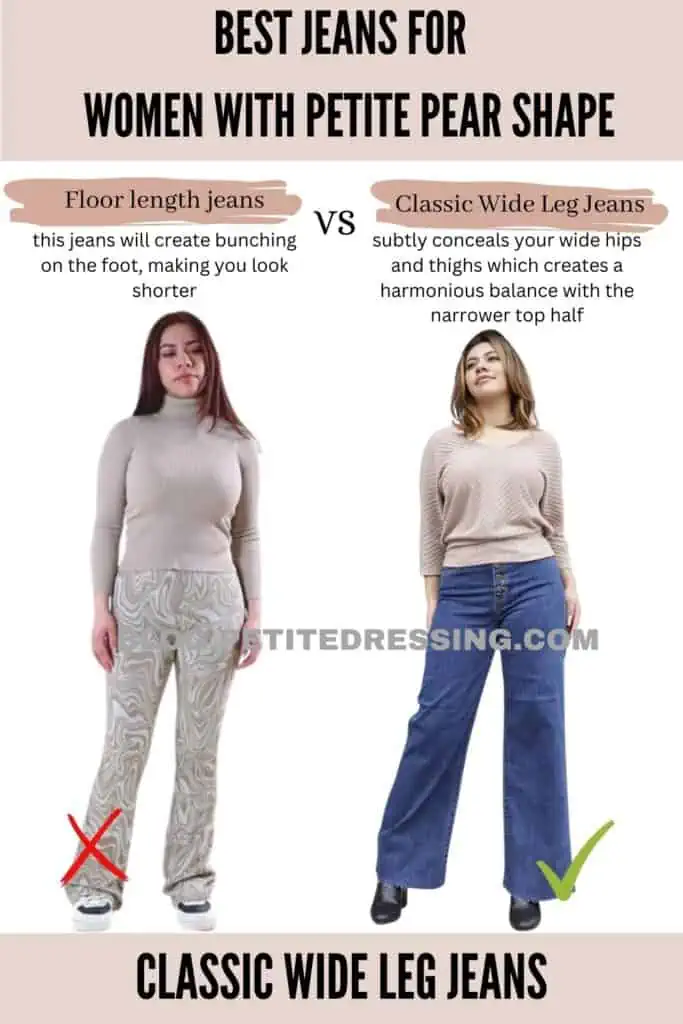 Wide-leg jeans are just pure magic as they can instantly bring balance to your frame and make you appear taller! As you slip on a pair of wide-leg jeans, the voluminous fabric on the bottom half of the body subtly conceals your wide hips and thighs which creates a harmonious balance with the narrower top half.
The vertical lines of the wide legs draw the eye up and down, creating an uninterrupted line from the waist to the floor. This makes petite pear-shaped women look taller and slimmer.
Another benefit of wide-leg jeans is that they are incredibly comfortable and very easy to style with other clothing pieces. The loose, flowy fabric allows for plenty of movement, so you can go about your day without feeling restricted or uncomfortable.
High-rise Mom Jeans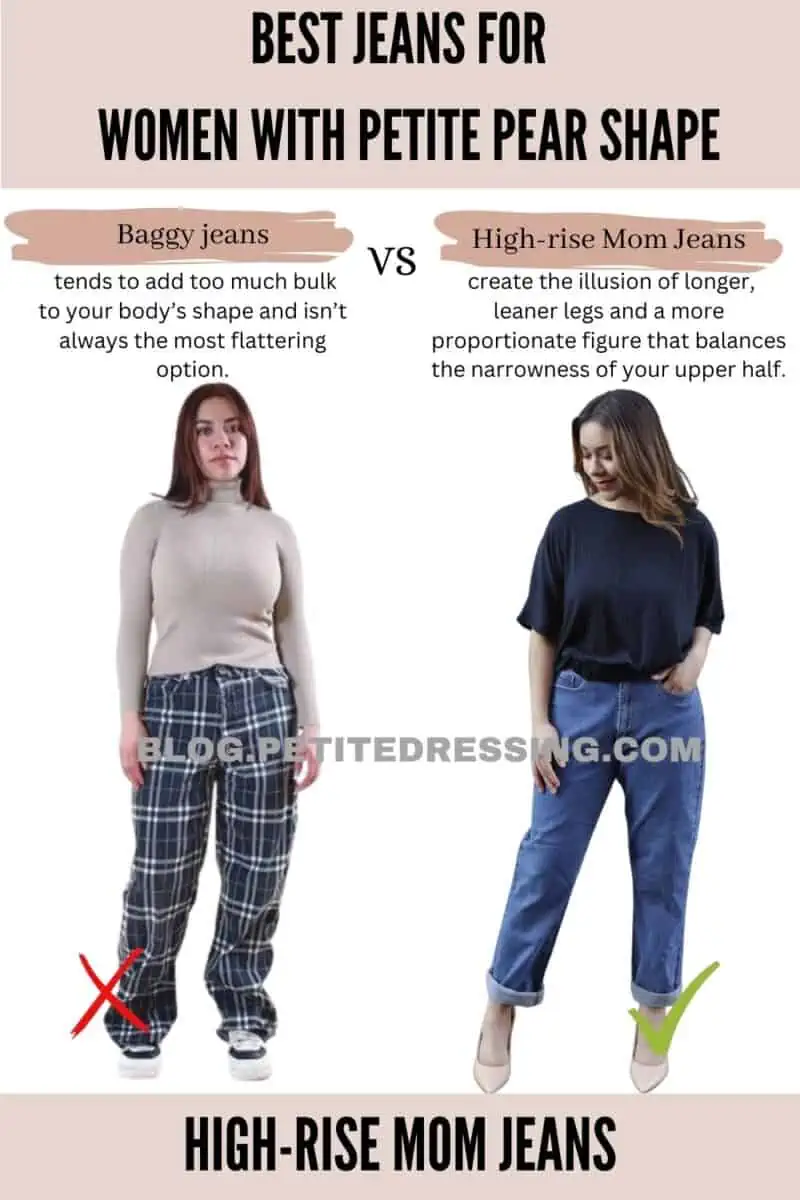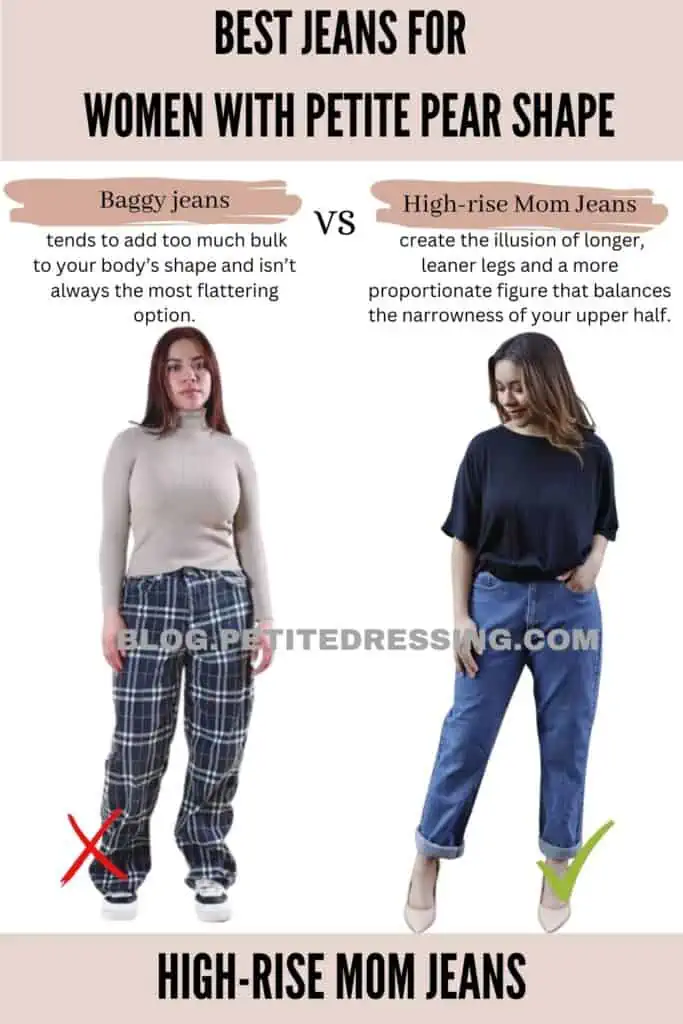 High-waisted mom jeans are a retro-inspired denim style that has made a comeback in recent years. They are typically characterized by a high-rise waist that sits above the hips and a relaxed, tapered leg that falls just above the ankle.
The high waistline of these jeans helps to elongate the legs and create a more balanced silhouette. By cinching in at the waist, high-waisted mom jeans create the illusion of longer, leaner legs and a more proportionate figure that balances the narrowness of your upper half.
In addition to their leg-lengthening properties, high-waisted mom jeans also have a slimming effect on the midsection because the high waistline helps to smooth out the bulge in the tummy area and can create a more streamlined look overall. This is especially beneficial for petite pear-shaped women who are more prone to a muffin top.
Avoid Jeans with Horizontal Details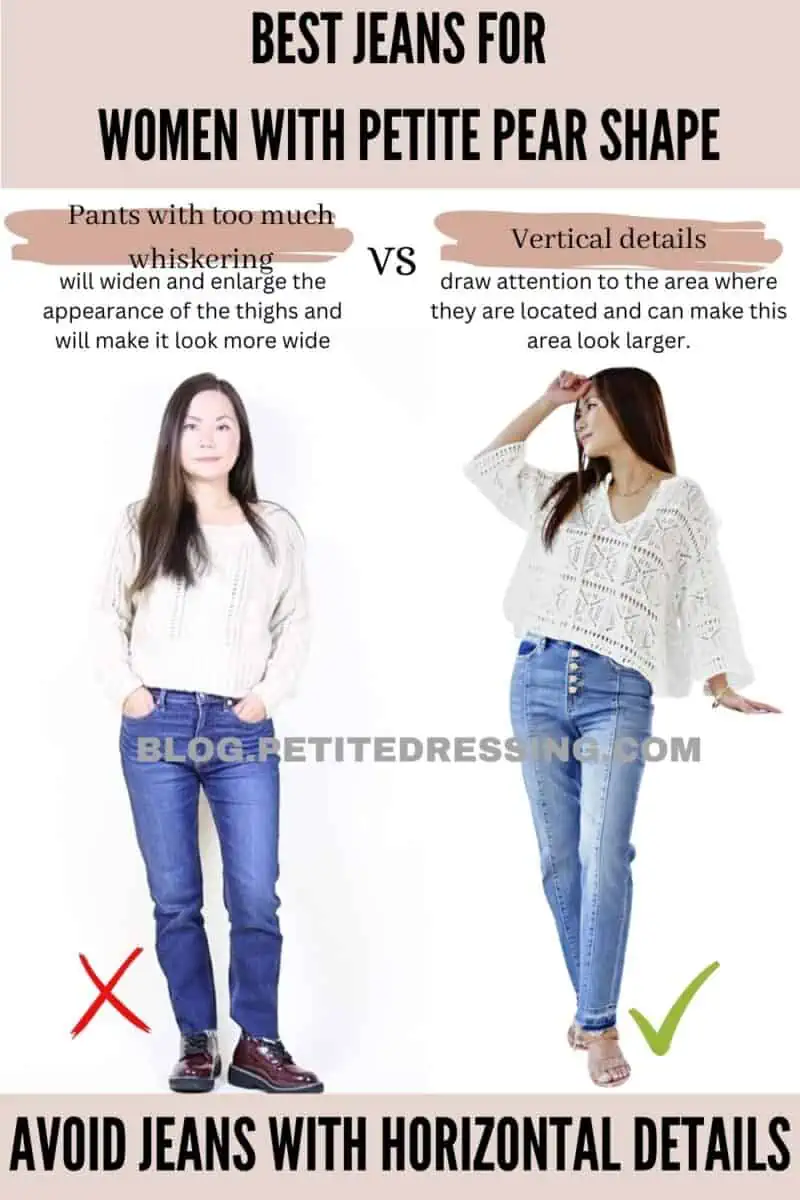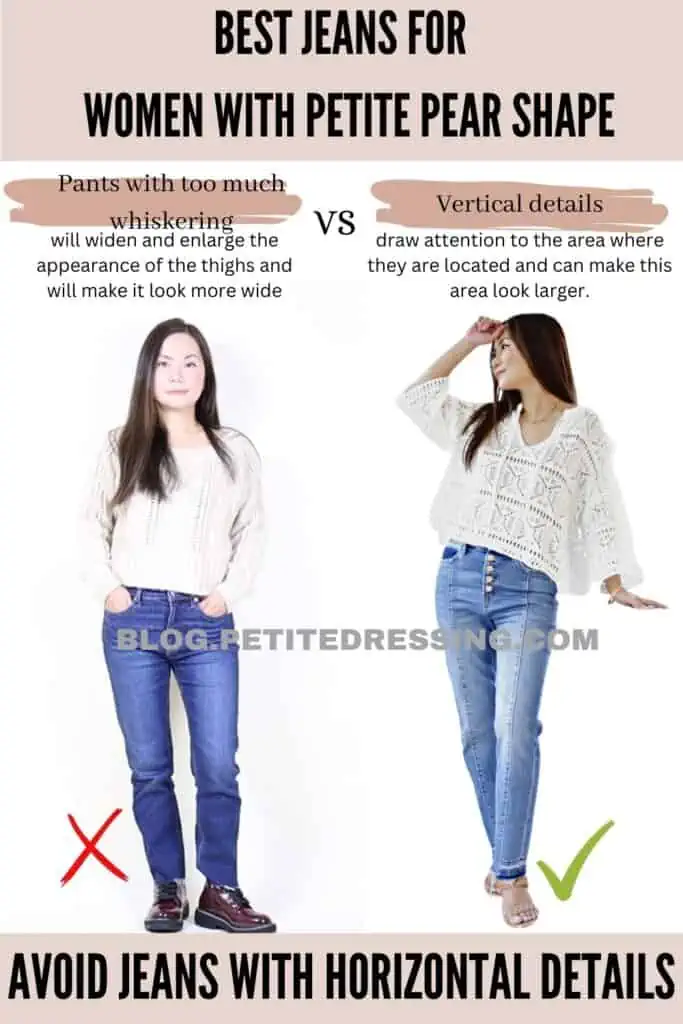 Petite pear-shaped women may want to avoid jeans with horizontal details because these details can visually widen the hips and thighs even more, which can create an unbalanced appearance. Horizontal details, such as whiskering, fading, or distressed patches, draw attention to the area where they are located and can make this area look larger.
In contrast, vertical details, such as seams or stitching, can elongate the legs and create a more balanced look. Therefore, petite pear-shaped women may want to choose jeans with vertical details or a clean, dark wash to create a streamlined silhouette and enhance their proportions.
The Key Takeaway
Jeans will always be a comfortable fashion go-to that all of us need to have in our closets. On top of style, its key function of being able to give comfort can only be achieved if you go for the right pair of jeans to flatter your petite pear shape.