I am 5'2″, and I have shorter legs. If you are petite like me, you may have found the easiest way to look taller and leaner instantly is to wear heels. However, there are times when you may not feel like wearing heels, or you may find heels not as comfortable, especially when you want to walk long distance.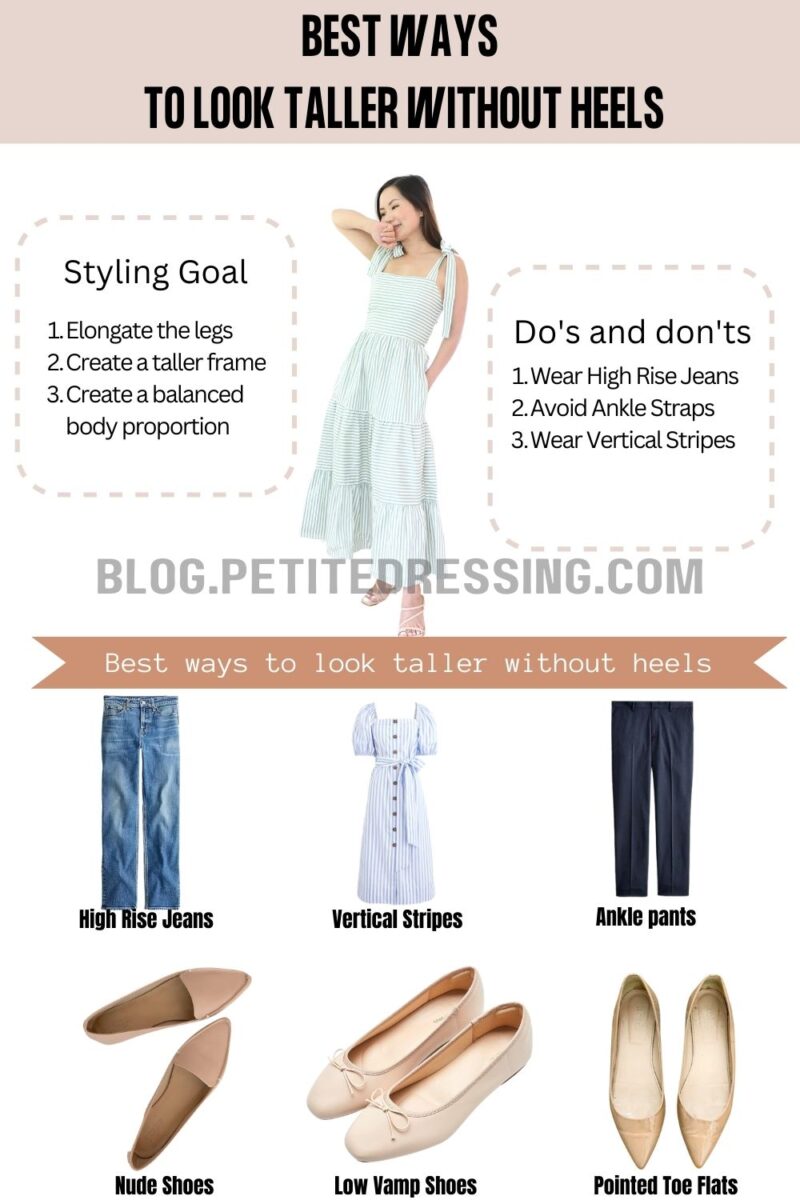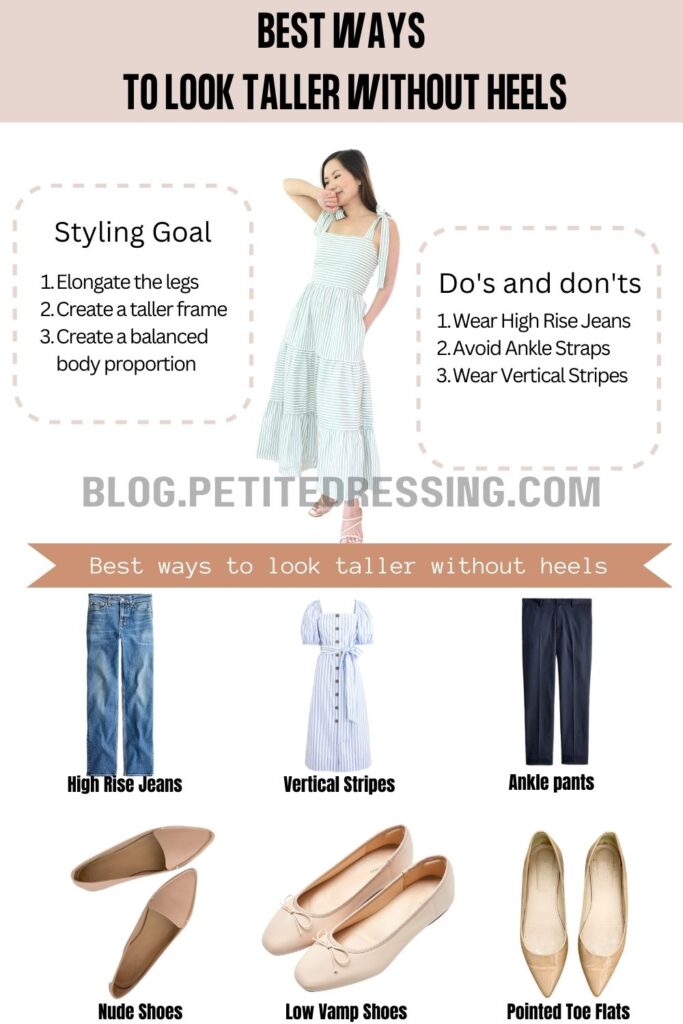 Fortunately, I have found plenty of other ways that can make short girls look taller without heels. These are the best tips I use every day to elongate my legs on a daily basis, and you can use these tips to make yourself appear taller even when you are wearing flats!
Wear High Rise Jeans
High rise isn't just a trend, it's also a fit to embrace when you want to look taller in your clothing. This is a little trick you may not realize can add extra inches to your legs.
Because a high-rise fit visually lifts your waistline to a higher place on your body it makes it look like your legs begin where the high rise rests on the body. If you don't like wearing high heels very often try incorporating more high-rise bottoms into your wardrobe to give your shape an elongated effect while still being comfortable in flat shoes.
In my closet, almost all my pants as well as jeans are high rise. Not only have I noticed they are the most comfortable to wear, but also they can immediately make my legs appear longer. If you are petite like me, I highly recommend you make high rise style a cornerstone of your closet!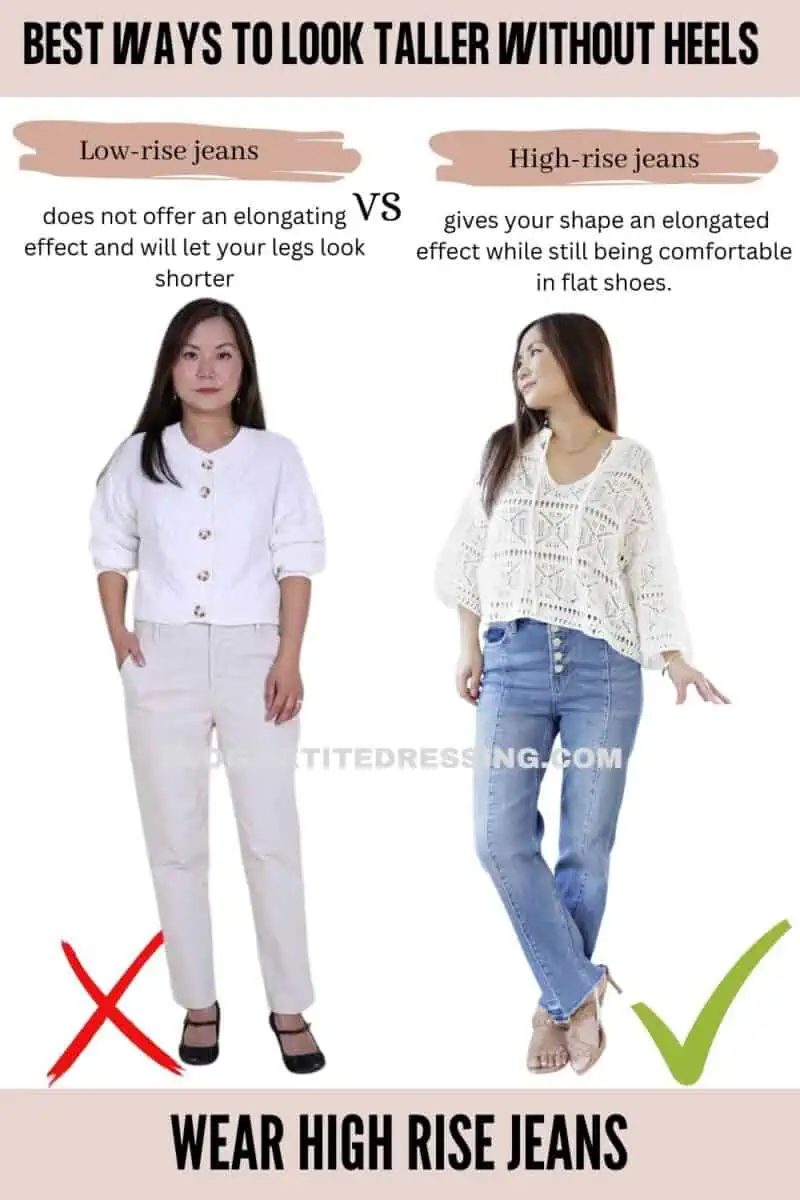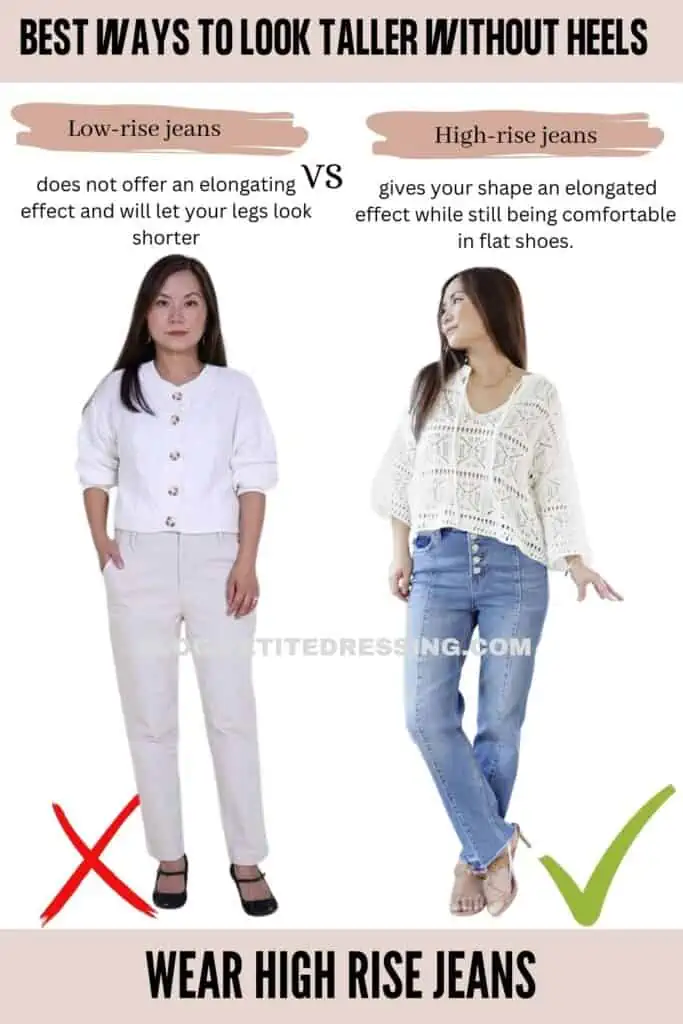 Wear Nude Shoes
Shoes have a way of adding or subtracting length from your body. In the case of wanting to look taller without high heels, you're definitely going to want to add a great pair of nude shoes to your wardrobe.
Nude shoes are crucial in flats because of how they make legs look so much longer. There's one key to making the most of this tip, though, and that is the nude shoes need to match your skin tone as close as possible.
When the shoes match your skin tone it creates a monochromatic aesthetic that blends into your skin instantly adds inches to your body – even in flats! Keep in mind that if the nude shade is too much of a contrast next to your skin tone it won't provide the same lengthening effect.
I was wearing nude oxfords in this picture, which has no heels at all. However, because they are quite close to my skin color, they make my legs appear much longer and make me look much taller, compared with flats or oxfords of any other color in my closet.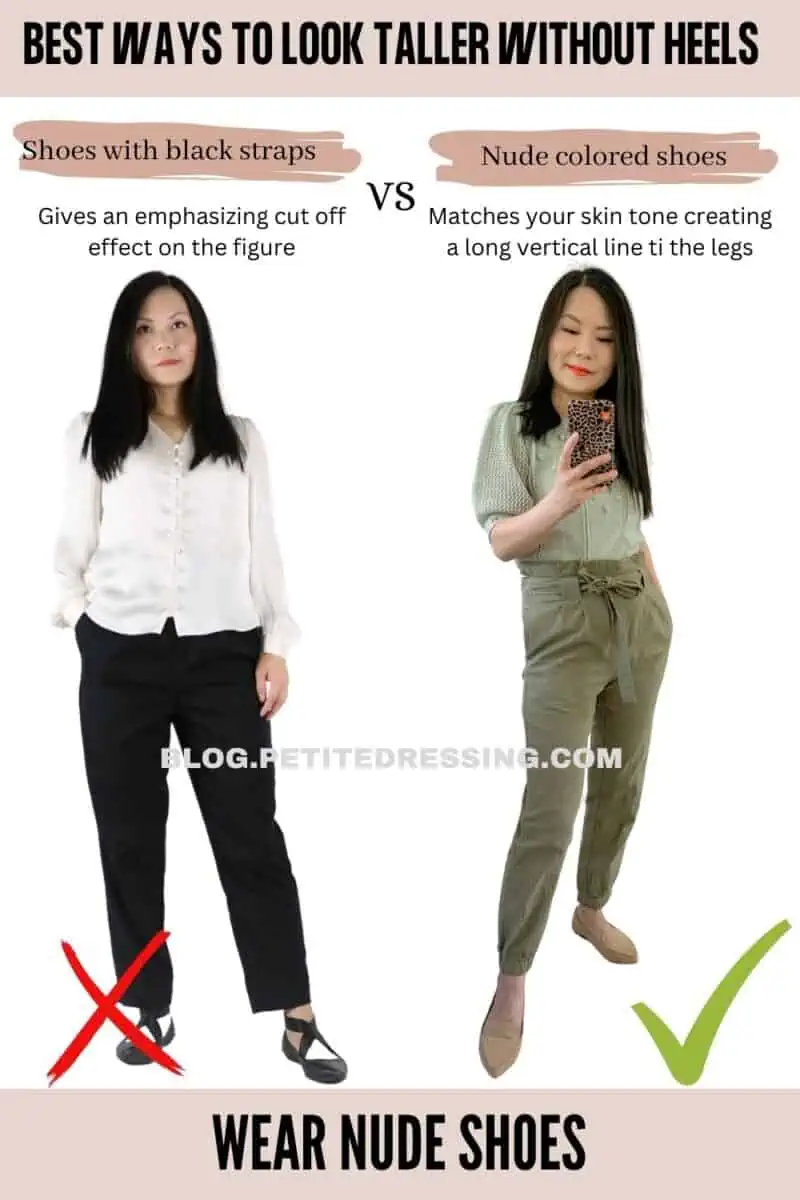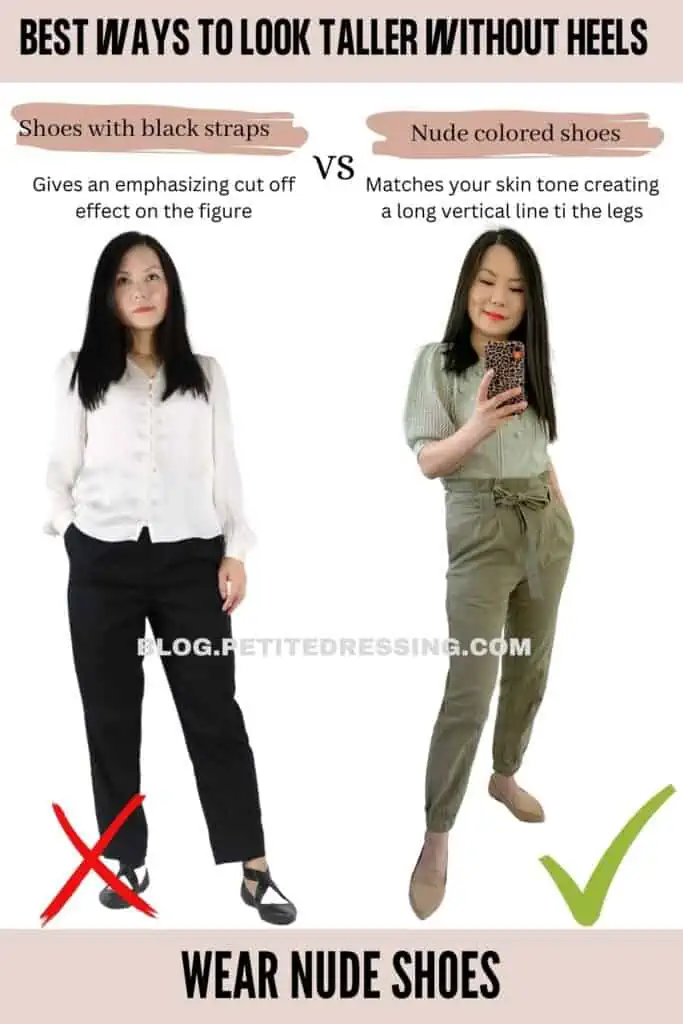 Dress in Monochrome
One trick that isn't utilized enough for petite styling: monochromatic dressing. Monochrome outfits are quite simply wearing one color from head to toe.
This styling method adds height to the body because instead of the body getting broken up by color, print, etc. the body looks like one longer, leaner line. Since an outfit is made up of one color throughout, it's harder to see where the torso and legs begin/stop which is why the body looks so much taller when dressing this way.
In this picture, I was wearing this white camisole with this white maxi skirt. Even though I was wearing flat sandals, I still look taller than I actually am, thanks to the continuous flow of colors from top to bottom.
One thing worth mentioning is that monochromatic dressing does not require your top and bottom has to be exactly the same matchy-matchy. As long as your top is from the same color family as your bottom, it can still create a tonal look, which can make you look taller and leaner.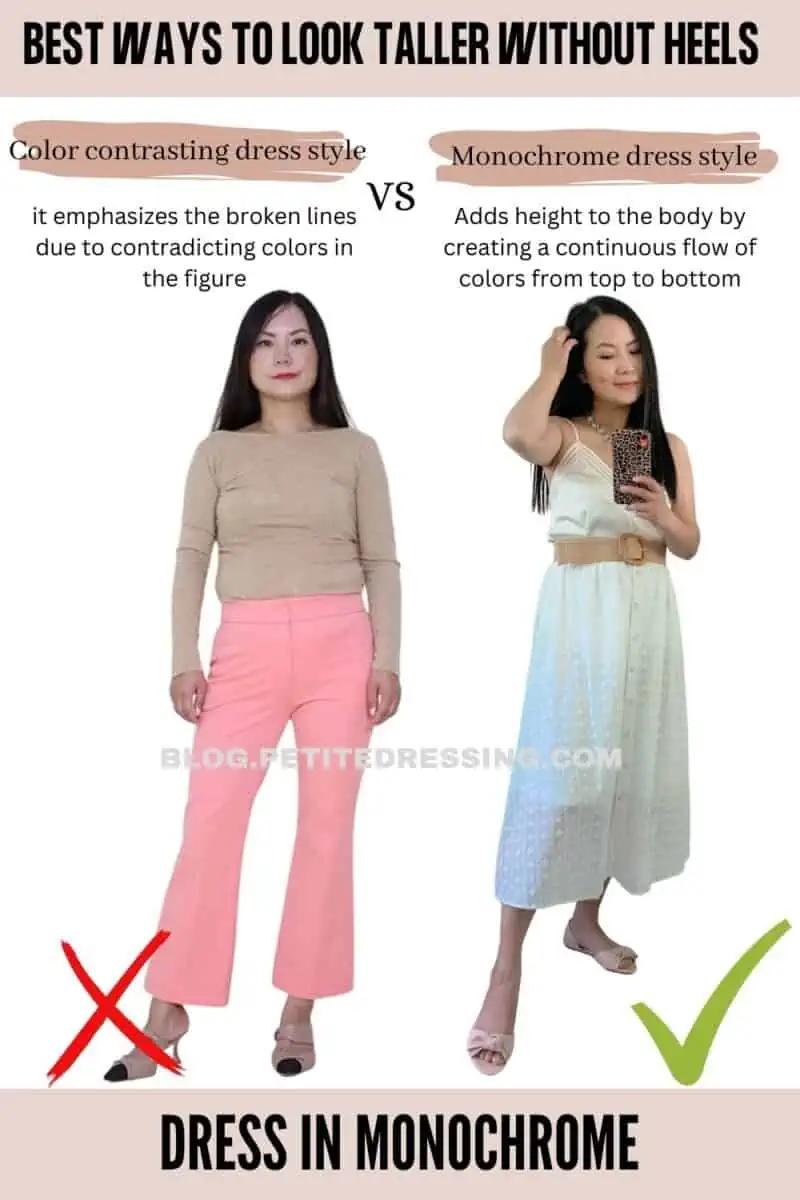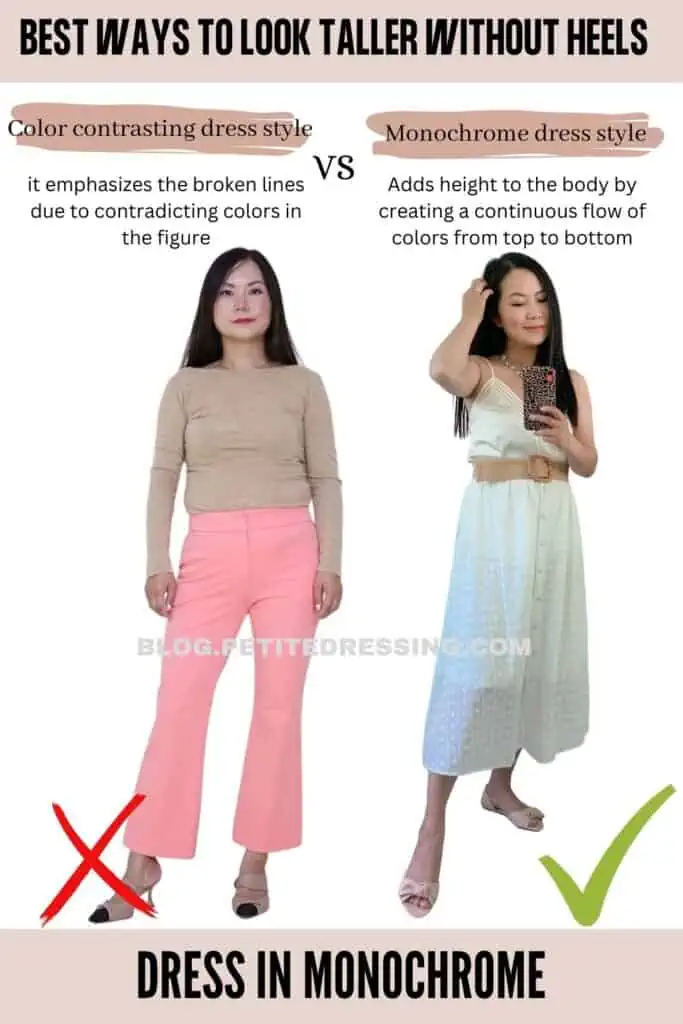 Tuck in your Shirt
If you want to look taller in flat shoes, tucking in your shirt can work magic! This is especially true if you happen to be petite like me, with shorter legs to begin with.
If you are wearing a longer shirt or top, untucking them, can just make your legs appear even shorter than they are. However, once you tuck your shirt, whether it's full tuck, half tuck, or even French tuck, it will immediately make a huge change in you body proportion and therefore make you look taller right away!
In this picture, I was wear these flat loafers which had no heels at all. I was able to look taller, even though I'm only 5'2″, with my tucking trick!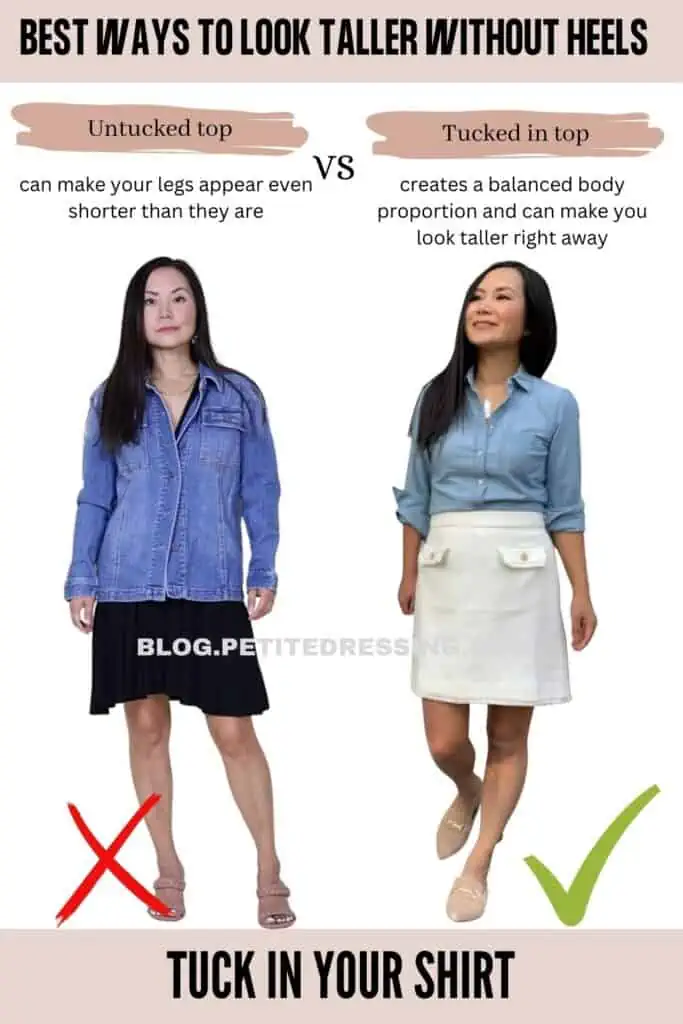 Wear Pointed Toe Flats
High heel shoes aren't the only want to create the illusion of being taller in clothing. Seriously! Wearing pointed toe flats is stylist's trick to making legs appear longer without the use of high heels.
Pointed toe flats create the look of an extended leg thanks to the vertical line that is created with the shape of the pointed toe.
Wear Low Vamp Shoes
Another shoe trip to add more length to legs is to opt for shoes that have what's called a 'low vamp.' What this means is more of the top of your foot is exposed. Showing even just a little extra skin on the foot with a lower vamp can make a huge impact when lengthening legs.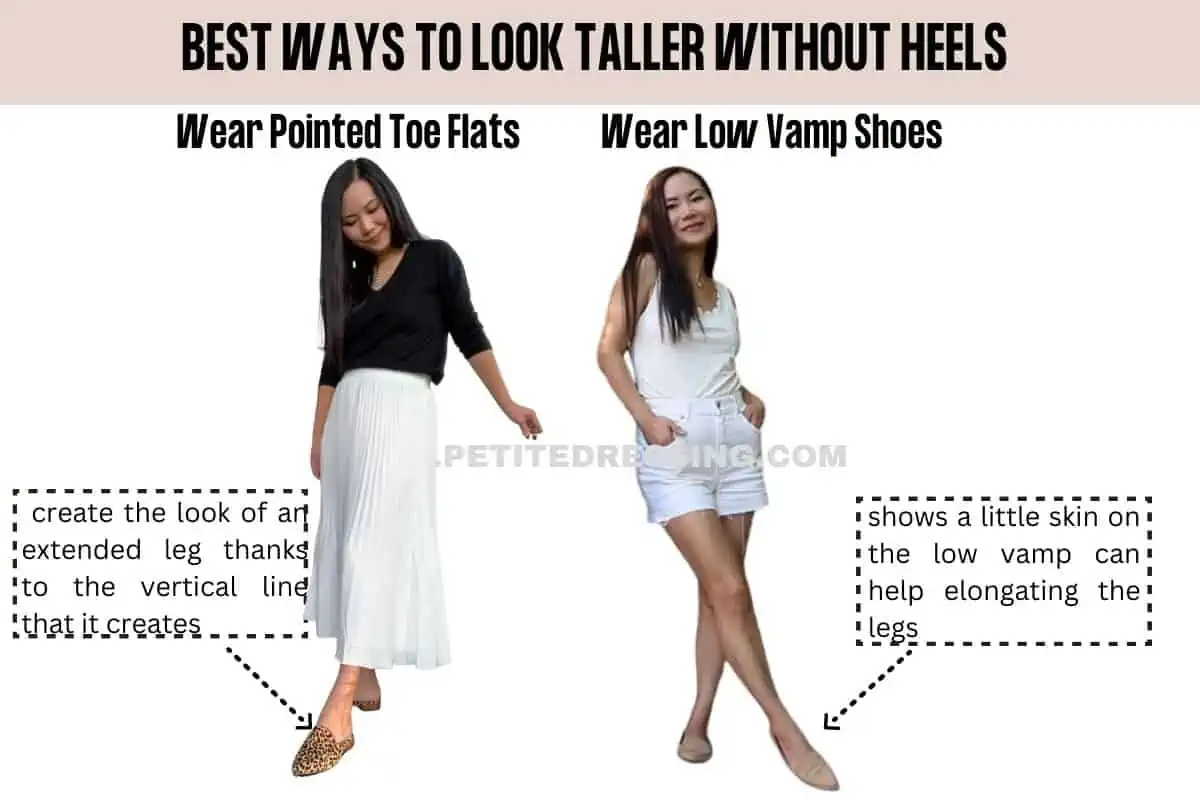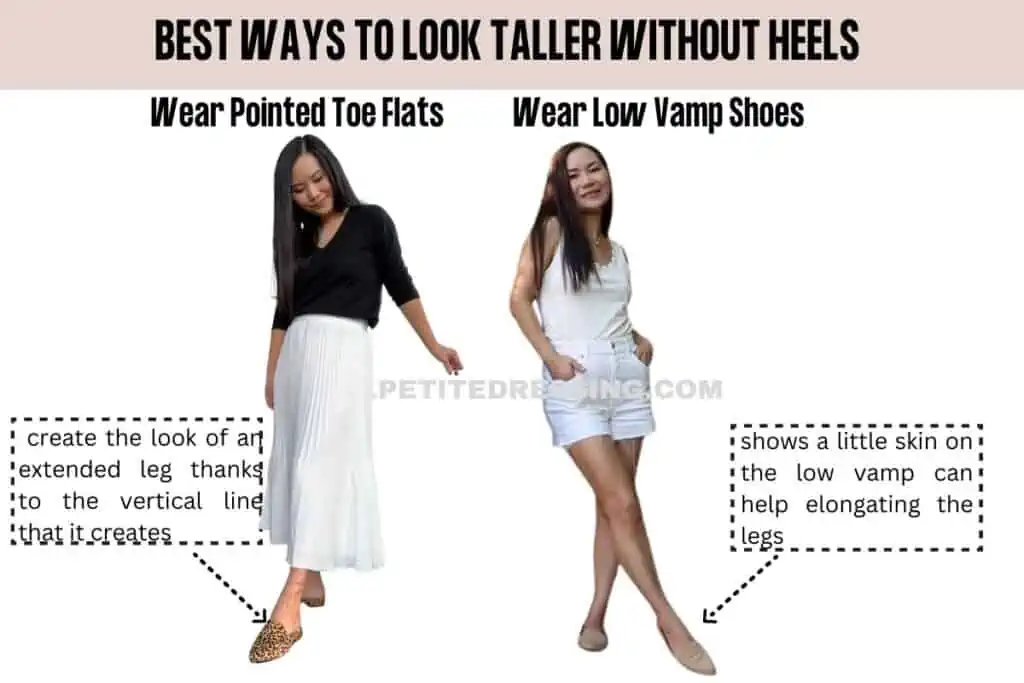 Wear Vertical Stripes
This is one of the most underrated styling hacks for petite women: wearing vertical stripes! Believe it or not, wearing vertical stripes instantly makes you look taller.
To put it simply it's because of the long, straight lines that vertical stripes include.
When worn on the body those long stripes draw the eye up and down which makes you look much taller. Use vertical stripes to add length to your liking.
For example, if you want your legs to look longer you may wear a pair of pants in vertical stripes.
Want your torso to look longer? Vertical striped shirt it is! Add the lengthening effect to your entire body with a vertical stripe jumpsuit or dress.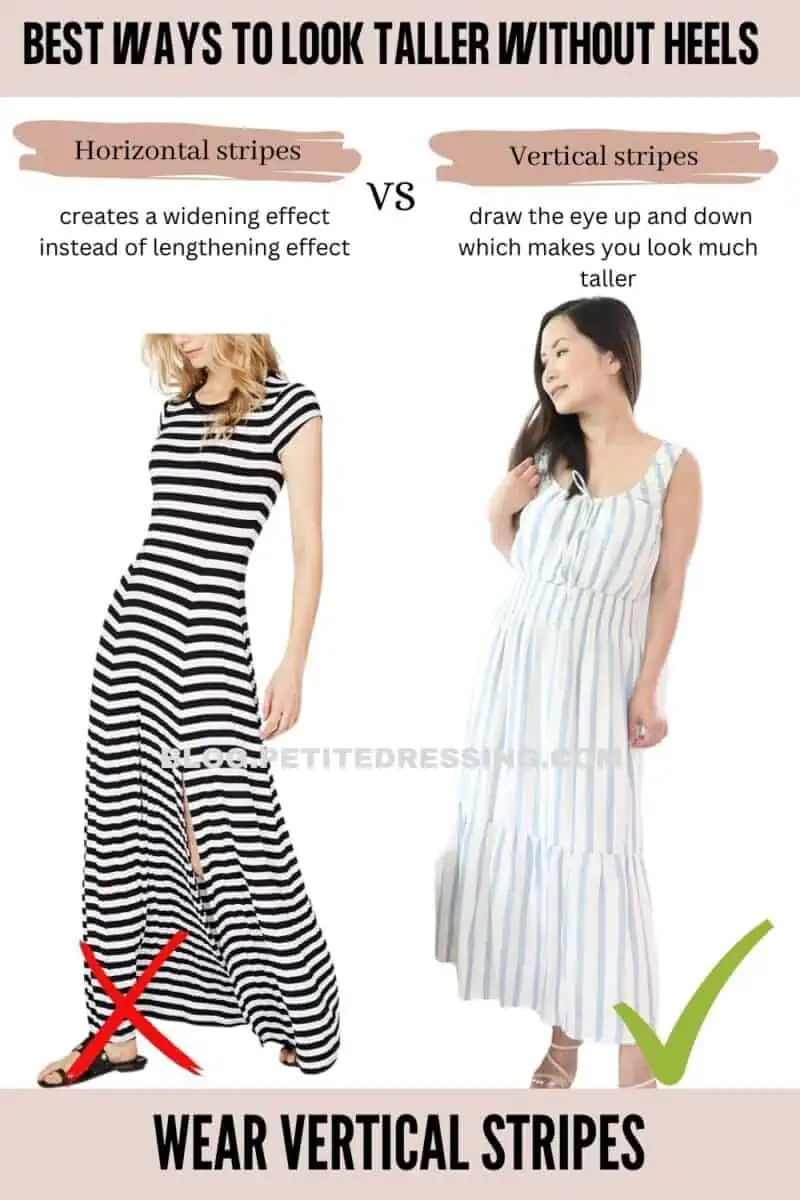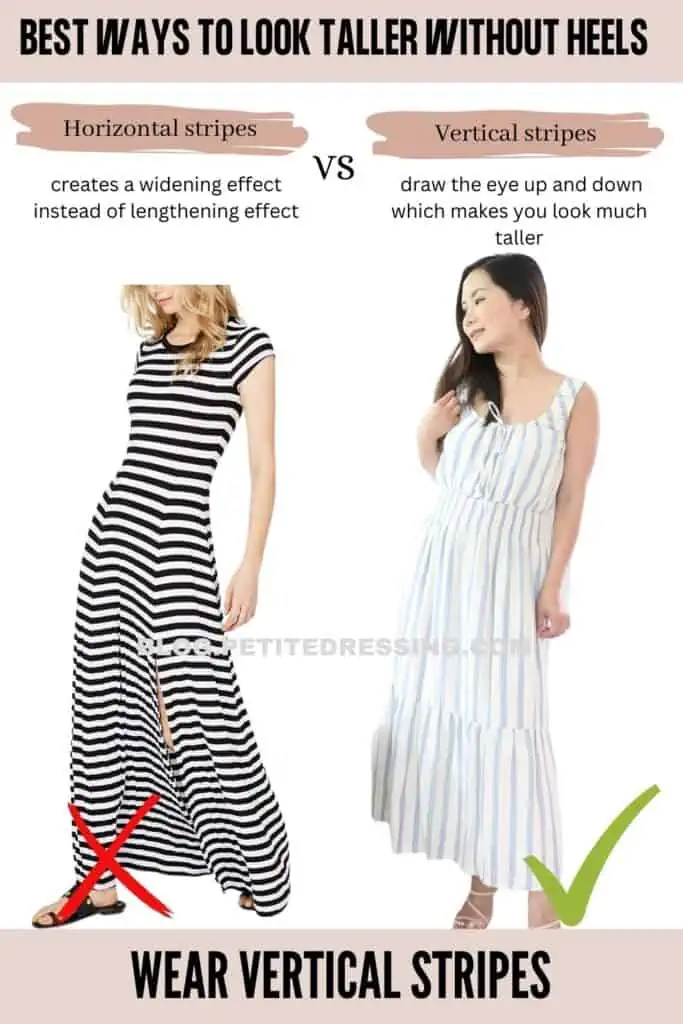 Avoid Ankle Straps
Even showing just a touch of skin around the ankle area can add some height to your frame. This can be done a few different ways. First and foremost – keeping ankles bare from ankle straps in shoes.
This is a good rule of thumb to skip when your goal is looking taller. Ankle straps create a harsh line at the ankle (obviously) which cuts the leg off right there causing it to look shorter – hence why ankle straps aren't ideal in this situation.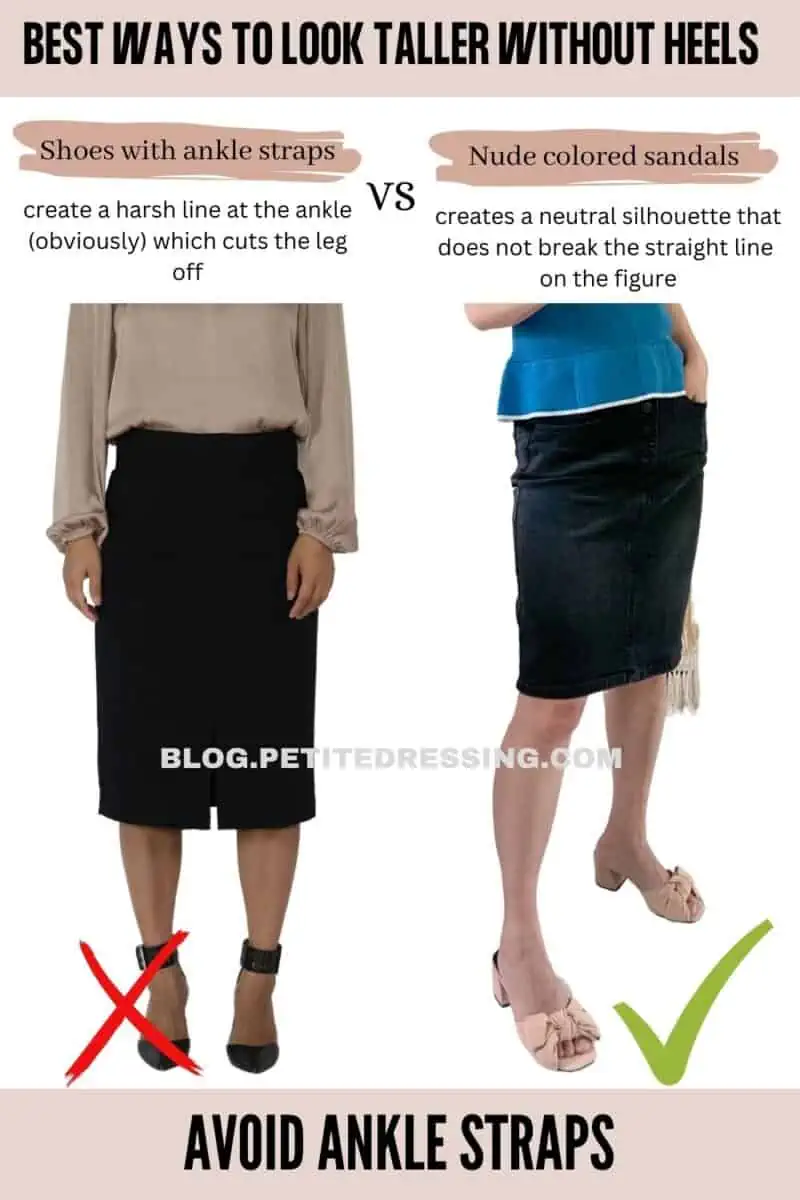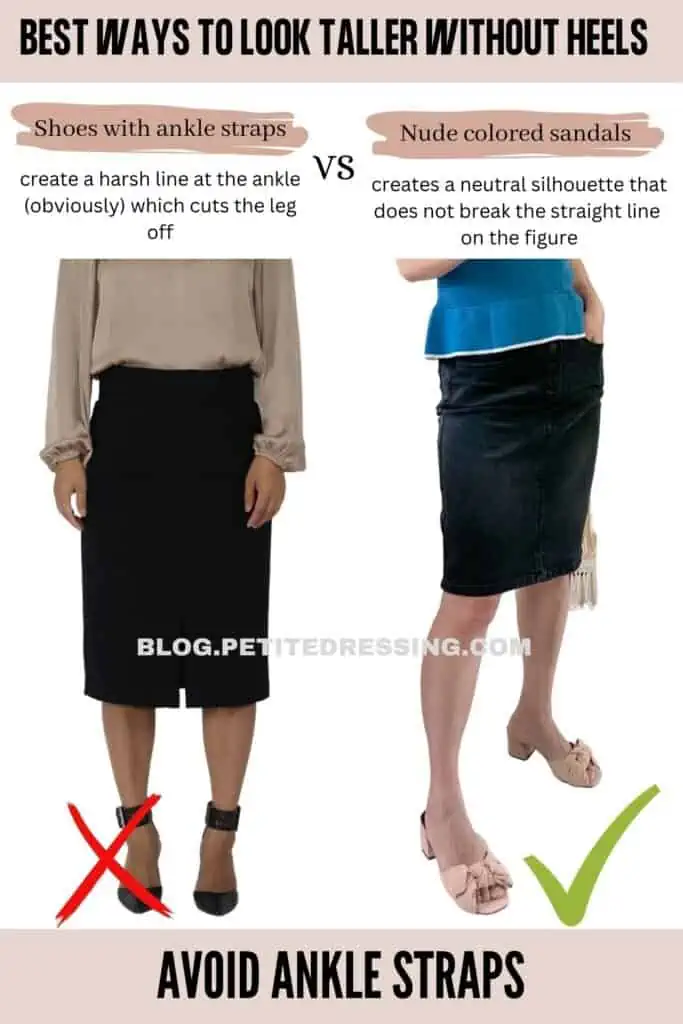 Wear Ankle Pants
Another way to show some ankle is by wearing cropped pants. Yes, most of the time I have found full length pants make us look taller, but with the right type of cropped pants, they CAN actually make you look taller, but this comes with a slight condition.
Look taller in cropped pants when they end at the slimmest part of your ankle – you may need to have them hemmed. If they rest at the widest, or thickest part of your ankle you'll shorten instead of elongate so make sure to keep that in mind when trying this style tip out for yourself.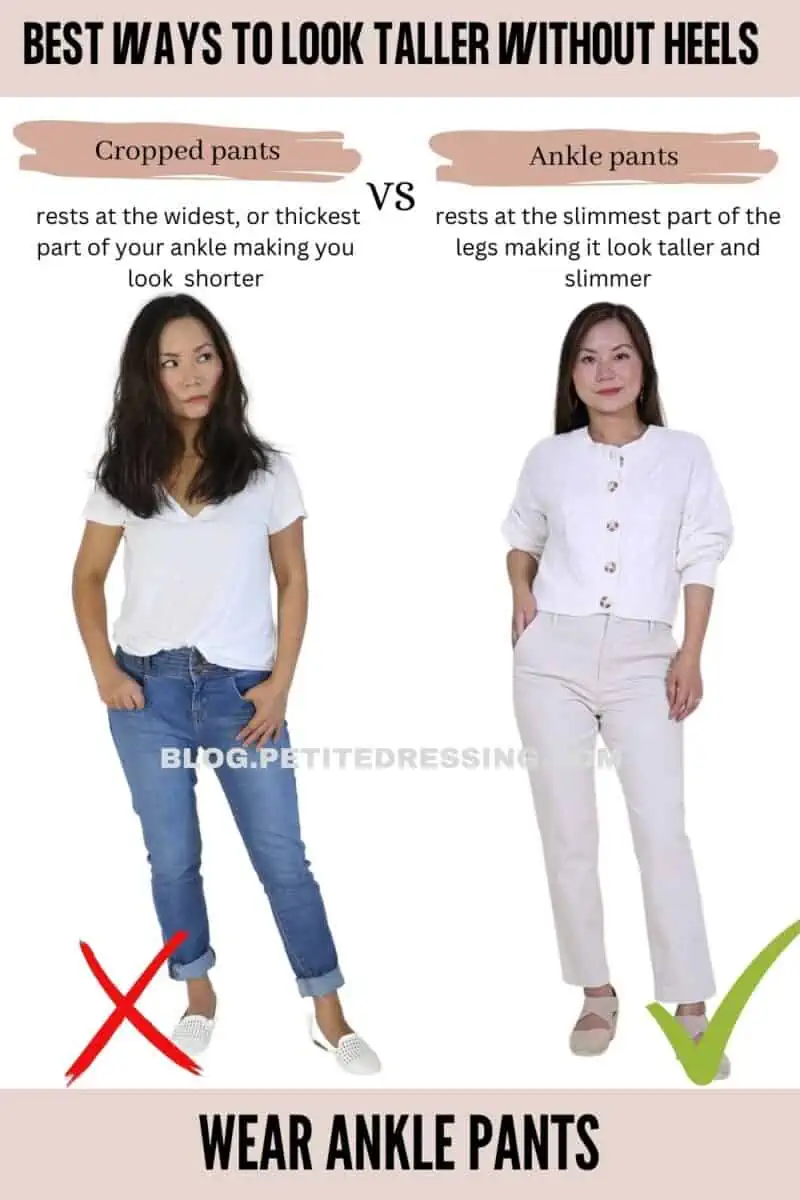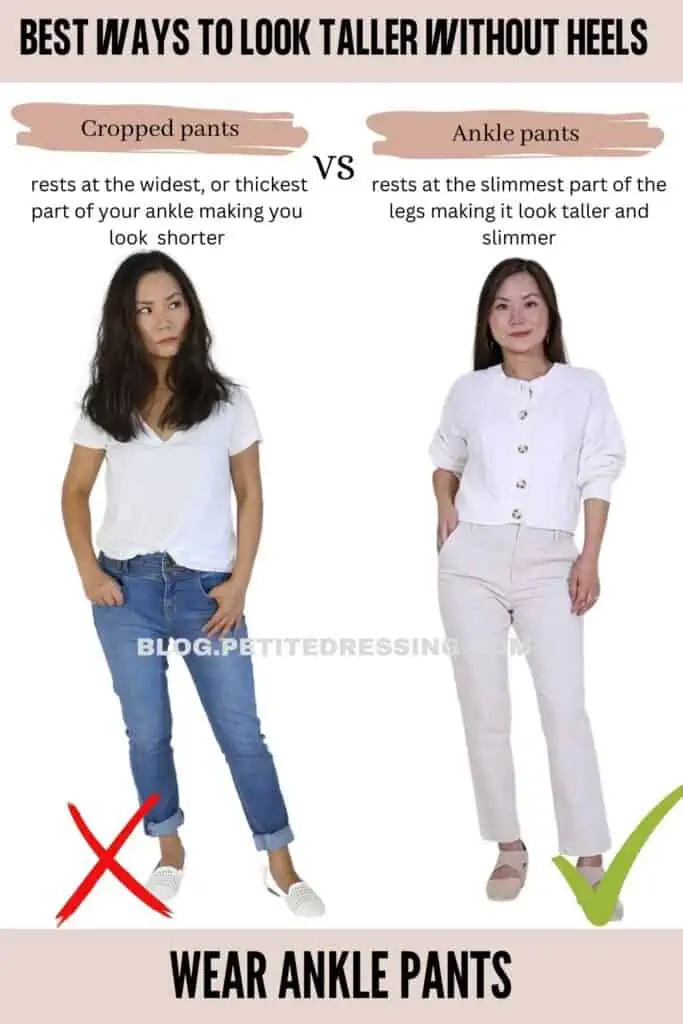 Match Shoes to Pants
Similar to monochromatic dressing is to style pants and shoes in the same color. The difference here is that the entire outfit isn't all one color, for the times you want to add some other colors or prints into your look.
Even by matching shoes to pants you can instantly look taller in an outfit because your legs will look like they continue to your shoes – giving you a couple of extra inches in height (even if just by illusion).
By matching her pants and shoes Amanda looks taller, even in flats.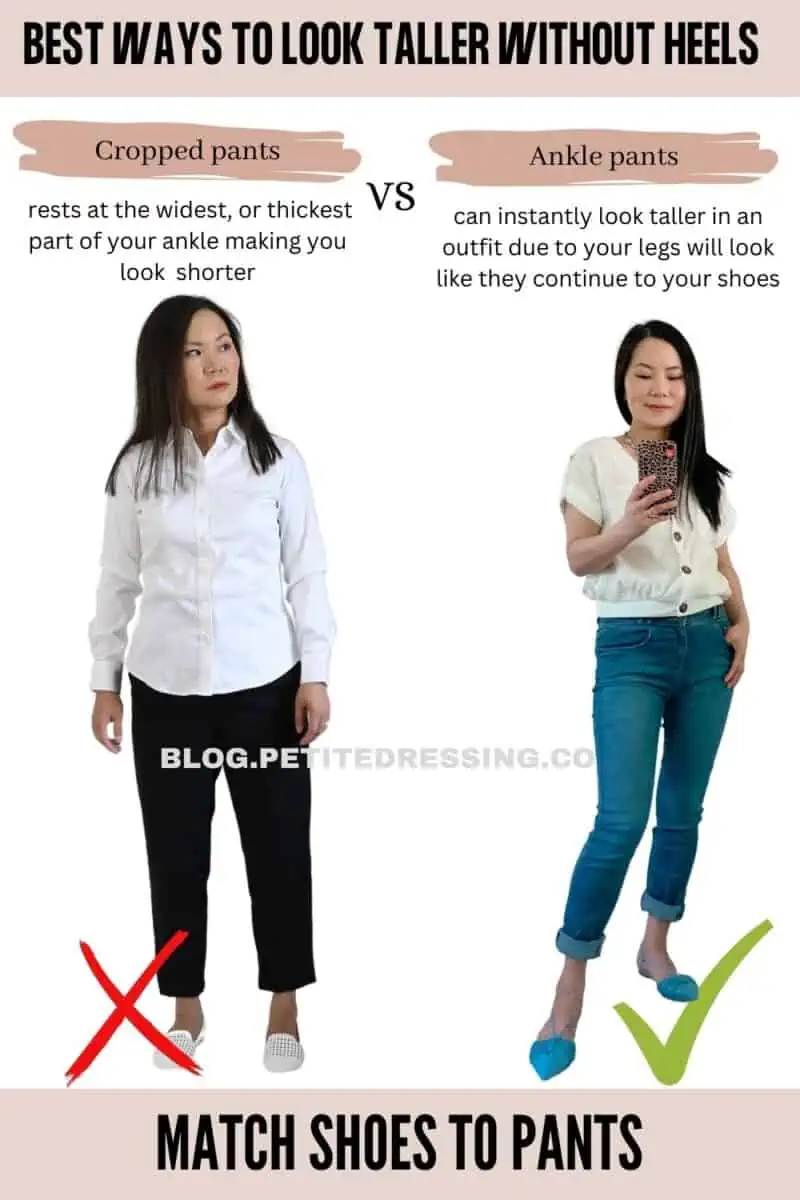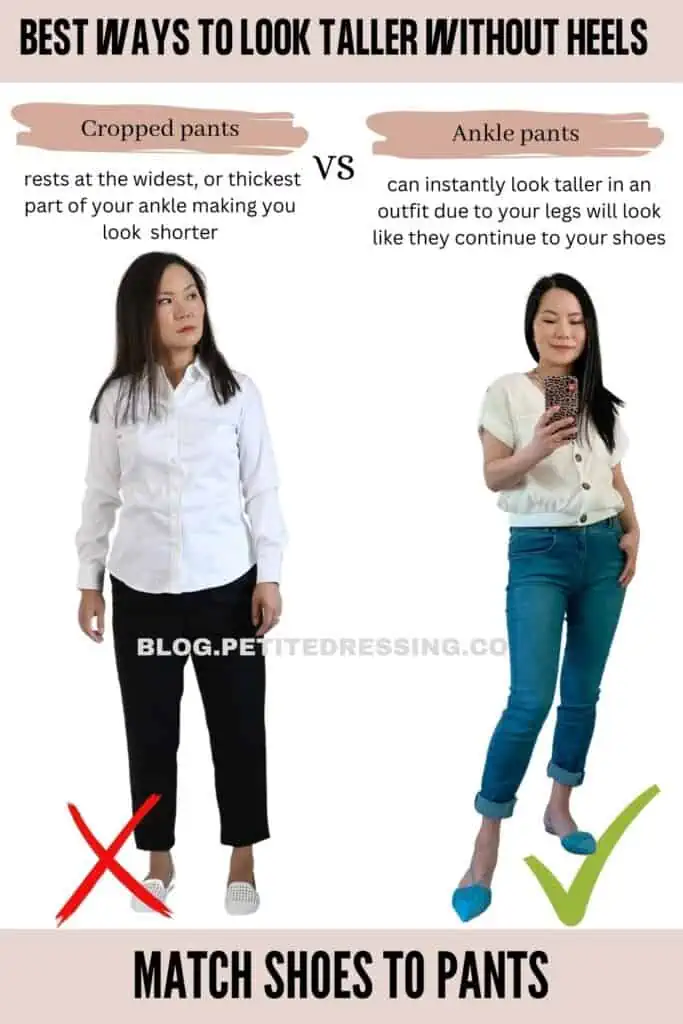 Choose Hemlines Above the Knee
Showing a bit of leg is a surefire way to make a short girl look taller. It's a classic trick that continues to make an impact.
Dresses and skirts above the knee are an ideal hemline length for this.
Drawing the leg line up with a shorter hemline is what is going to add inches to the legs. Even if you're not comfortable in mini length, just above the knee will do the trick.
Even without heels, Jordyn's legs look longer with an above-the-knee hemline.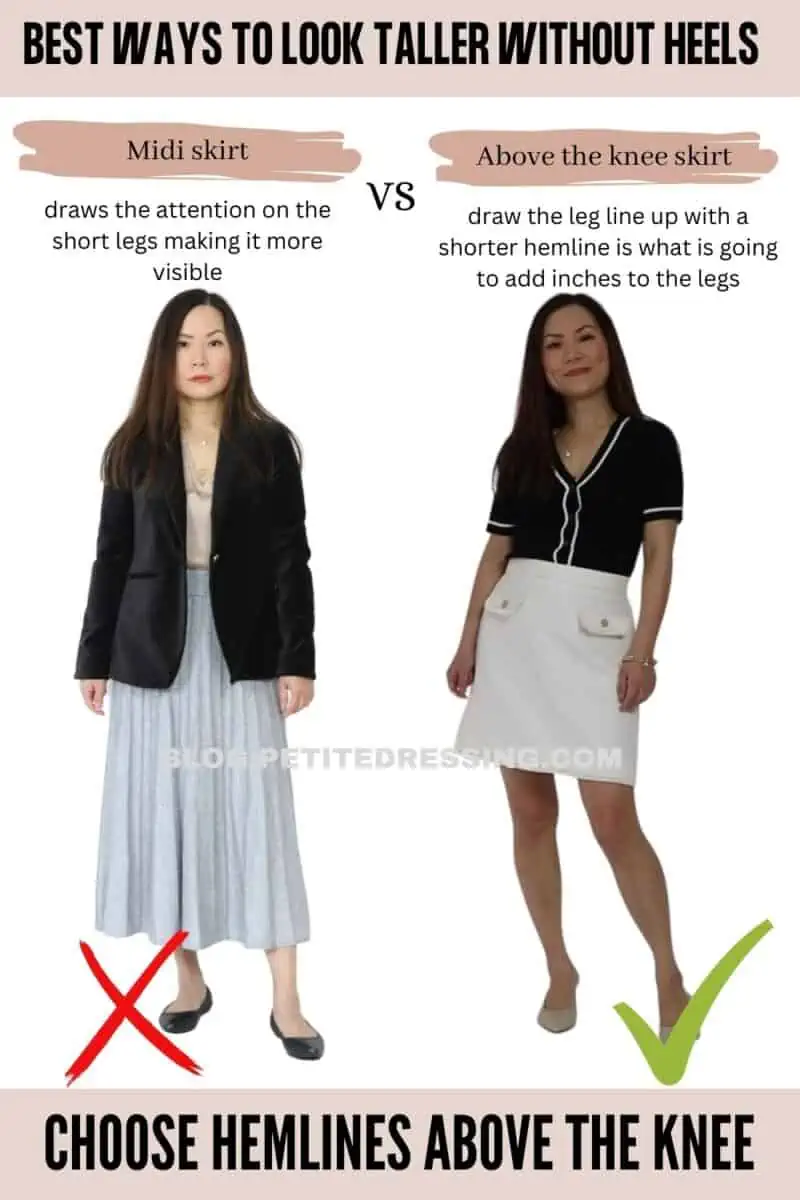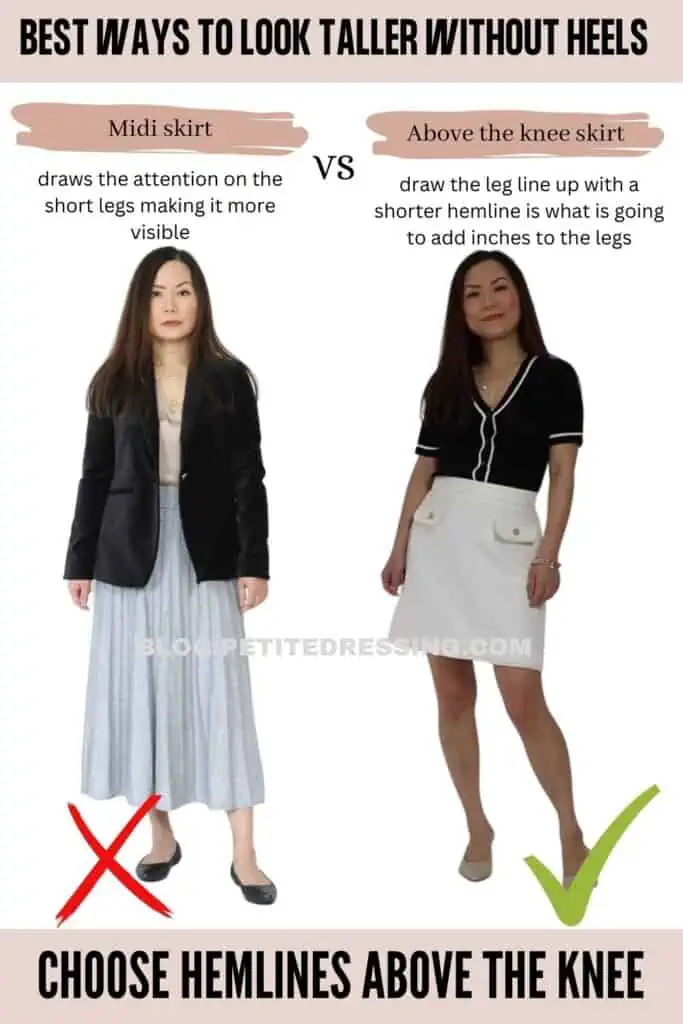 Maxi Length Dress
It may be a surprise to learn that maxi-length dresses are something to try out for shorter women looking to appear taller.
Maxi dresses create a column aesthetic that's consistent from top to bottom (most of the time) and this is what adds height to your body.
Solid colors and/or small prints that are consistent throughout the dress are the best choice for this styling trick.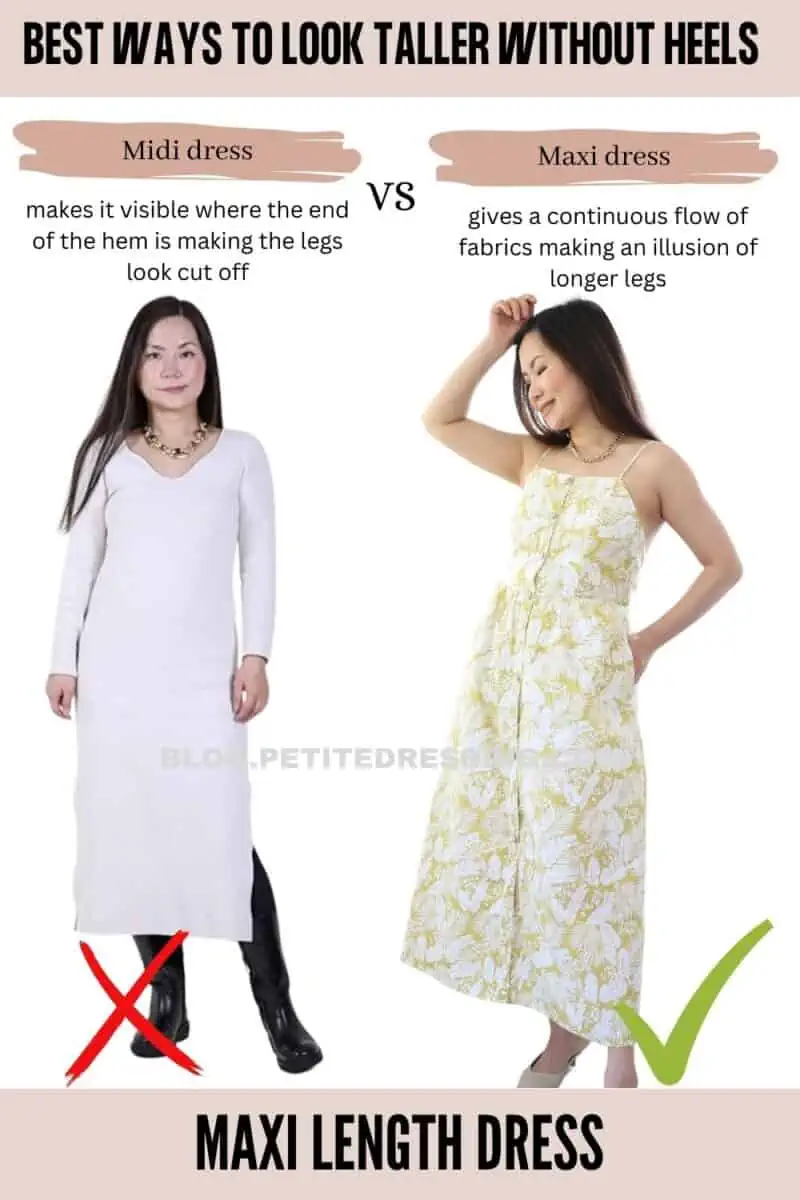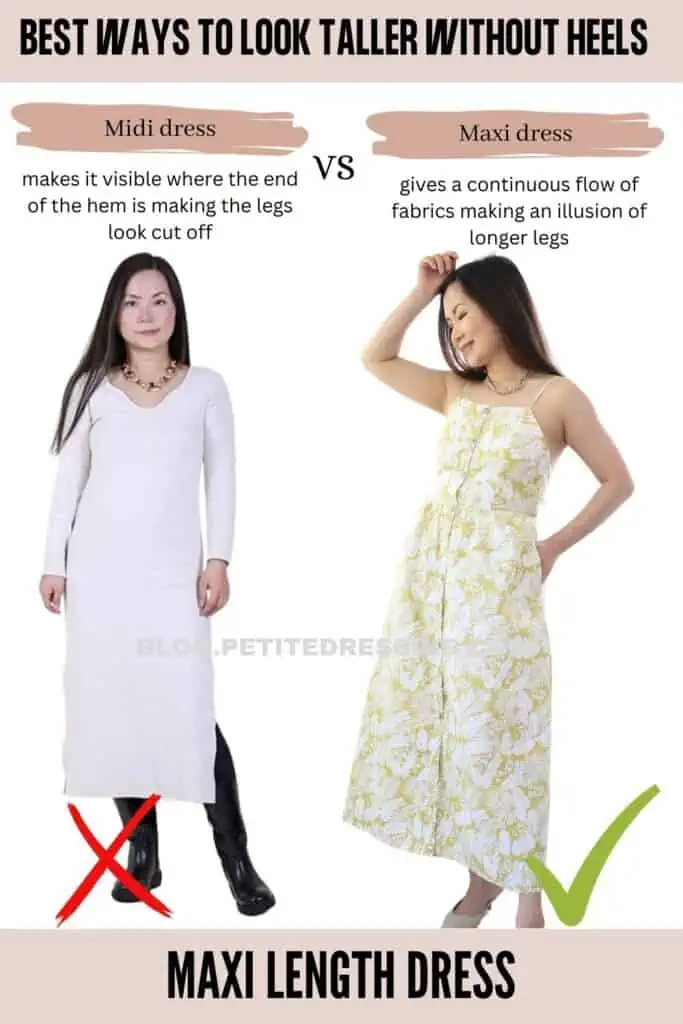 Straight Leg Pants
The best style of pants to wear to look taller is always going to be a straight-leg fit. It's not just a classic fit but it's also one that can make legs look a mile long, which is music to a short girl's ears.
Because straight leg pants are, well…straight, they don't break up the leg line in any way and instead fall straight down the leg.
Straight leg pants paired with a high rise are going to have you looking a whole lot taller. Just make sure that your straight leg pants are the proper length!
Avoid any bunching and extra material at the bottom that can add bulk to your legs – shortening them significantly.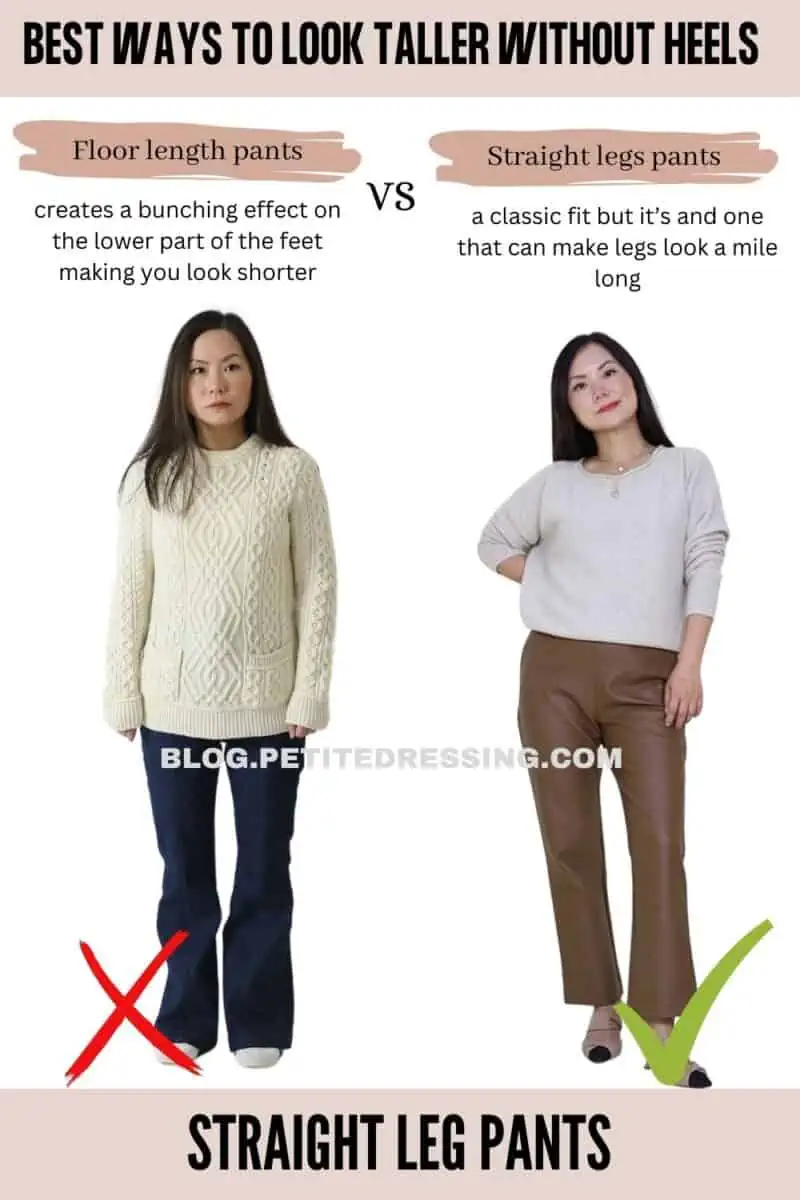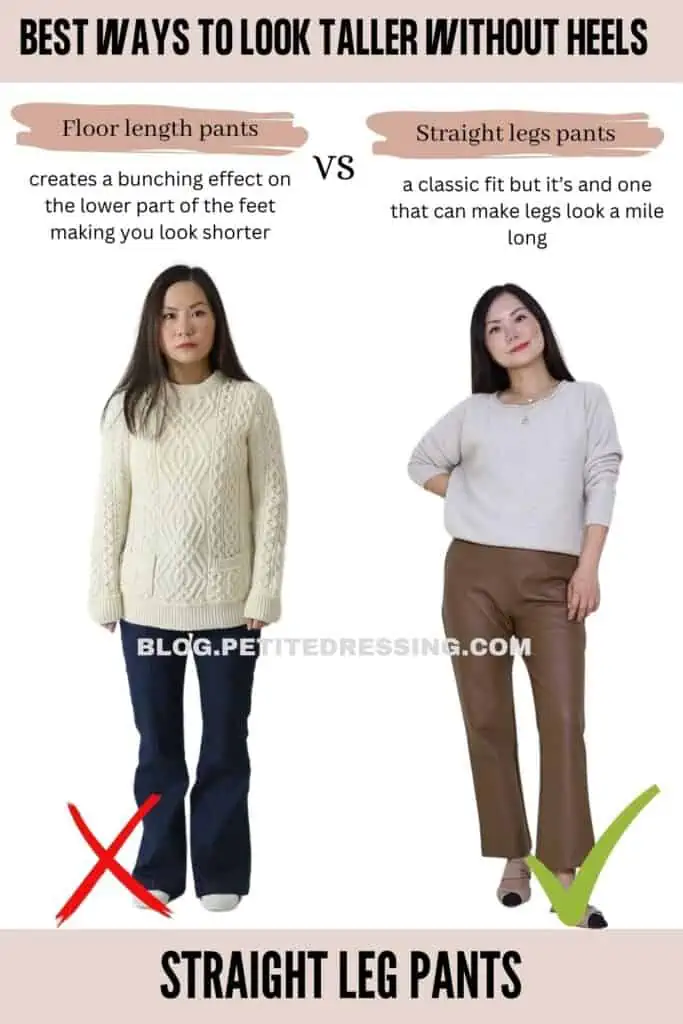 Style Your Hair in a Top Knot
An unconventional style tip is to style your hair in a way to add extra height to your body. This may sound odd but it works!
If your hair is long enough styling it up into a top knot, or something similar adds literal inches to your height. When it comes to style it's all about using illusion and proportions to enhance and flatter your body type – and height. If you typically wear your hair down, this can also be a fun way to change up your typical go-to hair style.