If you have shorter legs like me (I'm 5'2″), it is tempting to think that maxi or long dresses are just too long and that they're only meant for tall girls BUT – that's totally just a misconception!
Not only I am petite myself, but I also have a petite clothing line, so I receive feedback from thousands of my petite customers on a daily basis.
Even if you have short legs, you can still gorgeously flaunt long dresses. In fact, longer length are actually always the most popular amongst my customers in our petite dress collection.
By considering certain styling factors, wearing a long dress when you have short legs shouldn't be overwhelming.
In this blog post, I'll share with you the types of long dresses you can go for without compromising your height. But before we discuss each type of dress, let's talk about the key styling principles that you have to go by when choosing a long dress for your short frame.
Styling Goal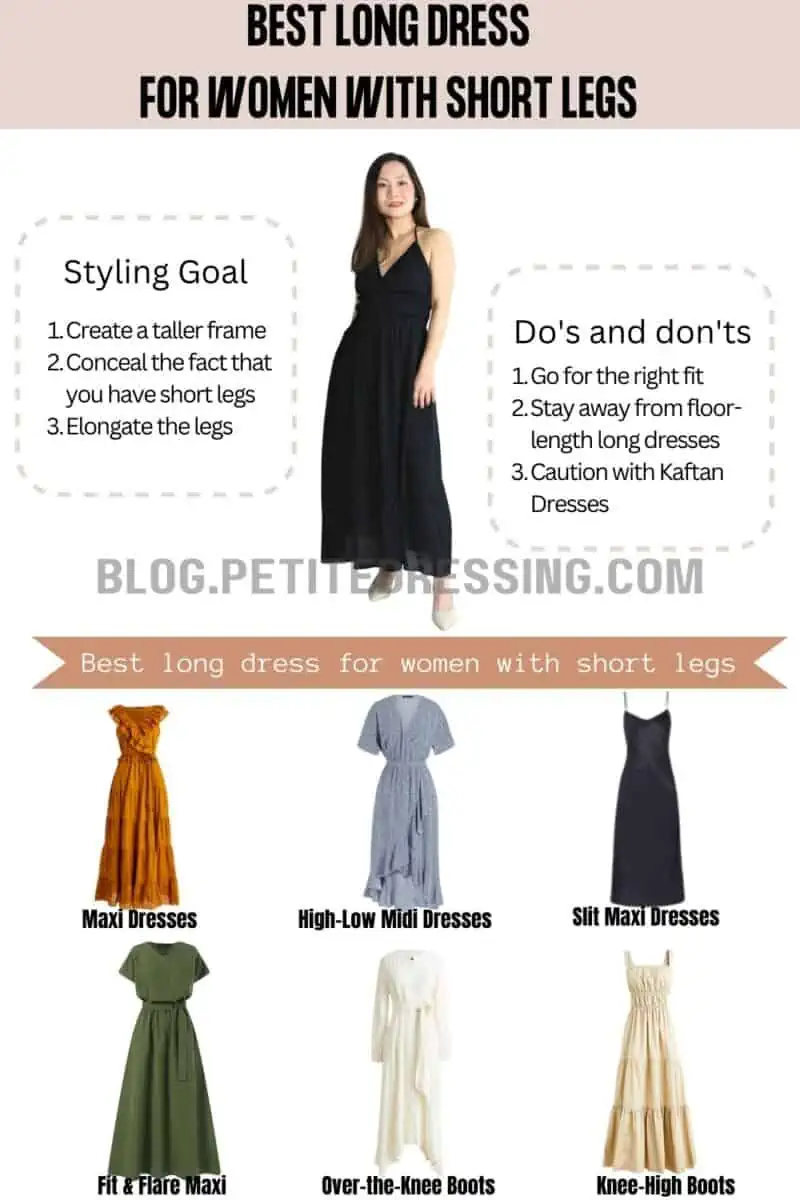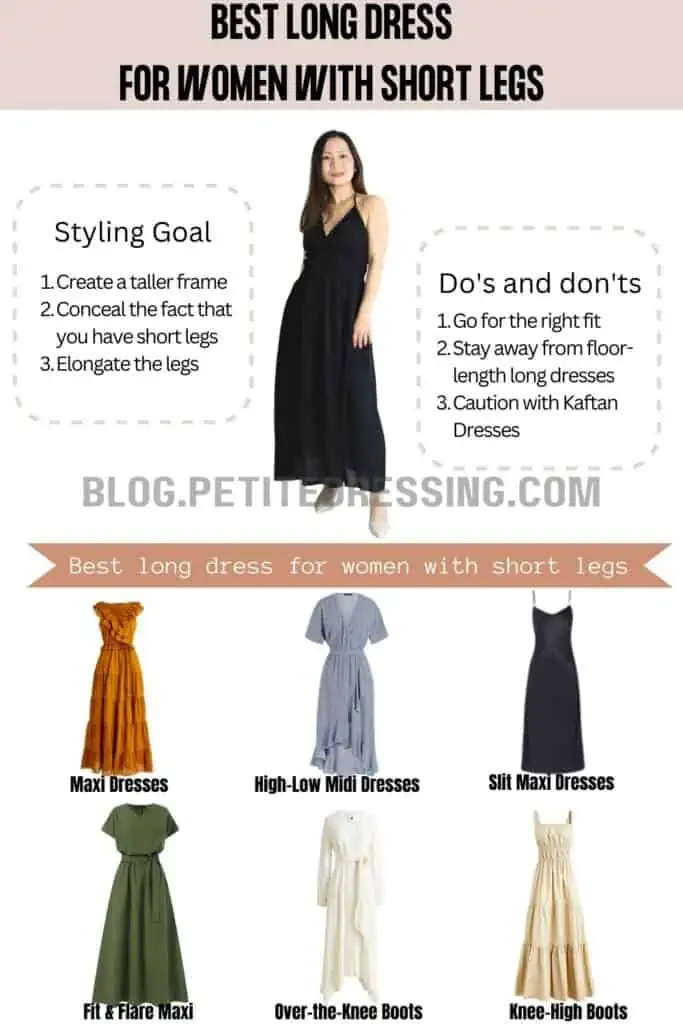 The length is the ultimate secret to perfectly rocking long dresses for ladies with short legs. Stay away from floor-length long dresses as they can totally overwhelm your figure and may also be very uncomfortable to wear because you'll keep on worrying about tripping on the hem of your own dress!
Take the structure of the dress into great consideration by going for details that elongate your figure. Details such as slits, neckline, seam lines, and waistline play an important role in making the silhouette of your long dress flattering for your short legs.
Go for the right fit and be more careful of long dresses that are too big such as kaftan dresses. While there are ways to make such dresses work for ladies with short legs, they tend to be quite tricky to style.
So as a girl with short legs, what kinds of long dresses should you add to your fashion shopping cart? Here are the most flattering silhouettes that your beautiful frame would love.
Wrap Maxi Dresses
Going for a wrap dress is your safest option when it comes to wearing long dresses. Its universally flattering silhouette has the visual effect of making your frame appear taller and slimmer.
This is due to its waist cinch that you can freely adjust by knotting the waist tie up to the tightness you prefer. It nips the waist beautifully to add significant definition and therefore create balance to your upper and lower body for a leaner look.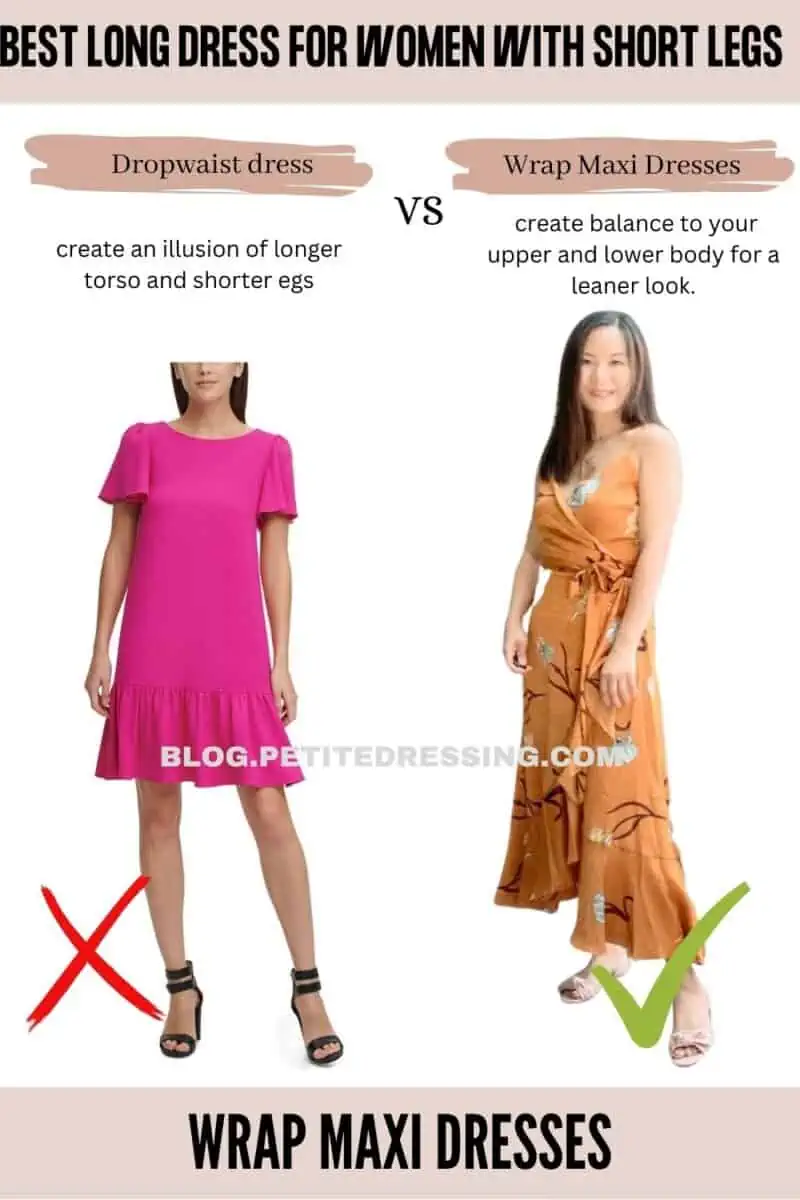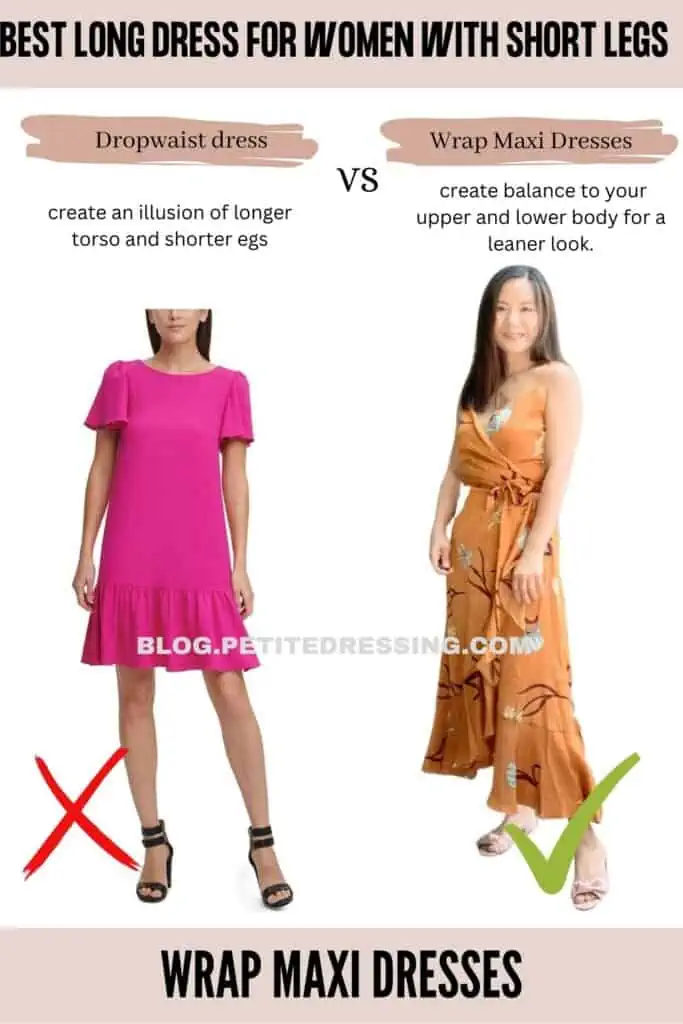 High-Low Midi Dresses
From the name itself, high-low maxi dresses feature a shorter front hem and a longer back hem for an asymmetrical draping effect. The waterfall effect of high-low maxi dresses gives you the leg-elongating effect of a mini dress at the front while still channeling the draping of a maxi dress.
That's exactly why my petite customers love midi dresses with a high-low hem design!
High-low maxi dresses come in many different styles so as a girl with short legs, you have to be extra mindful of bulky details such as cascading ruffles at the front. Such details may overwhelm your lower body and may even make your legs look shorter.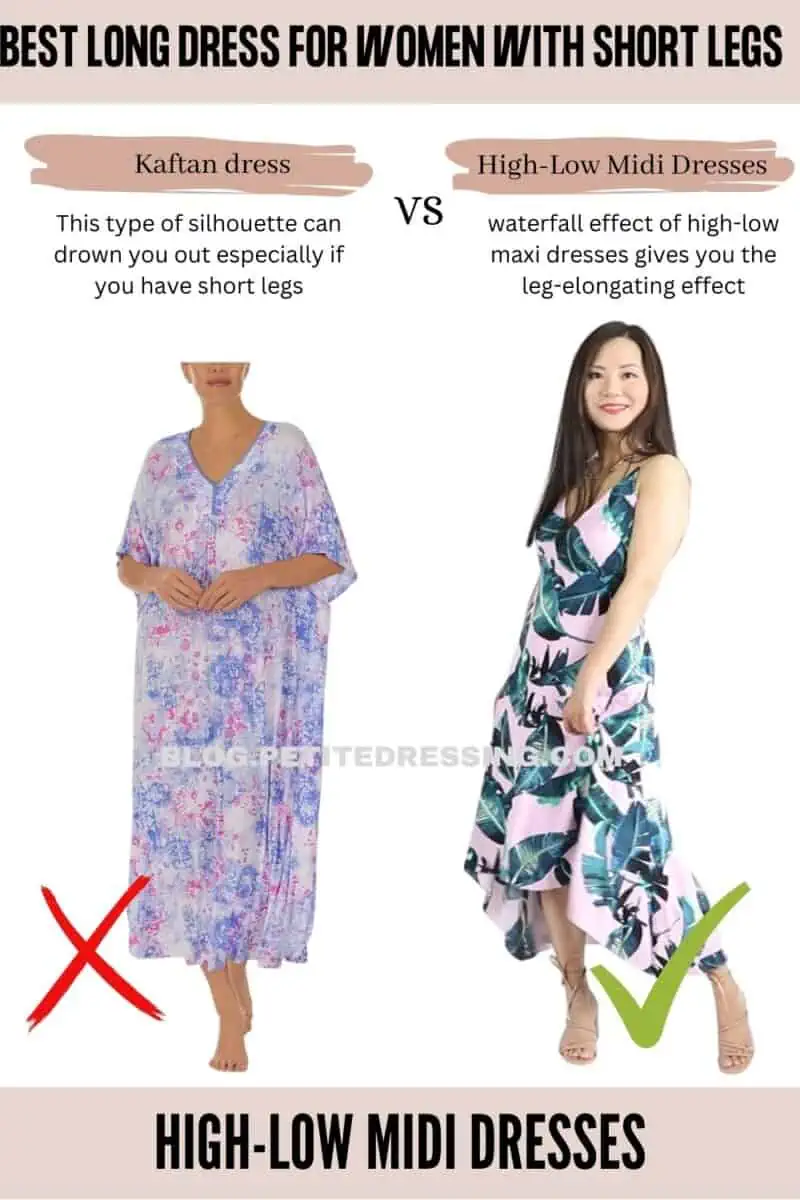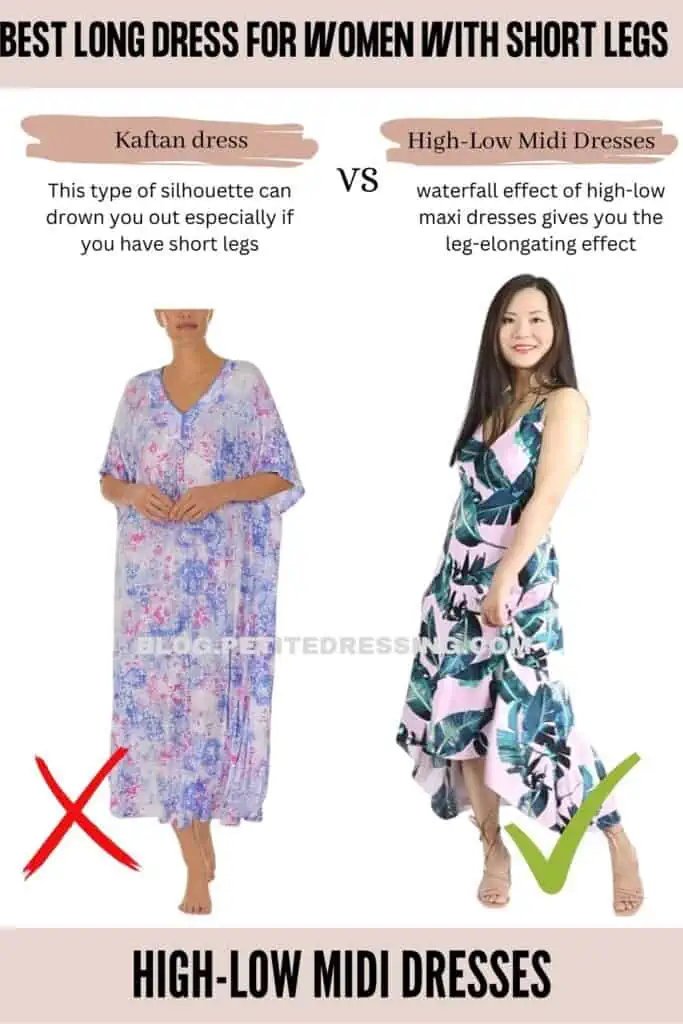 Slit Maxi Dresses
Slits will always be your short legs' best friend as they instantly make you look taller by exposing a portion of your legs. In this case where your concern is having short legs, then the longer the slit, the better!
Long dresses tend to look restrictive and overwhelming when you have short legs. This is where slits placed at the front or on the sides are quite helpful in preventing this to happen because its vertical cut draws a continuous line that draws the eyes up and down to create an illusion of a taller frame.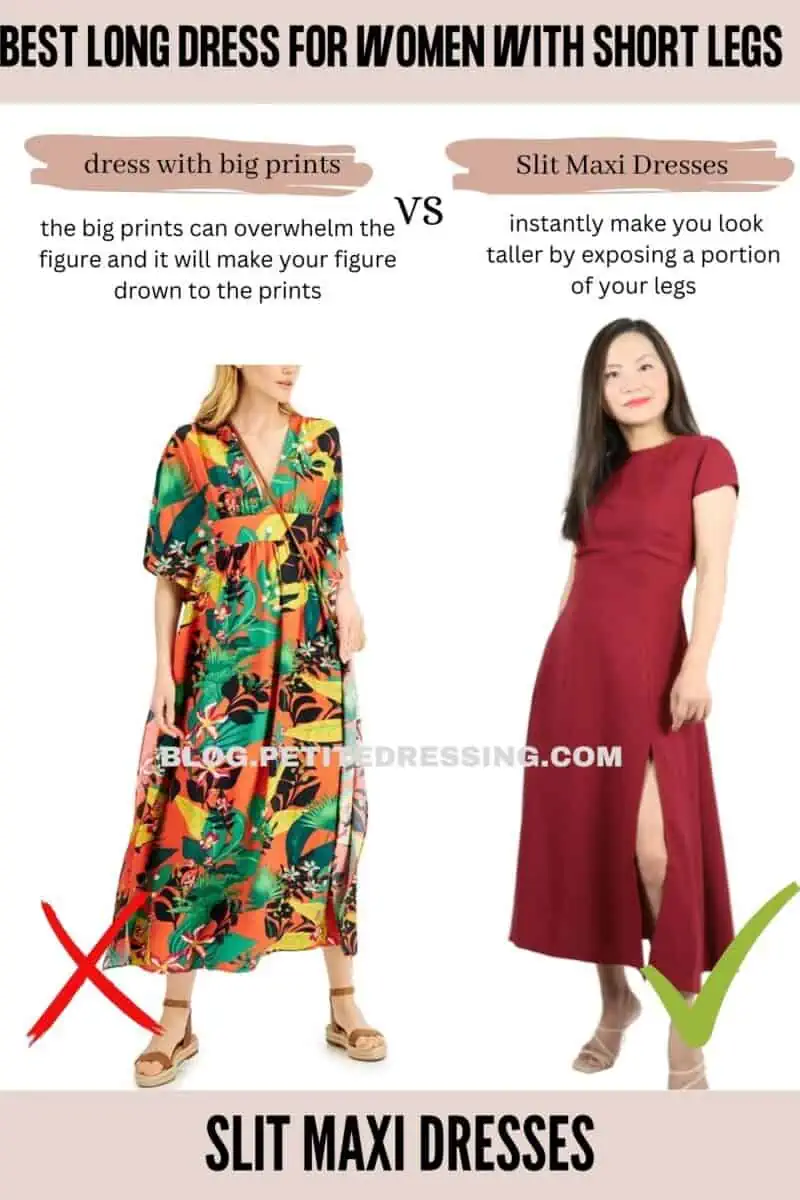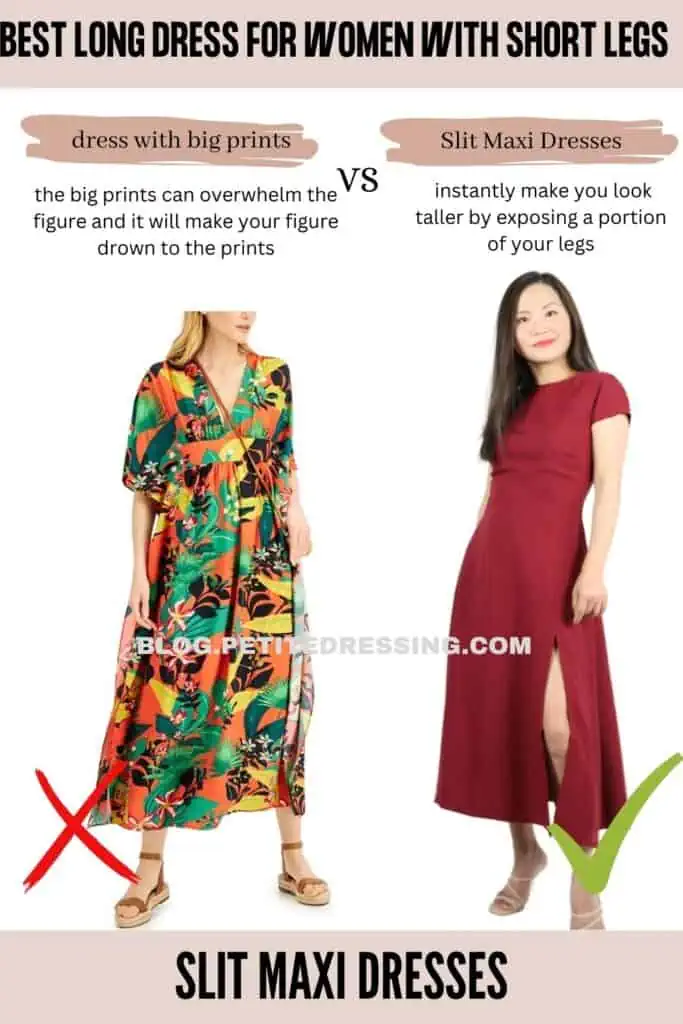 Fit & Flare Maxi
Fit and flare structures are generally very flattering on ladies with short legs because it draws focal attention to the cinched waist. Because of this, your figure looks more balanced by enhancing your upper body and elongating your legs.
The flared skirt of the dress is also a great visual trick to sort of "hide" where your legs are (specifically the thigh part). This effect will conceal the fact that you have short legs so it will divert the eyes to your waist instead.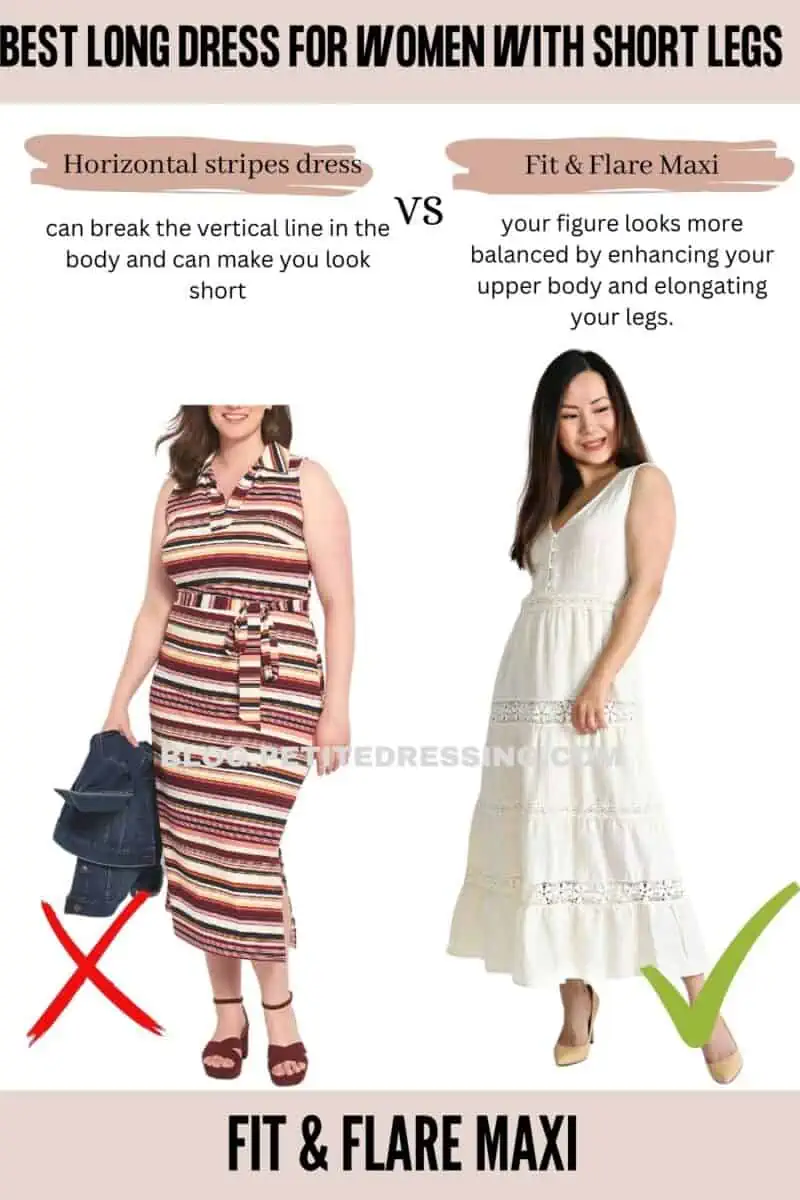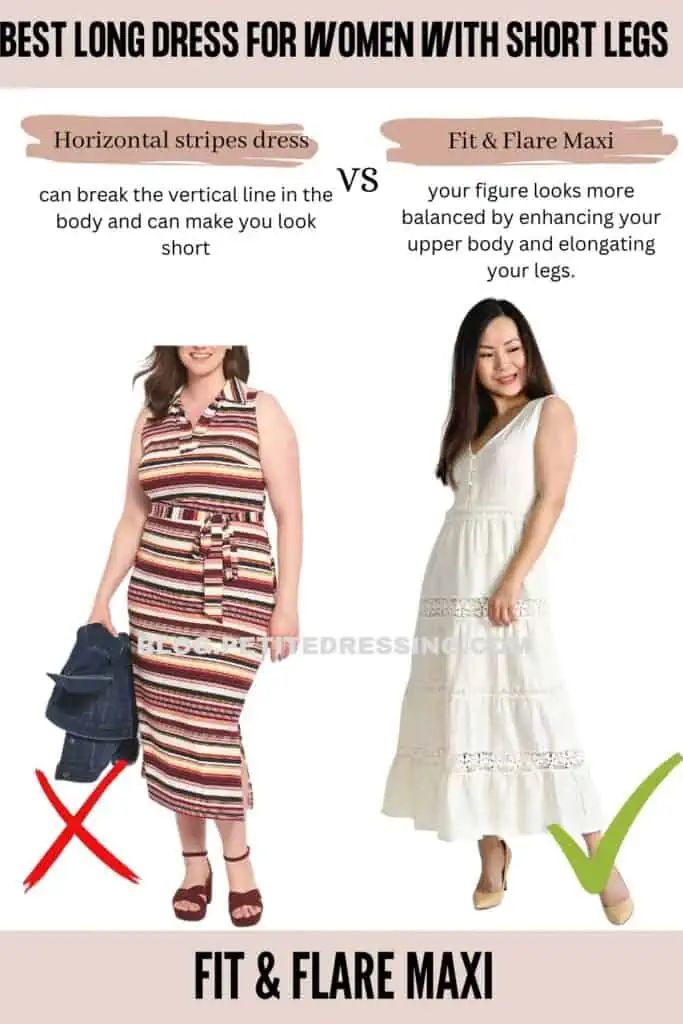 Asymmetrical Hemline Midi
This shares the same style principle as high-low dresses and slit dresses. The key is to expose a portion of the legs to create the illusion of longer legs and a taller frame. 
This type of structure is also quite advantageous as it draws the eyes up and down but without the monotony of a simple straight cut. Diagonal hems and seam lines work so well with girls with short legs because they give a nice visual touch to your figure, especially on your lower body.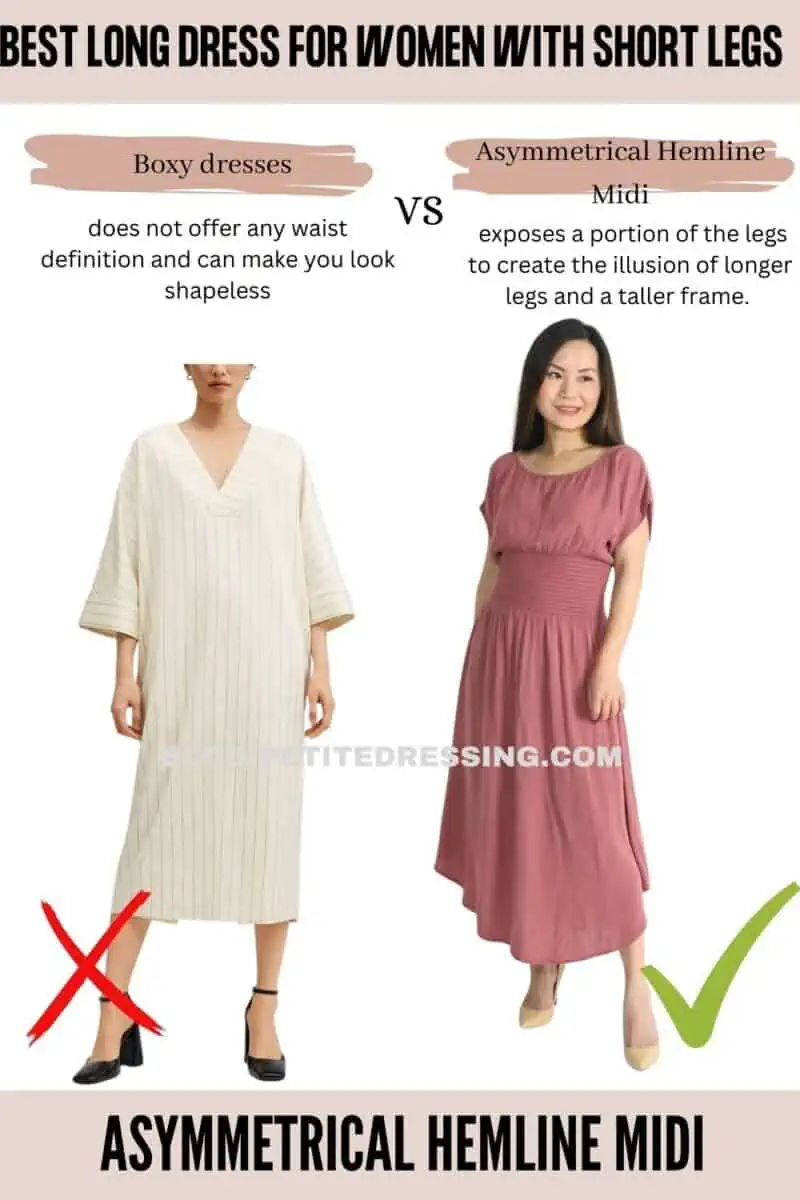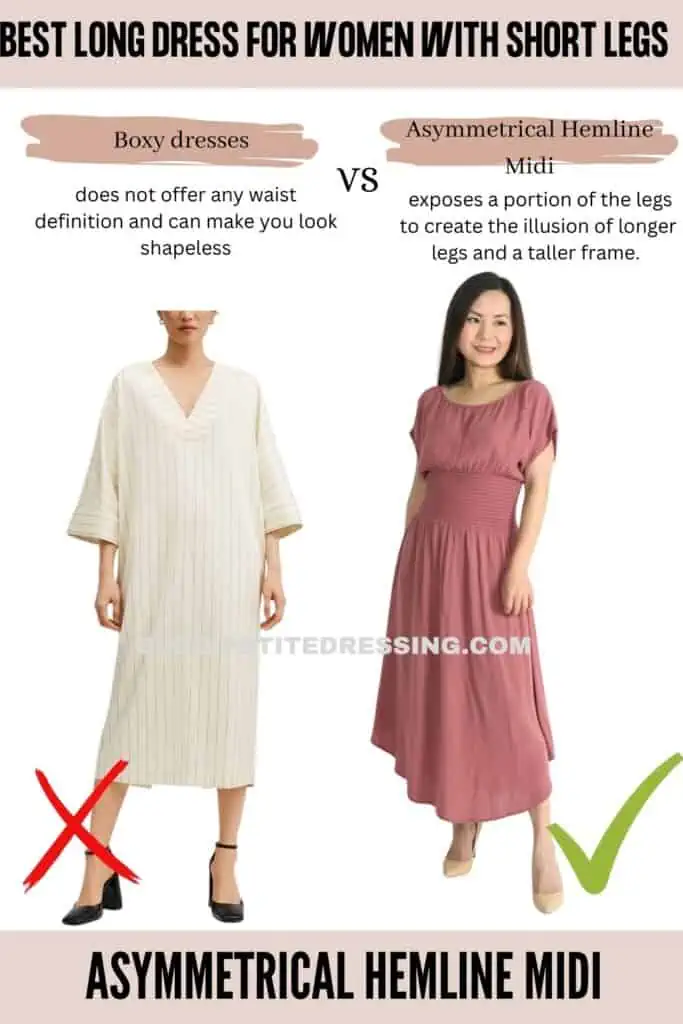 Empire Waist Long Dresses
If your main concern is your short legs and you have enough room on your torso to spare, you'll love the structure of empire waist dresses. Because of its heightened waistline that usually falls right under the bust, the "skirt" part of your dress efficiently gives your legs more length.
If you'd like to flaunt a long empire waist dress, try to look for ones that have a flowy, draping fabric. Since the bottom part of the dress where the waistline begins is much longer than the top part, then it'll make flowing movements with every step you do and this draws the eyes to look at your elongated legs.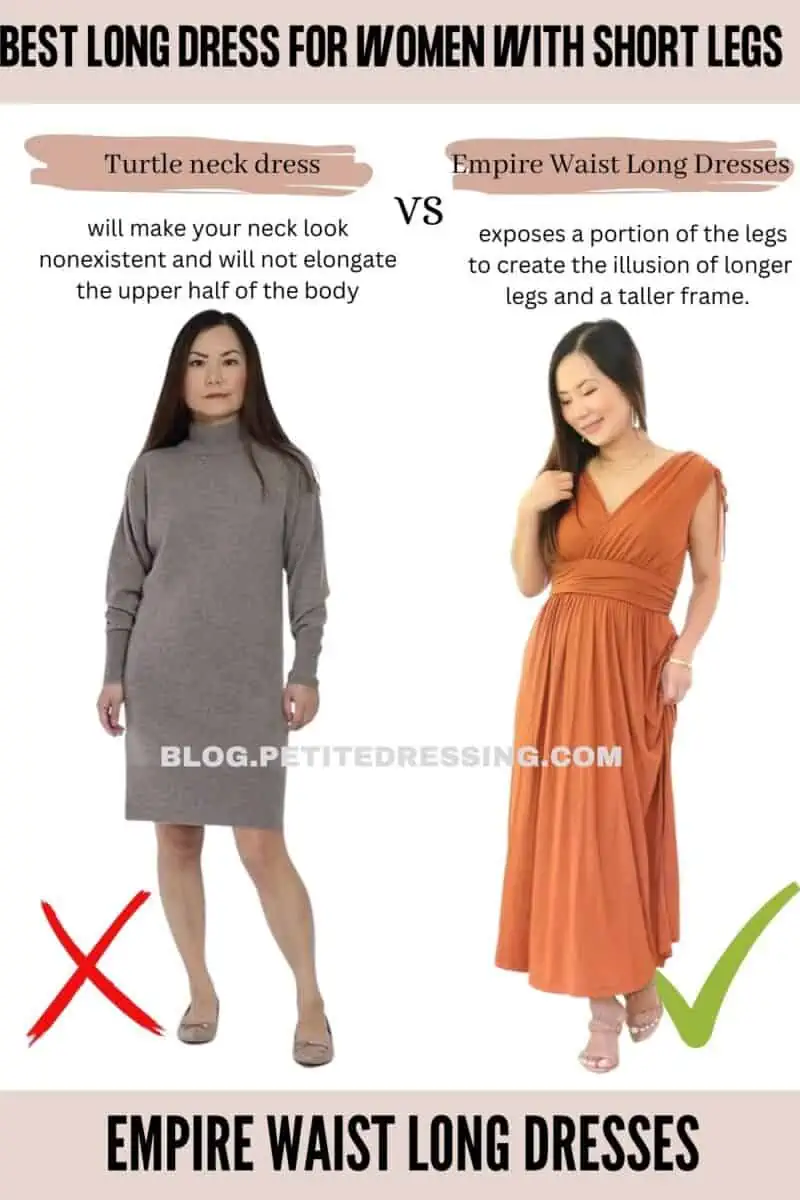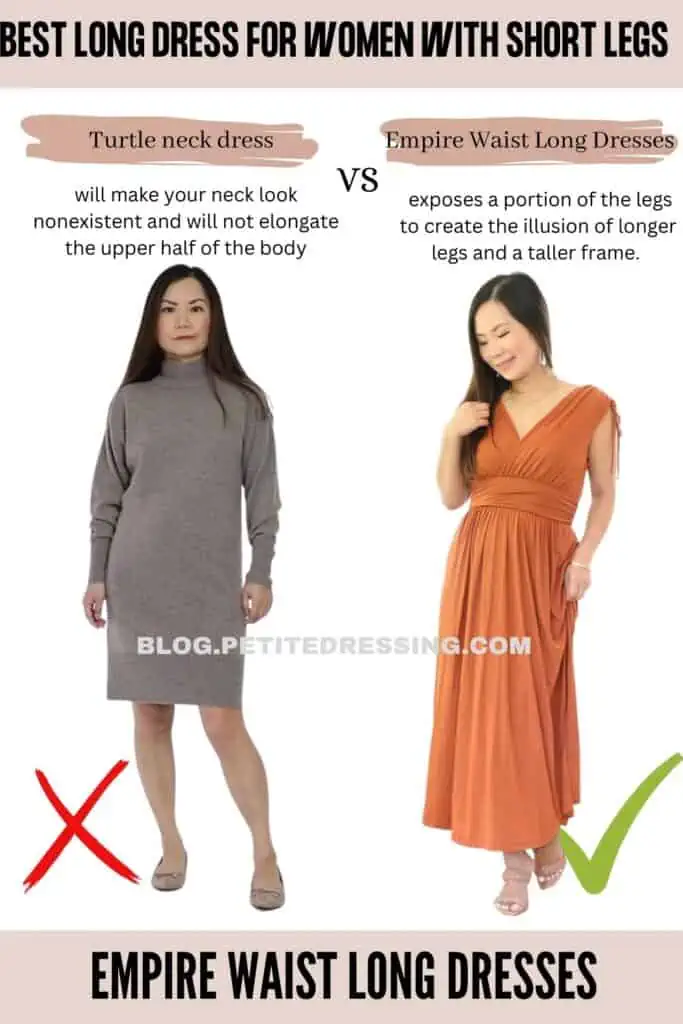 Flowy Chiffon Dresses
If you're looking for long dresses for the summer or spring season, your best option would be the ones that have a flowy chiffon material. Not only is this quite comfortable and stylish, but also gives an optical illusion that elevates your height and slims down your figure.
Such a lightweight type of fabric like soft chiffon will make some forms of movements when you walk. These movements will visually create a pleasing flow that will trick the eyes into thinking that you have longer legs.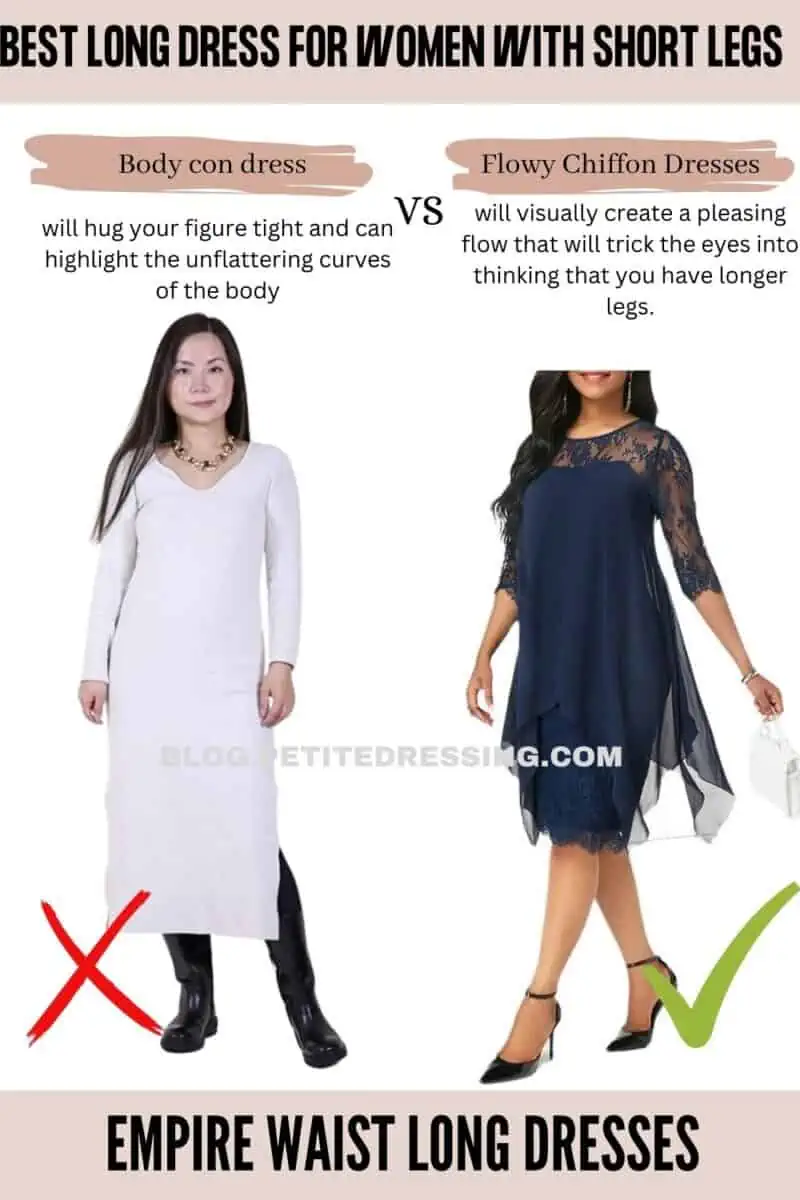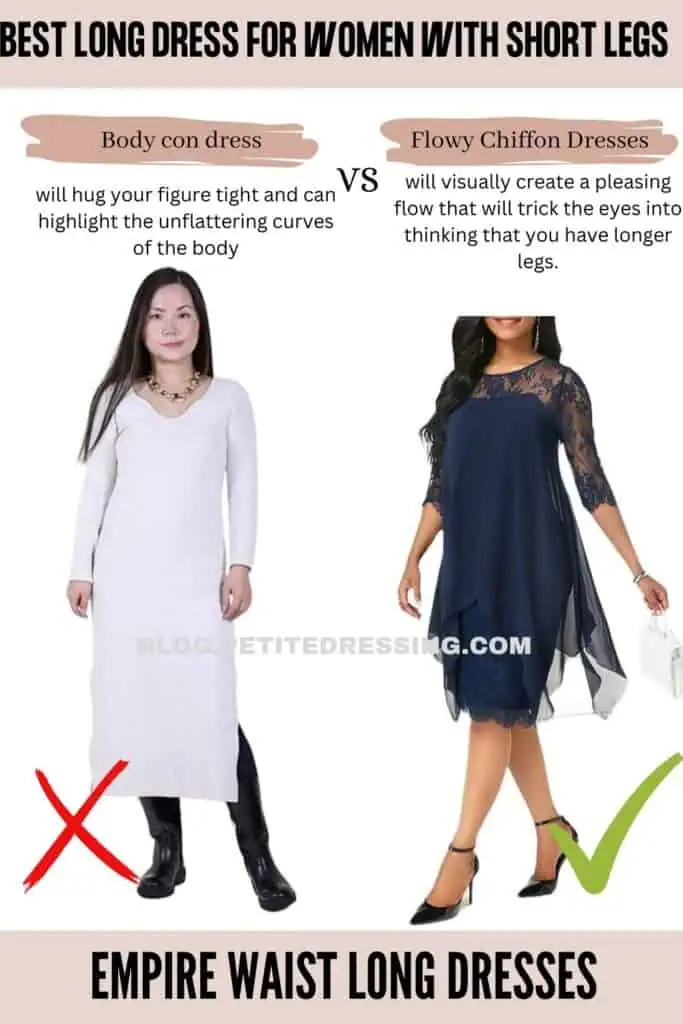 Square, Sweetheart & V-Neck Dresses
One of the most efficient ways of properly styling a woman with short legs is to pay attention to the right neckline. Choose necklines that open up space on the upper half of your body to give you the illusion of a longer neck and broader shoulders.
These visual tricks help draw a vertical straight line that transforms you into having a taller and leaner frame. It also evens out the attention between your torso and legs so they get a flattering visual balance and do not highlight the fact that you have short legs.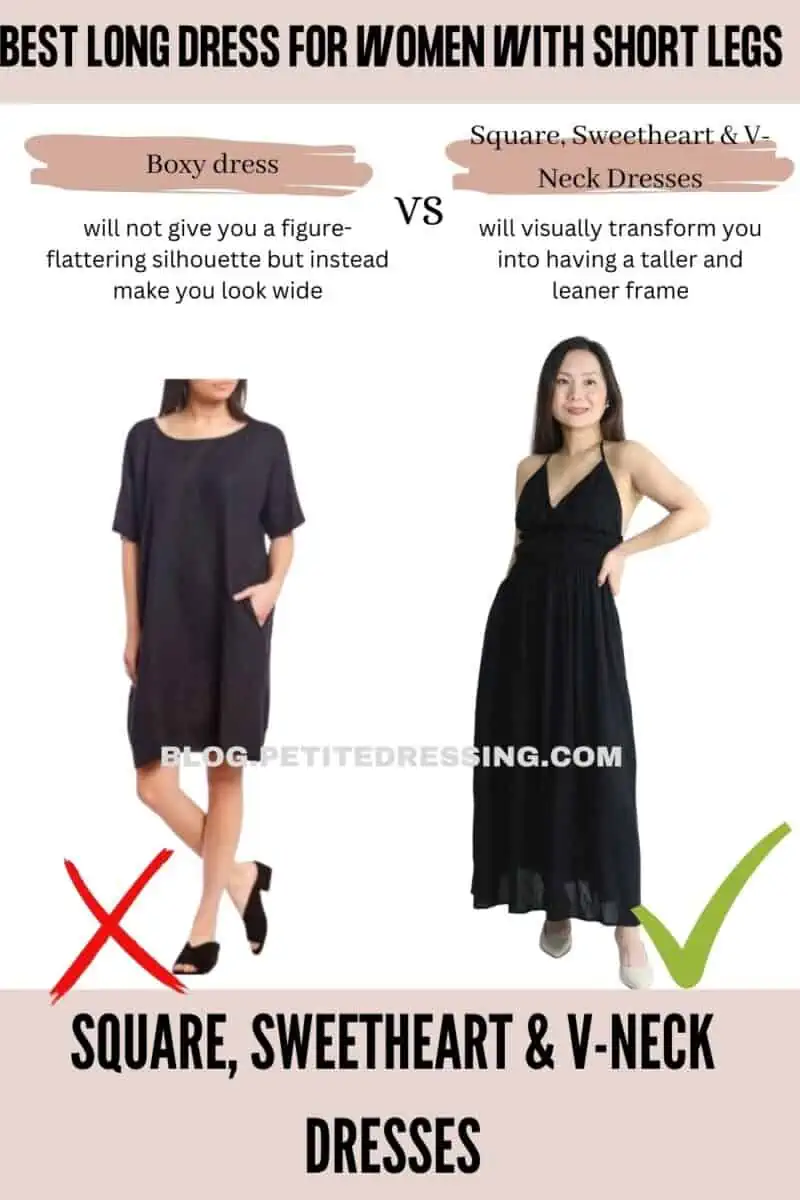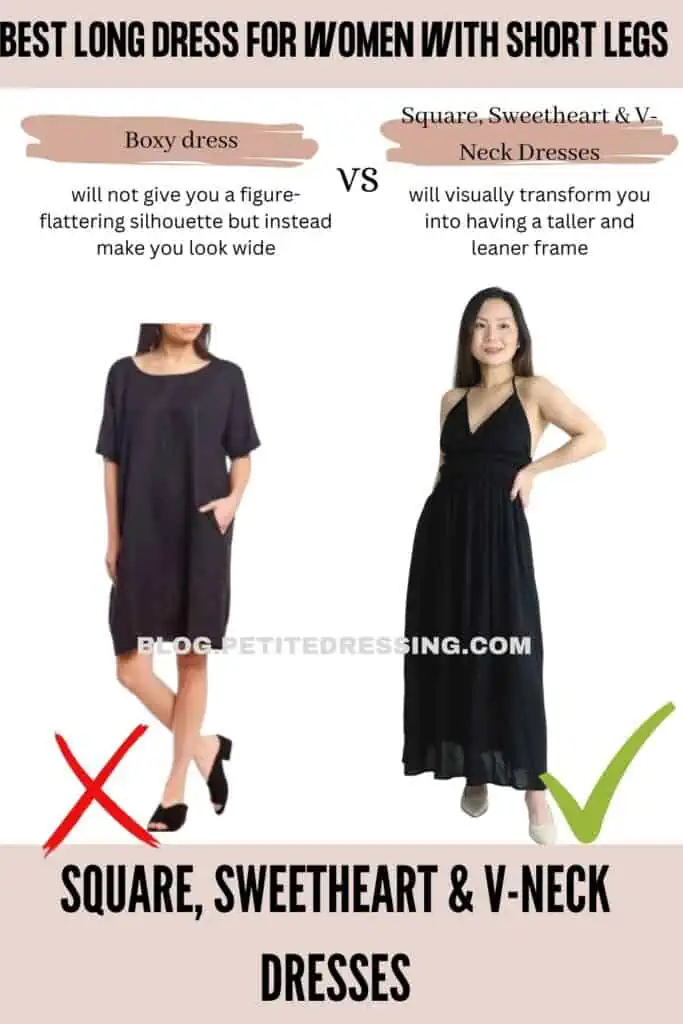 Camisole Dresses
Just like the principle of opting for square, sweetheart, or V-shaped necklines, camisole dresses also have the ability to add length to your figure by showing off more skin on the upper half of your body. Camisole dresses feature thin, spaghetti-like straps that help bring balance to the long length of your maxi or midi dress.
As we previously mentioned, long dresses tend to be overwhelming for women with short legs. So by going for a camisole dress, you are drawing the eyes to look at your upper body and then go downwards from this point for the illusion of having a taller frame.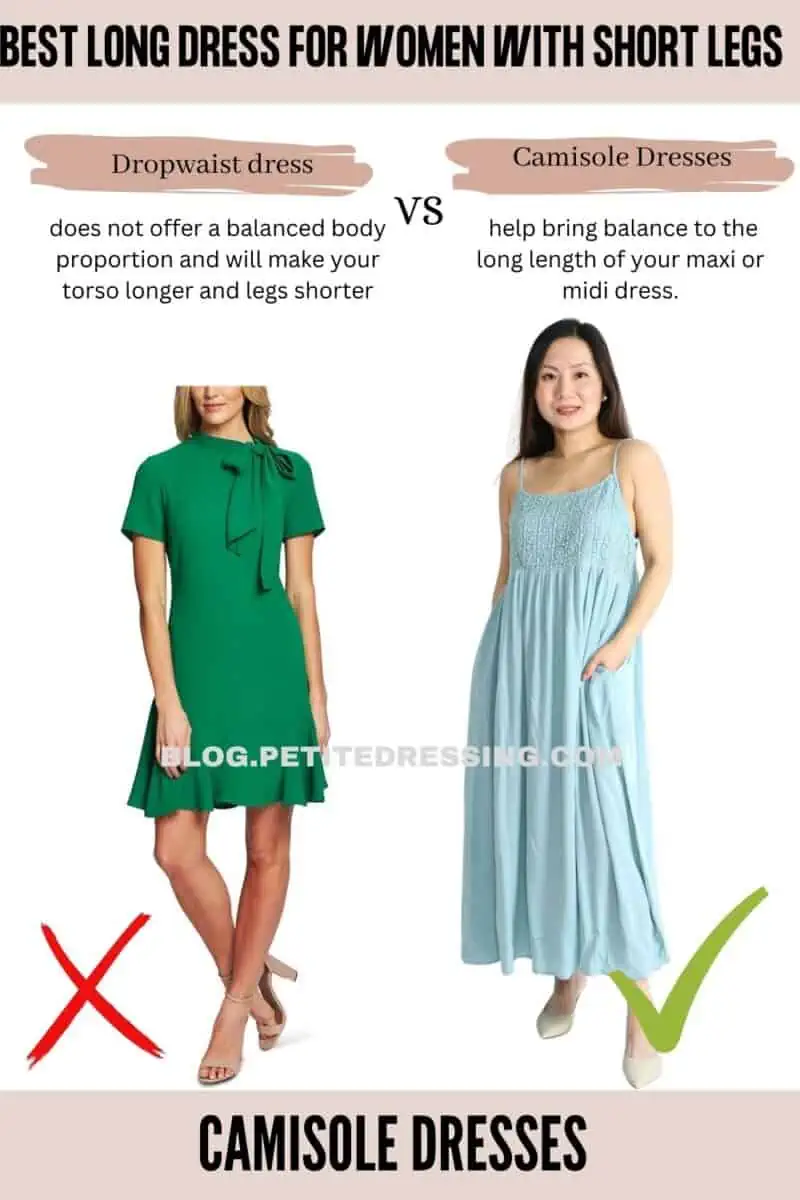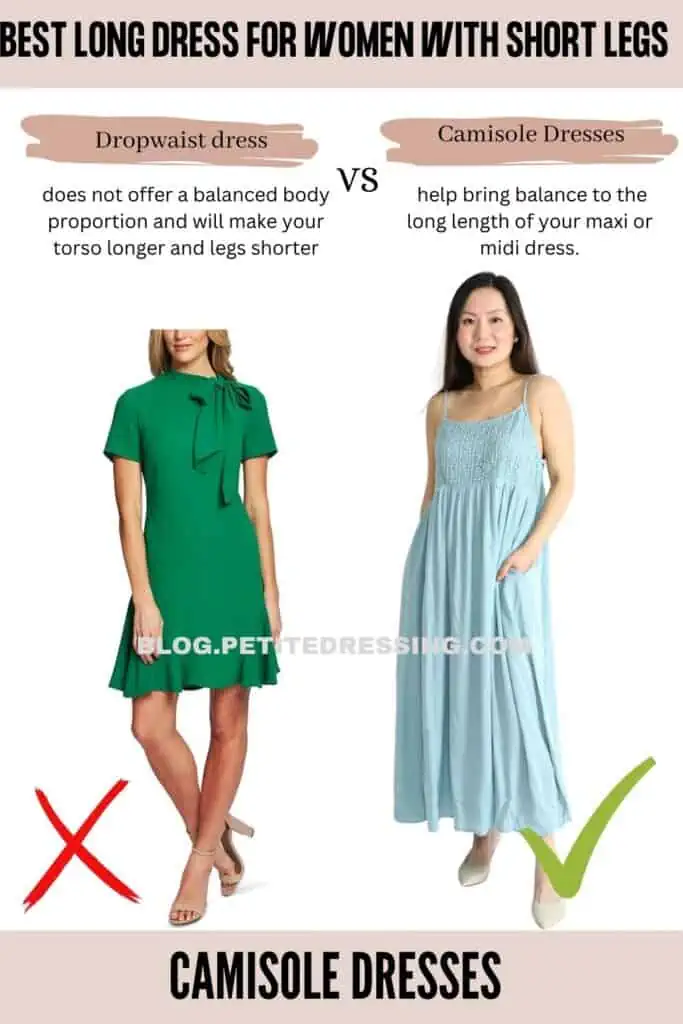 Belted Midi Dresses
Cinching the waist is quite an important factor when it comes to styling women with short legs. It's because waist-nipping is an efficient way to create a flattering balance between your torso and legs.
You can either go for dresses with built-in belts or just accessorize your favorite long dress with a belt to prevent such an abundant fabric from overwhelming your short figure and also to make your figure look more balanced. Adding a belt will significantly add definition to your waist which creates a snug fit on the top part of the dress and a flowy, continuous structure on the bottom part.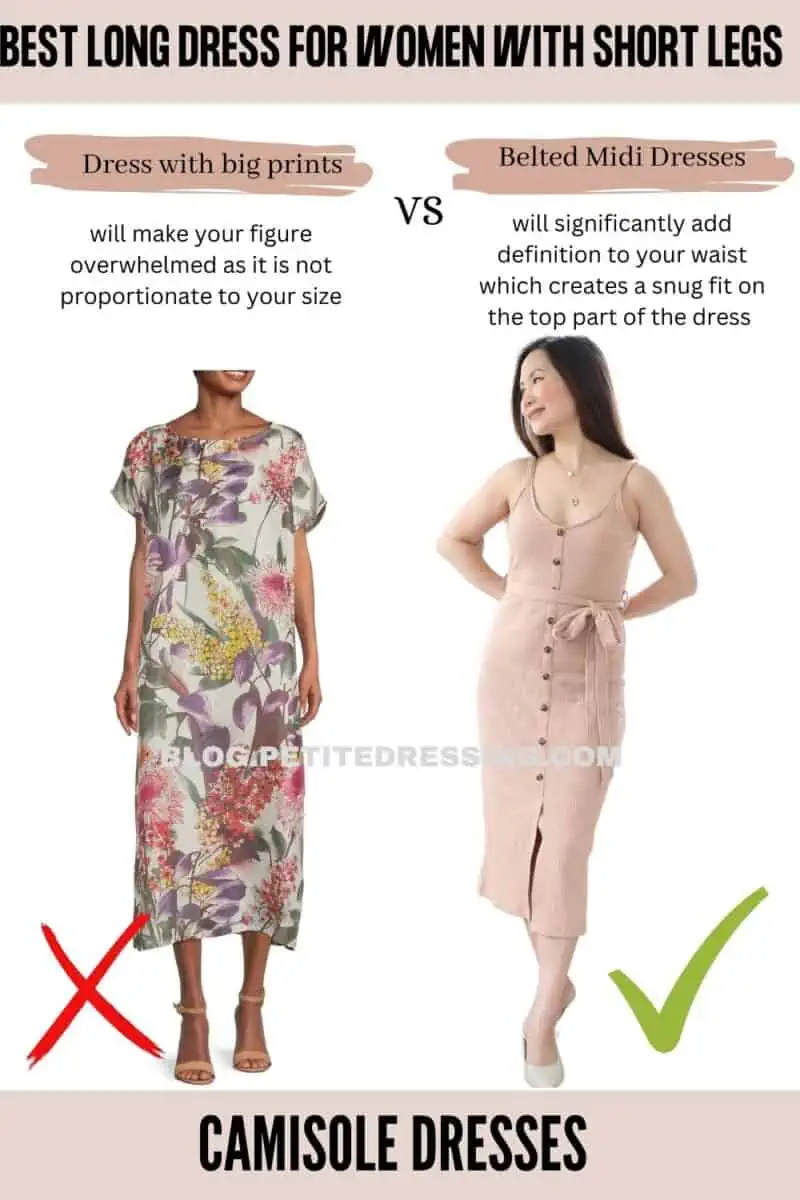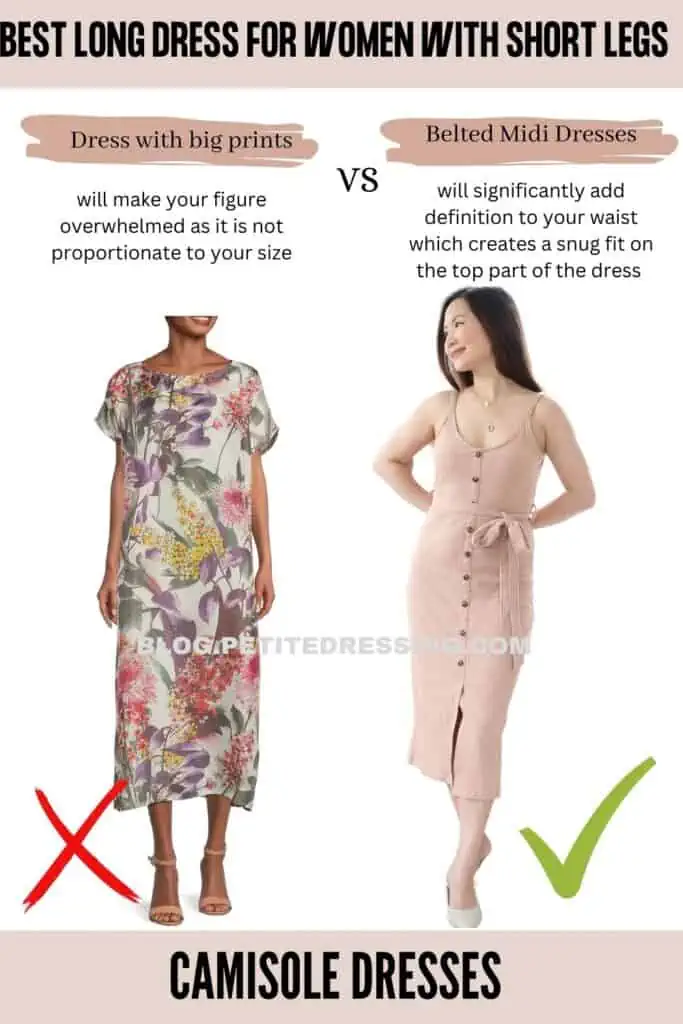 Caution with Kaftan Dresses
Kaftan maxi dresses are undeniably iconic summer staples due to their effortlessly long and flowy structure. While they are totally stylish, they can be a bit tricky to pull off if you're a girl with short legs.
Kaftan dresses have flowing sleeves that make them look quite big and sometimes, shapeless. This type of silhouette can drown you out especially if you have short legs.
However, there's a way to work around kaftan dresses if you really want to try them out and it's either by accessorizing it with a belt or by going for a kaftan dress with an elastic waistband. By cinching the waist, you'll lift the hem a bit higher to expose more of your ankles to elongate your legs while also giving your body a more prominent shape.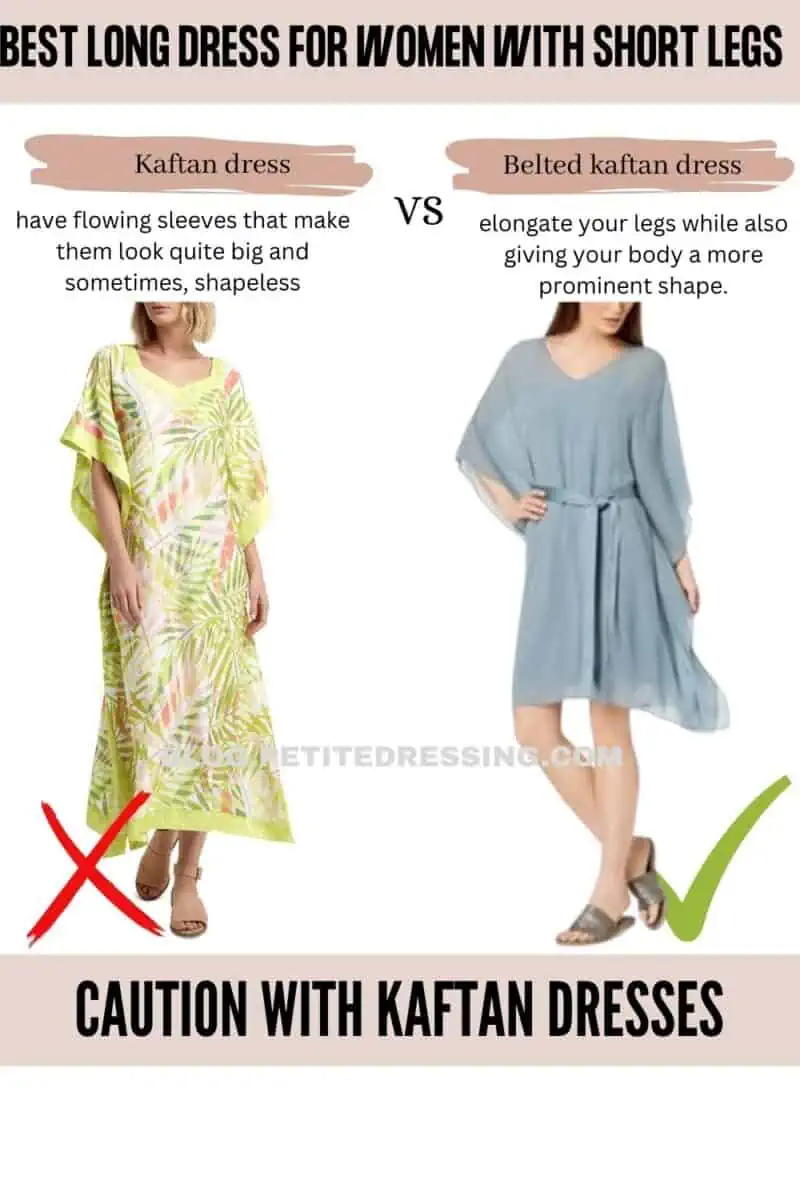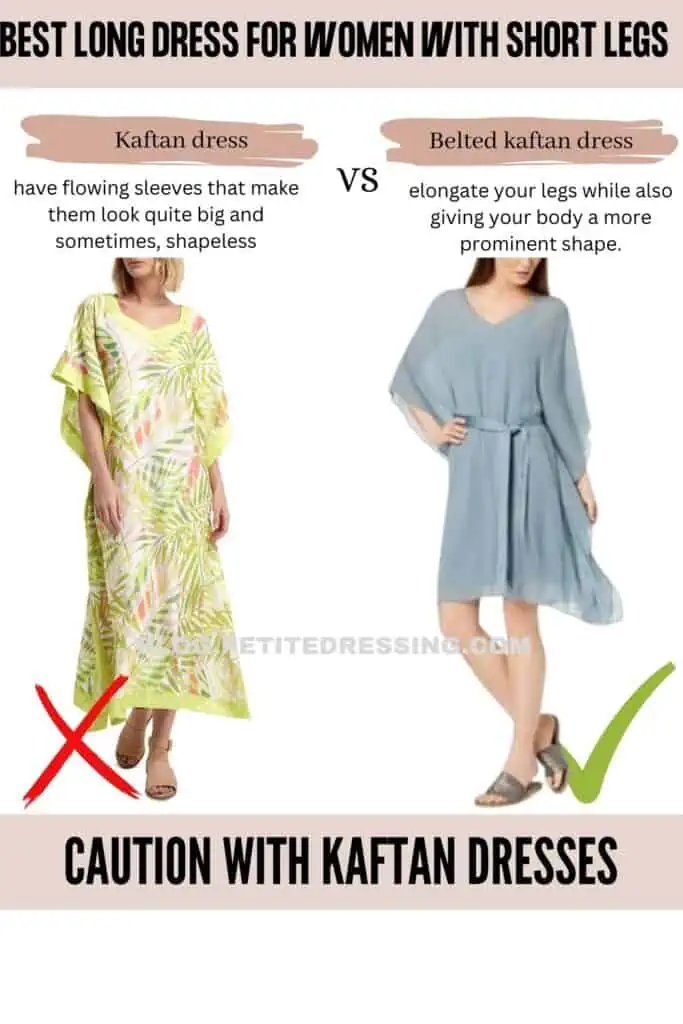 The Key Takeaway
Don't let long dresses intimidate you! Even if you have a petite figure, particularly short legs, long dresses such as maxis and midis can feature elongating properties to make you look taller and slimmer too!
It really all just goes down to choosing the right length and silhouette for you to enhance your body's best features and let the dress' structure do some tweaking to conceal your concerns. Going for minimalist patterns will also make it easier for you to rock a gorgeous, long dress!