The first step to building an amazing wardrobe is to know your body type, so you can pick the shapes and styles that work best for your unique shape. Cocktail dresses can look good on short and curvy women if you know what to go for.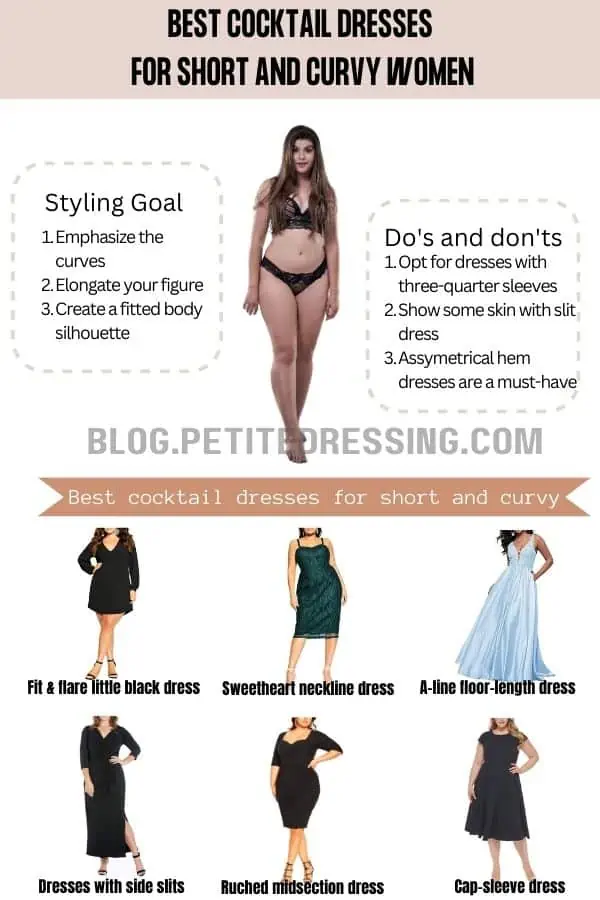 So, keep reading to find out the top ten styles of cocktail dresses that are figure-hugging in an elegant way and even double-up as an amazing way to hide your tummy bulge. You'll definitely find something on this list that works perfectly for you.
Fit & flare little black dress
Everyone needs a little black dress in their wardrobe, and it's a double win if it's a fit and flares little black dress that's absolutely perfect for short and curvy women. The beautiful thing about fit and flare dresses is that they mimic that curvy hourglass shape, even with women that have different body types.
So, if you already have this body type, this style of cocktail dress will mold perfectly on it, with a cinched waist that emphasizes the curves while the flared skirt drapes over your curvy lower body.
Another amazing fact about fit and flare dresses is that you can wear this too if your hips and thighs are wider. Instead of drawing so much attention to that part of your body, as skin-tight dresses would, this cocktail dress will flow smoothly to make your voluminous lower body look more like it's part of the dress.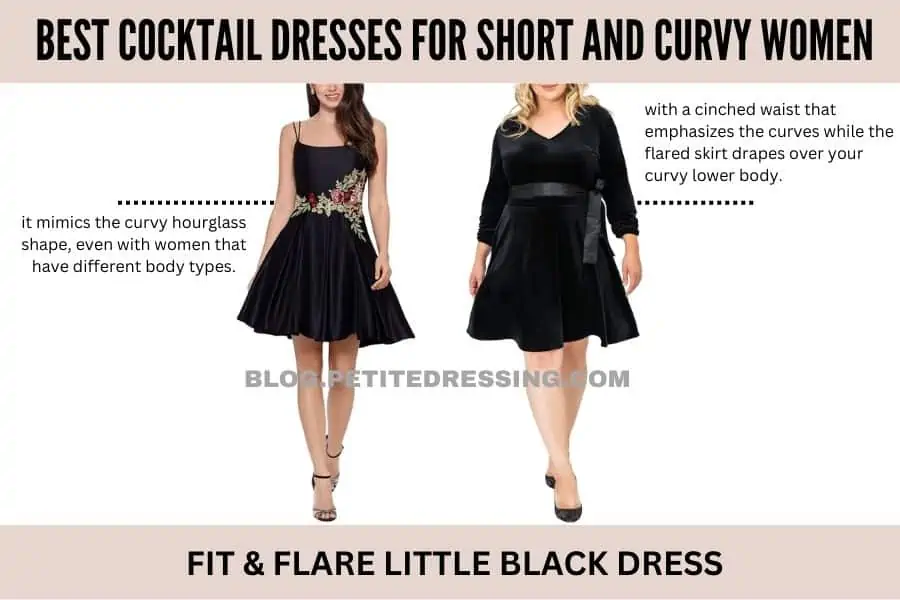 So, it's really a big deal to have a fit-and-flare little black dress that accentuates your small natural waist, making your curves stand out as elegantly as possible.
Sweetheart neckline dress
We won't hold it against you if the first thing you think of when you hear about sweetheart neckline dresses is a bride walking down the aisle. While the wedding industry may have taken over this timeless piece as the go-to wedding gown neckline, the good news is that it's not limited to flowing white dresses.
For short and curvy women, sweetheart neckline dresses are extremely flattering for your body type. Whether you're going sleeveless, or strapless or choose to wear them with transparent sleeves, this is the cocktail dress to wear to enhance your natural curve seamlessly.
So, if you want to wear a cocktail dress with a feminine look that flatters your body shape, this is definitely worth considering. Apart from the romantic feel, a sweetheart neckline adds to any dress, this neckline flows naturally with the shape of your body.
Usually, the neckline has a slight dip which is figure flattering and gives that slimming illusion. So, you don't have to jump through hoops to look slimmer in a cocktail dress for a fashionable night out.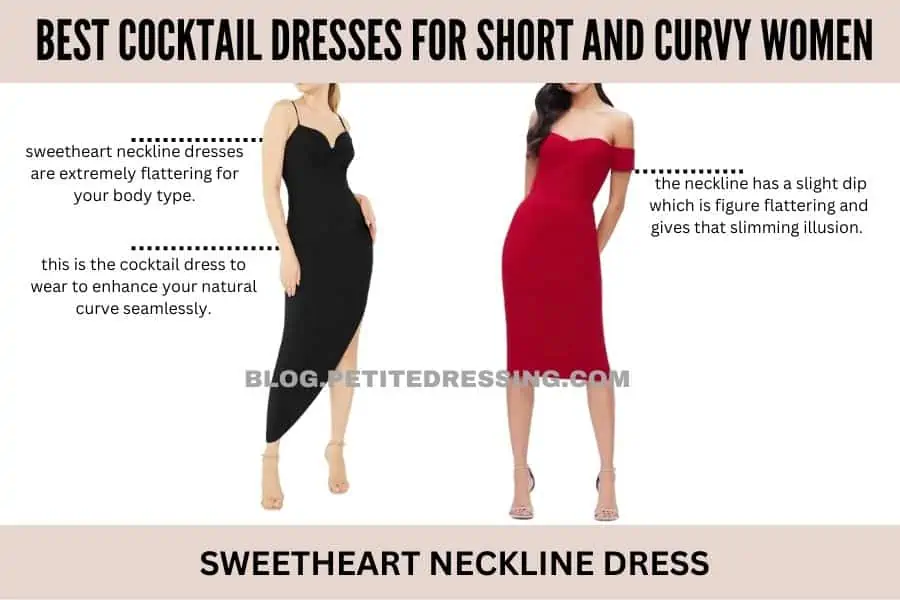 A-line floor-length dress
A-line floor-length dresses are incredibly versatile, and this is a fun way to ramp up the wardrobe of short and curvy women. So, you shouldn't run out of things to wear to the office when you have an a-line dress that flares at the hips with results that make you look super stylish.
However, we'll definitely recommend putting on an a-line floor-length dress to a dinner where you want to stand out as the princess in the room. This princess-cut flare is great for evenings, while you can easily switch it up on weekends to look chic and sophisticated.
If you choose a more structured fabric for your a-line floor-length dress, this works great for softening the curves of your wide hips. The trick is to go for styles that cinch near the waist and then flow out below.
There's an even better way to get the most out of this cocktail dress. You can emphasize the stylish curve of the dress by putting on the right shapewear inside. This works wonders for any cocktail dress.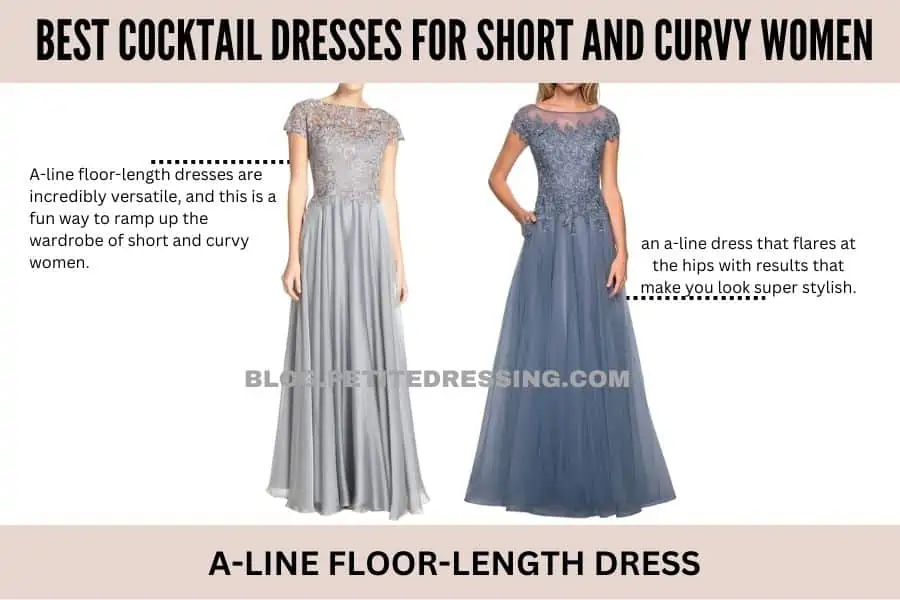 Dresses with side slits
Pull off a fun yet flirty look with cocktail dresses that have side slits. Not only are slits great for adding some more detail to your outfit, but you can also play around with them until you have a style that fits your preferences.
For short and curvy women, side slits on an A-line dress or even your little black dress give the illusion of longer legs. Of course, it doesn't hurt that you have an excuse to show off some skin without being too revealing. 
There are different styles of slits, but your choice depends on the results you want. Since you want to appear slimmer while also giving the illusion of longer legs, side slits are a perfect choice. 
One slit works perfectly on short dresses, whether it has a flare or not. Usually, it's more common to see side slits on dresses that flare out at the bottom, but it works on straight dresses too.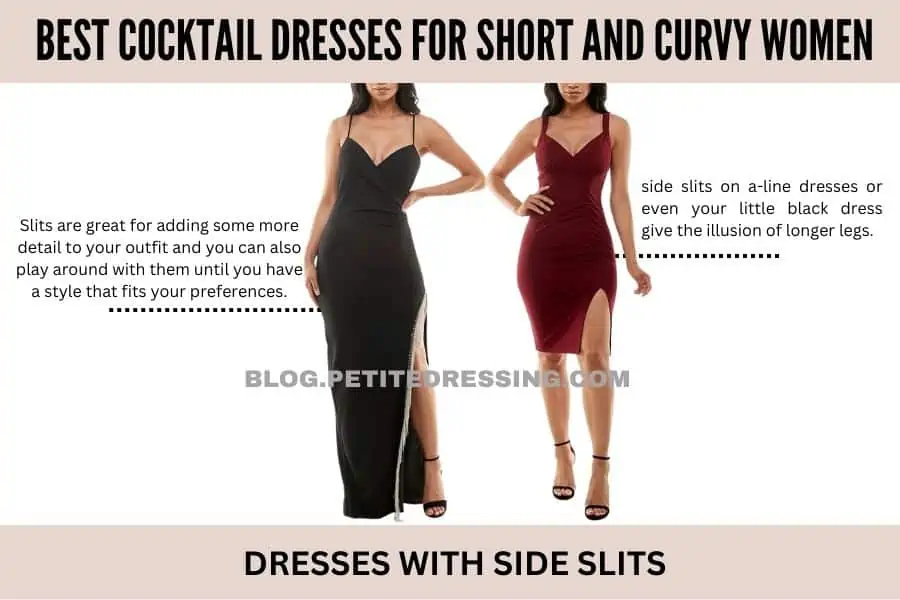 So, make your cocktail dresses more glamorous and be the brightest woman in the room when you wear a dress with side slits.
Ruched midsection dress
How would you like to put on a dress that accentuates the narrowest part of your waist while still slimming down your figure? Well, you don't have to look too far for a cocktail dress that does this easily.
The ruched midsection dress is a simple yet stylish cocktail dress that gently skims over your midsection, making it one of the best ways to hide a muffin top. The ruched middle gives the illusion of a flatter belly.
It works even better on a cocktail dress with a v-neckline as it elongates your silhouette, taking attention more towards your curves where the dress glides over. You can have this on a dress with shorter sleeves, which is great for warmer weather.
So, as it gets colder, all you need is a chunky cardigan or blazer on this fit to get cozy. All you need are a pair of block heels to complete this ensemble.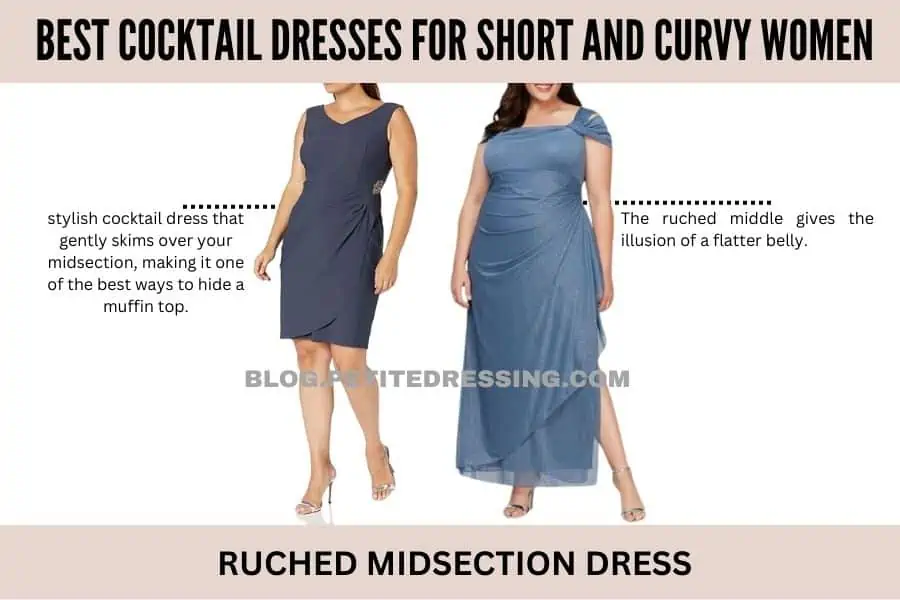 Dresses with three-quarter sleeves
If you don't mind showing a little skin on your arm, feel free to rock dresses with three-quarter sleeves to the office. This is great for covering up flabby upper arms that you're not so comfortable about revealing.
However, that's not the only advantage of dresses with three-quarter sleeves. When worn on an A-line dress or a fit-and-flare little black dress, it works together with the cocktail dress style to make you look slimmer.
If you're having this custom-made, we suggest including lace detail on the bust, as this will draw more attention to your upper body, while the dress cinched at your waist makes it look narrower.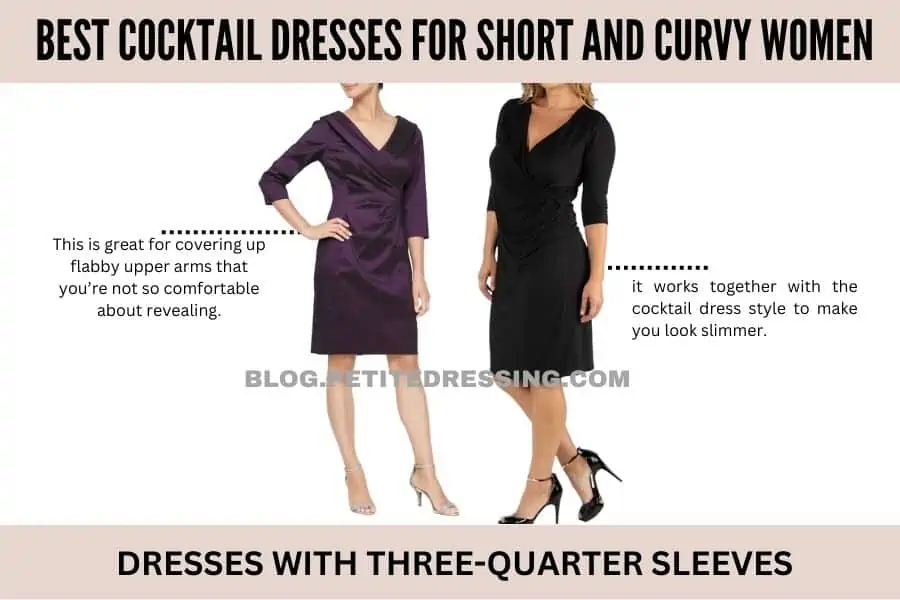 Cap-sleeve dress
Cap-sleeve dresses are one of the most versatile and flattering dress styles for short and curvy women. Since most cap-sleeve dresses are about 3 inches long from the shoulder to below the armpit, this gives your body a fitted silhouette.
Your cap-sleeve dress can be a full evening gown or a shorter dress, but the appeal of this style is how it gives off a modern feel without exposing too much skin. Take this up a notch by choosing a cap sleeve dress in solid red colors.
It's great for standing out at formal events or in the office environment. Where everyone else sticks with the formal black wear, bring a little more color with a red cap-sleeve dress.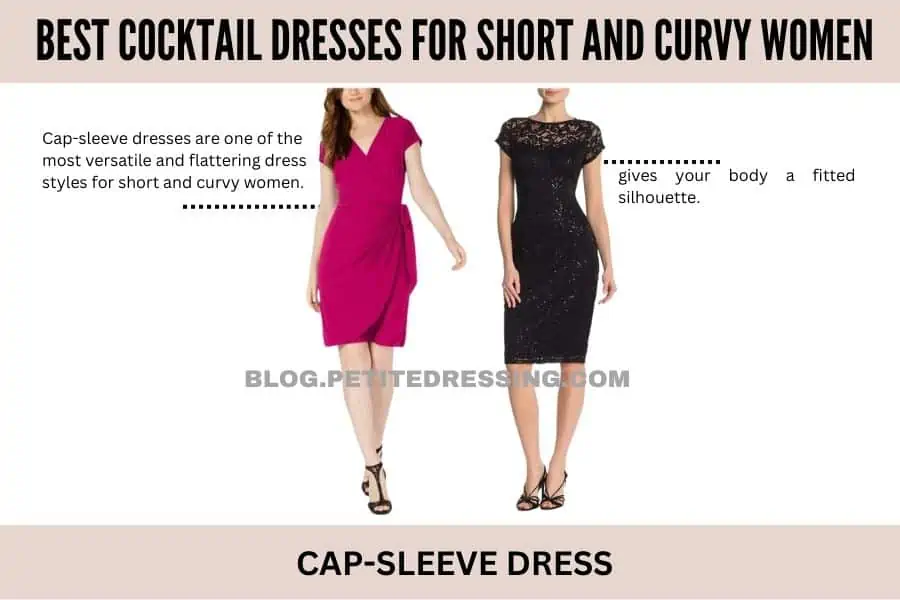 V-neck sheath dress
The combination of a v-neckline on a sheath dress gives a sexy and flattering result for short and curvy women. The v-neckline gives the impression of an elongated and slimmer body while still being comfortable enough without revealing so much skin.
The v-neckline draws more attention to the chest region, while a fitting sheath dress emphasizes the curves of your body. Be sure to go for a dress that's not too tight. A v-neck sheath dress is great for putting more attention on the waist area while hiding any tummy bulges you may have.
Finish up this look with a pair of black heels or even sandals if you want to make this more casual.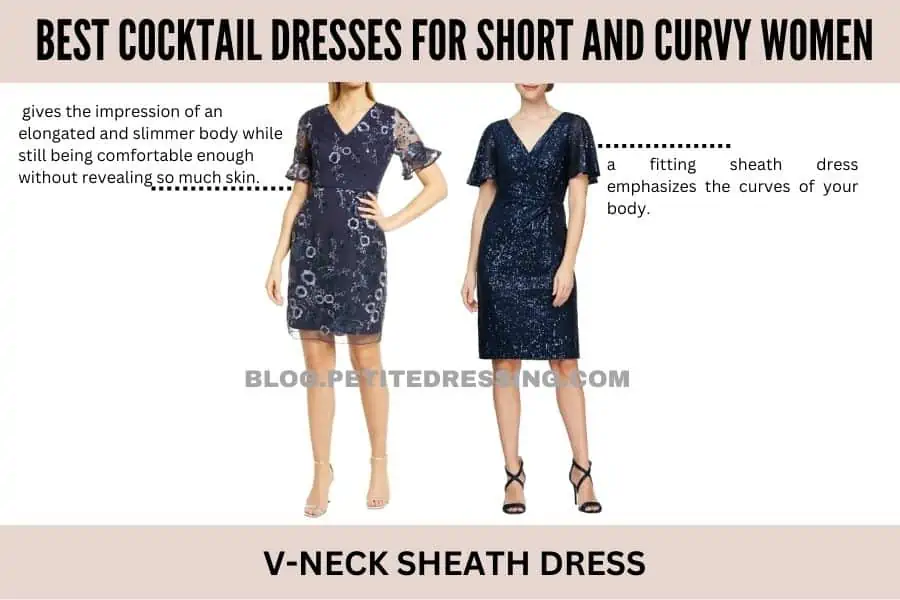 Sequined black lace dress
Just like we mentioned earlier, black is one of the best colors in the world of cocktail dresses. So, make your body frame look slimmer with an off-the-shoulder sequined black lace dress.
This will draw more attention to your shoulders, while the sequins on your dress give it a timeless feel. No doubt about it, you'll look elegant.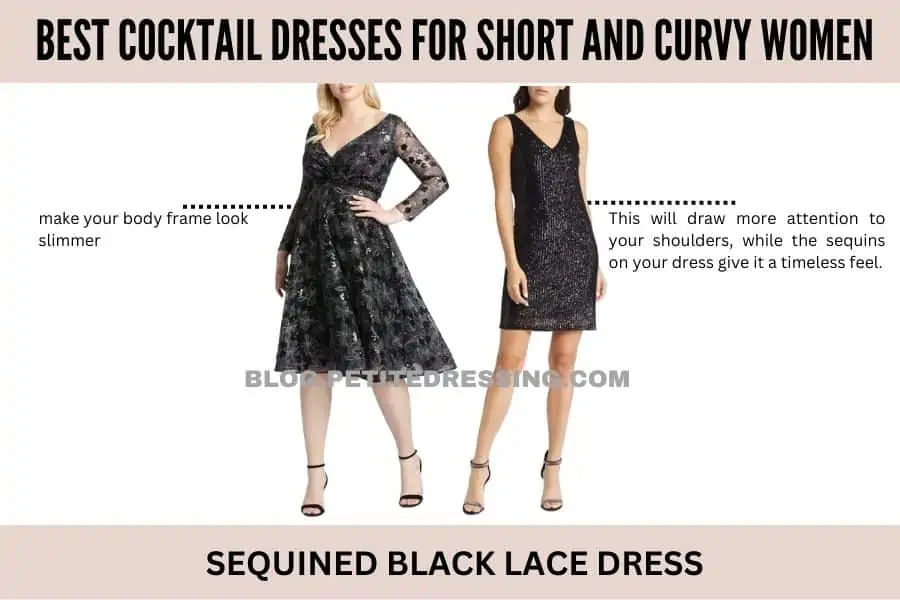 Asymmetric hem dress
The beauty of the asymmetric hem dress is that instead of drawing attention to your hips, there's more focus on the legs. If your hem dress also has a slit on the sleeves, this can serve as another worthy distraction.
Even better, an asymmetric hem dress rests solidly on your midsection, which is not too tight on the body. You'll be comfortable.
Cocktail dresses are a must in every woman's wardrobe. With this incredible selection of styles, you have several choices of cocktail dresses that look good on short and curvy women.