It's always nice to dress up for work as we always aim to look sleek and presentable for the job. But to think of an office wear ensemble every single day can be a constant struggle, most especially for short and curvy women!
If you're currently working on mixing and matching your corporate wardrobe, we're here to help you complete your lineup hassle-free.
STYLING GOAL
The goal is to look professional and comfortable without compromising your natural curves. Your bust line should be the area that you should highlight for it is one of your petite and curvy body's best assets.
To create a visually appealing silhouette, you should make the vertical lines on your body more apparent. This will help elongate your frame by defining your upper body while also making your legs look longer.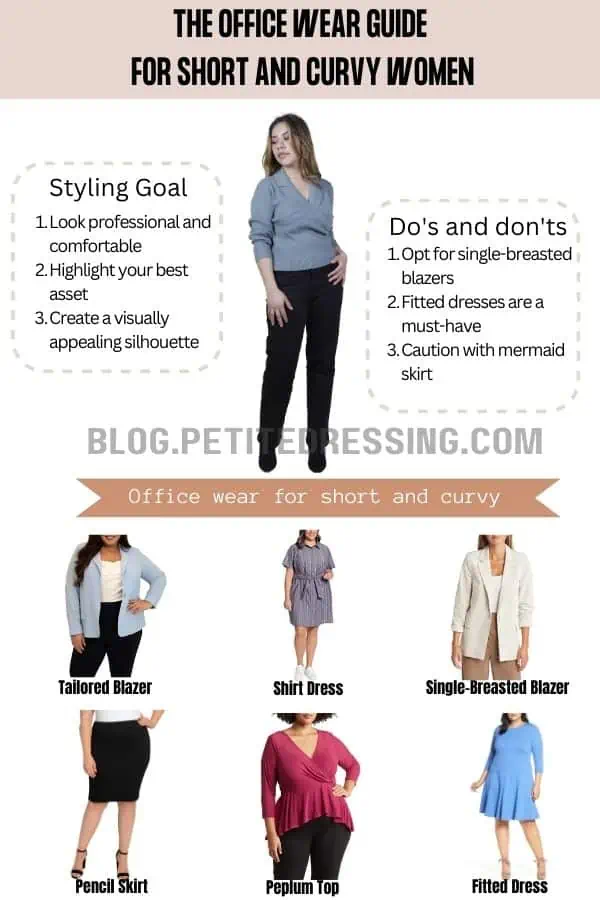 BLAZER
The fit and structure of your blazers will make a huge difference in enhancing the curvy lines on your figure. Blazers can instantly turn most outfits into office wear so it's important that you choose one that's versatile enough to serve such a style purpose.
Tailored Blazer
For a sophisticated corporate fit, tailored blazers would always be a classic option. It features seam lines that embrace your curves, most specifically around the bust area, shoulders, and waist.
The seam graces the shoulders quite nicely by visually creating the illusion of prominent shoulders. If you feel like you'd want to sharpen your look a bit more, you can also opt for tailored blazers with shoulder paddings.
Single-Breasted Blazer
Single-breasted blazers feature just one straight column where the buttons are placed. This helps visually trick the eyes into seeing a straight line resulting in a leaner and longer body frame.
This is a very versatile type of blazer and it fits a smart casual look both when worn open or buttoned. It matches pretty much any tops and blouses you have – even a plain white V-Neck shirt!
Cropped Blazer
Here's an absolute fashion staple for all short and curvy girls out there! Cropped blazers are obviously shorter than regular ones which means they have the perfect length that flatters petite girls the most.
Cropped blazers usually have a hem cut that's just right above the hip level. This effect gives your body a balanced ratio by lengthening your legs and defining your torso.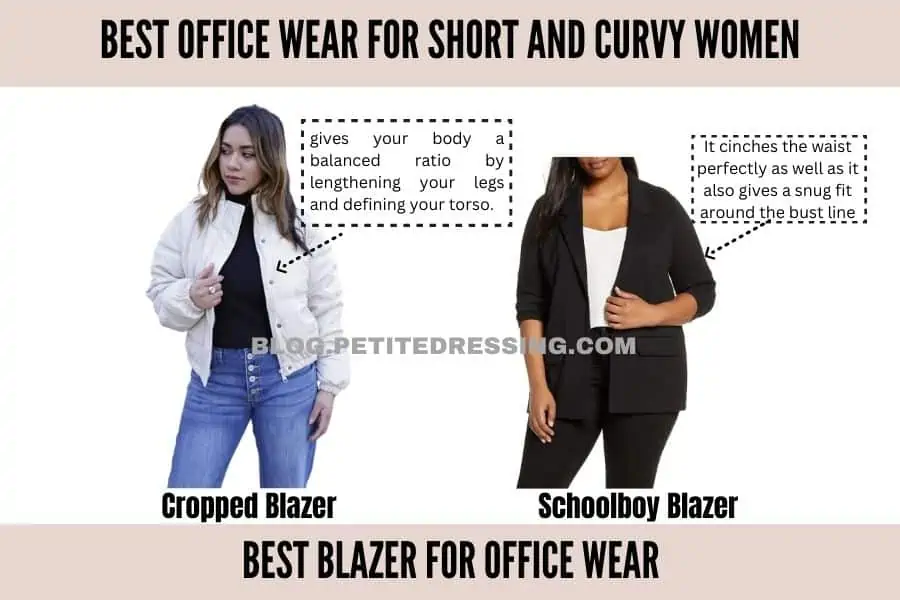 Schoolboy Blazer
Even if its name may seem contradictory for "office wear", Schoolboy blazers are actually very flattering choices for short and curvy girls due to their length, waist-defining buttons, and reversible cuffs.
It cinches the waist perfectly as well as it also gives a snug fit around the bust line. This gives more depth to the body and subtly makes your natural curves more apparent.
For an office wear ensemble that's quick and easy to pull off, pair your schoolboy blazer with a pinstripe button shirt and high-waist trousers.
DRESSES
The beauty of dresses is that you barely need to mix and match your outfits because dresses can stand on their own. The best tip for styling your dresses as a short and curvy woman is to pay close attention to the length and structure.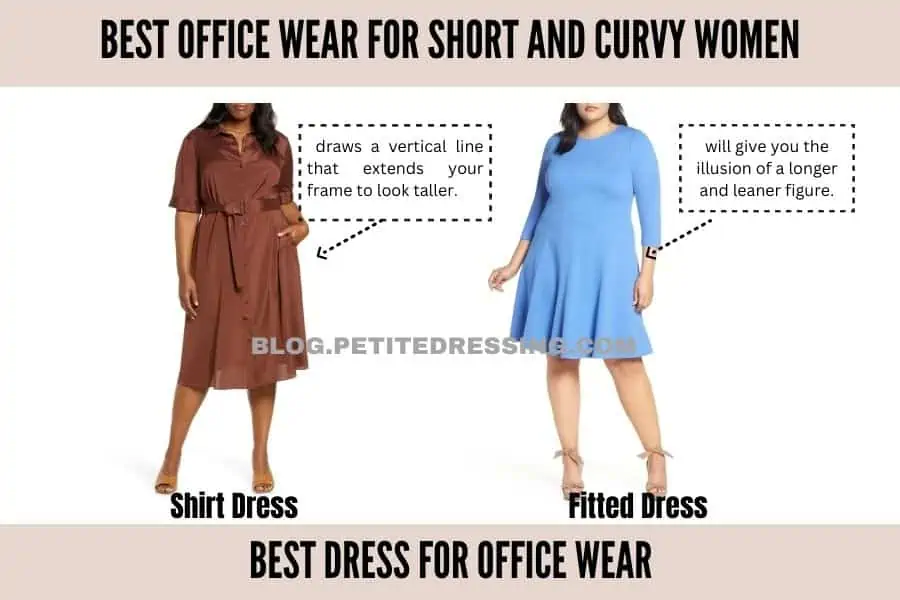 Shirt Dress
They are not just very comfy but also very flattering for short and curvy figures due to their straight and flowy silhouette.
The neckline which is usually followed by a few buttons draws a vertical line that extends your frame to look taller.
Fitted Dress
One great way to embrace your natural curves is to choose a dress that features seams and cuts that gently skims your body. Note that we're not pertaining to very tight bodycon dresses here but rather dresses that are fit and tailored.
Form-fitting dresses give an elegant touch that's perfect for office wear. If you also want to level up your work ensemble, you can layer a blazer on top of your form-fitting dress to give more dimension to the look.
To suit your short height, opt for form-fitting dresses that come in solid colors or vertical stripes. This will give you the illusion of a longer and leaner figure.
TOPS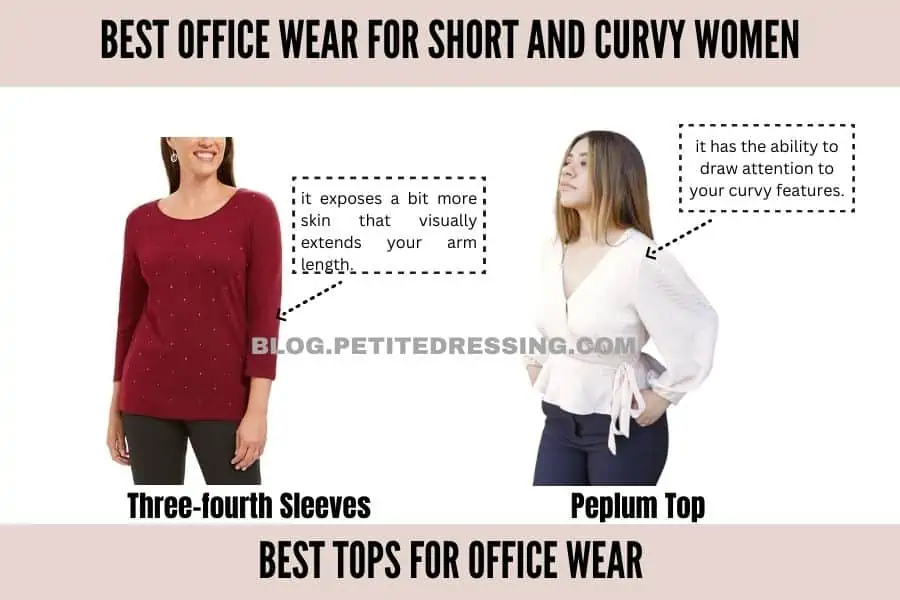 While the goal of styling short and curvy women is usually about elongating the body frame, this is not always the case when it comes to choosing tops. Petite ladies usually have smaller and shorter torsos but making your torso look longer than your legs can be very unflattering.
So the key to choosing the right office top is to focus on the ones that cut up to just the right length to make your upper body and lower body proportionate.
Three-fourth Sleeves
Struggling with short limbs or are your regular long sleeves too long for your arms? Then go for three-fourth sleeves instead!
This is the best sleeve length for short girls whose height is around 5'3" and below. The measurement isn't too long and it's not too short either.
The cuff ends just right before the wrist when your arm is relaxed so it exposes a bit more skin that visually extends your arm length. This styling trick will make your limbs look longer and your overall figure look slimmer.
Peplum Top
The flounce of overskirt that peplum tops have gives a very feminine and elegant look that best fits your "girl boss" office outfit. Apart from its design, the structure is also very flattering for short and curvy girls because it has the ability to draw attention to your curvy features.
For peplum tops to work best with short girls, opt for those with necklines that create space on the upper half of your body. The best necklines would be V-neck, sweetheart neckline, boat neck, and square neck.
Peplum tops look amazing with mini pencil skirts so go give it a try the next time you step into the office!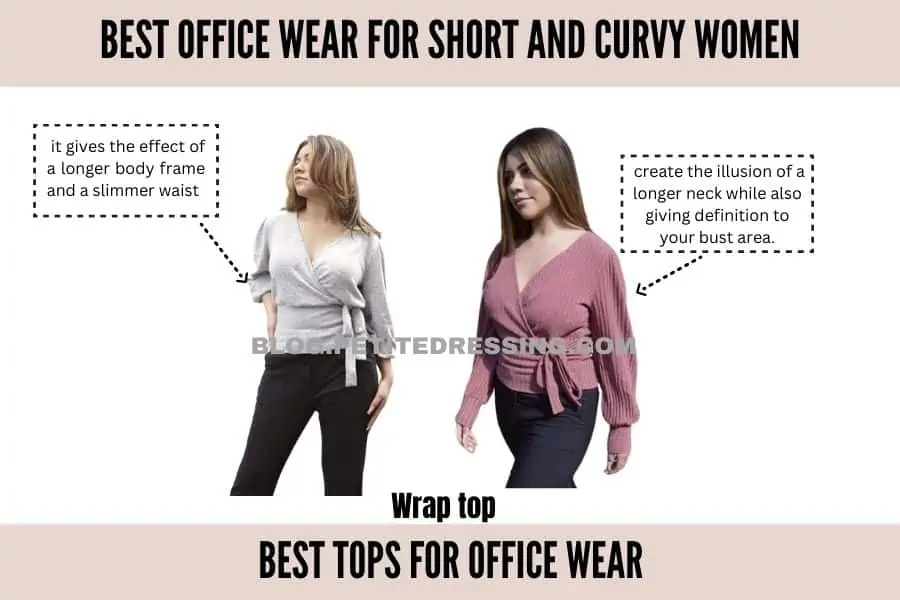 Wrap Top
The features of a wrap top flatter short and curvy girls very much because it gives the effect of a longer body frame and a slimmer waist. Its V-neck is a great way to create the illusion of a longer neck while also giving definition to your bust area.
The tie that goes around the waist also constructs an appealing slanted line that slims down the waist. Such an effect gives your short and curvy body a flattering ratio.
SKIRTS
Skirts will always be an important fashion staple in every office ensemble. They are very versatile and can look formal and casual when needed – it's all about how you mix and match them!
To style your skirt as a short and curvy woman, you mainly need to elongate the appearance of your legs and embrace the natural curves of your lower body (especially your buttocks and hips).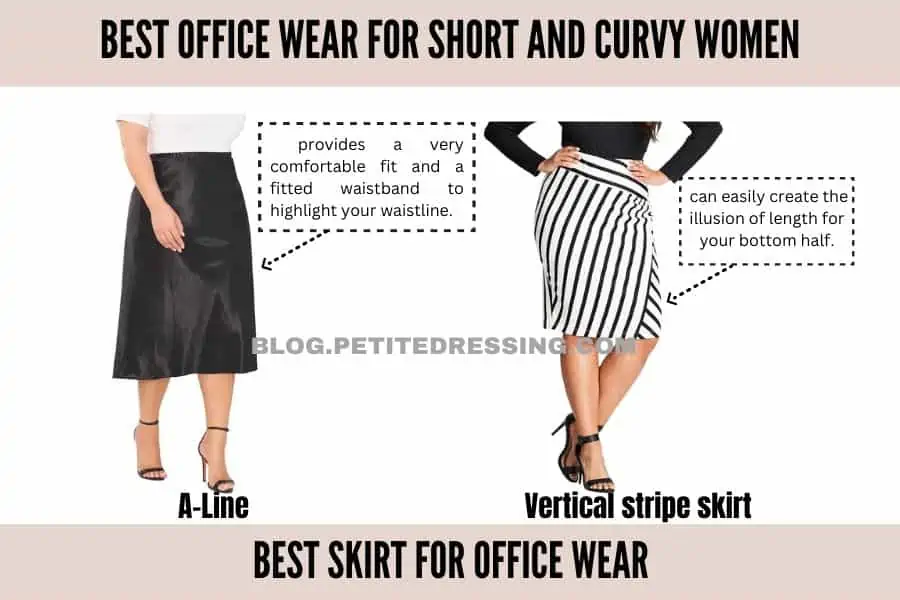 A-Line
Let's start with the classic A-line skirt, which is probably the easiest to pull off for short and curvy girls. It features a flare that provides a very comfortable fit and a fitted waistband to highlight your waistline.
If you'd like to draw focus on your waist, this is a really good choice. The length isn't going to be a critical issue since almost all lengths can work, except for those that are too long (floor length that covers ankles are a big no-no!).
Vertical stripe skirt
Vertical stripes are generally flattering for women with a short and curvy figure, because they can easily create the illusion of length for your bottom half.
The key is to go with subtle prints that do not look too loud or busy.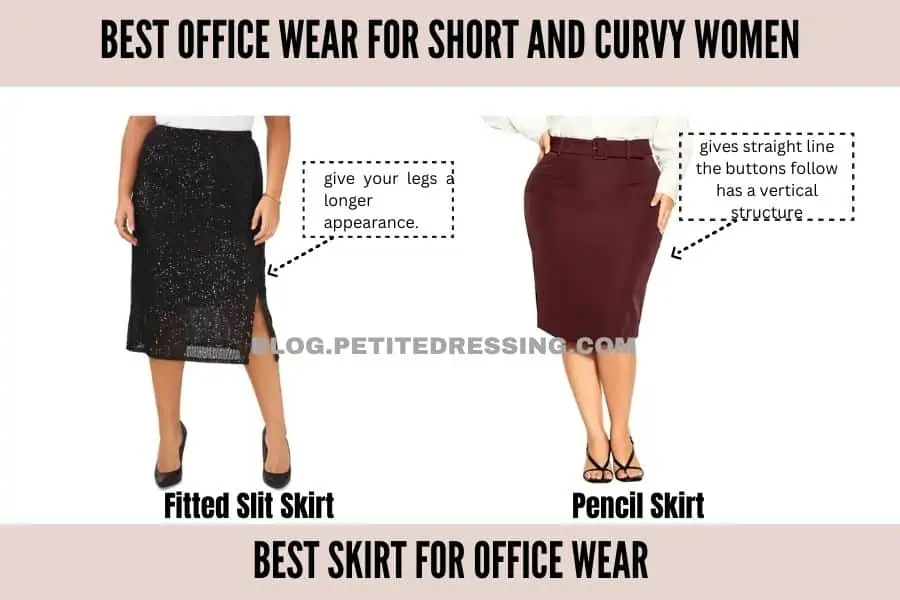 Fitted Slit Skirt
For office wear, your slit shouldn't be too high but it should be enough to give your legs a longer appearance. Think of how short you can go with your office mini skirt, then such a slit height could nicely work.
This is also the best option if you really want your curves to stand out! Look for body-hugging fabrics that still feel comfortable to effectively define your buttocks, hips, and thighs.
Pencil Skirt
Nothing is ever more classic for office wear but a pencil skirt! Its narrow fit gives your gorgeous curves their time to shine.
You may also try to go for button-down pencil skirts if you want your frame to look longer. It's because the straight line the buttons follow has a vertical structure that's most flattering for petites.
Caution with mermaid skirt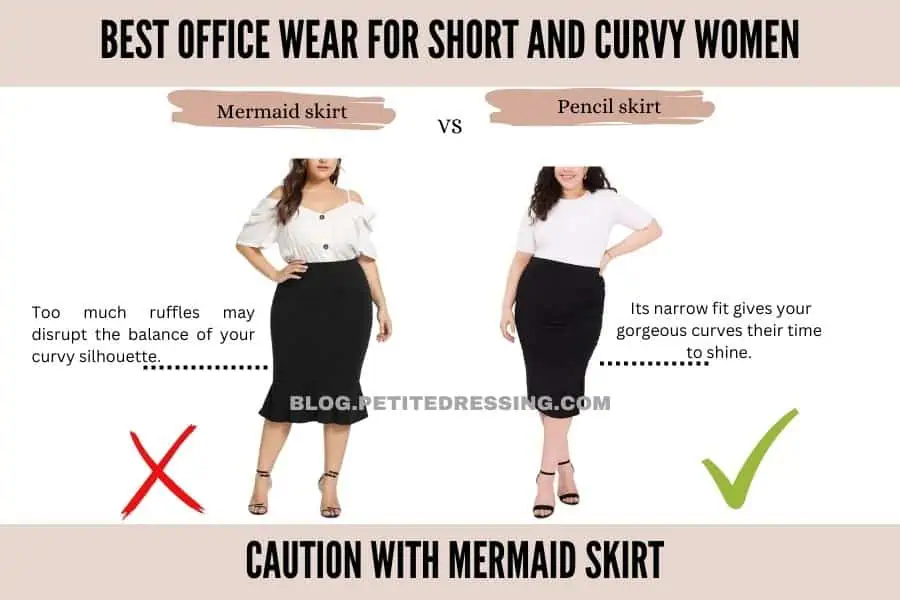 If your office dress code allows, you can also go with a mermaid skirt.
Mermaid skirts go straight and slightly blooms into flared ruffles by the hem. This effect elongates your legs by visually creating a straight line from your waist up to where the ruffles would start.
Just remember not to go for mermaid skirts that have very dramatic ruffles and try to stick with ones with minimal fabric flounces. Too much ruffles may disrupt the balance of your curvy silhouette.
PANTS
Pants or trousers look great with suit blazers and sophisticated workwear tops. To make them work with the rest of your office wardrobe, you need to go for pants that can elongate your body frame.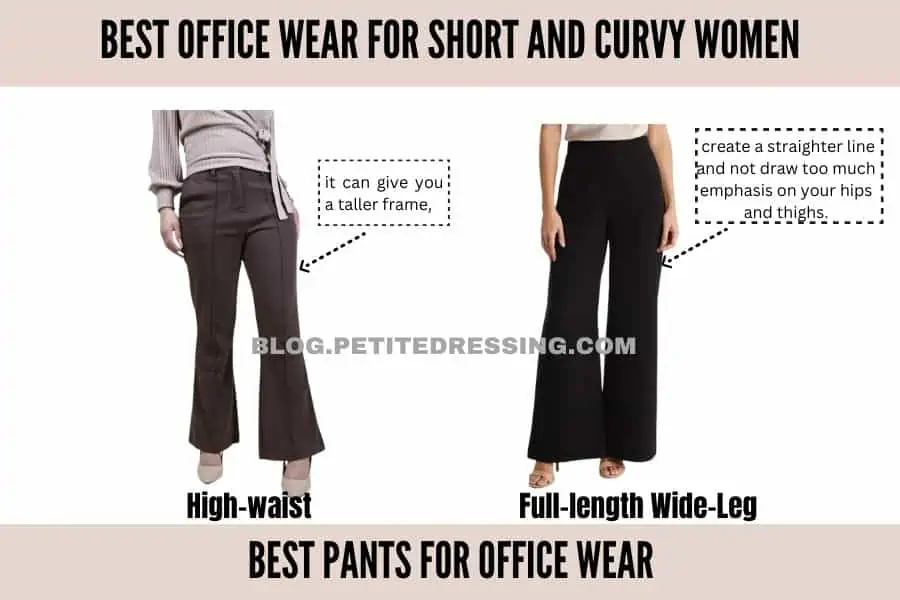 High-waist
The best way to elevate your height visually is to wear high-waisted pants. To give you a taller frame, waistbands that go above the natural waistline can do the trick.
Look for soft but structured fabrics so that they'll comfortably skim through your legs. Try to avoid ones that are too tight-fitting.
Full-length Wide-Leg
This is probably the best style of pants to match a sexy, androgynous-looking suit! If you're rocking a tailored blazer and fitted top, then a pair of full-length wide-leg pants would bring the perfect balance to your look.
The wide space for the legs works best if you wish to create a straighter line and not draw too much emphasis on your hips and thighs.