There are a ton of different varieties of dresses out there to choose from and it can get really overwhelming to pick the ones that will look great on a short hourglass figure. I'm only 5'2 and I know exactly how tasking it can be to choose dresses that won't drown my height!
Since I have a petite clothing line, I have styled different body shapes including short hourglass figures, so I know how it can be a tad complex to work on a short height and an hourglass frame. It's because being petite may restrict an hourglass body's full-bodied curves and make your well-defined waist less visible.
In this blog post, let me walk you through different types of dresses that will surely suit your petite hourglass figure. But before we dive into the specifics, let's discuss our styling goals first.
Styling Goal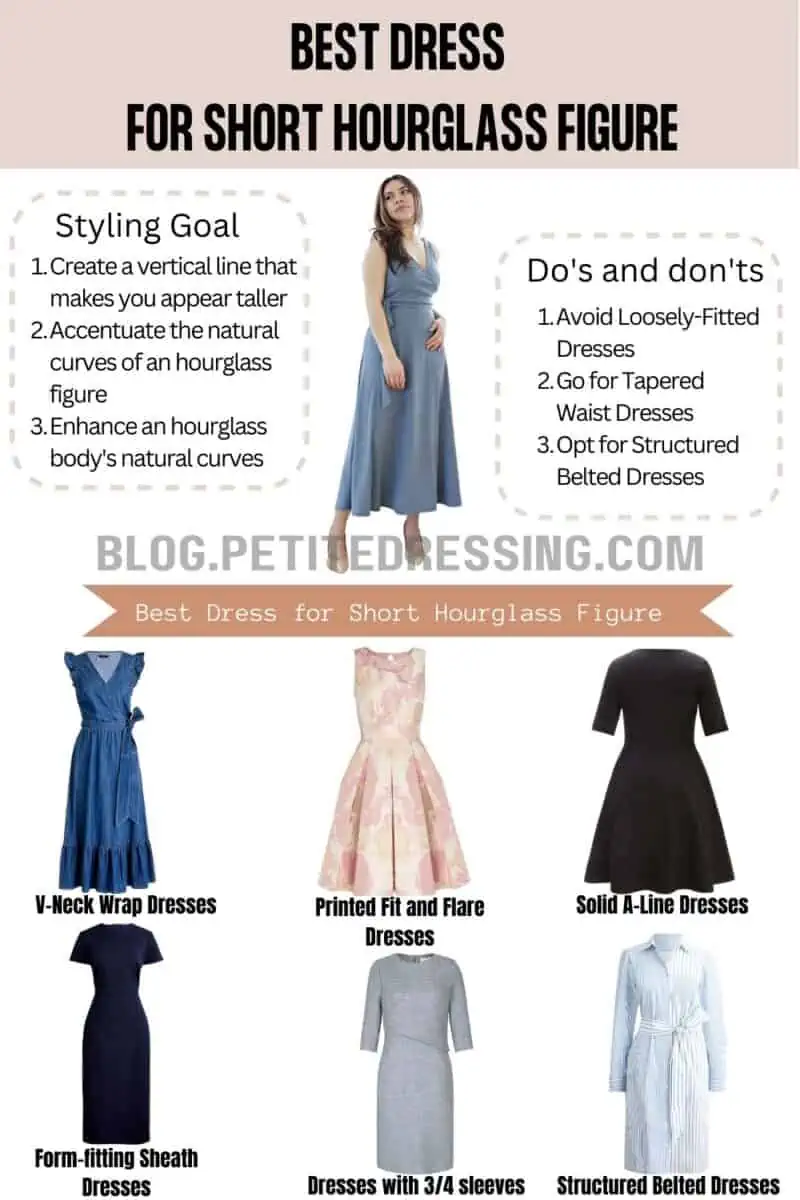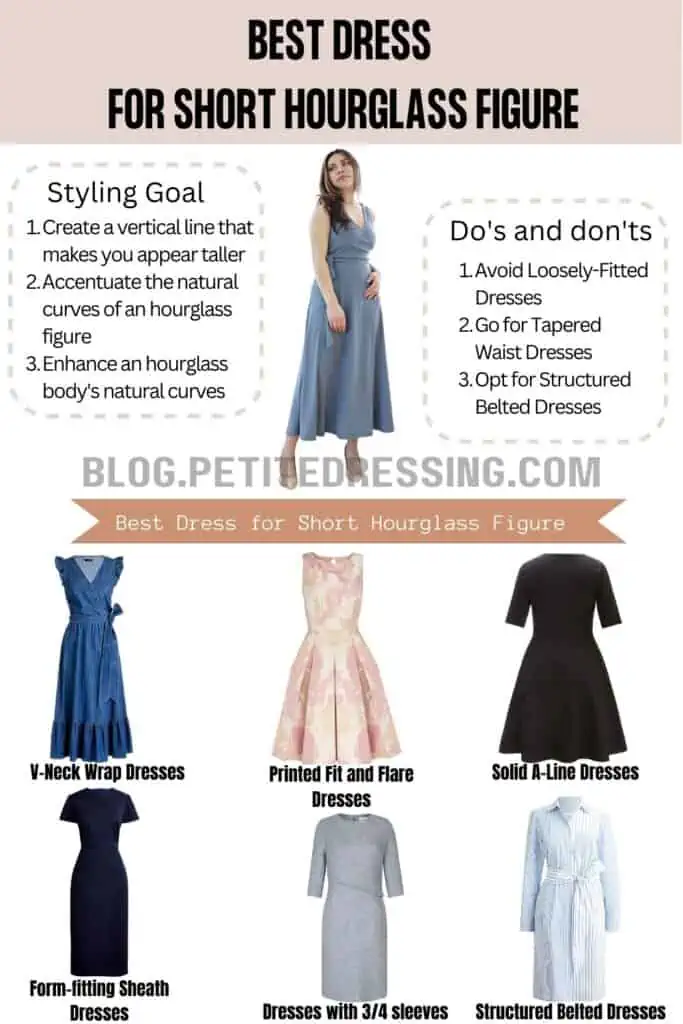 Look for a dress structure that will accentuate your well-defined waist. Hourglass figures take pride in how defined their waist is and this, being one of their body's best figures, deserves the spotlight.
Stay away from overly dramatic details that may disrupt your naturally-balanced silhouette. Your bust line and hips are naturally proportionate to each other and so adding more volume to either of the two will create a visual imbalance.
Go for elongating patterns and prints that can make you appear taller. As a girl with a petite hourglass figure, your height will be needing a bit of more boost so you'd want to style yourself in a way that would visually elongate your frame.
Now that we're all set with our styling goals, let's talk about the specific dress styles that would gorgeously flatter your figure. We'll also briefly share why exactly they are a good fit for a short hourglass body.
V-Neck Wrap Dresses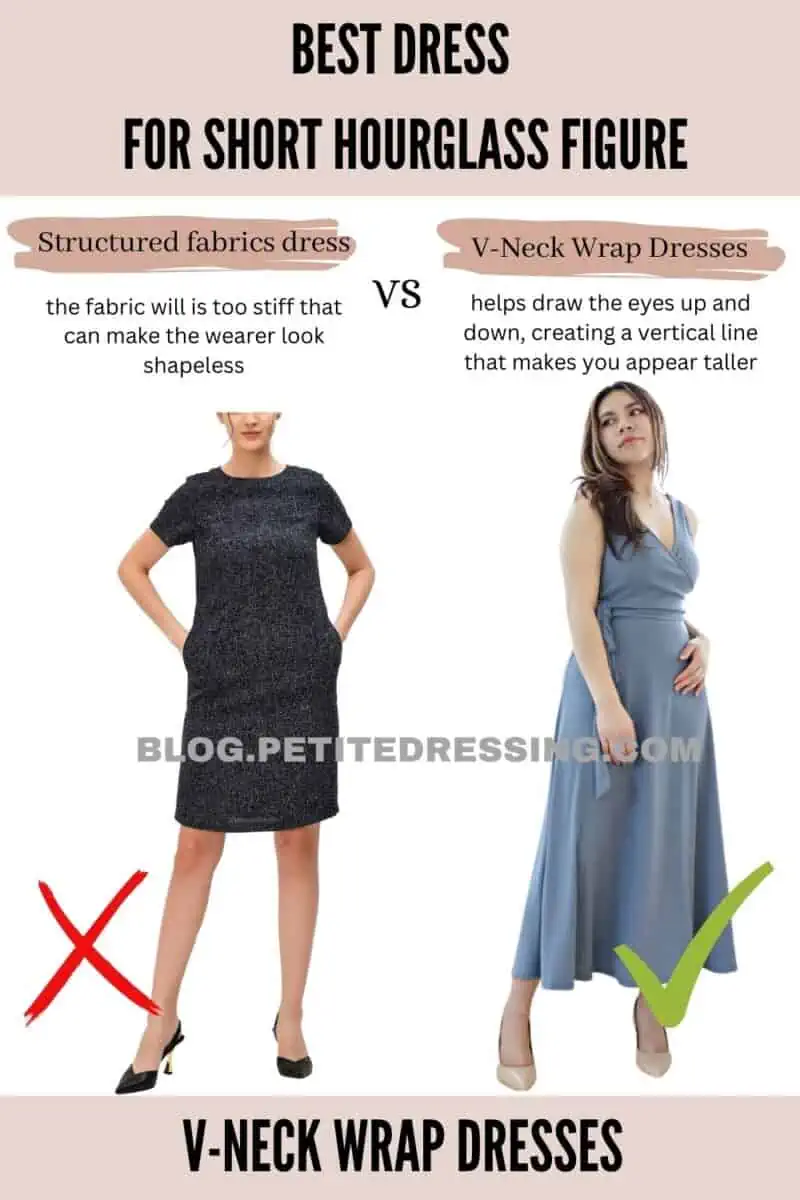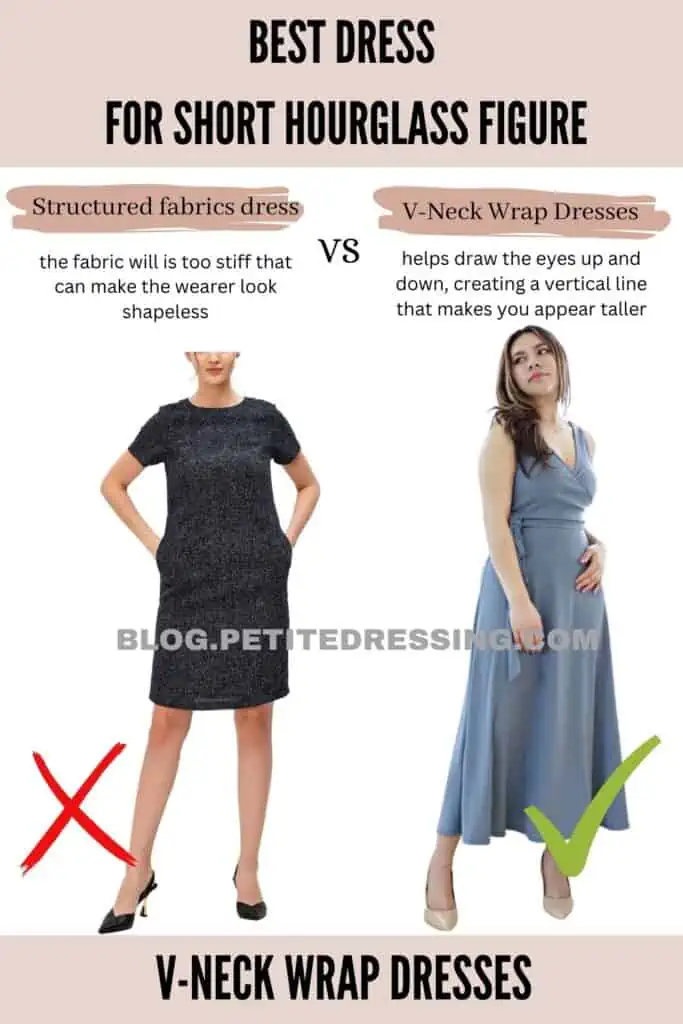 A wrap dress with a V-neck is an absolute dream combo for petite hourglass frames because they both have figure-enhancing and elongating features. Wrap dresses are generally very versatile due to their universally flattering structure.
Wrap dresses are designed to cinch in at the waist, which helps to accentuate the natural curves of an hourglass figure. This creates a defined waistline, which is one of the key features of the hourglass body shape.
On the other hand, a V-neckline can help elongate your neck and create a longer, leaner silhouette. It also helps draw the eyes up and down, creating a vertical line that makes you appear taller so it works quite well with short hourglass shapes.
Printed Fit and Flare Dresses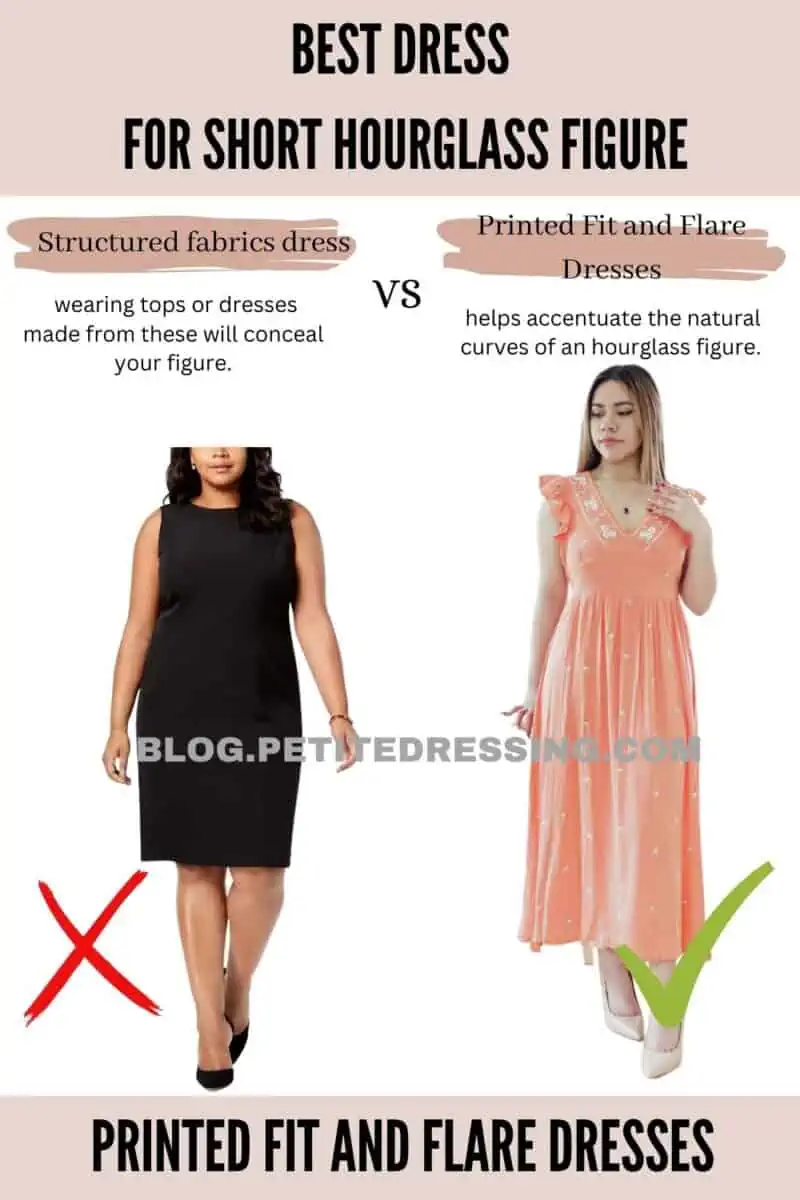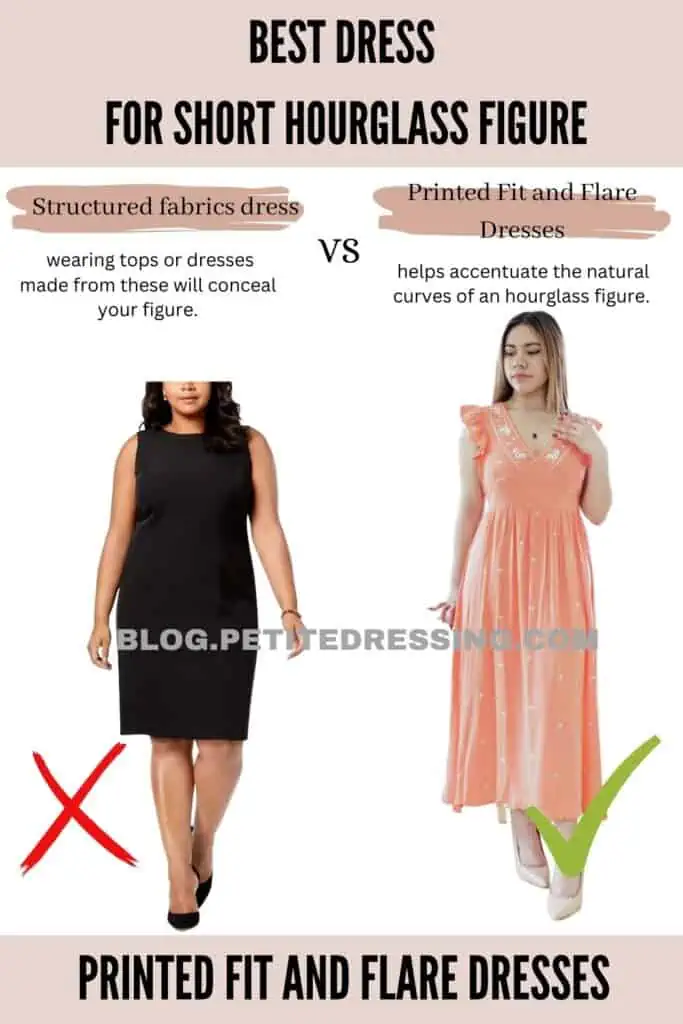 Flowy fabrics are ideally flattering for short women as they generate movements that trick the eyes into having a longer frame. This is also why draping fit and flare dresses are great because of the elongating features of the fabric and the form-enhancing features of their structure.
Fit and flare dresses nicely nips in the waist and this helps accentuate the natural curves of an hourglass figure. The fitted waist and flared skirt also help elongate the appearance of your lower body and make the legs appear longer, which can be especially helpful for those with a shorter height.
Solid A-Line Dresses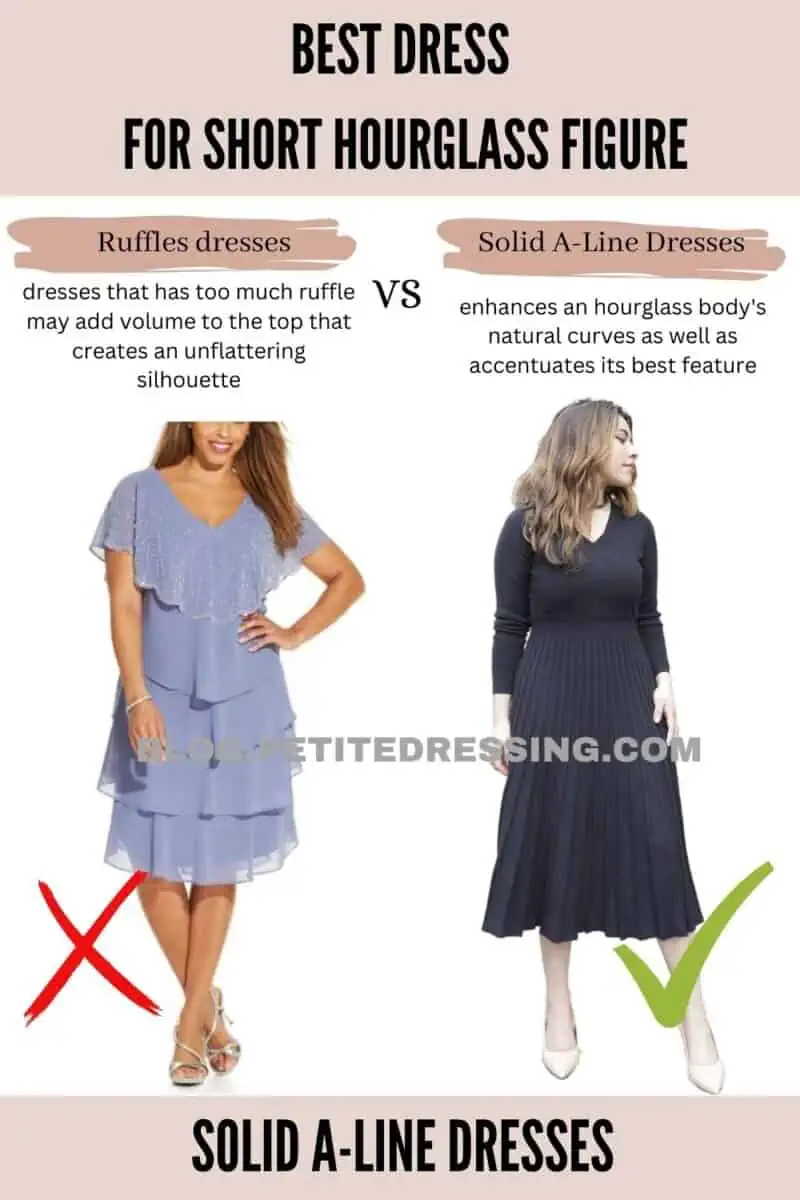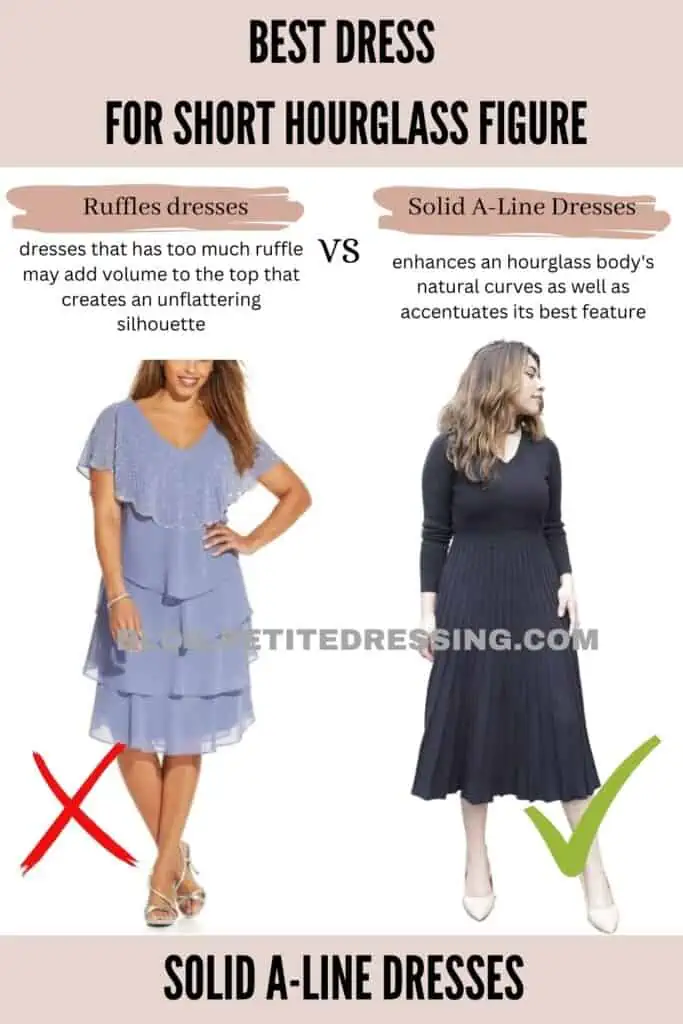 Just like fit and flare dresses, A-Line dresses feature a flattering structure that enhances an hourglass body's natural curves as well as accentuates its best feature, which is the small waist. They are fitted at the top and then gradually flare out towards the bottom, creating a balanced silhouette that can help to elongate the body.
Such features are especially helpful for petite women as they can help make the legs appear longer and create a more proportional look. Linen is also a great choice for A-Line dresses because of its breathability and versatility which can provide superior comfort to your body shape.
Form-fitting Sheath Dresses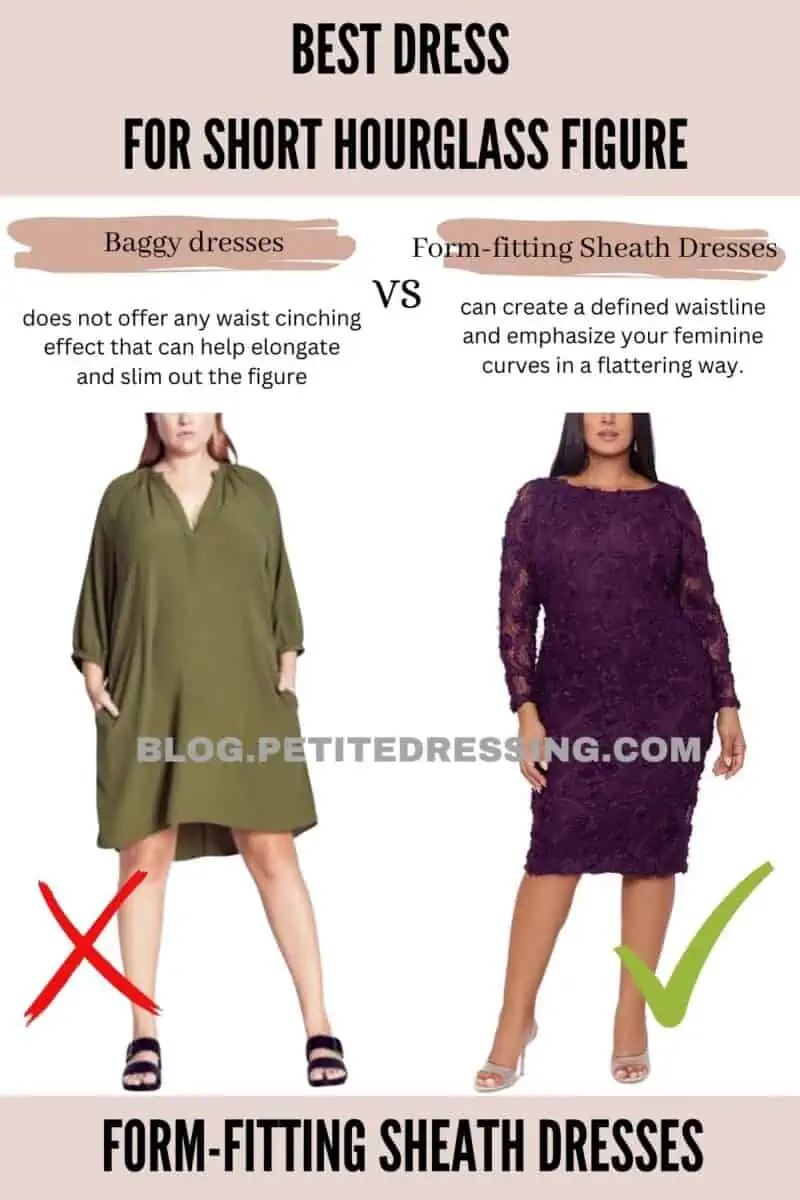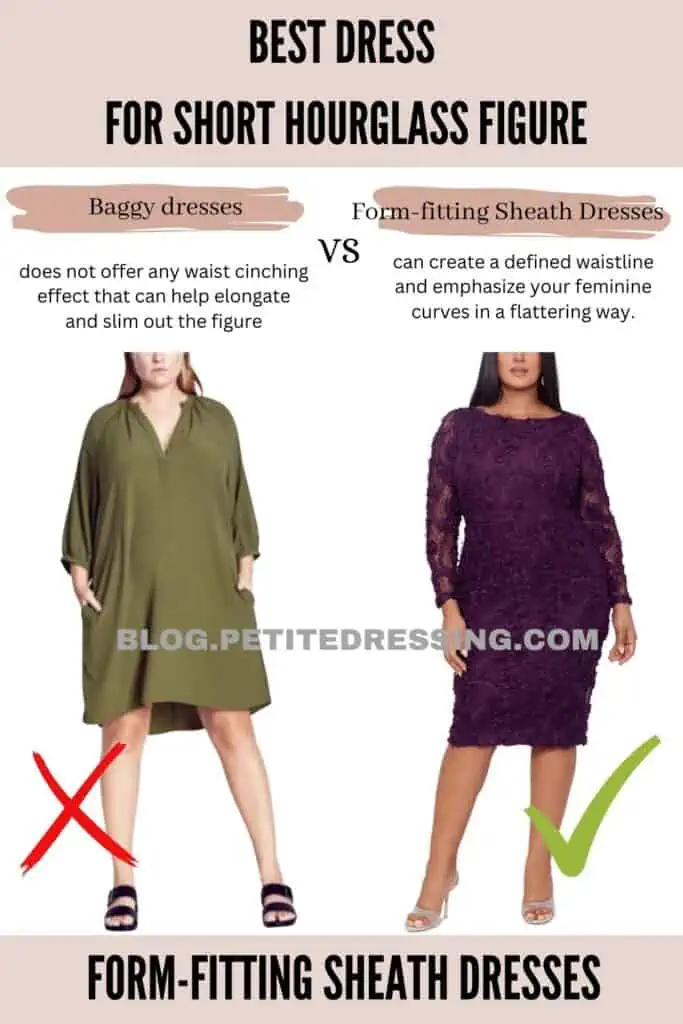 Sheath dresses are usually fitted and typically fall just above the knee. It features a simple structure that is designed to follow the natural curves of the body and is often made from a stretchy fabric to create a snug fit.
Form-fitting sheath dresses can be flattering for short hourglass body shapes because they subtly accentuate your best features which are your waist and hips without any obvious embellishments. This can create a defined waistline and emphasize your feminine curves in a flattering way.
Additionally, sheath dresses are generally streamlined and simple in terms of design. This is very efficient in elongating your body frame and creating a sleek, elegant, and taller silhouette.
Dresses with 3/4 sleeves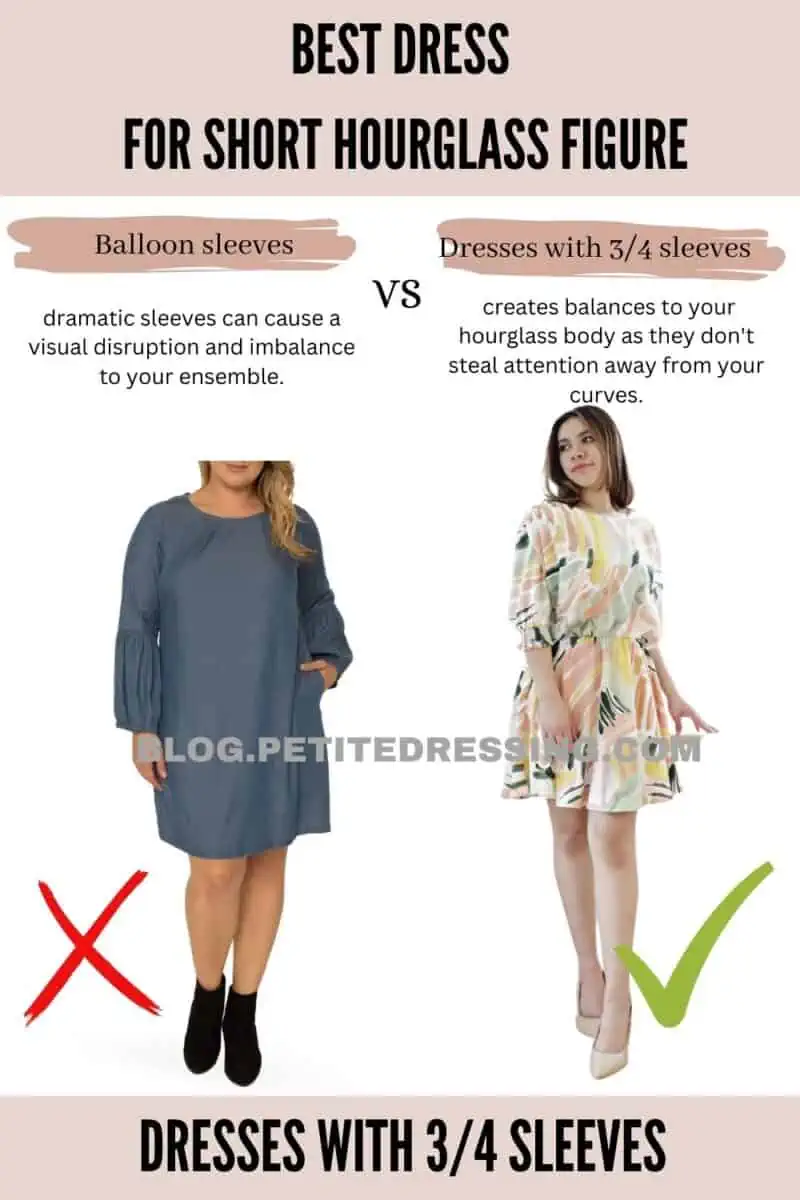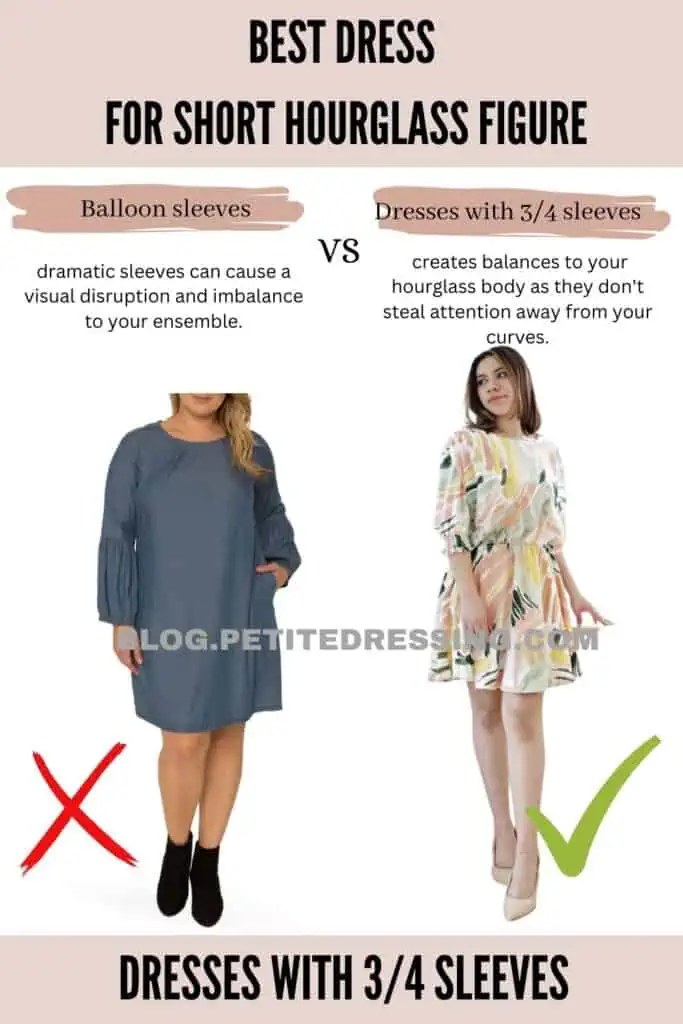 Having a short hourglass body figure means that you are prone to looking heavier because of having a full bust and full hips in a short frame. This is one of the reasons why adding more volume (such as dramatic sleeves) to your clothing can cause a visual disruption and imbalance to your ensemble.
Minimal sleeves such as short sleeves or 3/4 sleeves can help to create the illusion of longer arms, which can be especially helpful for those with shorter heights. They also bring balance to your hourglass body as they don't steal attention away from your curves.
Avoid sleeves that are too voluminous like balloon sleeves, large bell sleeves, or lantern sleeves. These styles can immensely overwhelm your figure and make you look wider and shorter.
Structured Belted Dresses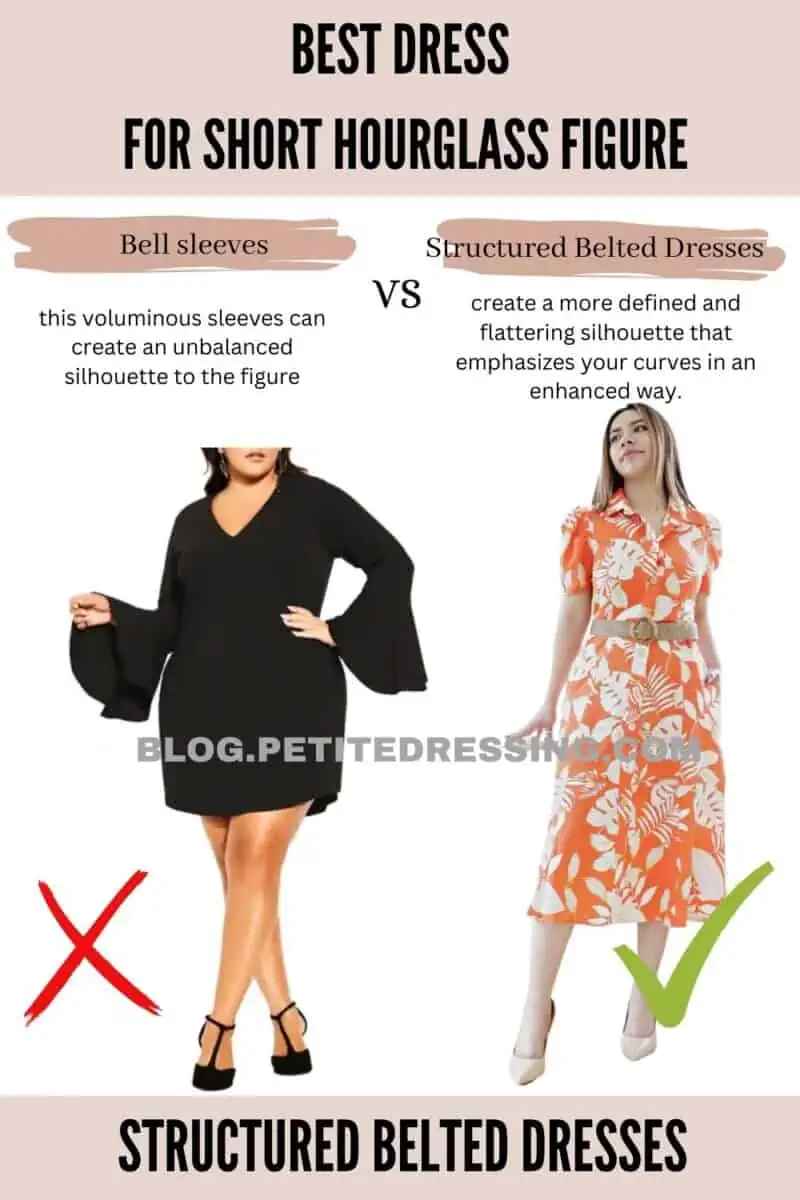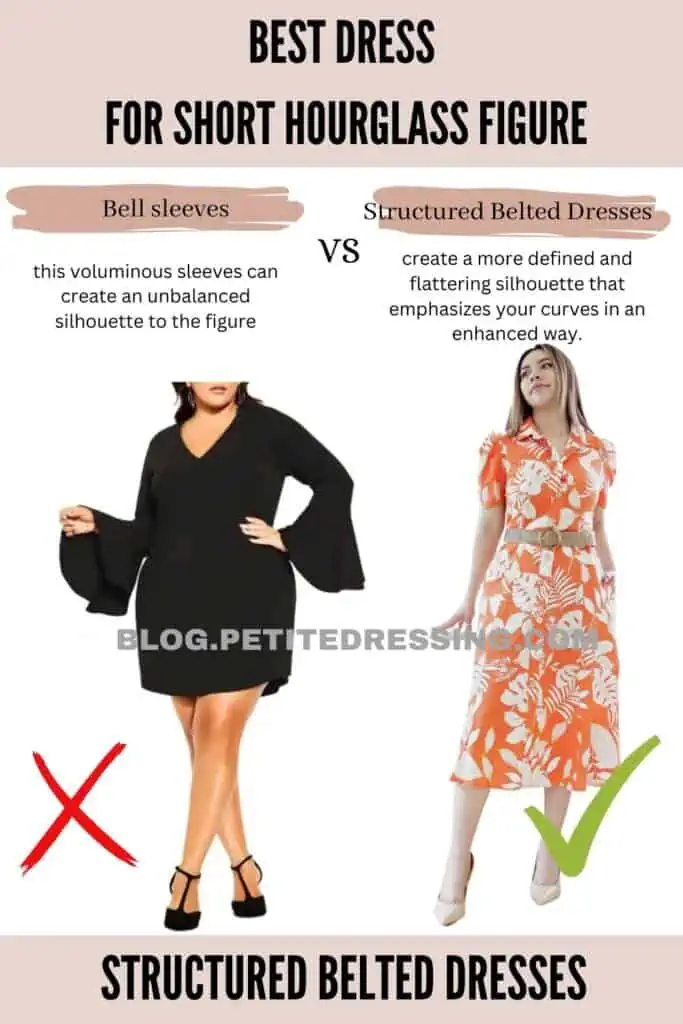 As you have already known by now, one of your hourglass body shape's key features is your well-defined narrow waist. To perfectly complement that, belted dresses should be a great option for you as the belt cinches in the waist to create a more defined and flattering silhouette that emphasizes your curves in an enhanced way.
By drawing attention to the waistline, you can also create the illusion of longer legs, which can help balance out the upper and lower body to create a more elongated look overall. This can be especially helpful when paired with heels or other elongating accessories to make you appear taller.
Tapered Waist Dresses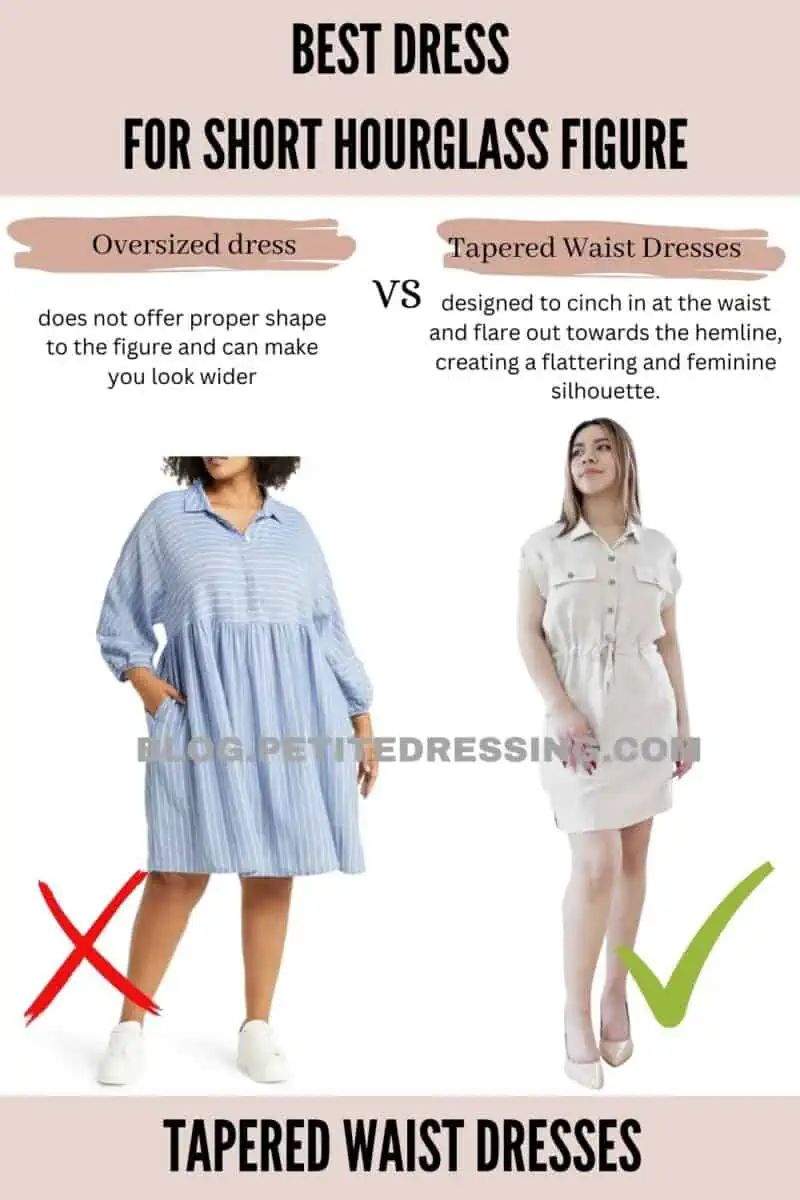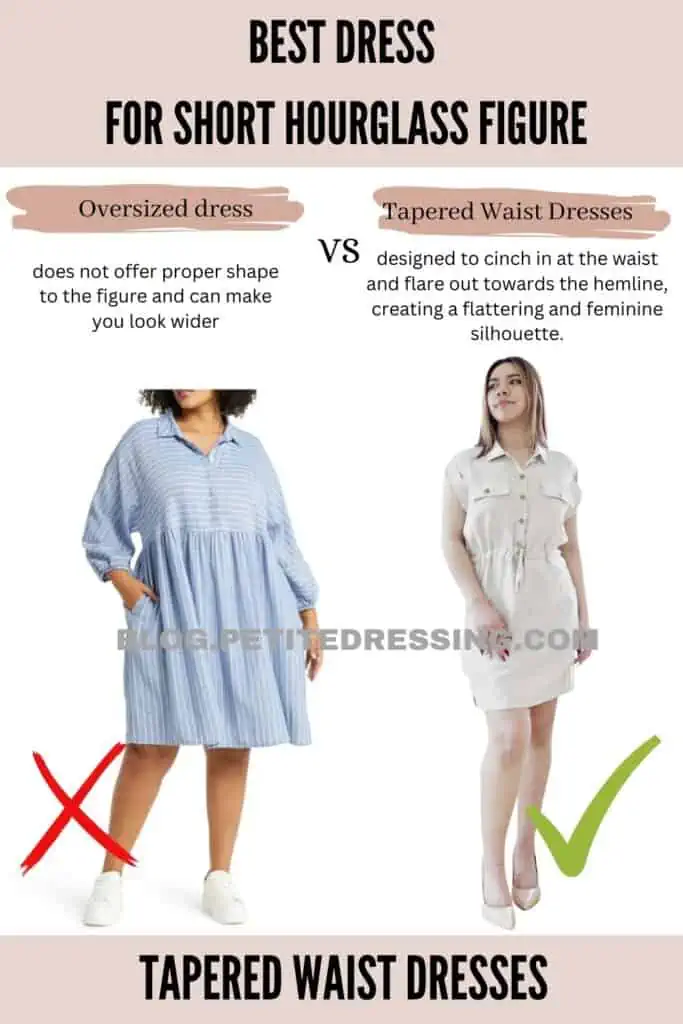 Dresses that are wider at the top and taper nicely towards the waist can also be a great choice for short hourglass frames. Tapered waist dresses are designed to cinch in at the waist and flare out towards the hemline, creating a flattering and feminine silhouette.
They are often characterized by a defined waistline that is accentuated by pleats, ruching, or other details that make the waist even more apparent. They basically share the same style and structure with fit and flare dresses, with the wider top being their slight difference.
If you're someone who likes a broader fit on the bodice while still keeping your waist fitted, tapered waist dresses must have their own dedicated space in your wardrobe!
Avoid Loosely-Fitted Dresses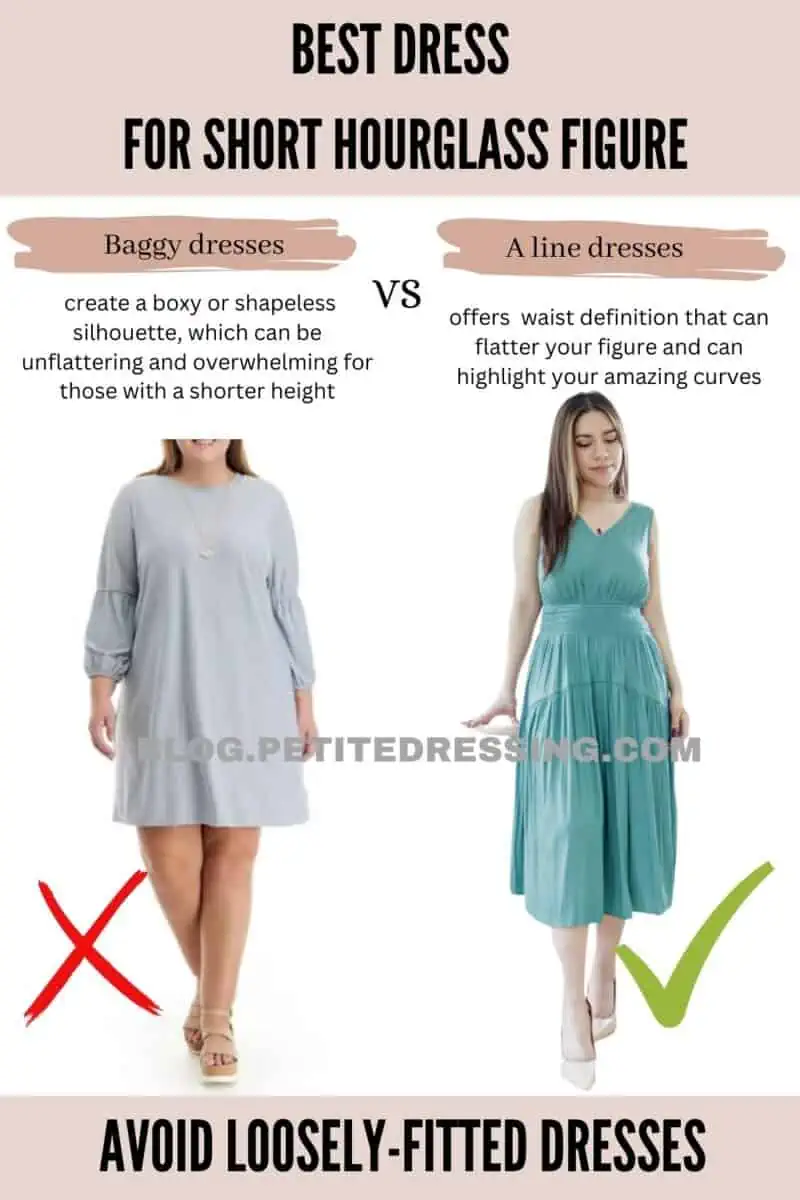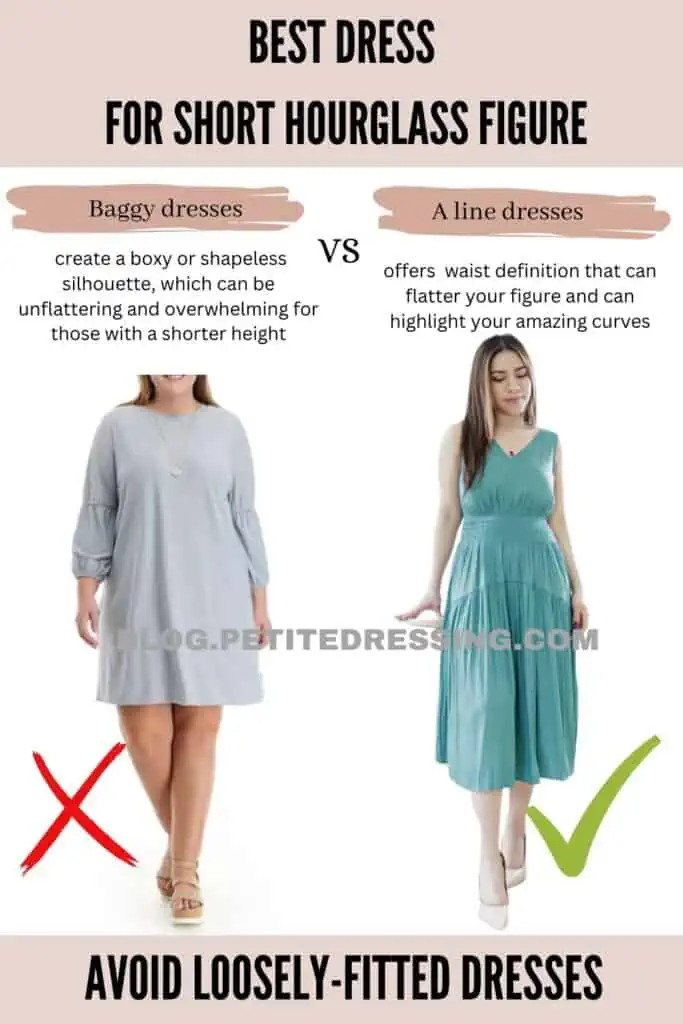 The reason why loosely-fitted dresses should be avoided must be very obvious at this point, right? Short hourglass body shapes should avoid these types of baggy dresses because these styles can conceal the natural curves and shape of the body, making it difficult to showcase the hourglass figure.
Loosely-fitted dresses can also create a boxy or shapeless silhouette, which can be unflattering and overwhelming for those with a shorter height. Always remember that your natural silhouette is your best feature, so make sure to flaunt it!
The Key Takeaway
To be able to effectively flatter your hourglass figure, it's important to choose styles that will accentuate your waist and create a defined shape. This can be achieved through the use of belts, tapered waistlines, and fitted styles that hug the curves of the body in a flattering way.
Overall, it's important to choose styles that flatter your individual body shape and highlight your unique features, rather than hiding or concealing them.