I'm 5'2″, so my torso is shorter than taller women. In my own experience, it can be quite challenging to find the right clothing to fit women with short torso. Since I also have a petite clothing line, I hear feedback from thousands of my customers all the time about how a short torso can make it hard.
But, the perfect casual styles for women with short torsos do exist and you're about to find out.
I've put together this casual style guide for women with a short torso, based on my first-hand experiences as well as feedback from my customers. This contains every detail you need to choose styles that will flatter your body shape!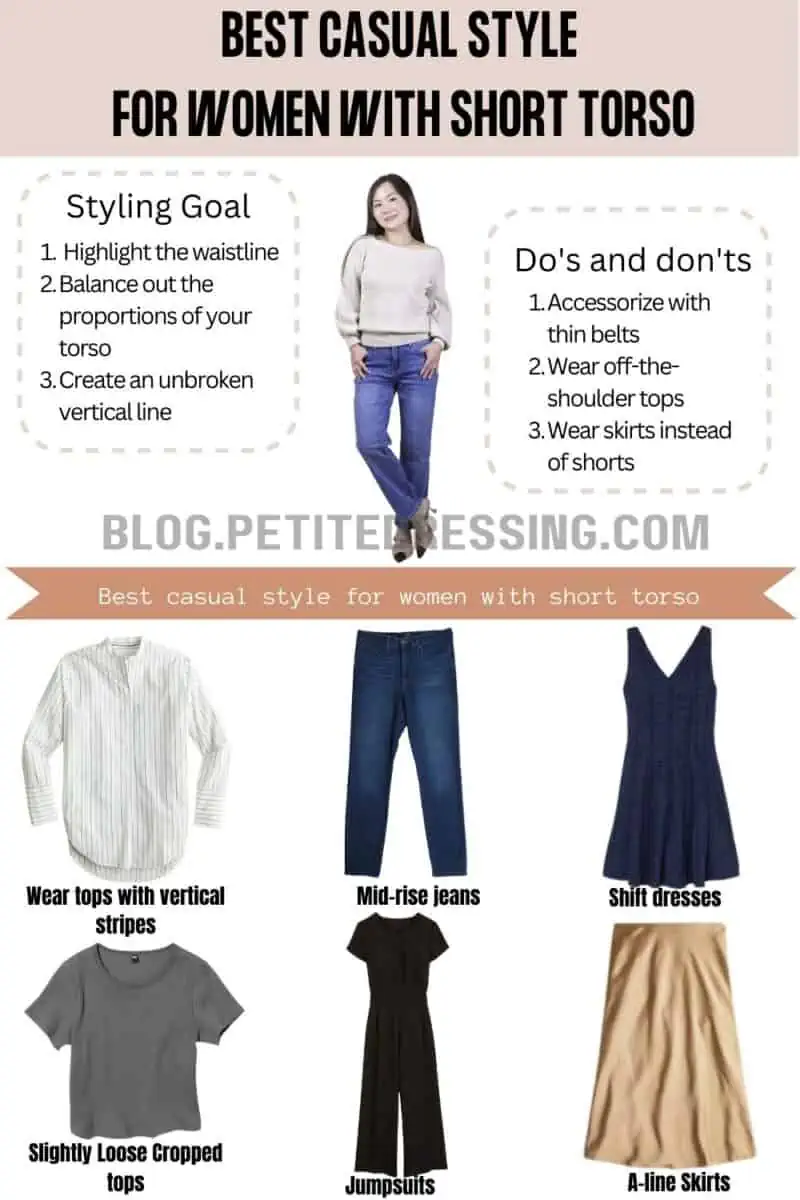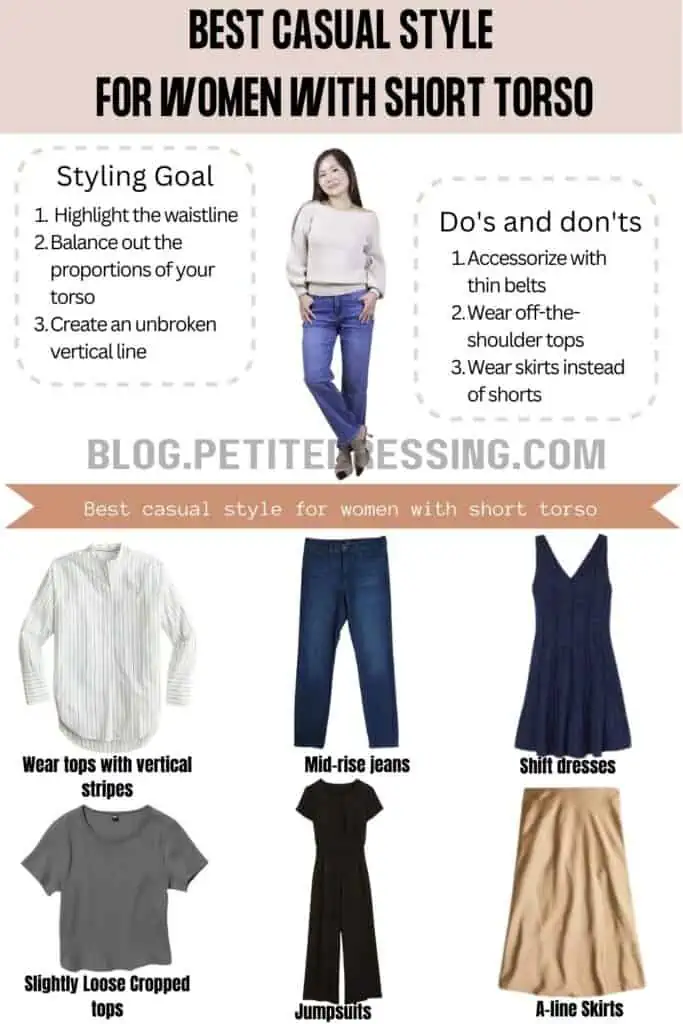 Tops with vertical stripes
While fashion depends a lot on your personal preference and style, it's always a good idea to choose styles that work with your unique body type. Sure, wearing vertical stripes is not a hard and fast rule for women with short torsos, but it has the amazing effect of creating the illusion of a longer torso.
So, if you would love to benefit from this elongation effect, you should shop more for tops with vertical stripes. The elongation effect is possible because the vertical stripes draw the eyes up and down, visually lengthening the torso.
A direct opposite of this is horizontal stripes which widen the body when worn on tops, and that's not a cool look for women with short torsos. Also, you can get these with a v-neckline as this adds to the lengthening effect by creating the illusion of a longer neckline.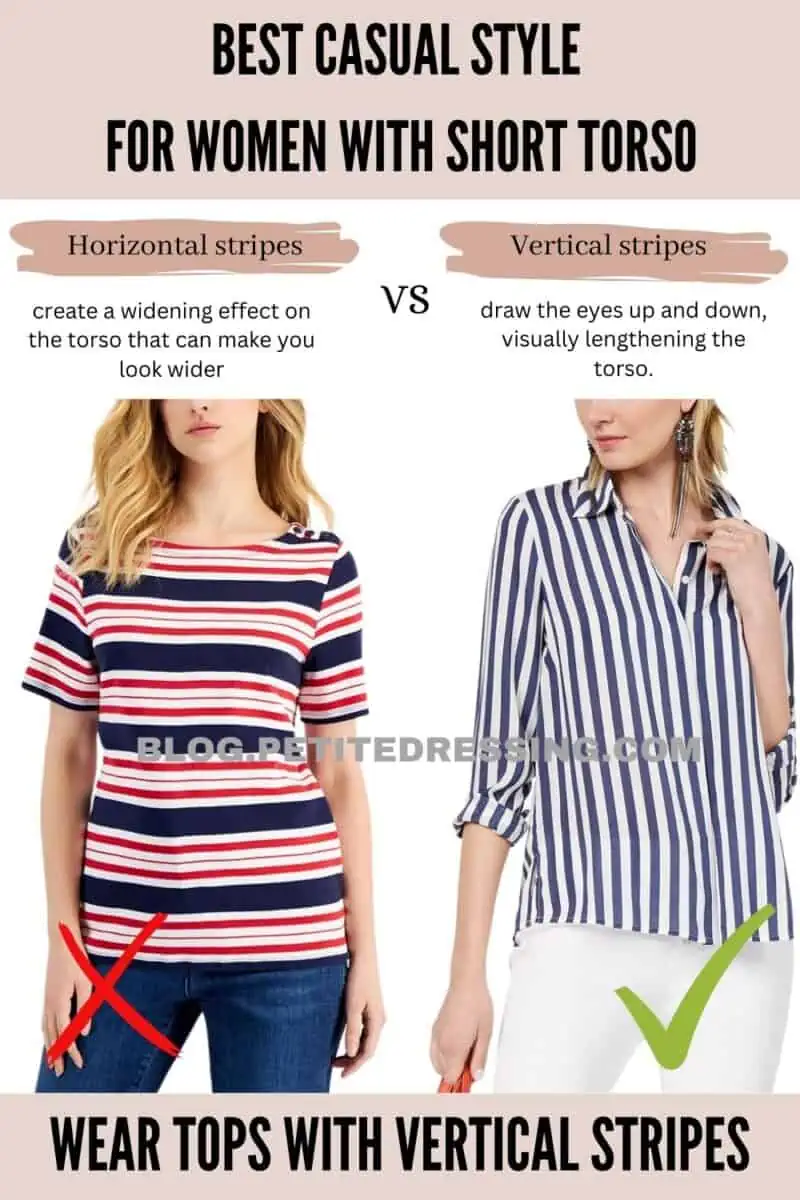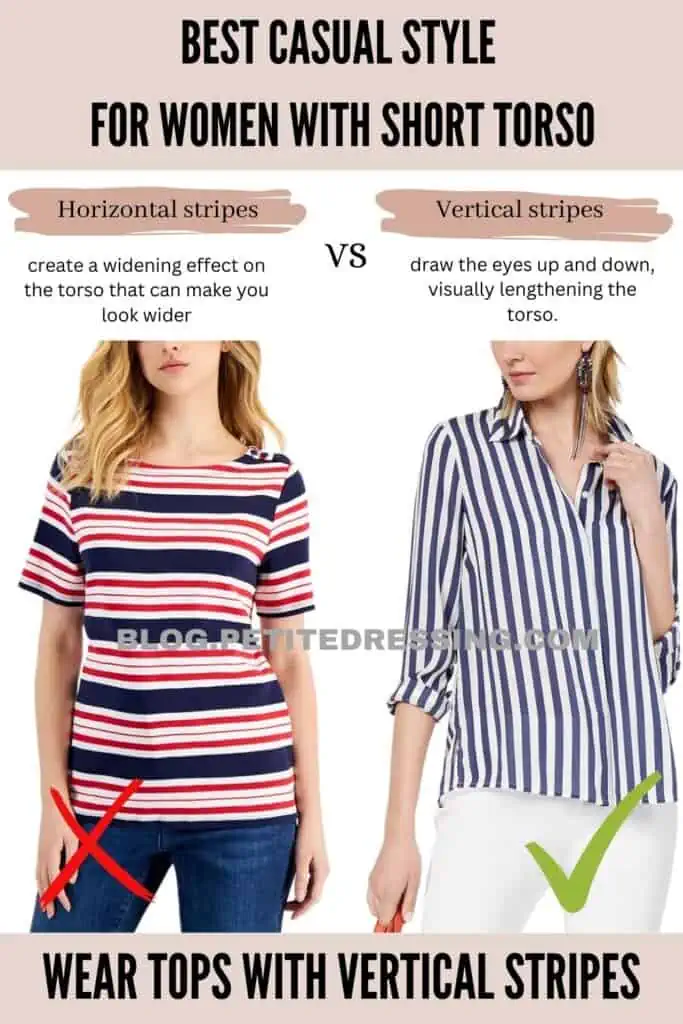 Caution with high-waisted bottoms
High-waisted bottoms are a huge no for women with short torsos as they create an overall unbalanced look that makes your short torso look even shorter. Generally, high-waisted bottoms will make your legs appear longer, which visually shortens the torso and that's not a flattering look for your body type.
Also, whether it's a skirt, shorts, or pants, the high waistline of these bottoms on a short torso will give your legs a disproportionately long look that throws off the balance of your body proportions.
Rather than high-waisted bottoms, a better option is pants with a lower waistline which gives a more balanced outlook while your torso looks longer. Also, you should consider slight flares at the bottom of your bottoms to have a more streamlined silhouette. This will add a lot to your overall comfort and confidence.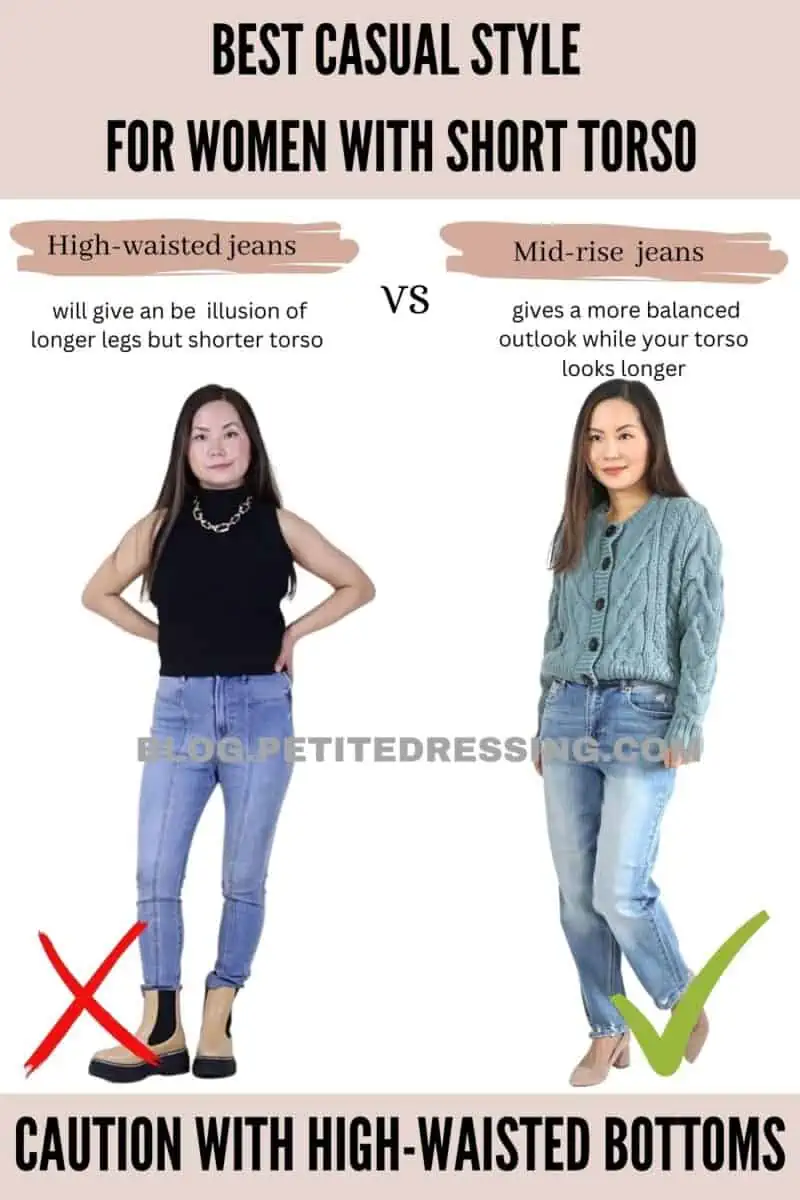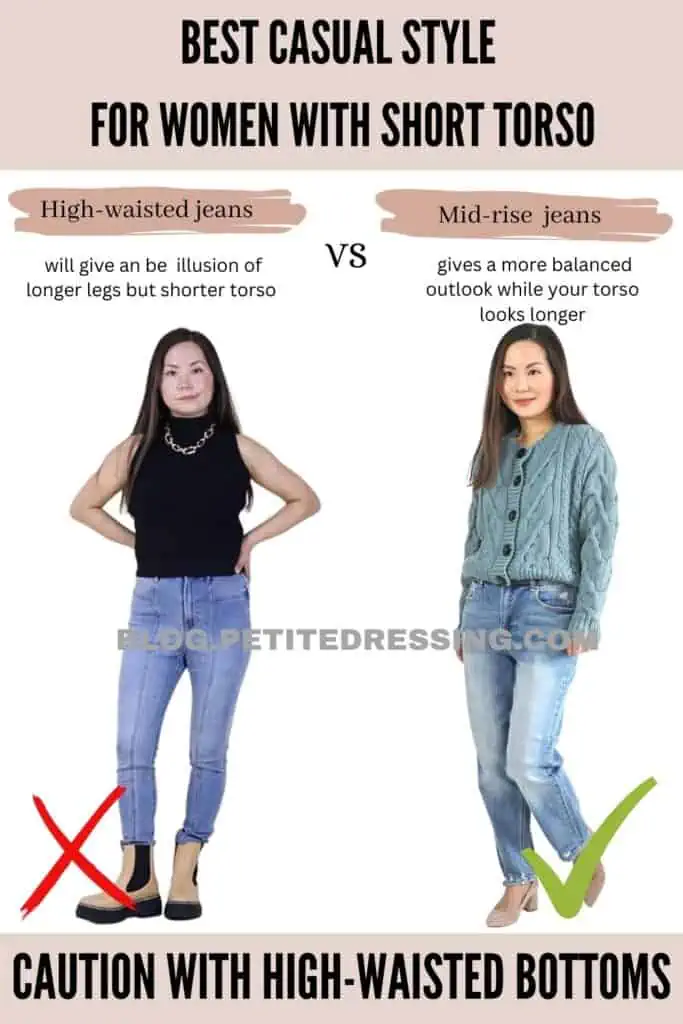 Shift dresses
The simple straight-cut design of shift dresses has a beautiful effect on women with short torsos. In this case, simplicity is magical as it helps in creating a better illusion of a longer torso. Usually, shift dresses have no extra fabric or ruffles that can add bulk to your torso. Therefore, this straight-down design from your shoulders to the knee area is great for visually shortening the torso.
Also, shift dresses don't have a defined waistline which is perfect for a more balanced look that adds more to the elongation effect on your torso. With this, the dress draws more attention to the overall silhouette of your body rather than highlighting any part of your body that you wouldn't want so much focus on.
Versatile shift dresses can be worn to almost any event, as they come in various colors and patterns that make it stress-free to find one that fits your personal style.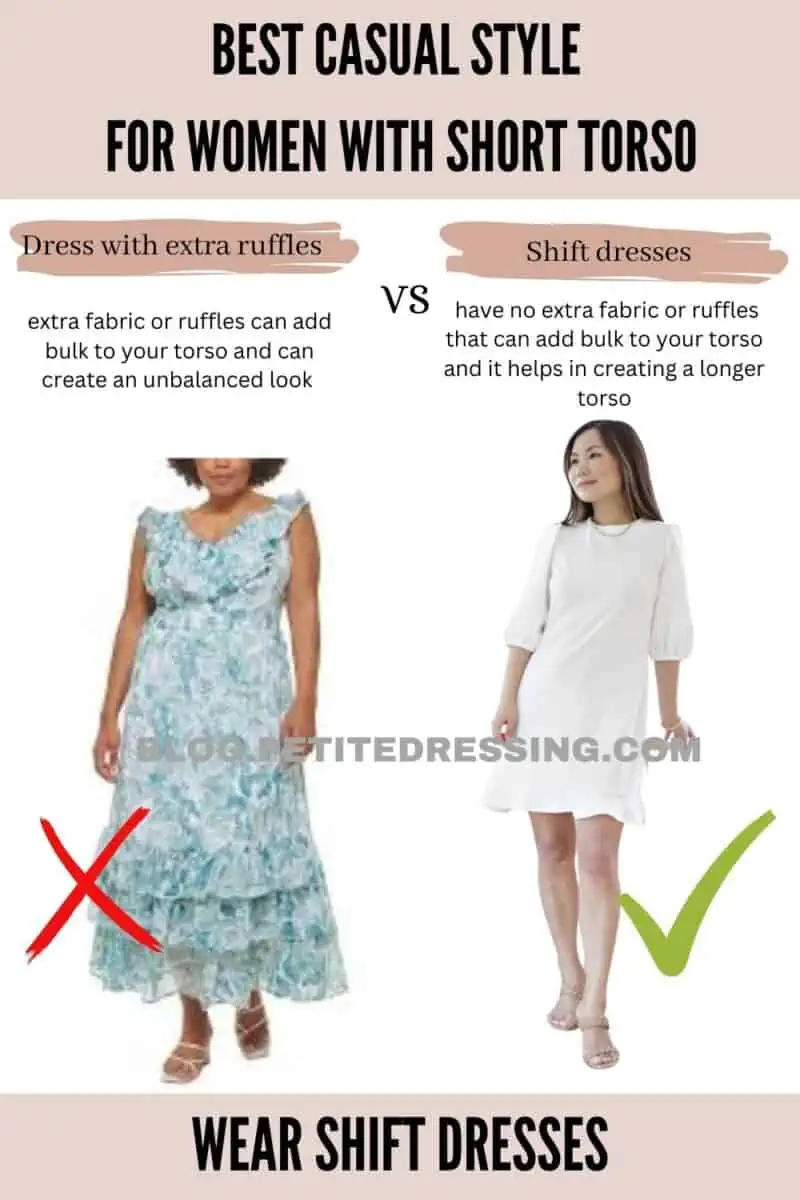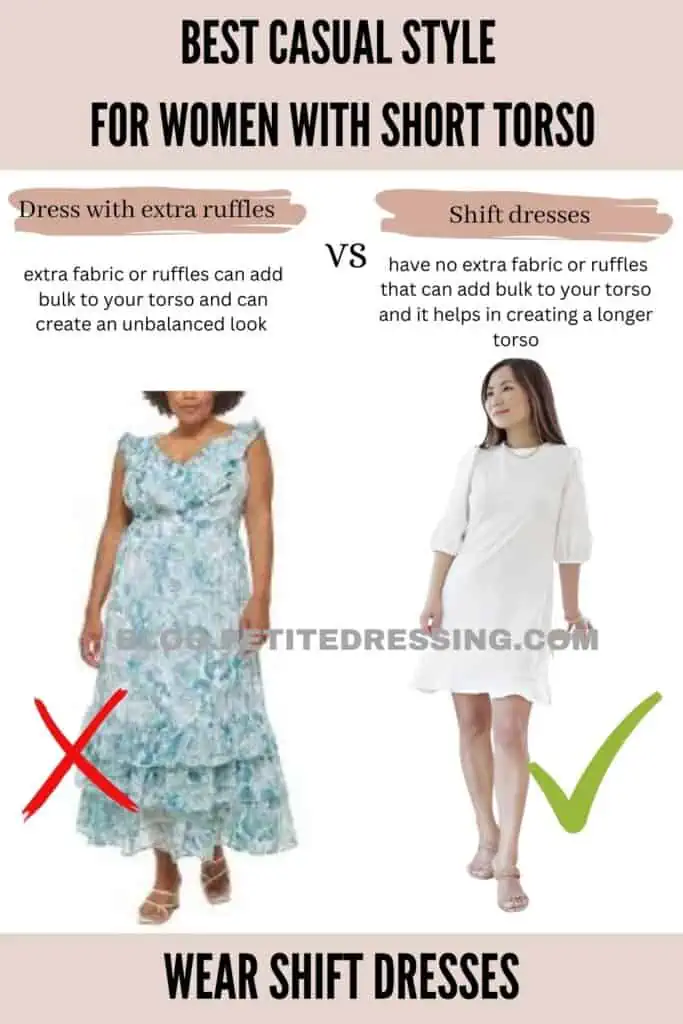 Cropped tops
Cropped tops may not work for all body types but they certainly do for women with short torsos. If you don't mind this style and believe it makes you feel comfortable, then this is an incredibly flattering option for women who would love to create a more balanced look and elongate their torso.
Exposing a little midsection has a visually elongating effect on your torso while the right pair of pants will add so much to the positive effect. However, it's important to go for cropped tops that are not too short as these can make your torso appear shorter.
Instead, opt for cropped tops with a slightly loose fit since a tight fit will draw so much attention to your midsection and make your overall silhouette unbalanced.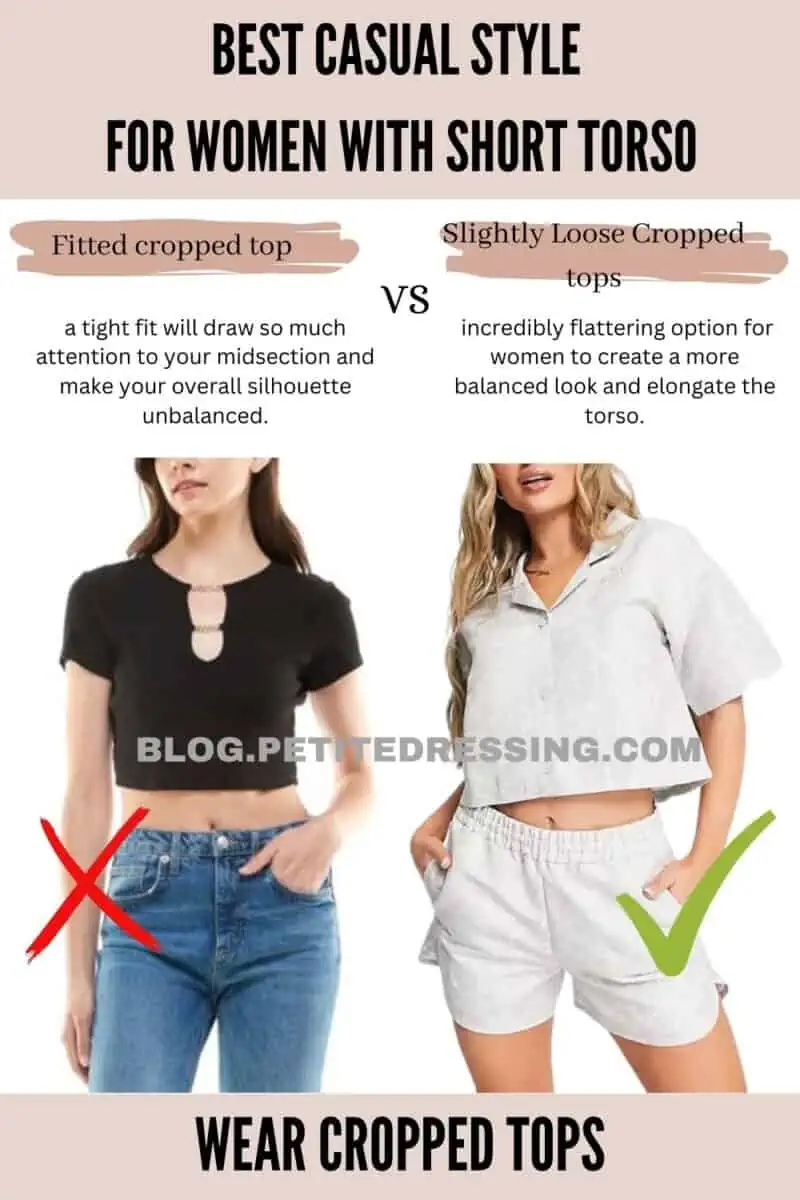 Mid-rise jeans
A better option compared to high-waisted jeans that visually shorten the torso is mid-rise jeans which work in a completely opposite fashion.
In fact, I get requests from my customers all the time who want mid-rise jeans, and that explains why this is one of the best sellers in our petite jeans collection!
With mid-rise jeans, you can easily create a more balanced look on your body where your torso looks longer.
This is possible because this jean style sits just below or around your belly button. With this better-defined waist-to-hip ratio, you can effectively create the illusion of a longer waistline which is an amazing look for women with short torsos.
However, you should avoid low-rise jeans as these will only create a muffin-top effect due to the enormous attention they draw to your midsection. Pair this with the right top, preferably not so tight-fitting, and you'll have an amazing overall feminine silhouette.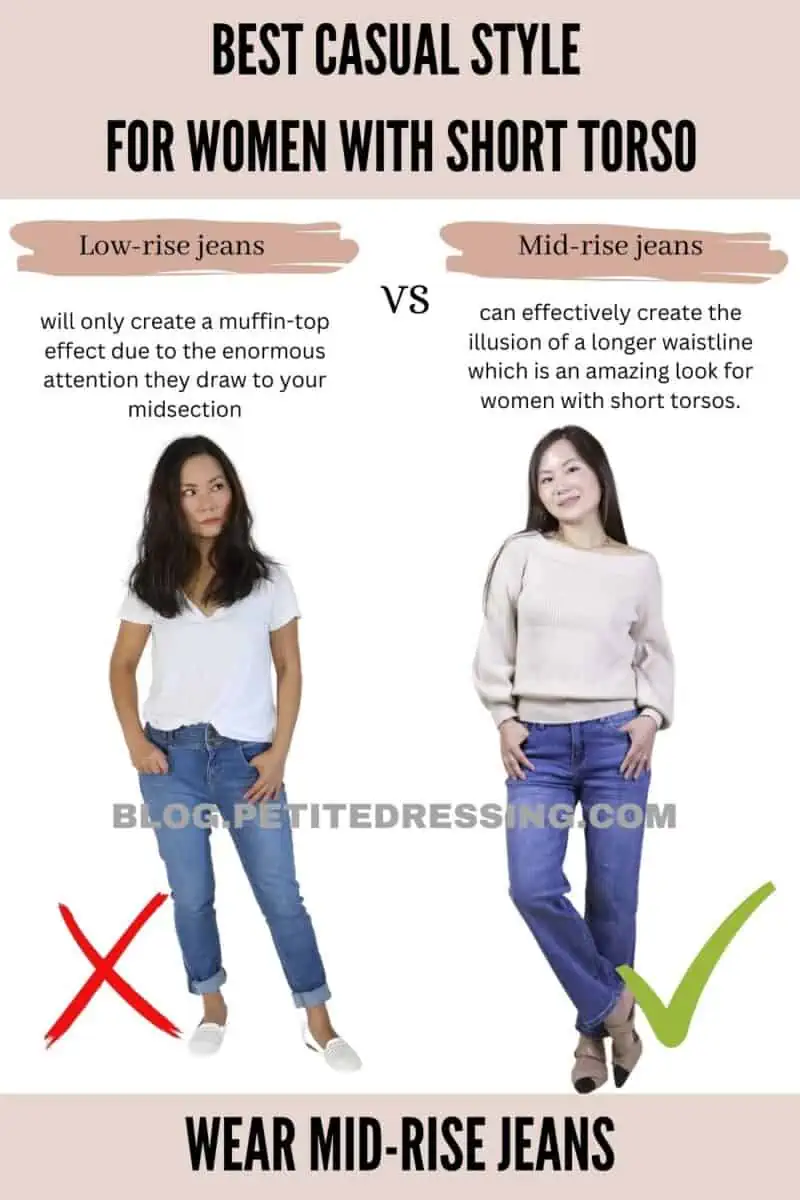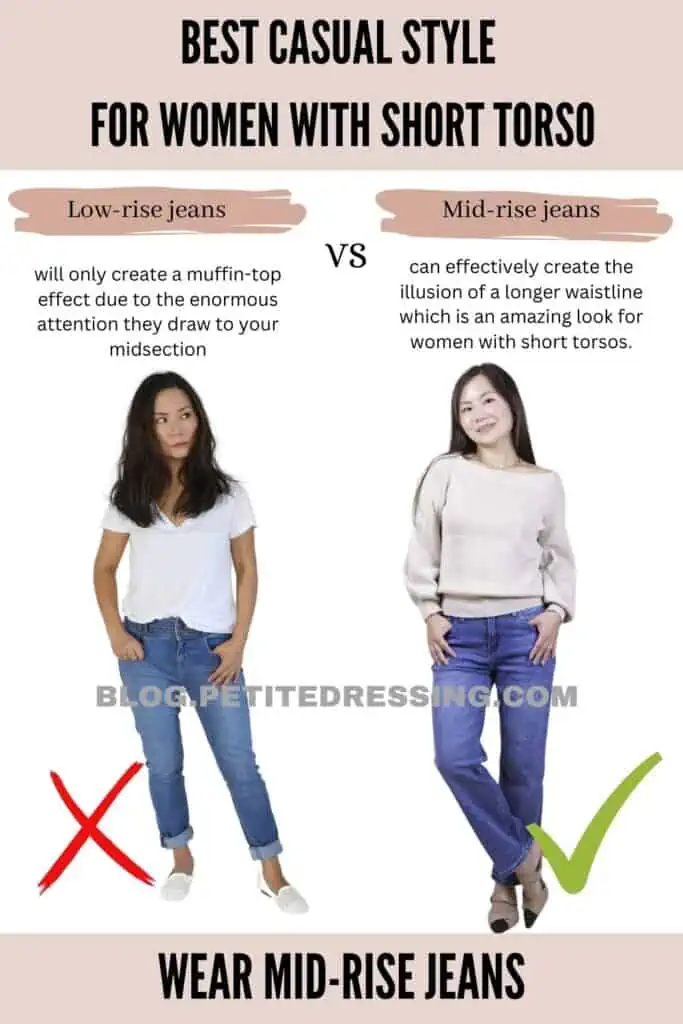 Jumpsuits
There are tons of jumpsuit styles to help you elongate your torso. Some great ideas are off-the-shoulder jumpsuits or one-shoulder jumpsuits. These will help you create a balanced outlook, thanks to the continuous vertical line that's unbroken from your shoulders to your ankles.
This unbroken line helps in completing the illusion of a longer torso. Another amazing advantage is the defined waistline which adds to your flattering silhouette. However, be sure to avoid jumpsuits that are too tight or too loose, as these won't flatter the body. Pay attention to size and find one that fits properly.
You should also look out for jumpsuits in a solid color or with vertical stripes. Every woman with a short torso needs a black jumpsuit in her closet. Throw in a little v-neckline and you'll complete the illusion as this draws the eyes upwards.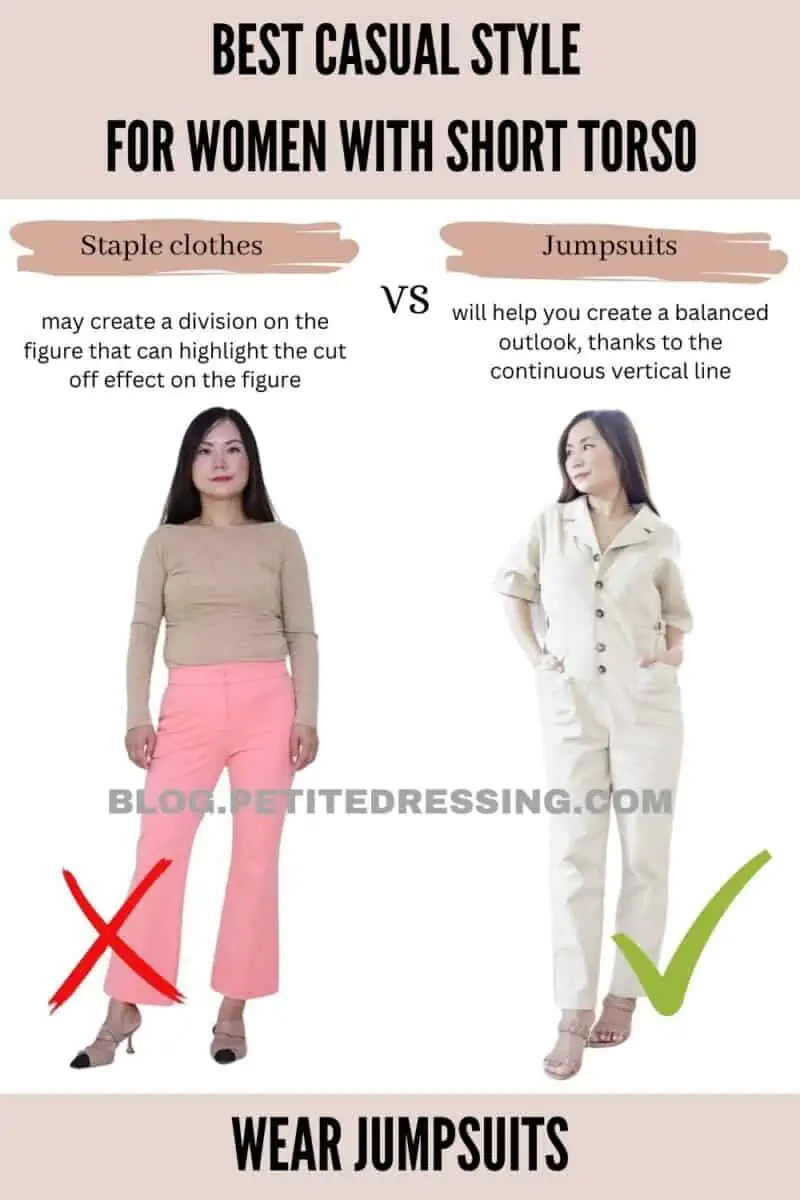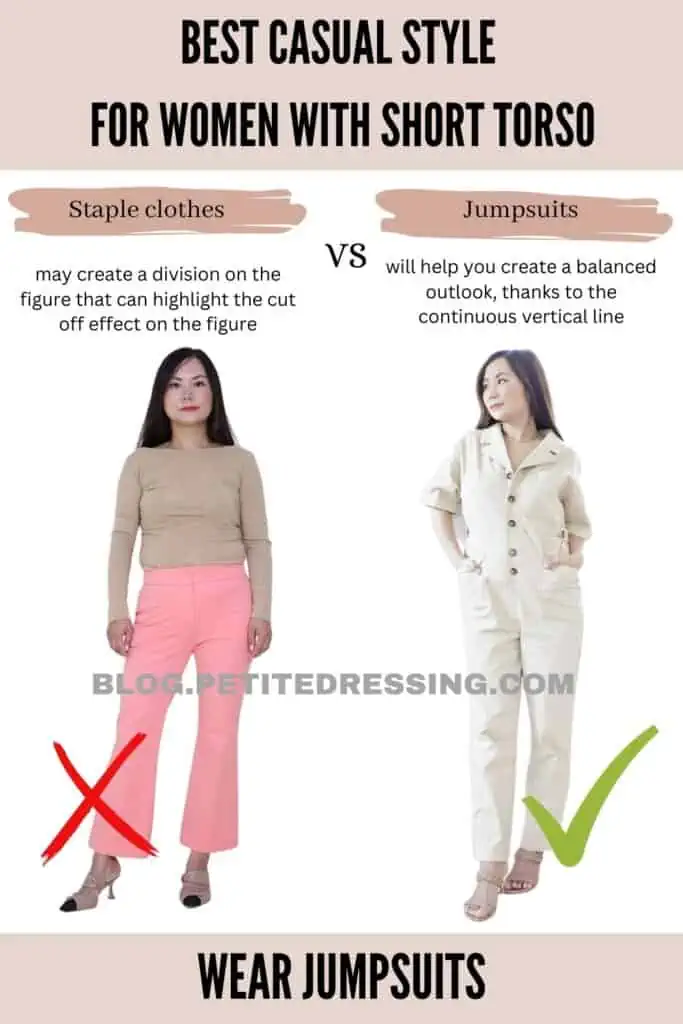 Skirts instead of shorts
It's a better idea for women with short torsos to wear skirts over shorts since skirts do an amazing job of elongating their legs visually. On the other hand, shorts will visually shorten the legs, especially if they are too short or tight. Meanwhile, it's also more difficult to find shorts that are flattering to the body like a well-designed skirt.
Look out for skirts that sit above your natural waistline as this will help in creating the illusion of a longer torso. We recommend flared styles or A-line skirts as these are great for creating a more streamlined silhouette.
The length is also super important. You should consider skirts that are slightly below your knee or just above the knee area to help complete the visual elongation effect.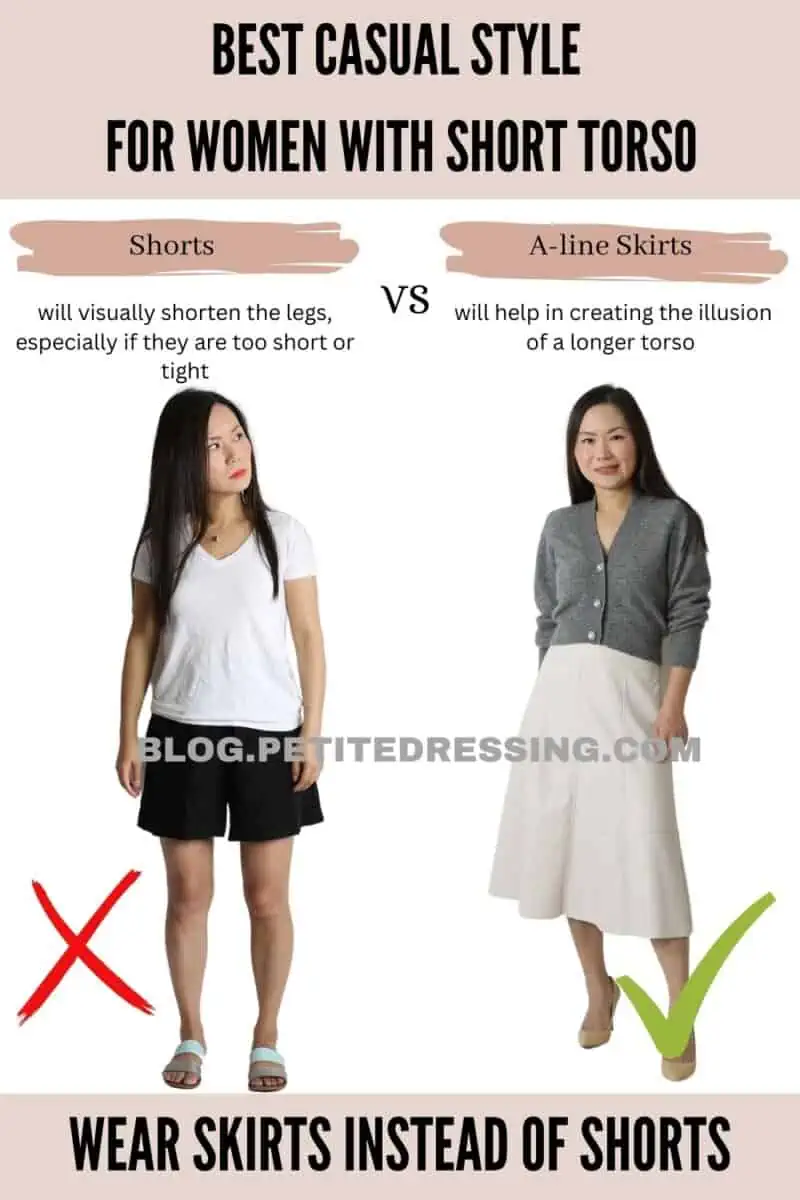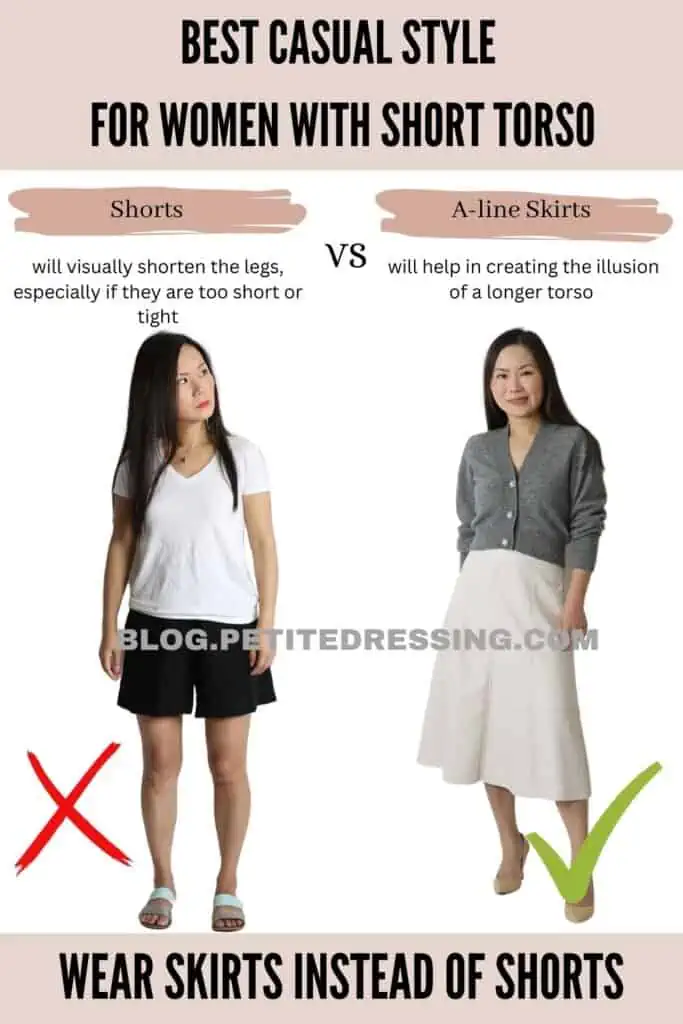 V-neck T-shirts
V-neck t-shirts are perfect for women with short torsos due to the illusion of a longer neckline which helps in flattering your overall body structure. Since this neckline draws the eye downward and creates an unbroken vertical line, this visually lengthens your upper body so your short torso is less noticeable.
Choose a fitted size and preferable a t-shirt in a solid color. Some great choices are blue, black, white and grey which will all create a streamlined look. Also, while patterns can seem distracting on a top, using this subtly will have a lovely effect.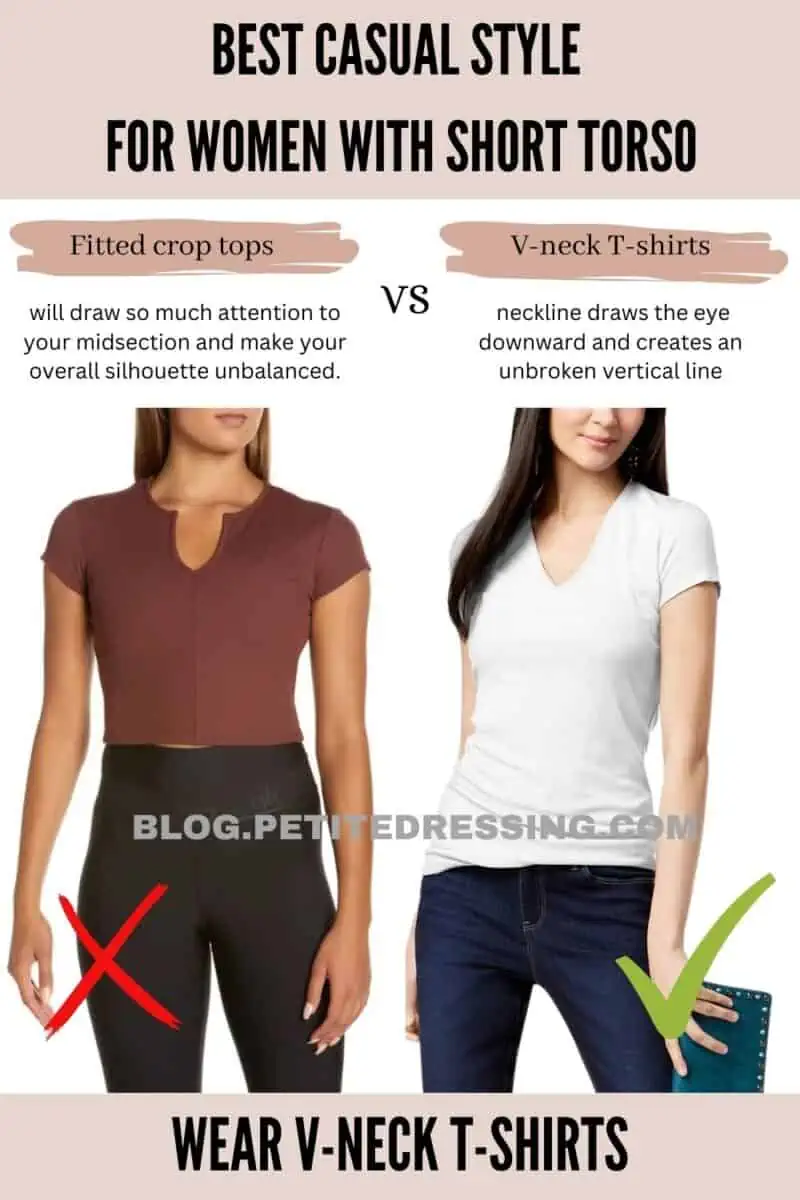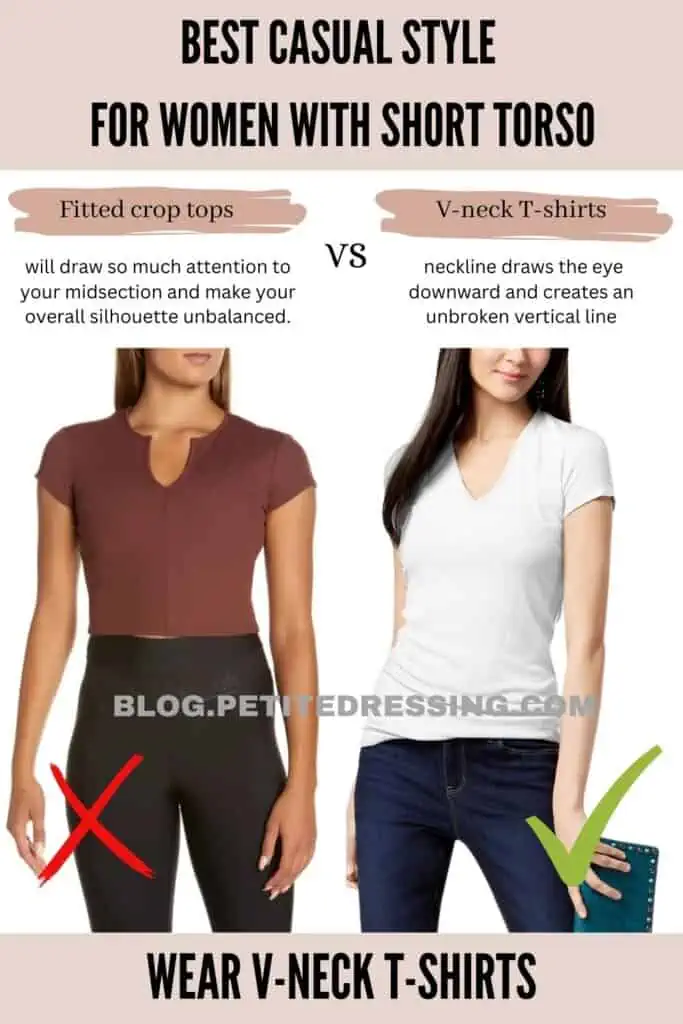 Off-the-shoulder tops
Looking for a stylish and flattering option that helps in elongating your upper body? You should wear more off-the-shoulder tops as these will help you achieve this effect seamlessly. How exactly does this work?
Well, off-the-shoulder tops will reveal more of your shoulders and collarbone, creating a vertical line that visually lengthens your upper body. Even better, they create a more feminine look that you can wear casually and still look amazing.
Choose off-the-shoulder tops with a flowy shape as this help in balancing out your body proportions. However, there are also tons of other styles that will work great with your body shape, so try out as many as you can.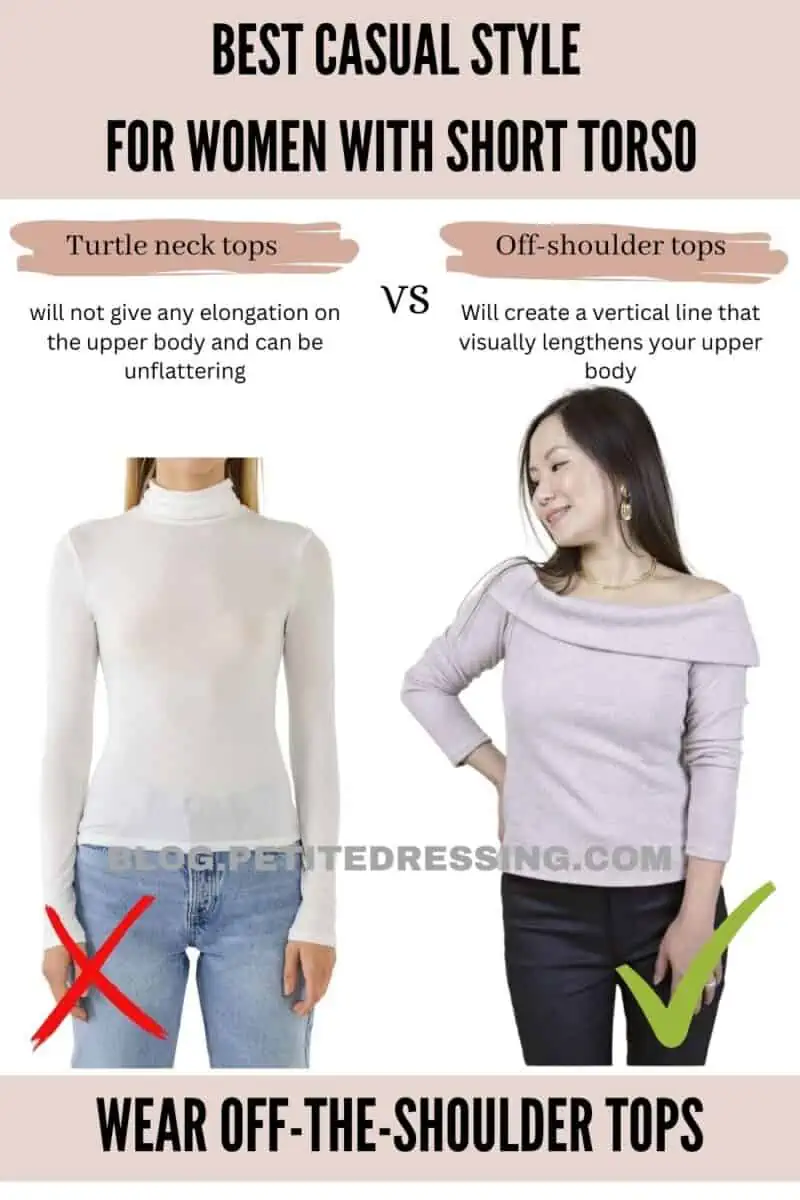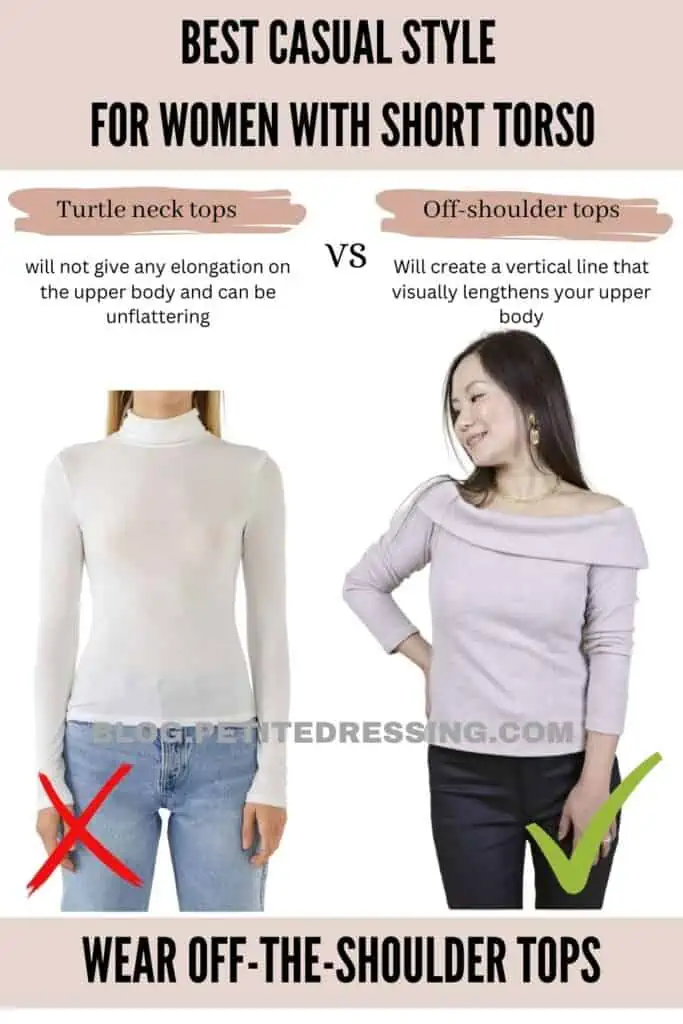 Accessorize with thin belts
Thin belts are a flattering accessory for women with short torsos as they highlight the waistline and balance out the proportions of your torso. Note that this is specific for thin belts as belts that are too thick or chunky will have the opposite effect.
Thin belts help to create a more defined waistline while thick belts will overwhelm the body instead. So, look out for belts that are not too tight or too loose, preferably in a neutral black or brown color.
These belts are incredibly versatile, so you can mix and match them with different tops and pants to create stylish effects.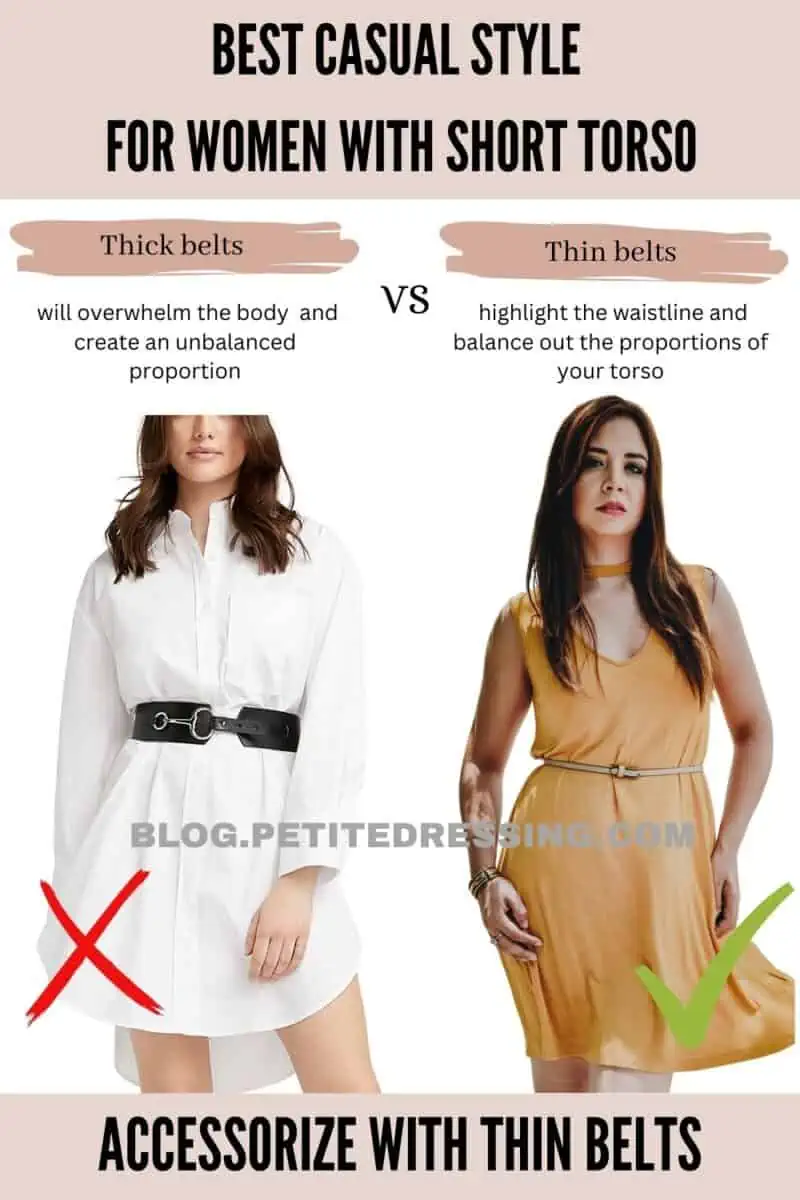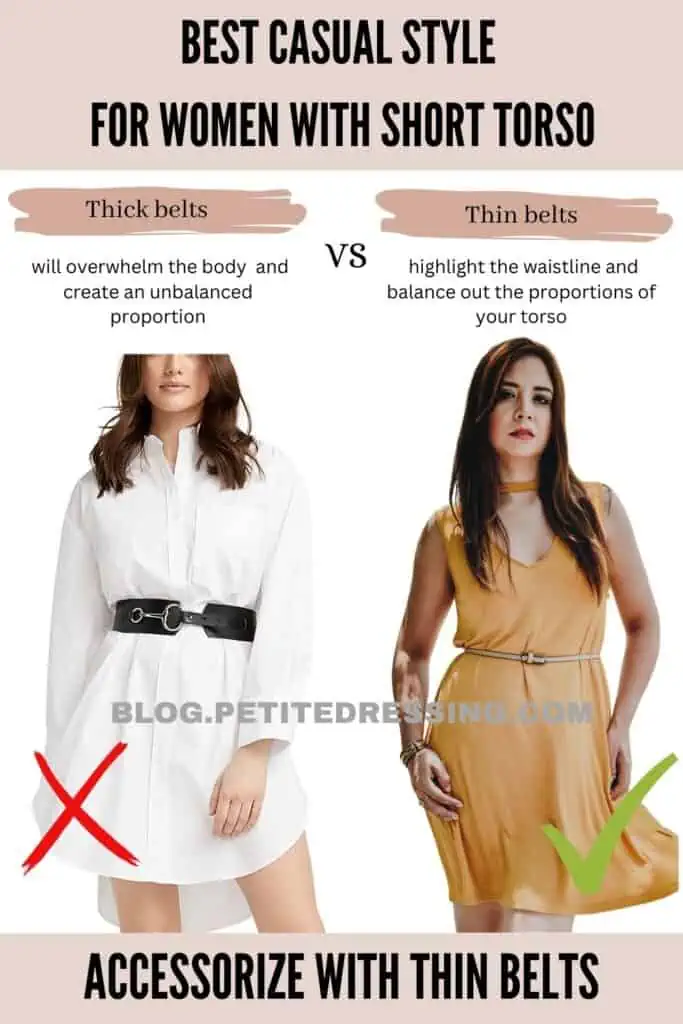 Your comfort matters. Therefore, while shopping for casual styles for women with short torso, pick styles that highlight the best parts of your body without sacrificing your comfort.