If you are 5′ and under, it is critical to find the right dresses that flatter your shape. Since I am 5'2″ myself, I know how big a difference the styles of your dresses can make. Besides, I also have a clothing line for petite women, so I am constantly receiving feedback from thousands of my customers, many of whom are 5 foot and under.
I've put together this guide based on my own trial and error, as well as feedback from numerous customers who are your height, to help you find the best dress styles.
Styling Goal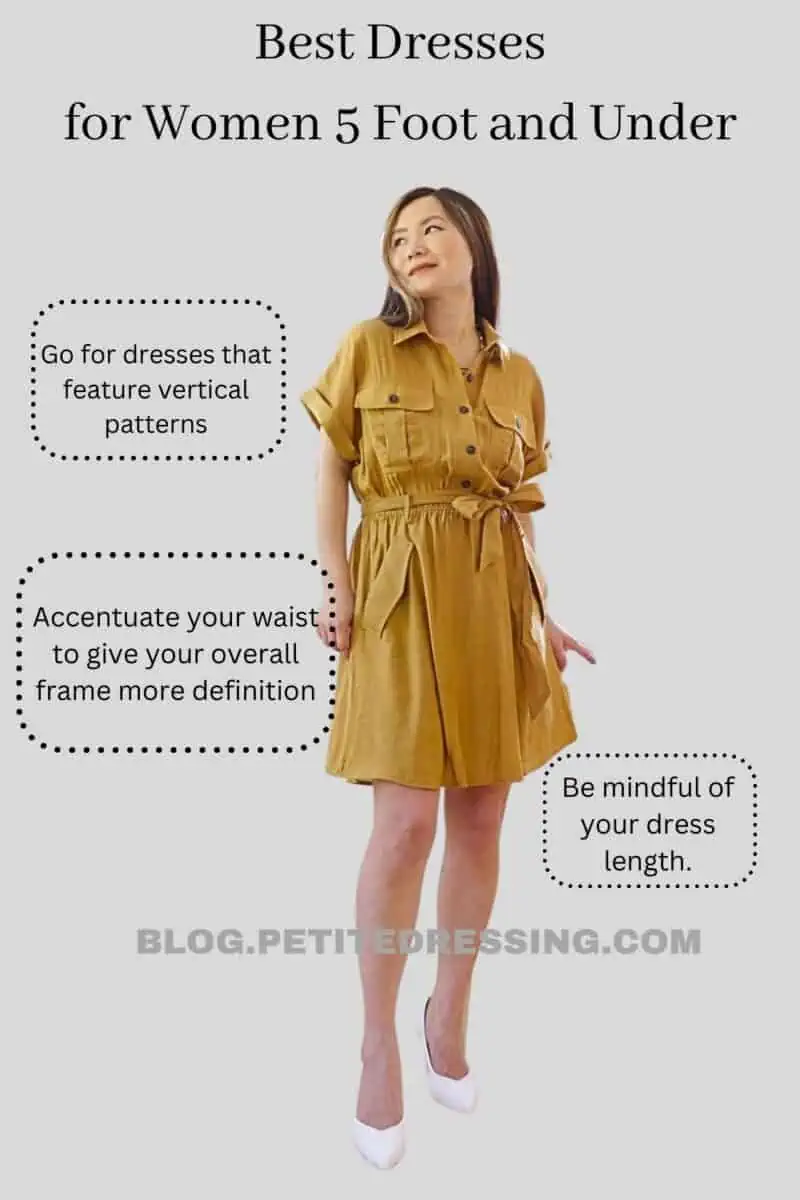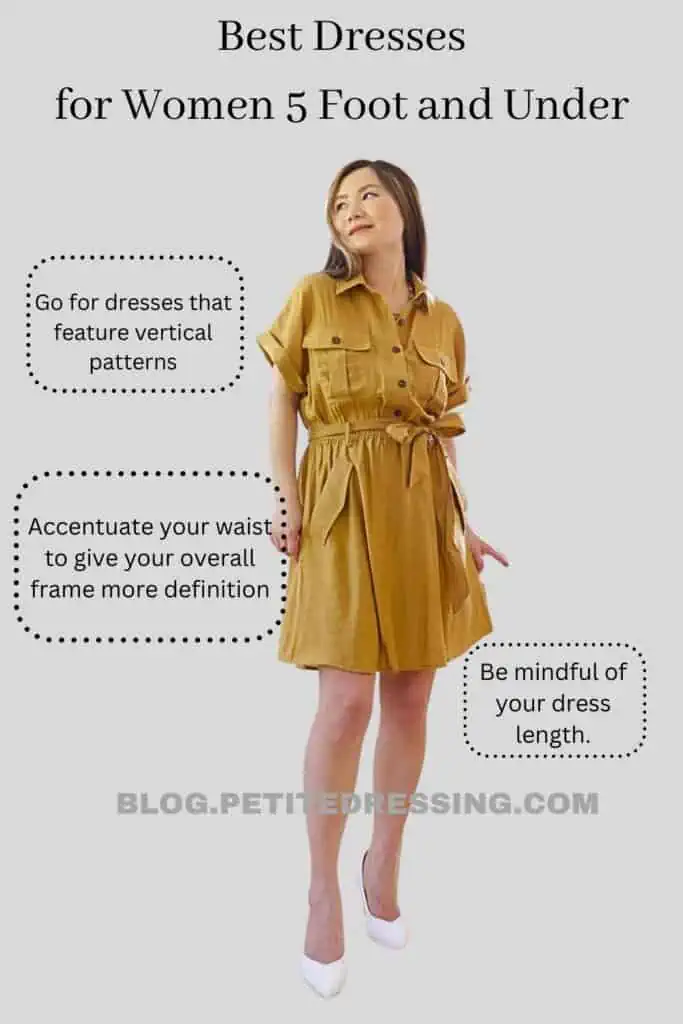 Accentuate your waist to give your overall frame more definition. Dresses that nip in the waist are an effective trick to subtly distinguish the line between your upper and lower body for better frame proportion.
Choose structures that will elongate your frame. As someone who stands 5 feet and under, your height could use a little bit of lift and you can naturally do so by going for certain dress details such as slits, V-neck, and fit and flare.
Be mindful of your dress length. This is very important for short women because the wrong length, most particularly extremely long ones, can instantly overwhelm your petite frame.
Go for dresses that feature vertical patterns to draw your eye from the neckline down to the hem. Vertical patterns like stripes, buttons, and even seams can efficiently amp up your height to look taller and leaner.
Are you ready to shop for dresses? Let me break everything down for you a little bit more for a more hassle-free fashion shopping spree!
Button-down Cotton Dresses
Button-down dresses can be a great choice for short women who are 5 feet and under because they have several flattering features. The design and fit can help create the illusion of height and length to give your petite frame some nice height boost!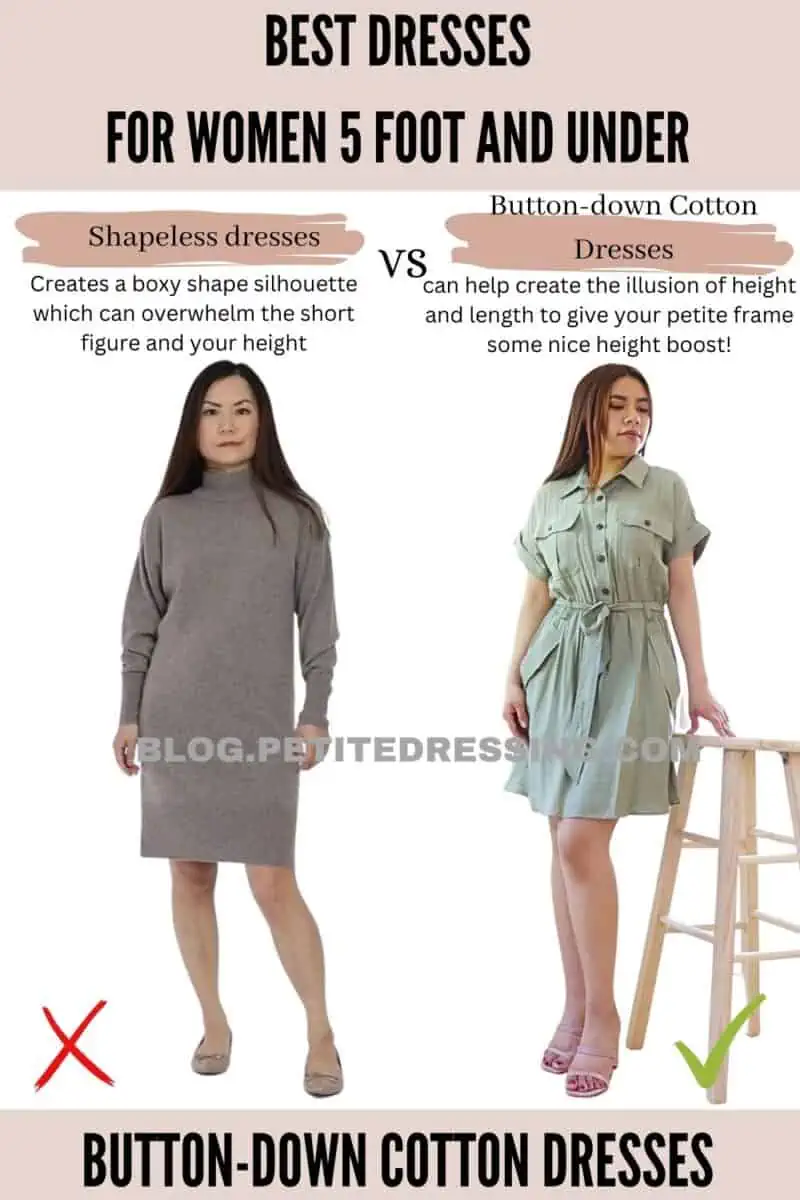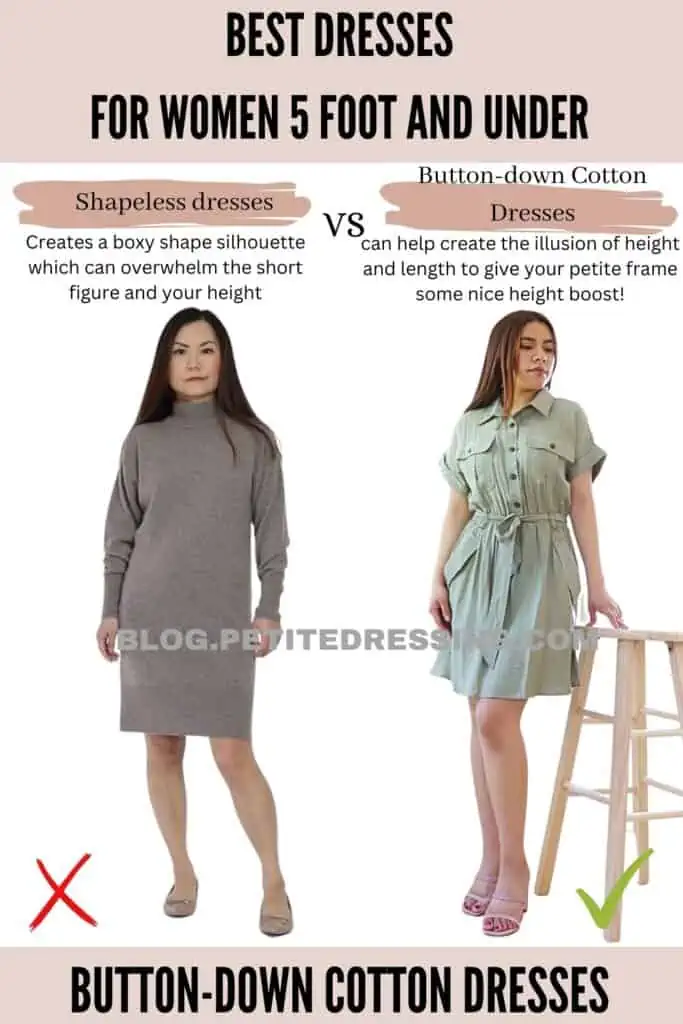 So are simple button-down dresses flattering? It's simply because the vertical lines created by the buttons that run from the bustline down the hem elongate the body and draw the eyes up and down to give the appearance of a significantly taller frame.
For a more comfy and stretchable fit, cotton fabric can be an ideal choice for your button-down dress thanks to the fact that it's lightweight and structured. Cotton is also a very versatile fabric that can be dyed in a range of colors and patterns, allowing for a variety of different button-down dress styles to choose from.
V-Neck Dresses
First of all, the V-neck is one of the most universally flattering necklines out there, very much so for short women who are around 5 feet and below. V-necklines create the illusion of a longer neck and a more defined bustline which helps a short girl look taller.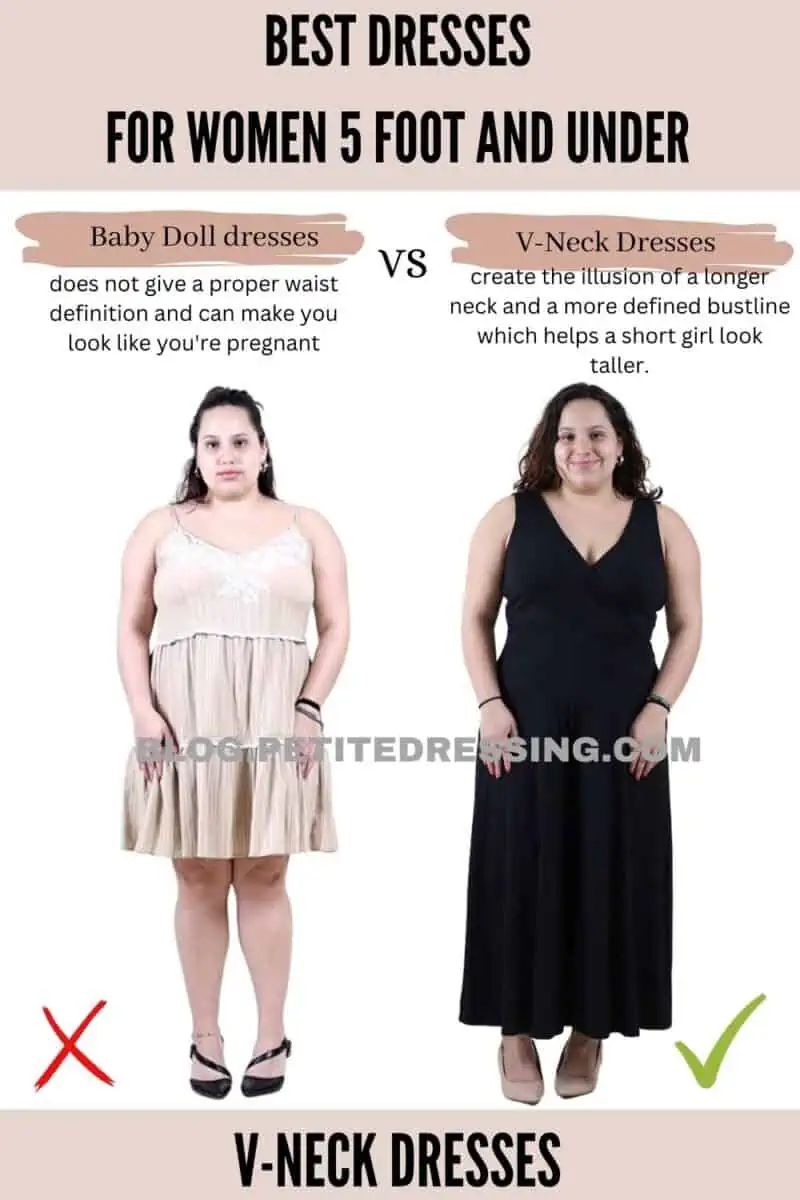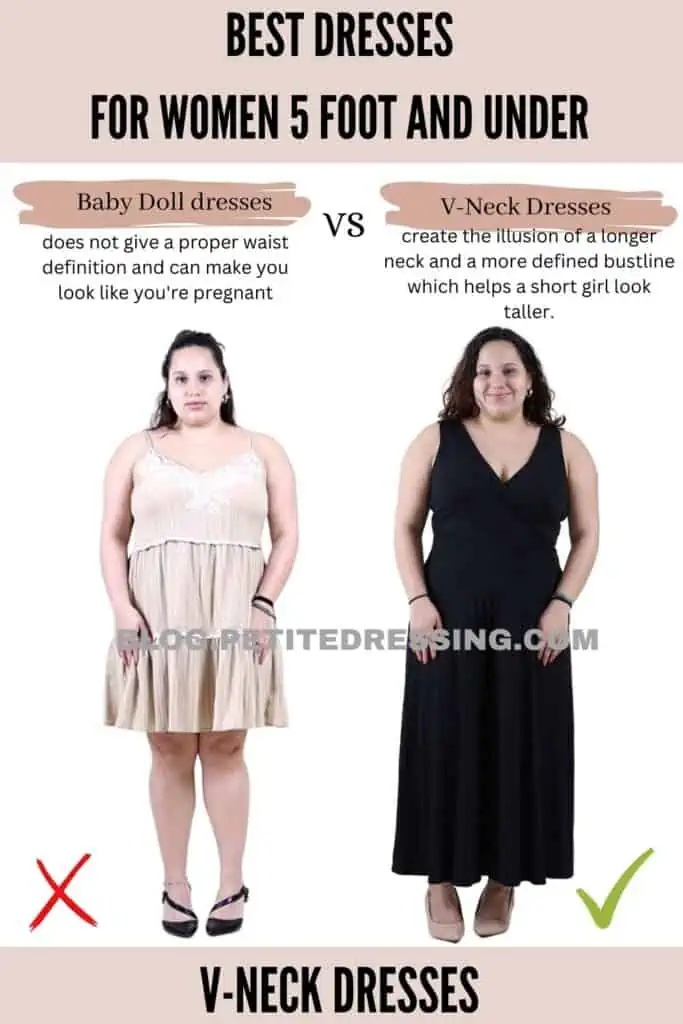 V-neck dresses also draw the eye upward towards the face and shoulders in order to pull the entire ensemble together and create a more proportional upper and lower body ratio. Depending on the cut of the dress, the V-neckline can also create the illusion of a longer torso to help balance out shorter legs and create a more proportionate silhouette.
Choosing the right style of a V-neck dress greatly depends on personal preference. But if you're looking for something comfy and flowy, go for summer dresses that feature soft-hued designs.
Wrap Dresses in Solid Colors
Solid colors are generally quite slimming and elongating because it creates a continuous visual line from the shoulders to the hem. This is why wrap dresses in solid colors make a great choice for shorter women who want to appear taller and more slender.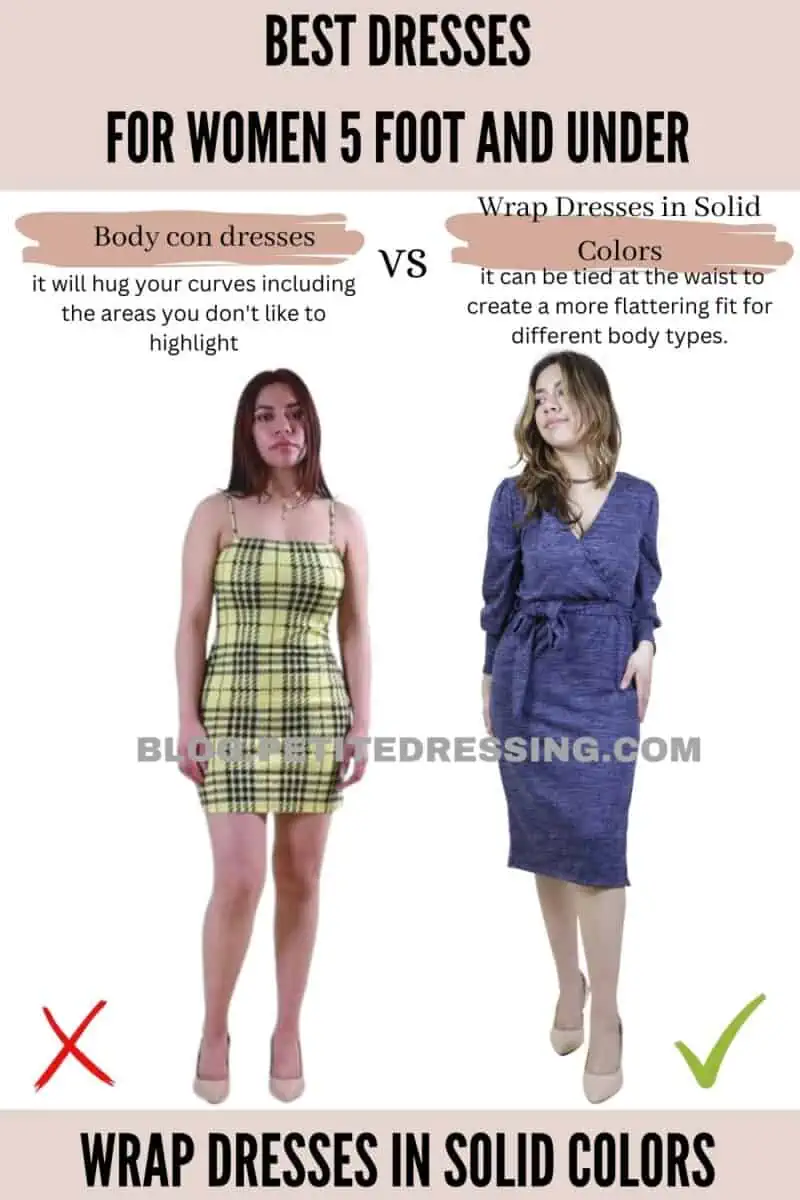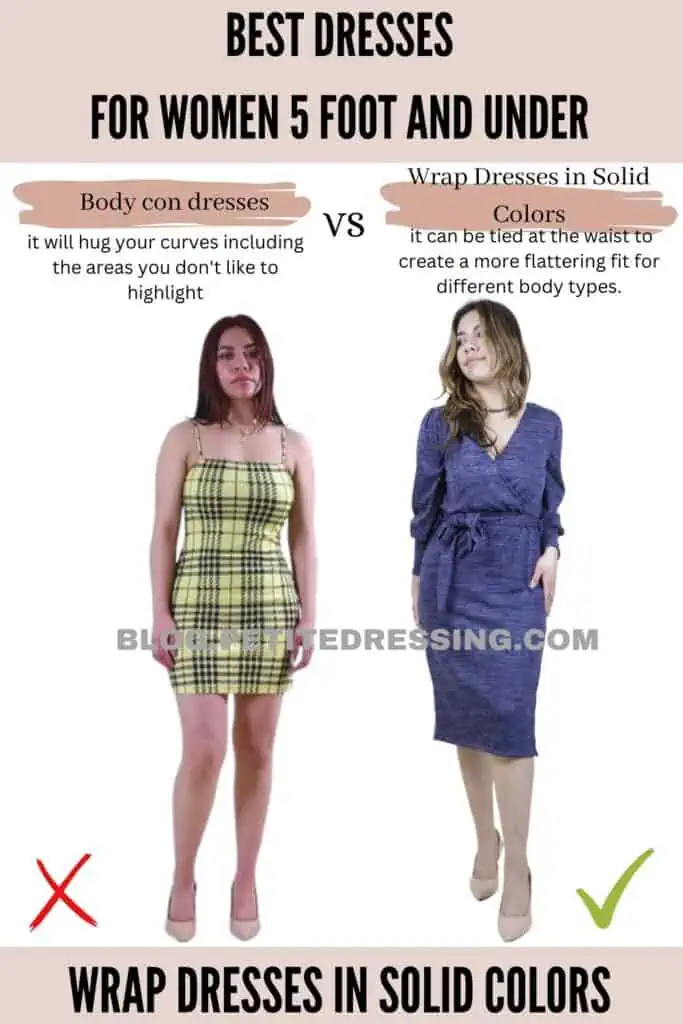 Wrap dresses are very easy to pull off for petite girls because this style ticks all the boxes of which structures and details are the most flattering! First is its adjustability, in which it can be tied at the waist to create a more flattering fit for different body types.
In addition to that, the crossover design of the dress can create a more defined waistline to visibly enhance curves and create the illusion of an hourglass figure. Wrap dresses in solid colors are often flattering on all skin tones because the lack of patterns and prints can create a more cohesive and put-together look.
Floral Fit and Flare Dresses
Fit and flare dresses are specifically designed to give better definition to the waist and gradually flare out at the hips to visually create the illusion of longer legs and a taller frame. The fitted top and flared skirt of a fit and flare dress can further accentuate your curves without overdoing it and create a balanced silhouette.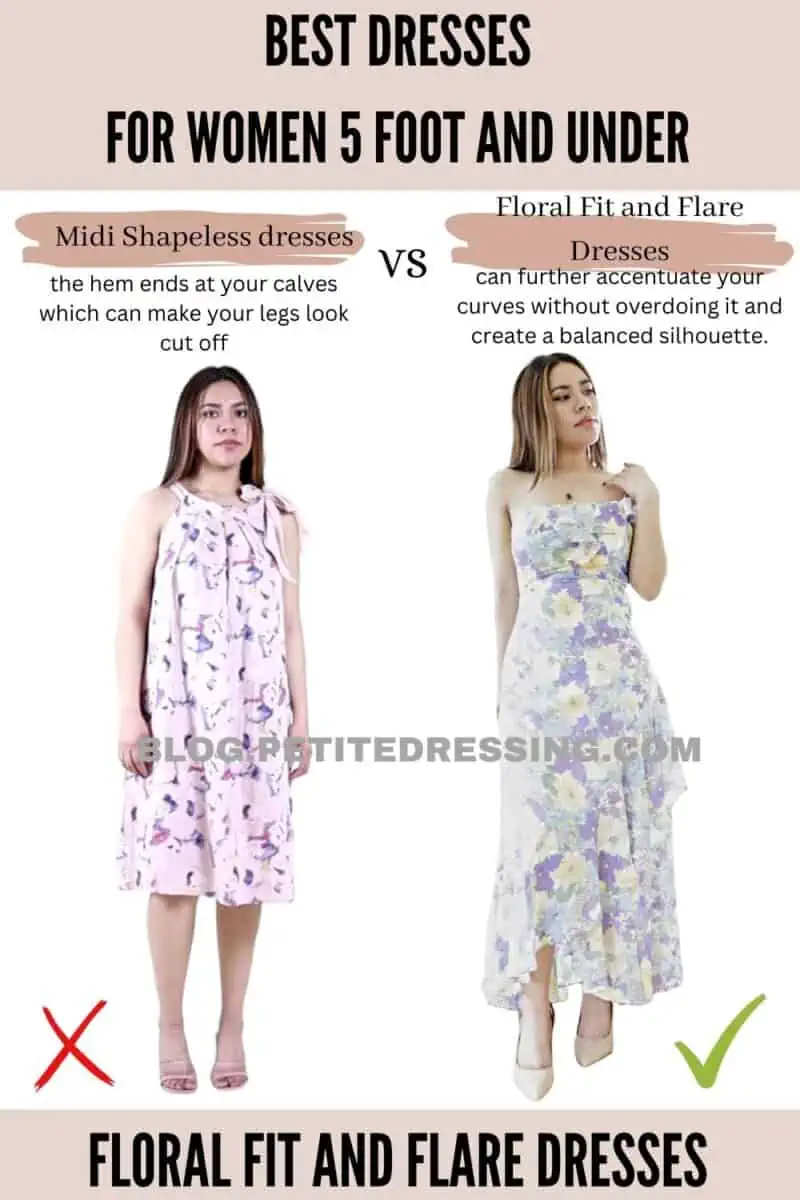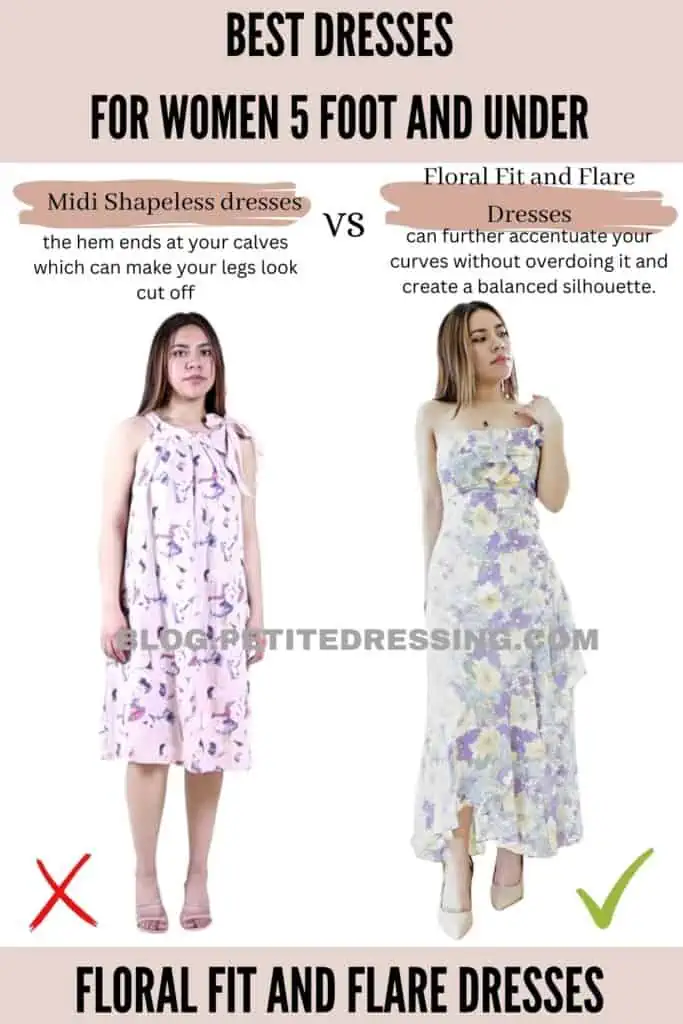 The flared skirt of a fit and flare dress perfectly elongates the legs and this effect can flatter you further when paired with high heels. The sleek design of this dress also gives a soft and feminine look that is flattering on many body types.
Plus, floral designs are quite timeless and very feminine. Just remember that if you're petite and you'd like to keep on elongating your frame, try to stick to floral prints that are smaller or more muted in terms of colors.
Empire Waist Dresses
Soft chiffon fabric empire dresses are a superb choice for petite women looking to enhance their height. These dresses, with the waistline placed higher than the natural waist, provide the illusion of longer legs.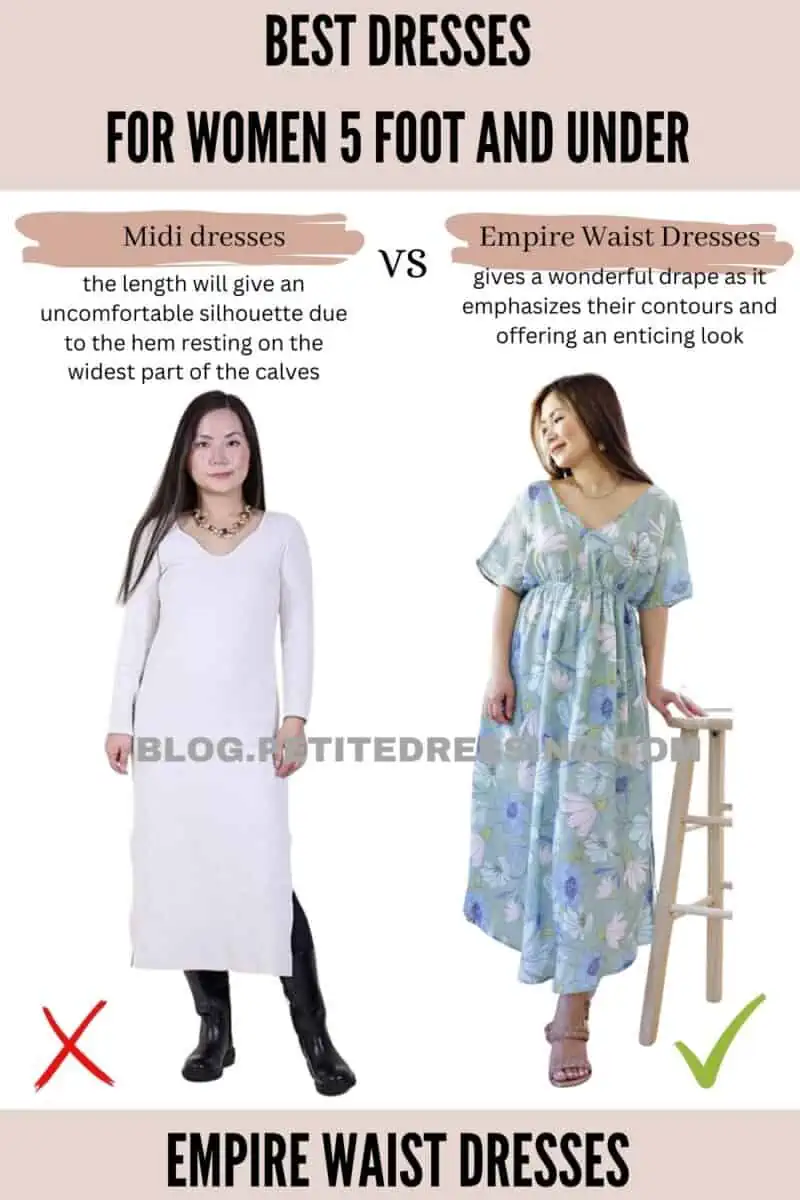 The silky feel of the fabric gives a wonderful drape that flatters petite figures by emphasizing their contours and offering an enticing look. To maximize the impact of the high waistline, I suggest you pair the dress with high heels, which will further elongate your legs.
Ankle Length Maxi Dresses
Maxi dresses are suitable for women 5 feet and under due to their lengthening silhouette and open neckline. The spaghetti straps accentuate the collarbone and shoulders, lengthening the upper body, whereas the maxi length elongates the legs.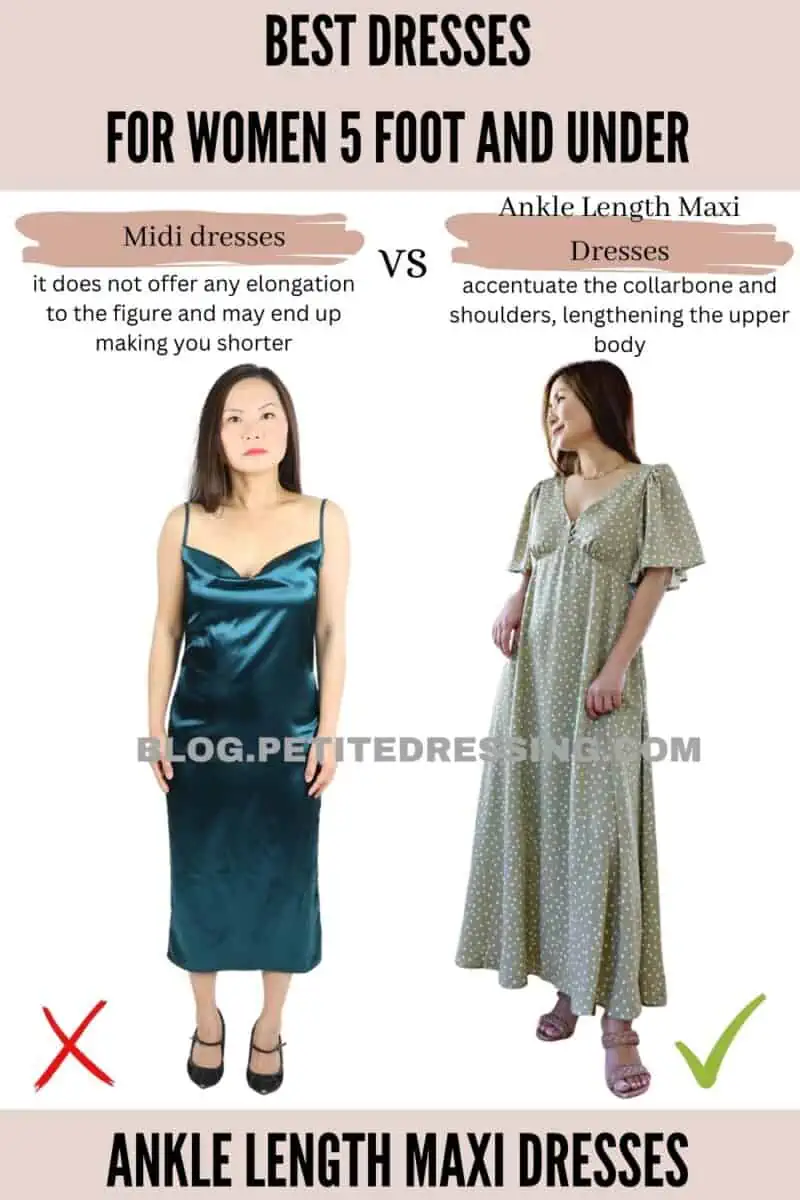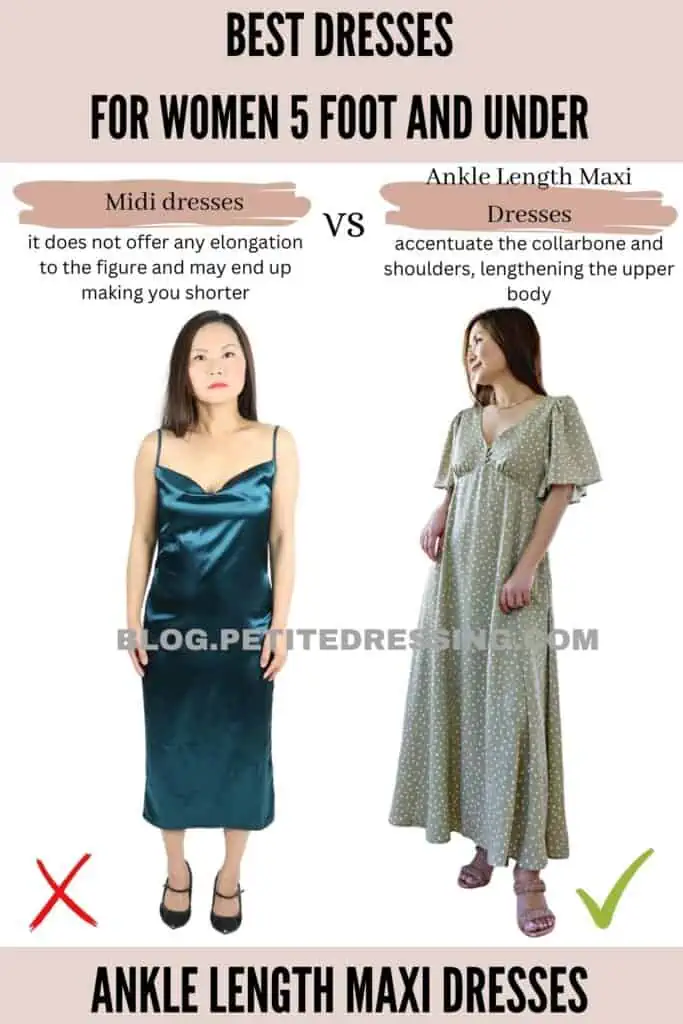 To look a lot taller, you have to choose a type of maxi dress with a high waistline and pair it with wedges or platform sandals to increase height. These dresses are quite versatile and may suit any type of occasion.
Off-the-Shoulder Mini Dresses
Due to their short length, off-the-shoulder mini dresses are a game-changer for petite women as they make them look taller by exposing the decolletage as well as the legs. This style helps in creating an impression of a longer neck and upper body.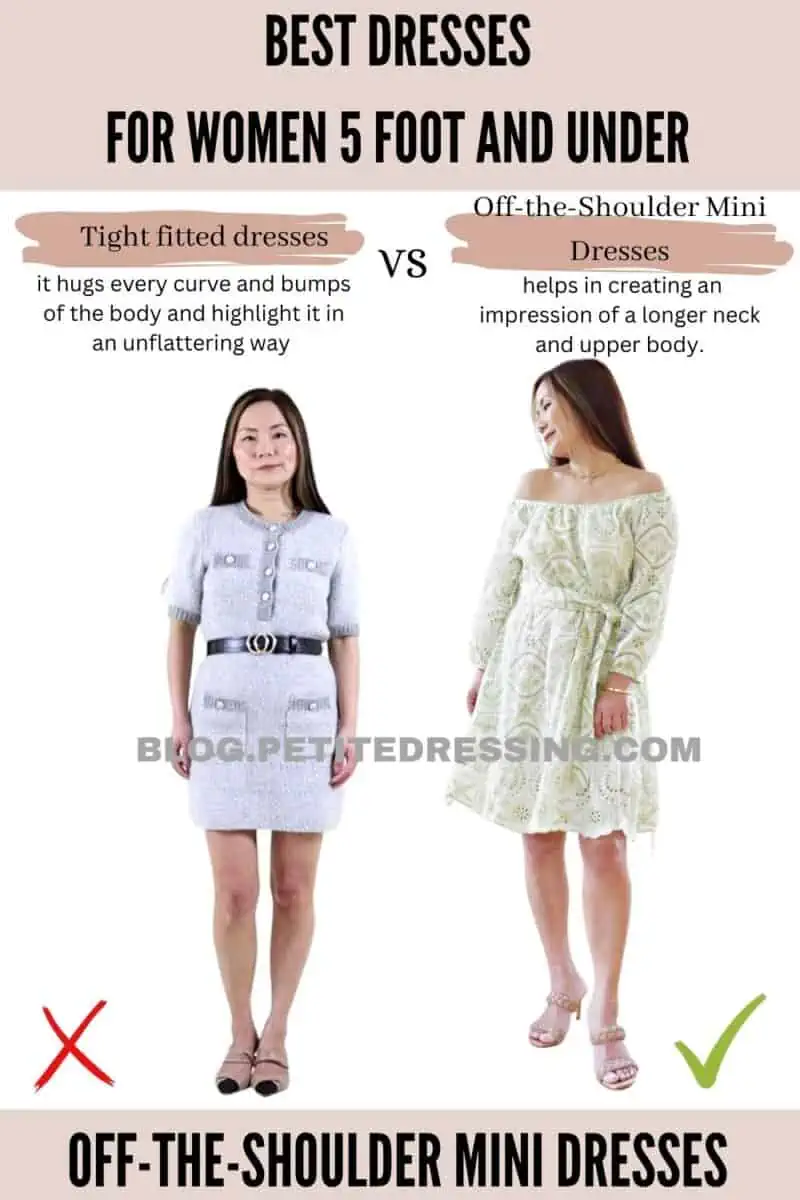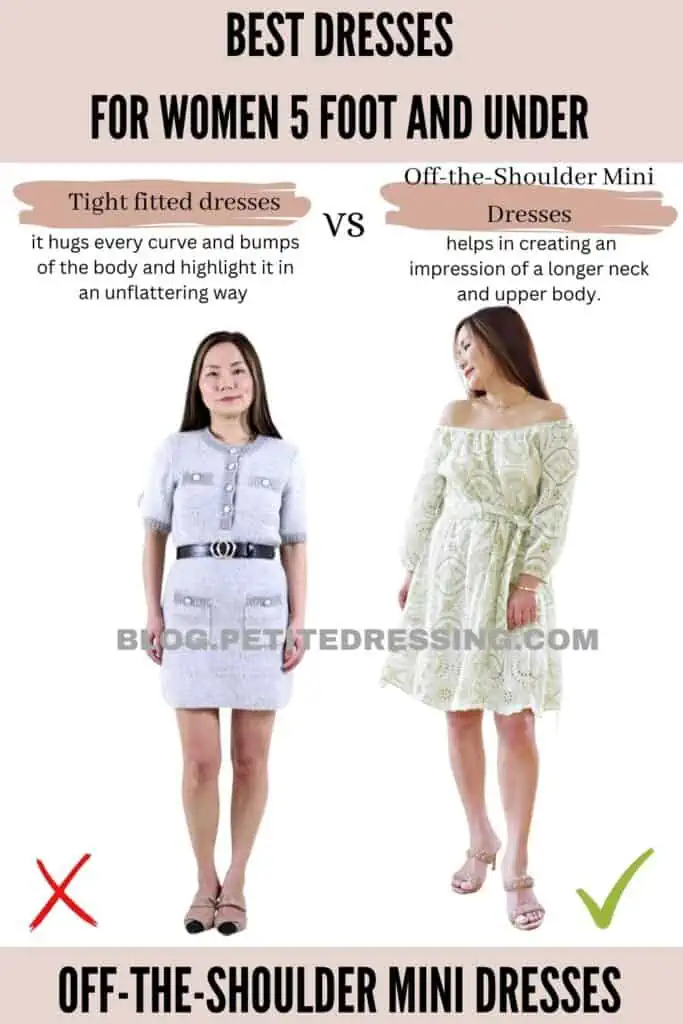 Off-the-shoulder mini dresses provide a sexy and feminine look that is ideal for warmer seasons. Professional styling advice for this dress includes selecting a dress with an A-line or flared skirt to balance out your figure and matching it with stilettos to add height.
Slit Dresses
Slit dresses are among the most trendy styles for petite ladies because they create the appearance of a taller silhouette! When paired with high heels, the high slit aesthetically extends the legs and adds elevation to your entire style.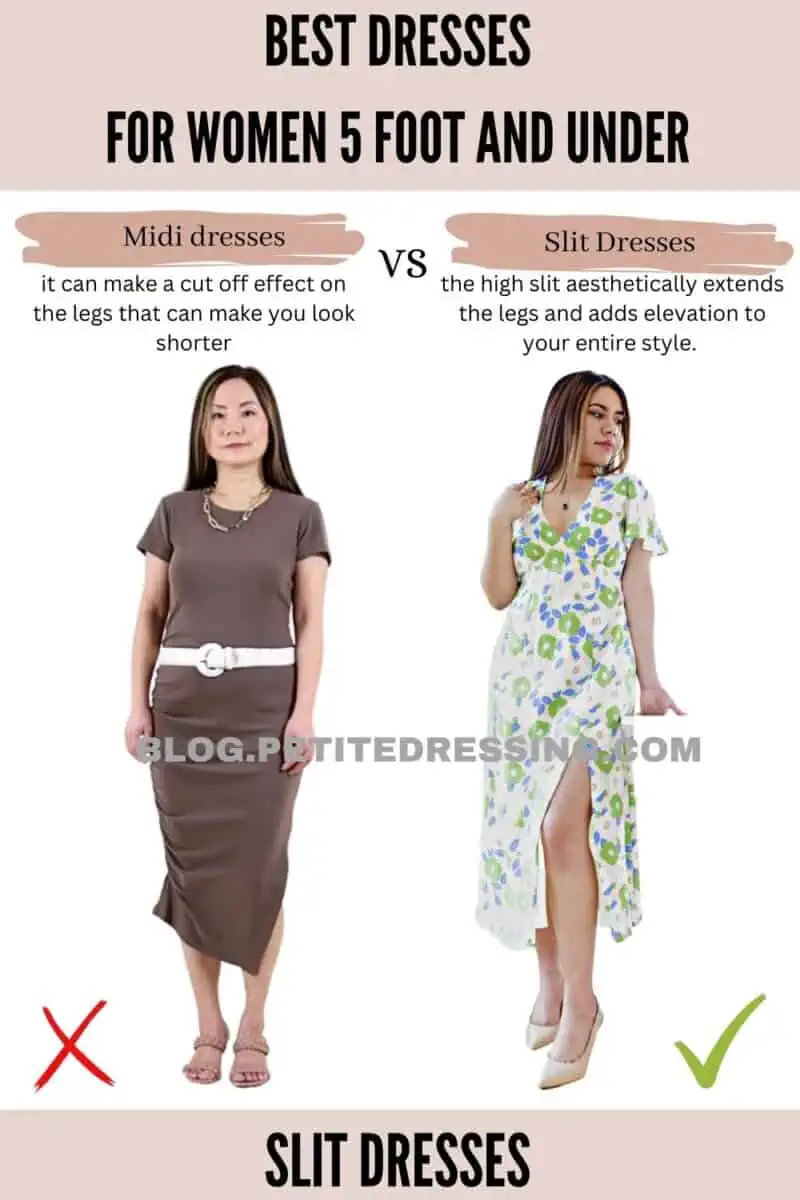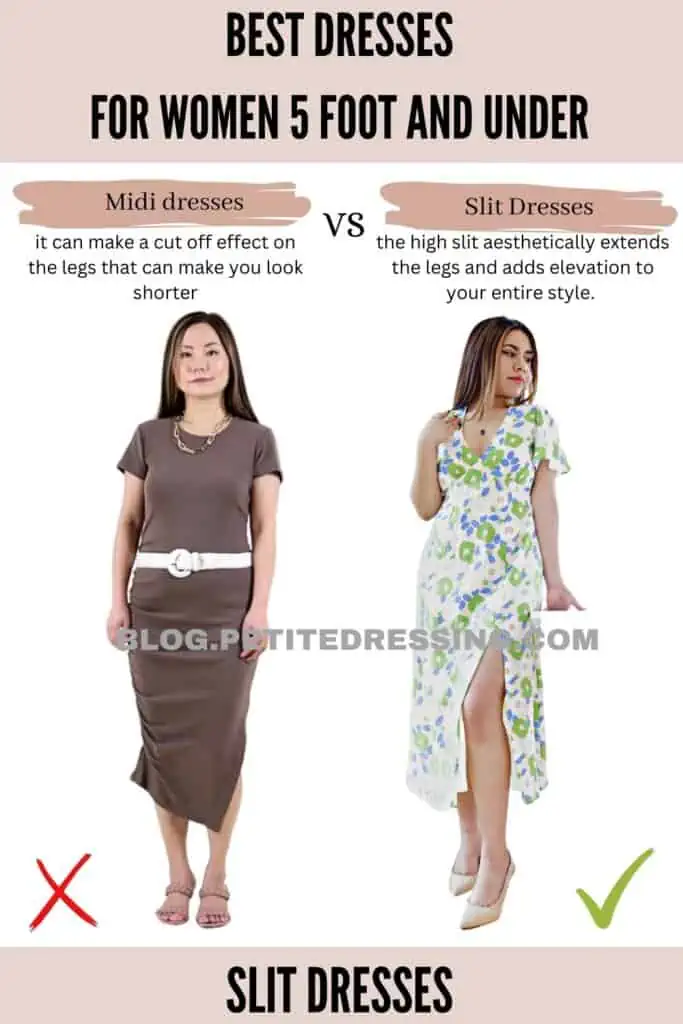 If you plan on wearing a slit dress, opt for one that fits your body comfortably and has a high slit that falls just above or below your knees. To avoid overpowering the dress, keep your accessories to a minimum, and try adding a statement heel or a strappy sandal to extend your legs even more.
Belted Shirt Dresses
Belted shirt dresses are ideally suited for petite ladies as they define the waist and lend the look of a longer torso. When selecting a belted shirt dress, select one with a minimalist belt that rests at your natural waistline, and stay away from overly lengthy or baggy dresses.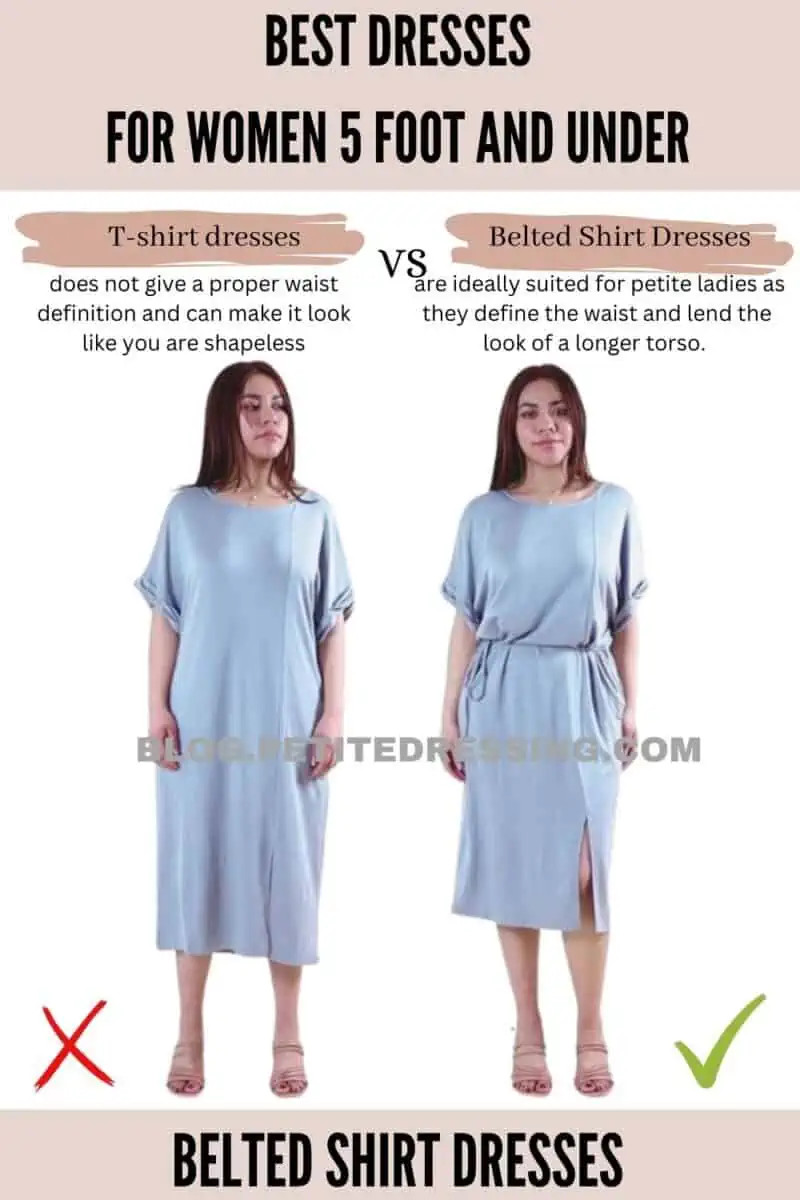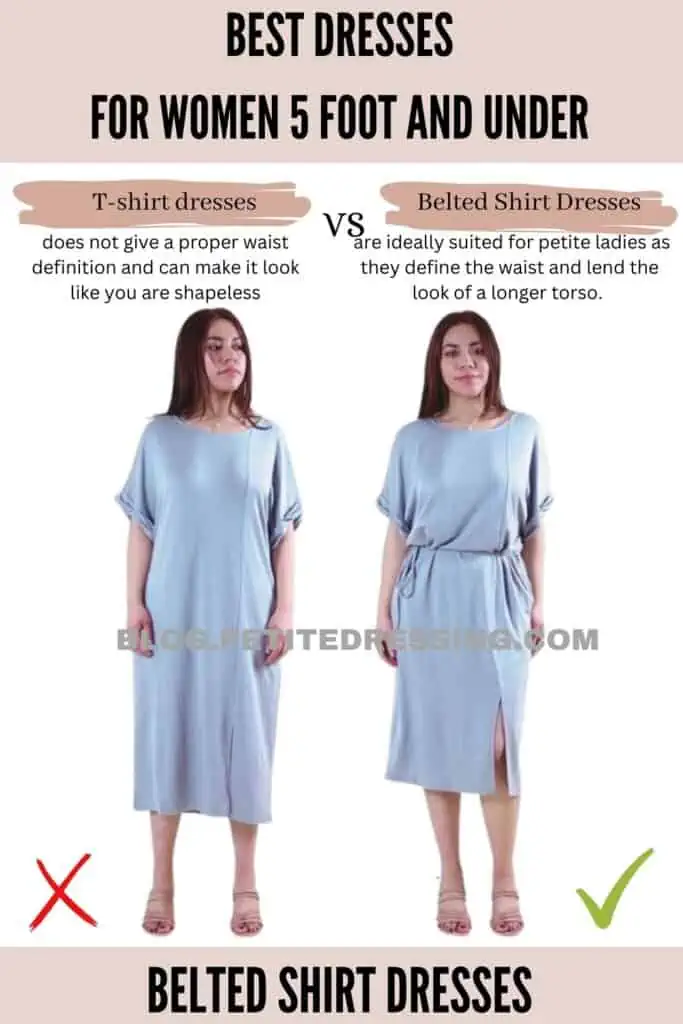 To elongate your legs, always wear the dress with platforms, high heels, or ankle boots, and embellish with a long necklace or fabulous earrings. To make an eye-catching ensemble, try a belted shirt dress in a bright color or print such as red or leopard.
Dresses with Subtle Vertical Patterns
Dresses with subtle vertical patterns visually add length and height. Pinstripes and other vertical patterns elongate your frame, making you look taller and leaner.
When browsing for dresses with subtle vertical patterns, look for ones that fit tightly yet comfortably and have a simple design. Do not wear many accessories to allow the vertical patterns to take the spotlight, and consider wearing the dress with nude-colored heels to extend your legs more.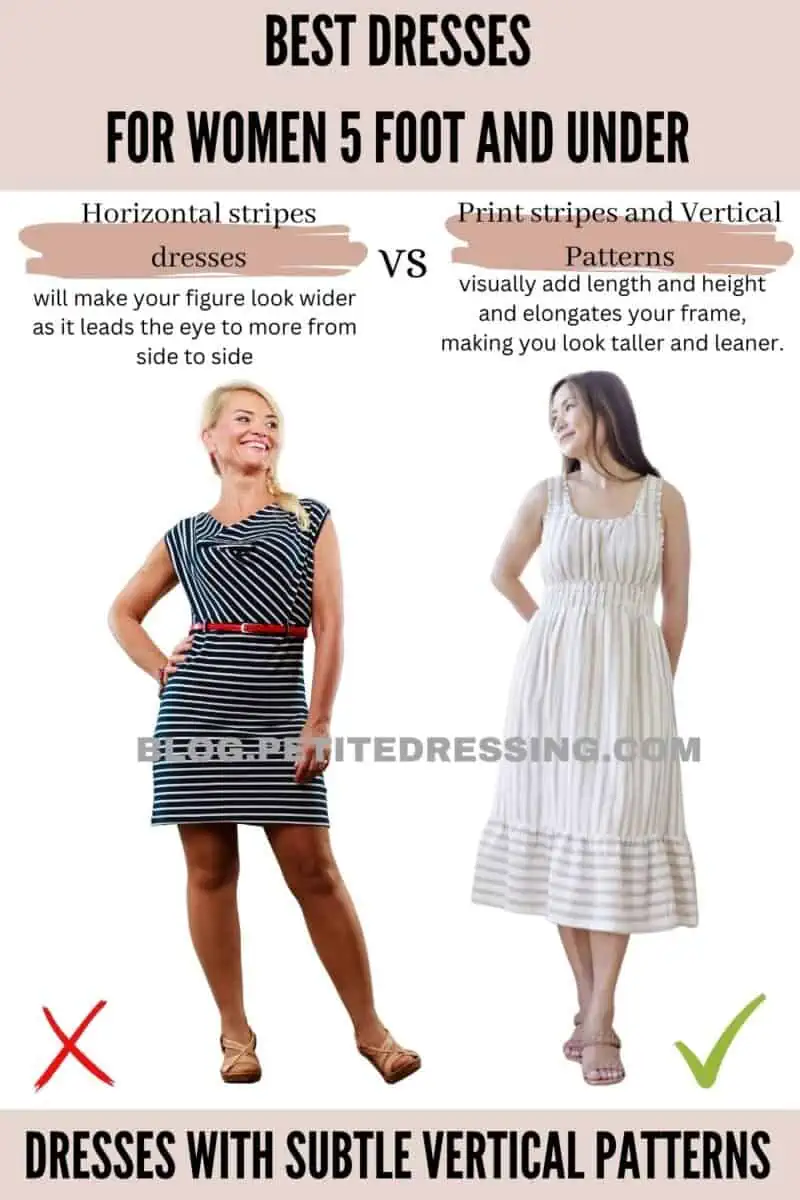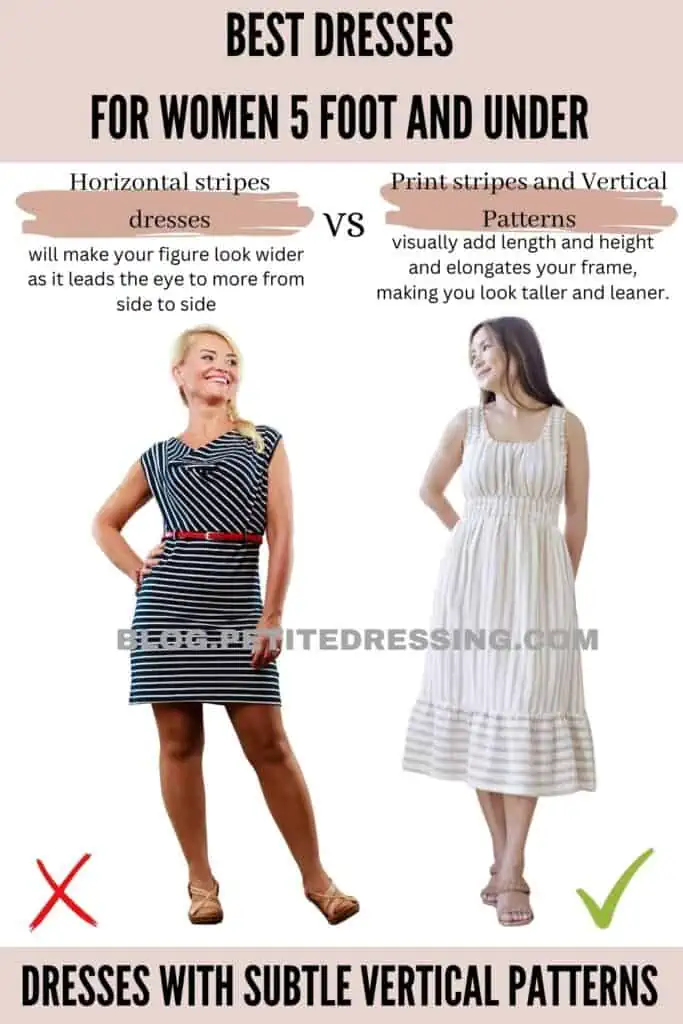 The Key Takeaway
Dresses will always be an easy fashion go-to for many short women who are 5 feet and under. It really just all goes down to choosing the best styles to bring the best out of your frame and give your height some nice boost.
Understanding the effect of structure and detail on your petite frame will help you come up with the best style choice and I really hope this guide made it a lot easier for you!