Muffin top is quite common for women of any age, and any body shape. Take myself as an example, even though I am overall skinny, I do have a muffin top as well.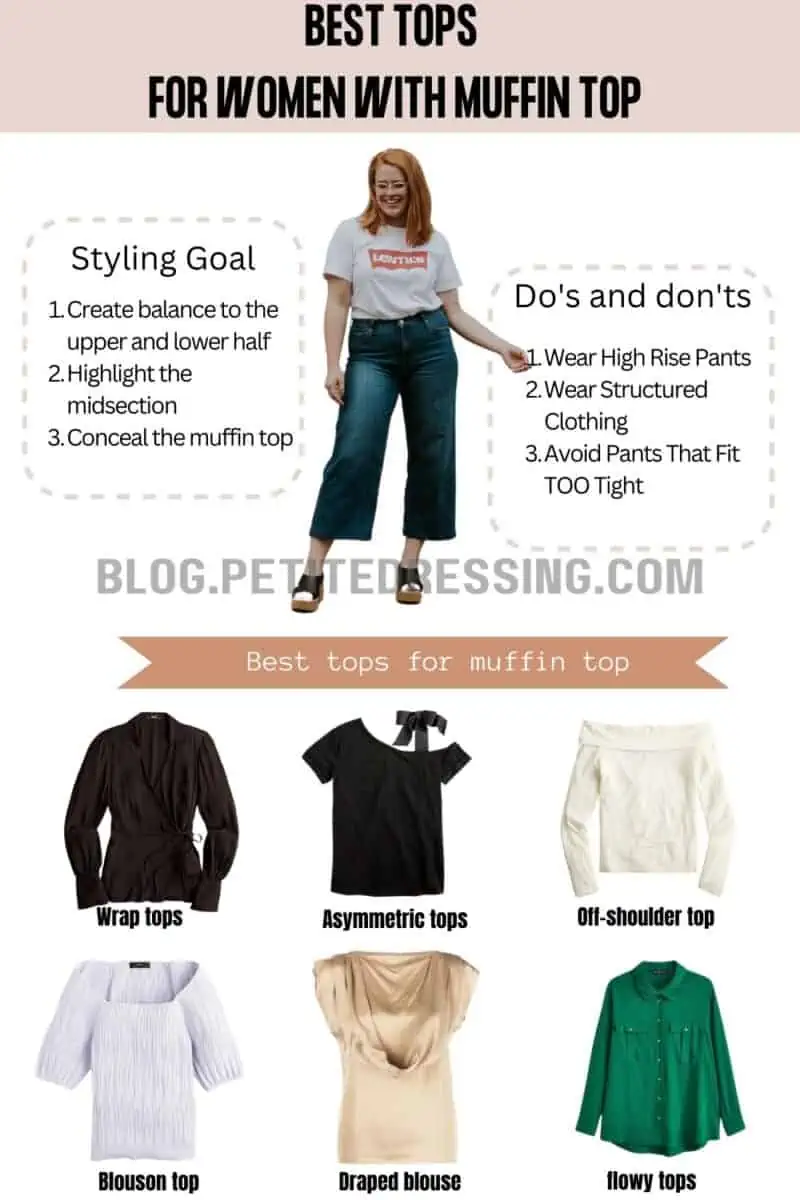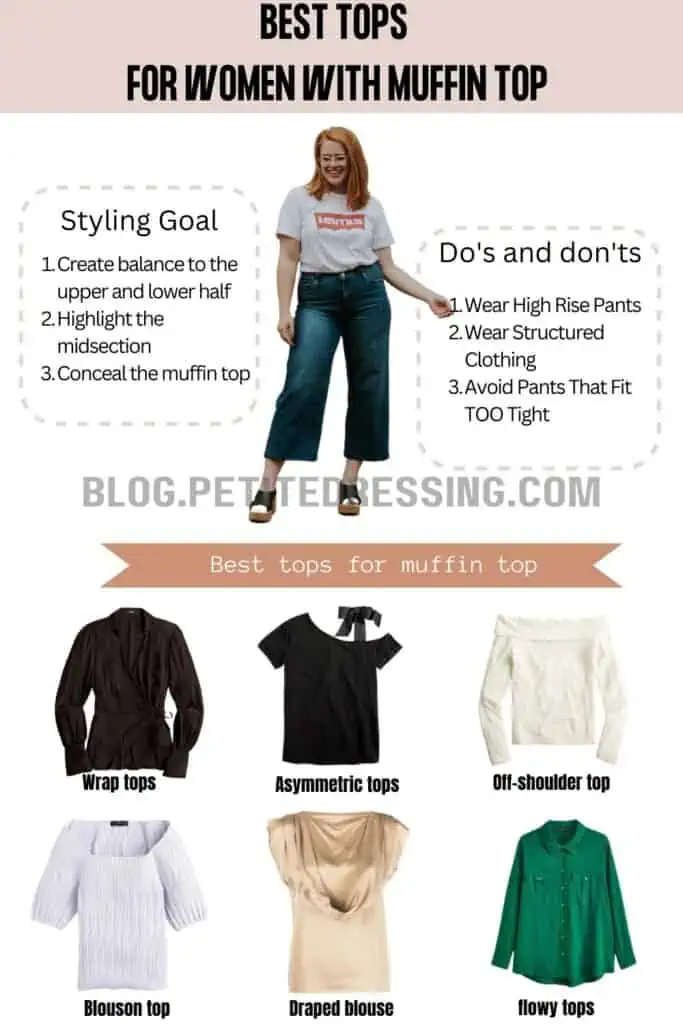 After many years of trial and error, I have developed a wardrobe with tops that can instantly hide the tummy. In this guide, I'm going to share all of them with you so that you do not have to wear shapewear all the time.
Wrap tops
This is one of my favorites to hide the tummy.
Wrap dresses are quite common, especially in different floral patterns that are incredibly attractive. However, there's an even better and shorter version, the ultra-flattering wrap top.
For every woman with a midsection concern, wrap tops are the perfect clothing to flatter your curves and hide your extra belly to your satisfaction. An even better fact about wrap tops is how they highlight the feminine silhouette in a way that shows off your body beautifully.
You'll love how wrap tops come in lots of amazing variations, from the fitted ones that sit firmly on your waist, showing off your curves, to loose-fitting ones that are more firm around the hip. So this means that you can pick the one that fits your personal sense of style and works specifically for your body.
I recommend going for wrap tops that tie at the waist. Here's an idea of how you can rock the wrap top perfectly. You can go for a print wrap top with a neckline that goes a little lower.
If you're not so comfortable with showing some skin, feel free to layer with a tank top. Then, pair the overall look with a pencil skirt, and you're ready to step out for your day without worrying about your muffin top being visible.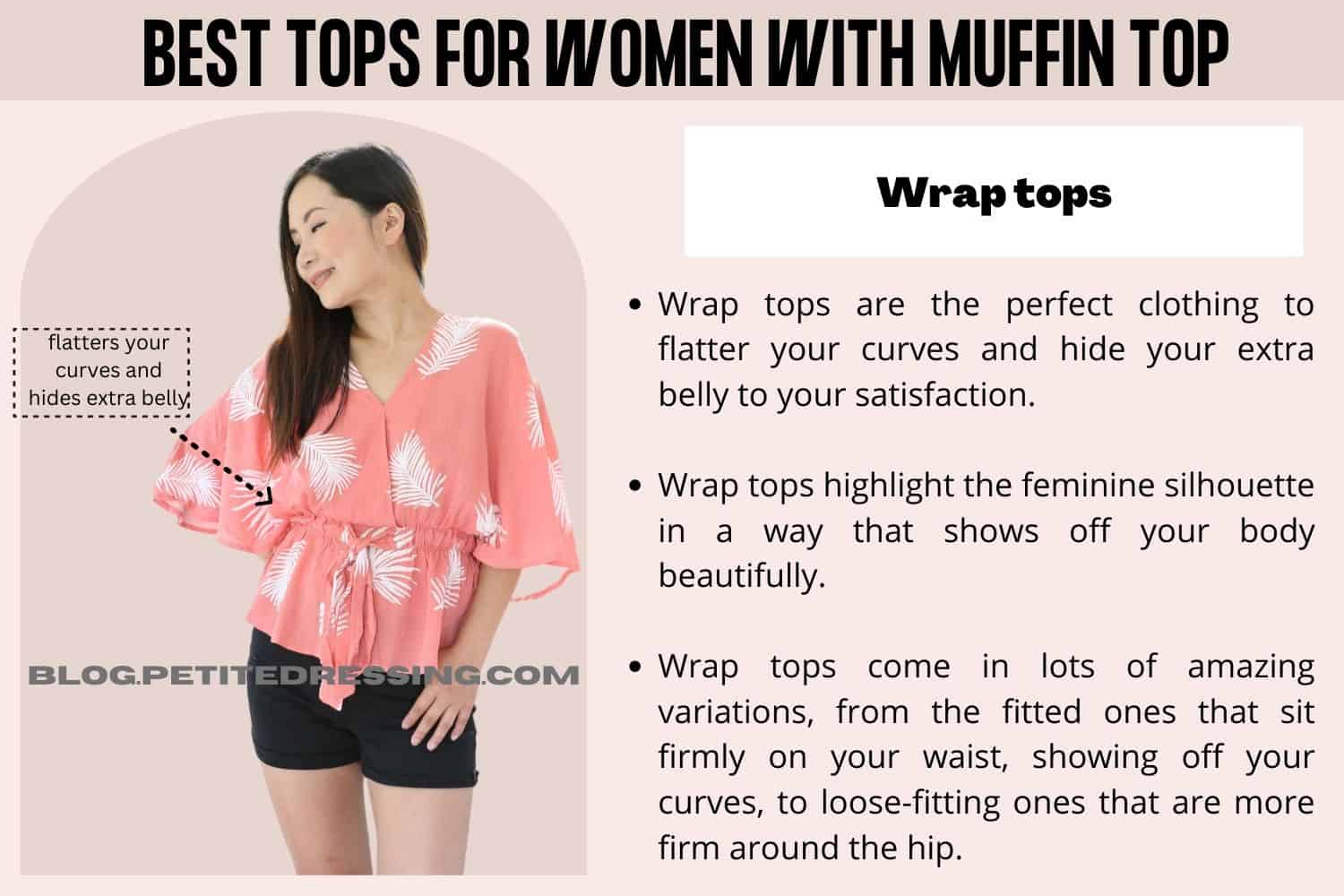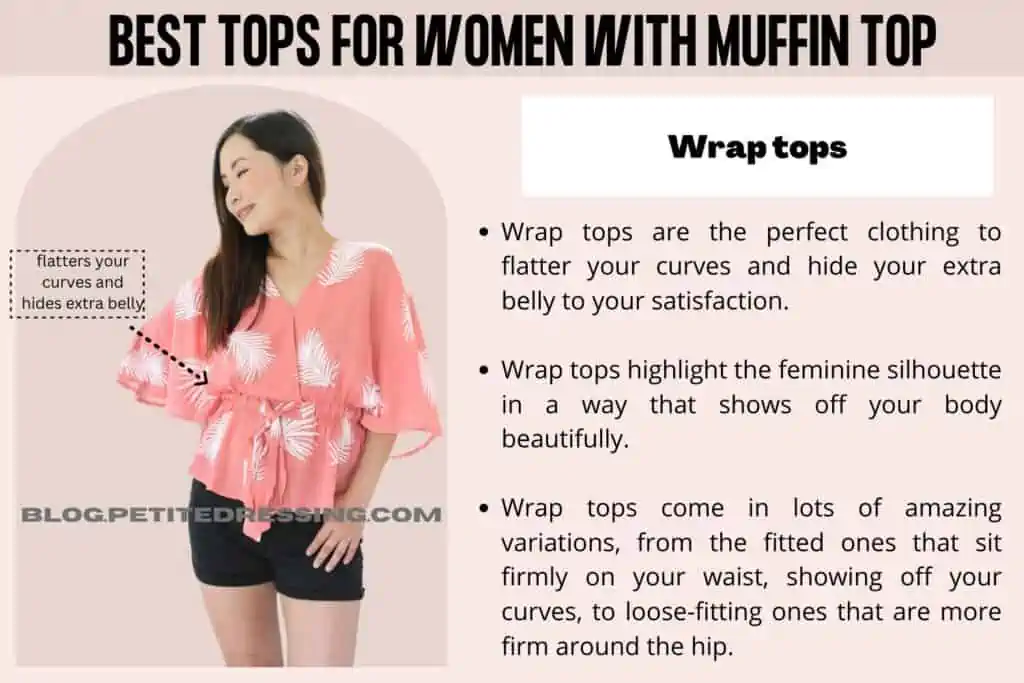 Asymmetric tops
Not many people know this, but asymmetric tops work like magic for women with a muffin top. What this means is that you can step out in an asymmetric top with a lot more confidence because you know your extra belly is not visible.
However, you shouldn't choose just any asymmetric top, as not all will have the same results. Petite women in too-long tops will look incredibly awkward. So, the top should only be a little longer than a regular shirt.
Even taller ladies shouldn't wear asymmetric tops that are so long that they fall below your hips, or they will make your legs look way shorter. The overall look becomes weird when your torso looks longer than it actually is.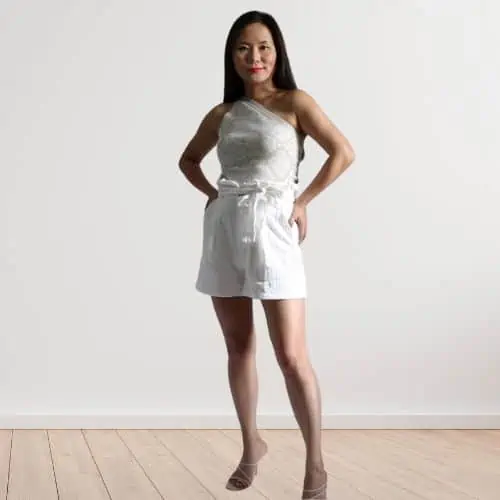 Why opt for Asymmetric tops?
It works by taking all the attention from the midsection to the unique style of the top.
And this is all thanks to the diagonal line in the asymmetric top.
So, this makes the top half of your body look longer than it actually is and conceals your tummy satisfactorily.
Off-shoulder top
Scared of showing off your shoulders? Well, you shouldn't be, especially if you have a muffin top. Off-shoulder tops do an amazing job of attracting attention to your shoulders while sitting prettily on your tummy.
So, all you need is a strapless bra and an off-shoulder blouse that is not so tight. The amazing thing about off-shoulder tops is that they are incredibly versatile. So, you can decide to pair them with your favourite pair of denim shorts or even a skirt.
You can pull off a super casual look or formal wear with some minor changes. However, the focus here is on how they make your muffin top less visible. So, you can finish off this look with a decent neckpiece that highlights the curve of your neck perfectly.
We love how this style looks good everywhere.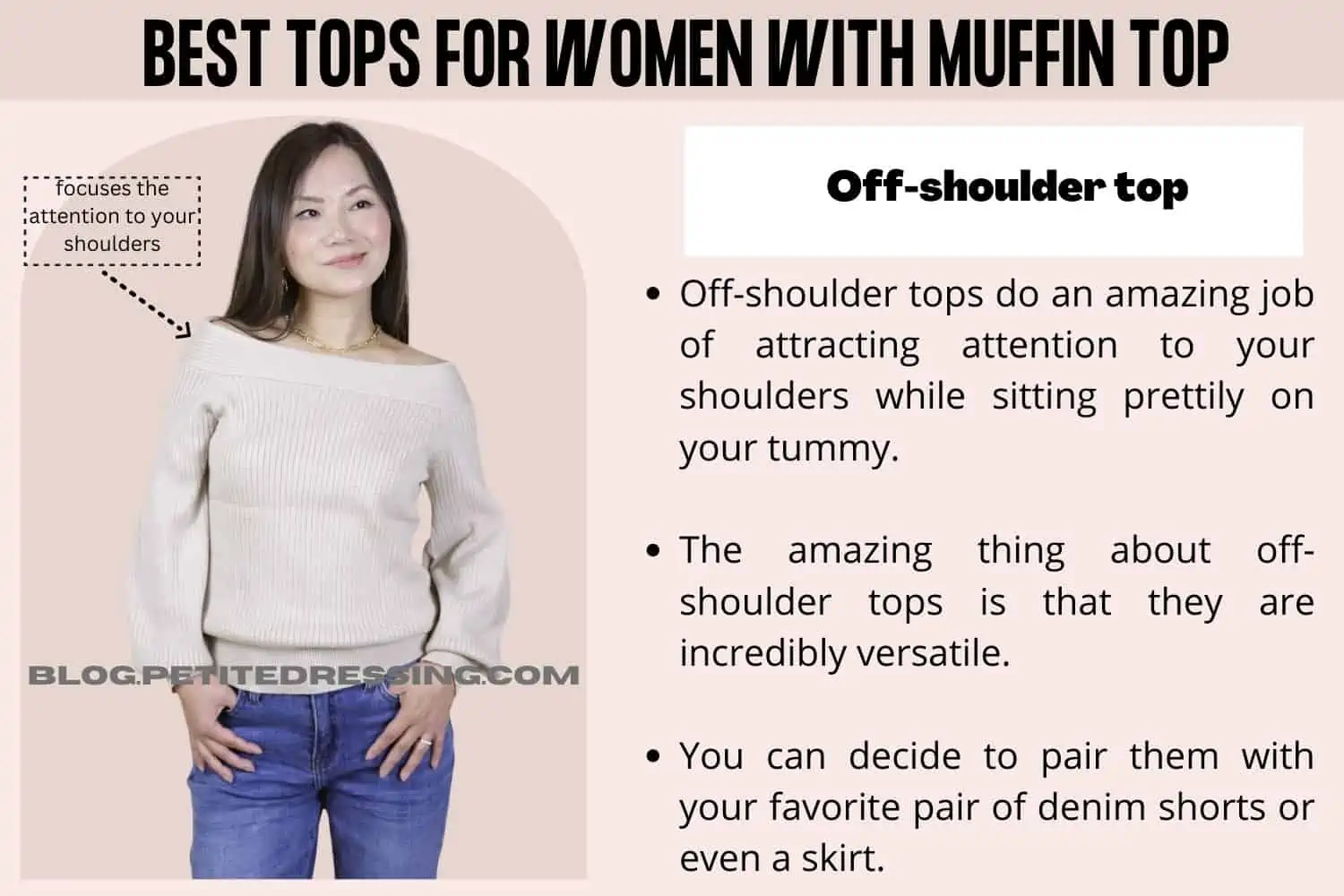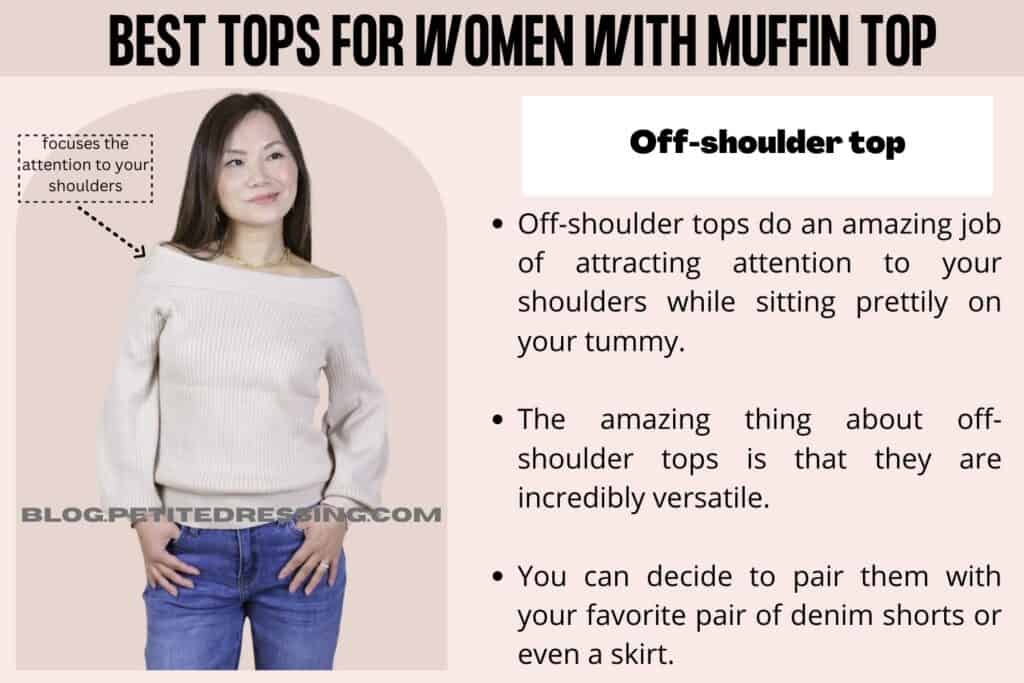 Blouson top
The key feature of a blouson top is that it has an elastic hem that sits firmly on your waist and the excess fabric at the bottom creates a perfect blousing effect. At one glance, you may believe that this will make your tummy look bulky since it's not form-fitting.
However, that's wrong. The beauty of the blouson top is that it doesn't stay so tight on your belly, which gives you room to breathe without sucking in your stomach. So, this gives the impression that you tucked in your top without actually doing that.
Overall, a blouson top is an extremely comfortable piece of clothing that will give your belly room within the fabric without protruding so much. It's always a great idea to pair this with high-rise pants so that your back isn't exposed when you move around.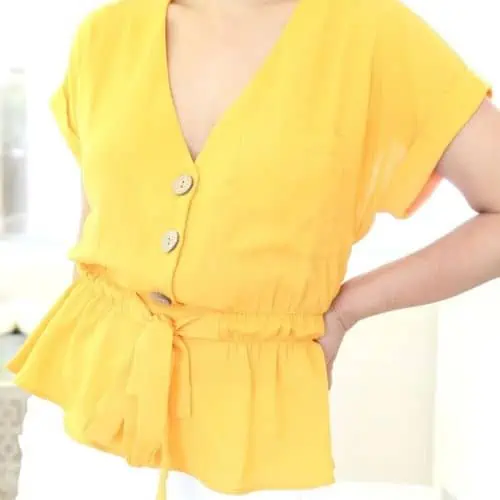 The good side of wearing a blouson top
The good side of this is that you don't have to bother with tucking the fabric into your pants or denim, which could add more bulk to your belly and hips.
Draped blouse
If you're not so sure what a draped blouse is, here's an idea. It's a relaxed version of the wrap top with a v-neck. Open necklines are always a win for women with a muffin top, and that's what makes draped blouses so awesome.
The best way to rock your draped blouse is with high-rise denim pants, and that's more than enough to hide your belly bulge to your satisfaction. They combine the benefits of wrap tops and tops with open necklines.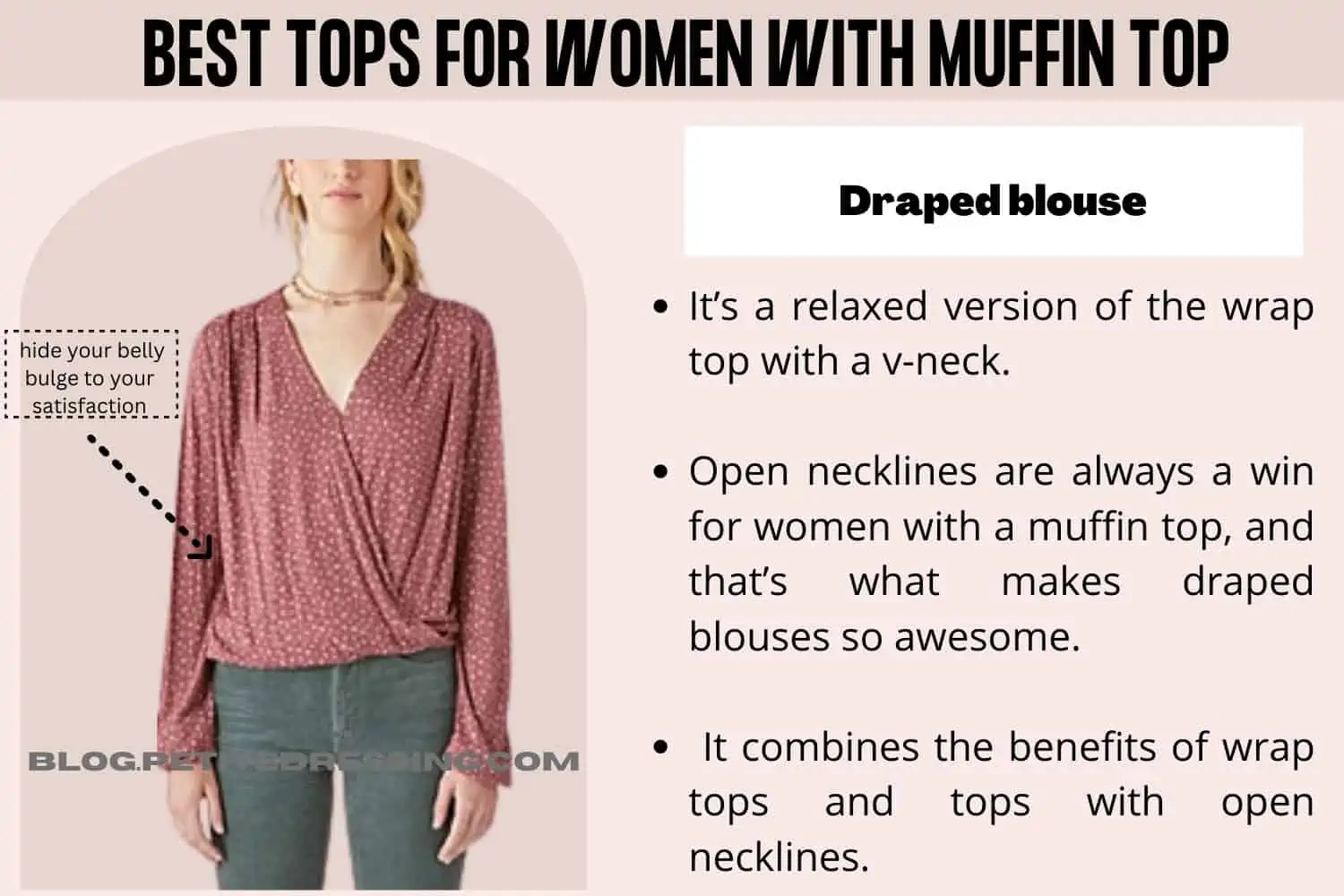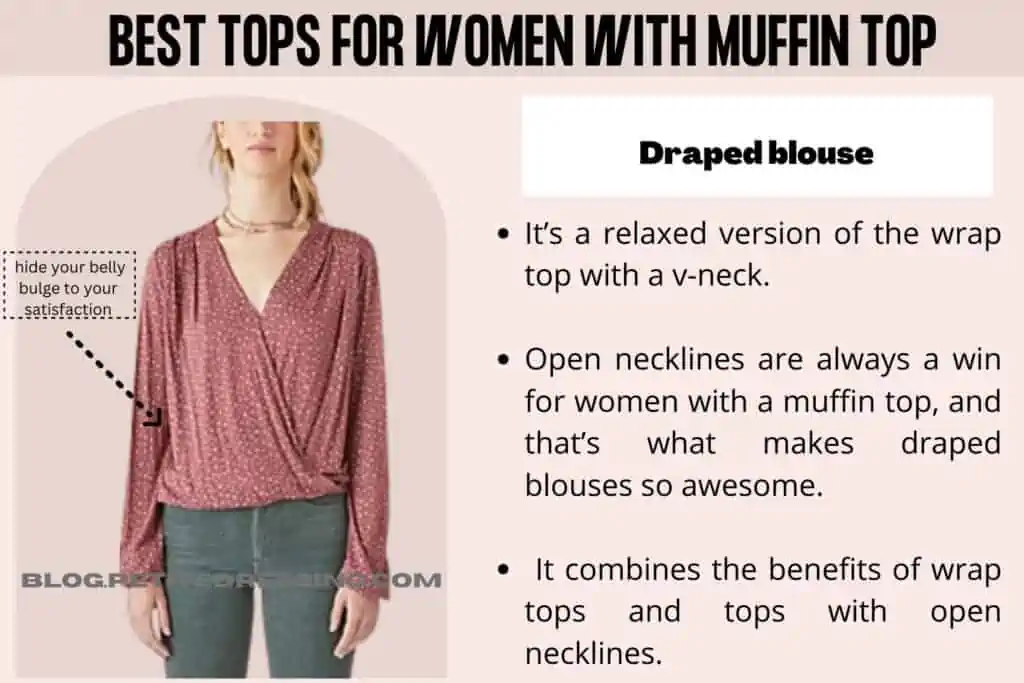 Tops with flowy fabrics
Instead, they cling a little on the waist and flow freely around your hips. You can pair these tops with denim, skirts, and pants. We love how you can use tops with flowy fabrics to pull off any kind of look, especially the casual stroll-to-the-beach look.
So, feel free to play around with various designs of flowy fabrics, especially simple yet awesome patterns.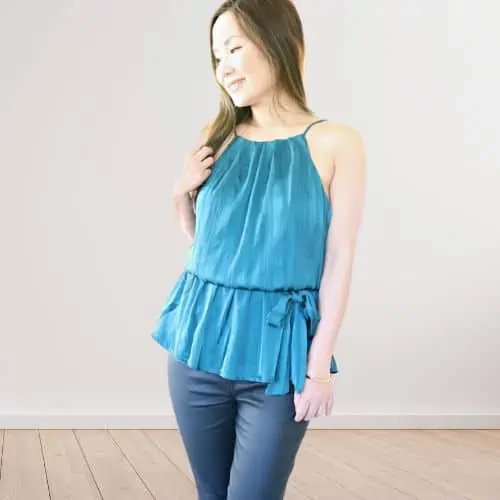 Tops with flowy fabrics are a must-have! Here's why:
Tops with flowy fabrics that stop just a little below the hip are that magical piece of clothing that should be in the wardrobe of every woman with a muffin top.
The beauty of tops with flowy fabrics is that they don't hang on to the waist and highlight your belly bulge.
Tops with open necklines
You don't have to be too adventurous to rock tops with open necklines. It's up to you to decide just how low you want the neckline to go. However, we highly recommend being a little daring with your tops, especially as they are perfect for women with a muffin top.
Just like pretty much the different styles of tops we have talked about so far, tops with open necklines also remove all the focus on your belly and divert them to your lovely neck instead.
All you have to do to finish up this look nice is to put on a simple yet perfect necklace that glitters in the sunlight. Feel free to also layer up with a tank top if you're not so sure about revealing so much neckline with your tops.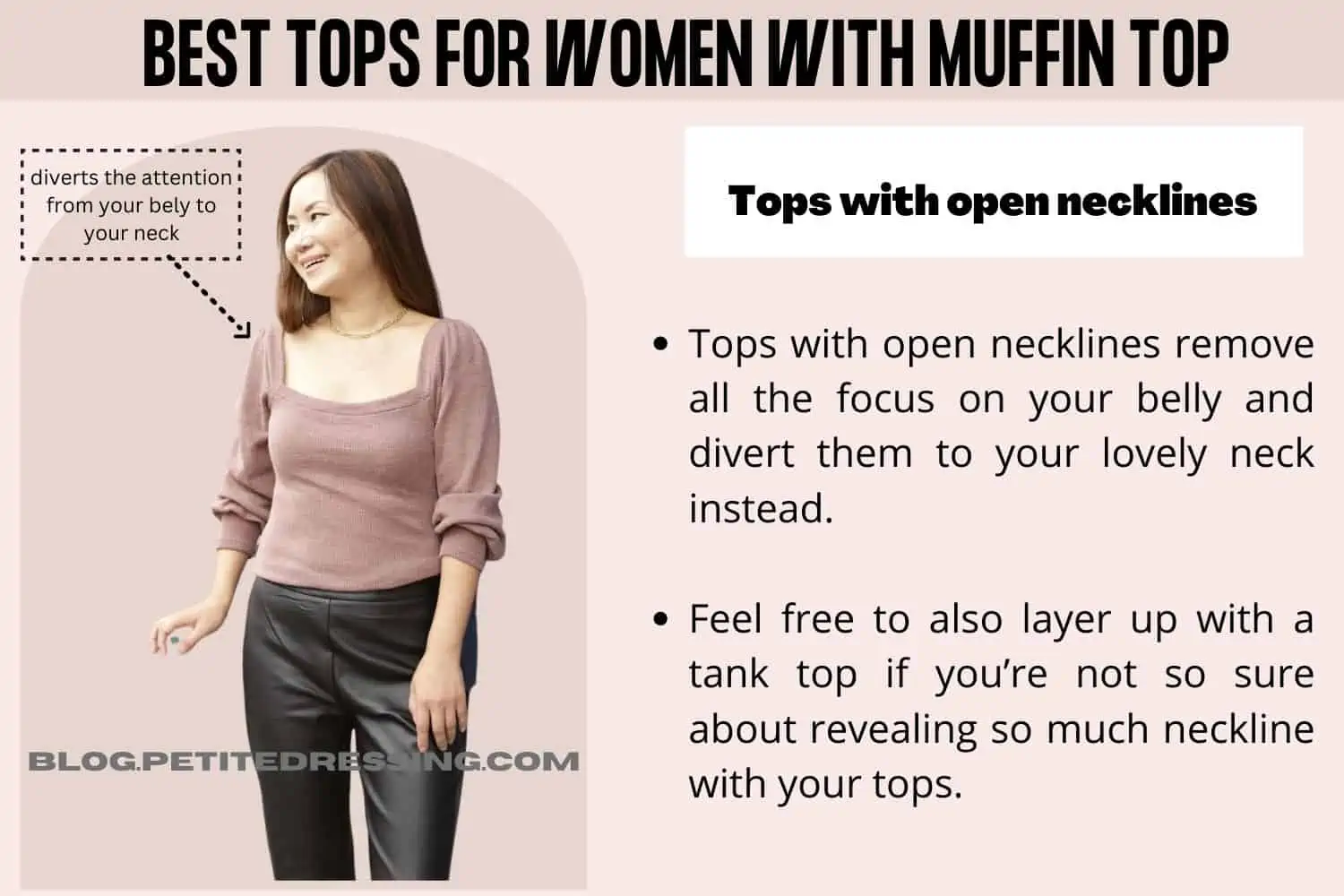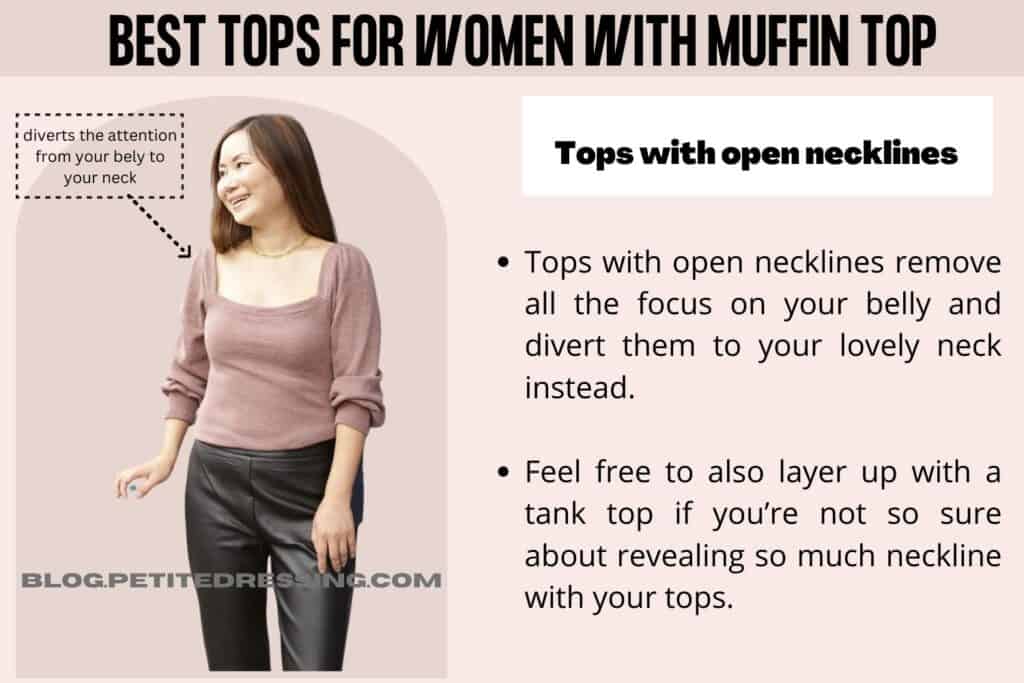 Avoid Crop Tops
Can you picture how someone with a big belly would look on a crop top? That gives you an image of Winnie the pooh, and that's not a very flattering look. So, women with a muffin top should completely avoid wearing crop tops.
Longer-length tops are the way to go if you want tops that flatter your shape and make your tummy as concealed as possible. However, if you love crop tops but have a muffin top, you would have to let go of them as they highlight the midsection, and not in a good way.
Shorter-length tops put a lot of attention on your belly, and that can make your waist area look even bulkier. A better alternative is high-rise pants and longer-length tops that stop right around the hips.
The goal is to minimize how your muffin top looks without making your legs look shortened. This is especially important for petite women who don't want to come off looking much shorter and smallish.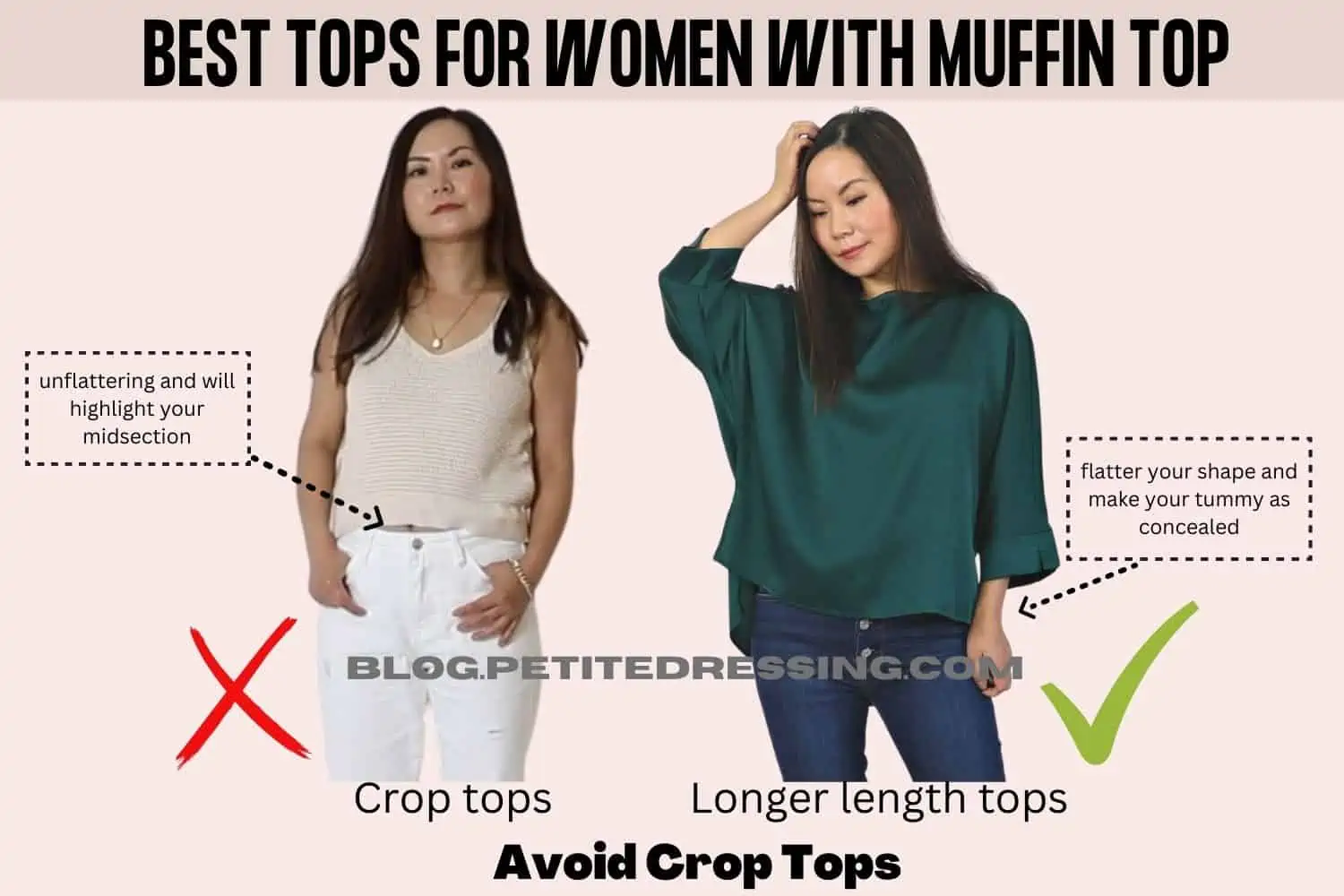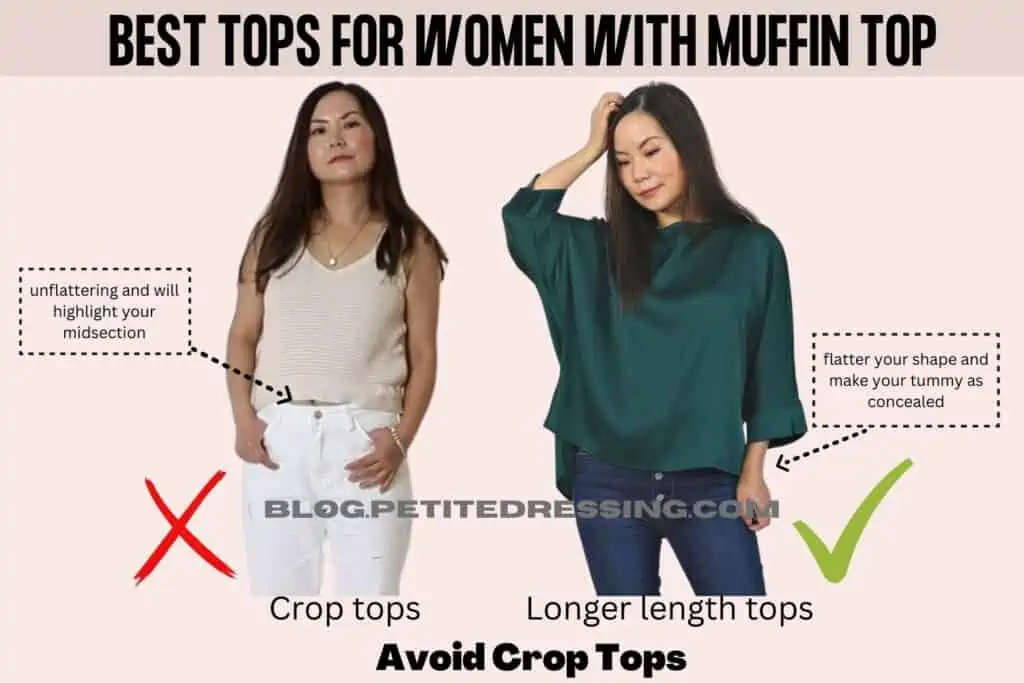 Avoid Tight-fitting Tops
Tight-fitting tops are those clingy tops that are way tighter than normal. This is not the way to go if you have a muffin top. Tight-fitting tops can be very clingy around the waist, and that means making your tummy extra visible.
On the other hand, you shouldn't opt for tops that are too loose, either. The goal is to find a balance between both styles of top, with the aim of flattering your body without drawing attention to your midsection.
So, go for freer tops that flow around your belly without adding more weight to this region. We would recommend going for structured silhouettes that skim over your midsection without fitting tightly.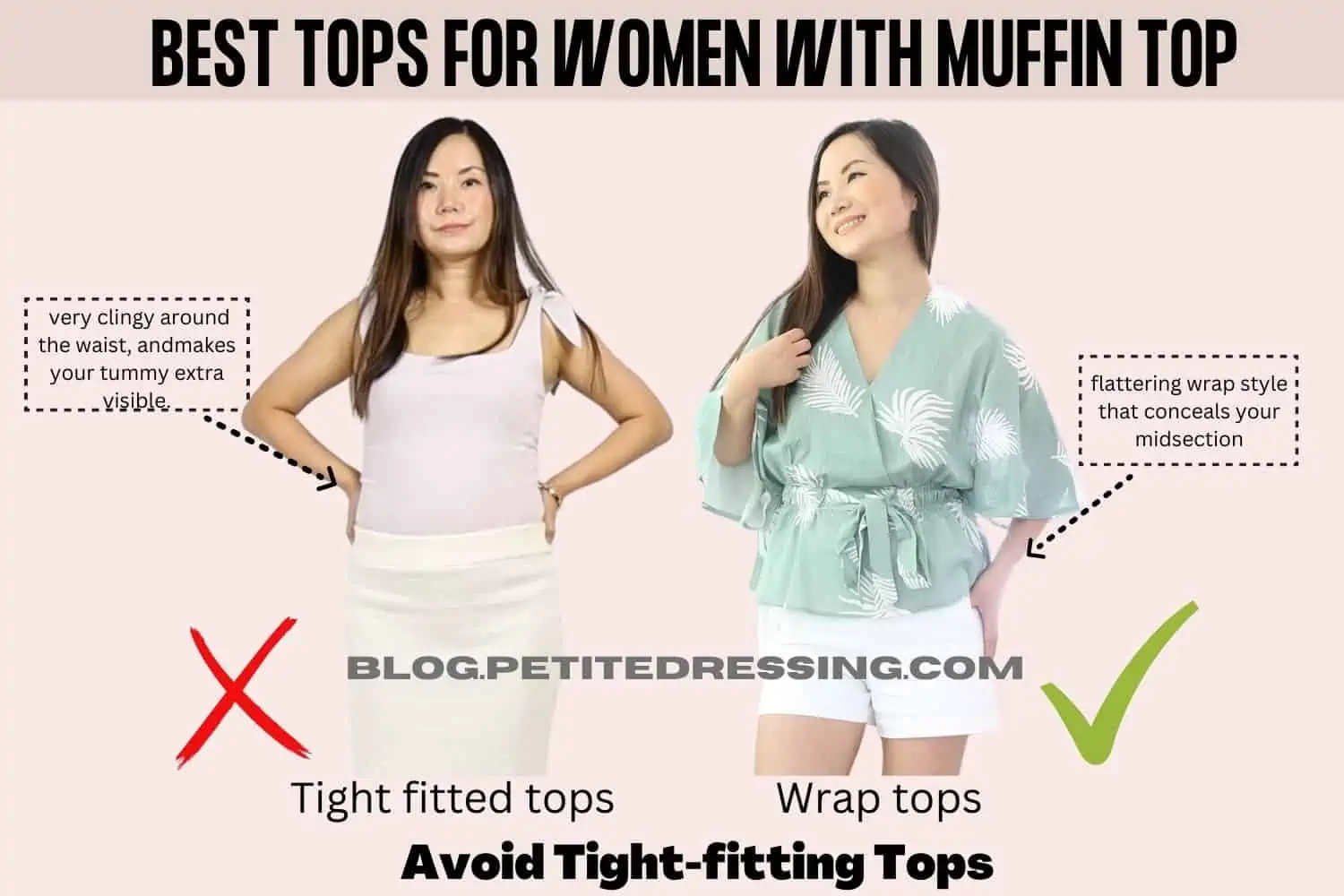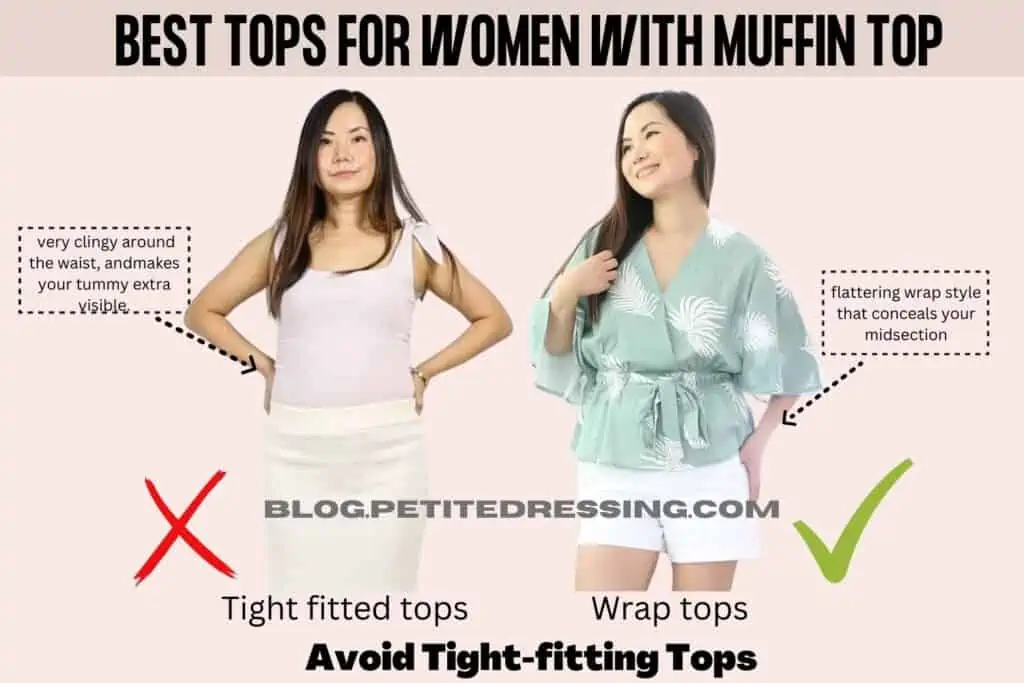 It's also important to note that tight-fitting tops can be very uncomfortable, especially when paired with low-rise pants. So, you may find yourself struggling with your clothing when you step out in tight-fitting tops as opposed to how relaxing it can be to find the balance between loose and tight-fitting.
Get ready to rock any of these amazing styles of tops without worrying about your muffin top.