If you are short and chubby, it is critical to find the right styles for your tops because not everything will look equally good for your shape. Since I'm 5'2″ myself, and I have a petite clothing line, I noticed certain tops flatter shorter girls better than others.
Based on the feedback from thousands of my customers (many of who are short and stocky), I've put together this detailed guide to help you find the perfect piece. Besides, you should also know how to find the best jeans and pants to create a long and lean silhouette for your outfit.
Styling Goal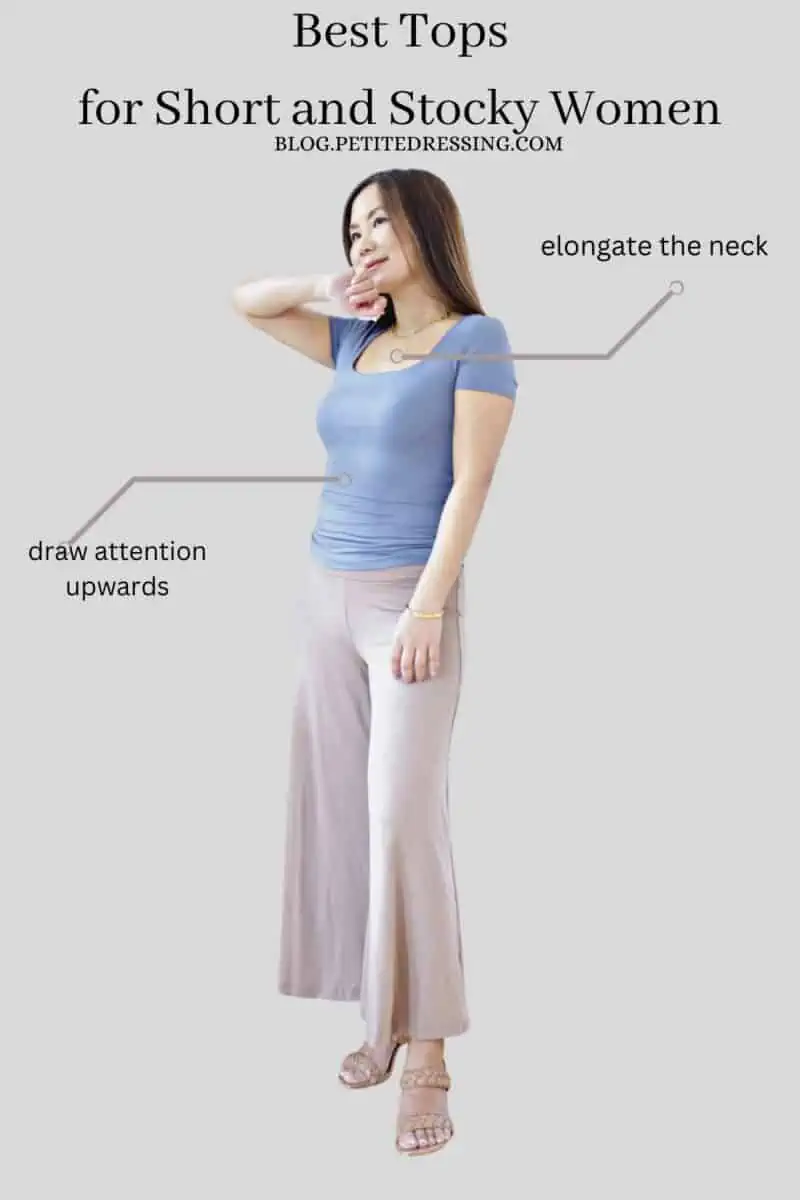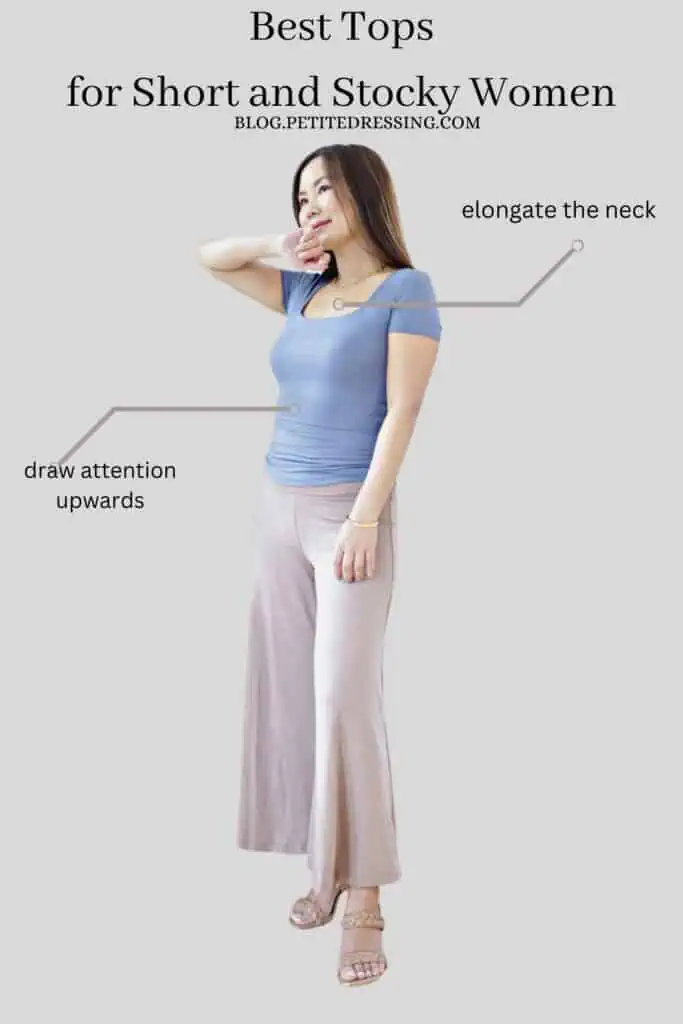 Choose open necklines such as V-necks or scoop necklines to elongate the neck and draw attention upwards. Avoid high necklines or turtlenecks, as they can make the neck appear shorter and add bulk to the upper body.
Consider proper length and proportions by choosing tops that are the right length for your body shape. Avoid tops that end at the widest part of your body, such as the hips or thighs, as they can draw attention to those areas.
Opt for tops made from structured fabrics that provide some shape and definition to your figure because this will help slim you down. Avoid clingy or oversized tops, as they can make you appear larger, and instead, opt for fabrics that have a bit of structure and drape nicely over your curves.
Look for vertical details such as vertical stripes, vertical seams, or elongating patterns that can create the illusion of a longer and leaner body. These details help draw the eye up and down, creating a lengthening effect that will tweak your stocky figure a bit.
There are lots of tops out there that can easily make you look frumpy and stocky. But don't get intimidated because there's also a great variety of top style options out there to perfectly dress your figure up.
Open Necklines (V-Neck, Scoop, Square)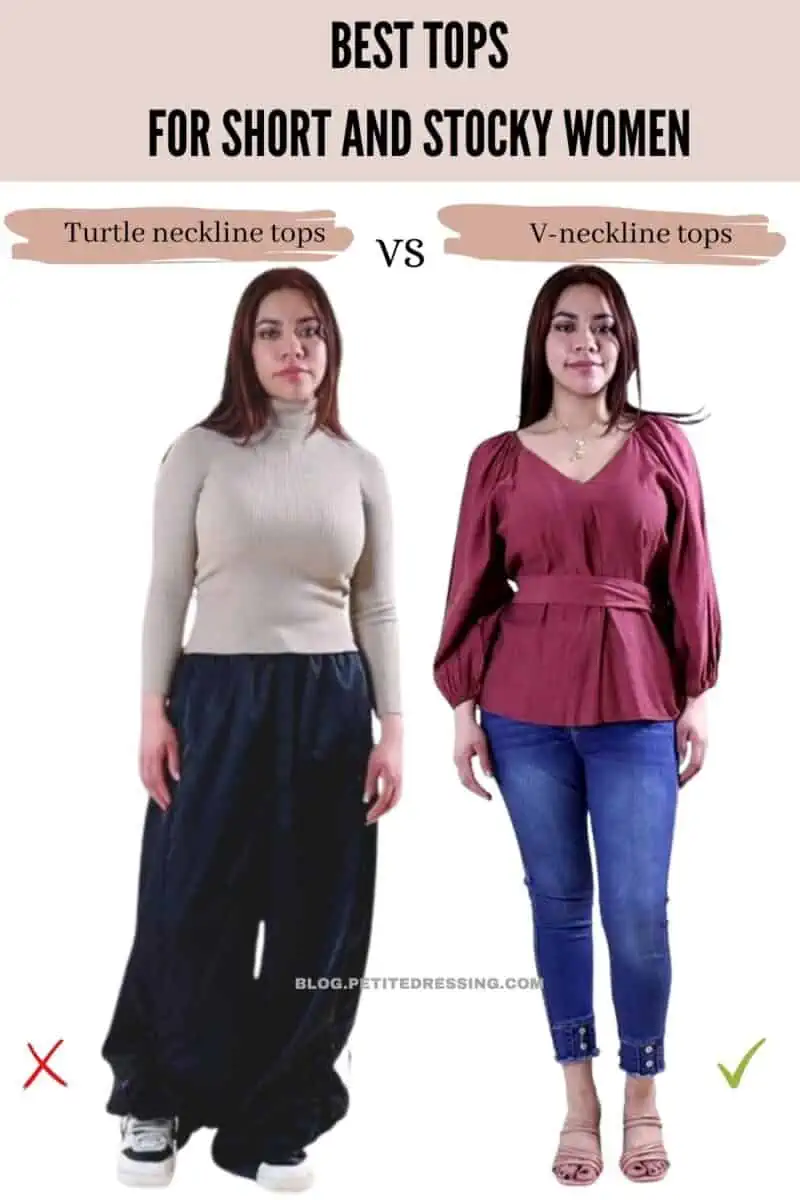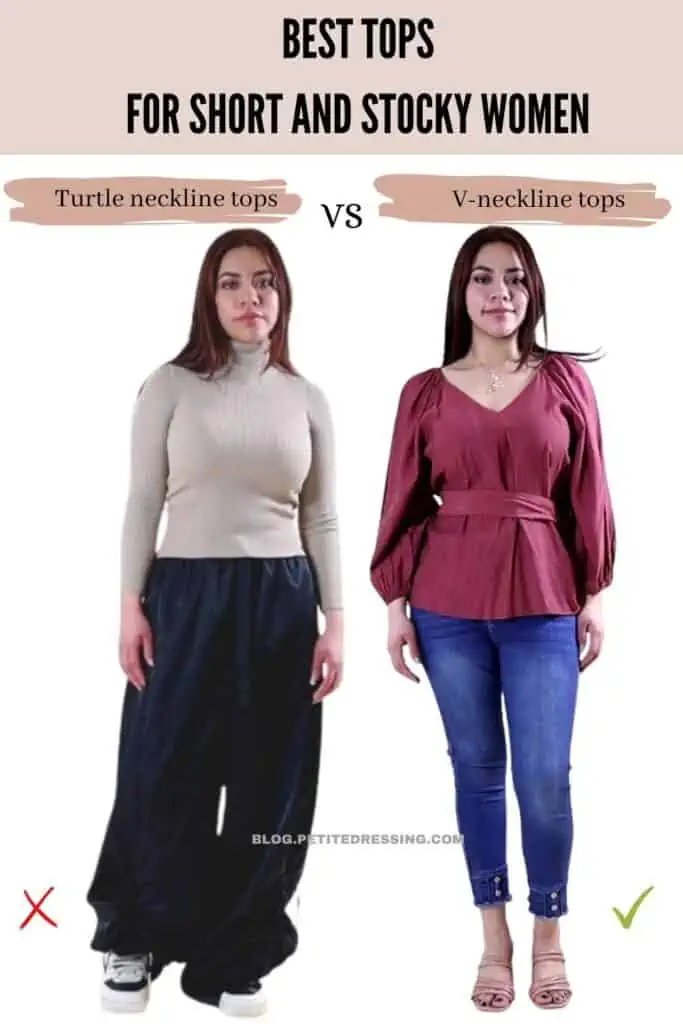 Open necklines create more space on your upper body that allows your figure to look less stocky. Neckline styles such as V-necks, scoop necks, and square necks, have the power to transform your look, adding a touch of elegance and elongation.
V-necklines are a true game-changer for short and stocky figures. With their downward pointing angles, V-necks create an optical illusion of length, drawing the eye vertically and elongating the neck, plus, this neckline beautifully showcases the collarbone, adding a touch of grace to your overall look.
Scoop necklines are a versatile choice for those seeking a flattering and feminine touch. Its gently curved neckline that reveals a bit of décolletage helps soften the bust area and draw attention upwards.
For those wanting a touch of flare, try the oh-so-flattering square neckline; its perfect for broadening the shoulders, evening out stalky frames, and showcasing luminous collarbones – all while imparting poise. Unmistakably sophisticated, this option adds that special something to every ensemble!
Off-the-Shoulder Tops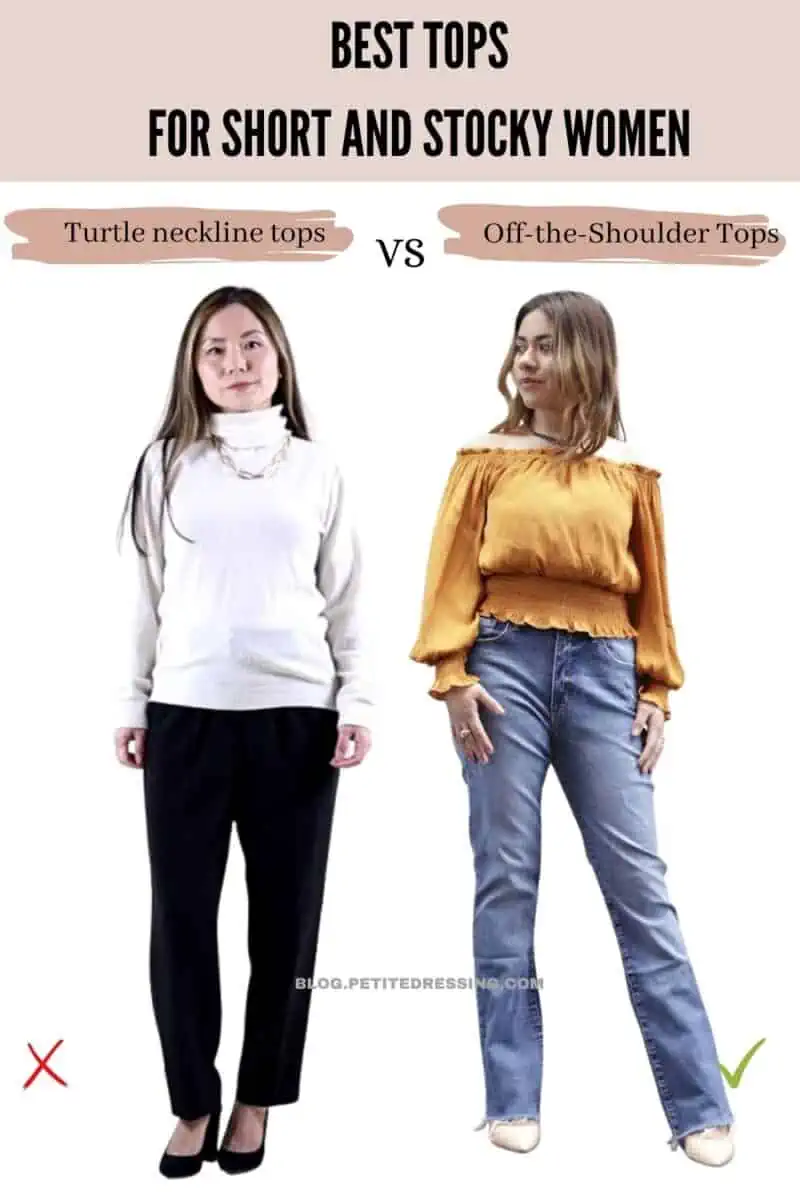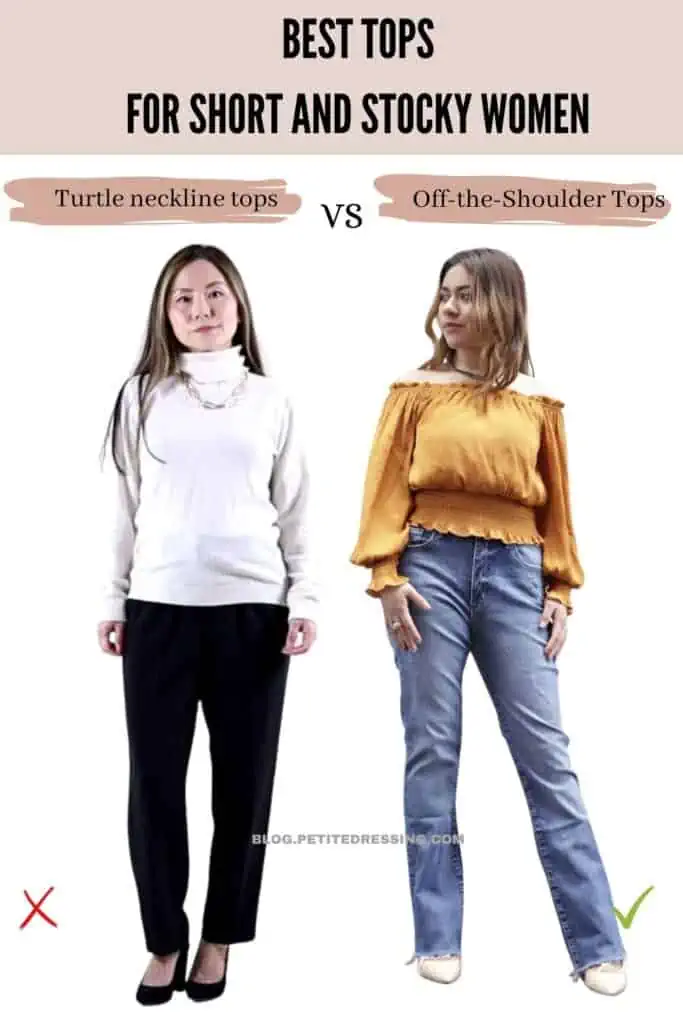 Off-the-shoulder tops shift the focus toward the upper body, specifically the shoulders, collarbones, and neckline. By revealing these specific areas, they draw the eye upwards, diverting attention from the midsection.
This vertical emphasis creates the illusion of a longer upper body, making you appear taller and more proportionate. The exposed shoulders and neckline create a broader visual width in the upper body, which can counterbalance a wider midsection.
These off-the-shoulder style tops often feature a wide neckline that exposes the shoulders and neckline, creating an elongating effect. The exposed skin adds a touch of visual interest and breaks up the width of the body, making it appear slimmer.
Tops with Form-fitting Sleeves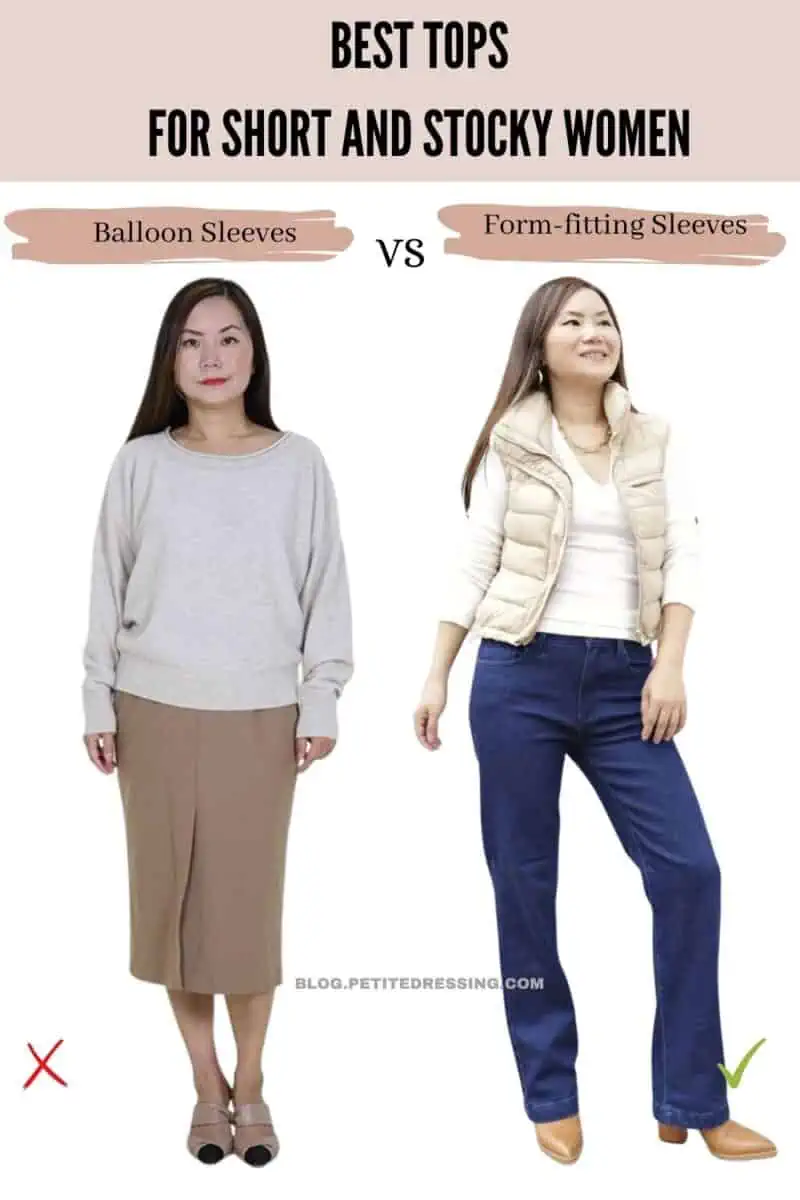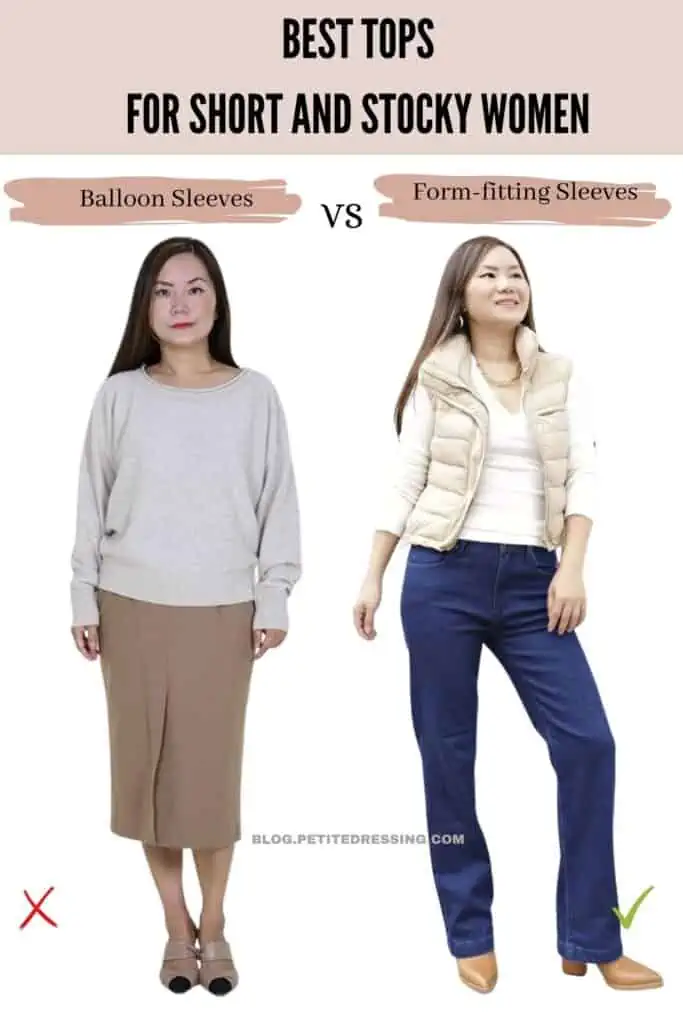 Form-fitting sleeves help create a streamlined silhouette, especially for short and stocky figures. These sleeves hug the arms without the volume of excess fabric, enhancing the natural shape and contours of the arms.
Sleeves that are well-fitted showcase the definition of your arms and they draw attention away from the midsection and create a sense of length and proportion. The sleekness of the sleeves adds a touch of elegance and ensures that the attention is not solely focused on the midsection.
Shorter arms can sometimes contribute to the perception of a shorter height and form-fitting sleeves can address this concern by elongating the appearance of the arms. When the sleeves fit snugly, they create the illusion of longer and leaner arms, which can visually elongate the upper body and add some verticality to the overall frame.
Wrap Tops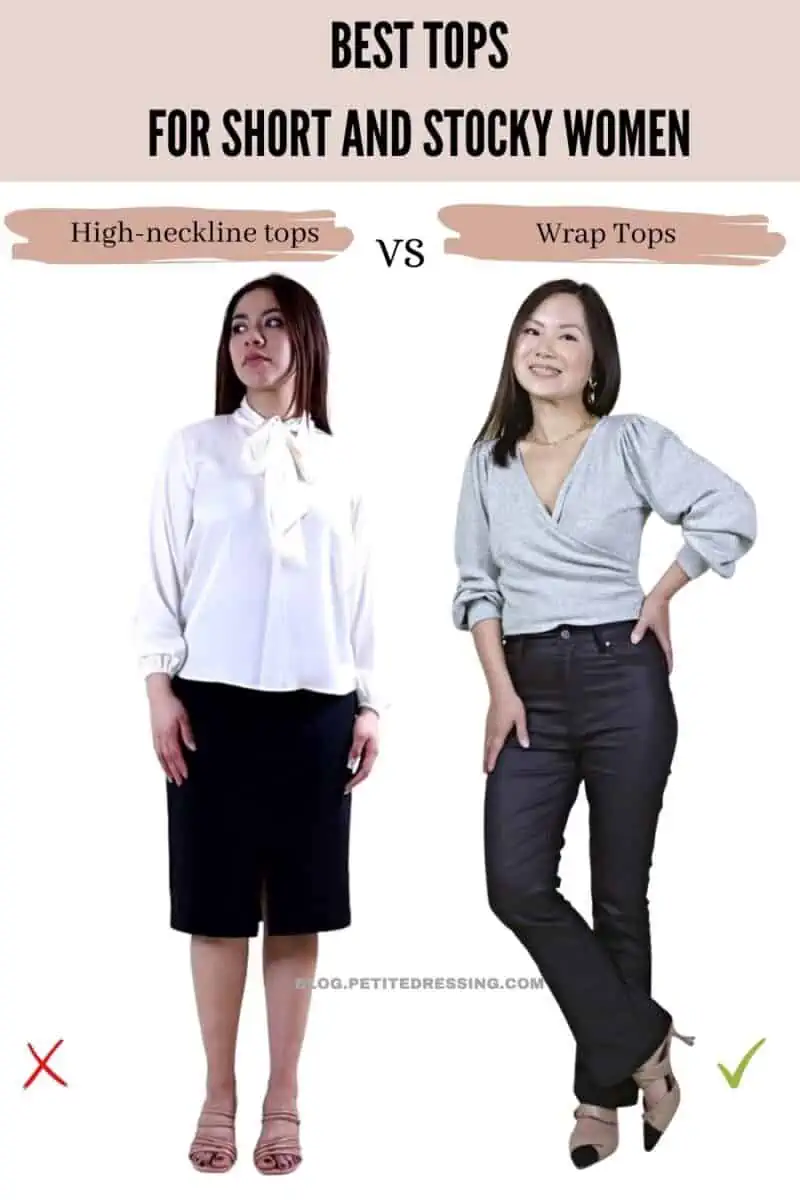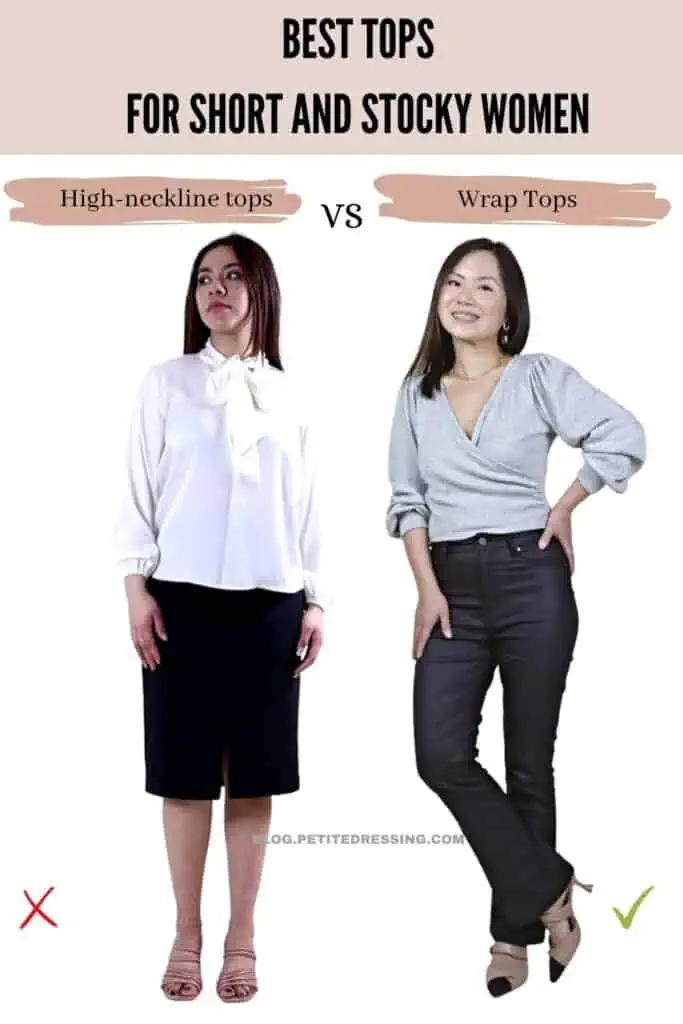 A wrap top features a front closure where one side of the fabric wraps across the body and ties or fastens at the side, waist, or back. It creates a V-shaped neckline and often accentuates the waistline – key factors in making you appear taller and slimmer.
The defining feature of a wrap top is the cinching at the waist. This creates a focal point and emphasizes the smallest part of the torso which is often flattering for those with shorter and stockier body shapes.
One of the advantages of a wrap top is its adjustable fit and since it wraps around the body and is secured with ties or fasteners, you have control over how tight or loose you want it to be. This flexibility allows you to customize the fit to your liking and accommodate any variations in body proportions for a comfortable fit.
Structured Peplum Tops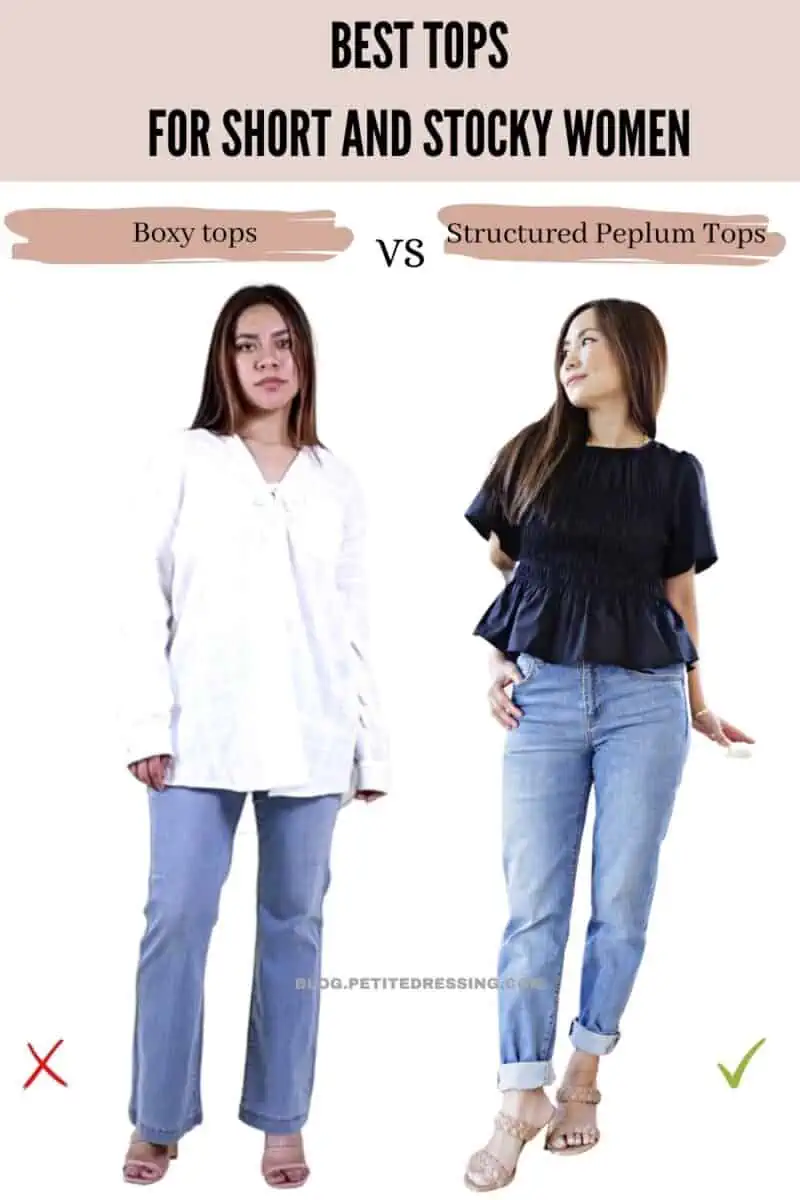 For shorter individuals with stocky frames, peplum tops can work wonders in creating the illusion of height. The flowing fabric of the peplum extends below your tummy and sits gracefully on your hips, adding length to your lower body.
Due to its structure, its elongating effect visually lengthens your silhouette, making you appear taller and more balanced. The clever design of these garments, hugging your chest and waist, works in your favor to create a slimmer and more proportionate appearance.
By cinching at the waist, peplum tops emphasize the narrowest part of your torso, accentuating your curves and creating the illusion of a well-defined waistline.
Chiffon Empire Waist Tops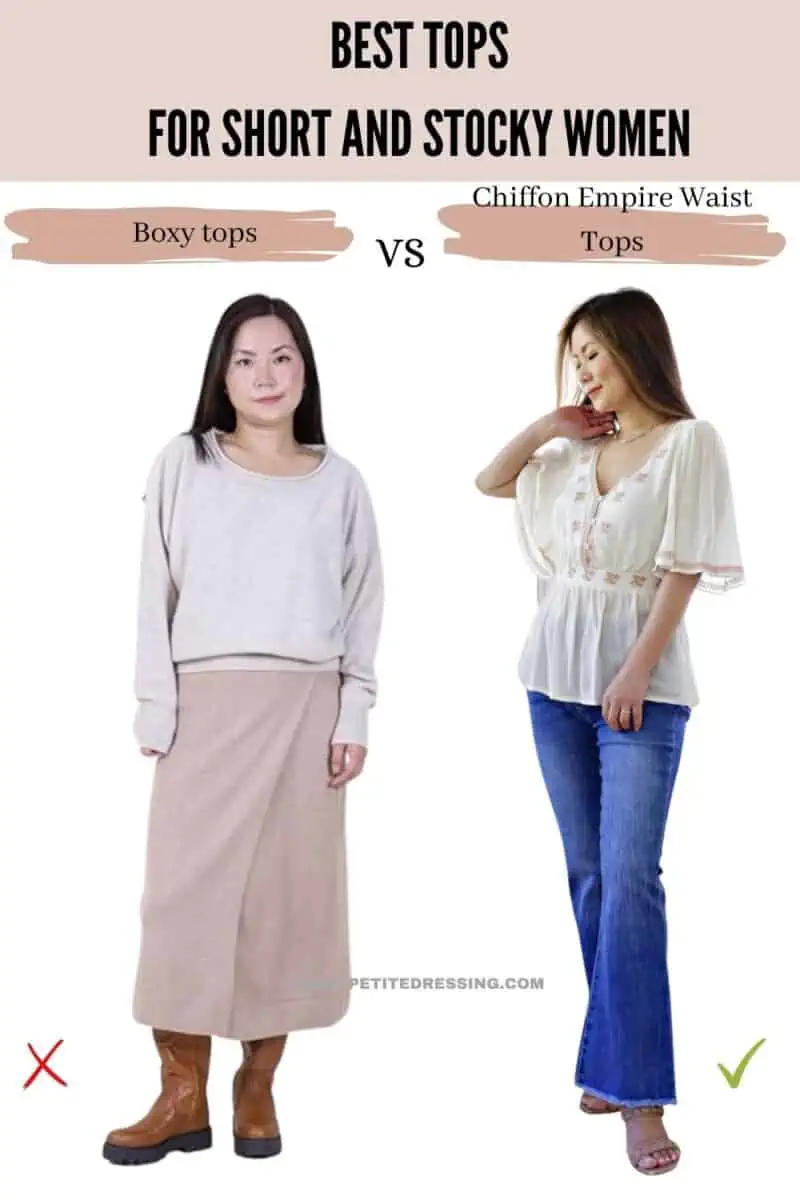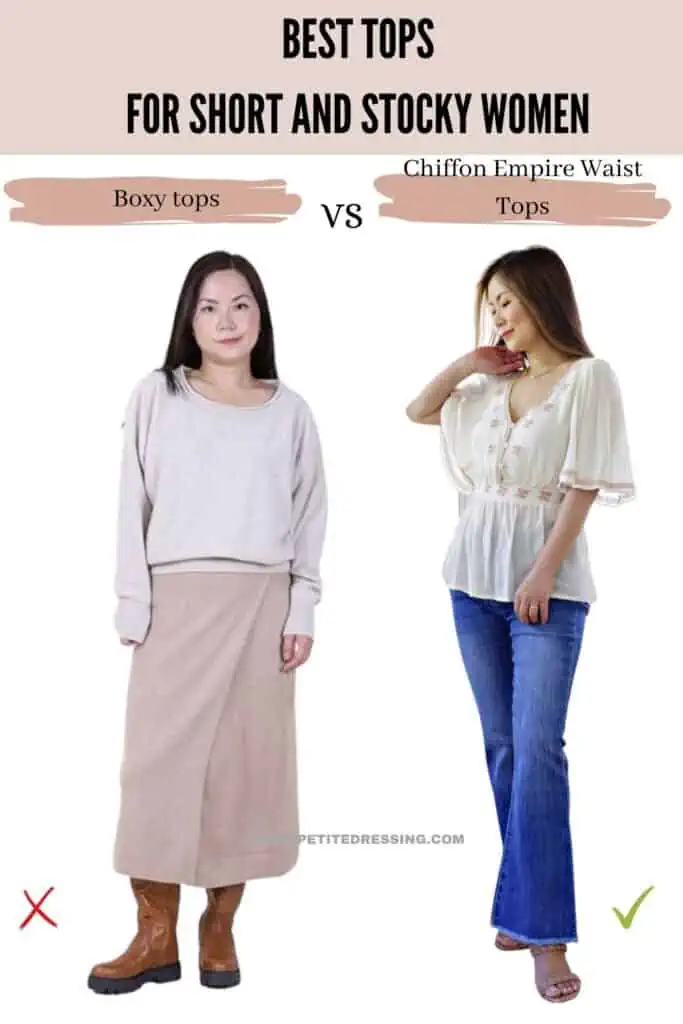 Empire waist tops have a high waistline that sits just below the bust, creating a natural-looking division between the upper body and lower body. This higher placement draws the eyes upward and elongates your overall frame which makes you appear taller and more slender.
The chiffon fabric, known for its lightweight and flowy nature, adds to this elongating effect, giving the illusion of a longer silhouette. With its soft drape and fluidity, doesn't cling tightly to the body, creating a forgiving and flattering fit as well as also provides a comfortable and breathable option that allows you to move with ease and confidence.
The empire waist design gently skims over the midsection, allowing the fabric to fall gracefully over any areas you may be self-conscious about. Additionally, empire waist tops often feature a fitted bodice that accentuates the bust to enhance your figure's assets.
Tailored Button Down Shirts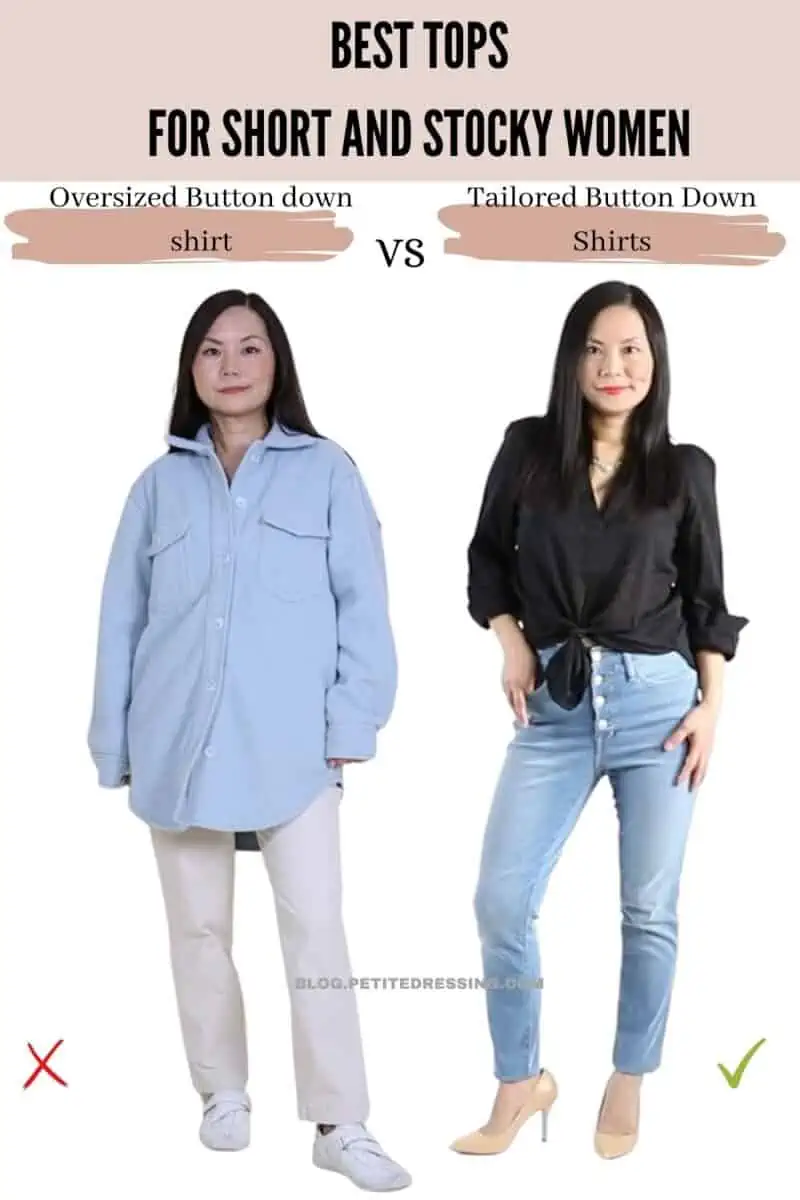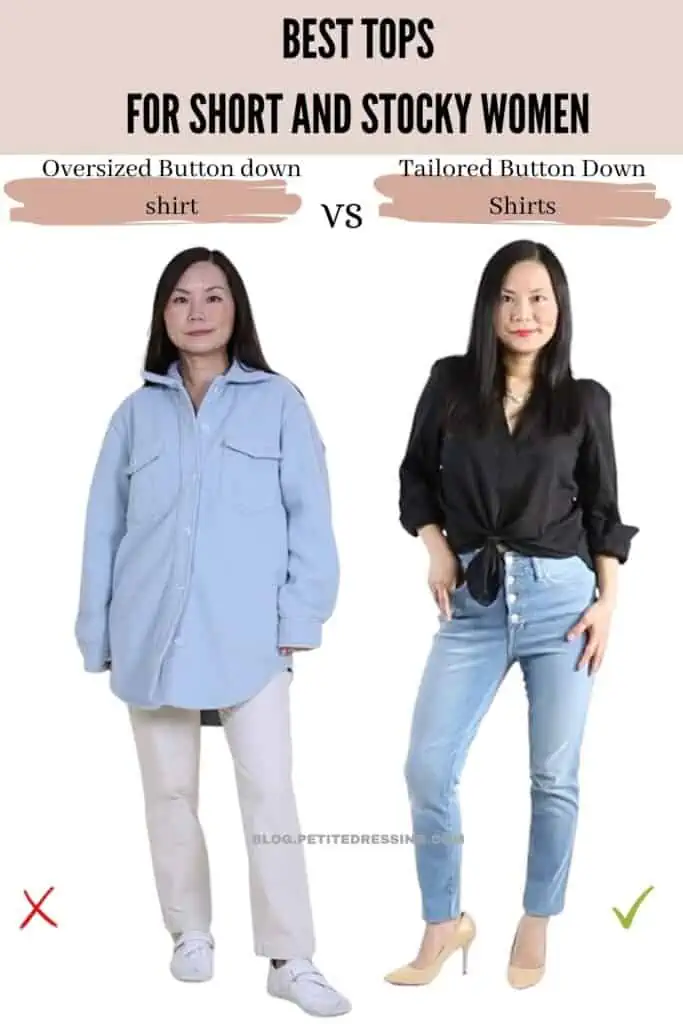 A tailored button-down shirt is a classic and versatile garment that is carefully constructed and fitted to provide a polished and structured look. It is typically made from high-quality fabrics and features precise stitching, shaping darts, and a tailored silhouette which is why it's a great option for short and stocky body shapes.
The tailored construction of the shirt creates a defined structure that helps to streamline and shape the body to minimize your figure's broadness. It is designed to fit closely to the body without being too tight, emphasizing your natural feminine contours.
Another good thing about this style is that the vertical lines formed by the button placket and the collar of the shirt create a visual elongation effect. These lines draw the eye upward, directing attention away from the midsection and toward the face and upper body.
Avoid Chunky Turtleneck Knit Tops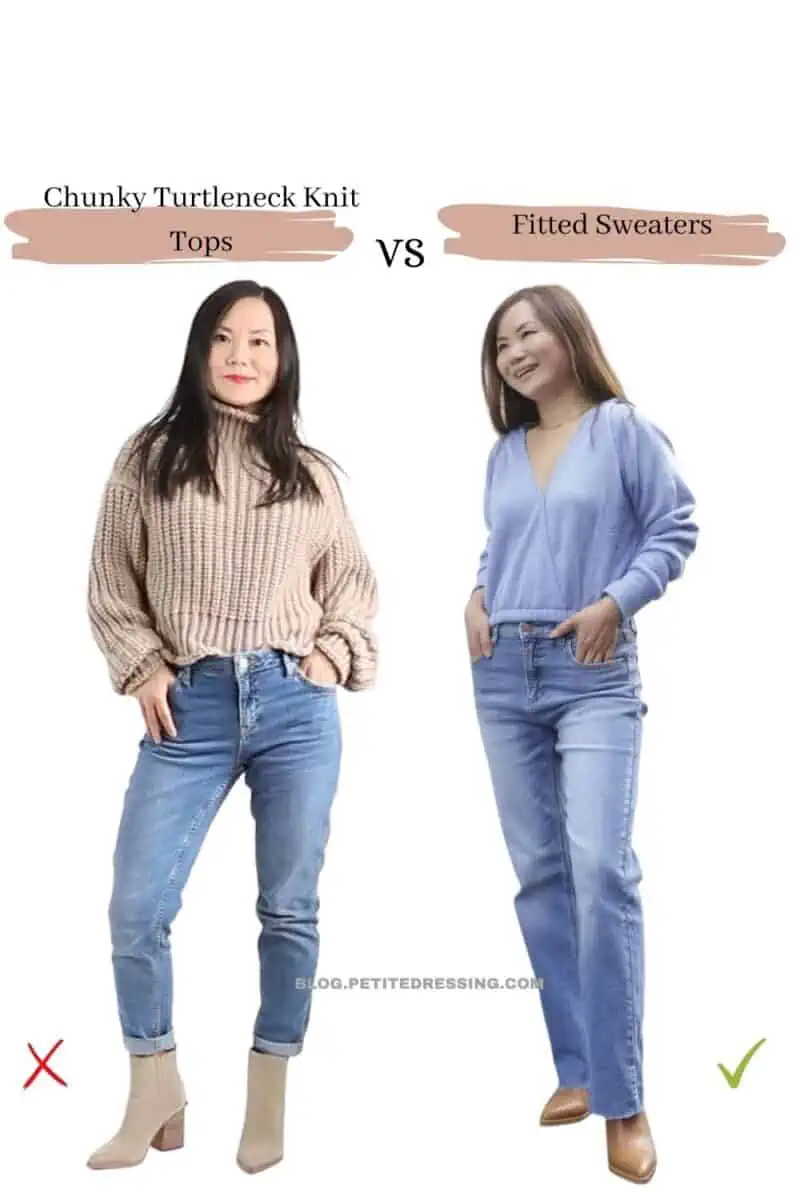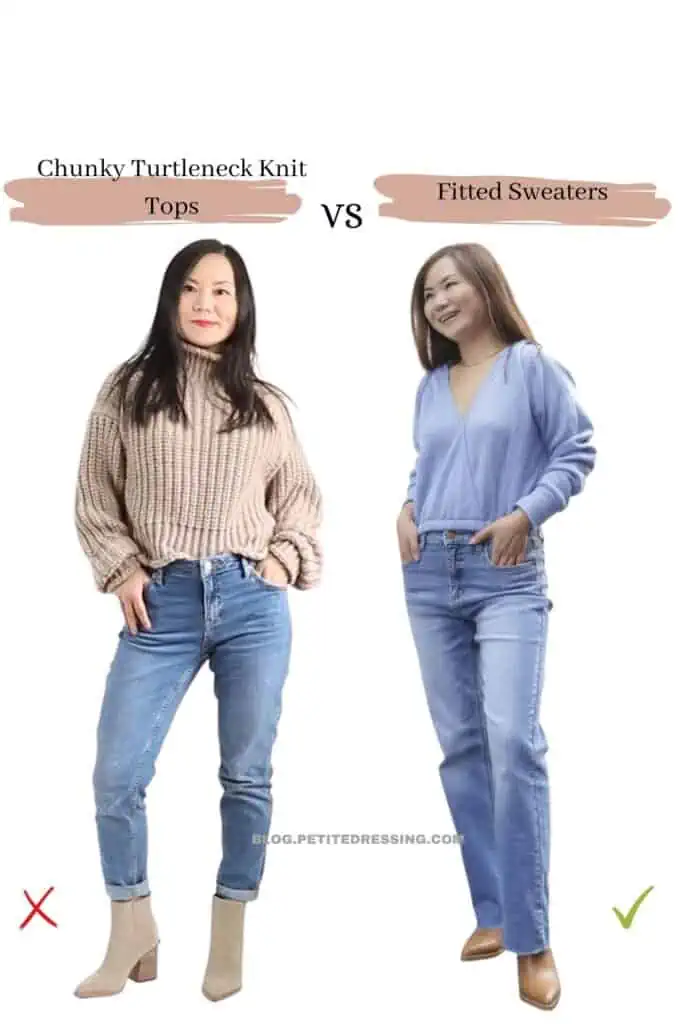 The last thing you'll ever want for your short and stocky figure is to make you look even stockier! This is what exactly chunky turtleneck knit tops can do to you as it easily adds bulk and volume to your figure.
Yes, they are comfy and cozy – perfect to warm you up in colder seasons. However, chunky knits not only add bulk to your frame, but closed necklines such as turtlenecks can severely cramp up your upper body resulting in a heavier-looking figure.
As an alternative, you can work around layering your clothes to add warmth and maybe even try accessorizing with a cozy scarf instead of wearing a turtleneck. You can also try tops that are made in warmer fabrics but are not too chunky such as fleece, cashmere, or even leather.
The Key Takeaway
Being short and stocky can really make it difficult for you to choose proper tops that are both comfy and flattering. Many would resort to clothes that are too loose just to cover up their figure but that's never the best way to do it!
I hope that after reading through this style guide, it'll be much easier to choose the best tops to suit your gorgeous figure!