If you have thick thighs, choosing the right skirts is important to elevate your style. Having bigger thighs means you have a feminine curves, but it can make also make you come across as bottom heavy.
A-line skirts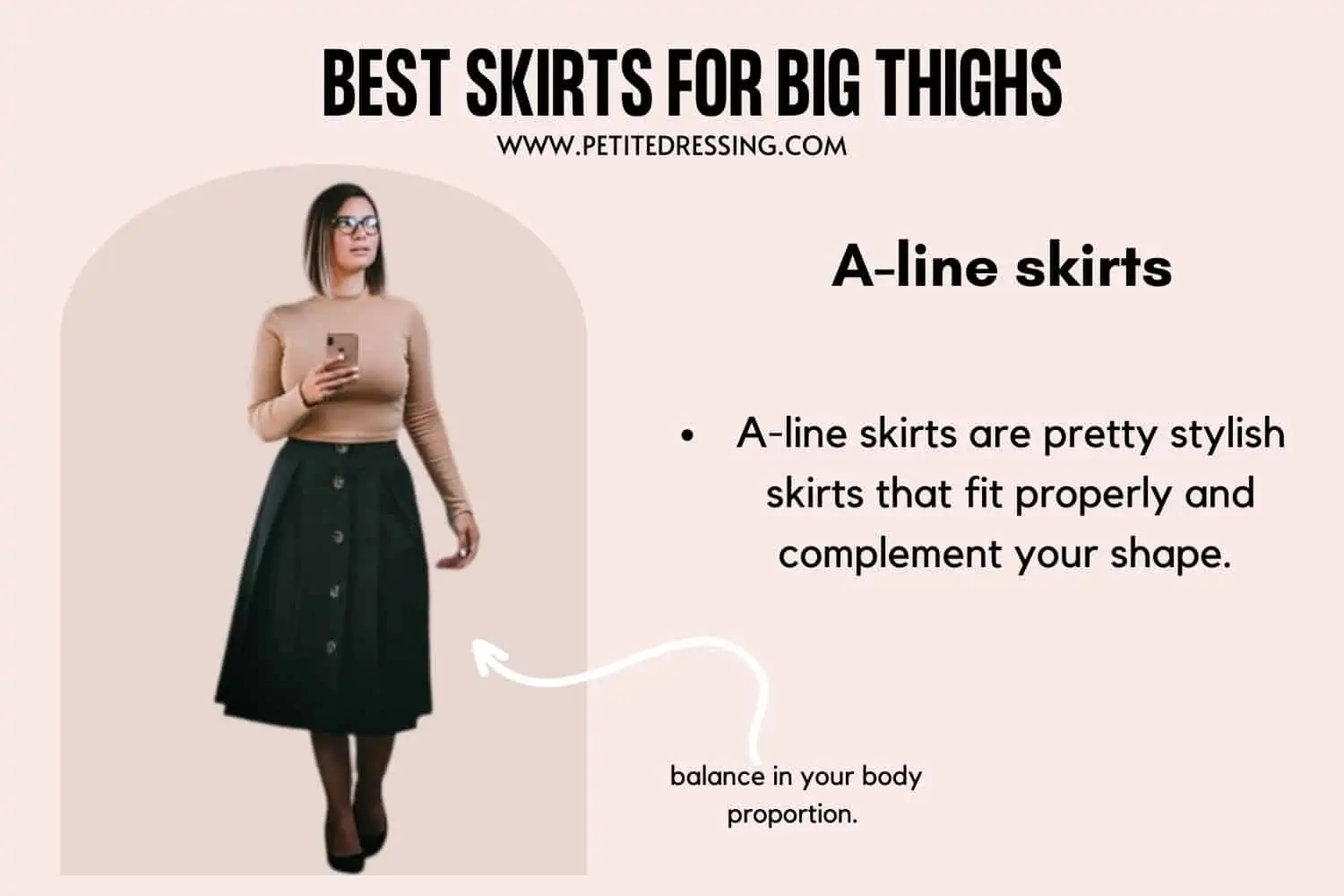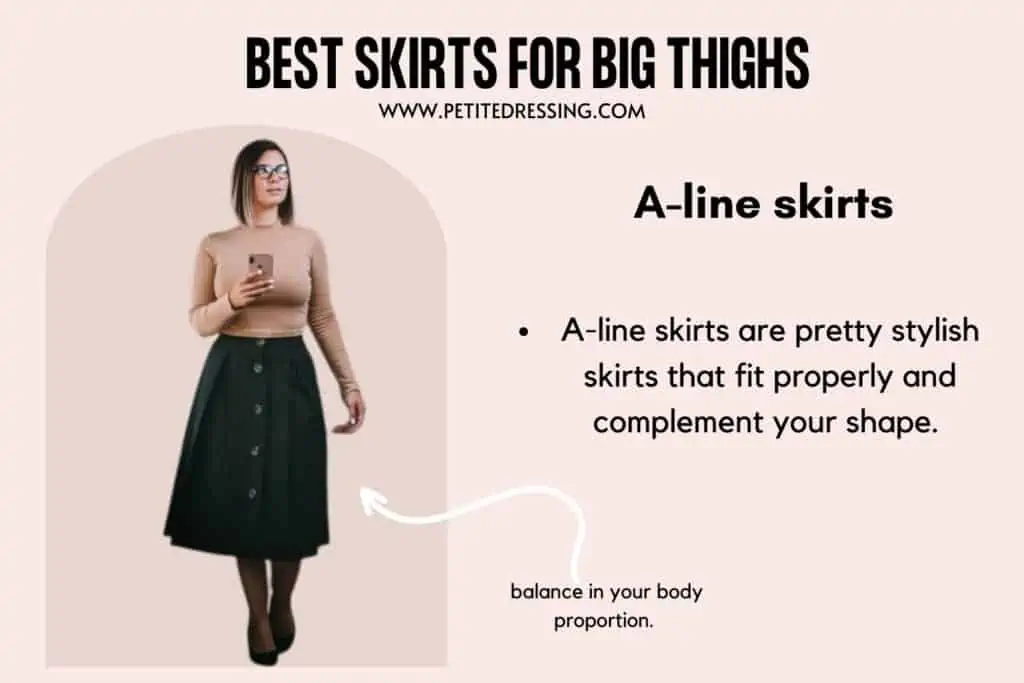 This type of skirt has a waist-narrowing effect because it fits at the waist with a slight flare that runs toward the hem. It is a structured skirt that helps to conceal the width of the thighs.
A-line skirts are pretty stylish skirts that fit properly and complement your shape. It is an amazing silhouette that is very comfortable in enhancing your body frame without having to add volume to your big thighs.
You can most certainly boost your confidence by wearing an A-line skirt on your big thighs because they have a design that works perfectly for your shape. Style them with the right top so you can attain a balance in your body proportion.
Wrap skirts
Another essential skirt that can be universally flattering on any shape, especially on a woman with big thighs is the wrap skirt. They are an exquisite wardrobe essential that is timeless and classy for your figure.
Wrap skirts are very fashionable and some have belts attached to them to help cinch in the waist appropriately. They are not tight on the body and would most often offer comfort to your feminine figure.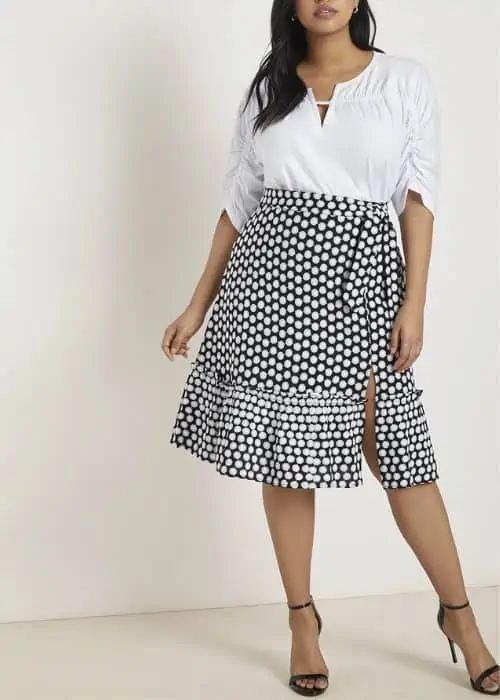 why you should opt for Wrap skirts
They are always on trend because of the simplicity and class definition they offer your frame.
Wrap skirts are highly recommended skirts encouraged for you to jump on when choosing skirts that would suit your big thighs.
Well tailored skirts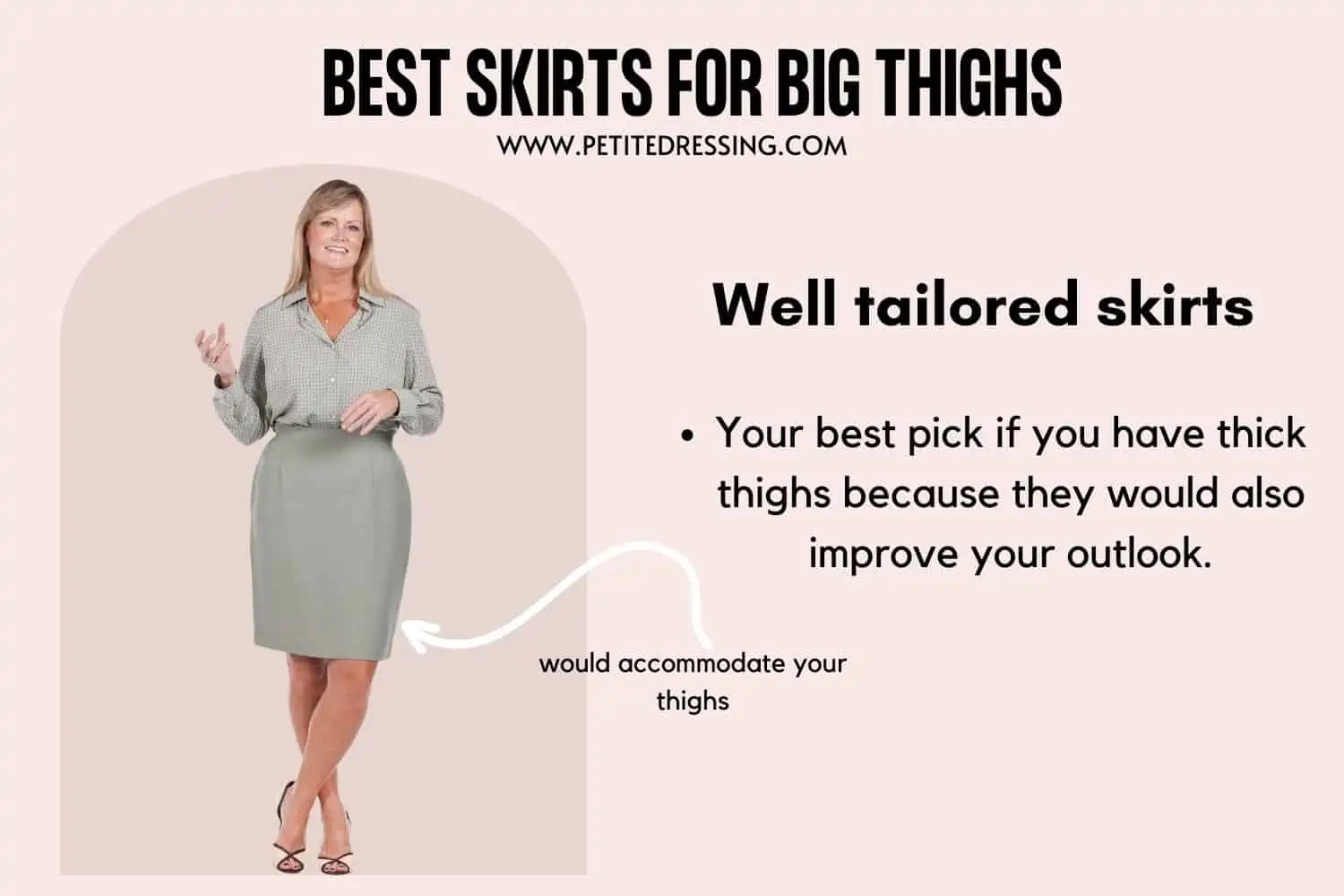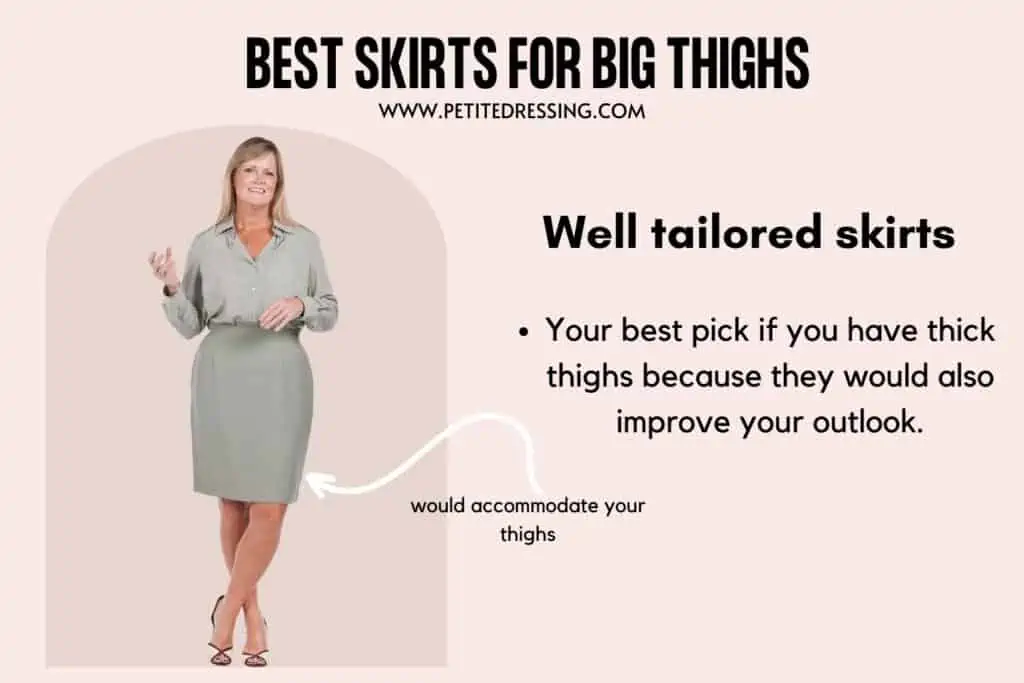 Any figure can be beautifully accentuated with a skirt that is well tailored and this is simply because they were made using the right measurement. This sort of skirt would accommodate your thighs without making them appear too thick.
Well-tailored skirts would not make you shapeless and would properly cinch your waist so you do not appear oversized of undersized in them. If your measurements are well taken before going to make purchases, you would feel less troubled when purchasing skirts for your shape.
These types of skirts should be your best pick if you have thick thighs because they would also improve your outlook.
Skirts with vertical stripes
If you intend to conceal your big thighs with a striped skirt you should opt for a vertical striped pattern. Skirts with vertical stripes are very efficient in slimming your figure and adding extra length to your body frame.
They uplift the general appearance of a woman with big thighs because they move the eyes upwards and downwards.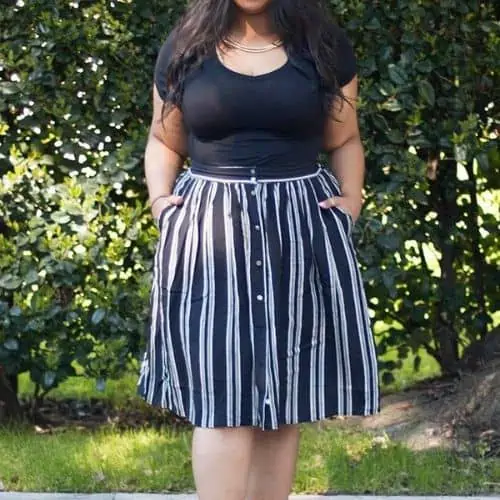 How to choose a striped skirt
A vertically striped skirt should be a better preference than the horizontal striped patterns because the latter would add more width to the thighs.
A horizontal striped skirt would create a visual imbalance to the figure of a woman with big thighs so it is best to choose those skirts with vertical stripes.
High low skirt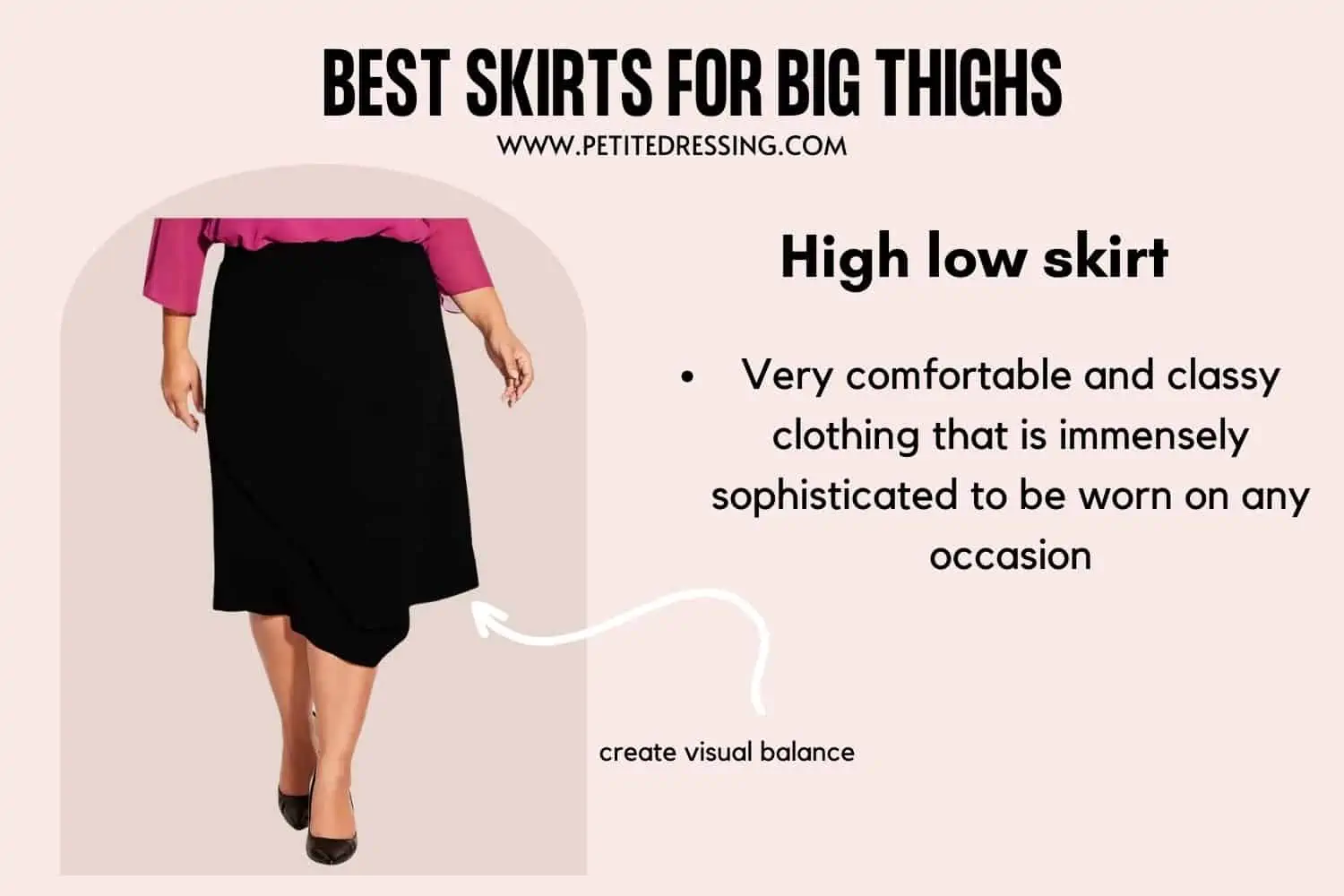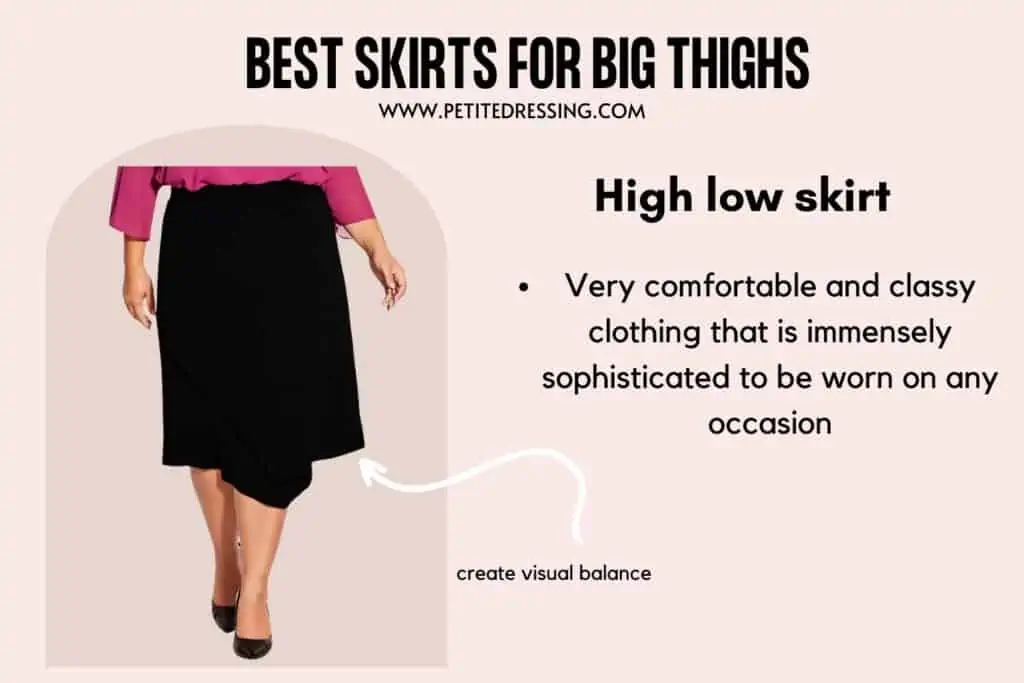 The high-low skirt is an asymmetrical skirt with a length that is higher at the back than at the front. It is a better way to create visual balance in the figure of a woman with big thighs.
They are a great piece of clothing to wear for a perfect summer appeal because they are not only stylish but also flattering. They are versatile and can be styled to suit your figure and as such you most definitely cannot go wrong in opting for them.
The high-low skirt is very comfortable and classy clothing that is immensely sophisticated to be worn on any occasion. Make them one of your favorite skirt pieces because they would make you appear elegant and sophisticated.
Mermaid skirt
The mermaid skirt is yet another way to appear attractive for any occasion if you have big thighs especially when styled with the right top. Your shape is retained and the thighs are nicely accentuated without you losing balance in your body proportion.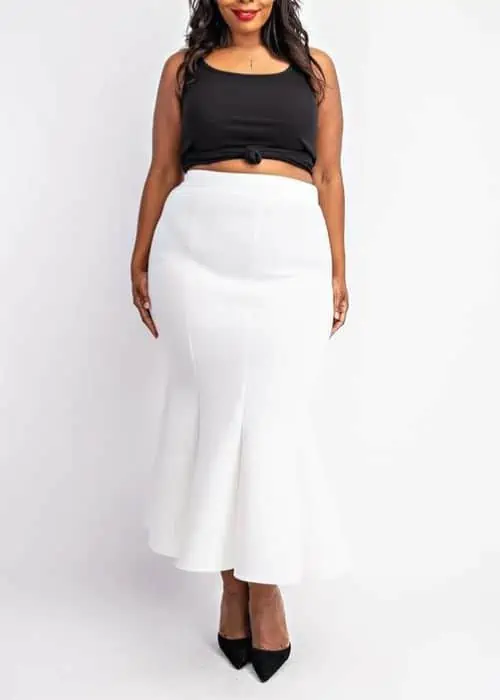 Mermaid skirts are a must-have
Mermaid skirts are very beautiful styles that are edgy and stylish for your big thighs.
They also add a leg-lengthening effect to your frame instead of making you look cropped.
This skirt design can help you achieve elegance in simplicity so you would not have so much to worry about your shape.
Dark colored skirt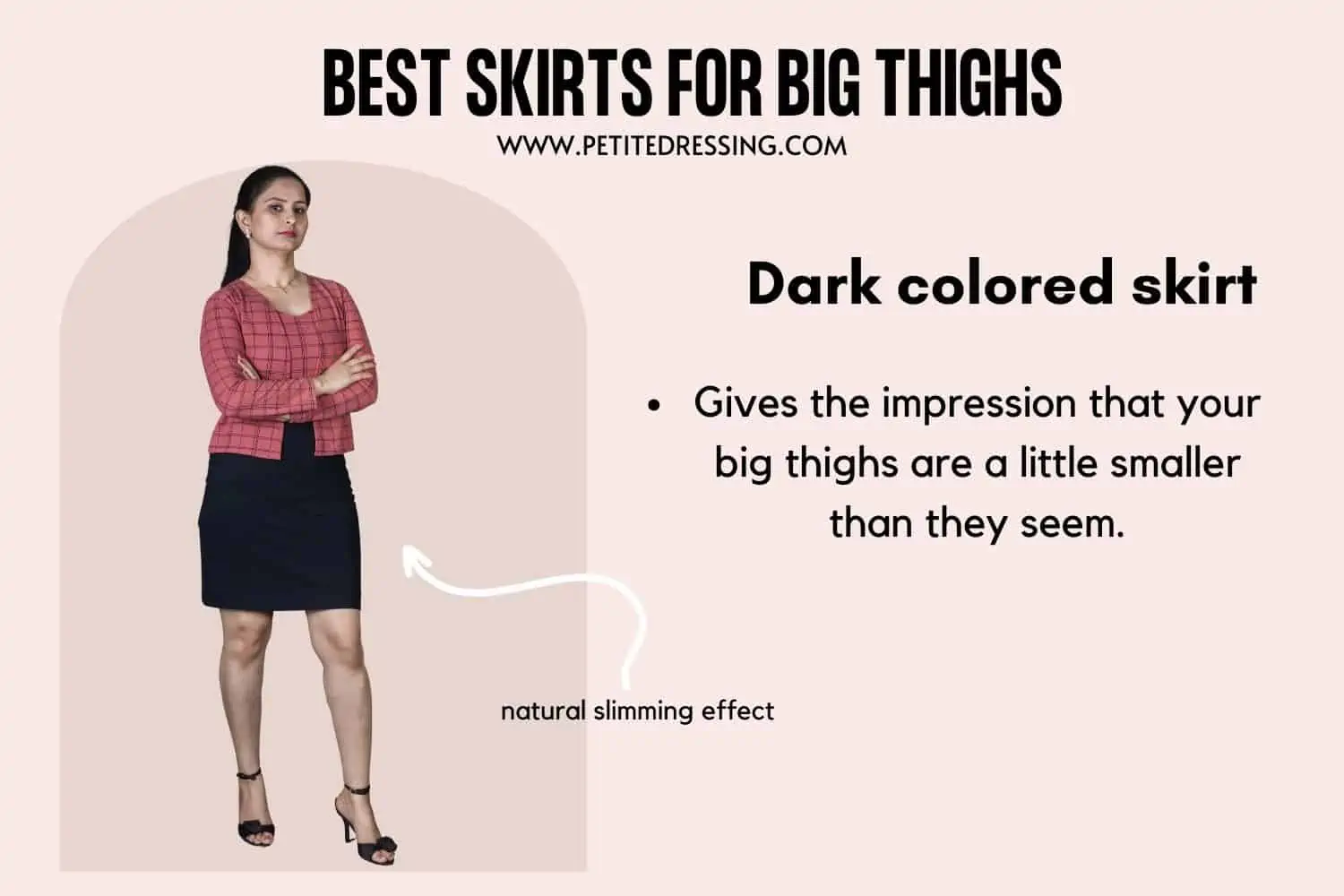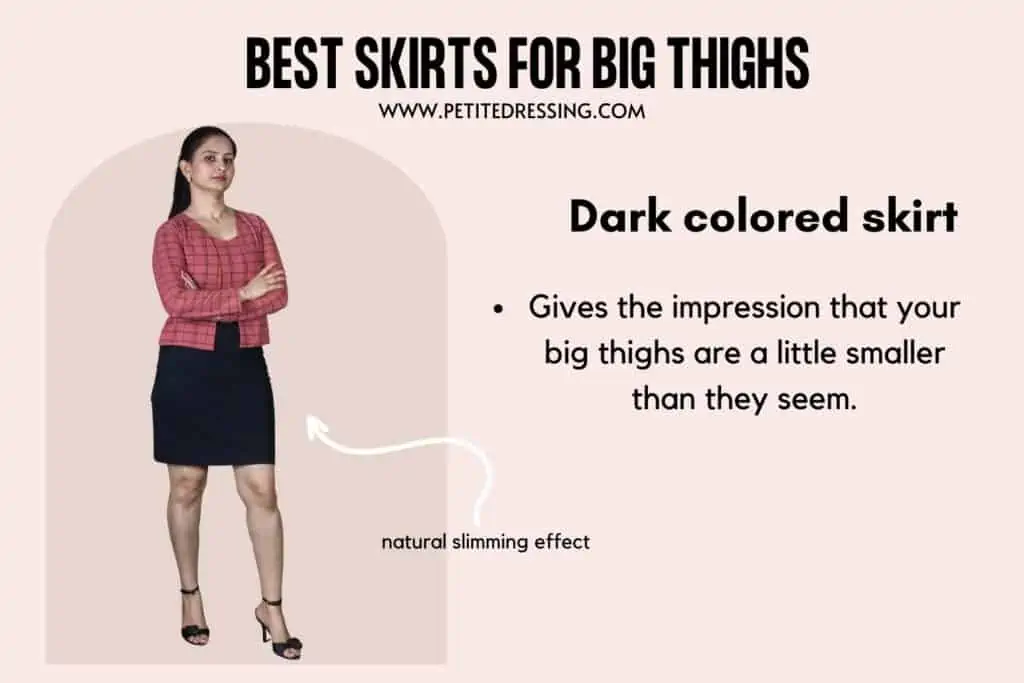 One of the most recommended skirt colors for big thighs is the dark-colored skirt and this is simply because of its natural slimming effect. A dark colorhttps://blog.petitedressing.com/thick-thigh-pants/ed skirt on your figure automatically gives the impression that your big thighs are a little smaller than they seem.
There is also a feel of class that the dark-colored skirt gives that makes you feel elegant and grandeur. It is one of the best colors among others that help you appreciate and own your shape.
You can never go wrong with a dark-colored skirt on your big thighs so choose them in preference of bright-colored skirts. Bright-colored skirts are not suitable to enhance your figure in an edgy and stylish manner.
Flared skirt
It is a simple skirt that cinches at the waist and flares outwards at the bottom to help you conceal your big thighs from peering eyes. Flared skirts give the illusion that you have a tiny waist and this is also a way to divert attention from your lower half.
Flared skirts are very beautiful and simple skirts that can be rocked in various ways to suit any occasion. They help you move freely and would not make you look shapeless or voluminous around your bottom.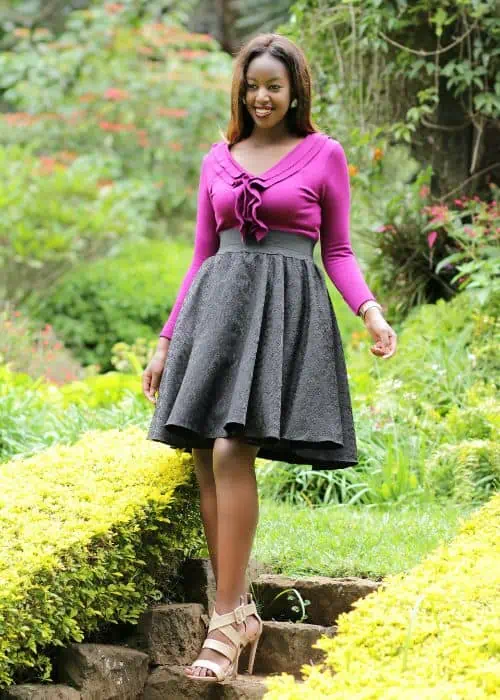 How to choose a Flared skirt
A flowy flared skirt is very comfortable and offers a different edginess to your complete outfit so you do not have to be super conscious about your big thighs.
It is a feminine piece of clothing that is elegant and suitable to improve your look.
Avoid bodycon skirts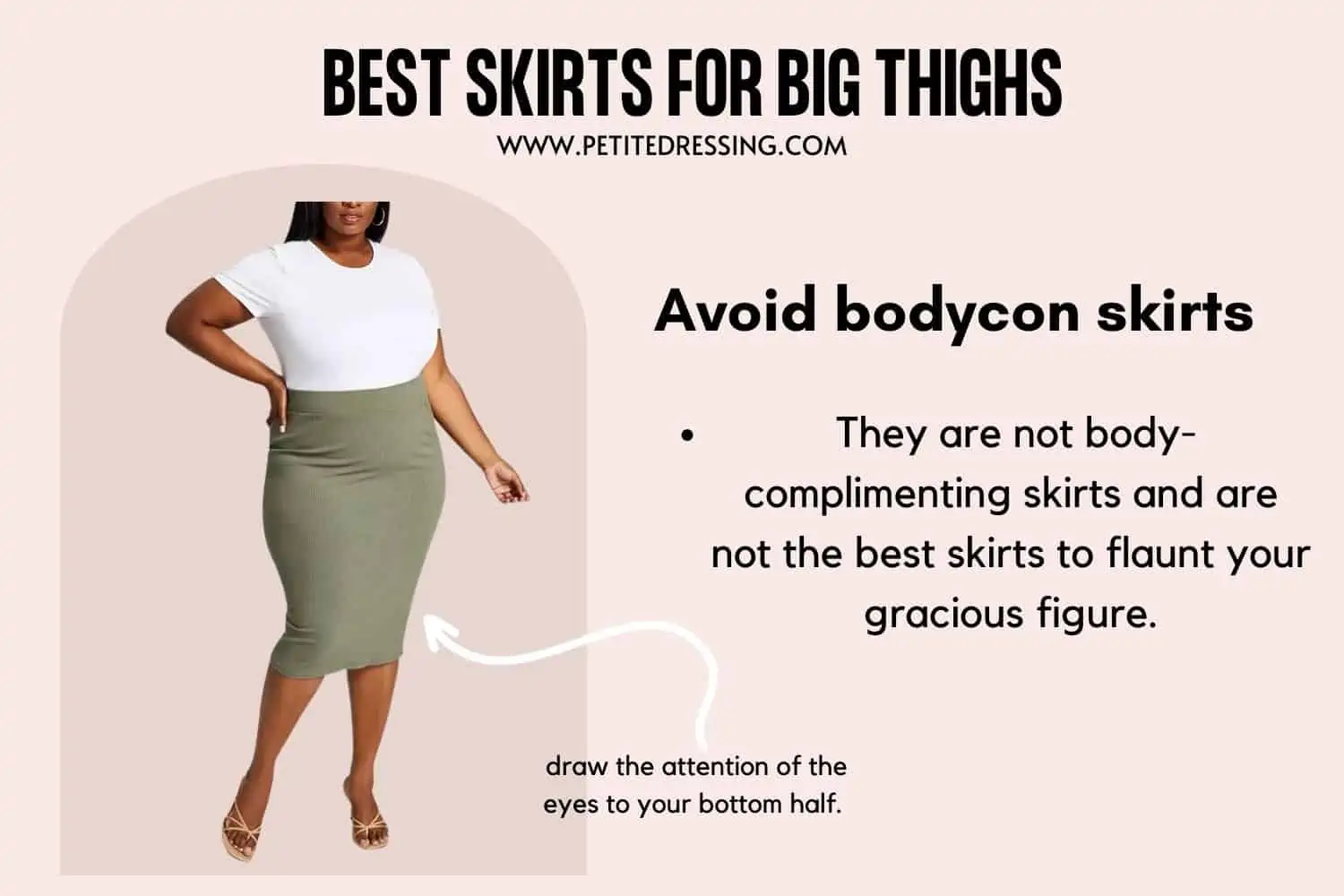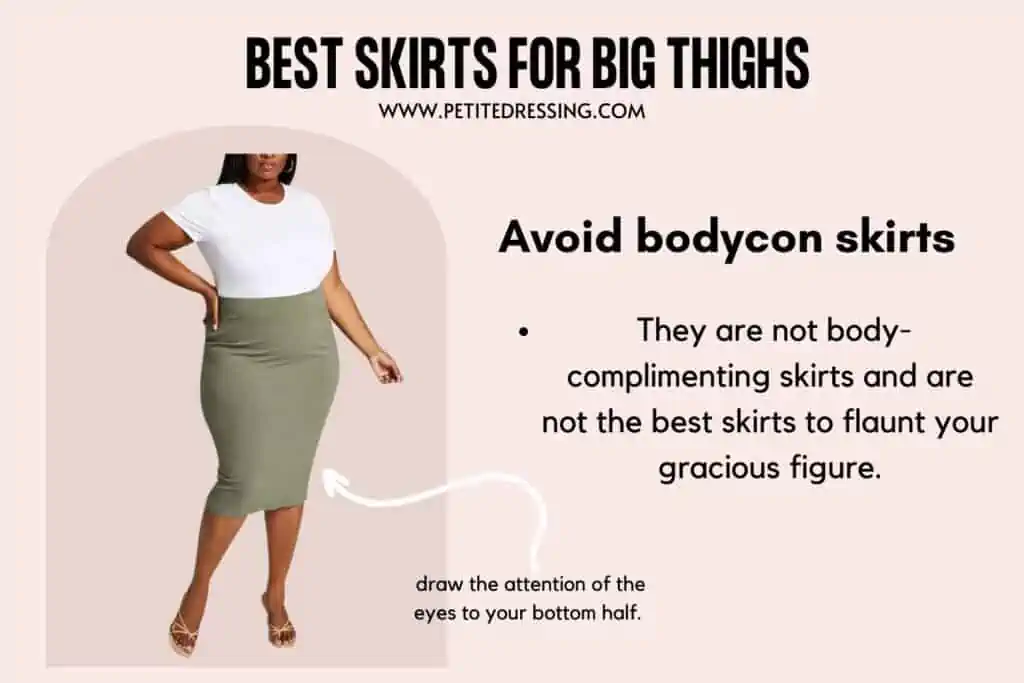 Bodycon skirts are figure-hugging skirts that highlight the actual shape of your body and draw the attention of the eyes to your bottom half. They are not body-complimenting skirts and are not the best skirts to flaunt your gracious figure.
Bodycon skirts are tight and would not offer you the ultimate comfort desired for your body shape. They are also considered sensuous looking skirts that could assume more width for your big thighs.
Avoid bodycon skirts because they are not the perfect skirt choice for your overall figure. It is not recommended to be a part of your wardrobe staple so do not purchase them if you have big thighs.
Avoid mini skirt
Exposing your big thighs by wearing a mini skirt is not fanciful so do not wear them. Mini skirts are designed to extend above your knees and give the illusion of longer legs to your body frame.
If you do not intend to feel less comfortable in your outfit, then it is best to avoid purchasing and wearing the mini skirt. Do not make them a wardrobe essential because they would not flatter your figure and conceal your concerned area.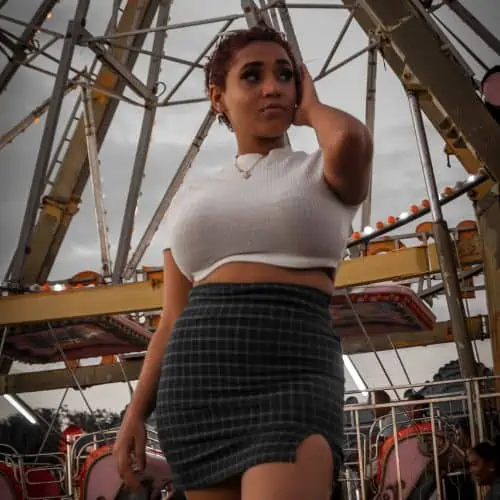 Mini skirts is a no-no
Wearing them would make you appear taller but would emphasize the width of the thighs by making them noticeable to the eyes.
You should not attempt to use a mini skirt to attain balance in your figure if you have big thighs.
Avoid pencil skirts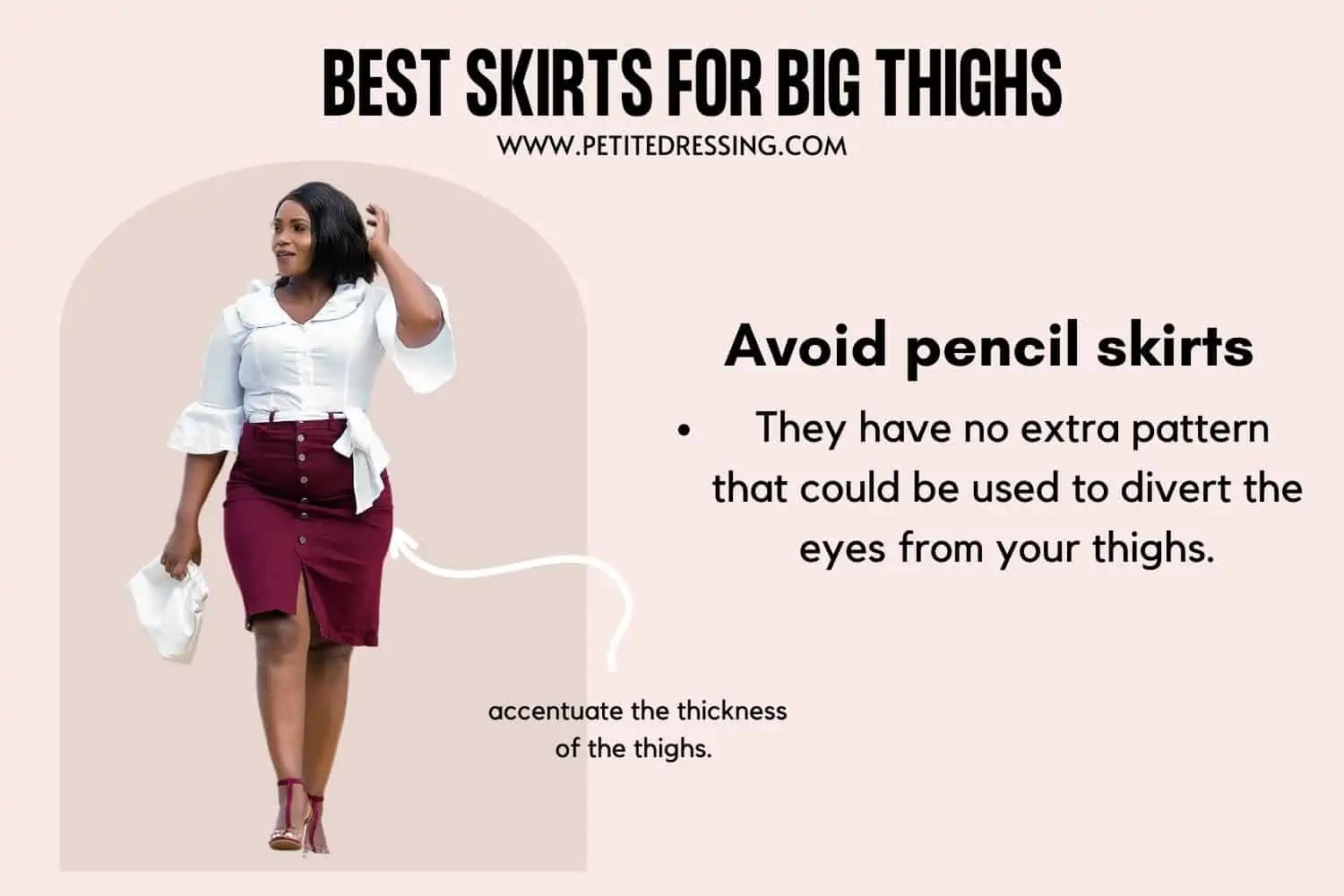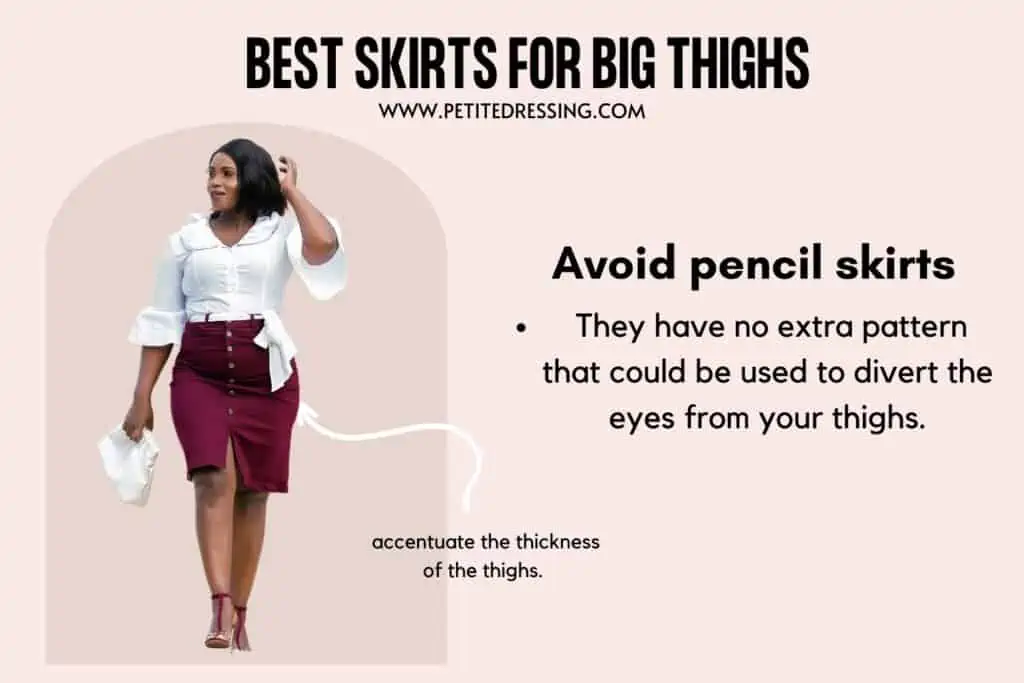 This straight-cut skirt is not a perfect skirt for a woman with thick thighs because they have no extra pattern that could be used to divert the eyes from your thighs. Do not make pencil skirts a favorite skirt choice for your bottom half because they would accentuate the thickness of the thighs.
Avoid tiered skirt
The thought of wearing a tiered skirt should be ruled out of your fashion styling list because it features layers of fabrics that would add volume to your thighs. Your big thighs do not require skirts that would maximize their width so avoid the tiered skirt.
You cannot properly flaunt your figure with a tiered skirt because they are not the best designs to elevate your body frame. They are not the perfect stylish skirts that are used to flatter your feminine figure.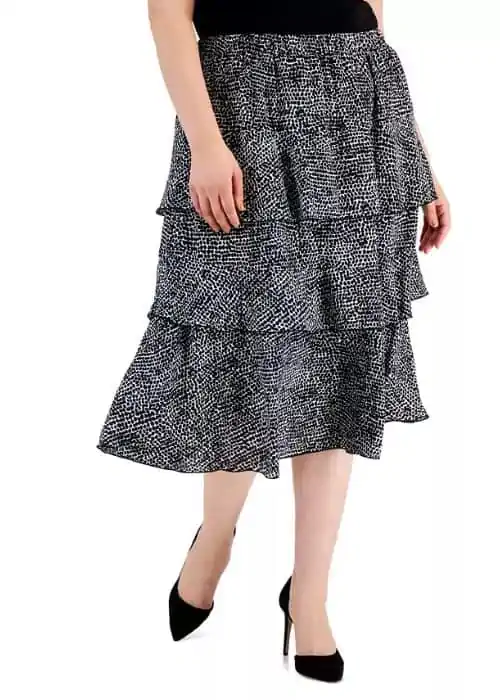 Why you should not opt for tiered skirts
The layers in the skirt run down and no length of the tiered skirt would properly flatter your figure so exclude them from your wardrobe staple.
Tiered skirts are flouncy skirts that would not give you a structured shape because of the volume it was designed to offer to the body.
Avoid skirts with bold patterns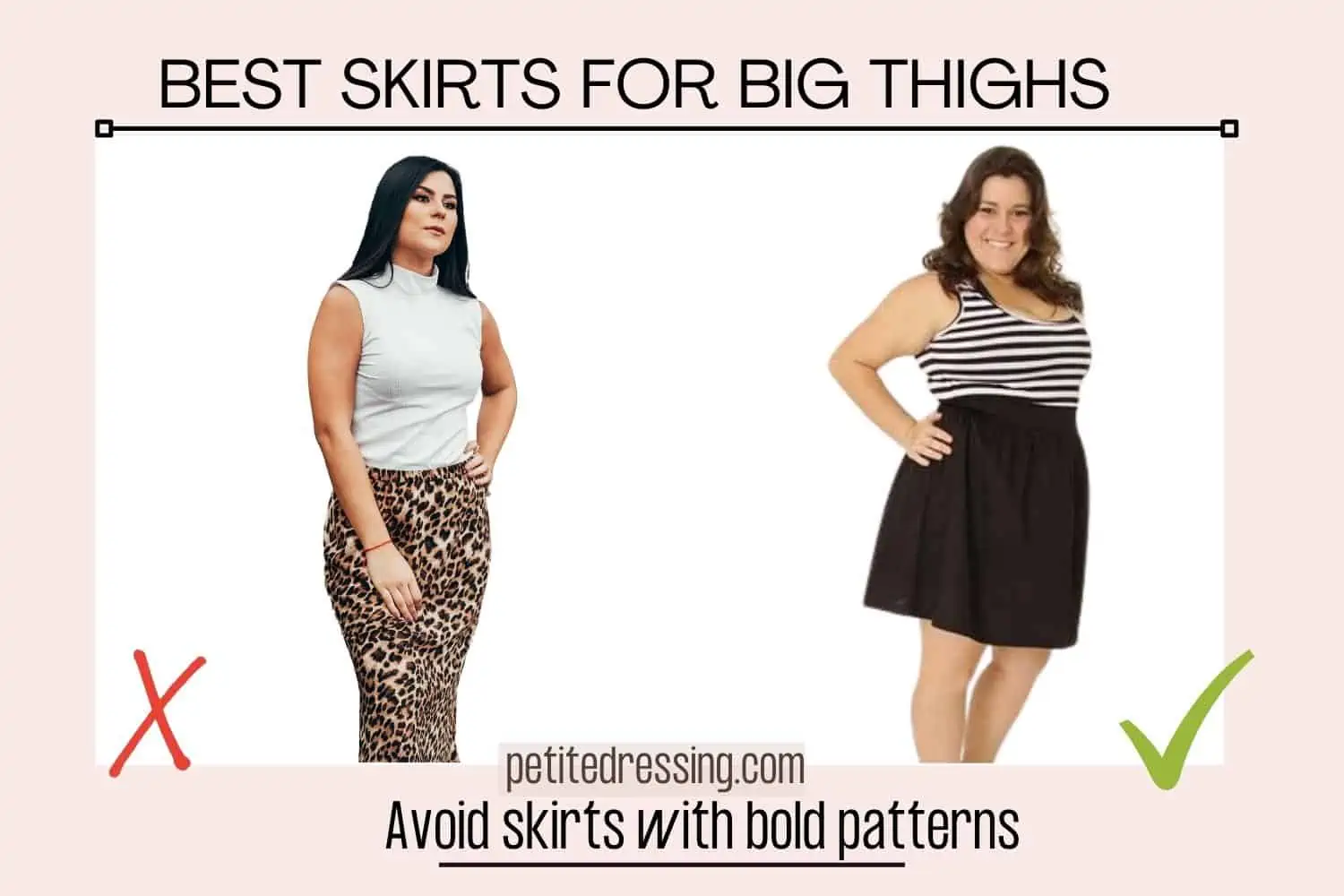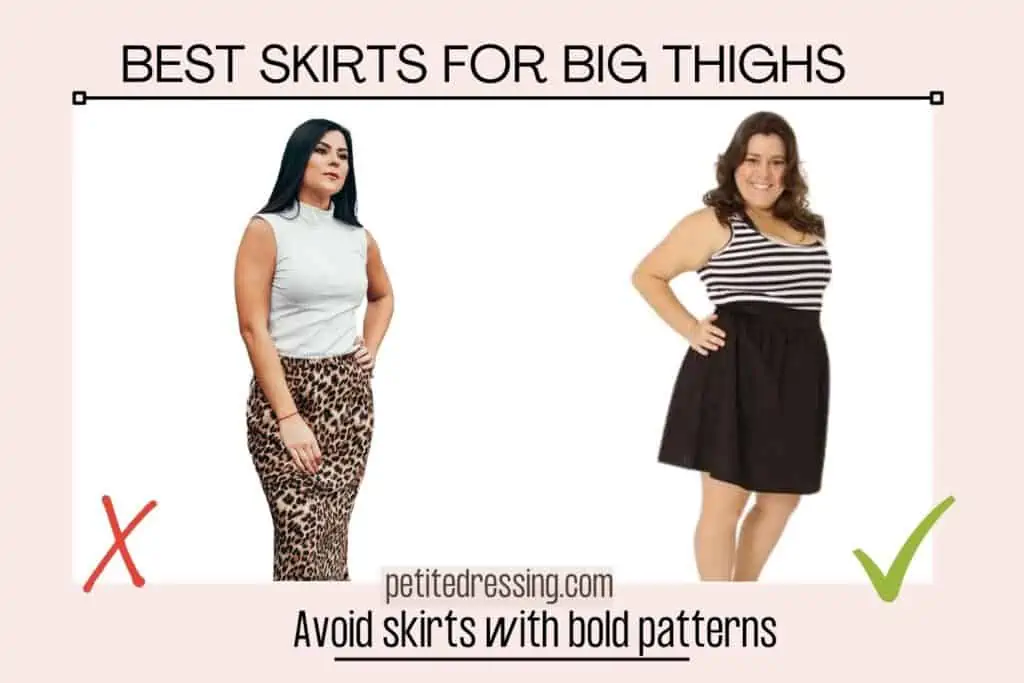 Patterns are very beautiful on fabrics and that is why it is important to avoid choosing skirts with bold patterns if you have big thighs. They would focus the eyes on your bottom half and make you lose the confidence necessary to own your figure.
Bold patterns are seen as attention seekers for any body shape and would accentuate the big thighs in an undesirable way. Your tops should most preferably have bold patterns instead of skirts as that's the best way to achieve balance in your figure.
Avoid working bold patterned skirts into your looks no matter how trendy they may appear to be. The best way to rock patterns on your bottom half is by wearing a smaller sized patterned skirt.