Are you a short and curvy woman who is tired of trying swimsuits that don't look flattering on you?
We understand how frustrating it is when you want to go for a swim but can't find any bathing suit that looks good on your petite curvy figure.
That's why we have a complete guide for swimsuits for short and curvy women. In this guide, you will learn how to conceal the parts you don't want the attention on and how to emphasize your curves. You will also learn to make your legs and torso look taller. So, let's dive right in!
What to look for
Finding the right swimsuits when you are petite and curvy can be difficult. You want something that flatters your unique body type. Going for swimsuits that make your torso or legs look further shorter is going to ruin your whole look.
Here's what you should be looking for while choosing a swimsuit if you are short and curvy: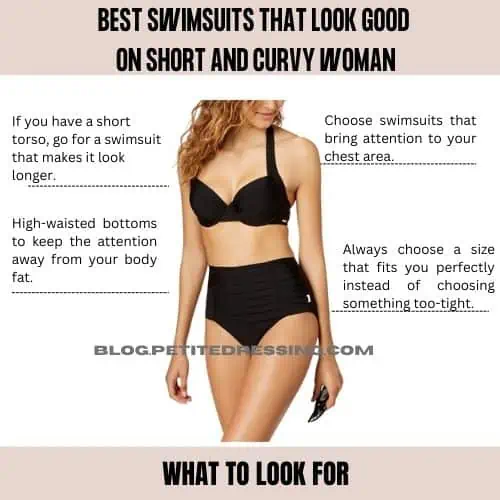 If you have a short torso, go for a swimsuit that makes it look longer.
Choose swimsuits that bring attention to your chest area.
Go for designs that make your waist smaller so that you can achieve a curvy hourglass body silhouette.
Choose high-waisted bottoms to keep the attention away from your body fat.
Always choose a size that fits you perfectly instead of choosing something too-tight. Tucking your curves into a tight and small-sized swimsuit is going to be torture. It won't look flattering at all.
Now, let's check out some designs of swimsuits that look good on short and curvy women!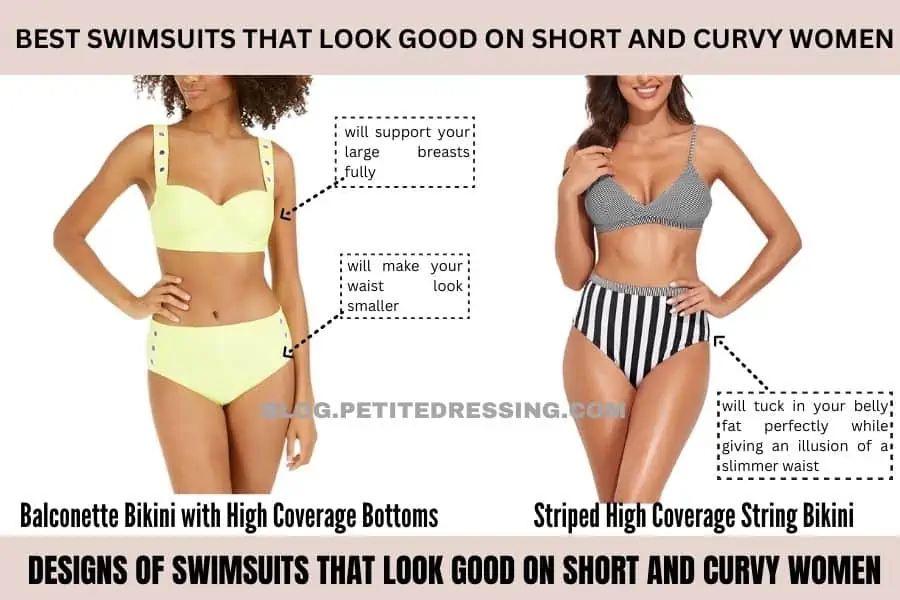 Balconette Bikini with High Coverage Bottoms
High-coverage bottoms are your best friend if you are a curvy woman. Wearing thin line-sized bottoms isn't flattering as it barely covers anything for plus-sized women. They bring all the attention to your body rolls instead of making you look gorgeous.
The floral design is perfect for summertime. Whether you need it for a vacation or a random summer swim, such a swimsuit will make you look amazing. The floral pattern also diverts attention from your rolls.
Balconette bras are for every woman that wants to flaunt her chest area. And that's exactly what a short and curvy woman should be doing.
The balconette-style bikini will support your large breasts fully. The high waist and high coverage bottoms will make your waist look smaller. This way you will achieve an hourglass figure.
With this swimsuit, you will feel confident and beautiful in your body.
Striped High Coverage String Bikini
Stripes, triangle bottoms, and string design – that's a dream swimsuit for short and curvy women. Go for a design with horizontal stripes. The bottoms will tuck in your belly fat perfectly while giving an illusion of a slimmer waist. It is a common style that Ashley Graham wears often.
The best thing about string bikinis is that you can adjust the size according to your comfort. This allows you to keep your chest at a suitable angle that makes you feel confident. You won't have to worry about your tummy rolls sticking out of the bikini while sitting down with such a swimsuit.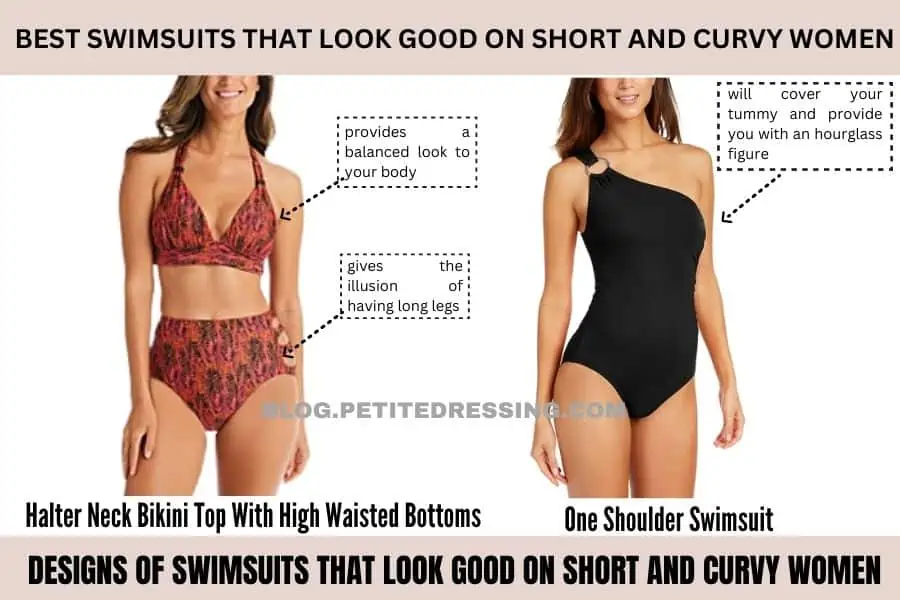 Halter Neck Bikini Top With High Waisted Bottoms
Halter neck bikini top makes your shoulders look narrow and diverts attention toward your chest area. It provides a balanced look to your body. The unique neckline style always keeps the eye upward instead of the parts that you might want to camouflage. (such as tummy or thighs)
Pair up a halter neck bikini top with high-waisted bottoms to further create the illusion of a perfect body shape. The high-waisted bottoms will cover the areas you want to conceal seamlessly. Go for high-coverage bottoms if you feel too exposed in thin bottoms.
High-waisted bottoms will also make your legs look longer especially if the bottoms reveal your hip bone under area. The bottoms also make you look taller by exposing the under area of your hips from behind. This gives the illusion of having long legs that compliments a curvy woman.
One Shoulder Swimsuit
Buying one-piece bikinis for the summer is easier as you don't have to consider the style of both the top and the bottoms. One-piece bikinis with a one-shoulder design is a universally flattering design. However, it looks extra amazing on curvy and petite women.
This asymmetric design automatically accentuates the parts you want to emphasize while concealing the ones you want the attention away from.
One shoulder one piece swimsuit will cover your tummy and provide you with an hourglass figure. You can flaunt your gorgeous curves confidently with this design.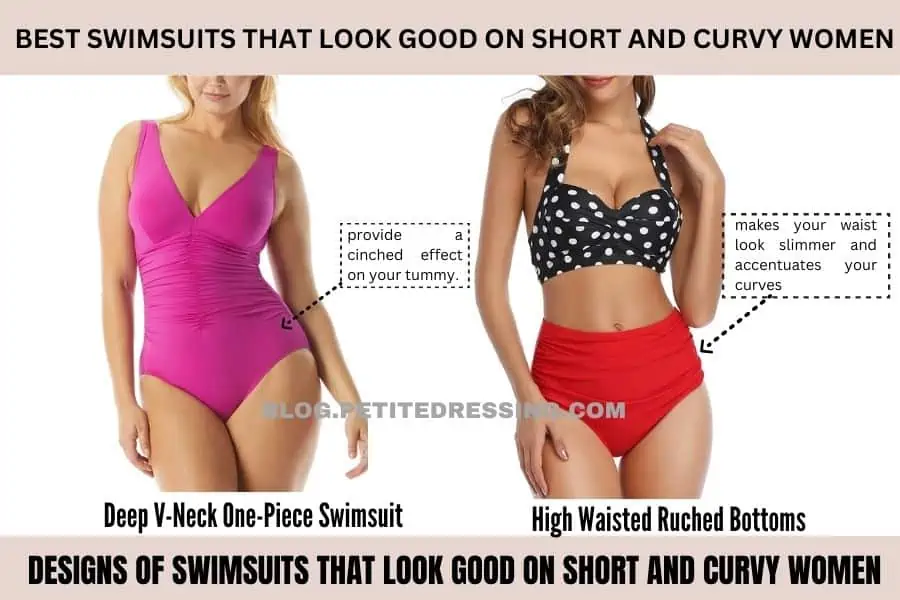 Deep V-Neck One-Piece Swimsuit
Deep V-necks accentuate your chest area and keep your eyes on your upper body. It is a perfect style of swimsuit for women that want to show off their breasts. Such swimsuits have a thin-waist illusion as they provide a cinched effect on your tummy.
We all know how black compliments curvy women. So, why not go for such a style? It will also make your legs look longer so it is perfect for curvy and short women.
One piece is suitable for women that want their legs to look longer and their waists to look smaller. And that is something a petite and curvy woman would love to wear.
High Waisted Ruched Bottoms
The high-waisted ruched style for bottoms is famous and one of the best ones for short and curvy women. The way it makes your waist look slimmer and accentuates your curves is amazing. You should definitely try out a high-waisted ruched bottom bikini if you are a curvy and petite woman.
Pair the bottoms up with a deep V-neck top to further make your body look sexier. The V-neck bikini top will make your torso look longer. Whereas the high-waisted ruched bottoms will make your legs look longer and your tummy slimmer. 
High Cut Ruched One Piece Swimsuit
The ruched design ones again look mesmerizing in one-piece swimsuit style as well. The ruched one-piece swimsuit will conceal your rolls whether on your tummy or back while still accentuating your chest area.
High-cut design is particularly suitable for short women as it gives the illusion of longer legs. Go for designs that tie up at the side so you can adjust the high cut according to your liking. You can definitely consider this swimsuit design a confidence booster!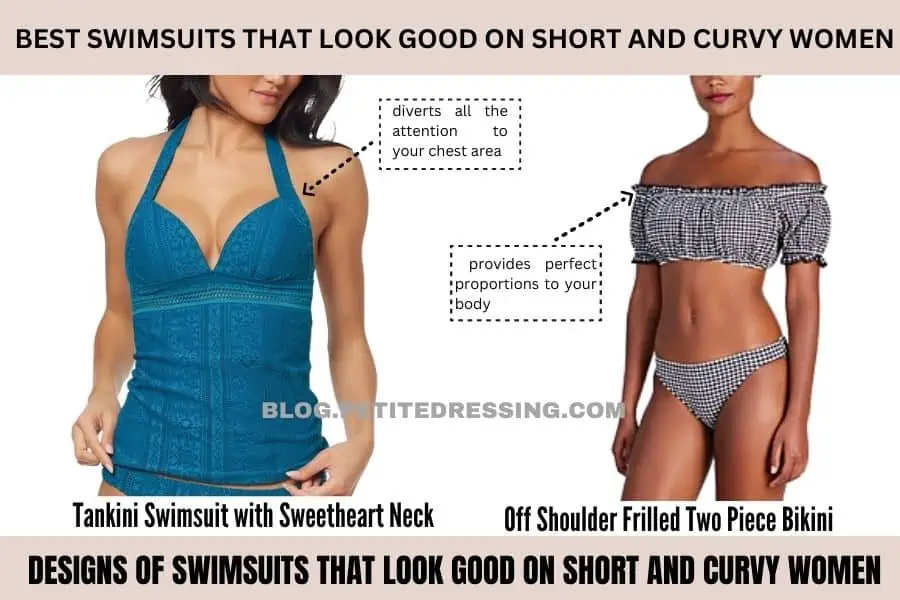 Tankini Swimsuit with Sweetheart Neck
Sweetheart neckline diverts all the attention to your chest area. The tankini style is good for curvy women as it keeps everything seamlessly concealed. If you don't feel confident with overly exposing swimsuits, try out a tankini swimsuit.
Off Shoulder Frilled Two Piece Bikini
If your bottom is broader than your top area, go for an off-shoulder frilled two-piece bikini. The off-shoulder top provides perfect proportions to your body. This way you get a balanced silhouette.
Pair the off-shoulder frilled bikini top with a high-waisted and high-cut bottom. The high-cut design is a favorite as it makes the legs look longer. Whereas the high-waisted style will tuck in your belly fat seamlessly.
Avoid Light Colored Bikinis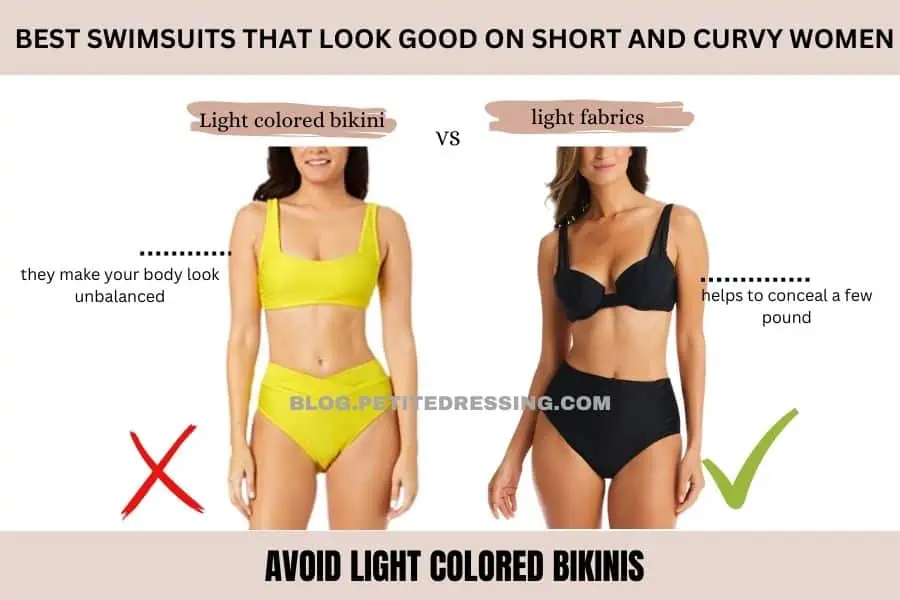 Light colors aren't good if you want to conceal a few pounds. When you wear light-colored bikinis, they make your body look unbalanced. It doesn't look flattering on curvy and short women as the emphasizing elements aren't visible in light colors.
You might end up looking heavier than you already are in a light-colored bikini. Go for darker shades instead.
Avoid Low Waisted Bottoms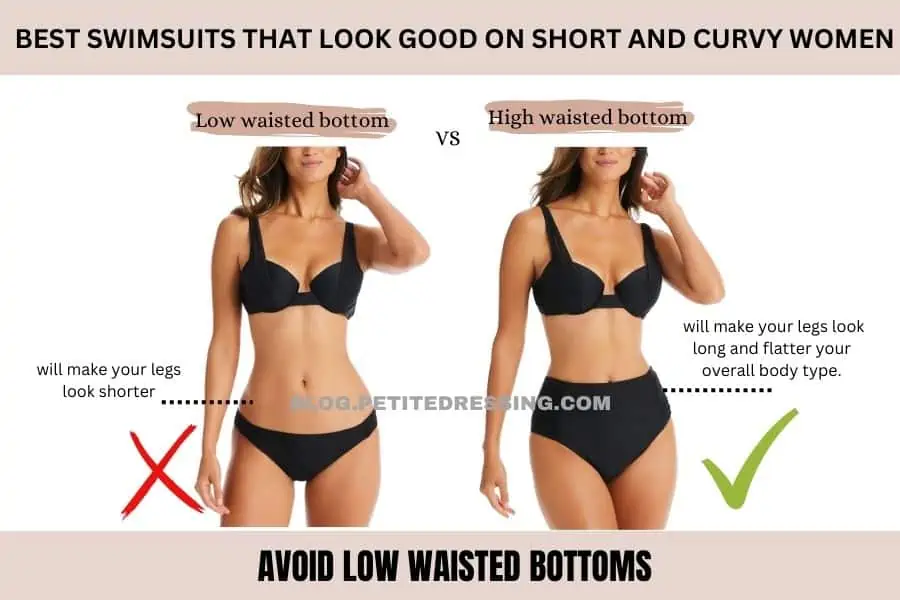 Low-waisted bottoms sit below your tummy. All your tummy fat will stick out and you may look chubbier than you already are. Moreover, low-waisted bottoms make your legs look shorter. Overall, these bottoms aren't suitable for short and curvy women.
If tummy fat isn't an issue for you, go for at least a mid-rise bottom. It will make your legs look long and flatter your overall body type.
Avoid Boy Short Bikini Bottoms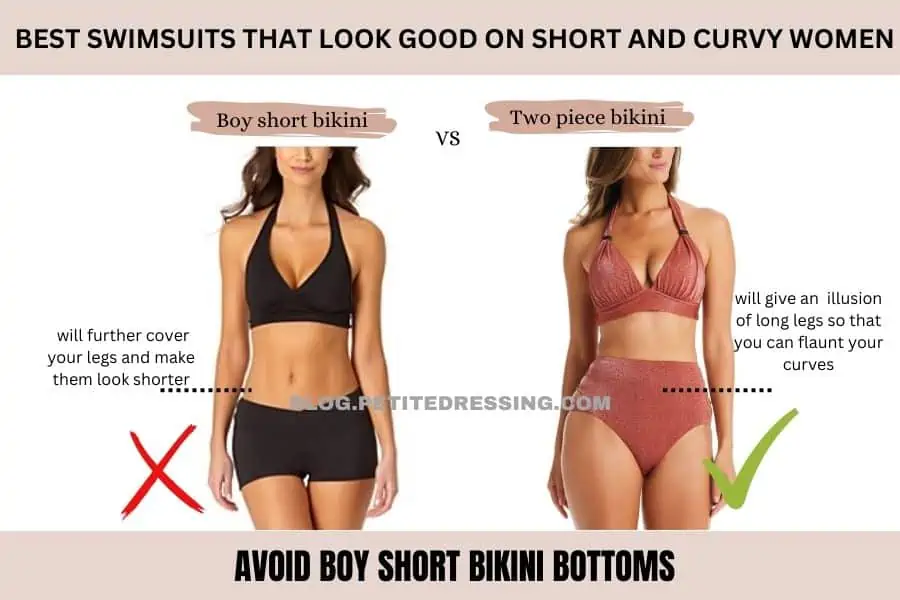 Boy short bikini bottoms will further cover your legs and make them look shorter. The whole concept of this guide is to help you have an illusion of long legs so that you can flaunt your curves. If you like to cover your bottoms more and a regular triangle bottom isn't comfortable for you, try out the high-coverage high-waisted bottoms. They are better because they provide enough coverage while making your legs look longer.
Final Thoughts
Now you know how to style swimsuits if you are a short and curvy woman. All bodies are good bodies and any body type can look sexy. All you have to do is know how to choose the right style of swimsuit according to your body type. Swimsuits don't mean that they should always be extra revealing. You can go for one-piece and high-coverage bottoms if that's what makes you feel confident. Feeling comfortable in what you wear matters the most. An uncomfortable swimsuit will never look alluring on any body type.