If you have a short and stocky build, finding the right jumpsuit styles to flatter your shape is critical. I'm 5'2″ myself, and I have a petite clothing line, so I know the ins and outs of what styles look the best on someone who is 5'4″ and under.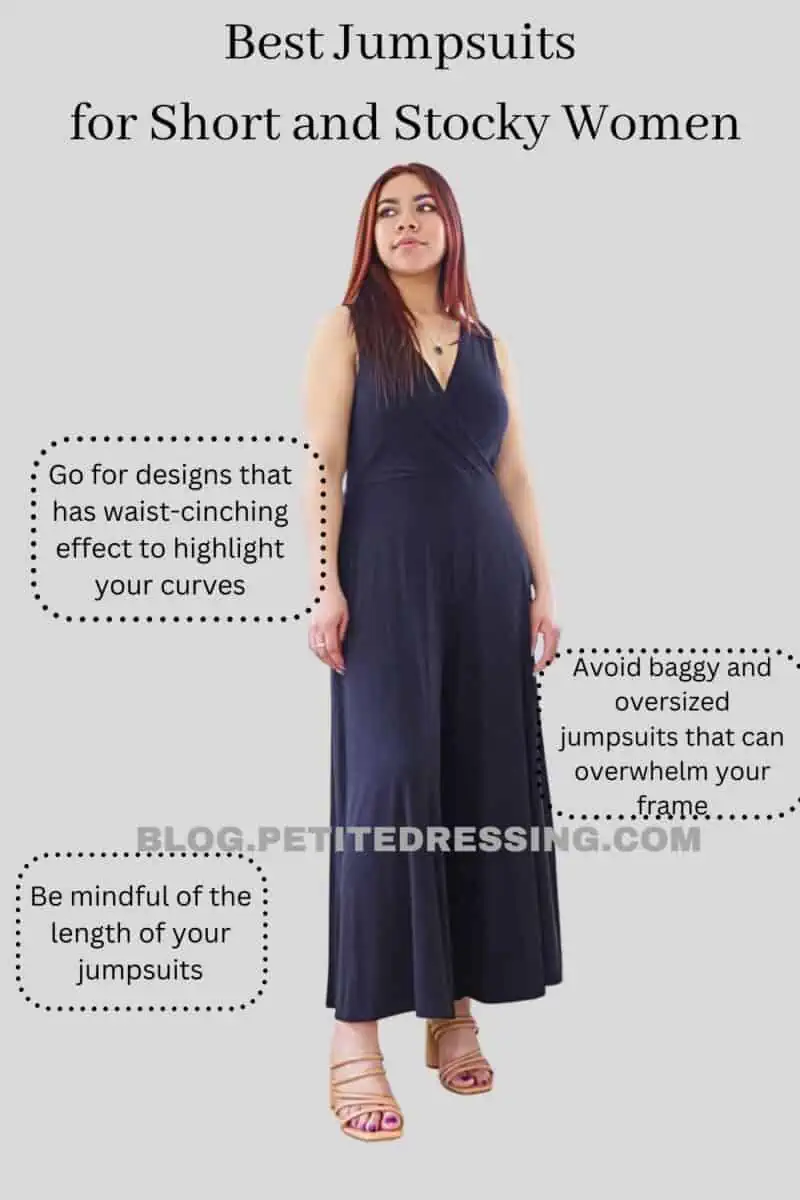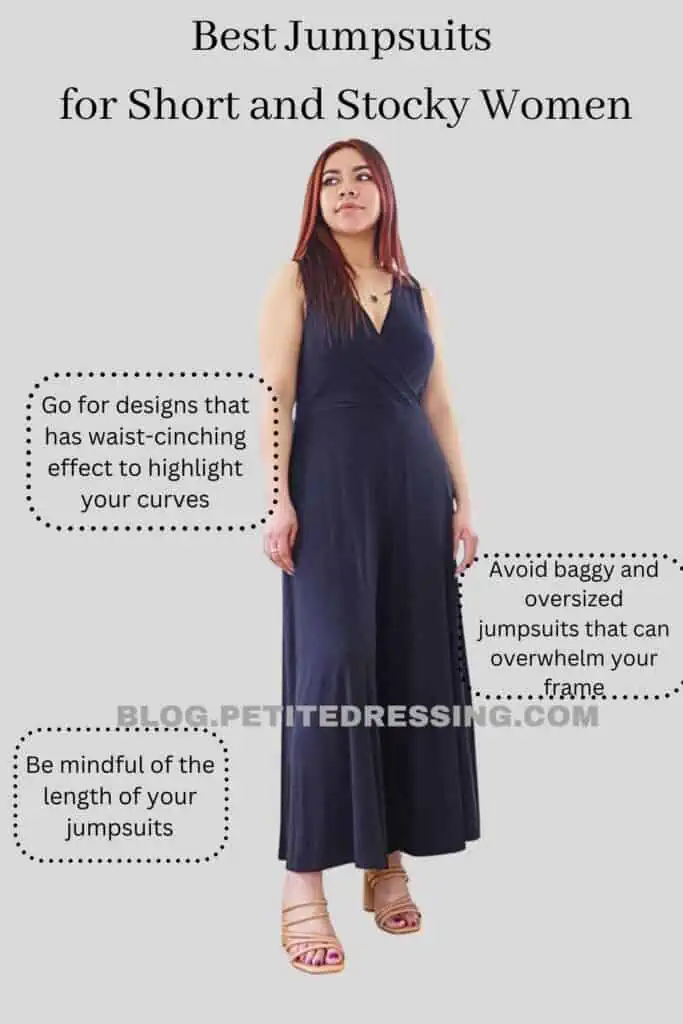 The key is to choose a jumpsuit that creates an unbroken vertical line to elongate your figure and make you appear taller and leaner. I've listed the best styles below and what you should avoid, as someone who is short and curvy.
To complete the look, you also want to choose the right shoes for jumpsuits as well as consider the handbags that compliment your petite and stocky body shape to go with the outfit.
Palazzo Jumpsuit
First on this list is the palazzo jumpsuit which is a trendy fashion style that's undoubtedly here to stay. This style is effortlessly elegant and there's no doubt that short and stocky women will look classy in palazzo jumpsuits.
Usually, this style starts a little bit tight on your upper legs and flows into an easy flare at it moves toward the ankles. This creates a sophisticated silhouette that makes you look incredibly stylish.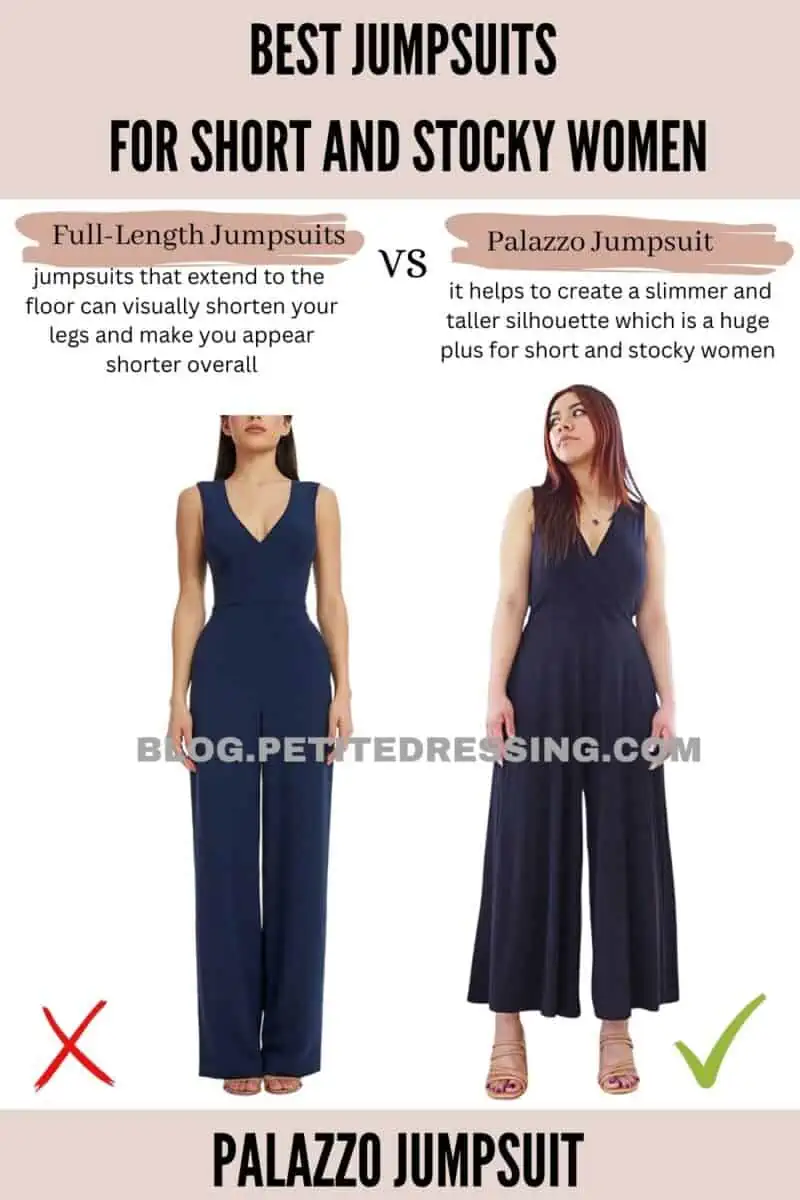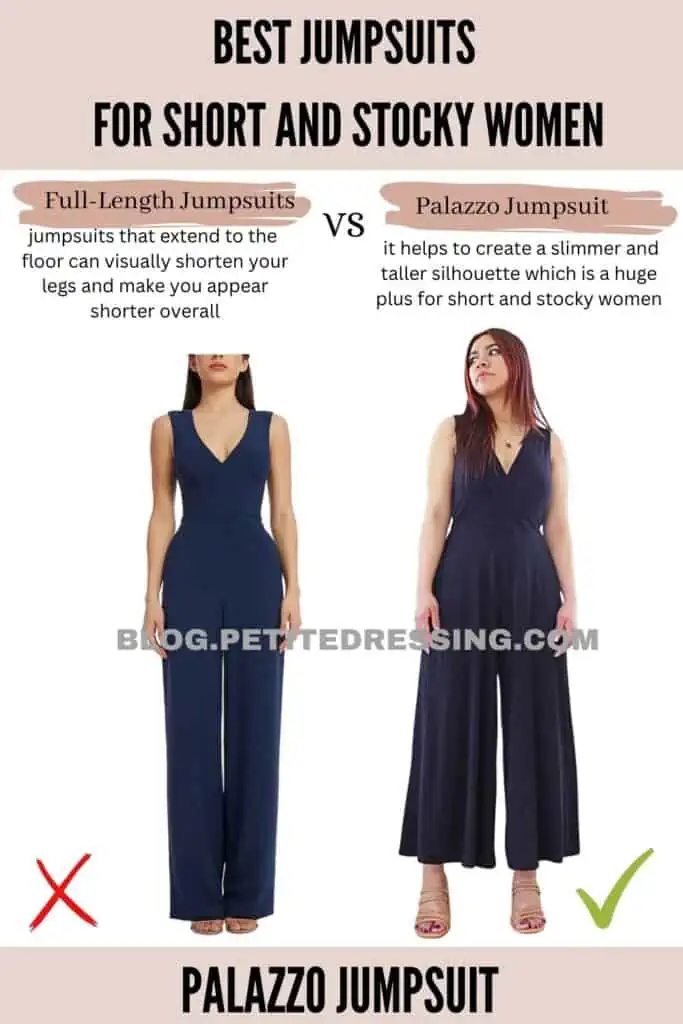 Since this is a high-waist style, it helps to create a slimmer and taller silhouette which is a huge plus for short and stocky women. It means that you'll visually appear like you added a few inches of height, and you don't need heels to accomplish this. Sounds like a win.
So, if you want to achieve an instant hourglass figure, you should consider putting on palazzo jumpsuits. This style has long bottoms, so feel free to pair this with block heels that are just the right height to keep your feet comfortable.
Wrap Jumpsuit
Do you love wrap dresses and skirts? Well, you can easily switch things up with wrap jumpsuits that give you the freedom to create a customized fit that flatters your body type. For short and stocky women, you'll love how this design lets you adjust easily to accommodate your shape.
Wrap jumpsuits also have that incredibly waist cinching effect that creates an hourglass figure and gives a curvier outlook. This adds more to a more proportionate figure. If your wrap jumpsuit has an asymmetric neckline, this helps to create a lengthening effect too.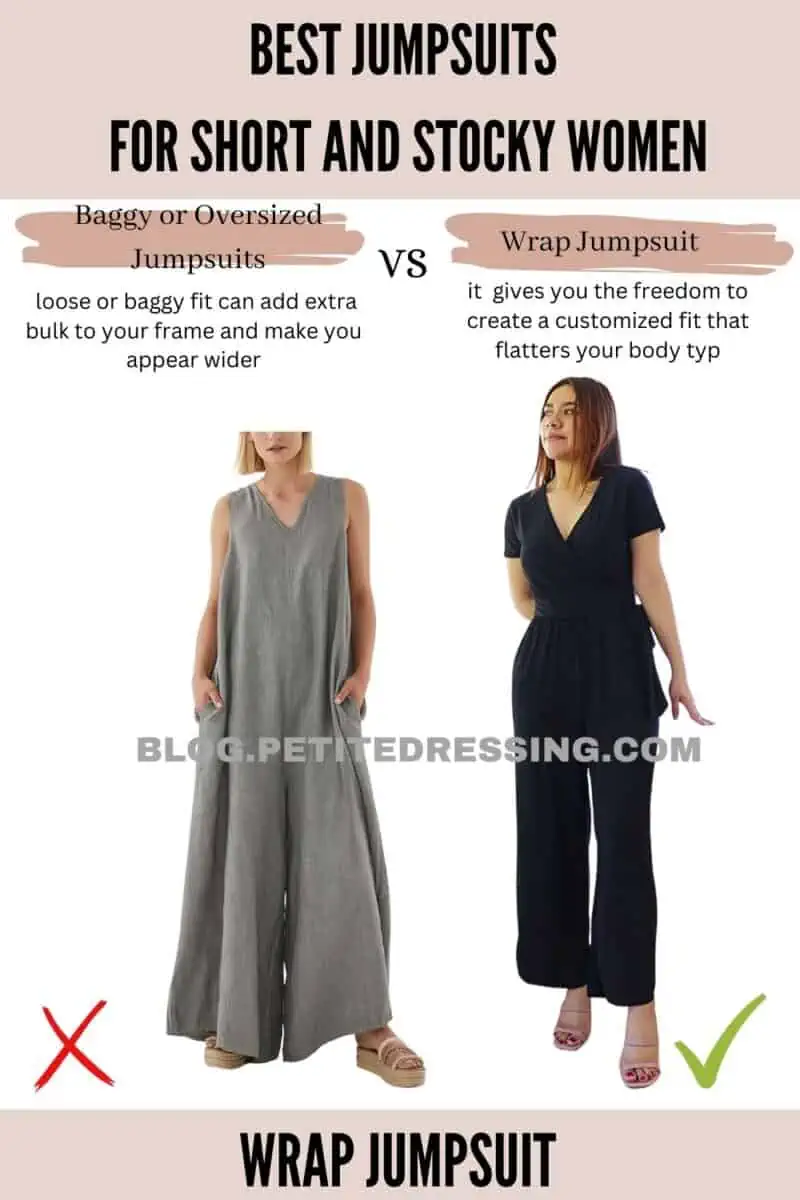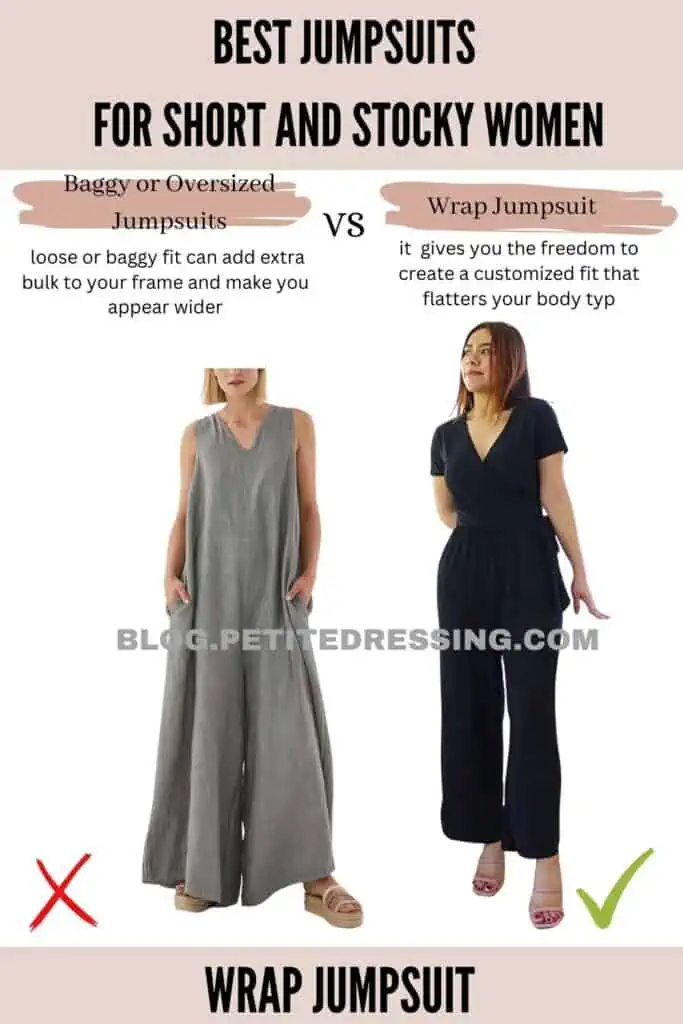 A good idea is to choose wrap jumpsuits with wide-leg or flared pant styles. This is great for adding more volume to the lower part of your body, so the weight is distributed evenly and helps to create a balanced silhouette.
Your choice of neckline is also important since the right one can divert attention from areas of your body you wish to downplay. Square-neck and v-necklines draw attention to your upper body and you can pick styles in solid colors for a sleek look.
Belted Jumpsuit
There's so much to love about a belted jumpsuit, especially with how well it fits short and stocky women. This is one of the best jumpsuit styles out there for this body type and you're about to find out why.
It all goes down to the belted design that gives you a slimmer silhouette. Belted styles have a waist cinching effect and the direct result of this is an hourglass silhouette as it gives the illusion of curves.
So, with a belted jumpsuit, you can look slimmer and curvier. Sounds good? Here are a few extra tips to help you make the best out this style. Firstly, be sure to avoid styles that are too fitted as they draw more attention to your thighs and make them look bigger.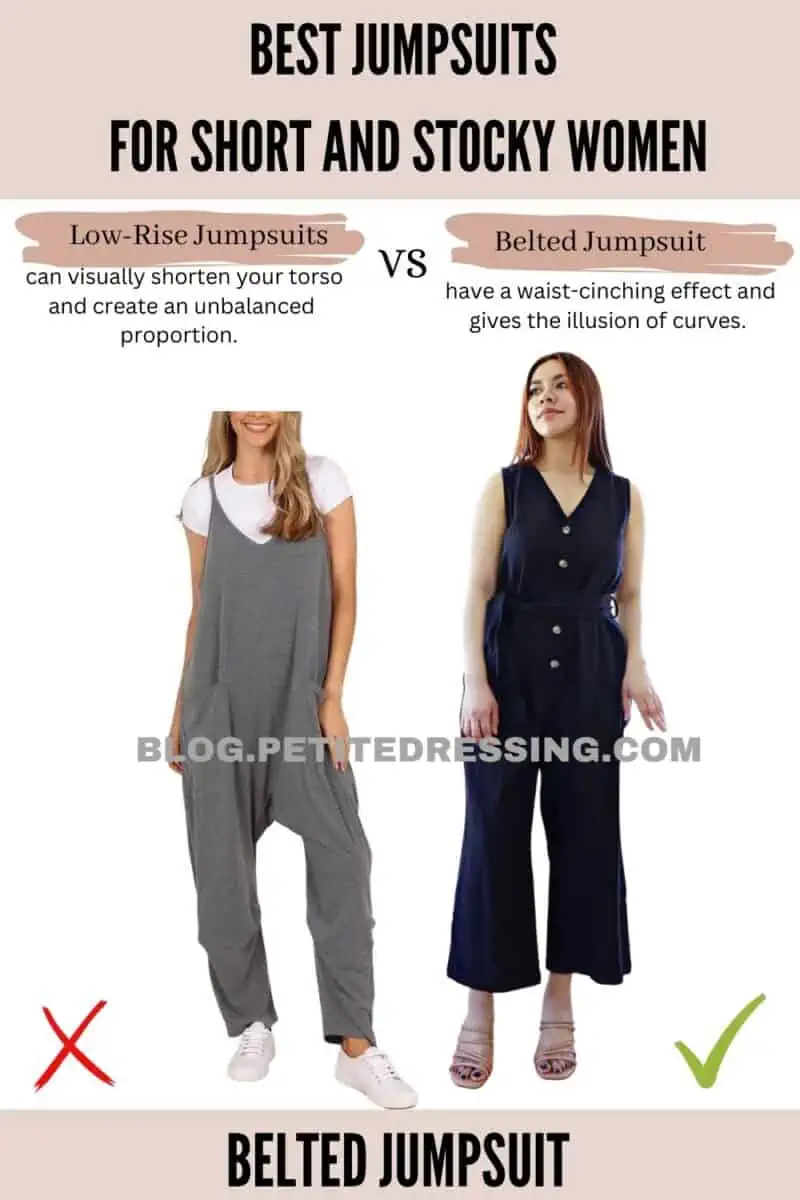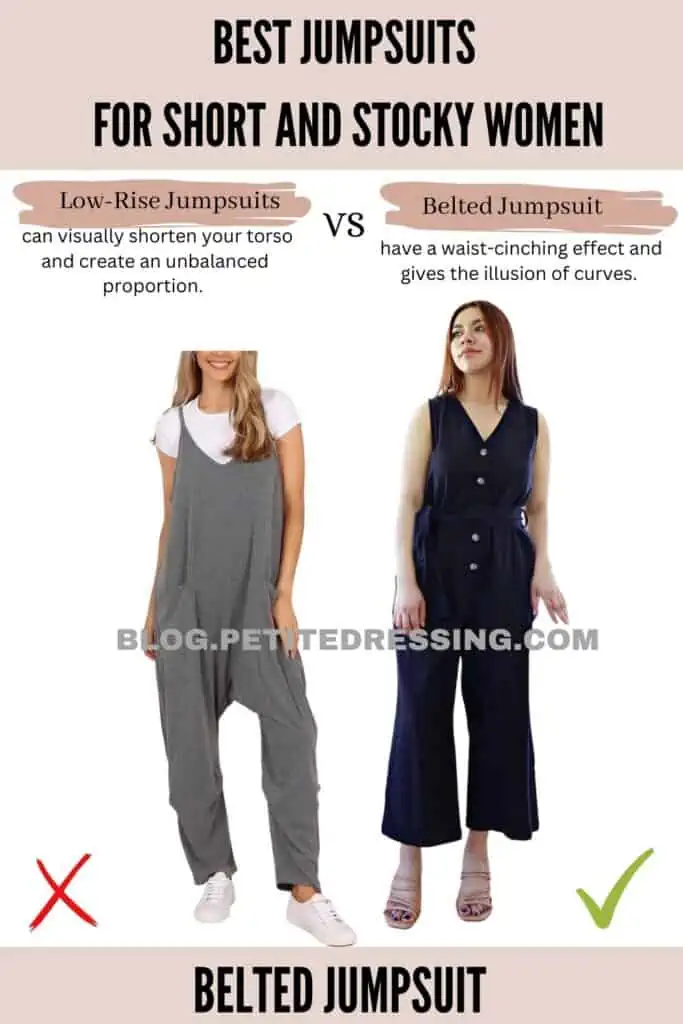 Also, it's a great idea to consider wide-leg belted jumpsuits as they add a lot more to the effect of being slimmer and taller. They also won't make you look bottom-heavy, which is a huge plus.
Overall, pick lengths that don't cover your feet entirely as showing a bit of your legs makes you look taller. Pair this with an amazing pair of shoes like strap heels and you're ready to step out in style.
Off-the-Shoulder Jumpsuit
Off-the-shoulder jumpsuits are another amazing style for short and chubby women that want to turn heads and stand out beautifully everywhere they go. If this is you, then you'll be glad to know that off-the-shoulder jumpsuits give off a simple yet classy vibe.
This is perfect for drawing just the right amount of attention to your amazing features. The appeal of this style is in the neckline which draws attention to your upper body. It's great for flaunting your neck and shoulders.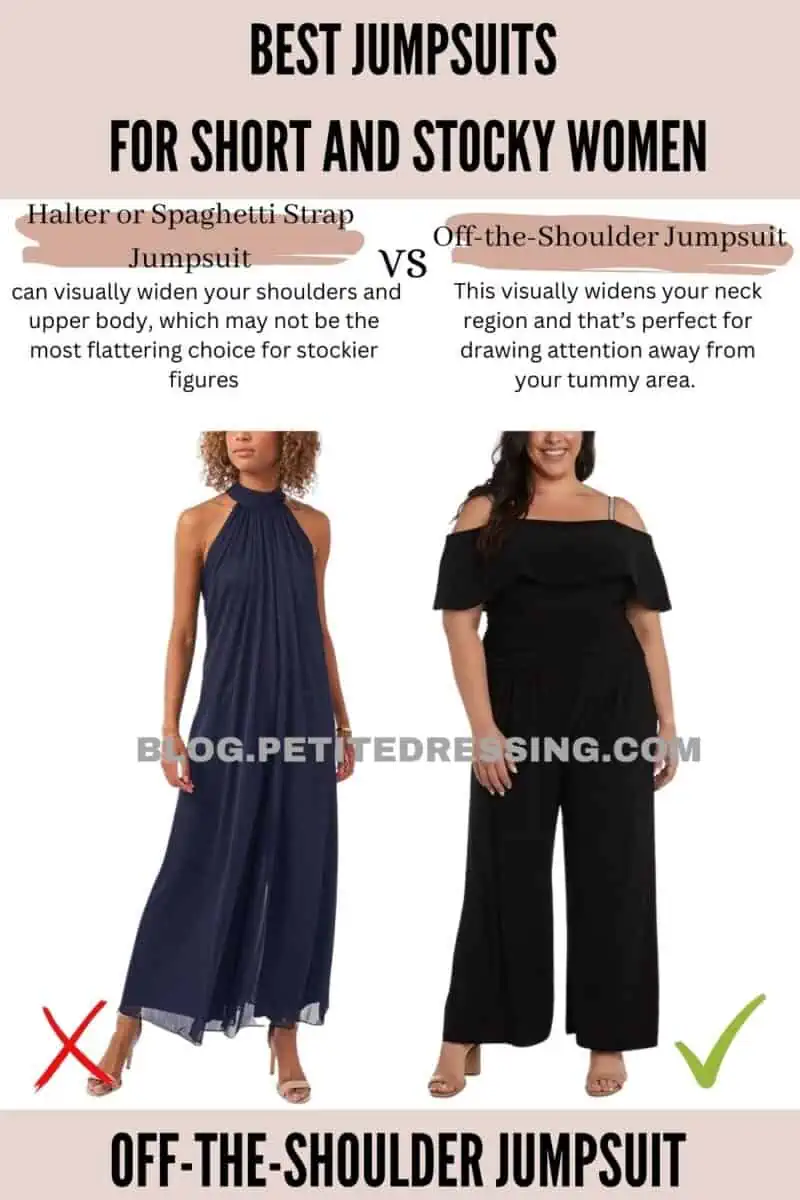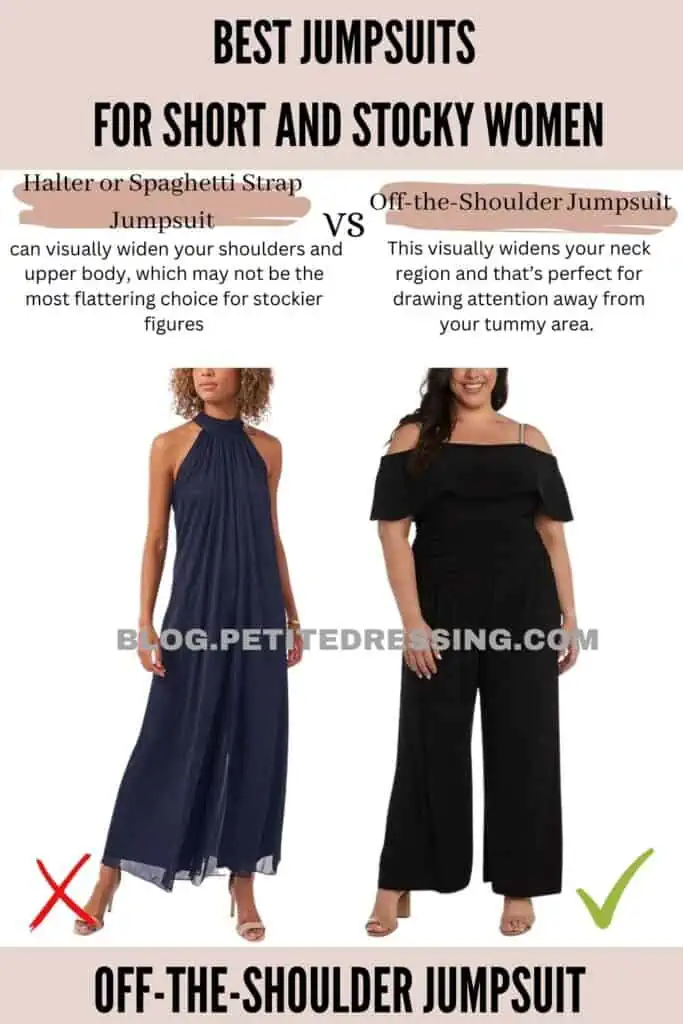 This visually widens your neck region and that's perfect for drawing attention away from your tummy area. So, if you have a bit of a muffin top, that tummy bulge won't be easily noticeable with an off-the-shoulder jumpsuit.
So, here's a summary of how awesome this style of jumpsuit can be for you. It makes you look slimmer, adds a few extra inches visually to your height and draws attention away from your tummy bulge so you look even more gorgeous.
Complete this look with statement jewelry and a pair of heels and you're good to go.
V-Neck Jumpsuit
Here's another flattering choice for short and stocky women looking to expand their jumpsuit catalog. The choice of neckline is super important and with a v-neck jumpsuit, you can emphasize your flattering assets and look amazing.
The v-neckline creates a vertical line that draws the eyes downward. This gives the visual illusion of a lengthened torso, so you look much taller while your overall body frame is more balanced.
It doesn't hurt to mention that this neckline also enhances the appearance of your collarbone, shoulders and neck. Overall, the result is more elegance and a nice touch of femininity that complements your short and stocky build.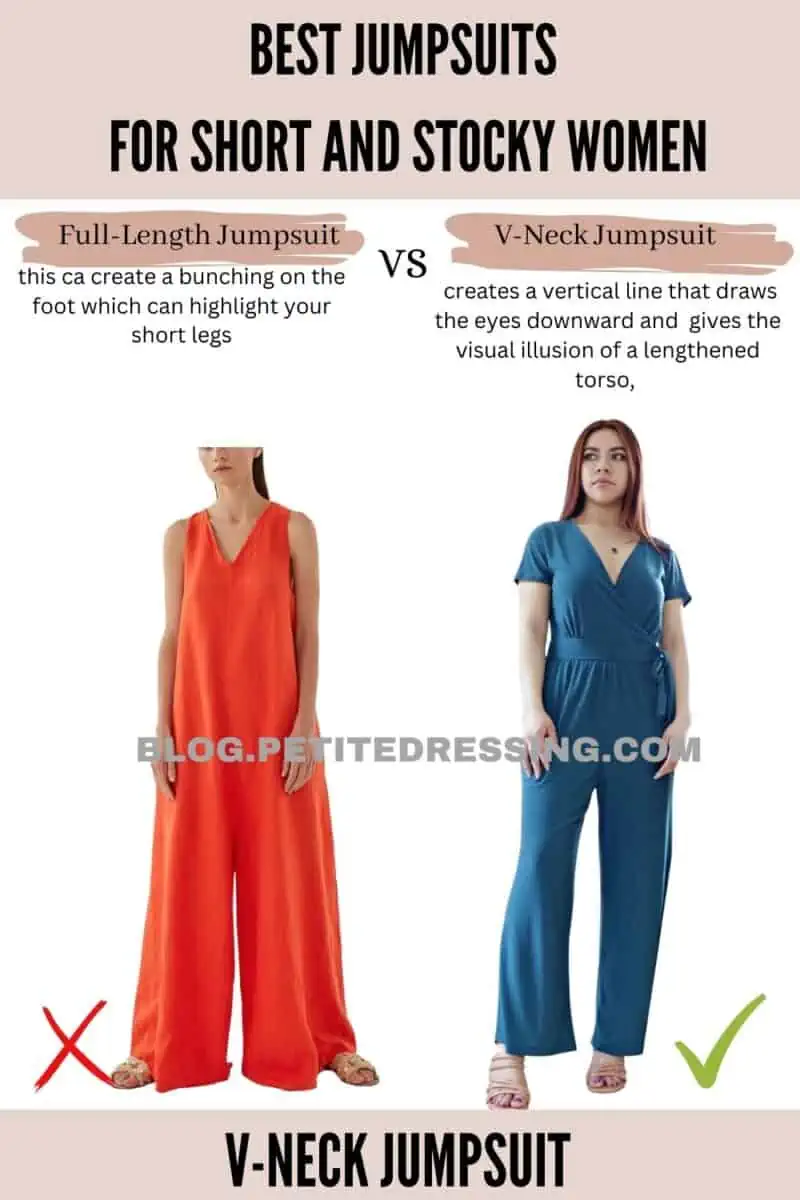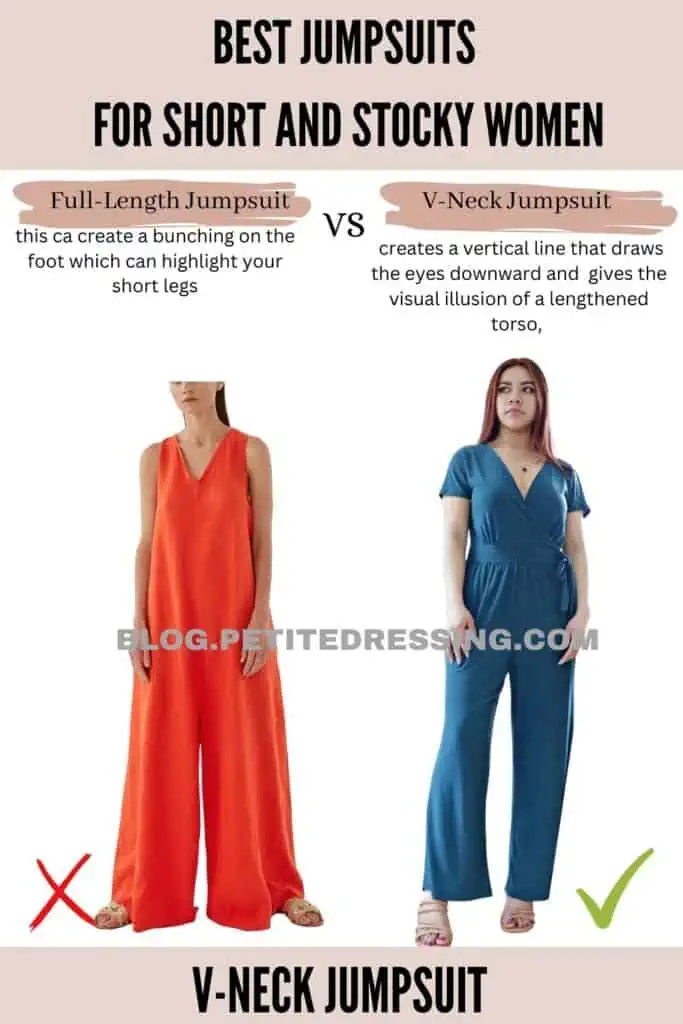 This neckline works great on different styles of jumpsuits for short and stocky women including suspender jumpsuits, flared styles, and high-waist jumpsuits. Another major advantage is how it creates a defined waistline, which gives you a curvier outlook.
Overall, you have so much to gain from a v-neckline jumpsuit, especially if you would love to have a more proportionate look that boosts your confidence.
Fitted denim Jumpsuit
A fitted jumpsuit is a gorgeous style that works great for short and stocky women. However, you should know that this is much different from skin-tight jumpsuits. A fitted jumpsuit flows with your figure instead of squeezing in uncomfortable ways.
A good way to stand out in a fitted jumpsuit is to choose a style with vertical stripes. These are incredibly common, so you won't have a hard time picking several with different designs or one that suits your unique preferences.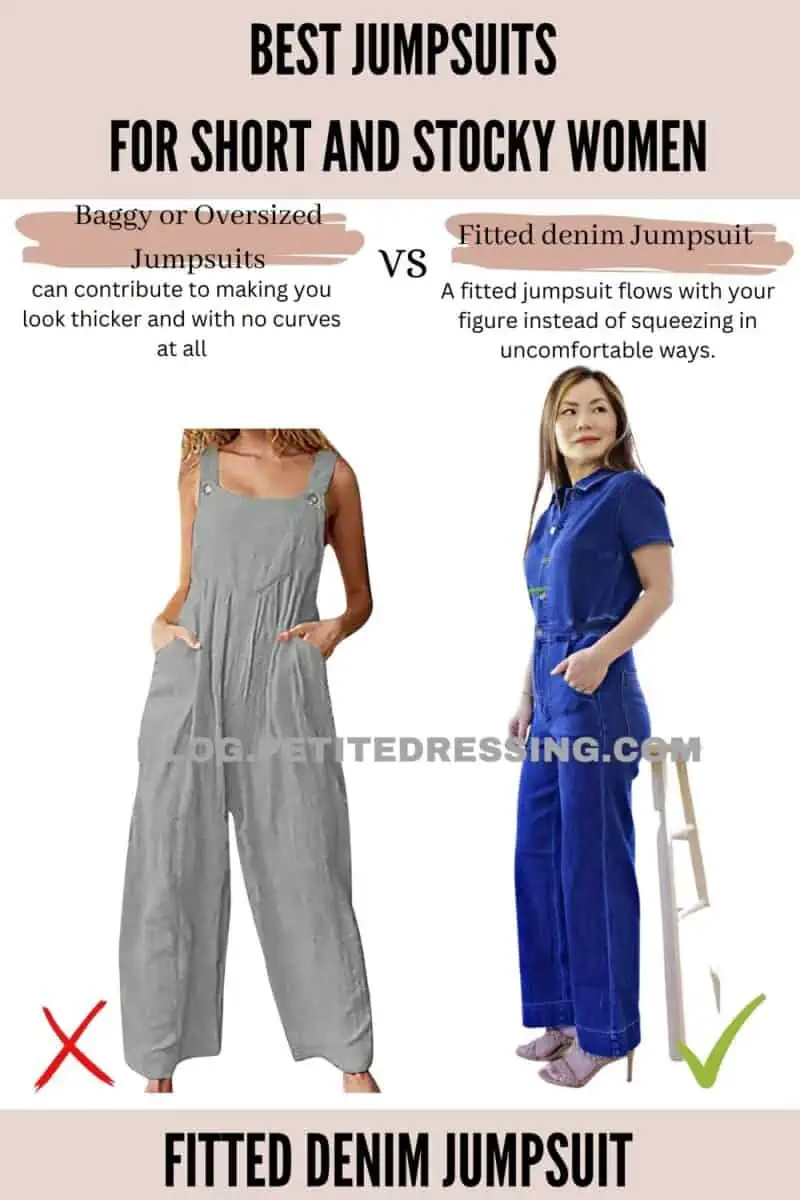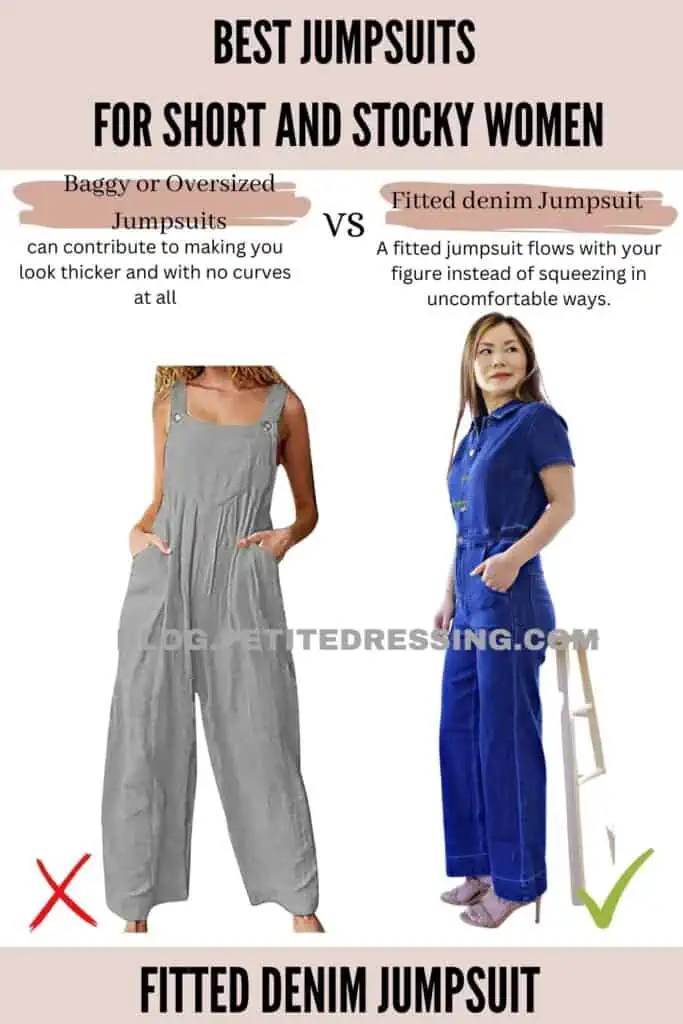 Vertical stripes on clothing will instantly make you appear taller and this is great for short women. As a short and chubby woman, it's always cool to put on clothing that visually adds to your height or gives you a slimmer silhouette.
Since the vertical stripes draw the eyes up and down, this is what contributes to a visually taller appearance. Be sure to choose high-waist styles as this helps to hide tummy bulges and makes your waist smaller.
Consider wearing this in darker colors as well. Some great choices are dark green, blue and black. A huge favorite is a fitted jumpsuit in black and white stripes. Pair this with comfortable flats and you're ready for a cool evening of fun.
Avoid overly baggy jumpsuits
Overly baggy jumpsuits are not flattering for short and stocky women as they will make you look heavier. Contrary to what you may think about baggy jumpsuits hiding your big body frame, they draw more attention to this instead.
Some baggy styles can look good but on short women, this jumpsuit will be overwhelming and make you look much shorter. This is just as bad as wearing skin-tight jumpsuits like those made with silk or velvet fabric.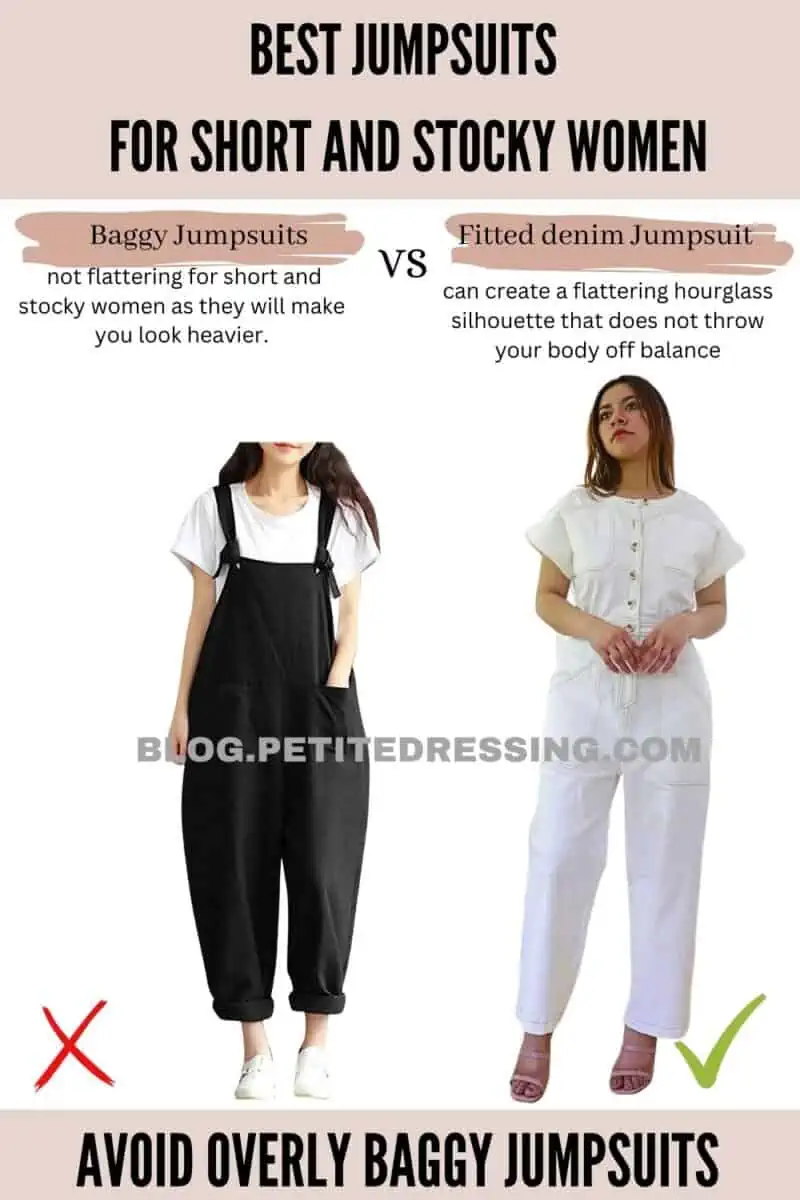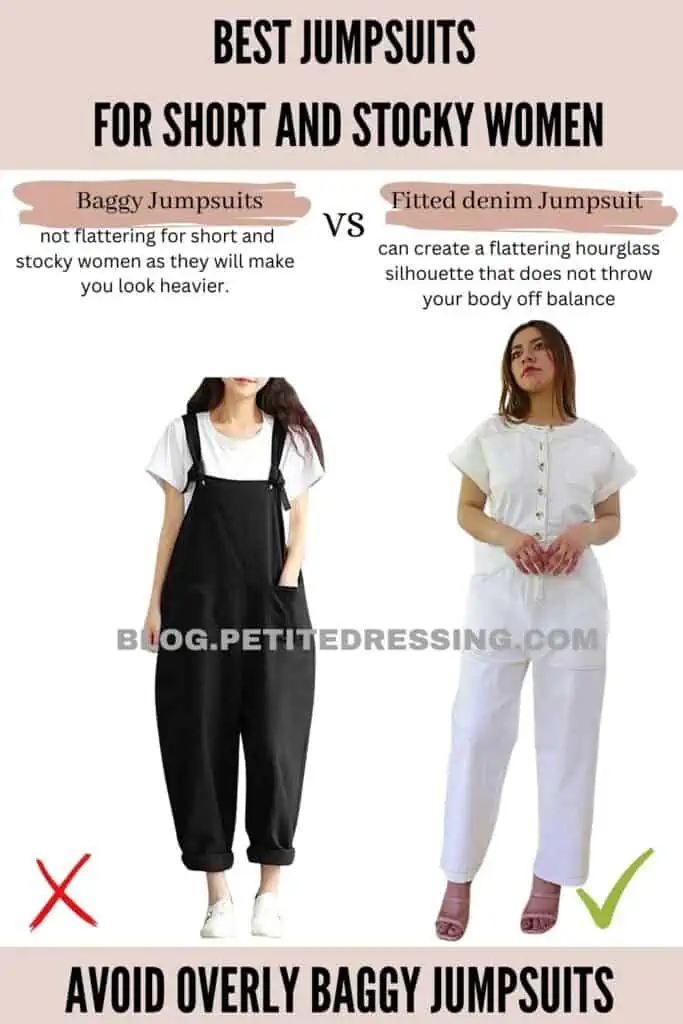 The choice of fabric for your jumpsuit matters a lot. So, avoid overly baggy jumpsuits and those that are tightly fitted as well. A better choice is a stretchy fabric that molds flawlessly with your body type and flows without being uncomfortable on your body.
I'm a big advocate of wearing what makes you feel free and comfortable. With overly baggy jumpsuits, you'll feel more self-conscious as it doesn't highlight your best features. Consequently, it will make you look short with a bad fit.
So, get shopping! There's something for you.