If you have short legs like me, you might be thinking shorts are easier to find for someone who is short. It is true that shorts do not need hemming if you are petite, unlike most jeans and pants.
However, since I am 5'2″, I actually feel like shorts are one of the hardest items for women with short legs. Besides, I also have a petite clothing line for women 5'4″ and under, so I hear similar feedback from my petite customers as well.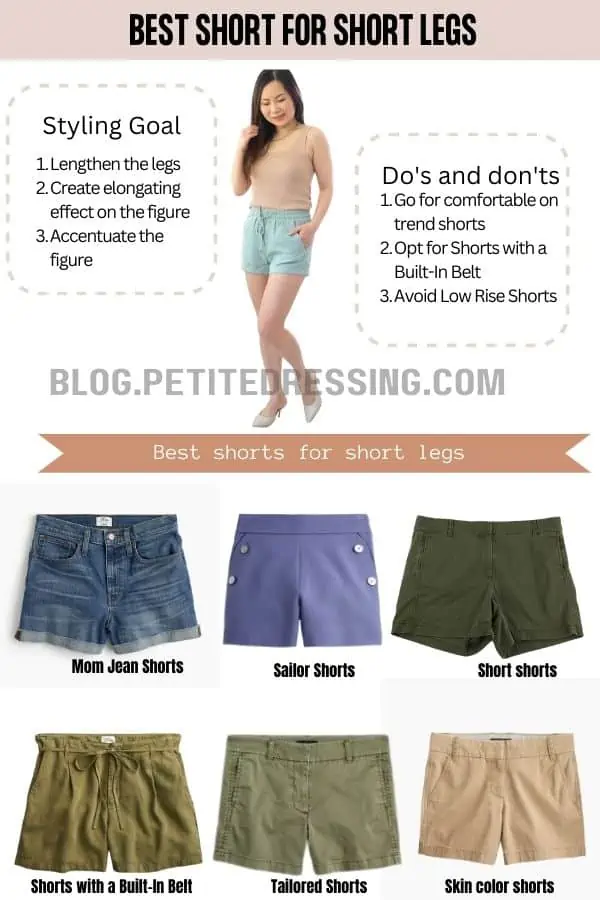 The reason is they can totally expose your short legs, more so than anything else in your closet. When we wear shorts, it is telling the eye exactly where the legs start and where they end. That is why shorts can be such a challenge if you already have short legs.
Based on my own experience, as well as feedback from my petite customers, these are the best shorts I have in my closet that I have found work the best for women with short legs.
Mom Jean Shorts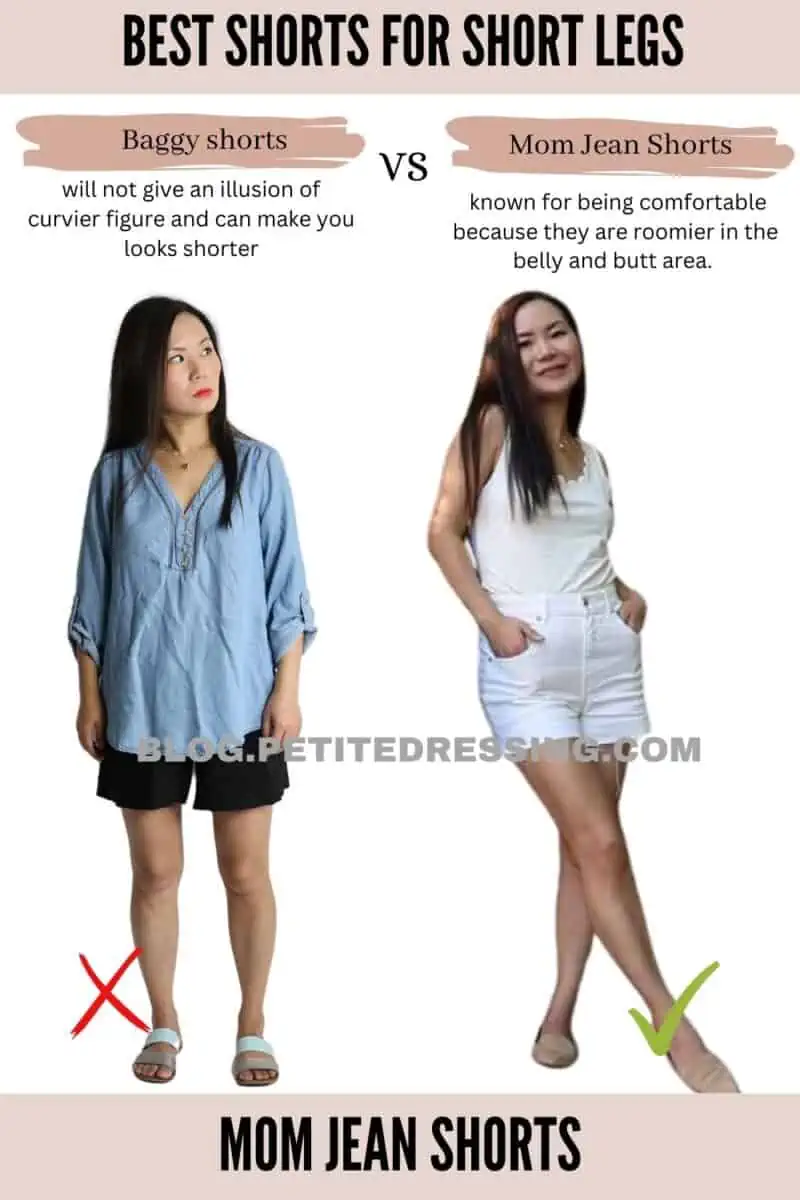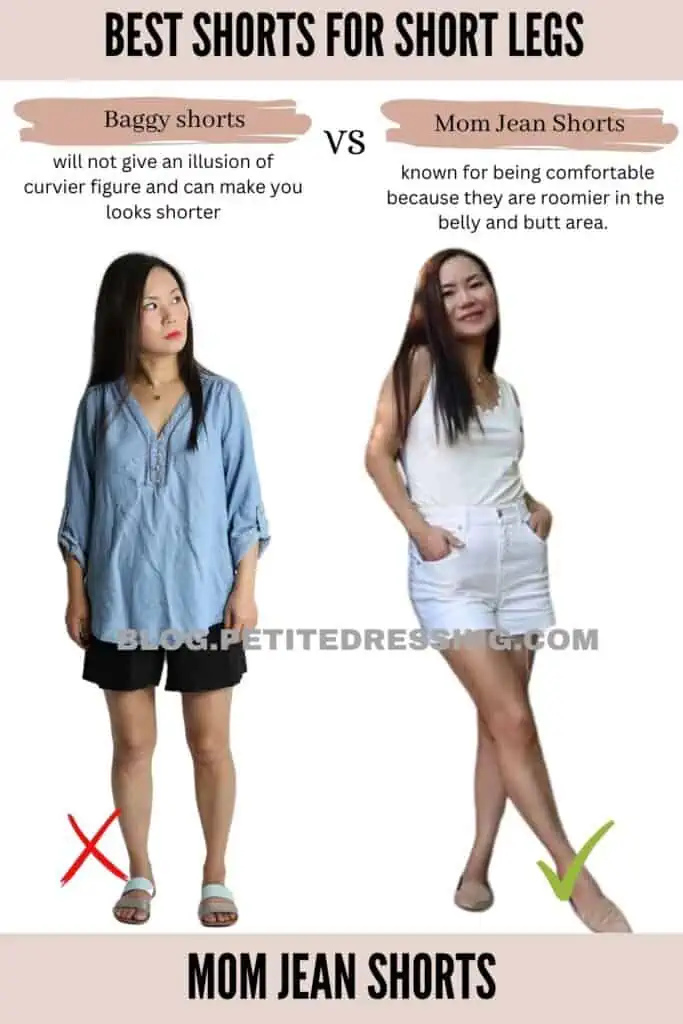 Mom jean shorts are not only comfortable but also super flattering for women with short legs. I am wearing this Mom jean shorts.
Mom jeans have been one of the hottest trends in recent years, and they are known for being comfortable because they are roomier in the belly and butt area.
Mom jean shorts have a similar silhouette as the jeans, so they are just as comfortable when you wear them. If you are short like me, the key is to look for Mom jean shorts that are slim fit.
Mom jeans can have different options to fit your needs. You can choose the inseam length and color according to your own body shape because there are different inseam lengths and colors available.
Sailor Shorts
Sailor shorts are one of the best shorts if you have short legs, because of their high-waisted design and simple silhouette.
White, black, or navy sailor shorts are the most classic colors that suit women of all age groups, but they can also come in other colors.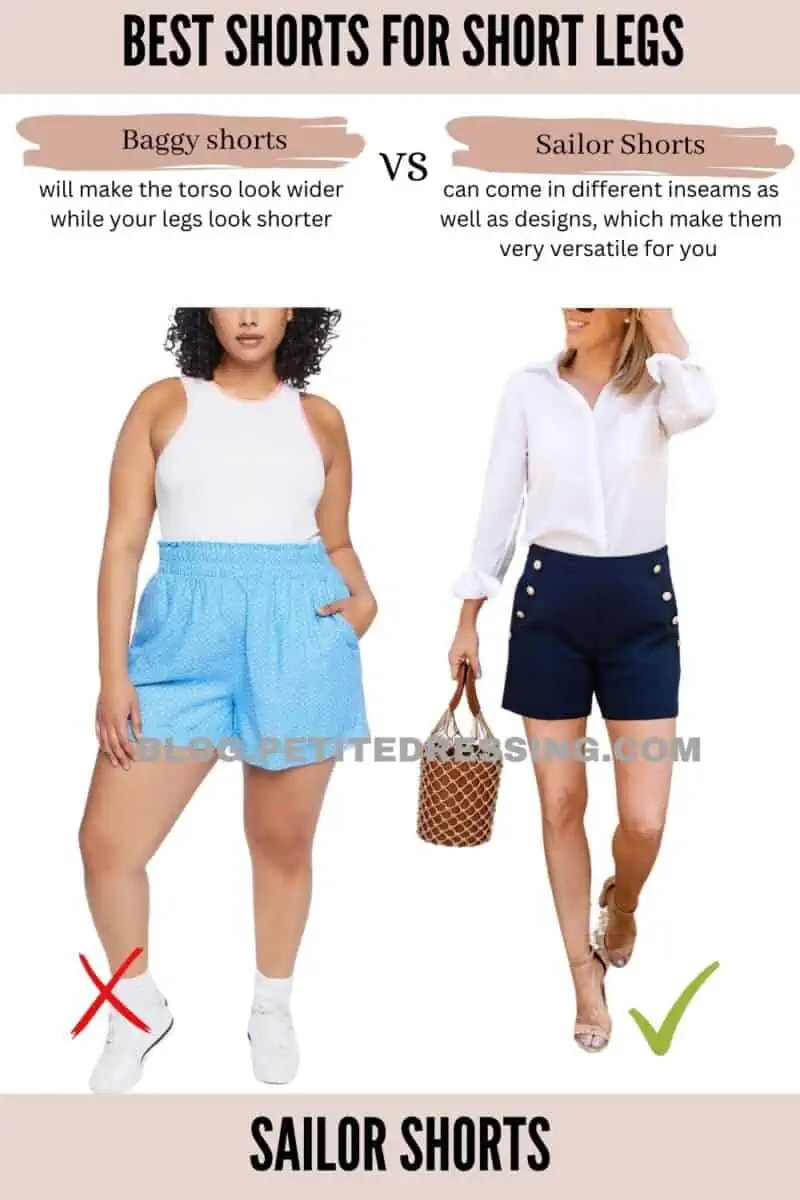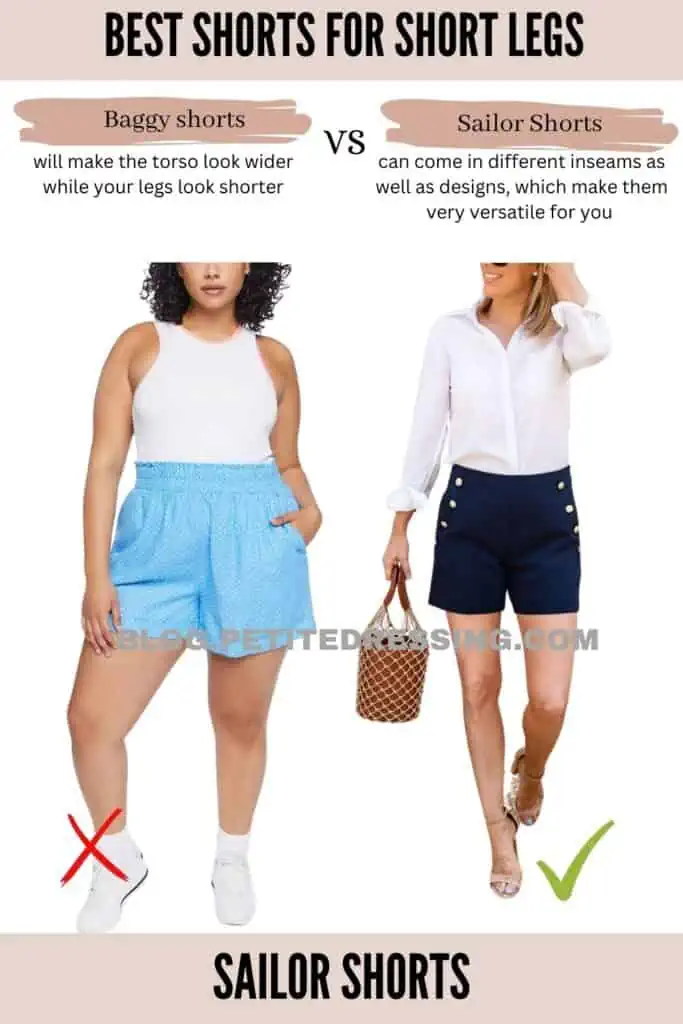 The best news is sailor shorts can come in different inseams as well as designs, which makes them very versatile for you to choose what suits your body shape the most.
These are my all-time favorite, and they are such a summer staple that is never going out of style. If you happen to have wider hips or bigger thighs, you probably look the best in longer inseam sailor shorts that are not clinging to your thighs.
Short shorts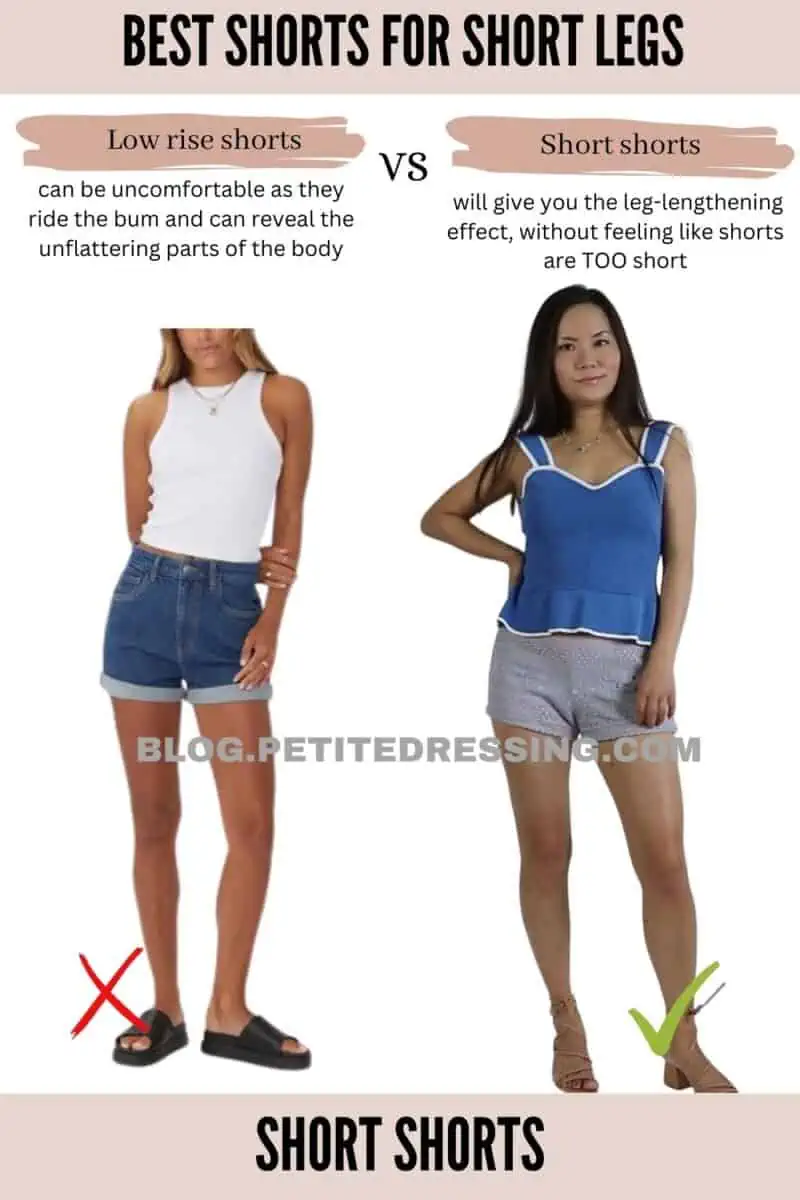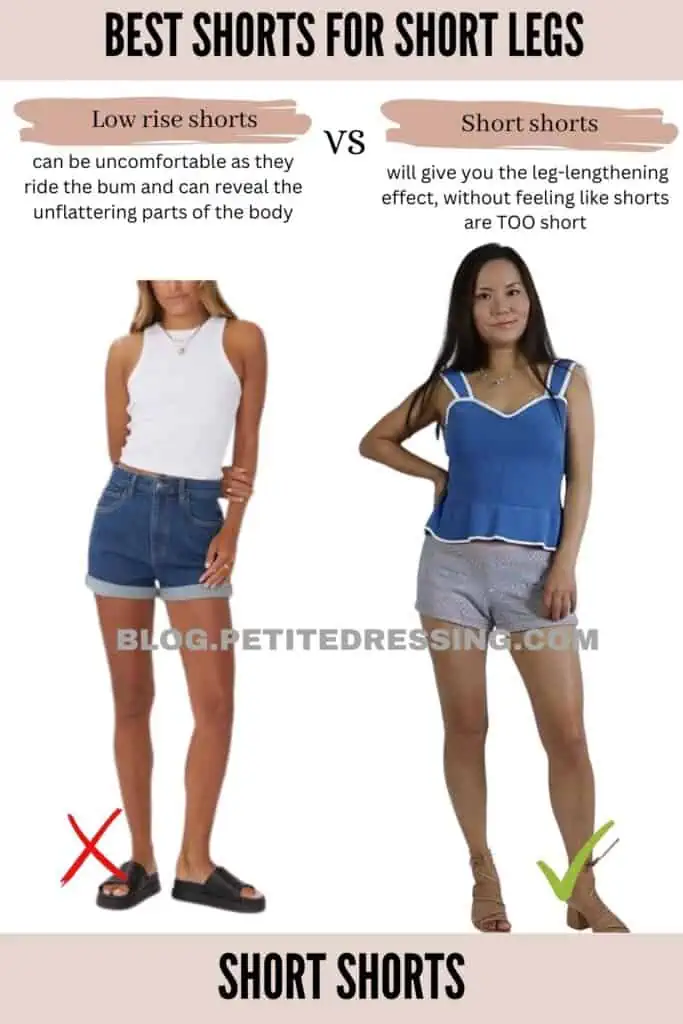 The truth is, when you have short legs shorter shorts are one of the easiest ways to make them appear longer.
You're probably well aware of the fact that it's easy to make short legs look…shorter with a lot of clothing. When the goal, most of the time, is to make short legs look longer – even if it's an illusion.
Shorter-length shorts are a great way to do this simply because they show more of the actual leg.
The longer the shorts the shorter legs appear. Now this doesn't have to mean that super short shorts are the only option, but you'll want to air on the side of shorter lengths.
A good length that will give you the leg-lengthening effect, without feeling like shorts are TOO short and will still offer some coverage to the upper thigh, is to stick around a 3.5-5" length.
Shorts with a Built-In Belt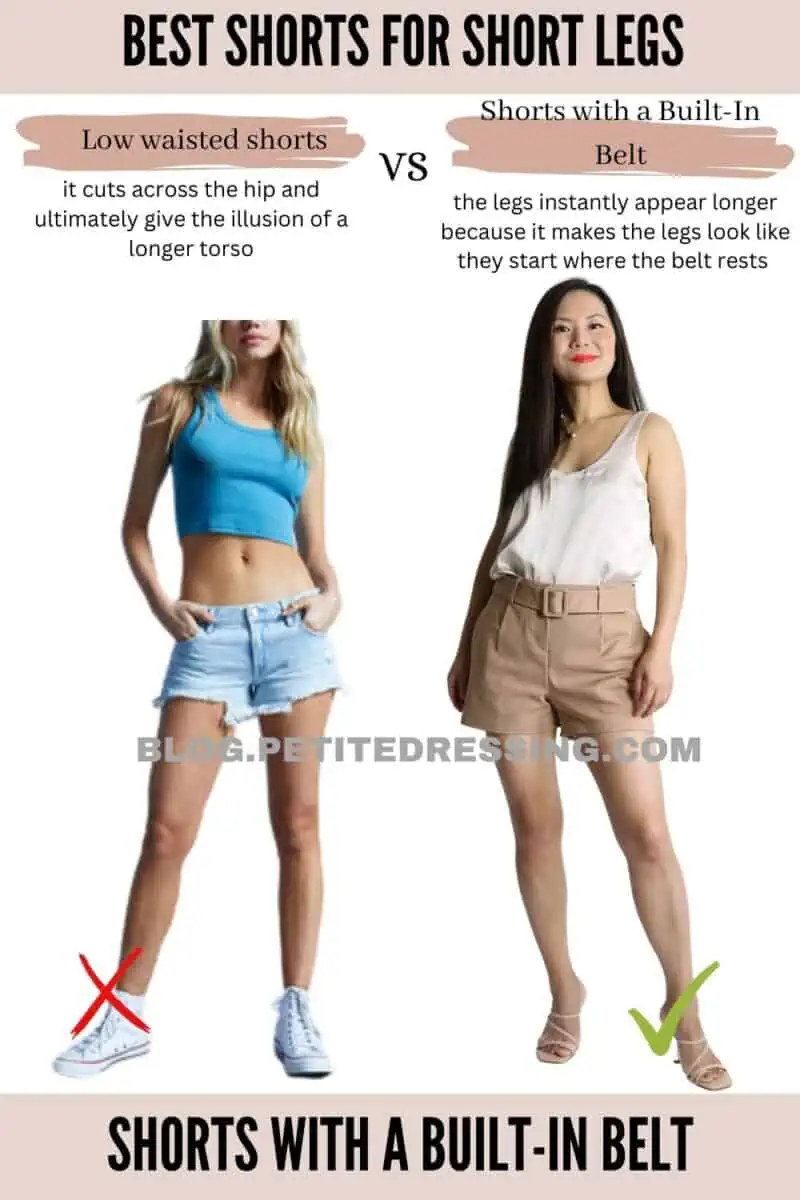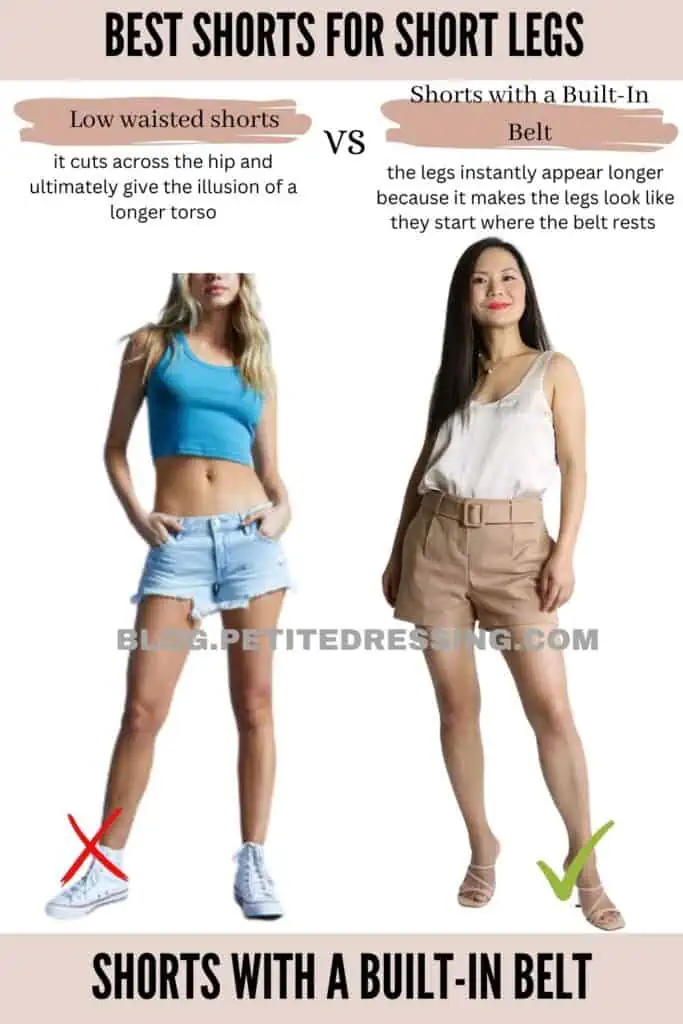 Ok, so the shorts don't HAVE to have a built-in belt but wearing a belt with short legs is a stylist's trick to flattering short legs. Adding a belt to the waist of shorts instantly shifts the focus towards the waist when doing this, the legs instantly appear longer because it makes the legs look like they start where the belt rests on the body which is generally higher up than your natural legs.
Tailored Shorts
So often when we think of shorts we think of casual denim options, but the wonderful thing about fashion is how many options are available to us.
If you want shorts that look a little more dressed up than traditional denim shorts, tailored shorts are a must-try.
As someone with short legs you're going to want to make sure the tailored shorts have a high rise to them. This, just like the bike shorts, will make the legs look longer and leaner. Make legs look even longer in this style of shorts by throwing on a pair of high heels!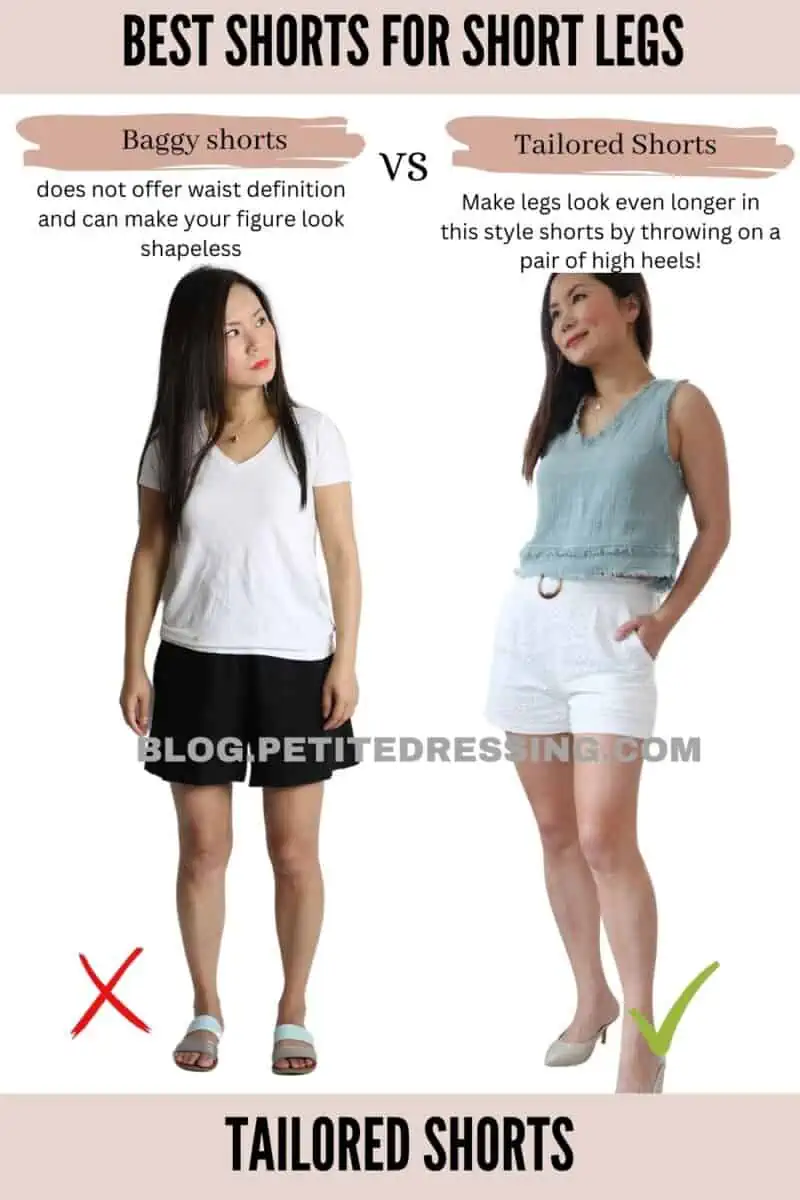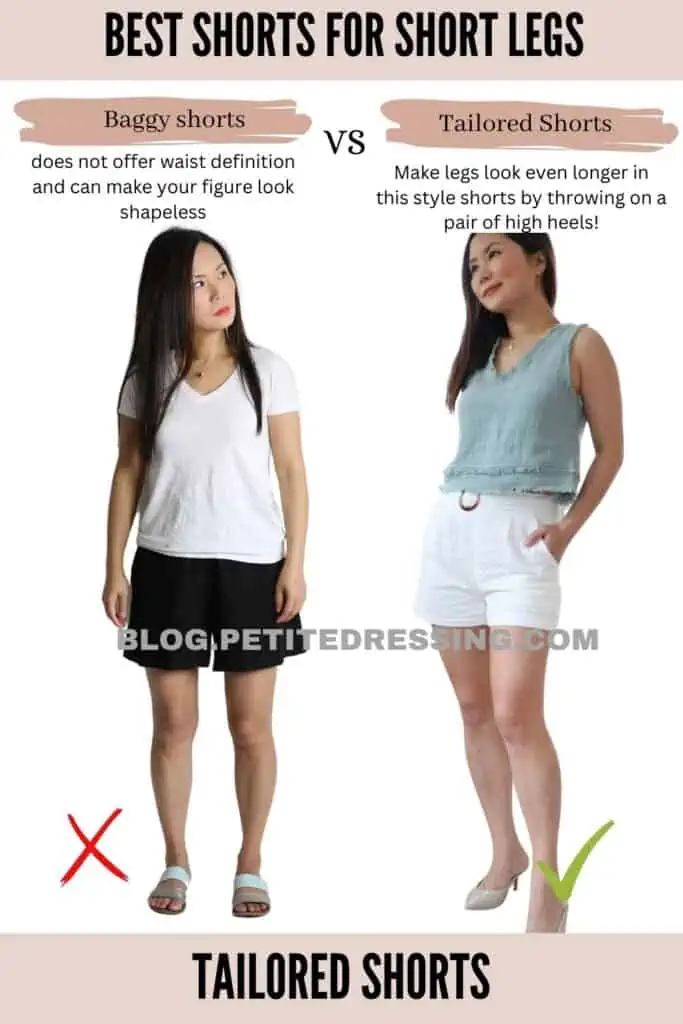 Skin Color Shorts
The nude color scheme has been on trend for many years now, and this is great news for shorter women.
Skin color shorts are one of the most flattering kinds of shorts for women with short legs.
The reason is when you wear nude color shorts, the shorts can blend with the color of your skin, which makes it harder for the eye to notice how long your legs actually are.
Skin color shorts are especially flattering if you like longer lengths. Typically long inseam shorts (above 5″) are most likely going to make your legs even shorter. However, if you wear them in nude color, they are going to blend with your legs and therefore create the illusion of longer legs.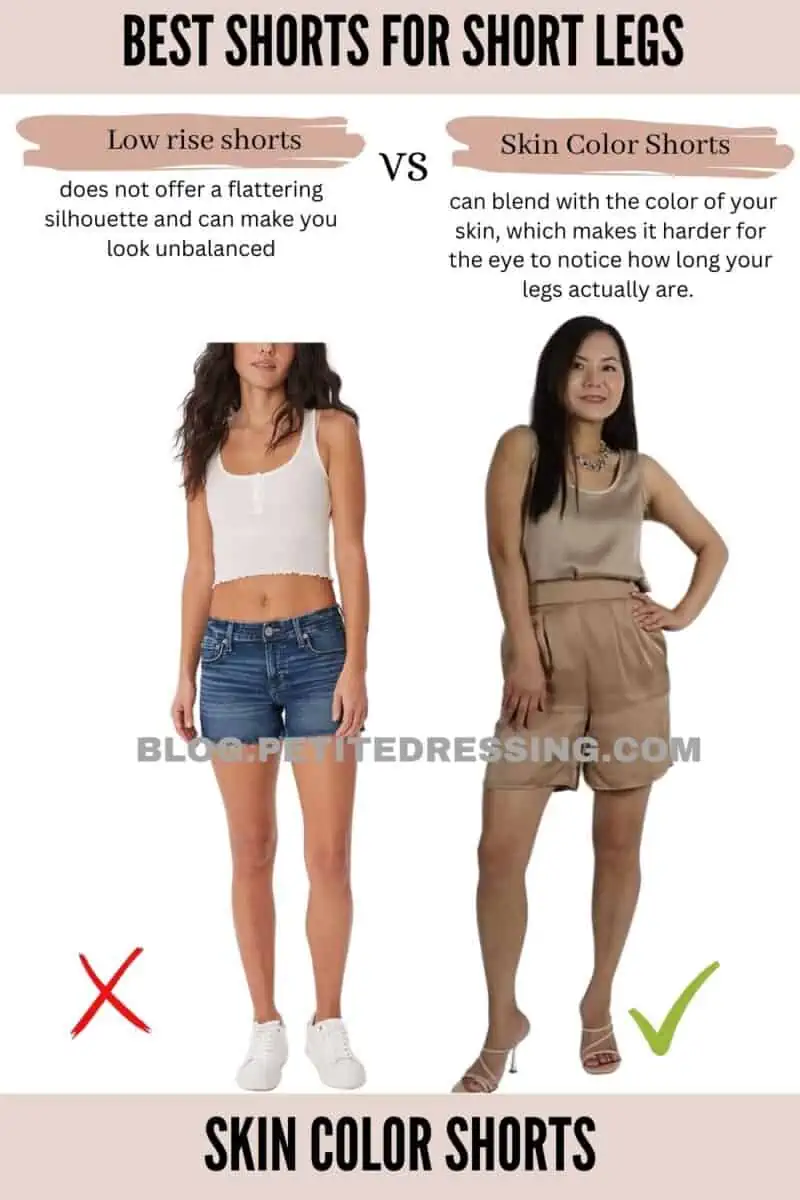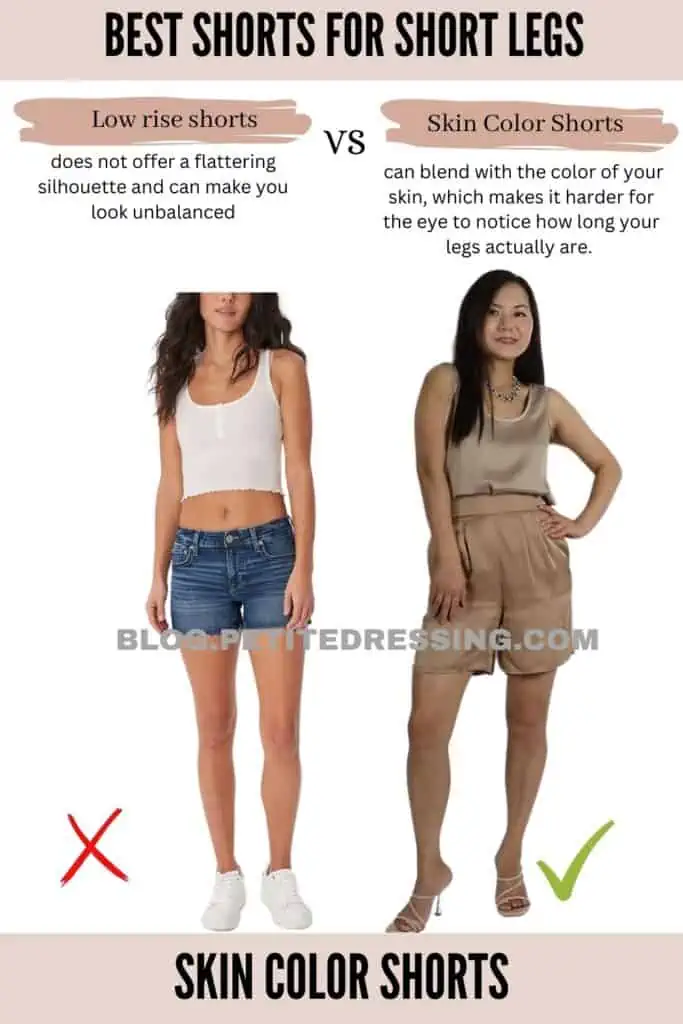 Paper bag Shorts
Another popular trend in shorts has become the paper bag style. If you're not familiar, paper bag style shorts is when shorts are gathered around the waist and held closed with a belt/tie which gives it the paper bag aesthetic.
Not only are these trendy but they're also a winning style choice with short legs.
Much like a couple of the other shorts styles mentioned previously, this is flattering primarily because of the waist definition detailing.
Because of the way paper bag shorts really cinch in the waist that area of the body is highlighted and make the waist appear slimmer and legs look longer.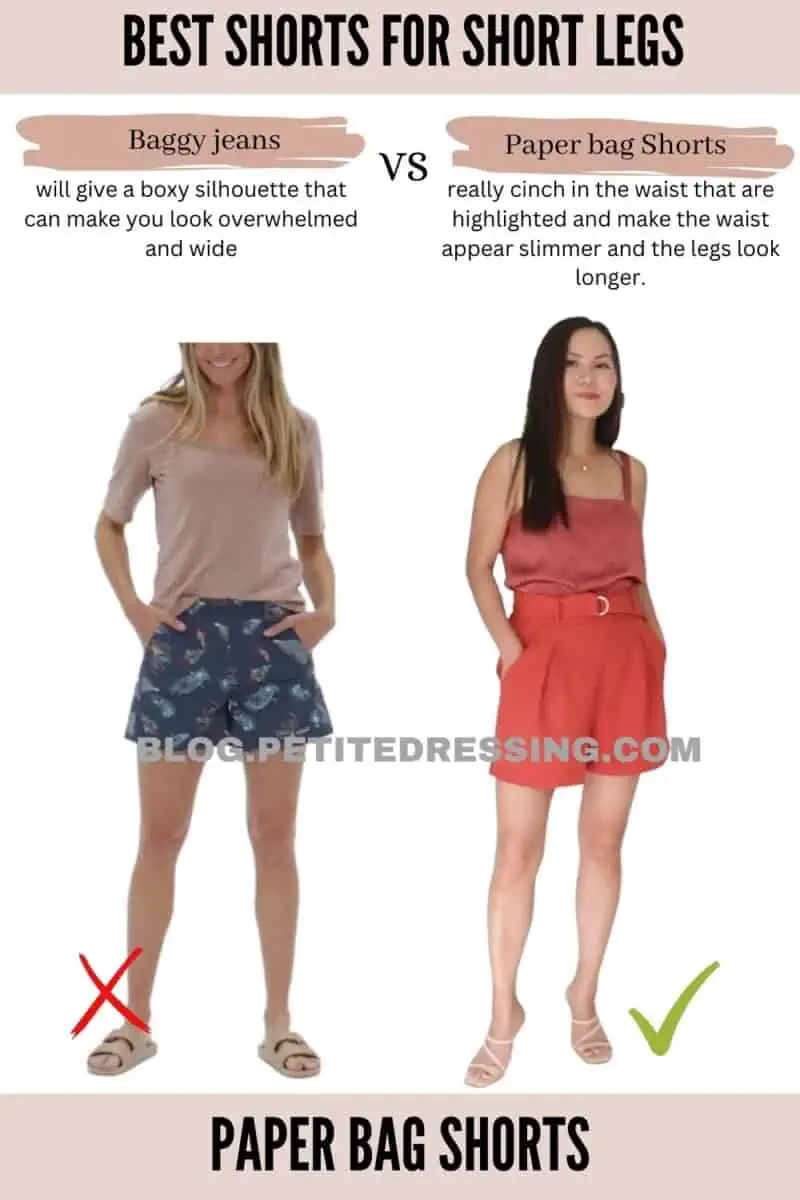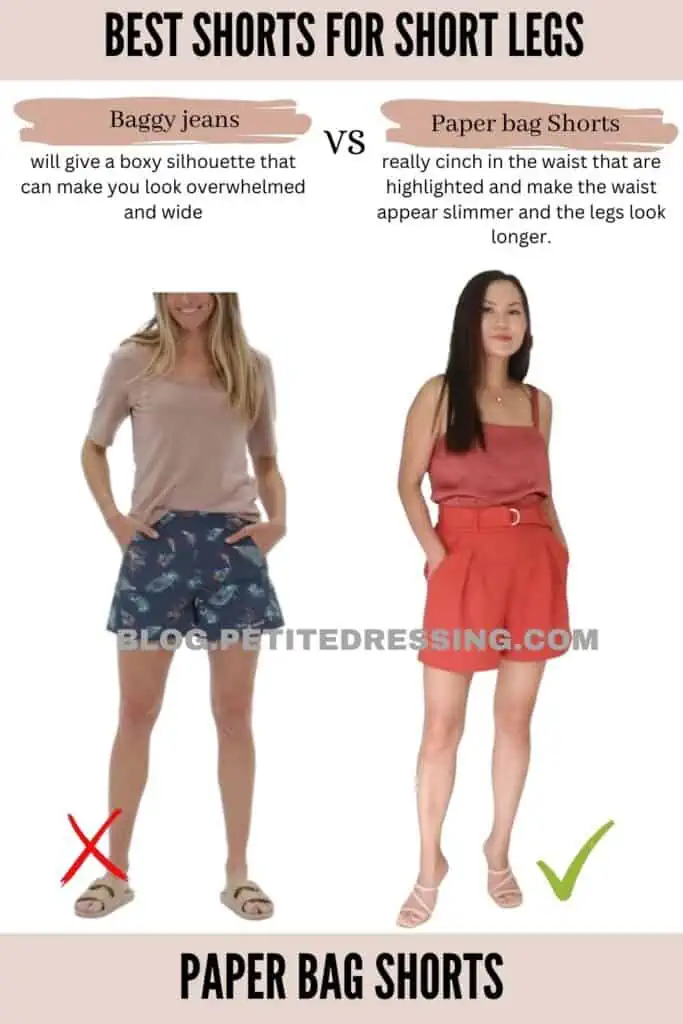 Shorts with Simple Pockets
Believe it or not, the back pockets on shorts can majorly impact how they look on short legs. I was wearing these shorts in this picture.
This is why it's best to keep back pockets simple. They'll fit closely to the body and help shorts to give the body a longer, leaner line down the body. Shorts with flaps and a lot of detailing to them often add volume to that area of the body which, as mentioned above is what has a tendency of giving a shortening effect to legs.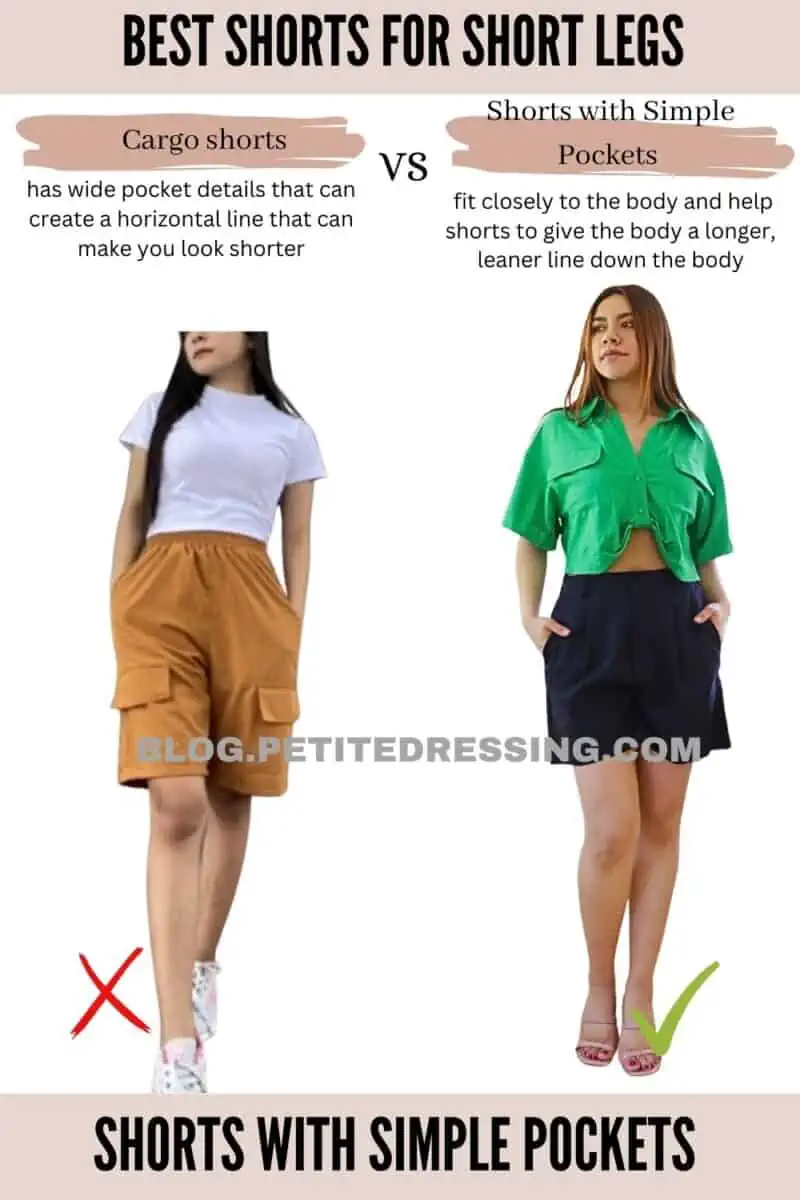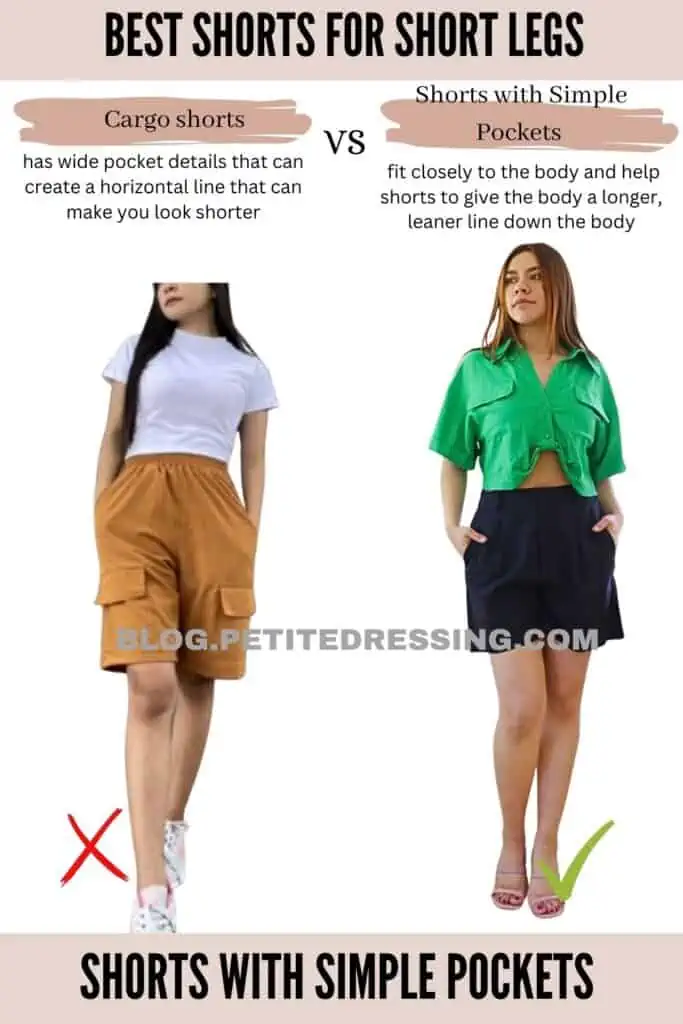 Multiple Button Closure Shorts
I was wearing these shorts in this picture.
This is a little trick that many don't realize offers instant length to short legs.
One major trend in denim this year has been the addition of multiple button closures taking the place of the traditional zipper and button closures we see in denim.
This line of buttons down the center of the shorts gives a built-in vertical line to the shorts, the reason this is beneficial is that vertical lines…you guessed it…lengthen.
This is a trend that can be found a lot in denim shorts and something to try out to enhance short legs.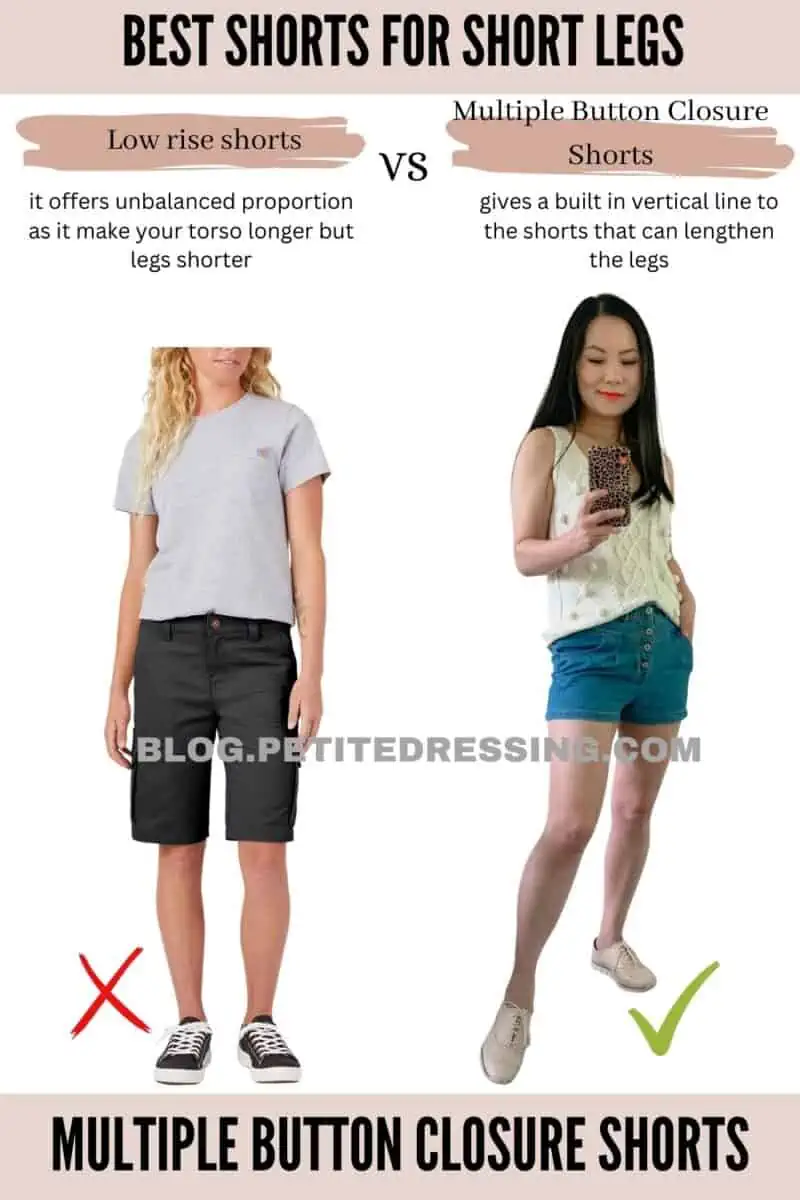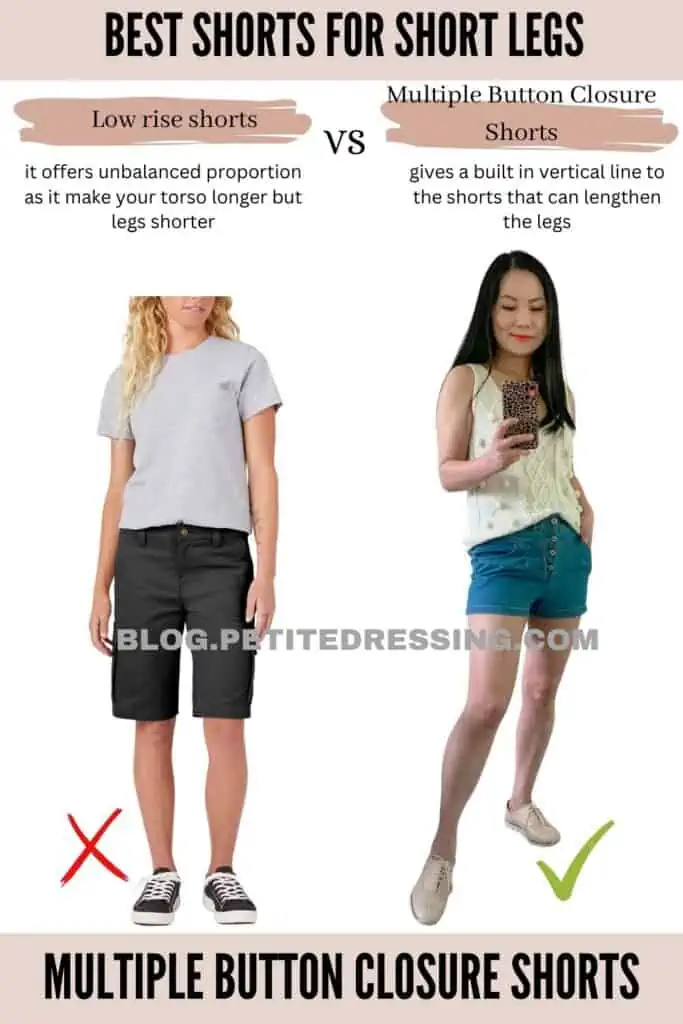 Mid-High Rise Shorts
This isn't a particular style of shorts, but something worth mentioning is the most flattering rise with short legs is always going to be mid to high-rise options.
You will want to avoid low-rise shorts at all costs simply because they tend to accentuate the appearance of short legs and can make them look even shorter. The higher the rise the longer legs look. Even if a high-rise isn't something you feel comfortable wearing, stick to a mid-rise.
The higher the rise the longer legs look. Even if high rise isn't something you feel comfortable wearing, stick to a mid rise.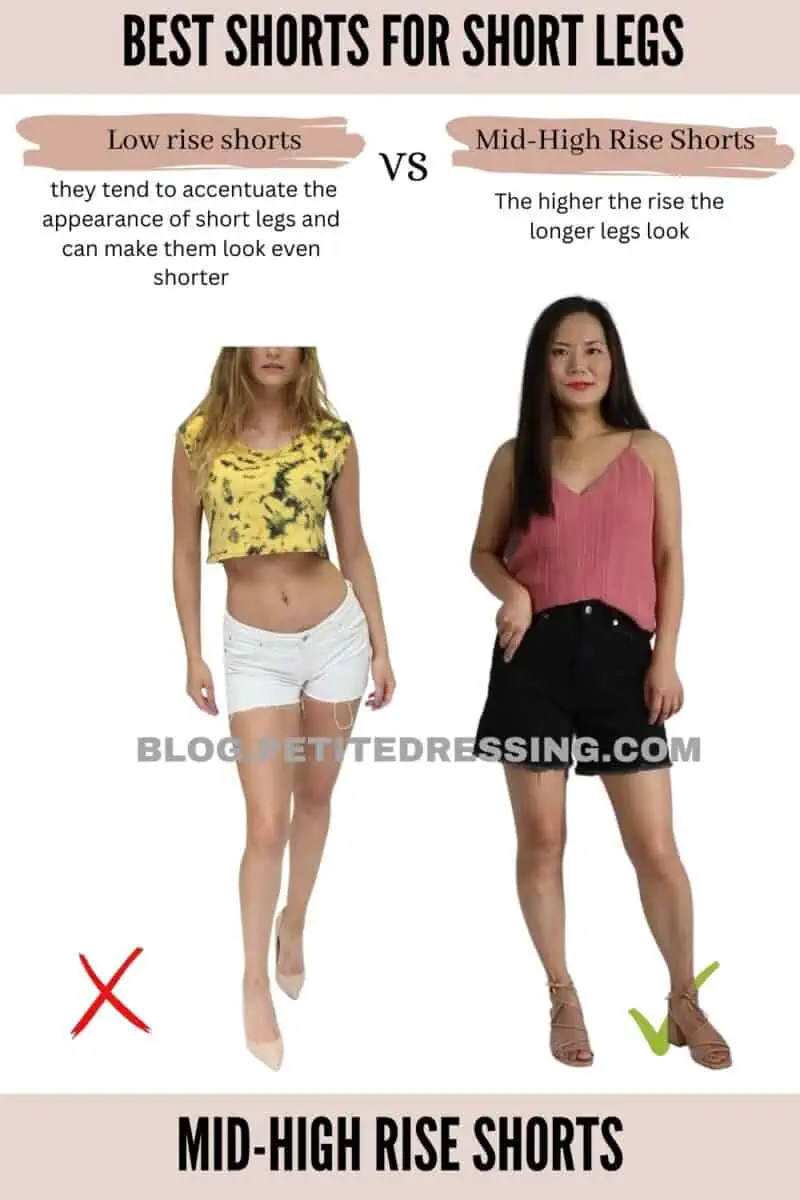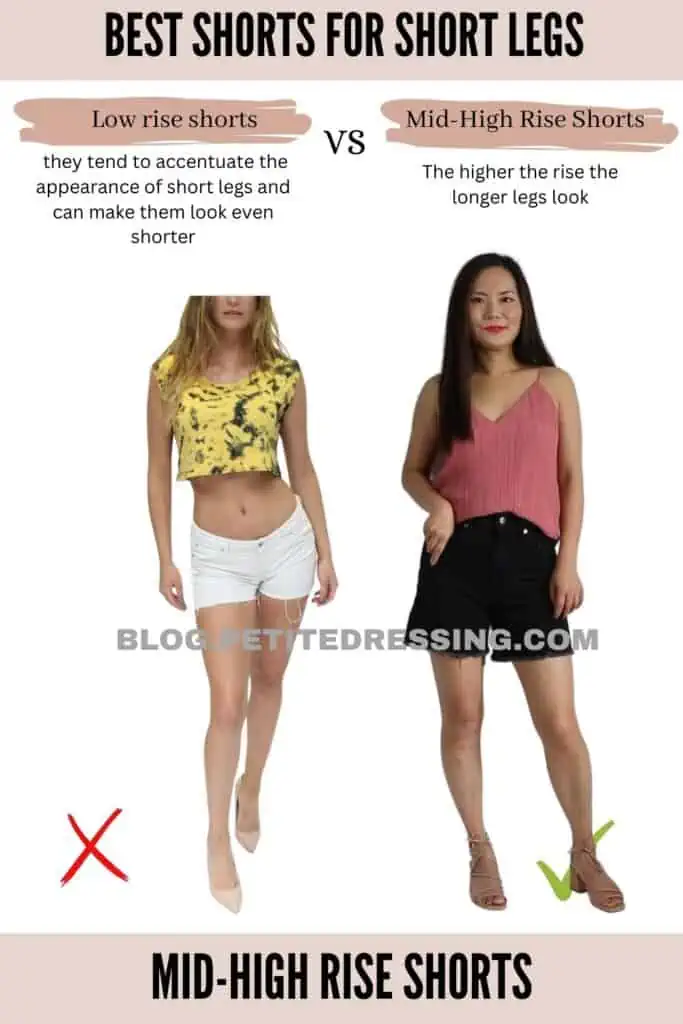 High-Waisted Bike Shorts
Who would have thought bike shorts would come back in such a big way? They are one of the biggest trends of the year and fortunately they're a great style choice for short legs.
High-waisted bike shorts give two benefits for women with short legs.
The first is the high-waisted fit.
This, as you may have learned by now, is an instant way to make legs appear longer because they literally bring the legs UP on the body. The second benefit is the slim fit of bike shorts.
Wearing something that fits close to the body shows the body and gives this really wonderful elongation effect to short legs.
This style shorts is really a must-have for anyone with short legs. Not to mention they're SO comfortable and a great way to give an athleisure look to any outfit.
If you would like to de-emphasize your hips and thighs, then the best way to wear biker shorts is to go with darker color, and wear a longer top which cover the widest part of your thighs.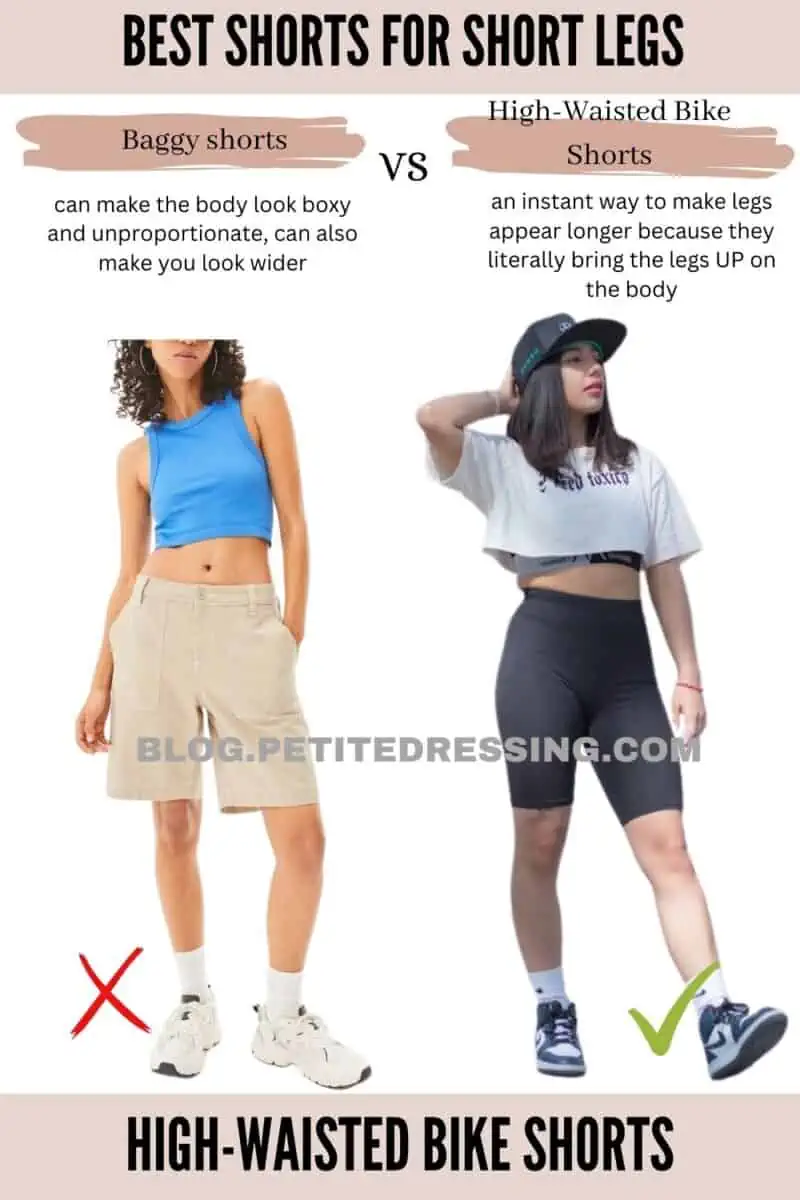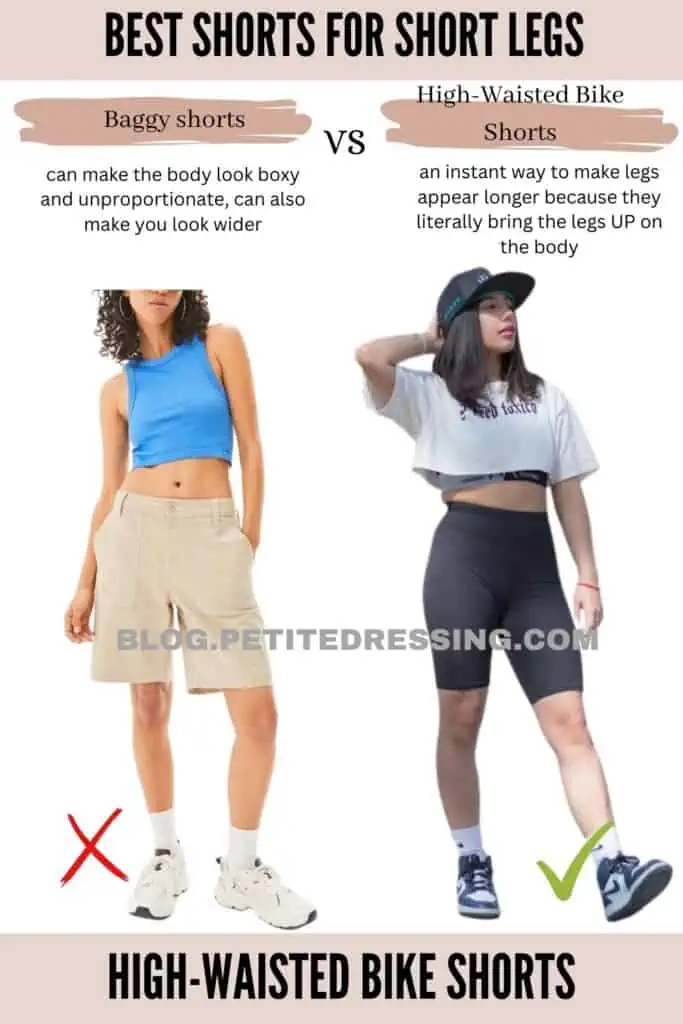 The caveat here, though, is if you happen to have wider hips or thicker thighs, biker shorts can make them more obvious.You can still wear them, if your goal is to emphasize your hips and thighs, like Jlo and Kim Kardashian.
Avoid Low Rise Shorts
If you have shorter legs like me, anything low-rise is not going to look flattering on you.
The reason is the low rise design falls under your belly button, giving the impression that your torso is longer than it is and therefore your legs will look even shorter in them.
Not only that, low-rise shorts are simply quite uncomfortable according to my own experience.
This is especially the case if you happen to have a bigger tummy. Anything falling lower than your belly button will not be able to cover everything you want to cover and will only draw more attention to your "love handles".
Another downfall is the risk of the low-rise shorts showing off your underwear when you sit down. To me, showing underwear is what we should avoid at any age.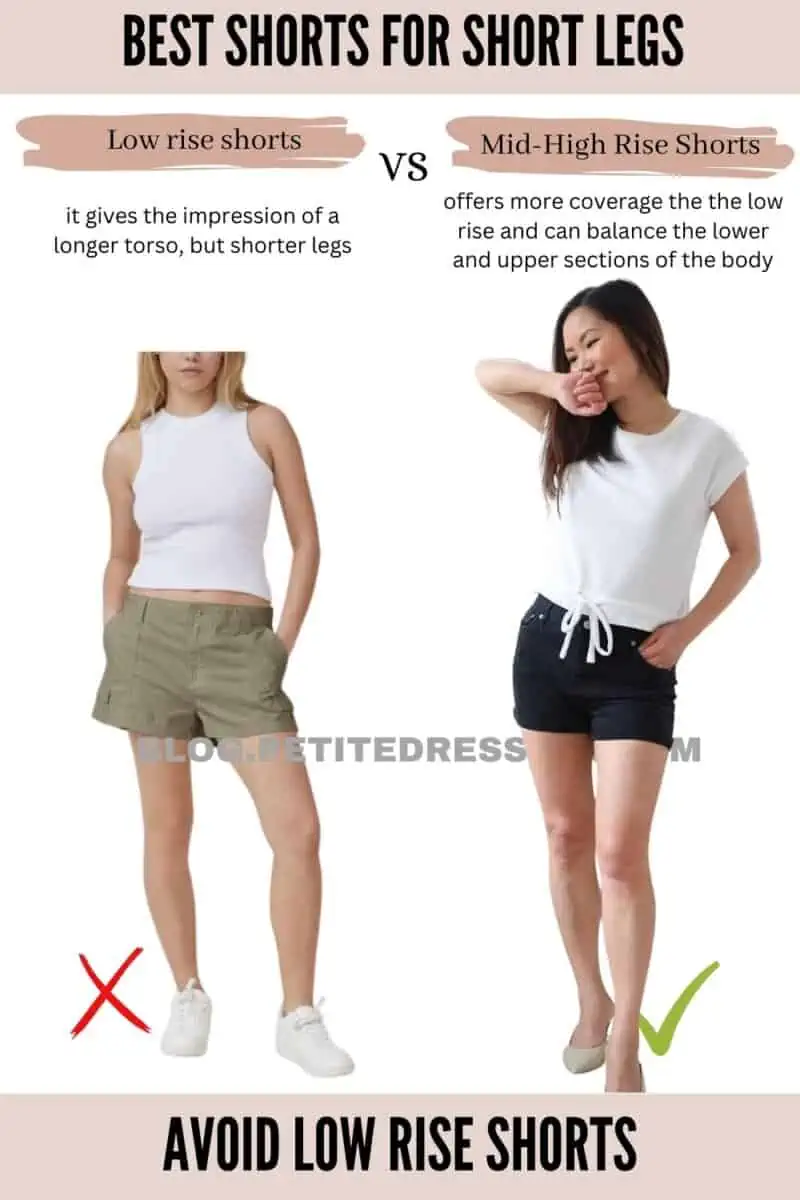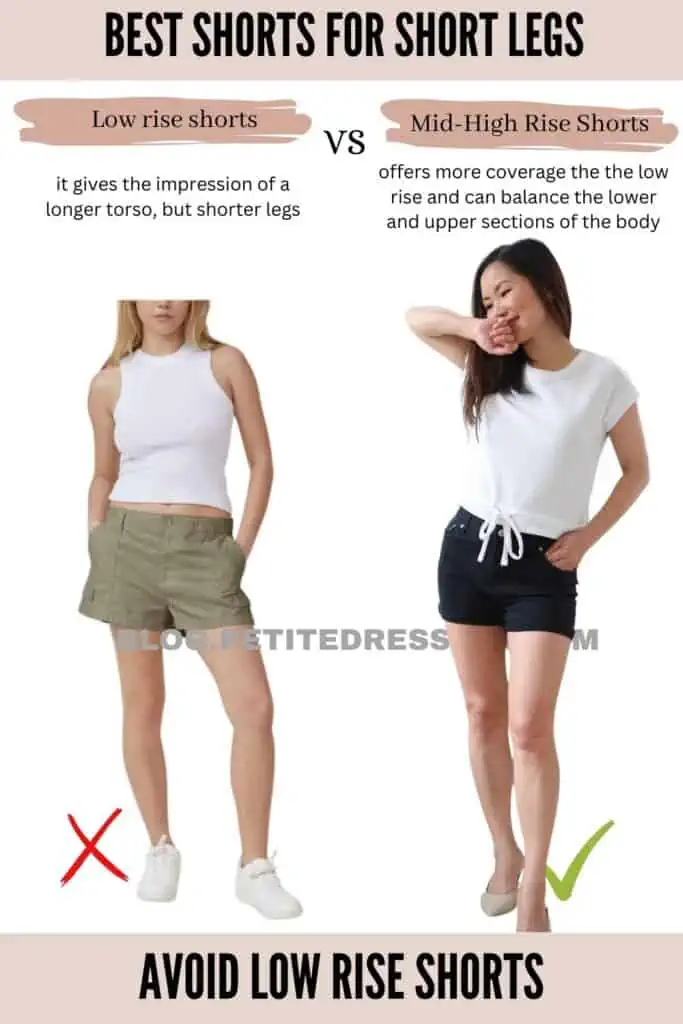 Avoid Baggy Style Shorts
While we all love to be comfortable in our clothes, baggy shorts are a tricky one to pull off with short legs. Baggy shorts often fit loose and add a lot of volume to the area of the body they are resting.
Because they're shorts this additional volume around the hip and thigh area often makes that part of the body look bulkier and shortens the legs.
Comfortably fitting shorts are definitely possible with short legs, however.
Just make sure there isn't too much excess fabric and they don't fit TOO loosely around the body. Always make sure that your shape is somewhat shown in the shorts so you're able to reap the benefits of the rest of the fit of the shorts.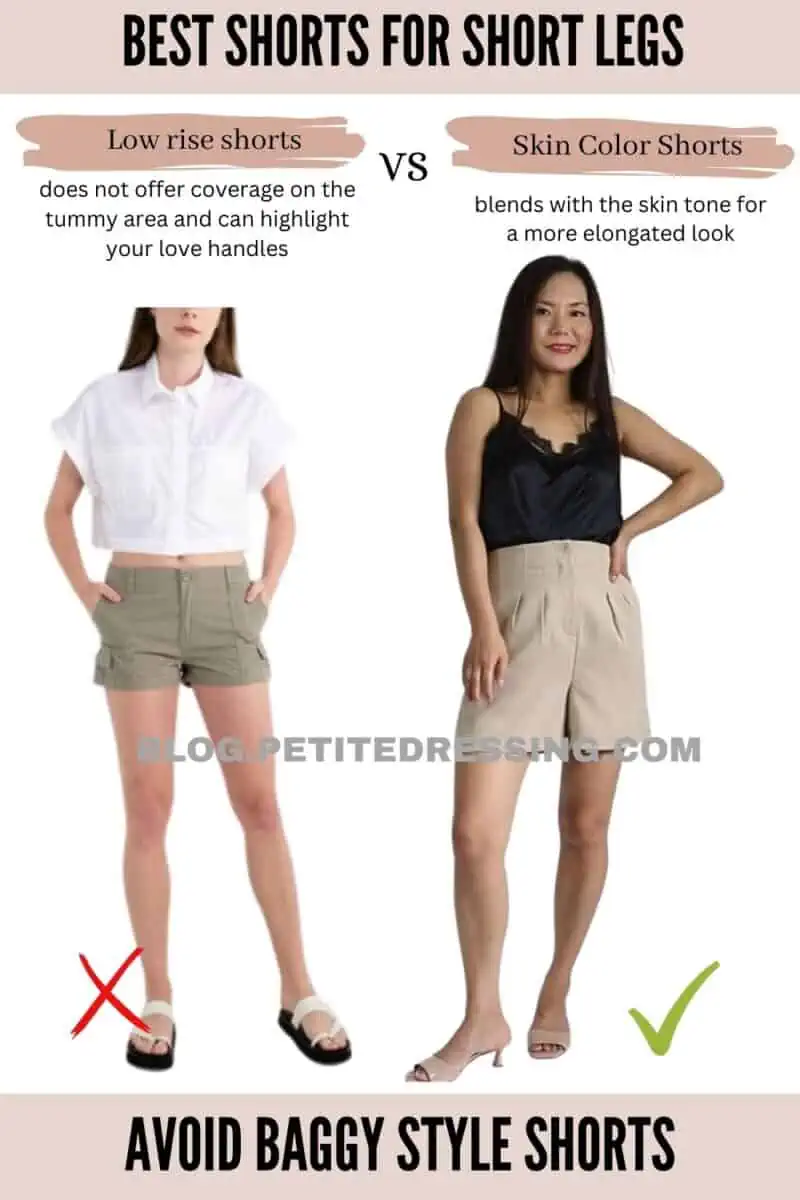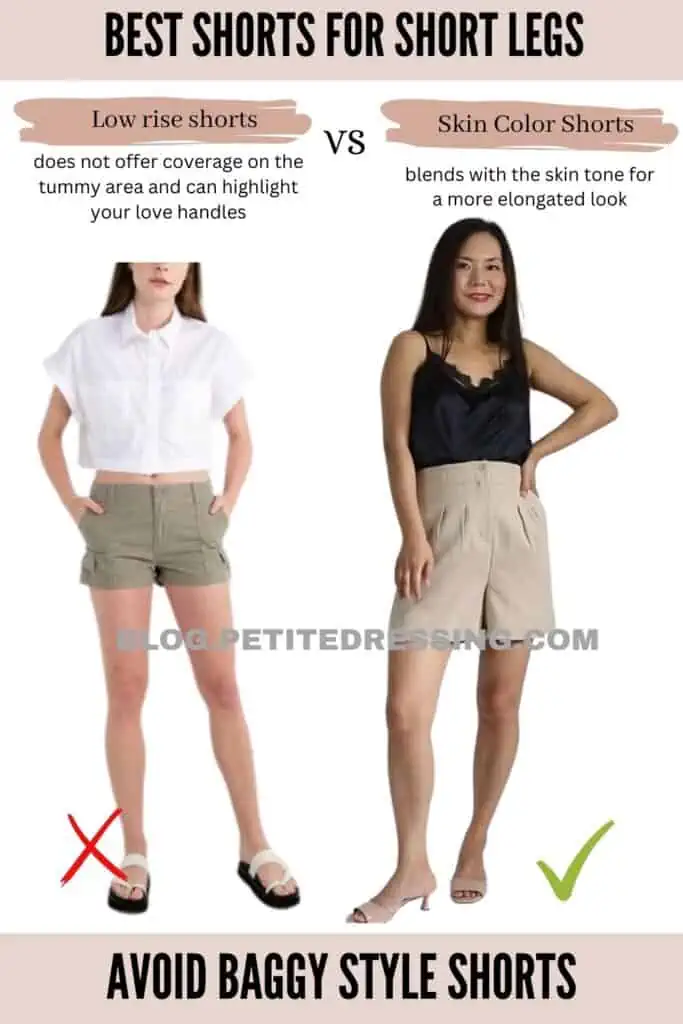 Shop the Petite Size
A lot of petite women (myself included) may think it doesn't make a difference whether you go with petite size or not when it comes to shorts.
Since shorts do not have long inseams like jeans and pants, we never have to worry about hemming them to fit our short legs.
However, petite-size shorts can still be more flattering for petite women, compared with regular-size shorts, in most cases.
This is especially true when it comes to high-rise shorts. I have tried numerous high-waisted shorts, and some of them can be too high-waisted, if they are not in petite size.
Petite sizes have considered the fact that petite women typically have shorter torsos, compared with women above 5'4″. So petite size shorts are made to fit our body shape better proportionally.
Therefore, whether you're considered petite or not, when you have short legs it's not uncommon that petite styles may fit your shape better. Much like long-length pants, petite-fit shorts tend to fit short legs in the right placement. If you often find that shorts look really long and overwhelming on your legs, try a few petite options on to see how they fit in comparison.