If you have an inverted triangle body shape, your shoulders stand out, as it is broader than your hips. If you are also a petite woman, then it can get more complicated to choose swimsuits for your shape, as you may also have a shorter torso and shorter legs.
I know it can be a challenge to find swimsuit as a petite, since I'm 5'2″ myself. Besides, I also have a clothing line for petite women, so I style petite models of different sizes and shapes on a weekly basis.
Based on my own experiences as well as feedback from my petite customers, I've put together this guide to help you find the right swimsuit.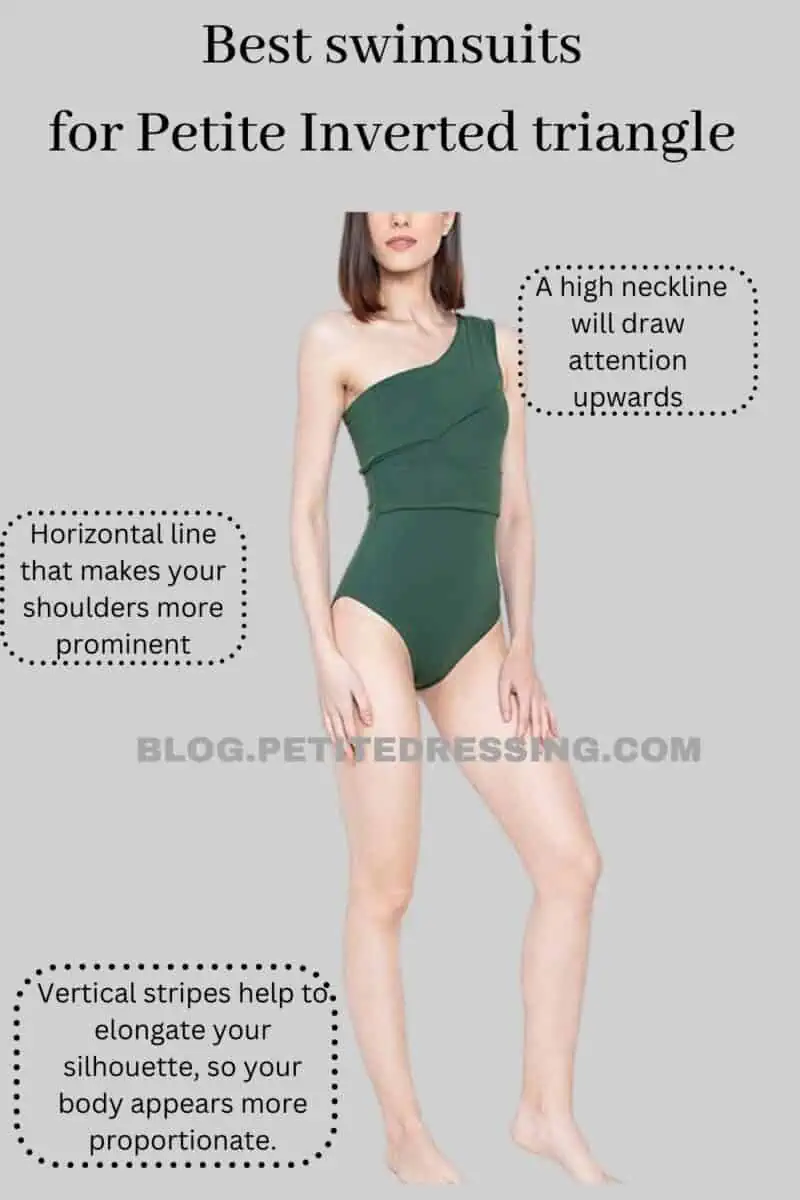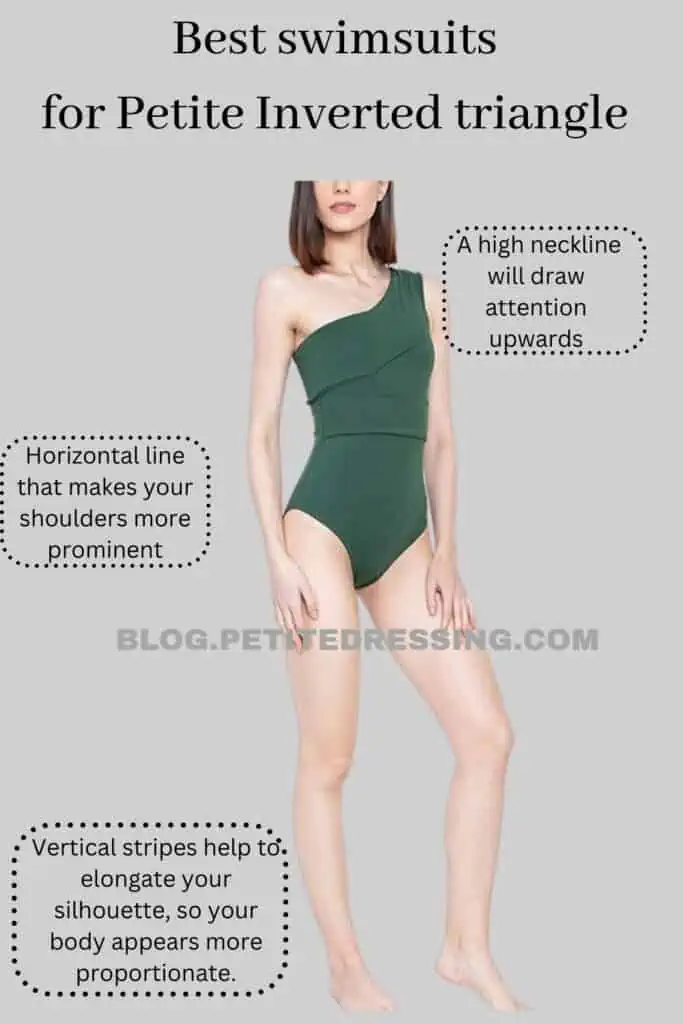 Sweetheart neckline
When choosing swimwear for an inverted triangle shape, picking the right neckline is super important. Your choice of neckline can either emphasize your wide shoulders, which creates an unbalanced silhouette or play it down so that your body is more proportional.
One neckline style that helps in playing down your bust and wide shoulders is the sweetheart neckline. This neckline is great because it is slim and long, and that's effective in visually reducing the width of your upper body.
Necklines similar to this is the scoop and plunging U-neckline styles that are flattering for the inverted triangle shape. Another great effect of the sweetheart neckline is that it flatters your bust, so it blends seamlessly with the rest of your body. Overall, this is perfect for enhancing your natural femininity.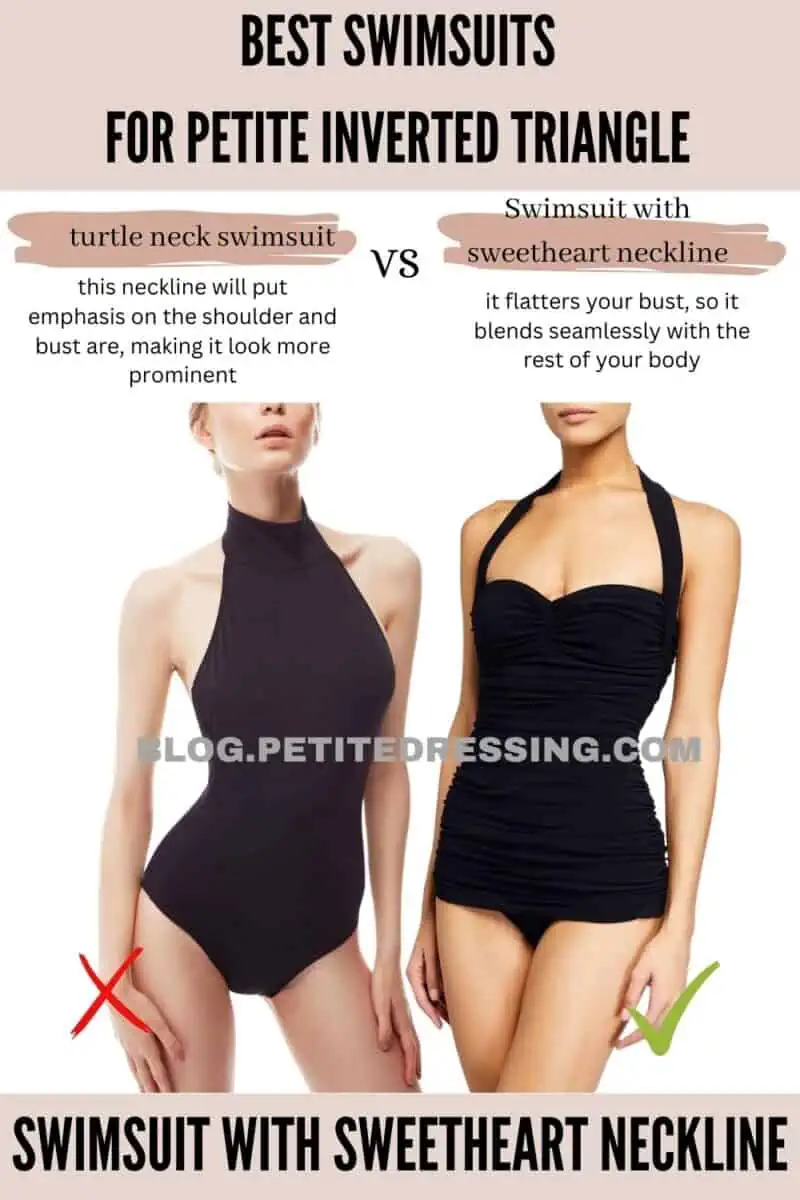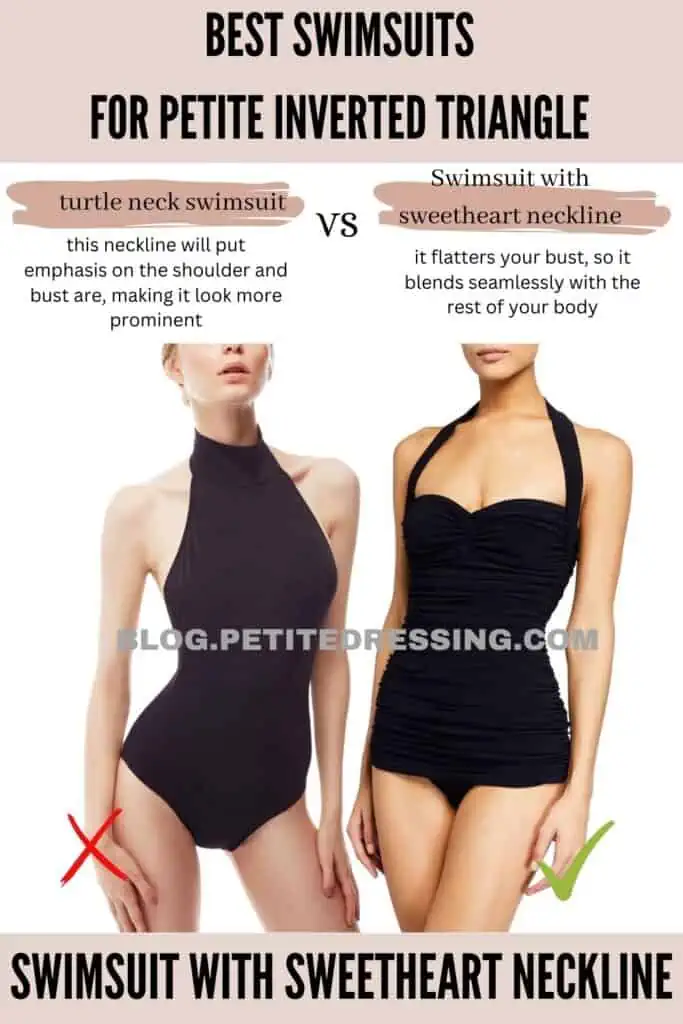 So, be sure to look out for swimsuits that take the attention away from your shoulders and accent your bust without extra focus on the upper half of your body. If you can, choose swimwear with underwire support, as this hidden support on your bust has a pleasant effect on your silhouette.
Thick straps
Shopping for swimwear comes with its challenges but one style for the inverted triangle shape that hasn't been disappointing for me so far is swimsuits with thick straps. Since the goal is to soften your shoulders and make them look less broad in dimension, thick straps can get it done.
Your shoulders will appear even smaller as you increase the thickness of your swimsuit straps. So, look out for halter top swimsuits with wide straps, as this is a great example of a swimwear that encompasses this positive effect.
The dramatic neckline of halter top swimsuits draws the eyes away from the shoulders and further down from the bust area, which is great for creating a visually shrinking effect on your shoulders.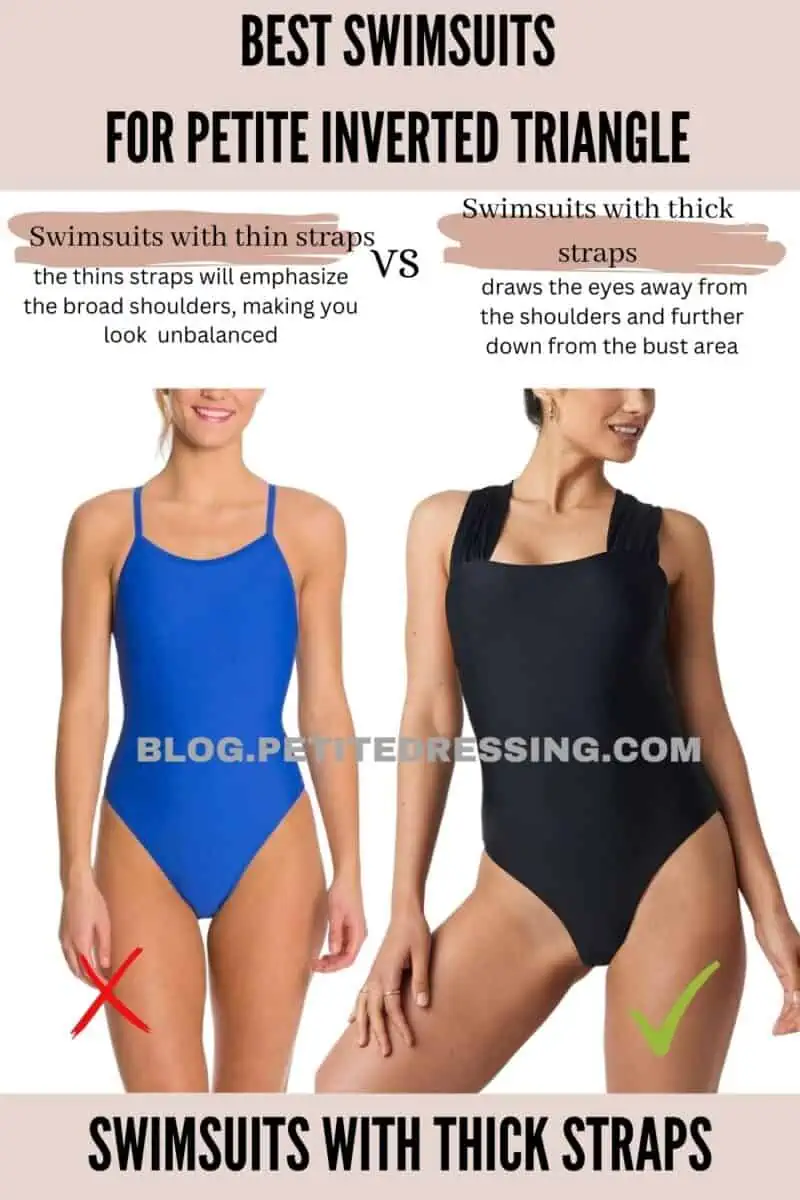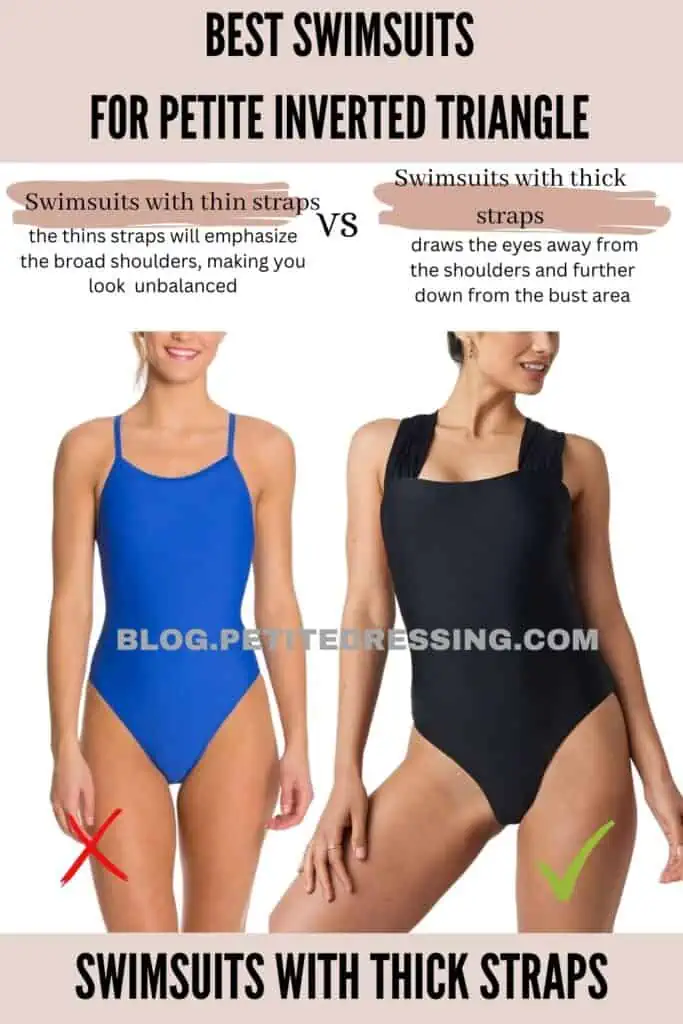 This can also be replicated in other swimsuit styles, including those with V-neck, U-neck or scoop necklines. Look out for thick straps when shopping for swimsuits and you'll have a style that complements your inverted triangle body shape perfectly.
Vertical stripes
On petite curvy women, clothing styles with vertical stripes do a great job of producing a slimming effect on their overall silhouette. It's one of the top styles I would recommend for curvy women and that's not any different for women with an inverted triangle shape.
As a petite woman with an inverted triangle shape, you need a swimwear that will provide a counterbalance for your narrower lower half which is common with your body type. Vertical stripes help to elongate your silhouette, so your body appears more proportionate.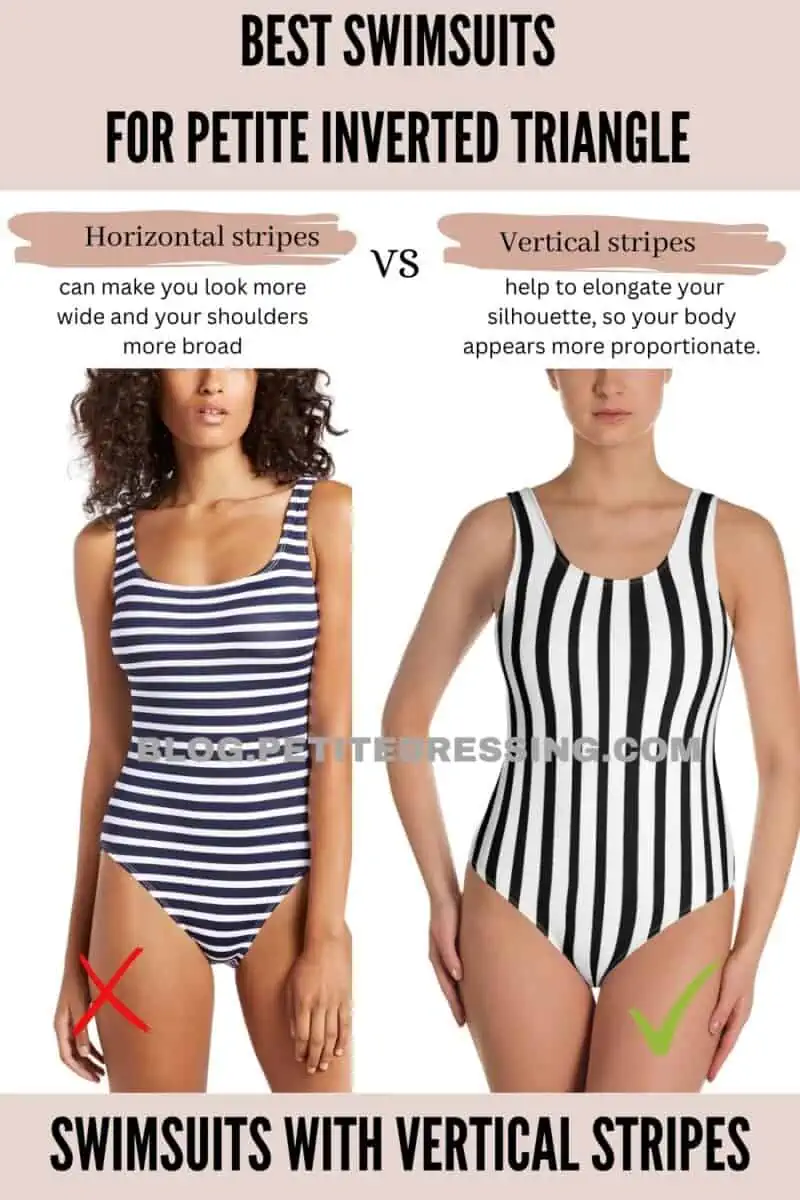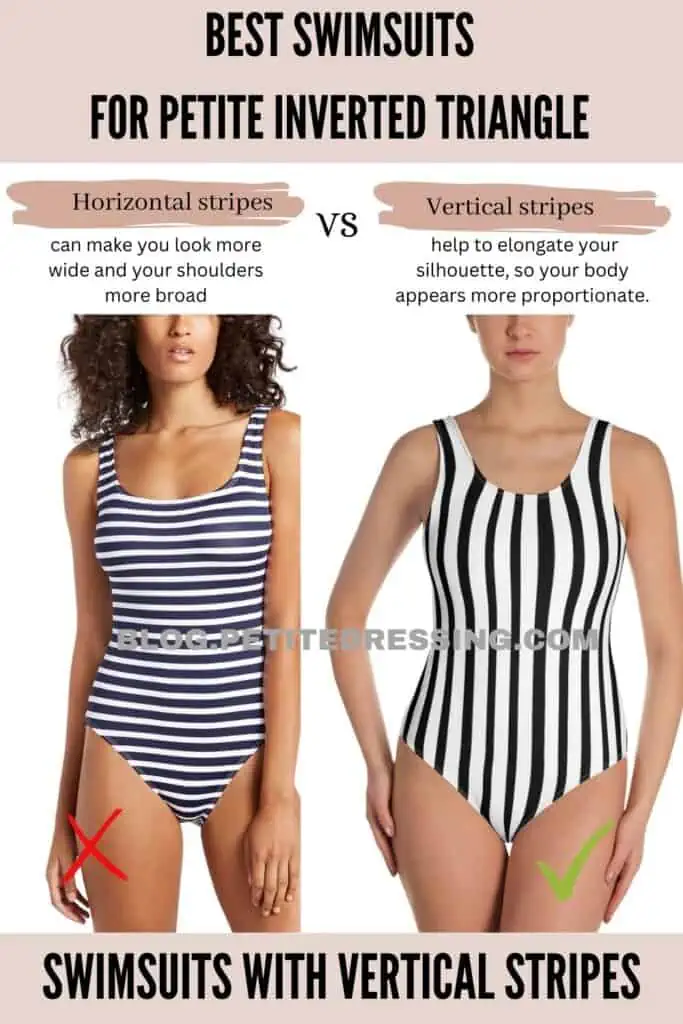 Therefore, look out for swimwear with vertical stripes that draw the eye downwards and give the illusion of being slimmer. These stripes can be in a variety of colors but I especially love swimsuits in light-blue vertical stripes. This is a color that's not too attention-grabbing and it does the required job of elongating your silhouette.
Bold prints
Bold prints may seem too attention-grabbing for some women, but you'll love this effect as a petite woman with an inverted triangle shape. The secret is to limit the bold prints to your swimsuit bottoms since this draws attention away from the top half of your body.
More attention to the bottom half of your body will give your overall body silhouette a more balanced outlook. Bold prints can be a huge win for your body, but it depends a lot on your styling choices.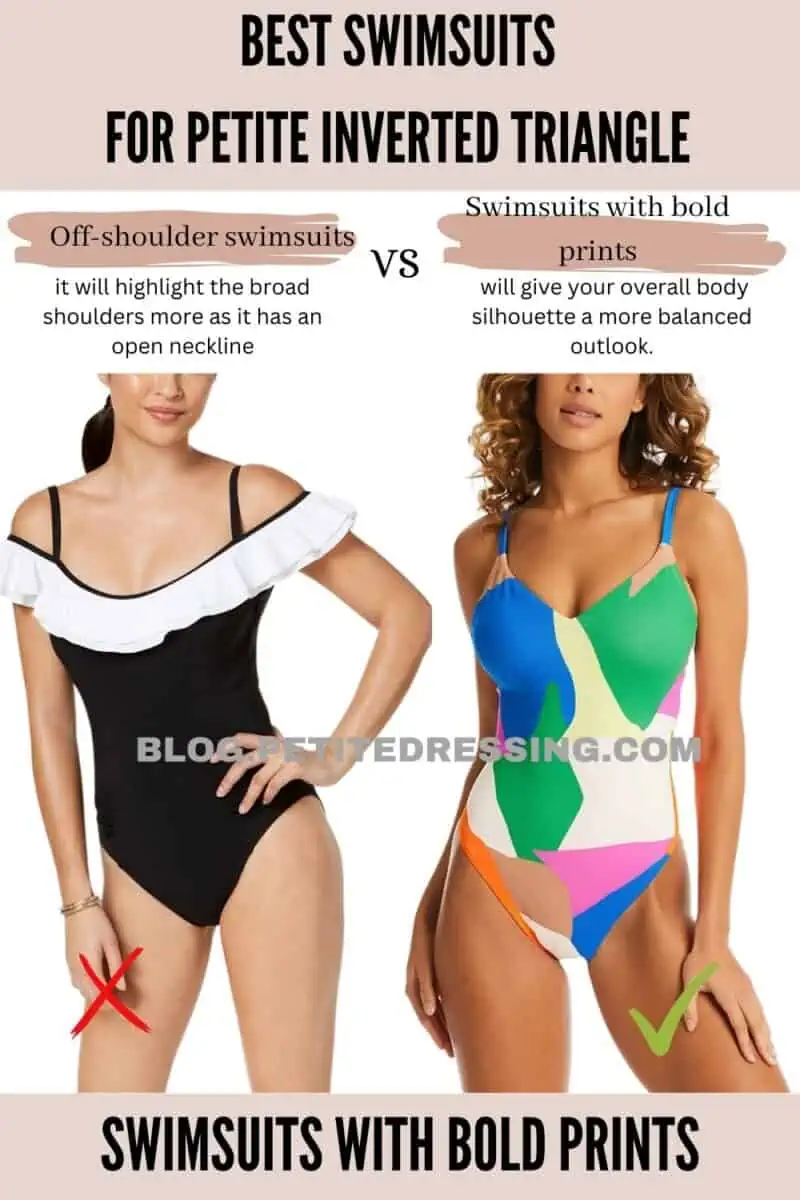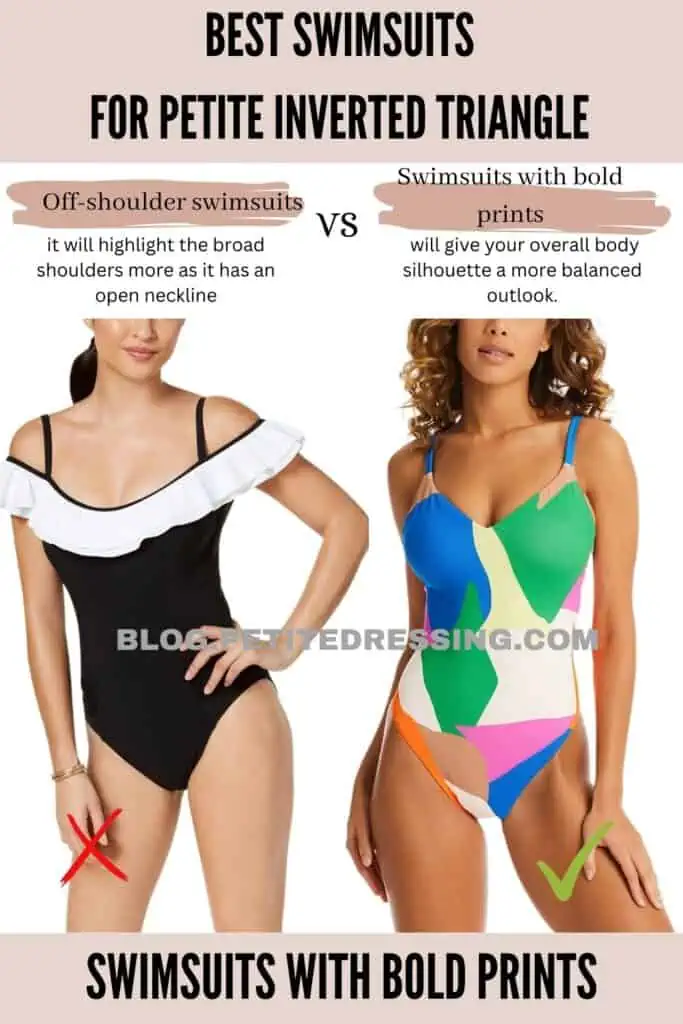 So, don't be limited by its eye-catching properties. Explore those bright and fun colors on your bold patterns to really exploit that balancing effect. However, keep your bikini top in a simple style, preferably without patterns.
If you want to experiment with all-around bold prints, I suggest you do this on a swimsuit with a sweetheart neckline. This already does a great job of drawing attention downwards, and the bold print will counterbalance its effect.
V-neck swimsuit
I already mentioned how helpful plunging necklines can be for petite women with an inverted triangle shape and the v-neck is one of my top choices. Any swimwear that's effective in breaking up the space between your shoulders such that it appears narrower is a win.
Therefore, v-neck swimsuits will be a great addition to your wardrobe as they are great for petite women with short necks and thick torsos. The most important effect of v-necklines is that they narrow your shoulders.
You can also use this to make your outfit look incredibly sexy and feminine. Everyone appreciates a silhouette that highlights feminine curves while making you look elegant. This is possible with a v-neck swimsuit.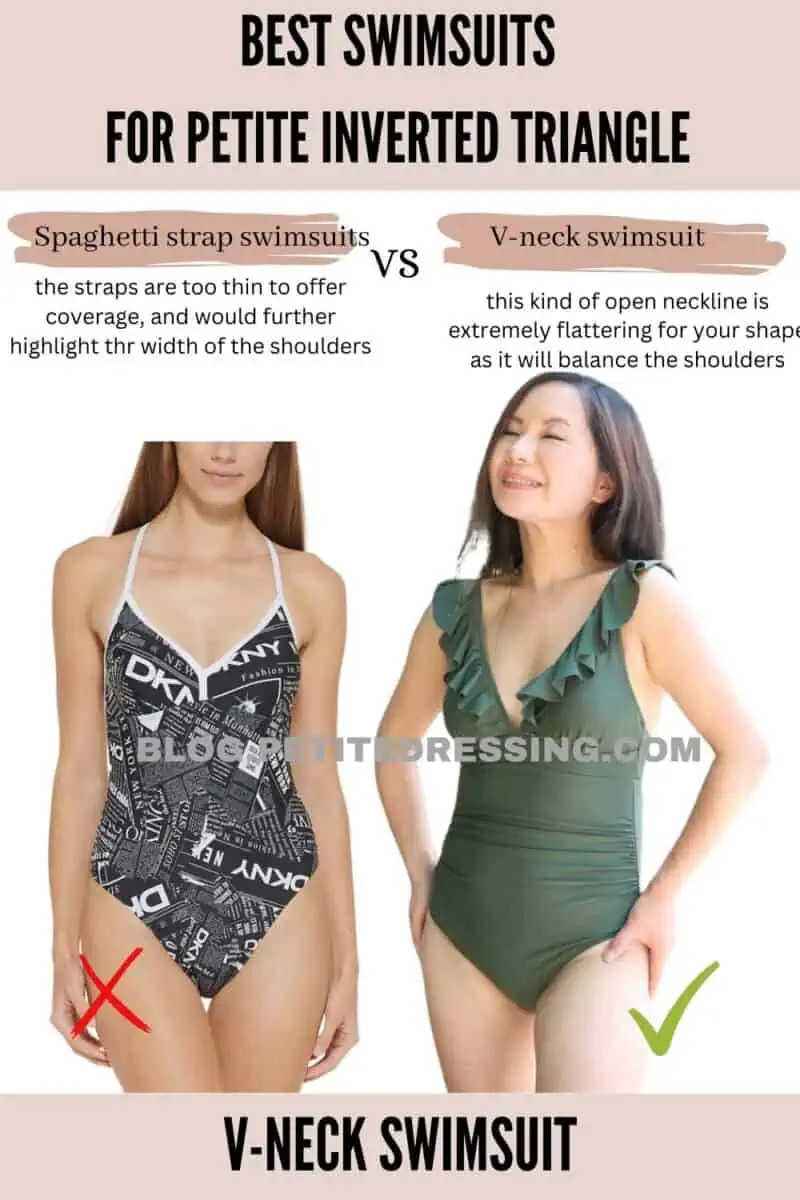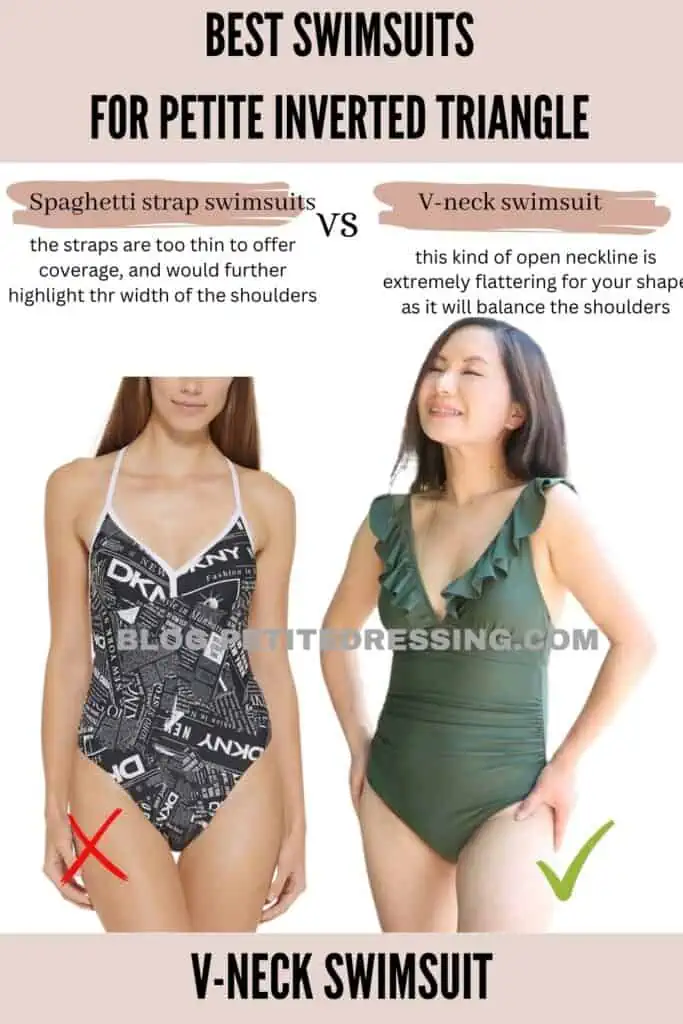 Opt for swimsuit styles in bold colors, vertical stripes or busy prints. These are all amazing options for petite women with an inverted triangle shape. Your swimsuit can also come with a padded cup as an extra means of support for your bust area. This adds to the overall effect of drawing attention downwards while maintaining a flattering upper half.
Color-blocked swimsuit
Color-blocking is a fashion technique that involves pairing colors that are on opposite ends of the color wheel. So, you can make an exciting statement with two bold colors on your swimsuit. How can you do this to complement your inverted triangle shape?
This body shape has a wider top compared to your bottom. Therefore, you need to apply the color-blocking technique in a way that helps you achieve symmetry and balance. An amazing option is to pair a darker color top with a bright-colored bottom. This will draw more attention toward the bottom half of your body.
Wearing a swimsuit with a light-colored top and dark-colored bottom will have an amazing visual effect on balancing your overall silhouette. This is similar to the results you get when you wear a swimsuit with bold patterns on the bottom-half of your body.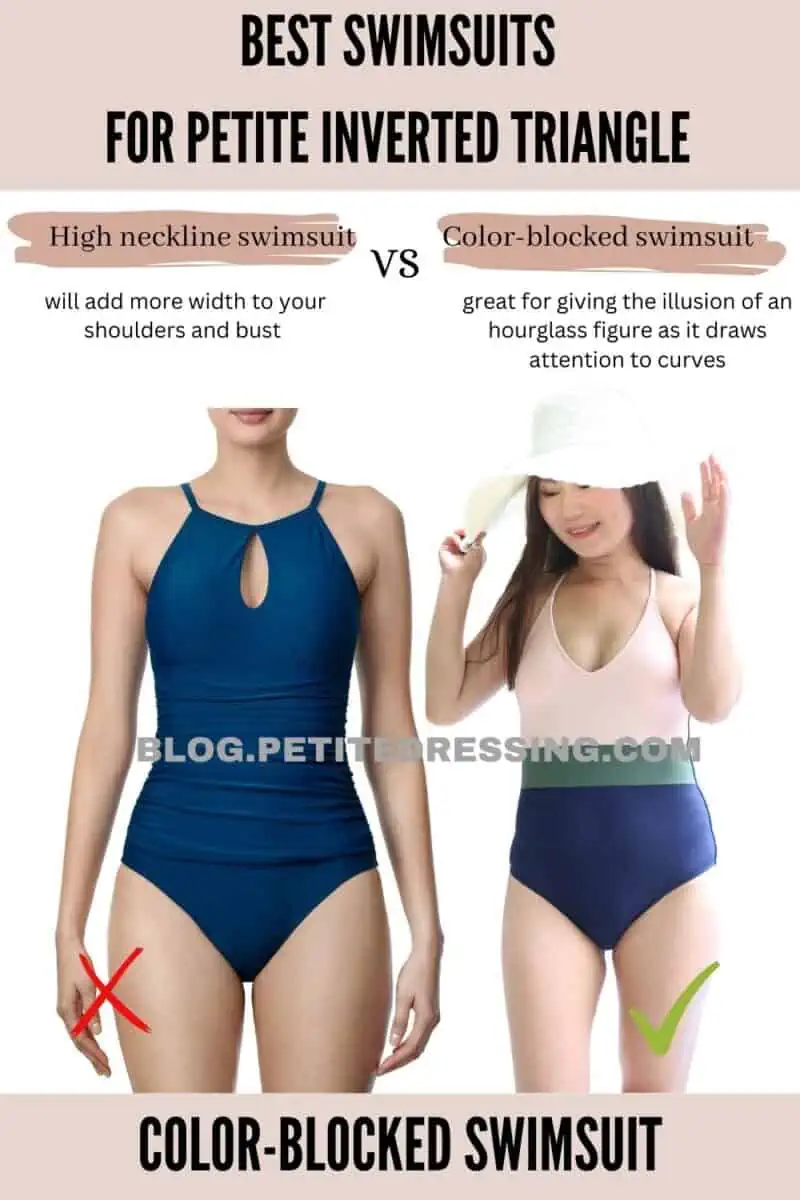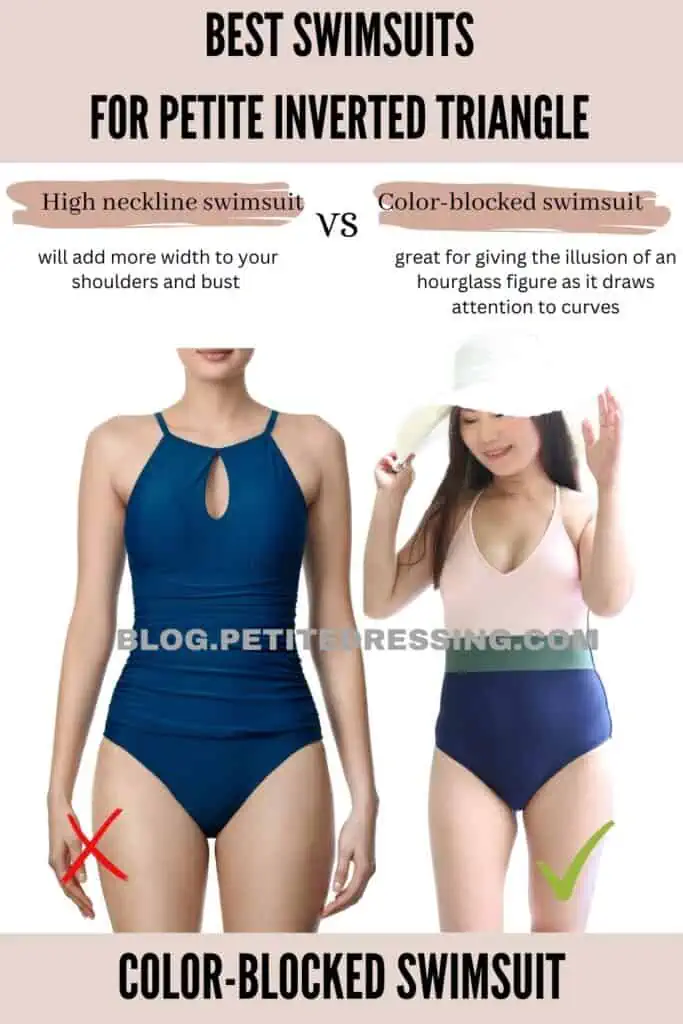 If you don't mind printed panels, you can rock swimsuits that have this style along the sides while being solid-colored. This is great for giving the illusion of an hourglass figure as it draws attention to curves. When your body appears curvier, this effectively eliminates your boxy upper body.
Avoid high neckline
To build a swimwear wardrobe that complements your petite inverted triangle shape, you need to choose a neckline that minimizes the strong horizontal line created by your bust and shoulders. This horizontal line is what makes your upper body wider than the lower half of your body, creating an unbalanced silhouette.
Therefore, you should avoid necklines that will add more width to your shoulders and bust. Necklines under this category include those that are too low, wide or high. A high neckline will draw attention upwards.
Stick to sharp v-necklines or a narrow scoop neckline that tones down your shoulder width. An asymmetrical neckline will also work great for drawing attention away from your shoulder line.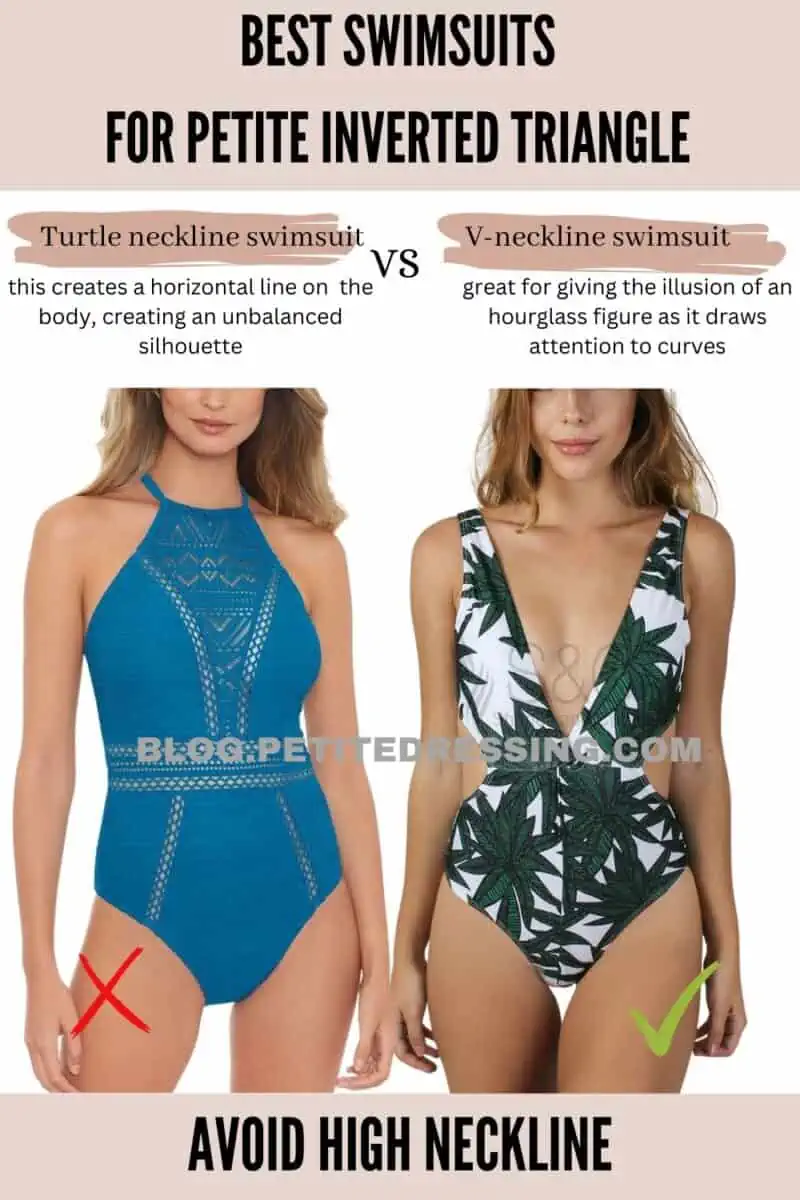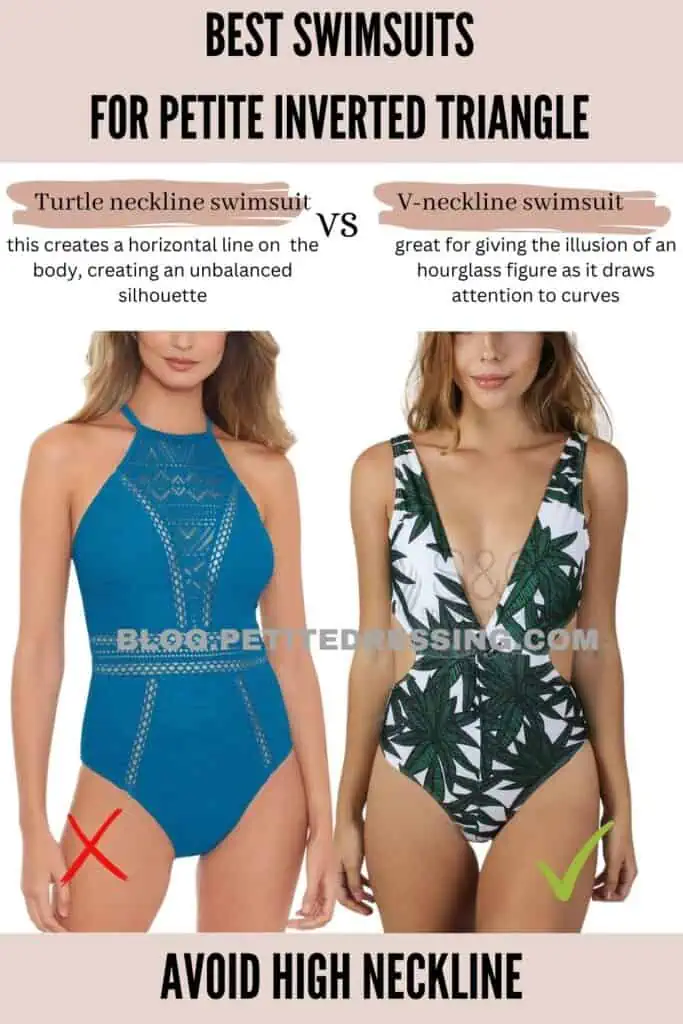 Rather than a horizontal line that makes your shoulders more prominent, avoiding a high neckline in favor of asymmetrical or scoop necks will create a strong diagonal line that minimizes your shoulders.
Your unique body shape can stand out beautifully in swimwear when you choose those that smoothen out the unbalanced areas and draw more focus to flattering spots. So, be sure to try out the swimwear in this list to find the one that works great for you.