I'm 5'2″, and I know how hard it is for petites to find pants that fit, and that is the reason why I have a clothing line for petite women. Besides, even though I'm overall thin, I have a very typical apple body feature, i.e. whenever I gain weight, it always first shows up on my stomach.
Therefore, I'm speaking from first hand experience that pants can definitely be a struggle for short women with an apple shape.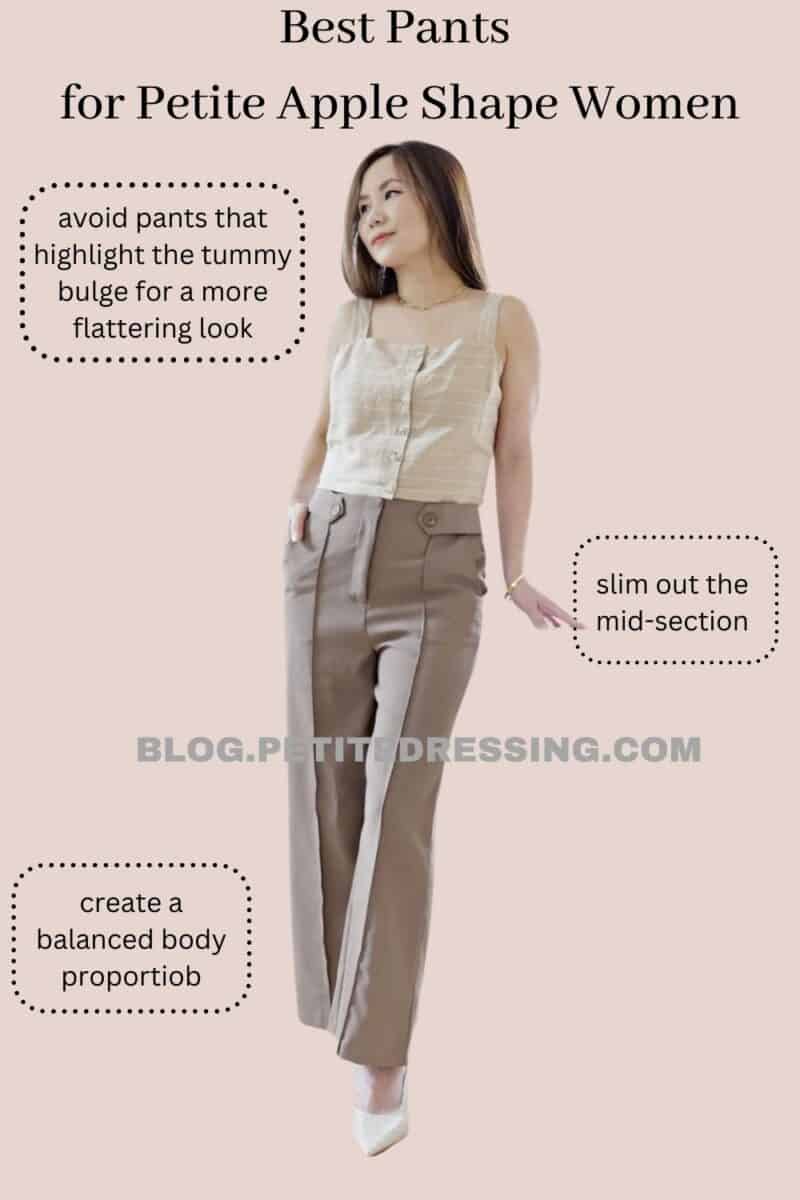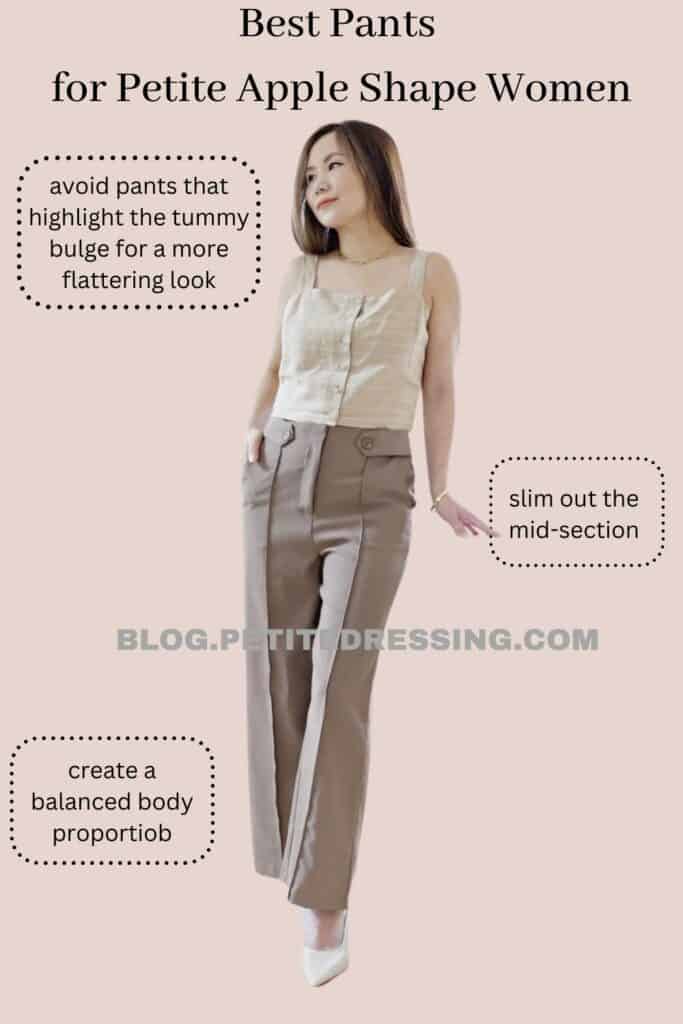 That is why I have put together this complete pants guide for you.
Some pants emphasize your fuller midsection while others flatter your tummy area and make your overall body structure look more proportionate. Below is what to look for if you have a petite apple shaped figure like myself.
Mid-rise pants
Mid-rise pants are a great option for petite women with apple shape. The goal of most pants on petite women with this body structure should be to minimize the lower body and make it appear in proportion with the upper body as much as possible.
This is where mid-rise pants come in. These are great because they go high enough on the waist without exposing tummy bulges. Be sure to choose styles that have a wide waistband so that they can have a comfortable fit while accommodating your fuller midsection.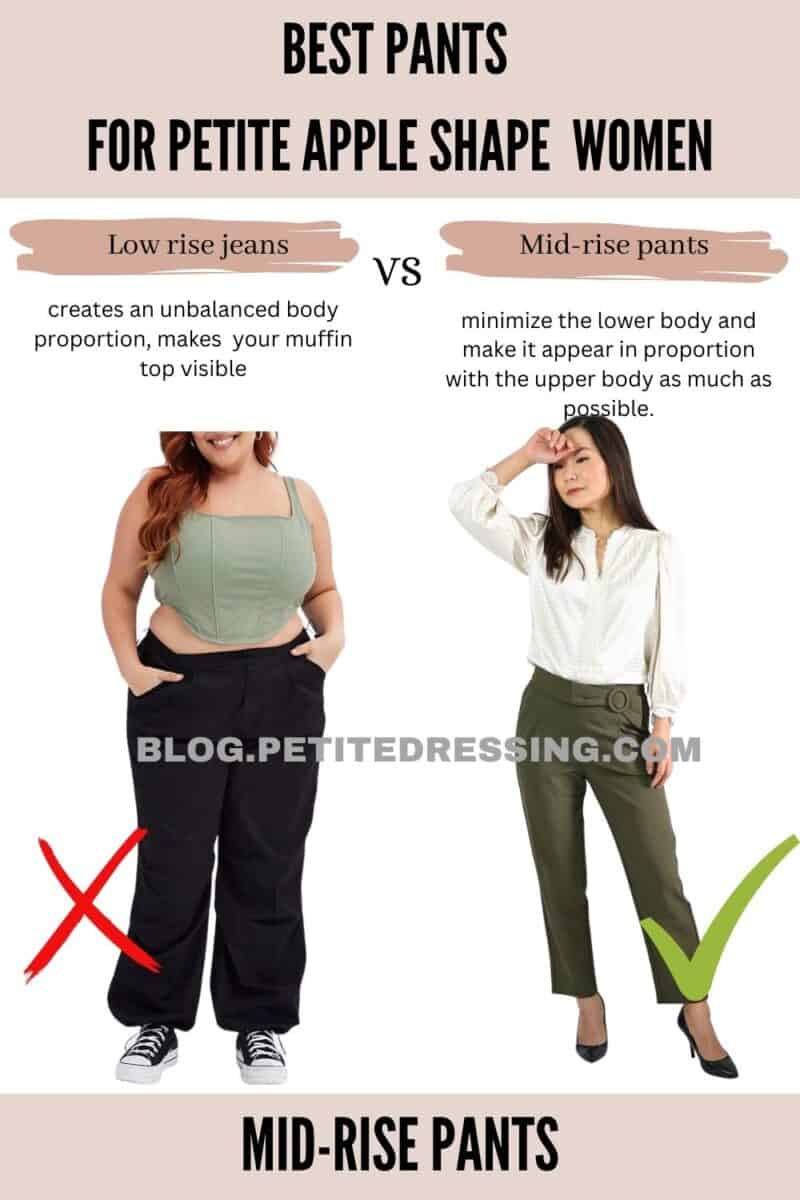 Meanwhile, don't wear mid-rise pants with a lot of details around the waistline so that it doesn't draw more attention than you would want to your tummy area. The fit is super important. Your pants should sit well on your hips and thighs without being too tight.
Black Wide-leg pants
Petite women with apple shape will look great with wide leg pants and I'm saying this because I've seen it work multiple times with apple-shaped models. Usually, the effect is visible on your slimmer legs and midsection area.
What this pant style does is balance out your wider midsection which is common in most apple-shaped women. This becomes more proportional with your overall body frame while the wide leg style also accentuates your slimmer legs.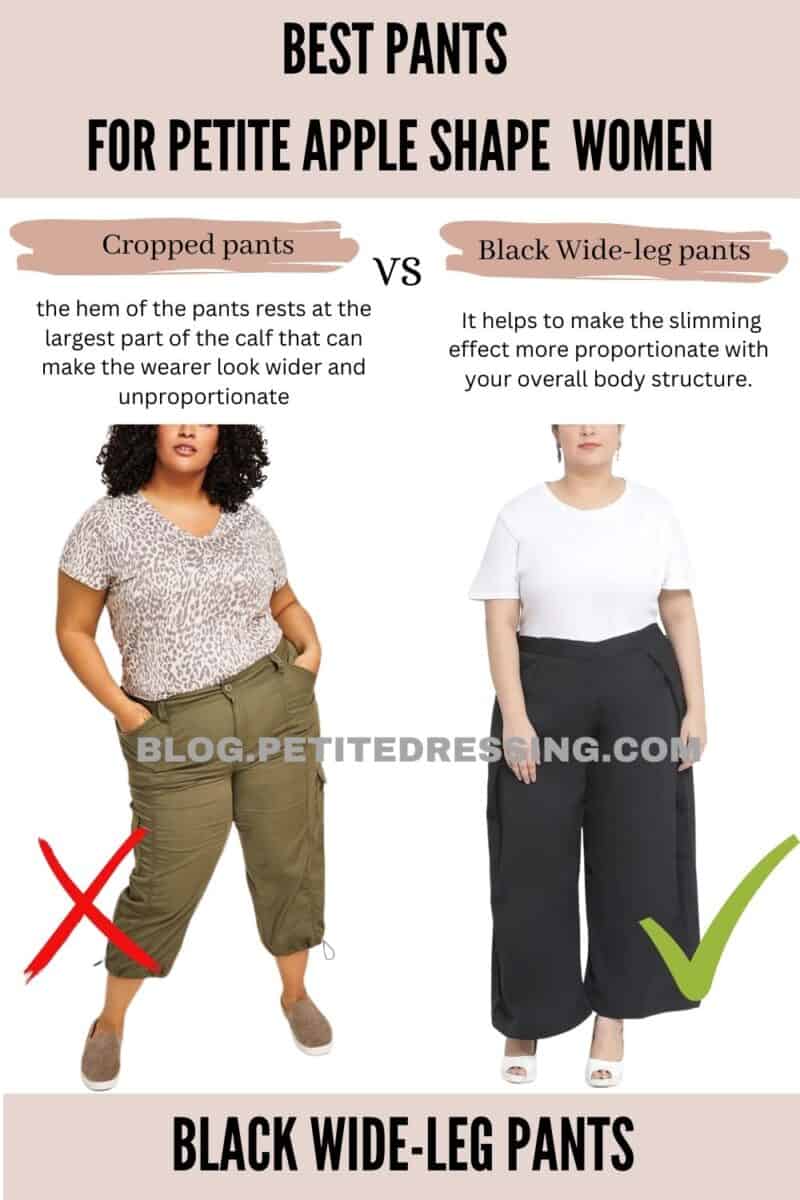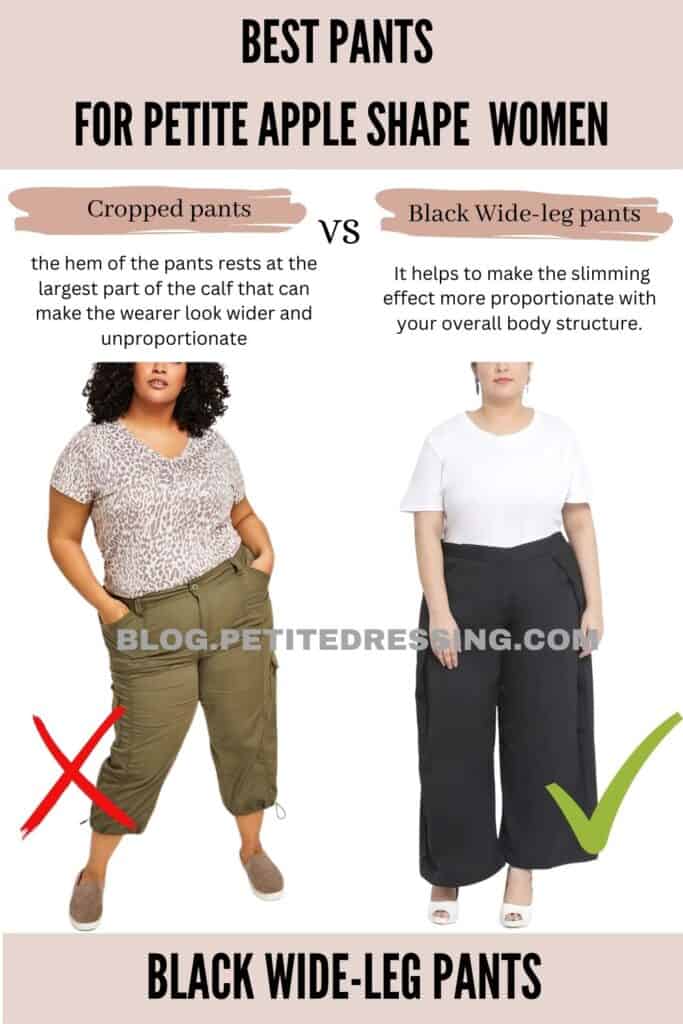 However, since most apple-shaped women have extremely slim legs, wide leg pants can help to increase the width around your lower figure so it doesn't look so slim. So, you get to benefit from a properly structured pant style that takes little effort to make you look good.
Overall, your apple shape can look amazing in wide leg pants and even better if this is in a dark color like black. It helps to make the slimming effect more proportionate with your overall body structure.
Bootcut pants
The biggest advantage of bootcut pants is that they balance out your slim legs with your wider torso. The apple body shape is characterized by a wide torso that won't look in proportion with other parts of your body when you wear the wrong pants.
However, bootcut pants can help smoothen things out perfectly. To make this work as it should, avoid bootcut pants with extra details. The more it has clean lines, the better. Also, in my experience, darker colors on pants stand out on women with petite apple shape.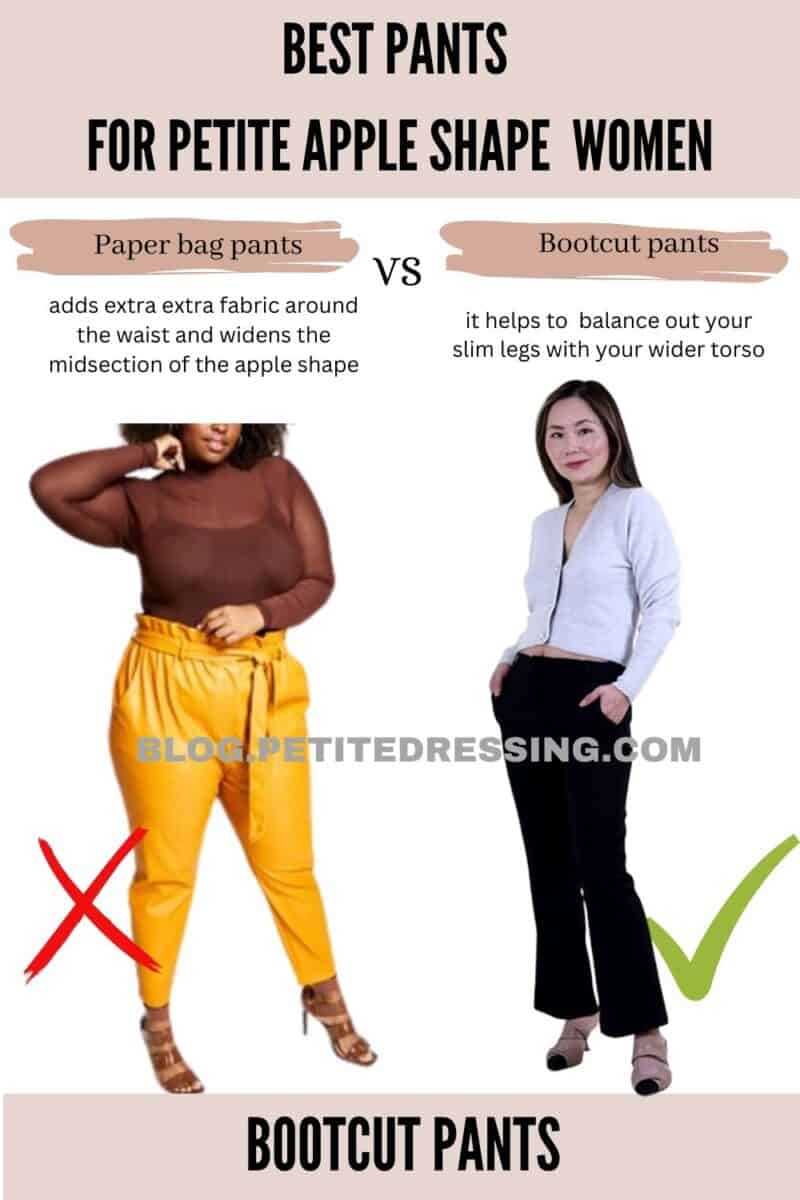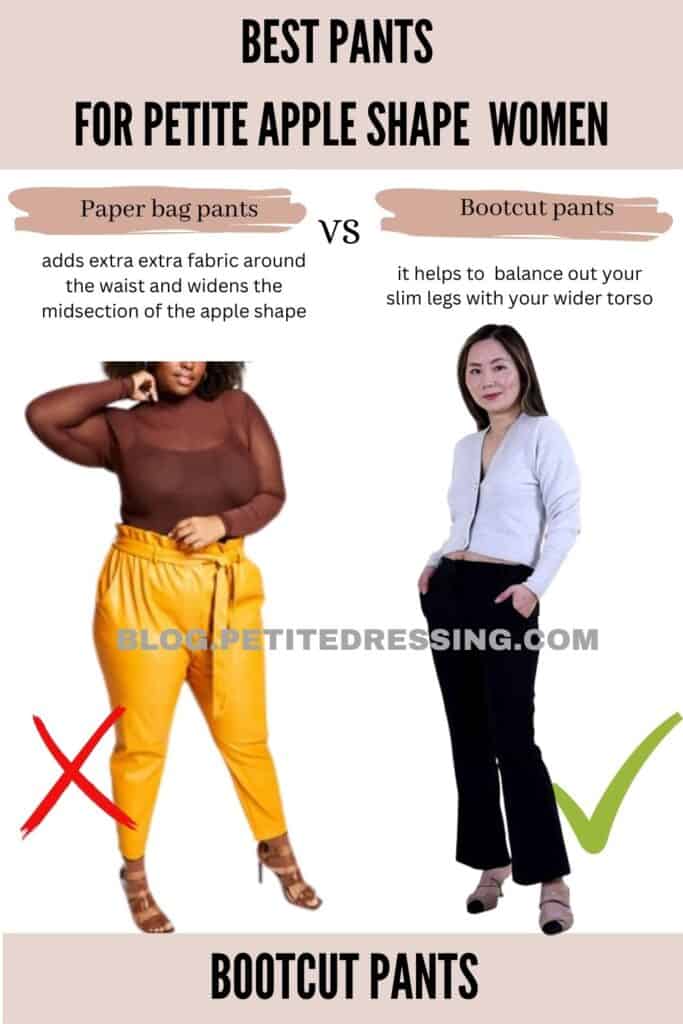 So, that means you should stick to pants in darker shades like black or grey. Overall, pair this with a v-neck top and you'll look amazing.
Modest Flared pants
The modest flared style is so great because it doesn't add any extra bulk to your midsection area and that's a huge win for the apple body shape. Usually, this body type comes with a little tummy bulge and your best bet is to camouflage it subtly.
Only a few pants can help you achieve this comfortably, and luckily, the modest flared style of pants is on that exclusive list. This pant style will help you get balance in your overall figure while also emphasizing the best parts of your legs.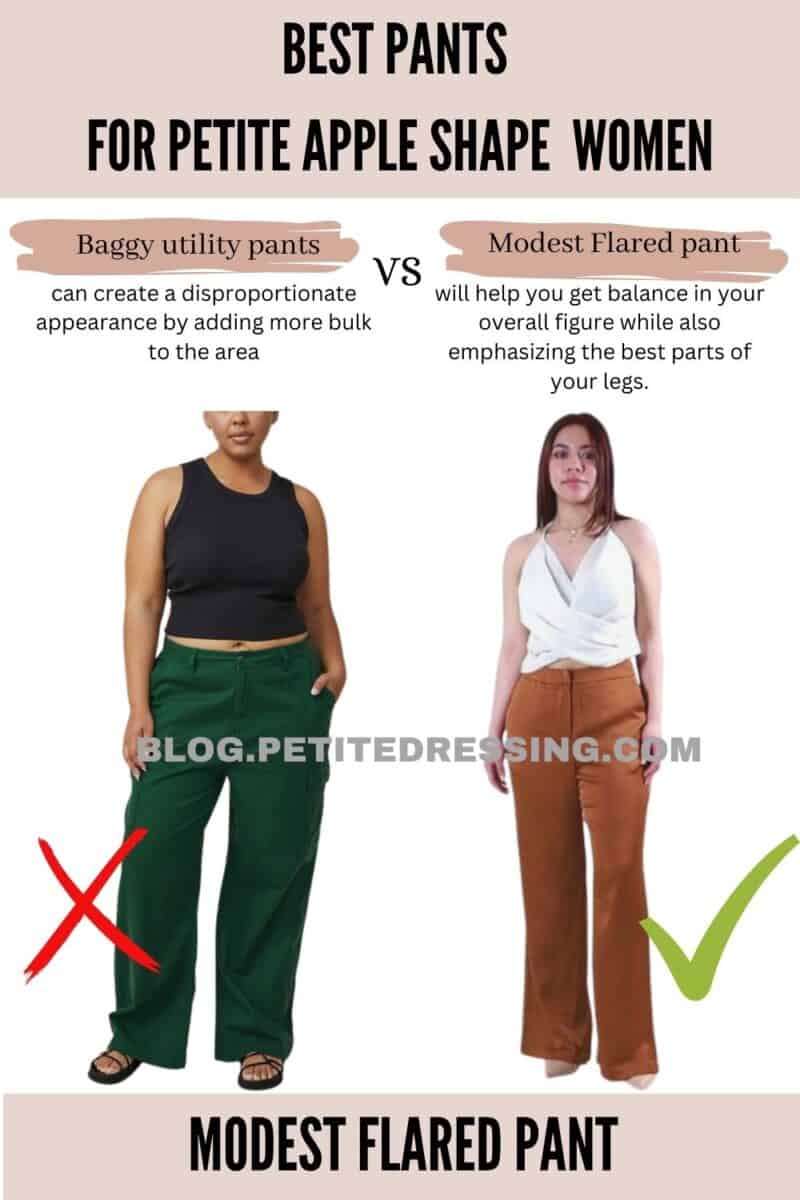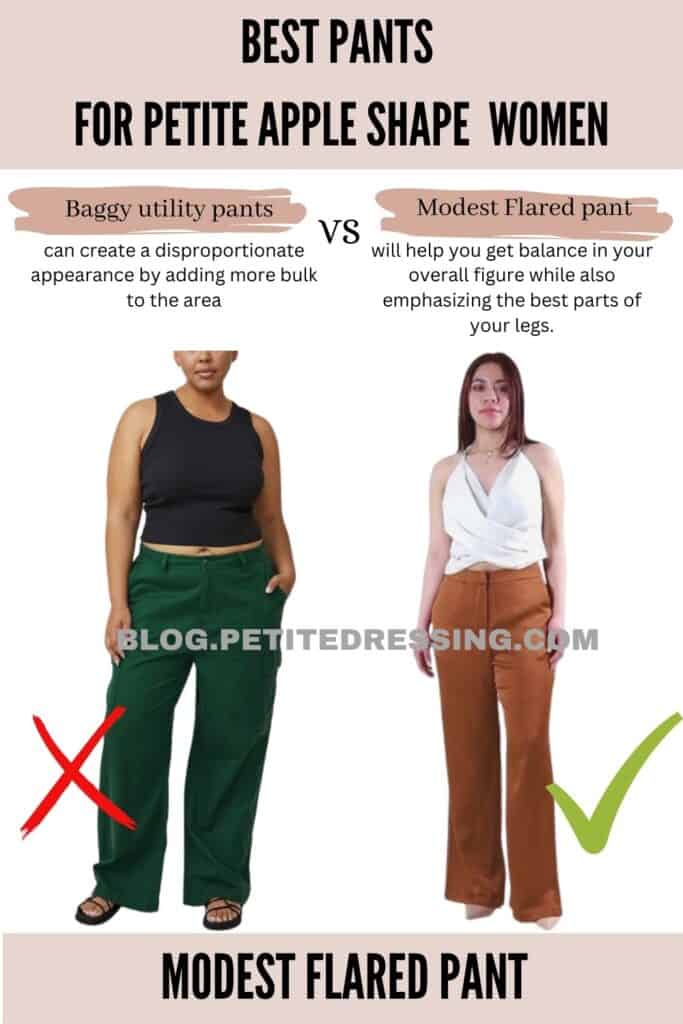 One of your best assets as a petite apple shape woman and flared styles increase your legs. So, go for pants that have a modest flare, as going excessive is not a good idea. The modest flare will work great with your curved silhouette, which accentuates your feminine figure nicely.
It also doesn't hurt that the modest flared style has a relaxed fit so it works seamlessly with your natural body proportion without being too tight-fitting. This is great for casual and formal occasions.
Caution with leggings
In line with the general theme of this article that tight-fitting pants don't look good on the apple body shape, it's advisable to completely avoid leggings. These are not great for this body shape because they make the wearer top-heavy.
Since they draw so much attention to the leg, leggings won't help in balancing your overall body shape, leading to an uncomfortable fit. It's always better to opt for pants that will be flattering to your unstructured figure.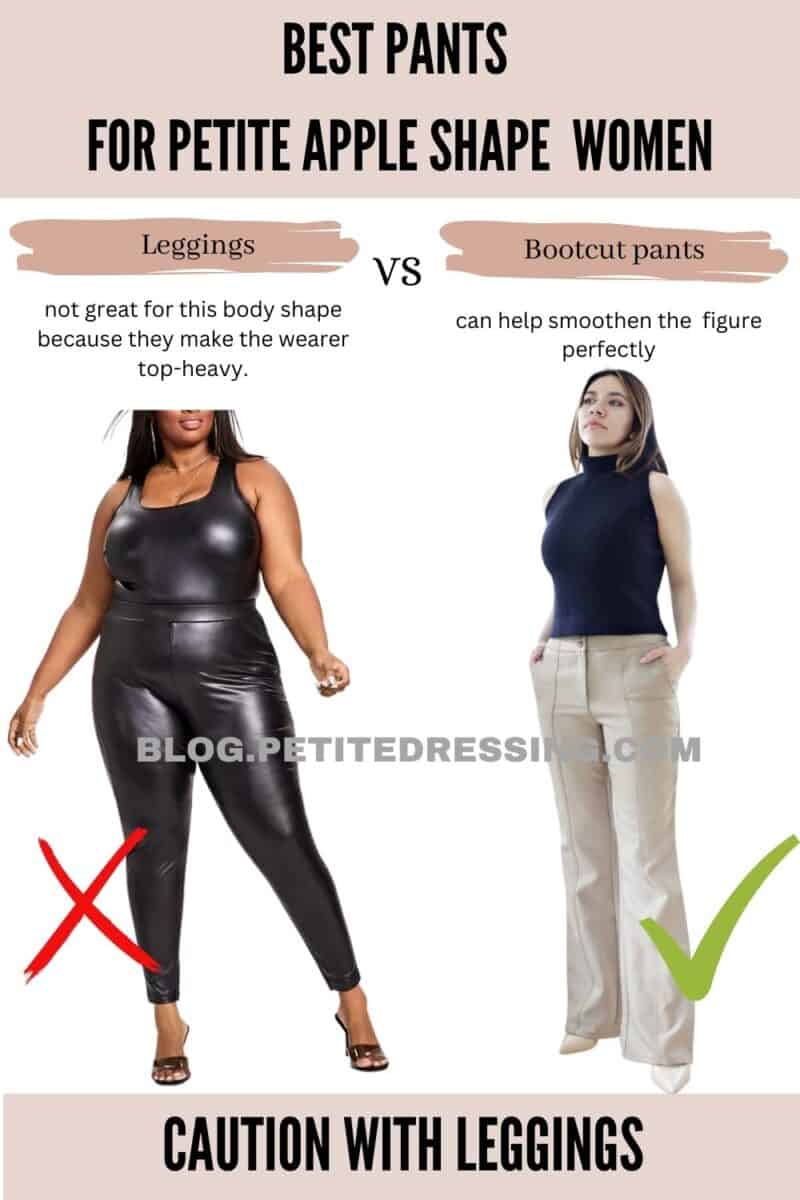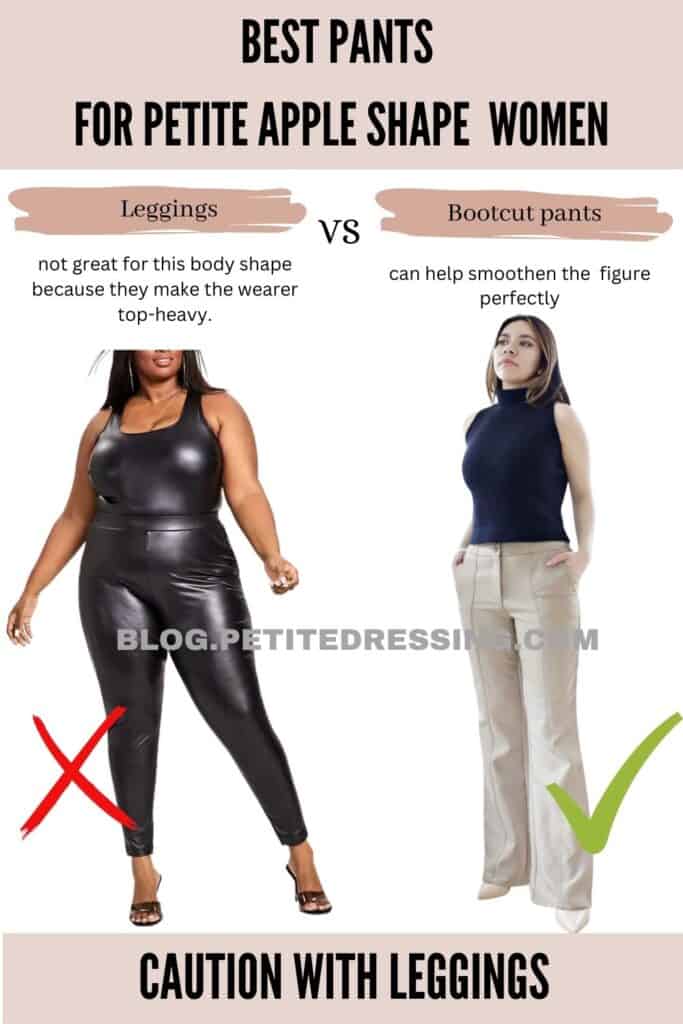 Leggings will make this figure more obvious and are not exactly the most comfortable option for this body type. So, no matter how much you try, this won't give you a sophisticated look but will make your tummy bulge visible.
Since leggings draw attention to those parts of your body you don't want to emphasize, it's safe to say that they don't inspire confidence and will instead make you feel incredibly self-conscious when you step out in them.
Elastic waistband
The beautiful thing about elastic waistbands is that they mold to the shape of your waist and won't squeeze you uncomfortably. Well, that's unless you go for an extra small size, so the first step is to pick pants that are your perfect size.
Next up is to look out for pants with elastic waistbands since they sit nicely on your waist and will help to conceal the extra weight around your midsection area. This will make your waist look more defined while your body is more proportionate.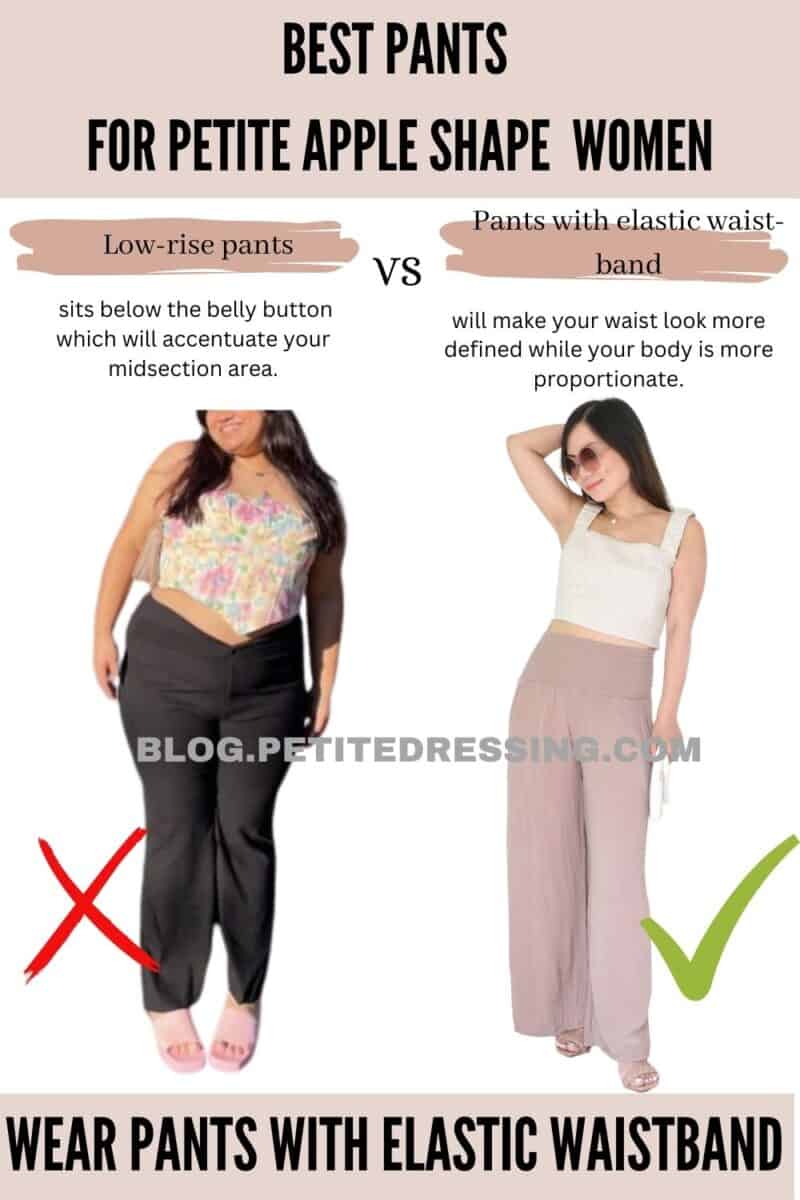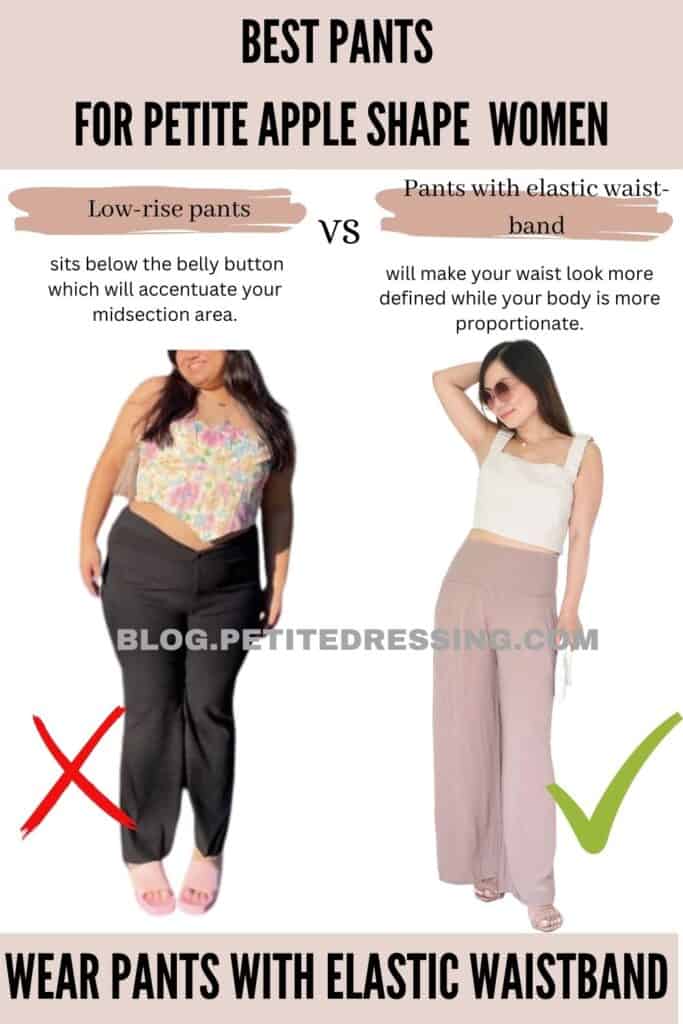 If you can, don't just stop at the elasticity but choose those with wide waistbands as well. This wider style is flattering on the apple shape and won't draw unnecessary attention to the lower half of your body.
So, look out for elastic and wide waistbands as these are much better for your body shape than the thinner variety or those that pinch into your waistline.
Avoid baggy utility pants
It's no secret that petite women with an apple shape usually have more weight in the midsection area. Rather than try to conceal this with baggy pants, you should stay away from this style of pants as it will only emphasize it.
Baggy utility pants can create a disproportionate appearance by adding more bulk to the area, which emphasizes the imbalance created by the extra weight. Your best bet to flatter your body shape and highlight your best features is to go for fitted pants that add no extra volume.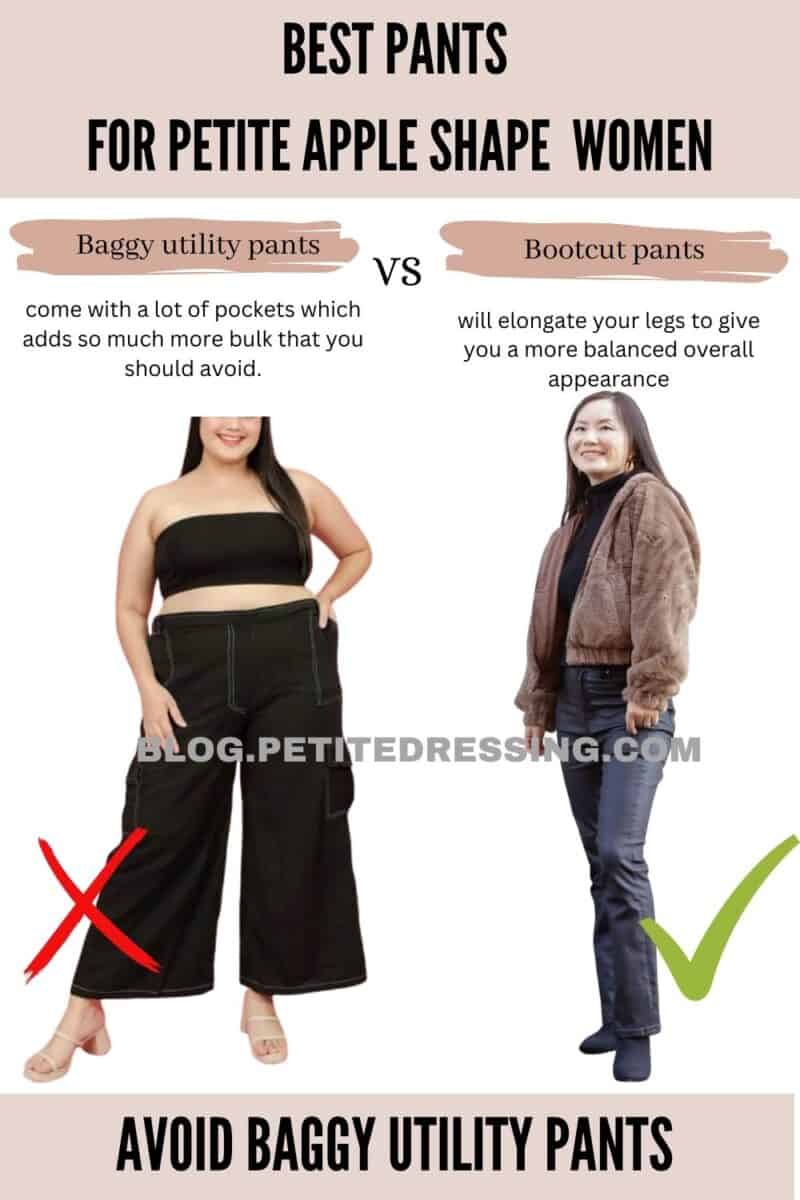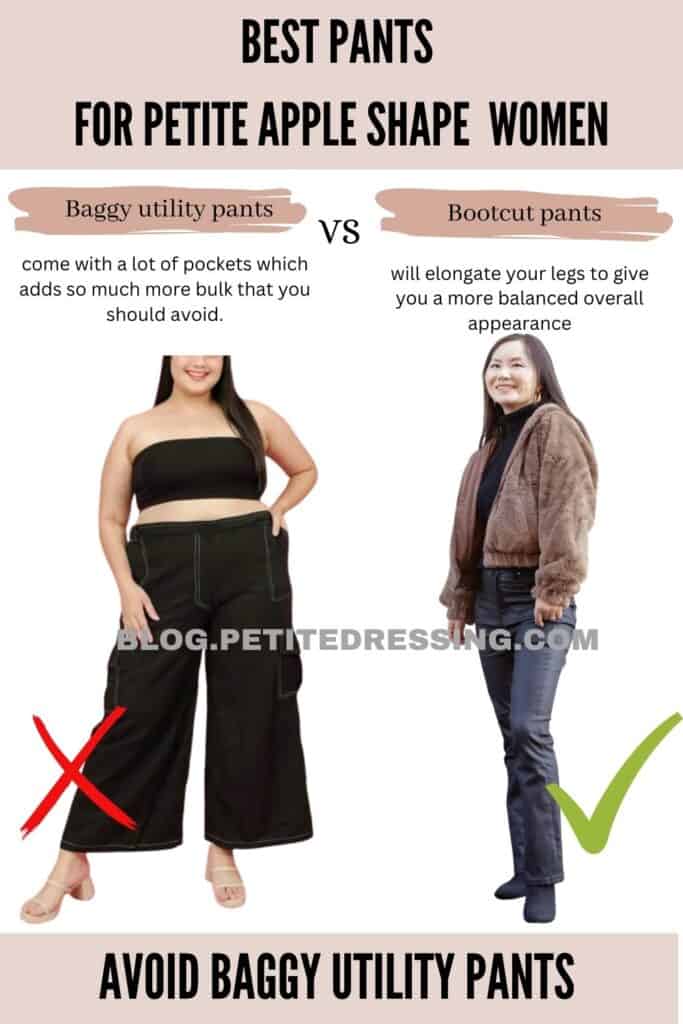 Bootcut pants will elongate your legs to give you a more balanced overall appearance compared to baggy utility pants. Utility pants can also come with a lot of pockets which adds so much more bulk that you should avoid.
Avoid low-rise pants
Similar to the effect you get with baggy utility pants, low rise pants are not flattering on the apple body shape. Instead, this style of pants sits below the belly button which will accentuate your midsection area.
This will draw attention to your tummy bulge and create a disproportionate appearance. A better choice is to wear pants that sit at or above your natural waistline since this will give the illusion of longer legs.
Pants with straight legs will create a more streamlined look that is flattering to the petite apple shape figure. Remember that you shouldn't go for overly tight clothing since this will squeeze into areas that you'll rather minimize.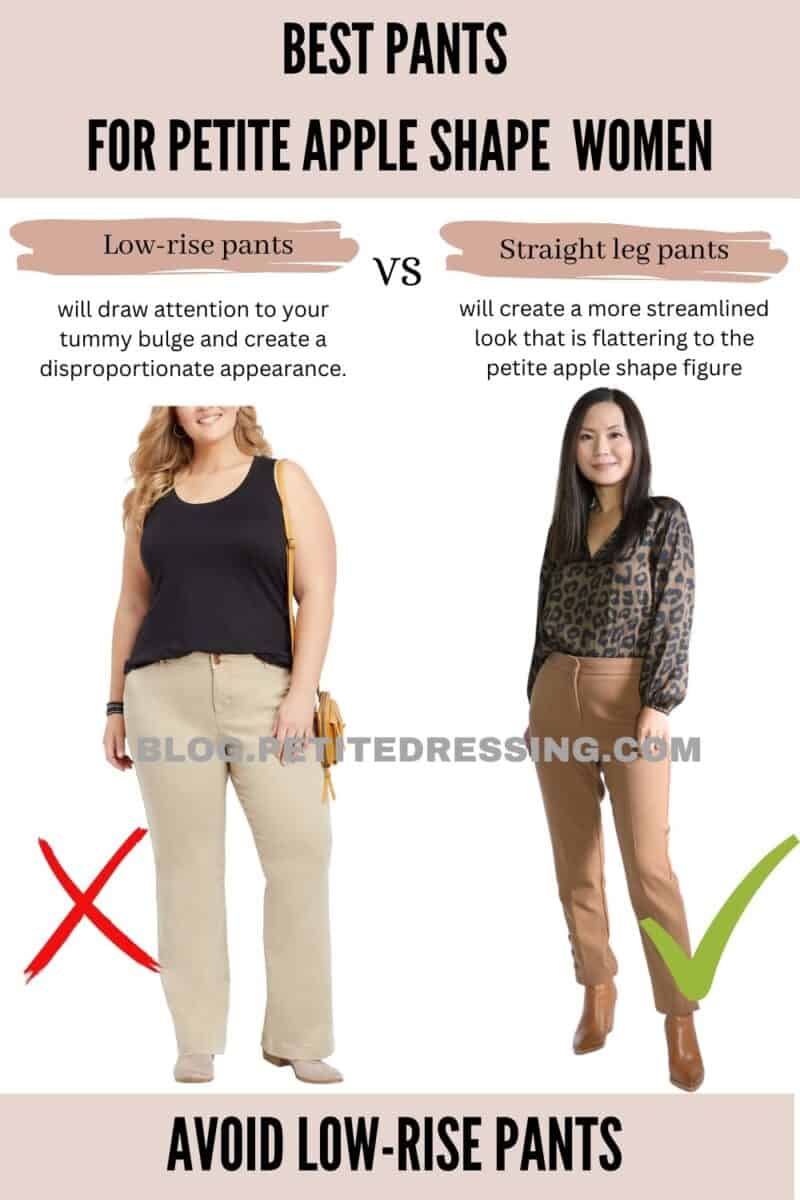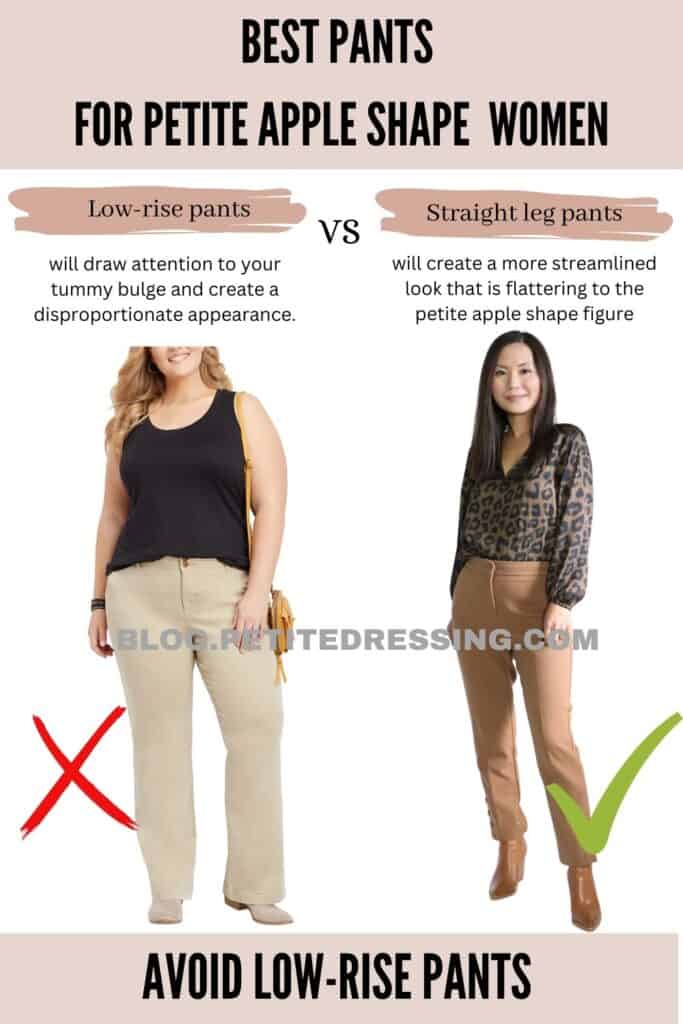 The journey to finding the perfect pants for a petite apple shape should be a fun and illuminating one. So, don't put yourself under so much pressure and explore different styles as much as possible. While these are universal rules, some pants outside this list can also work great on your unique body structure.