Rectangle body shapes is known for going straight up and down, with minimal difference between waist, hip, and shoulder measurements. You have a shape that can pull off most swimsuits and look amazing.
When it comes to bathing suits, your main goal would be to use the swimsuits to create curves. Also, most women with rectangle body shapes have a small bust and you can use that to your advantage.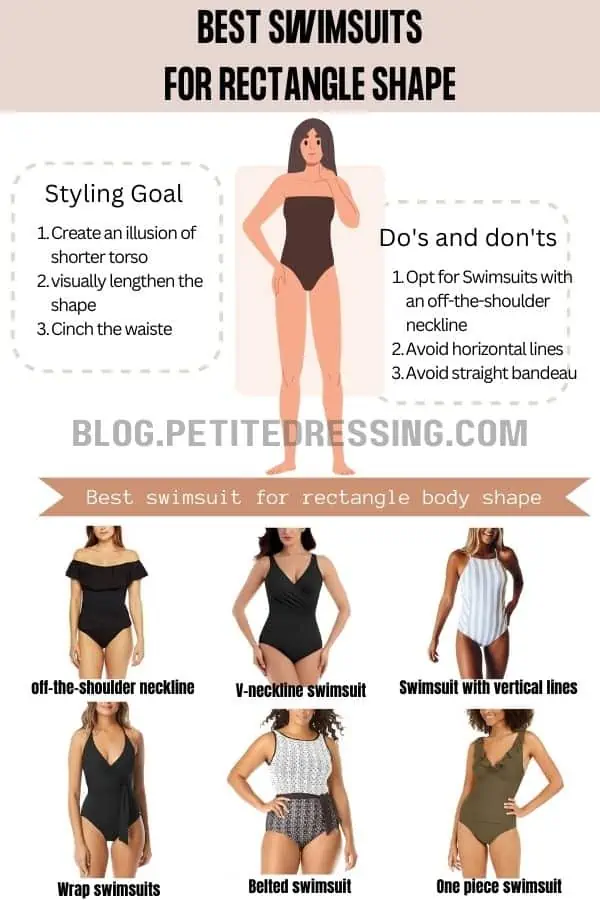 The following swimsuits have been compiled to help you choose the most flattering designs for your model-like shape:
Swimsuits with an off-the-shoulder neckline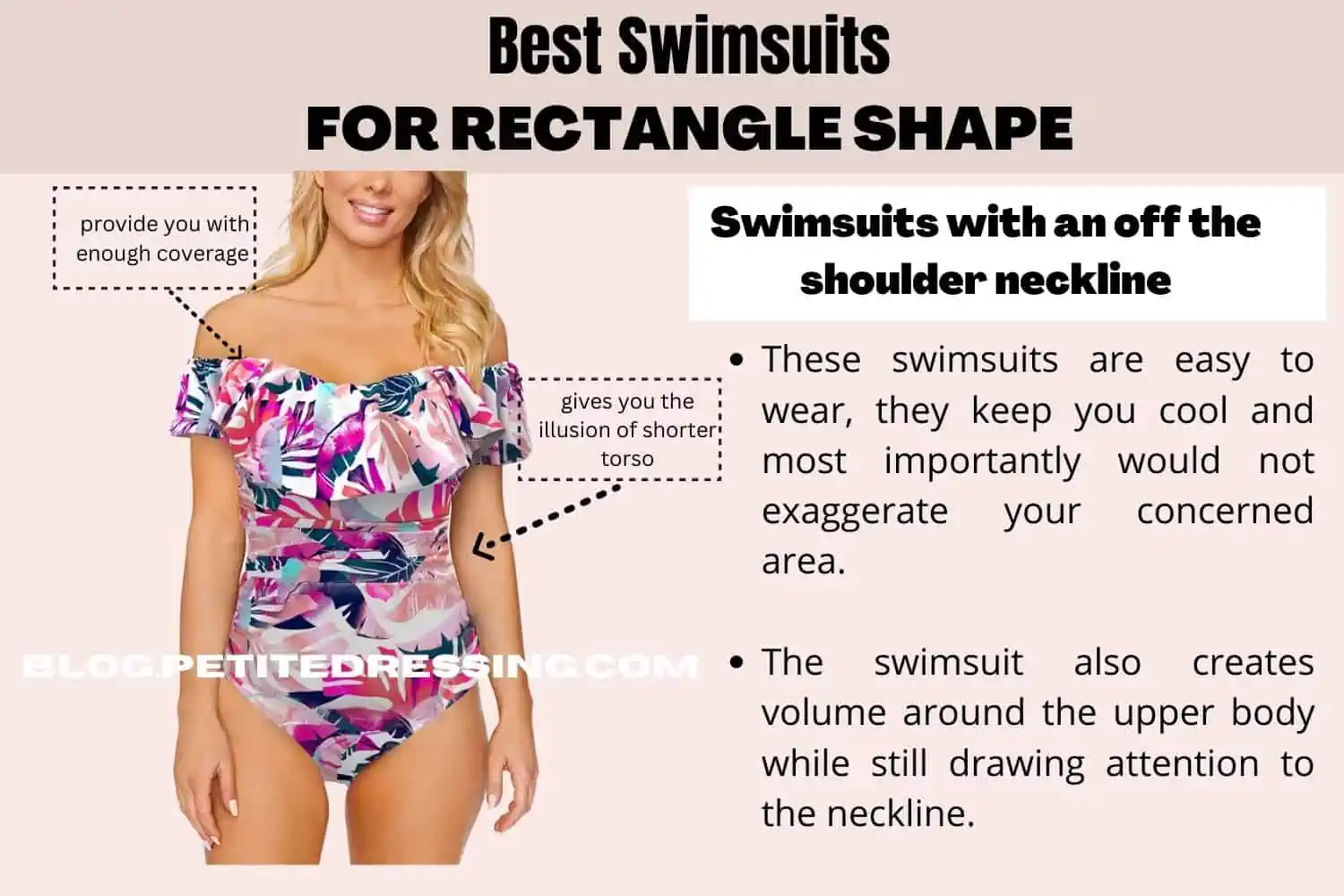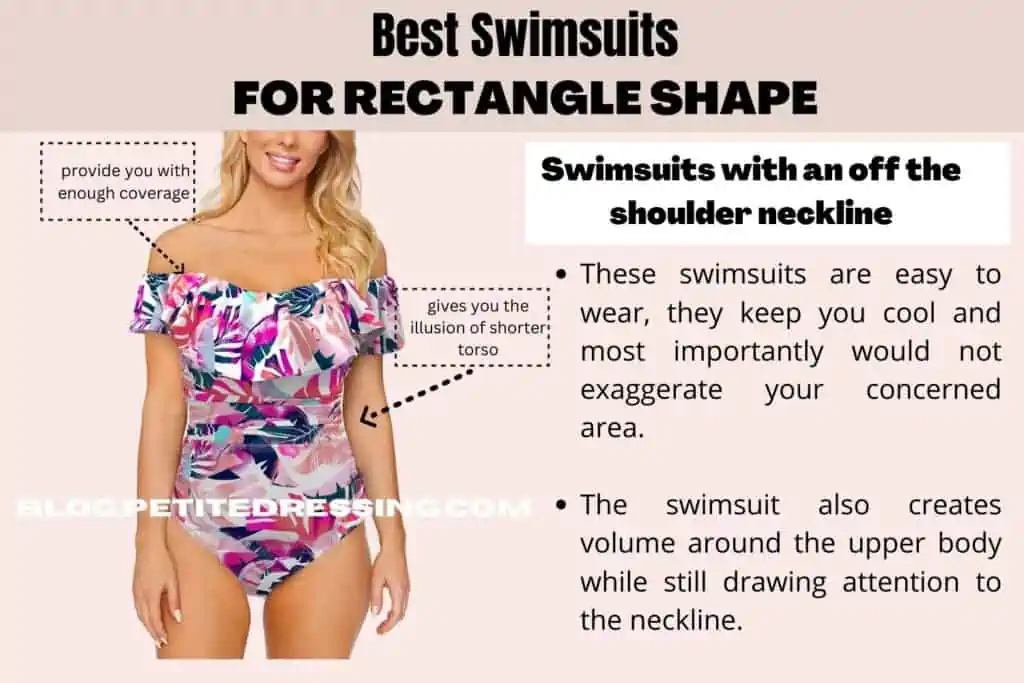 You can also try a swimsuit that has an off-the-shoulder neckline because they provide you with enough coverage. The swimsuit also creates volume around the upper body while still drawing attention to the neckline.
It is also a beautiful and comfortable swimsuit that works to complement your structure by creating curves that would make you look feminine. The most effective of these designs are the cropped styles which can further elevate your looks to give the illusion of a shorter torso and a longer leg.
These swimsuits are easy to wear, they keep you cool and most importantly would not exaggerate your concerned area. So, if you have a rectangle shape you can go ahead and flaunt your figure confidently in this classic swimsuit
V-neckline swimsuit
The V-neckline swimsuit reveals a tasteful touch of cleavage that draws the eyes away from the lower part of your body. This makes them a unique style that you can choose from when making choices.
It is a design that would flatter the rectangle shape and also make you look sexy. They even look better when they are designed on one-piece swimsuits.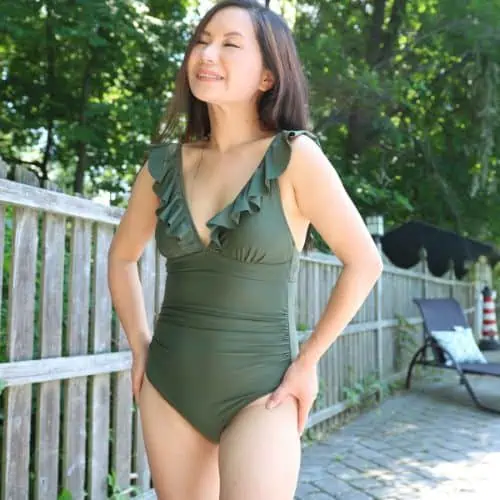 Why opt for V-neckline swimsuits
If you wear this style of swimsuit, you would notice that it helps to create curves around your shape so you can appear more feminine.
Your bust and chest regions are major assets that you can take advantage of when styling your shape.
Swimsuit with vertical lines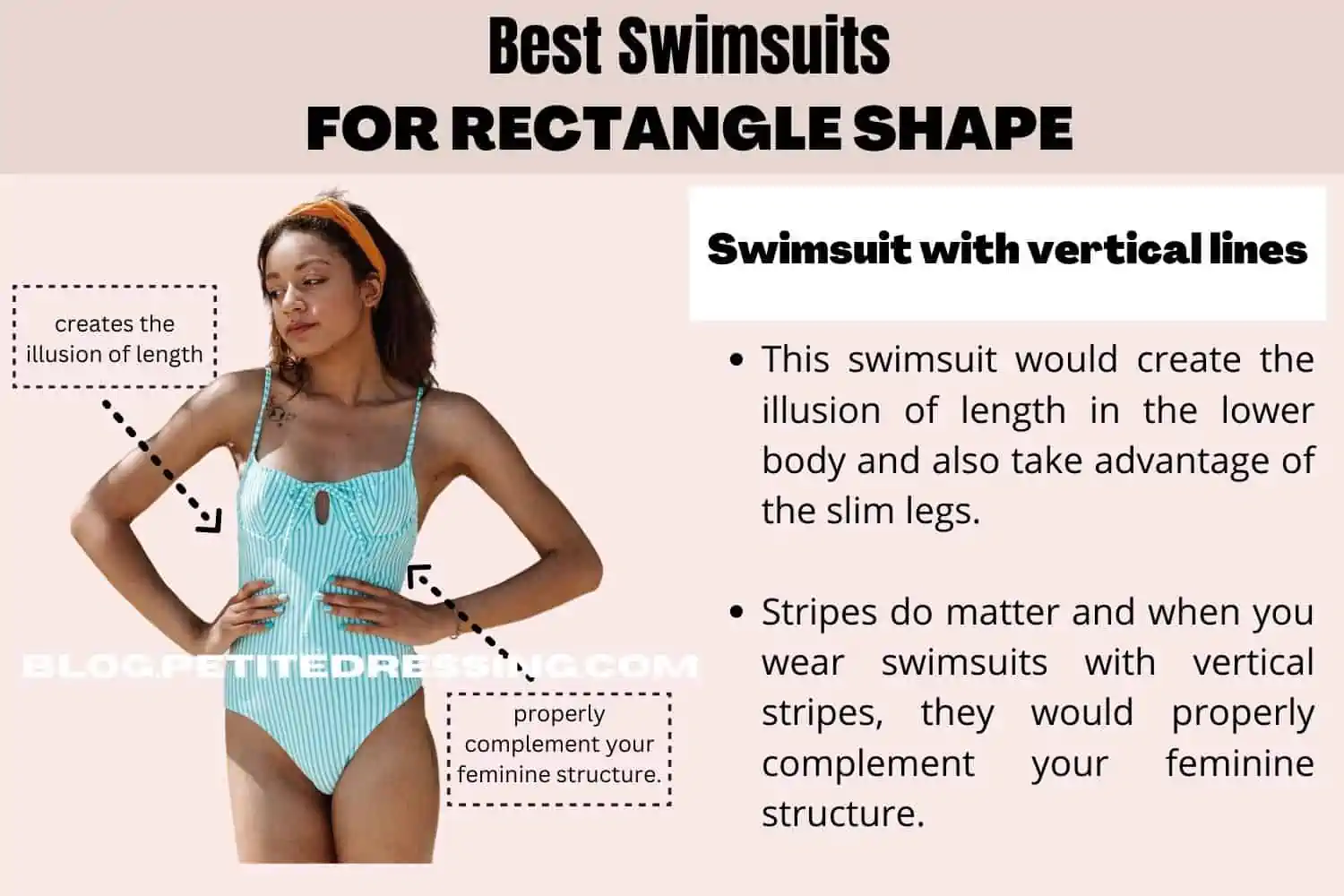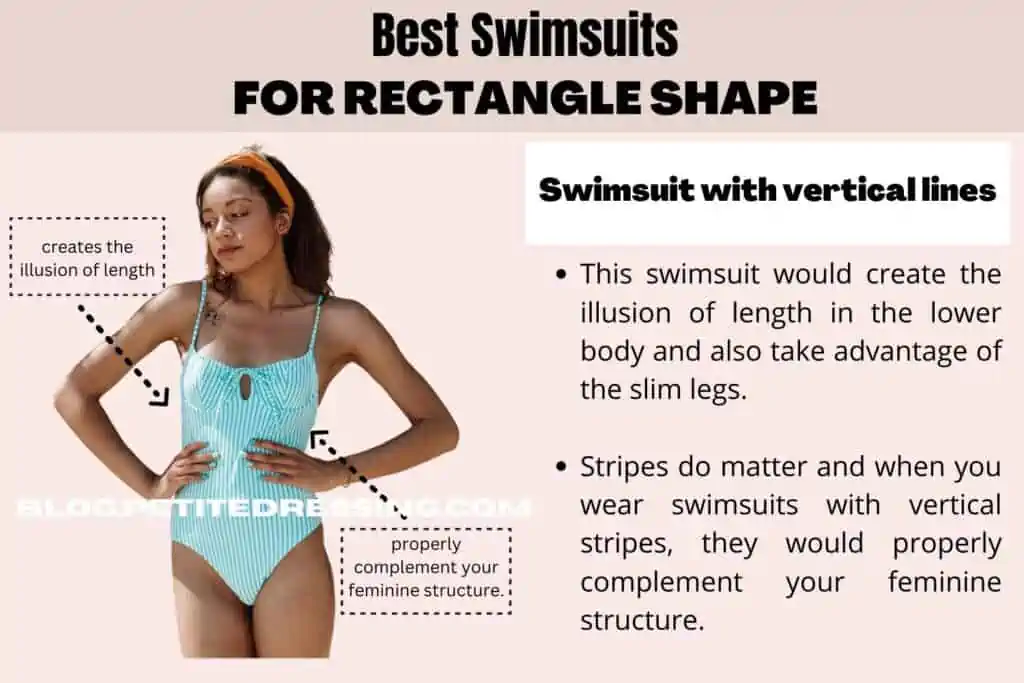 If you have a rectangle shape then you should always choose the vertical striped swimsuits over those with horizontal stripes. Stripes do matter and when you wear swimsuits with vertical stripes, they would properly complement your feminine structure.
This swimsuit would create the illusion of length in the lower body and also take advantage of the slim legs. The legs are one of your best assets that you can use in drawing the attention of people away from your upper body.
They are the most flattering striped swimsuit designed to suit the rectangle body structure.
Wrap swimsuits
This swimsuit is another amazing swimsuit style that the rectangle body shape can pull off easily. Since you don't have so many natural curves, wearing a wrap swimsuit could make you appear more feminine.
It appears that the wrap coat is one of the easiest ways to complement your figure. Also, it is a simple and stylish swimsuit that would give the illusion of curves.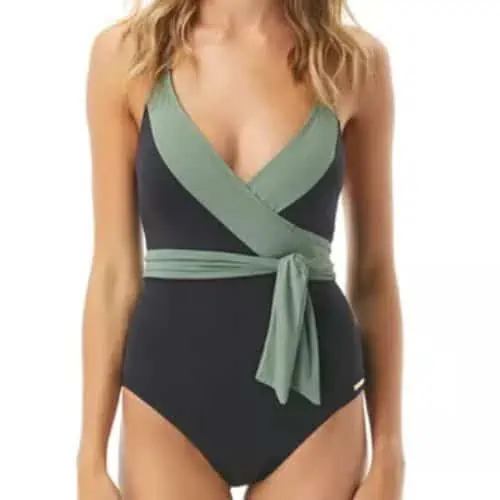 The positive side of wrap swimsuits
Whatever way it is designed, either as a wrap top or a one-piece with a wrap top, they would always remain flattering.
Wrap swimsuits should be among the best pick for your figure because they wouldn't exaggerate your straight figure.
Belted swimsuit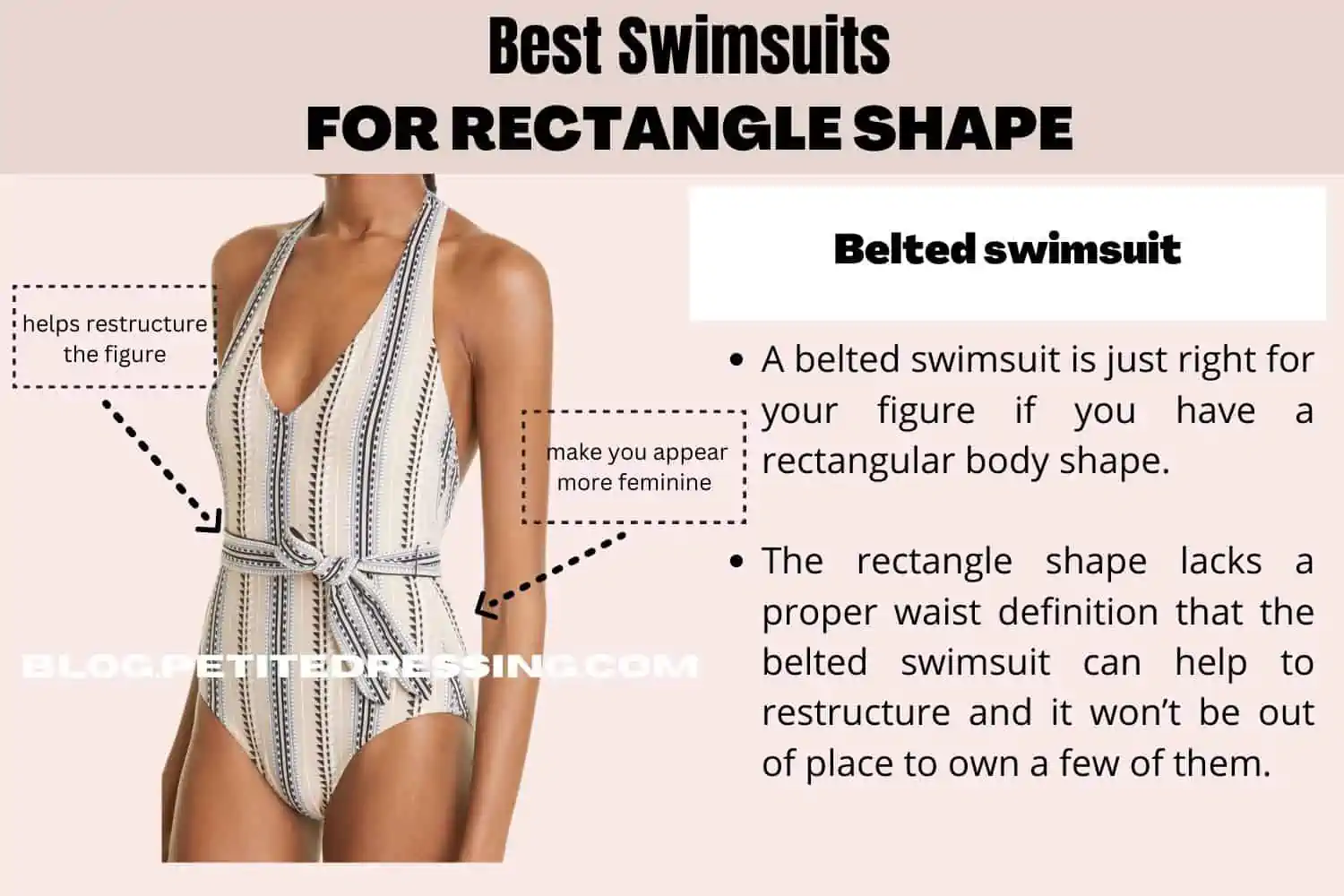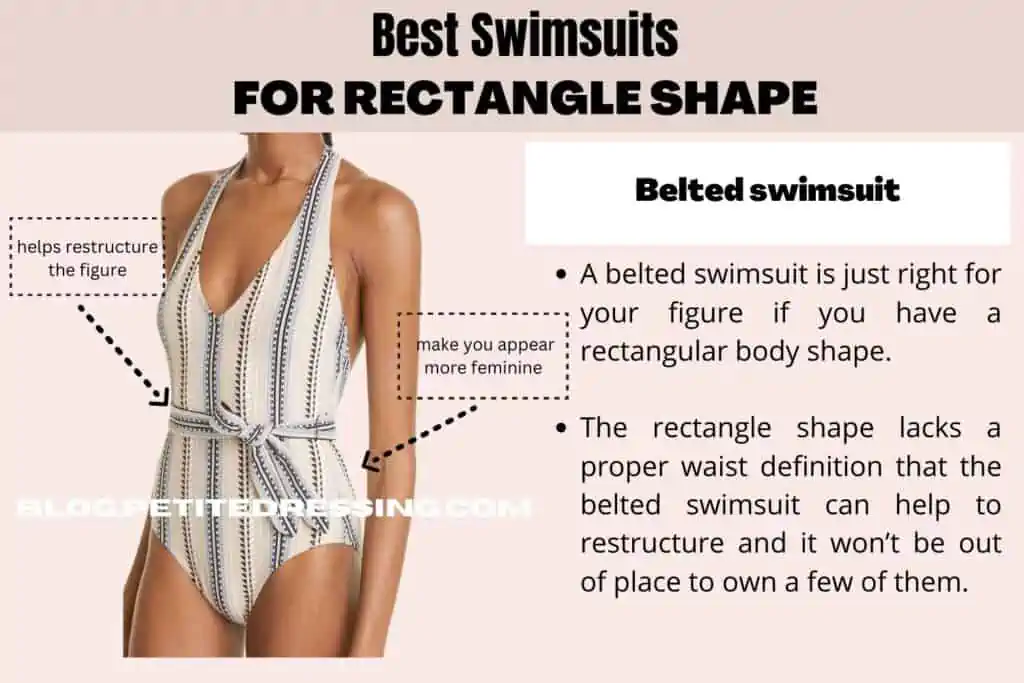 A belted swimsuit is just right for your figure if you have a rectangular body shape. This is because the rectangle shape lacks a proper waist definition that the belted swimsuit can help to restructure and it won't be out of place to own a few of them.
One piece swimsuit
The one-piece swimsuit would work great on you because they are more stylish and sexier than the average bikini. Because this swimsuit offers more coverage, it will help you boost your confidence.
Also, if you wear this swimsuit in your rectangle shape, you would appear taller than normal because it does not cut off at any point. It would also give you curves that would make you appear more feminine.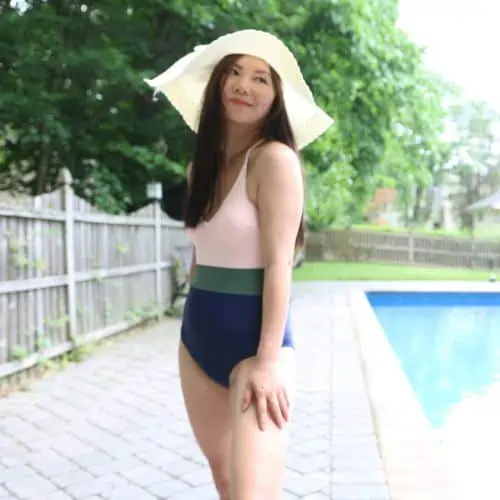 One-piece swimsuits are the best
A one-piece bikini wouldn't allow people to notice you have a longer torso and short legs.
They remain classic swimsuits that are most definitely in style and are perfect for you.
Tube tops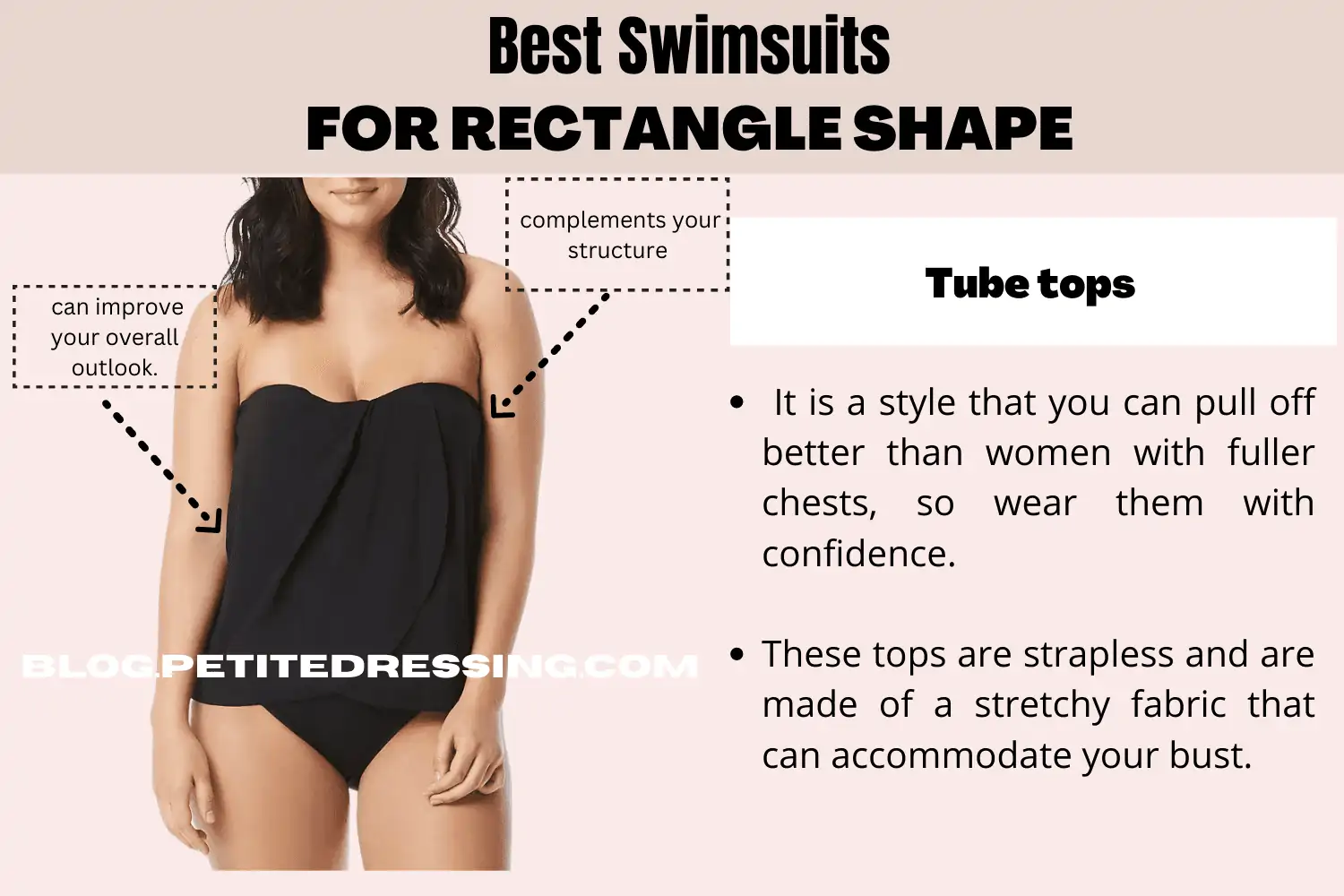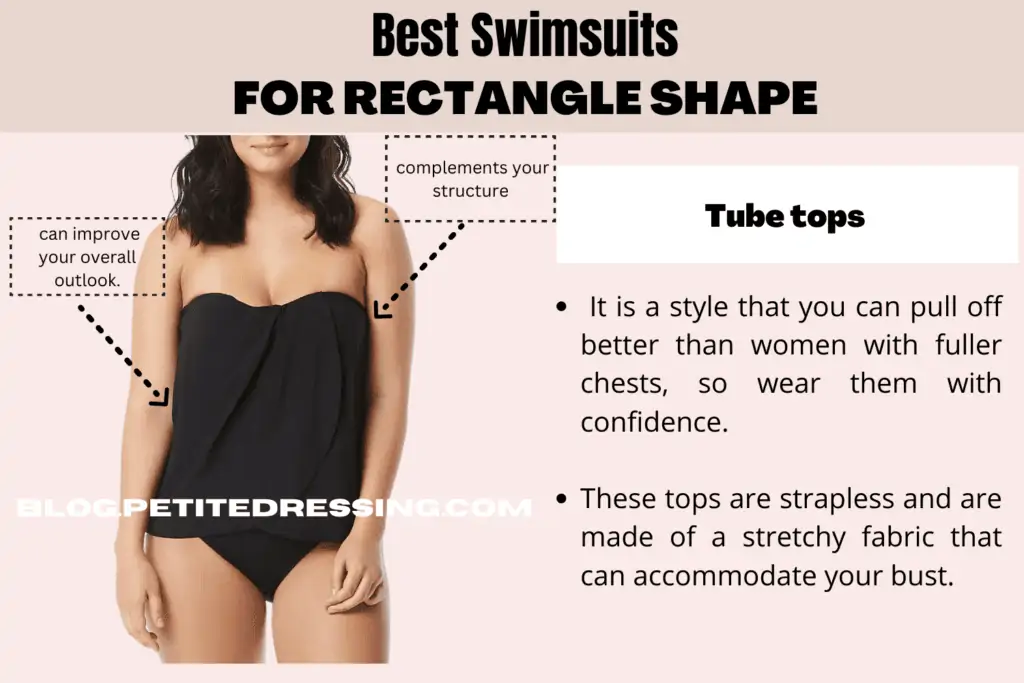 Tube tops look better on the rectangle body shape and wearing them over your figure would complement your structure. These tops are strapless and are made of a stretchy fabric that can accommodate your bust.
Once again, they can help you achieve your styling goal without emphasizing your straight-up and down structure. When you wear the tube top on your shape, you would find that is a very comfortable style of swimsuit that can improve your overall outlook.
They also help to bring the focus of the eyes to your bust and in turn make other concerned parts of your body less noticeable. It is a style that you can pull off better than women with fuller chests, so wear them with confidence.
Swimsuit with bold prints
These sizes of prints are found to be more flattering than the small prints that are hardly noticeable. Those with small prints would only do the opposite of exaggerating your straight figure and it is best that you avoid them.
Choosing swimsuits with bold prints is an easy way to elevate your looks because they appear to be stylish and fun for your figure. Also, this style of swimsuit can be used in making the hips appear fuller.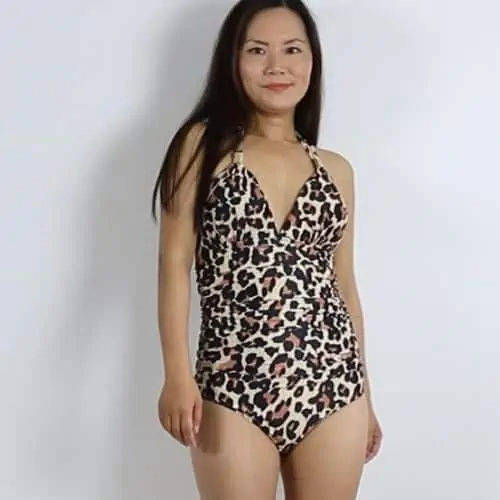 Why choose swimsuits with bold prints?
Swimsuits with designs like bold prints can be used effectively to create curves around the rectangle body shape.
This is because bold prints can easily be seen by the eyes and in turn can give the illusion of curves to the body.
High cut swimsuits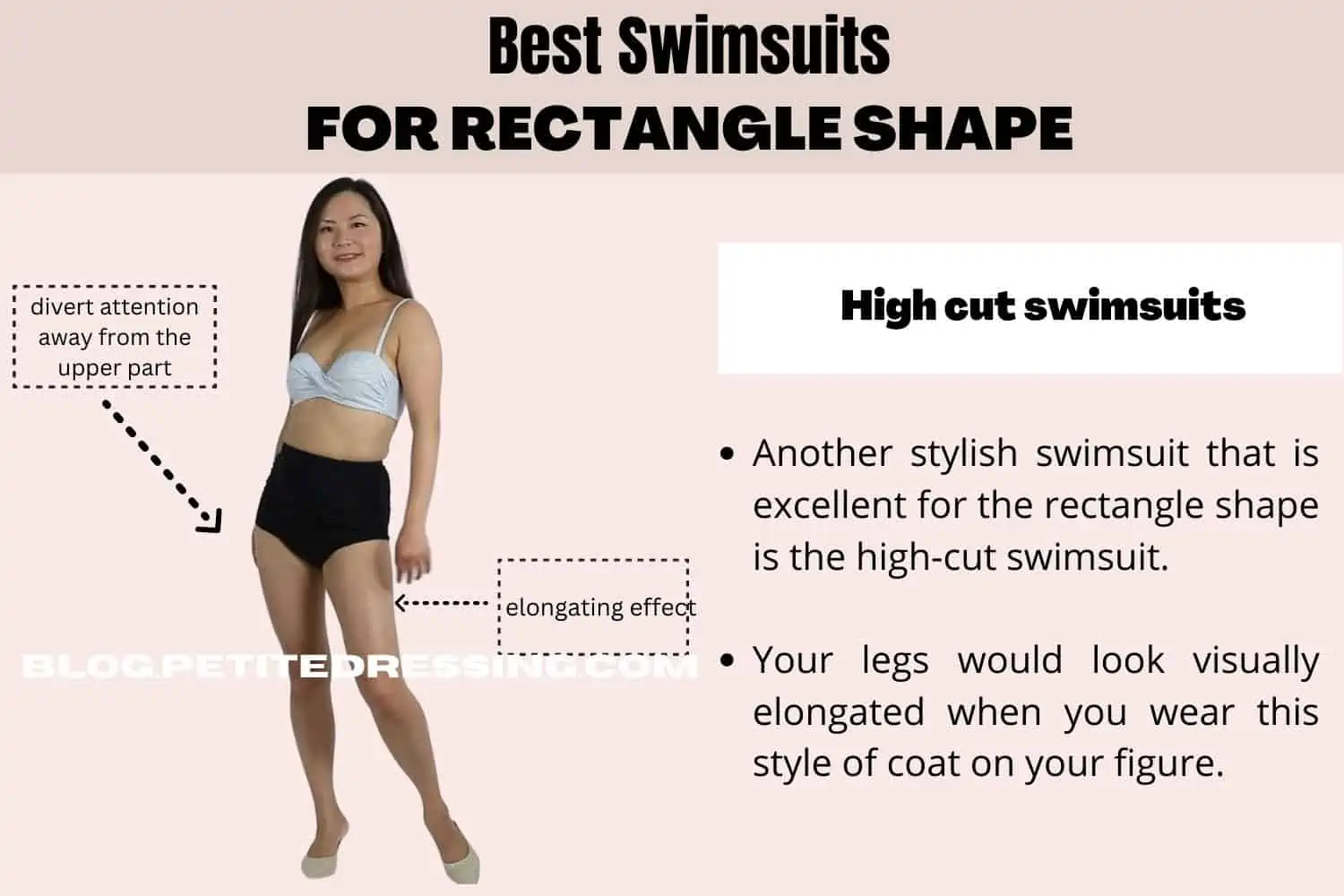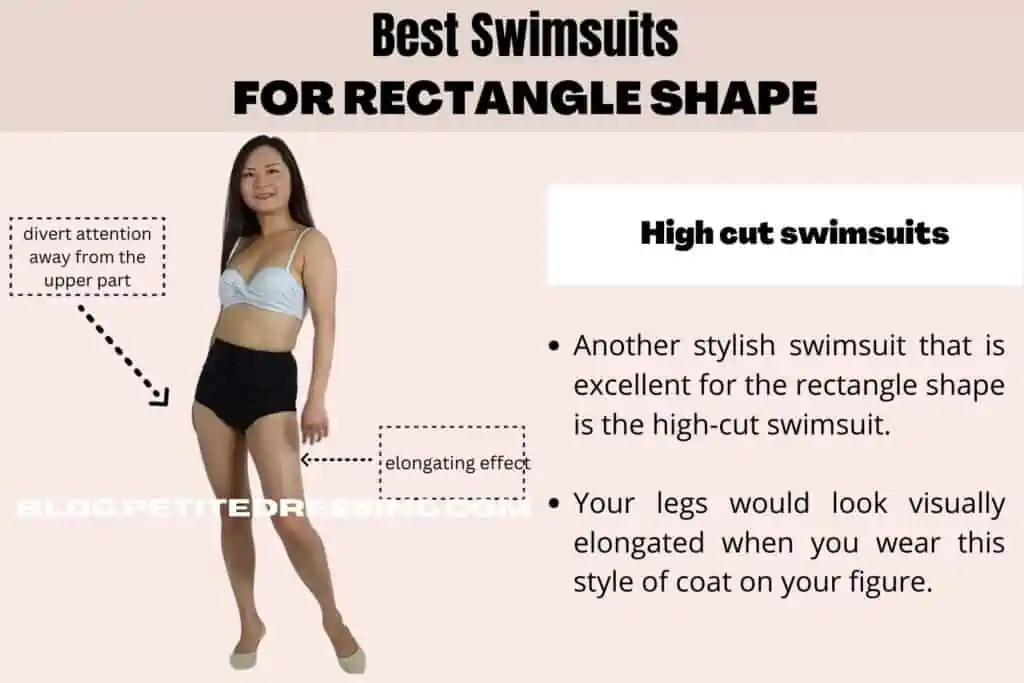 Another stylish swimsuit that is excellent for the rectangle shape is the high-cut swimsuit. Your legs would look visually elongated when you wear this style of coat on your figure.
They expose more of the legs and divert attention away from the upper part. Your straight shape would not be noticed easily when you wear this style of swimsuit.
High-cut swimsuits are better than low-cut designs because the latter is not a flattering style for your rectangle body shape. This is because they do not add a major point of interest to your figure.
Cut out swimsuits
When you wear a cutout swimsuit on your figure, they would make you look more feminine and minimize your straight look. They are flattering swimsuits that can give you curves and mimic the hourglass body shape.
It is one that would complement your rectangle shape because they have detailing with a focal point of interest. For this reason, having a few of them added to your wardrobe would be a great advantage for your figure.
How a swimsuit with cut-outs work on your shape
Cutout swimsuits would make your waist appear smaller than it is naturally making them an excellent choice of swimsuit for you.
This type of swimsuit can also make you appear sexy and could further give you a unique structure.
Ruffle top swimsuits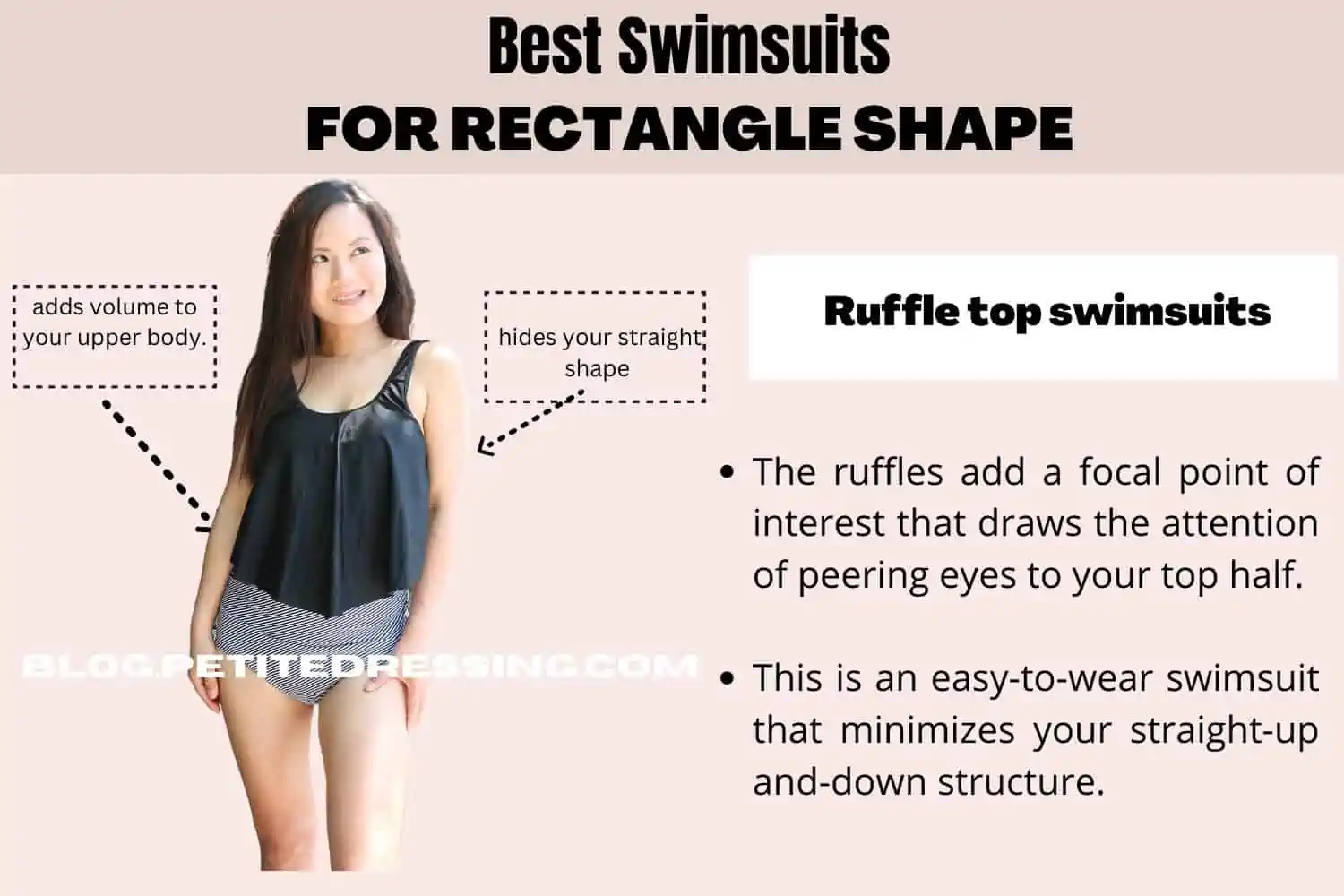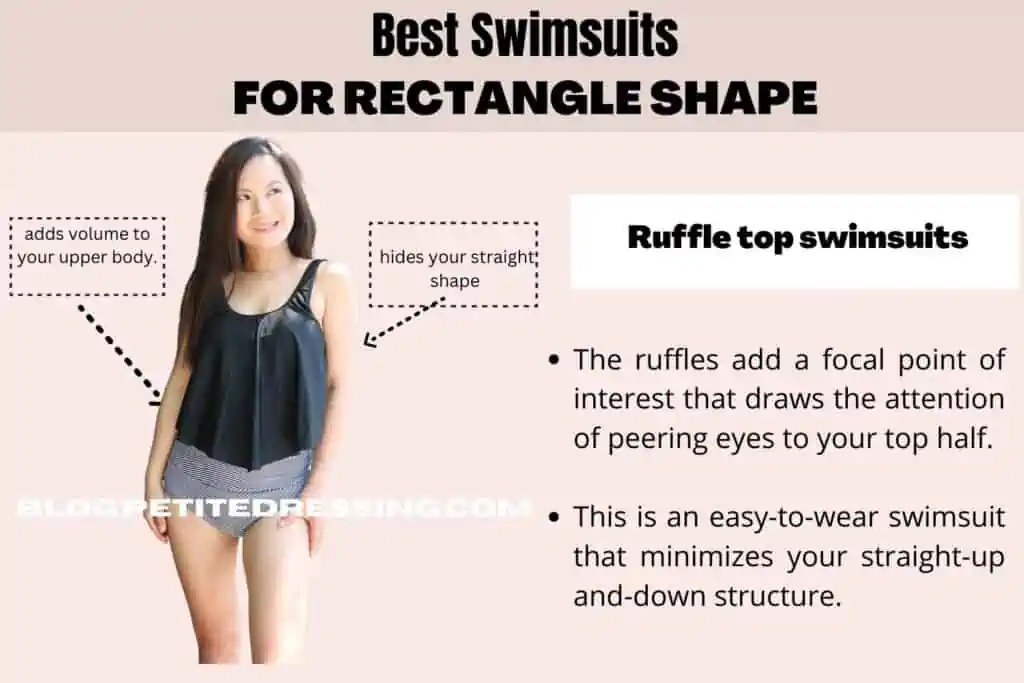 You can achieve a unique styling goal for your figure when you wear swimsuits that enhance your bust. For this reason, wearing a swimsuit with a ruffled top would complement your rectangle shape by adding volume to your upper body.
In doing this, the ruffles in the swimsuit would hide your straight shape and go on to offer you a more feminine structure. This voluminous top with excellent details would elevate your looks.
The ruffles add a focal point of interest that draws the attention of peering eyes to your top half. This is an easy-to-wear swimsuit that minimizes your straight-up and-down structure.
Avoid swimsuits with horizontal lines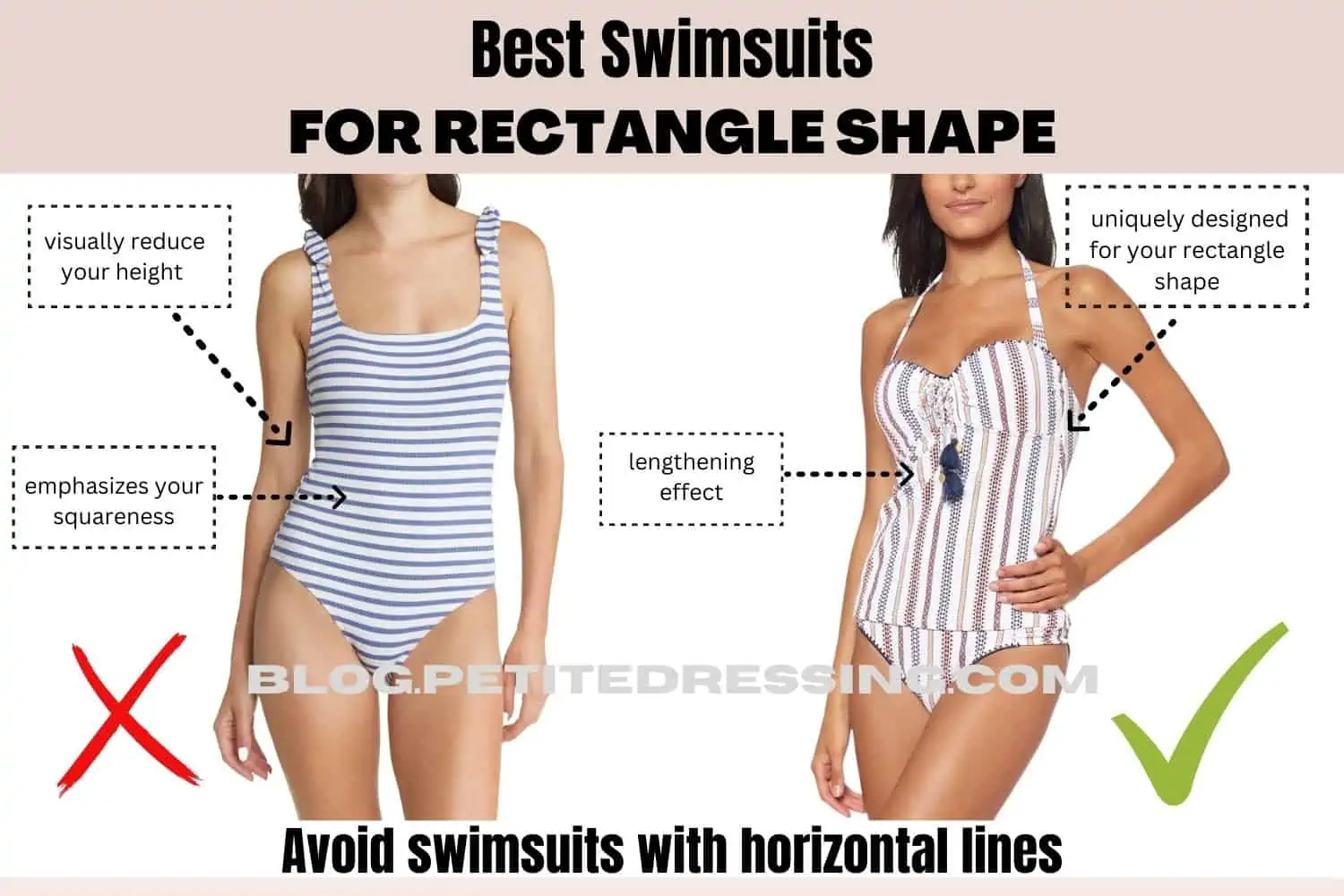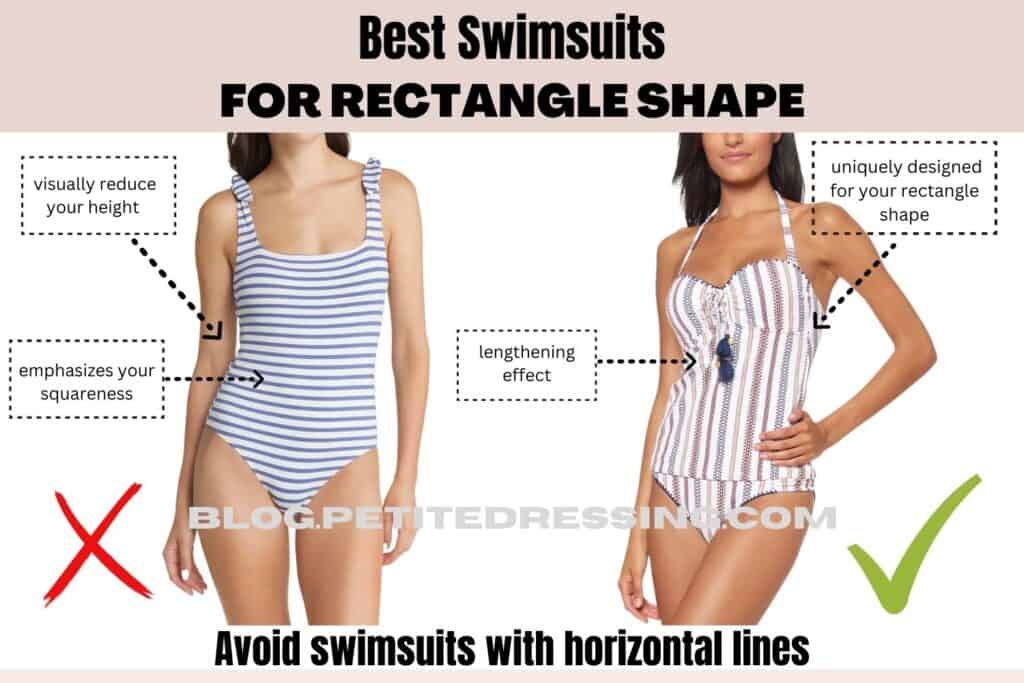 Lines are details you can use to sculpt your figure so do not choose those that would not elevate your looks. Swimsuits with horizontal lines would emphasize the squareness of your rectangle body shape.
You cannot get away easily with this type of swimsuit because it could also visually reduce your height. They would not complement your figure and as such would not let you appear more feminine.
Avoid swimsuits with horizontal stripes and stick to those with vertical stripes because they are more flattering on your figure. Swimsuits with vertical stripes appear to be uniquely designed for your rectangle shape, so have fun in wearing them.
Avoid straight bandeau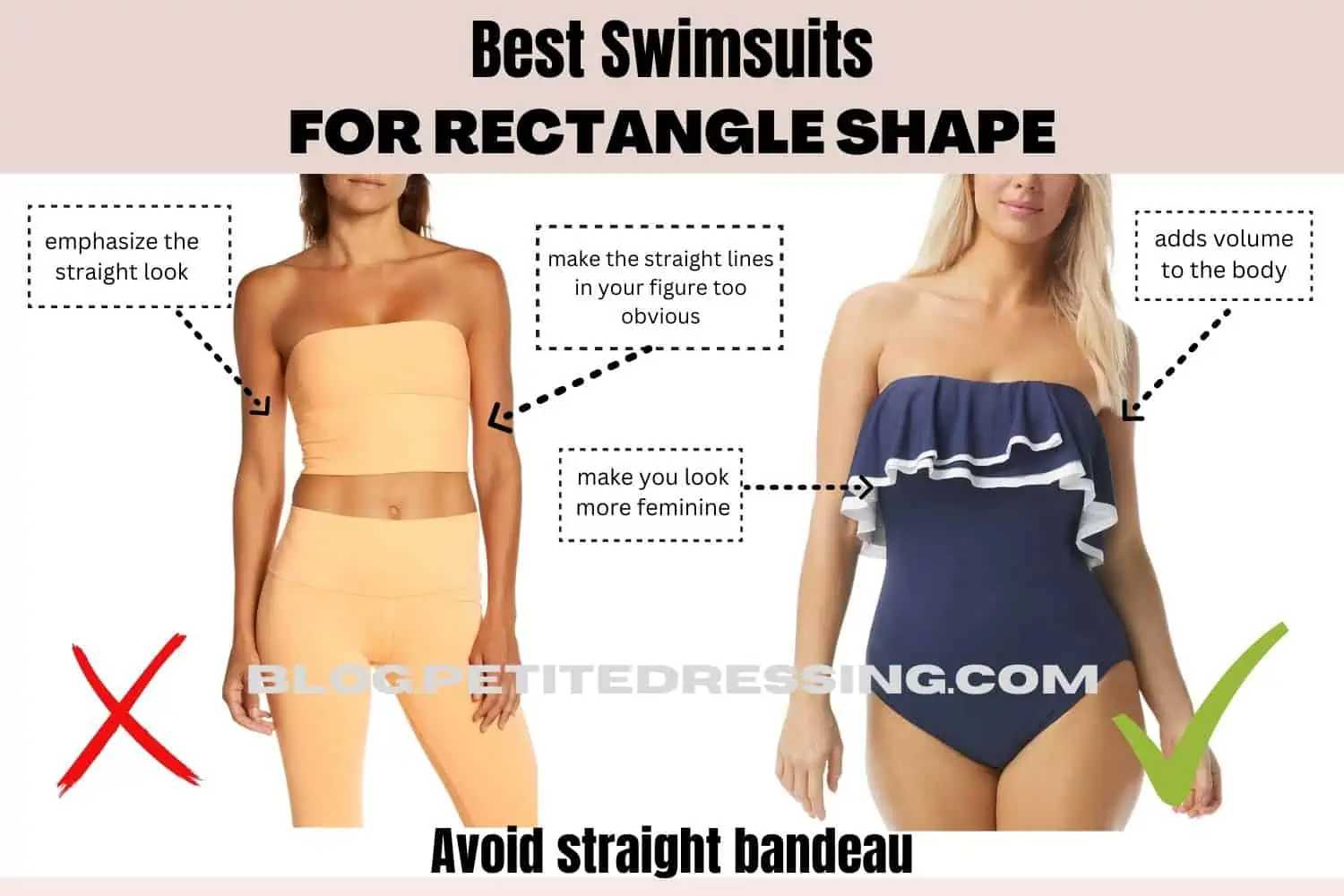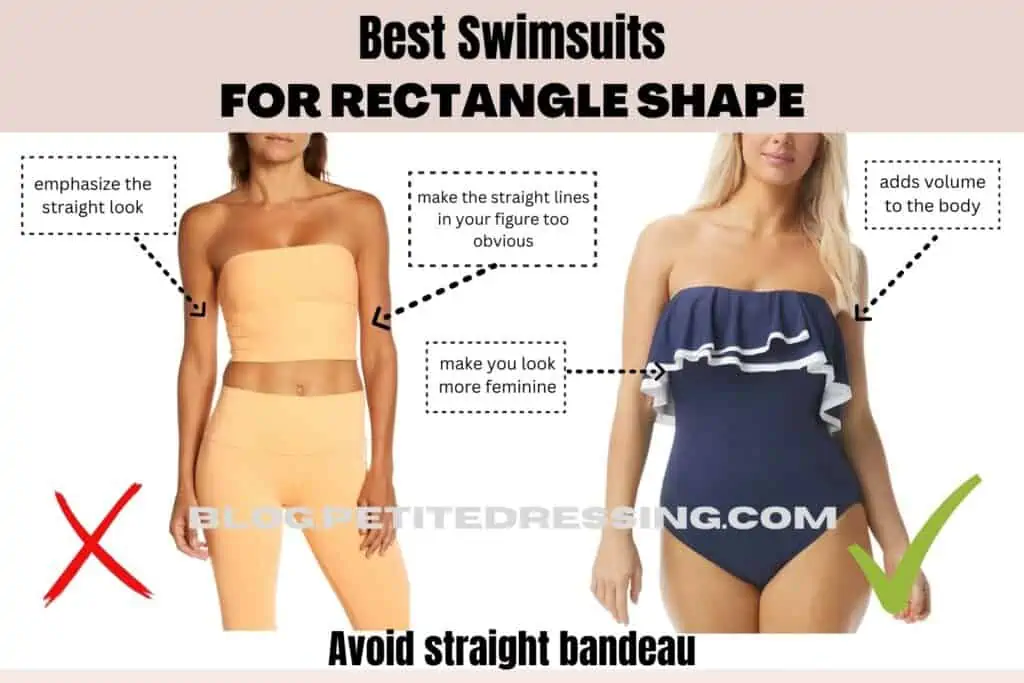 Swimsuits like the straight bandeau are a style that should be readily avoided on the rectangle body shape. They would emphasize the straight look in your figure and that is not flattering at all.
They are not the best classic pieces for you so make sure that you avoid wearing them. They would make the straight lines in your figure too obvious to peering eyes.
You have a unique shape that you should appreciate and not feel slightly uncomfortable about. So keep away designs like the straight bandeau because they are not complementary styles suitable to make you appear sexy.