If you've spent quite some time struggling to find pants that fit your petite rectangle-shaped body, today is your lucky day. As a 5'2" woman, I understand the challenge of finding the perfect pair of pants. Besides, I also have a full clothing line for petite women, so I style petite models of all shapes and sizes every week for our photo shoot and fitting.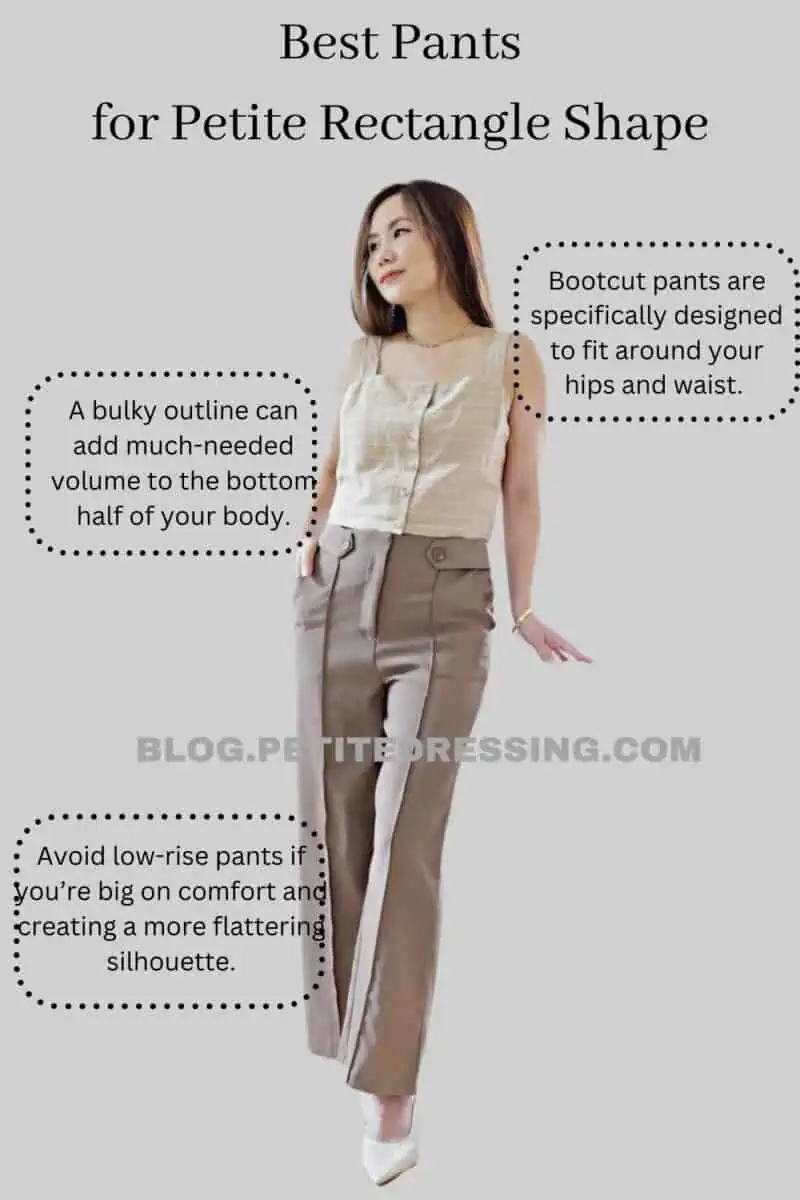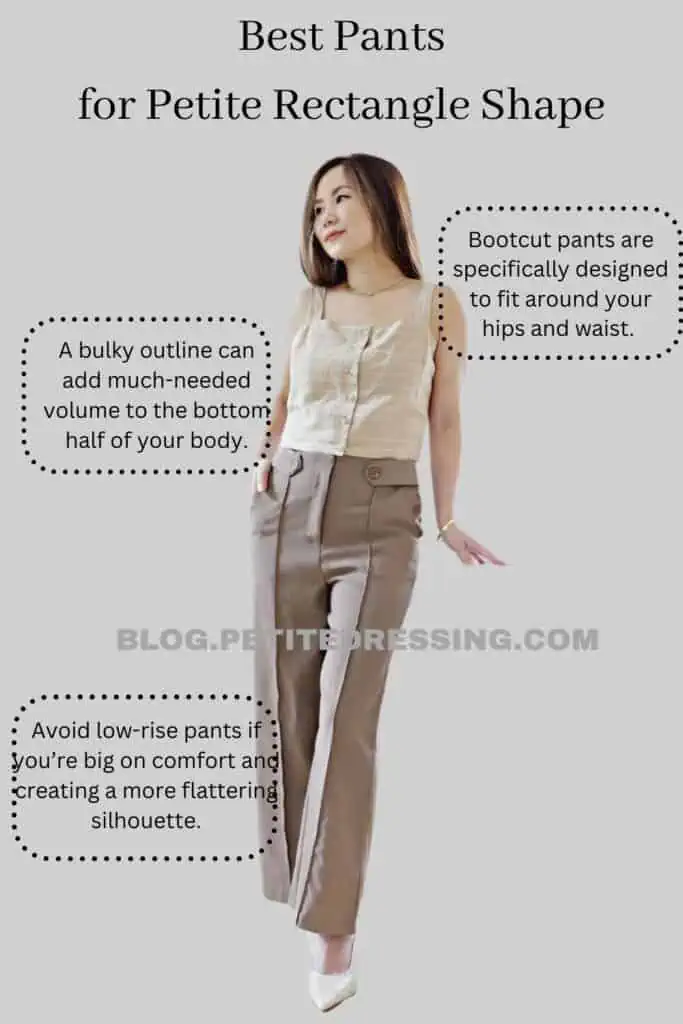 This is why I've created this pants guide based on my experience, as well as numerous feedback form thousands of my petite customers. In this guide, you'll discover seven top pant styles that are perfect for petite rectangle shape, and those you should avoid.
Utility pants
First, let's talk about utility pants and how beneficial they can be for petite women with a rectangle shape. This is a simple and stylish pant style that usually has a button overlap in the waistline area.
This is a bulky outline that adds much-needed volume to the bottom half of your body. This is great for your rectangle body shape because the overlapping buttons around your waistline create a strong point of interest.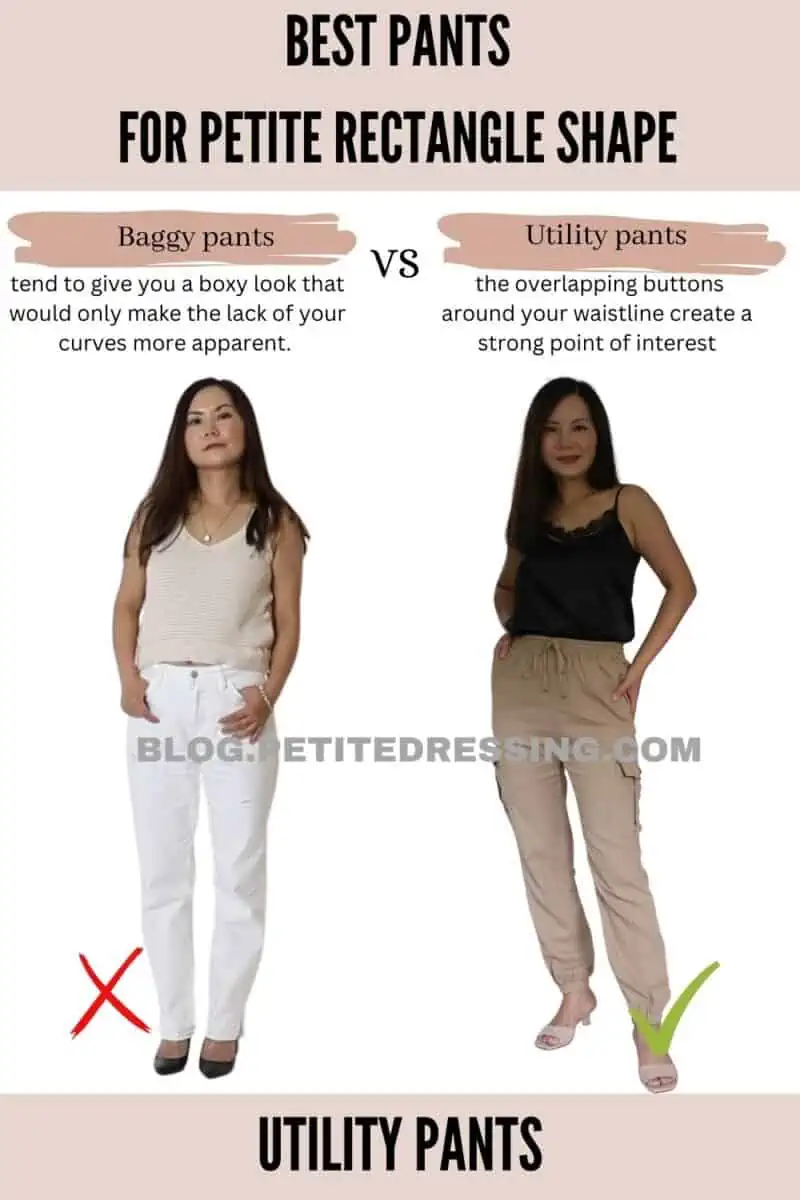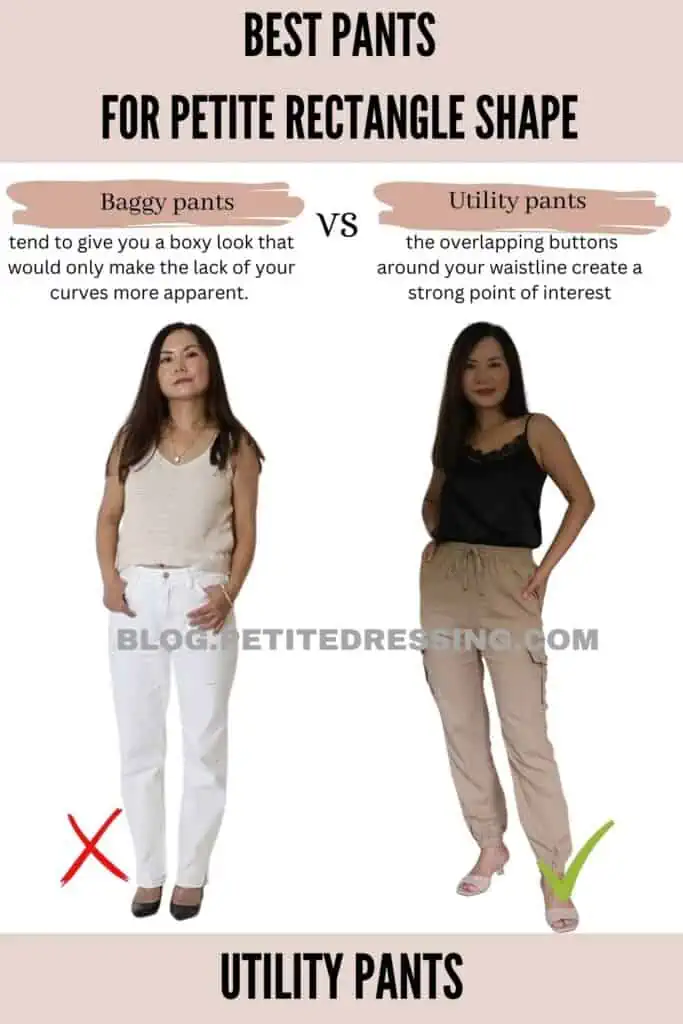 With this, there will be more attention on your cinched waistline, as it prevents the focus of the eyes from moving upwards or downwards. For petite women with a rectangle shape that have a default boxy silhouette, this will create the illusion of curves.
Therefore, your waist will appear smaller as this breaks up the straight shape of your body and gives it a curvier outlook. This is a classic way to play around with your rectangle shape to get an amazing result.
Flared pants
This pants guide for petite rectangle shape women is incomplete without talking about flared pants. I honestly believe that this style seems tailor-made for this body type as I've seen several petite models with this body shape rock flared pants seamlessly.
So, does this mean that it could be perfect for you? Well, it doesn't hurt to give this a try. Flared pants make this magic happen by breaking up the square shape of your natural body. So, rather than emphasizing your straight silhouette, they add curves.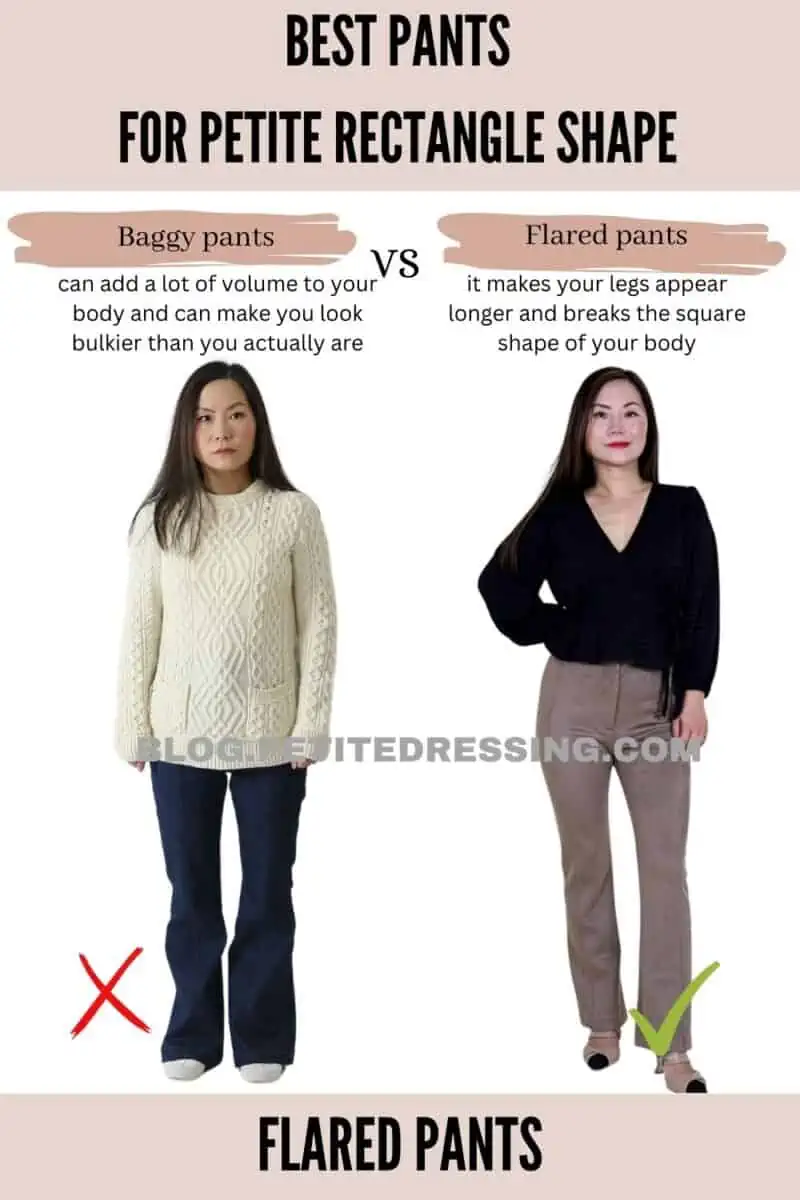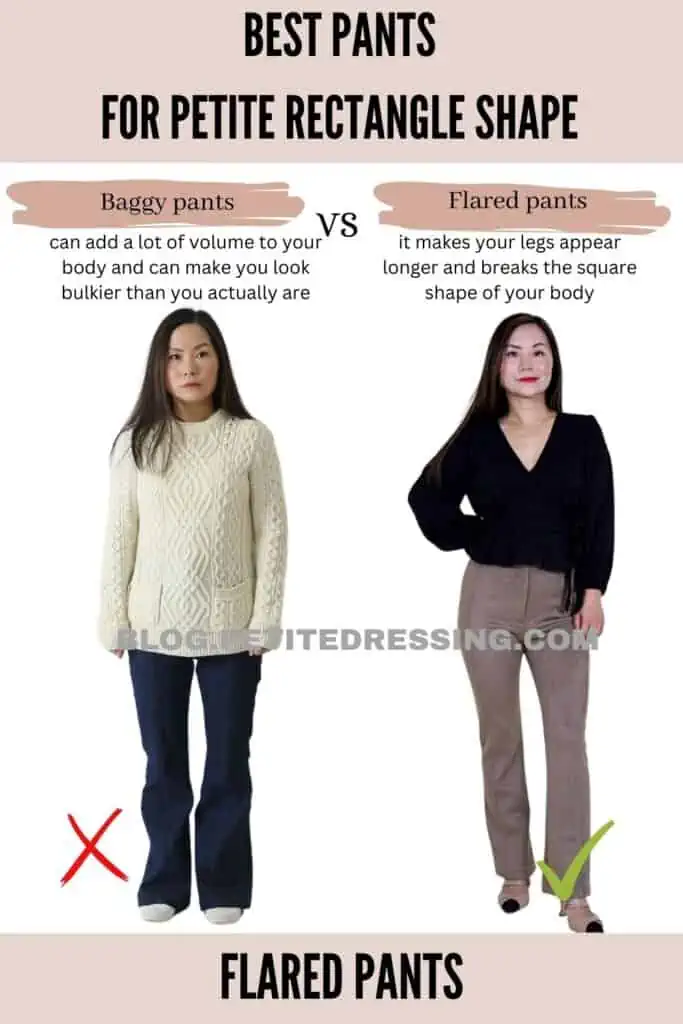 If you want to gain a curvier outlook, you should consider rocking flared pants on flats. Another huge advantage of this pant style is that it makes your legs appear longer. Emphasize the silhouette of your legs with flare pants.
Bootcut pants
One theme you may have noticed so far with my recommendations for the petite rectangle shape is that simple can be better. In this case, I'm a huge fan of adding glamor to these simple styles to complement your body shape.
So, that's a huge reason why one of the top choices of pants for the petite rectangle shape is bootcut pants. Since these are great at creating curves around your body type, you'll love how these look on your body.
Bootcut pants are specifically designed to fit around your hips and waist. However, this fit flows into a gradual flare as it approaches your knees. This narrow fit on your thighs before widening under your knee is great for reducing the emphasis on your natural straight silhouette.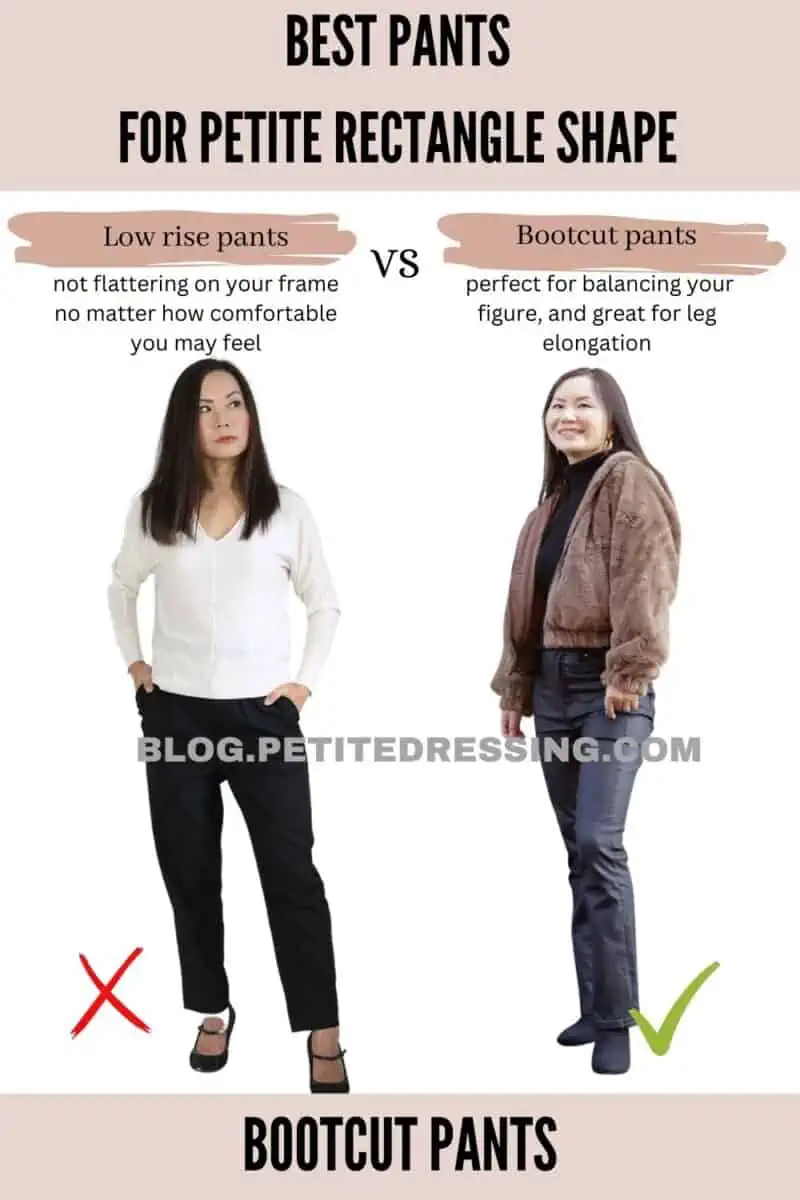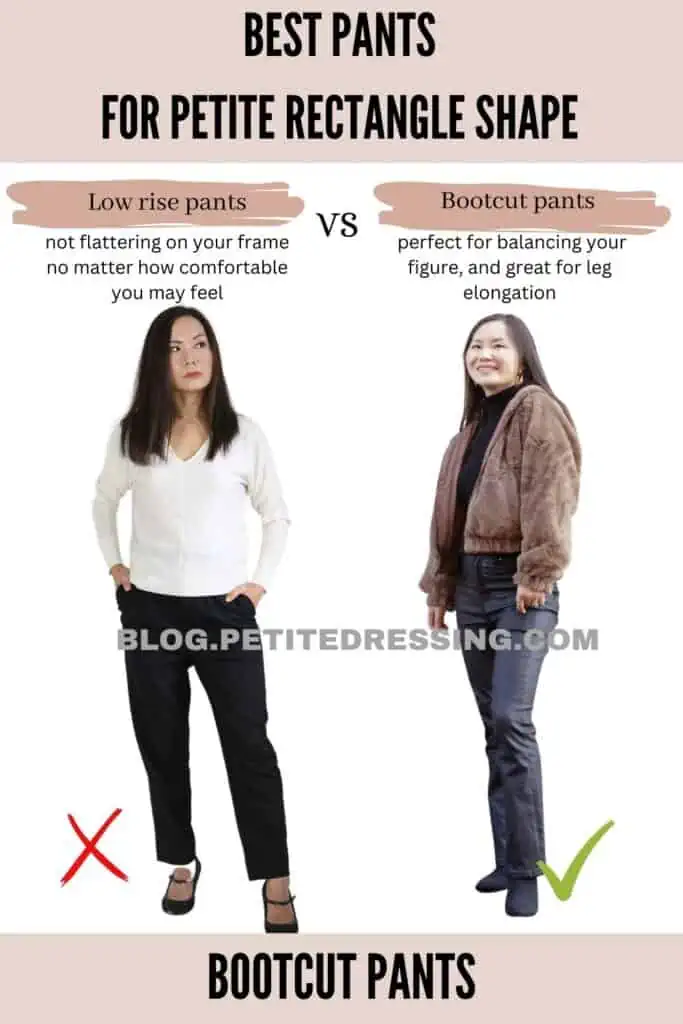 Therefore, you won't look straight, but there will be an illusion of curves. Apart from this, bootcut pants are great for emphasizing an elongation effect on your slim legs. Overall, this is perfect for balancing your figure, and it doesn't hurt to make this happen with incredibly stylish pants.
Straight pants
Create a sophisticated look on your narrow hips with elegant straight pants. This is a pleasing style for the rectangle shape because it has a simple cut that creates a relaxed fit on the bottom half of your body.
Since you want to add more volume to the bottom part of your body which hosts your narrow hips, straight pants can offer this effect with how they blend seamlessly with the natural shape of your body.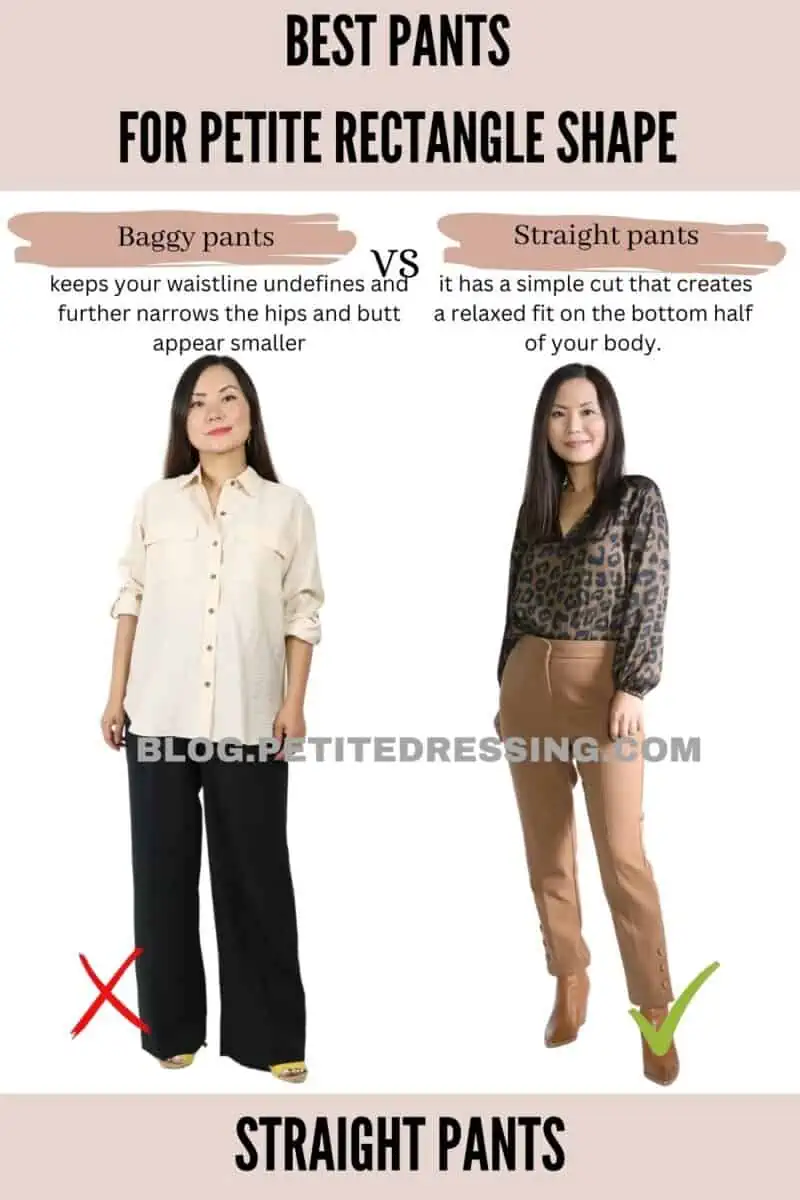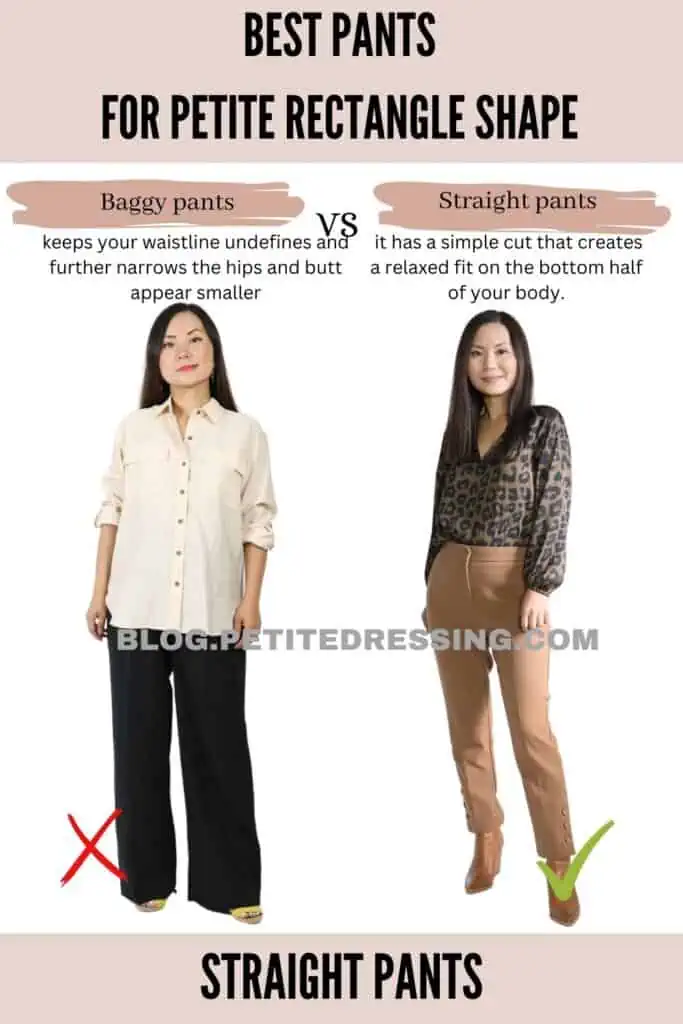 It's great at highlighting your shape without drawing attention to less-flattering aspects. So, there's no discomfort from clingy clothing material since this molds with your body rather than hugging your frame.
Also, the straight cut gives the illusion of being taller as it adds more length to your overall body frame. This is a great effect, unlike some pant styles that unnaturally cut off your figure and further shrink your petite frame.
Vertical-striped pants
I've added the vertical-striped pants for one major reason: elongation effect. One of your best features as a petite woman with a rectangle shape is your slim legs, and vertical-striped pants will help you play them up nicely.
So, be sure to add some vertical-striped pants to your wardrobe if you want to check out how much slimming effect they can have on your frame. This slimming effect will help you achieve overall balance on your frame so that your body appears more proportionate.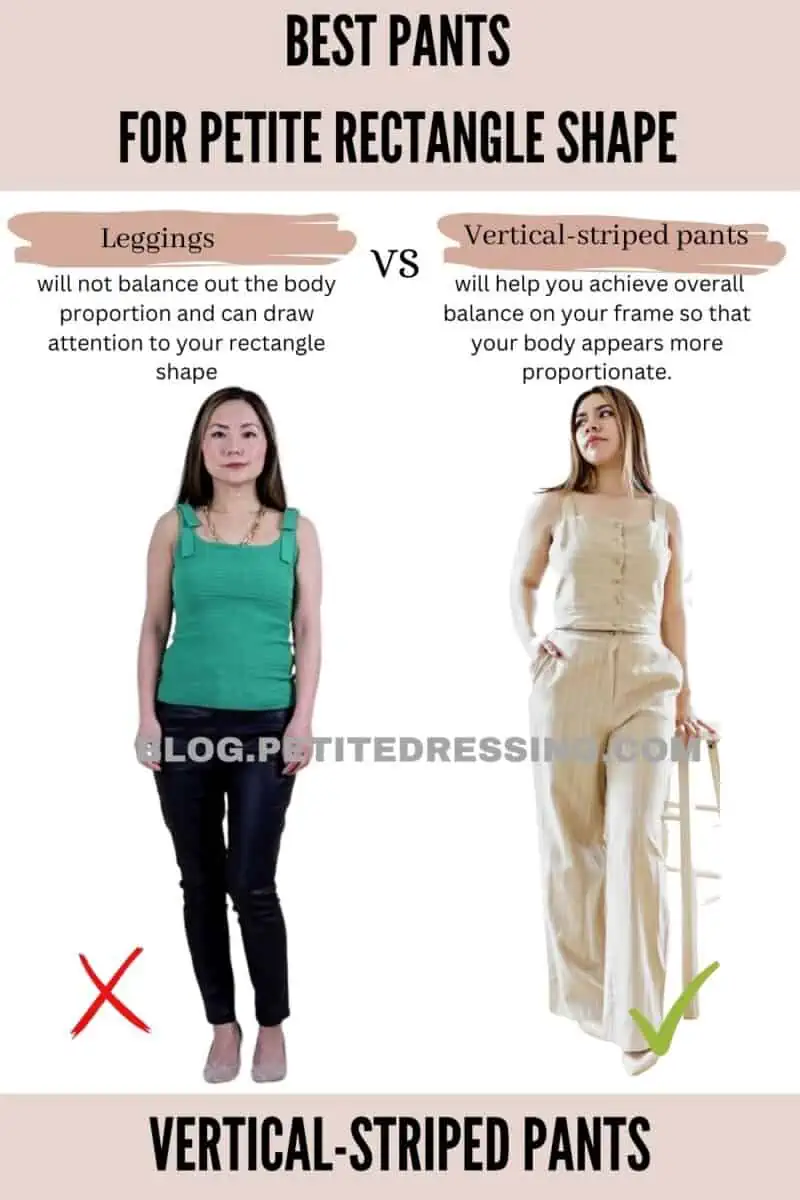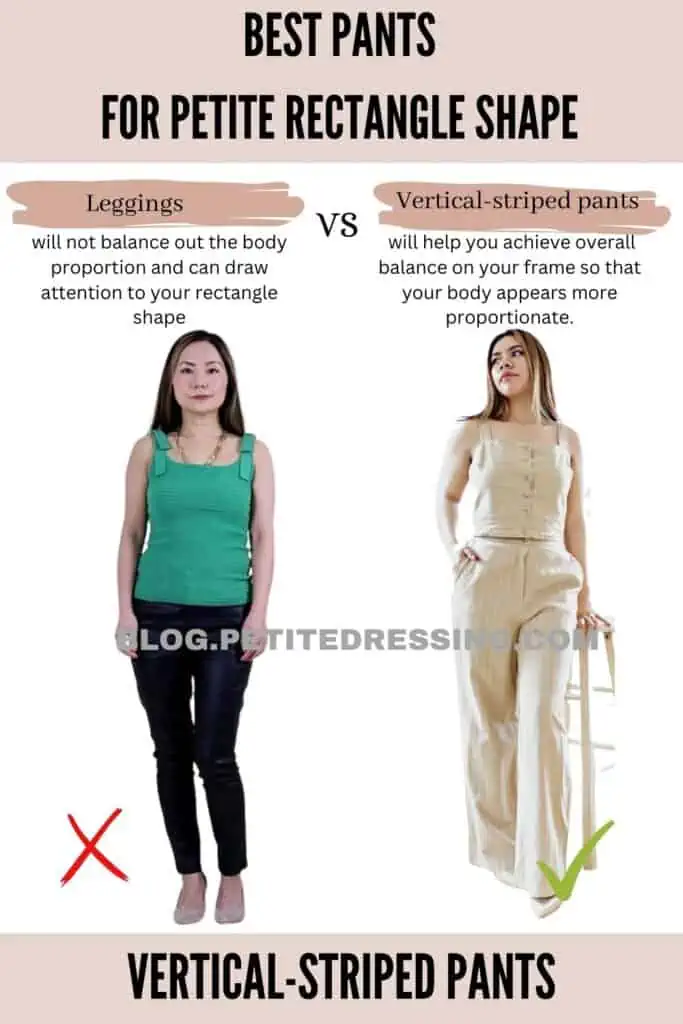 A great idea is to wear pants with black stripes. Everyone knows that black is a slimming color, and if you didn't know this before, well, now you do. Black and white vertical stripes on your pants will work wonders on your rectangle body frame.
Wide leg pants
Wide-leg pants are another must-have for the petite rectangle shape. What makes them great is the loose fit at the lower half, which is perfect for adding more volume to your bottom half. Naturally, your body has a straight line in this region, and the wide-leg style helps to break this stylishly.
Therefore, wide-leg pants fit seamlessly with your rectangle body shape while also nipping your waistline such that it creates a curvy silhouette around your narrow hips. Your goal with pants should be to create the illusion of curves and complement your slim legs.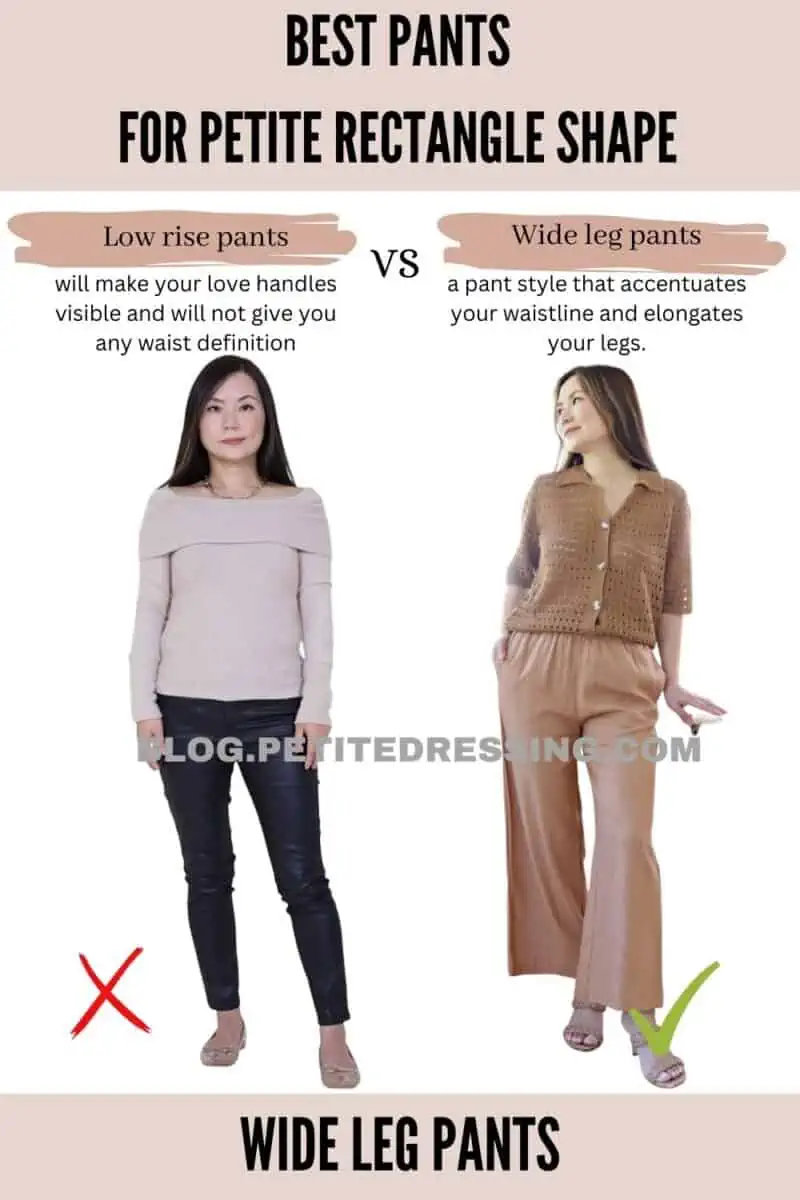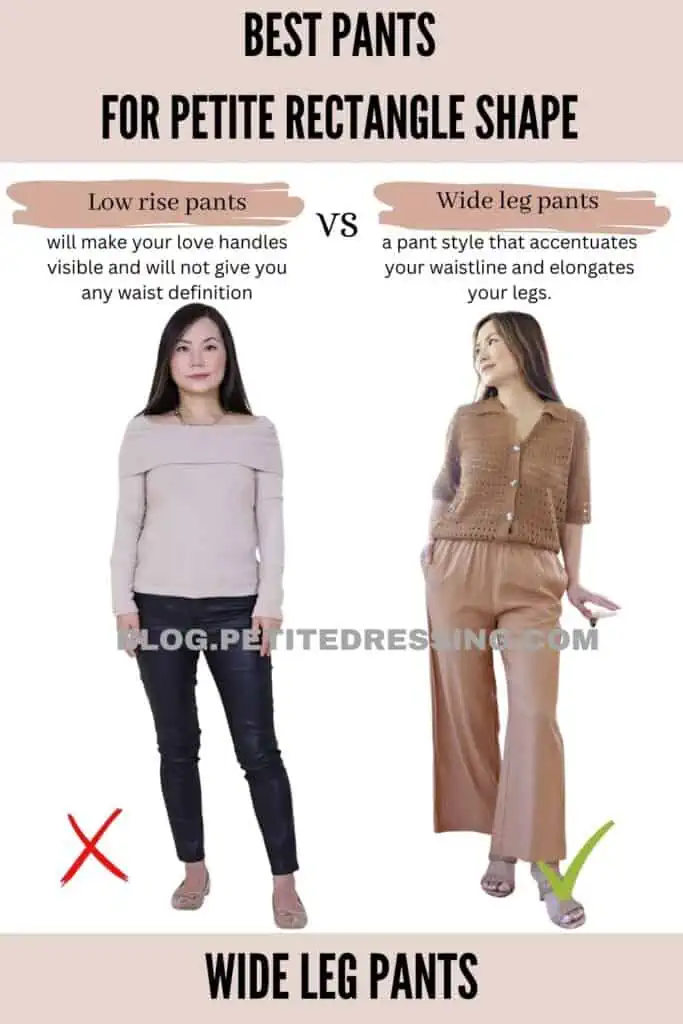 That's exactly what you get with wide-leg pants. So, when you stand in front of a mirror to take a look at the results, what you should see is a pant style that accentuates your waistline and elongates your legs.
Even better, this is possible without leaving you uncomfortable in any way. So, you have room to move around without any restrictions.
Pants with prints
Create more visual interest around the bottom half of your body by wearing pants with prints. Sure, plain pants also work on your body frame, but who says you can't spice things up with some busy prints?
With busy prints, you can add visual interest to the lower half of your body, especially more volume, which gives you a curvier frame. So, feel free to try out pants with leopard prints, polka dots, or floral patterns.
However, while busy prints are great on your pants, I wouldn't recommend making these prints so huge that they overwhelm your petite frame. Therefore, you should maintain balance when choosing pants with prints.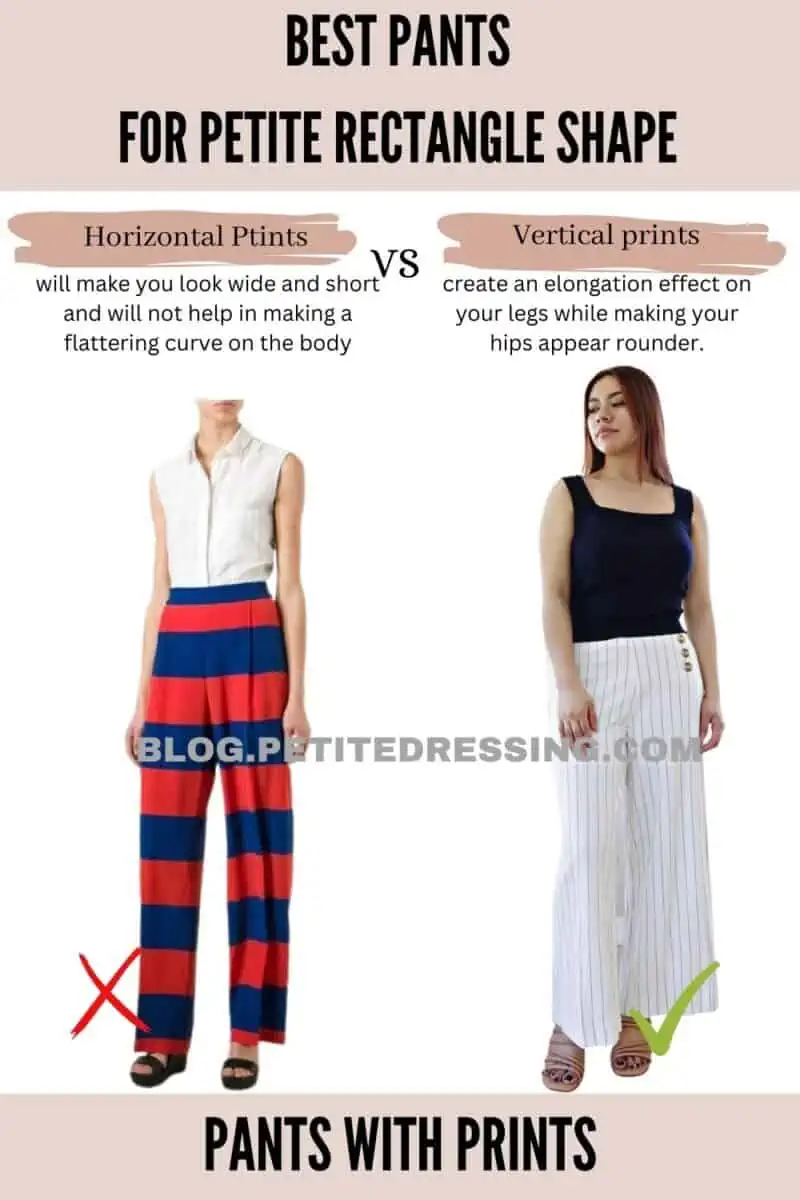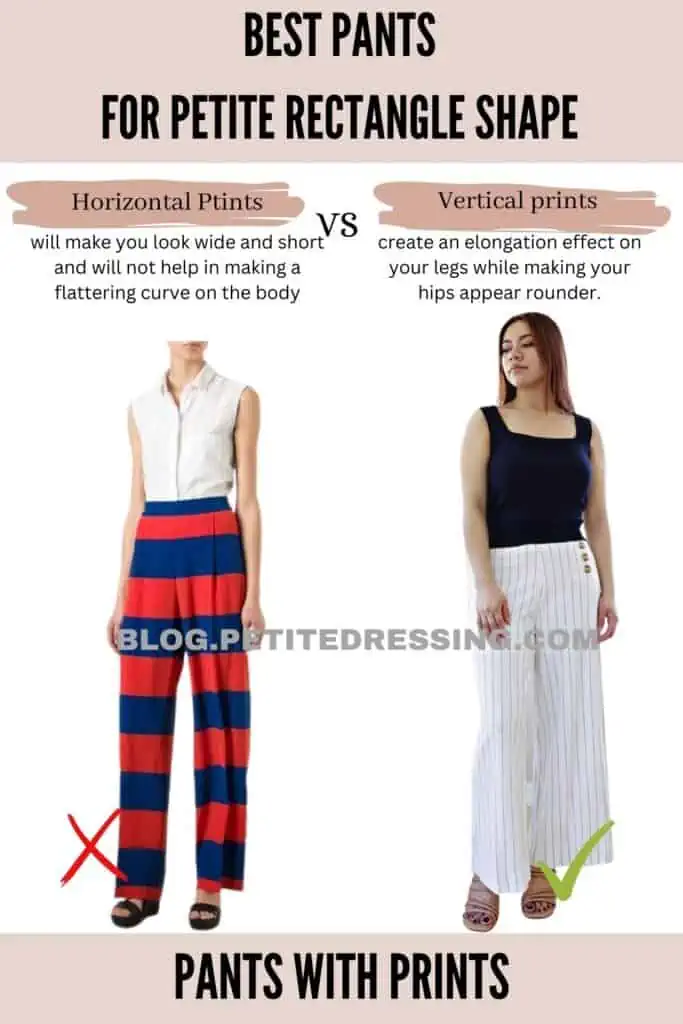 Rounder prints will also have a great effect. Meanwhile, you can experiment with the color-blocking effect on your pants, especially with monochromatic tones. The goal here is to create an elongation effect on your legs while making your hips appear rounder.
Avoid low-rise pants
The ultimate rule with the petite rectangle shape is to completely avoid pant styles that will emphasize the boxy shape of your overall body frame. Rather than wear pants that make people pay more attention to your straight silhouette, there are tons of options that create curves.
Therefore, you should avoid low-rise pants as they have this effect. They are not the best option for the petite rectangle shape as they can be quite uncomfortable too. For the petite rectangle shape, mid-rise pants are a better option if you want your overall shape to appear curvier.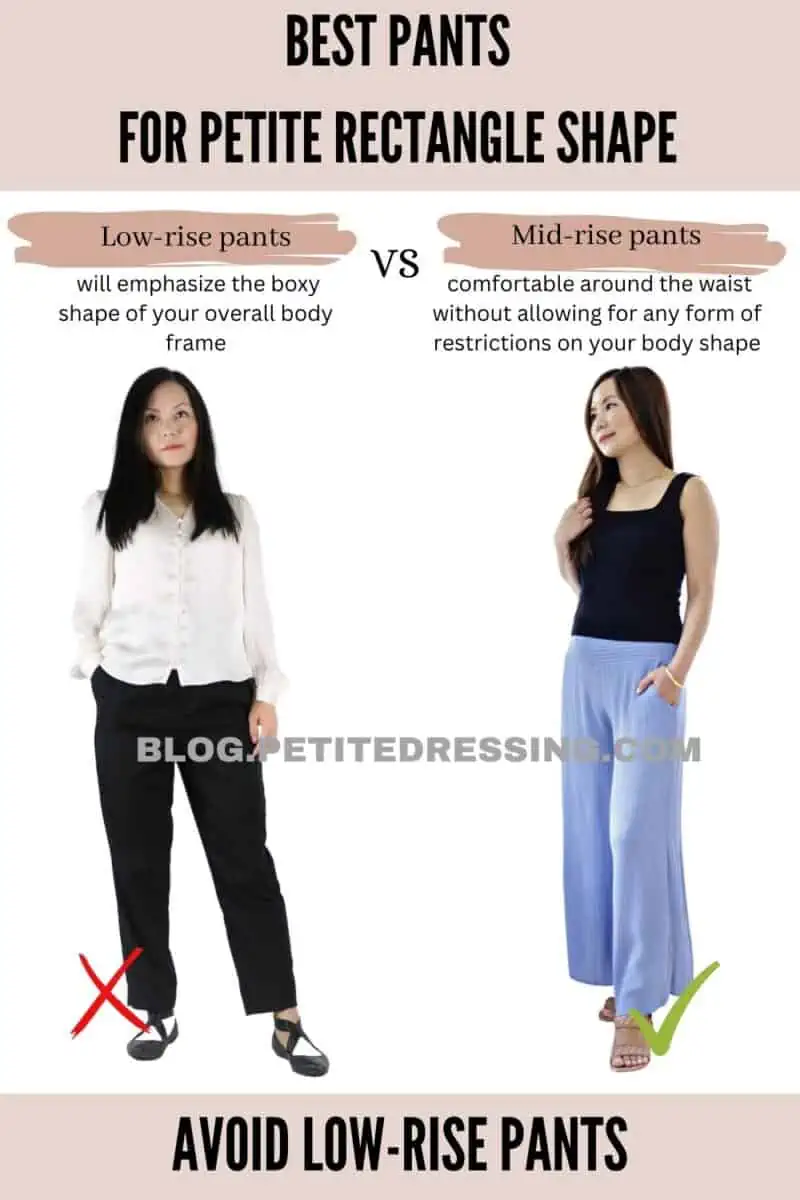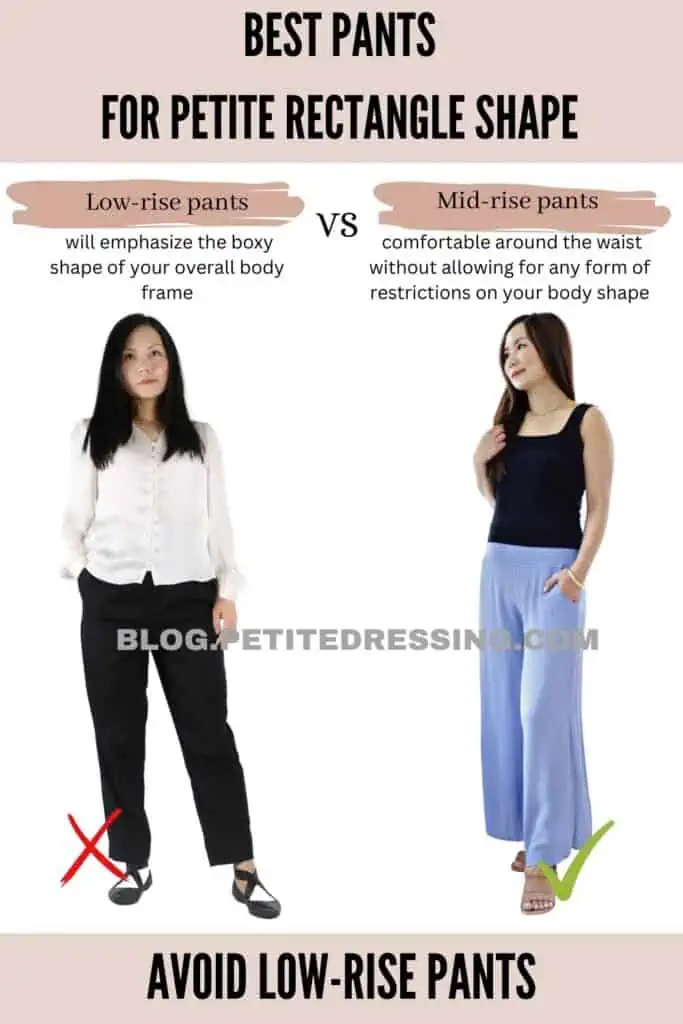 Apart from this, they are comfortable around the waist without allowing for any form of restrictions on your body shape. So, avoid low-rise pants if you're big on comfort and creating a more flattering silhouette.
These options will flatter your figure and make you feel elegant and stylish everywhere you go.