Are you struggling with finding the perfect pair of jeans for your petite apple shape? Well, you're in the right place. As a 5'2" woman with an apple shaped body myself, I certainly know how hard it is to find the right jeans. Besides, I also have a clothing line for petite women, so it is my daily task to find the jeans that fit petites of all body shape and sizes.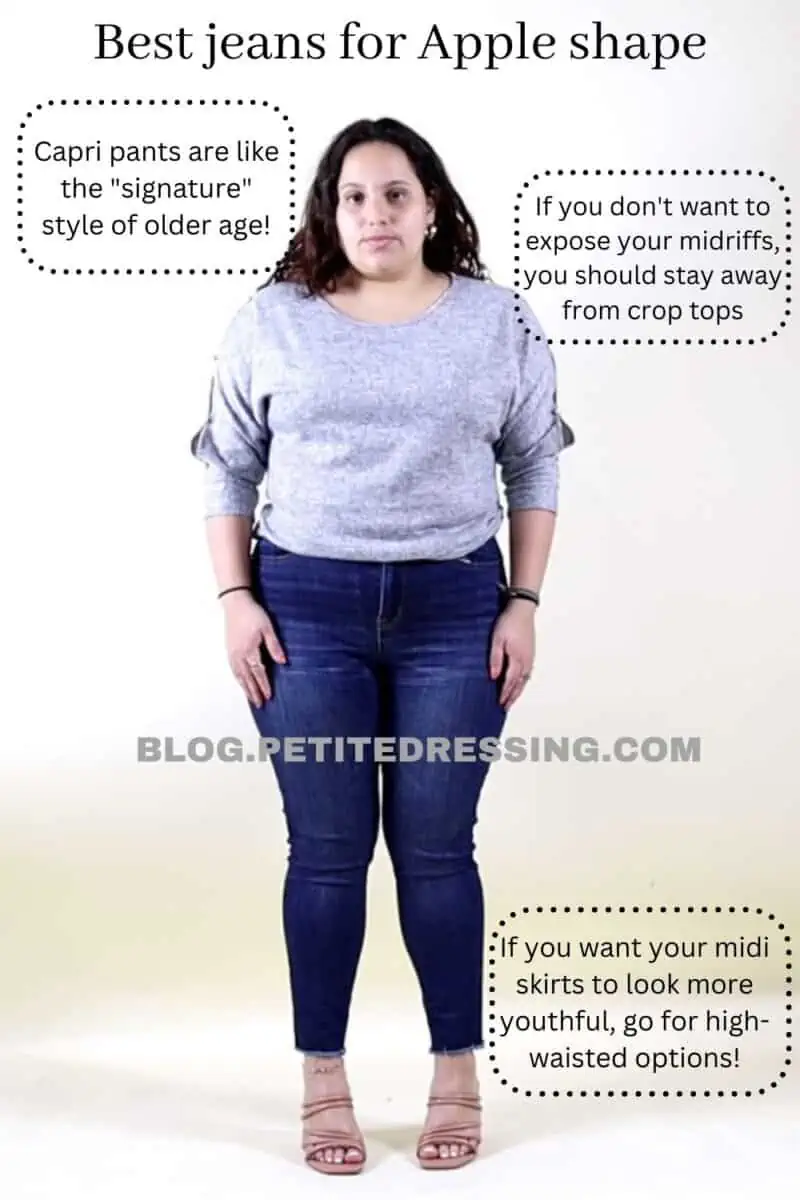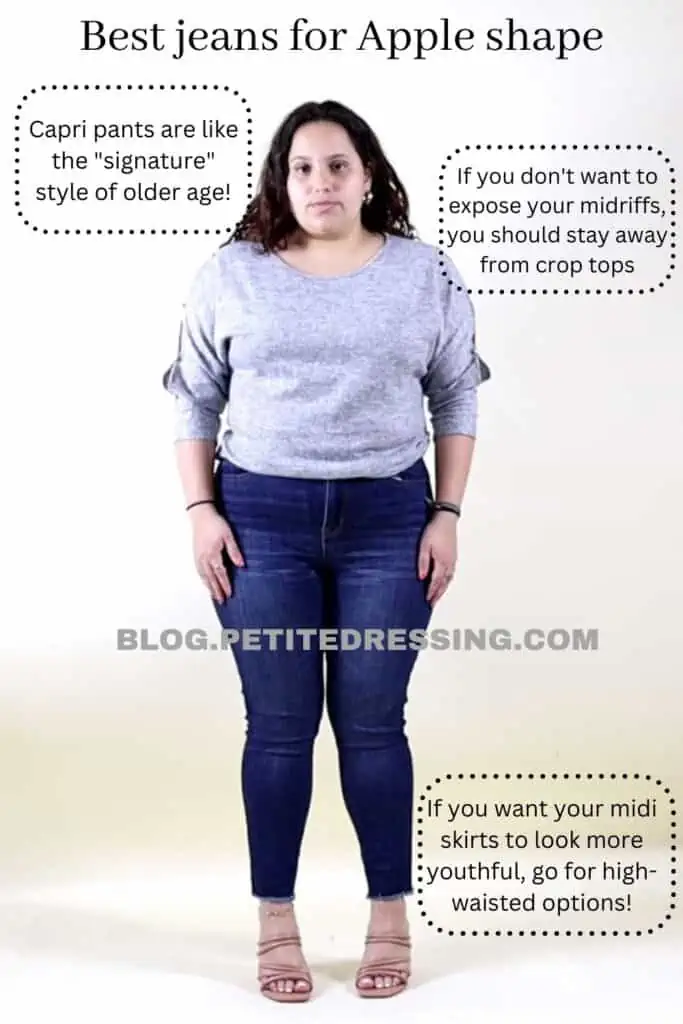 My first hand experience as well as the feedback from thousands of my petite customers has helped me understand how to dress petite apple shape, especially the do's and don'ts. So, stick around to find out the best and worst jeans styles for petite apple shape.
Bootcut jeans
Bootcut jeans are known to have a flattering effect on petite women with an apple shape. That also explains why they are always the best sellers in my jeans collection.
They give your body structure a more proportionate effect which emphasizes areas you'd love to draw more attention to.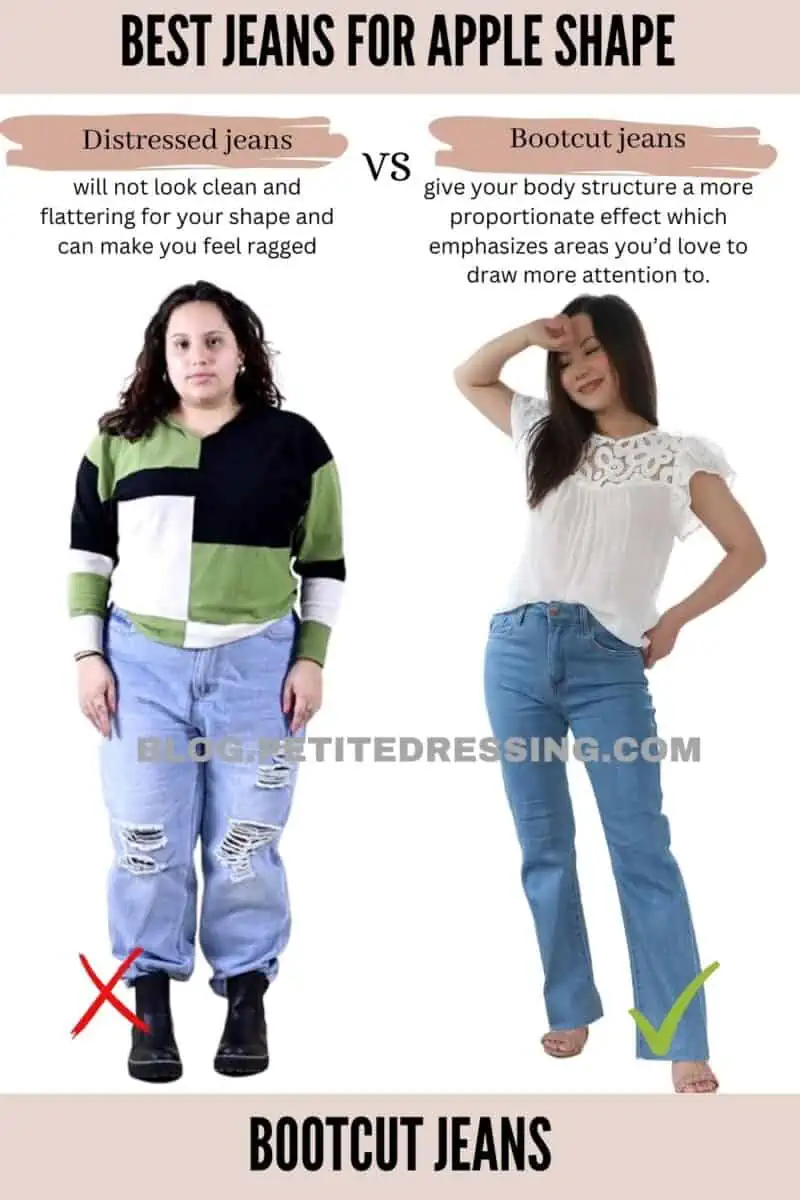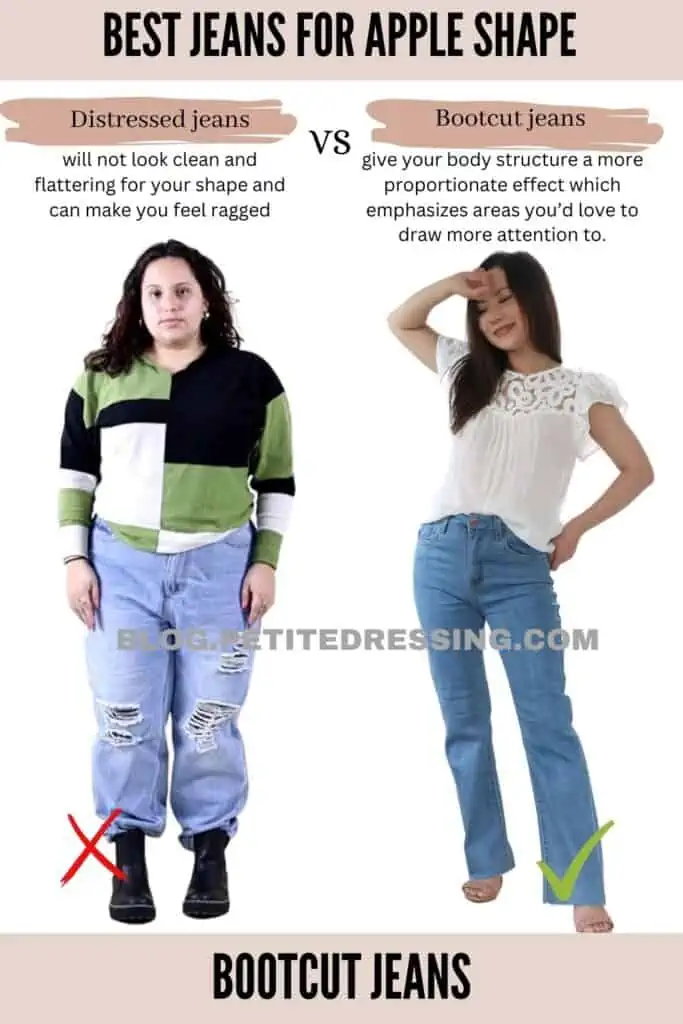 However, to enjoy a more balanced silhouette, look out for mid-rise bootcut jeans as these do a great job of elongating your legs. Also, some bootcut jeans have a slight flare at the hem and this is great for balancing your body proportions without overwhelming your petite body frame.
Meanwhile, darker colors are always a win when shopping for jeans. The darker washers are usually more flattering and slimming on your petite apple shape. Stay away from distressed bootcut jeans with slashes at the front. Instead, look for clean jeans that will create a smooth and flattering fit.
Dark jeans
One of the common features of petite women with apple shapes is a short torso, and you can make this stand out by wearing clothing that creates the illusion of a longer torso. One style that does this perfectly is dark jeans.
This jean style draws more attention to your waistline while giving it a slimming effect, so your entire silhouette appears more balanced. While apple-shaped women are known to have wider midsection areas, dark jeans can minimize this to amazing levels.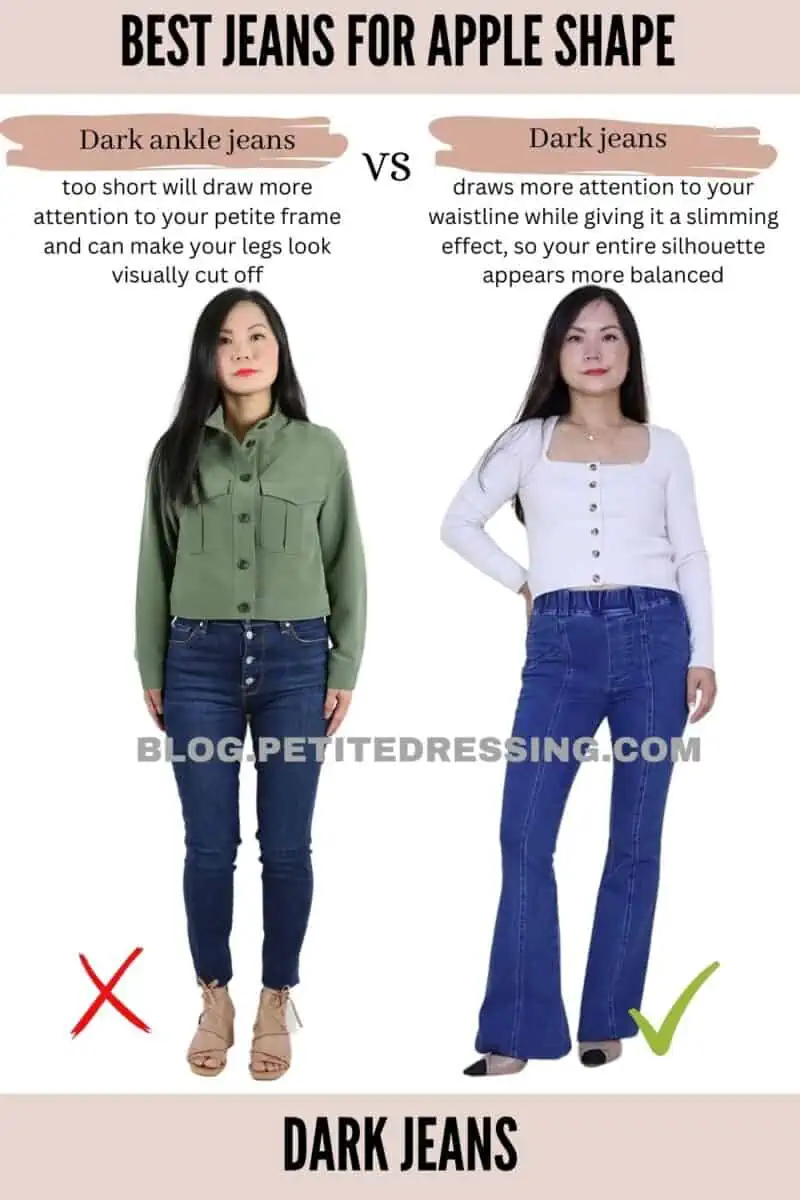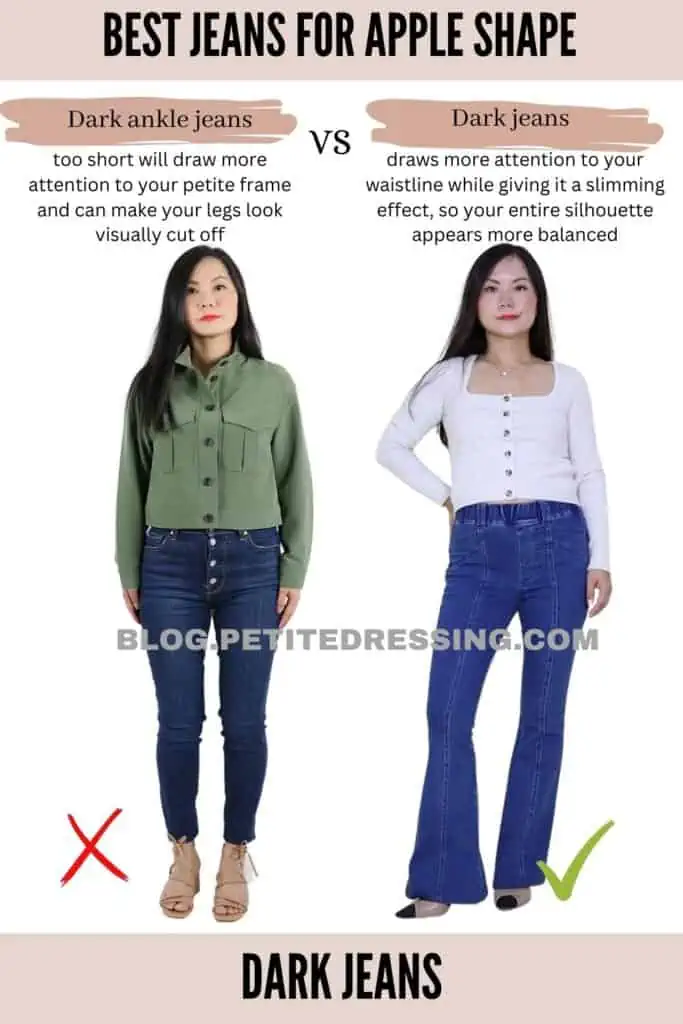 However, you shouldn't go for dark jeans that are too tight or loose. Finding the perfect size is key to having a comfortable and stylish fit that works in a wide variety of occasions.
You should also pay attention to the length of the jeans as styles that are too short will draw more attention to your petite frame. Don't wear dark jeans that stop above your ankle as they cut off your legs visually.
Straight-leg jeans
Straight-leg jeans create a long and lean line on women with petite apple shape as they form a uniform width that is sleek from the thigh to the ankle. This unbroken vertical line is perfect for creating a more balanced silhouette on apple-shaped women.
Apart from this, it helps in elongating your legs and balances out your proportions as there's a high chance you have a wider midsection as a petite woman with apple shape. A huge advantage of straight-leg jeans is that it helps to distribute your body volume evenly from top to bottom.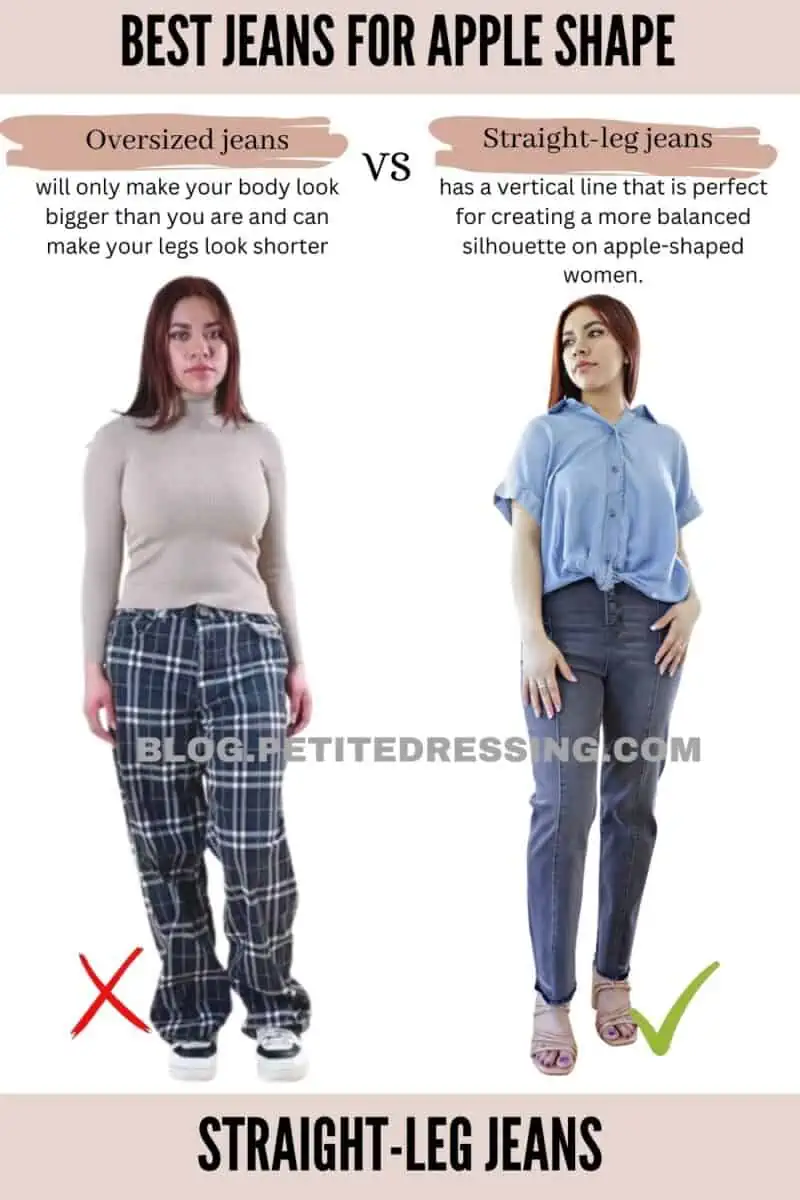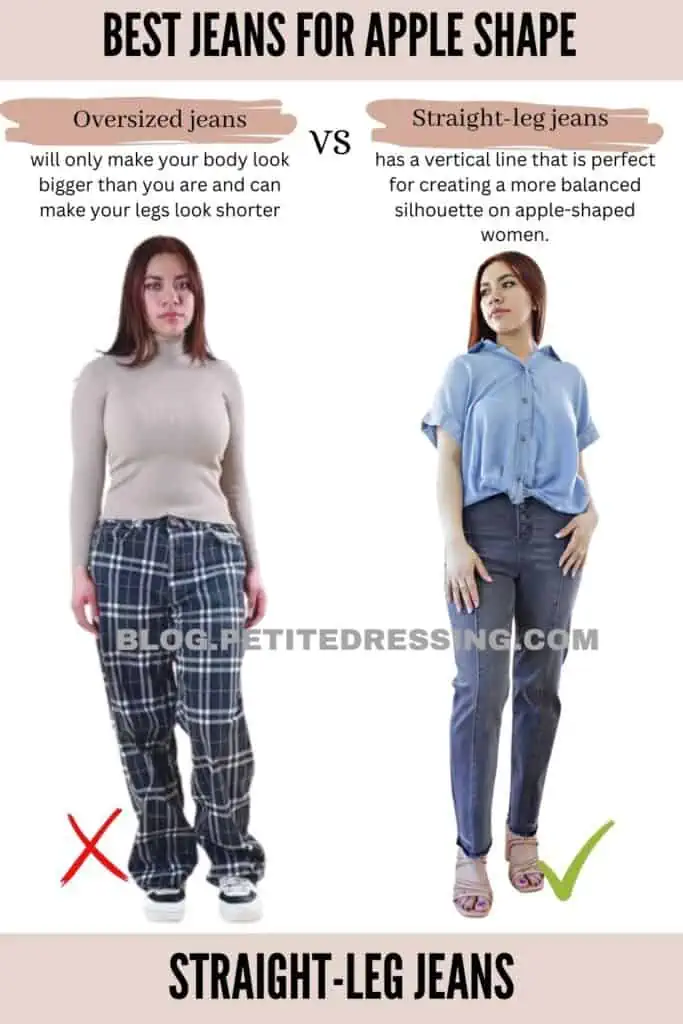 So, whether you pair this with a pair of heels for a night out or sneakers for a brisk walk around your city, this is a classic wardrobe staple that you'll be glad to have. The beautiful thing about straight leg jeans is that they won't go out of style, especially not for petite apple shape.
Flared leg jeans
Do you wish to have long legs as a petite woman? Well, it's obvious that if you're past your growth phase, this won't happen but the good news is that there's another effective way to achieve this.
This is possible by wearing jeans styles that have an elongation effect on your legs. One of your many choices is flared leg jeans. The flared style of these jeans has a subtle yet great effect on giving the illusion of longer legs.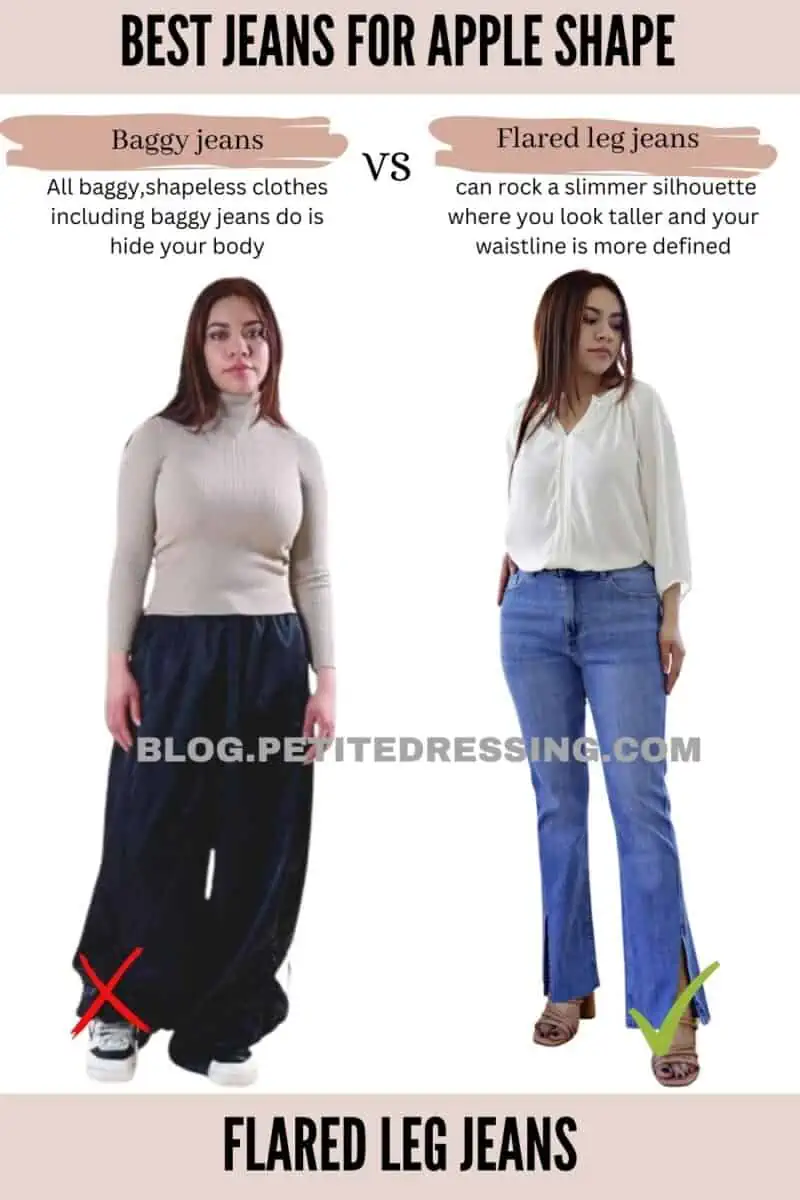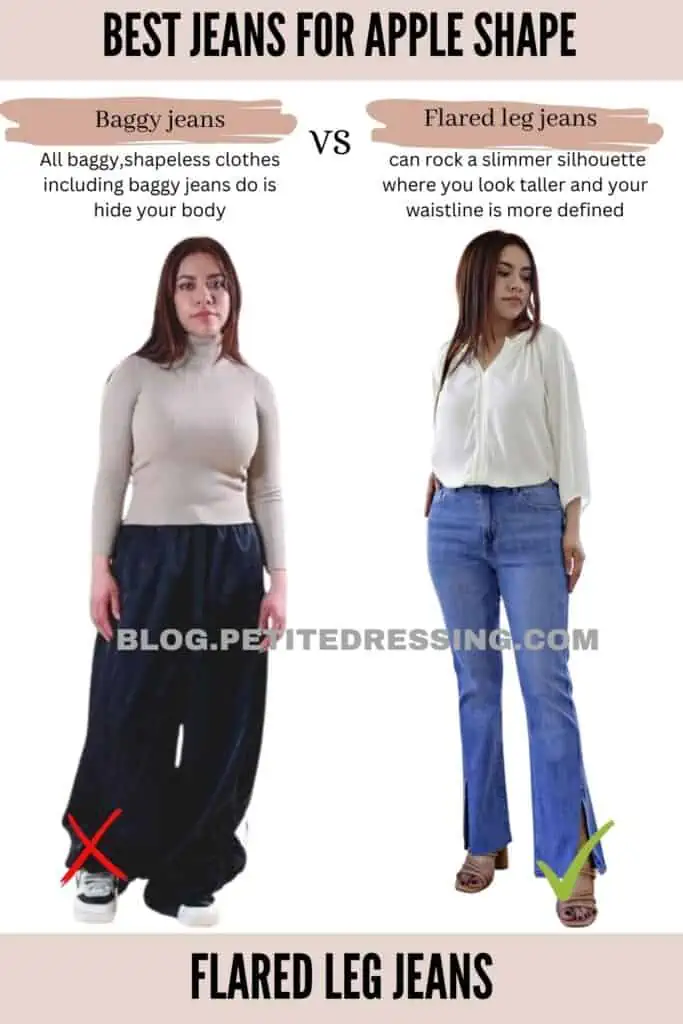 So, all you need is a pair of flared-leg jeans and you can rock a slimmer silhouette where you look taller and your waistline is more defined. Pair this with a v-neck blouse and the illusion is complete as this draws more attention upwards.
Avoid baggy jeans
Oversized jeans are not great for the petite apple shape because they can be very bulky and on petite women, this will be extremely overwhelming on small body frame. Therefore, what oversized jeans will do is make you look smaller than you actually are and that's not a good look.
This style of jeans adds unwanted volume to your body structure, especially when you're already carrying extra weight around your midsection area. You should wear jeans that will be flattering to your tummy area.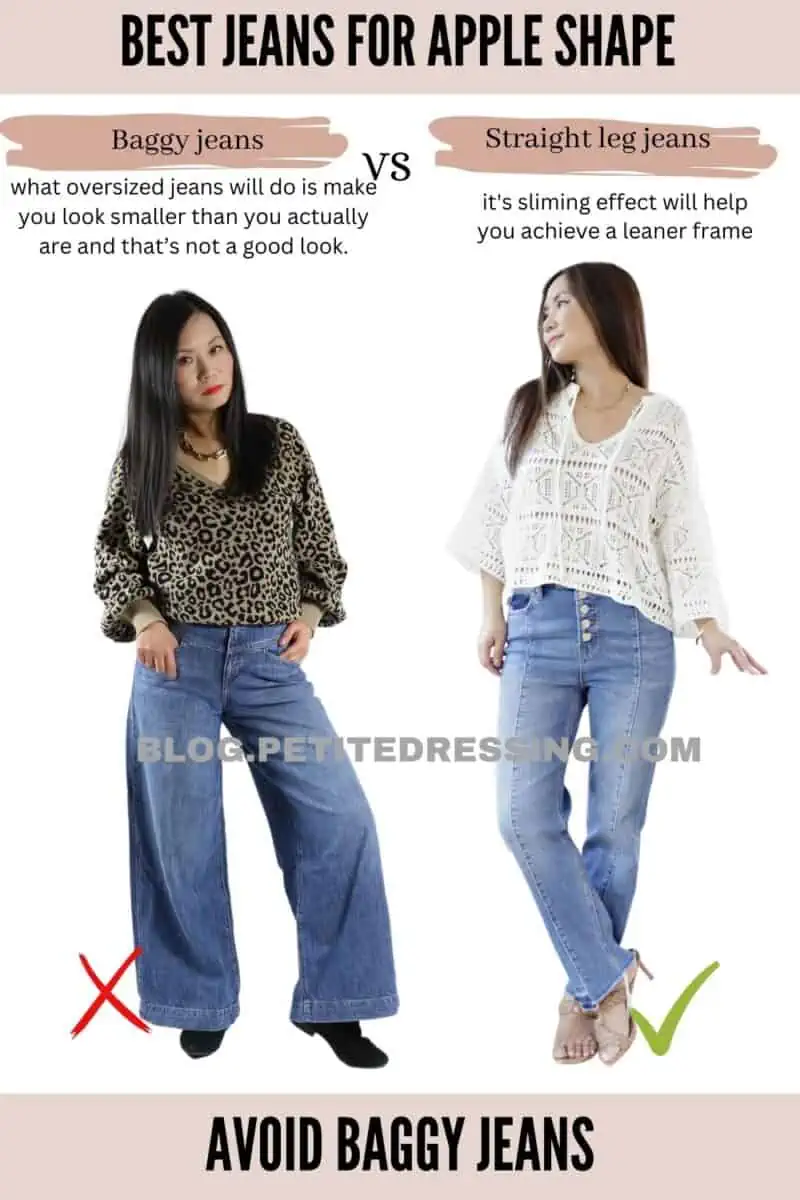 When you wear jeans that are too wide or long, they will shorten your legs visually which creates a shrinking effect on your overall frame. Of course, I can't forget to mention how oversized jeans can make you look shapeless as they create an unflattering silhouette.
So, if you don't want to step out feeling self-conscious and looking unappealing, it's best to avoid oversized jeans. Instead, go for jeans that have a firm fit on your body so that they can flatter your figure. Remember that this doesn't mean you should go for overly tight clothing.
Avoid low-rise jeans
As a petite woman with an apple shape, it's no secret that the weight around your midsection can pose problems if you don't wear clothing that minimizes it or conceals it in a stylish way. Low-rise jeans won't help you achieve any of this.
This style of jeans sits below your natural waistline, which can highlight your tummy area more than necessary. Instead of hiding your tummy bulge, it will create a muffin top effect that makes your midsection appear larger than it is.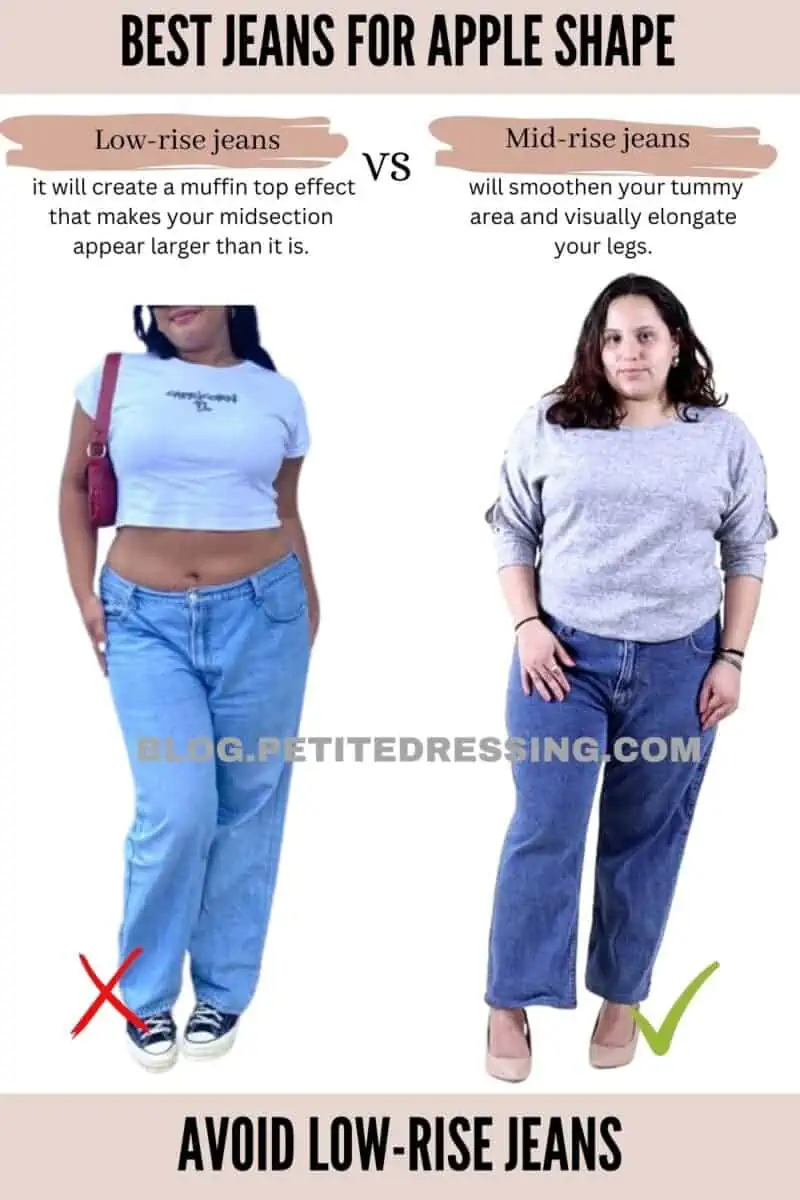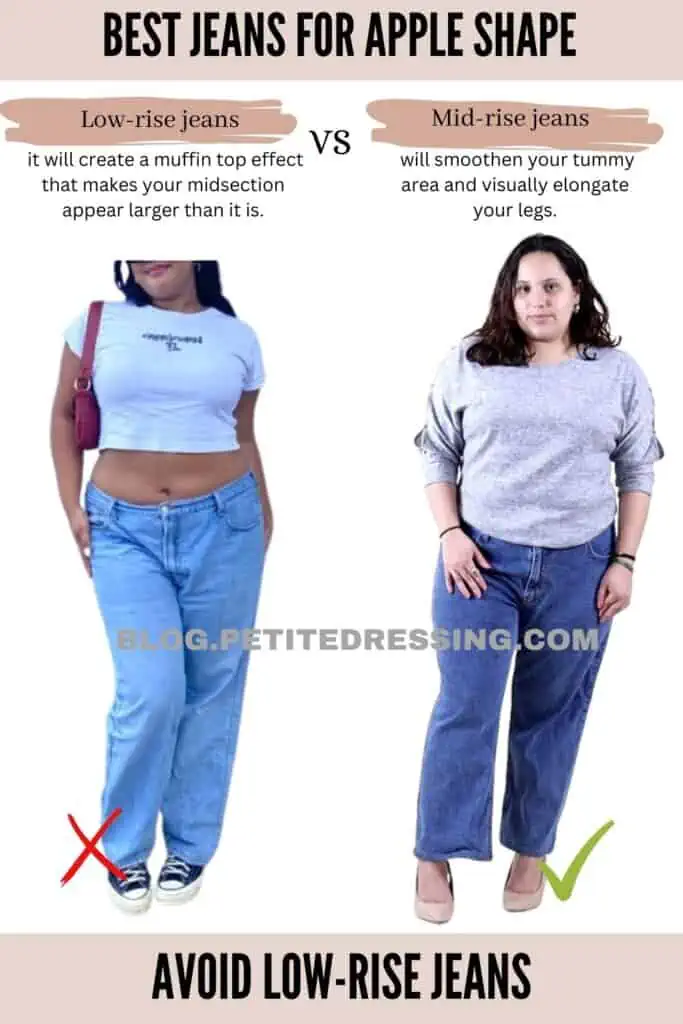 Apart from this, low-rise jeans can visually shorten your torso since they have a shorter rise. This means that your legs will appear shorter than they are and that's not great for petite women.
Since low-rise jeans don't provide enough support or coverage for your tummy area, this makes them super uncomfortable to wear. I'm a huge fan of wearing stylish clothing without sacrificing your comfort.
Overall, this style of jeans will not flatter your figure but will instead create a boxy silhouette. So, instead of wearing low-rise jeans, go for mid-rise styles that will smoothen your tummy area and visually elongate your legs.
Caution with skinny jeans
The secret to rocking a clothing style that fits your apple-shaped figure is to go for a slim fit and not a tight fit. This means that you should avoid skinny jeans as all they are incredibly form-fitting and that's not good for your figure.
Skinny jeans highlight your midsection area, and create an unflattering silhouette that draws attention to the little imperfections in your body structure. Apart from this, I've found skinny jeans to be extremely restrictive, and that's not comfortable.
I wear skinny jeans on rare occasions, but I won't advise petite women with apple shape to wear this style of jeans as the tight fit will create a muffin top. For petite women with a large midsection area, skinny jeans will make your legs look too thin.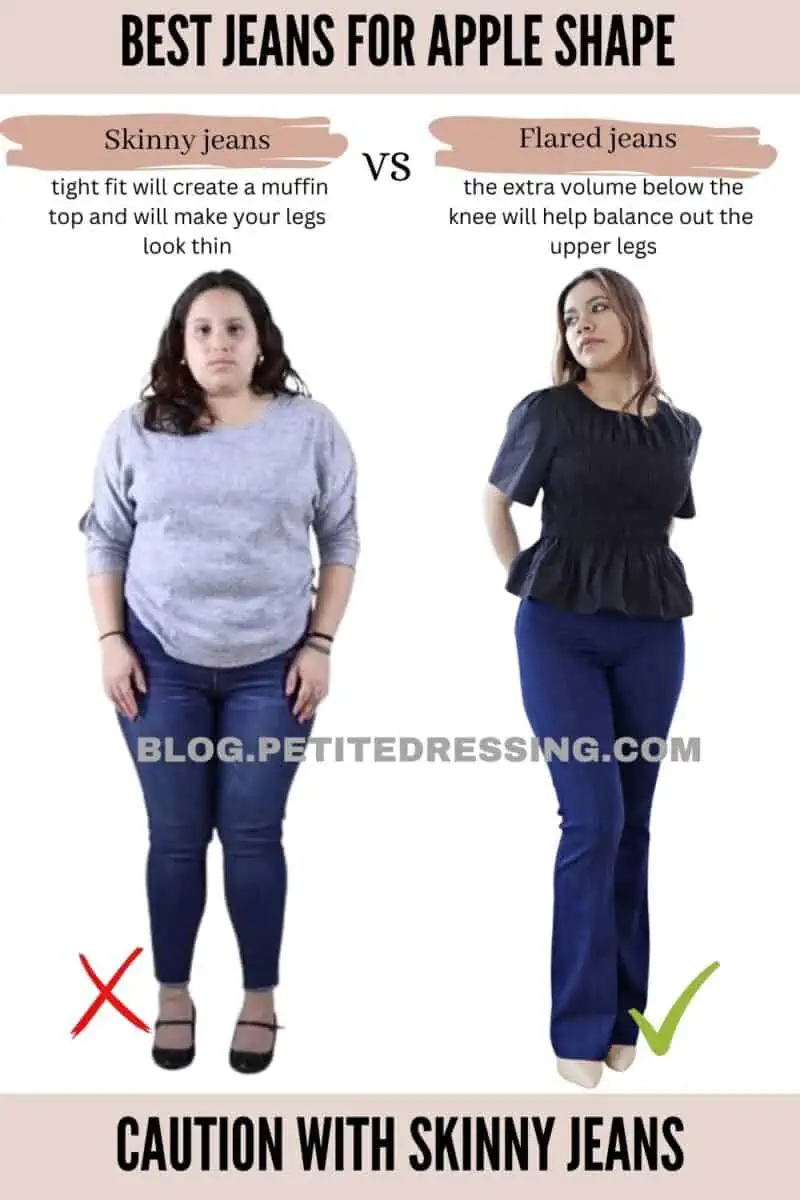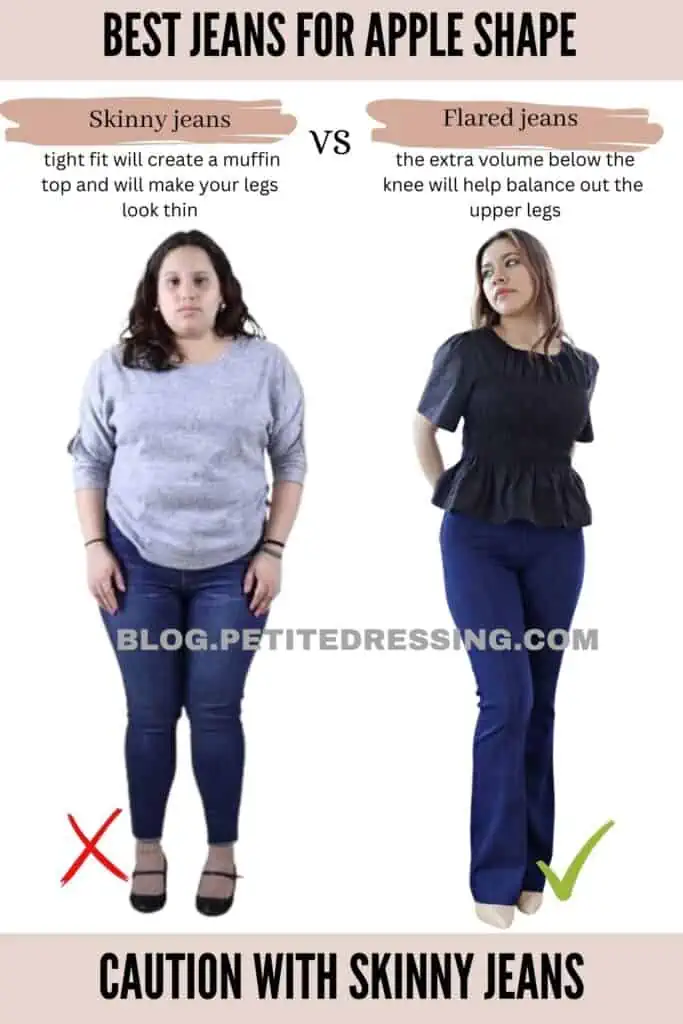 This is possible because they emphasize your upper body. It's best to opt for jean styles that fit snugly on your body, especially those with dark washes that can have a slimming effect. Also, jeans that are fitted but don't squeeze your thighs will create a long vertical line that draws attention away from your tummy bulge.
Overall, I hundred percent recommend that petite women with apple shape stay away from skinny jeans as they are not the most flattering choice in the bunch. The other styles on this list will give you a good idea of what it means to look elegant and stylish in a pair of jeans.
Like the choices in my jeans guide for petite apple shape? All you have to do is get shopping and feel free to try out as many styles as you can, as your personal preference matters a lot.